If you have a thing for raising chickens on your own, and that meets the DIY spirit! Oh, we are pretty sure you are going to choose free chicken coop plans over a pre-fabricated chicken coop. For one thing, you can add your customized appeal and touch to this free chicken coops as per your requirements, and for another, you can save some flashy bucks too! If you are a true DIYer, the basic wooden building skills are already somewhere inside! Even if this is your first time raising chickens or building chicken coops. All you are going to need is some detailed free chicken coop plans with illustrations, details, and diagrams. And for that, we have got you covered! We spread our wings and have gathered here some darn easy, eco-friendly and economical free chicken coop plans & designs with step by step material list and instructions.
The benefit of making a chicken coop from scratch, all by yourself, is that you can end up making something pretty handy and befitting your requirements. When you buy the pre-made or readymade market chicken coops, they could not only end up useless but not even address your major concerns. For instance, you can customize a chicken coop as per the size of your flock, location, and complete outlook of the coop. Considering the small things like where you would you want to keep the nesting box! Which kind of feeder and waterer are you going to opt for, what will be the ventilation and cleaning out the system?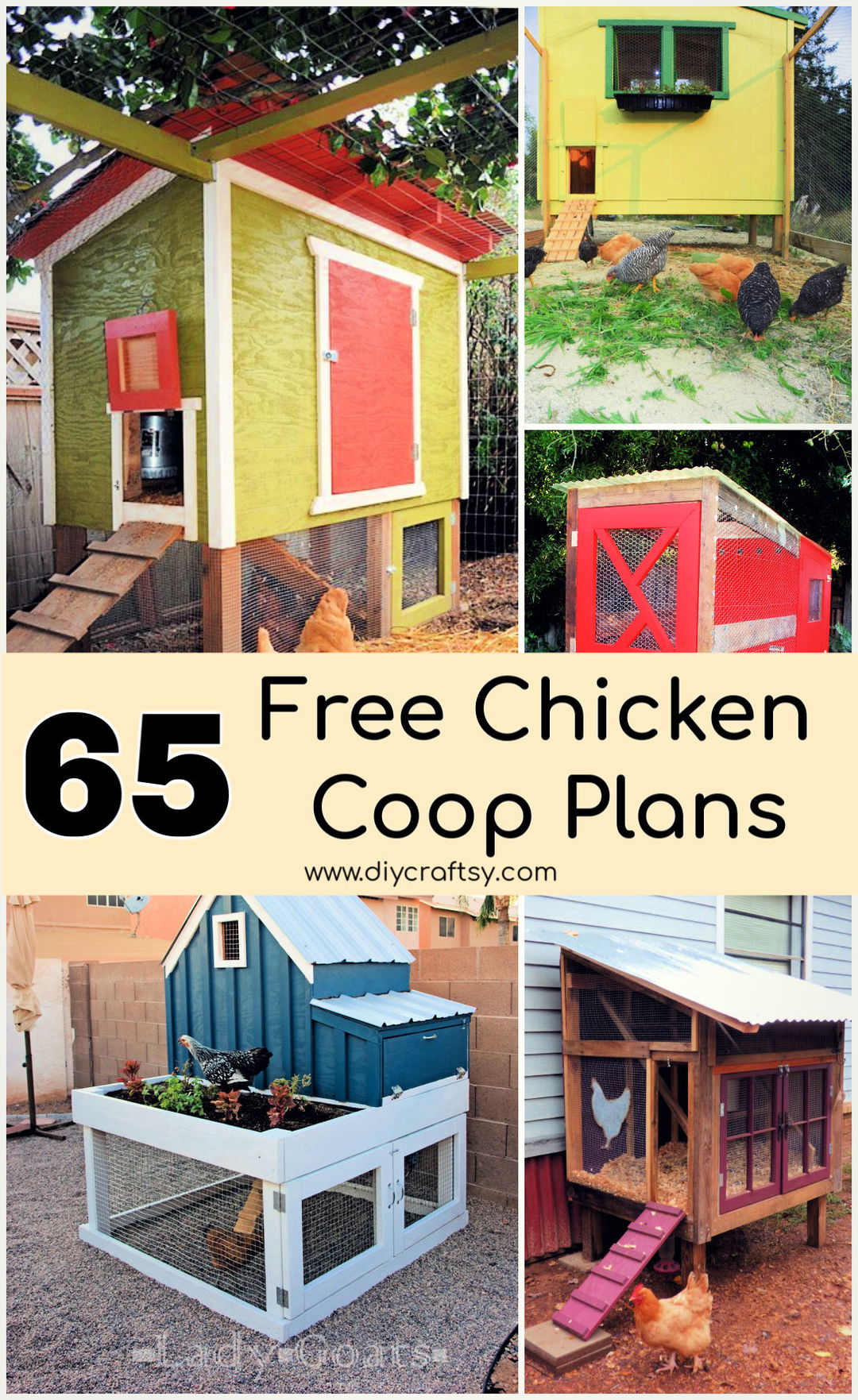 Our collection of free chicken coop plans with materials list:
Given many of these impactful factors, some careful considerations, we have hence collected our free chicken coop plans for you. Each of them has a different appeal. Even if you have limited space available, you can find a smaller chicken coop plan right below. From beginner level to intermediate and even some instant and ultra-stylish chicken coops, our free chicken coop plans are versatile enough!
How to determine your flock size and space requirements for a chicken coop? Before you start a chicken coop project, make sure you have chosen the right space in your outdoor! Next, decide the size of your chicken coop according to the outdoor space and your flock size.
Space requirements for chicken coops:
For large chickens (standard) you need to set 2 square feet per bird and for bantam chickens 1 square foot per chicken. You should have the 8 to 10 square feet per chicken for large and 4 square feet per bird for bantam chicken outside of your coops.
So, take good care of the ventilation by installing custom windows that will help prevent overheating by allowing extra air circulation in the chicken coops.
All these showcased chicken coops come with free plans and instructions.
How do you secure a chicken coop from predators?
Fence your chicken coop, and it's mostly done with chicken wire. So your chickens will be safe from the hunters like the cats, coyotes, foxes, snakes, chicken hawks and other predators. Our listed free chicken coop plans will help you build a most functional and secured type of chicken coop in a budget-friendly way. Browse free chicken coops collection to see beautiful and easy construction with free plans and tutorials are given in the form of attached source.
DIY Urban Chicken Coop:

It is amazing to have a small chicken coop installed to your outdoor that will work as a mini poultry farm. Check out this cool and bright DIY chicken coop plan that comes with a bungalow styled structure and design. It is the perfect idea for managing your chickens in an urban coop plan.
There are two doors for this plan; the bigger door is for humans to go in and manage the coop and the little door with the slide is for your chicks to go out. thetanglednest
If you want to make this chicken coop, then you can use the leftover or custom wooden planks and beams. Put them together to make the overall design frame first. Next, you can fill up the sides and sections using chicken wire.
How to Build Your Own Chicken Coop:

Like it is said, for your chickens to be high egg layers, you have got to provide them cozy and warm shelters! So they can roost happily inside. The garden club has it all figured out! Given the thought that building a chicken coop is an intense project, start with them here by buying your supplies first. garden club
Shed Chicken Coop: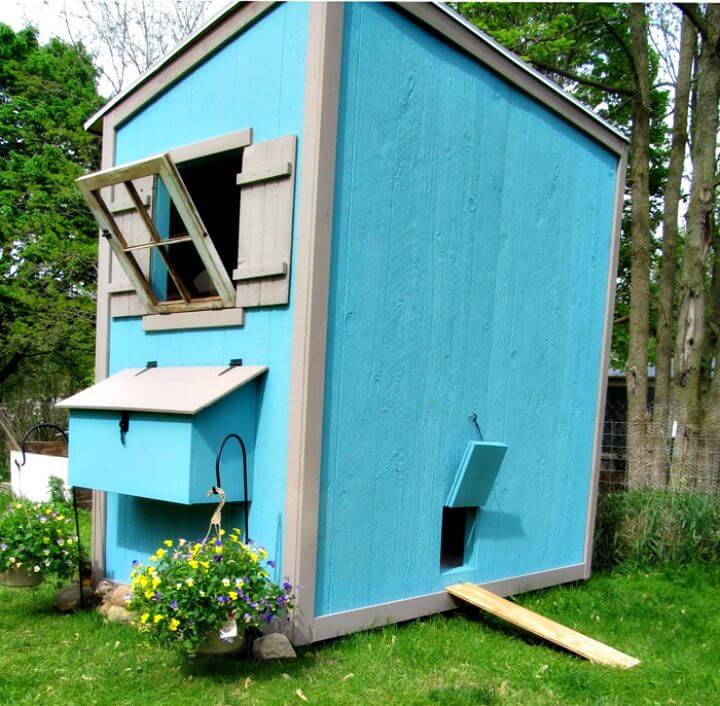 Make up a pretty basic shed inspired chicken coop with a door for humans on one side and a humble sloping roof on the other side. Ana white has got a detailed plan with illustrations and exact dimensions. ana white
This aqua or turquoise painted chicken coop that comes with deep window holes that help prevent overheating inside. It comes with a tiled roof and has been built in a shed style.
How to Make Chicken Coop:

For our bird-loving friends and those who have an ache for style and are trendy too! This super cool and stylish DIY chicken coop plan looks like a cool train which is made using reclaimed wood with an eco-friendly appeal. small friendly
Small Chicken Coop with Planter: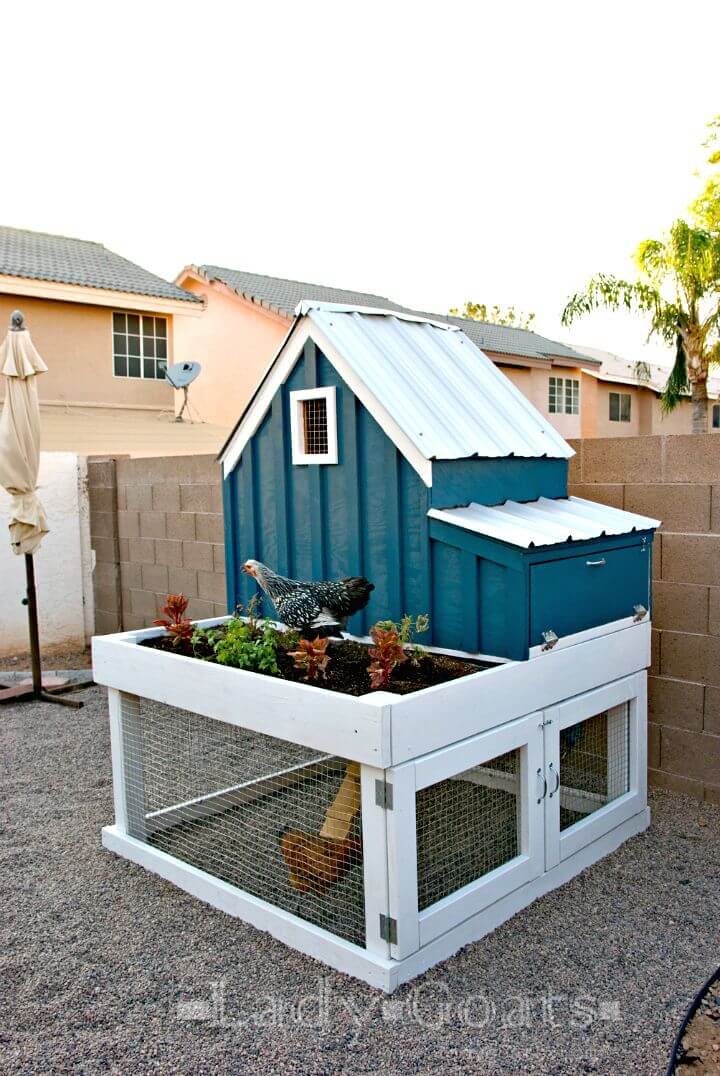 If you have been looking for an aesthetically pleasing backyard chicken coop, we can bet this one has your heart pounding. For a small backyard flock management and chicken coop, this chicken coop with planter, clean out tray and nesting box is no doubt the best choice. Moreover, it is having a chicken run or yard installed to the right bottom. ana white
Easy Chicken Coop:

For happy chickens and lots of eggs, you need to give your chickens an entirely delighted and inviting coop. Like this rustic DIY chicken coop which looks pretty minimalistic to build and has all the essential ingredients for the chicken happiness recipe. community chickens
Steadfast's Chicken Coop:

If your kids have all grown up and the swing and slide wooden set are lying all vacant and idle outside, it's time to put it to some good use. A wooden swing set design inspires this DIY chicken coop plan! Get the full plan here at backyard chickens
Awesome Chicken Coop:

If we're ranking these DIY chicken coop plans based on the intricate details and completeness, this one must have been among the top-ranked. It might look all tricky and bit detailed, but Natalie from home depot has got just the comprehensive plan to make it seem do-able. home depot
Backyard Chicken Coop:

Inspired by the Kansas barn, this chicken coop is all set to give your feathered fellows some ample space to chill around in the sun and mud. The perfect thing with this kind of secure chicken coop is, you won't have to worry about guarded walks around the backyard. instructables
Custom Chicken Coop Plans:

This DIY chicken coop plan is not just aesthetically appealing, but it is also perfect for housing six chickens with ample space. This coop offers a walk-in run. It has a built-in storage, an observation window, and an external egg collection. hgtv
Chicken Coop for Backyard:

If you are looking for a predator-free chicken coop with added benefits like durable roofing, easy management, and cleaning and can also withstand a full-grown person inside. Backyard poultry has got all these points covered! backyard poultry
Trictle's Chicken Coop:

This teeny-tiny but oh so cute chicken coop is perfect and intended for housing four chickens, even if they are heavy egg layers. The backyard chickens here has got for the complete detailed plan with step by step guide and illustrations. backyard chickens
How to Build a Chicken Coop:

This particularly beautiful and catchy chicken coop is like a complete palace for your chickens! It is laced with complete chicken care, chicken run, and the perfect coop plan. Plus, the tutorial suggests using metallic roofing. It is more durable and waterproof. trevormade
Build a Chicken Coop for Less Than $50:

If you have to find the invincible urge in you for raising backyard chickens, now you must be up searching your options for a sturdy and trendy chicken coop. Live simply has got the best teeny tiny house-shaped house for your feathered fellows. It is only going to cost you around $50. livesimply
Geodesic Dome Chicken House:

Check out this darn cute and utterly appealing dome house for your chickens by liekens! It comes with various benefits! Like it maximizes the space (can easily hold 3 to 4 chickens). It is entirely balanced and does not require a complex primary support structure. Give a custom finish to this wooden dome chicken coop for weatherproofing or just paint it. liekens
Chicken Coop for Under $50:
Let's transform your old crib into this brilliant chicken coop! You can add the netting wire on its sides, use pallets to cover the ends and spray paint it with colors of your choice to match it with your house décor theme, overall. Get the full plan here weedemandreap
If you are on a low budget but still want to get a unique chicken coop for your chickens, then this is a perfect plan. Check out here this example chicken coop that will cost you under $50.
This chicken coop is made of an old crib. Cover the top of the crib with a custom roof and paint a chicken on it.
Chicken Coop with Nesting Boxes:

This perfect chicken coop with an added and featured benefit of the nesting box is super easy to build even for a beginner. It can easily house 4-6 chickens with ample space available. Folks at myoutdoorplans suggests using weather-resistant lumber while building a coop. myoutdoorplans
Affordable Chicken Coop:

One of the most factors to be noticed and considered while building a chicken coop by yourself involves carefully considering the material quality. And, build a coop which is flawlessly predator-free. The tutorial has got all these significant details taken care of. hucks chicken coops
Mobile Chicken Coop:

Now, that we have seen so many appealing and catchy DIY chicken coop plans, here comes a tricky and fun one! Inspired by "Rickshaw" from the Asian regions we have got here a "Chickshaw" which is a mobile chicken house, easily portable by one person. abundantper
Wooden Chicken Coop:

Chicken coop on a budget is all you want when you have got so many other costly things to take care of while raising chickens! Check out this well-planned and managed DIY chicken coop plan by runtoradiance and get your coop problems in line. runtoradiance
Chicken Coop on a Budge:

The first thing with going for a DIY chicken coop plan is carefully analyzing the space available for your chicken coop! Once you are through that, start choosing the plan and materials then. This DIY chicken coop by the thrifty couple has got all the Must-haves for a chicken coop in check! the thrifty couple
Chicken Coop from Pallets:

Pallets are the biggest treasure for a homesteader! If you have got some vacant pallets lying around somewhere, with roots and win here, you can save so many bucks by making this cool Chicken coop using pallets. roots and wings furniture
Chicks Chicken Coop:

Talk about a perfect predator-proof chicken coop with enough space available for a chicken run! This perfect DIY chicken coop plan by backyard chickens has caught our attention. It comes with salient features like removable roosts, sweep door, electricity for heating and great ventilation. backyard chickens
Small Backyard Chicken Coop:
This small and perfectly cozy chicken coop is all set to house 2 to 4 chickens. There are doors added into it, which can help in keeping the coop ventilated in the day and predator-free in the night. Plus, it comes with great access for cleaning purposes.
Raise a small number of chickens in this given chicken coop. Get crafty with wood and chicken wire to build this perfect looking chicken coop. Grab the full free tutorial here simply easy DIY
Chicken Coop Tutorial:

Before jumping off to buying materials and building a chicken coop, you must first be clear about your requirements. Like the number of chickens, you are going to raise, if it has to be just a chicken coop or a combined chicken run along. Get the insights here with thehappy.
Swing Into an Upcycled Chicken Coop:

The major beauty of DIYing is that you get to be so creative and crafty with even the things that are no longer of any use to you. If your children have outgrown an old swing set, the countryliving has got just the perfect idea to transform it into a chicken coop for you. country living
Bluegrass Chicken Coop:

A chicken coop has to be homey and cozy for your chickens! But at the same time appealing and complimenting to your décor. This DIY chicken coop plan is jam-packed with all of these qualities. It comes with a stylish roofing structure and a nesting box. backyard chickens
Make Your Own Chicken Coop:

This chicken coop plan is equipped with all the checklist items that you must keep in mind while building a coop for your feathered fellows. Like the nesting boxes, a large chicken run, an open door, elevated base, the chevron roof, and space for cleaning. Get inspired by housewive. The front door and the back hinged door make it handy to collect the eggs.
6 Hen Chicken Coop:

This bold and spacious chicken coop comes with a hinged roof for an accessible and easy cleaning! Roosting bar, vents for ventilation, and can comfortably house six chickens with the capacity to even accommodate more. Check the full plan on fresh eggs daily
Build a Frame Chicken Coop:

Check out this movable chicken sled with an "A" appeal to the main structure. It has these added benefits, including it is both portable and self-cleaning. This chicken coop has a hardware clothing floor which allows the chicken droppings to fall off simply. cosmopolitan cornbread
Farmhouse Style Chicken Coop:

This farmhouse-inspired chicken coop is vast enough to house about a complete flock of chickens. Judging by the design and the height of this chicken coop, this might be the most intense DIY chicken coop plan we have listed so far. Get your hands on the complete plan here. southern revivals
How to Build Chicken Coop:
If you are looking for a portable, close, and easy to manage a chicken coop plan, bless this mess please has got just the right plan for you. The tiny door in the coop can let your birds access the lawn or backyard when you want them to! blessthismess
Build Your Own Chicken Coop: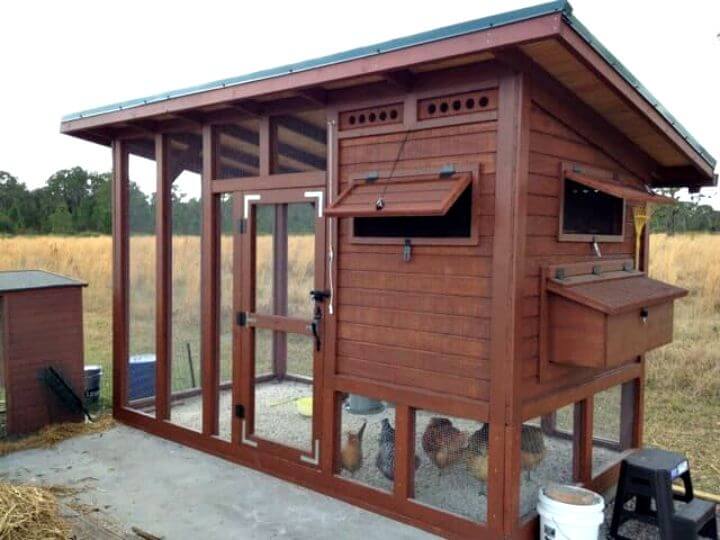 If you are looking for a chicken coop plan that is both aesthetically appealing and sturdy at the same time. Strong enough to handle different weather conditions, you have landed in just the right place. Steamykitchen has this huge DIY chicken coop plan that comes with a lot of added benefits. steamy kitchen
This house styled chicken coop comes with proper ventilation, a tiled metal roof to discourage bad weather, nesting boxes, and full proof security to the chickens using chicken wire.
DIY Frame Chicken Coop Tractor:
Check out this DIY chicken coop with a built-in nesting box and perch. The tutorial suggests using some scrap plywood piece for upstairs floor coop and ladder. The whole thing is pretty easy to build and will add a classy look too. ana white
Cover the top half with wood and build egg lying sections, nesting boxes, roosts and feeders in it. Rest of the bottom half with chicken wire and turn it into a chicken yarn or chicken run.
Make Sunrise Chicks Chicken Coop:

If you have a flock of chickens to take care of, we have got you covered. First, let's start by deciding the size of your flock and then the location of the coop. For example, this one here, the sunrise chicken coop plan is made under the tree for keeping it cool in summers. backyard chickens
You will appreciate this wonderful piece of chicken coop that has been done to inspire. It is just like a big outdoor cabin that may take some time to build.
This chicken coop has been made a little off the ground by using the concrete blocks. The entire design has been filled reliable using extra wood, and the space for the windows have been left. The ramps, nesting box, roosts, and front door have been installed, and that's it.
Free Chicken Coop with pdf Plan: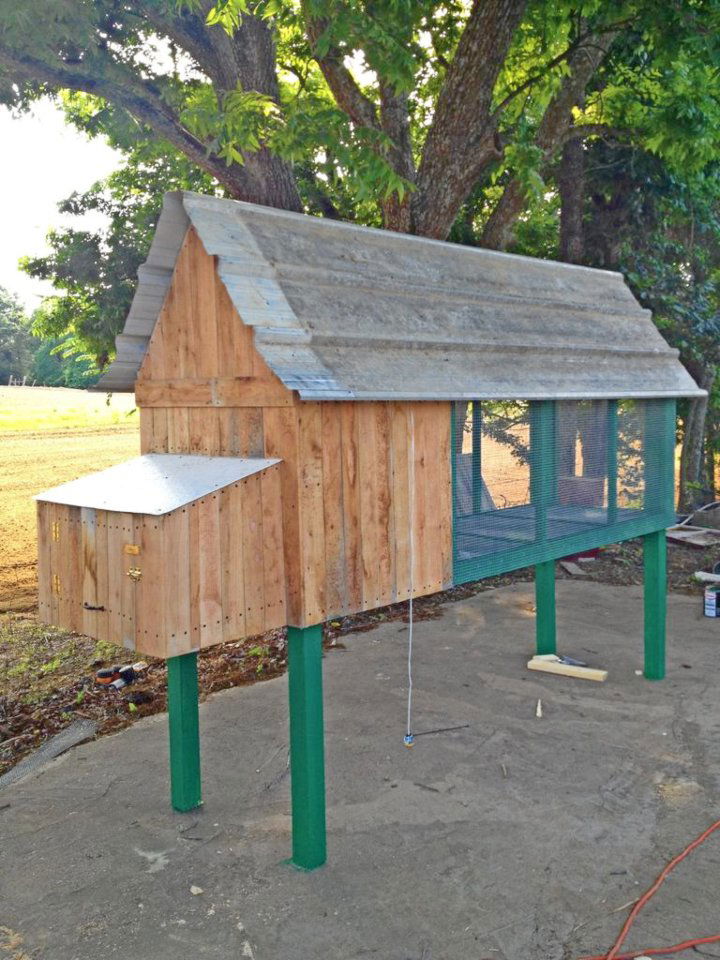 You can download free pdf plan of this chicken coop here: free chicken coop plans pdf
Do you want to build a budget-friendly DIY chicken coop?
If you are interested in raising the chickens, then you can build a small chicken coop at home. It would be like a mini poultry farm installed to your homestead, in the backyard, or to any outdoor. Building a custom chicken coop means that you are providing your chickens a safe house. This is mostly chicken coops done with chicken wire, wood, and recycled materials from home and market. Skip buying a chicken coop from the market as it would cost you high expenses. Try to make your own chicken coops at home that will befit to your requirements.
You can make your own chicken coops at home like a pro with these free chicken coop plans with step by step instructions. All these chicken coop plans have especially been picked and provided for the chicken lovers. Everyone from beginner to advanced skills can build these chicken coops at home by having the required materials.
Chicken Coop Build Plans:
Sorting out some free plans for the functional and unique design of chicken coops. Try this chicken coop that is having a design inspired by a bungalow. This chicken coop also provides a separated nesting box, a remarkable ramp for the chickens, a basket hook and amazing ventilation. You can build this chicken coop design with a little woodwork experience. It is painted in red and white, but you can try it with any color you like. thecreativemom
Finished Coop And Run:
You will just fall in love with bungalow style and modern white appeal of this chicken coop. This chicken coop comes with the soffit vents and ridge vents for amazing air circulations.
Perfectly bright interior and chicken wired bottom or base are the prominent features. One more amazing woodwork that results in a lovely chicken coop. backyard chickens
DIY Permanent Hoop Coop Guide:
If you are intending to make a large chicken coop for raising dozens of chickens, then this permanent hoop coop will rock. This dome-style structure has been installed using the heavy-duty wooden posts and lengths that build the frame first, including base beam, top ridges, and cross braces.
Cover the frame making the perfect arch and finally cover the half of the coop with truckers tarp. The cover art would make an egg-laying and sleeping portions, while the uncovered from, would work great for insect hunting for the chickens. Complete tutorial and free plans here backyard chickens.
If you're looking for very cheap greenhouse plans or ideas to build one in your home, then try these PVC greenhouse constructed mainly of PVC pipe, wood, and plastic.
How to Build a Chicken Tractor:
Once again a dome style handmade chicken tractor is here. For this arch-shaped chicken coop use wooden frame and bent PVC pipe in the arched shape, and fit to a wooden frame to give it arched frame for the roof. Finally, the entire structure and model has been covered with the chicken wire. The complete free tutorial is here fresh eggs daily
You may also love to try these DIY PVC pipe projects for your home!
DIY Chicken Coop With Run – Free Tutorial:
Looking for a modern chic hen house? A red and white painted chicken coop that comes with a large chicken run. This design begins with an angled roof made of fabric glass to make it weatherproofed. So, you need a lot of wood to make this chicken coop, and you can also make use of recycled and old wood or pallets if have any in the home. This Chicken coop is done at home, and you can build it for your backyard or garden space. unboundroots
Blueprints Chicken Coop:
This rustic wooden house for your chickens that is quick to build and is also cost-effective. Here adorable mini bungalow with lovely chevron roof has been built using the custom wooden lengths and planks and even with the plywood that covers the most of the sides.
Here precise measurements, cuttings and evenly flat arrangements of wood would be all responsible for the good looks and durability of the finally finished design.
This chicken coop also provides a separated nesting box and better ventilation as well. Complete tutorial and free construction plans here greenliving
Feather Factory Chicken Coop:
One more enticing model of the chicken coop that will help to raise a considerable number of chickens. It is also made of the wood while its tilted roof has been covered with the fiberglass roof panels. The primary structure is made of the custom cut wooden lengths that fit together to make the cross supports and braces and also the entire roof frame.
Finally, the sides have been covered with the prefabricated wooden panels. And windows have also been installed for air circulation and also bring some light inside the coop.
The interior comes with the water and food feeders and also with custom roosts installed smartly. Complete free plans and tutorial here backyardchickens
Farm Chicken Coop Plans:
One more exceptional and super lovely design of self-made chicken coop that provides a full yarn and a chicken run. It also comes with a first nesting box that comes with a locked door that can be opened to get access to eggs.
Here the entire house-shaped model of the chicken coop is made of plywood and comes with ramps, entering holes and also with a glam chevron roof. This chicken coop has been painted in light green for an enchanting appeal.
Wooden posts have been fixed all around the coop to install a bigger chicken yarn that has been pushed 2 inches deep in the ground. Complete free planks and tutorial here downeastthunderfarm
DIY Romadfoxs Chicken Coop:
While having a matter of building a chicken coop in hand then you can use various different types of wood and materials for it. Check out here this lovely romadfoxs chicken coop. It comes with a fantastic grand yard that has entirely been covered with the chicken wire and hence provides full proof security to chickens.
Here this lovely model is made of the custom cut wood logs which have been stacked for building each side. The windows are made of custom-cut wooden lengths and have been covered with chicken wire to ensure more security to chickens.
In features, it comes with a tilted metal roof and with other signature features of a coop like nesting box, the inside roosts, and the water and food feeders. Complete free plans and tutorial here backyardchickens
Mammy's 1895 Chicken House:
Look at this another amazingly beautiful and smartly functional model of chicken coop that comes with a built-in chicken run or chicken yard. This chicken coop is also having a building like a mini house and comes with an enchanting red appeal.
In features, there is a lovely chevron roof and nesting box with a locked lid and also the main door for getting direct access to the chicken coop. The interior of this chicken coop also comes with custom water pots, roosts and with custom built-in egg lying sections.
Complete free plans and tutorial here hobbyfarms
Chicken Coop For Four Chickens Under $400 :
If you are looking for a professional-looking model of chicken coop that no need to buy it from the market.
Just get crafty with the custom wooden planks and lengths and built your own amazingly functional and featured models of chicken coops at home. A brilliant example is here, the adorable chicken coop that will cost you under $400.
Here is having a remarkable bungalow-style structure and offers a nesting box, a bottom chicken yarn covered with chicken wire and a metallic tilted roof that will not allow the retaining of rainwater. Another great and outstanding model of the chicken coop to make at home.
Grab the full free guides and free plans from here queenbeecoupons
DIY Rustic-Whimsical Chicken Coop – Free Tutorial: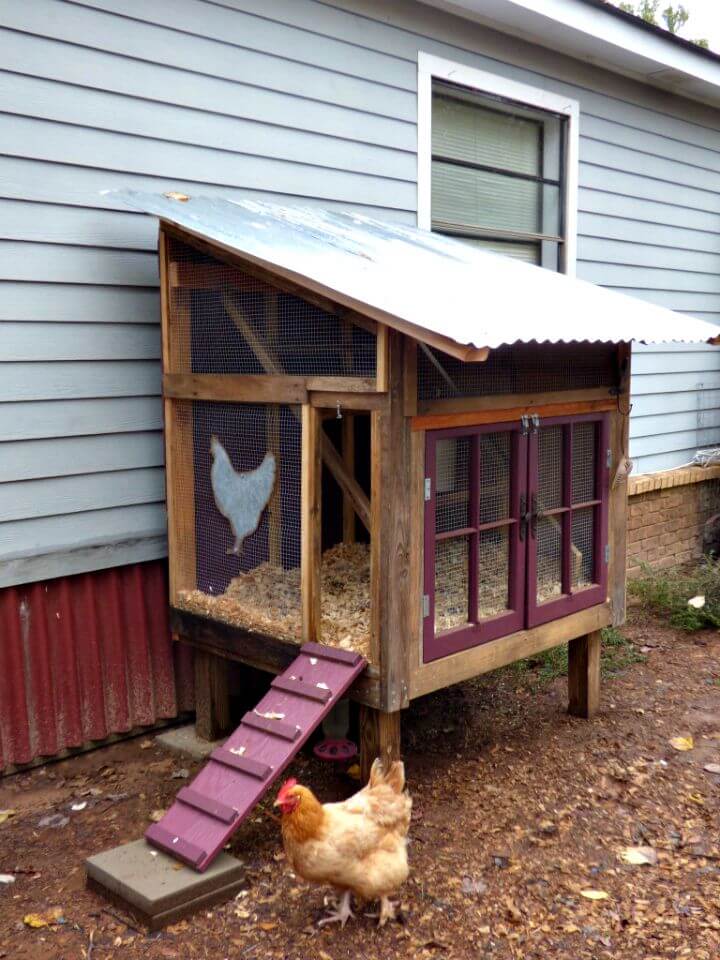 If you are sorting out a rustic chicken coop for your vintage-inspired outdoor then here are the plans and instructions for it.
Just get crafty with the recycled wood and chicken wire and make a birdcage like structure. And then just finish it off with a tilted roof, the metallic roof would work tremendous, and same has been done here.
Here this mini but adorable chicken coop offers the ramp for a stylish entry and exit of the chickens and also comes with roosts installed to inside. Here is how to make this chicken coop at home communitychickens
DIY Wooden Pallets Chicken Coop – Free Tutorial:
Build even the lasting longer wooden chicken coops at home using the free and recycled wood. You can make smart use of wooden pallets to make durable models of chicken coops at home that will live for years to come. Checkout here a sample hand-built model of chicken coop that is made of pallet wood slats gained from dismantled pallets.
First, raise a large pallet skid on custom legs, and this would be the base, next install posts for the roof and also add cross braces for building the first skeleton.
Fill the sides up and also strengthen the base by installing the wooden beams supports. Grab the full free guides and visual tutorial from here pallet ideas
Old Dog House Into A Chicken Coop:
If you are having an old dog house and it is lying useless in your home trash store then time to do something amazing with it. Just transform it into a fantastic looking chicken coop by doing custom modifications and also by adding and removing some things.
Cut out the sides for the windows and next install a chicken yarn or run to one of its sides to allow the chicken to hunt the insects while enjoying the outdoor weather.
Make the chicken yard frame with wood and next cover it up using chicken wire or hardware cloth. Complete free guides and step-by-step tutorial here greengardengirl
DIY Red White And Blue Coop – Free Tutorial:
Look at this another fantastic and lovely design of chicken coop that comes in red and white appeal.
You will fall in love with the triangular sides and the pyramid style design structure of this chicken coop. It is having the chicken yarn installed to the bottom side which has been protected with the chicken wire.
It comes with a red painted primary door that is also having a vintage light hanging over it. Another brilliant chicken coop achievement to amaze your senses. Grab the full free guides and visual tutorial from here coopandhome
Easy DIY Chick Brooding Cabinet Tutorial:
Get inspired by this another fantastic and good looking model of a chicken coop. It comes in a cabinet style and offers a built-in chicken house that is having chicken wired doors.
Finally, there is a drawer at the right bottom side of the brooding cabinet. It comes with a lock and has been hinged in place, this drawer door can be dropped down to collect the eggs, and the upper part of the cabinet may come in handy to display your decors and accents.
Paint your finally finished model in the desired way. Willing to duplicate this brooding cabinet? Grab the full free tutorial and easy free plans from here ana-white
DIY Chicken Coop Plans – Easy Step By Step Instructions:
Duplicate this ultimately beautiful and functional design of chicken coop that is self-made and comes with all the features that a professionally build chicken coop may have. Here this entire chicken coop is made at home using custom wooden lengths like the 2x4s and also the plywood.
Build the overall frame with the wooden lengths and next cover the sides and install the floor using plywood sheet. The plywood has also been used to install the edged out nesting boxes.
Install the chicken wire windows, the primary door and finish the sides with the wooden shingles. Add the feeders to the interior and also the roosts. Next to finish the model by adding a chicken run or yard.
Paint your complete design in your own way. Complete free tutorial and instructions here trevormade
DIY Chicken Coop Farm Extravaganza – Free Tutorial:
One more outstanding chicken coop farm is here to inspire your creativity. This is like the bigger outdoor cabin or compartment that comes with sturdy dimensions and also with a chevron roof that doubles up the charm and beauty of the design.
Here this entire chicken coop farm extravaganza is self-made. And comes with stenciled nameplates in front that jazz up the design more. There are lots of windows and doors that allow excellent air movement to prevent overheating, and finally, the inside roosts have also been installed.
Another great and enticing looking model of the chicken coop to make at home. Grab the full free guides and visual instructions from here redeemyourground
Homemade Extraordinary Chicken Coop – Free Tutorial:
Check out here another smart chicken coop hack, here a two-story playhouse has been transformed into a very fetching looking chicken coop. It also comes with a new chevron style shingled roof.
Here the playhouse has been gained as a single-story building! It has been added with new doors, windows and also with a nesting box.
Next, you can cover the base area with chicken wire to get the chicken yard. And you can also do various other modifications to make the design a bit more functional and beautiful looking.
Complete project details here citygirlchickens
Super DIY Bluegrass Coop Tutorial:
You will praise this another grand model of chicken coop that is stylish, featured, and durable. Here this chicken coop also comes with an elevated base and offers a perfect yard for the chicken to enjoy the outdoor weather while picking up the insect with their beaks.
The edged out fabric glass roof will not let the rainwater to damage the chicken coop. And the old windows and doors have also been reclaimed to fit in the design for extra charm and even for air circulation.
Don't forget to use the leftover wood to install the inside roosts and ramps. Complete free plans and instructional tutorial here backyardchickens
Build A Chicken Coop – Storage Shed Combo:
You can also duplicate this 2 in one chicken coop that is looking lovely and is really a genius and creative achievement.
This is where the storage shed and chicken coop combo, here a chicken coop has been installed in the sides of a garden shed and both looks outstanding together.
The tilted roofing, custom doors, windows, hinged nesting box lids, and an attached chicken run or yarn just bring a great visual appeal to the entire design.
Intending to duplicate this chicken coop? Get the full free instructions and tutorial from here remodelaholic
How To Make Cheryl's Hen House:
This is really a large chicken coop that is just like a large poultry farm. If you are to raise hundreds of chicken, then this design of chicken coop for you that is self-installed one. And it comes with all the features that a modern chicken coop model should have.
The decent wooden dimensions and large chicken yard are the prominent features of this design there the self-made feeders and roosts installed to inside of this hen house.
This chicken coops come with a metallic roof and has been painted in light green and has further been beautified by hanging flower bucket planters. backyard chickens
How To Make Free Chicken Coop:
Look at this design inspiration of a chicken coop. This chicken coop is having a room like structure that has been raised to a safe height level. Next, the custom wooden ramps have been installed and also a chicken yard that has been attached to one side of the chicken coop.
What makes this chicken unique is the metallic reinforcement of the sides that have been done by using the metal roof panels. inhabitat
How To Build A Simple Chicken Coop:
If you are a big chicken lover, then you will fall in love with this DIY hen house that is having a fantastic design structure. The basic skeleton has been installed first that comes with the cross beams, braces, and vertical supports. And next to the chicken coop floor has been set in the air a little higher from the base level. At the same time, the nesting box frame has been made.
For roofing, plan the rafters, place them flat and next cover the roof with the fabric glass. Fill stable the chicken coop using extra wood and fill the sides with chicken wire to gain a chicken run or yard. tinkeringlab
DIY Chicken Coop – Free Tutorial:
Step by step tutorial here: isthmushandyman