It makes you feel embarrassed when you take your tablet out damaged with scratches. To come out of this very disappointing situation, the table comes for a big rescue. If buying table case and covers online, It'll costs you big, So try to make your own tablet & iPad case at home with the help of these 25 DIY Tablet Case and iPad cover ideas that will bring a style too to your electronic gadgets along with durable protection. Put a full stop around daily wear and tear of your expensive tablets with these table coves, which will be like safe and soft layers all around the tablets.
Time to save your tablets from further disasters with these homemade tablet covers, no more cracked screen will be guaranteed. As the modern tech gadgets provide security and protection to you so you should do the same in revenge, do try making your favorite covers from the list. The fabric, leather, and felt will be the best type of fabric to sew scratch-free table cases, they can also be used in the recycled form. So, you are going to be more attentive to fabric scraps after taking a tour of these DIY Tablet Sleeve Projects.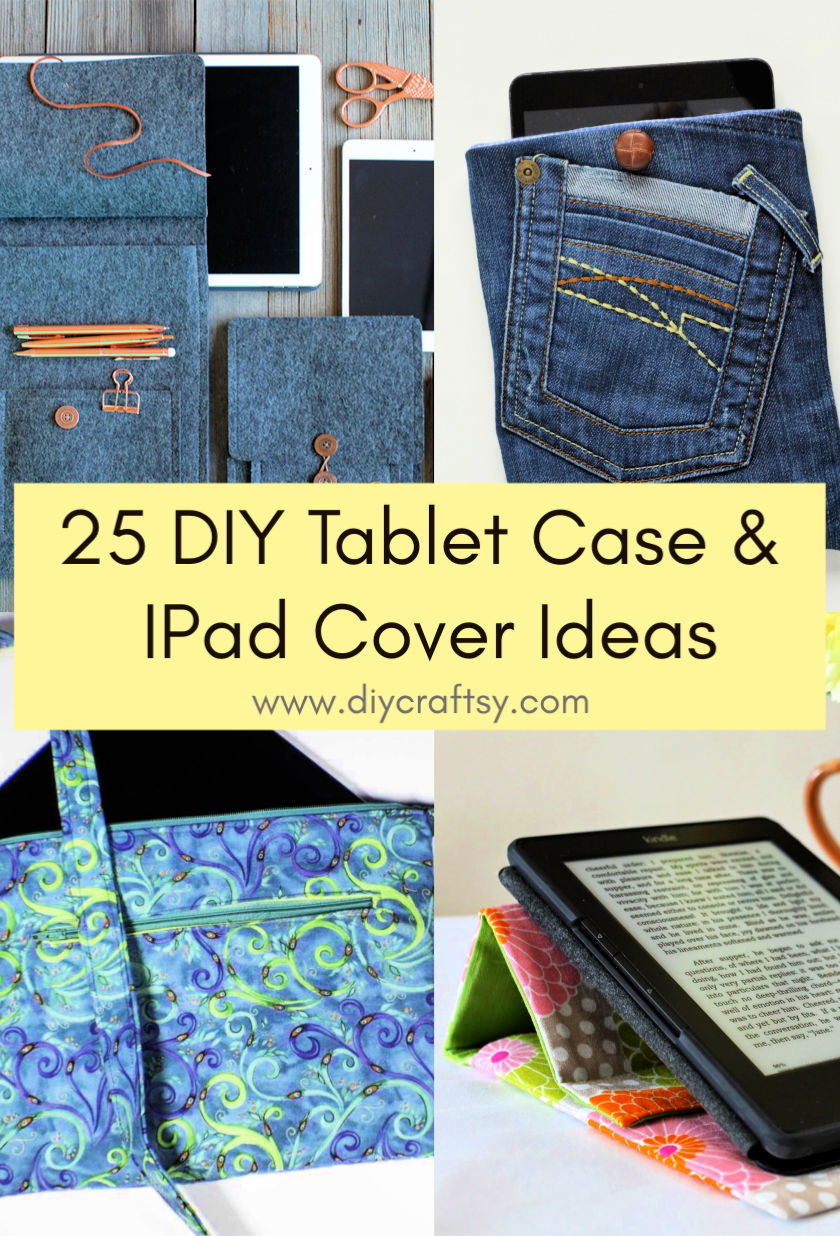 Repurpose also your denim jeans to sew durable tablet covers cost-efficiently. Take a round of all the DIY Table Case Project to check out all the prudent ways to make cool and decorative table covers. You may also like these easy to make and Creative Crafts to Make and Sell.
1. DIY Felt Tablet Cover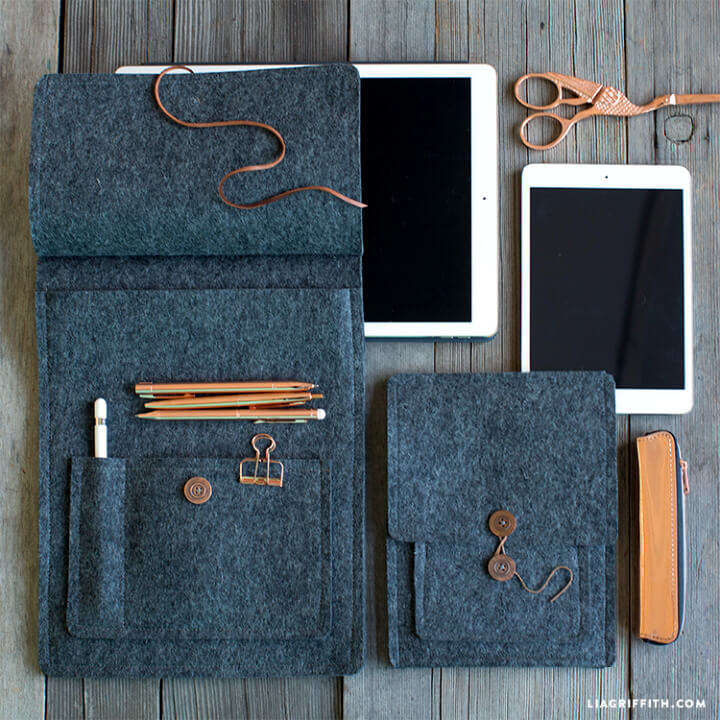 Make your tablets safer to use with this handmade DIY felt tablet cover. Being utterly soft the felt fabric is a great choice to sew up your tablet covers with. The cover also has a pocket to hold your tablet touch sticks inside it. Get the sewing details here liagriffith
2. How to Sew Fabric Tablet Case
The tablets are one of the favorite possessions so treat them special with a handmade tablet case. You can easily sew up a custom tablet case from any of the cute and quirky fabric lying around in your stash basket. Learn the sewing details and design from here simplymadefun
3. Make Leather Tablet Case
Everybody wants their tablets to be safe from scratches and other damages and this leather cover can do that. Using some sheets of leather you can easily sew up this clutch styled tablet case and secure your tablets inside them. Follow the tutorial details right here brit.co
4. Dollar Store DIY Ipad Case
The store-bought IPad cases are totally dull and boring so make them look exciting and fun with some DIY ideas. This idea suggests you cover your Ipad case with some cute and colorful fabric using some mode podge and it's done. Check out the details right here modpodgerock
5. Make Tablet Case from Old Jeans
This is the most fun and cheapest idea to create a tablet case from the old jeans. So get to your cupboard and take out your old jeans. Get a pocket portion of your old jeans to make a storage-friendly tablet case and save yourself a lot of time and money. Details here vickymyers
6. How to Sew Tablet Case
Why should we waste money on a market bought tablet case when we can make a better one and chap one at home. This gorgeous and multi-colored tablet case with triangle design is the perfect case for the male tablet users in the house. It would make a perfect gift idea so get the details right here inspiringcreations
7. Make Graphic Tablet Case
Make your boring and dull-looking tablet case an instant style hit with some easy and fun DIY. Add some cool and pretty graphics to your tablet case with the iron-on art. The addition of the graphics would make the tablets look so jazzed up. Details of the idea here ispydiy
8. DIY Fabric Tablet Cover
This fabric made tablet cover is an absolute beauty because of the colors and the flowery print of the fabric. It looks like a cute girl purse and thus it would make a great gift for the girls who have recently bought a tablet or IPad. Details here flamingotoes
9. Handmade Tablet Case for Your Little One
Now the fabric is available with really cool and quirky kind of prints, especially for the kids. So not only dresses you can use these pretty fabrics to sew up a tablet case for your little ones. The custom selection of the fabric would result in a pretty and personalized DIY tablet case. Get the details right here sewyourtv
10. DIY Ipad Case – Free Sewing Pattern
This DIY IPad case is so gorgeous that it would not only save your tablet but also look so beautiful held in your hands too. You can choose any kind of fabric that you like to make this pretty DIY IPad case with some custom additions. Sewing details can be hacked right here lifesewsavory
11. Make a Tablet Carrying Case
If you are a person with buttery fingers then make this tablet carrying case with strap to hold it across your shoulders. Use any of the fabric that you like to sew up this bag like a tablet carrying case. The tablet case would make a great gift idea for your dear and near ones too. Details are here sewverycrafty
12. Felt Cover for a Smart Phone or Tablet
Dedicate your weekend to the sewing of cases for your phones and cases. Here is a complete project showing how easily you can sew up some super cute and colorful covers for your electronic gadgets. Choose the felt of your choice and get the sewing details here hgtv
13. DIY Wooden Ipad or Tablet Case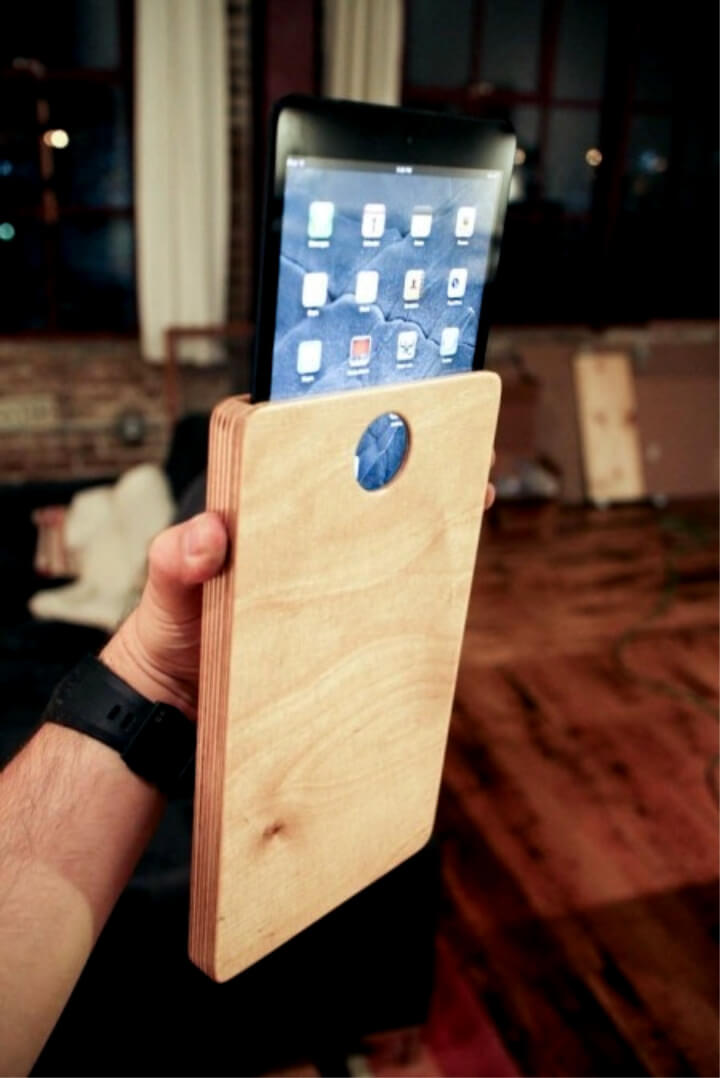 Tablet case with wood? Yes, you are hearing it right as we have brought to you this wooden IPad or tablet case. This totally simple and super strong wooden tablet case has been made out of some wooden sheets. You can hack the details of the idea right here manmadediy
14. Make Your Own Prop-Up Tablet Case
Planning to make a table case this week? Then get your hands on this prop up tablet case as it got so double advantages. It would not only protect your tablet screen but also give your tablet support with a back prop up to hold on its own. Follow the step by step details of the idea right here theinspiredwren
15. Pretty DIY Felt Tablet Case
Using some felt of your favorite hues and combination you can dress up your tablet case in a really cute style. This white and yellow felt looks just so adorable used for this simple and cute table case. A pocket has also been introduced into this tablet case for some storage like hands-free tablet sticks and more. Details here sugarsalted
16. DIY Tetris Themed Tablet Case
Tetris is a fun puzzle game with adorable and catchy colors and it can become a theme for so many projects. Here is this Tetris themed tablet case to make for your kids with colorful chunks of fabric. You can follow the details of sewing this cute Tetris tablet case right here sewcanshe
17. How to Sew a Padded Tablet Case
You can make your handmade tablet cases safer for the delicate tablets by padding them up. Here is this cute chevron styled fabric table case which is padded enough to feel super soft and be super safe. You can also easily shape it up at home as the sewing details are given here thediymommy
18. Awesome DIY Tablet Case
Summer fabric comes in so many cute prints, colors, and designs and thus gives so many ideas to do with.  This gorgeous and awesome DIY tablet case has been made out adorable printed fabric pieces to make your tablets look so beautiful. Easy learning of the tablet case is here u createcrafts
19. Sew a Quilted Tablet Case
Do you love quilting? If yes then here is the idea of making this cute and colorful quilted tablet case. The icing on the cake is that you can use your scrap fabric pieces to make this adorable tablet case. You can also use it as a gift for someone near and dear to you as well. Sewing details have been shared here skiptomylou
20. Denim Tablet Case for Father's Day
We have brought to you the gorgeous gift idea to work on this father's day. This is a cute and simple DIY denim tablet case for your dad who loves to read and enjoy his time. The denim fabric and the embroidery of Daddy really make the tablet case look so pretty and fun. Details here littlebuttondiaries
21. Felt + Leather Tablet Case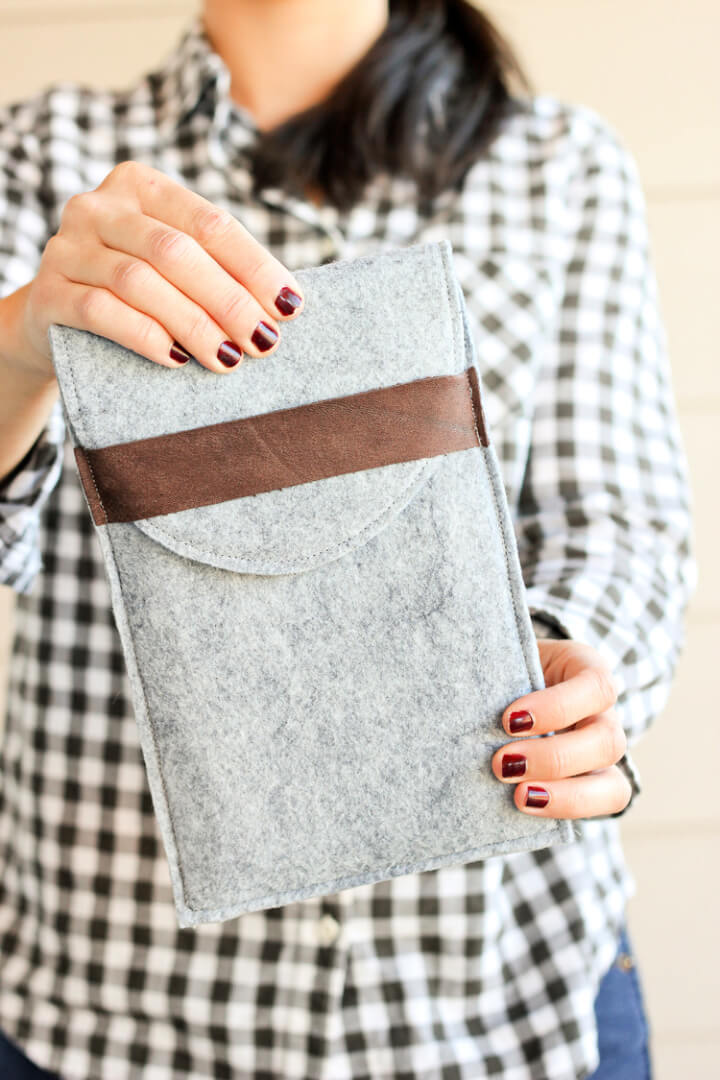 This simply adorable tablet case can be yours with two simple supplies and with basic sewing skills. The cute tablet case has been made out of the felt and a strip of leather on the top adds oodles of coolness to the tablet case. Grab the details right here deliacreates
22. How to Make Quilted Tablet Cover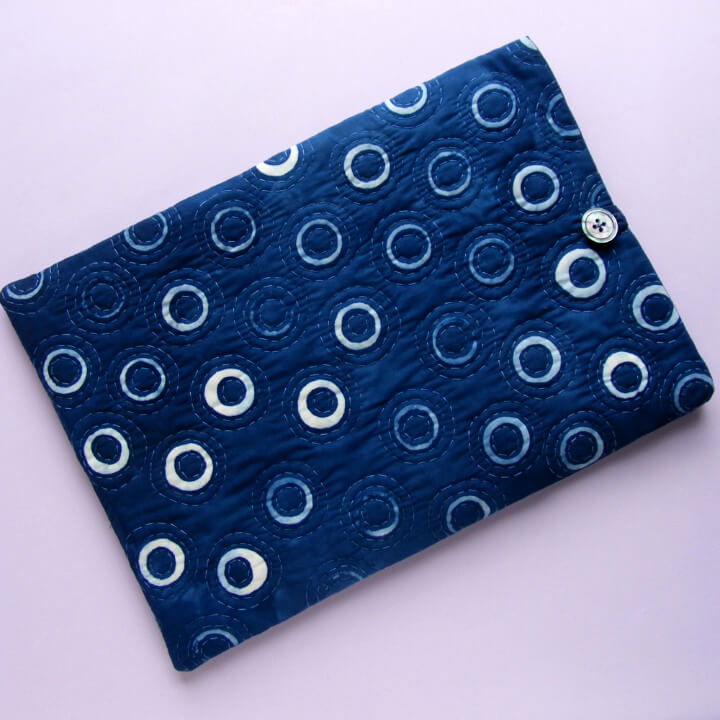 Give your tablets the warm and cozy covers while you would be enjoying them in winter times. Making these quilted tablet covers is a great idea to protect your tablets in a gorgeous way. So grab some fabrics of your favorite colors and materials to work on this project soon. Details here shinyhappyworld
23. DIY Denim Tech Case
The combination of the hard and soft fabric has resulted in this super elegant and cute DIY denim and felt-lined tablet case. Grab a yard of both fabrics and start working on these absolutely chic and gorgeous tablet cases ever. Written details and video tutorial are given marthastewart
24. Make a Dip Dyed Ipad Case
Make your plain and simple IPad cases look so interesting and cool with some DIY makeover. You can dip dye your case with the colors of your choice and in ombre texture for a more appealing look. Get your hands on the details right here thecraftedlife
25. Homemade Tablet Case
This sparkly cute table case is cheap and easy to make at home with your own hands. Grab some card board pieces, a piece of skin and some golden elastic to decorate it up later. This handmade tablet case can be a great gift area for the festive season. You can load the details right here diy is fun