It is better to stay at outdoor for a daily dose of fresh air and delightful greenery! Health care departments also suggest that outdoor lovers have sound minds and even much fewer anxiety disorders. So organize a favorite place of your outdoor for regular gossips and conversation and above all to keep yourself healthy as the outdoor atmosphere is a way to develop stronger immune systems. Do you intend to get an instant pallet deck at your backyard?
Do you wish to have a separate outdoor place to go for more extended conversations? This DIY pallet deck for backyard installation project is what that will give you an enhanced outdoor sitting experience ever! The project has entirely been brought to completion through creative stacking, flooring, and installation of pallet boards that are always easy to sort out in the surrounding area to grab a good supply.
First installation process gives the raised wooden platform with sectional walls, and through 2nd installation, the user gets the attached sectional seats and a coffee table to organize this unit.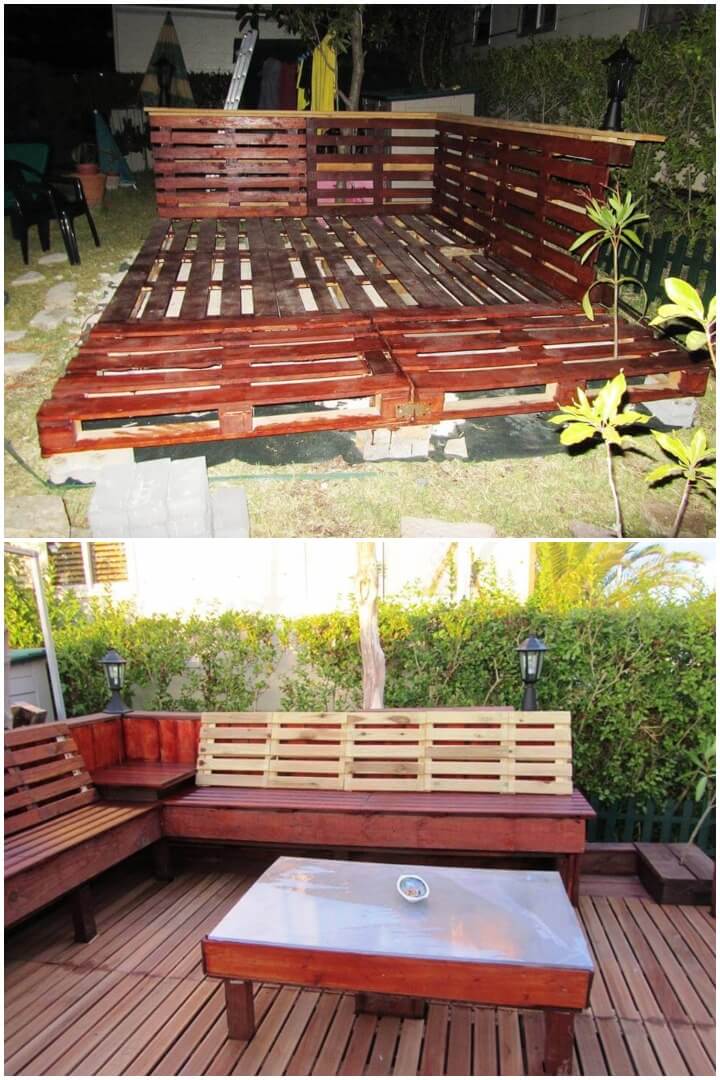 And the final step is to give a beautiful finish which can be planning by choosing wisely an according to the shade of stain, a high-quality wood sealer, and some garden pole lights and also some planters!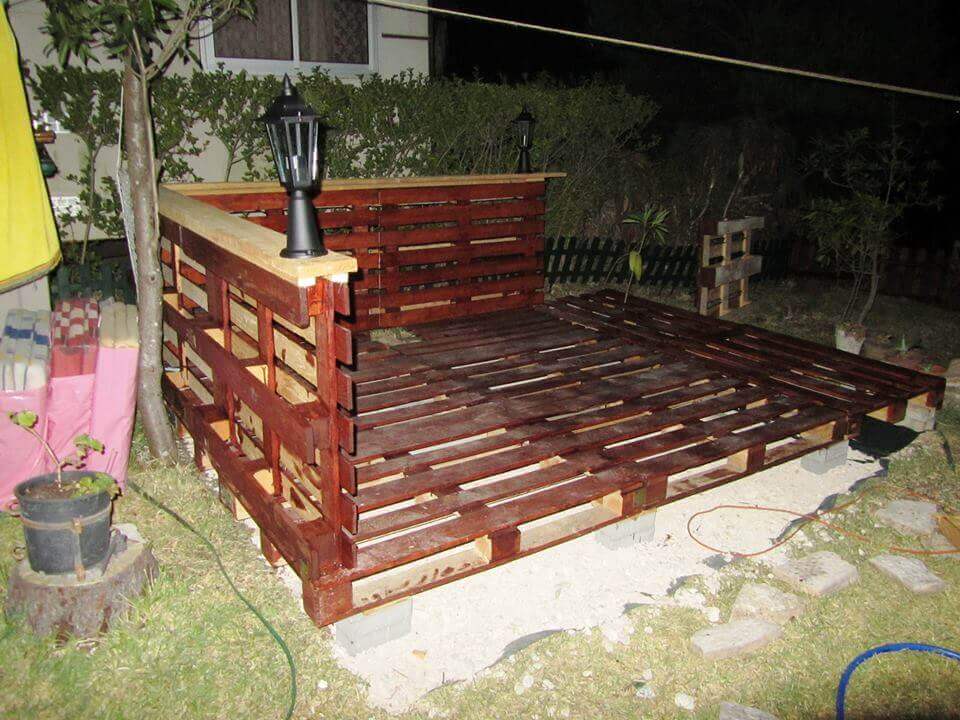 Sometimes we have a lot to share with a group of friends but can't find a perfect spot to sit at outdoor to start over the conversations.
To fulfill the instant sitting demand or to gain a glam sitting-friendly ambiance of your garden we have this patio deck project here, as stable as you want and is as friendly to your wallet as you have always wished!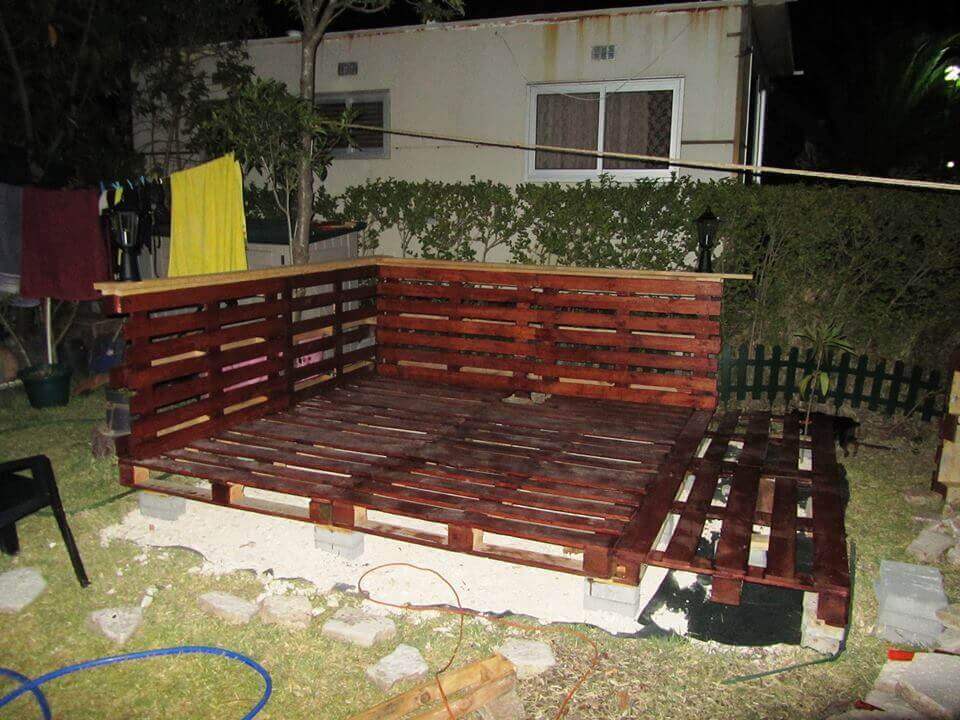 Just plan the tactics of your sitting plan and wood flooring carefully and do keep in mind the portion of our garden space which has selected for the whole installation of deck, made sure it is friendly to weather like it have better exposure to sun and also can capture the moonlight at night!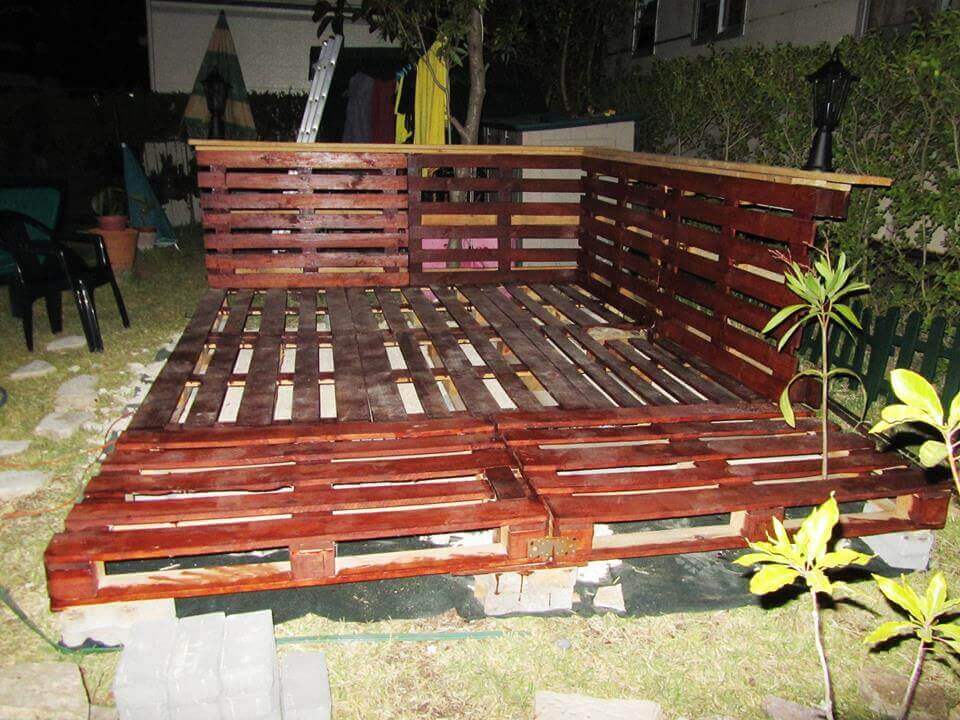 After reviewing the weather condition, add concrete supports to marked points of targeted dimensions and floor up to the pallets as plane wood skids
To safely connect the adjacent pallet boards, use metal steels plates and put the screws in
Once you gain a mesmerizing wooden floor, do add the sectional walls by installing some more boards in upright positions along the corners of the flooring.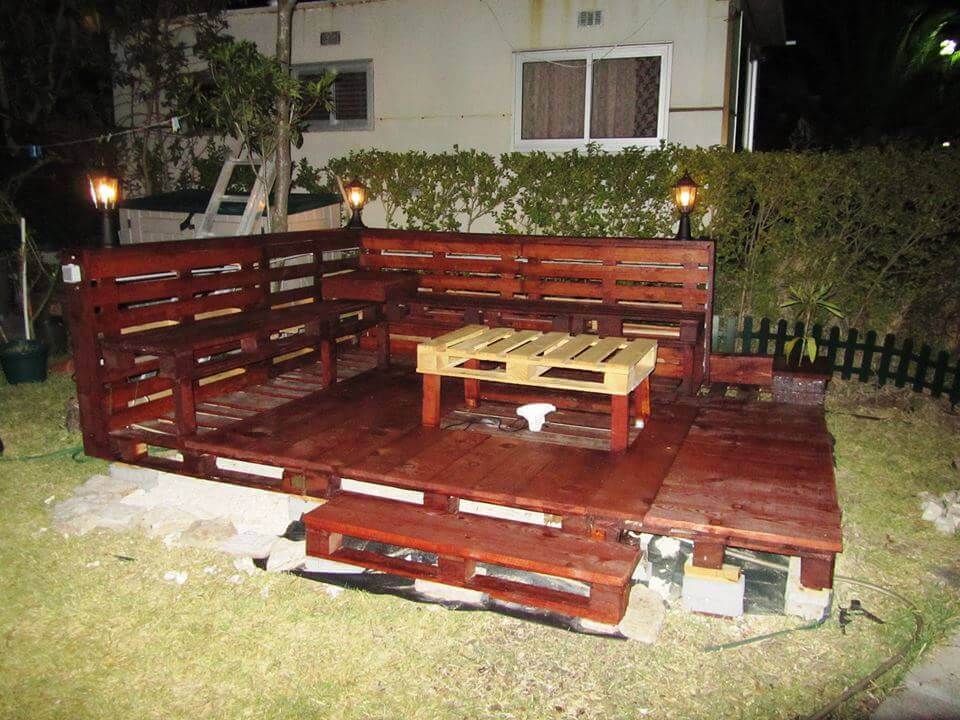 Now, put the features to gain the purposes for which you have planned this whole project!
Get modified pallet boards and attache them on a certain height level on the pre-installed sectional walls, put the legs underneath for more support and get attached benches or seats there to go for friendly conversations.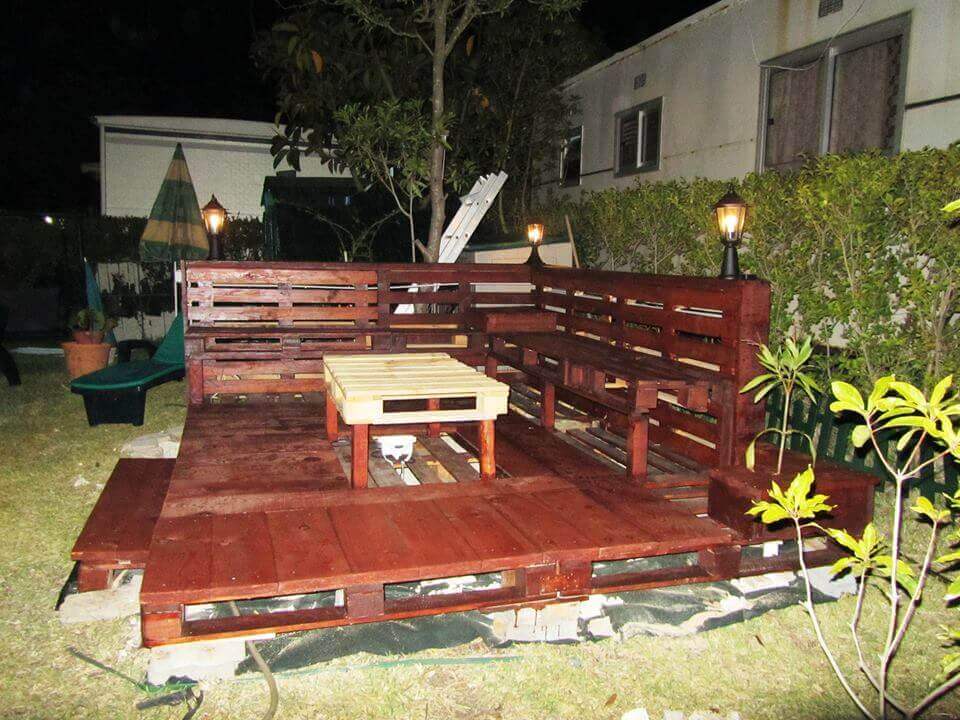 After Installation of seats, do add the pole lights to erected walls, here three garden pole lights have fixed to illuminate whole sitting ambiance or atmosphere at night.
You can also use the light globes, LEDs, or pallet+Mason jars lights according to budget and choice!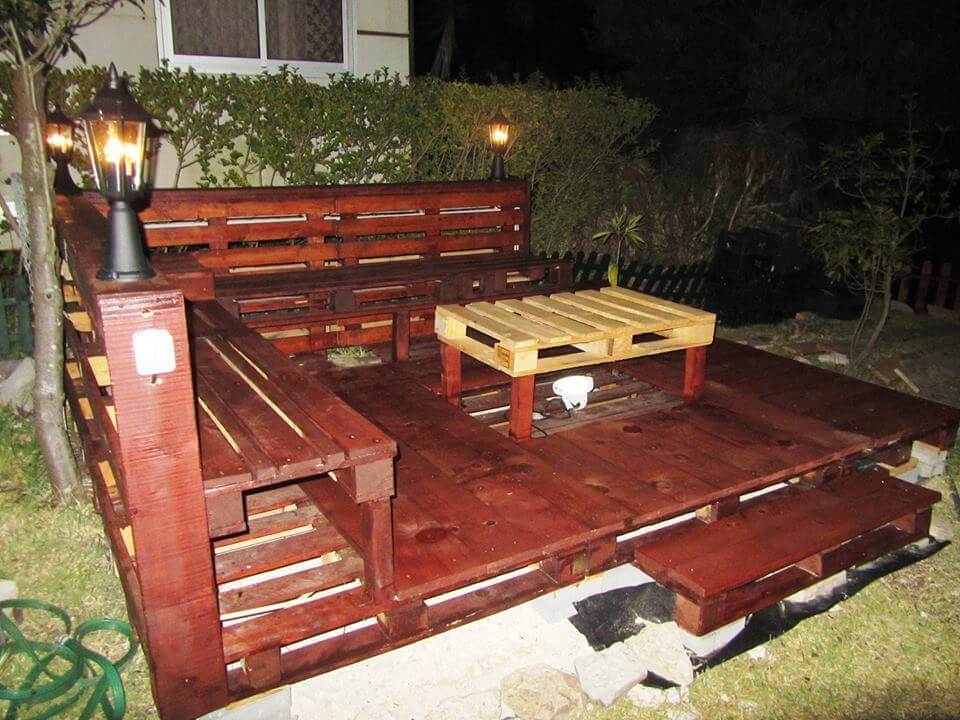 The boards selected for side walls installation, have been electrically wired to provide a safe supply of current to pole lights and have an ON/OFF switch at one side that can be triggered OFF after you leave this sitting spot.
A pallet coffee table setup has been done using one pallet skid with added bottom legs, that will help you to pause the conversation while eating something!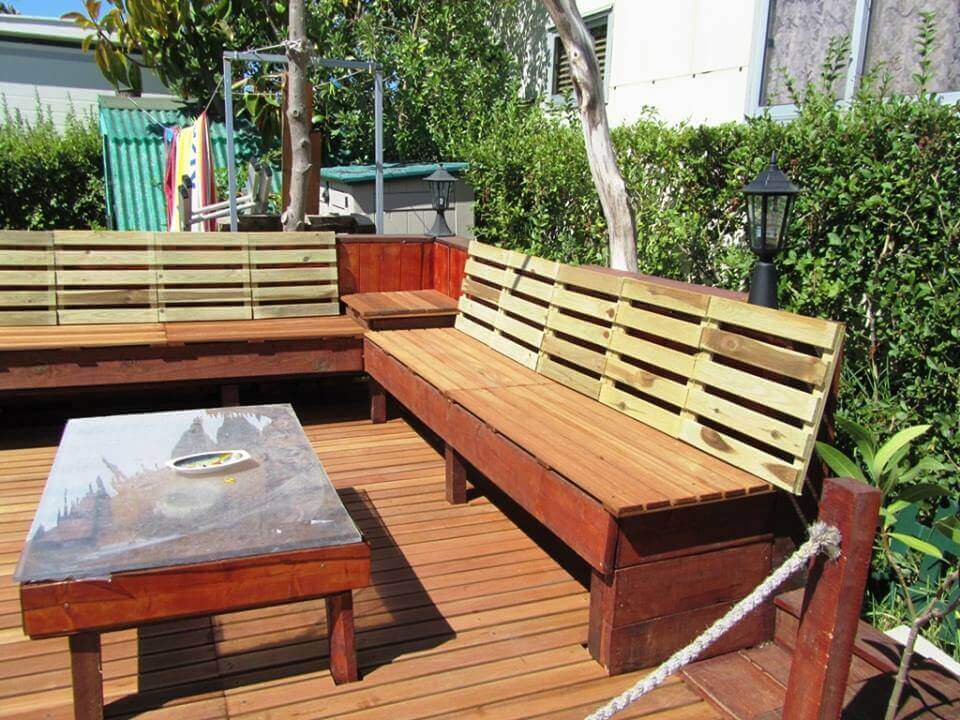 They have created an enhanced modern look of the seats by using extra wood slats that can be installed in slatted-arrangements but with tight packing to cover all the places for a solid finished look.
Slats can also be framed up to create the backrest position just like shown in this inspiration!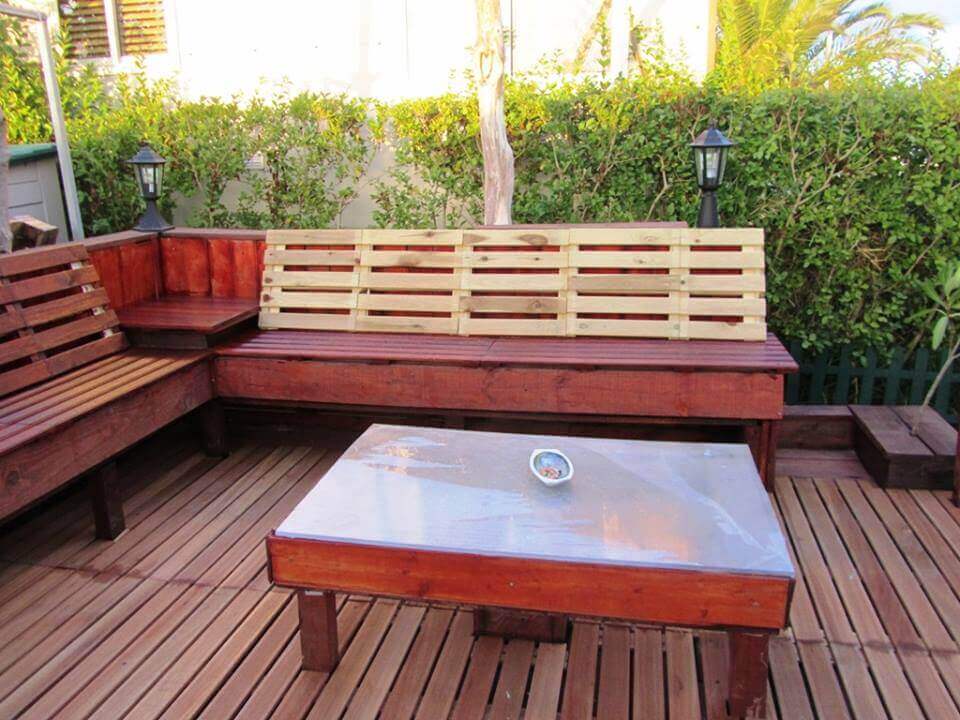 Fix the backrests to pointed spots and give them a tilted angle for a convenient and very right sitting position.
Tilted backs will help you to stare at the surrounding areas, natural scenes, and even at the sky without giving a painful stretch to your neck.
Also, provide accent boundary to the coffee table and finish it with a concrete or glass top as per the demand of an elegant, modern, and cozy sitting environment!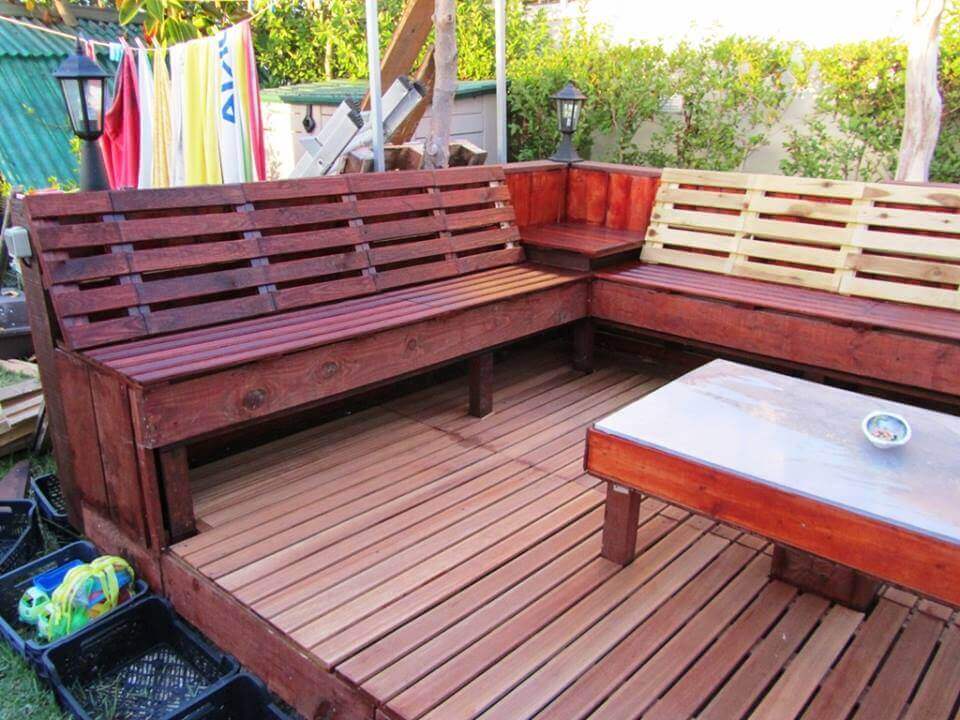 The corner space between the seats has been given a damn creative twist!
It has been provided with little flat wooden surfaces that serve the sitting members as a side table support and can be planned in plenty of ways to give a functional and decorative touch to whole sitting plan!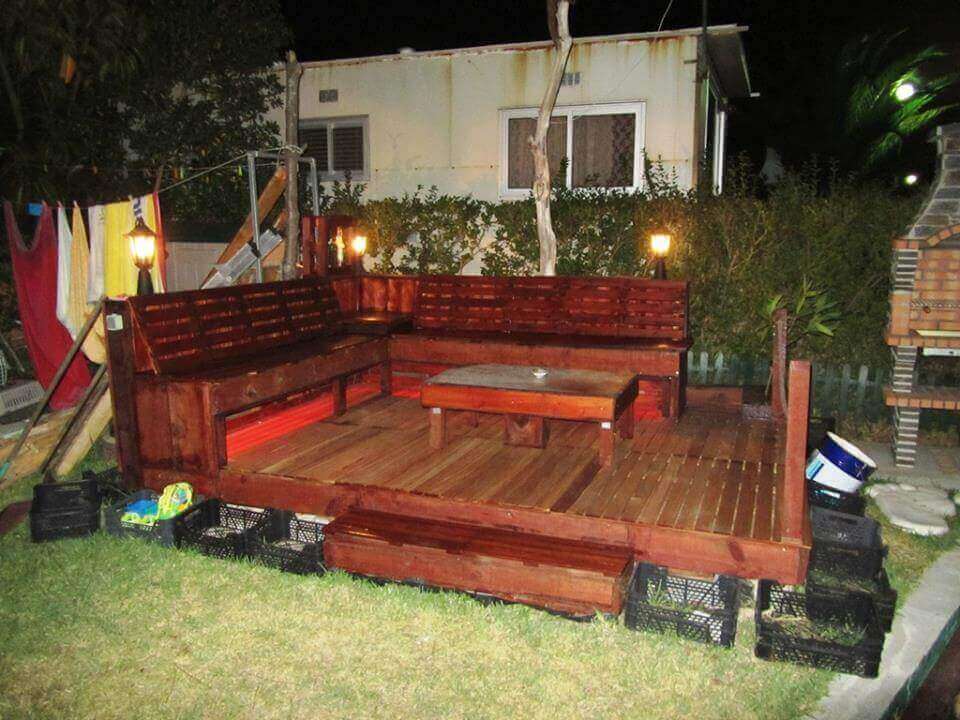 After you finish the whole installation of the seats, coffee table, and side table, think a little about the decors to add to this sitting platform, the simple rope has been suspended between the side wooden poles that create a more glamorous view of this patio deck!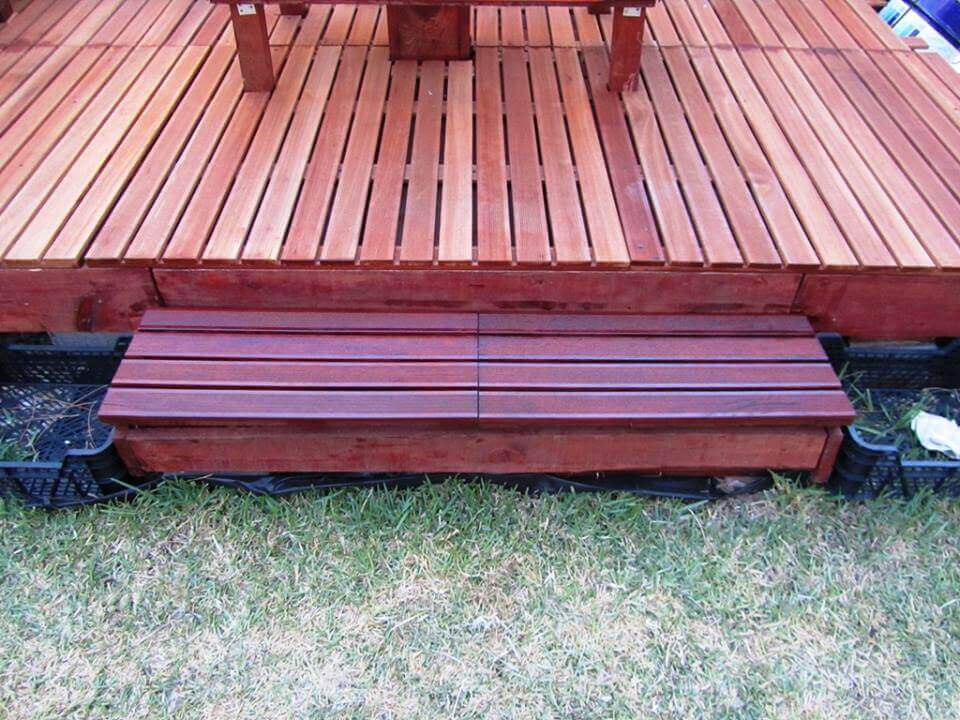 For a warm welcome or entry of your invited people, to create a spectacular entrance and in this case of the raised wooden platform, a wooden step has been designed with pallet slats and have been fixed for a convenient entry!
Fill the corners with empty plastic crates or baskets to store the trash and do add the nails to fix the slated planks in place! To block off the side entry, a thicker metal chain has been suspended between both poles though some fixed hooks on the poles!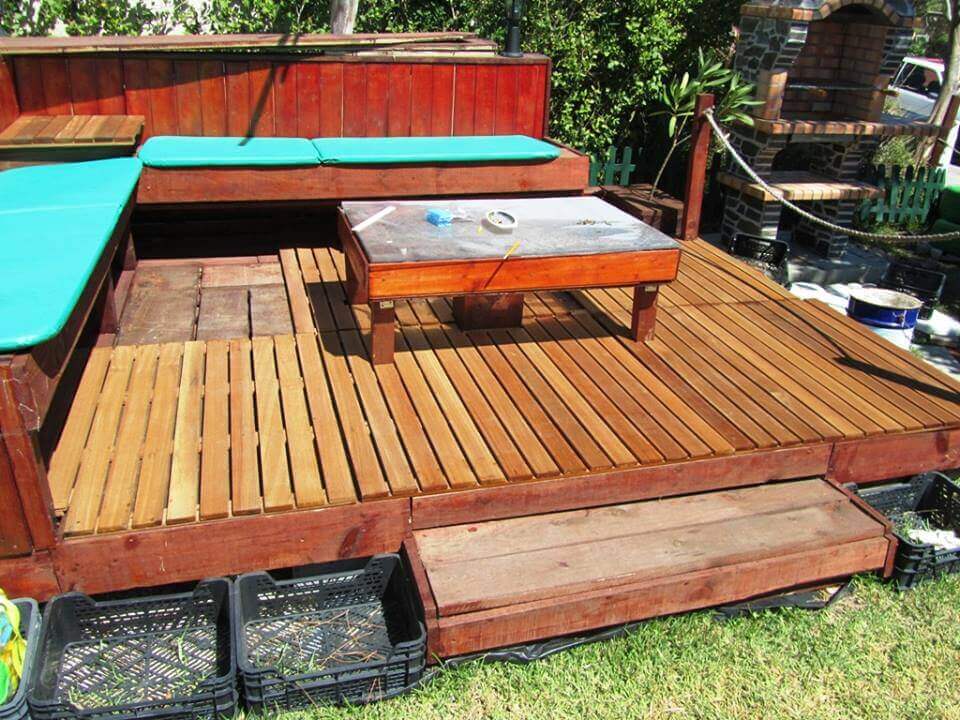 Add cushions to seats to turn them into elegant and super comfortable patio sofas, and this will also be a way to add some colors to your sitting plan as cushions can be chosen in any accent colors and are having a large variety to choose from like quilted cushions and high-density foam cushions!
This is here the finally finished patio deck, gives a high-quality stain or wood sealant finish to be friendly to outdoor weather, and also avoid the danger of early weathering.
Single solid paint shade or a mesmerizing combo of paint shades can also be selected to get a more fanciful appearance of it!
You May Love these Pallet Furniture Projects: