Discover the world of fun Cricut projects and unleash your creativity with these 55 DIY Cricut crafts and projects for beginners. Each Cricut project idea has been carefully curated to help you explore your talents and develop your crafting skills. From paper wedding bouquets to ingenious interior decorations, these beginner-friendly Cricut projects will inspire you to make unique and stylish creations that are perfect for gifting or adding a personal touch to your home.
Start your Cricut journey today and learn how to create exceptional cricut projects with easy-to-follow instructions and helpful step-by-step guides. So, grab your Cricut machine, and embrace the challenge of these amazing Cricut project ideas, perfect for beginners exploring new horizons in the world of crafting.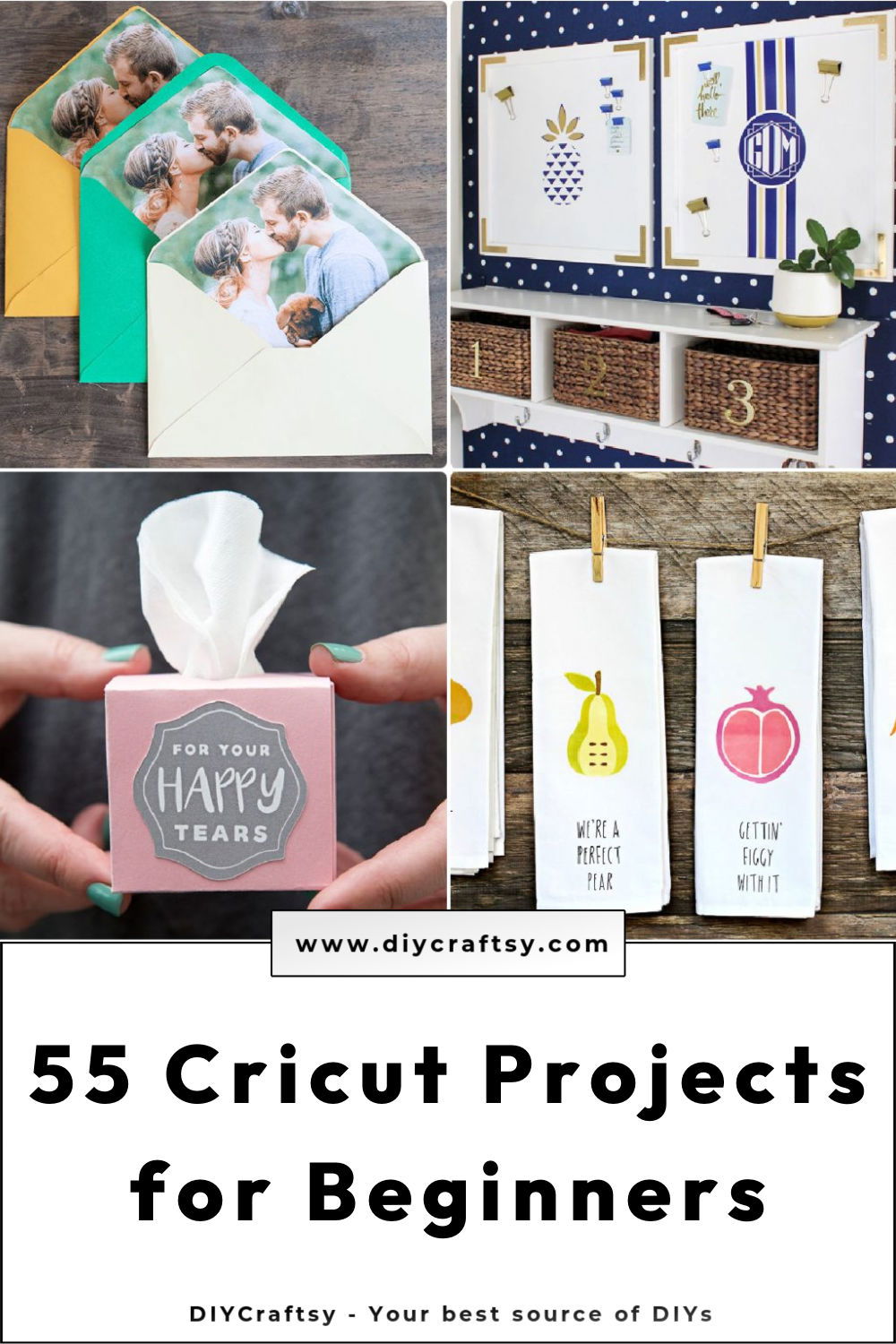 Let your imagination run wild as you turn simple materials into beautiful and functional pieces with these diverse Cricut project tutorials. There is something for everyone in this list of DIY Cricut projects, from chic clothing items to sophisticated home decor. It's time to transform your artistic visions into reality with these Cricut crafts and projects for beginners.
1. Cricut Paper Wedding Bouquet
Craft an enchanting DIY Paper Wedding Bouquet and Matching Flower Girl Barrettes for a memorable, personalized touch to your wedding day. This captivating project lets you incorporate your chosen wedding colors into a tangible keepsake that won't wilt or fade.
By using your Cricut Explore to cut 3D Flowers and using scrapbooking paper, glue gun, green wood picks, floral foam, and fabric or ribbon, this exquisite bouquet comes to life. The easy-to-follow steps and inexpensive materials make this project suitable for anyone keen to add a unique element to their special day.
The matching flower girl barrettes add a lovely, cohesive touch. This DIY endeavor saves money and provides an exciting way to engage in wedding preparations, resulting in a bouquet that truly encapsulates the love and commitment being celebrated. hellocreative
2. Beginners Guide to Gift Wrapping With Cricut
Upgrade your gift presentation with the user-friendly Cricut Explore following this easy guide! This powerful crafting tool helps you design attractive gift toppers and tags, even if crafting isn't typically your forte. It's easy to customize your presents with materials such as cardstock, Cricut pens, tape, and string.
The Cricut Explore enables you to doodle tags, make pre-addressed labels, and score cardstock to craft beautiful bows. Best of all, it's accessible to everyone, not just craft enthusiasts. The Cricut Explore broadens gift-wrapping possibilities, allowing you to express your ingenuity and add a unique flair to every gift. The versatility and ease of use make this tool essential for your gift decorating needs. becomingmartha
3. How to Make Cricut 3D Flowers
Elevate your crafting game with our easy-to-use Cricut crafts machines, designed to bring your creative ideas to life. Let's unlock your Cricut crafting potential with these detailed assembly instructions for DIY Cricut flower shop daffodils, Tiger Lily, Poppy, and Peony. Crafting beautiful 3D paper poppies and other flowers is simplified with easy-to-follow steps, making your crafting journey enjoyable.
Key materials required are cardstock paper, a Cricut Explore or Maker, and quick-dry tacky glue. Discover the art of folding, gluing, stacking petals, and assembling leaves and pistils/stamens to make stunning floral pieces.
The outcome? Gorgeous, life-like flowers can be used for event decorations or gifts or to enhance your living space. These tips will help you make confidently with your Cricut, adding a splash of color and elegance to your DIY projects. heyletsmakestuff
4. Hot Air Balloon Laptop Decal With Cricut
Embark on a unique crafting adventure of DIY hot air balloon laptop decals with a handy tool known as the Cricut Explore. This device can transform your creative ideas into reality by crafting materials like vinyl, fabric, and leather. This laptop decal features a hot air balloon with an inspiring message, "Let Your Dreams Soar."
The decal design, made using Cricut Explore, symbolizes her dreams and aspirations. Crystal offers three variations of this hot air balloon design to cater to diverse aesthetic preferences.
For those interested in crafting this decal, the tools needed include a pencil, paper, an iPhone camera, a standard cutting mat and blade, a Cricut Weeding Tool, and Cricut Vinyl and Transfer Tape. This is a brilliant way to personalize your gadgets while manifesting your dreams and creativity. hellocreative
5. make A 3D Butterfly Effect Lampshade
Transform your plain lampshade into a masterpiece with a DIY 3-D butterfly effect using the innovative Cricut Explore. This project employs white-on-white tones for an elegant and subtle butterfly motif. Necessary supplies include a white lampshade, iron-on vinyl, white glitter, white cardstock, vellum, and a hot glue gun.
The process begins with designing a cascade of butterflies of varying sizes in Cricut Design Space. These designs are then ironed onto the lampshade.
Adding a touch of realism, intricate butterflies are then cut from both cardstock and vellum, glued together, and attached to the larger iron-on design. This stunning lampshade will light up any room with its unique beauty. This creative endeavor is the perfect way to add a personalized flair to your home decor. laurascraftylife
6. Colorful DIY Vinyl Pantry Labels
Spruce up your pantry with customizable DIY vinyl pantry labels. Utilizing your Cricut or similar cutting machine, cut out 137 different SVG labels and follow the included tutorial to apply them to your jars or canisters. These labels have been updated and expanded upon, now available for a modest $5.
These multifaceted labels come in a modern colorful style or a classic farmhouse mason jar design. A Spice Jar Label set is also available for your herb and spice assortment.
This guide provides a step-by-step guide to cutting and applying these labels with a Cricut machine and adhesive vinyl, allowing you to transform your pantry with organized, chic, and functional labels. Add aesthetic and order to your pantry today with these vinyl pantry labels! heyletsmakestuff
7. Playroom Accent Wall With Vinyl Words
Experience the transformation of a dull basement into a vibrant, colorful playroom accent wall. Due to an unexpected water issue, the basement needed an overhaul, leading to a wonderful opportunity to make an exciting play space. The process is simpler and quicker than it may seem, requiring just a few basic supplies: paint, measuring tape, vinyl words, and the handy Cricut tool set.
The eye-catching grid design can be achieved by painting squares in various colors. Vinyl words that represent joy and child play are added to make the wall more engaging.
The words are easily cut and applied using the Cricut Basic Tools Set, making the project efficient and enjoyable. The result is a captivating wall that lights up the playroom, allowing children's imaginations to soar. Transform your space today with this creative and playful accent wall idea! becomingmartha
8. DIY Chevron Artwork Made With Paper
Liven up your interior space with DIY chevron artwork, a cost-effective and engaging project tailored to your style. You can make a creative piece of art with just a few supplies, such as cardstock, white poster board, a foam core, scrapbooking adhesive, a rotary cutter, and an e-cutter.
The magnificence of this artwork lies in its customizability – from color, pattern, and size, everything can be tweaked according to your preference. Despite its complex look, the resulting chevron or herringbone pattern is surprisingly simple.
This project enhances your home decor and offers an engaging crafting experience. It's time to transform those bare walls with your creativity and the versatility of paper! homesihavemade
9. Cricut Valentine's Day Centerpieces
Spruce up your home for Valentine's Day with these quick and cost-effective DIY paper Valentine vases. Using simple supplies like solid-colored cardstock, tape, and a Cricut machine, you can make these charming "vase wraps" that can fit around any cylindrical, waterproof vessel you have at hand.
The soundest thing is they are 100% customizable so you can cut out any love-themed design on your preferred paper. They're perfect for dressing up any plant or bouquet on your mantel or dining table, lending a romantic touch to your decor.
These vases are temporary and disposable, meaning no extra holiday decor to store post-February. This project not only makes your home Valentine-ready but also makes for unique gifts for teachers, co-workers, and family. Make this Valentine's Day special with these delightful Valentine's vases. homesihavemade
10. DIY Magnetic Memo Boards
Add personality and function to your home with custom DIY magnetic memo boards. Created by a creative and resourceful homemaker, these boards are a testament to the beauty of continual refinement in home organization.
Transform plain sheet metal into a decorative and practical tool for your family, embracing the 'pin-it-up-for-all-to-see-and-find' philosophy. The process is simple: a wooden frame is constructed, attached to spray-painted sheet metal, and adorned with delightful vinyl decals, showcasing your unique style.
This board stands out because of its exceptional skill—it can hold magnets and uses color-coded binder clips, which means more strength and organization. Customize, create, and organize with this engaging, cost-effective DIY project that caters to your family's evolving needs. iheartorganizing
11. Make Wedding Invitations With Cricut
Experience the joy of crafting DIY custom wedding invitations with your Cricut Explore Air, offering total control and huge savings. Tailoring your invites to your wedding's theme, from colors to wording, you can make a truly personalized invite. With a modest budget of $20, you can make over 100 invitations, translating to a significant saving compared to the average cost of $2 per invite.
Get creative with cardstock, paper doilies, ribbon, and adhesive rollers, bringing your envisioned wedding invitations to life. Not only do you save bucks, but you also immerse yourself in the design process, leaving your mark on every invite you send out.
The Cricut Explore Air machine is your partner in this project, ensuring accuracy and ease of creation. Let your creative side shine and express your wedding excitement through these unique, self-made invitations. tastefullyfrugal
12. DIY No-Sew Felt Coffee Cozies
Enjoy the warmth and color of autumn by making your DIY no-sew felt coffee cozies the ideal gift for a fall bridal shower. It is a straightforward project, ensuring your guests can enjoy their favorite K-Cup pod flavors with a personalized touch.
With an array of hot drinks available, from apple cider to rich coffee and sweet cocoa, your guests will love these custom "Grounds for Celebration" cozies, perfect for holding their freshly brewed mugs.
Follow the easy-to-understand instructions and tap into the power of your creative flair. These delightful coffee cozies make the perfect bridal shower favor and add coziness to your everyday coffee routine. Craft and warm your autumnal celebrations with these stylish, no-sew-felt coffee cozies! tidewaterandtulle
13. Wedding Dress Bunting Banner With Cricut
Add a personalized flair to your bridal shower or bachelorette party with these DIY custom-made mini-wedding dress bunting banners. Crafted with a Cricut Explore Air2, cardstock of your preferred color, and adorned with lace, ribbon, or sequins, these little beauties can elevate any party decor.
Not just decorative pieces, they can also serve as fantastic gift tags or memorable photo props for the bride-to-be's dress fitting session. The creative possibilities are endless – choose from various color options and embellishments, or even utilize them as iron-on appliques. Bask in the joy of creating something unique and heartfelt with our comprehensive guide on crafting these charming mini-dress decorations. somethingturqu
14. Make Your Own Photo Envelope Liners
Unleash your creativity for your wedding celebration with the Cricut Explore Air™, a must-have for all your DIY wedding ideas. It helps you add a personal flair to your big day, from customized tees for your bachelorette party to crafting unique table numbers.
One intriguing project is creating photo envelope liners, an entertaining and simple way to share your engagement memories for pre-wedding events. This guide helps you make these personalized envelope liners with tools including a color printer, photo paper, envelopes, and double-sided tape.
Highlight your story with this easy-to-follow process and share your love journey with your loved ones uniquely. Cricut makes it effortlessly possible to add that special touch to your wedding preparations. glamourandgrace
15. Miss to Mrs. Banner for Bridal Shower Decoration
Discover an endless world of creativity with our top-quality Cricut crafts supplies, perfect for all your DIY projects. Host the perfect bridal shower with a DIY "Miss to Mrs" banner crafted with love. Use the Cricut machine for the most professional look, along with materials such as burlap, cream-colored denim-like twill, twine or hemp cord, and Cricut black glitter iron-on paper.
After deciding on the number of banner shapes to cut, sew the pieces together and iron on the letters. The process is not only inexpensive but also allows for customization.
For a fun twist, modify the banner post-shower to adorn the couple's head table at the wedding reception by simply swapping out some letters. Get creative and enhance your event decor with this beautiful handmade piece. missiontosave
16. Wedding Day Countdown Chalkboard Sign With Cricut
Personalize your wedding celebrations with a unique DIY Cricut project that oozes creativity and love. Get inspired by crafting a wedding countdown sign, perfect for a bridal shower gift. The blend of glittery vinyl and the peony swag design atop a chalkboard base captures the joy of the special day.
Using the Cricut Explore, readily available crafting tools, and a dash of ingenuity, you can make a beautiful sign that counts down the days to the wedding and serves as a keepsake for the bride and groom. The project showcases the diverse possibilities with Cricut in weddings – letting your story unfold personally and distinctively. number 2 Pencil
17. DIY Wedding Guest Gift Bags and Essentials
Boost your wedding ambiance with personalized DIY guest gift bags, courtesy of your handy Cricut machine! This customizable project not only offers a unique, warm welcome to your guests, but it's also budget-friendly. You can make bespoke bags reflecting your style by leveraging the Cricut Explore Air, cardstock in your chosen color, adhesive foil, and other materials.
Adding a hotel room door hanger, luggage tag favors, and monogrammed water bottle labels adds a special touch, transforming your gift bags into memorable keepsakes.
Moreover, there's ample room for creativity—feel free to include monogrammed mint tins, tissues, and favor boxes. Enjoy crafting these detailed yet easy-to-follow wedding guest gift bags, and leave a lasting impression on your special day. lydioutloud
18. Flower Girl and Ring Bearer T-Shirts
Celebrate a special day in style with these DIY flower girl and ring bearer t-shirts crafted with love and enthusiasm. Whether it's a wedding, family reunion, or any special occasion, these t-shirts can be a unique touch. All you need are plain t-shirts, an electronic cutting machine like a Silhouette Portrait, and heat transfer vinyl for creating your desired design.
Opt for pre-cut iron-on transfer letters and embellishments without a cutting machine. With these materials, make your chosen text or design in the machine's software, mirror the image, and cut the vinyl to your specifications.
Finally, apply the design onto the t-shirts with an iron, following the vinyl package's instructions. These custom-made shirts serve as adorable identifiers for your young participants and make beautiful keepsakes to cherish the memorable day. averageinspired
19. Make a Wedding Hand Fans With Cricut
Infuse your wedding with a touch of Southern charm by crafting DIY wedding hand fans with the help of Cricut software. Ideal for those springtime outdoor weddings, these fans offer a refreshing respite from the heat while doubling as delightful mementos. Customize them to your heart's content – with monograms or wedding dates – to make a truly personal statement.
The Cricut Explore Air 2, a standard grip cutting mat, Cricut card stock, and a hot glue gun are your key ingredients for this project. Your foray into the Cricut Design Space will be exciting as you select and size the shapes and add textual elements.
Take your creation to the next step by gluing the fan to wooden handles for that final, elegant touch. Welcome the simplicity of this hand fan project as you wade into the waters of creative customization with Cricut! So, gear up to enhance your wedding with this project that's as practical as it is personal. ithappensinablink
20. DIY Wedding Shoe Stickers With Cricut
Discover our beautiful collection of Cricut projects tailored to inspire your creative spirit and elevate your crafting experience. Smarten your wedding day ensemble with a charming, custom DIY project: wedding shoe stickers made with the Cricut Explore. These personalized and creative stickers add a special touch to your wedding day. They are perfect for the bride, bridesmaids, and groom alike.
Suitable for smooth surfaces like leather or faux leather, these stickers can gracefully adorn your shoes, perhaps scripted with your wedding date or a monogram. They are crafted using a Cricut Explore, your preferred color vinyl, transfer tape, and Cricut tools, with a choice of letters or motifs.
The process involves designing, cutting, and carefully weeding out your desired stickers before transferring them onto your shoes. Add a golden touch to your wedding day, creating memories that will last forever, one step at a time. somethingturquoise
21. Adorable DIY Ring for a Kiss Cowbell
Commemorate your marital bliss with a playful twist using a DIY "Ring For A Kiss" cowbell. Perfect for any wedding reception, this charming detail enlivens the celebration and promotes a deluge of kisses. Gather a shepherd hook, cowbell, spray paint, fresh flowers, floral wire, stickers, or paint pen, and you're ready to craft.
Customize your cowbell and shepherd hook with colors that complement your wedding theme. Then, adorn your hook with flowers for that elegant touch. Position it strategically at your reception and listen for the joyful clanging, signaling an imminent smooch.
Once the festivities are over, repurpose this delightful keepsake in your garden to continue your romantic tradition. Delight in this easy, 30-minute project and enhance your wedding with a unique, personal, and fun-loving detail. somethingturquoise
22. Modern DIY Beach Wedding Seating Chart
Ignite your creative spirit and personalize your coastal-themed wedding with this unique DIY modern beach seating chart project. Enriched by the serene beauty of beachy neutrals, this easy-to-follow project enables crafty couples to infuse personal style into their special day.
Armed with a Cricut Explore Air machine, 'Pebble' vinyl, a range of other crafting tools, and your computer, you can bring a soothing coastal vibe to your wedding seating arrangement.
This project not only elevates the aesthetic of your event but also serves a functional purpose, guiding guests effortlessly to their seats. Following the detailed steps, you'll end up with a professionally-crafted seating chart encapsulating the intimacy and charm of a beach wedding. Happy crafting! tidewaterandtulle
23. Handmade Mini Wedding Tissue Boxes With Cricut
Get ready to add a dose of cuteness to your special day with our DIY mini wedding tissue box tutorial. It is a step-by-step guide on crafting these charming little additions to your wedding day, utilizing a Cricut Explore machine, sticker paper, and your choice of cardstock.
You can customize our downloadable print-and-cut file in minutes to match your wedding's color scheme. The result? Tiny tissue boxes that are perfect for those happy tears.
You'll adore the simplicity of assembly, and your guests will appreciate the thoughtfulness behind these pint-sized pieces. This tutorial will transform your event into an even more memorable occasion. Let's start crafting and take your wedding personalization to a new level of adorable! somethingturquoise
24. Personalized Etched Glass Wine Bottle
Personalize any special event with a uniquely crafted DIY etched wine bottle. A perfect keepsake for memorable occasions like anniversaries, this customized glass etching project is a heartfelt gift and a fun craft project. You'll need a few essentials like a glass bottle, Cricut Cutting Machine, vinyl, Etchall Etching Creme, and other materials.
Start by designing and cutting your stencil with Cricut Design Space, remove the bottle label with Goo Gone, and apply the vinyl stencil. Once your stencil is applied, use the etching cream and let it sit for fifteen minutes before washing it off.
You'll have a beautifully etched bottle perfect for gifting or decoration. So, why not start creating and make your next celebration special with a personalized etched wine bottle? thecraftytalker
25. DIY Table Numbers With Cricut
Bring the beachy summer vibes to your wedding with this fun DIY project: faux leather wedding table numbers. These easy-to-make centerpieces add a personalized touch to your wedding theme and can be assembled in 10 minutes! This guide uses Cricut's faux pebbled leather in Champagne and Beige for its striking jewel-toned colors and easy cutability.
You can bring these lovely table numbers to life along with a few other crafting supplies like glass bottles, double-sided tape, a hot glue gun, and a Cricut machine. Follow this detailed step-by-step guide, and you'll soon be dressing up your wedding tables with a touch of modern summer aesthetic. Create, craft, and celebrate your love with this unique DIY centerpiece tutorial today! tidewaterandtulle
26. Table Numbers With The Cricut Explore Air
Revamp your wedding setup with a touch of personalized and DIY charm using acrylic frame table numbers created with the Cricut Explore Air Machine. This versatile project lets you choose from three designs to match your taste.
The first design entails printing inside with vinyl lettering, where you can etch out table numbers and decorations using a Cricut pen. The second design employs an inverse glitter number that stands out due to its texture and shine, while the third design showcases a simple glitter table number.
The end product is an aesthetically pleasing addition to your wedding day decor and a heartfelt gift to give away post-event. Let your creativity shine through with Cricut and make your wedding day unforgettable. thebudgetsavvy
27. DIY Faux Etched Mirror Sign
make unforgettable wedding accents with this straightforward DIY etched mirror sign tutorial, made possible by the versatile Cricut machine. Selecting a frosted window cling for the project lends an etched effect, providing easy application and removal for repurposing your mirrors post-wedding.
The supplies needed include a mirror, Cricut Machine, accessories, and our provided design templates. Following our detailed steps on customizing, cutting, weeding, and applying the design, you can fashion a unique and eye-catching mirror sign.
A testament to the power of Cricut in making wedding projects hassle-free, this project infuses an individual touch into your special day. polkadotbride
28. Paper Bridal Bouquet With The Cricut
Crafting your bouquet for the big day is now easier than ever with a Cricut and some paper! This unique DIY paper bridal bouquet is a testament to handcrafted beauty, turning out even better than envisaged. Rooted in a Wedding/Celebrations theme and further refined with a Floral/Woodland subtheme, this stunning bouquet uses simple materials.
Follow the guidelines to cut and assemble flowers and leaves, creating an aesthetically pleasing and personal bouquet that will last beyond your special day.
Detailed, engaging, and easy to follow, these instructions will help you bring an enduring floral charm to your wedding, while the fact that it's handmade adds a personal and sentimental touch. Explore your creative side today with this engaging DIY project. thehappyscraps
29. DIY Photo Booth Stick Props
Boost your creativity and make your next event even more special with these DIY photobooth props! It is a fun, unique, and reusable props project to enhance your photo booth experience.
You can easily assemble these fun props with some heavy-weight cardstock in your favorite colors, a glue gun, lollipop sticks, and a Cricut Explore or scissors. This project offers great flexibility as you can cut your designs or use the pre-existing free files.

What's more, it's not all about the crafting process. The joy of making these photobooth props continues when your guests enjoy using them. Get crafting today and add a personalized touch to your next gathering with these photo booth props! somethingturquoise
30. Duotone Leather Utensil Sleeves Tutorial
Convey your gratitude to your loved ones uniquely and stylishly by making DIY duotone leather utensil sleeves for your rehearsal dinner. These no-sew utensil sleeves add a personal touch to your table setting and serve as a thoughtful token of thanks. Made from upcycled leather scraps, these sleeves are easy to make, eco-friendly, and can be reused for Thanksgiving dinner.
The process involves crafting utensil pockets using materials such as a pencil, craft glue, a computer, iron-on material, and a personal electronic cutting machine like a Cricut.
This easy-to-follow guide lets you have a more intimate and special rehearsal dinner while adding a personal touch to the occasion. Let your creativity flow and transform your ordinary table setting into a masterpiece that will leave a lasting impression. tidewaterandtulle
31. Easy Cricut DIY Wedding Giveaway
Your special day just got even more special with this one-of-a-kind DIY Cricut wedding giveaway! This DIY project will add a special touch to your honeymoon adventures and offer a fun crafting experience. This project is perfect for enhancing your special day with a handmade element. Or, if you're the maid of honor, what better way to surprise the bride than with a practical and stylish tote? Step-by-step instructions make this an enjoyable and effortless crafting session, so don't wait – start your Cricut and make this charming honeymoon tote today! thecelebration
32. Make Your Own Honeymoon Passport Cover
Unveil your inner craftsperson with this vibrant DIY passport cover inspired by Lilly Pulitzer's exuberant designs. Perfect for those yearning for a taste of the tropics, this easy-to-make accessory adds a fun, personalized touch to your travel essentials.
All you need is some colorful non-adhesive vinyl, a trusty ruler, craft glue, scissors, and a pinch of creativity to bring the Caribbean beaches to your craft table.
From marking your vinyl to attaching golden brads for an added flair, each step in this guide brings you closer to a unique creation, ready to accompany you on your travel adventures. Stay organized and stylish with this cheerful passport cover! tidewaterandtulle
33. Cricut Geek Chic Leather Tablet Sleeve
Unleash your inner artist and turn your ideas into reality using our step-by-step tutorials and guides for stunning Cricut projects. Enhance your fashion-forward tech accessories with a DIY Geek Chic leather tablet sleeve. As Geek Chic style takes center stage, this project lets you stylishly protect your tablet, whether it's a Kindle or any other brand. A versatile piece, it's crafted from either genuine or faux leather, and you can personalize it according to your taste using the Cricut Explore cutting machine.
The project also employs other tools and materials like a Cricut cutting mat, a Cricut Color Antiquity pen set, a sewing machine, a leather needle, heavy-duty thread, and scissors.
Seamlessly blending functionality with aesthetic appeal, this project is an affordable alternative to expensive tablet sleeves available in the market. Perfect as a unique gift for the tech-savvy people in your life, this chic leather tablet sleeve is sure to impress. So, why wait? Start crafting your very own Geek Chic leather tablet sleeve today! thecraftedsparrow
34. Stickers With Cricut Print Then Cut
Open your artistic potential and explore our curated selection of DIY Cricut crafts for unique, personalized creations. This comprehensive guide to make stickers using the Cricut Print and Cut feature. Whether crafting with the Cricut Explore Air™ 2 machine or a Cricut Maker, this tutorial provides step-by-step instructions to bring your designs to life.
From simple stickers to personalized party decorations, your imagination is the only limit. The Cricut print and cut process is straightforward and allows for efficient and high-quality crafting. This guide also offers solutions to common challenges like jammed sticker paper, ensuring your crafting journey remains smooth and enjoyable.
The best part? These stickers are incredibly versatile, easy to create, and fantastic for adding a unique touch to your parties or gifts. Start exploring the world of Cricut sticker creation today and watch your designs come alive! makelifelovely
35. Coffee Mug With Vinyl Statement Using a Cricut
Transform your coffee mornings with a personalized, DIY coffee mug! Using your Cricut machine, you can make your statement mug with an endearing quote, "I Stay Up Late Every Night & Regret It Every Morning." The project uses readily available supplies and offers a step-by-step guide that includes tips on using the Cricut software, preparing the vinyl, and applying it to the mug with transfer tape.
The process is straightforward and perfect for first-time Cricut users and those familiar with cutting machines. Add a personal tinge to your morning coffee routine or make a special gift for a loved one. The best part? It's economical, with each mug costing just 99 cents to create! Don't hold back; give your coffee mug a personality that matches yours. awortheyread
36. How to Make a Large Wooden Sign
Upgrade your living space with a personalized DIY large wooden sign crafted with the assistance of the Cricut Explore Air™. This detailed guide provides a step-by-step approach to creating an impressive 8-foot sign, enhancing your decor with charm. This guide highlights the usage of Cricut's cutting-edge technology, demonstrating how to transform your design into striking vinyl lettering.
Integrating easy-to-follow instructions ensures a seamless process, making the end product an ideal expression of your home's character. It's not just about making a statement; this large wooden sign will become a cherished part of your living space. So, gather your tools and ignite your creativity. cherishedbliss
37. Cricut Explore Banners Tutorial
Venture into the world of DIY banner-making with the Cricut Explore! This cutting machine is a crafter's dream, offering myriad options for custom projects. Occasionally, these abundant features may confuse users but fear not; this tutorial will guide you through making beautiful banners.
With its regular cutting mat, basic toolset, and Design Space software, Cricut Explore offers ready-made projects to get your creative juices flowing. This tutorial showcases the process of making beautiful banners with the machine.
Solid and patterned cardstock and 1/4″ and 1/8″ ribbons are the primary materials for the larger and smaller banners, respectively. Remember, the goal isn't only to make but to make uniquely. Follow this detailed guide and begin crafting banners that breathe life into your ideas today! keystoinspiration
38. DIY Leather Key Fob Gift with Cricut
Put extra love in your gifts with this custom DIY leather key fob – the perfect way to show you care! make your own stylish and unique accessory with this easy DIY guide. You can personalize these key fobs using a Cricut Explore Air or a Cricut Maker and a selection of faux leather colors. The process involves:
Cutting out your design from the template.
Personalizing it with a Cricut pen.
Securing it with rivets.
You can add iron-on details with the EasyPress 2 for an extra touch. Not only are these leather key fobs quick to make, but they also make fantastic gifts.
Unleash your creative side and add flair to your keys or surprise a loved one with this unique handmade gift. This craft combines functionality with aesthetics, making it a worthwhile project for DIY enthusiasts. lydioutloud
39. Easy DIY Kitchen Towels
Inject humor and creativity into your kitchen with these simple yet incredibly fun DIY kitchen towels. With witty food puns that will bring a smile, these towels serve their functional purpose and double as playful decor pieces. All you need are basic supplies like a Cricut Explore Air 2 or Cricut Maker, kitchen towel Cut files, Cricut Everyday Iron-on in Black, printable Iron-on, Cricut Weeder Tool, and white flour sack kitchen towels.
You'll also need an EasyPress or Iron and press cloth for printing. Follow the easy-to-understand instructions and bring a bit of whimsy to your kitchen, or even gift them to your food-pun-loving friends. Cooking should always be fun, and these DIY Kitchen Towels are just the right touch to keep the kitchen light-hearted and enjoyable! lydioutloud
40. Make Floral Faux Wallpaper With Cricut
Use a Silhouette Cameo to show your creative flair with this DIY floral faux wallpaper. Perfect for sprucing up small spaces like bathrooms, this project involves designing floral decals with gold vinyl and your Silhouette machine. Choose your favorite flower design – a Dahlia, for example – and bring it to life on your walls.
Run the vinyl through the Silhouette machine, cut out the flower details, and then peel them off the backing paper to apply on the wall. You'll also cleverly use the left-over petals from the cut-outs to fill in negative spaces between each flower, lending a polished and complete look to your project.
For those without a Silhouette machine, worry not! You can still enjoy this vibrant design by purchasing it directly from the Etsy shop, available in various colors. So, make your tiny bathroom bloom in beauty with this easy and fun DIY project today! classyclutter
41. Diamond Hanging Planters With Cricut
Unearth your passion for DIY with this guide on creating exquisite diamond hanging planters. Elevate your home decor by handcrafting these elegant and budget-friendly planters. Use the Cricut Explore Air, standard grip cutting mat, chipboard, acrylic paint, and a few more easily available supplies, and transform your space into an oasis of green.
This crafting journey invites you to fuse technology with creativity as you make artwork that mirrors costly planters in the market. The detailed instructions will guide you through each step of the process, ensuring you achieve a beautiful result.
Hang these diamond-shaped beauties in your living space, or use them as desk organizers, making them the centerpiece of your decor. Go ahead, and give your room new life with diamond-hanging planters. thecraftedsparrow
42. Monogram Headboard With Cricut
Explore endless options as you transform ordinary materials into extraordinary masterpieces with our exceptional Cricut projects. Discover the joy of personalizing your living space with this easy DIY monogram headboard, an ideal summer project. The beauty of this headboard lies in its customization – the ability to express your unique personality right above your bed. Using simple materials crafting this unique piece becomes a breeze.
With its monogram element created using Cricut Design Space and Cricut brand Iron On, your headboard will have a personalized touch that sets it apart. The process includes the following:
Layering and trimming the fabric and foam.
Stapling it onto the wooden board.
Crafting the monogram.
Ironing it onto the headboard.
This headboard adds an aesthetic touch to your room and fosters creativity and individuality. Start creating today and make your room a true reflection of you! alittlecraftinyourday
43. Luggage Tags + Cricut Explore Air Giveaway
Elevate your DIY projects with our extensive selection of cricut craft ideas, ensuring stunning results with every creation. Lend your luggage a touch of elegance with this DIY leather luggage tag! It's not just chic but practical, too, providing a personalized touch to your travel gear. You only need a Cricut Explore Air, leather (minimum size 6″ x6″), leather string, a midnight pen, and a hot glue gun or fabric glue.
These luggage tags, complete with your name and contact details, are double-sided for enhanced durability. Once designed and cut, glue the pieces together and use the leather string to attach your new tag to your suitcase. Perfect for your next adventure, it's a simple project with fantastic results, enhancing your travel experience. vintagerevivals
44. Monogram Your Converse Sneakers Using a Cricut Machine
Unleash your creativity with this handy guide on personalizing your sneakers with a monogram. An effortless DIY project, it requires a few readily available materials, including a pair of Converse sneakers, a Cricut machine, freezer paper, colored craft paint, and a monogram font of your choice.
The process involves designing the monogram using Cricut Design software, cutting the stencil on freezer paper, and then transferring it onto the shoes using an iron.
A thin coat of mixed acrylic paint and fabric medium is dabbed on, and the stencil is removed once dried. The result is a pair of unique, personalized shoes. Quick and easy, it's a creative project perfect for adding a personal flair to your wardrobe. polkadotchair
45. DIY Row House Wall Art
Looking for a creative and engaging project to do at home? Transform everyday items into masterpieces using our inspiring cricut craft ideas, providing endless possibilities for all skill levels. Consider crafting your own Madeline-inspired row houses. This innovative DIY project allows you to make stunning wall decor using simple materials. With a Cricut Explore Air, black vinyl, and some paint, your imagination is the limit!
The downloadable vintage revivals row house designs add to the ease and convenience of this project, eliminating the need for precise sizing. Don't worry about perfecting it – a touch of wonkiness adds character to your creation. Paint within the vinyl outlines and let it dry. Then, peel off the vinyl, and voila!
You have beautiful handcrafted decor that adds a touch of whimsy to any room. This project offers an enjoyable way to inject creativity into your living space. Remember, love, patience, and creativity can turn a challenging day into an inspiring one. Craft your row houses today and transform your walls into vibrant streetscapes. vintagerevivals
46. Cricut Explore Gallery Wall
Make your walls come alive with a custom DIY gallery wall created with a Cricut Explore! You can achieve this using the Cricut Explore and readily available craft supplies. This project uses a mix of inexpensive frames and transforms them into pieces of artwork with the help of Cricut Explore and a few craft materials.
Some of the wall art that you can make includes a "#boss" dimensional piece made from chipboard, a framed "Strut Your Stuff" flamingo using pink and gold iron-on vinyl, a Palm trees & gold foil statement art, a charming popsicle trio wall art and a faux laser cut pattern.
Not only are these creations aesthetically pleasing, they are also affordable and fun to make. Exalt the aesthetics of your home with a unique wall art project. They're easy to make and are an excellent way to express creativity! damasklove
47. How To Make A Fall Wood Sign With Cricut
Elevate your DIY endeavors with these unique and eye-catching Cricut projects guaranteed to impress friends and family. Complete your fall home decor with a warm and inviting DIY wood sign for your fireplace. The process is simple: the foundation is laid using a 1×8 board cut to 24 inches wide and stained with Rustoleum Ultimate Wood Stain in Dark Walnut. The design, which expresses a love for the cozy, warm hues of fall, is created using a Cricut Explore Air™ 2 Mint Machine and a JPG design imported into the device.
The design is cut on stencil vinyl, adhered to the board, and filled with white acrylic paint. Once dried, peeling off the stencil reveals the heartfelt message.
A final touch of cute little flowers adds a charming accent before the finished piece is placed using Command Brand strips. This project blends creativity and the joy of crafting with the comfort of autumn. Enhance your living space with this personalized, easy-to-make piece today! howtonestforless
48. Director's Clapboard With Cricut
Host the ultimate outdoor movie party with fun DIY crafts and delicious treats! A joint birthday celebration inspired this vibrant themed event, which features a unique director's clapboard, all crafted by the celebrants. Using a Cricut Explore and basic supplies like plywood and vinyl, this project adds an engaging twist to the party.
Furthermore, add a touch of delicious whimsy with DIY popcorn cupcakes, which are easy and fun to make, using striped baking cups, frosting, and mini marshmallows. Don't forget the candy table and popcorn popper for a true cinematic experience.
The creativity doesn't stop there; craft box trays and little red gift boxes filled with caramel corn and packs of gum serve as party favors, enhanced with ribbon and tags. Highlight your love for movies and add a personal touch to your party with these creative ideas and projects. thegirlinspired
49. Easy Beginner's Cricut Project Idea
Discover amazing cricut project ideas and unleash your creativity today! Dive into the exciting world of crafting with the Cricut Explore® Machine + Basic Starter Set. Straight out of the box, this intuitive crafting tool provides an easy setup, guiding you to align and sync the machine with your computer, ready to bring your designs to life.
Every crafting venture is made easier with a wealth of tools included, from a sticky mat to ensure precision cutting to various paper-handling tools. Craft a simple DIY 'Thank You' card as your first project, navigating the colors and weights of your cardstock with ease as you learn the process.
Optimize using materials like double-sided paper for the pinwheels, avoiding common pitfalls. Start your crafting journey today and unlock the full potential of your Cricut machine. isavea2z
50. Making a Love Pillow Using the Cricut Explore Air 2
Boost the spirit of love in your home this Valentine's Day with a DIY "Love" throw pillow crafted using the Cricut Explore Air 2. This simple sewing project allows you to personalize your decor with heartwarming 'love' messages.
This creation involves cutting out the letters L, O, V, and E from faux leather using the versatile Cricut Explore Air 2 and sewing them onto a pillowcase, incorporating a small heart in the design. The choice of faux leather as the main material adds an elegant touch to the project and is surprisingly easy to work with.
This DIY endeavor doesn't just serve a decorative purpose; it's also a bonding activity that kids can participate in. The final product is a charming, personalized pillow that fills your living space with warmth and love. Enjoy this easy-to-follow and enjoyable craft project today and elevate your Valentine's Day celebration. ourthriftyideas
51. DIY Custom Shirt With Your Cricut
Learn the art of making unique shirts with a Cricut following this DIY tutorial! This comprehensive guide outlines every detail you need to transform simple t-shirts into personalized pieces of wearable art. From the initial design phase to cutting iron-on vinyl with your Cricut machine, this tutorial ensures your journey to becoming a proficient 'Cricut shirt maker' is seamless.
Designing your shirts is a fantastic way to express individuality, and these creations serve as ideal gifts, celebration wear, or matching outfits for family trips.
You'll need a plain t-shirt, Cricut Everyday Iron-On Vinyl, a StandardGrip Cricut Mat, a Cricut Machine, Design Space software, and an iron. Elevate your crafting skills today and have t-shirts that make a statement! prettyprovidence
52. Chalkboard Menu Sign With Cricut
Bring out your inner artist and make a custom menu sign with Cricut's DIY chalkboard sign for your kitchen with a touch of vintage style. This engaging project combines whitewash and chalkboard aesthetics, utilizing a range of supplies, including dimensional lumber, wood screws, Minwax water-based whitewash pickling, Rustoleum's chalkboard spray, and other tools.
The instructions include cutting and staining lumber, sealing boards, assembling the structure, prepping the stencil, sealing the lettering, applying chalkboard paint, and priming your chalkboard. Each step is explained and easy to follow, ensuring a stunning result. Take the plunge into DIY creativity and make your chalkboard menu sign today! boardbattendesign
53. Father's Day Gift Idea With Cricut
Get creative this Father's Day with a thoughtful, DIY personalized t-shirt gift. This fun project uniquely highlights the hobbies and interests of the father figure in your life. With the help of a Cricut Explore, iron-on materials, and a basic t-shirt, you can craft a custom-made piece showcasing his favorite pastimes.
The design process is straightforward and adaptable, allowing you to modify graphics and text to fit his personality. From computer games to outdoor adventures, every interest can be represented.
Iron-on materials may be pricier than expected, but the result is an endearing, handmade keepsake he'll love to wear. Explore this unique Father's Day gift idea and show your appreciation in a memorable, personalized way. realcoake
54. DIY Hand Painted Sign With Cricut
Add a personalized flair to your home decor with a DIY hand-painted sign from a pallet board using the versatile Cricut Explore. This project perfectly utilizes leftover vinyl scraps and a pallet wood board. First, prepare the board by thoroughly cleaning it, letting it dry, and cutting it to your desired length.
Using the Cricut Design Space, design your text using a downloaded font, ensuring the letters are connected for a seamless cut. Cut out your text, and instead of removing the excess vinyl around the letters, leave the letter outlines on the paper backing.
Once transferred to the board and carefully smoothed down, fill the empty spaces with acrylic craft paint, creating your unique sign. A wonderful way to memorialize cherished phrases or make meaningful gifts, this Cricut-enabled project offers unlimited creativity for your interior design! laurascraftylife
55. Make Sign Lettering – Cricut Project
From personalized gifts to home decor, Cricut projects are the perfect choice for adding a touch of handmade charm to any occasion. Jump into the world of DIY projects with a simple yet highly personalized office sign using your Cricut Explore Air machine. make a piece of decor that truly reflects your unique taste, as this project embraces the color scheme of mint and navy to illuminate a home office space.
This endeavor isn't only about crafting a sign; it's about bringing life to your workspace with your signature style. You can shape your work environment with your personality by using supplies such as a Cricut cutting machine, vinyl, craft paint, and a wooden sign.
So, why not try crafting your sign with your Cricut machine? Add a personal touch to your office, making it an inspiring space that sparks joy every time you enter. Remember, creativity is the highest form of procrastination, and your Cricut is your perfect partner in crime! pinsandprocra
Conclusion:
In conclusion, exploring the realm of Cricut projects and crafts opens the door to a treasure trove of creative ideas. From beginner Cricut crafts to more advanced DIY ideas, there's a wealth of inspiration for those who embrace the art of Cricut. With projects like wedding bouquets, home decor, and personalized gifts, using your Cricut machine to craft original designs helps you express your uniqueness. So, if you're eager to include Cricut into your crafting journey, start with these DIY Cricut project ideas and let your creativity flourish.