Learn what things to do with a hot glue gun when you are bored with an exciting array of hot glue gun crafts to inspire your creativity! Here's a compilation of 25 unique DIY hot glue gun crafts and projects, all furnished with detailed instructions and free guides. By transforming simple materials with a hot glue gun, you're set to create impressive crafts that range from decor to fashion.
Hot glue gun crafts such as decorative cactus push pins, felt flowers, or embellished throw pillows add a personalized touch to your living spaces. As for fashion, glue gun crafts like handmade gem rings and flower headbands infuse flair into your style. From a no-sew rope coil basket to a mesmerizing hot glue gun waterfall, your crafting abilities are limitless.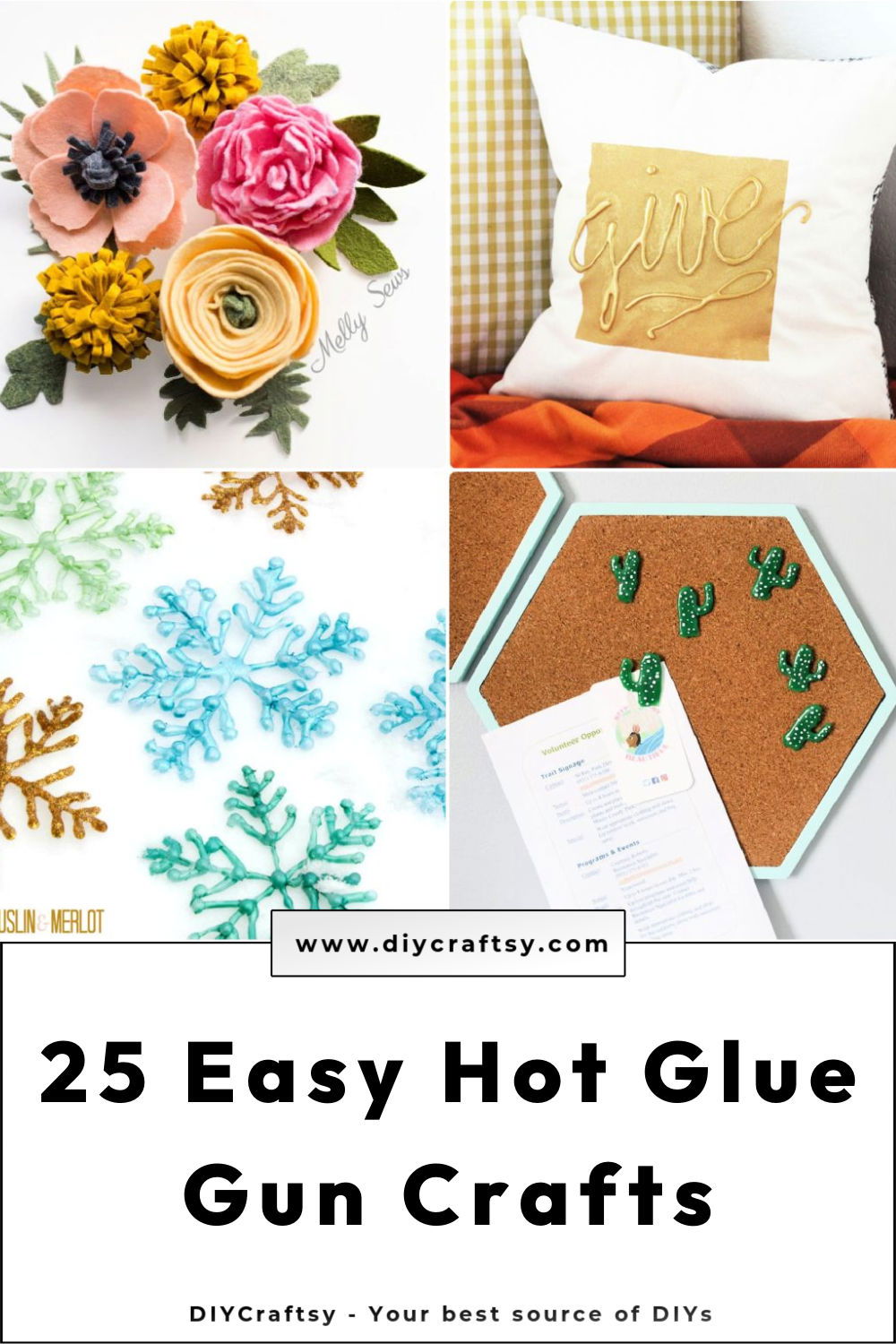 What's more? Kids can dive into this fun-filled world with hot glue gun crafts like glittery fall leaves, snowflake hair clips, or a Harry Potter wand. So, start exploring these glue gun projects to bring out your crafting prowess. Remember, Each hot glue gun crafts idea comes complete with easy, step-by-step instructions and detailed guides, making it simple to start and finish a unique masterpiece. Ready to start making hot glue gun crafts? Pick up that glue gun, gather your supplies, and let the crafting begin!
1. DIY Glue Gun Snow Flakes
Brighten up your home with beautiful DIY glue gun snowflakes! Create stunning decorations without the mess – simply use a blow dryer to neatly get rid of excess glue strands. Peel each one off the parchment paper, then paint both sides with nail polish for a festive look. Strong jewel tones work best, and you can reuse the parchment paper to make even more snowflakes – time to get creative! Add some sparkle this winter season with these easy-to-make DIY ornaments that will be sure to impress everyone who visits. muslinandmerlot
2. Decorative Cactus Push Pins Made From Hot Glue
Elevate your home workspace with these unique decorative cactus push pins made from hot glue! Create an oasis of creativity by crafting these easy-to-make little green succulents. All you need is hot glue gun, green sticks, white craft paint, a paintbrush, thumbtacks, and a non-stick mat to get started.
The process is simple: adhere the thumbtacks to the hot glue base using the glue gun, then coat them with white paint for added texture. Finally, arrange them in patterned rows or groupings on your wall for a beautiful array of mini cacti accents that will bring life into any room! thecountrychic
3. How to Create Felt Flowers
Enhance your crafting skills with hot glue gun crafts, a popular technique for bonding various materials seamlessly.
Learn how to create beautiful felt flowers with this simple guide. Start by cutting out petals of the desired shape and size with sharp scissors. Once you have your petals, shape them to make sure they look attractive.
Glue the petals in order around a stem – starting from outside and then working inwards – for an eye-catching design. Finally, top off your felt flower masterpiece with a calyx (the green base at the bottom) and some leaves for extra detail. With just these steps, you can create stunning felt flowers that will brighten up any space! mellysews
4. Handmade Fabulous Gem Rings
Create your own fabulous gem rings with this amazing DIY tutorial! With just basic supplies such as silicone 3D gem molds, hot glue sticks and guns, ring blanks, paint, paint brushes, and glitter, you can craft unique handmade rings for yourself or a special someone. Get creative with the colors – mix them together or use single shades for solid designs that will make heads turn. Once done, show off those gorgeous rings to the world! modpodgerocks
5. DIY Hot Glue Embellished Throw Pillow
Spruce up a unique DIY hot glue embellished throw pillow with folk art multi-surface acrylic paint and other supplies. First, start by taping off the pillow insert in whatever design you want; use a fabric pen to trace over the tape lines, then carefully apply hot glue along the lines.
Squeeze FolkArt multi-surface acrylic paint onto craft foam sponsors and start adding color to your throw pillow. Finally, peel away painter's tape for one last touch of creativity and let dry! With these simple steps, transform any ordinary throw pillow into an eye-catching piece of art that anyone will love! positivelysplendid
6. How to Embellish Sandals Using Hot Glue
Transform your boring pair of sandals into a unique fashion statement with some hot glue and imagination. Here's how to embellish sandals using hot glue! First, get your supplies: mod molds, a hot glue gun, a heat gun, mod melts or hot glue sticks in the colors you desire, and scissors. Then customize the look of your sandals by spraying paint over them as desired.
Using the molds, carefully melt the mod melts or use the hot glue to form shapes such as flowers or circles over your sandals. You can also add beads for extra flair if desired! Finally, set aside to dry before rockin' those one-of-a-kind shoes wherever you go! modpodgerocks
7. No Sew DIY Baby Flower Headband
Hello, folks! Make your little one stand out with this easy, no-sew diy baby flower headband! With just a few simple supplies like soft, stretchy elastic, fabric flowers, and scissors, you can make a beautiful headpiece. All you will need to do is cut the elastic to size according to baby's head circumference; attach the fabric flower using a hot glue gun and then wrap it around your baby's forehead for an adorable accessory sure to turn heads. Try making different colors and styles of flowers for an even more stylish look! practicallyfunctional
8. Make Tote Bag Using Glue Gun
Carry around the perfect tote bag with just a hot glue gun and some fabric! Start off by folding your fabric in half and deciding on the size of your tote. Add an extra inch or two to make up for seams, then cut out the design you've chosen. The fold will become the bottom of your bag – use your hot glue gun to "sew" together each side and across the top. In no time at all, you'll have a stylish new accessory that looks great and is sure to last! infarrantlycreative
9. How to Make No-sew Rope Coil Basket
Get your hands on such a stylish and practical storage solution with this easy-to-follow guide on how to make a no-sew rope coil basket! With just 3/8 inch natural cotton piping, scissors, a hot glue gun, and an optional bucket or basket for support, you'll have your very own handmade rope coil basket in no time. Simply cut the pipe into 40 lengthwise strips that are 6 feet long each.
Secure each strip around the base of the bucket or basket with hot glue, then begin coiling it up using small circles until it's all used up. Regardless of skill level, anyone can follow these steps to create their own beautiful no-sew rope coil baskets! aliceandlois
10. Create a Waterfall Using A Hot Glue Gun
Upgrade your stunning waterfall for your home décor with a hot glue gun! Perfectly replicate the beauty of natural waterfalls without the mess. With a few simple steps and some creative craftsmanship, you will be able to create something truly unique that is sure to make an impression.
Start by gathering supplies like fabric, foam board, and hot glue sticks, then lay out your design in advance so you can visualize how it will look when complete. When ready, start using the hot glue gun to shape your waterfall feature into something beautiful! hometalk
11. Cute DIY Hot Glue Sequin Pillow
Discover the world of hot glue gun crafts, where your imagination can transform everyday items into extraordinary pieces.
Change ordinary fabric into a glimmering sequin pillow with hot glue and creative designs. Start by drawing the design of your choice onto the fabric, then lay down a string of hot glue using an applicator bottle or gun. Place your sequins along these lines to create beautiful patterns and textures.
Finish up by adding any other embellishments, such as yarn tufts, that you desire! Get creative with this project – make it one-of-a-kind for yourself or give it away as a unique gift. Hot glue and sequins can be used to make exciting works of art that will stand out in any home décor! skiptomylou
12. Anthropologie-Inspired Floral Lamp Shade
This stunning, Anthropologie-inspired lampshade is sure to bring beauty and grace to any room. It features a floral pattern perfect for adding an elegant touch of nature indoors. The soft fabric gently diffuses light as it casts its delicate shadows, creating the perfect ambiance in any space. Crafted with quality products, it's sure to last you years; this lampshade will add style and sophistication wherever it is placed. What you need is scissors, thread, yarn, felt, and hot glue fun. thegoldjellybean
13. Crate & Barrel Spin Vase Knock Off
Recreate your own version of the Crate & Barrel spin vase with a few basic materials. All you need is one round candle holder or vase, a glue gun, and some glue sticks. It's easy to make, and an extra hand may come in handy but not necessary. Get creative and then let your imagination run wild! Give any space in your house a new look with this DIY knock-off of the popular Crate & Barrel Spin Vase. Show off your crafty side while bringing life into any space at an affordable price. thebudgetdecorator
14. Fix a Hole In Your Pants with Hot Glue
Explore your creativity with hot glue gun crafts, a versatile and affordable way to create stunning DIY projects.
If you've got a hole in your pants, don't panic – it's easy to fix with an Adtech glue gun! Just grab some fabric lace and carefully cover the hole. Apply hot glue neatly around the edges of the patch for extra protection.
You can also use the sewing machine to secure the edge of the patch if you prefer. In no time at all, your jeans will look as good as new again! Don't let ripped or torn clothing get you down – just pick up an Adtech glue gun today and discover how simple it is to fix any holes in your clothes with ease. agirlandagluegun
15. Easy DIY Hot Glue Glitter Fall Leaves
Brighten up your space with beautiful fall decor with one of these 25 hot gun glue crafts! All you need is a glue gun, glitter, foil or oil, and either a Teflon sheet or dry-erase marker. Simply draw the shape of your leaf onto the material of choice and apply hot glue along the edges for an attractive sparkly look. Once all areas are covered in glitter, spray sealer to protect them from any damage. You can make vibrant wall displays or use them to embellish wreaths and more – there's no limit to what you can create with this fun craft! craftyourhappiness
16. Make Your Own Hot Glue Earrings
Looking for a rather fun way to create your own earrings? Try making hot glue earrings! With just a few supplies, like a hot glue gun, spray paint, acrylic paint, gold-plated jump rings, and strong adhesive, you can make beautiful earrings in no time. Whether you want some matte or glossy finish with vibrant colors or subtle hues – the possibilities are endless. Get creative with different patterns and layering techniques to make unique pieces that reflect your personal style. Follow this hot gun glue craft to slay your look any day! fourfrontdoors
17. DIY Flameless Rose Tea Lights
DIY flameless rose tea lights are an easy, safe way to bring elegant light and ambiance into your home. With the help of fabric rose petals, a flameless tea light, and plastic spoons, you can make this unique craft with ease! The process is simple – just place the petals around the tea light in whichever design you choose. Secure them with the spoon pieces for longer-lasting beauty. Enjoy custom-made soft lighting without the risk of fire or heat – perfect for any room in your house! smartschoolhouse
18. No Sew Pillow Using Hot Glue
Put together a no-sew pillow in just minutes with this easy hot glue trick! All you need is a double-layer fabric table runner or placemat, pillow stuffing, fabric marker, ruler, scissors, and an iron. First, measure and mark the size of your desired pillow to the fabric using a ruler and fabric marker. Cut out two pieces for each side along the lines. Iron both sides together before using hot glue around the edges to attach them. Finally, fill up with pillow stuffing, and voila—you have yourself a unique handmade no-sew pillow! scatteredthought
19. Snowflake Cake Topper Using Hot Glue
Get craft this weekend and make a beautiful and unique cake topper with wooden skewers and hot glue. You will need a hot glue gun, some wooden skewers, cooking spray, and a clear dish. Begin by spraying the dish you are using for your snowflake design with the cooking spray to make sure that it's non-stick. Then arrange the skewers in the shape of a snowflake according to your desired design in the sprayed dish – let them cool completely before moving on!
Heat up your hot glue gun and begin attaching each skewer together until you have completed your desired snowflake design. Let dry before gently lifting off from the sprayed dish. Add this stunning hot glue gun craft to your list. diycandy
20. Colorful Holiday Votive Candles with Hot Glue
Master the art of hot glue gun crafts by following step-by-step tutorials, ensuring beautiful and durable creations.
Light up your holidays with these vibrant and colorful votive candles! Using hot glue, you can customize the look of each candle to match your holiday decor. Perfect for adding a festive touch to special occasions like Christmas, Hanukkah, and more. The hot glue allows for endless possibilities—you can create intricate patterns or just keep it simple. You will need a vase, spray paint, vegetable oil spray, a small candle, and of course, a hot glue gun. curbly
21. DIY Harry Potter Wands
Magically produce the perfect DIY Harry Potter wand with just a few materials! All you need is some brown acrylic paint in assorted colors, foam brushes, a hot glue gun and glue sticks, and glossy spray sealant. Create your own unique wand with these supplies for an authentic look that's sure to bewitch any witch or wizard. Make it yours today: great for aspiring witches and wizards who want to show their love of Harry Potter! boxycolonial
22. Make Frozen Snowflakes Hair Clips Using Hot Glue
Let it snow on your hair by making an adorable winter accessory with this easy-to-follow tutorial on how to make frozen snowflake hair clips using hot glue. This fun craft project is perfect for kids and adults alike and requires no special tools or materials. Get creative and personalize your snowflakes by varying the size, shape, and color of the glitter used, or even add some sparkles!
In no time, you'll have cute and stylish hair accessories that will bring out your inner Elsa. Follow our simple guide now and start creating beautiful frozen snowflake hair clips today! agirlandagluegun
23. DIY Hot Glue Gun Necklace
From home decor to fashion accessories, hot glue gun crafts offer endless possibilities for innovative and personalized designs.
Wear your own stunning jewelry with this DIY hot glue gun necklace! This easy-to-follow tutorial is perfect for those looking to design their own statement piece. You just need a glue gun, some glue sticks, tulle fabric, plastic wrap, and a necklace template.
This fun craft project will have you showing off your new necklace in no time! Get creative and create unique patterns or use the template provided to make something personalized – either way, you'll be wearing something special created by you. Start making today and stand out from the crowd! ragstocouture
24. Make Your Own Hot Glue Gun Waterfall
Customize and create a one-of-a-kind waterfall using your own hot glue gun! All you need is some Hot Glue, Scissors, Transparent plastic sheets for the water flow effect, Blue and white paint to create an underwater landscape, artificial moss rocks and rocks for texture, and artificial leaves for decoration. Then simply assemble it on a plate or tray to complete your very own DIY Waterfall. With this easy guide, you can make your own Hot Glue Gun Waterfall in no time – perfect for adding a touch of nature into any room! craftsbyria
25. DIY Glue Art on Canvas
Bring out your creativity with DIY glue art on canvas. Get the perfect canvas to make unique wall art that is sure to add life and character to your home. All you need are craft glue (with tip) or hot glue gun and glue sticks, or spray paint/craft paint in the color of your choice, a pencil, saying (hand draw or print), transfer paper, and a paintbrush. Have fun creating masterpieces for yourself or as gifts for others! Start crafting now today with this hot glue gun craft. diycandy
Related DIY Crafts:
Related DIY Crafts and Projects for Kids:
Rainbow Crafts for Kids: Enjoy quality time with your kids while making colorful rainbow crafts. Our fun projects will foster creativity and keep your children entertained.
Kids Art Display Ideas: Celebrate your child's creativity with our creative kids art display ideas. Turn their masterpieces into cherished home decor and make memories last!
Pipe Cleaner Crafts: Unleash creativity with our easy pipe cleaner crafts. Transform simple pipe cleaners into dazzling creations. Great fun and learning for kids!
Pokemon Crafts: Embrace the Pokemon craze with our crafty DIY projects. Create favorite characters and Pokemon crafts to surprise any Pokemon fan!
Back to School Crafts: Get ready for school with our creative back to school crafts. Personalize school essentials, make memories, and add a touch of fun to learning!
Cardboard House: Construct a cardboard house with our creative guides. A sustainable and fun craft that fosters imagination and provides endless hours of play!
Summer Crafts for Kids: Bring summer vibes indoors with our fun-filled summer crafts that will keep kids entertained and engaged throughout the season.
Crafts for Teens: Ignite creativity in teenagers with our exciting crafts. From fashion accessories to room decor, find the perfect DIY project to inspire and engage.
Rock Painting Ideas: Create lasting memories with our easy rock painting ideas. Perfect for gifts, garden decoration, or a unique craft to enjoy as a family.
Conclusion:
In conclusion, these hot glue gun crafts offer a versatile and creative way for everyone to explore their DIY skills, with projects catering to various interests and skill levels. From making glue gun snowflakes to decorative push pins, DIY pillow cases, and personalized accessories, there's a plethora of hot glue craft ideas available. Let your imagination soar as you experiment with these unique and fun hot glue gun crafts. So, grab your glue gun and start crafting to transform everyday items into beautiful creations!