Discover our collection of 25 free potholder patterns to sew that are perfect for adding a personal touch to your kitchen or gifting to loved ones. With a variety of pot holder patterns, such as quilted potholders, fabric twine potholders, and unique shapes like cherry pie and watermelon designs, you'll have endless options for your next creative sewing project. Each potholder pattern comes with comprehensive step-by-step instructions and free PDF guides to assist you in crafting your very own functional and stylish pot holders.
Adding handmade potholders to your kitchen decor will not only make it more inviting but also showcase your sewing talents and personal style. Plus, they make amazing gifts for friends and family members who adore one-of-a-kind kitchenware. With these free pot holder patterns, you can sew cherry pie potholders, heart-shaped pot holders, jar pot holders, square kitchen pot holders, oven mitts, and hot pads, among other designs. Don't wait any longer; explore these 25 free potholder patterns and start sewing your own unique pot holders today!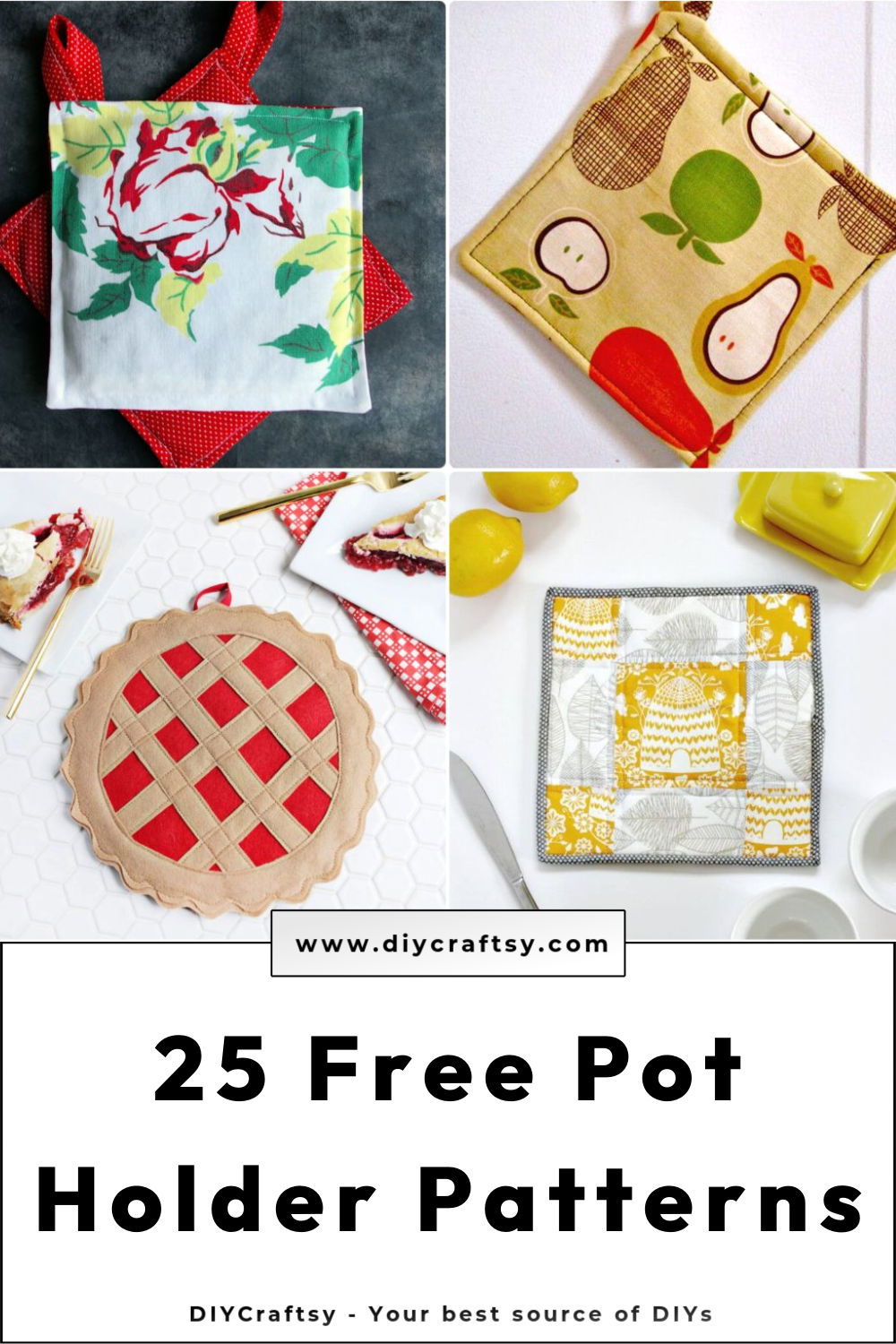 Uses and Benefits of Potholder Patterns
Potholders are essential items for any kitchen, as they protect your hands and surfaces from heat and burns when handling hot pots, pans, dishes and utensils. But potholders can also be fun and creative projects that add some personality and style to your cooking space. Here are some uses and benefits of potholder patterns that you can try:
Use Potholder Patterns to Make Unique Gifts
One of the best uses of potholder patterns is to make unique and thoughtful gifts for your friends and family who love to cook or bake. You can choose a pattern that suits their taste, personality or interests, such as a cherry pie potholder, a starbright potholder, or a simple pot holder with a pocket2. You can also personalize your gift by adding a label, a monogram, or a special message. Potholders are easy and quick to sew, so you can make a bunch of them in no time.
Use Potholder Patterns to Decorate Your Kitchen
Another use of potholder patterns is to decorate your kitchen with some color, texture and charm. You can hang your potholders on hooks, knobs, handles or racks for easy access and display. Also, you can coordinate your potholders with other kitchen items, such as aprons, towels, curtains or table runners. You can mix and match different patterns, fabrics and colors to make a lively and cozy atmosphere in your kitchen.
Use Potholder Patterns to Learn New Skills
A third use of potholder patterns is to learn new skills or practice existing ones. Potholders are great projects for beginners, as they are small, simple and require minimal materials. You can learn how to sew straight seams, curves, corners, binding, pockets, loops and more. You can also learn how to quilt, applique, embroider or patchwork by adding some details to your potholders. Potholders are also great projects for using up your fabric scraps or precuts.
Benefits of Potholder Patterns
Potholder patterns have many benefits besides being useful and decorative. Here are some of them:
Potholder patterns are fun and satisfying to make. You can enjoy the process of choosing a pattern, selecting fabrics, cutting, sewing and finishing your potholders. You can also express your creativity and style by making your own designs or variations.
Potholder patterns are versatile and adaptable. You can use any fabric you like, such as cotton, linen, felt or denim. You can also use different types of batting or interfacing, such as insulated batting, cotton batting3 or Insul-Bright1. You can adjust the size, shape and features of your potholders according to your needs and preferences.
Potholder patterns are eco-friendly and economical. You can reuse old fabrics, clothes or towels to make your potholders. You can also save money by making your own potholders instead of buying them from stores.
1. DIY Cherry Pie Potholder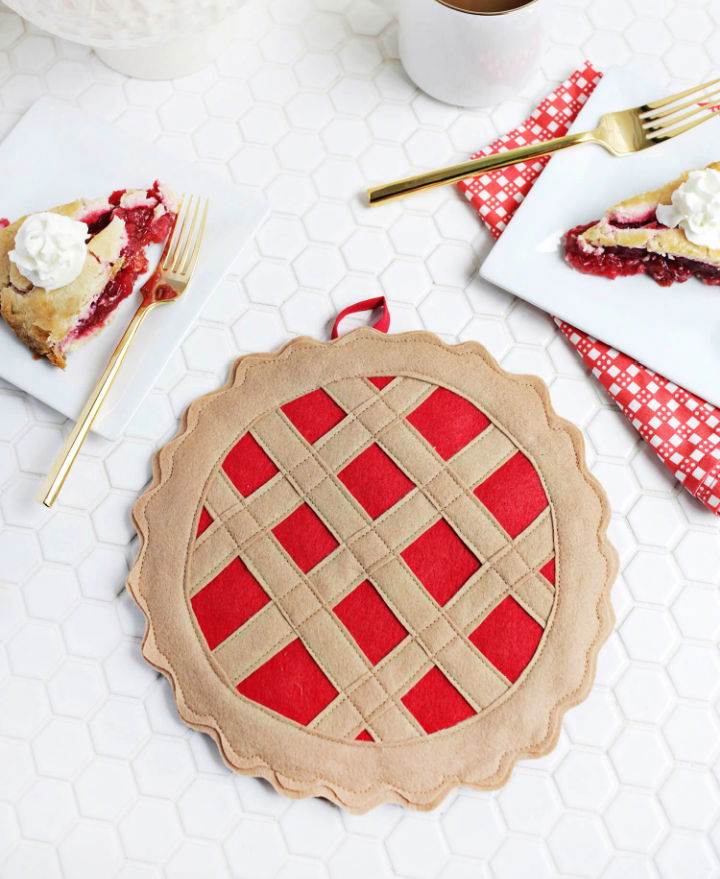 The calm breeze of fall is in the air, and what could be sounder
than the inviting smell of freshly baked treats wafting from the kitchen? It's the perfect time to add warmth and coziness to your home! One delightful way to spice up your baking process is with an adorable cherry pie oven mitt, which also serves as a perfect DIY gift for the bakers in your life!
This mitt involves simple steps incorporating materials such as tan and red wool felt, scissors, glue, a sewing machine, and a round potholder. Tracing, cutting, and sewing designs into the felt mimics the aesthetic of a cherry pie, which not only adds a tinge of fun to your kitchen but also makes your baking endeavors even more inviting.
You can personalize your pie's "filling" with your preference: pumpkin or blueberry. So, bring out your creativity and enjoy a cozy, baking-filled season with this charming kitchen accessory. abeautifulmess
2. Easy Quilted Potholders Sewing Pattern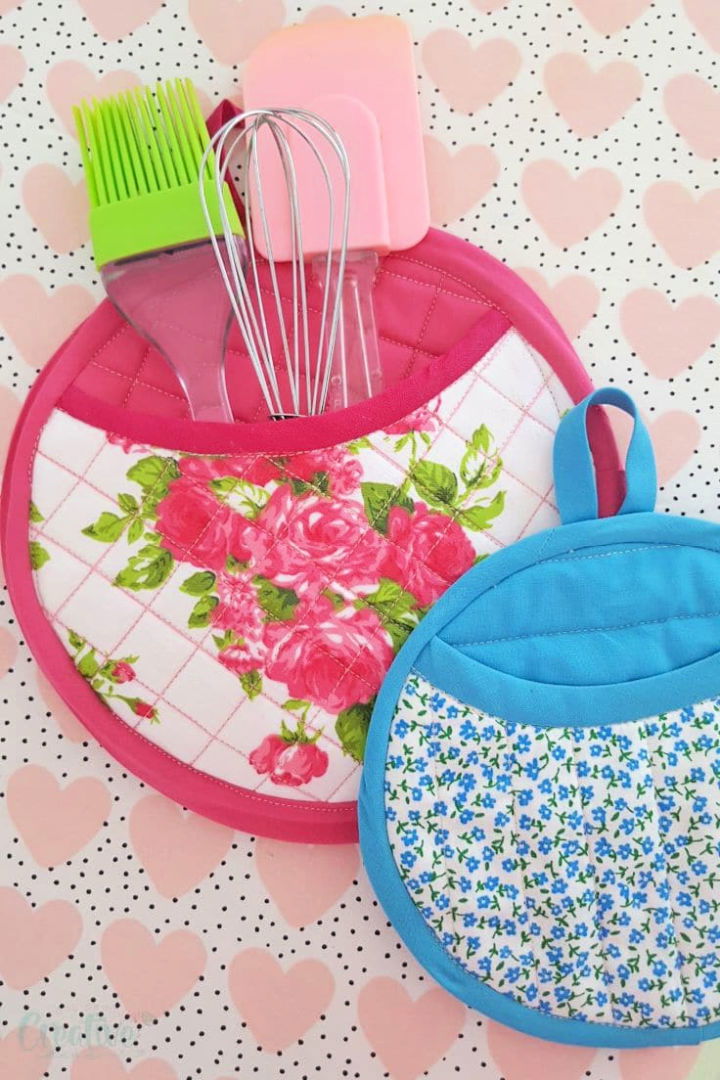 Unleash your creativity and add a handmade touch to your kitchen with this engaging DIY guide on crafting quilted pot holders. This step-by-step tutorial brings a stylish, functional addition to your daily cooking routine and is an excellent gift idea.
Use your fabric scraps to fashion outer layers, and opt for a surprising choice of insulation – a car sunshade! This unique choice of material brings effective heat resistance and adds a twist to the traditional crafting process.
Sew easily, add a charming, practical loop, and enjoy your newly made quilted pot holders. Remember, while this embraces improvisation, you can substitute the sunshade with more conventional insulation, like cotton batting, if available. Happy crafting! theseamanmom
3. Free Retro Pot Holders Sewing Pattern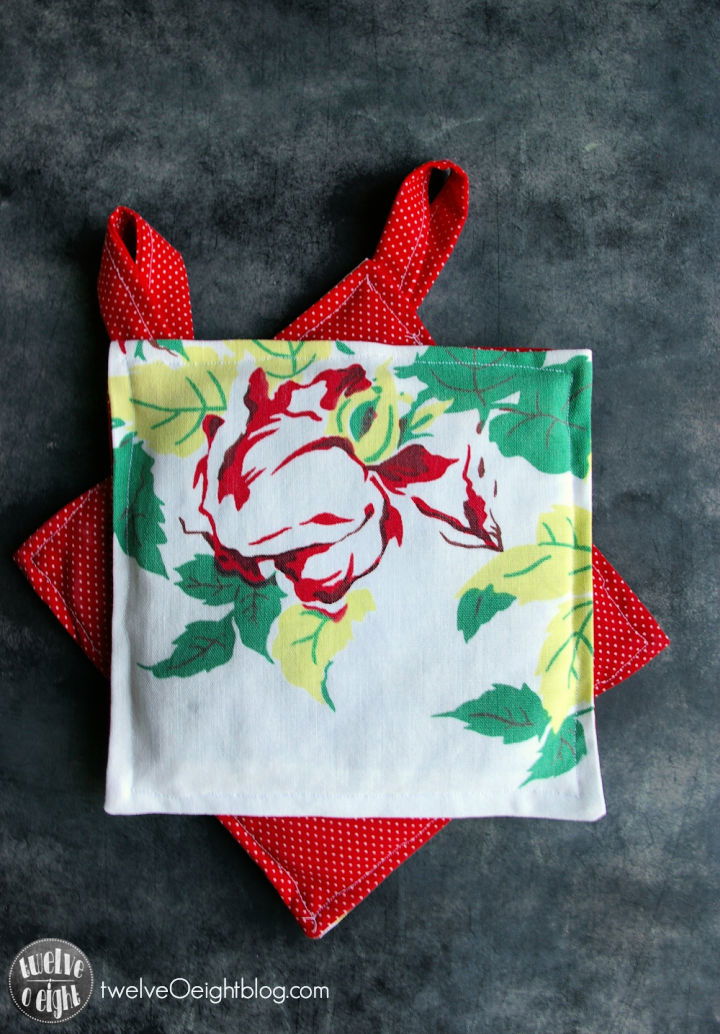 Explore the joys of upcycling with this intriguing DIY guide on repurposing old pot holders. This engaging tutorial steps you through reviving worn-out kitchen essentials, providing them with a fresh, vibrant lease on life.
A brilliant solution for those who adore one-of-a-kind items or wish to reduce waste, it employs simple materials like fabric in your chosen colors or patterns, a sewing machine, and thread.
This creative journey invites you to transform everyday objects into stunning pieces, promising a functional tool and a charming addition to your kitchen decor. Revel in the satisfaction of crafting unique, eco-friendly pot holders with this fun DIY project. twelveoeight
4. How to Sew Potholder – Free Pattern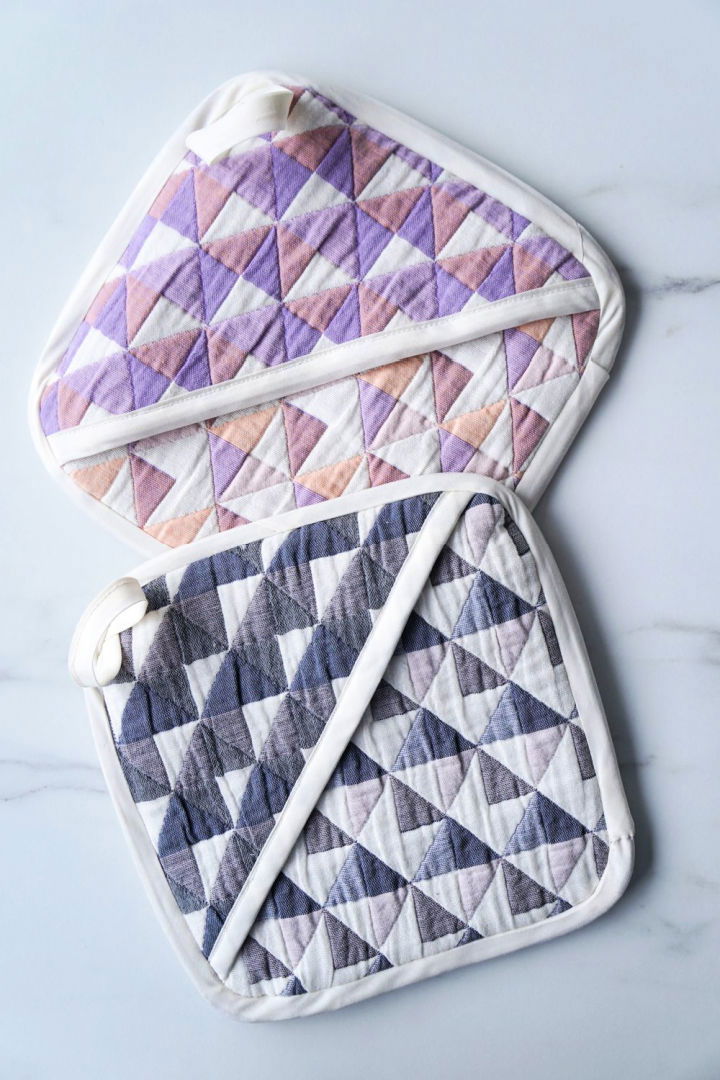 Add a dash of ingenuity to your kitchen essentials with this DIY potholder project, the perfect use for vibrant pre-quilted cotton scraps from Core Fabrics. These easy-to-make potholders make a stunning, practical gift ready in no time. Everyone will appreciate this handy, homemade accessory.
Following this step-by-step guide, you can craft a beautiful, serviceable potholder in an afternoon using 1/2 yard of fabric, quilt batting, and some thread. This tutorial has incorporated a simple method for testing your fabric's heat resistance to ensure safety.
The materials needed include an outer fabric like canvas or denim, quilt batting, bias tape, thread, and wonder clips. Make functional yet chic potholders today to breathe new life into your leftover fabric! closetcorepatterns
5. Make Your Own Watermelon Potholder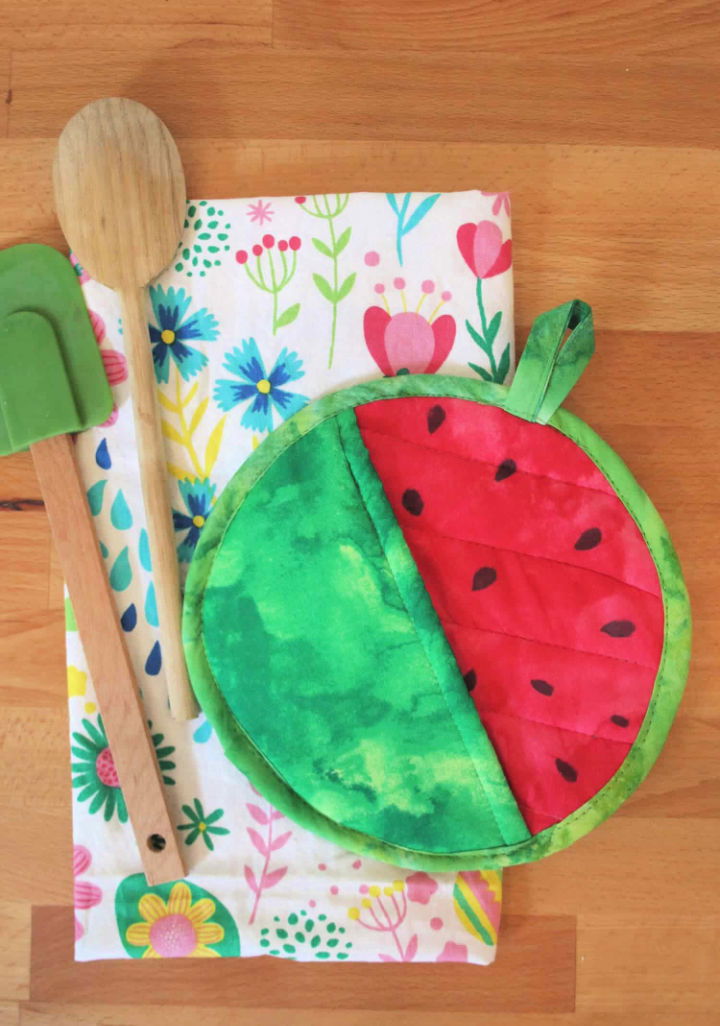 With free potholder patterns available, you can easily customize your kitchen essentials by choosing colors and designs that suit your taste. Get ready to add a fresh touch to your summer kitchenware with this DIY watermelon potholder. This vibrant and handy oven mitt doesn't only look adorable but also offers great functionality. This project is surprisingly quick to complete, made with two fat quarters of green batik fabric, one fat quarter of pink batik fabric, and insulated batting.
This watermelon potholder is not only an ideal accessory for your summer kitchen, but it also makes a lovely gift. After all, who wouldn't love to pull a strawberry pie out of the oven using a cute, handmade watermelon potholder? Start making yours today, and prepare to embrace the summer season in style! abeautifulmess
6. DIY Quilted Potholders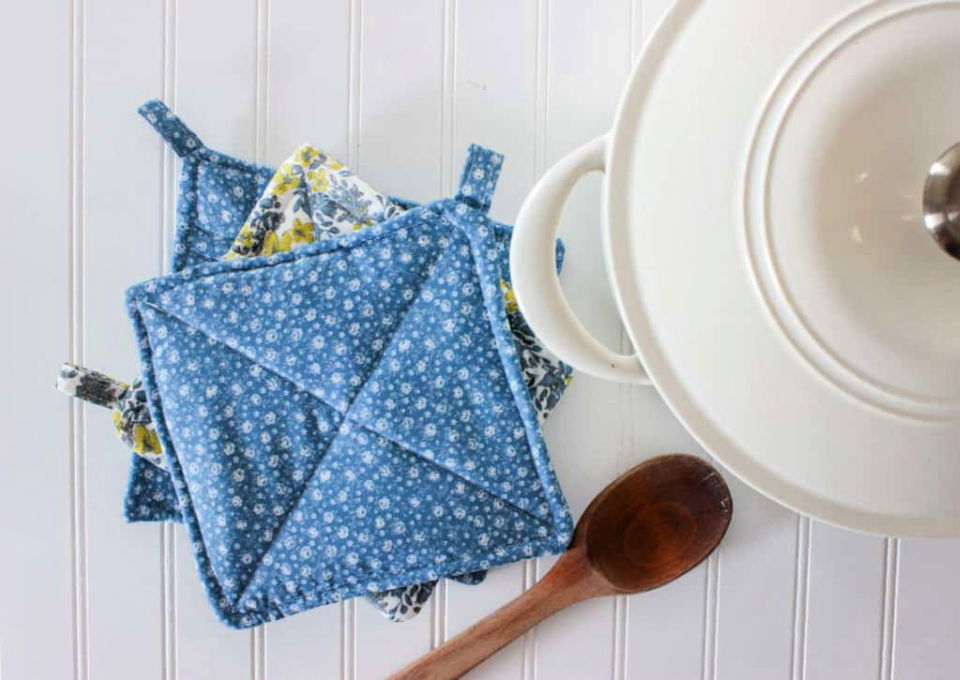 Discover the joy of creating your quilted potholders in this easy-to-follow DIY sewing tutorial. Perfect for both practical use and charming kitchen decor, these DIY potholders serve as delightful handmade gifts or a rewarding project for yourself.
The process involves quilting two fabric pieces together with insulated batting, resulting in a heat-resistant and aesthetically pleasing accessory. Cotton fabric is recommended due to its heat-resistant properties.
A convenient fabric loop is also included in the design for easy hanging. You can sew these lovely and useful creations with a sewing machine, scissors, iron, fabric, and insulated batting. Embrace your creativity and transform your kitchen experience with these homemade potholders. backroadbloom
7. Distressed Denim Pot Holder Tutorial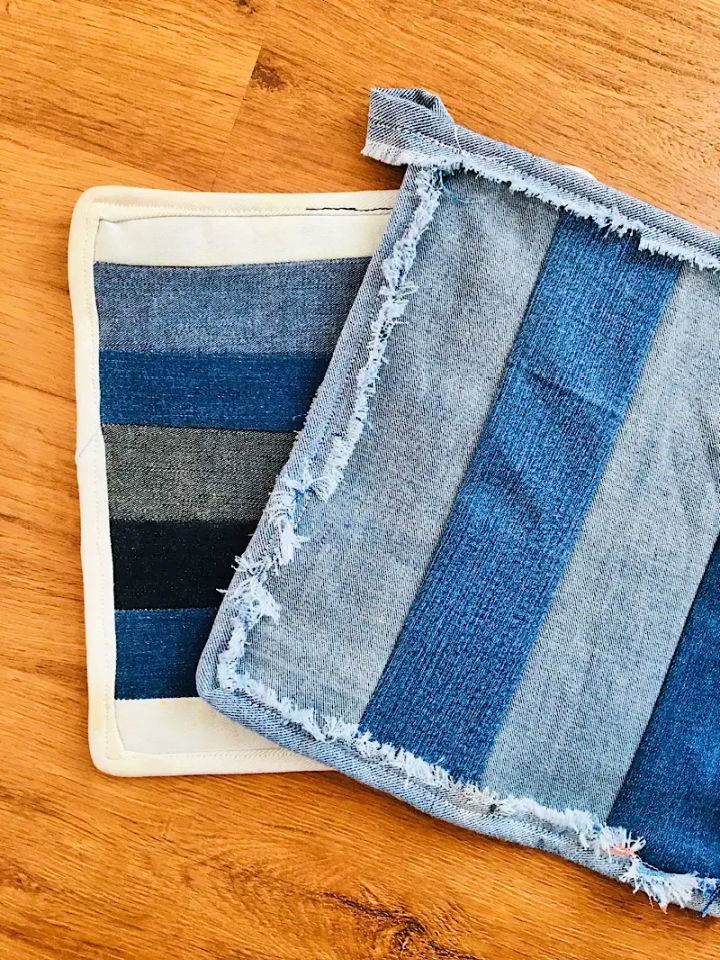 Refresh your kitchen's look and repurpose old denim with this quick and fun DIY project. In under 30 minutes, you can transform new jeans into a trendy, striped pot holder featuring fashionable frayed edges. This project is not only beginner-friendly but also makes a charming homemade gift.
The finished pot holder, approximately 8.5 inches square, can be easily customized to your preferences. Utilize different shades of denim or floral designs for a unique aesthetic touch.
With a sewing machine, fabric scissors, rotary cutter, mat, acrylic ruler, sewing pins, matching thread, insulation batting, and a pair of old jeans, you'll be set to make a practical, eco-friendly kitchen accessory that adds a touch of chic upcycled style to your home. Turn worn-out denim into a useful charm with this DIY denim pot holder project. seamwhisperer
8. Colorful and Functional Fabric Twine Potholders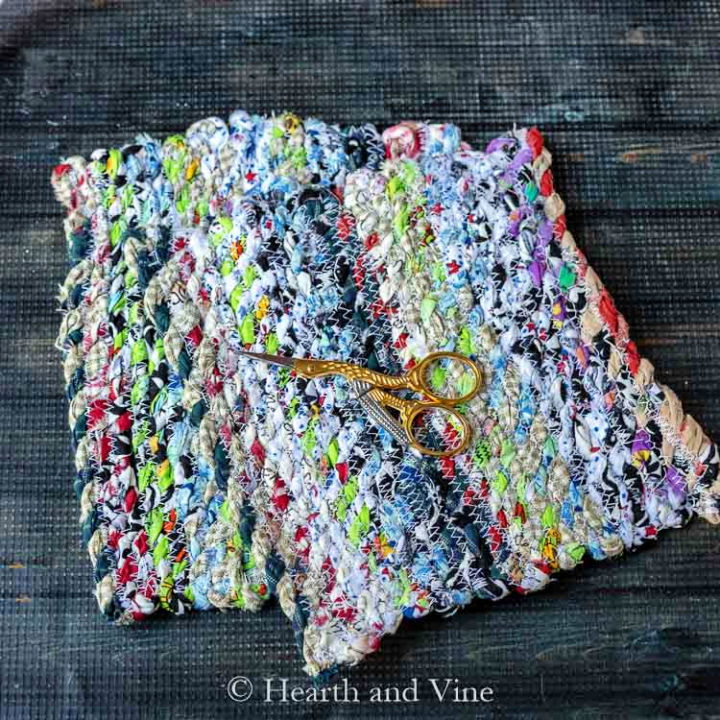 Experience the joy of creating functional, colorful DIY fabric twine potholders using leftover fabric scraps. Perfect for both homes and gifts, these potholders are aesthetically pleasing and serve as a protective barrier between your hands and hot kitchenware.
The crafting process is simple, necessitating a sewing machine, scissors, fabric twine, and white thread. The size of the potholders is customizable, allowing you to make them fit your needs perfectly.
The main steps involve folding the twine to the desired length, stitching pieces together using a wide zigzag stitch, and adding lengths until you reach your preferred size. The result is a rustic, one-of-a-kind potholder bursting with color and personality. Enhance your kitchen today with these homemade potholders. hearthandvine
9. How to Sew Potholder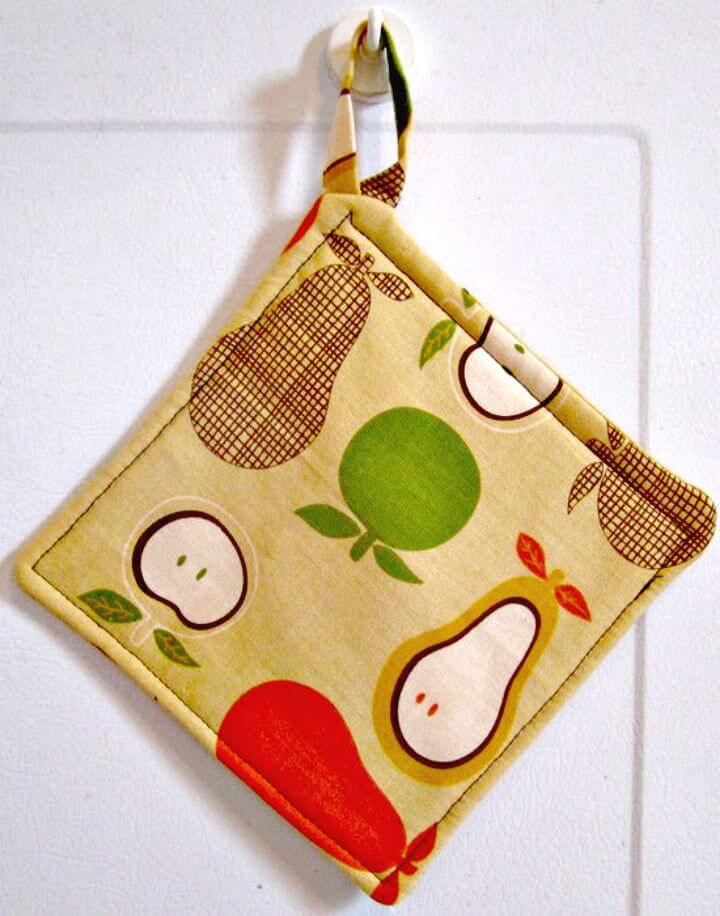 Craft your functional and stylish DIY potholders using cotton fabric and old towels, ensuring kitchen safety up to 450 degrees F. These homemade potholders require no time-consuming binding, and you can make them with basic items like cotton squares, a terry cloth towel, a sewing machine, an iron, and marking tools.
They're designed with an optional loop for hanging and a comfortable size of 8×8 inches. Once you've sewn the layers together and flipped them right-side-out, you'll have a resilient potholder that's towel-fabric on one side and fabric-only on the other. Finish up by topstitching to secure the edges; your potholder is ready for use. Add some elegance to your kitchen with these easy potholders. instructables
10. Make Your Own Heart-shaped Pot Holders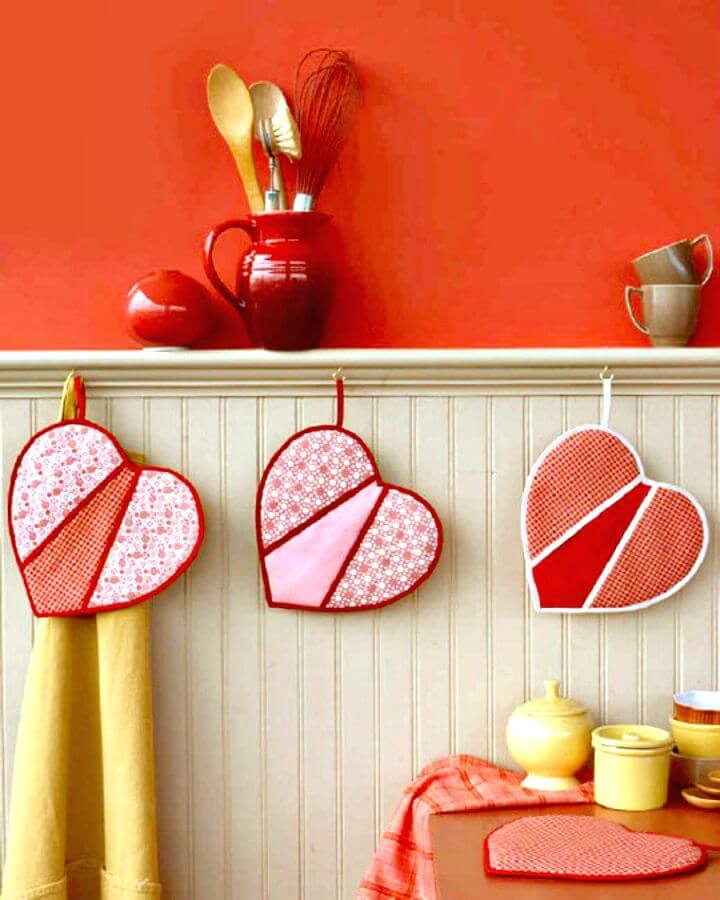 Design unique and practical gifts by exploring our extensive library of free potholder patterns for all skill levels. Revive your culinary space with these vibrant, DIY heart-shaped pot holders, perfect for adding a whimsical touch to your kitchen decor. Requiring minimal sewing skills, this project invites you to stitch together pieces of fabric, preferably in hues or patterns inspired by Valentine's Day.
Essential materials include fabric, bias tape, and cotton batting, ensuring insulation from heat. Embrace the charm of crafting, and enjoy the utility of these pot holders. They feature angled pockets, adding a practical advantage for a better grip.
Whether you make a set from similar patterned fabric or combine various complementary designs, these pot holders' charm remains timeless. Make extras for delightful Valentine's Day gifts, or personalize your kitchen with these love-inspired essentials. marthastewart
11. How to Make Patchwork Potholder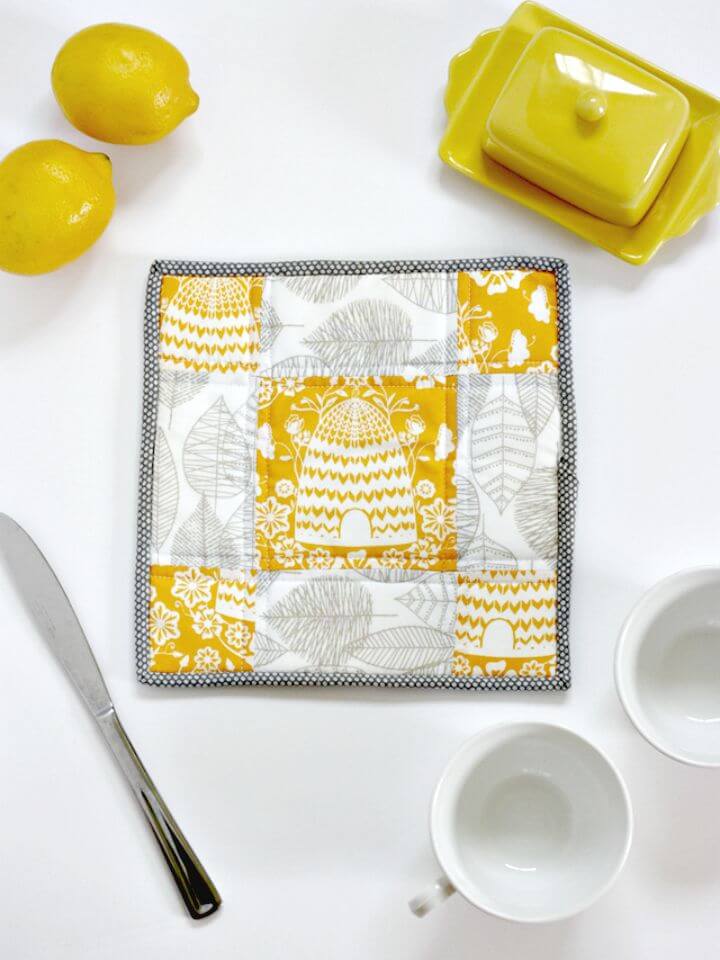 Add a charm to your kitchen with a DIY patchwork potholder! Created from bright, cheerful fabrics, this tiny quilt-like project is functional and aesthetically pleasing. With a combination of different-sized squares and rectangles, and a hint of your creativity, you can design a potholder that adds an extra sprinkle of warmth to your kitchen or can be a perfect gift for your loved ones.
This potholder sharpens your quilting skills and repurposes fabric leftovers into a useful kitchen accessory. So grab your fabrics, batting, safety pins, and sewing machine, and embark on this creative journey toward crafting a beautiful kitchen accessory today! seekatesew
12. Easy Way to Sew a Potholder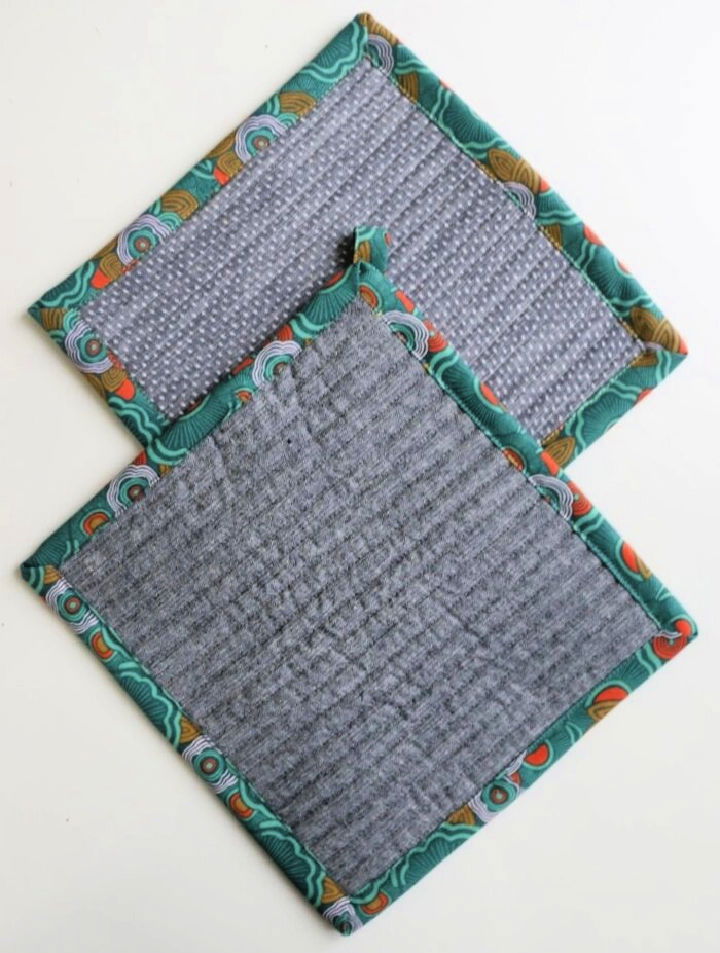 Explore the art of making DIY quilted potholders, a remarkable combination of eco-friendliness, utility, and appealing design. This step-by-step guide transforms basic materials like cotton, linen blend fabric, batting, and insul-fleece into beautifully quilted kitchen essentials.
Using natural fibers adds to the charm and makes these potholders safe and wash-friendly. This project, perfect for beginners, involves quilting and binding, enhancing your sewing skills.
With a paltry estimated cost and short time investment, learn to make something that brightens your kitchen while responsibly reusing fabric scraps. Prepare to dive into an engaging and useful craft activity today! melaniekham
13. Sew Patchwork Potholder With Pockets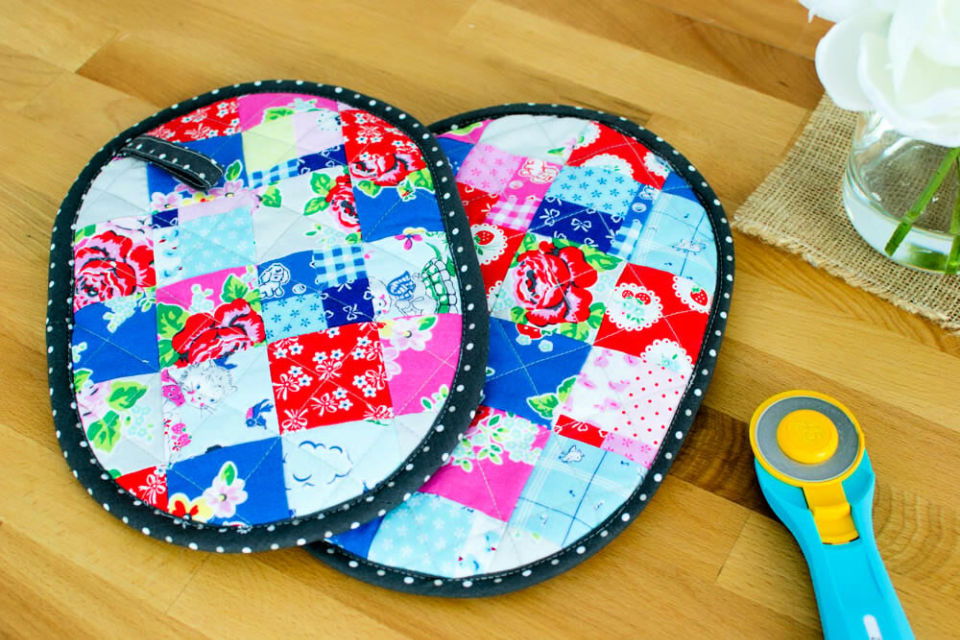 Discover a vast collection of free potholder patterns here, perfect for enhancing your kitchen decor and protecting your hands. Revamp your kitchen with DIY patchwork potholders that are both beautiful and practical. Not just for quilt enthusiasts, this project involves repurposing quality fabric, cut into squares and sewn back together, to make a unique and functional kitchen accessory.
Equipped with hand pockets at the back, these potholders ensure safety while handling hot pots and pans. The downloadable sewing pattern template and the informative guide made the process straightforward.
The materials needed include 5″ charm squares of fabric, Insulbright insulated batting, 100% cotton quilt batting, and quilt basting spray. Transform the aesthetics of your kitchen while adding functionality today with these lovely patchwork potholders. sewcanshe
14. How to Make Jar Pot Holder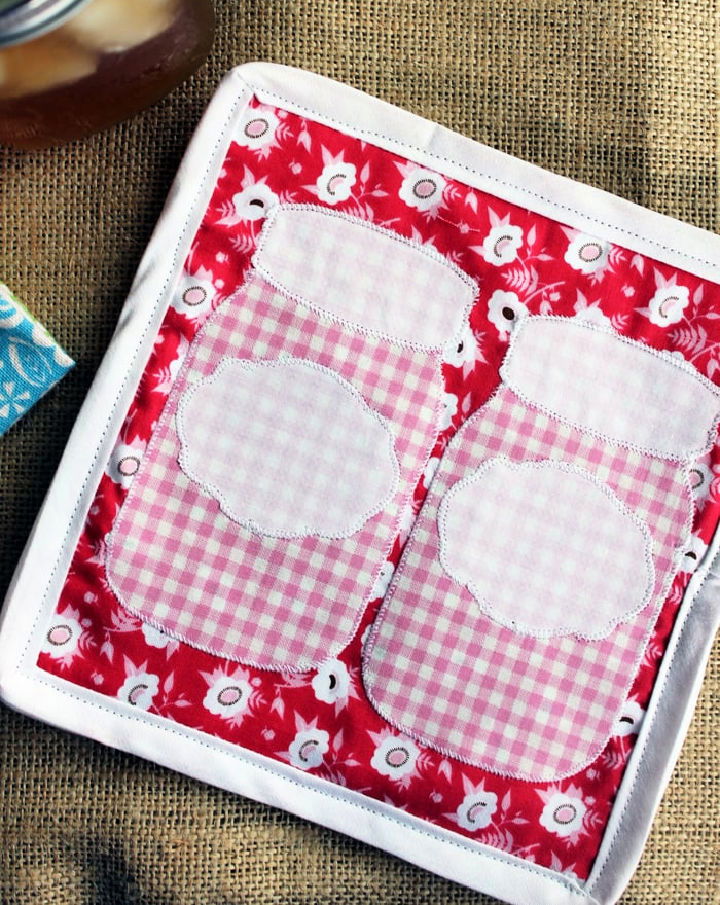 Bring the rustic charm of your kitchen with a unique DIY mason jar pot holder! Seamlessly blending practicality and decorative flair, these pot holders are an amazing addition to any modern farmhouse or rustic-style decor. You can customize your pot holder to your liking using readily available materials such as various fabrics, Solarize liner, fusible fleece, and Heat 'n Bond Lite.
This easy, step-by-step guide is designed to help you add a mason jar design to your pot holder, enhancing its charm while retaining functionality.
It's a fantastic DIY project and a thoughtful, personalized gift for friends and family. Learn the art of making an enchanting mason jar pot holder and bring a touch of rustic elegance to your kitchen today! thecountrychiccottage
15. DIY Square Kitchen Pot Holders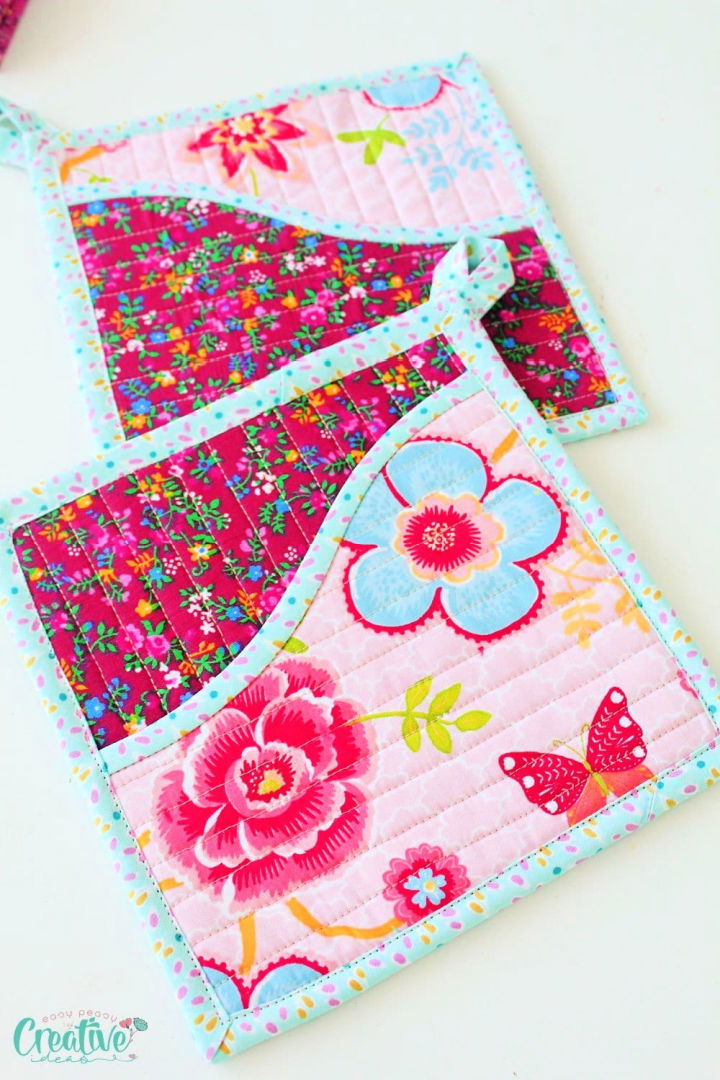 Find free potholder patterns to sew and learn the basics. Embark on a quick and rewarding sewing project with this charming DIY square kitchen pot holder pattern. Ideal for novices and seasoned sewing enthusiasts alike, these darling square pot holders can be completed quickly. Gather your preferred fabric and sewing supplies and embark on this creative journey.
These pot holders are the perfect project if you are searching for attractive and useful additions to your kitchen. With their simple design, they not only offer an excellent start to your sewing ventures, but they also make delightful gifts for the holiday season.
By making these quilted potholders, you'll have fashionable and functional kitchenware in no time. This pattern, particularly suited for those seeking uncomplicated quilted potholder designs, will get you hooked! theseamanmom
16. Free Little Potholder Sewing Pattern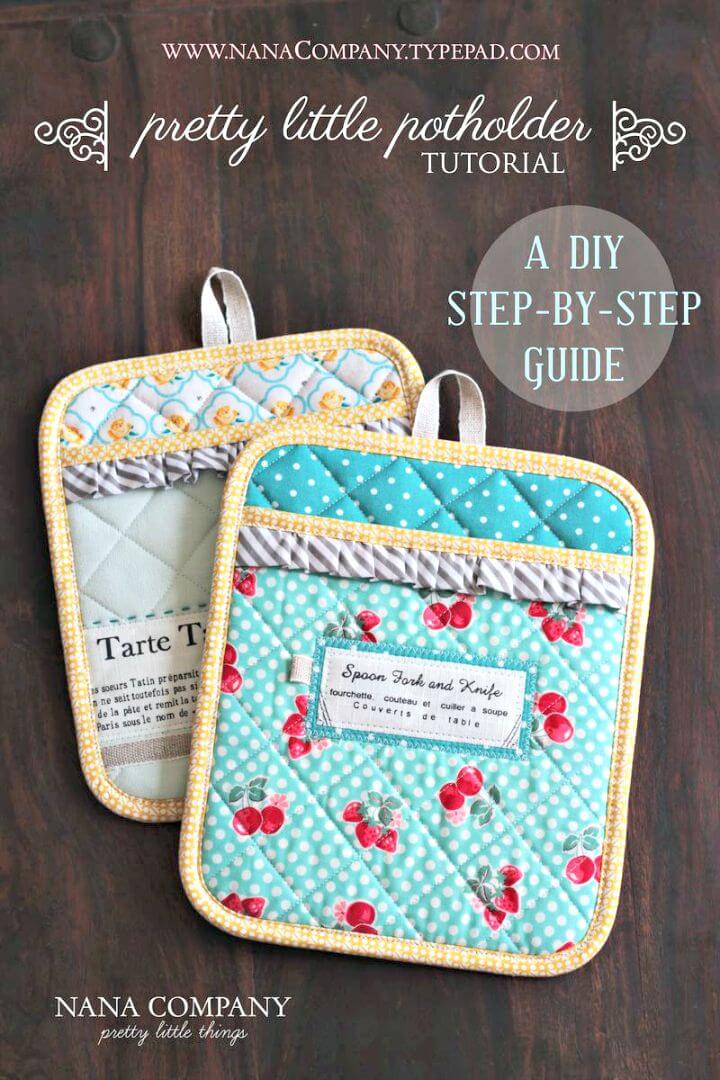 Introduce the fusion of beauty and practicality into your home with a fun DIY potholder project! This step-by-step guide will aid you in crafting a fashionable yet functional potholder that's both a charming addition to your kitchen decor and an effective heat barrier.
Armed with materials like cotton fabric, InsulBright or cotton batting, and ribbon for trimming, you can effortlessly make this essential kitchen accessory. This project also utilizes tools such as a Clover Hera marker, a non-slip quilt ruler, quilt basting spray, and a fabric glue stick for precision and ease.
The completed 9″ x 7.5″ potholder can safeguard your fingers from heated pots and baking dishes, proving its utility beyond its aesthetic appeal. Add a unique hint to your kitchen with this versatile project today! nanacompany
17. Double Pot Holder Sewing Pattern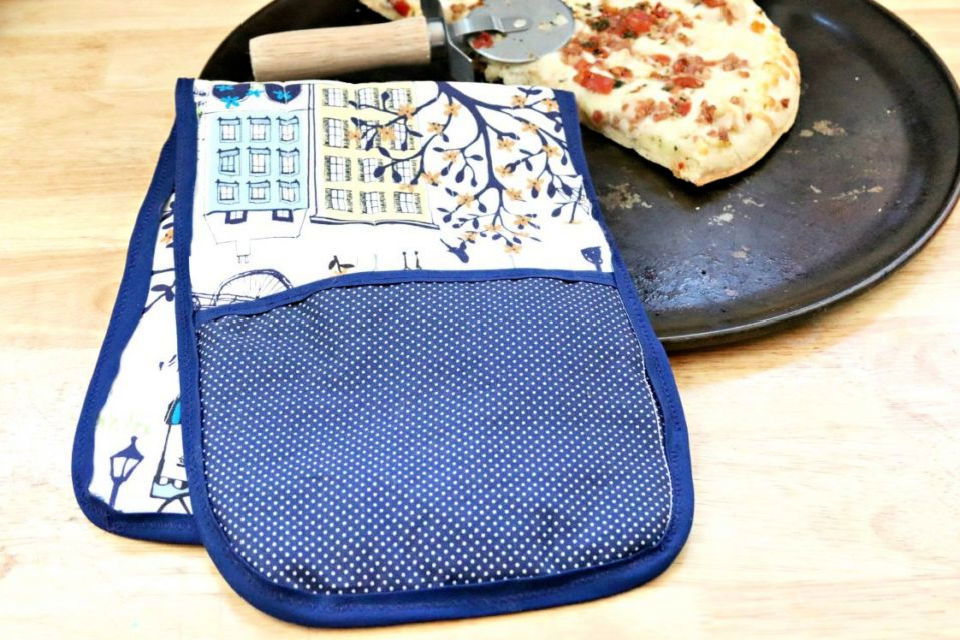 Give new life to your leftover fabric pieces and protect your hands from hot dishes with this easy DIY potholders guide. You can make these practical kitchen accessories in ten simple steps using your remaining cotton fabric, heat-safe cotton batting, and essential sewing supplies.
These potholders protect your hands and are an ideal solution for minimizing your tea towel damage. Moreover, they serve as thoughtful, personalized gifts, allowing you to coordinate colors or embed special messages for the recipient.
The bonus of recycling fabric scraps makes this project an eco-friendly choice, helping reduce waste while enhancing your kitchen essentials. Follow this engaging guide and start crafting your potholders today! redheadedpatti
18. Free Fabric Potholder Sewing Pattern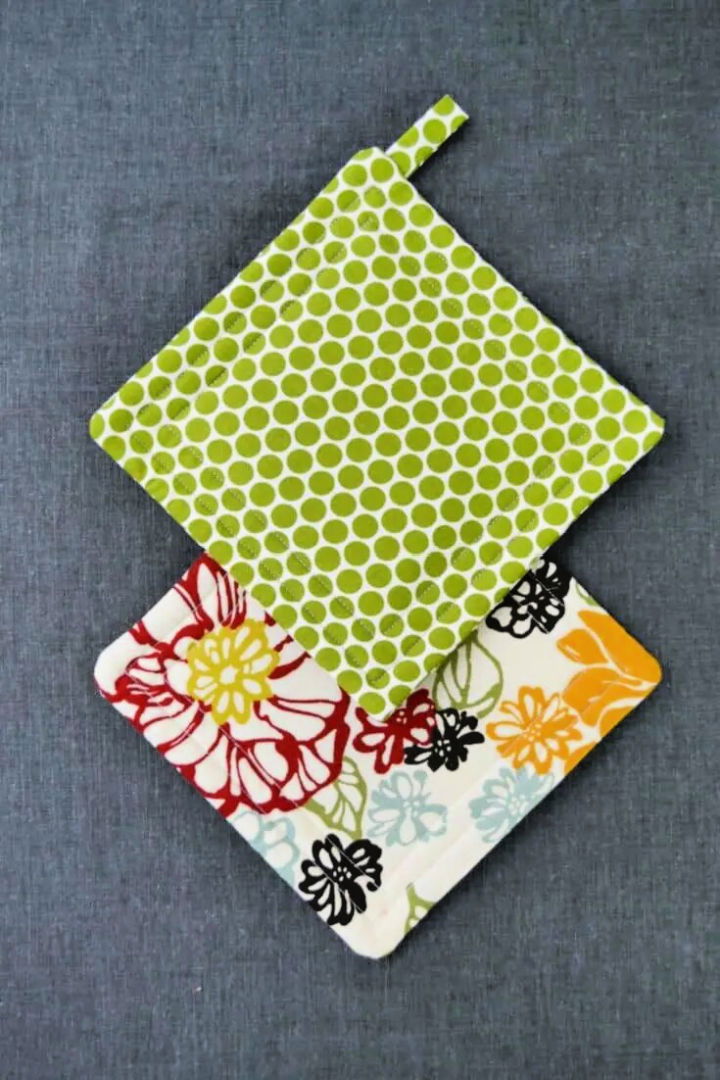 Access a variety of free potholder patterns to sew for all skill levels. Bring your DIY dreams to life with this easy-to-follow fabric potholder sewing pattern – now you can make all your kitchen accessories from scratch! Perfect for gifting or enhancing your kitchen decor, these DIY potholders are a great way to reuse fabric scraps.
The required materials include cotton fabric, Insul-bright insulating batting, a sewing machine, and a needle. A particular highlight of this project is Insul-bright, a heat-resistant batting adding an extra layer of safety when handling hot kitchenware.
The simple instructions and a 40-minute time frame make it an accessible project for anyone with basic sewing skills. You'll enjoy making something useful while giving new life to the leftover fabric. Dive into this fun sewing endeavor today and make a practical yet delightful handmade present! marymarthamama
19. Make Pot Holders With No Pattern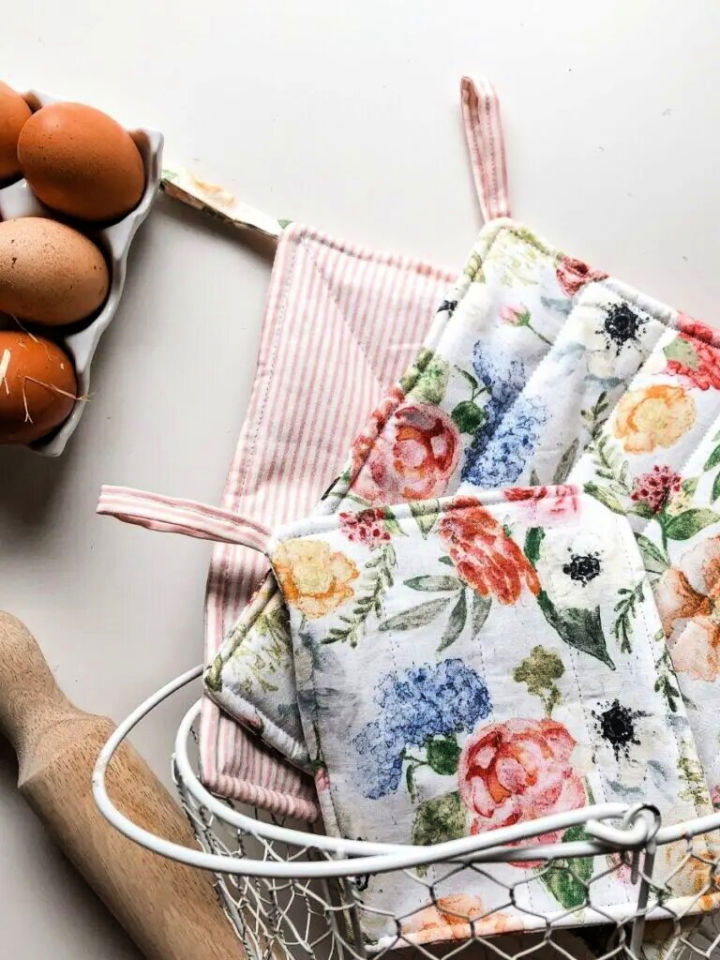 Upgrade your kitchen with a DIY approach and make these adorable yet functional pot holders in 15 minutes. These pot holders are a versatile kitchen must-have, perfect for shielding your countertops from hot dishes and pulling hot trays out of the oven.
No pattern is needed, making the process simple and customizable. Using materials such as fabric scraps, heat-resistant batting, cotton thread, and basic sewing supplies, you can enhance your home style or craft a thoughtful gift for new homeowners. Dive into this easy-to-follow guide and spice up your kitchen decor with unique handmade additions. makylacreates
20. DIY Double Pot Holder With Hand Pockets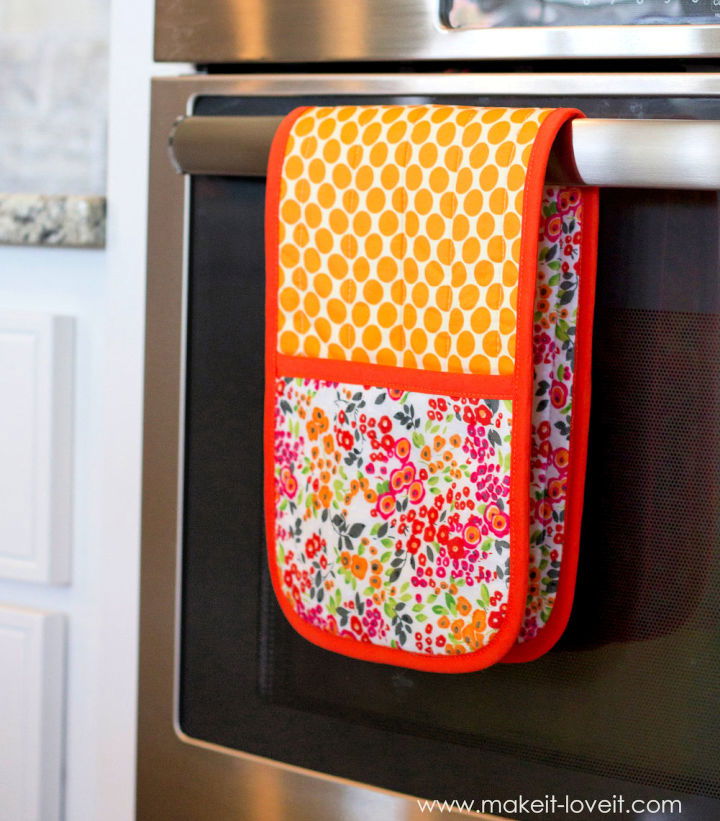 Exalt your culinary experience with this DIY double pot holder featuring hand pockets for added convenience! No longer will you need to scramble for multiple hot pads or make do with a kitchen towel. Composed entirely of cotton materials, this handy tool provides a safe, simple way to retrieve your hot dishes directly from the oven.
This project is highly customizable and can be adjusted to fit any pan size, whether you prefer a shorter or longer version. Supplies include cotton fabric, natural cotton batting, double-fold bias tape, and cotton thread.
Sewn together with parallel lines, this piece ensures utmost safety when handling hot cookware. Conveniently machine washable and complete with a pleasing aesthetic, this double pot holder is a practical and stylish addition to any kitchen. makeit loveit
21. DIY Quilted Pot Holder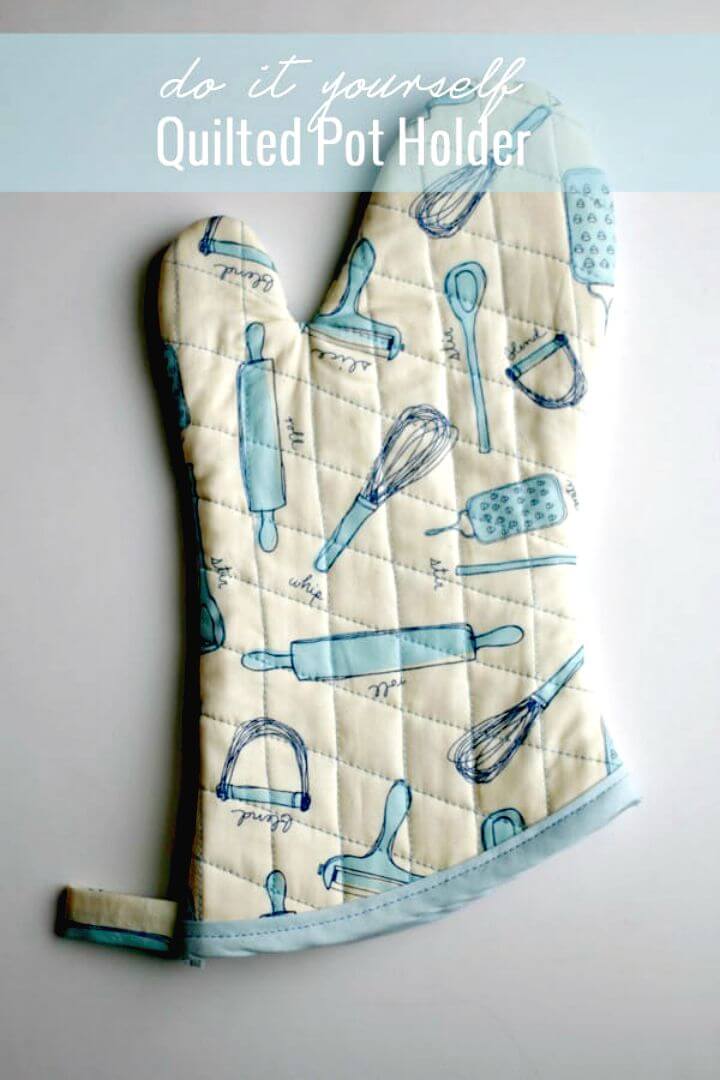 Boost your kitchen's charm with a handmade quilted pot holder! This easy-to-follow DIY tutorial teaches you how to make a vibrant and functional pot holder using a favorite fabric. What'sit'sIt's a quick project requiring basic sewing skills and just a few supplies like an old pot holder, quilt batting, printed fabric, terrycloth, and bias tape binding? The pot holder's construction involves simple steps, from cutting the fabric to quilting and binding.
With this project, you can bid goodbye to your worn-out pot holders and delight in your kitchen's coziness of homemade items. it'sIt's a great personalized gift idea for Mother's Day or other special occasions. So, get ready to sew your way to a more colorful and personalized kitchen! diycandy
22. Easy DIY Potholders from Fabric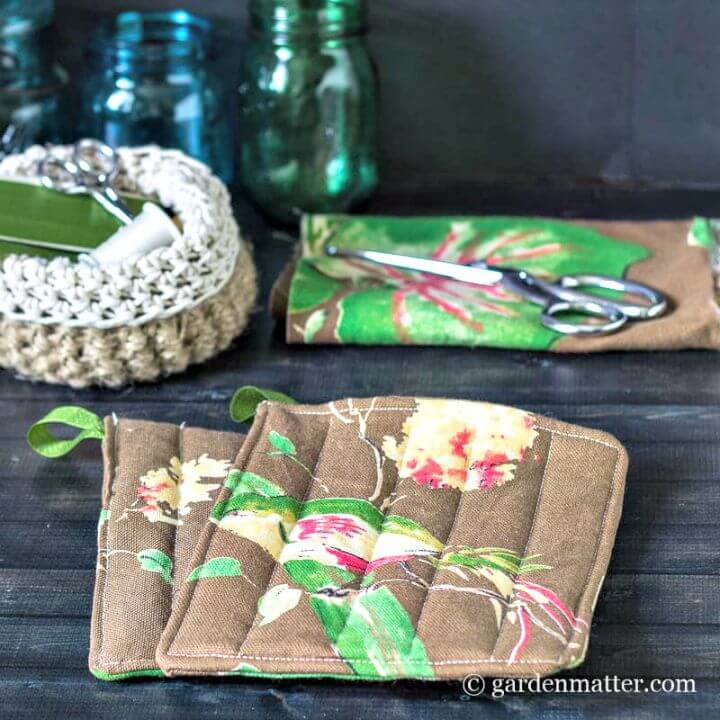 Master the art of crochet and knitting by following our step-by-step free potholder patterns to make functional yet stylish kitchen accessories. Delve into a quick and rewarding sewing project with this detailed tutorial on creating potholders. Crafted from charming cotton fabric, these potholders provide functional heat protection and a stylish touch to your kitchen. You can transform ordinary fabric into a helpful kitchen accessory using a sewing machine, fabric scissors, cotton batting, Insul-Bright, and a thread of your choice.
The process is straightforward: after making a simple template, cut out your fabric pieces, layer them in the instructed sequence, and sew them together. Leave a small section open for turning, and then stitch it closed for a neat finish.
The outcome is a beautifully crafted, durable potholder that can also make a delightful handmade gift. Venture into sewing with this fun and practical project. Whether for individual use or as a thoughtful gift, these handmade potholders will surely be appreciated for their beauty and usefulness. hearthandvine
23. How to Make Pot Holders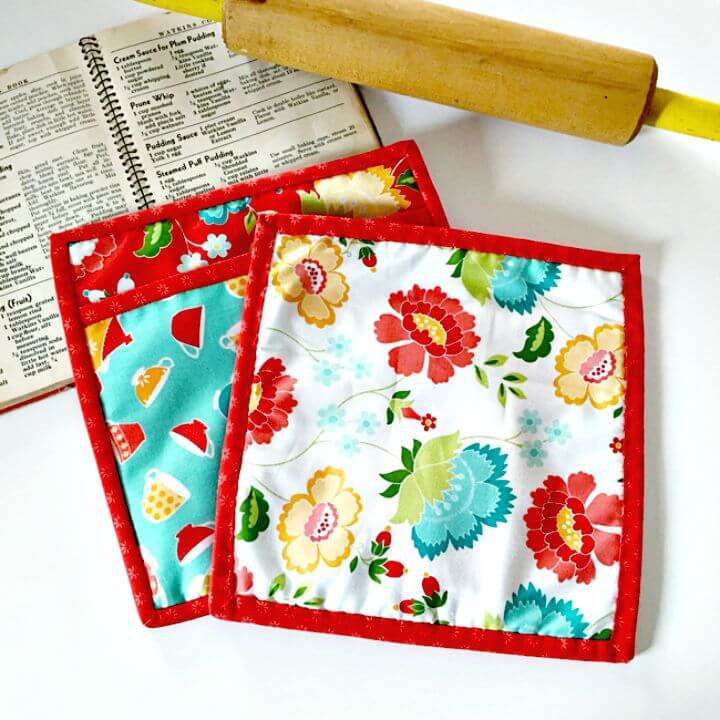 Discover the joy of crafting heartfelt homemade gifts with this DIY guide on creating easy pot holders. A perfect blend of charm and functionality, these pot holders add a touch of personal creativity to any kitchen and serve as useful tools.
Crafted from half yards of Ardently Austin fabric in various designs and Insul-Bright, they're both aesthetically pleasing and heat-resistant. Moreover, the process involves a series of simple steps, including layering, pressing, pinning, and sewing, taking around two hours to complete.
As a bonus, you'll also find a quick recipe for chocolate mousse balls, a delightful treat you can store in the freezer and serve guests. Embark on this homemade journey and experience the satisfaction of DIY gifting! fabricstudio
24. DIY Oven Mitt and Hot Pad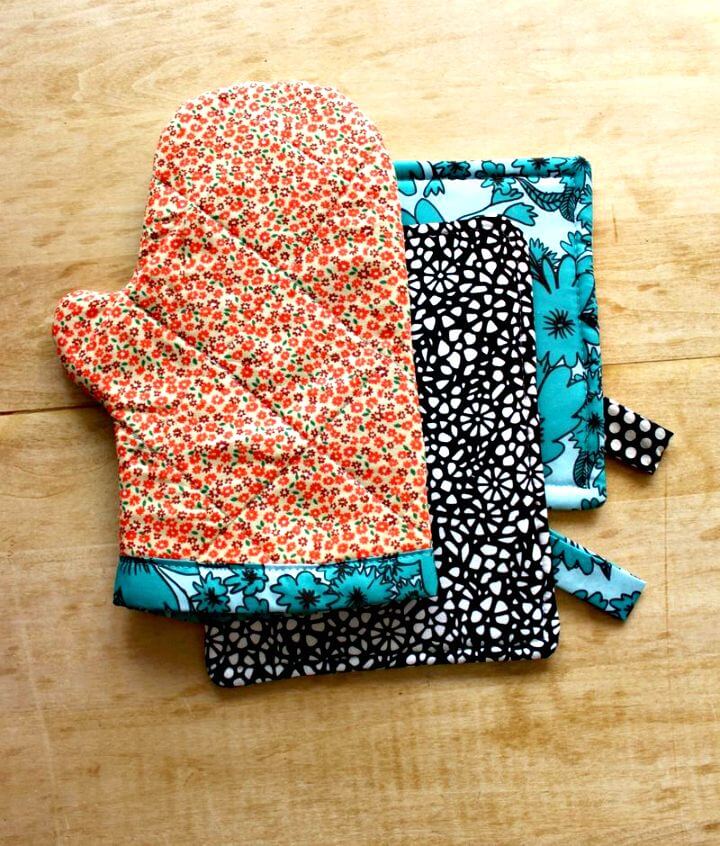 Craft something special with our free potholder patterns to sew. Try DIY-ing with this oven mitt and hot pad; it's sure to make even the hottest tasks a breeze! This creative endeavor uses everyday materials – outer fabric, inner fabric, insulated lining, and additional supplies like straight pins, an iron, a sewing machine, and shears. Transforming your culinary workspace is easier than you think, even if you're new to sewing! Choose your favorite fabric patterns to add your personal touch, and voila!
By starting from the center of your fabric to avoid bunching and following simple step-by-step instructions, you can replace worn-out kitchen essentials with handmade counterparts, adding a layer of warmth and personality to your home. Besides being highly practical, this fun project is a great way to unwind, and the finished products could even serve as thoughtful housewarming gifts. abeautifulmess
25. Bias Edge Pot Holder Pattern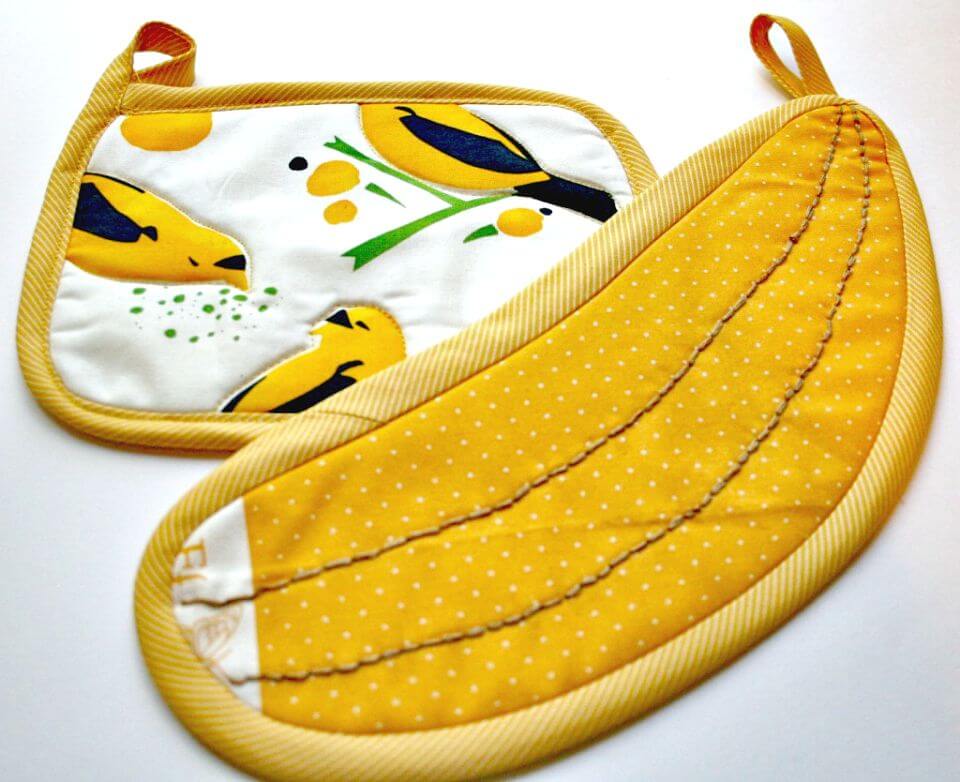 Bask in the cheerful warmth of crafting your pot holders with this simple and swift DIY tutorial. The process employs a blend of everyday materials – a main fabric of your choice, backing, two layers of batting, and, for a vibrant touch, single-fold bias tape in a delightful yellow hue.
The crafting process invites you to experiment with unique shapes and textures; a rectangle that fits snugly in your palm or perhaps a playful banana shape; the choice is yours! Besides shielding your hands from heat and spills, these pot holders add color to your kitchen.
The process is similar to quilt-making, with the added fun of machine stitching and bias tape binding. You also have the option to hand-finish the binding for a personal touch. The end product is a functional tool and a personalized addition to your kitchen, radiating warmth and creativity. Happy stitching! whip stitch
Conclusion: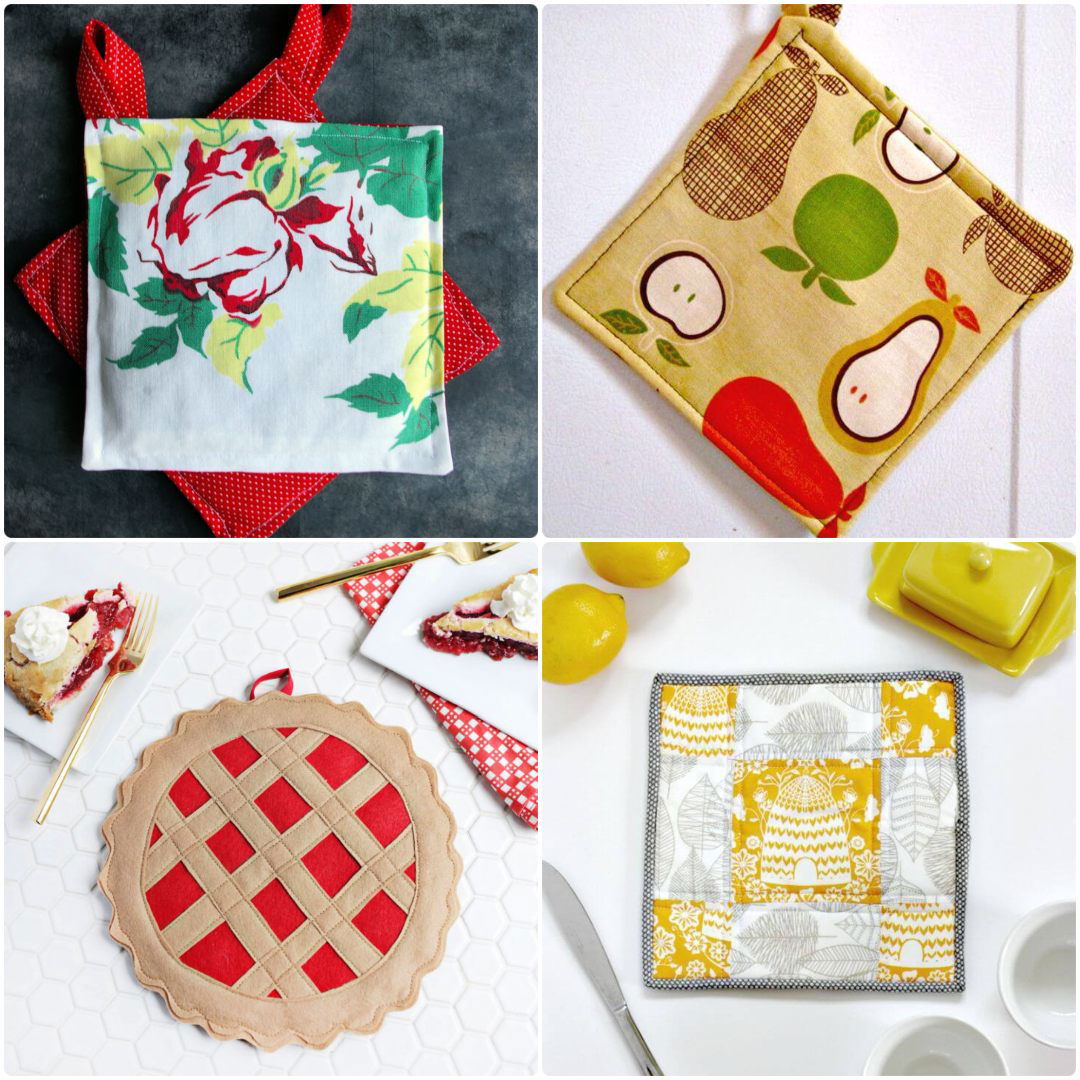 In conclusion, exploring free potholder patterns can be a delightful and rewarding experience. With a vast array of designs to choose from, such as quilted potholders, cherry pie-themed pot holders, heart-shaped creations, and even DIY oven mitts, your kitchen is bound to be adorned with functional and stylish accessories. So, don't wait any longer – dive into the world of sewing delightful free potholder patterns and upgrade your kitchen with these unique, eye-catching, and practical textile creations.