T-shirts are liked by all fashion enthusiasts! T-shirts are becoming popular as a trendy fashion wear among the women as they provide them endless possibilities to look unique and fashionable at the same time! One can do so by embellishing his/her t-shirts with logos, slogans and with a huge number of decors like flowers, metal accents, and symbols which can also be related to your religion, nation or to any particular interest! Moreover, t-shirts are simple, fitted or slouchy and plain type of fashion wear which everyone likes to wear! If you are also a passionate lover of t-shirts then time to make your own brilliant and beautiful t-shirts at home! Here are 40 DIY t-shirt sewing patterns free that will guide for every single step to sew a fashion-worthy t-shirt at home just like the same you see in fashion shops! This entire collection of t-shirts is an exclusive gift for all style loving women and girls! For complete pictorials and DIY guides simple checkout, the links pasted below each t-shirt idea!
Not only providing you endless opportunities to play with your fashion creativity and crafting skills these DIY T-shirt sewing patterns would be totally in your favor for being super cheap, comfortable and personalized. Not just one or two tees you can create a bunch of them to prepare a complete wardrobe for a particular season like summer or winter and wear them either on regular basis, for outdoor trips.
And some of them are too exclusive to be worn on events, parties and dates to look graceful and fun at the same time. Little girls, teens and young ladies, there are specific tee patterns and styles for all of them to wear and flaunt around with sheer pride. You will also like these 50+ DIY Shorts to Enjoy Your Summer Fashionably to fashion with matching T-shirt sewing patterns.

You are going to see here a variety of popular self-sewed tees you are all a big fan of like the t-shirt with exclusive raglan sleeves, t-shirts with stunning lace front and the t-shirts with super beautiful peter pan collar and also the bell sleeve t-shirts! These hand stitched T-shirts would also make a perfect gift idea for birthday, mother's day gifts or to celebrate any other special reverent with your favorite girls and lady gang. Just go for a short roundup and see all the showcased designs to make yourself inspired!
Scoop Top Free Pattern and Tutorial:

Now make fancy and fun tops at home to grace up with jeans like this lovely scoop out top with knitted tissue fabric and scribbles all around making it look really an attractive possession for all the ladies. Here is the tutorial to make and rock it for yourself skirtastop
The Else Tee with Pattern:

With a loose fit and deep neckline this lovely white tee shirt with pink shorts looks just apt to the fashion and so comfy for regular wear. Its damn to easy to sew yourself and flaunt on your body soon so here is the link to steal the pattern from go and check it out fine-motor-skills
Lightweight Wrap-Around Frock Pattern:

This gorgeously lined and frock is a best pick for the summer outdoor trips to feel light, air and comfortable and that too in style. The buttons added on the top are adding more beauty to it which can be used in custom colors when you sew one for yourself. Here is the free pattern of it peppermintmag
Comfy Winter Throw-Over with Dramatic Back and Tassel:
The long title of this throw over says it all about it having a dramatic back and tassel at the back adding too much style and fashion to it and make you look quite unique and different from the crowd for you. to know the pattern and other details check it out here peppermintmag
Easy Hemlock Tee Pattern:

Here we have two summer delights for you to wear and roam around so comfortably. one is a black and yellow contrasted boxy top and the other is a Japanese tissue tee with red and white lines and both of them have fee pattern and tutorials right here so browse and enjoy grainlinestudio
Colorful Fun Summer Tee:

If you have some floral print fabric in your stash at home, never ever throw it as you can make these absolutely gorgeous and stunning summer tees out of them with contrasting and matching backs adding more oodles of charm to them. Get more details here icandy-handmade
Stylish Free Tee Pattern:

Not only regular tee but a stylish top like the above can also be created at home that you can aptly carry for a party. So no more boutique visits as you can make such a lovely party wear of your own just grab a nice printed fabric and here we have the details of the pattern to sew it easily craftsy
Easy Wrap Top Free Sewing Pattern:

You can give a style touch to every easy tee you make at home and here is an awesome inspiration in this regard. And that fashion touch is a few pleats On the side of the t with a V neck and you can make it in plain and in printed fabric as looks gorgeous on both so-sew-easy
Raglan Tunic Top Free Pattern and Tutorial:

If you got fabric sales near you never ever miss it a you can create a bunch of easy and stylish tees from them and not only for yourself but also for your little princess like this cute and shiny pink top has been made out of the sequin fabric and it turned out so damn gorgeous. scatteredthoughtsofacraftymom
Easy Ladies Raglan Tunic Pattern:

This lovely and loose fit tee is for your utmost comfort when you have to perform some quick tasks at home and also in outside of the house. So grab any color in knit fabric and sew this cute tee with the free pattern on the given link and having a choice to make it of your own length. scatteredthoughtsofacraftymom
Girls Knit Tunic Pattern and Tutorial:

This multi colored tunic for girls is great and coming with a mixture of few color lines it can be worn with any legging at home and it would make your little princess more than happy to look really cute and colorful. Here is the pattern to sew this lovely top of your own scatteredthoughtsofacraftymom
Screen-Printed Swing Tank Tutorial + Pattern:

If you are planning to go on summer vacation then this lovely swing top is perfect for your little girl as it is super gorgeous in design print and being sleeveless it would really make her feel comfortable and cool too. Here is the link to grab its free pattern at scatteredthoughtsofacraftymom
Bell Sleeve Girl's Tee:

Bell sleeves are back in fashion again and here we have this lovely sample for you with this lovely summer to for the little girls made out of the knit fabric and looks really comfortable and cool too. So if you want to try it for your princess you need to check it out here scatteredthoughtsofacraftymom
Kids easy raglan t-shirt pattern:

Here we have an amazing idea to dress up your junior gang in the same easy tees and that too making them yourself easily at home with cheaply found knit fabric which is half plain and half printed to make lovely raglan sleeves and the rest of the shirt respectively. lifesewsavory
Free Men's T-shirt Pattern:

If your husband, brother or sun is sporty fan then make this simple sport tee for him and believe me he would be more than glad to have a handmade shirt from you and wear it so warmly every time he hits the ground to play his game. Here is the link to know the sewing pattern for it mellysews
Basic Fitted T-shirt Pattern:

This is the basic pattern for a t shirt that you can easily get if you know sewing a bit and thus would be enable to sew a nice shirt for yourself or for any dear one and save lots of your money on the market bought tees.Know more details of it here madmim
5 Step Basic Tee Tutorial:

There is never enough tees for a small kid as they make them messy and dirty so fast so here we are showing you a basic 5 step tutorial to make a bunch of the tee shirts for your little prince save lots of dollars on buying these shirts from market. All shirts are with contrasting neck line and here is the pattern to sew it easily yourself madeeveryday
Easy Plantain T-shirt Pattern:

A simple tee can be super stylish and fashion worth with a little smart addition like here the color has been well contrasted with the black jeans and then the deep neck and the black elbow patches are doing the rest of the styling. Know it more and explore it more here shop.deer-and-doe
Blanc T-shirt Free Sewing Pattern:

This basic pink tee should be a compulsory part of your summer wardrobe as it is vibrant in color, have small sleeves to feel you cool and airy and a loose fit to let you feel the utter comfort and wit the easy to sew pattern given here you can make it of your own for sure mellysews
Free Fave Top Pattern: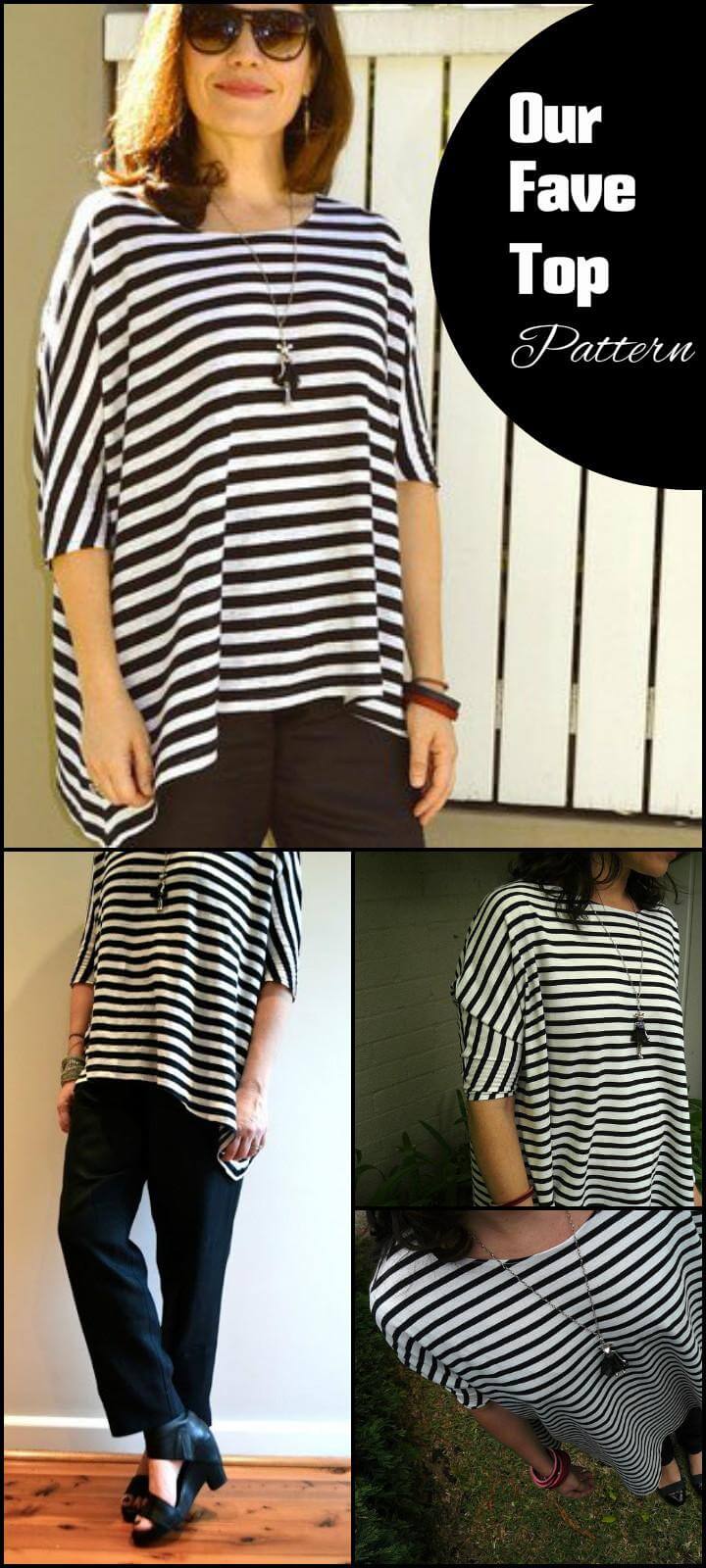 This lovely printed and loose fit top is a nice pick up for the summer outdoor parties and gatherings and being so stylish and cool in design it would become your favorite top among all and making it of your own would be an immense fun so get its free pattern here tessuti-shop
Fitted Apron Top Pattern and Tutorial:

There is another stylish addition to the easy tee bunch with this cute little apron summery top to make your little angel look really pretty and let her feel coolness of air at her back when playing outside on a hot day. I know you loved it so grab its pattern for free here scatteredthoughtsofacraftymom
Girls Knit Tank Top Free Pattern and Tutorial:

There is another east top tank project fort he little girls so that they enjoy wearing cute tops in the summer which are immensely comfortable and cozy too. Here are three lovely knit tops that you can sew easily at home as we got their free pattern right here for you scatteredthoughtsofacraftymom
Easy Flutter Sleeve T-Shirt Pattern:

You can create a dozens of easy tees for your little girl in a variety of versions so that her whole summer is spend is spent with a fun and comfortable wardrobe and here is another lovely pattern to give a try having pretty flutter arms and a narrow round neck line in focus. tutorial and details here scatteredthoughtsofacraftymom
Easy Girls Raglan T-Shirt Free Pattern:

With simple and plain knit fabric the sequin fabric has been used to make the raglan arms and here is the result that turned out as a cool and fun top for the little girls which they can pleasurably carry around on their fun summer trip. free pattern of this blinded top is here scatteredthoughtsofacraftymom
Free Girls Raglan Tunic Pattern:

This nicely printed flowery knit tunic turned out so well with the famous and favorite raglan sleeves and would be aperfect folded for the summer tip bag pack. So get some lovely flower print and make one of such stylish tunic for your little princess with pattern details here scatteredthoughtsofacraftymom
Bell Sleeve Floral Girls T-shirt or Dress Pattern:

Once you start sewing cute and pretty tees and tunics for your little girl there would be more requests to make more such cloth pieces for her almost every month. So this time you can fulfill her wish with this tee dress having bell sleeves. Here is the full pattern details and the pattern itself for free scatteredthoughtsofacraftymom
Easy Twirly T-shirt Dress Pattern:

This immensely adorable and pretty tee dress or skirt wear is something your princess would adore to the core and its too easy to sew yourself with knit and woven fabric for the top and skirt respectively and for the pattern you can click here and get it all for free scatteredthoughtsofacraftymom
Easy Women's Long Sleeve T-shirt Pattern and Tutorial:
Full sleeve shirts come out of the closet when there is a chill in the air so if you need some then here we have these lovely lined knit full sleeve shirt idea for you with all the details and the free pattern lying here so click and enjoy lifesewsavory
Beautiful Baby Tee Free Pattern:

Babies look too cute in the t shirts and making one for your toddler would be an overwhelming experience for you so here we have this cute baby tee shirt pattern for you that you can easily get and follow to make for your little one. Here is the link to get free pattern fleecefun
DIY Perfect Tee Free Pattern:

Babies look too cute in the t shirts and making one for your toddler would be an overwhelming experience for you so here we have this cute baby tee shirt pattern for you that you can easily get and follow to make for your little one. Here is the link to get free pattern craftsy
Girls Free T-Shirt Pattern with Long and Short Sleeves: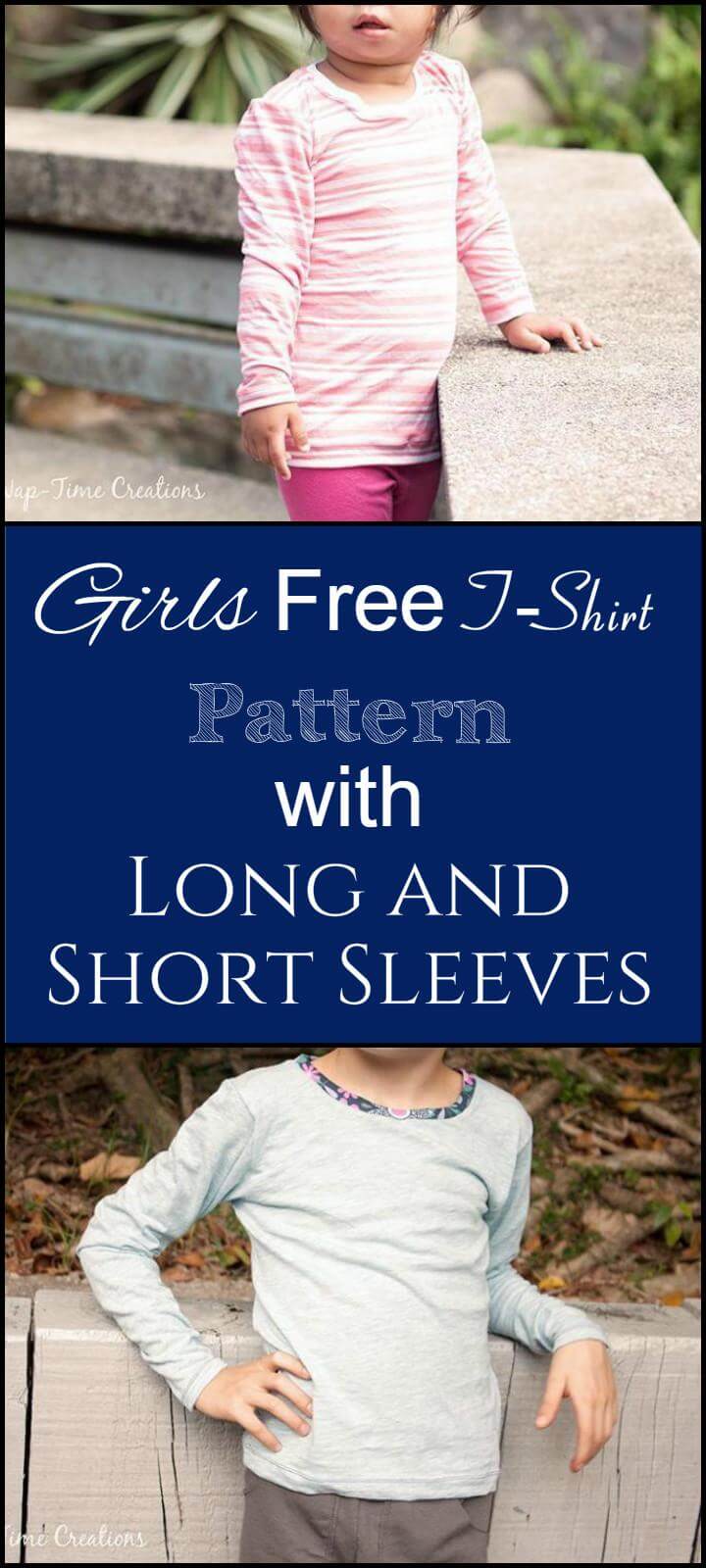 Here is a cute tee idea for the kids with simple pattern and basic stitching techniques with a little long length and a narrow round neckline with a contrasting fabric than the knit and here have the free pattern of this simple and basic tee that you can get with a click craftsy
Beautiful On a Roll T-shirt Free Sewing Pattern: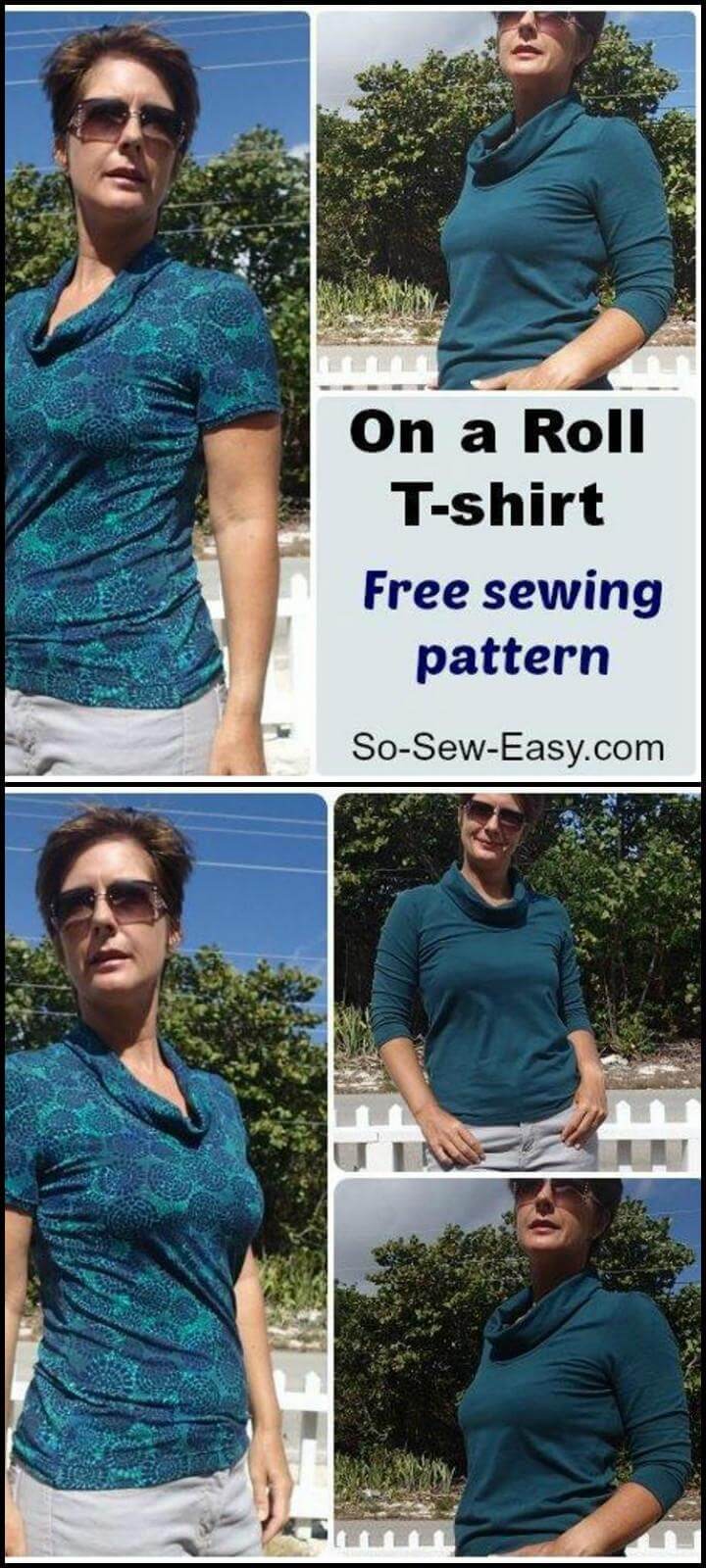 This is a basic tee pattern but with a twist int he design and that it a big roll over collar like addition to the neckline and we can see how it is elevating the style and grace of the tee shirt. You can try this pattern both in plain knit and in print fabric and the tutorial rests here craftsy
Free Raglan Tee Pattern: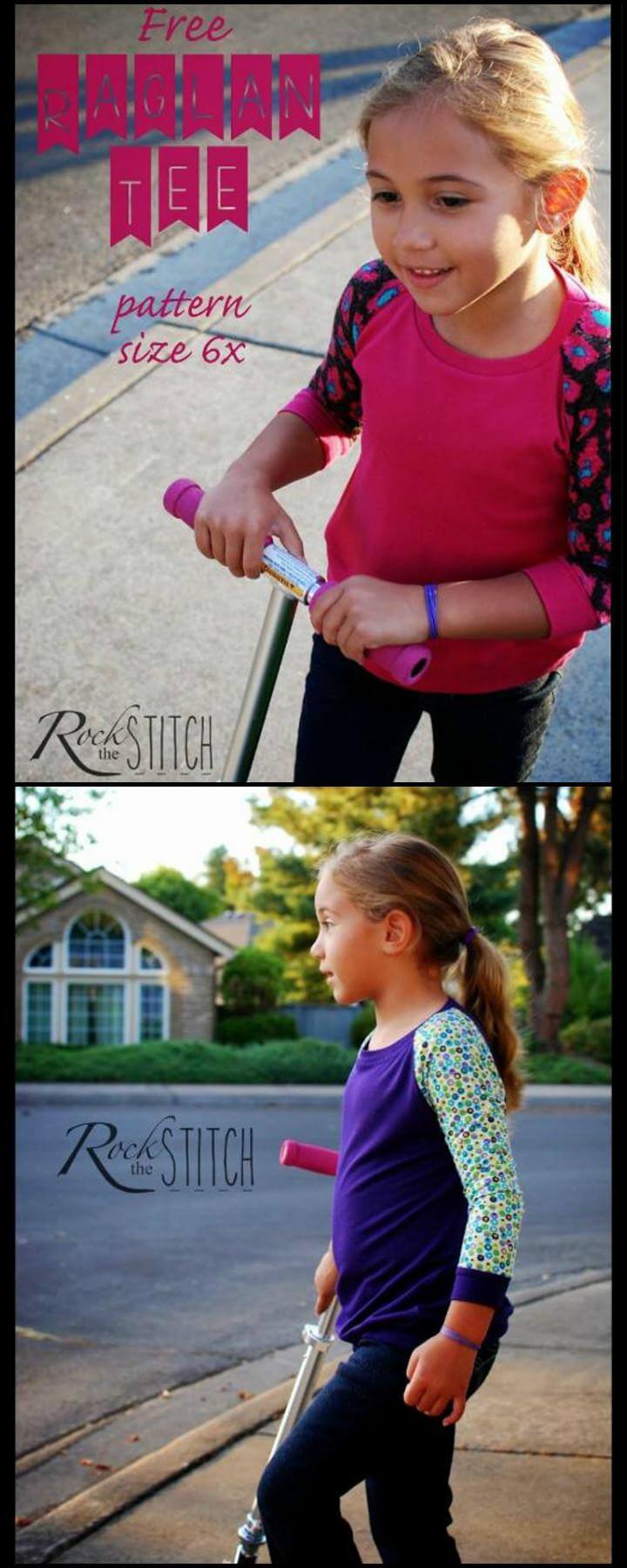 Raglan sleeves look really cute for the girls tee and specially when made with a contrasting fabric than the knit and here we have such cute samples of the pretty raglan tees for the small girls and they are carrying it so well. Make such a pair for your princess and the pattern is here for free craftsy
Free Children's Pocket T-Shirt Pattern:

Sewing tees for the boys are easier and simpler than the girls as they involve less styling up and designing so here we got two really cute and plain tees for the little boys having contrasting neck lines and quarter sleeves. Though simple to make but still the pattern guidance is here craftsy
Cute Free T-Shirt Pattern for Ellowyne Wilde Dolls: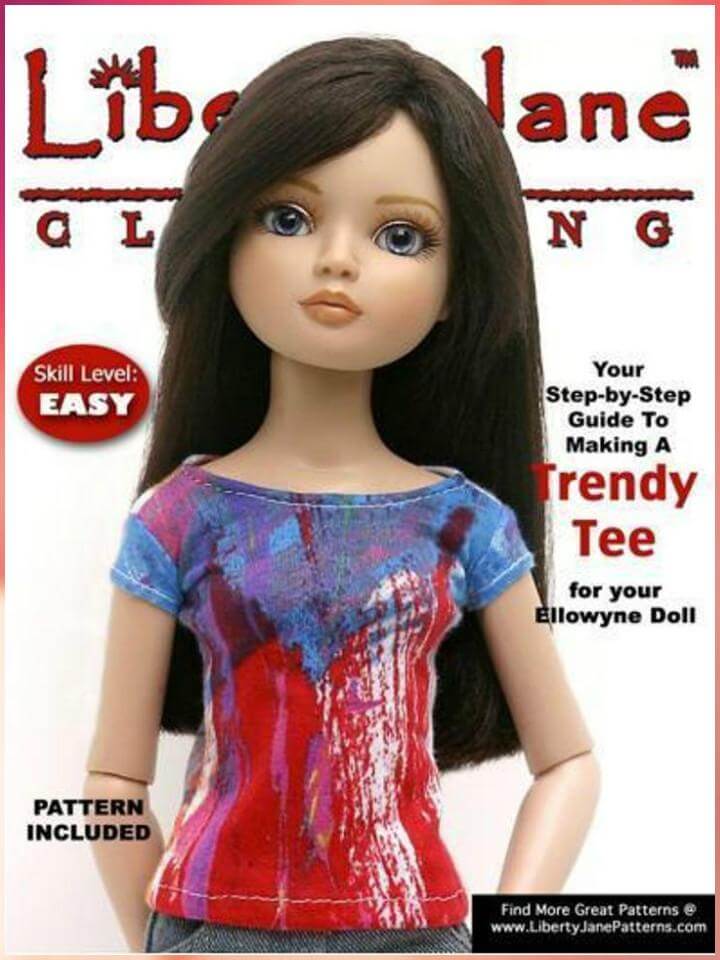 Little girls worry more about the clothes of their dolls than themselves so here we have these utterly cute and tiny tees for the dolls in nice painted fabric and they are just too easy to sew and provide a perfect start to the beginners of this field. See full tutorial here craftsy
Easy FREE T-shirt for Large BFC, Ink Dolls: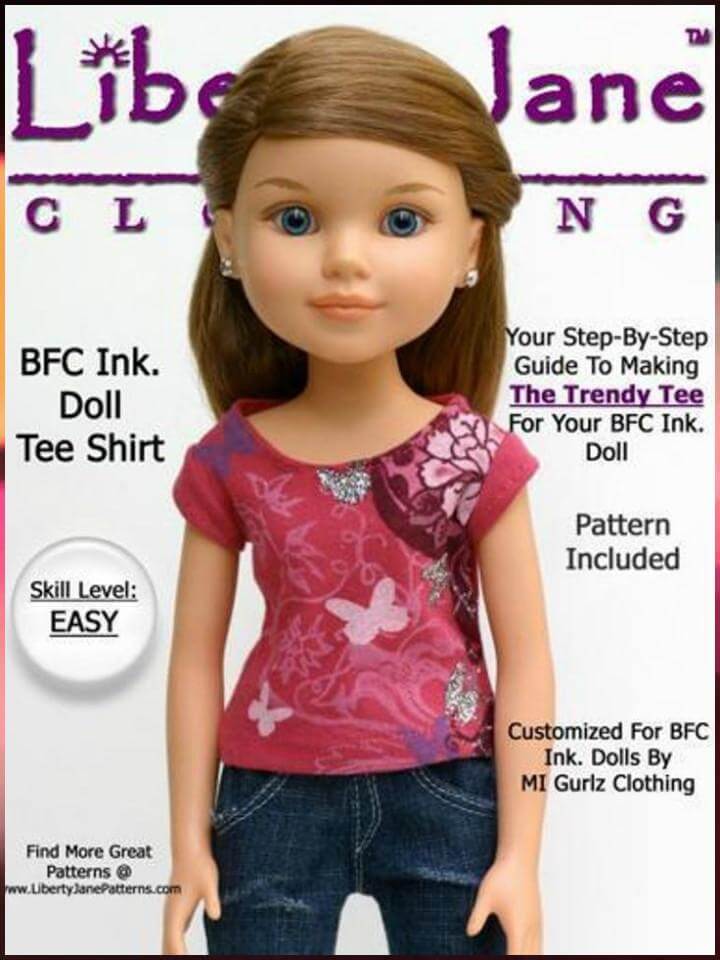 Sewing tees is such a simple and feasible task but there is a always a first time in this field for the beginners and here we this cute little doll tee pattern to let you sew and attain some good practice and eventually fill up the wardrobe of the doll with cute and pretty dresses. craftsy
FREE Women T-Shirts PDF Pattern:

Handmade tees at home are the best way to create some personalized stuff for yourself that suits you well and fits you well and here is this simple tee pattern with a bit long length and a simple round neck line made out of the jersey fabric with quarter sleeves to aptly fit you in summers craftsy
The Basic Tee Free Pattern:

With a low V neck line, quite small sleeves and a loose fit this nicely printed tee is going to be your favorite and comfortable pick up on repeated days of the week in the summer. learn to sew it yourself with free pattern lying here craftsy
Easy Basic T-shirt Free Pattern: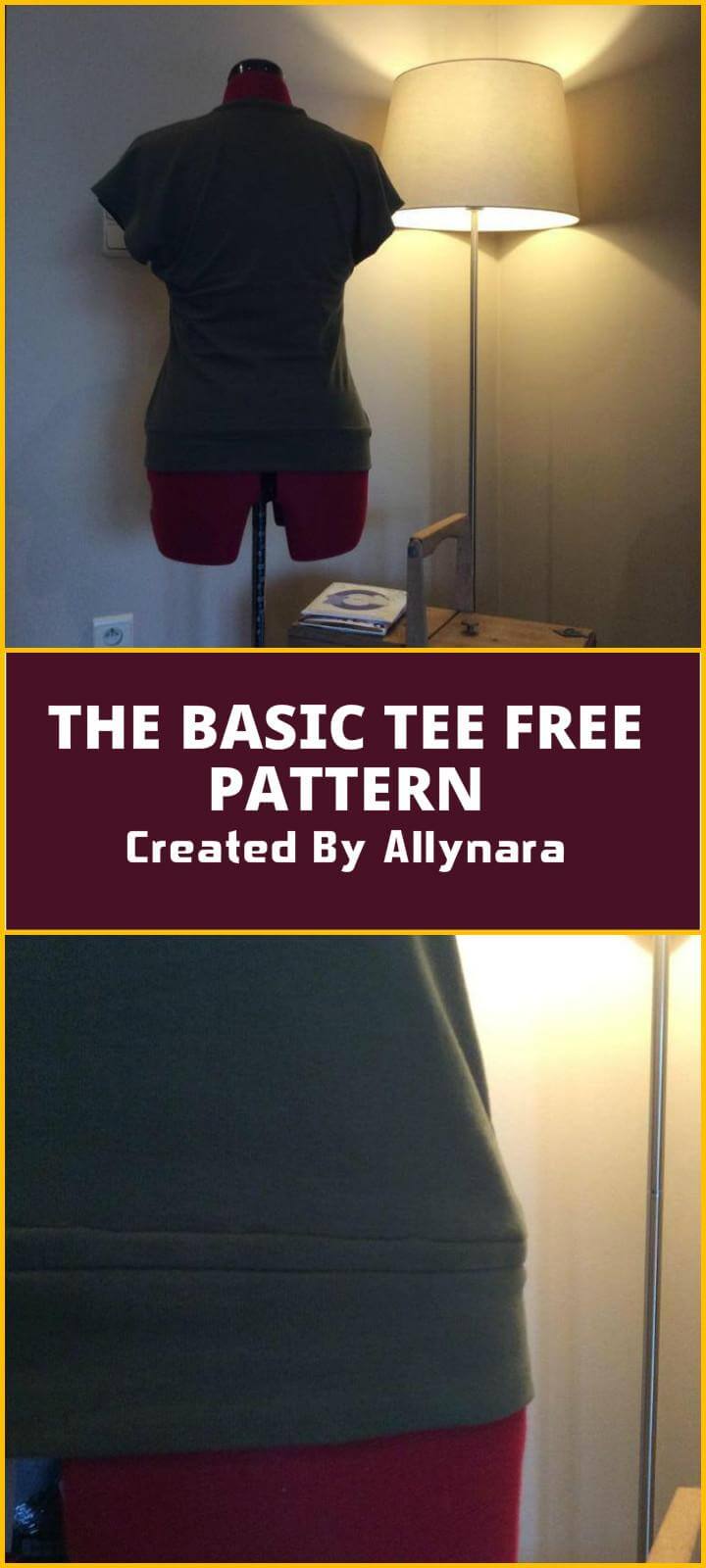 This basic tee looks super fit and tight and thus would really nice on you so pick your favorite color in jersey fabric and start sewing this basic pattern even thoough you are a beginner as we got the free pattern to be downloaded from this link craftsy
Perfect Basic Tee Free Pattern:

Even a basic tee pattern would look spruced up and unique when your fabric is nicely printed or fabric as the above shown tee has cute floral lines on it and looks too pretty and extra ordinary but have been sewed with basic pattern which you can get from here craftsy
DIY Sashiko Embroidered Tunic Pattern: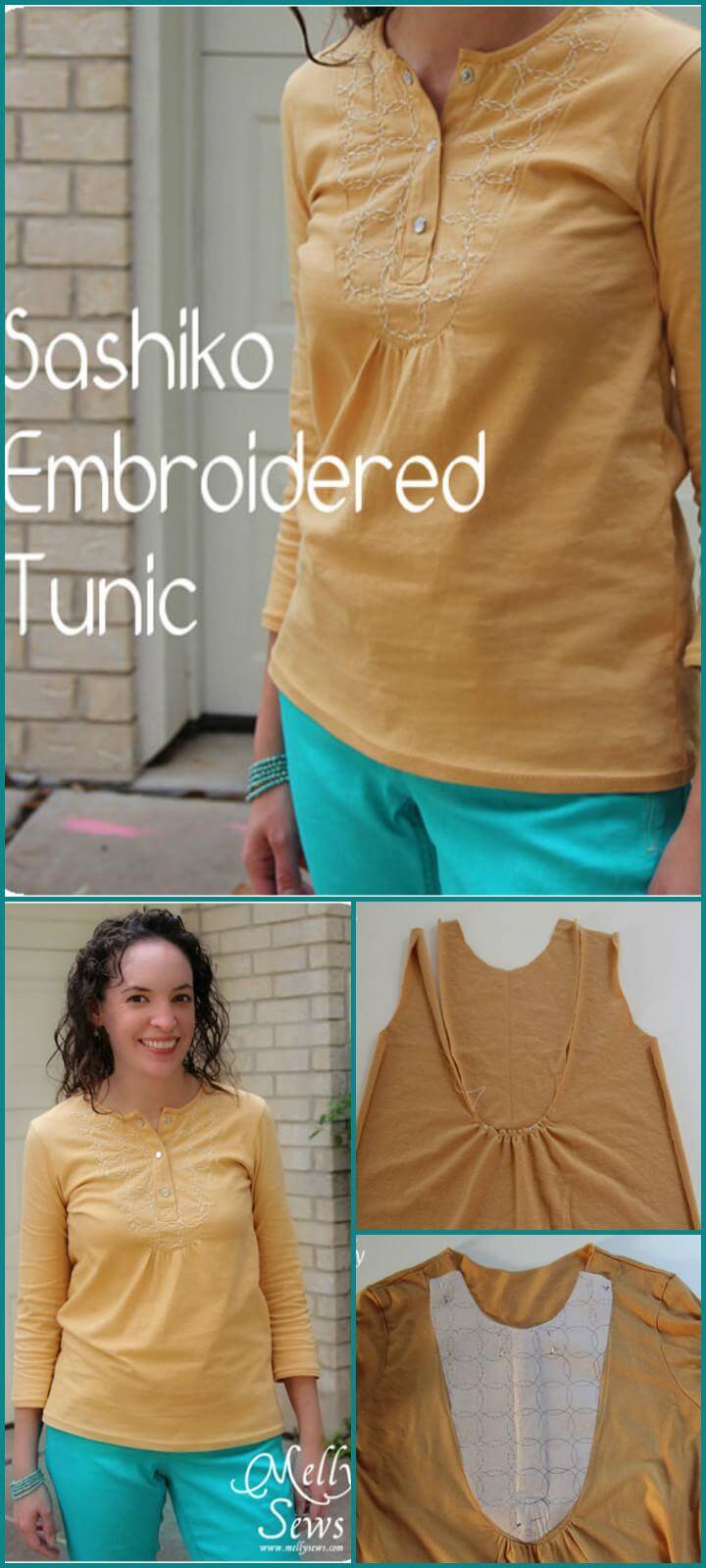 Embroidered tops and tunics look really pretty, fancy and way too extra ordinary and you can wear them even on some formal events too and to make one yourself at home we have this embroidered tunic pattern right with us with pattern details and directions to add the embroidery motif to the tee as well mellysews
Free Wrap Shirt Pattern from Lydia: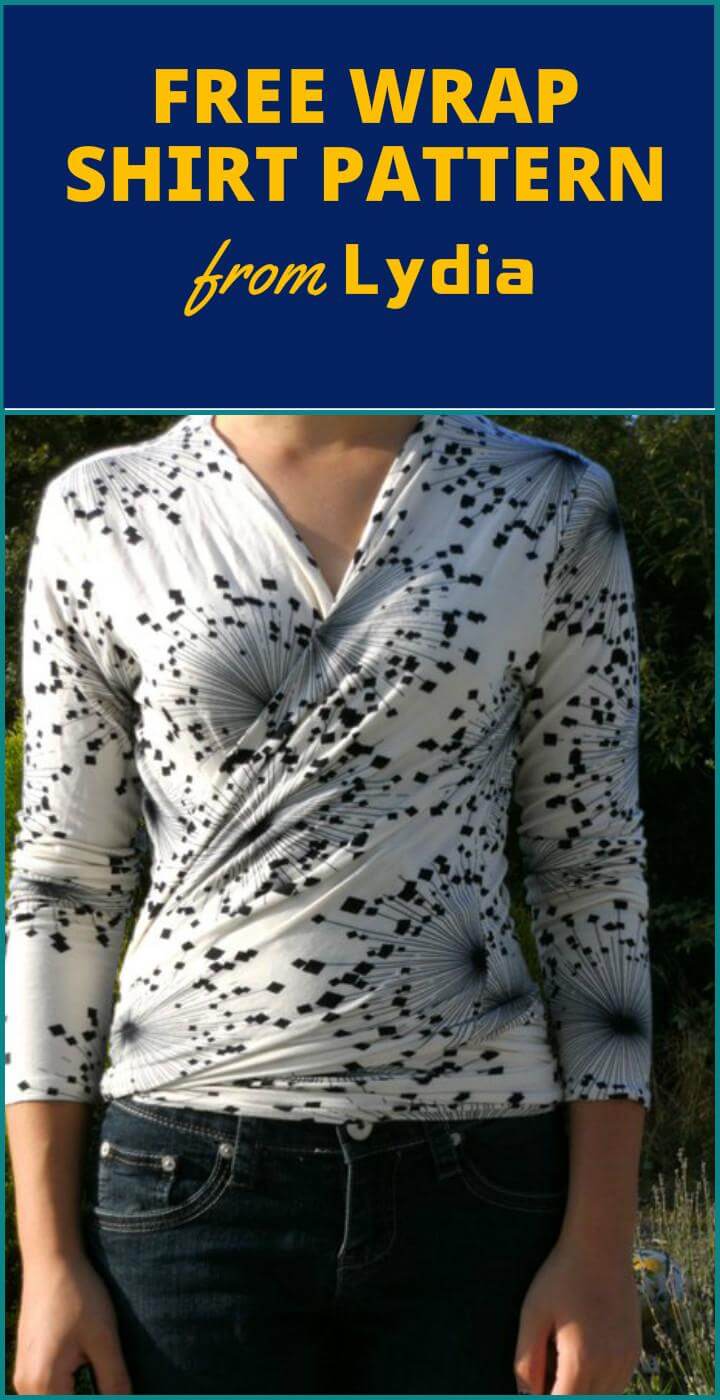 There are lots of ways to make a regular tee look a bit unusual and unique and here we have a sample to display, this free wrap tee with a v neck and some pleats adding really a style statement to the tee. Here is the link to grab all the details of this pattern burdastyle