Find 15 free rag doll patterns to sew a cute doll that can be your next inspiration when planning to gift a stuffed toy to your little girls. A Rag doll can be the new cute inhabitants of the kids' dollhouses. These free rag doll patterns are super fun and lovely sewing patterns that you will love to sew. Buying the same stuffed toy will cost you big, but sewing these rag doll patterns will not burn a hole in your pockets. Things will get easier when you will get helped with the free tutorials and instructions.
Want to look at the latest releases in this case? Then jump in this collection of 15 free rag doll patterns to print and download a PDF that will help you to easily sew these cloth dolls for your kids. It is going to be super fun to sew miniature dolls and then to do fun stuffing with your favorite batting. Due to being much easier to sew, these doll patterns are going to be the easiest ever sewing projects for beginners to do in their spare time.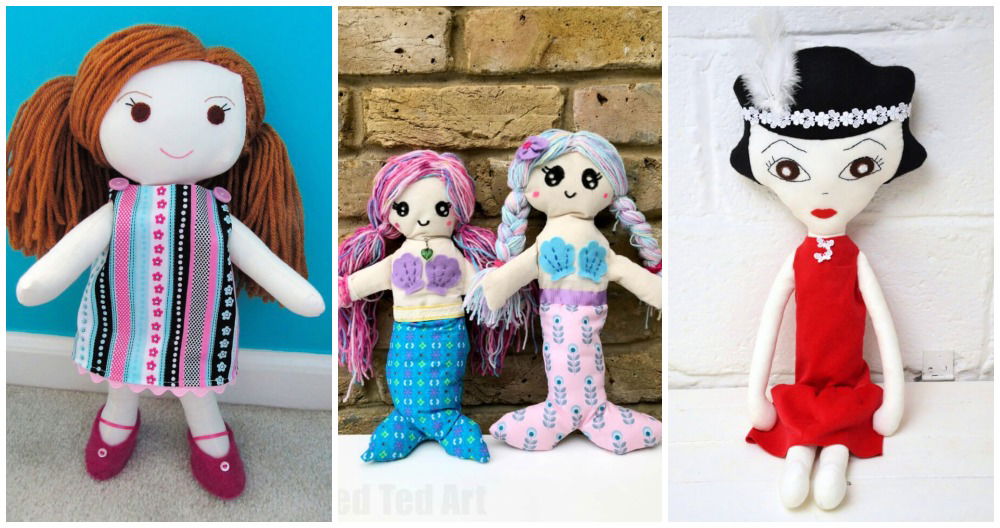 Get tons of ideas for rag dolls in cloth patterns, which will be the next softest cuddly toys for the little girls. Yarn will make a great choice to make the hairs of the doll, upcycle your fabric scraps to sew the outfits, will make the doll's dress cool. Look at all the rag doll patterns and clone the one that your kids will love to cuddle with.
How to Make Rag Dolls:
One of the best ways to bust your fabric stash pieces would be making these adorable rag dolls. This cute and simple rag doll look so cute with a pretty red dress and long hair tails. You can use this doll as the perfect gift for your little girl. How to here wikihow
DIY Traditional Rag Doll:
Bring back the tradition of your grandmother with this adorable DIY traditional rag doll. The pretty fabric doll with the green dress and short hair looks just so adorable and cute. The little girls would love to have this rag doll as a part of their doll collection. Tutorial here abeautifulmess
How to Make a Rag Doll: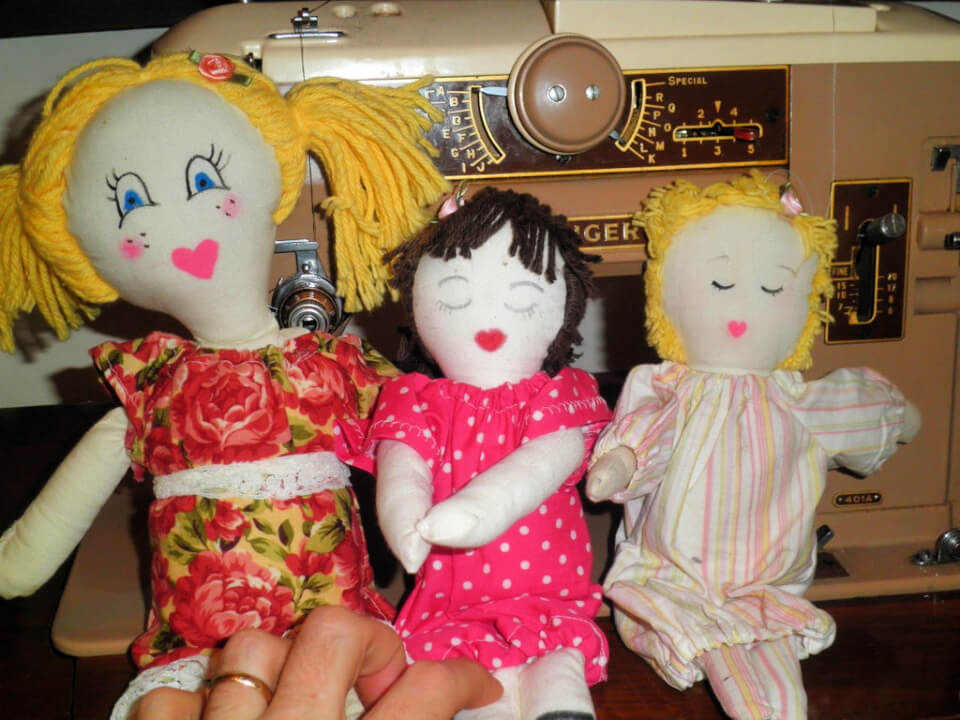 The girls love doll to the moon and back and it's time to introduce them with the rag dolls. Yes, make them this adorable fabric ragdoll and know about these adorable traditional dolls. You need fabric scrap and the yarn to sew up these pretty rag dolls at home. instructables
Find Free Doll Patterns:
Make Waldorf Doll: Why spend hundreds of dollars on a Waldorf doll when you can make your own? This Waldorf doll pattern shows you how to do it step by step, also on video + free printables.
Barbie Clothes: Here's a long list of free printable barbie clothes patterns to sew for your 11.5″ doll (such as Barbie) including skirts, dresses, and more!
Crochet Barbie Clothes: We've chosen the free crochet barbie clothes pattern for you to crochet for your little one's Barbie doll.
DIY Rag Doll from Fabric and Yarn:
Instead of those harmful and hard plastic dolls, you should give these lovely rag dolls to your kids. Made out of the fabric scrap and the yarn these dolls are pretty soft and safe to play with. Also, you can make them in any size and with any features so get the details here. marthastewart
Free Doll Rag Doll Pattern:
Need a handmade gift for the little princess in your life? Then get your hands on this free doll rag doll pattern and create a totally lovely and heartfelt gift for her. The smiling face and the two tails with bow bands make this ragdoll look just so adorable and cute. How to here crazylittleprojects
How to Make Hygge Doll:
Kids deserve all the best of the world and so do the toys. So when it comes to dolls for your little girls making these cute rag dolls is just perfect. The soft, cute and totally custom made dolls would a precious addition to your girl's toy collection for sure.
DIY No Sew Pioneer Rag Doll:
Even if you are a non-sewing person you can still fulfill your desire of making a doll for your girl. With the help of this idea of DIY no-sew pioneer rag doll you can easily create this lovely doll in just minutes. You would need some fabric pieces in cutouts and then tie them together to shape up the lovely doll. thecrafting
Make Jess Brown Style Rag Doll: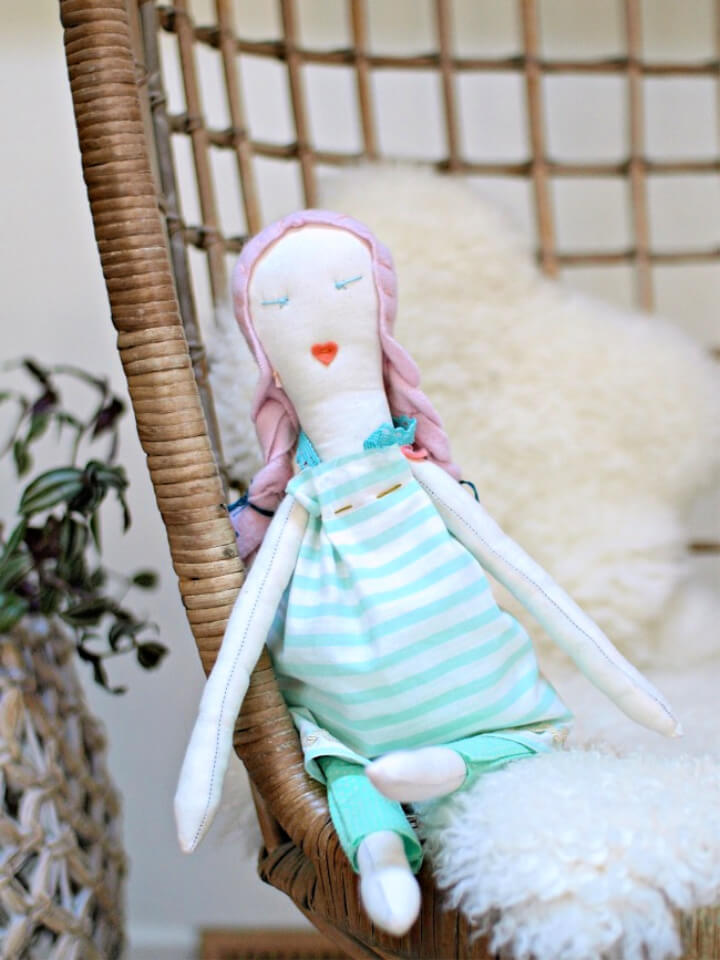 If you have been the fan of jess brown rag dolls in your childhood then bring back them to your dolls too. With some few scraps of the fabric, yarn and the cotton stuffing, you can easily and simply create that perfect jess brown doll for your little girls. Details here thislittlemiggy
DIY Prairie Rag Doll Puppet: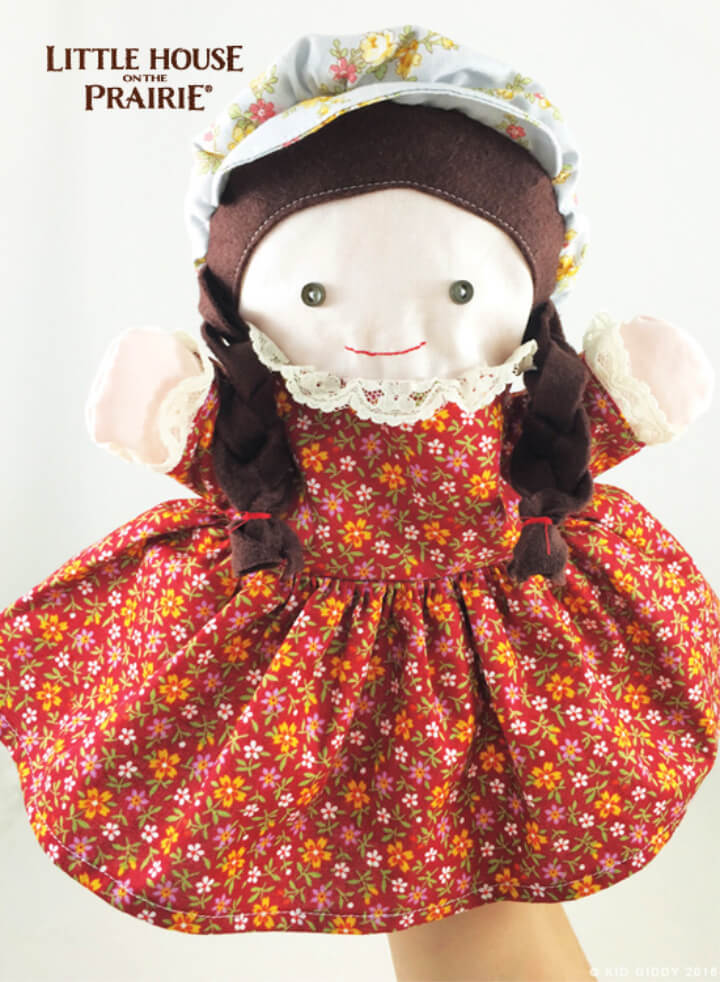 Ragdolls can be made in a variety of styles and designs and this prairie rag doll is just the perfect thing to make next. This old fashioned doll is sure to steal the hearts of your little girls with its overloaded cuteness. So grab some fabric pieces and yarn to get this rag doll worked up. littlehouseon
Free Betty Rag Doll Sewing Pattern: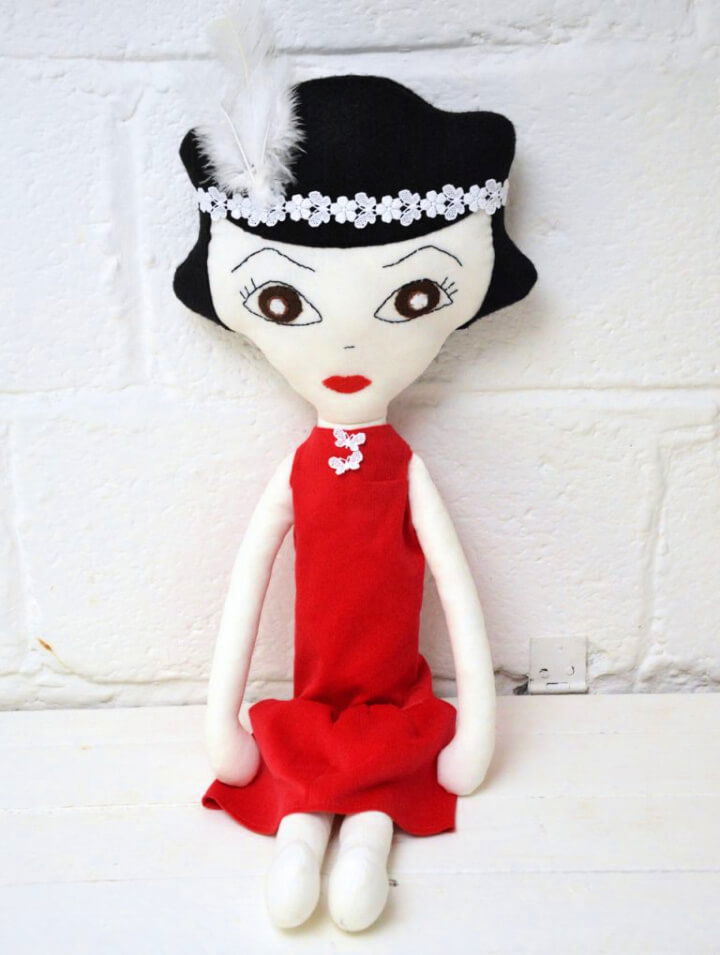 Our fondest childhood memories include the pretty rag dolls too. Make this adorable and attitude looking Betty rag doll for your little girls and recall your ragdoll memories. The gorgeous red flapper dress and the black feathery hat add oodles of charm to the doll. Easy tutorial here missdaisypatterns
Make Extra Fun Rag Dolls with Faux Fur Hair:
Love working with fabric and yarn? You would love it more when you have these cute and pretty rag dolls to be made out of the fabric. This lovely and simple rag doll has been adorned with faux fur hair to look just so fun and catchy for the little girls. shinyhappyworld
How to Sew a Rag Doll: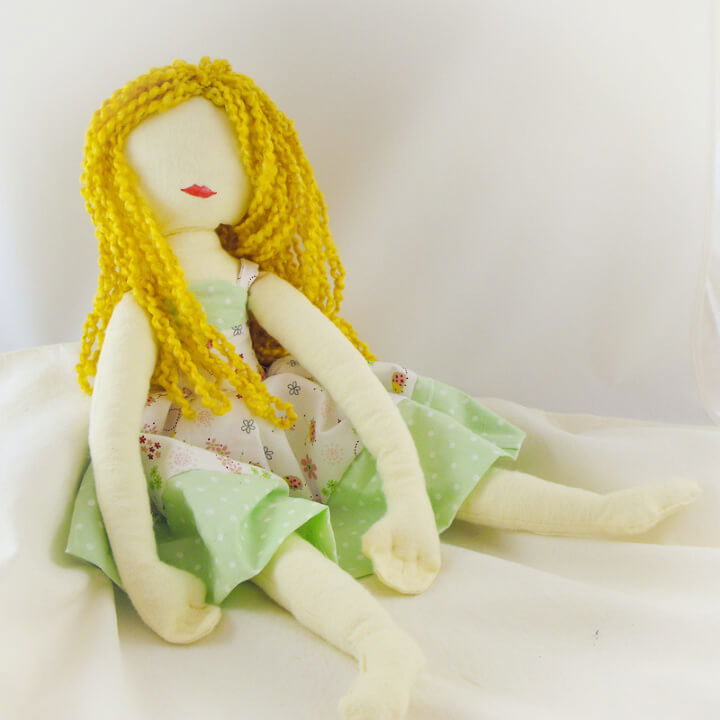 Birthdays of the girls are the most fun and exciting days for them as they get so many fun toys and gifts. Their joy would be doubled up if you make them these adorable fabric and yarn made rag dolls. The stuffed body with custom features and yarn hair looks just so tempting. craftweekly
Free Mermaid Rag Doll Pattern: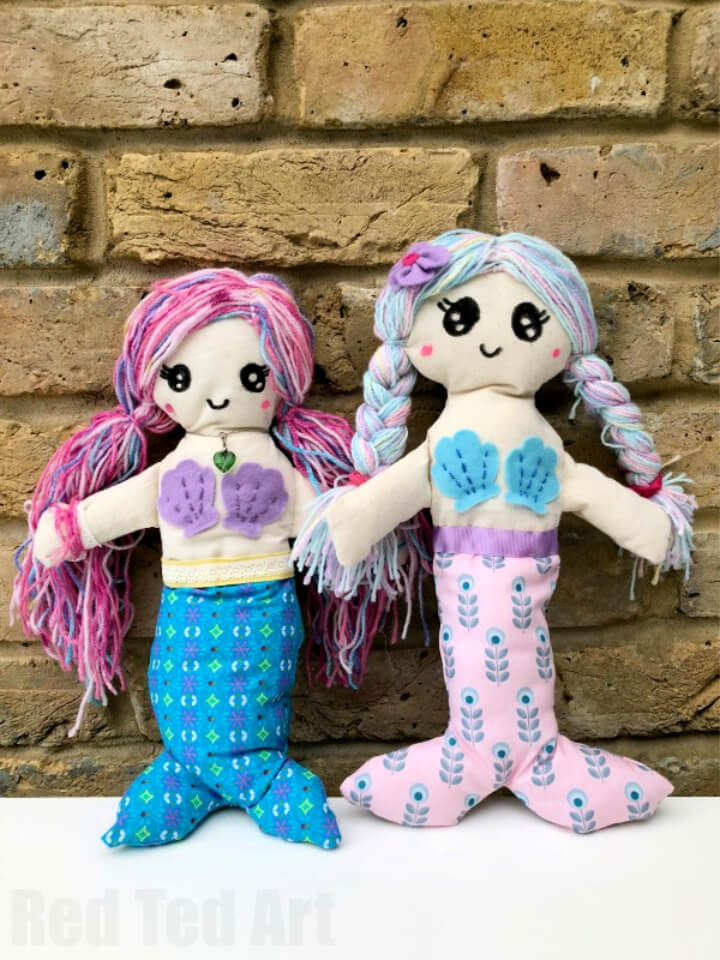 Ragdolls are soft, cute and utterly adorable and you know what would add more their beauty and charm? The mermaid features. Yes, this gorgeous mermaid rag dolls looks so fantastic with the mermaid hair, dress, and that iconic mermaid tail. Your girls are going to go crazy for this doll for sure. redtedart
Rag Dolls Sewing Pattern: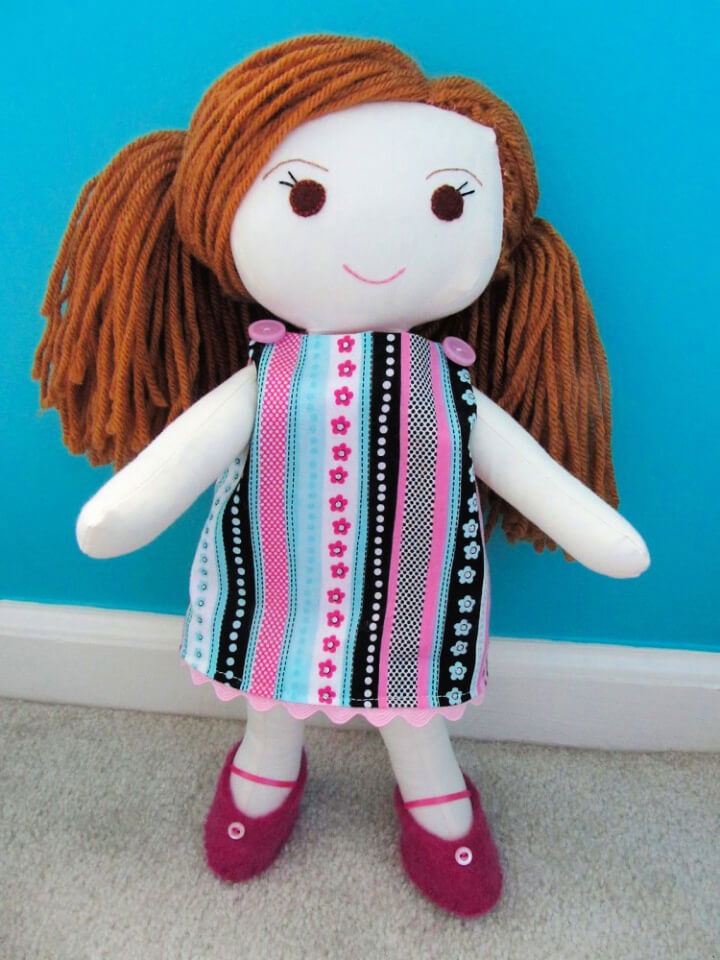 Handmade gifts are so heartwarming especially when they are for the kids. So make this love dosed rag doll for your little girl on her birthday. The adorable features of the doll along with the stylish dress and shoes are surely going to please your little girl. Grab some yarn fabric and stuffing to easily shape up this cute doll on your own. imagineourlife
Sew Your Own Rag Doll Dress:
The best gift for your girl on her special day would be this pretty and cute fabric made ragdoll with extra cute dresses of the doll. The little girl would love to play with the doll and make her change the dresses every time she plays with her. With a few fabric scrap pieces, you can sew up a couple of cute and cool dresses in no time. morelikehome
DIY Topsy-turvy Rag Doll:
Kids love dolls and they would love these two in one DIY topsy turvy rag dolls. You can create a doll with two heads and a folding dress thus letting the kids enjoy two dolls in one. You can make two different dolls with different colors and features to enhance the charm and fun. Details here handmade
Teddy Bear Pattern: Teddy bears are a favorite stuffed animal for children of all ages. Find free teddy bear sewing patterns for your sewing projects for all skill levels. Free and easy to follow with step-by-step instructions, photos, and videos.
Conclusion
These free rag doll patterns with printable and PDF to download are helpful for beginners. Many of these easy printable rag doll patterns are simple and easy to follow, making them perfect for beginner sewers. With a little time and effort, you can create a beautiful rag doll for yourself or someone special. I hope you have found it helpful. Have fun sewing your own rag dolls!