The cardigan is a great fashion staple to must-have in the wardrobe. Sew all your favorite cardigans with these 15 easy and free cardigan sewing pattern and designs, which will cover all the new releases to the day. These cardigan patterns for sewing will help you sew all the stylish layouts of cardigans at home you have been lusting over for years. Wearing these cardigans will be the coolest fall fashion. Furthermore, they are going to be a smart choice to enjoy night walks on chilly days. Some patterns are too stylish to make you feel over the moon, and others will impress with their smart details. Explore this list of 25 free cardigan sewing patterns for beginners that are beautiful and come with detailed instructions and PDF to download.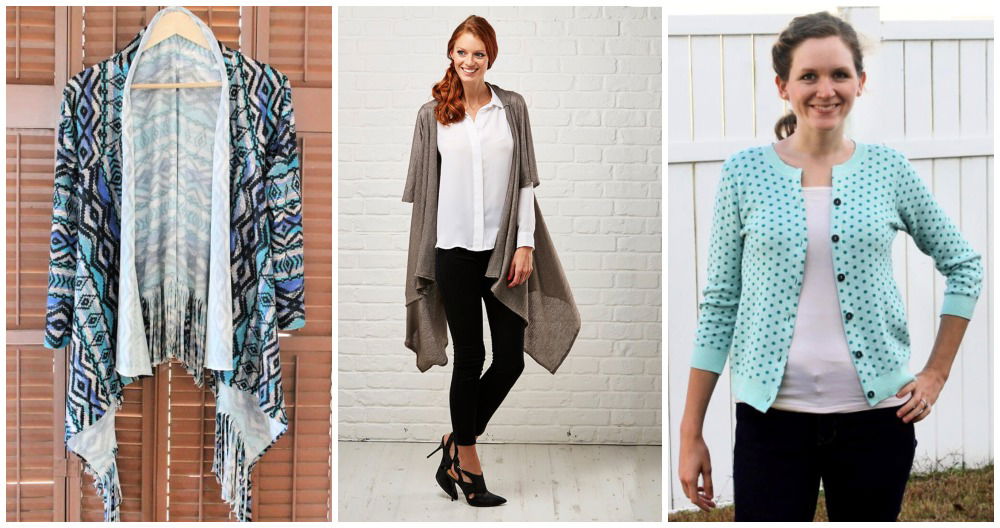 These women's cardigan sewing patterns will make you be around the sewing machine as soon as possible. Gain coziness in style with these cardigans. A big must-have to update your wardrobes for autumn or fall fashion. They are going to be the best fashion for layering yourself when colder climates start hitting your region. Lots of free cardigan sewing pattern is shared here to customize the features and fittings of the cardigans as the professionals do. Some come with pockets and come with straps to tie around. You are also going to find here free cardigan sewing patterns for draped, maxi-style, kimono and hooded cardigans.
1. How to Make a Cardigan: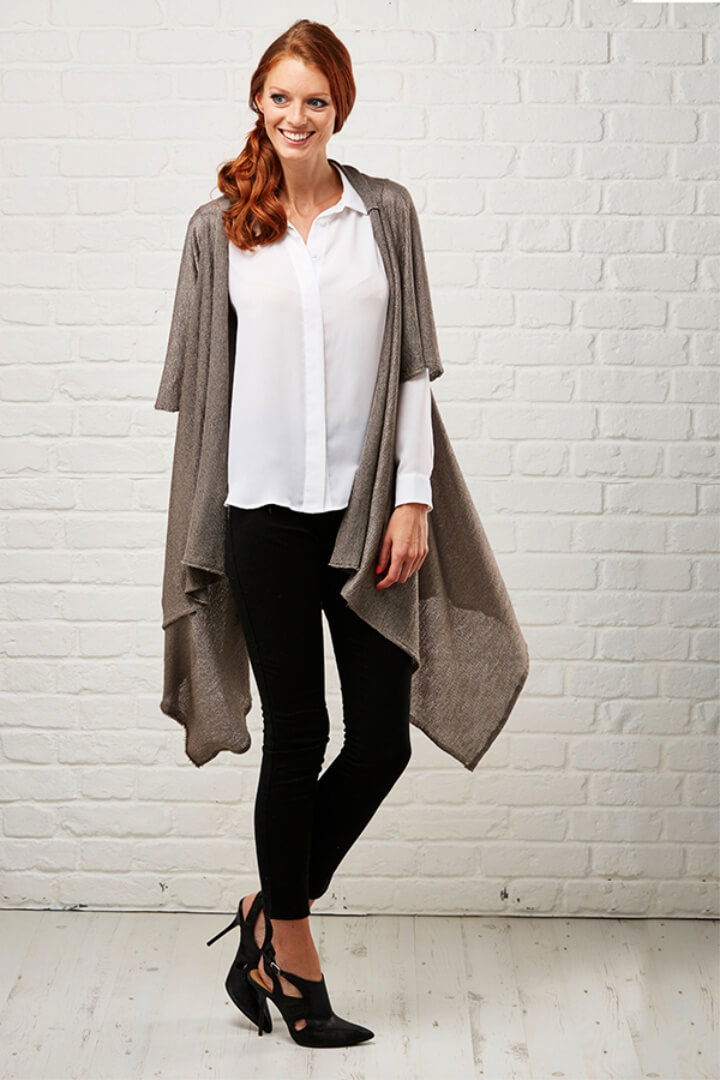 Maybe the best cardigan design to feature in your autumn wardrobe this year! You will find here the new technique the drape effect to whip up this complimentary design of cardigan you can try out with any fabric! No pattern need to make this stylish jacket for less chilly days! simplysewing
2. DIY Eye Catching Fall Cardigan for Girls: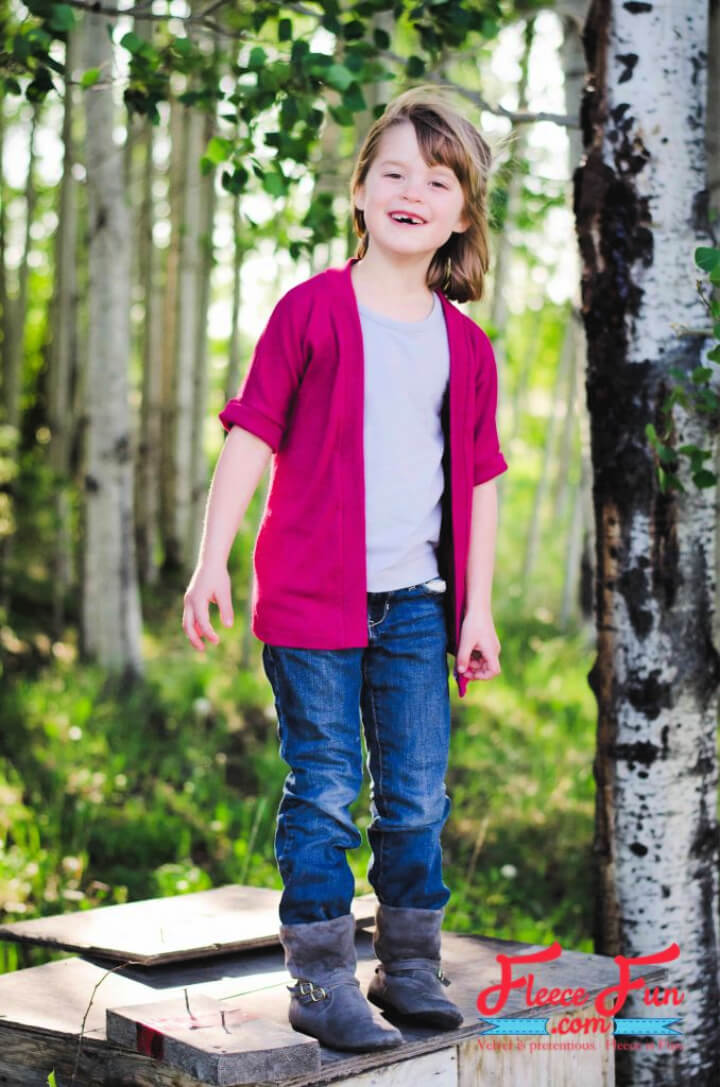 Add a warm layer to your little girl's outfits without sacrificing their cuteness, using this eye-catching cardigan! A cool fall fashion for little girls striving for fashionable looks! You need weight knit fleece, sweater knit, sweatshirt fleece, Ponte knit, French terry, etc. to whip it up! Free pattern here fleecefun
3. How to Sew a Draped Cardigan: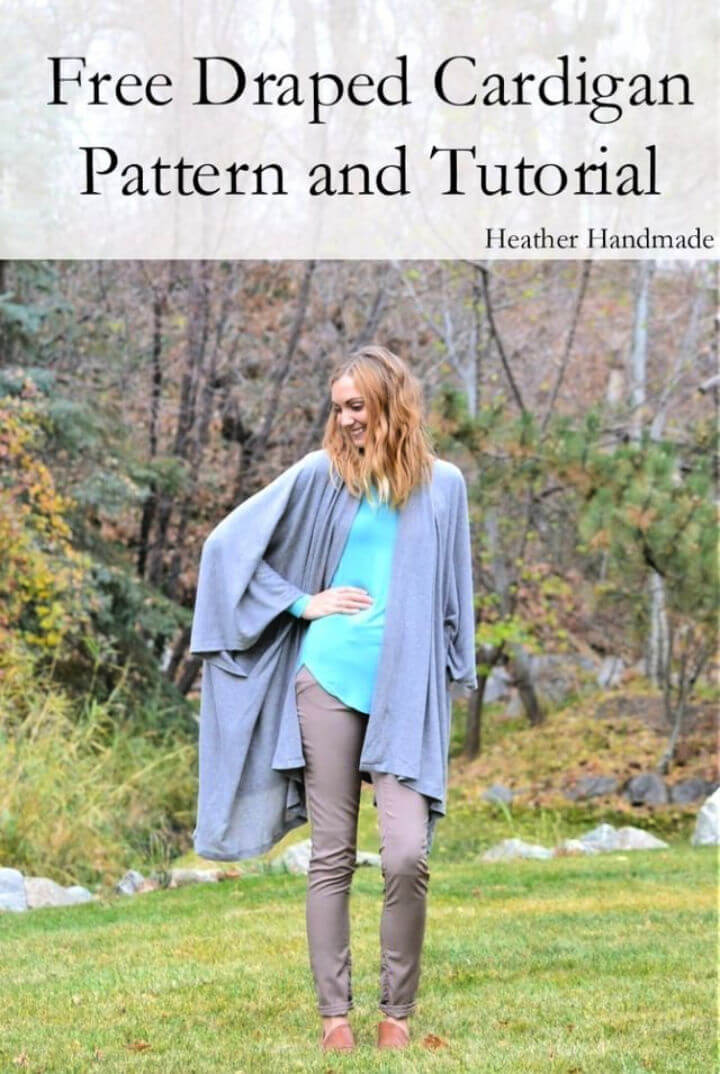 If you love minimalist fashion style for less chilly days, then you will be all over this draped cardigan design, easy to sew! Wearing this cardigan will be like covering yourself warm all day in style, will provide the same amount of warm as a blanket! You don't need here a serger but a sewing machine to sew it properly with hemmed edges! heatherhandmade
4. Maxi Cardigan – Free Sewing Pattern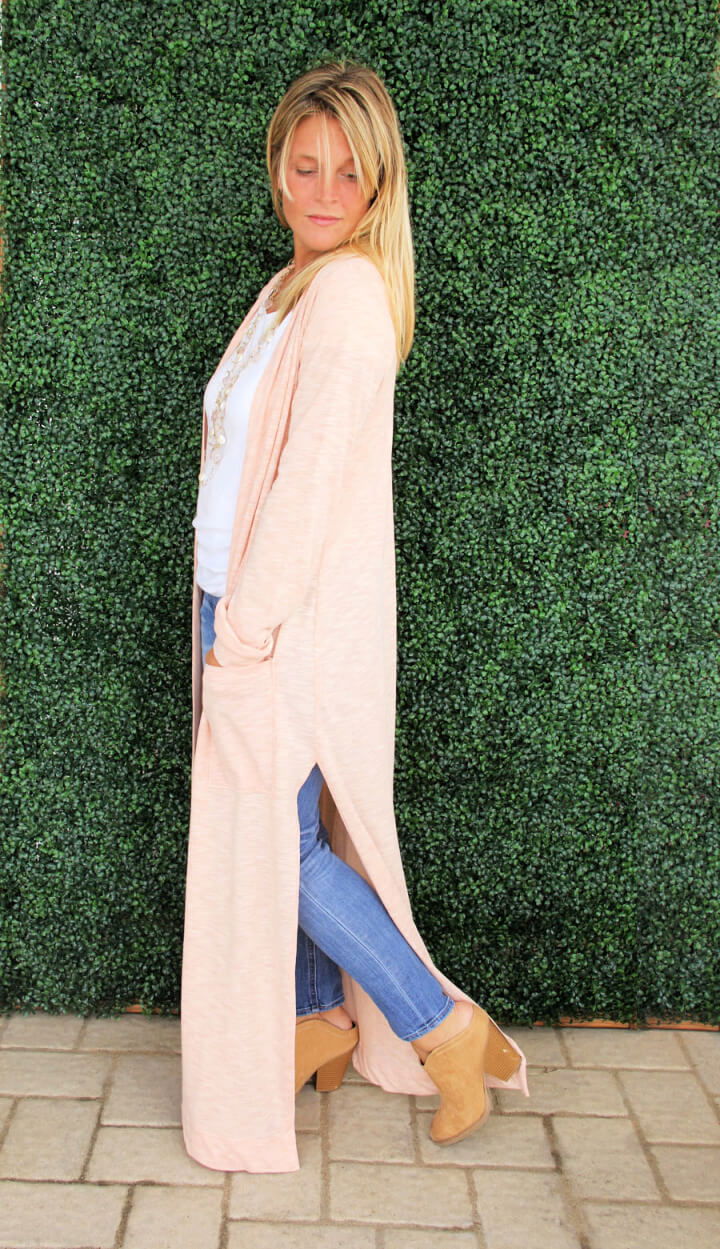 If you have a big cushion on the stylish layers when the chilly days arrive, then satisfy your love for autumn or fall fashion wearing this maxi cardigan! Sew it like a pro with the help of a free provided pattern! This pattern is for advanced beginners, and you need a t-shirt with loose fittings, knit fabric and basic sewing essentials, etc. to sew this cardigan! Tutorial here mesewcrazy
5. DIY Hooded T-Shirt Cardigan for Kids: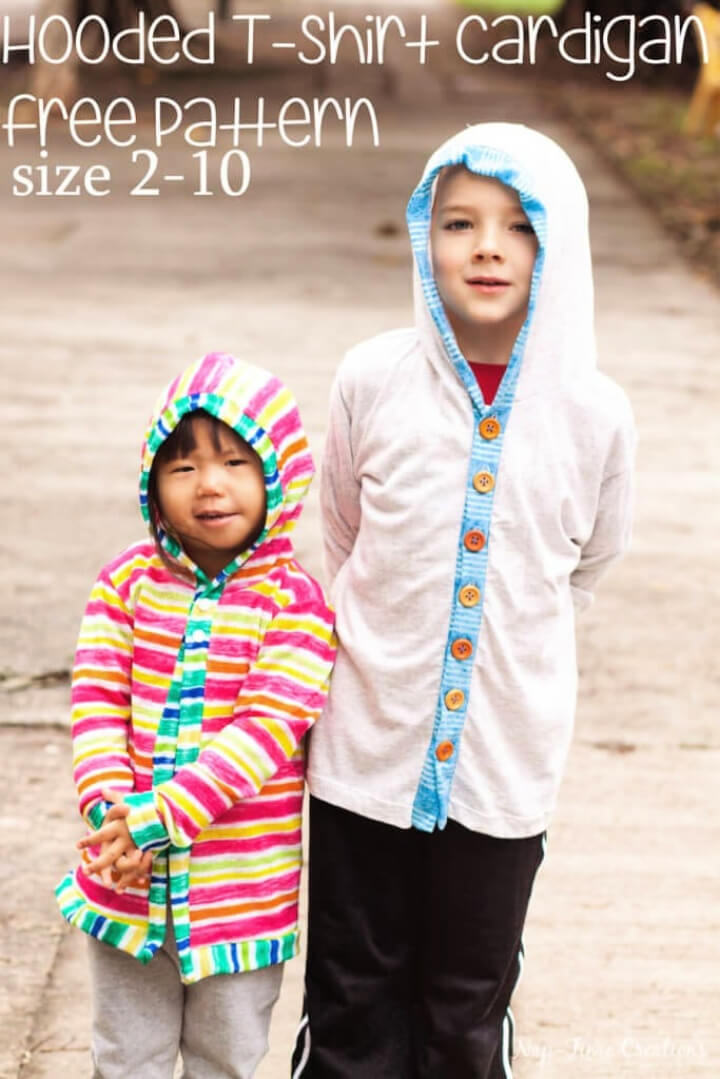 Total chilly day protection for the kids to provide in a cute style, the hooded t-shirt cardigans! Use your favorite coordinating fabric to add a hood and frond banding, gives some cool effects to design! This banding will be a cool alternative to hemming. It will be a smart choice too when you want to add more colors and design prints to a cardigan design! lifesewsavory
6. Sew Your Own Kimono Cardigan: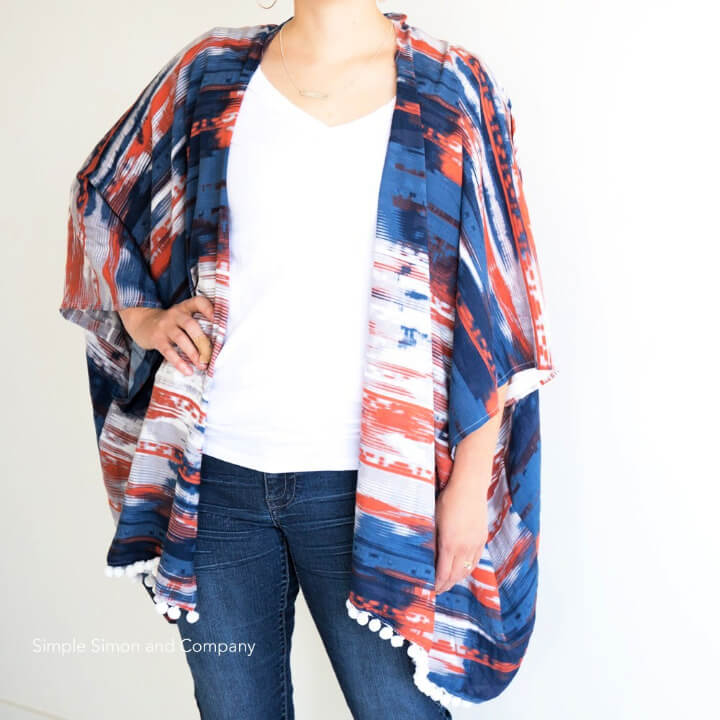 This call for a night walk in chilly autumn evenings, a kimono cardigan, a colorful and stylish layer that all style loving ladies will fall for! It gains cuteness from the accent pom-pom side trimming! You need 2 yards of pom-pom and 1 1/4 yards of cotton to sew this precious cardigan design! simplesimon
7. Wrap Cardigan – Free Sewing Pattern:

A more stylish alternative to winter jackets, the wrap cardigan, will be nicely around your body as a warm layer! Sit around a sewing machine with a few yards of knit fabric to sew this beauty with hemmed edging! Along with an iron and spray starch, other sewing essentials will also be needed! Guides here bybrittanygold
8. Make Girls Cropped Ruffled Cardigan: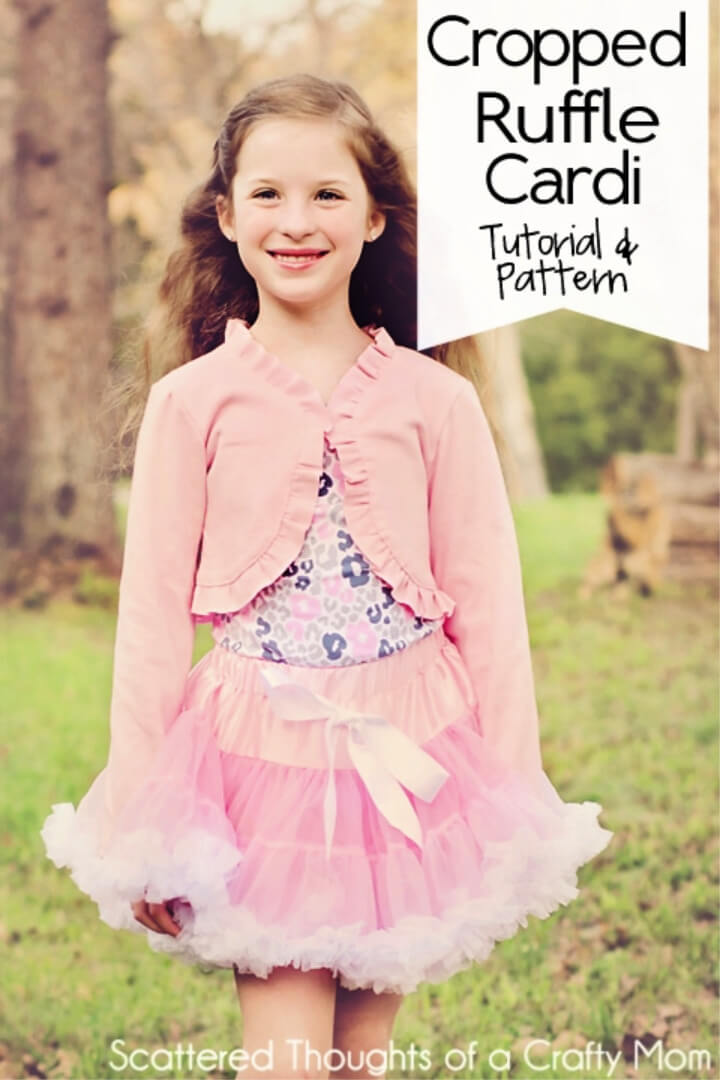 A must-have for the little girls' wardrobe, the cropped ruffled cardigan, all little girls will love to wear it! Grab 3/4 yards of 60 inches mid or heavy knit fabric to sew this gorgeous cardigan, will be a stylish accent layer for every outfit of girls! How-to details here scatteredthoughts
9. Easy to Sew a Long Cardigan: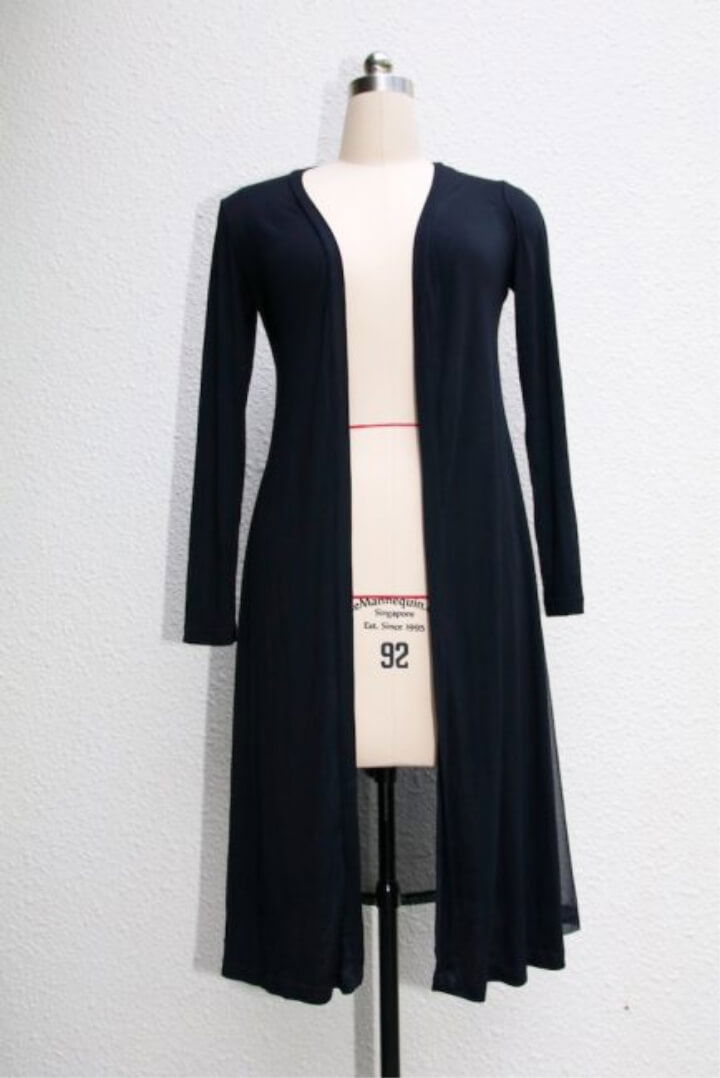 Get an elegant slim fashion look with this long cardigan, not very difficult to sew! Experiment it with the printed or plain fabric, also sew it with buttons or with a belt for added visual and fashion details! Use the cotton knit rayon jersey, soft tulle, and fusible tricot to sew this long cardigan! Full how-to tutorial here so-sew-easy
10. Easy DIY Crew Neck Cardigan:

One of the best cardigan designs that are highly in the latest cardigan fashion, the crew neck cardigan, buttoned for a gorgeous appeal! Sew this perfectly stylish layer for short cold days using stable knit, fusible interfacing, a round neck knit, buttons, clear elastic, and decorative ribbon! Full tutorial here thelaststitch
11. Sew a Wrap Cardigan with Pockets:

Are you a big fan of simple but elegant fashion? Then you will give ten out of ten to this precious layering outfit, the wrap cardigan, comes with pockets! Pockets will rock as hand-warmers, will add cool visual details too! Use the sweater knit to sew this wrap cardigan! lifesewsavory
12. Cardigan with Wide Hem and Patch Pockets: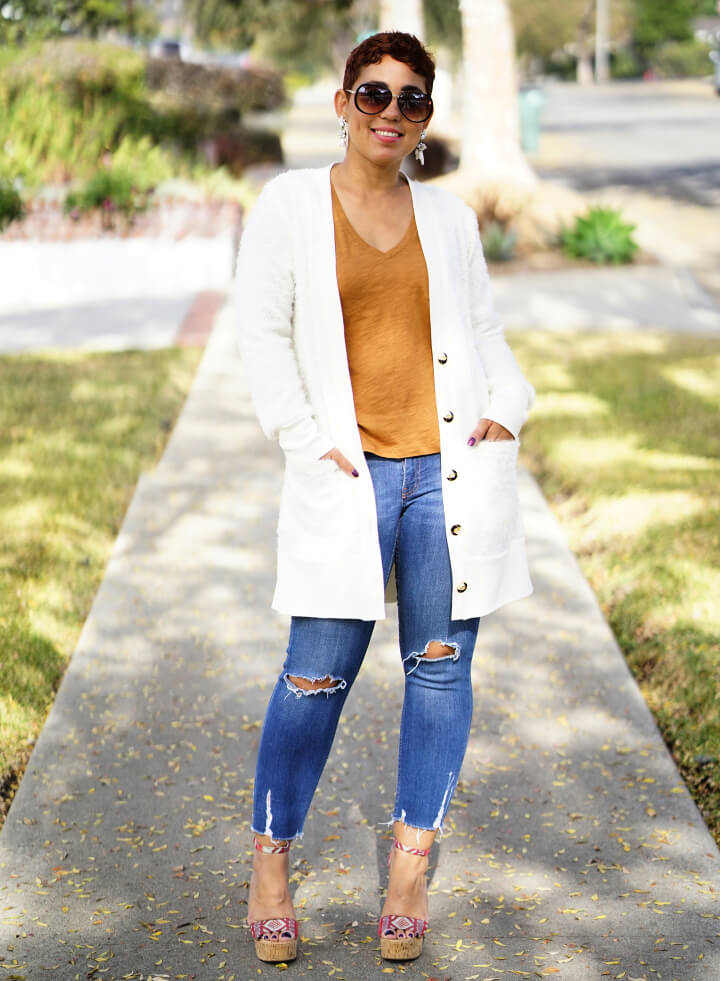 At a very first look, you will lust over this enticing cardigan design. It appears like a white chick jacket, gains more beauty from the accent silver buttons! In extra features, it has wide hem, and patch pockets will help keep your hands warm along with giving a cute style statement to your personality!
13. Make Your Own Cardigan:

The line or striped fabric prints are ruling the hearts for years, so sew this lined cardigan to gain looks this winter! The sewing pattern for this cardigan comes with easy to follow instructions and will fit every skill level! You must give a try to it. grainlinestudio
14. Turn a Tee Into Cardigan:

Your too shirts can never be too old to throw into dumpsters. Sew also beautiful cardigans out of your old or not-fitting-well tees. Look at this amazing transformation, involves lots of sewing tips and tricks finally revealed for you. Simple re-sew a t-shirt according to a cardigan pattern. A classic piece to add to your cardigan collection. heyjunehandmade
15. Awesome DIY Cocoon Cardigan:

One of the cutest cardigan to sew at home, a perfect alternative to sweaters to show off within the chilly days. It is a cocoon cardigan that looks great to lose fittings, open front, and short sleeves. Grab the knit fabric and sit around a sewing machine to sew this cocoon cardigan. Full sewing tutorial here truebias
16. Make a Carefree Cardigan:

Are you have intense feelings for fall fashion, then this carefree cardigan design must be added to your wardrobe. This cardigan design is having a shape like a rectangle and will be a less warm but stylish layer over your outfits. Sew it also with a belt or with buttons, accent banding can also be added for cool effects. sweetredpoppy
17. 10 Min Cardigan from Sweater:

After using it for a long time, you may have developed a great love for your old sweaters. Don't feel bad for them, but transform them into a cool cardigan design so that you can wear your lovely old sweater again as a stylish open jacket. You only need standard sewing supplies and an old sweater to make it. vanillajoy
18. DIY Drop Shoulder Cardigan:

This features a neutral hue and will work great for fall, the drop shoulder cardigan design. An easy to sew style of a cardigan to sew quickly. It fits best to your shoulder like a warm and cozy layer, but also rest of the design is a little slouchy, adds a great style to any outfit. Sewing pattern here merricksart
19. Kimono Cardigan from a Scarf:

Maybe one of the most cardigan designs of the season, a classic kimono cardigan design to sew out of a scarf. Time to turn your old scarves into stylish winter layers, so you can keep using them to maintain your fall or autumn fashion. This cardigan will rock for less chilly days as an extra layer of fashion. thediymommy
20. Turn an Old Sweater Into a Stylish Cardigan:

Add or remove some components of your old sweaters and sew the new winter fashion collection out of them like this stylish cardigan. A smart remake of an old sweater you were about-to-trash. This cozy open jacket comes with a buttoned front, adds more visual details to it. peekaboopages
21. Easy to Make a Fringe Cardigan:

Are you a big fan of fashion outfits contained ruffled edges, pleats, and fringes? Then you will definitely like this fringe cardigan design, sewn with the knit fabric having an adorable fabric print. Fringed back edging and hemmed front, confirms this cardigan to have a unique but delightful design. ehow
22. DIY Long Cardigan With Pockets:

For long slim figures, this design of long cardigan will make a smart choice. Sew the navy sweater fabric to whip up this long cardigan with pockets, which will help keep your hands warm. Adorn it up more by adding cool banding, belt or buttons if you like. Full sewing pattern here heatherhandmade
23. How to Make a Draped Shawl Cardigan:

You only need 2.5 yards of almost 60 inch wide knit fabric to sew this draped shawl cardigan. It will drape nicely around your body and can be worn in so many different styles to get varying amounts of heat. The best cardigan design to show off with. scatteredthoughts
24. Button-up Cardigan for Kids:

Overload the cuteness to your kids by sewing adorably cute buttoned-up cardigans, will hold them cozy on chilly days. You only need to do a few smart modifications in a shirt pattern to whip up this gorgeous button-up cardigan. Details here sewalittleseam
25. Shawl Collar Cardigan – Sewing Pattern:

Update your winter wardrobe with this shawl collar cardigan, will impress with its fantastic Navajo design pattern print. It will cover your shoulders warm like a shawl. The hemmed front can also be added with a cool banding. A lovely cardigan design to sew that is just a triangle. Full how-to guides here sewcountrychick