Most everyone has had a button come off of a shirt or on their pants. It can be frustrating when this happens, especially if the article of clothing is new or you don't know how to sew a button back on. But don't despair! Sewing a button back on is not difficult and only requires a few items most people already have in their homes. In this article, we will provide 15 easy ways, step-by-step instructions on how to sew a button onto a shirt or pair of pants, and some tips on selecting the right type of thread and needle. So whether this is your first time sewing a button or you just need a refresher, read on for everything you need to know about sewing buttons onto clothes.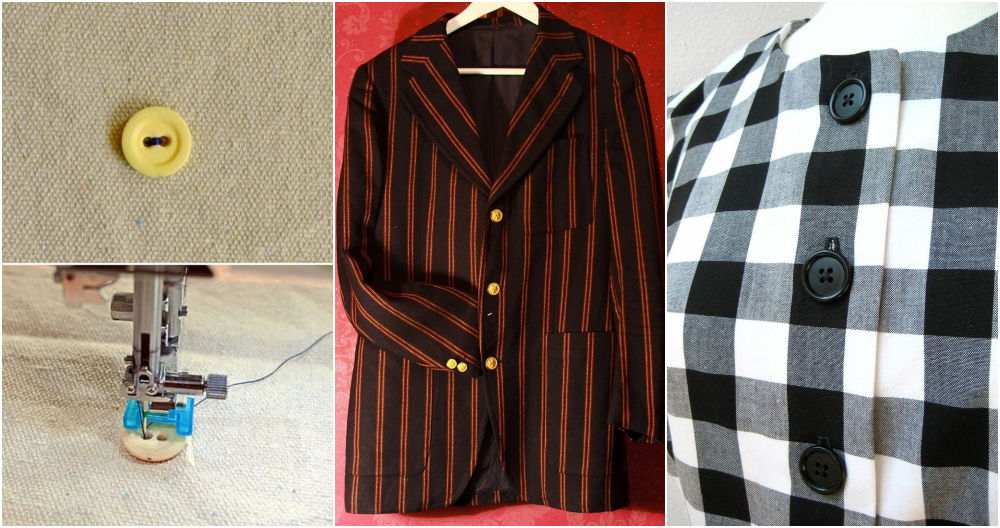 How to sew a button on a shirt?
If you're sewing a button on a shirt, start by finding the center of the buttonhole. Cut a small slit in the fabric, being careful not to cut the hole any larger.
Thread a needle with a length of thread that is twice the distance from the top of the buttonhole to the bottom. Tie a knot at one end of the thread.
Insert the needle through the back of the fabric, emerging at the center of the buttonhole.
Push the needle through the center of the button, then back through the fabric to the back side.
Repeat step 4 four or five times, making sure that each time you push the needle through the fabric, it emerges at the same point on the other side. This will create a cross-stitch pattern that will hold the button securely in place.
Once you've made enough stitches, push the needle through to the back side of the fabric and tie a knot to secure the thread. Trim any excess thread.
How to sew a button on pants?
If your pants have a button that has come undone, you'll need to sew it back on. This is a relatively simple task that anyone can do with a needle and thread.
Begin by threading the needle with a length of thread that is double the size of the button. Then, insert the needle through the fabric from the back side, emerging just above where the button will be sewn on.
Next, take a small stitch through the center of the button, making sure to go through all four holes. Then, pull the thread tight and take another small stitch through the fabric beneath the button. Repeat this process two or three more times to secure the button in place.
Once the button is secure, knot the thread on the back side of the fabric and snip off any excess thread. And that's it! You've now successfully sewn a button onto your pants.
15 Ways to Sew a Button on Pants and Shirts
To answer your how to sew a button question, we have got not just 2 or 3 but 15 easy ways, tricks, techniques, and instructions to sew your fallen off buttons! If you have got 4 holes' buttons, huge buttons fallen off your leather jackets, fur coats, 2 holes buttons or shanks, bring them all on! We have all covered any kind of buttons and how to sew them back to where they belong! Oh, and if you are too lazy to sew by using a hand needle, we also have the perfect remedy for that! We have got just the technique for sewing the button by using a sewing machine. So, pick your fallen off buttons, and let's get to some sewing. Shall we?
1. How to Sew a Button – Step-by-step Tutorial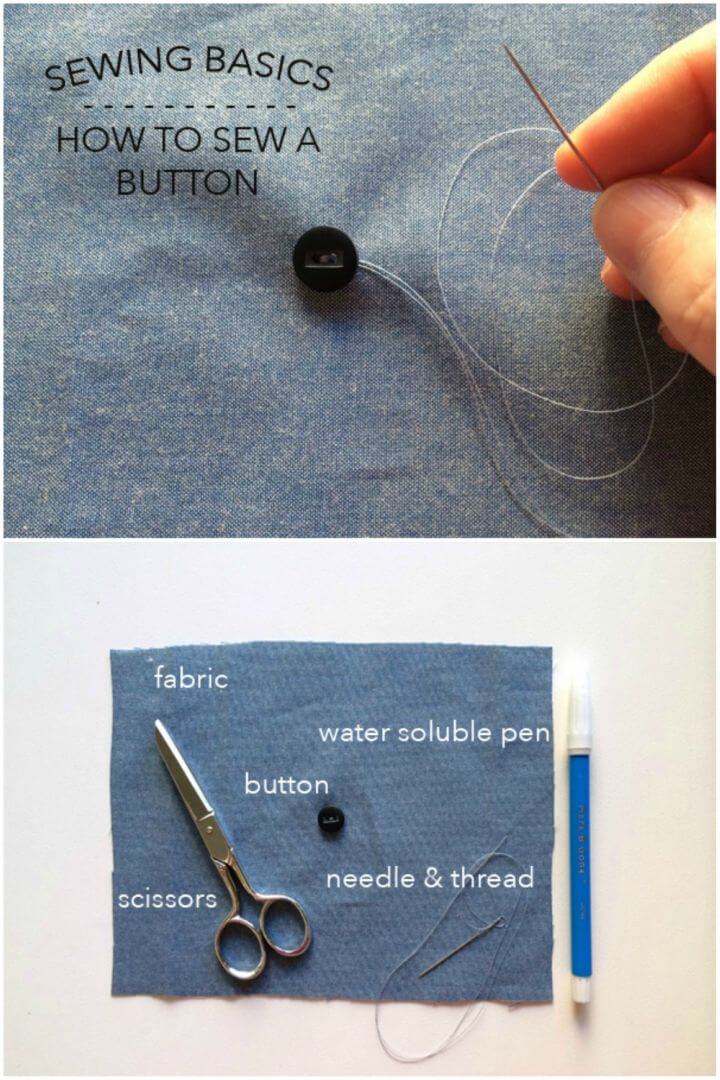 No matter how easy it may look to some people, but for some of us, how to sew a button is still a tough one! All you need to practice this art is to use fabric, scissors, button, thread, and a hand sewing needle. shop mybluprint
2. How to Sew a Button on a Shirt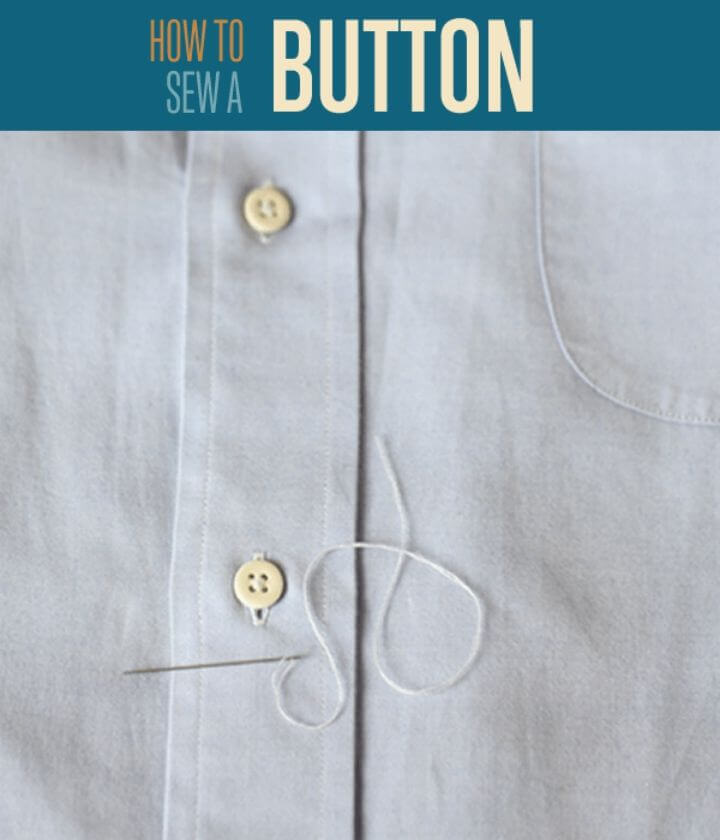 Are some shirts just hanging in there in the back of your closet? Because lost a button? Well, well, worry no more. With the DIY projects here, learn how to sew a button back to your shirt in just a few simple steps.
3. Best Way to Sew on a Button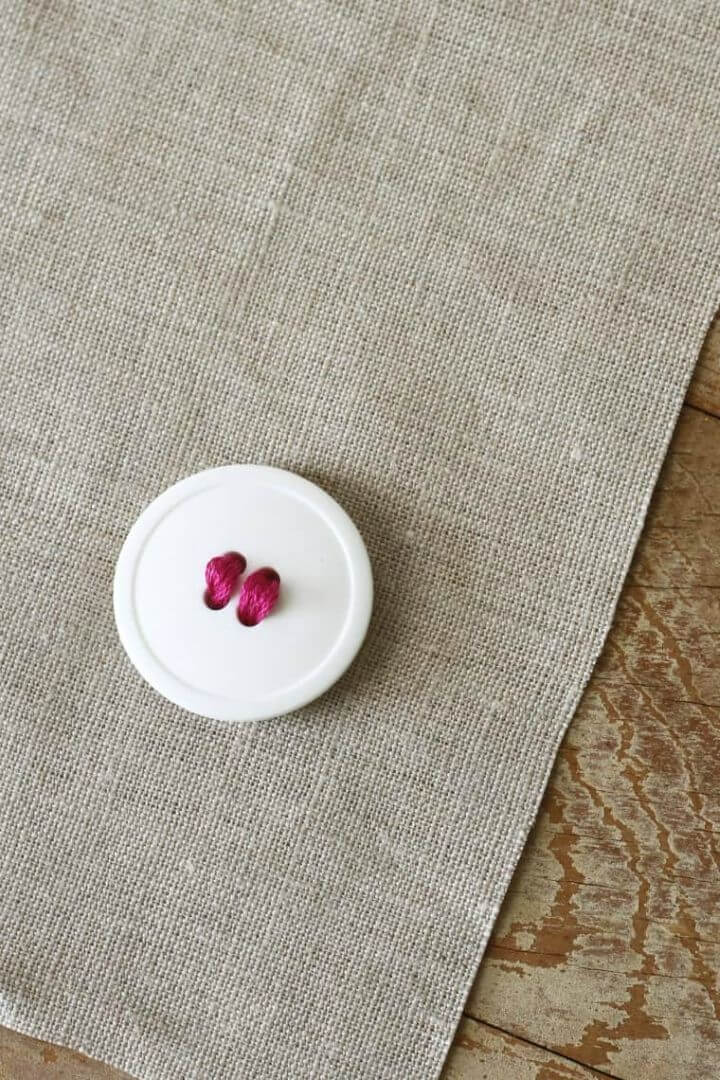 In just 5 minutes, some focused energy and concentration sew the button back on your shirt like a pro! What you need is a thread, button, needle, and scissors. It all starts with sending the needle up the button from under the fabric. apartmenttherapy
4. How to Sew a Button Apple Tree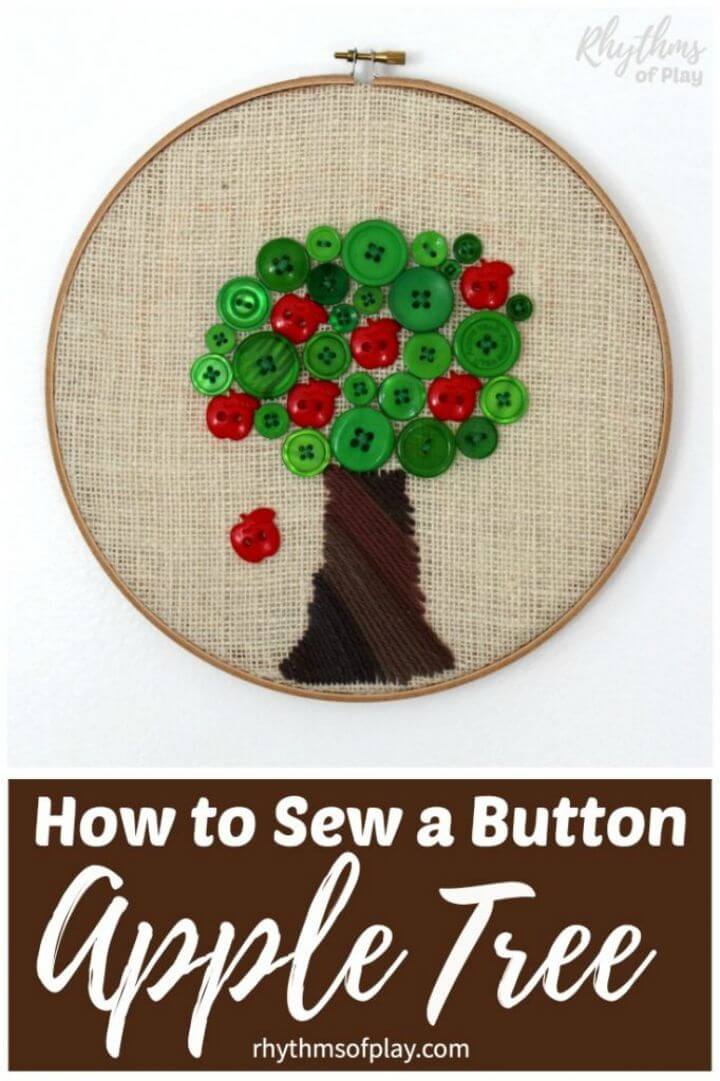 Isn't this button apple tree just oh-so-pretty! All you need is the wooden embroidery hoop, light or dark-colored burlap, brown variegated yarn, cotton embroidery floss in green and red color, green buttons! And glue gun with glue sticks. rhythmsofplay
5. Sew Brass Buttons on a Blazer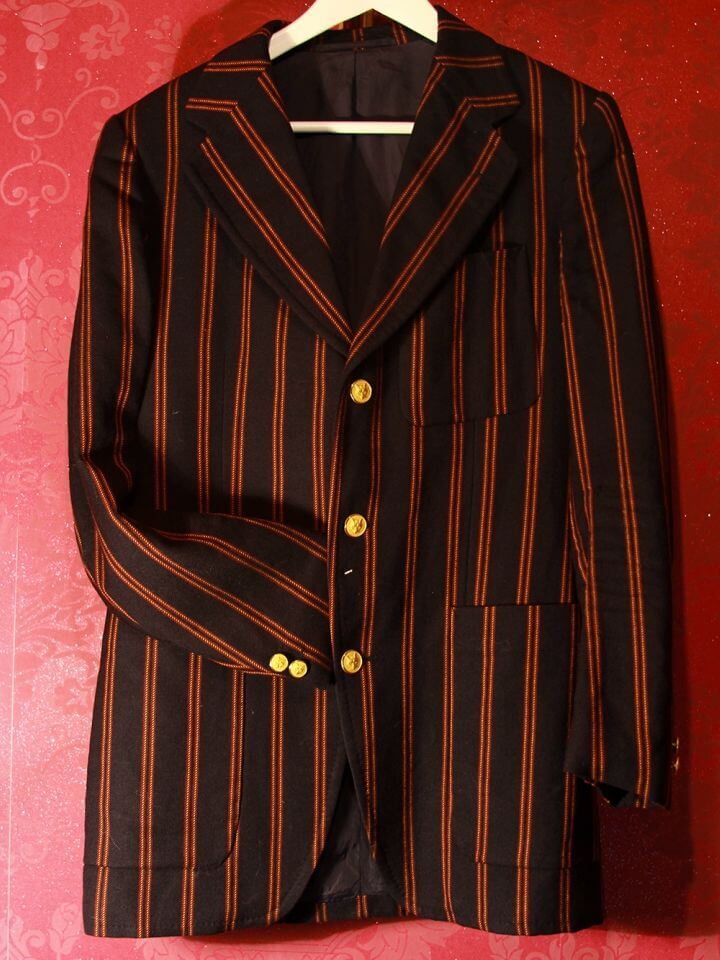 Make your blazer look the prettiest with these brass buttons! No need to buy anything costly from the market but actually make it all by yourself! Brass buttons are quite heavier and can be sewed with the perfect recommended technique by Be Spoke Unit. bespokeunit
6. Easy to Sew on Buttons with a Sewing Machine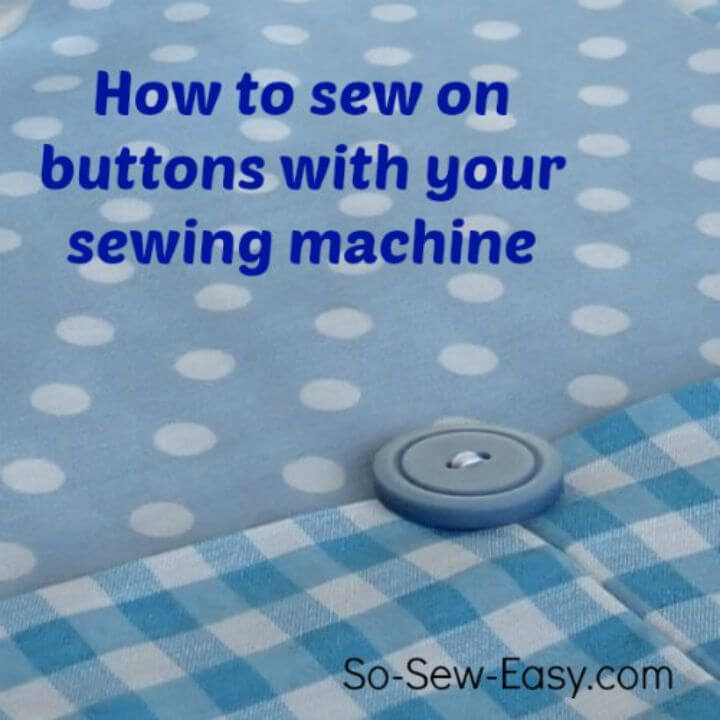 If you are a lazy sewer and not fond of the needles, with this video, learn how to sew a button like a pro by using the sewing machine. Hit the tutorial now and get your hands on get your hands on a perfectly easy button sewing technique. so sew easy
7. Sew a Button on a Shirt for Beginners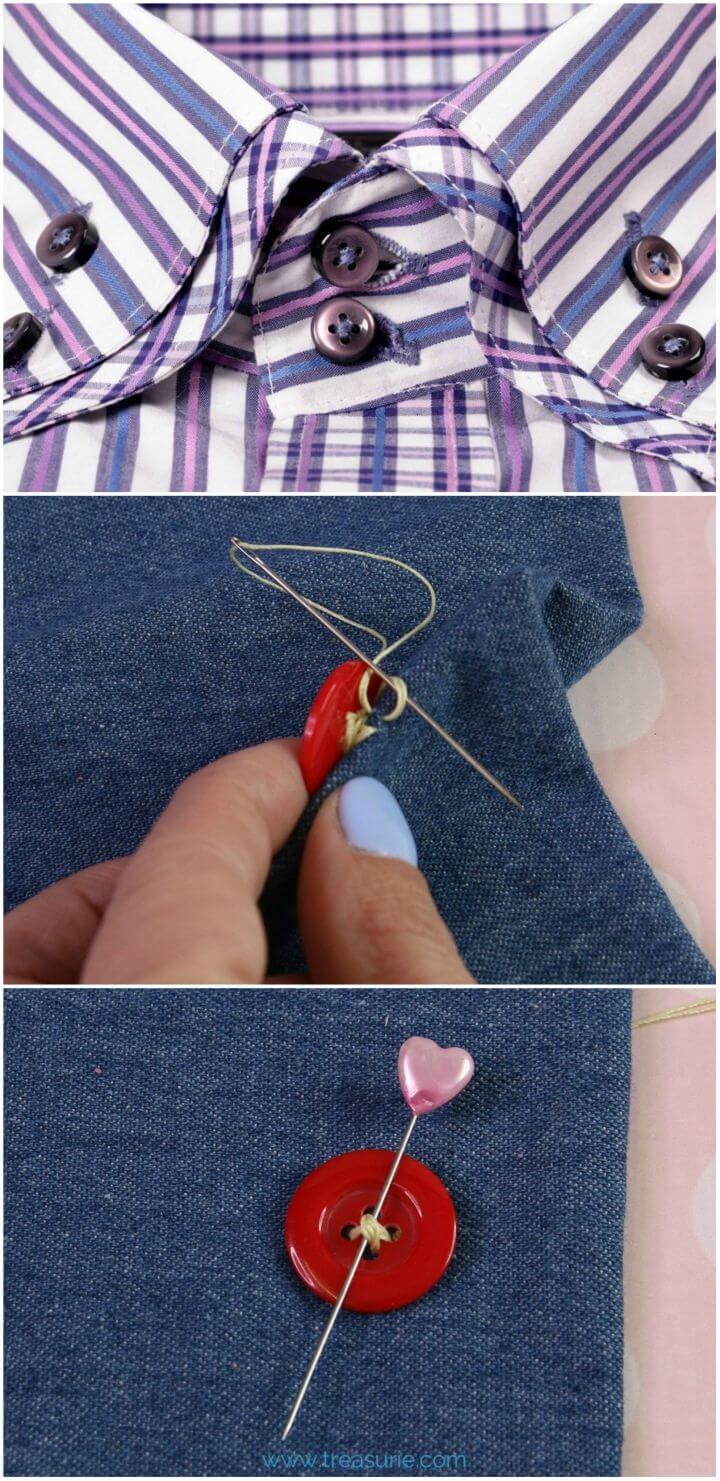 One of the most essential skills in life to learn is how to sew a button! For sewing a button, you need to learn the basics which involve threading the needle with a double thread. Treasurie has got quite a treasured technique for you to learn sewing a button. treasurie
8. Easy Way to Sew Partial Button Placket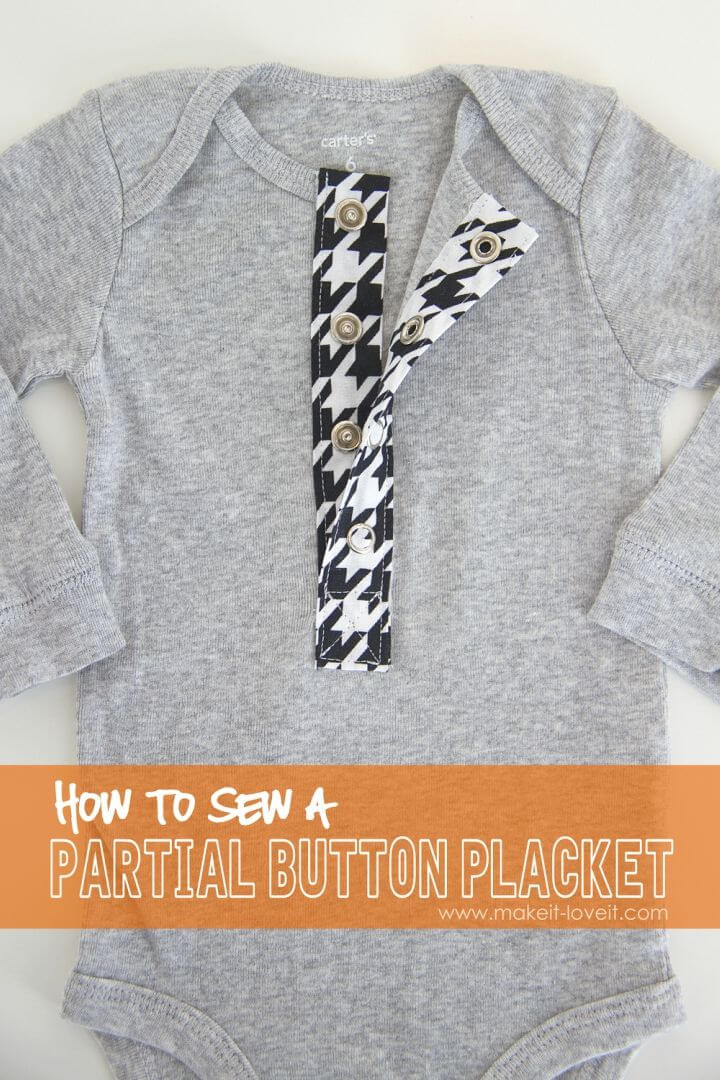 If you love packing up your cuddly little package in a cute onesie, this partial button placket is going to be such a charmer and comfy to step in! All you need is an already sewn shirt, a pencil, a ruler and then decide the opening! makeit loveit
9. How to Sew Buttons with a Sewing Machine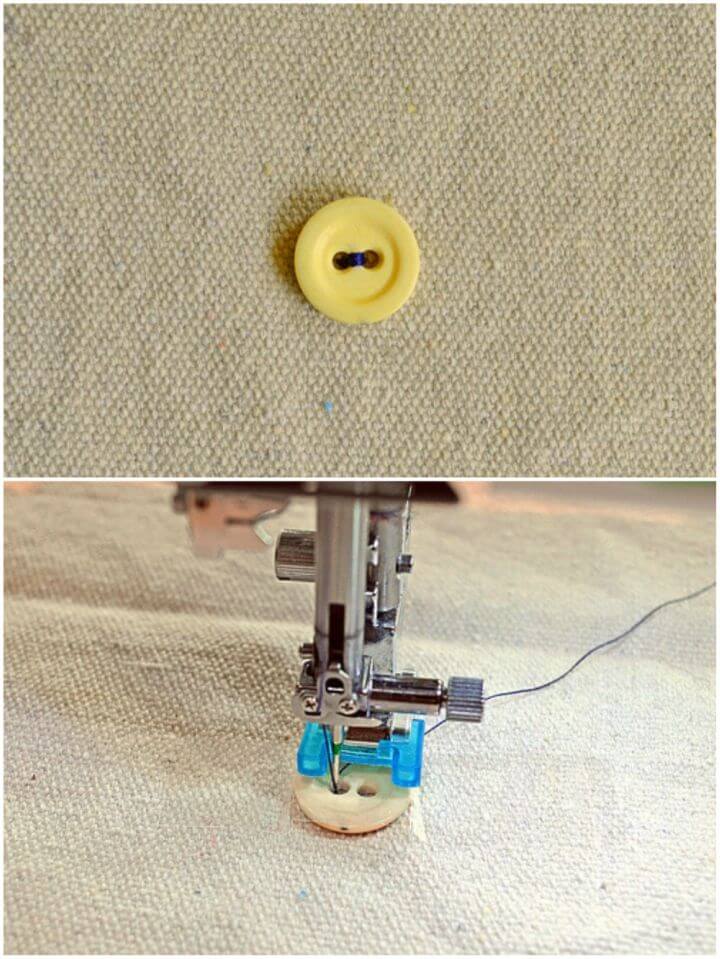 Here's a quick way to sew buttons back to the shirt! Where they belong right. If you want the stitches to blend in, you can use the same colored thread. But if you would rather go for a contrasting look, choose a bright color thread! Hit the tutorial for details. sew4home
10. How to Sew a Button – Basic Steps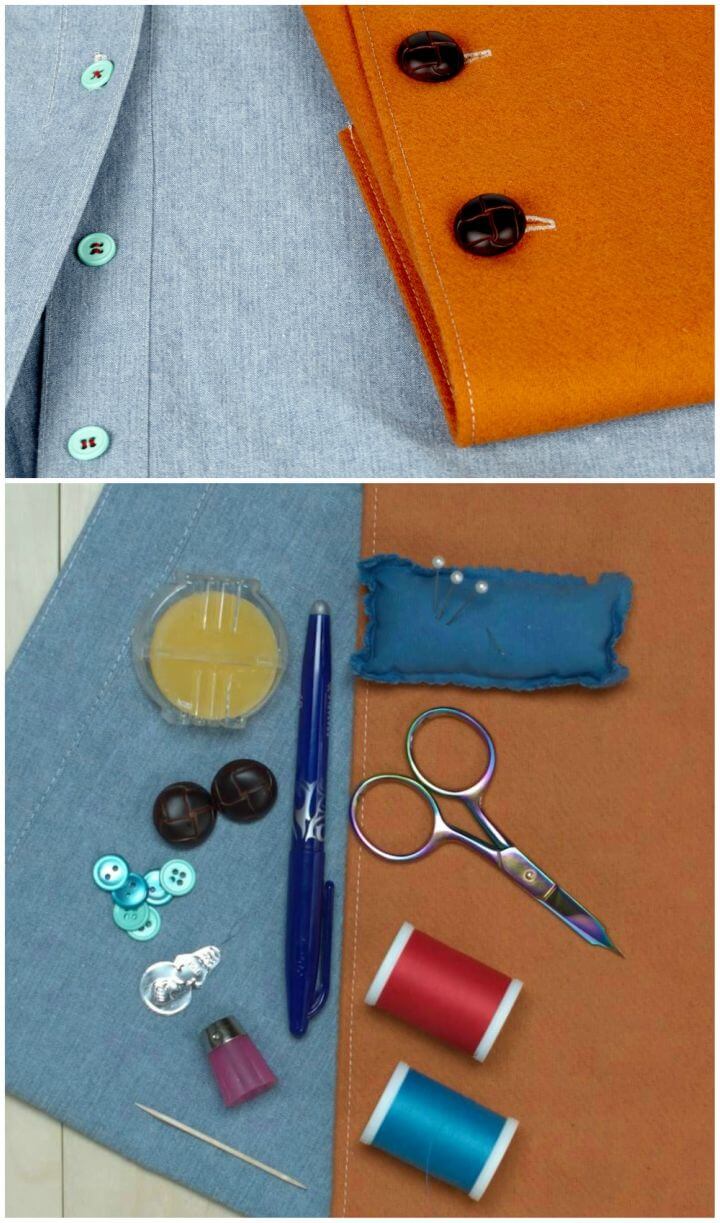 Learn the fundamentals of button sewing by using beeswax, buttons, needle threader, thimble, toothpick, marking pen, hand needle, scissors, and thread. Beeswax is like the efficiency factor added to the thread! It strengthens it and detangles it. fabric
11. Sew a Sew-through Button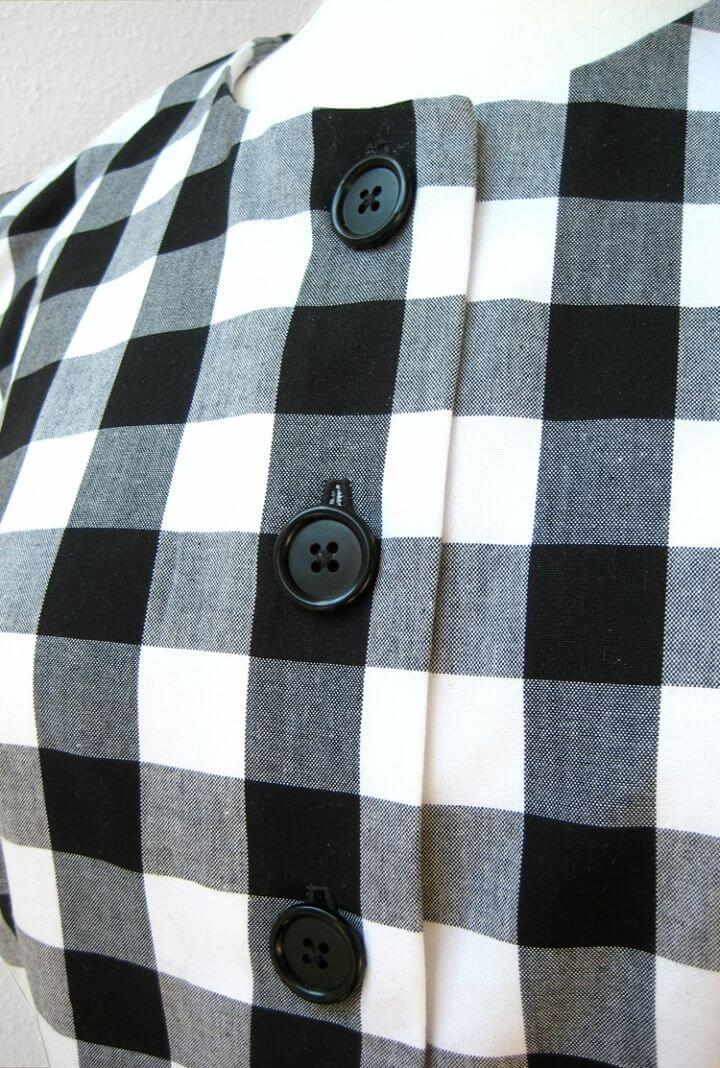 See that, how flawless that sew through button looks? You can easily do that all by yourself by using a straight hand sewing needle, scissors, button, and toothpick. One pro-tip to make sewing easy to send 2 thread ends through the needle. howdidyouma
12. Easy to Sew a Button-closure Pouch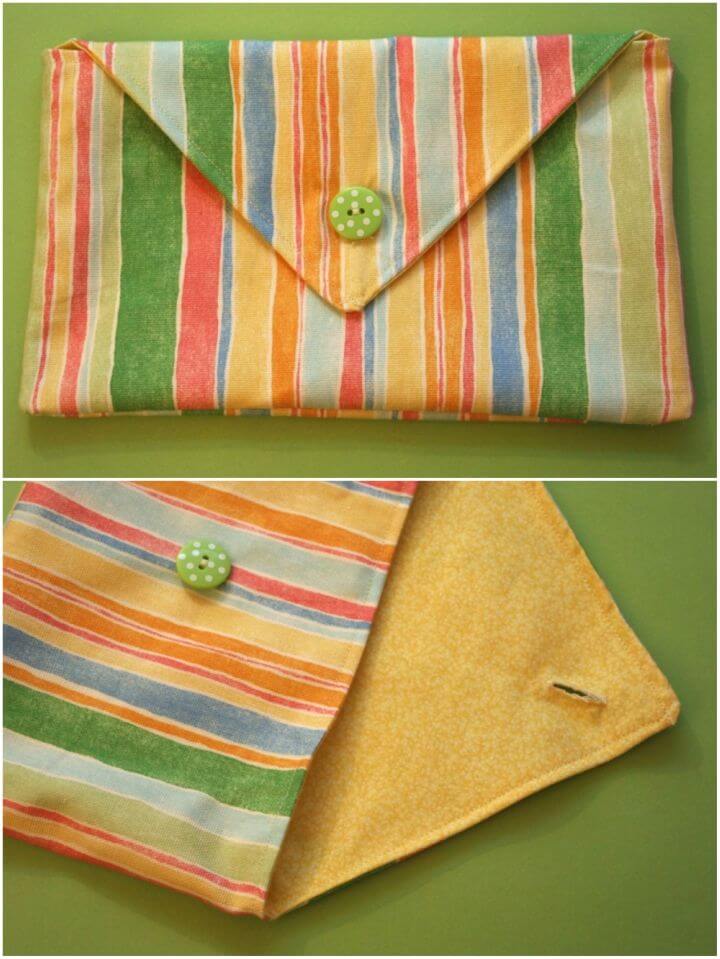 If you have been looking for a functional makeup bag, or toiletries bag to carry around your bag. This button closure pouch is quite the winner. Isn't it? Chic and Jo have got the complete step by step guide for sewing this pouch from the scratch. chicaandjo
13. How to Attached a Button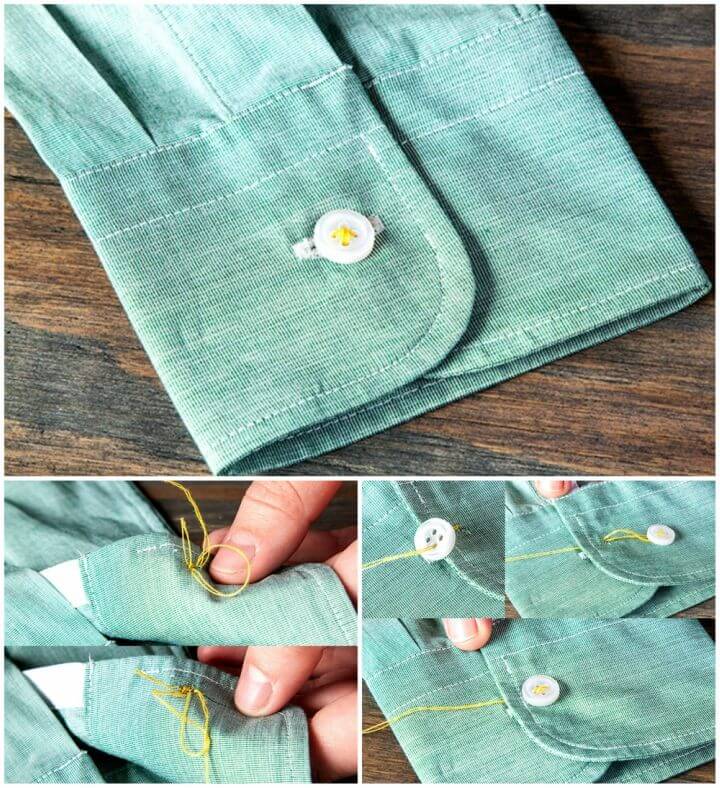 Time to get over leaving a shirt or sweater because it lost a button are so gone with this super easy how to sew a button technique! It's really just a game of piercing in the needle and bringing it out from underneath the fabric. ties
14. How to Sew a Button on a Coat or Jacket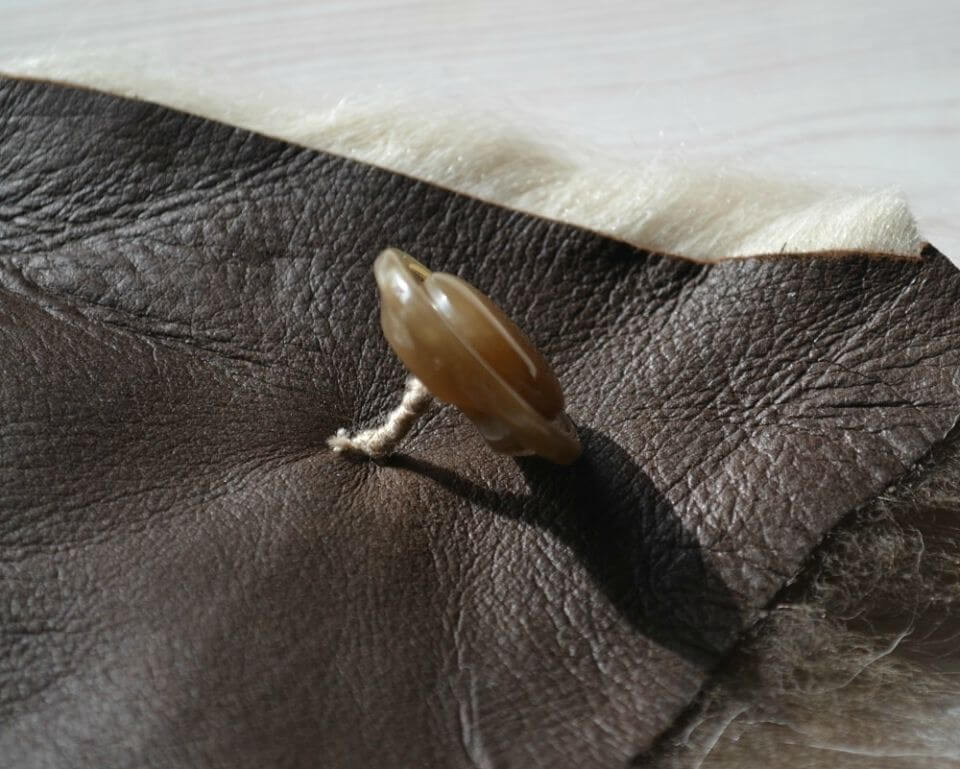 If your favorite jacket is no more wearable because you lost a button, with Sew Way, learn how can you easily sew a button on a jacket even if it's a leather thick jacket! For huge sized buttons, you will need the medium size of the hand needles. sewway
15. 3 Ways to Sew a Button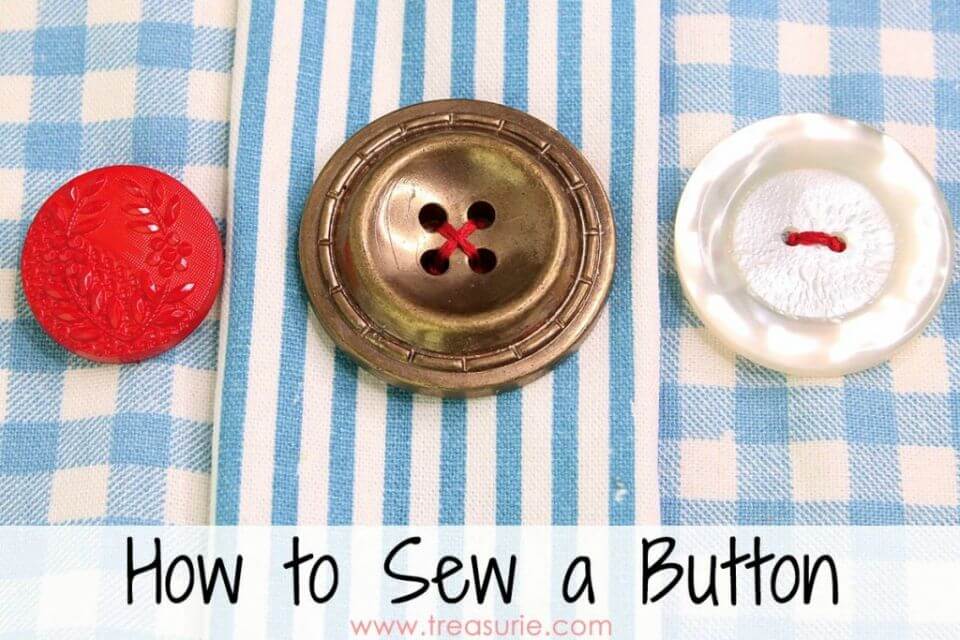 So, there are quite many fun techniques to sew a button! Including 4 holes' technique, 2 holes, or also a shank. The first and foremost step in how to sew a button is to mark the place where you want to sew in the button! treasurie
Related Free Sewing Patterns:
Babies Pants Pattern: Find free baby sewing pants pattern to make your own baby pants at home like pro.
Baby Clothes Patterns: If you have a new baby, you might want to sew clothes for them. Sew your own clothes for your baby with these free baby sewing patterns here!
Baby Bib Patterns: Learn how to make these cute bibs. There are free baby bib patterns with printable sewing pattern PDF's in this collection.
Glove Sewing Pattern: Find these free fingerless gloves sewing patterns that are perfect for keeping your hands warm while you crochet, knit, or sew. They're easy to make and don't require a lot of fabric, so they're a great beginner project.
Maternity Sewing Patterns: Looking for quick and easy sewing patterns for maternity wear that are also stylish? See this list of free maternity sewing patterns including dresses, skirts, tops and more.
Baby Quilt Patterns: Explore these free baby quilt patterns for beginners. They are easy to make and perfect for a new mom.
Conclusion:
We are sure it is safe to say that our chosen tutorials must have answered about how to sew a button in detail! By following these simple steps, you will never have to say goodbye to any shirt. And even make some cute onesies or partial button plackets for your little one! So, what are you waiting for? Let's get to it already.