Learn how to sew and quilt table runners and placements with these 20 free table runner patterns, including step by step instructions. These free table runner sewing patterns will add a touch of elegance to your dining table setting. By being directly over the wood table surface or on the tablecloth, they protect the wood and add a splash of colors. Place the dining table centerpieces and cutlery caddies on them for great dining table garnishing. They are quite something to impress the guests invited to dinner while indirectly adding lots of colors to the dining room ambiance. You can even use the fabric scraps for sewing fabulous table runners.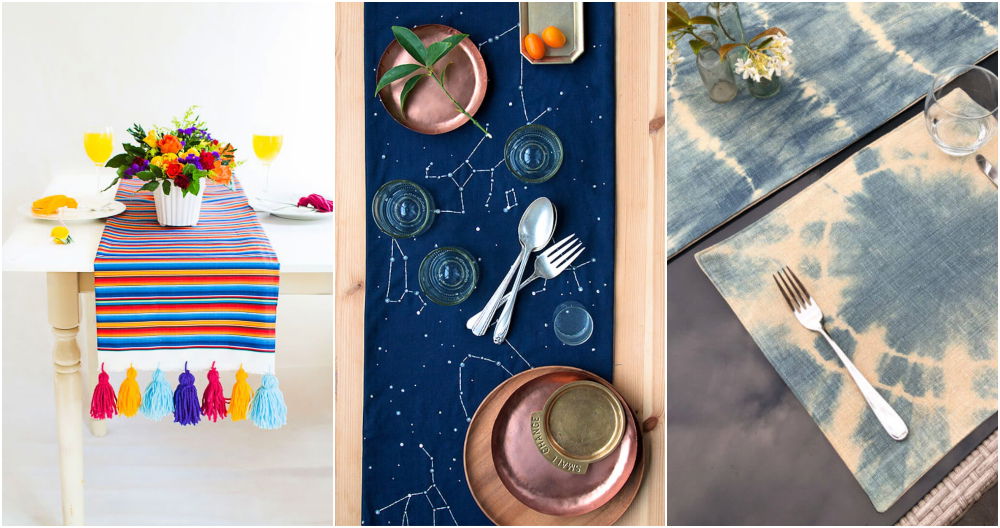 20 Free Table Runner Patterns to Sew and Quilt
For getting sewing instructions and directions, head over to the list of 20 free table runner patterns sharing all the A-Z information about How to sew a table runner like a pro. There are many different designs, from chevron striped to reversible to shibori table runners, to choose from. Impress the friends also with a constellation table runner. And get tons of praising comments for your dining table settings using a ruffled quilted table runner, will be much easy to sew.
The list shares the best guides, pictorials, and comprehensive tutorials to easily sew every table runner design. Time to sew all these patterns for table runners and placemats at home inexpensively. Everyone can do excellent fabric stash-buster projects with his sewing machine. Browse all the 20 free table runner patterns for sewing to get lots of design inspirations.
1. How to Sew a Table Runner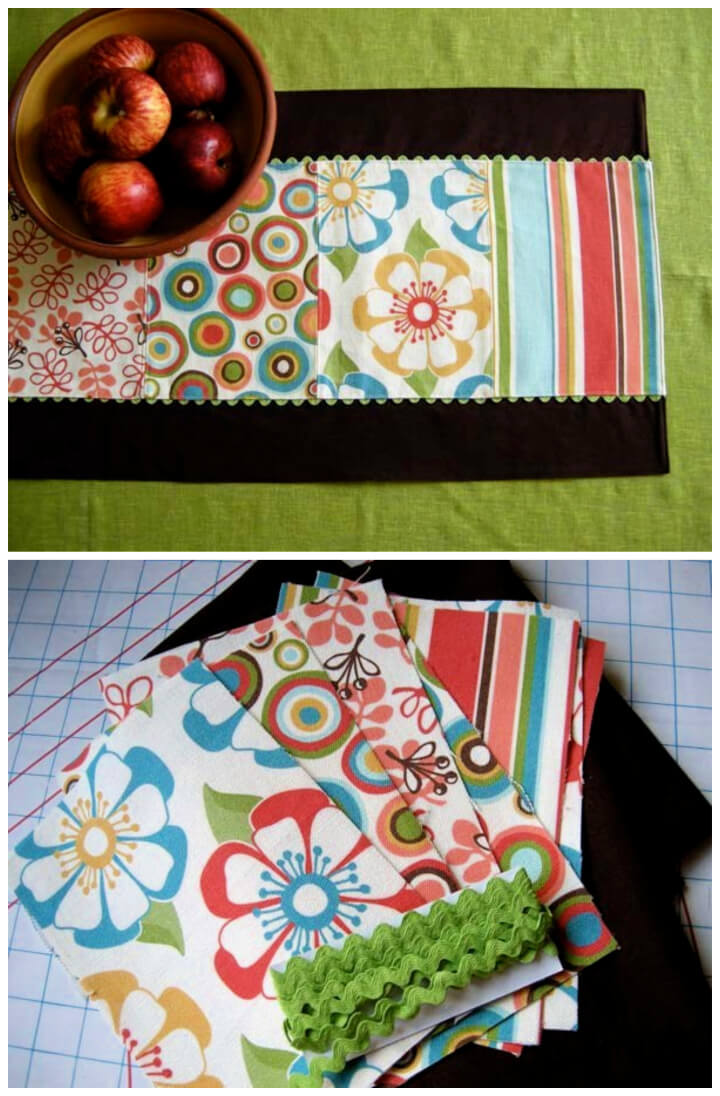 Create a big focal point in your dining table or on an eating table with this table runner, comes with rick-rack accent trim. Grab the solid color canvas, 5/8 yard and printed canvas 3/4 yards, 2 1/2 yards of wide rick-rack trim to sew this table runner. Sewing is going to be much like a patchwork. The finally finished table runner will have size 14″x41″. makezine
2. DIY Shibori Table Runner Pattern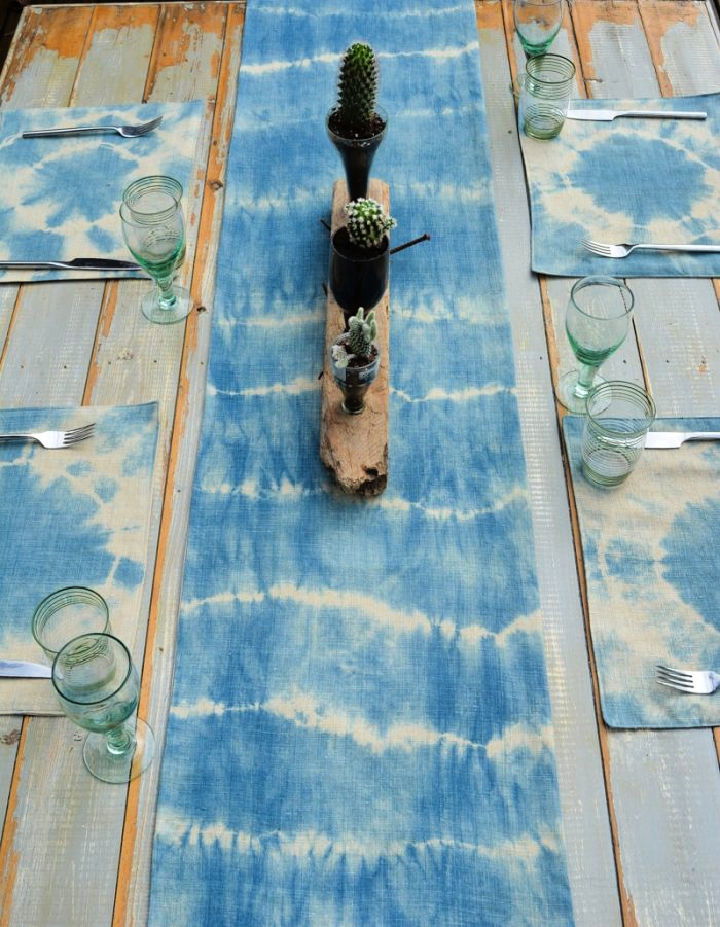 Use great dip dyeing techniques to make gorgeous table runners quickly and in no time. Grab the indigo dying kit, lining fabric, and thrift store table cloth to sew this eating table show stopper, the shibori table runner. Time to establish sophistication to a dining table using this fabric table runner. vickymyerscreati
3. One-Hour Table Runner Sewing Pattern Free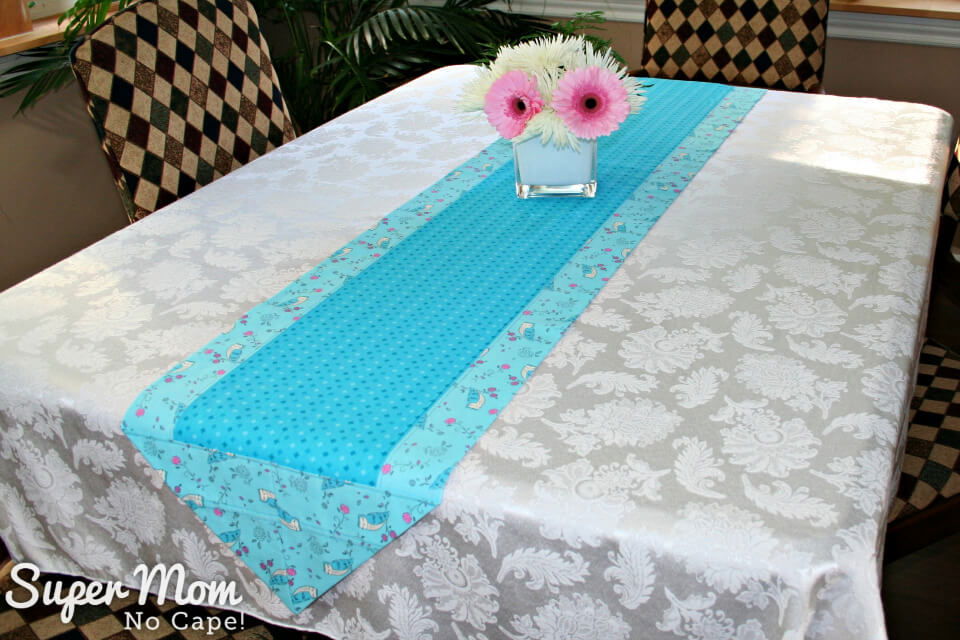 Establish sophistication to a feasting table with this gorgeous table runner, will work up in one hour. The easiest project to do when to need to impress guest invited on a dinner. Here you only need 2 complimentary fabrics to sew this gorgeous table runner, which will add a lot in the beauty of your eating settings. supermomnocape
4. Sew a French Dot Constellation Runner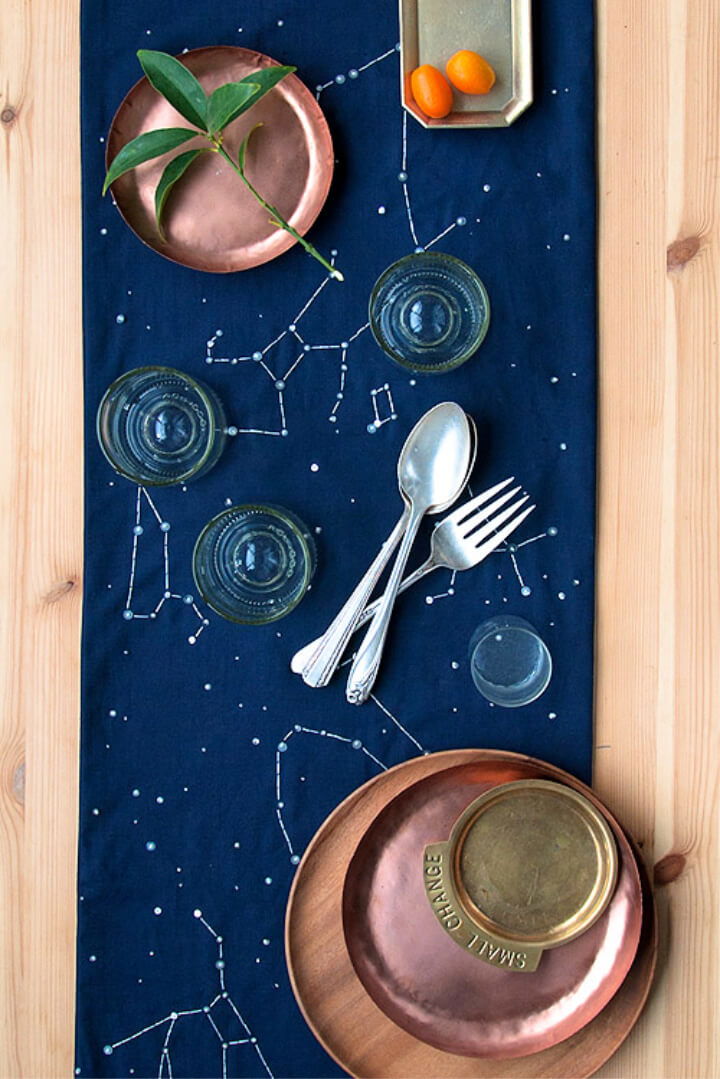 Bring the galaxies and constellation to your dining or breakfast table with this easy-to-sew French dot table runner. Grab a piece of linen having size 15″x72″ and then print the galaxy design on it using a galaxy template. Meet the lines through embroidery stitches and display the glittery stars by stitch the large and small sequins in place. Full tutorial here designsponge
5. How to Make a Table Runner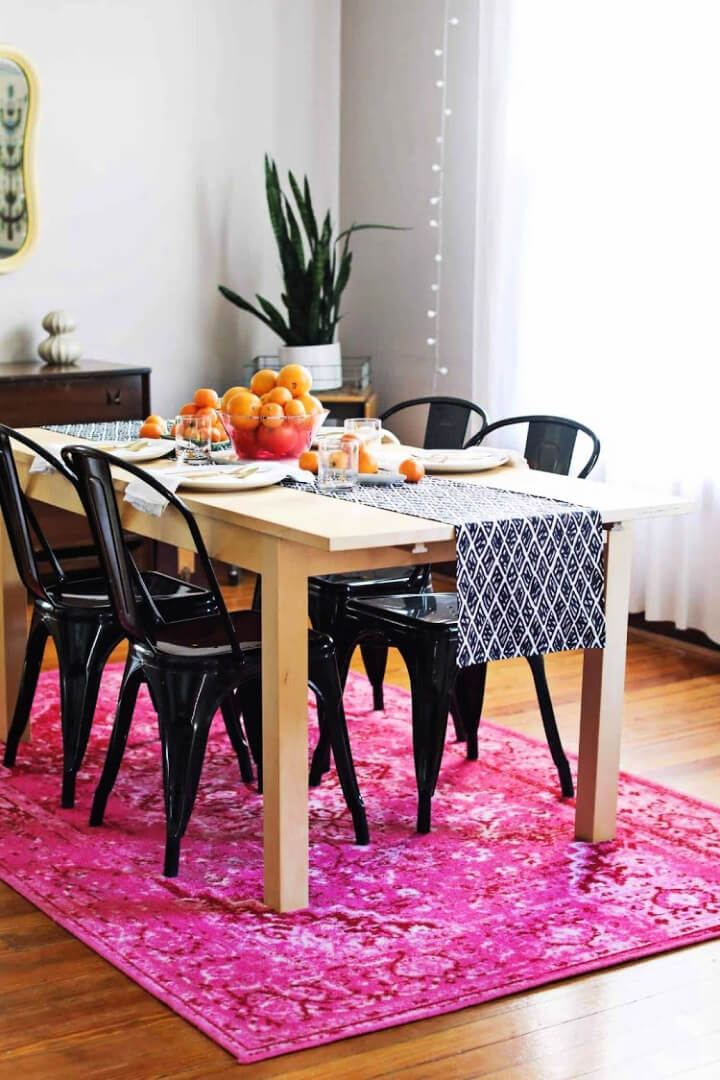 Impress your guests with this modern table runner that is dropping down a little from both sides. A simple and straightforward design to add to a table as a big show stopper. Make this eating table beauty using 2.75 yards of pure cotton fabric. Sew and hem the sides, and you are all done. abeautifulmess
6. Sew a Fat Quarter Table Runner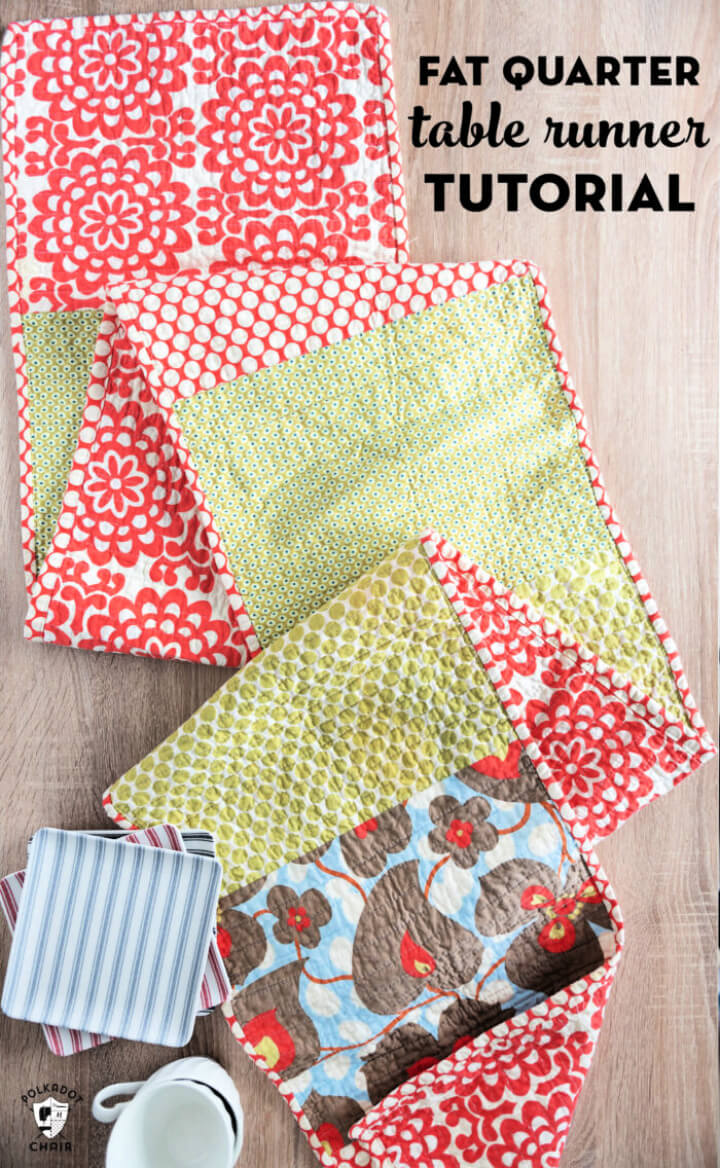 There can be a lot of fabric choices to make a table runner that not merely protects the table but also add a lot in the beauty of the entire room. Sew together the fat quarters to get this table runner made, will surely impress. Grab the 4 to 8 fat quarters, 2 1/2 yards of backing fabric, 1/2 yards of binding fabric, and cotton batting to sew this table runner. Go with any size of it fitting best to your table. This given sample has 14″x108″ size. polkadotchair
7. DIY Quilted Table Runner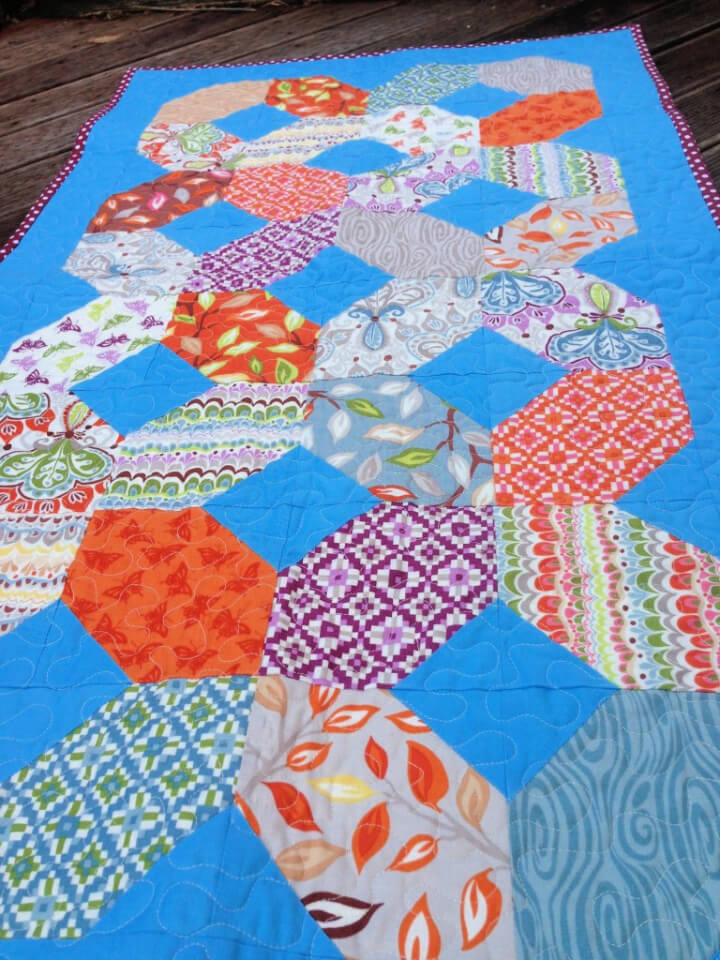 Add a lot in the dining table sophistication using this quilted table runner, made to impress the guests. Sew table runner design using 32 5″ squares of fabric, place them over 0.5 yards of solid fabric color making an arresting design pattern. Use extra fabric for backing and binding, and don't forget to stuff the design with batting. favecrafts
8. Free Ruffle Table Runner Pattern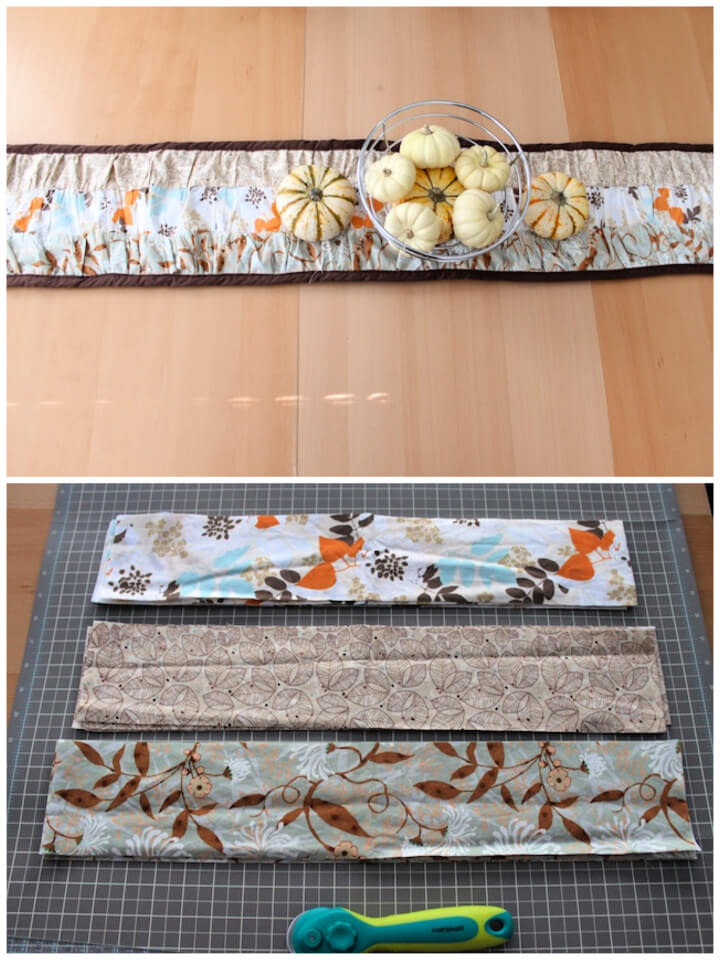 Adorn your party and feastings with the gorgeous fabric gathers and ruffles appearing in this design of ruffled table runner. Sew it using 3 different types of cloth, 2-3 yards of muslin and 83 inches of thin quilt batting will be required for soft stuffing. Sew 3 ruffled strips of fabric on muslin fabric, layer batting, and that's it. simplymodernm
9. Free Table Runner Sewing Pattern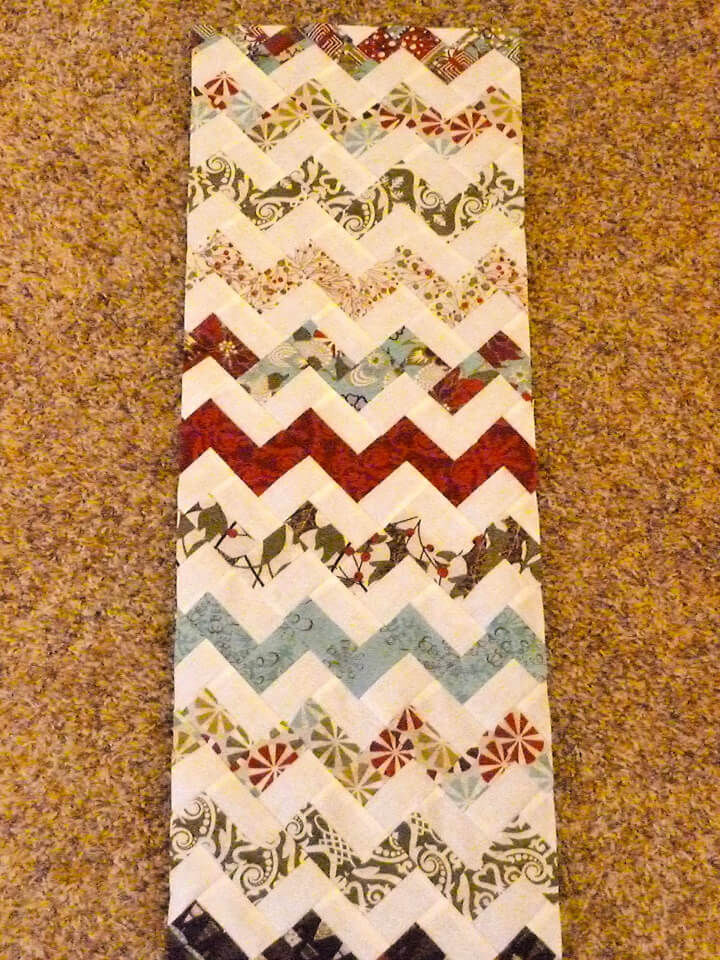 Spice up entire room decor with this chevron patterned table runner. Here you need to cut the pieces of fabric strips having different designs. Put them together on backing fabric for a chevron striped look and finish with binding fabric. Don't forget to add a layer of batting for a soft touch. knotted thread
10. Free Herringbone Quilted Table Runner Pattern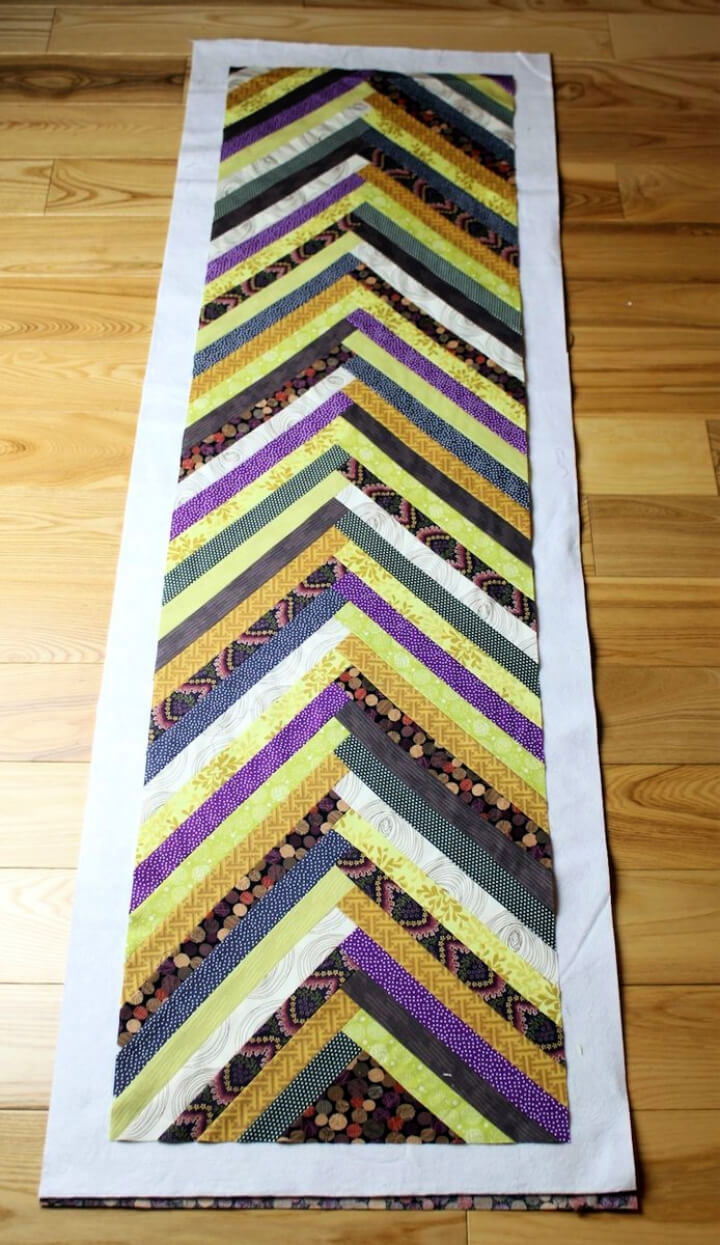 Satisfy your love for chevron and herringbone design pattern by making this gorgeous herringbone table runner, quite something easy to make and sew at home. Start by cutting a triangle and then put the stripes around it of 11 different fabrics creating a chevron striped table runner. Further details here leighlaurelstudi
11. Quick and Easy DIY Table Runner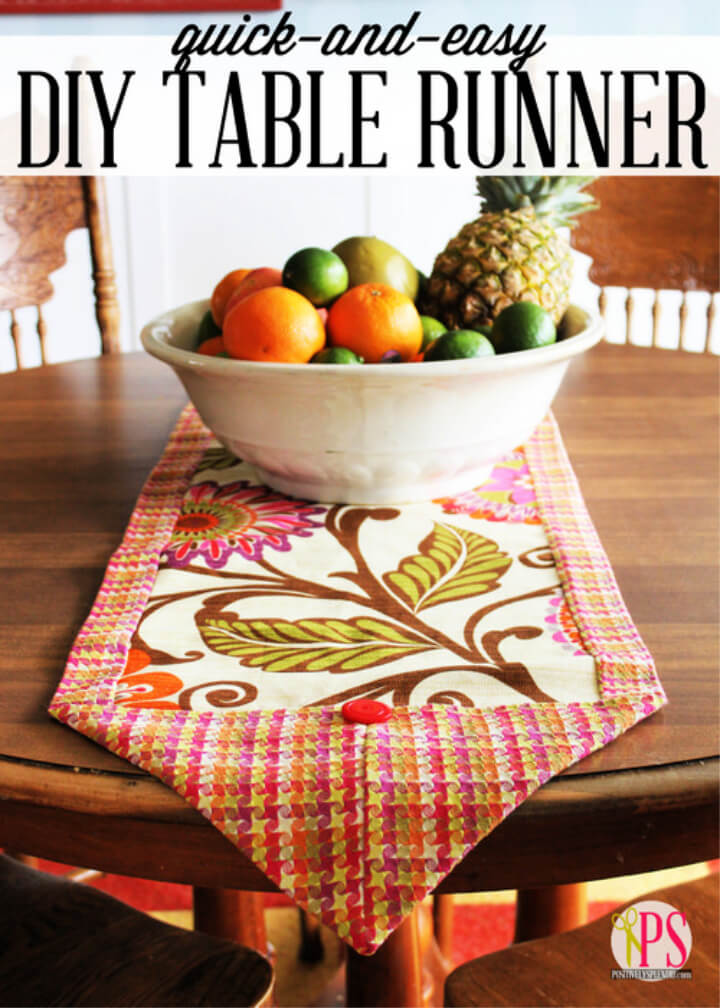 The table runners are one of the great fabric stash buster projects, completing in no time. Sew it using 2 home decorator fabric selected in 2 coordinating designs. Use two buttons to hold the chevron folded edges in place, adds a lot in the beauty of the design. Guides here positivelysplen
12. How To Sew a Reversible Table Runner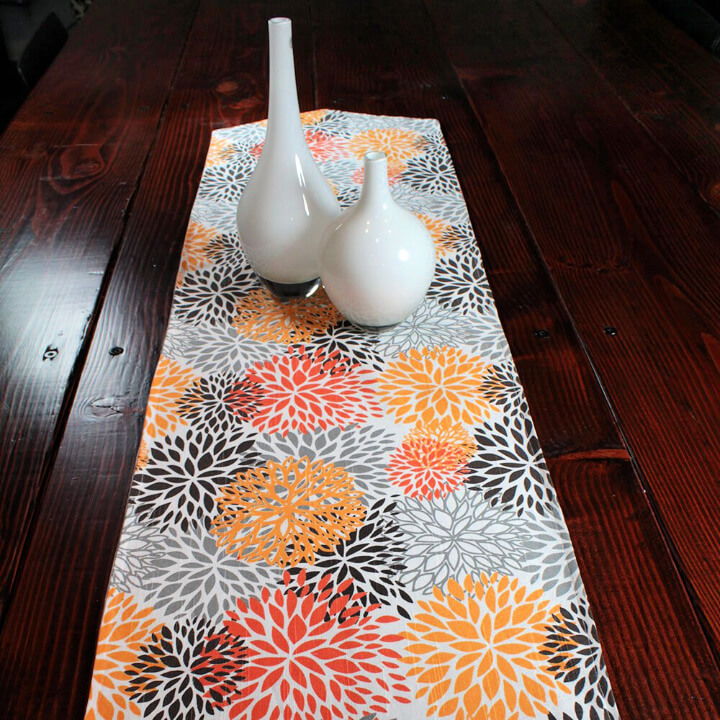 Add colors to your room indirectly using this subtle reversible table runner, something quite easy to sew. Make it using only two complementary fabric pieces selected in 0.5-yard size. Use rotary cutter for precise measured cuttings and chevron folded ends, will look great on the table. Full guides here onlinefabricstore
13. Easy Quilted Table Runner Pattern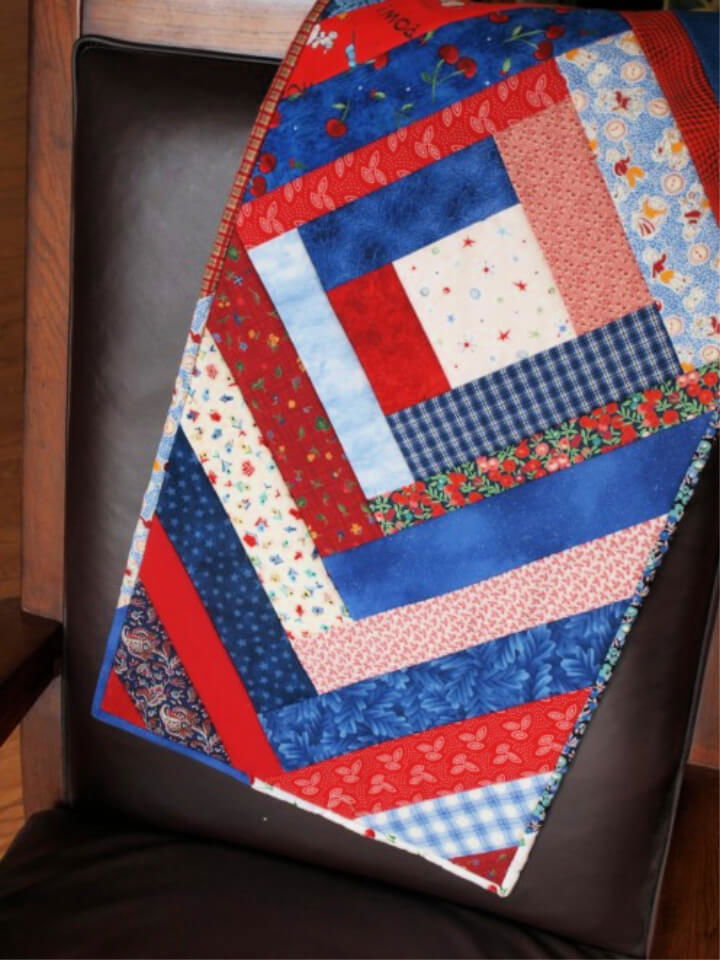 Get this quilted table runner to create a big focal point on your dining or breakfast table. The chevron appeal will be mesmerizing, recycle the fabric strips from home to make it for free. Cut various lengths and widths of fabric, put them together on a backing fabric creating a chevron design, finish with batting. feltmagnet
14. Make Your Own Reversible Table Runner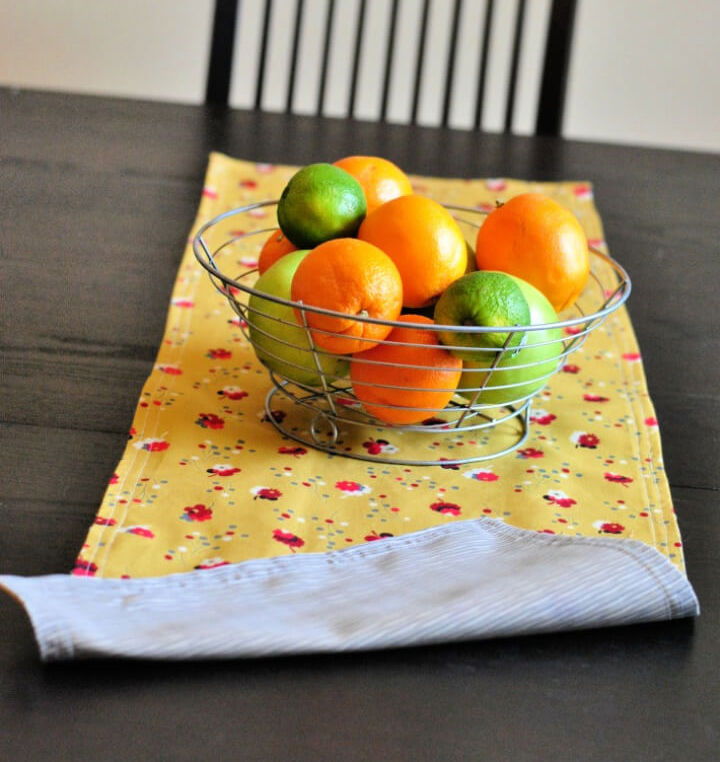 Sew together the two quilting cotton fabrics having different designs to sew this reversible table runner having a size of 14″x43″. Making this table runner will be a great choice when you need to get rid of some leftover fabric pieces. It will serve an eating table in multiple different ways like for added protection and beauty. mybluprint
15. Simple and Elegant Quilted Table Runner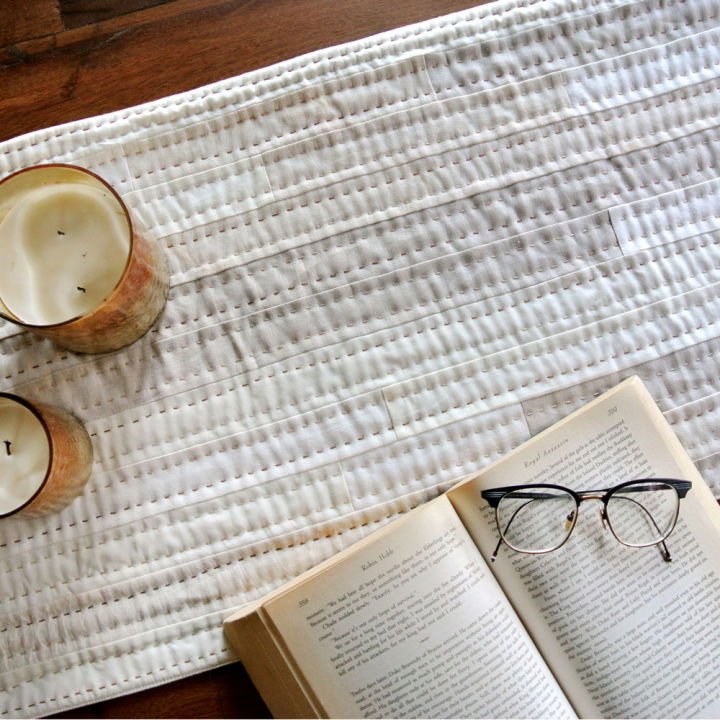 Be around your sewing machine a little to sew this another sweet design of table runner that is quilted. It will provide a great touch of elegance to the entire dining or eating party table. Make it using IKEA duvet cover and quilter's dream bamboo batting. It will add a simple but great style to your feasting table. suzyquilts
16. Super Fast, Easy, and Terrific Table Runner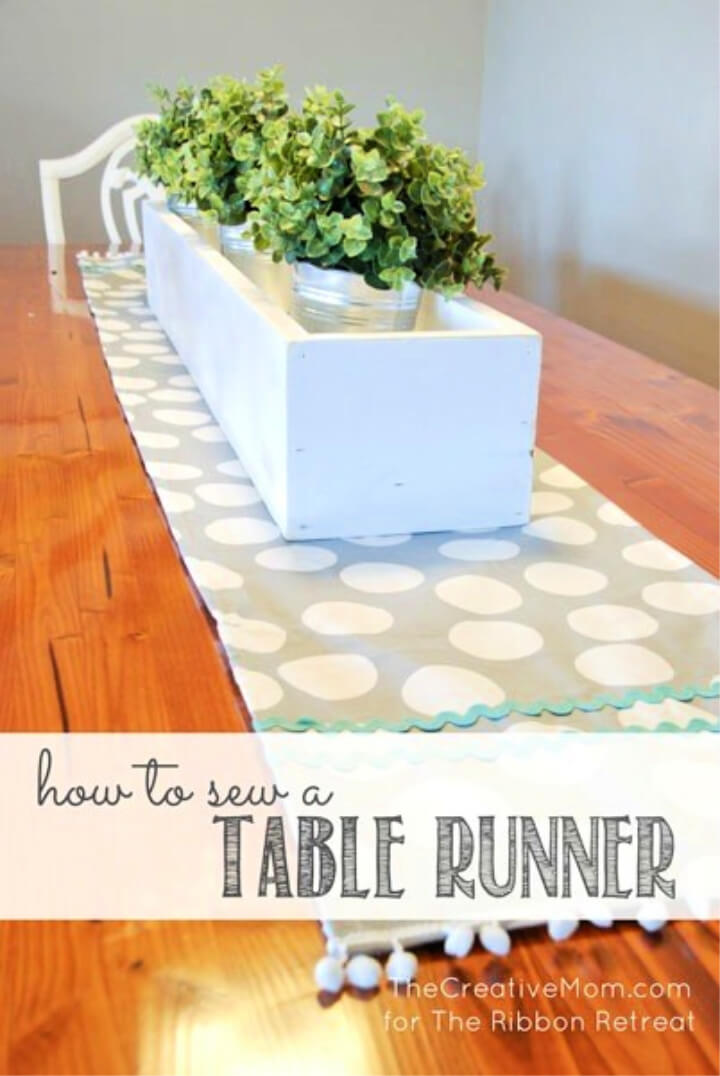 Spice up the settings of an eating and party table with this terrific table runner. It will be a great accent place to hold the cutlery and decorative flower caddies for amazing garnishing of the table. You need 2.5 yards of each fabric and interfacing, 2 yards of ric-rac, and one yard of pom-pom trim to get this beauty made. theribbonretreat
17. DIY No Sew Burlap Table Runner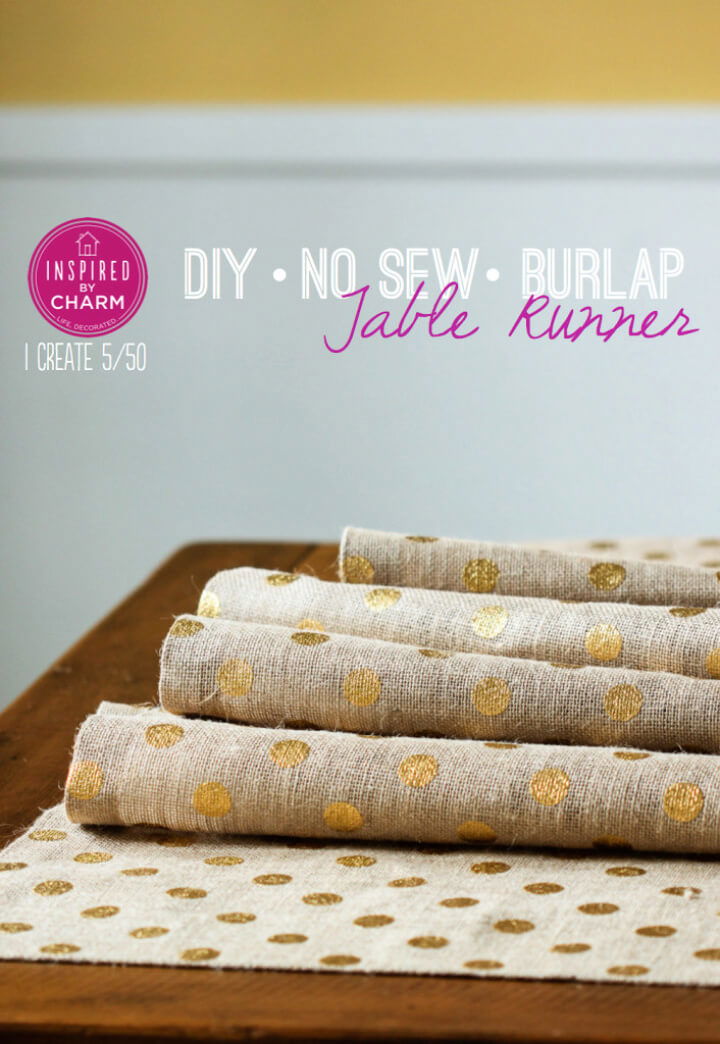 Add up a lot in the beauty of your dining and party feasting table using this burlap table runner. It will rock for both fall and rustic vibes. Get your hands onto fusible webbing and burlap fabric with gold polka dots to make it. Instructions here inspiredbycharm
18. Simple Quilted Table Runner Pattern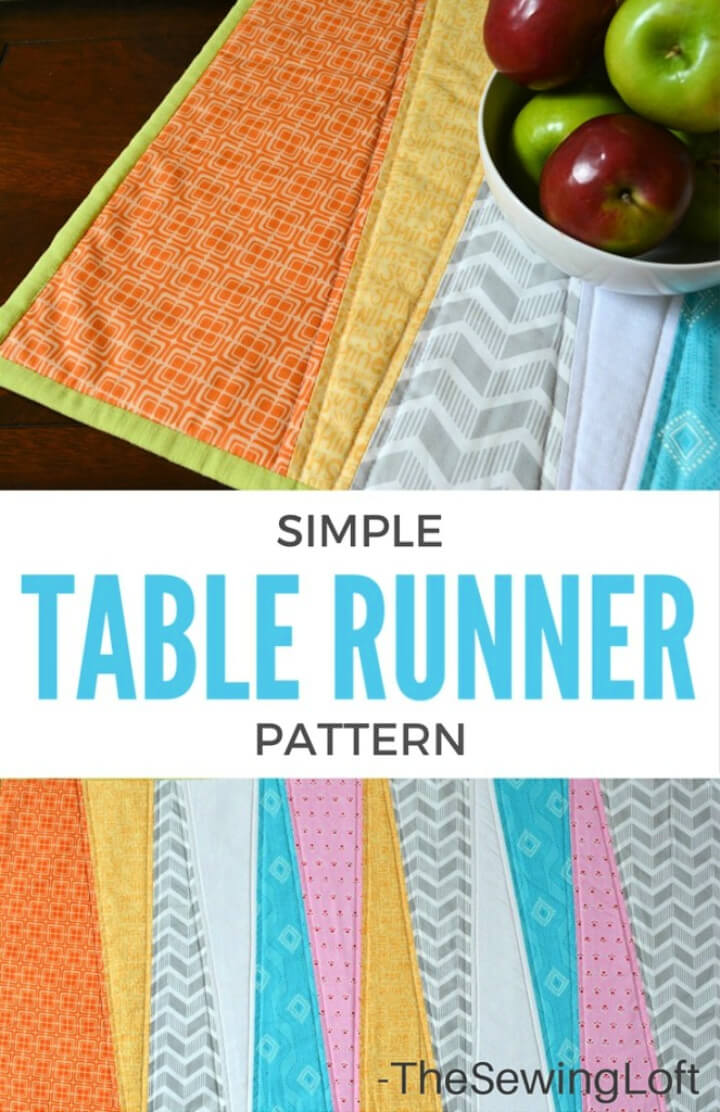 Freshen up your table with a splash of colors that will come from this table runner. One of the easiest sewing patterns to do with 6 fat quarters having different prints. Next, you need the 106″ of backing fabric, 0.5 yards of binding fabric, and craft size quilt batting to make it. thesewingloft
19. Homemade Table Runner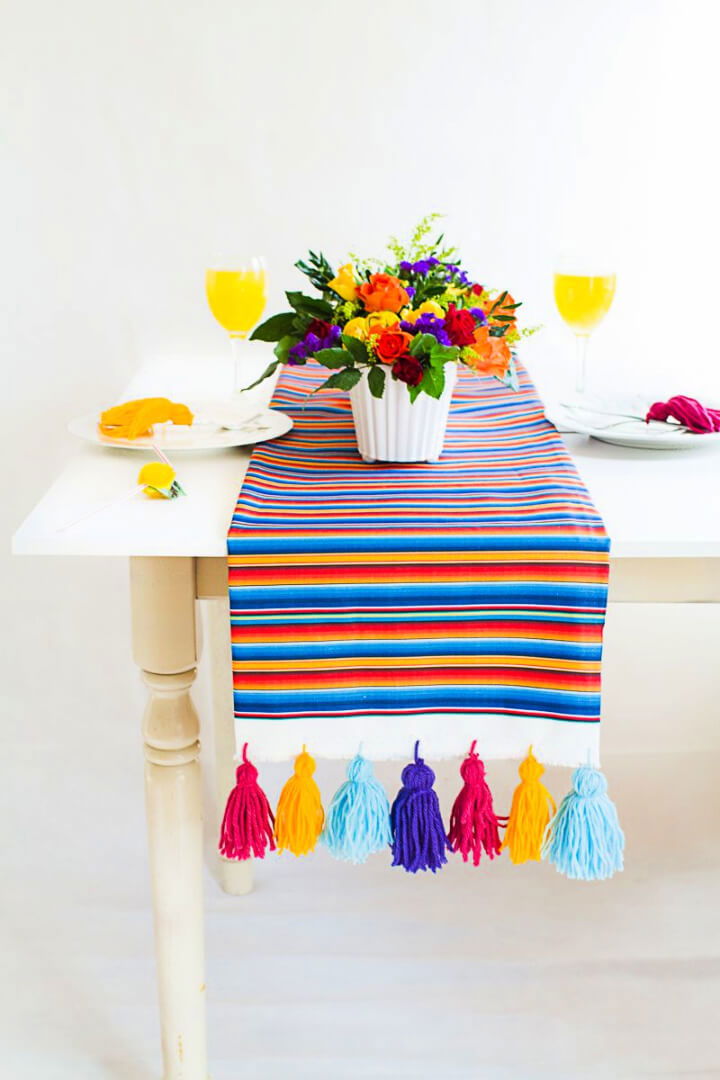 Jazz up the entire room and your party table settings with this rainbow striped table runner. It has hanging tassels on both ends, dropping down from the table surface. The most colorful table runner design will add a lot to the dining table sophistication. No Source
Related DIY Projects and Ideas
DIY Throw Blankets: These creative DIY throw blankets are perfect for summer. They're lightweight, easy to make, and can be made in an hour or less.
Baby Blanket Ideas: Blankets are the perfect gift for any baby. They're the size of a baby and they keep them warm! Here's easy DIY baby blanket ideas to sew and quilt.
Weighted Blanket Ideas: Keep your little one cozy and secure with these best DIY weighted blanket ideas that are perfect for bedtime, nap time, or anytime!
Doll Sewing Patterns: These free doll sewing patterns are a great way to get started on making your own dolls, and they're so much fun. These can be hand sewn or machine sewn.
Skirt Sewing Tutorials: You can't go wrong with a skirt, especially in spring and summer. Get inspired with these easy DIY skirt tutorials and make your own spring or summer outfit!
Baby Clothes Patterns: Learn how to sew a dress for your baby with these free baby clothes patterns that are designed for children from infants to toddlers.
Conclusion:
Whether you're looking for a quick and easy sewing project or more unique quilt runner patterns, we've got 20 free table runner sewing patterns for you. Scroll through our list of free table runner patterns to find the perfect one for your next sewing project.
Whether you're just starting out with quilting or are a seasoned pro sewing, we hope you find a table runner pattern in this roundup that will inspire you. Happy sewing! And don't forget to share your finished runners with us in the Sewing section of our community forum!