The blazing sun is just an annoying one and the hottest season of the year has reached our region! So, time to sort out the ways to beat the summer heat and if you are willing to do it by wearing unique dresses and outfits then time to go bare arms and bare legs to feel less hot! So, if you are decided to expose your legs this summer by wearing some DIY shorts, then it would just be a great idea to boost your summer fashion and also to increase the air circulation to your body! So, if you are willing to show off your legs by wearing some stylish DIY shorts then check out here these 81 DIY Shorts Ideas that are sure to please all the fashion lovers! All summer fashion enthusiasts will just love to add these shorts to their summer wardrobes as they are so cute, fashion-worthy and eye-catching! The excellent news is that all these DIY shorts are handmade are quick to whip up also! All you need to have some sewing and cutting skills in hands to do these brilliant DIY short projects at home!
The easiest, cheapest and quickest way to get some adorable shorts is to go with the cut-off denim jeans! Just cut your old jeans to short size and then given them a new precious boundary or trimming to transform them into lovely denim shorts! You will find a massive variety of self-made denim DIY shorts here that are easy to make and are super stylish too!
Next, the list will open a whole bag of tricks for you that how you can refashion your old shorts by doing custom makeovers at home! Here the sky is the limit for the ideas to refashion the shorts you already have! Just add doilies patches to your DIY shorts to make them look pretty awesome! Boost the visual appeal of your shorts by giving them lace trimming and also spruce up your shorts by cutting fringes in them! Make the boho-inspired shorts by adding custom yarn hangings or tassels to your shorts and also fancy up your shorts by finishing them with pom-pom ball ribbon or trimming!
Easy Craft Ideas:
Next, you can also refashion your DIY shorts by dying them for colorful custom appeal and also for enchanting color effects, a fascinating example here is the ombre DIY shorts that will go for more prominent fashion statements this summer! Also paint your fabric DIY shorts for custom shapes, patterns or art and also write custom quotes on them to make them look beautiful! Use also custom embellishments like the metal studs, symbols and signs to create a fantastic look of your shorts and also make the polka dot shorts that will be super beautiful to look at for sure!
Next, the list will also provide you with dozens of Sewing DIY Shorts Projects with complete free tutorials and instructions! There is a link attached to each short project that is having full project details, tutorials and complete visual guides hidden in it that will be before your eyes just on a single quick click!
Stylish DIY Tribal Shorts: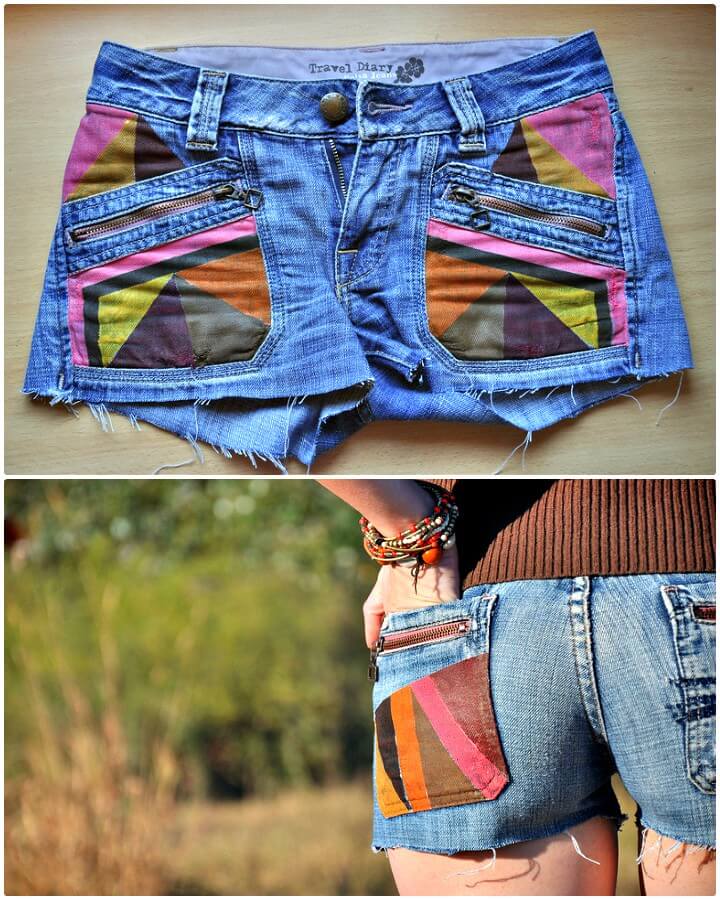 Get some tribal vibes this summer with this so quirky and fun in style tribal pair of shorts to pull off nicely with your tees and tanks and experience the utter relaxing and comfort to beat the heat in summers. You just need to add a colorful piece of cloth to the pockets at the back and the front and also some colorful zips and its done.You can check out the details more here emerjadesign
DIY Leather & Studs Shorts: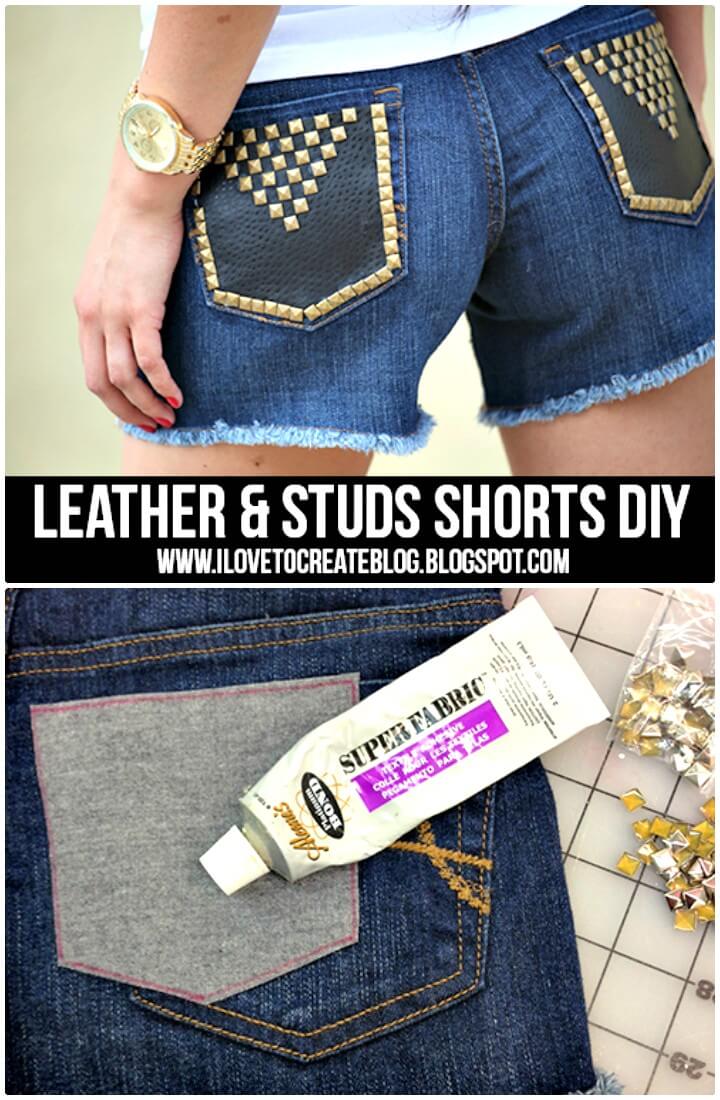 Turn into a fashion rocket this season of the summers by getting dressed up in this gorgeous and awesome looking pair of shorts that have been styled up with the studs and the stones. Using some glue and the studs have been added to the sides and the pockets both at the front and the back. You can check out the details of the idea here to own one pair for yourself. ilovetocreateblog
How To Make Studded Shorts: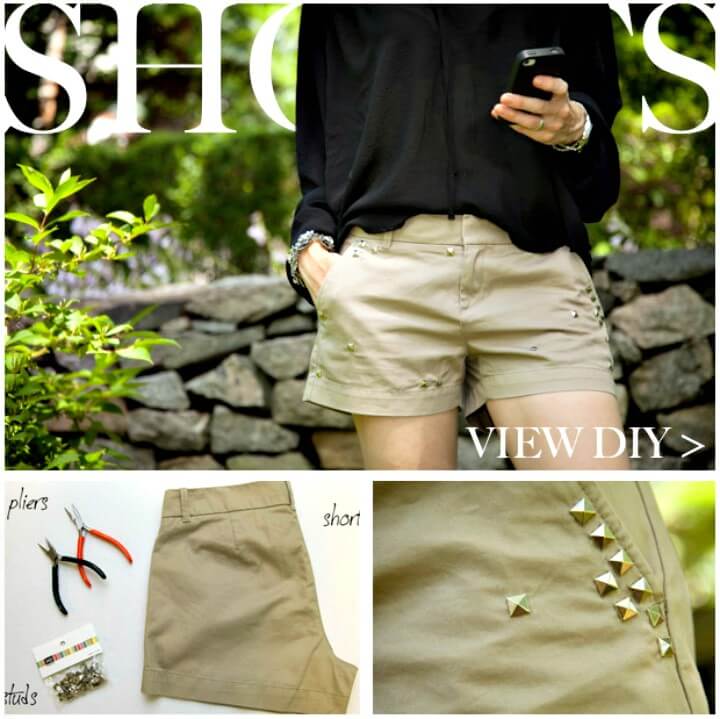 With some tricks and twists you can make your simple and boring shorts look so much stunning and fun and that too at the least of the rates and efforts. This simple pair of shorts has been spiced up in fashion and style by just gluing some cute pyramid studs on it. The idea is really simple and quick to work, and its details have been shared here trinketsinbloom
Adorable DIY Nautical Sailor Shorts: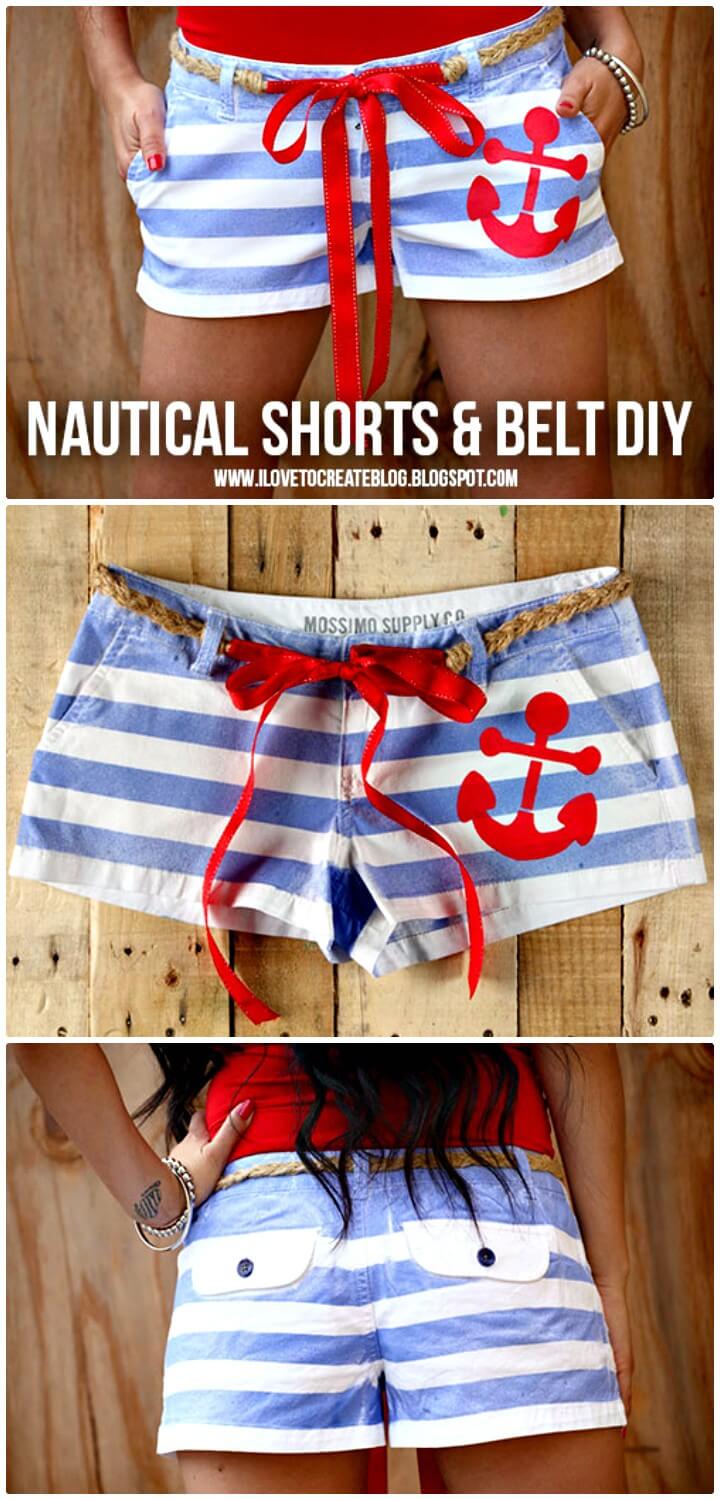 One of the themes followed for the decor, and the fashion in the summers is the nautical and beach. So if here we brought you this idea of creating a super cute nautical pair of shorts to look so much quirky and chic for your summer days. The shorts have been painted in white and blue stripes, designed with a nautical sign at the front and adorned more with a rope braid belt and the ribbon tie up at the front. Complete details of this superb summer shorts idea are given here ilovetocreateblog
How To Turn Jeans Into Shorts In 20 Minutes: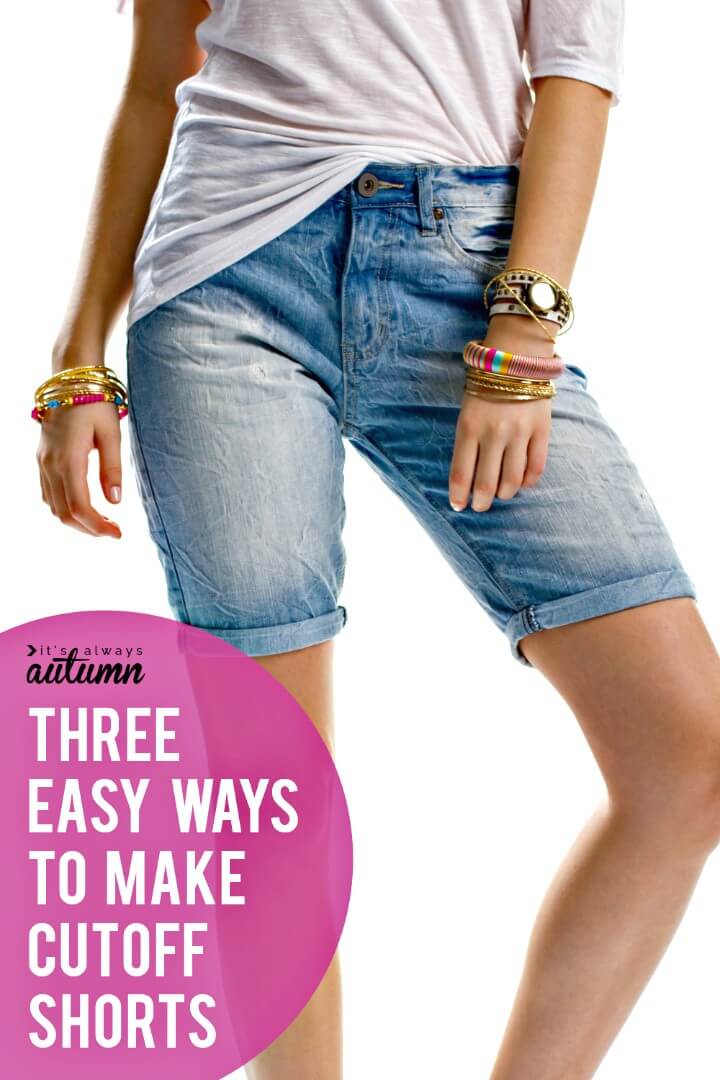 Do not toss off your old jeans as you can still enjoy their comfort for a little more time. Yes, you can cut off your jeans and get this simple yet custom and fun pair of shorts for the summer dress up to decrease the effect of the summer heat on the body. The shorts are super easy to be made out of the jeans, and the details are here itsalwaysautumn
How to Make Pant Hosh Fancy Shorts: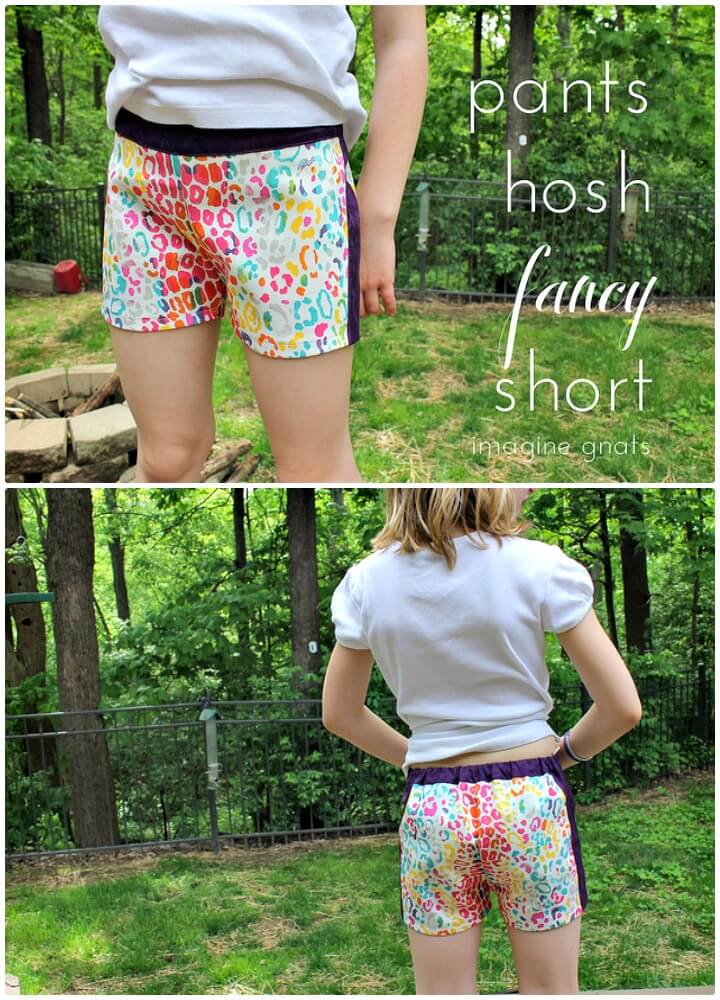 We all stretchy clothes while we are off to play and enjoy some games in the outdoors especially the jumping. You can take some stretchy and gooey fabric and add some elastic to the waist of it, and it would suit your mini jumpers to jump so comfortably and feasibly around the outdoor places. Complete details of the idea are lying here imaginegnats
DIY Wide Scallop Shorts: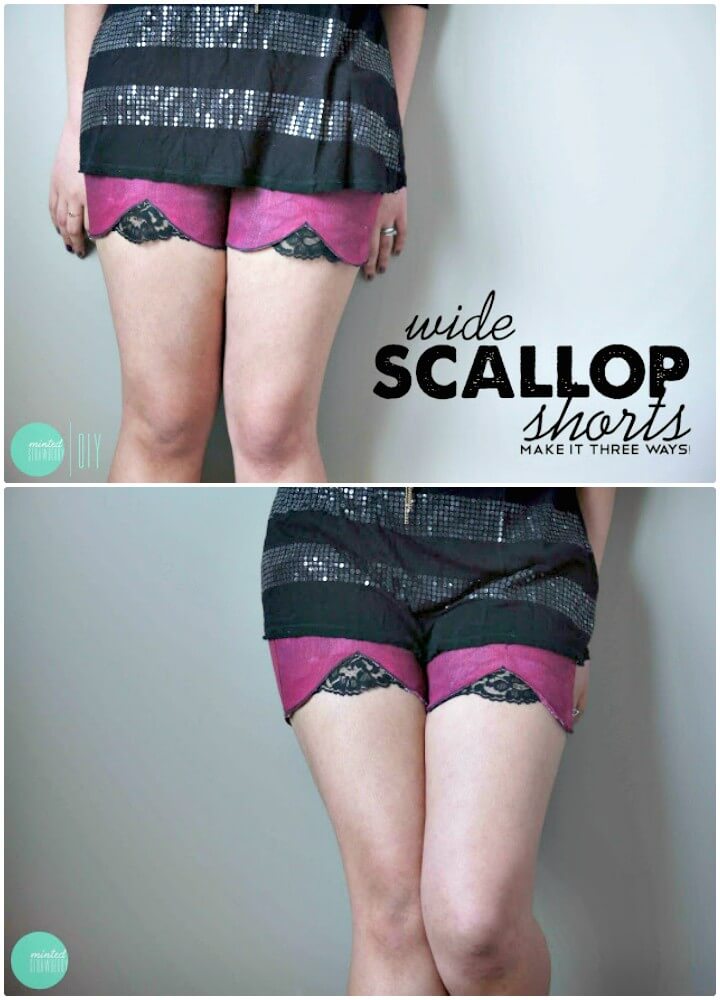 Here is a pair of shorts that has turned out to be so awesome and great that you can wear it in three different fun ways this summer. You need some old denim pants, dye them in your favorite colors and then make those cute scalloped edges with a marker boundary. You can wear it simple, folded up or you can adorn it with some lace embellishment too. Follow the details of the idea right on the link here mintedstrawberry
Make Bleach Dipped Scalloped Shorts: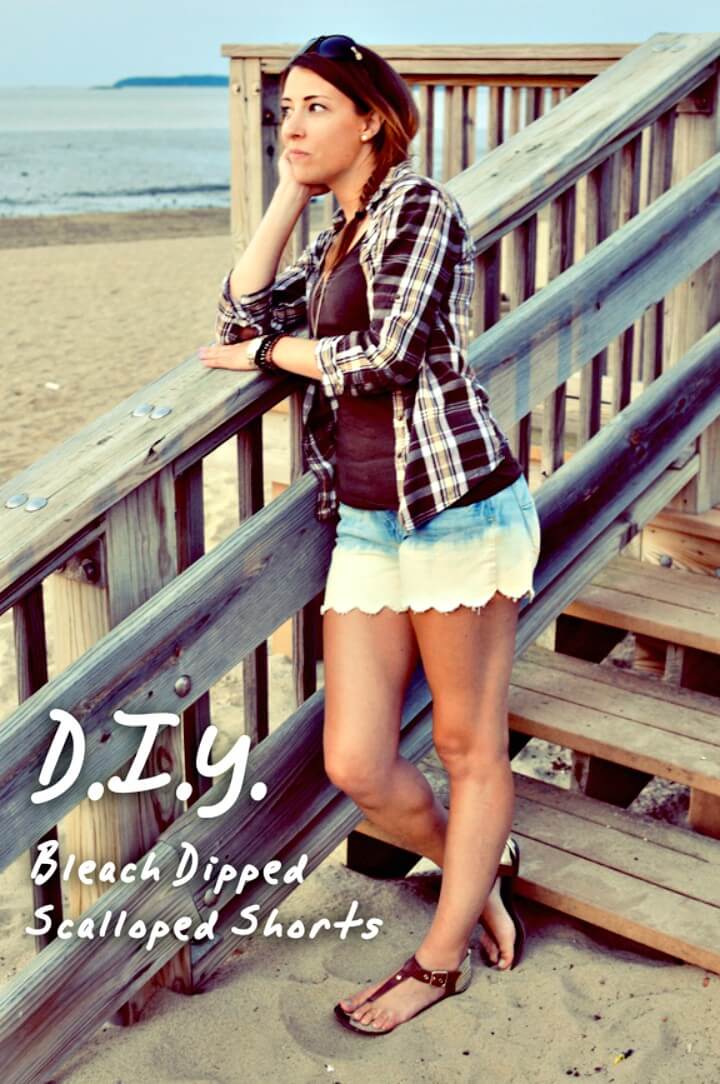 If you are a boho person and you love to create your style statement, then this idea belongs to you. This idea is about a perfect and cool looking pair of shorts that are immense easy and fun to create yourself at home. The shorts are made out of old denim with cute scalloped edging and the bleaching at the bottom that turns it out to be a rocket dress up for the summers.Learn the idea details here creativesoulspectrum
Easy DIY Denim Shorts: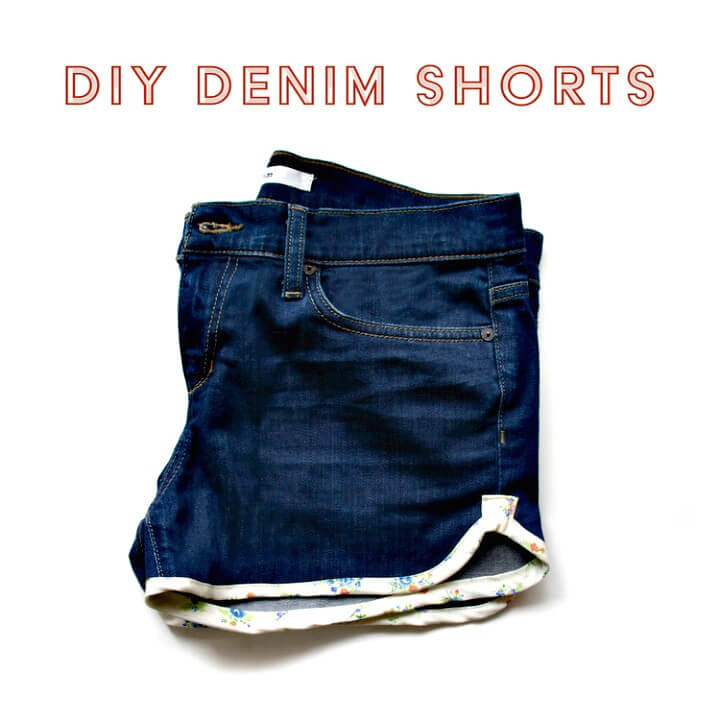 If you are throwing your old pants, then wait for a second to look at this fun and funky short that you can easily make out of that old pant and enjoy the summers more in style. The edges of the shorts have been biasing taped to make the shorts look so unique and fun.Complete details here fridaypatterncompany
Make Your Shorts Bordados: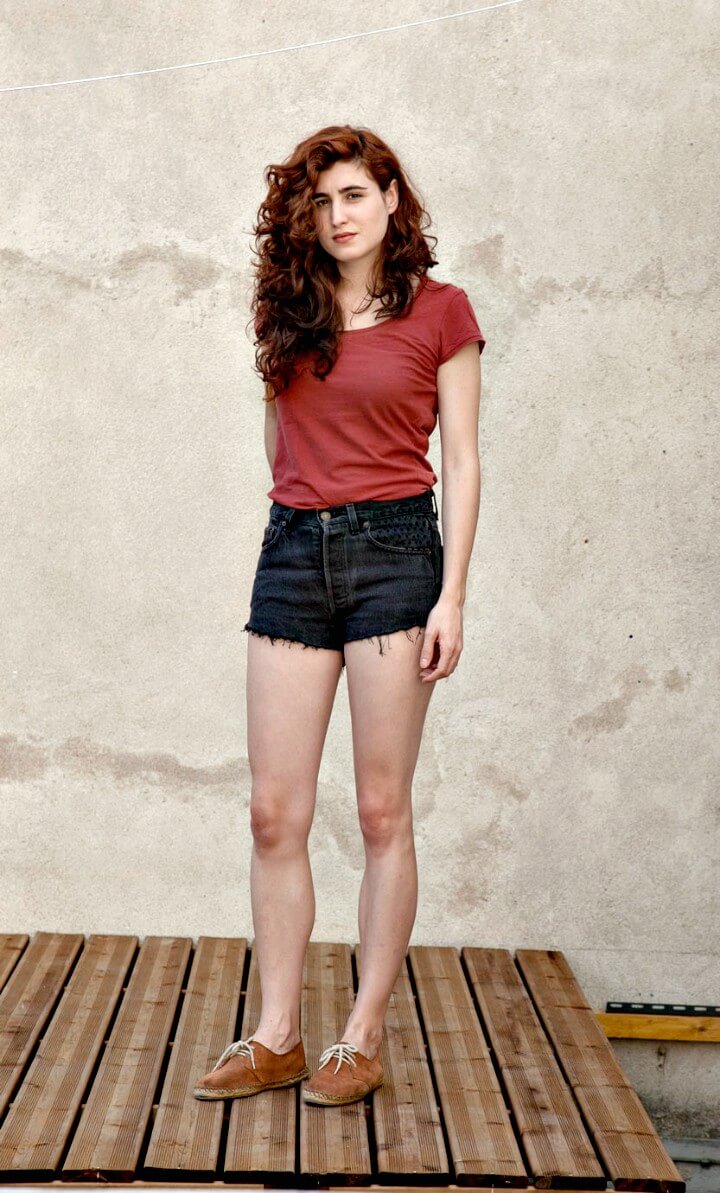 Shorts are the most comfortable things in your wardrobe for the summers, and now you can make them on your own at home with all the custom style and fashion that you want. These gorgeous black shorts have been made out of the old pants with added embroidery balls over the pocket and the natural fringes at the edges.Details of the idea are given here fabricadeimaginacion
How To Make Summer Doily Shorts – 5 Ways To DIY: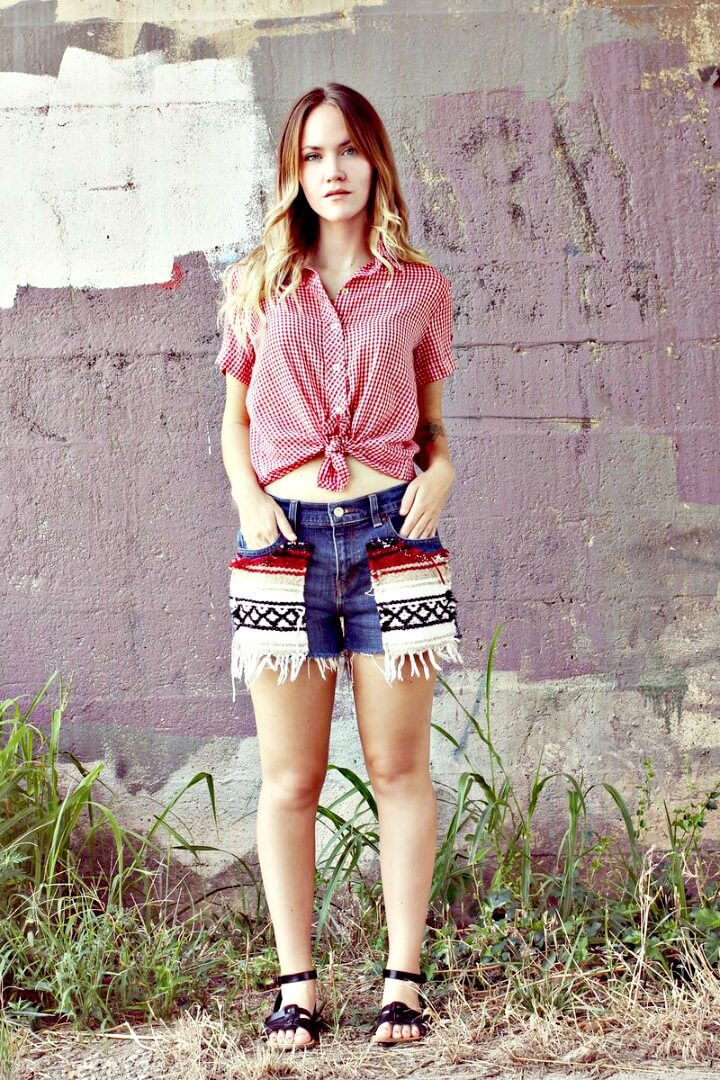 If you got some doilies in the old trunk of your mother or grandmother then its time to take them out and use for the most quirky projects of summer fashion. Yes, you can sew up those fun doilies over the hem of your summer shorts and make them look all boho and chic and so yourself.Details of this gorgeous transformation have been shown here abeautifulmess
Easy DIY Ombre Shorts: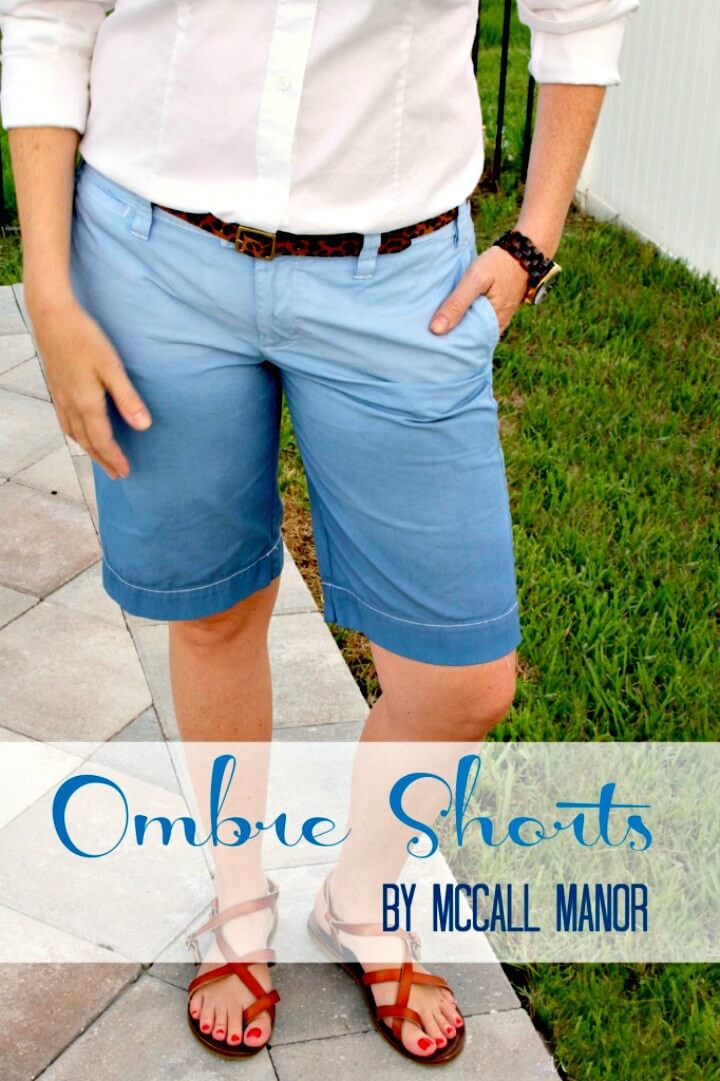 If you can dye your clothes at home then here is another fun idea to go crafty with this summer. Yes, you can cut your old pants into a fun pair of shorts and style it up in the omber of blue and make it look so damn stylish addition to your summer wardrobe. Catch the complete details of the idea right on the link here mccallmanor
Adorable DIY Jean Shorts: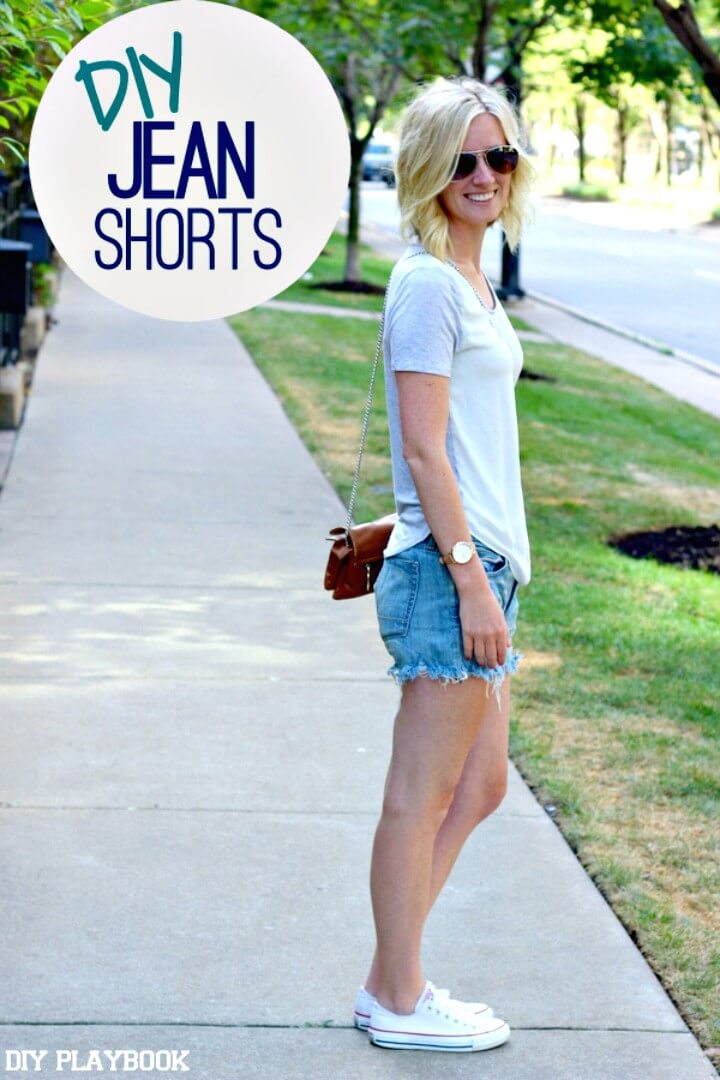 Do not throw your old denims as you can still enjoy some style perks out of it for the summer season. Yes, you can make this super funky pair of shorts by cutting down your pants into your favorite size and then fraying down the edges to make it look super funky and fun.Fully detailed tutorial has been shown here thediyplaybook
How to Sew Shorts in Under an Hour: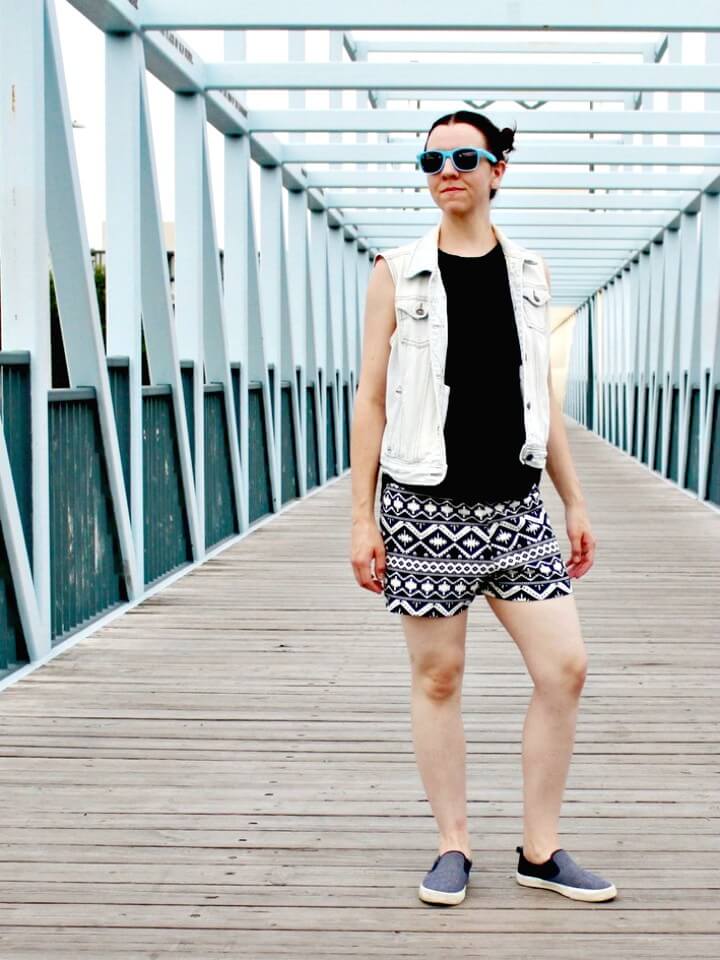 If you are unwilling to pay the excessive prices for those tiny shorts then its time to given them a shot at home by sewing up on your own Yes the shorts are too easy and simple to sew yourself and that too in your favorite colors, pattern and the print of the fabric and thus enjoy you the custom summer collection.. Details of this quick and fun shorts are lying here curbly
DIY Lounge Shorts With Pom Pom Trim: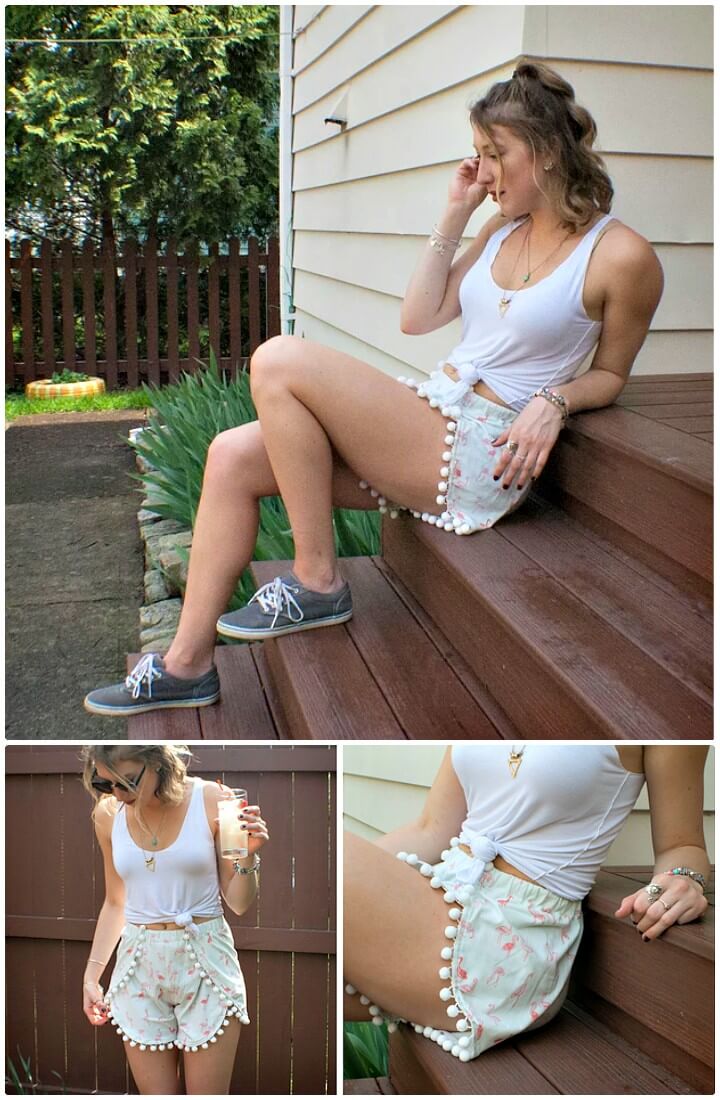 Feel all breezy and free this summer with this super cute and comfy pair of shorts that you can easily sew yourself at home. With the over lapping sides and the lovely pom pom added to the shorts edges it had turned out to be super cool and funky for your personalized style statement in the summer.You can catch the complete details of the idea right on the link here thebohobobbin
Make Your Own Summer Shorts – Free Pattern: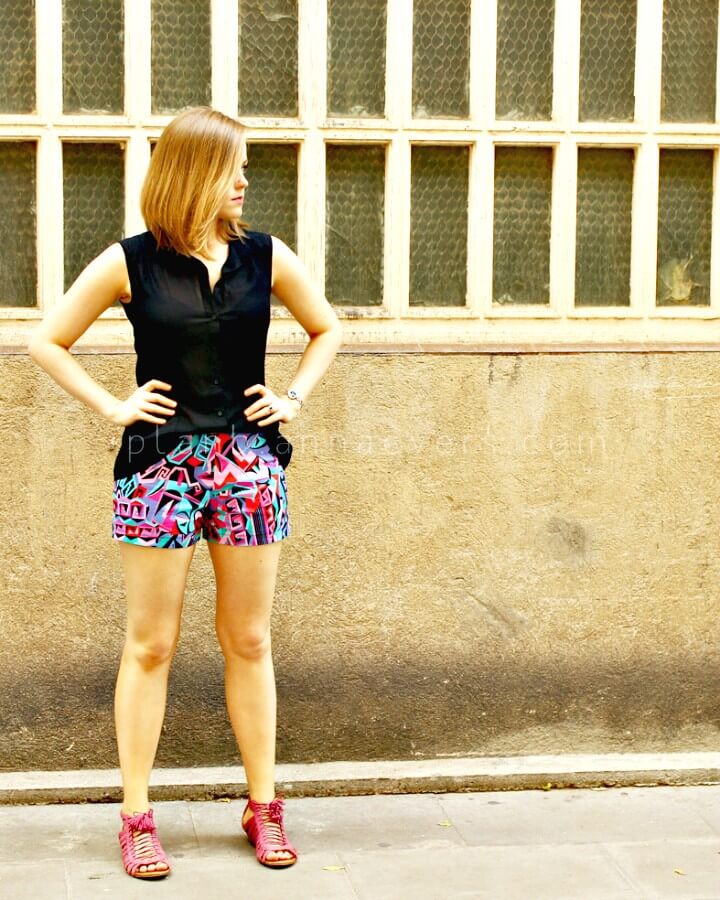 One of the favorite things to pick from the summer wardrobe are the comfy and fashionable shorts and now you can create your favorite pairs on your own and that too with the desired fabric, design and the size instead of spending your precious dollars on the market bought one. You can learn the sewing details of this pretty pair of short here to hack and try this weekend annaevers
How To Make Summer Shorties For Kids: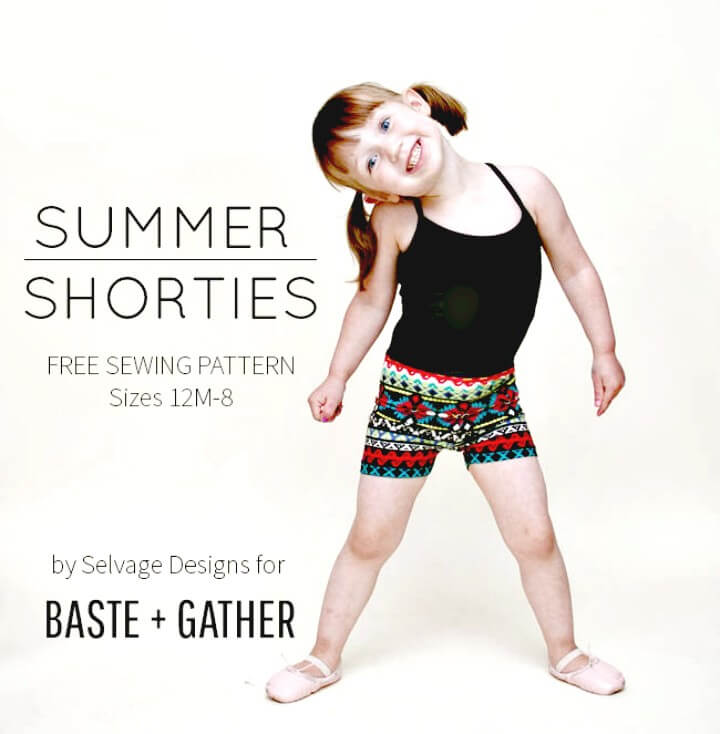 Summers are for all the outdoor fun, games and gatherings and it would be icing on the cake if you are dressing up in the most comfy and easy pair of clothes are which are no doubt the shorts for every one. So for your little ones you can easily sew up some pretty and fun pairs of the shorts in exciting colors and prints. You can check out the details of the sewing here with all the instructions and the details basteandgather
Beautiful DIY Shorts for Kids: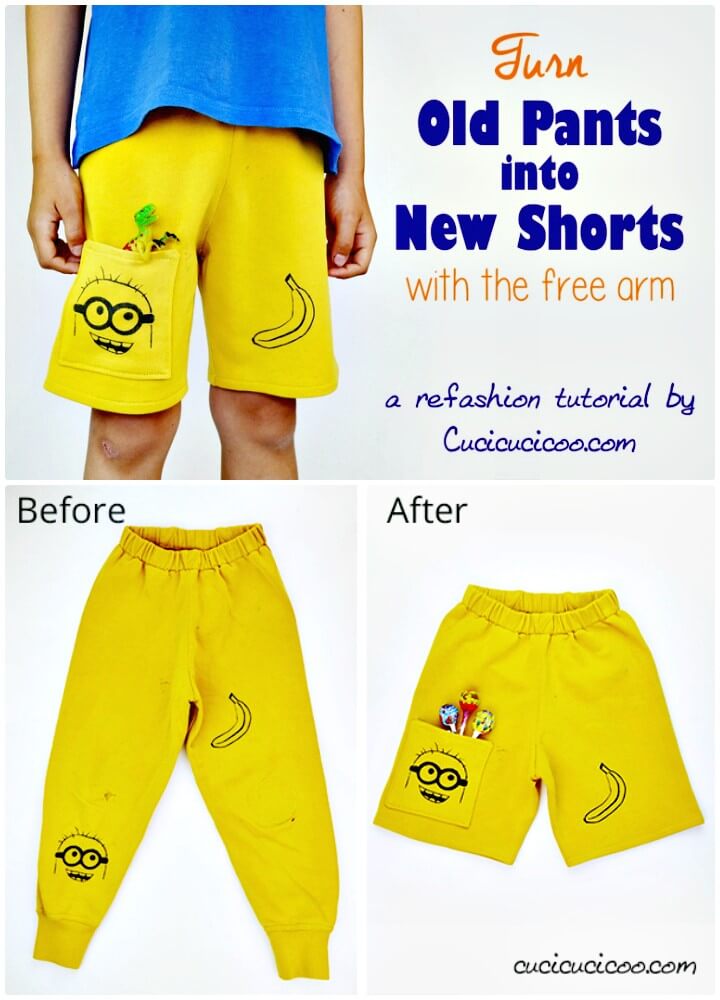 You can save yourself a lot of money when you have the ability to refashion your old clothes especially for the kids. So here is this super cute and fun idea of turning their old pants into the funky and loose shorts that they would feel so much feasible and comfortable in.Details here cucicucicoo
How to Sew Shorts: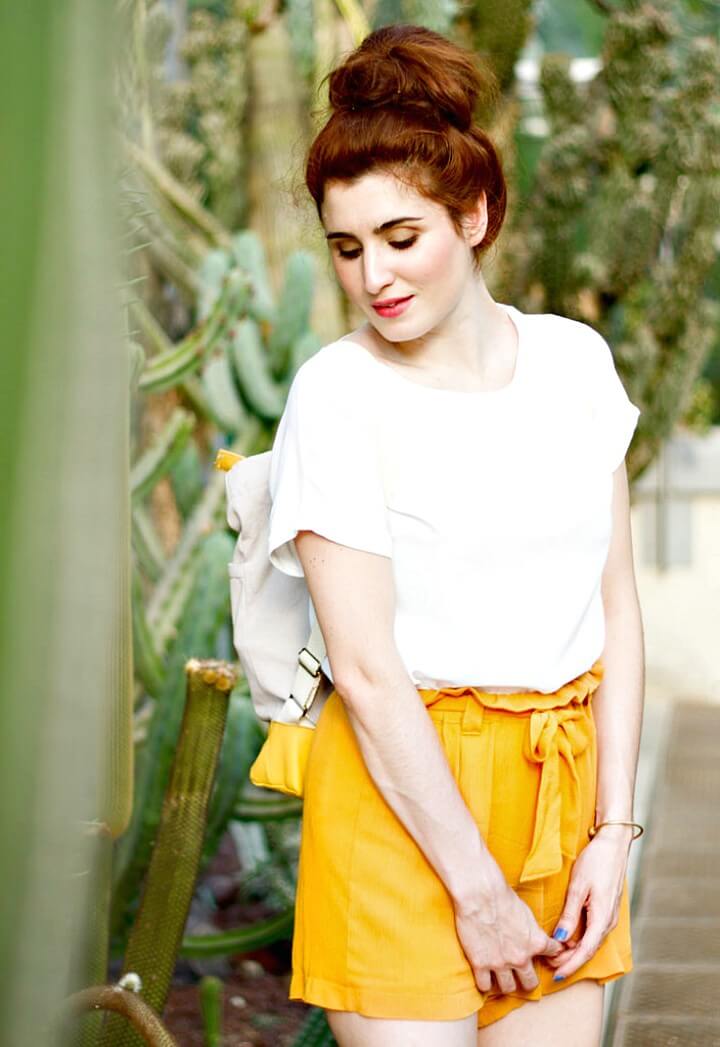 If you loved those in fashion paper bag pants then its time to give them a shot this summer and style up yourself for a perfect vacation in the summers. Here is the short version of the gorgeous paper bag pants with the belt that you can make with super ease at home in a really quick and fun sewing session given here with all the details and the instructions fabricadeimaginacion
Make Cut-offs With A Fabric Hem And Side Knots: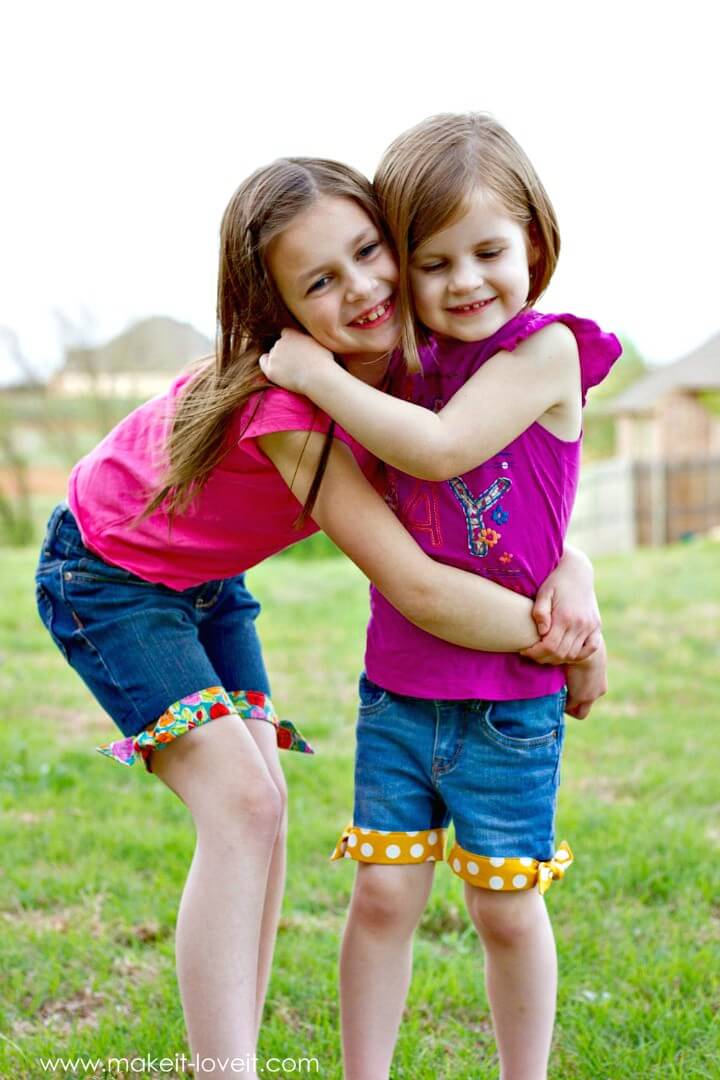 If your kids do not want to wear those old jeans of them, then you should really be making these really cute and boho shorts out of them and thus make the most out of those old jeans. The shorts have been spruced up with the fabric hem and the pretty tie knots at the edges in bright and delightful colors making the kids look so boho and chic.You can learn to sew them on your own right here makeit-loveit
Cute DIY Toddler Gym Shorts: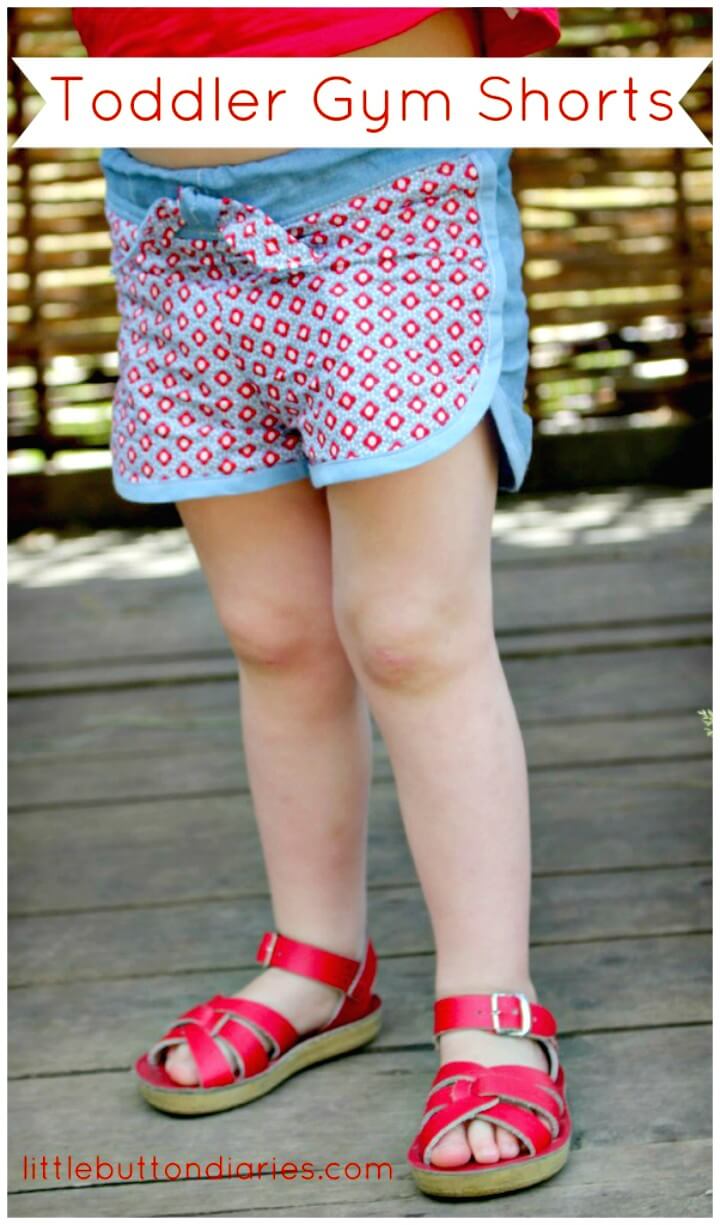 If you got some lightweight fabric lying around in the house, then you should be giving it a crafting shot by creating this fun pair of shorts out of it. You can even combine the two fabrics with pretty prints and design and get this really cool and funky pair of shorts for your toddler and h would love to roam around in it.You can check out the details of the idea right on this link littlebuttondiaries
Easy DIY Summer's Cut-off Jeans Shorts: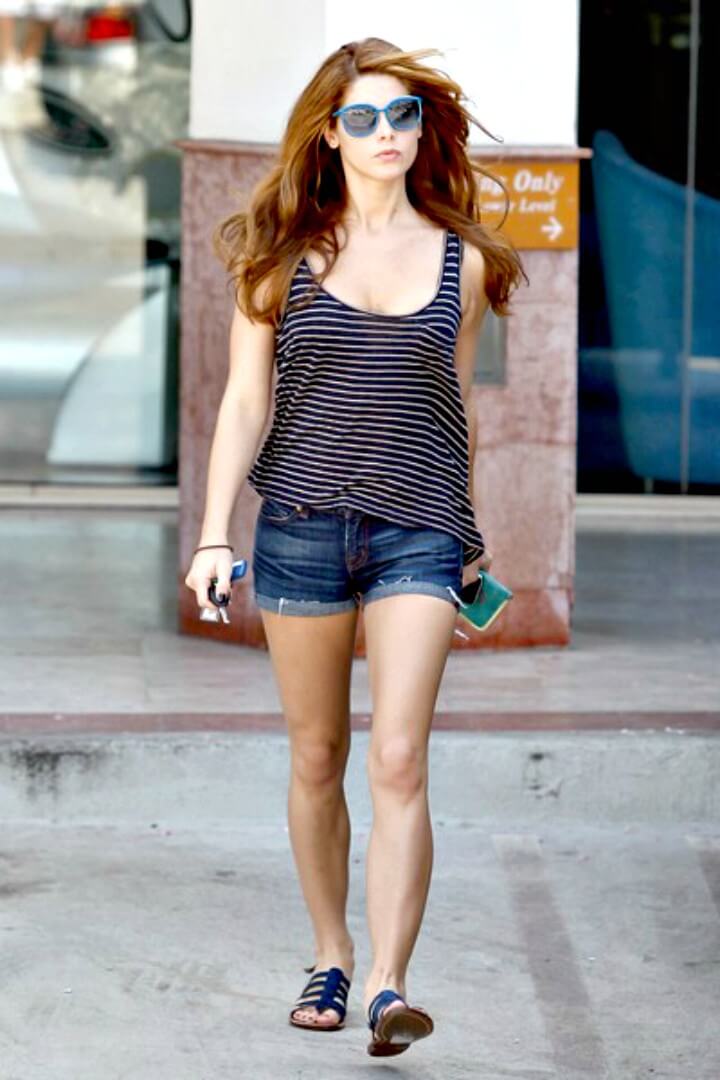 You can easily get a super stylish and comfy pair of shorts and that too at zero cost. Yes with an old pant being cut off into your desired size shorts with up folded edges making it look so much more stunning and fun. You can check out the details of the idea right on this link so that you can have the same kind of shorts too
How To Sew Shorts From Pants: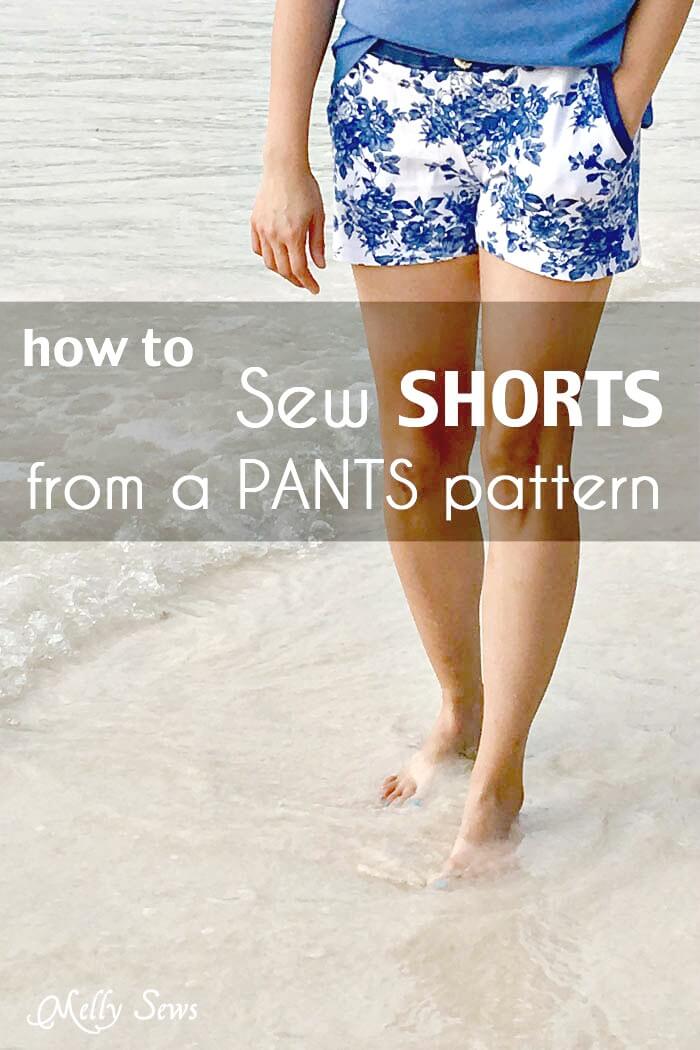 While planning for your beach trips in the summer, you should be packing shorts in your beach bag too as they are too comfy and airy to wear and roam around the beach. So if you do not have a funky pair, then you can easily make one out of your pants by cutting it short down your size. You can watch the complete tutorial here mellysews
Easy DIY Shorts With Pockets: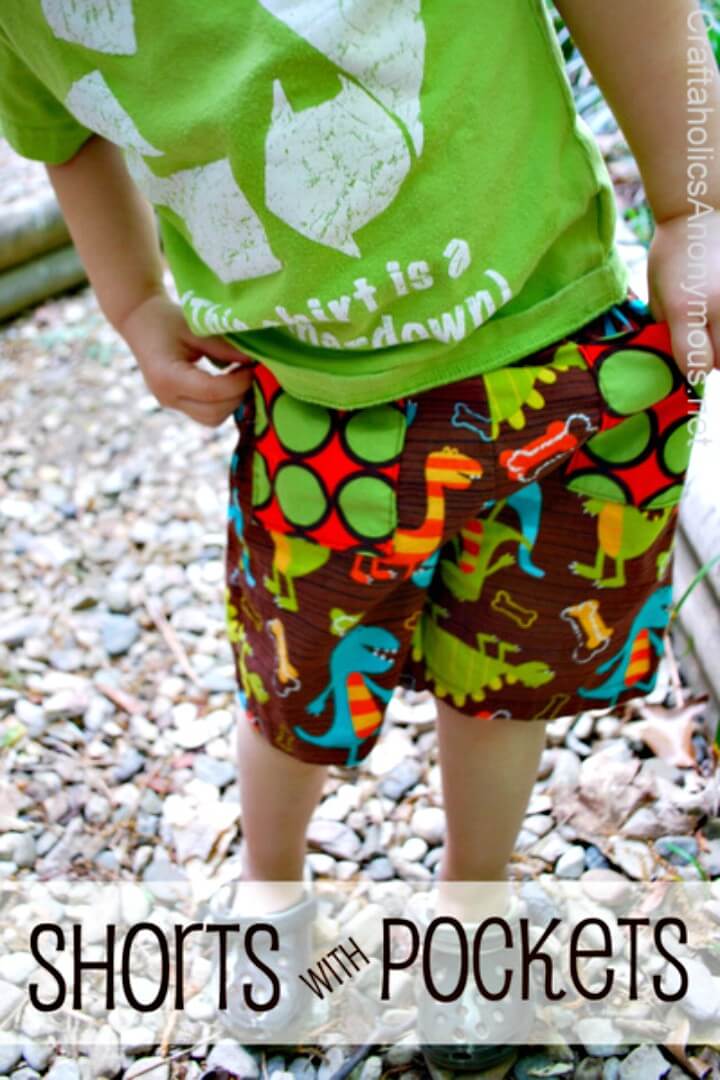 You can take your kids to the fabric mart and ask him to choose his favorite fabric and then make this super cute pair of shorts for the summers to feel so comfy and breezy around the house while playing or doing any other outdoor stuff. Complete sewing details here growingupgabel
How To Sew Floral Pleated Shorts With A Bow: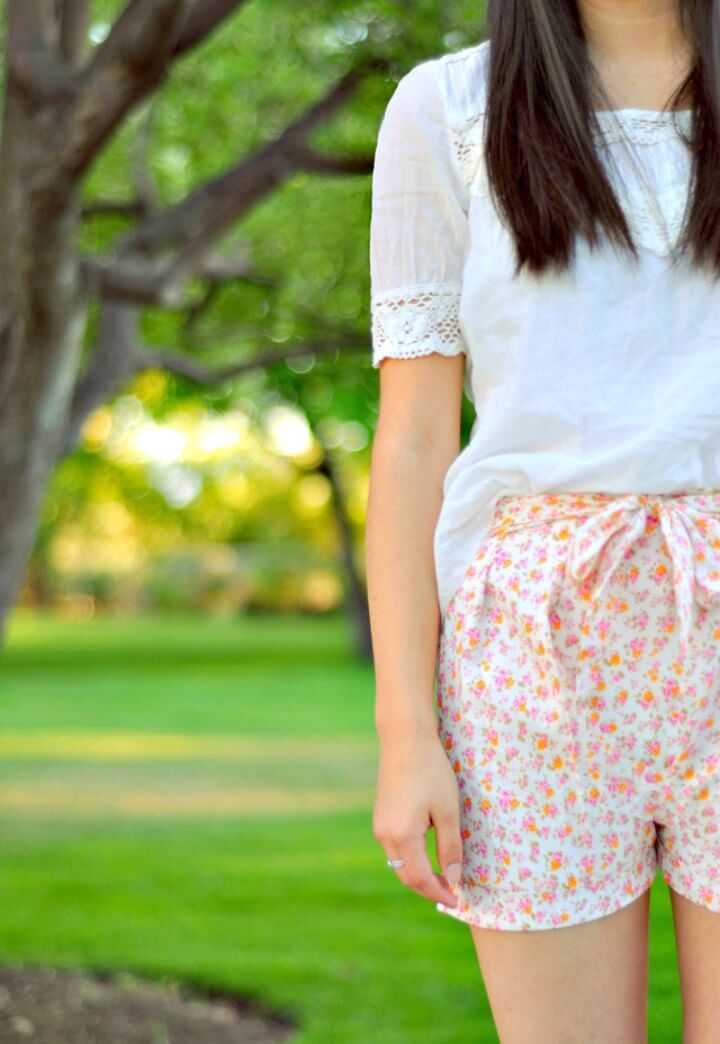 Floral patterns are so much whimsy and fun for the summers and here is how you can make the most out of it for your summer fashion and glam up look. You can sew this pretty pair of the shorts with pleats and a tie belt to wear around the house for your casual days while working in the garden and so much more to feel completely relaxing and fun in them.You can check out the details of the idea here cottonandcurls
Create Indian Summer Shorts: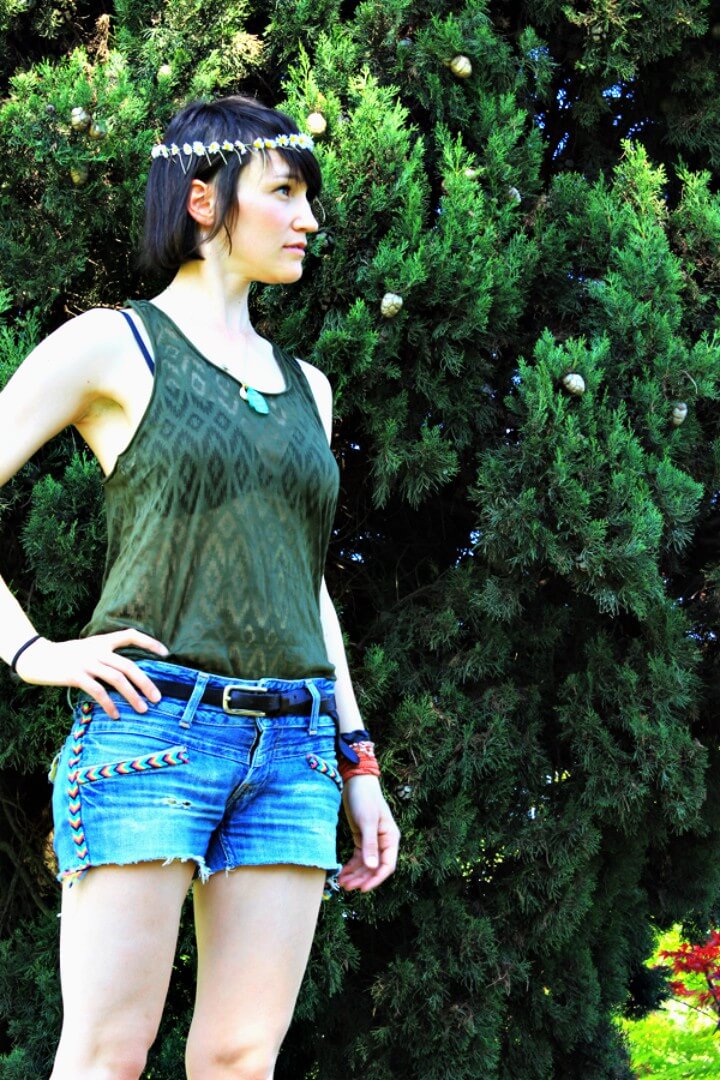 Here is how you can make your shorts look more funky and stylish for the summers and that too without costing too much. Yes using the colorful yarns you can make these pretty chevron ribbons and then glue them up on the pocket and side hems of the shorts and they are ready to rock.Step by step details are here look-what-i-made
How to DIY Bleached Shorts: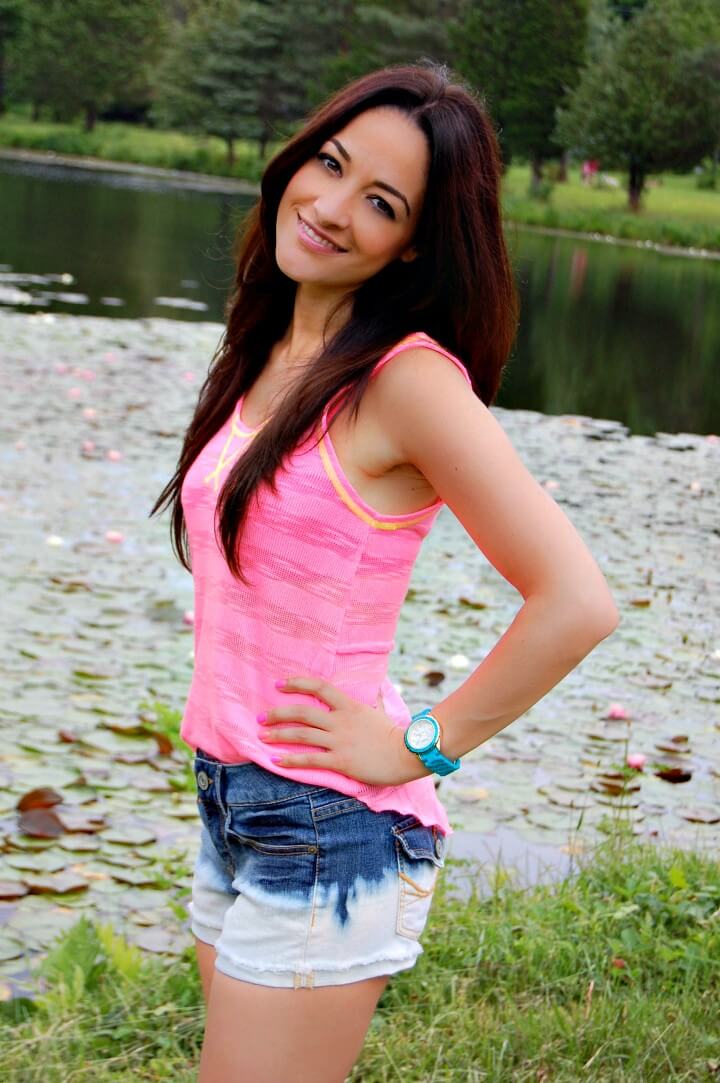 There are so many ways to adopt the custom style and fashion and here is a cool idea to get your hands on this summer. SO while you choose the shorts to wear in the summer you can bleach them before and thus turning them into a more funky and fun possession for your wardrobe.Complete details here made2style
Stylish DIY Shorts Hem With Bias Ribbon: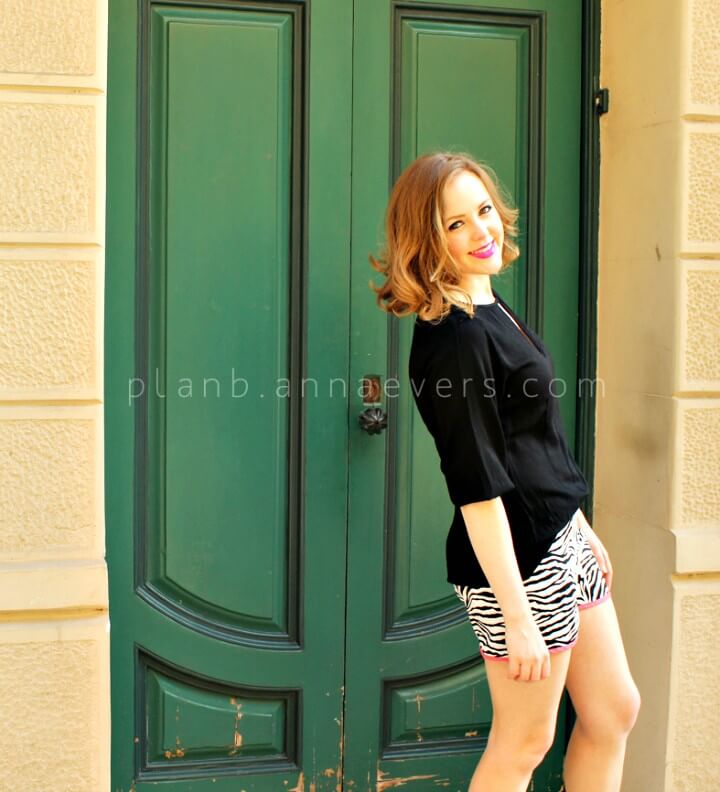 If you got some cool and light weight fabric lying around that is shorts in length then you can make these pretty shorts out of that fabric. To make your shorts look more cute and pretty you can add a lovely bias ribbon hem at the edges like the pink has been done here.Fully detailed tutorial is here planb.annaevers
How To Make Origami Shorts: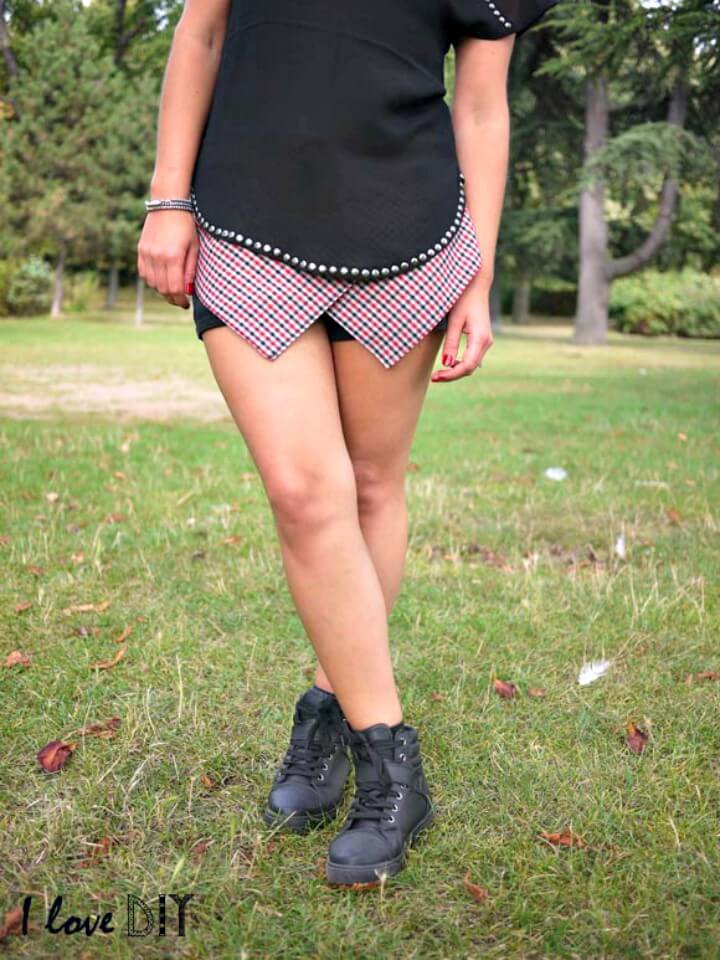 If you want to try something different and fun with your shorts this summer then this idea of making the origami shorts is really cool and nice to work on. So over a plain black pair of shorts a cool in design fabric has been sewed up in origami pattern making it look so much cool stylish. It would really cheap, fun and quick to do project so do hack the idea here ilovedoityourself
DIY Lace Jean Shorts: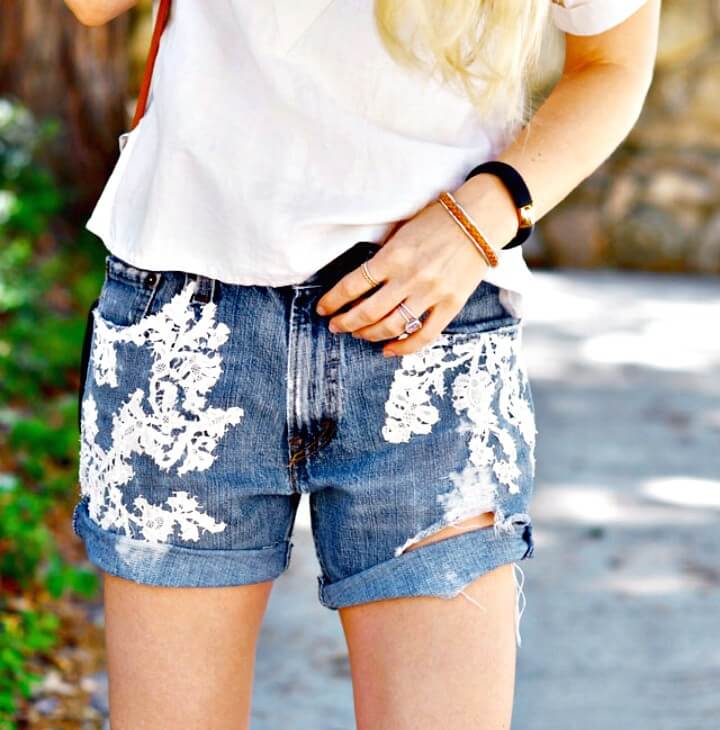 If you are having some lace pieces left in your sewing stash basket then its time to take them out as you can perfectly use them to fashion up your old and boring pair of shorts. With its lovely vintage appeal it would surely become your favorite pick out of the wardrobe in the heating weather.You can check out the details of the idea right on the link here lovemaegan
Easy DIY Shorts with a Faux Skirt Front: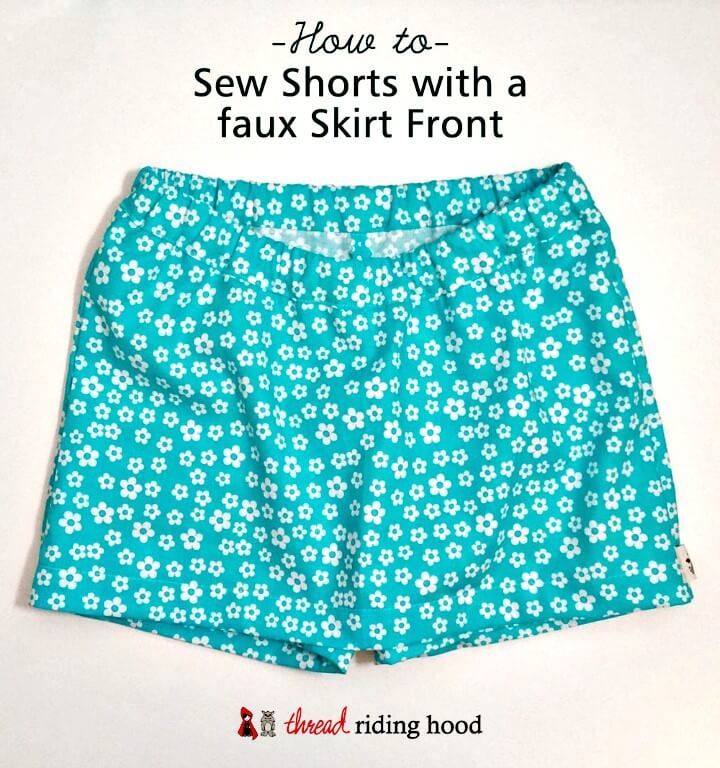 The little girls love skirts and the shorts are too comfy for the summers and now you can combine both of them and create this super cute pair of shorts with a faux skirt front. It would be super easy and fun to sew yourself at home in pretty colors and delightful patterns and here is the link to check out the complete details of the idea threadridinghood
Beautiful DIY Runner Lace Shorts: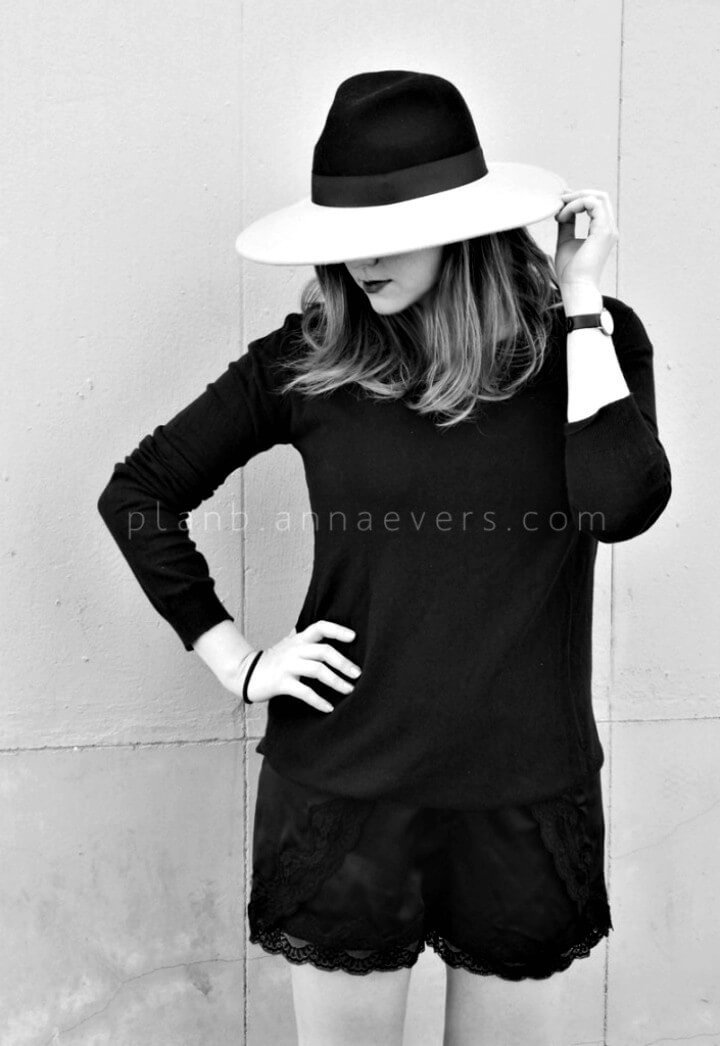 When you are the crafty person you have like endless opportunities to funk up your wardrobe for any of the season and fashion trend. So this summer, spring or even for the autumn weather you can literally pull off this sexy pair of lace shorts in black having been made out of your old pajama pants with the lace trims.Complete details of the idea are shared here planb.annaevers
How To Sew Pajama Shorts For Summer: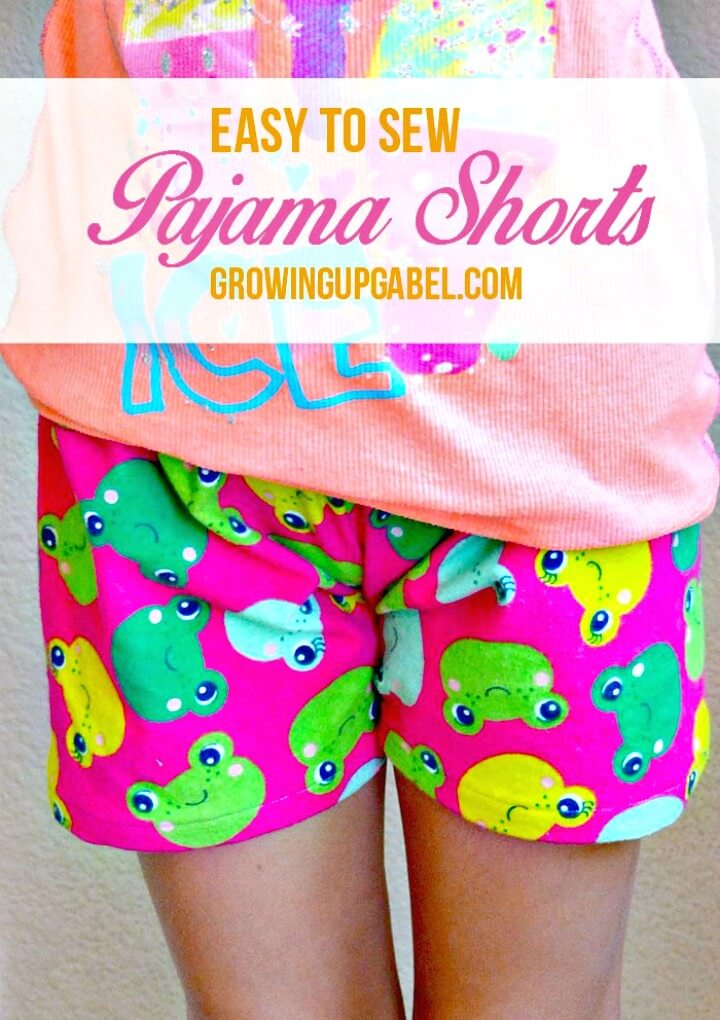 Kids are in so much love with their pajamas and if you kid do not want to get rid of his old pajama then you should really be plunging into this idea of creating this super cute pair of shorts out of the pajamas so that he does not miss his lovely shorts.Here is the details of this cool pajama short tutorial
Make Your Own Striped Board Shorts: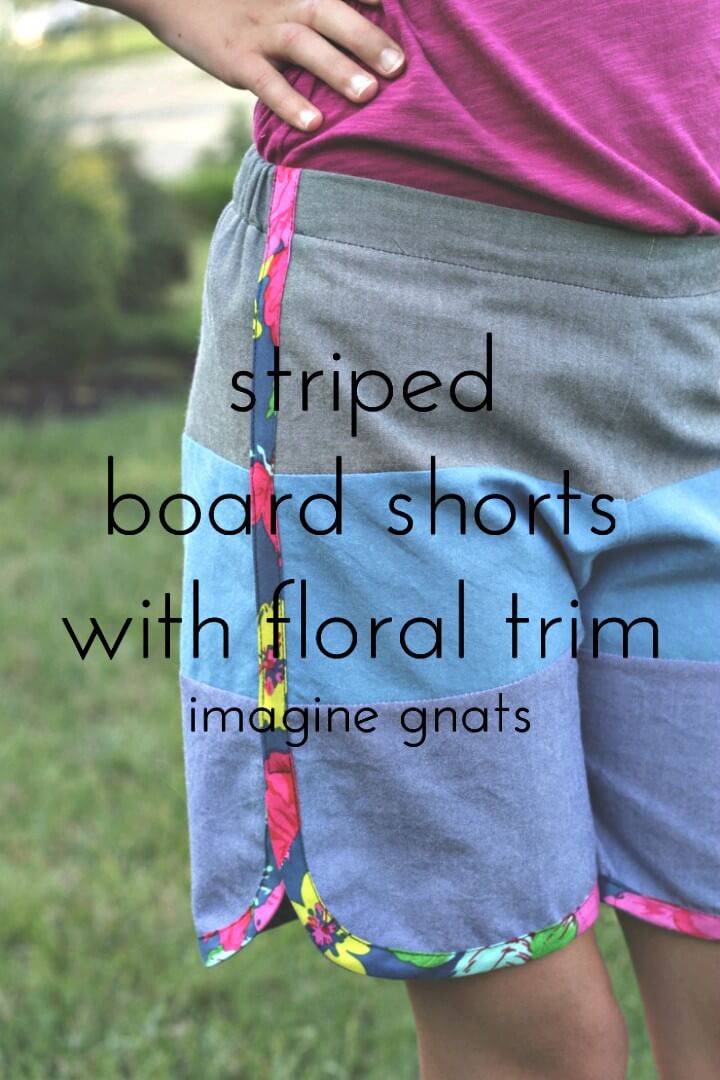 If you got some colorful pieces lying around in your stash basket then its time to bust it off in a super stylish and fun way by creating this lovely pair of shorts for your young girls. This pretty striped shorts have also been fashioned up more with a floral trim that makes it look even more better and cool. You can hack this cool and chic idea of shorts right here on this link imaginegnats
Easiest DIY Jean Short Tutorial:

Either you are off to a concert, a pool party or a beach trip shorts can be your perfect dress up to enjoy your summers in. And just like the never getting old tattered jeans you can enjoy wearing these pretty and distressed shorts too which re super easy and fun to sew yourself at home. Complete guiding tutorial has been shown here onecrafdiygirl
Easy DIY Mom Jean Makeover: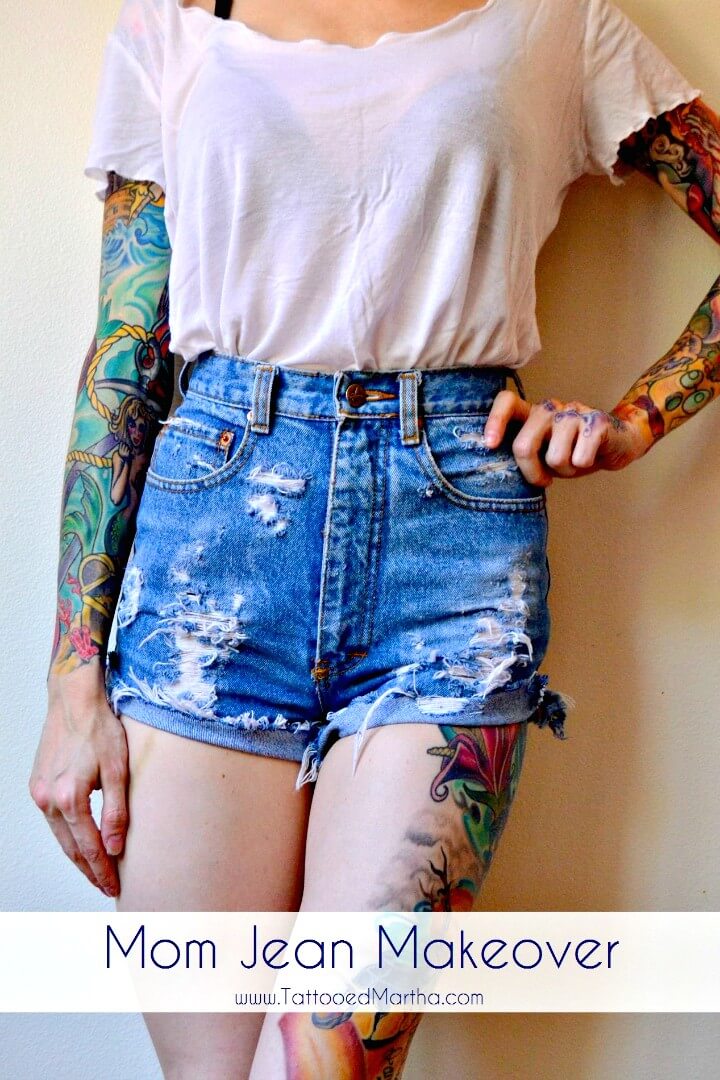 The old jeans can be beautifully transformed into the cool and fun looking shorts for the summer fashion and thus saving your lots of money. So here is the idea of covering your old jeans into a lovely pair of vintage shorts with some ripped off work on the front to add more to its style and appeal. You can learn the details of the idea here with easy steps tattooedmartha
Easy DIY Gingham Sash Shorts: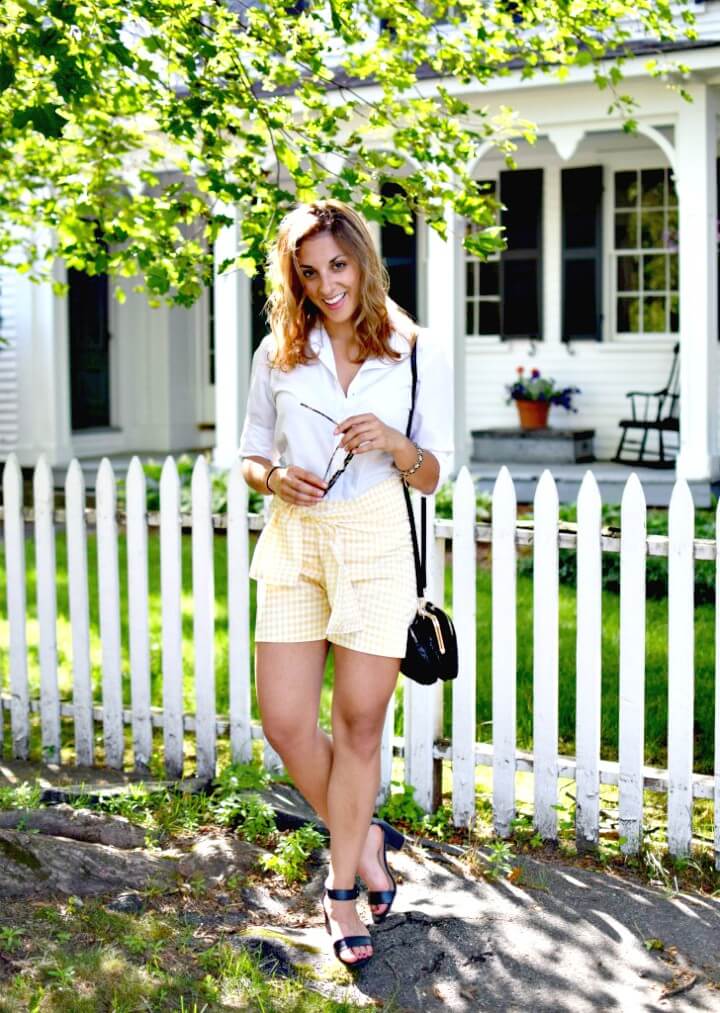 Even you can look classy and elegant in the shorts you if you have this beautiful pair of gingham shorts with you to carry around in summers while you are vising your friends, colleagues or any other outdoor trip. They are super easy and fun to sew yourself at home that too using your favorite color, design and the fabric. Catch its sewing details right here onecrafdiygirl
Adorable DIY Sequin Shorts Tutorial: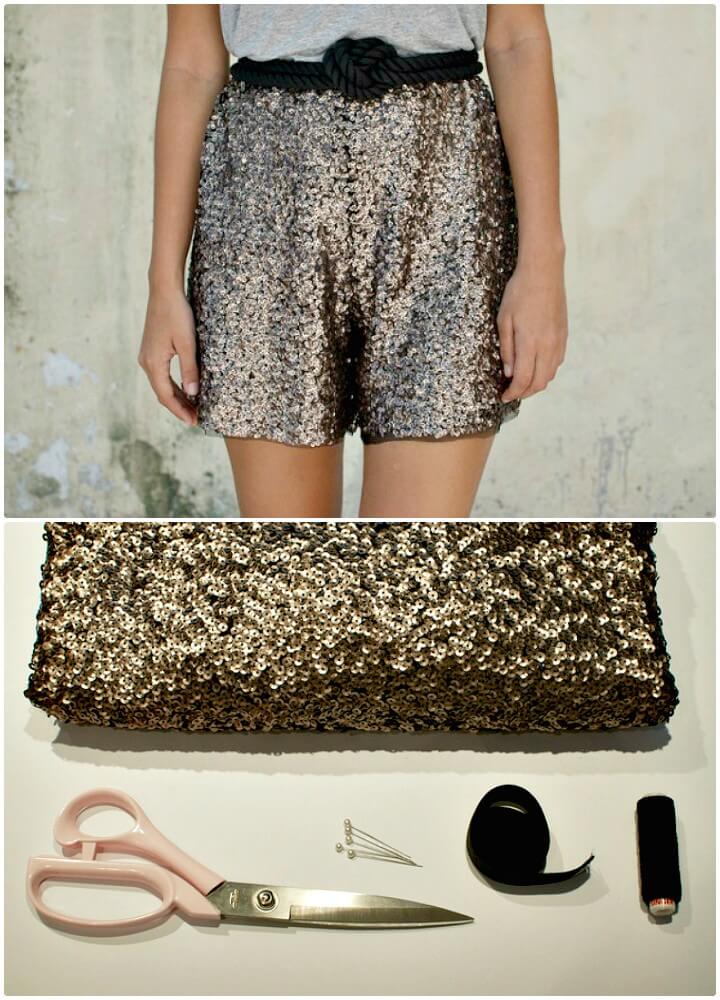 Not only for the casual wear you can easily make some pretty and classy shorts for your party and dinner wear too. Here is this shimmery and glittery pair of shorts having been easily made out of the sequin to look so much stunning and glamorous either you are going for a day party or you are getting dressed for a dinner night.You can check out the details of the idea here apairandasparediy
How To Make Studded Shorts and Stuff: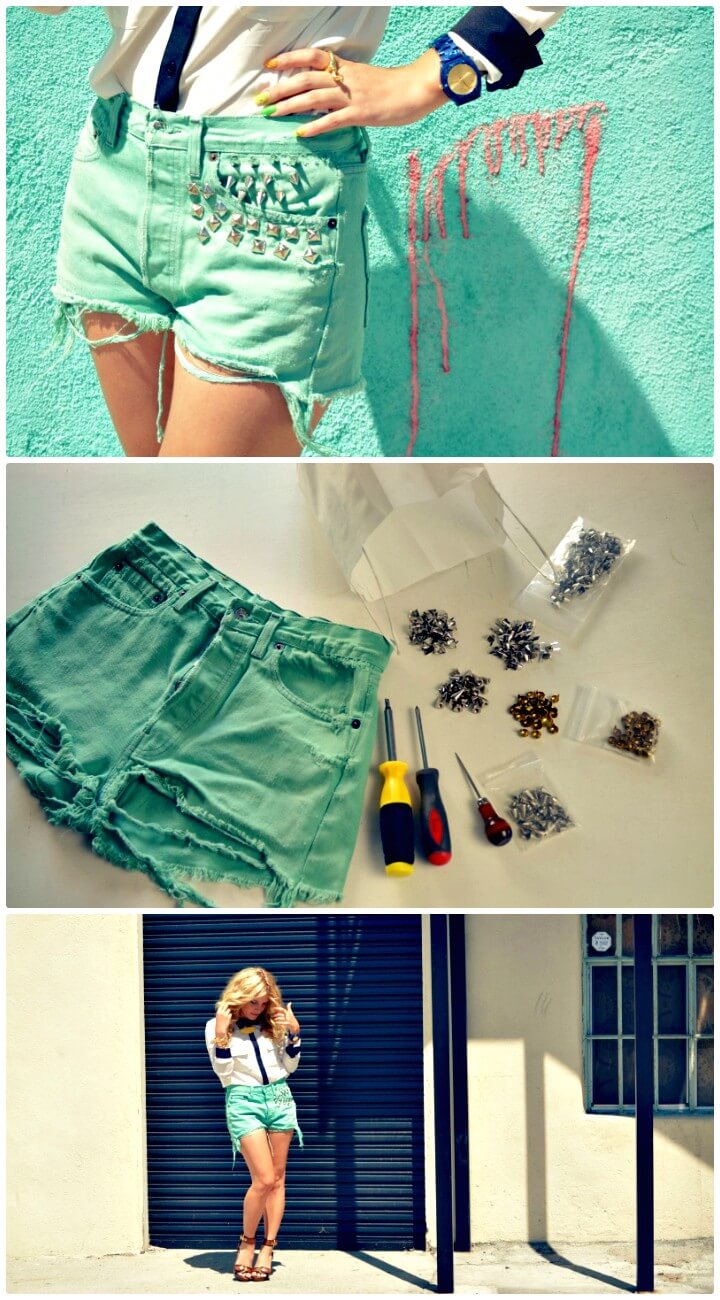 If you have colored jeans that have retired and they are now just resting on the shelves in the cupboard , its really the right time to give them another chance. Yes by cutting them off into the shorts and then adding some cute studs and gems on the sides you can really make them look cool and boho and get a stunning look for your summer parties or trips. Step by step details here mrkate
Easy DIY Lace Shorts: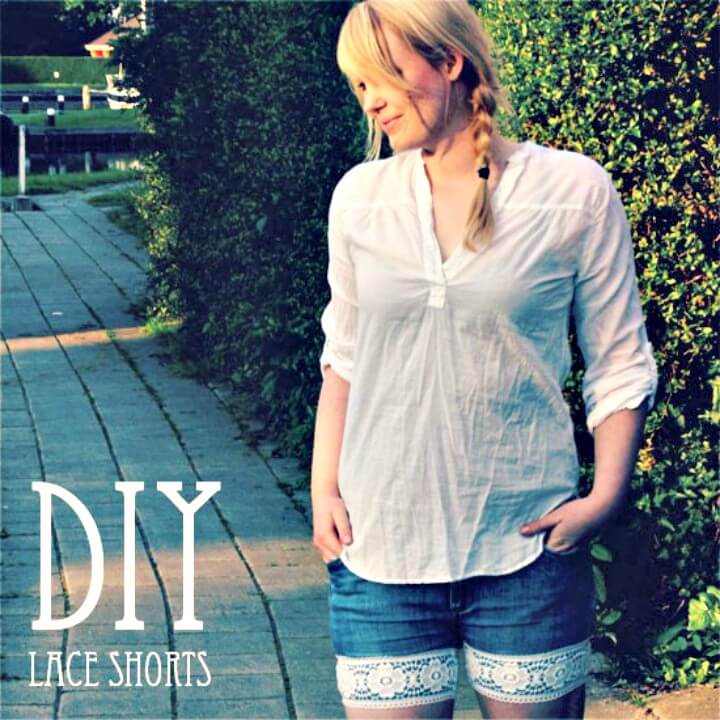 There are so many ways to add custom style and fashion to your summer look and your summer fashion as well. So if you are so into the shorts and tees for your summer dress up, then you can glam up your shorts with the lace trims at the bottom, and they would turn out to be pretty and cool. The details of adding lace to your shorts have been shared here bywilma
Gorgeous DIY Scarf Print Shorts: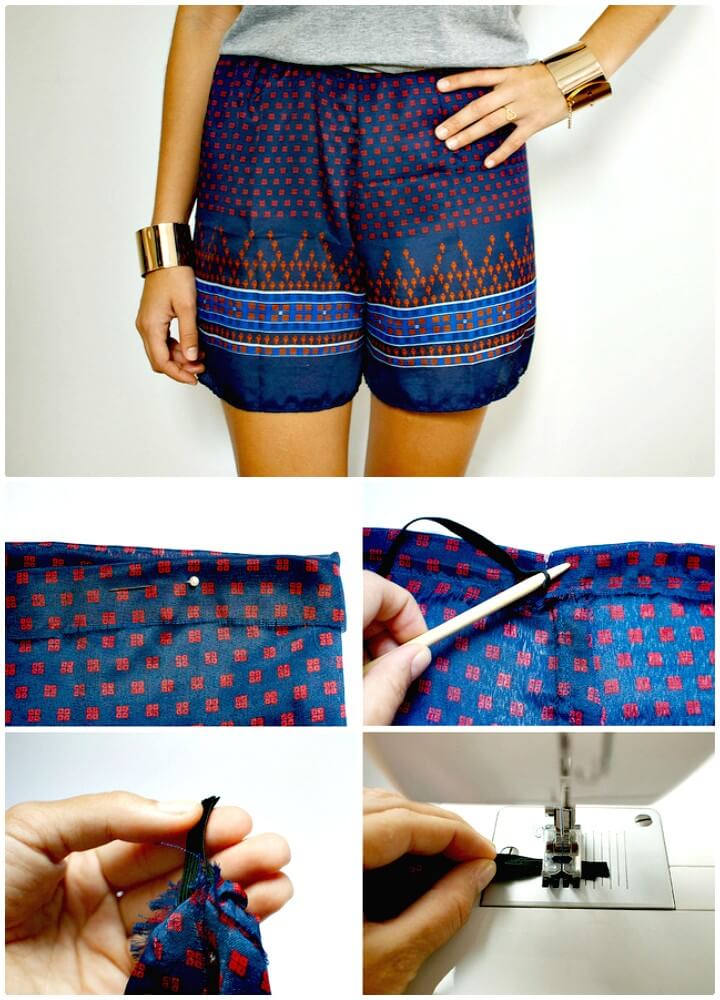 If you are looking for a cheap yet totally unique in style pair of shorts than those out of the jeans and the old pants then here is the perfect idea for you. Yes with the pretty scarves hanging in your wardrobe rod you can easily sew this funky pair of shorts that you can easily pull off for a party, festive or a dinner. You can check out the details of the idea right here apairandasparediy
DIY No-Sew Scalloped Shorts: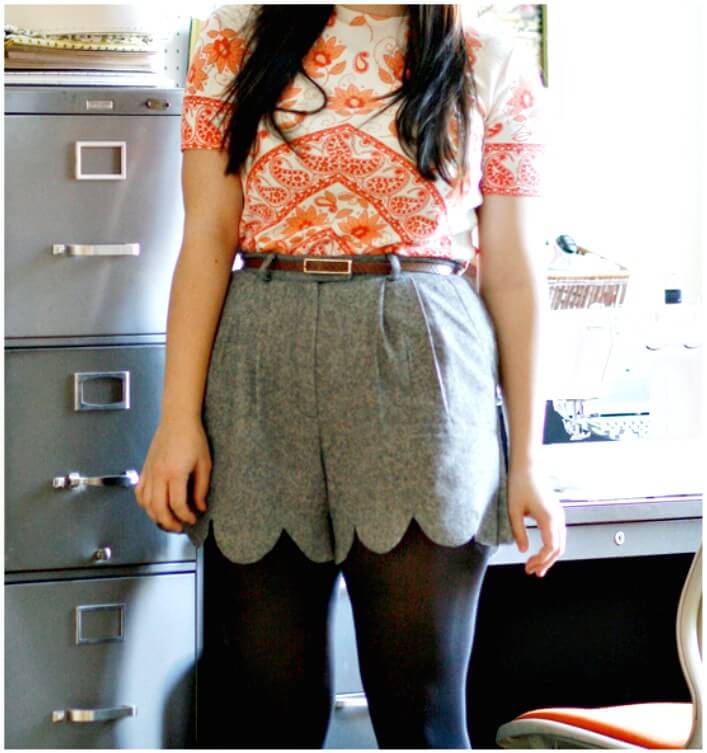 Even if you are sewing person, you can easily pull off some cool shorts projects to add some fun dress up possession in your wardrobe for the summers juts like this utterly fashionable pair of shorts having the scalloped edges at the bottom a without any sewing involved. Just cut off your pants and then taking a round item you can cut out these semi circle instead of trimming and it's done.You can get the detail and guidance here candimandi.typepad
Easy DIY Tie Dye Shorts Fashion: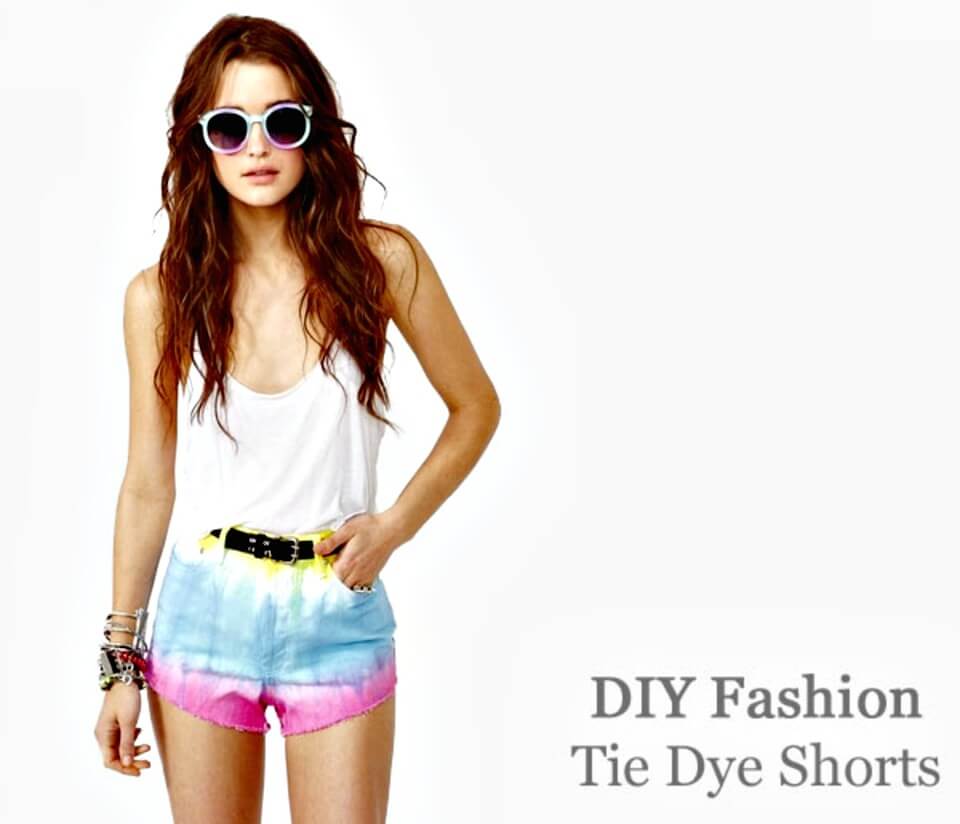 You can make the funkiest kind of shorts for your teens too and here is the idea of doing that on your own at home. Yes you can take their short and dye them in one of multiple colors, and they would surely turn out to be cool and fun, and your teens would fall in love with them.You can check out the details of the idea right on the link here collegefashion
Gorgeous DIY Watermelon Shorts: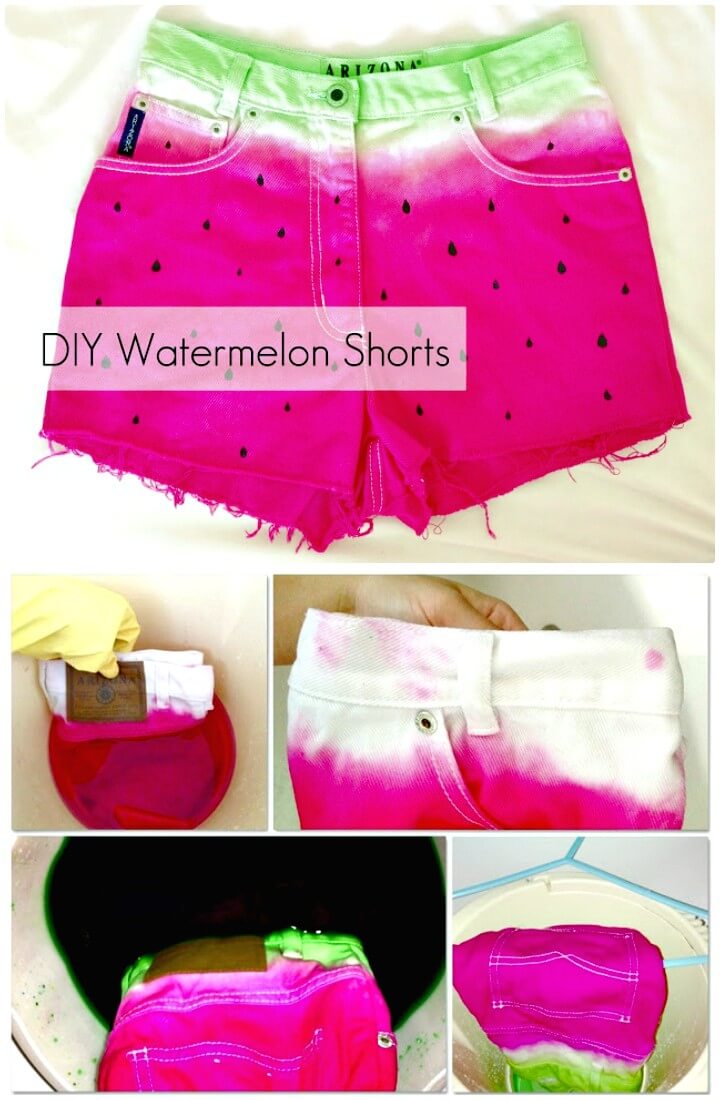 One of the things that excite us a lot about the summers are the water melon, and you can add some water melon touches to your wardrobe too. You can dye your shorts in the water melon colors, and you can create some black dots for the touch of water melon seeds and tada! you are ready to look super fancy and fun.You can check out the complete details of the idea right on the link here thescienceofhappy
DIY Perfect Pair Of Denim Shorts: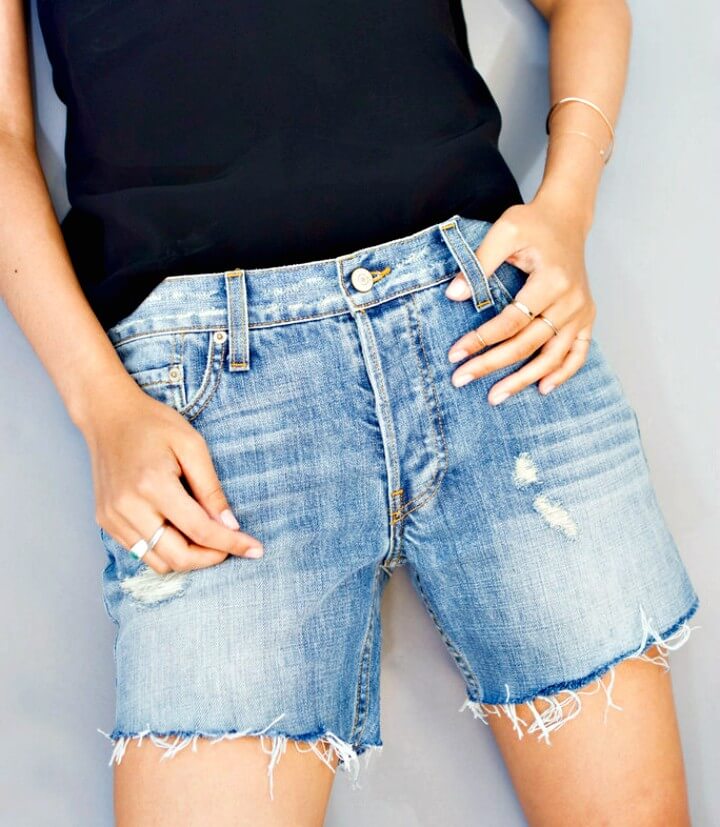 Cutting your old pants into the cool shorts is the easiest way to get your hands on the shorts and save yourself some dollars. You can get one out of your old jeans, and you can leave the edges untrimmed to get a distressed and rough look that is so trendy about the jeans. Easy and fun details are given here so that you can easily follow to get one for yourself instyle
Cute DIY Sleep Shorts: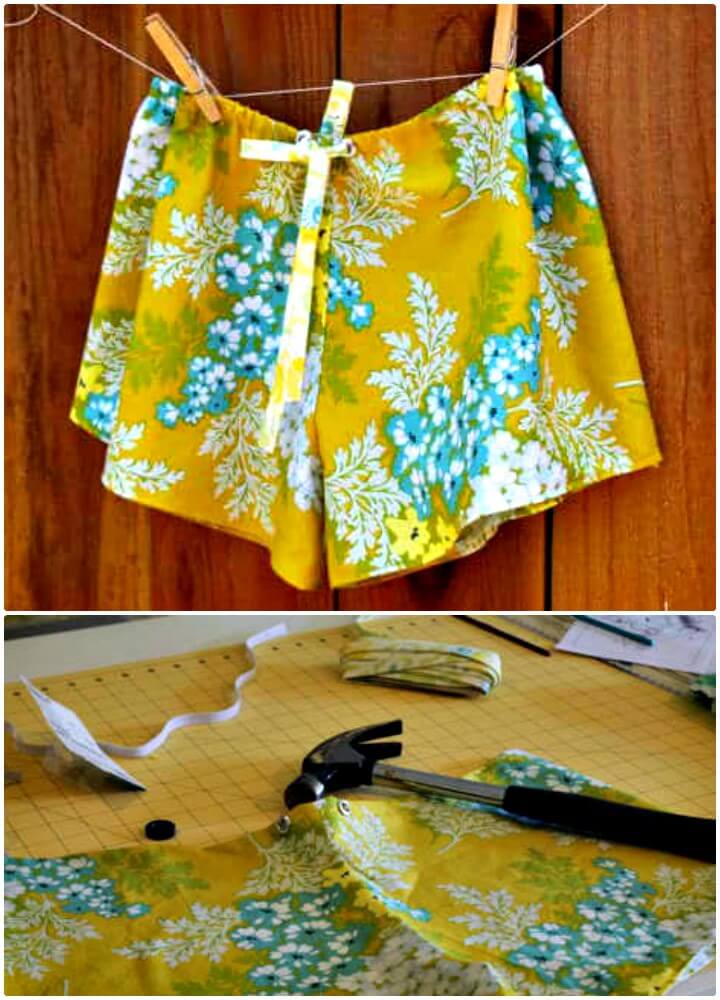 If you are in the habit of sleeping in the shorts, then you should be considering this really cute and comfy pair of shorts to sleep in style every night. It has been made out of floral printed fabric with a tie off straps making it look more custom to be used as the sleeping one pair of shorts.Here are the step by step details showing how easy it is to sew yourself at home prettyprudent
Turn Your Old Jeans Into Cutoff Shorts: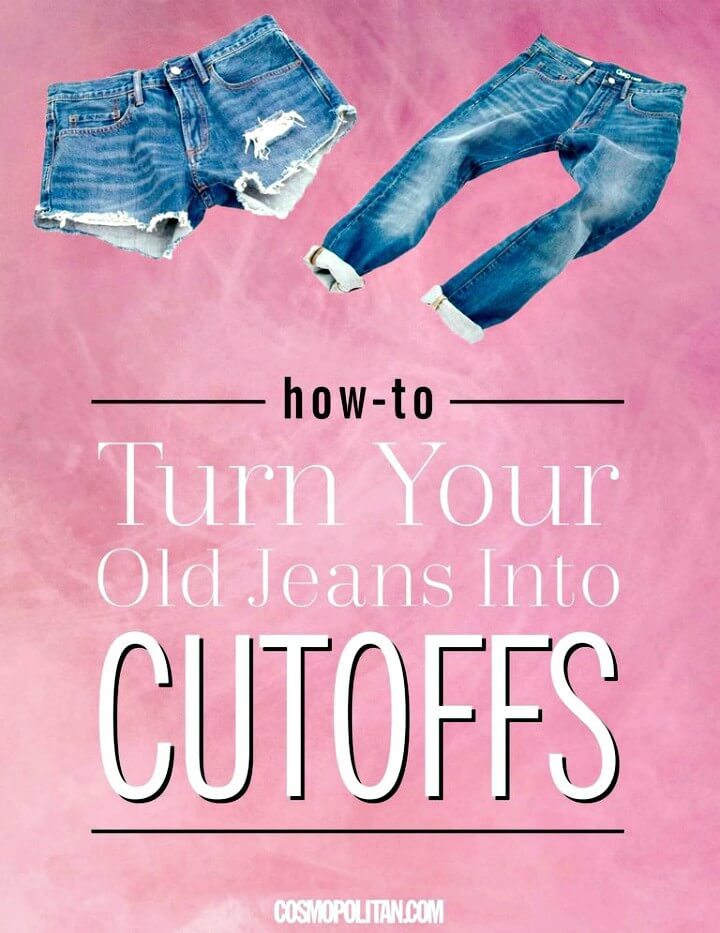 There are so many things that you can make out of the old jeans, and the most adored one is this pair of shorts to be attained out of it. You can cut your jeans into the desired length of your shorts and use your tweezers or blade you can wear it out any the front and they are ready to be paired with any tee, tank and also rock the heels.Learn the details here cosmopolitan
Easy DIY High Waisted Distressed Denim Shorts: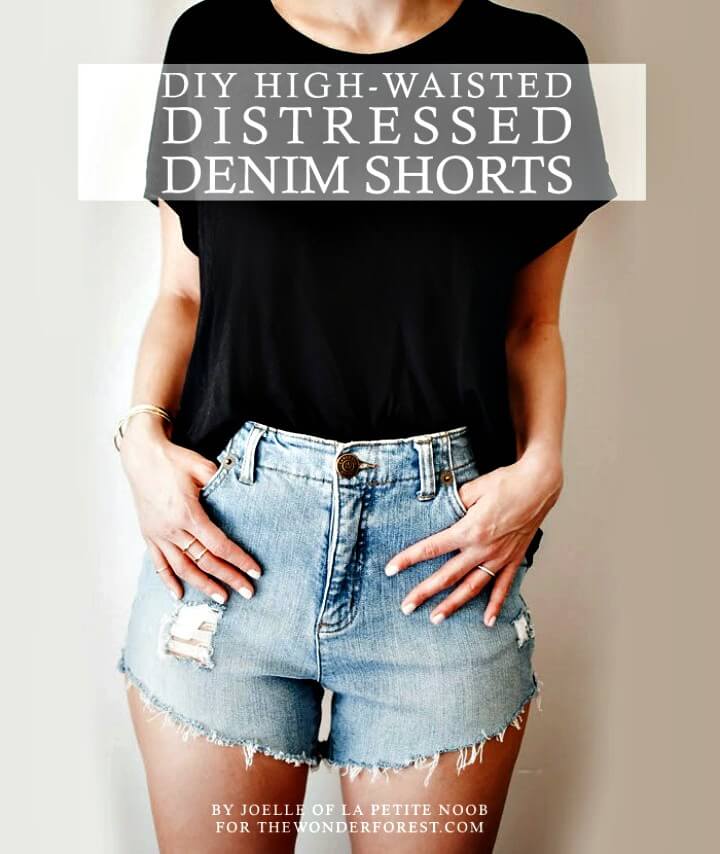 The old denims are so much comfortable and cozy that we never want to get them tossed off. So here is the idea to refashion them in your style by getting a fun cut offs out of it. You can cut it down to shorts and then rip it off at some places for that worn out look and its ready to be your favorite pick up for the summers. You can check out the complete details of the idea here thewonderforest
How To Make Distressed Shorts: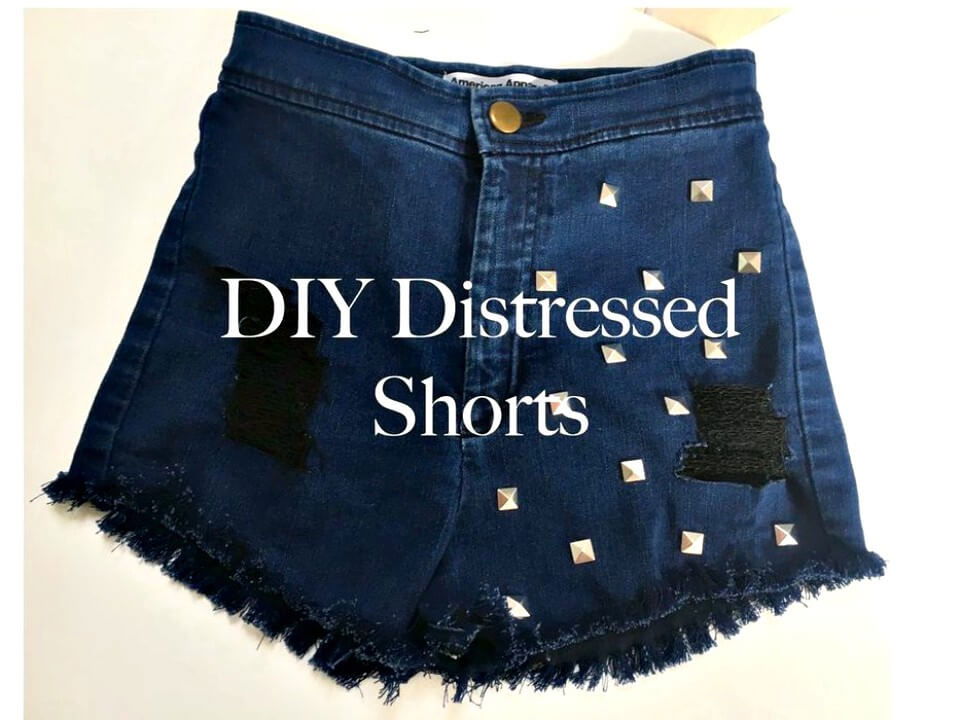 There are many ways to make your simple and boring things look so much spruced up and this pair of funky and boho shorts is the perfect example. yes, you can cut your pants to the shorts, add fringes to the edges and some studs to the side near the pocket and you got your chic pair of shorts to look super stylish and awesome in. You can learn the details of the idea right on the link given here instructables
Beautiful DIY Heart Short Tutorial: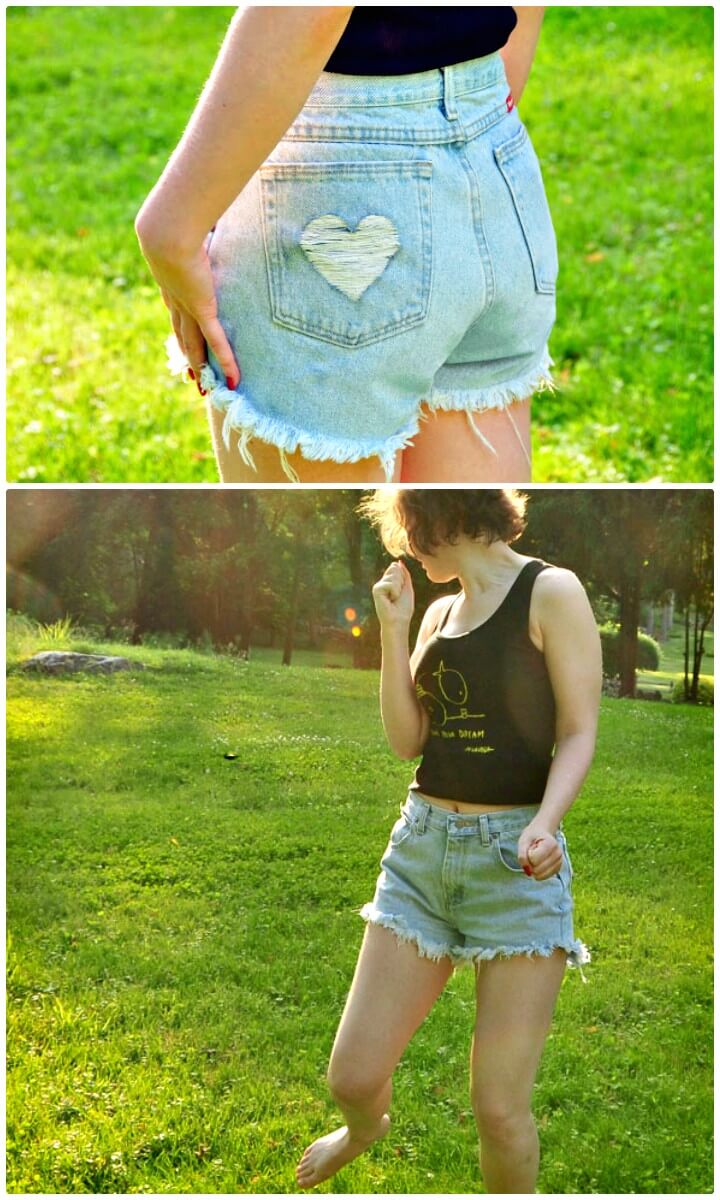 TO make your jeans look all worn out and distressed is not a new fashion but still, you can add some unique and fun touches to this jeans art and here we got you the idea. You can cut off your jeans to your favorite fun shorts for the summer and then using your blade or tweezers you can create a heart at the back pocket, and thus so easily and nicely you can get a total custom and boho piece of shorts.You can check out the details of the idea right on the link here soimakestuff
DIY Lace Shorts – Urban Outfitters Inspired: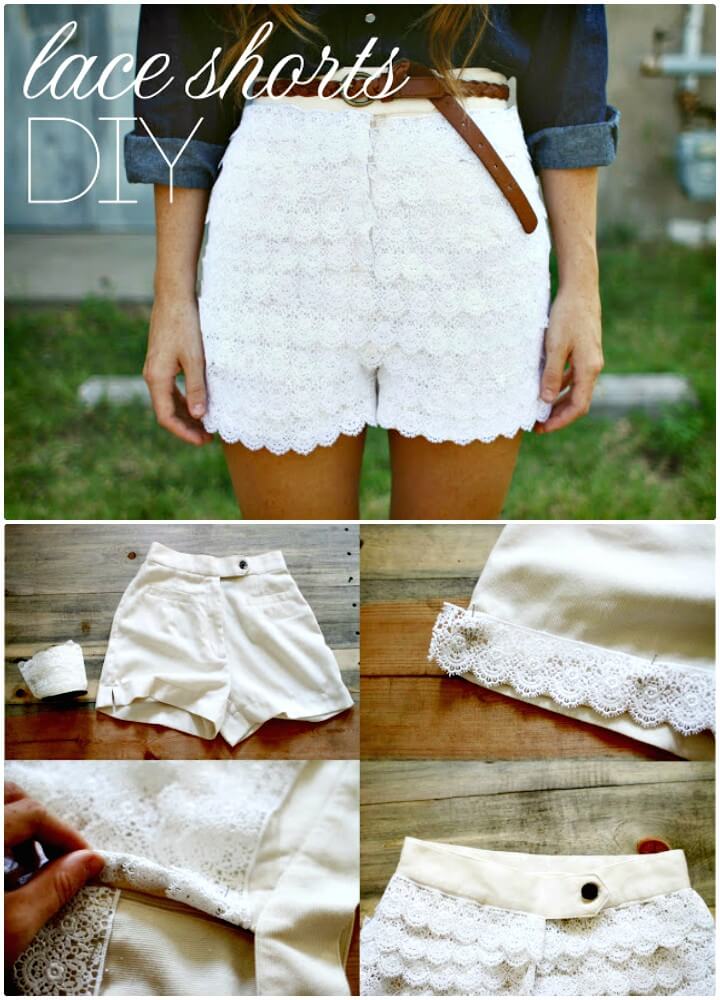 A simple but creative and fun idea can change your dress up when you are creative and stylish at the same time. So this summer season while you are planning to feel free in your favorite shorts you can fashion them up a bit.Yes by adding layers on the shorts you can easily turn it into a cute and fancy dress up for a nice summer eve or a barbecue night with your friends.You can check out the details of the idea right on the link here sincerelykinsey
Gorgeous DIY Embellished Shorts: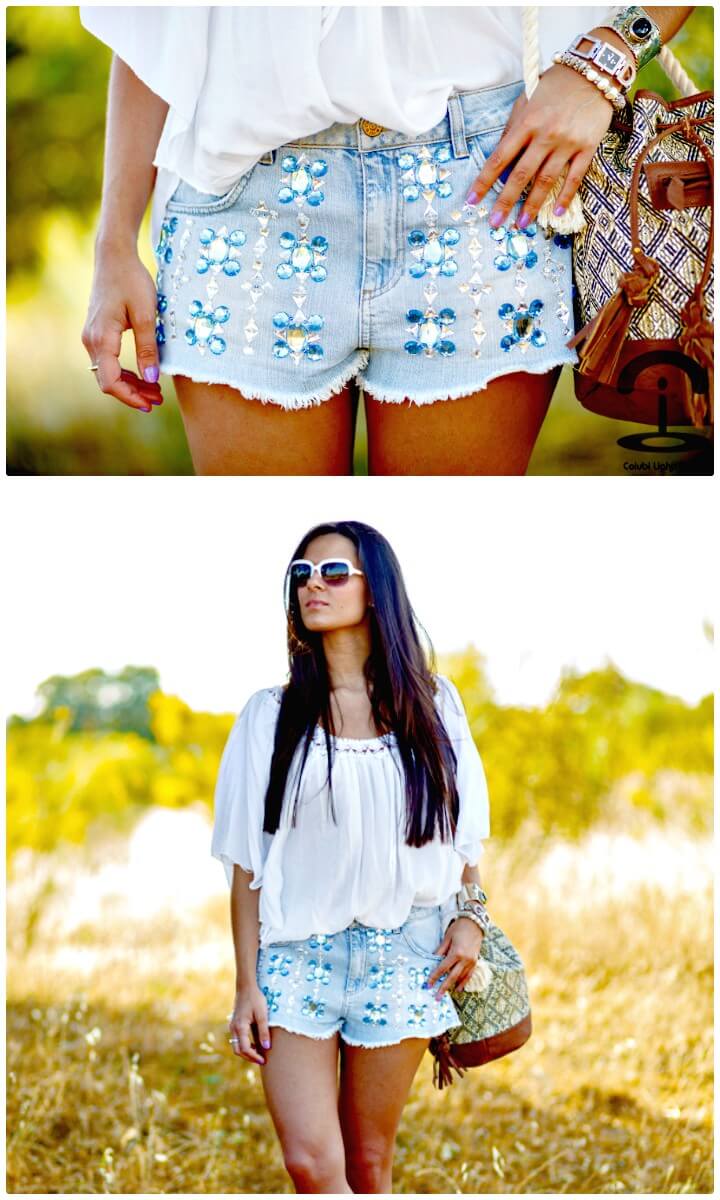 Girls love to collect the gems and the stones and if you also have some jars filled with them here is the idea to use them in the most amazing and fun way. Yes, you can glue up these pretty gems and stones over your jeans cut offs and make them look super stunning, chic and complete boho for your summer style statement.You can check out the details of the idea right on the link here stylelovely
Beautiful How to Make Galaxy Short: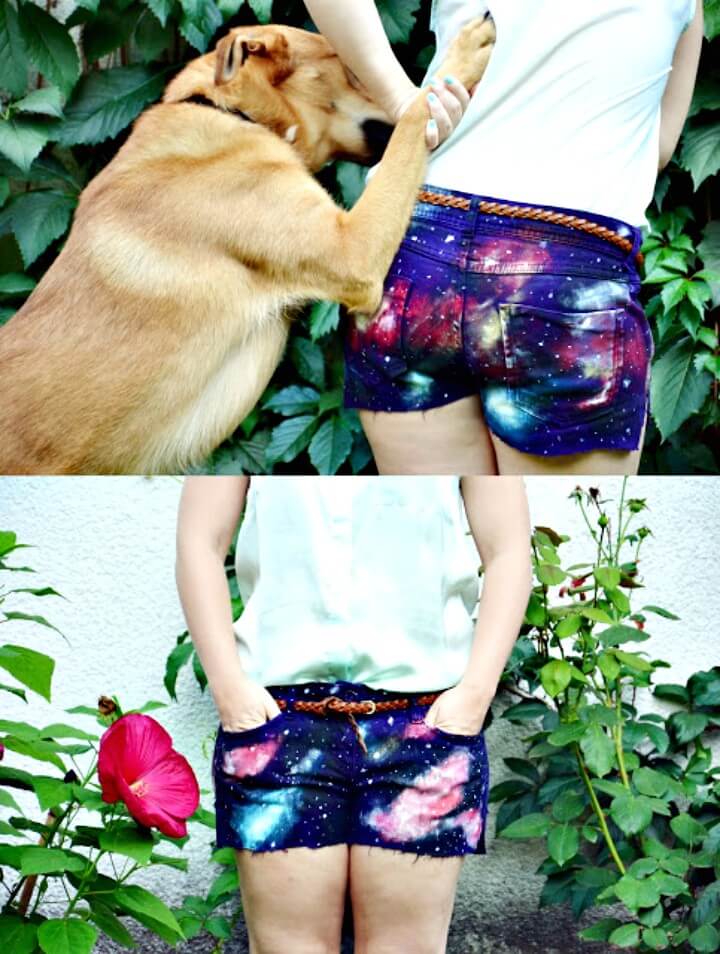 Inspiration can come from anywhere and for any of your projects that you are working on you have waiting in your to-do list. So if you are reading about galaxies these days or observing kids doing science projects about them, then you can pick up this idea to paint your shorts and turn them to be these gorgeous galaxy shorts to make yourself shine in the summer fashion.You can learn the details of creating this super fun galaxy right here mrs-ferguson
How To Make Denim Painting Short: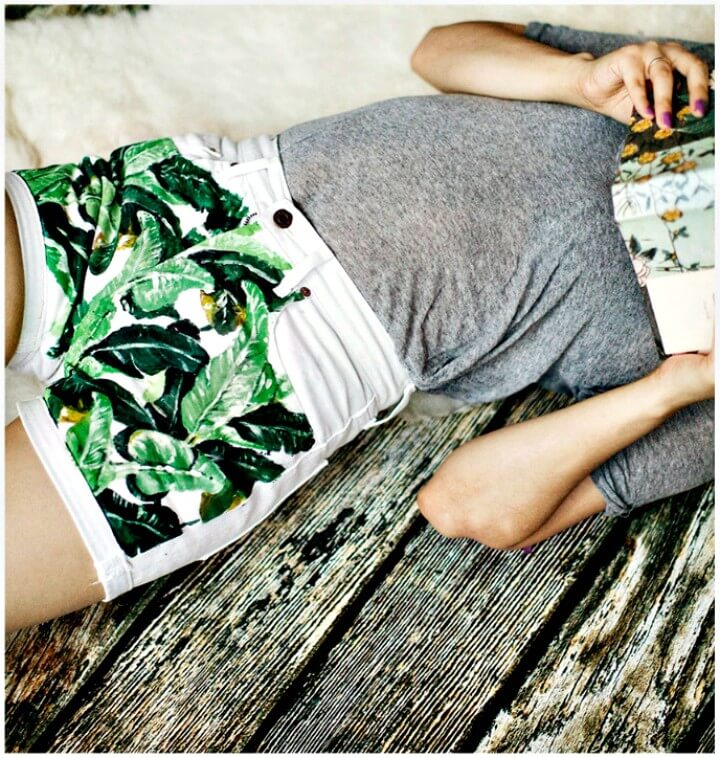 If you love to paint then you can use this love to style up your summer fashion this time by creating this fun and funky looking jungle theme shorts for your adventure tips and tours. They are super easy and fun to paint if you have some painting experience and the rest of the details can be achieved from the link here to make it more feasible and fun for you parkandcube
Stylish DIY Summer Shorts: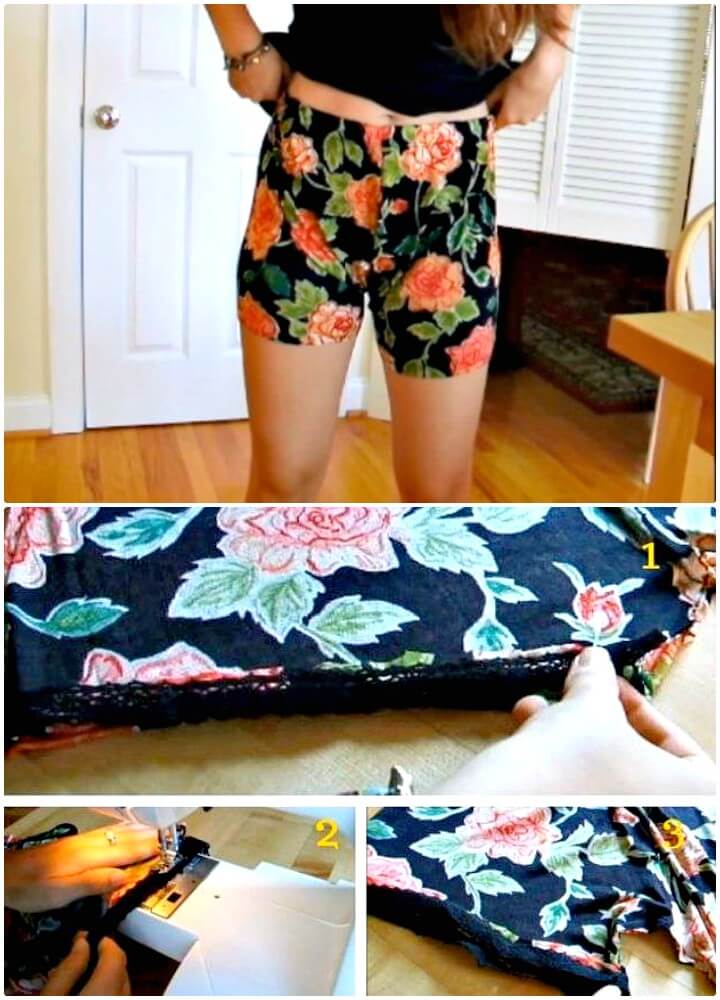 Not only your old pant and the jeans but there is one more thing your wardrobe that you can use to create some fun cuff offs out of. We are talking about the skirts as you can make this gorgeous and funky looking pair of shorts out of it and as the skirts have long lengths, you can make more than one pairs and gift it to your sister or friends to love you even more. You can check out the details of the idea right on the link here sewing
Make Your Own Heartbreaker Shorts: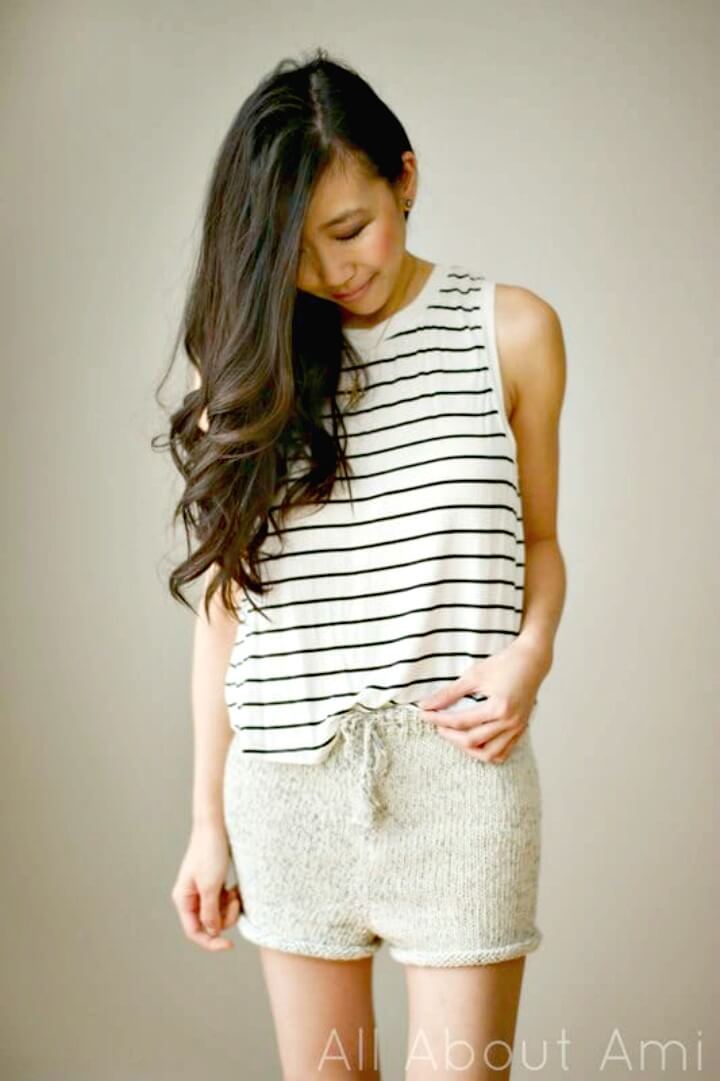 These heart breaker shorts are something cool yet stylish and simple to be added to your summer wardrobe as your favorite staple. made out of the denim yarn these cute shorts would feel the light weight and comfy for the summer and thin girls would pull it off so damn nicely. You can check out the details of the yarn the knitting details right on the link here allaboutami
How To Make Floral Photo Transfer Shorts: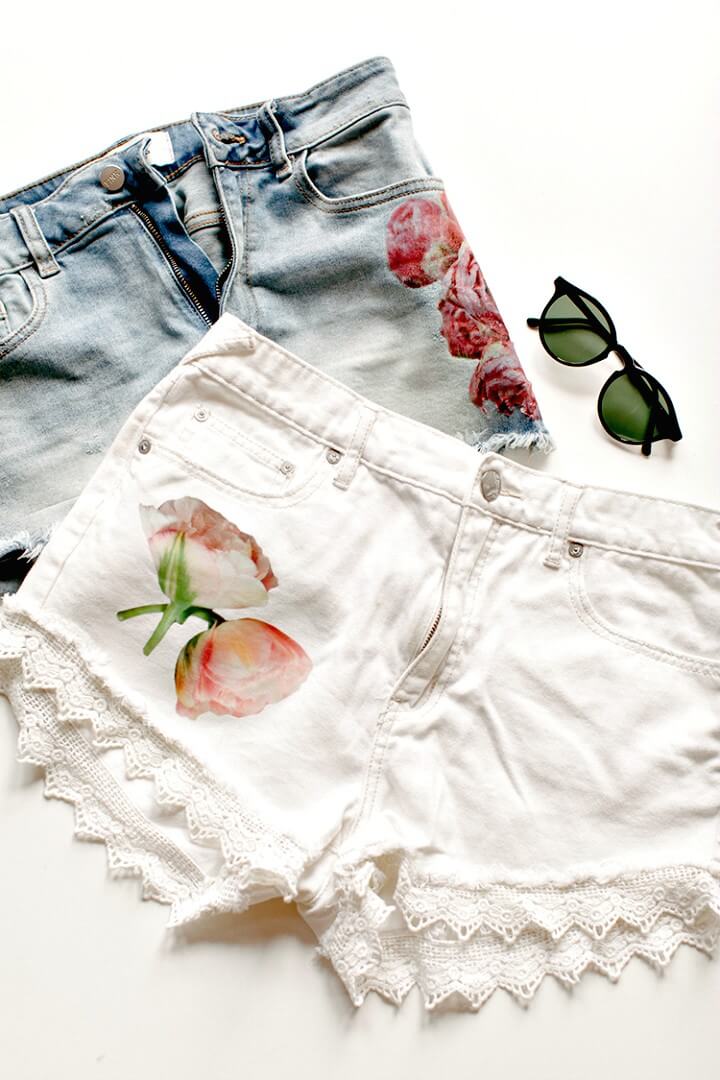 If you think your old cut-offs and shorts need some makeover this summer time, then we got the perfect idea for you to work on. You can use the pretty floral prints and then transfer them on your denim and thus so nicely yet cheaply you can turn your old pair of shorts into something really cool and boho. Learn the complete details of this idea right on the link provided you here jojotastic
Easy DIY Breezy Serape Shorts: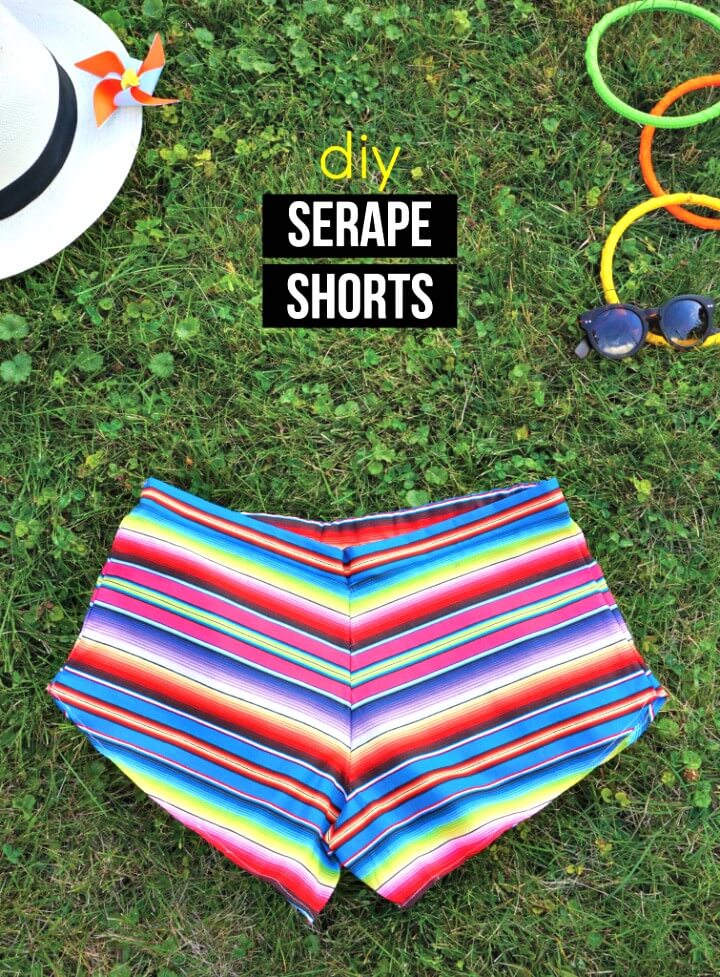 The fabric that you choose to make your shorts matters to lend you some awesome results and this colorfully striped short is the perfect sample to endorse this fact. If you also want to own this one you, need to check out the details here that shows how easily you can cut it out and sew it up and then enjoy wearing around the house and feel so much comfy and stylish too.Fully francoisetmoi
Unique DIY Tassel Shorts: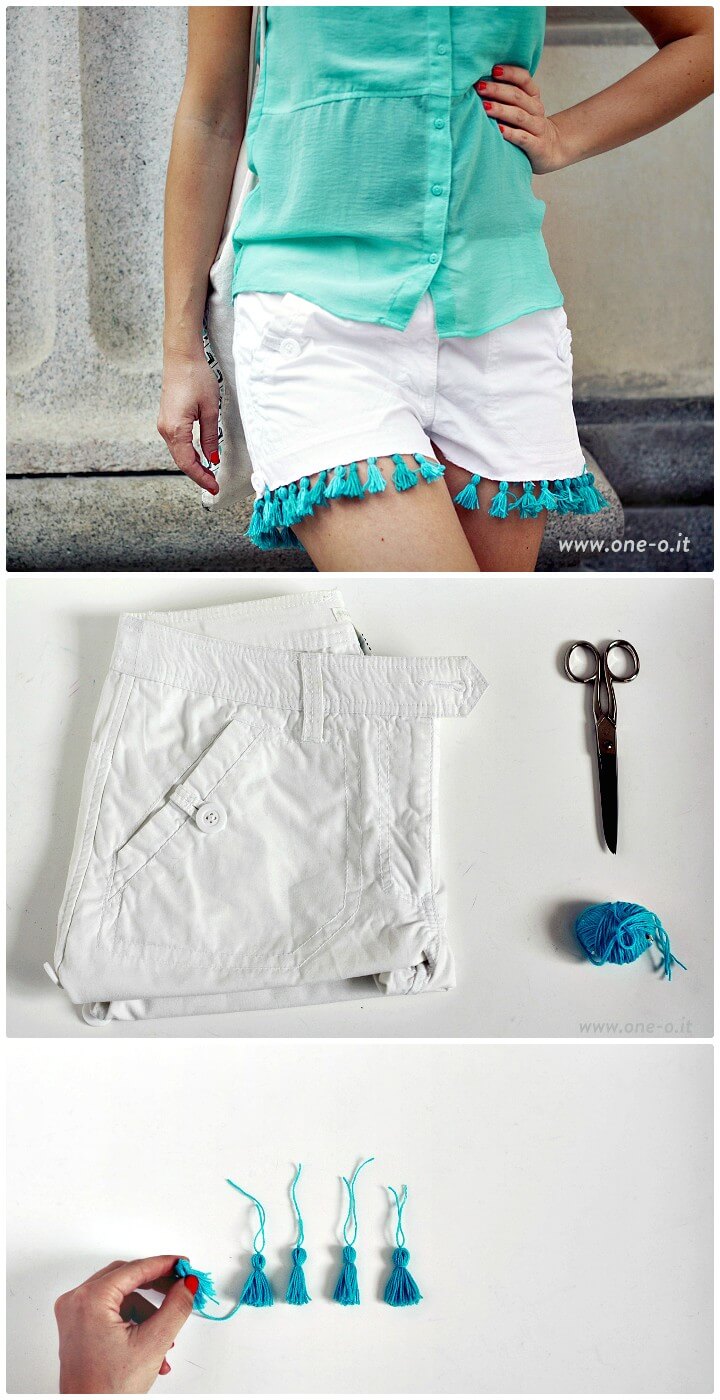 Bring some nautical touches to your summer dress up too and here is the awesome idea to do that in an entertaining and easy way. Yes, you can make this perfectly styled pair of shorts in white that has been glam up with the blue yarn tassels at the edges and you can easily make them on your own. The details of this utterly cute and pretty shorts idea are given here so do hack them all one-o.it/diy
DIY Cut Off Jeans Shorts: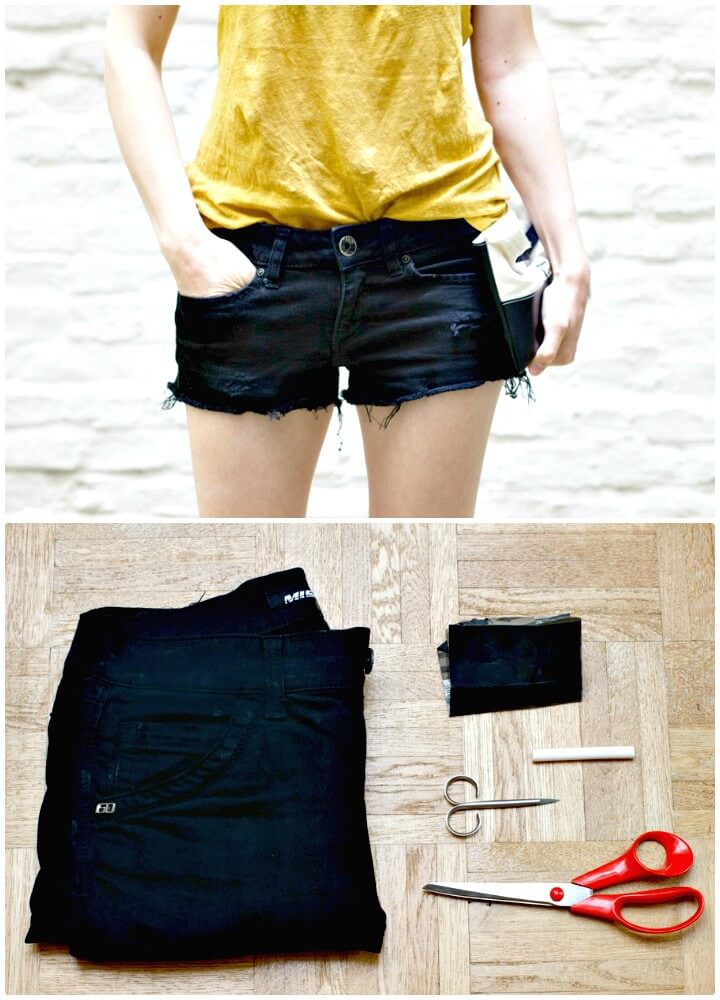 Here is the simplest of the idea to turn your jeans into the cool pair of cutoffs that requires almost no sewing. You just need to mark your old pants with chalk where you want the perfect size of your shorts and then cut it off and it's done. You can sew it up for a neat trimming, or you can leave it like that for a rugged and distressed look of rip it off more to add more worn out effect. Step by step details have been shared here look-what-i-made
How To Make Embellish Your Shorts: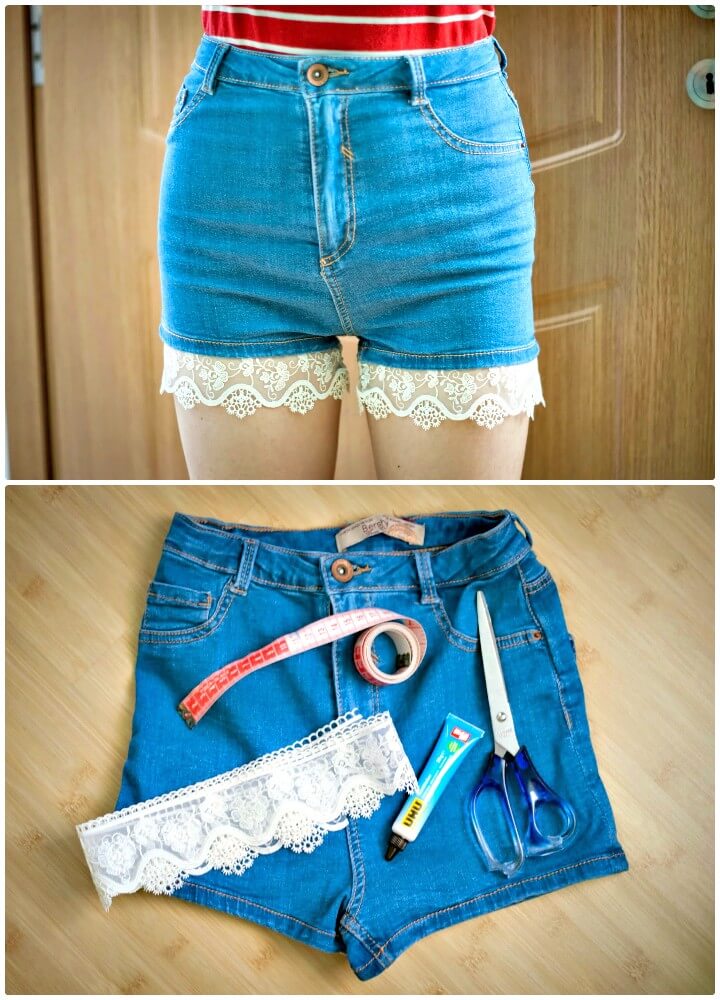 A piece of lace can work magic to turn some old and boring piece of your wardrobe to look super stunning and stylish in no minutes, and this pair of lace shorts is what we are talking about. The white pieces of lace have been added to the edges of the shorts, and they look super cute and well embellished to flaunt around the summers. Check out the complete idea details here lachicameow
Easily Alter Your Jeans Into Shorts: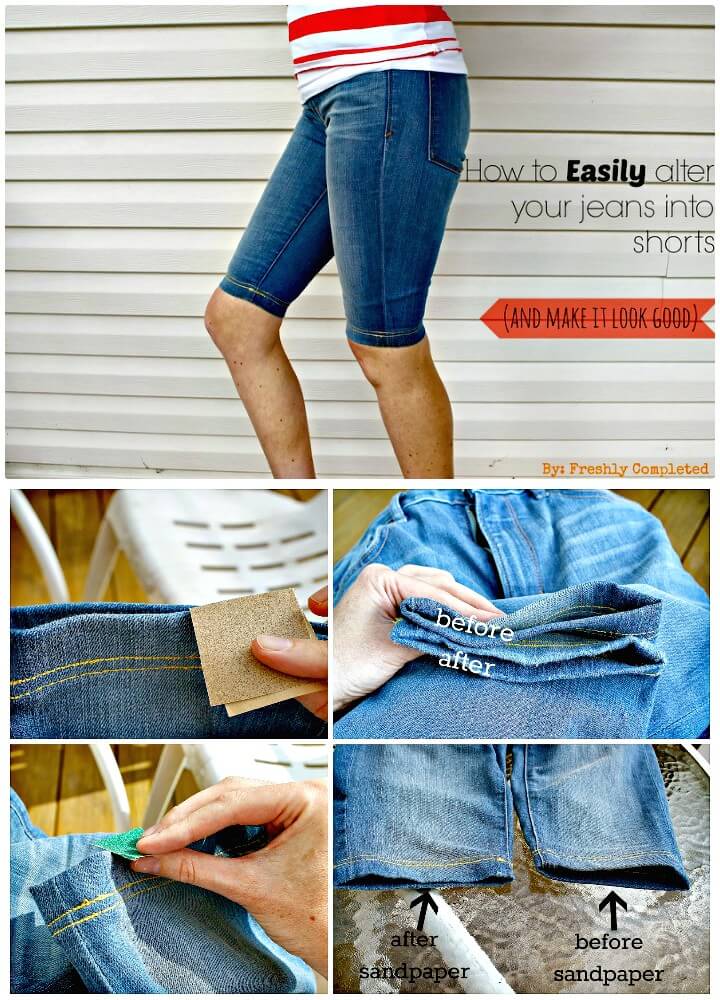 Here is the idea of shorts that would suit both the boys and the girls with the same perks of style and fashion. This pair of jeans has been turned into a knee-length shorts that you can easily carry in the summers and feel so much airy and comfy wearing it all around the house or even for your outdoor trips too.You can check out the details of its transformation here freshlycompleted
DIY Skater Shorts for Kids: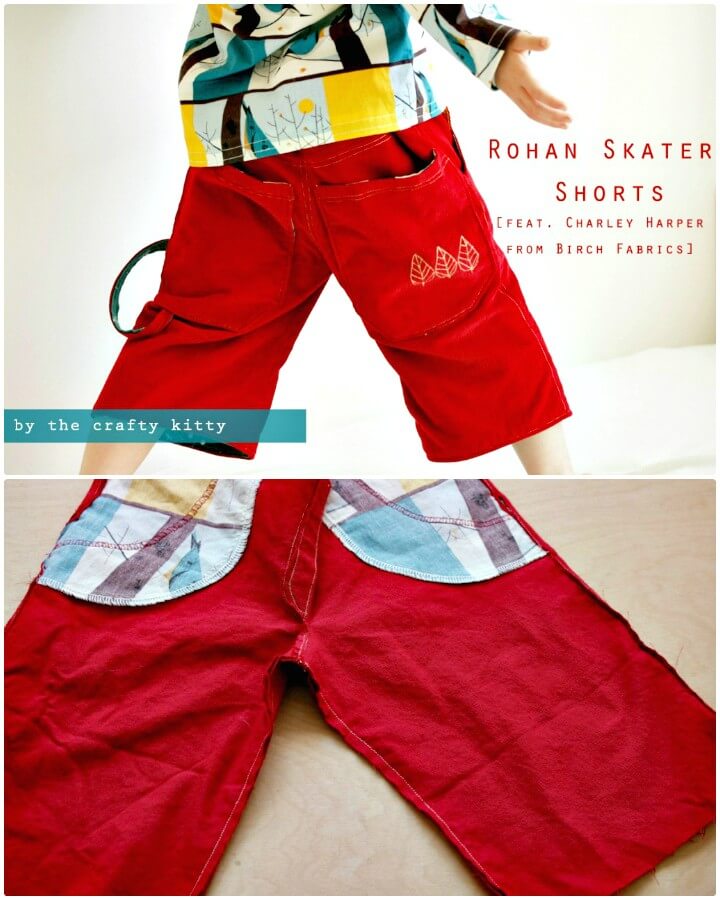 Make skating much more fun for your kids by making them this fun and totally cute looking skater shorts that they can wear while skating and fell so much easy and comfortable in. The pretty pair of the long shorts have been made out of the organic denim, and some cotton has been used for lining, pockets and the waistband making it look more perfect for the kids. It can use as a cute gift idea too so do hack all its details right on the link here thecraftykitty
Adorable DIY Wrap Scarf Short: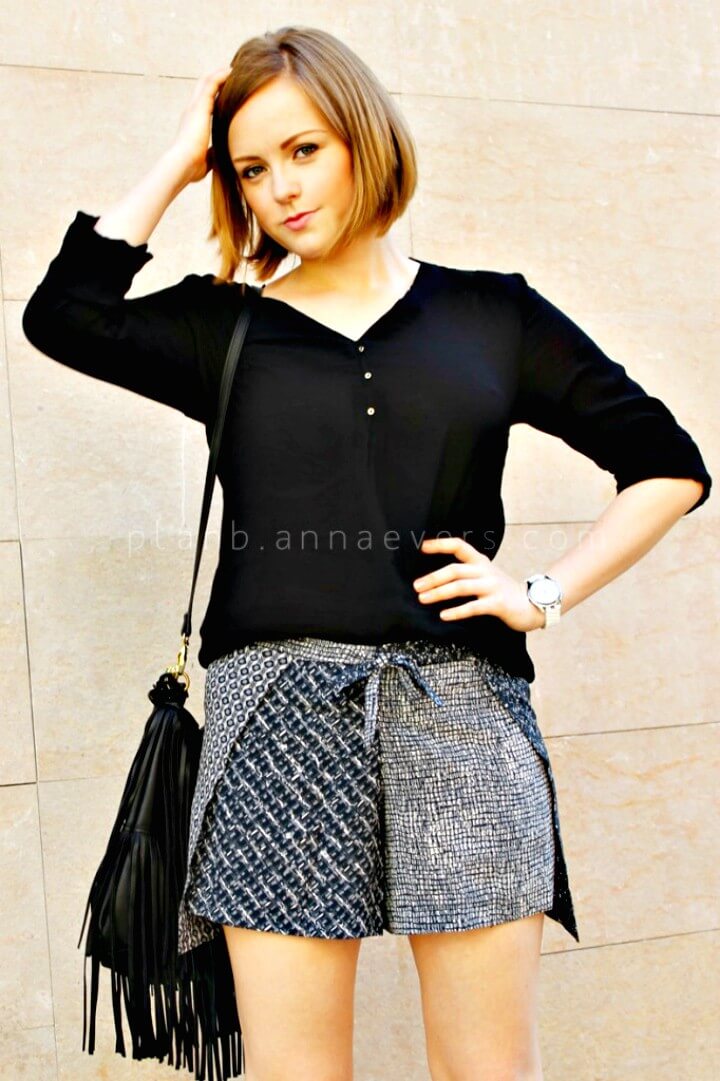 You can use some old possessions of your cupboard and get some fun and new stuff out of it, and this scarf wrap shorts is the perfect idea to do that. You can use any of your old scarf or the shawl and turn into this really cool and trendy kind of shorts that would totally create a personalized style statement for you during the summer fashion. Check out the sewing details of this lovely shorts here planb.annaevers
Adorable DIY Basic Kid Shorts: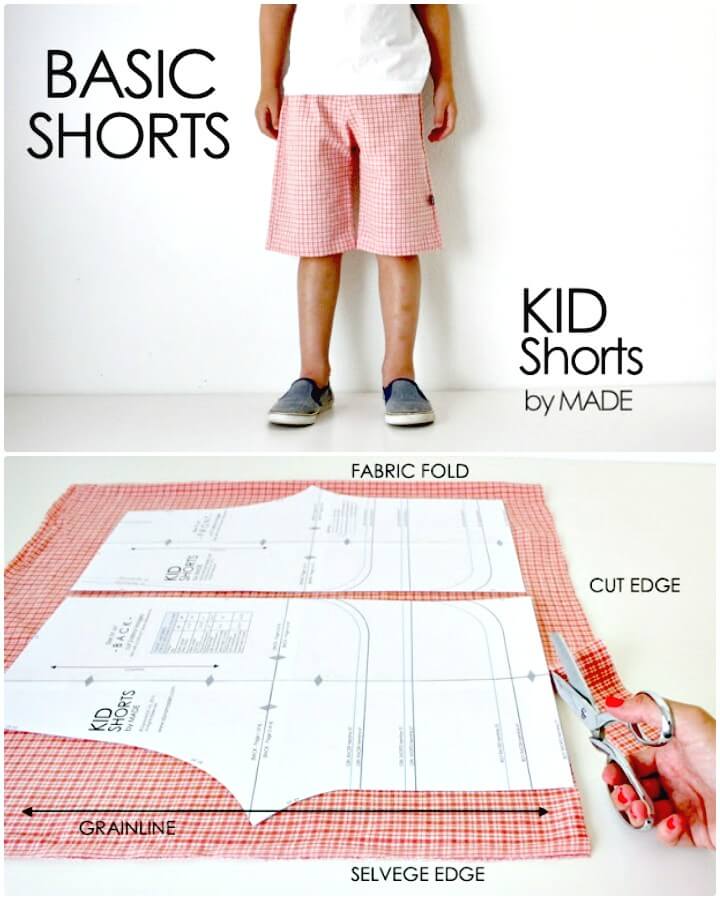 Not only for the girls, but shorts are also as cool and comfortable for the boys as they are for the girls so this time you can create this lovely piece of shorts of your little boy and he would be more than happy to roam around in his new favorite and cute pair of shorts. They are super easy and fun to create yourself at home and here is the full tutorial lying adeeveryday
How To Sew Women's Gym Shorts: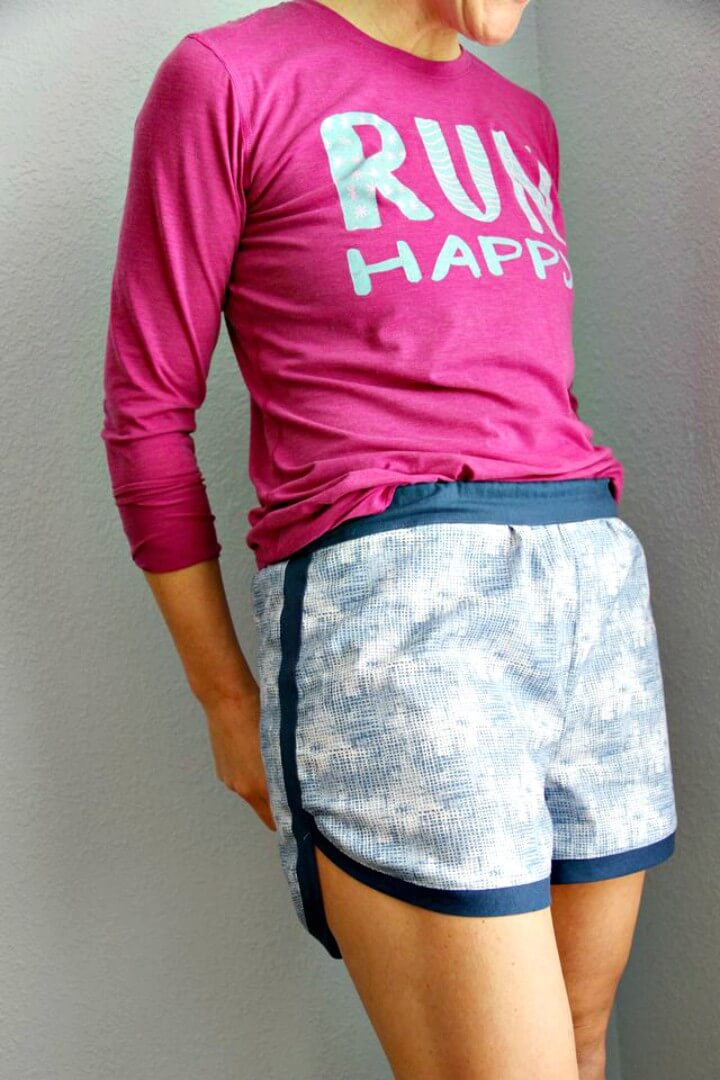 While jogging or doing the gym, you should be in relaxing and comfortable clothes and for the summers shorts are best. So here is the idea of creating custom gym shorts for yourself this summers and enjoy your jogging, gym sessions or the just hanging around the deck even more. The complete details of sewing it on your own at home are given here ehow
How To Make Faux Wrap Shorts: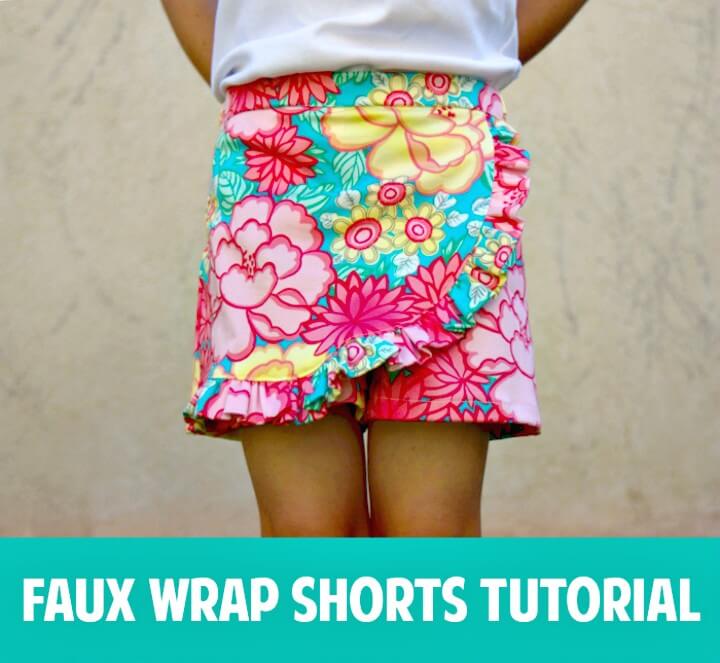 Shorts are one of the most common dress-up possessions for the summer, but still, you can manage to make them look different and stylish for your fashion and here is the proof. Yes, you can create this lovely pair of shorts with the faux skirt wrap at the front that too with a touch of ruffle and it would turn out to be attractive and cool. Learn to sew it on your own from the details given here andreasnotebook
DIY Summer Shortie Leggings Tutorial: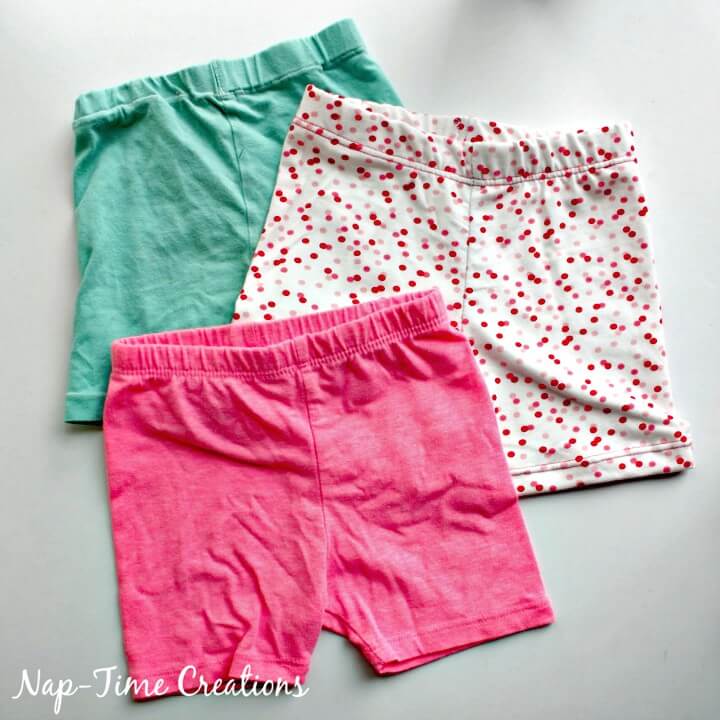 Let the kids sleep with utter comfort and relaxing with these really soft and cute shorts that are super easy and fun to create yourself at home even when you are a beginner in the sewing world. Here are three cute shorts in pretty colors and prints that you can own for your little ones to use as their night dress by getting paired up with an old shirt. Catch the complete details of the idea right here lifesewsavory
How To Make Kid Shorts: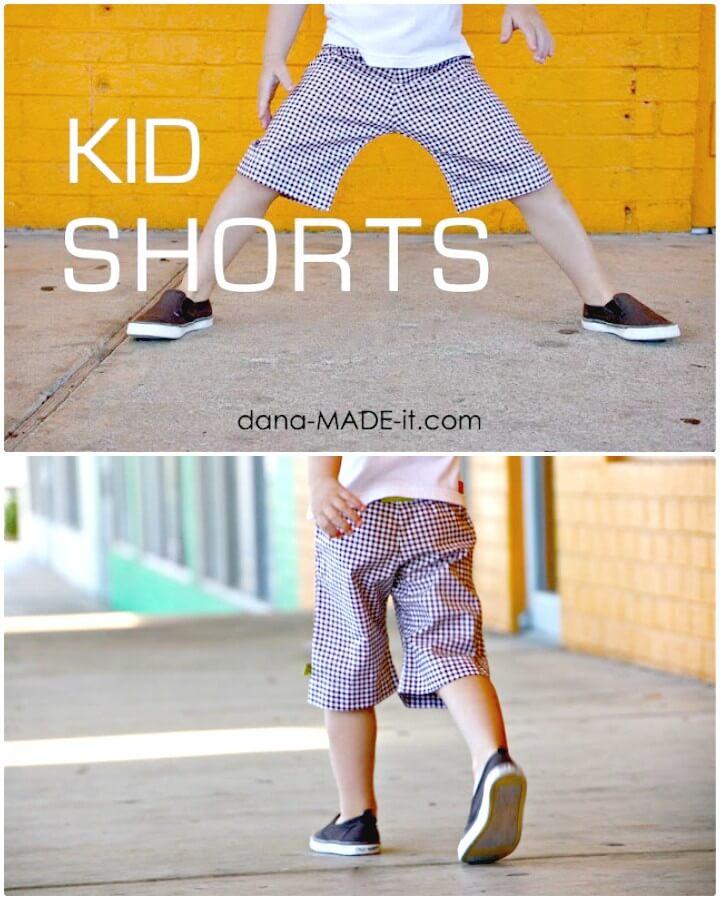 Make your little boys feel all the fun in the outdoors and that too without tearing their pants or the jeans as you can now make them these adorable and fancy shorts to play, jump and have all outdoor fun in. They are a bit long, and lose fit and thus would turn out to be a super hit. Sewing tutorial here madeeveryday
DIY Wild Flower Pinwheel Shorts: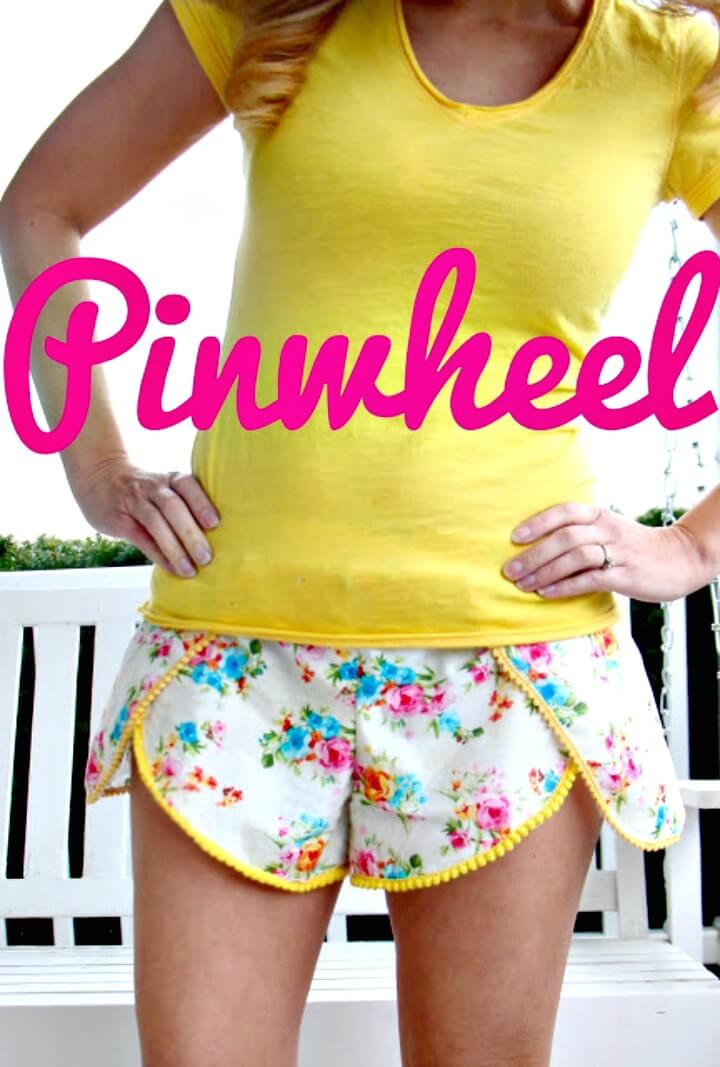 Shorts are easy and quick to sew yourself at the house, and you can add some style twists tot he pattern and the desigin of your shorts so that they end up looking super stylish, trendy and chic.SO here is these super cute flower wheel styled shorts with extra fabric wrap up at the sides and the mini pom trim add more cue details to it. You can check out the details of the idea so that you can easily follow the instructions and get yourself one for the summers grosgrainfab
How To Sew Weekender Short Pants: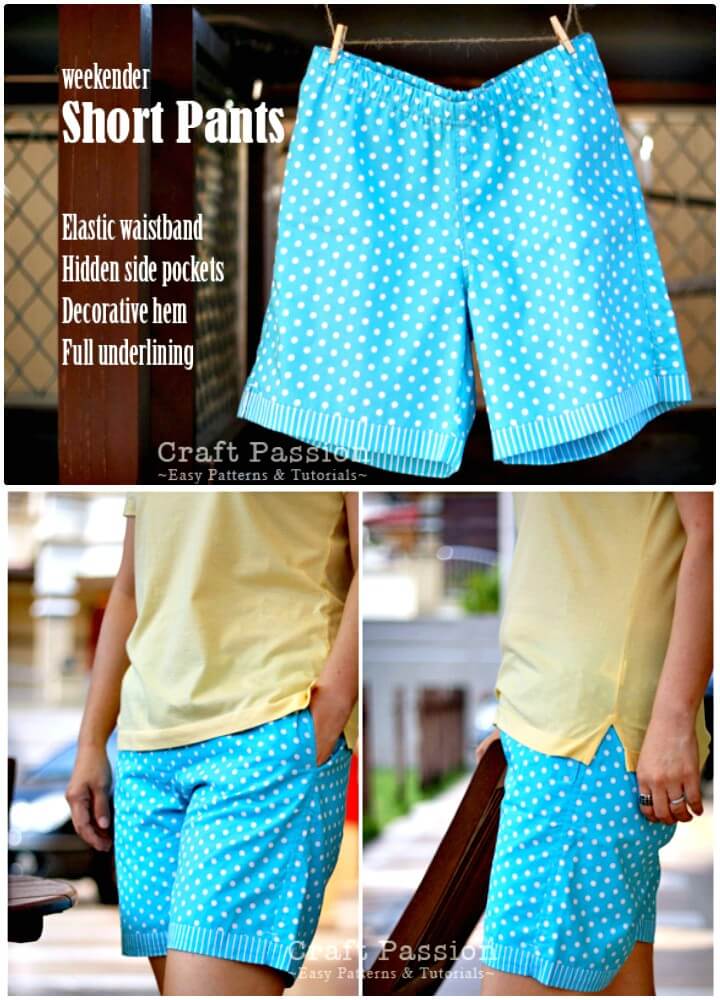 Why only kids and girls have all the "shorts " fun as the men in the house can equally enjoy some comfy and fun shorts to feel all the relaxing and fun in the summers. You can easily shape up this lovely pair of shorts out of delightfully bright and fun colored blue fabric having white polka dots on it. It would be really easy and fun to create yourself at home and here is the link to grab all its details of sewing craftpassion
Easy DIY Girls Dance Shorts: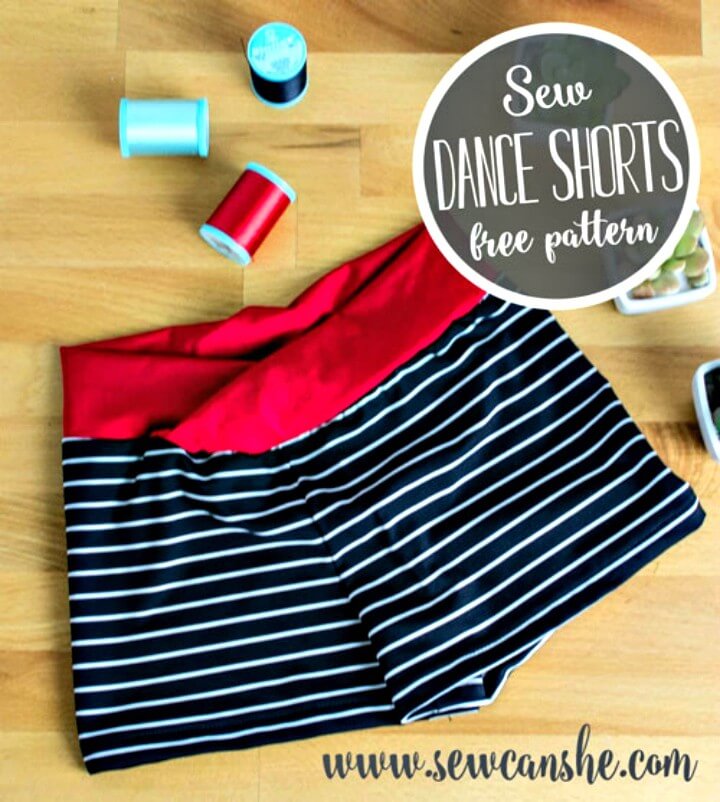 Make the dancing sessions more easy and fun for your girl as she can feel flexible and feasible in these hand sewn pair of cute shorts that you can easily sew up at home. The lovely pair of shorts has been from the lining stuff with the lovely red waist band making it look more cute and funky.Complete details here sewcanshe
How To Sew Pom Pom Shorts: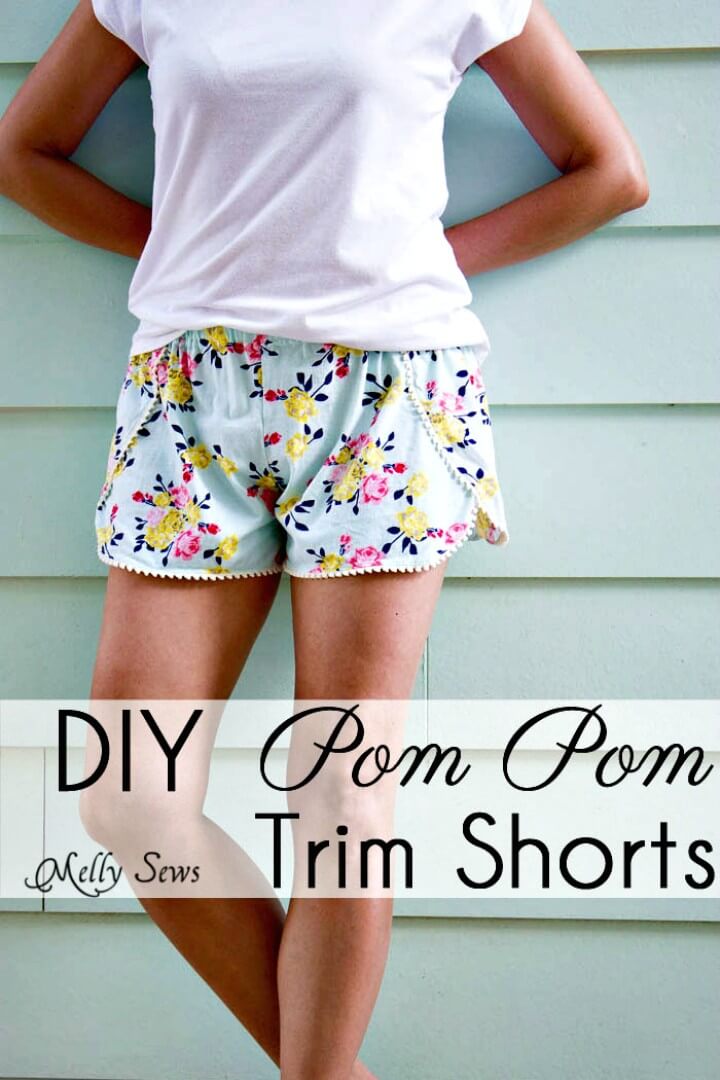 Floral prints are all the rage when the summer arrives and if you have such fabric at home then its time to get your hands on it as you can make this lovely pair of shorts out of it. To spruce up the beauty and style more of these cute DIY shorts, it has been embellished with the pom pom lace as the gorgeous trimming.Complete details are here to enjoy mellysews
DIY Boy Shorts With Pockets: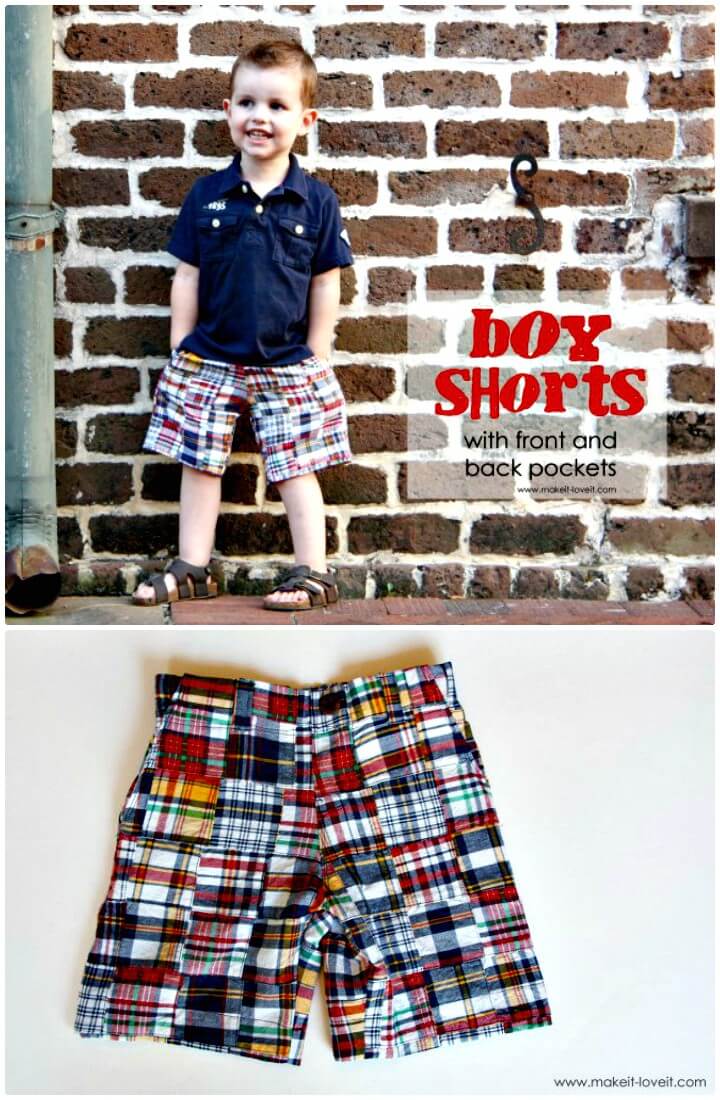 Kids just love pockets to hold their coins and some cute little playing possessions. So if you are working on a project of sewing some cool shorts for your little boy, then you can get some idea from this one having pockets both at the front and the back to let your boy love it more and more. The fully detailed tutorial is here makeit-loveit
Simple DIY Sew Kid Shorts: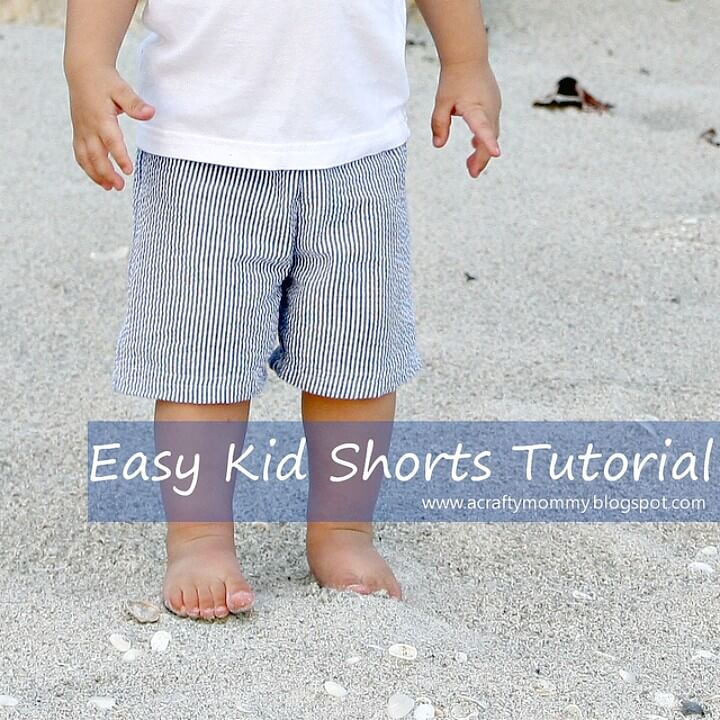 Unlike the girl's shorts, the ones for the boys are a bit long and loose too, and that is the how they ought to be for them. And instead of spending your money on the market bought ones you can now sew up some of the pretty and cool shorts for them at home. To get the sewing details, you can check out the link here stitchedbycrystal
Quick DIY Shorts For Toddlers In 20 Minutes: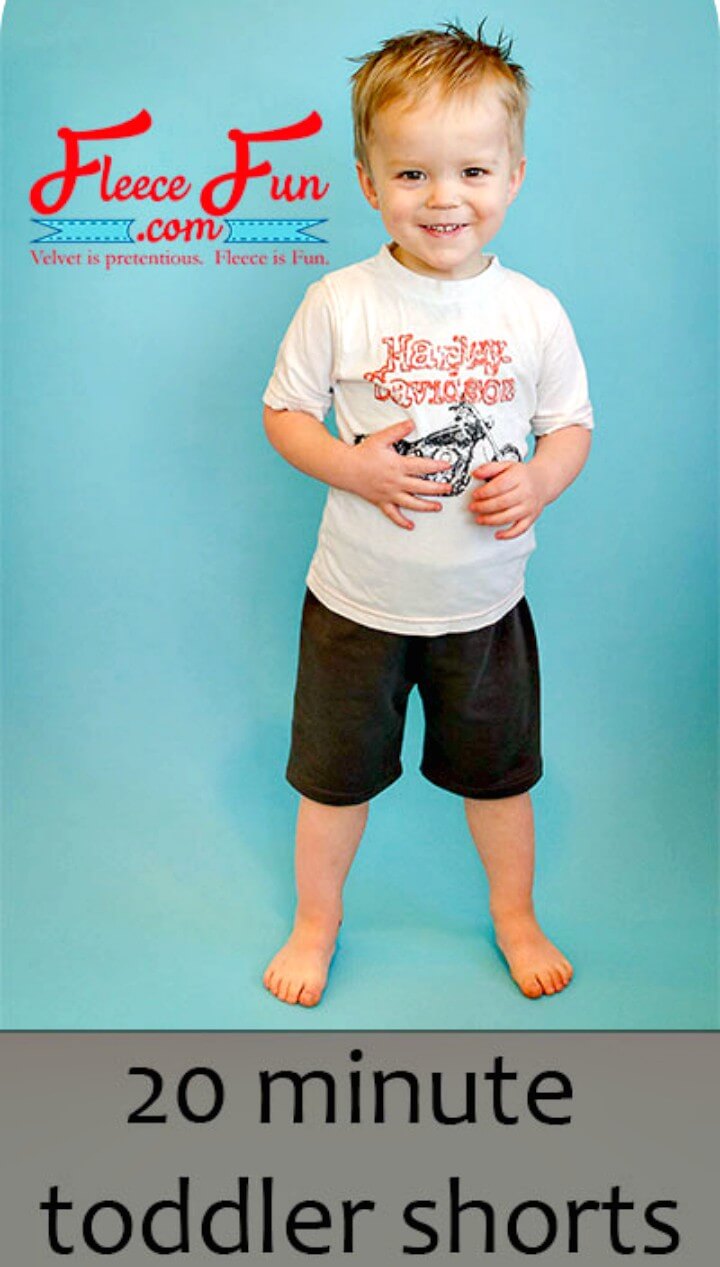 The summers are so easy to beat the beat the heat in some really genius and fun ways and wearing your favorite comfy shorts is surely one of them. So make some nice pair of shorts for your toddlers too and here is the one that is super easy and fun to create in the least time of just 20 minutes and the details of it are here fleecefun
How To Sew Berry Bubble Shorts: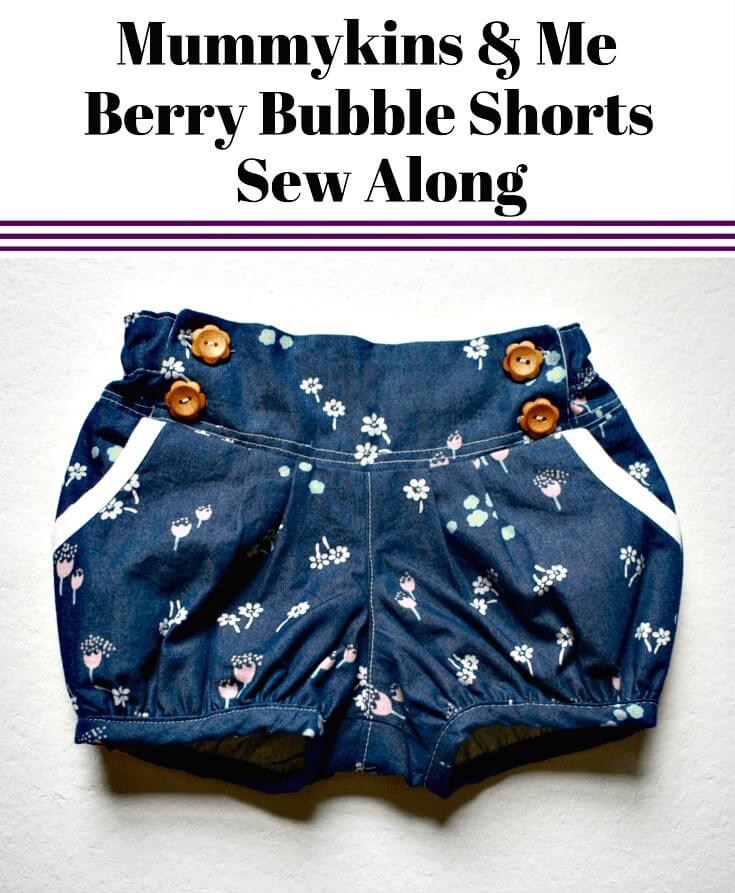 Here are these berry bubble shorts and no doubt they are as cute and cool as their name. With a pretty print fabric, the cute trims at the pocket and the lovely buttons on the waist the shorts turn out to be fun and funky for your little bundle of joy to feel so comfy and cool in. You can know the step by step details here rebecca-page
DIY Juba Shorts Pockets With Trim: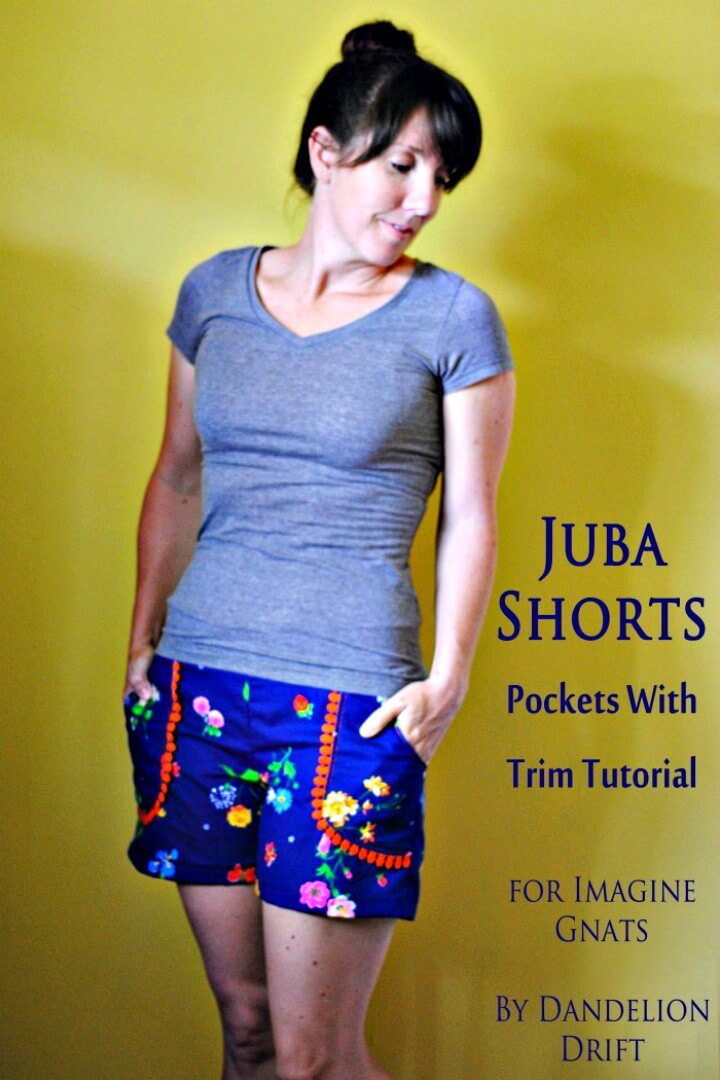 A bright color, a pretty print, and the comfy fabric would be perfect to let you flaunt a super cute pair of shorts in the summers, and with some creativity, you can add more lovely touches to it. Just like this super cute pair of shorts have been adorned with the pom pom lace at the pockets to look so gorgeous and fun.You can check out the details of the idea here imaginegnats
Cute DIY Sew Jersey Women's Shorts: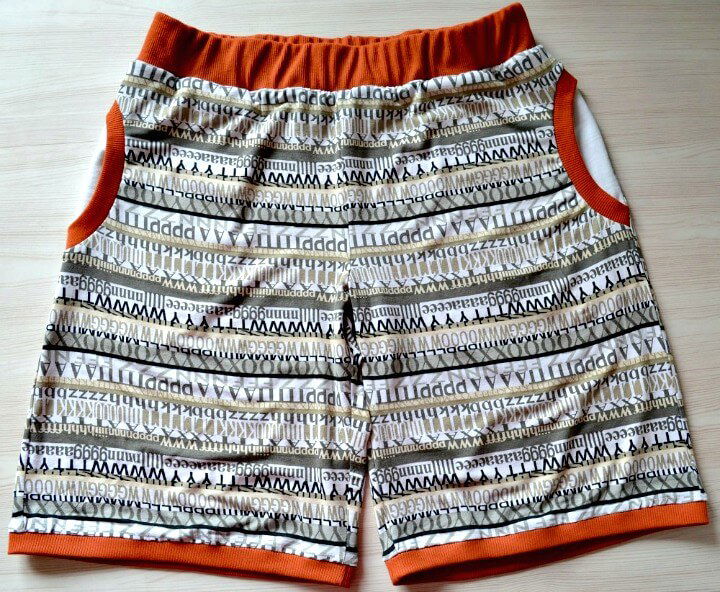 You can choose a variety of the fabrics while getting your hand on the sewing of some cute and fun shorts at home either for yourself or any other member of the family. So if you have a funky print in jersey you can easily get a cool pair of shorts out of it, and by trimming it with a bright color, you can add more fun details to it.Tutorial here sewway
How To Sew Kids Basic Shorts: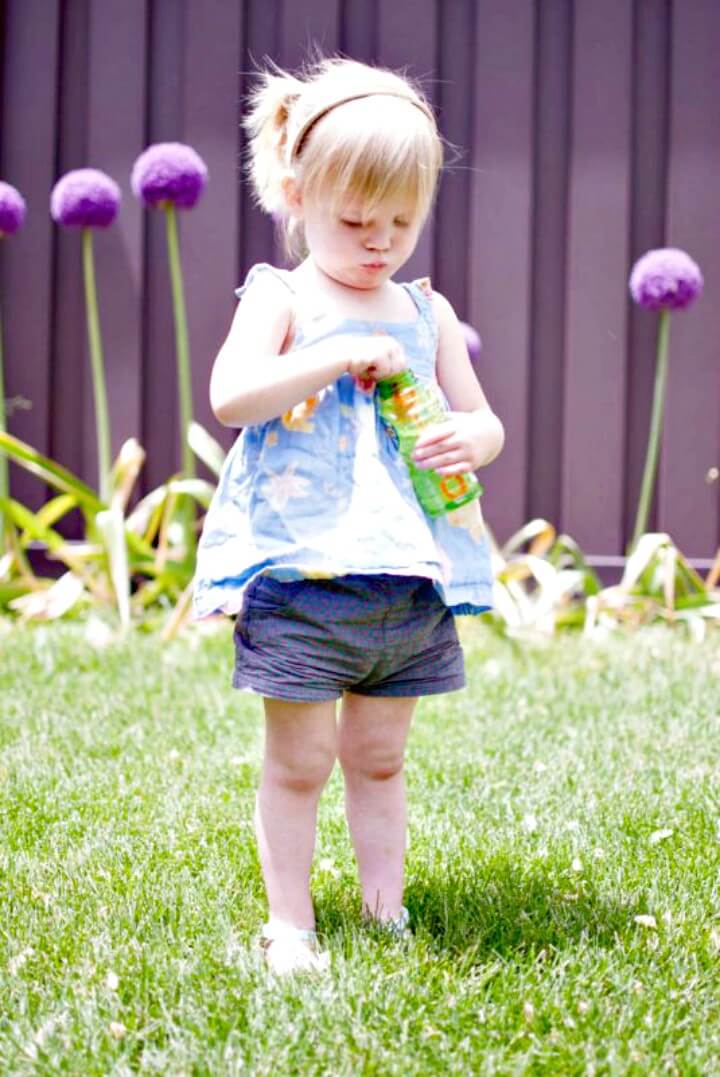 Even though you are a beginner with the sewing, you can get your hands on the shorts as they are just super easy and fun to create yourself at home with the least of the fabric, time and the moeny. So here is the little cute short made for the little ones in the house so that they feel immense comfy int he summers. Details of this basic shorts sewing are given here weallsew
Adorable and Cute DIY Linden Shorts With Knit: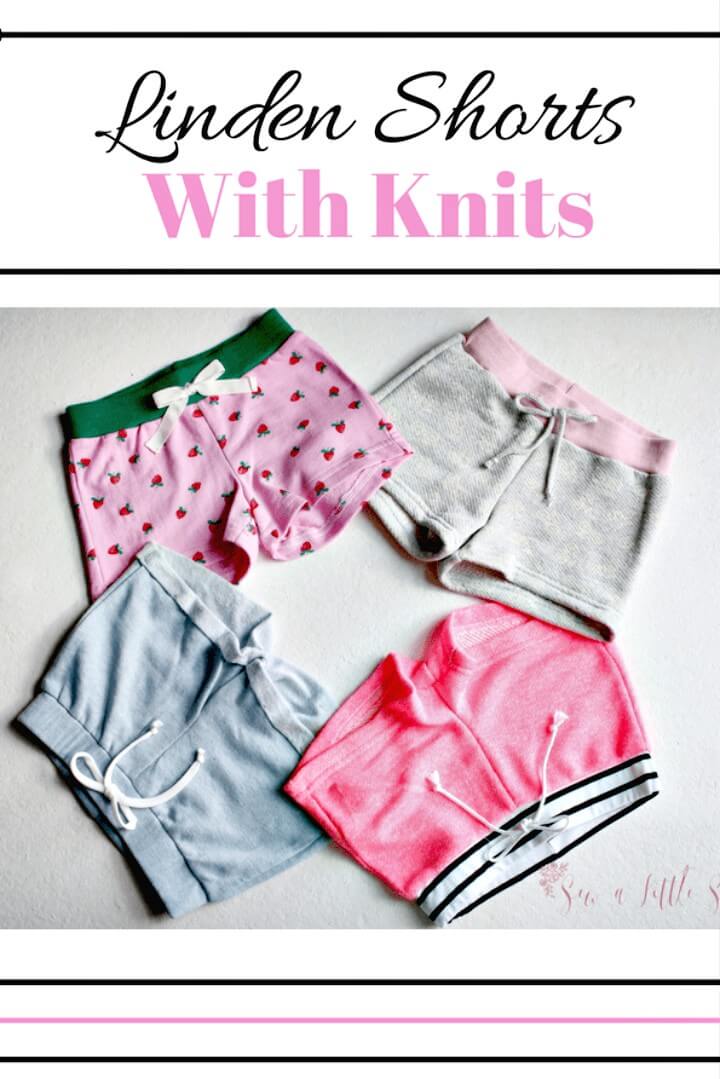 These adorable and simple looking linden shorts seem to be bought from the market for being super good looking and skillfully done, but surprisingly they are made at home and so you can pull them off. You would need some knit to make a bunch of these cute shorts for your little ones to flaunt around all the summers. Details here sewalittleseam