Learn how to make throw pillows with these 40 DIY no sew pillow ideas and no sew pillow covers with easy step by step instructions, videos and patterns. DIY no sew pillows and pillow covers offer an easy and inexpensive way to make any space cozy and attractive. Not only are they fun to create, but these diy pillow covers will add texture, color and style to a space without buying expensive new furnishings. There is plenty of DIY no sew pillow ideas that you can easily craft at home with just a few basic materials like fabric, scissors, glue, ribbon and stuffing.
No matter where your skills lie, creating unique no sew pillows or cushion covers with different shapes, sizes and fabrics have never been easier. Whether you're looking for tie pillows, stuffed diy pillows, or hand-stitched pillow covers that you can even make with guidance from YouTube videos – the options are endless!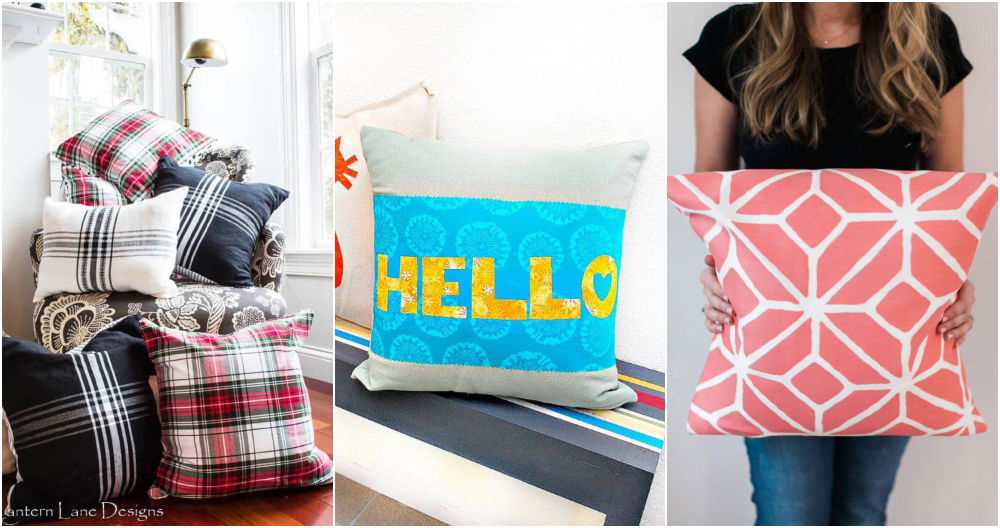 DIY No Sew Pillows and No Sew Pillow Covers
If you're looking for a creative and unique way to make diy no sew pillows and covers! You can make diy cushion covers using materials like t-shirts, shirts, skirts, and jeans that are incredibly easy to make. For those new to DIY crafts, the countless DIY no sew pillow tutorials below teach you how to make decorative and stylish pillow covers without sewing. You can even find tutorials showing how to make cushion covers from scratch. Once you have the basics down, you can get creative with it and customize your DIY cushion covers with various designs for an individualized look.
1. Making a No-sew Pillow Cover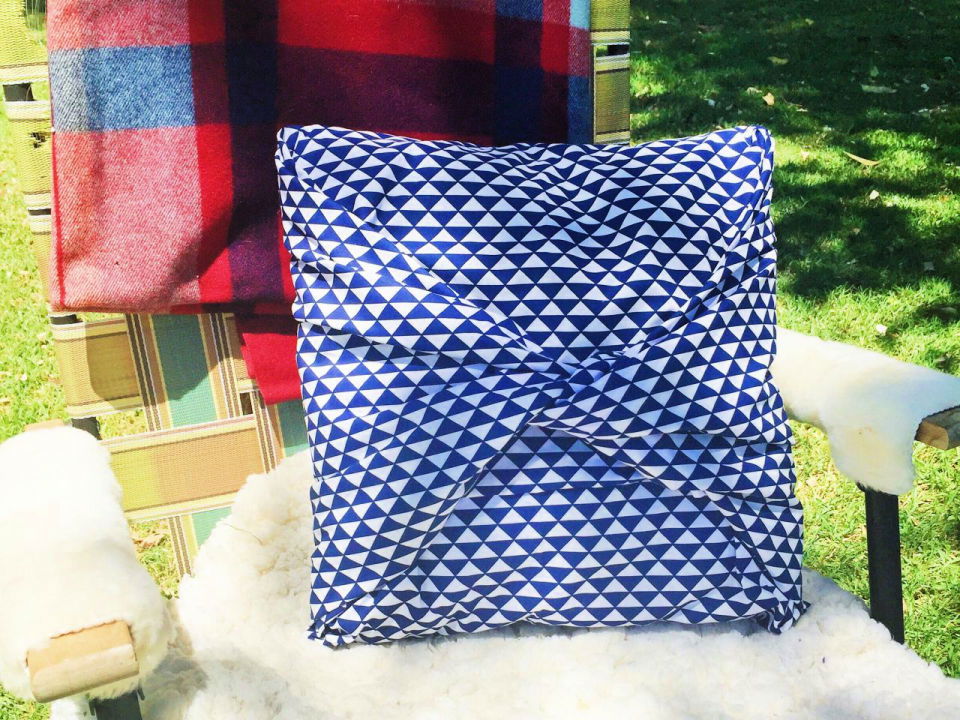 Erica has got the perfect game night companion for you here. If you are a lover for sports and games, you are going to love taking this DIY no sew a pillow with you to the stadium or perhaps over to a friend's. It is insanely easy to make. hgtv
2. No-Sew Pillow Cover from Old Curtain Pane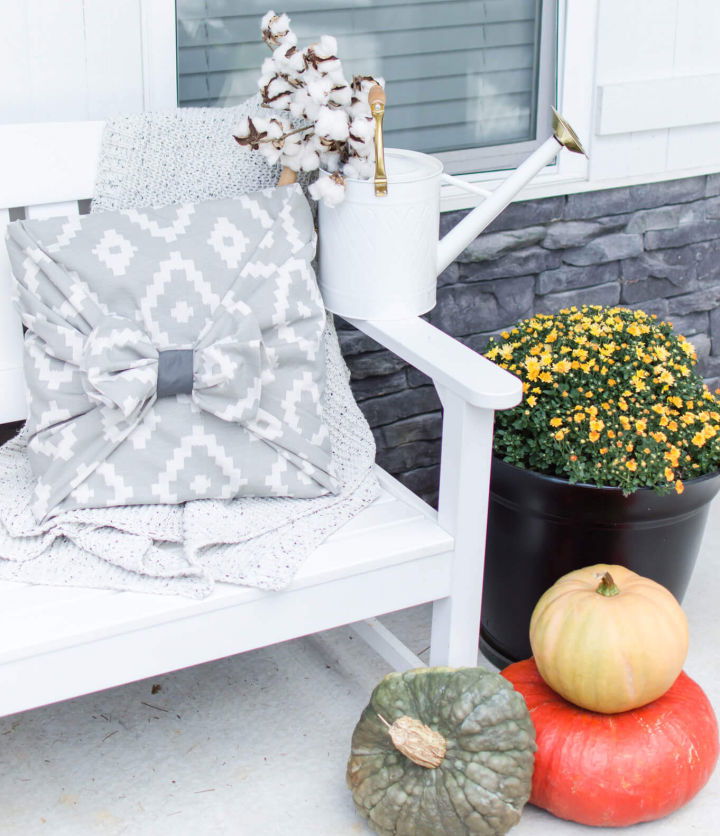 Make a fancy and delicate pillow cover with an old curtain panel. If you are looking for ways to change your place's look by staying strictly on a budget, throw pillows are the way to go. With this tutorial, you can redo your throw pillow cushions using old curtain panels. ahostinghome
3. How to Make a No Sew Pillow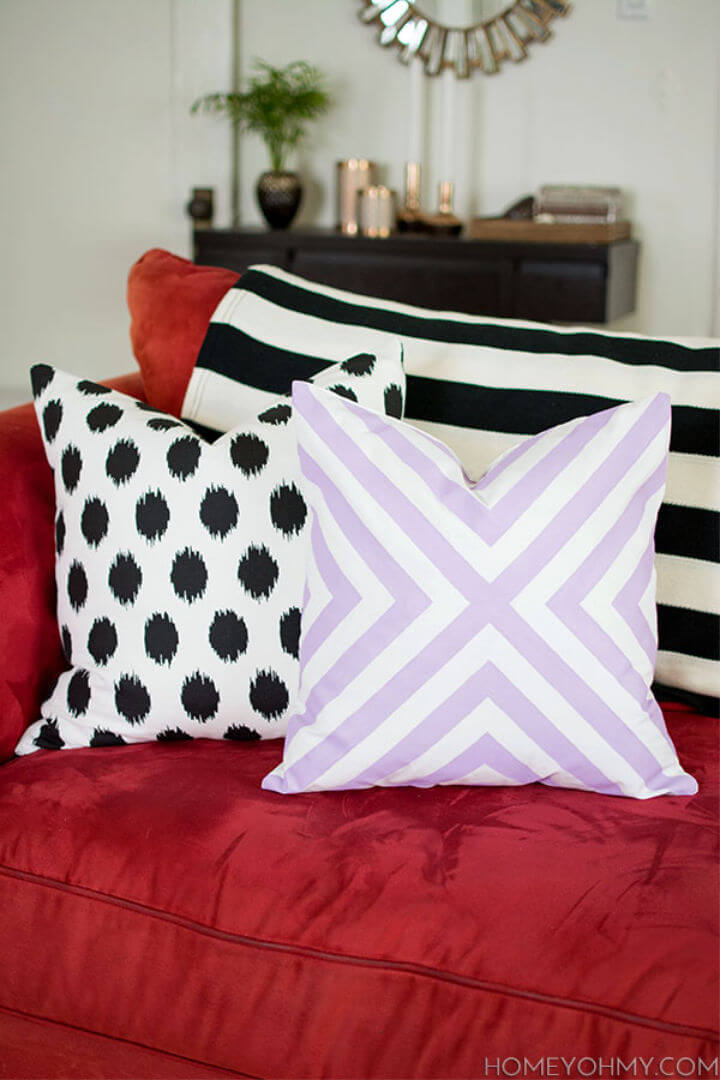 Choose your favorite fabric, Unique stitch adhesive, fabric scissors, ruler, pencil, and iron. Make a perfectly, in the budget upgrade to your pillow cushions using these DIY no sew pillow cushions. homeyohmy is all set to take care of your pillow addiction. homeyohmy
4. No Sew Pillow Covers Using Napkins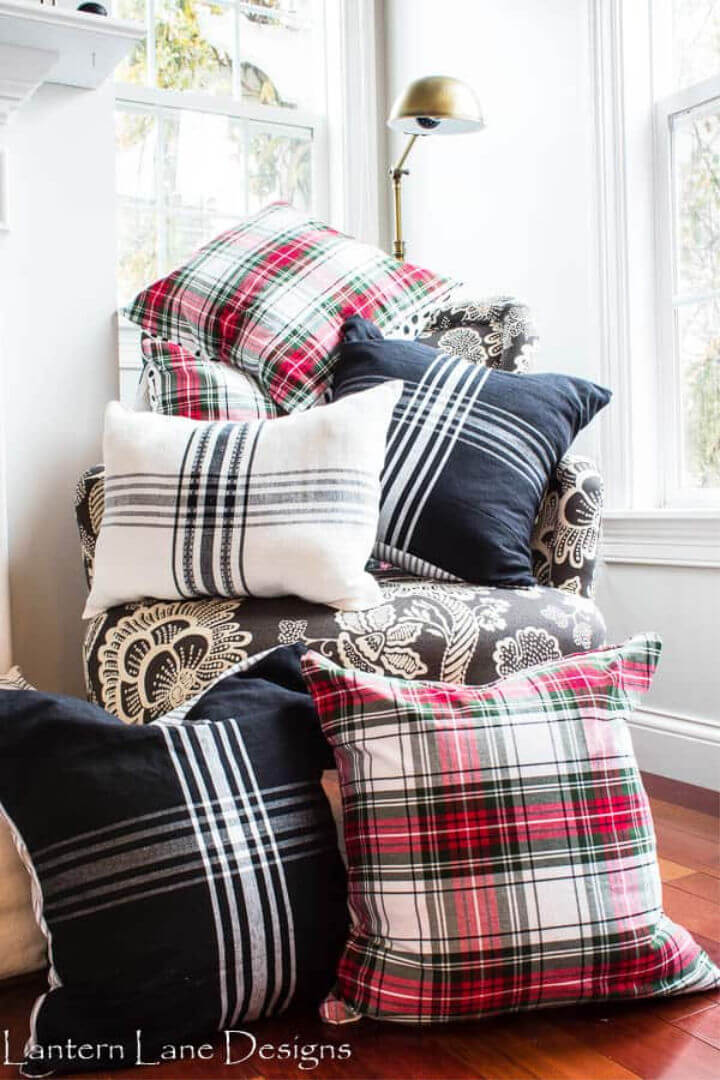 Did you know using napkins and tons of fabric adhesive glue, you can make just the perfect pillow cushions? Without even having to sew a single thing! If you are not fond of sewing but love redecorating your place after some intervals, this is going to steal your heart. lanternlane
5. Easy DIY No Sew Pillow Cover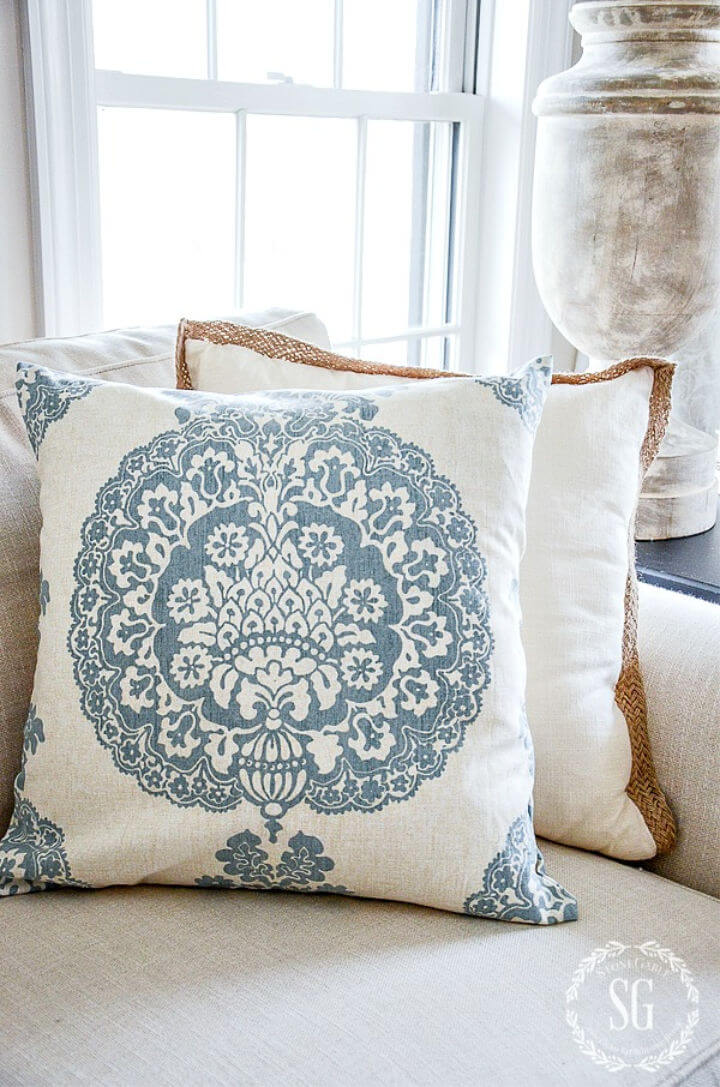 Set your timers to precisely 10 minutes and let's get decorating! stonegable here is going to take the bumps free 10 minutes to ride into making some exquisite no sew pillows for your home. You could use any kind of accent fabric and make a catchy pillow out of it. stonegable
6. Homemade No-Sew Throw Pillows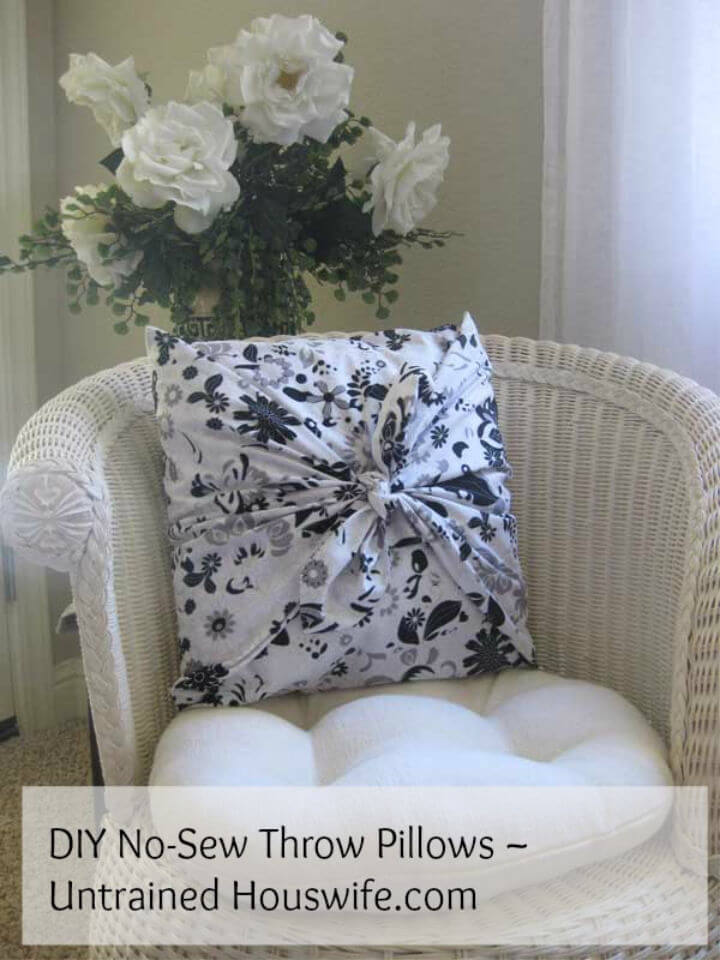 Guess what, no need to rush to the craft drawers and ramble across the sewing needle, threads, and everything. All those loads of work! Just make the perfectly easiest no sew pillows at home in your comfort zone and adored designs. untrainedhou
7. Make Your Own No Sew Shirt Pillow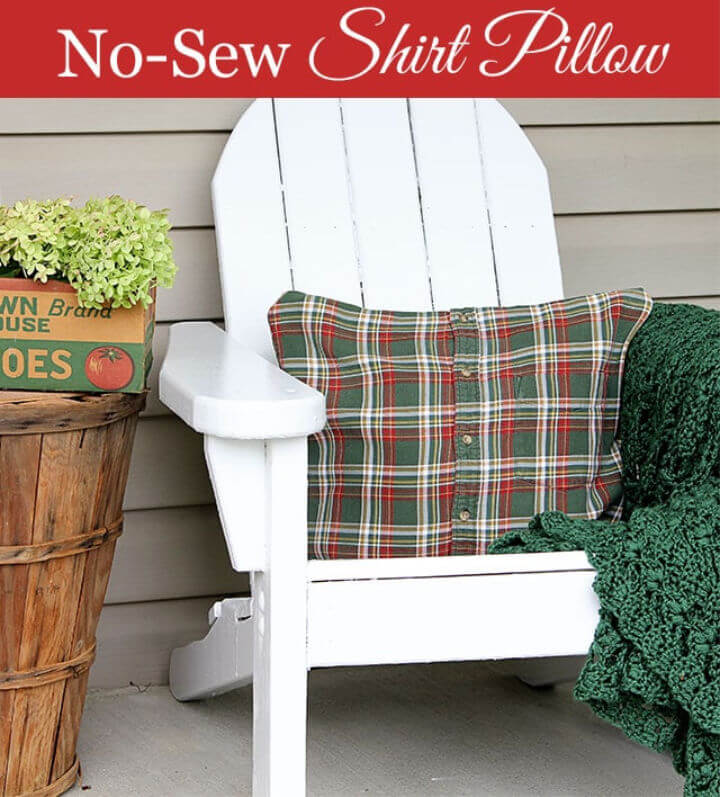 The style has no limits just imagination and some urge to bring another hit design in the world, eh?! Bring this ultimately chic design in your cushion décor game with this super cool shirt pillow cover. Could make one darling memory gift pillow! houseofhawthornes
8. Pretty DIY No Sew Pillow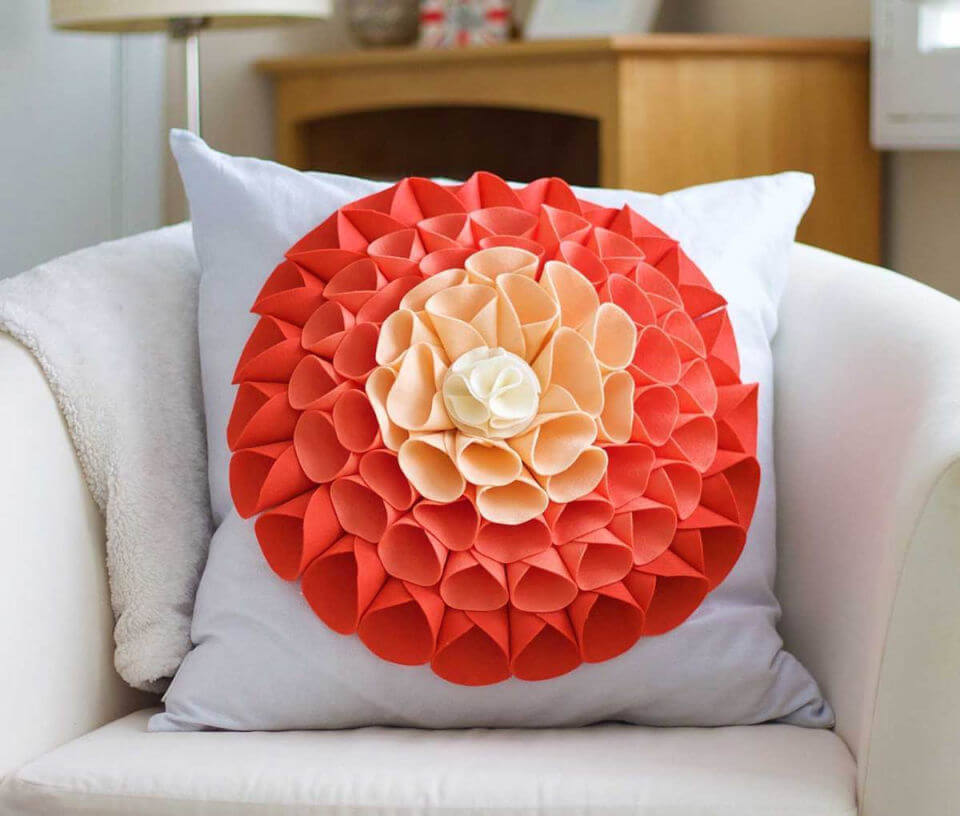 Add some lovely splashes of spring colors to your décor with this DIY no sew a pillow. No complex sewing embellishments and heavy sewing duty. You will just need some bright shades of wool felt, hot glue gun and a cushion. fiskars
9. No-Sew Placemat Pillow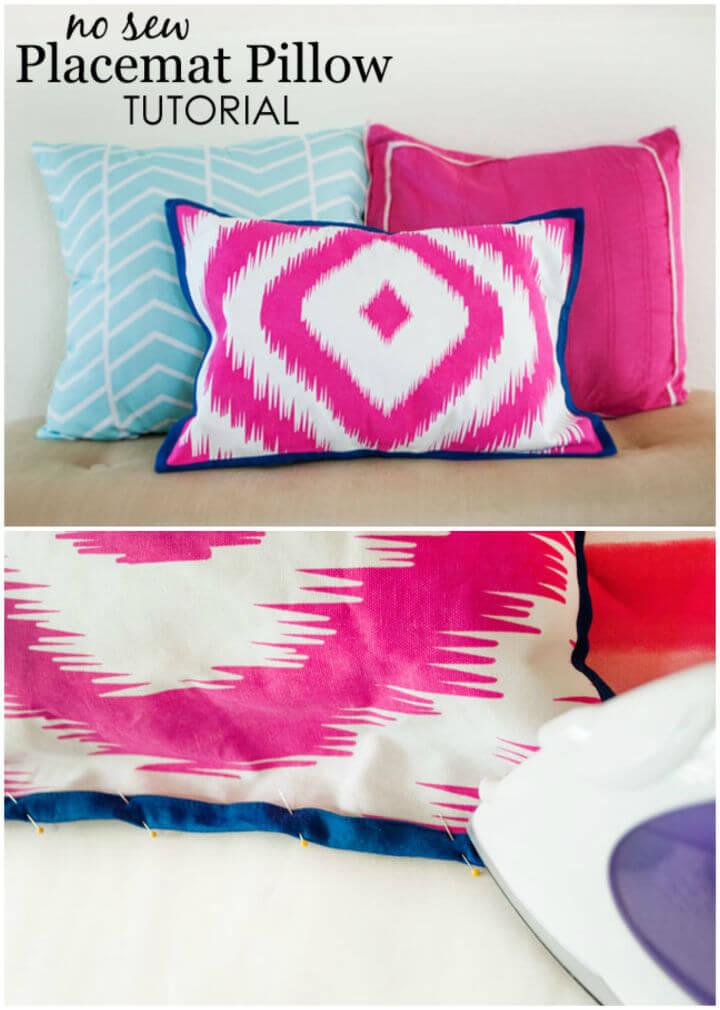 Save yourself some money by transforming some stylish placemats into these cool no sew pillow cushions. Probably synchronize your throw mats with your cushion décor. You just need a pillow, pillow form, seam ripper, straight pins, and get the full details here. projectnursery
10. Make Your Own No Sew Pillows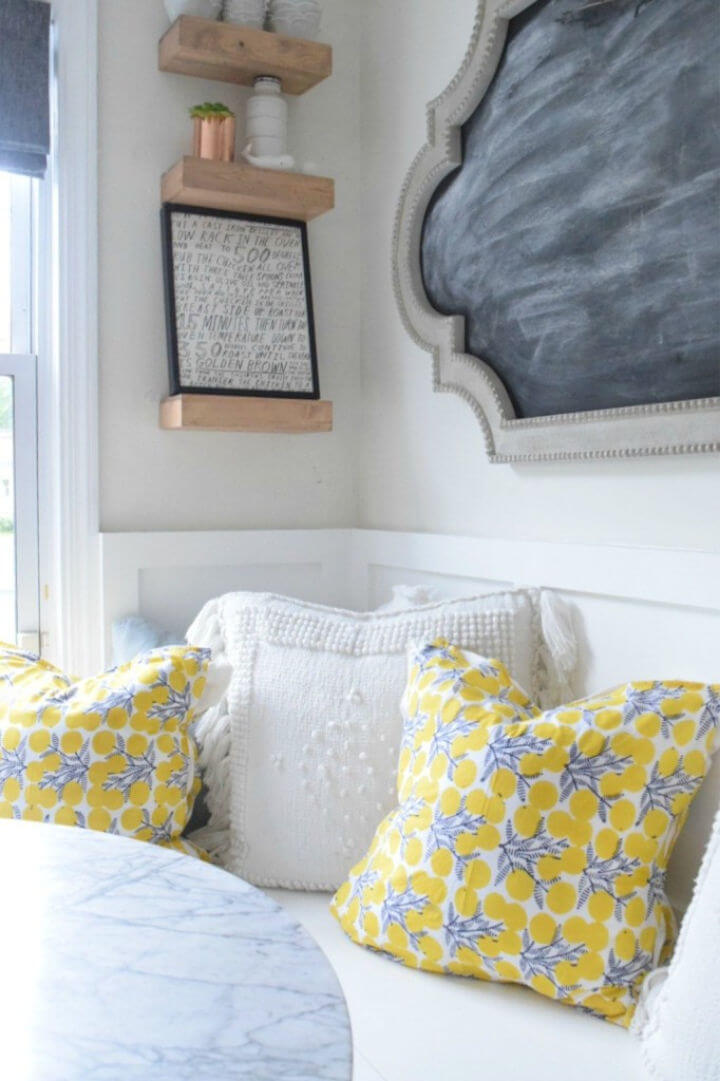 Sometimes you fall in love with a certain cloth napkin so much that you want to turn it into this cozy throw pillow. And sometimes you are just too lazy to get up and take out your sewing machine. For those sometimes, get the DIY no sew pillows guide here. nestingwithgrace
11. Petty No-Sew Knot Pillow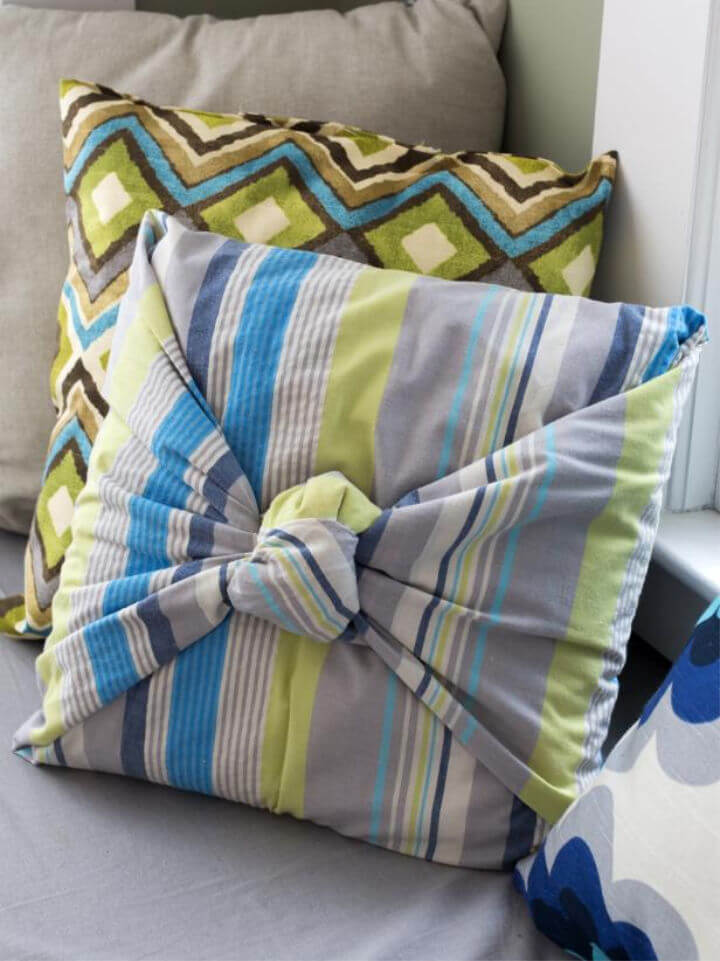 Like there is a cherry on top of the cake to make it give a complete look, this is exactly what a knot in a pillow cover does for us. You will need a small pillow square form, enough yards of upholstery fabric to wrap the pillow about three times around and scissors. diynetwork
12. DIY No-Sew Striped Pillow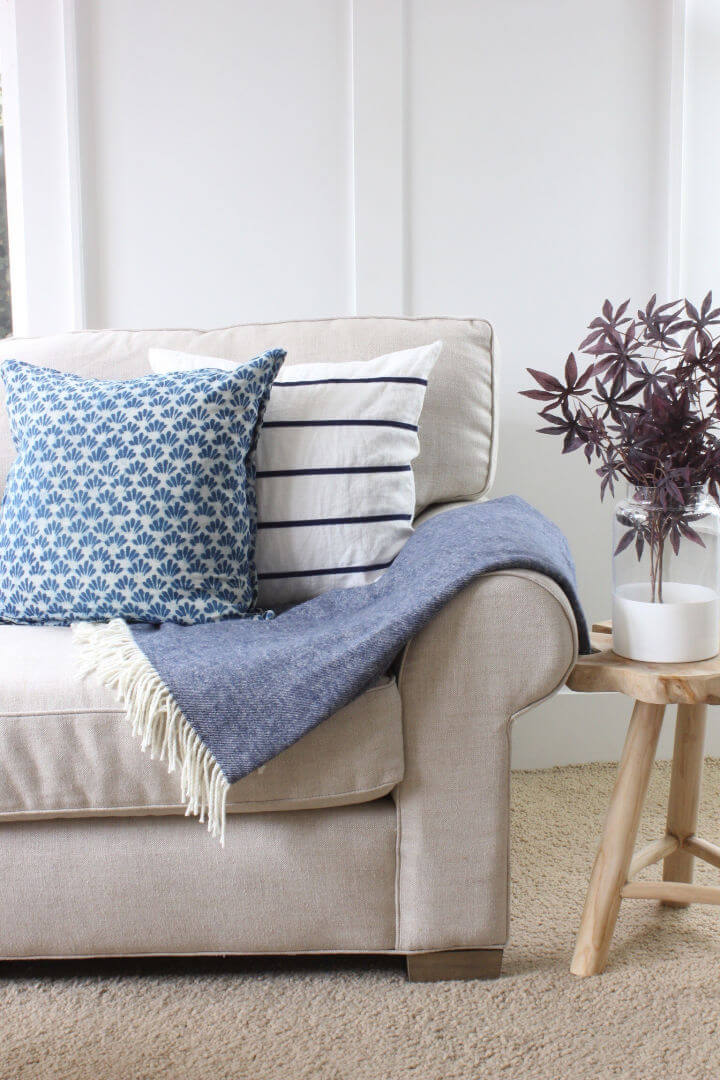 Save yourself some money by not flashing money on pillow cushions. In just $10, you can get the trendy pillow of your choice. It will look beautiful, the whole thing is just so easy to make and fun at the time, plus just so cheap! What a win, win, and win situation, right?! meaningfulspaces
13. No-Sew Envelope Pillows from Napkins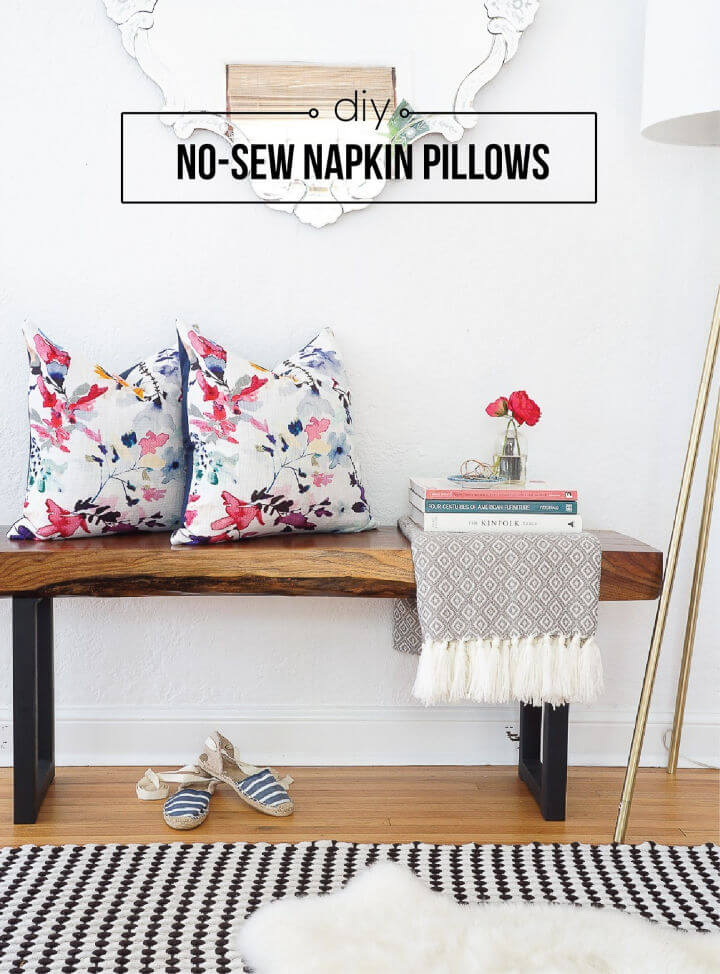 Make this uber-perfect no sew pillows for your throw cushions. If you are not a pro at cutting or sewing, you have got nothing to worry about because none of that is needed here. Not even enough cutting required. Francoisetmoi has got all the steps for you! francoisetmoi
14. Easy to Make No-Sew Throw Pillow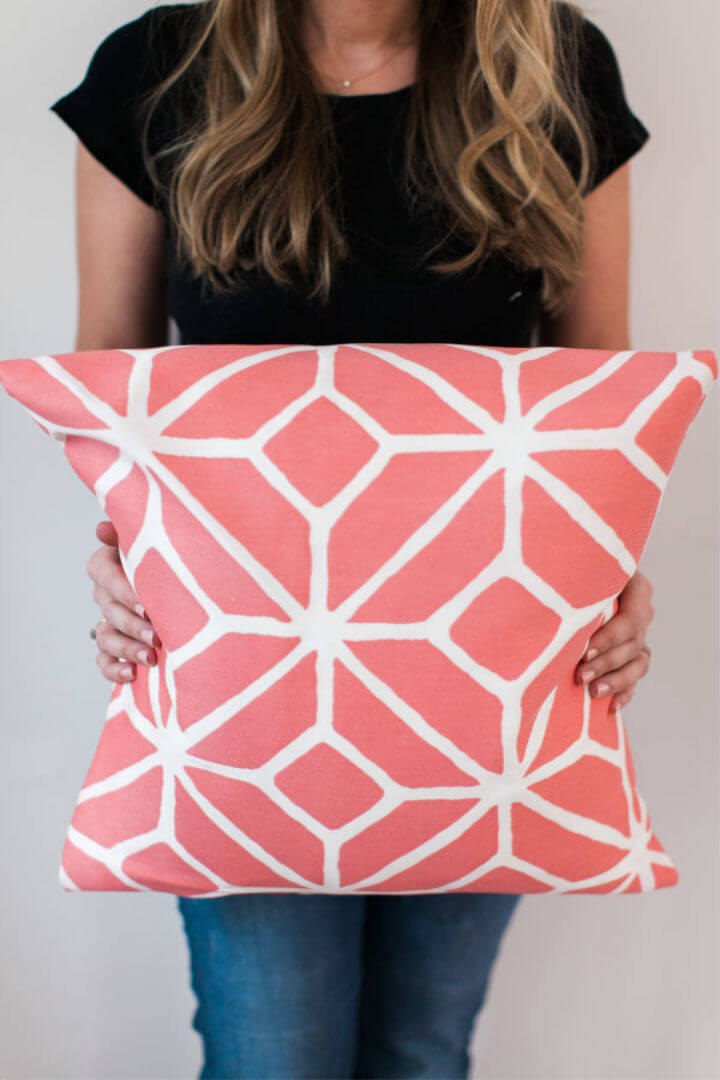 Get your hands on your favorite fabric, iron, pins, scissors, a yardstick, and iron-on fabric tape. Turn your favorite fabrics into these super bold and cozy throw cushions in just six simple steps. Take a peek at the steps here and make your favorite throw pillow covers in no time. stylemepretty
15. Handmade No Sew Throw Pillows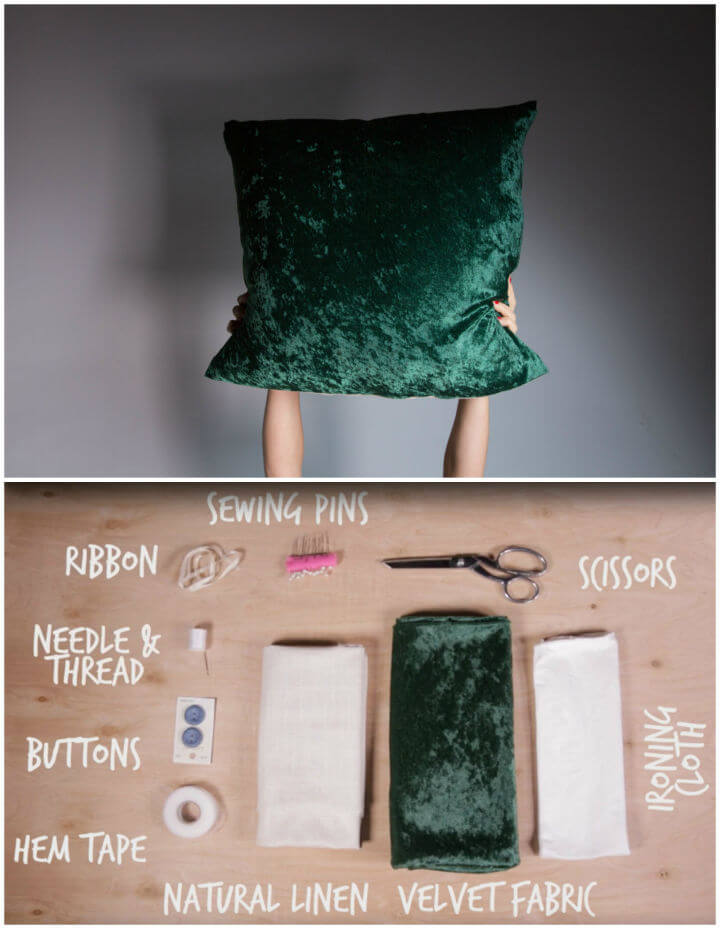 Oh, the subtle charm of velvet and the intense feeling of coziness that it gives. Bring some customizable ooziness to any space with this DIY no sew pillows steps. You will need some buttons, hem tape, linen, sheer press cloth, ironing board, and insert pillow. mrkate
16. No Sew Pillow Covers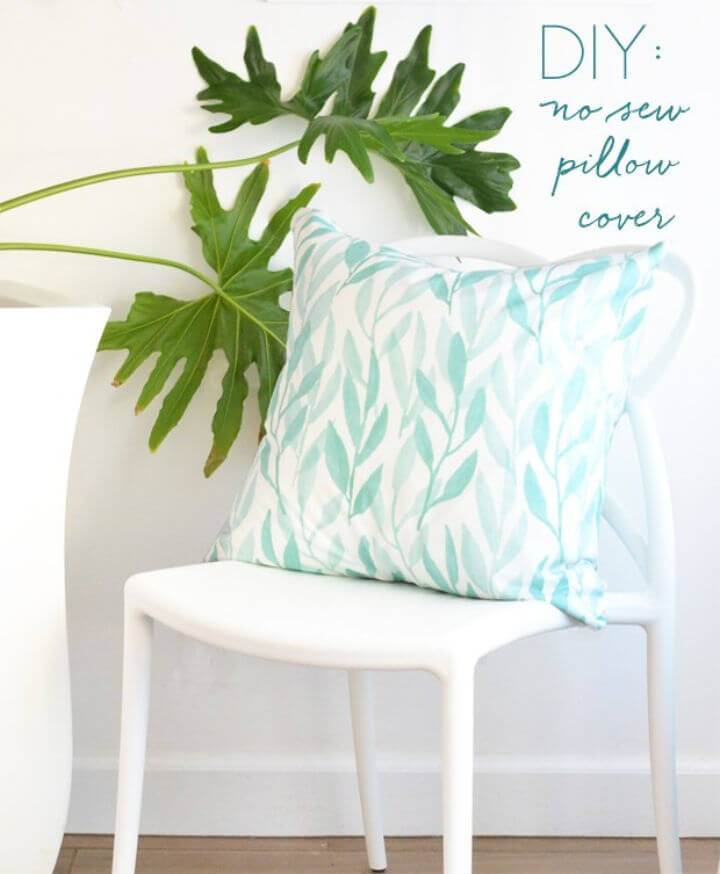 With new seasons, you must have the urge to revamp the curtains and cushions décor with something more light, breezy and floral. When it's summers or spring! But who has the time to sew new covers each time? Let's remedy that, shall we? With centsationalstyle, get on it. centsationalstyle
17. Make No-sew Applique Pillows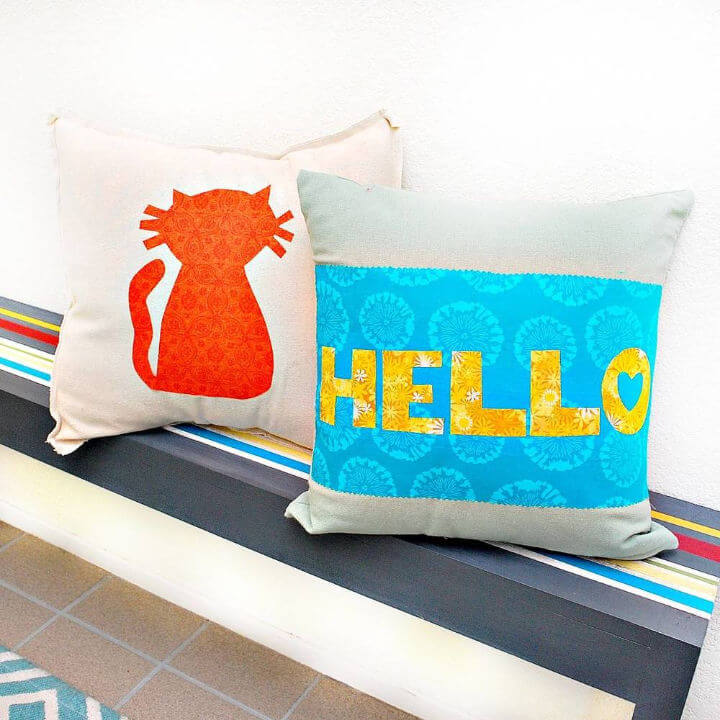 Dress up your simple pillows with these super cute and breezy applique designs with absolutely no sewing required! You will just need some fabric and no sew iron-on adhesive to do the magic. Bring some life to your boring pillows. blitsy
18. DIY No-sew Pop Tart Pillow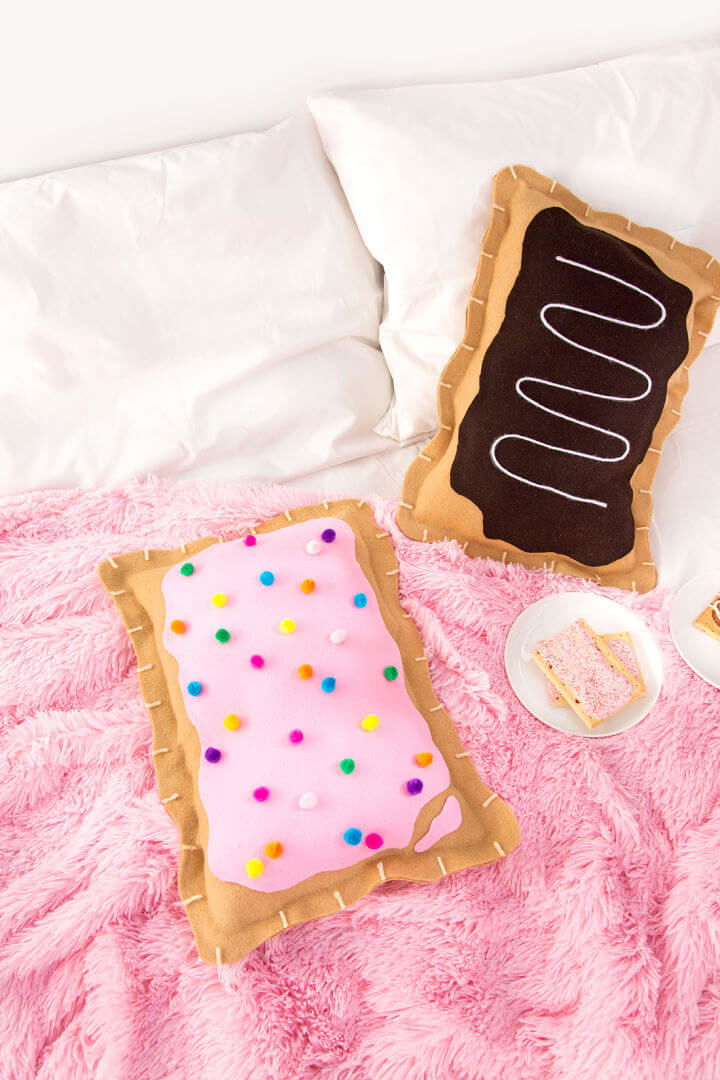 We are totally drooling over these pop tart pillows. Aren't these just utterly fantartstic? With awwsam on your side, you can make the giant version of everybody's most liked toaster pastry. The best part, making this involves the same step as that of assembling a real pop tart. awwsam
19. No-sew Pillows From Place Mats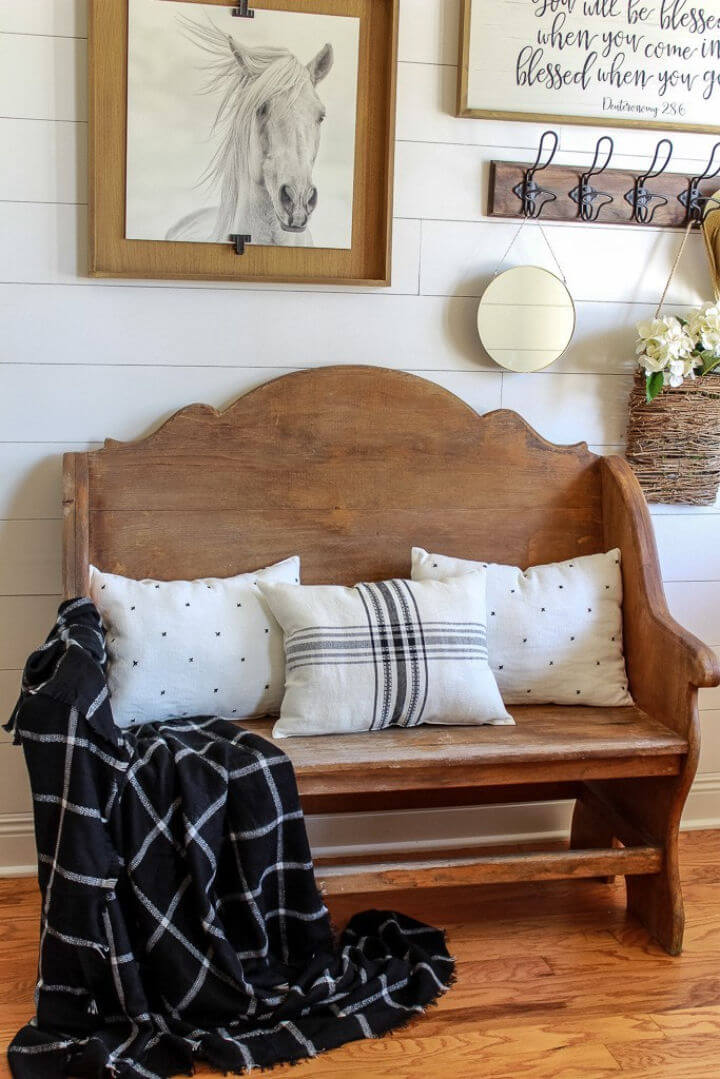 Hop on to the save money train with us here and make some super cheap and super easy no sew pillows with placemats. Throw pillows are the best to make any space look as cozier as it could get! Some double-ply placemats can do the magic just fine. beautyforashes
20. DIY No Sew Stamped Pillow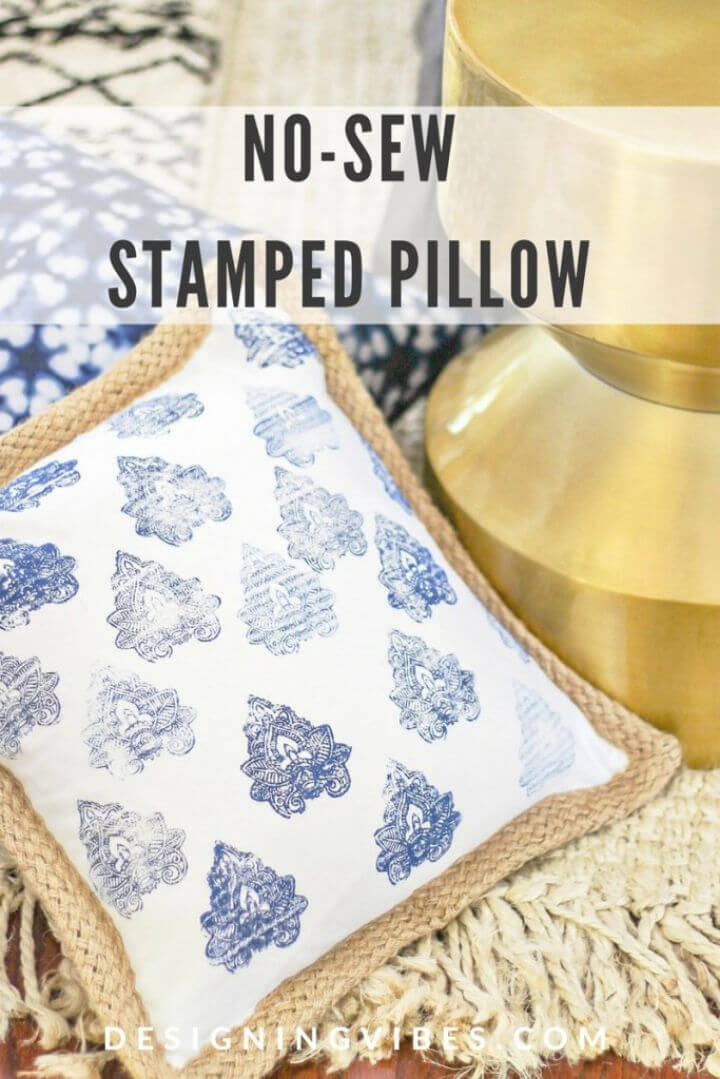 Add this minimalistic and simple DIY no-sew the stamped pillow to your cushion décor with Erica here from Designing Vibes. Enter the realm of textile enriched fabric accent with hand-block printed fabric! The best part, no sewing required. designingvibes
21. Simple DIY No Sew Pom Pom Pillow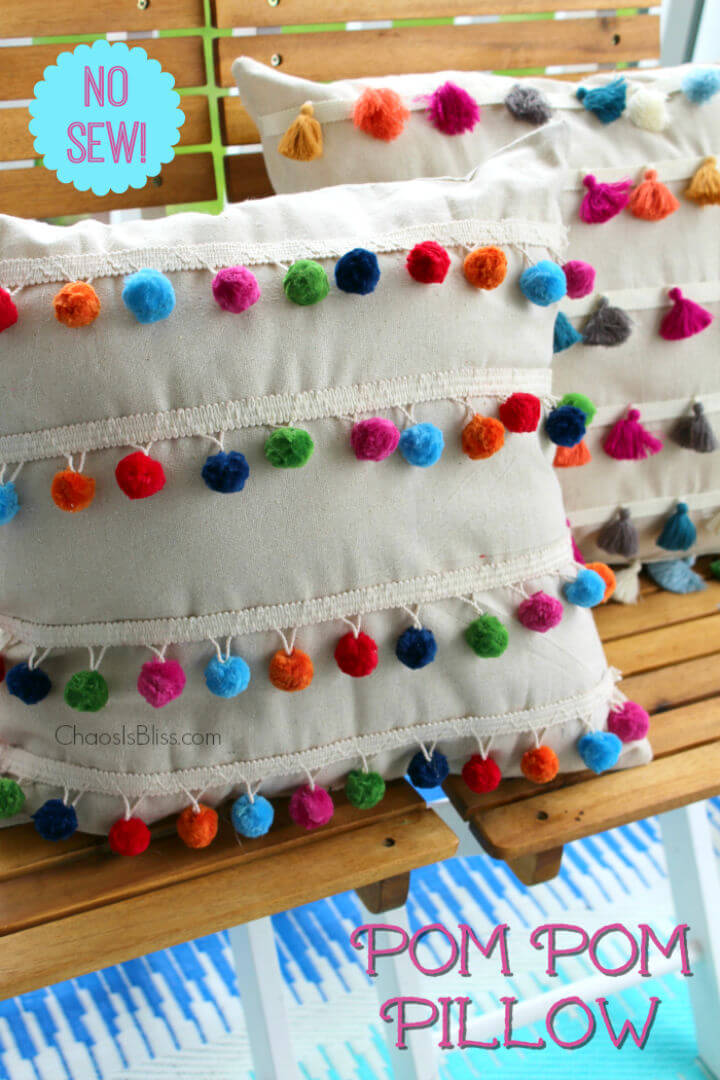 A few pom poms can brighten up any place and make it look way more lively. The supplies you will need for this DIY no-sew pom pom pillows are too easy to find, get them from any local craft store. Adhesive tape and a hot glue gun are going to be your major magic supplies. chaosisbliss
22. No-sew Sweater Pillow in 5 Minute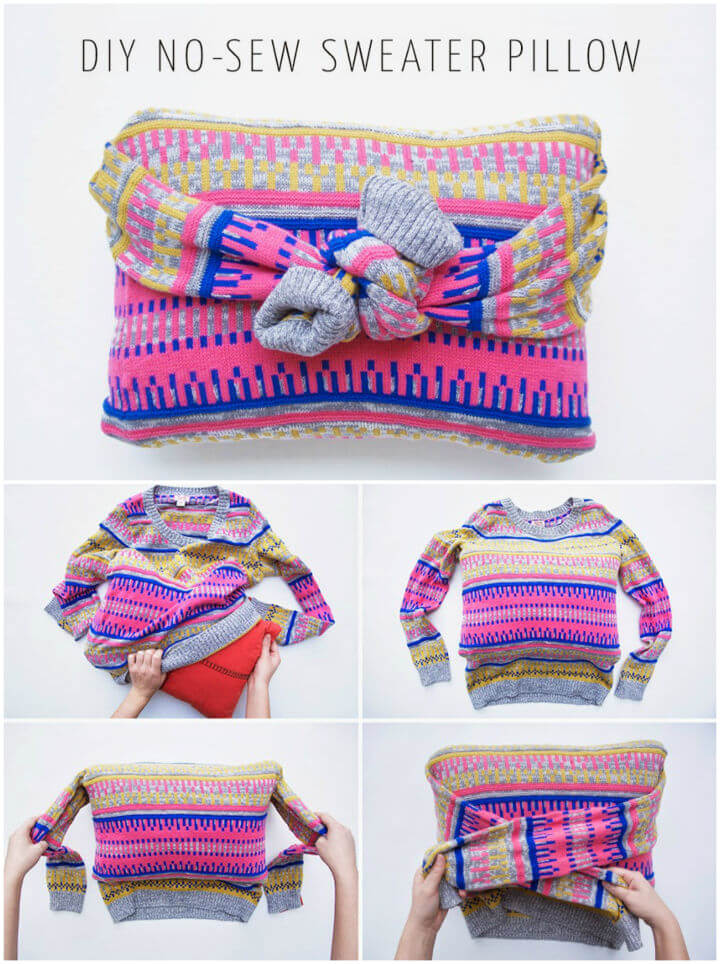 Whether you need a quick pillow cover redo or you just can't give up your favorite old sweater, this DIY no-sew sweater pillow is going to make or save your day! For one thing, it will look absolutely cute! For two, it's just so darn easy. cremedelacraft
23. Quick DIY No-sew Pillowcase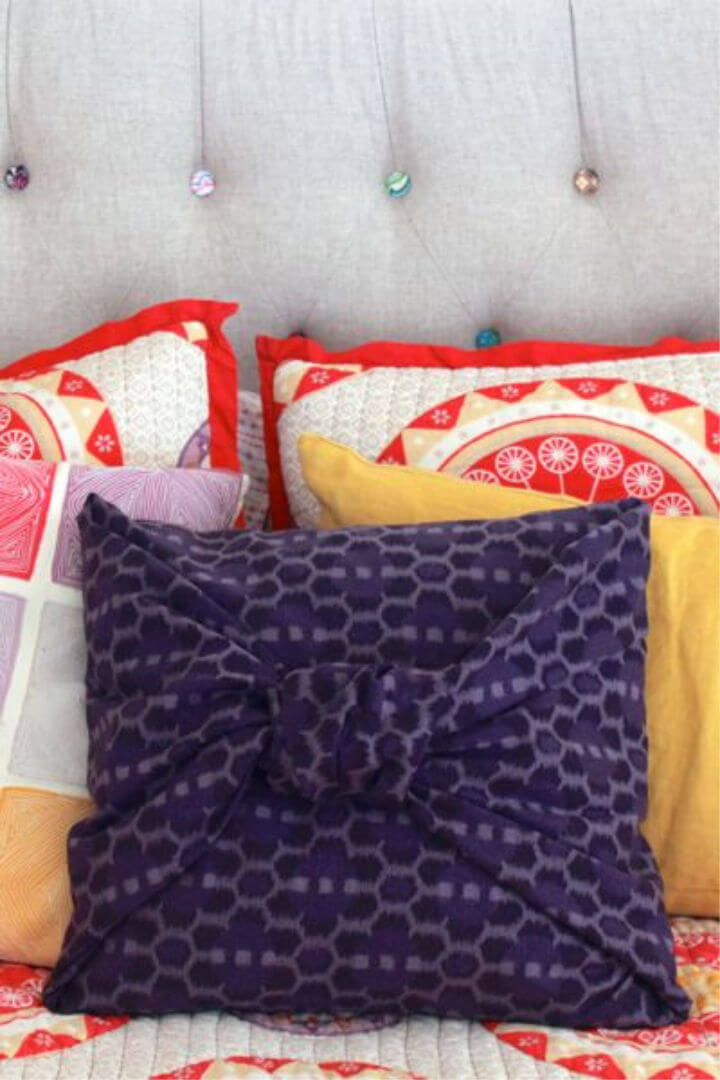 Bring a two versioned décor upgrade to your throw cushions! On one side, you can find perfect and textured tied knots and at the other soft, balanced fabric. You will just need some careful maths before hitting this off. Check alyssaandcarla for full details. alyssaandcarla
24. Make No Sew 5 Minute Pillows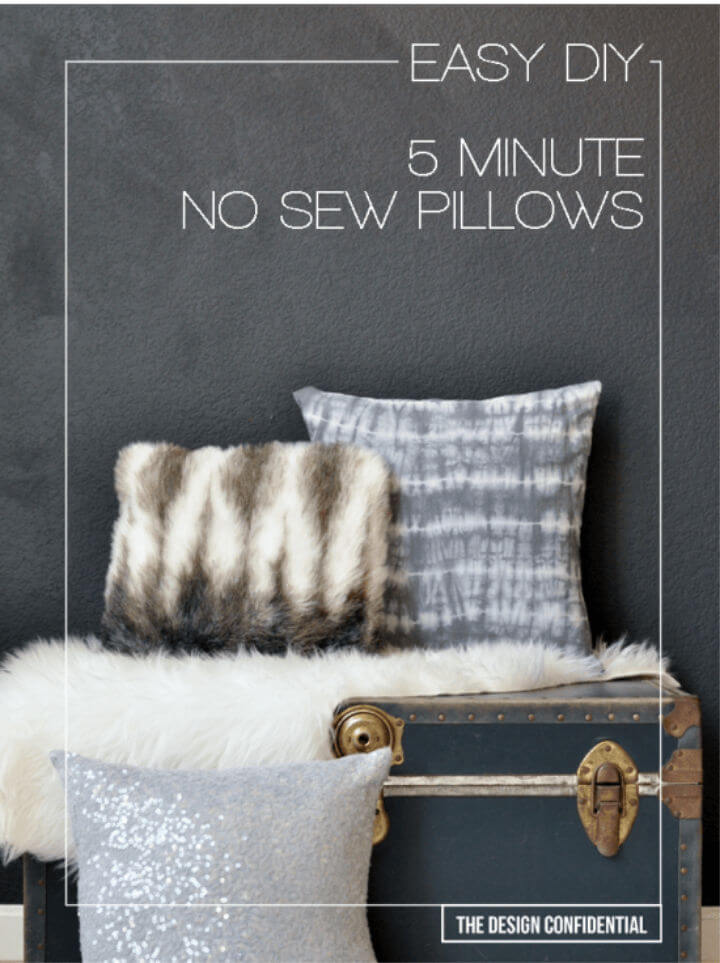 Apart from the ease and fun in the making no sew pillows, another thing is that you can opt for a décor redo by saving some bucks and time at the same moment! All you are going to spend money on is some fabric glue and pillow insert! Get some more 5 minutes no sew pillow ideas here. thedesignconfi
25. No-Sew Cat Pillow – Free Pattern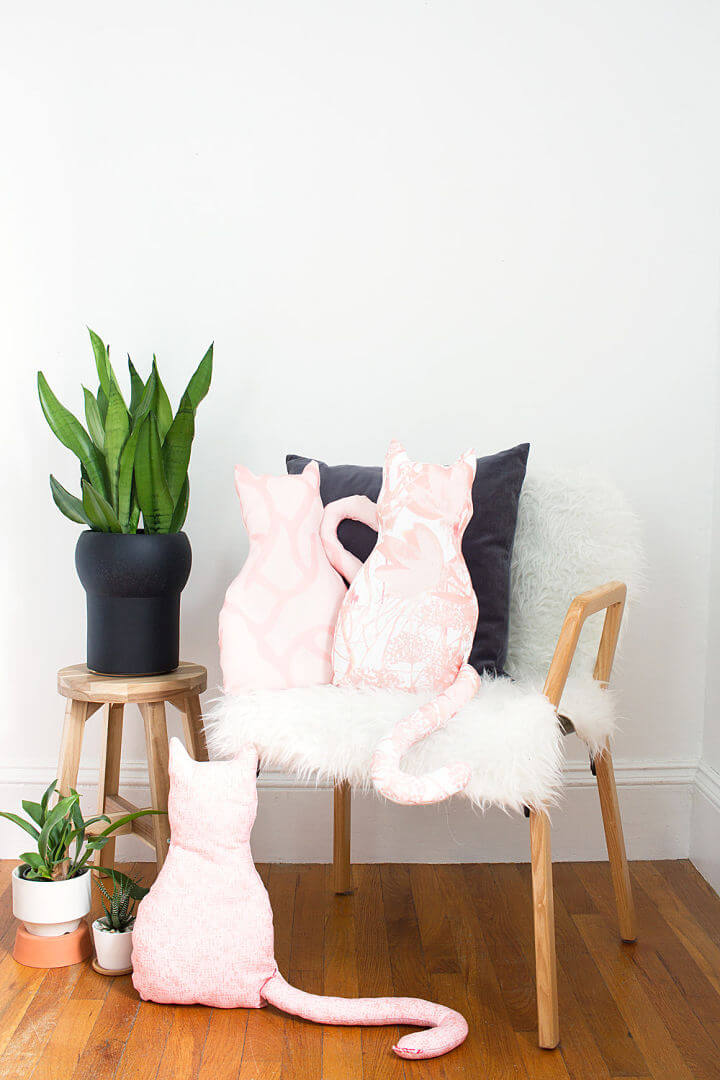 If you are a cat person with cat mugs, cat bedsheets and cat decors around the house you are going to fall in love with these coziest cat pillows! Plus, what might look sewing the cat shape out is actually not true! idlehandsawake has got the perfect no to sew DIT cat pillows! idlehandsawake
26. How to Make No Sew Avocado Throw Pillow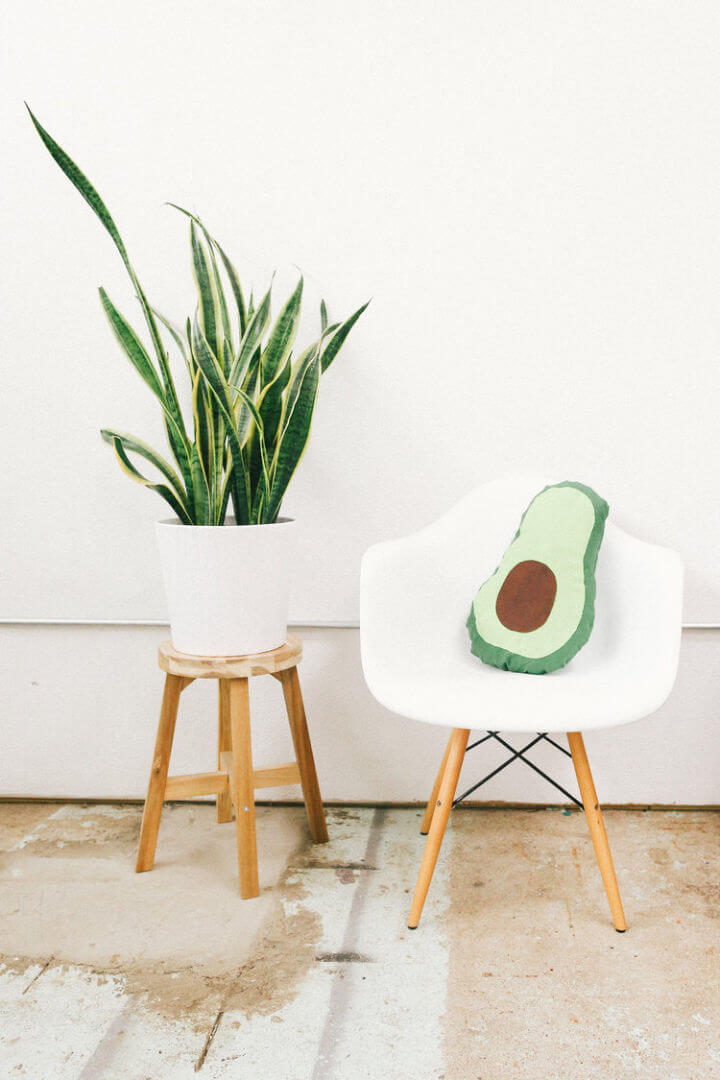 In just 30 minutes make yourself the perfect cozy avocuddle throw cushion! In only 30 minutes, make this super cute throw cushion and add a breezy touch to your décor. You'll just need fabric adhesive type, pillow stuffing, scissors, and a few other supplies. thepapercraftpa
27. DIY No Sew Fabric Pillow Covers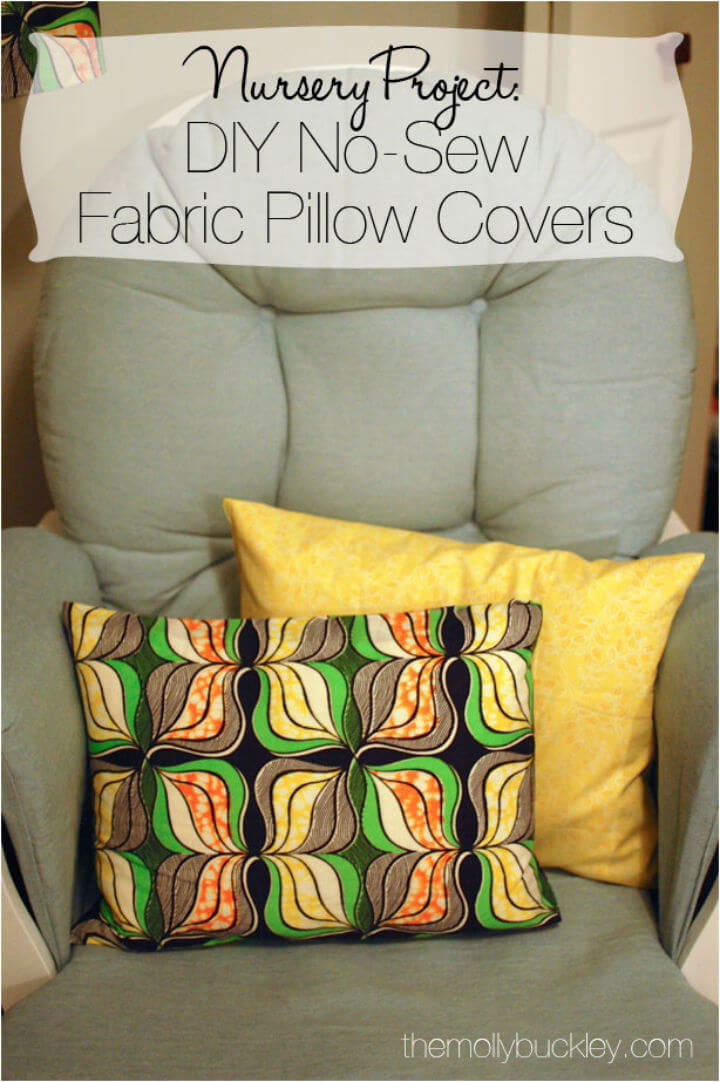 Check out this super cool, bold and bright accent fabric DIY no sew a pillow. With this technique, there is nothing like leftover fabric. You can make multiple pillow covers theming with the occasion, décor, and seasons. stillbeingmolly
28. No Sew Pillow Cover from an Old Shirt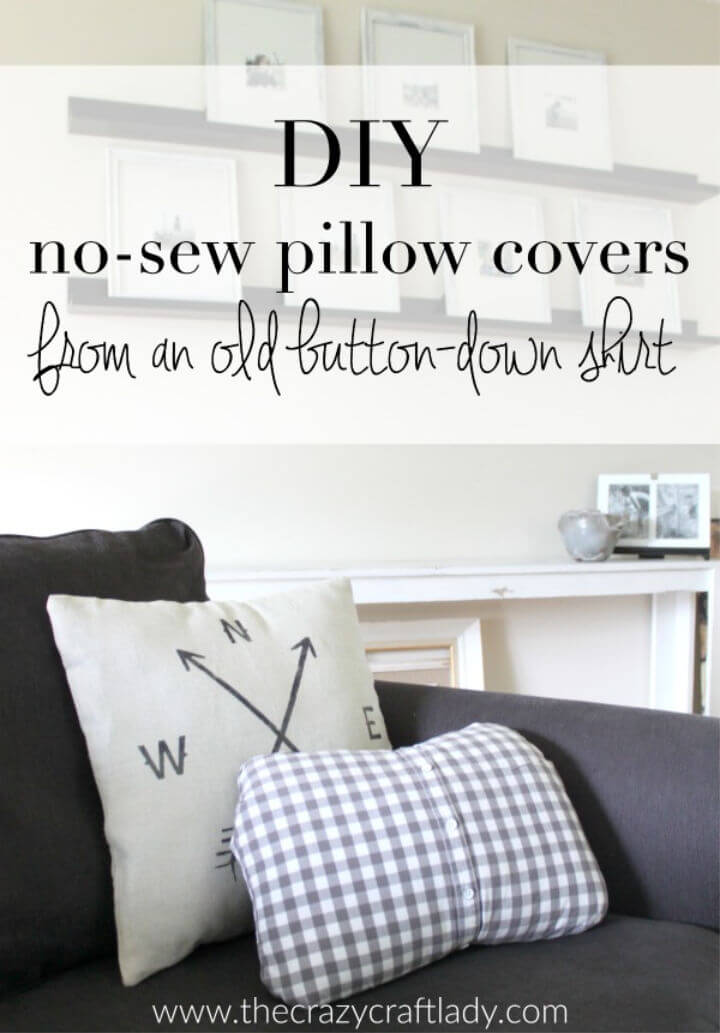 The Crazy craft lady here has got another crazy no-sew pillow to make your day! Transform your old and favorite shirt into this new and cool new throw cushion. You'll just need a pillow form, an old shirt with a button-down and fabric scissors. thecrazycraftlady
29. No Sew Football Throw Pillow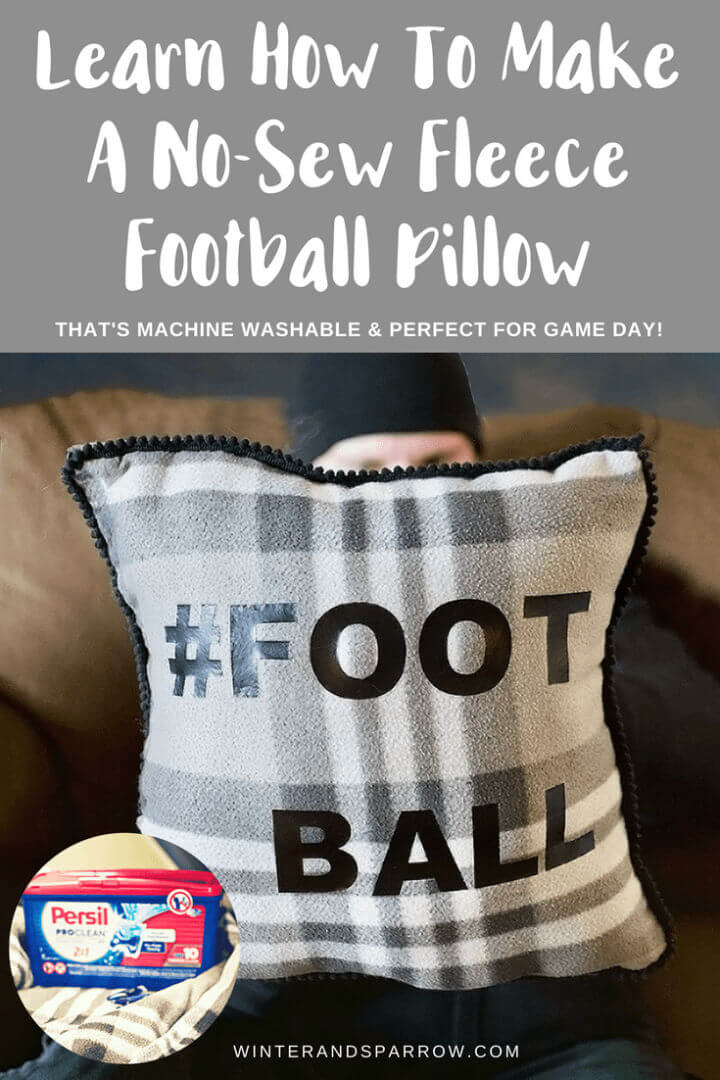 For our sweet football fans, we have got this darling DIY no sew football throw pillow. As football season is mostly in winters, fleece is the best option to go for. And also the coziest option too. It will keep your warm and tucked up while watching the game. winterandspa
30. No Sew Fat-quarter Pillow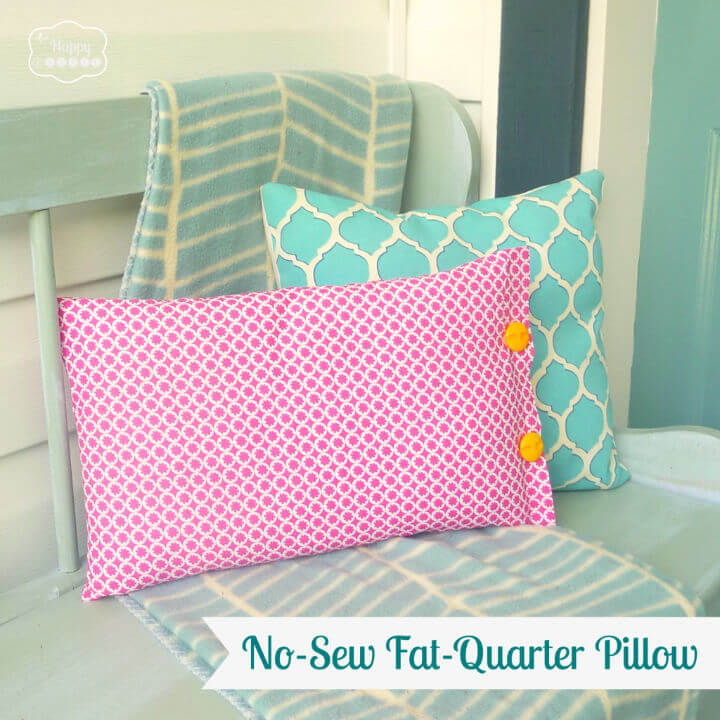 Get your hands on a fat quarter of fabric and an old pillow form. Turn this adoring combination into this cozy no sew fate quarter pillow. thehappyhousie has got the step by step guide to making this cozy pillow using heat n bond hem. thehappyhousie
31. No Sew Napkin Pillow Covers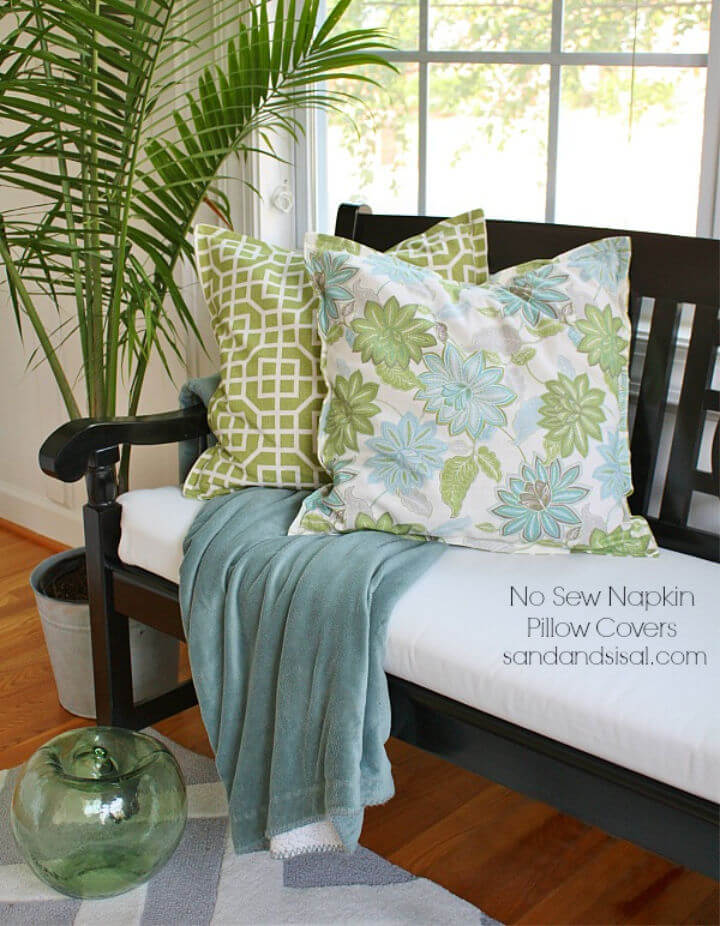 Who doesn't love fashionable, fluffy, and comfy pillows? Everybody does but the cost that comes with it is the tough part. sandandsisal is here to minimize the cost to the minimal possible level. These no sew pillow covers are made with cloth napkins. sandandsisal
32. Global Style No Sew Pillow Cover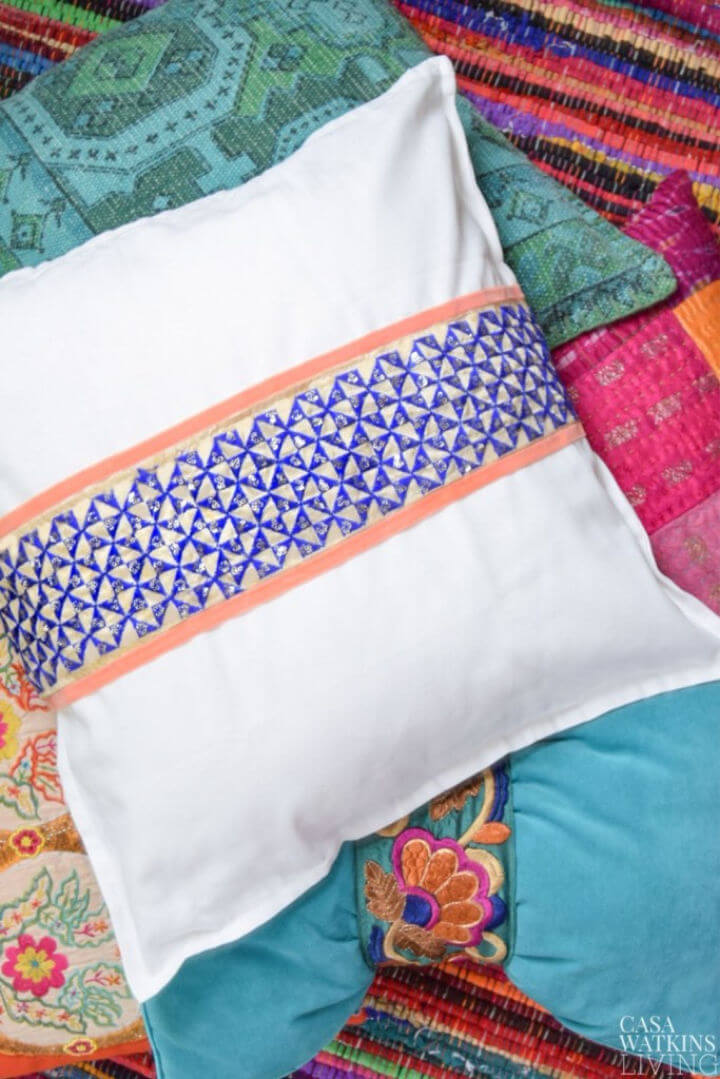 Vibrant colors and patterns are the must-haves for summer decors. This charming no sew pillow cover design is inspired by sari border ribbon on plain white canvas and background! You'll need some velvet ribbon, fabric glue, pillowcase, and iron. casawatkinsliving
33. DIY No Sew Pillow Cover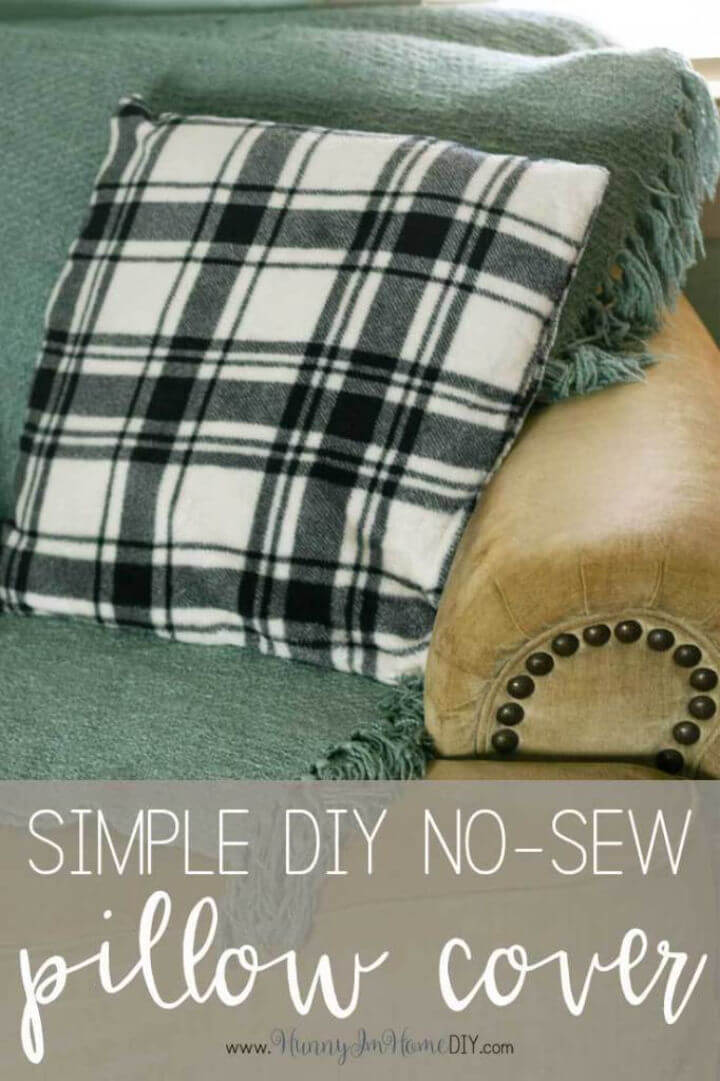 Instead of replacing pillows each season or after some months, get a hold on this uber easy and handy décor redo idea. Make these super comfy, and no-hassle no sew pillows and throw cushions. Make your living room into this super adorable and comfy zone! hunnyimhome
34. Beautiful DIY Metallic Foil Pillow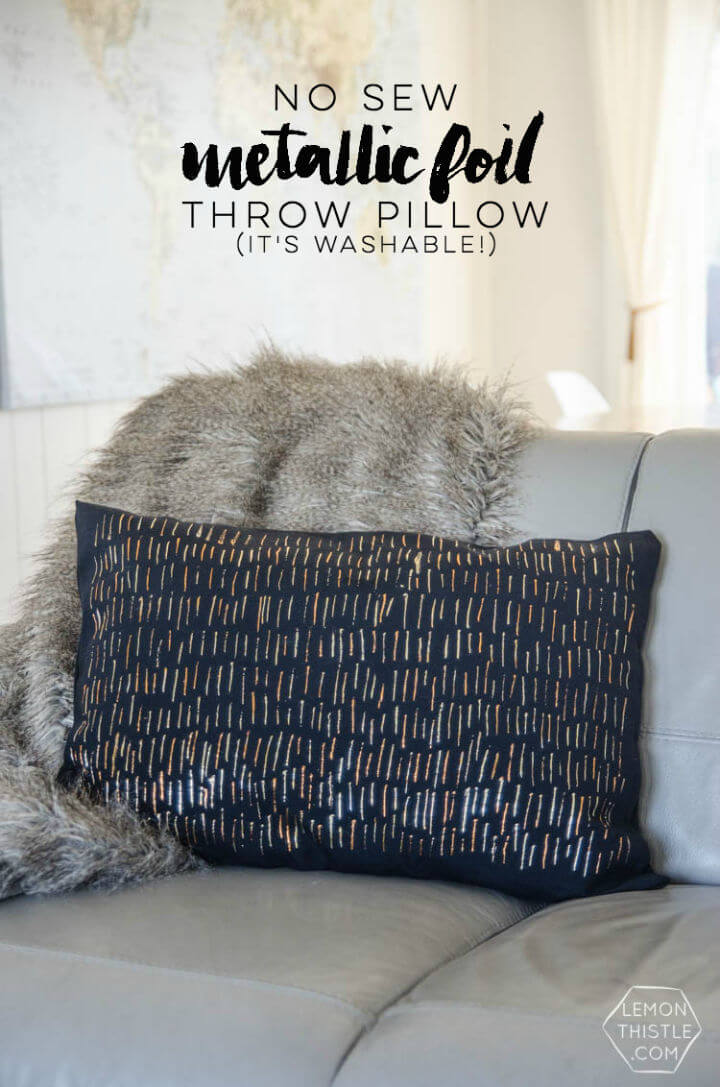 Sometimes a fabric accent is just so enchanting that you could just jump right to it and make it your décor charm! But who wants to go through the excessive sewing troubles? This is not just a no-sew pillow tutorial but a charming foiling guide too. Check the details here. lemonthistle
35. No-Sew Sweet Candy Throw Pillows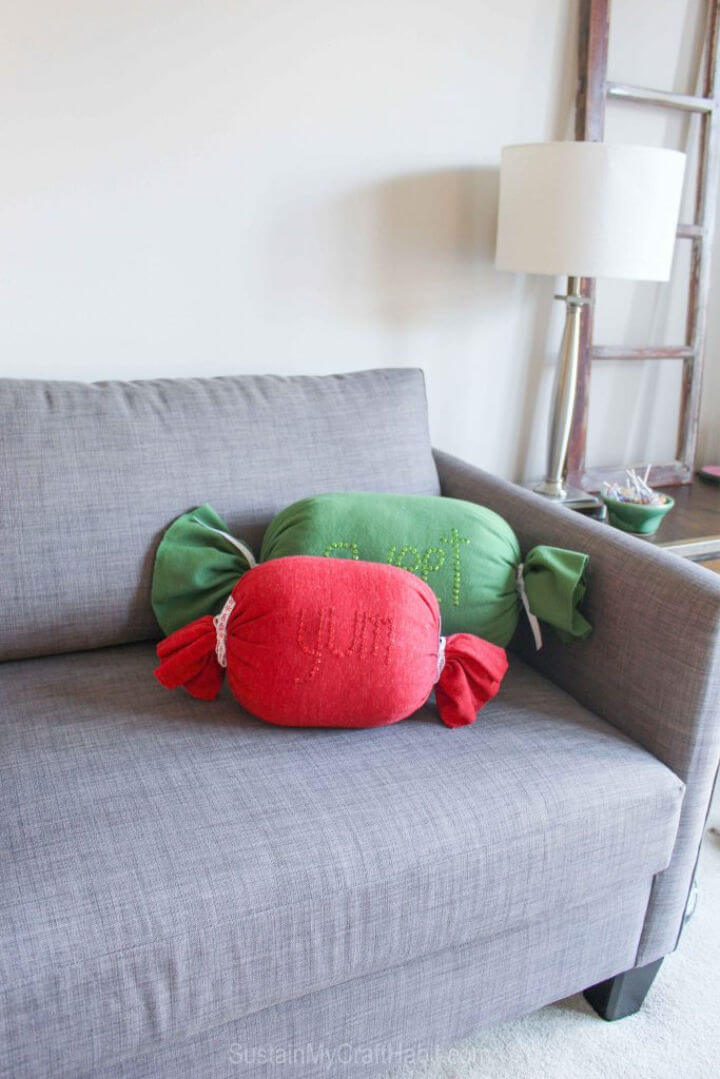 Look at these cute, chubby candies to serve your sweet tooth. For a lovely and darling holiday décor say Halloween, you could set up these candy pillows. They can also be cute holiday gifts for people you love, plus they come totally sugar-free. sustainmycraf
36. How to Make a Pillow Out of a Shirt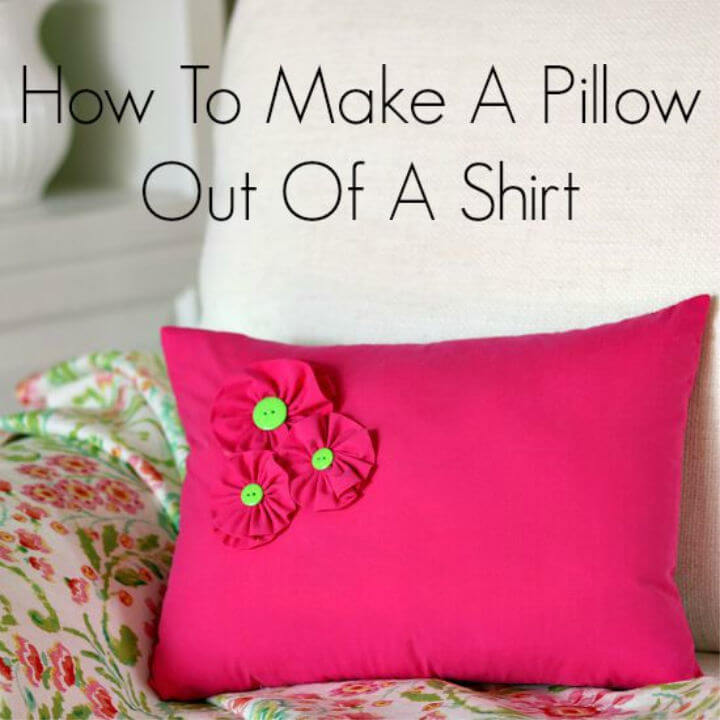 Given the costly fabrics and the troubles of buying them, check out this pretty cool and easy to make no sew pillow. Use your old skirt or shirt and transform it into this bold and lively throw pillow. An added bonus is the buttons to make the perfect closure. so sew easy
37. No-Sew Scalloped Ombre Pillows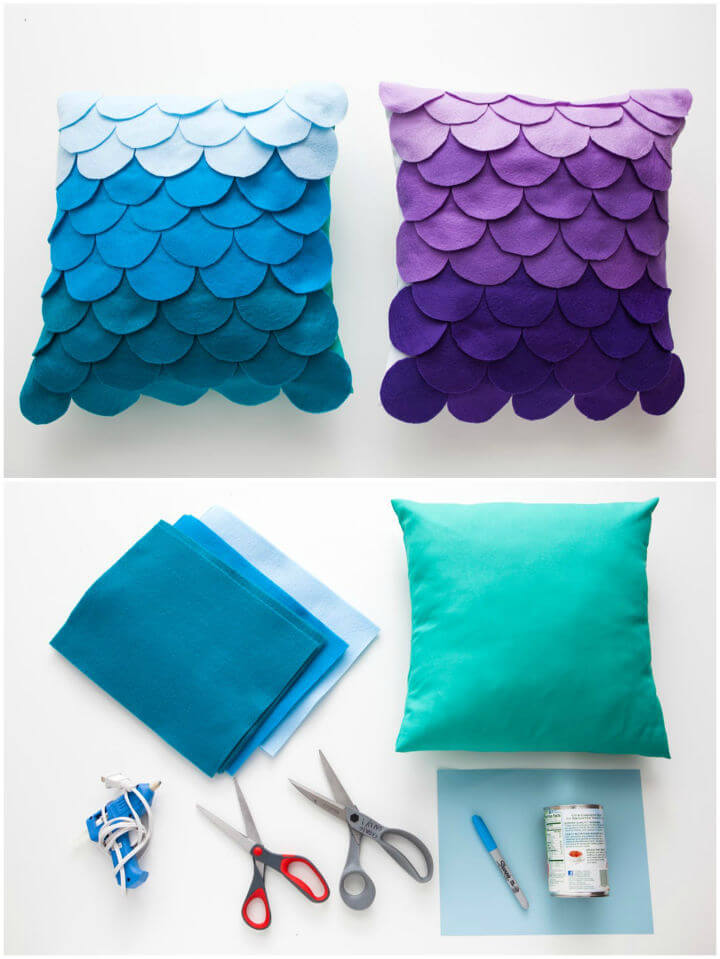 This ombre scalloped no sew pillows are not just thrilling and stylish but also so inviting! Use soft felt as embellishments in a perfectly playful scalloped pattern. Because every home needs cuddly and chic no sew pillows. brit co
38. DIY No-sew Felt Confetti Pillow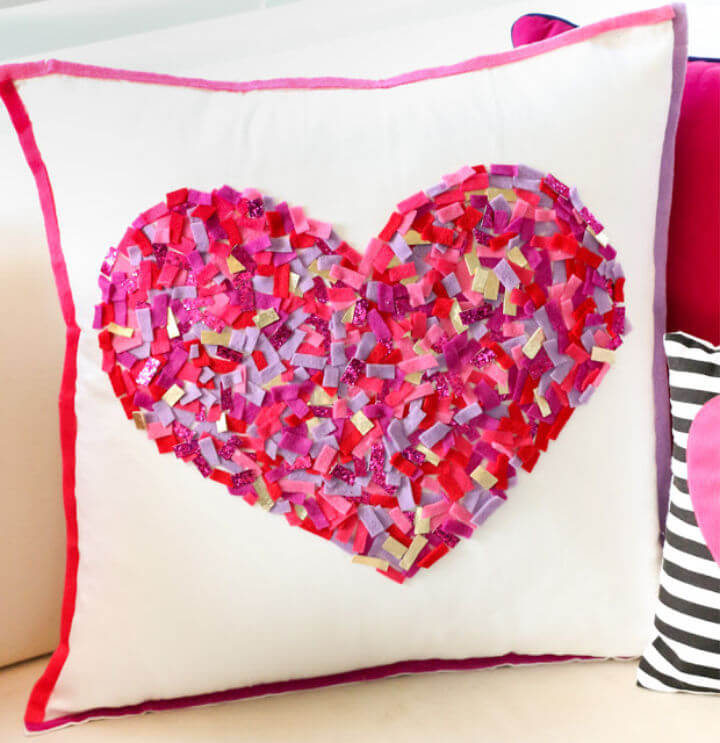 In just $10, you can have this super adorable and heartfelt pillow which can also make a cute valentine's day gift. If you have a solid canvas pillow cover, use this bright assortment of felt to make the base for this gigantic heart shape. Get full details by akailochiclife
39. No-sew Tooth Fairy Pillow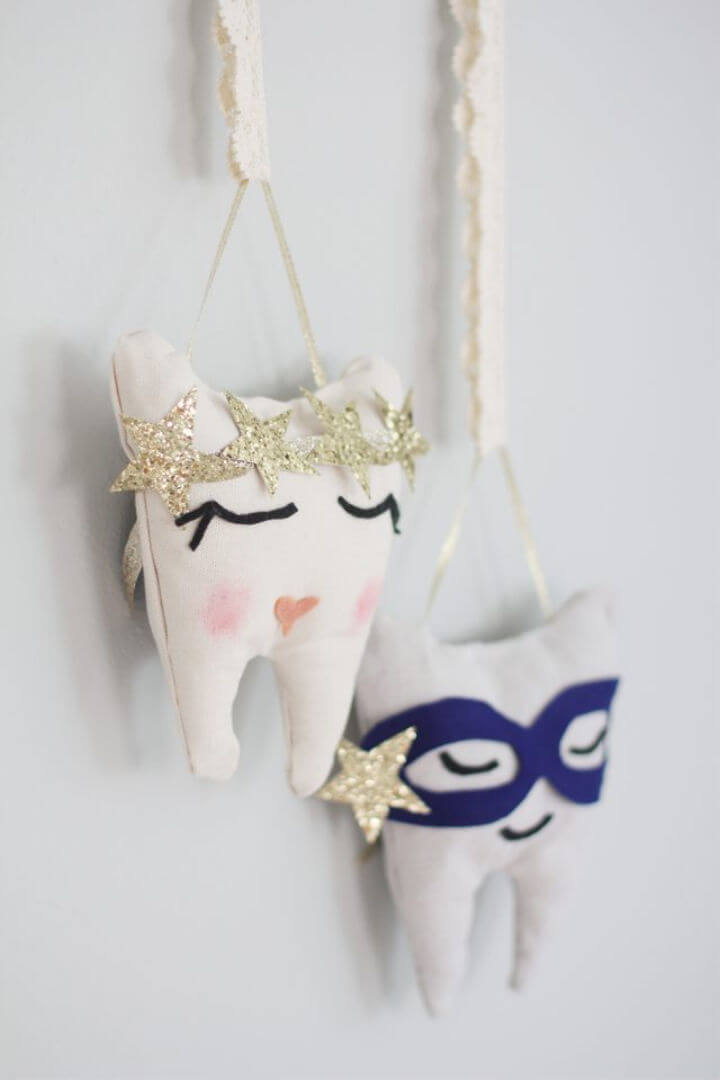 We have all been there. To the wonders of the tooth fairy and her magical appearance over the night to collect our teeth! Make this event even memorable and register it in their memories by setting up these cutest DIY no sew tooth fairy pillow. ehow
40. Pretty DIY No Sew Sequin Lip Pillow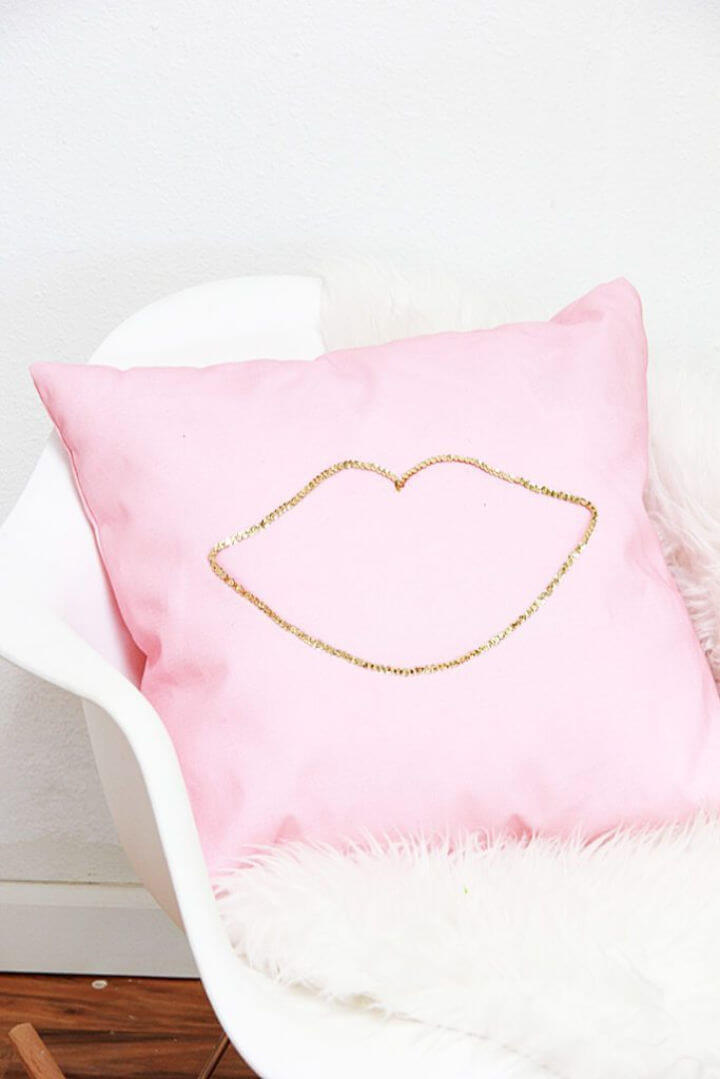 Add up some chic and minimalistic design to your throw pillows décor game. Check out this super cool and flaunty DIY no sew sequin lip pillow. You will need a pillow, sequin trim, glue, and a chic lip outline. abubblylife
Related DIY Projects and Ideas
DIY Cushion Ideas: You don't have to spend a fortune on new living room furniture to make your seating look and feel luxurious. With these beautiful DIY cushion and pillow ideas, you can update your home without breaking the bank.
Crochet Pillow Patterns: Learn how to crochet a pillow with these free crochet pillow patterns that includes a variety of styles and designs, like simple squares or rectangular cushions and more.
DIY Throw Blankets: Stay cozy and cool this summer with a handmade throw blanket! These creative DIY blankets are perfect for naptime, summer reading, or lounging on the couch.
Weighted Blanket Ideas: These gorgeous DIY weighted blanket ideas for toddlers are perfect to make and give as gifts. Get the best idea for your child's needs and budget.
DIY Baby Blankets: The best way to keep your baby warm is to create a cozy blanket just for them. Here, you will find easy DIY baby blanket ideas that are perfect for all levels of sewers from beginner to advanced.
Doll Sewing Patterns: These free doll sewing patterns will help you enjoy making dolls at home. Use these sewing patterns with your children and learn to sew together.
Baby Clothes Patterns: This list of free baby clothes patterns includes a variety of styles, like short-sleeved shirts, dresses, and cozy sweaters. These projects are perfect for beginners and last-minute gifts!
Conclusion
So, if you're in the need of a new pillow and don't feel like sewing one yourself, we hope you will consider some of this DIY no sew pillow ideas and covers that we shared here today. Not only are they stylish and affordable, but they are also easy to make using materials that you may already have lying around your house. If you do decide to take on one of these diy pillow covers, be sure to share pictures with us so that we can admire your handiwork! In the meantime, happy crafting!