Learn how to make cozy floor cushions with these 25 easy DIY diy floor pillows pattern with step by step instructions and sew PDF pattern. DIY Floor pillows and cushions are a great way to add comfort and texture to any room. They create a cozy corner for relaxing, and DIY floor pillows can be surprisingly affordable when made with the right materials. To get started, you'll need to obtain a floor pillow sewing pattern and the necessary supplies, such as fabric, stuffing, and trim. With just these few items, plus some basic sewing skills, you can have your own uniquely designed and stylish diy floor cushions in no time!
Do you feel like your living space could use an upgrade? Create a cozy, inviting atmosphere with floor pillows and cushions! DIY floor pillows are the perfect way to add some extra seating and comfort to any room. You can choose from a variety of diy floor pillow patterns—softer adjustable cushions for movie nights or firmer bolster pillows for reading nooks. Even better, you can make them as easy or complex as you'd like. With just fabric, stuffing, and a sewing machine, you can quickly create beautiful diy floor pillows that will last you years to come.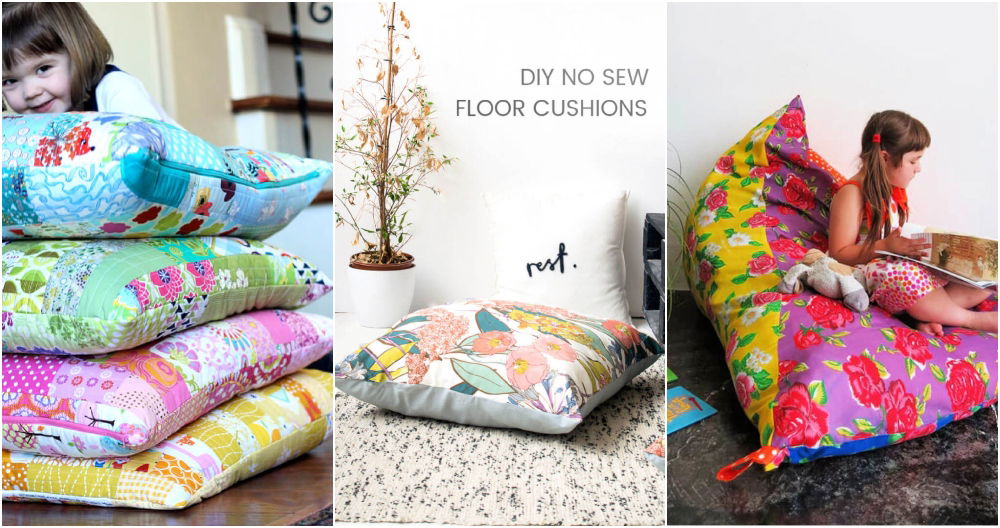 With our collection of 25 free DIY floor pillow patterns, you can make some fantastic floor pillows. Our collection of creative diy floor pillows will walk you through making some comfy throw pillows of all sizes and kinds that will add comfort, colors and decorations to your home! From our delightful diy floor cushions collection, you never have to fret about home decor again. Choose your favorite designs by sewing these cool pillowcases at home. Sew comfy pillows for your living rooms or bedrooms and make some brilliant family treasures!
1. Giant Floor Pillow Sewing Pattern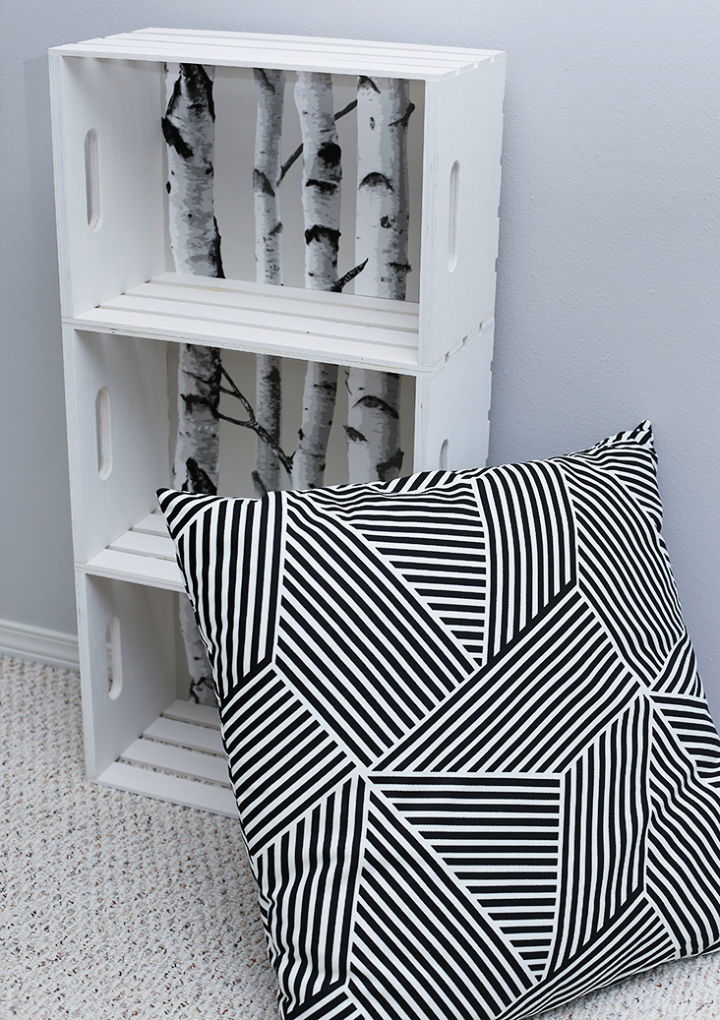 This striped pillow will add an exciting flair to your home but won't even take more than a day to make this! Keep it around your kid's reading corner, and they are going to love reading and snuggling on it! Check the tutorial for details. sewmuchado
2. DIY Summer Floral Floor Cushion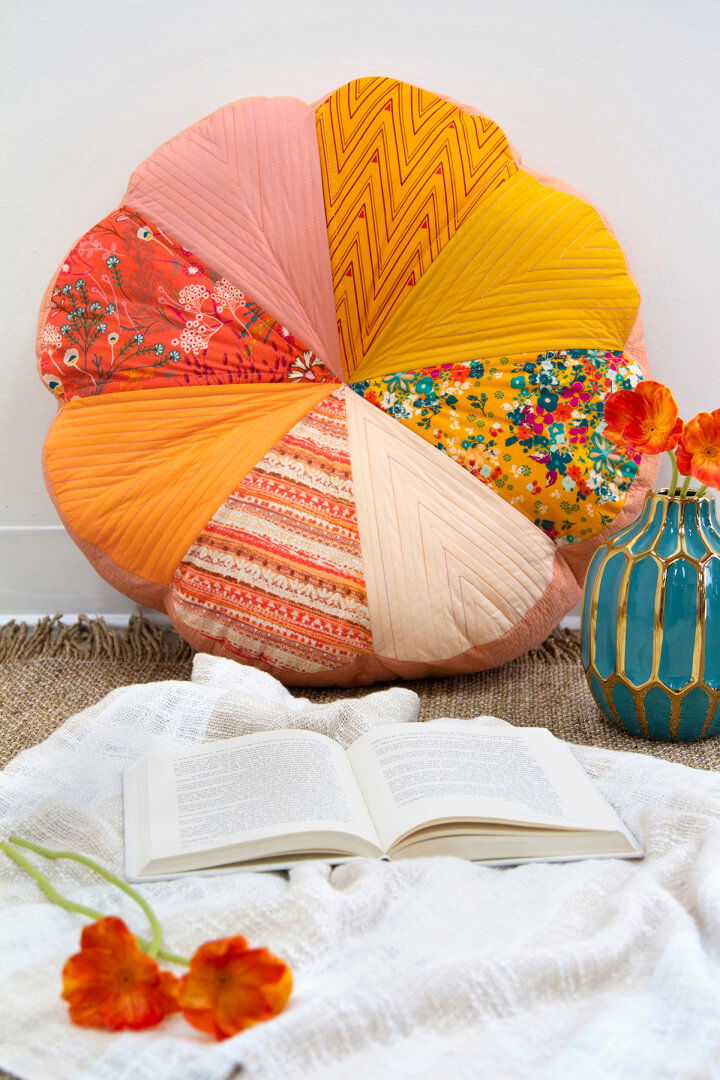 Whip up the summers with this cool floral floor cushion! With this classic design, you can have some comfortable and soothing me time even out in the garage or lawn! It's so easy to piece your fabrics together in this gigantic flower. weallsew
3. Making a Floor Cushion in One Hour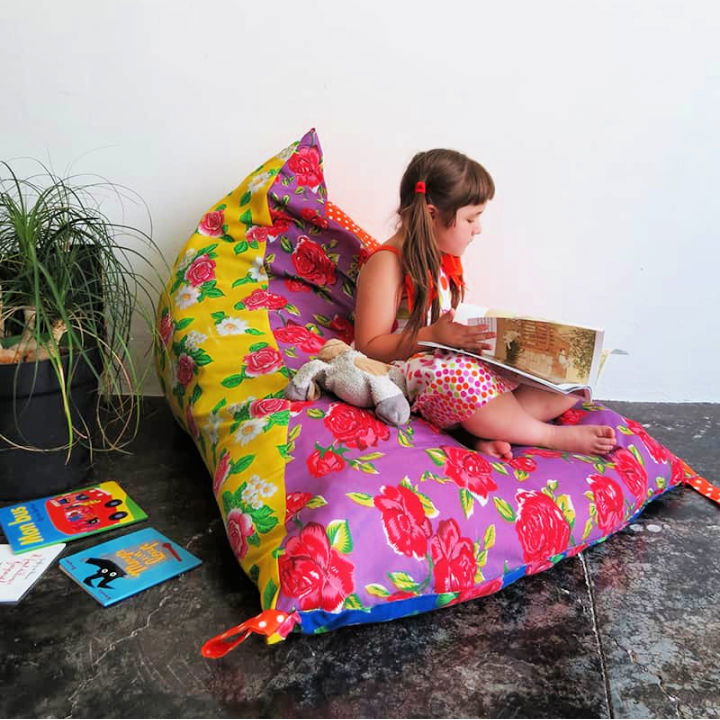 The right size of a fluffy pillow is to keep it as large as it could be! Make this huge decorative and welcoming pillow and give your kids the perfect spot to read or snuggle in! It's very easy to make and insanely low on the budget too! ohohdeco
4. Free Floor Pillow Sewing Pattern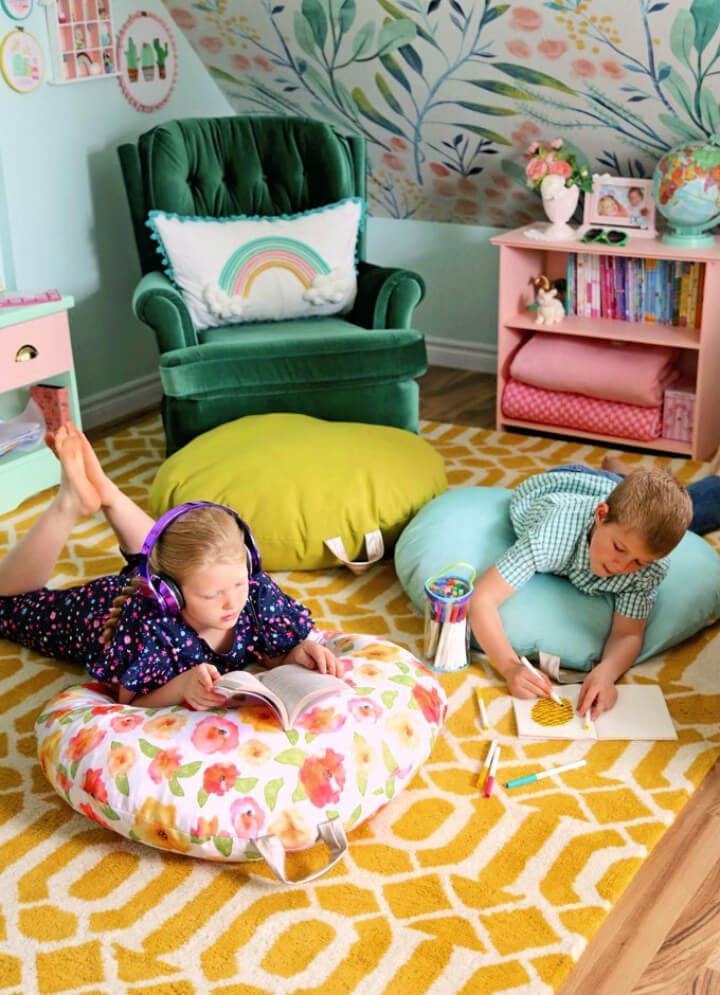 These little beanies should be in every room. So that when you get tired with all those long sittings on the couch or bed, you can just ease it up while laying around the floor and working! The tutorial will walk you through the step by step guide for this. fynesdesigns
5. How to Sew a Portable Kids Pillow Bed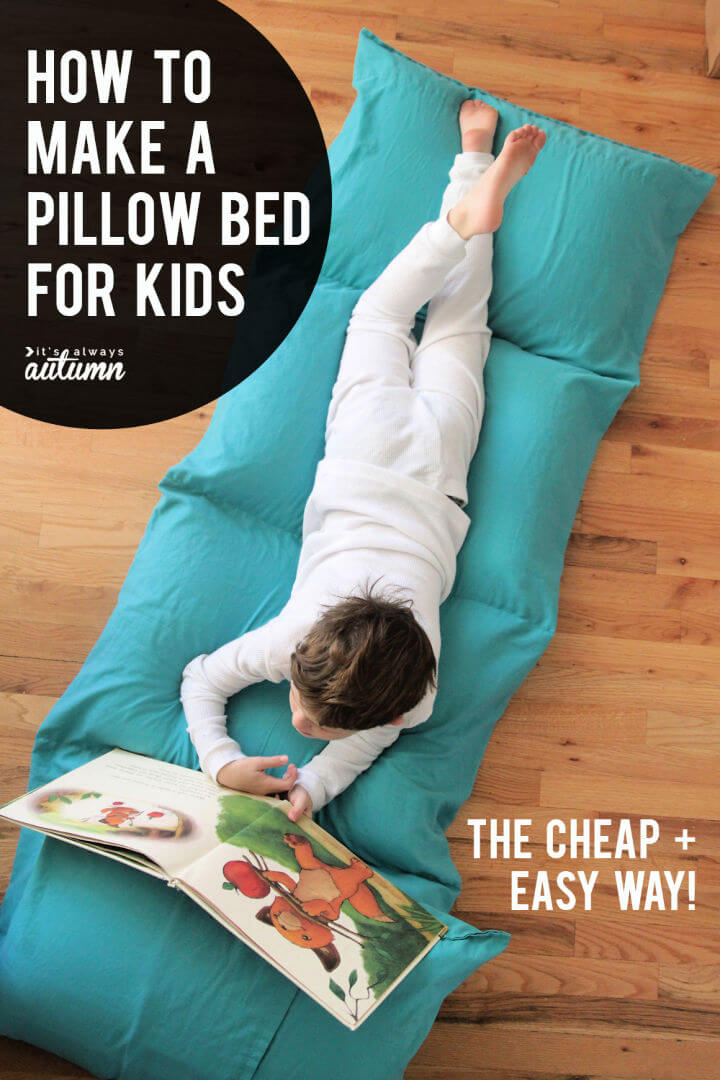 A portable pillow bed could be anyone's favorite resort just to drop in and wear off the exhaustion from a long, long day. Plus, on a cool spring day, you could just chill outside by lying on it with a bowl of fruits and your favorite reading. itsalwaysautumn
6. DIY Color Strips Scrap Floor Pillows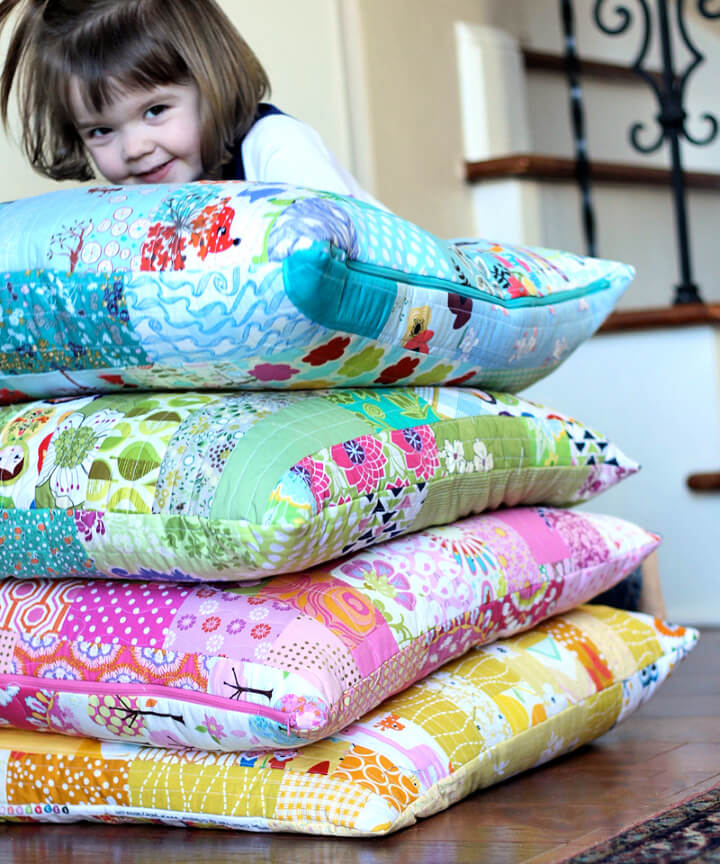 If you wish to add up some colors to your décor, these DIY color strip scraps pillow can do the magic for you just right. If you are true DIY project lover, you must have these plenties of fabric scraps piled up in a corner. Time to put them to good use! sewmamasew
7. How to Make Tufted Floor Pillow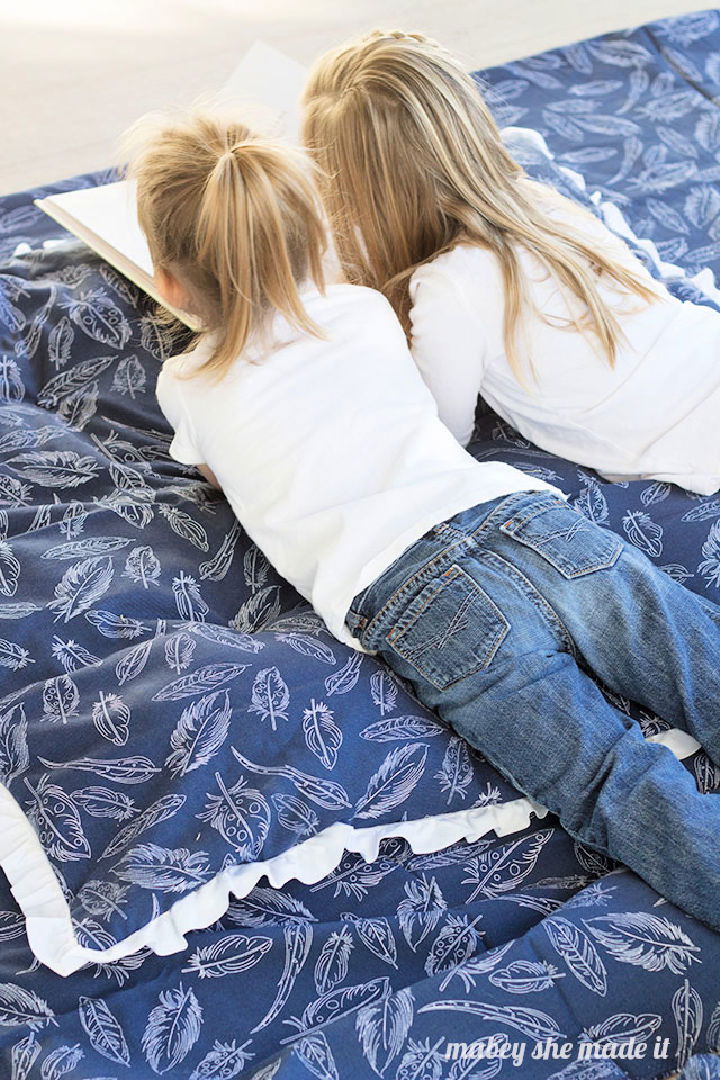 Make a fun spot for your kids with this welcoming and comfy tufted floor pillow! This could be your kid's binding together kind of play place. Make this whimsical navy with white feathers tufted floor pillow in less than a day. mabeyshemade
8. DIY Kids Pouf Log Slice Pillow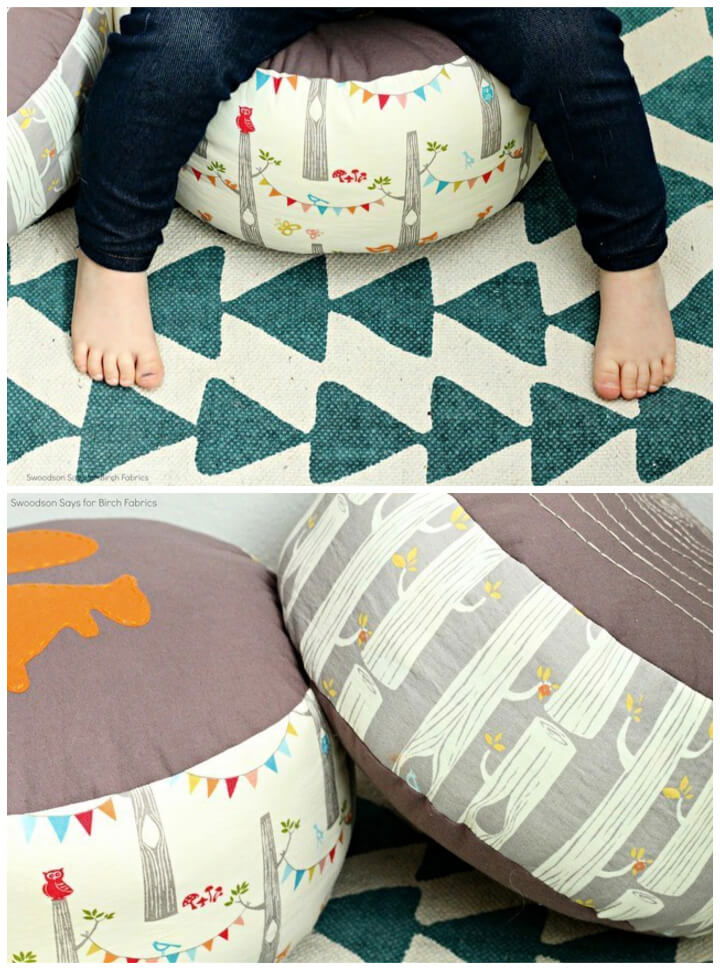 Everybody loves a log slice pillow! You could sit on it, lie half on it, or even use it as an utterly comfortable back pillow. This tutorial will elaborate on how you can make a perfectly cool DIT kids log slice pouf pillow! Hit the tutorial now. swoodsonsays
9. Mega Dump Truck Floor Pillow Sewing Pattern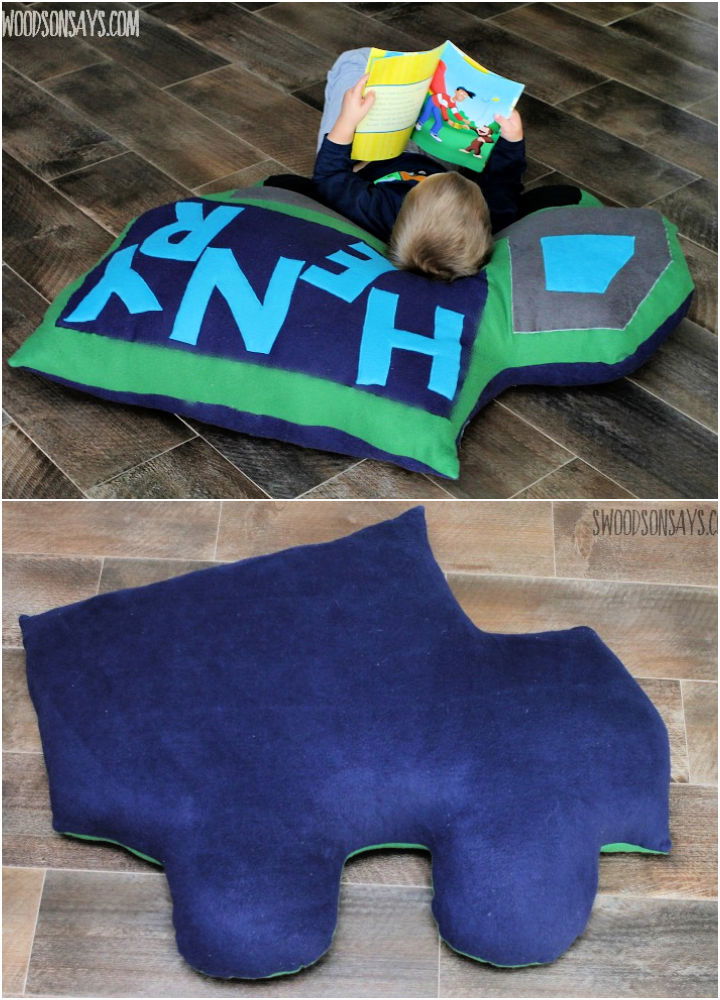 If your kids a truck lover, this is going to be an exciting project for you! Make him this huge and comfortable Mega dump truck pillow. This will make his bed even more comfortable, and you will have no trouble with past bedtimes, anymore. swoodsonsays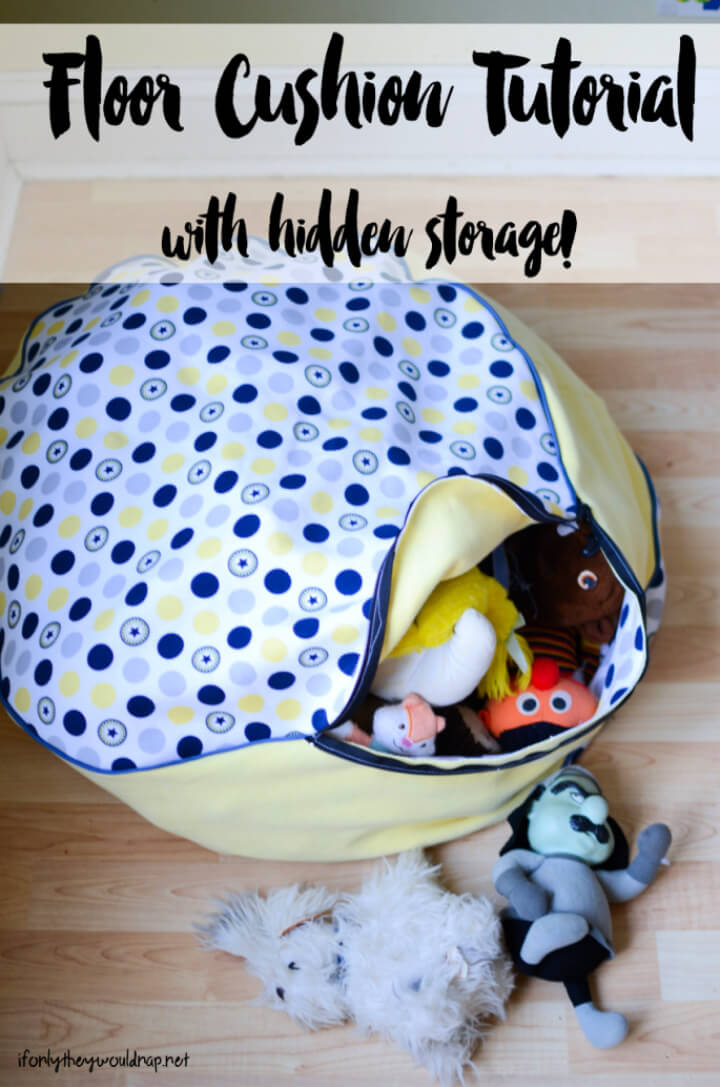 This two in one-floor cushion with hidden storage could be a perfect idea for your kids. For one, you can well organize their stuff by putting it inside this pillow. Secondly, they can just pick up this fun-filled pillow and run around to play in a park or at home. ifonlytheywo
11. Rainbow Hexie Floor Pillow Pattern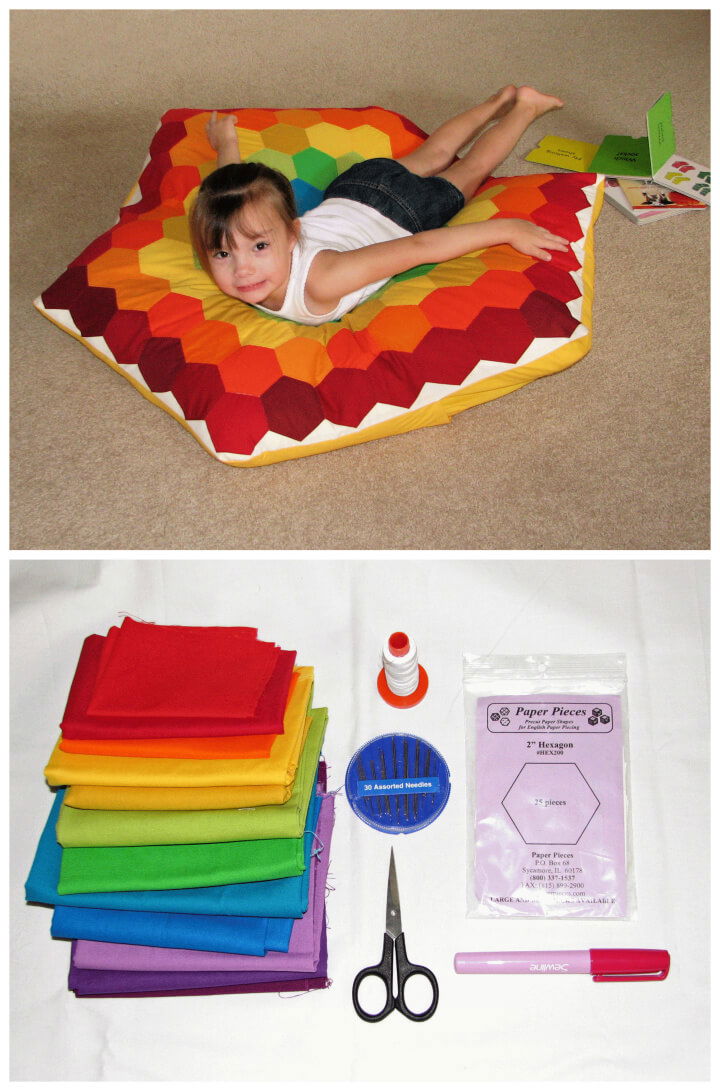 Well, well, rainbows can make anyone's day brighter and better. Gather around some colorful pieces of clothes and piece them together as this whimsical rainbow in a hexagonal pattern. The tutorial will show you how to do that quite easily! sew fantastic
12. Quilted Book Cushion – Sewing Pattern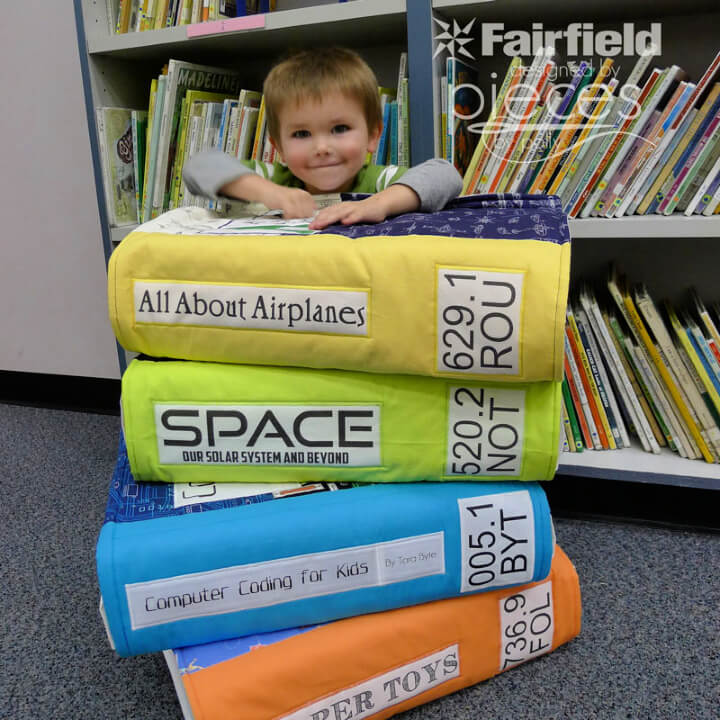 Introduce the love for readings in your kids by making them these huge and exciting quilted book cushions. The cover of the book will work as a quilt! These could be perfect additions to your home library! Check full details in the tutorial. piecesbypolly
13. DIY Pom Pom Oversized Floor Pillow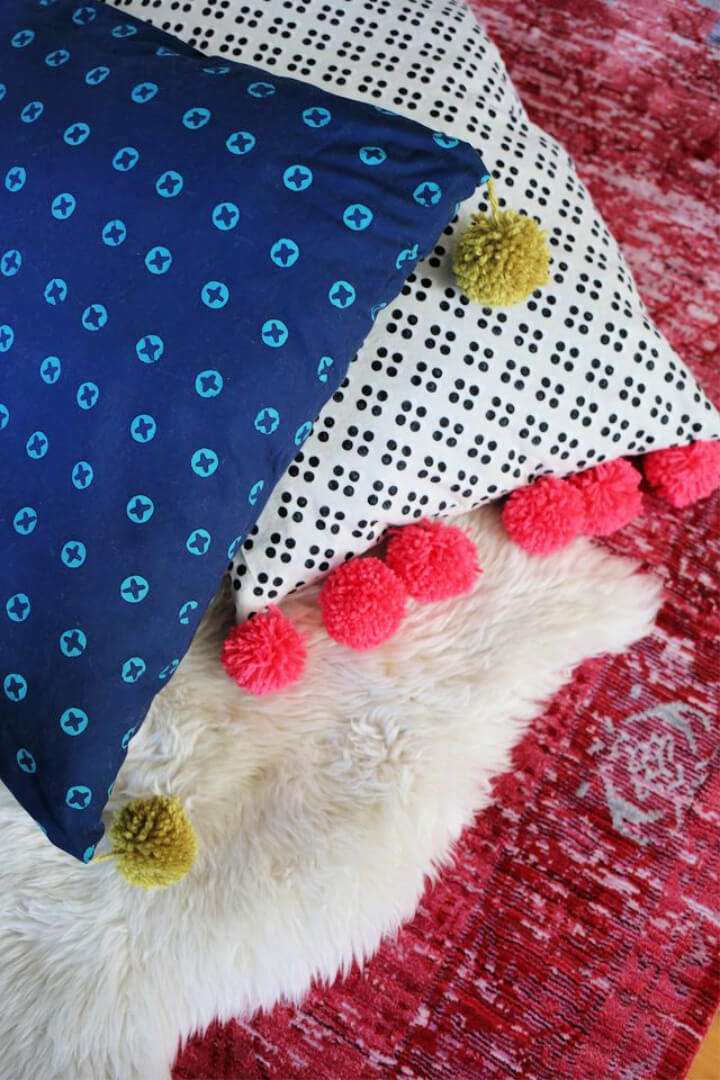 A cozier bedroom or living room space is always something anyone can possibly dream of. This tutorial is just going to bring the dreams to reality! By adding little pop poms at the edges to even spice up the comfy factor. Check details in the tutorial. abeautifulmess
14. Sewing Hawaiian Style Felt Floor Pillows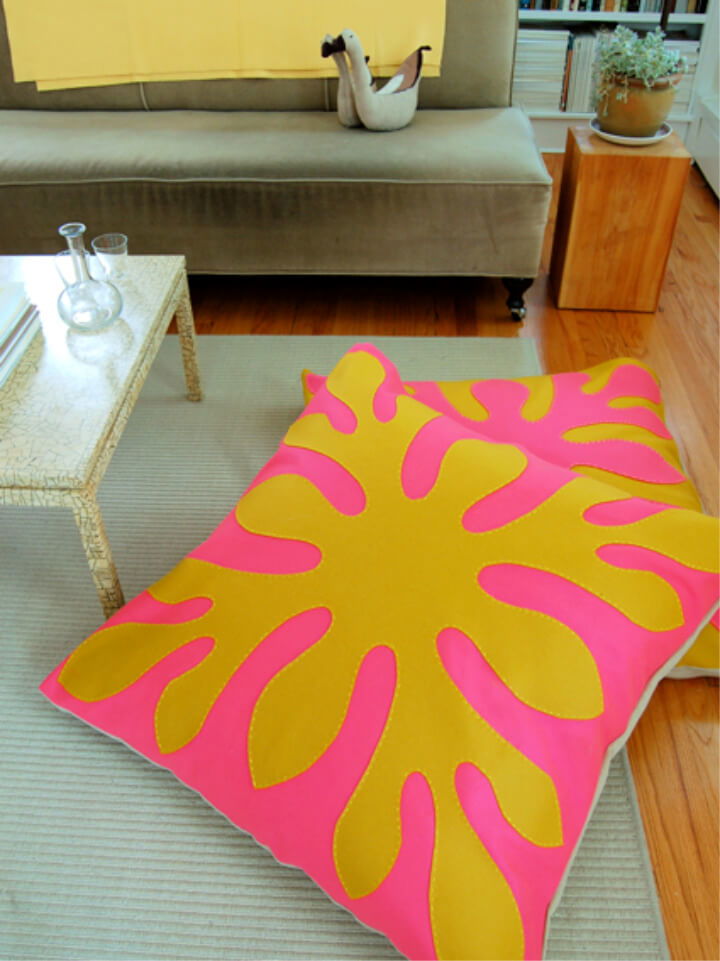 If you have been long inspired by a Hawaiian themed pillow but couldn't get the right time and energy to make it, this tutorial is going to change your mind! Now, make Hawaiian themed felt pillow is a pretty less extensive way and lesser time. See details in the tutorial. purlsoho
15. Colorful Jumbo Floor Pillows – Free Pattern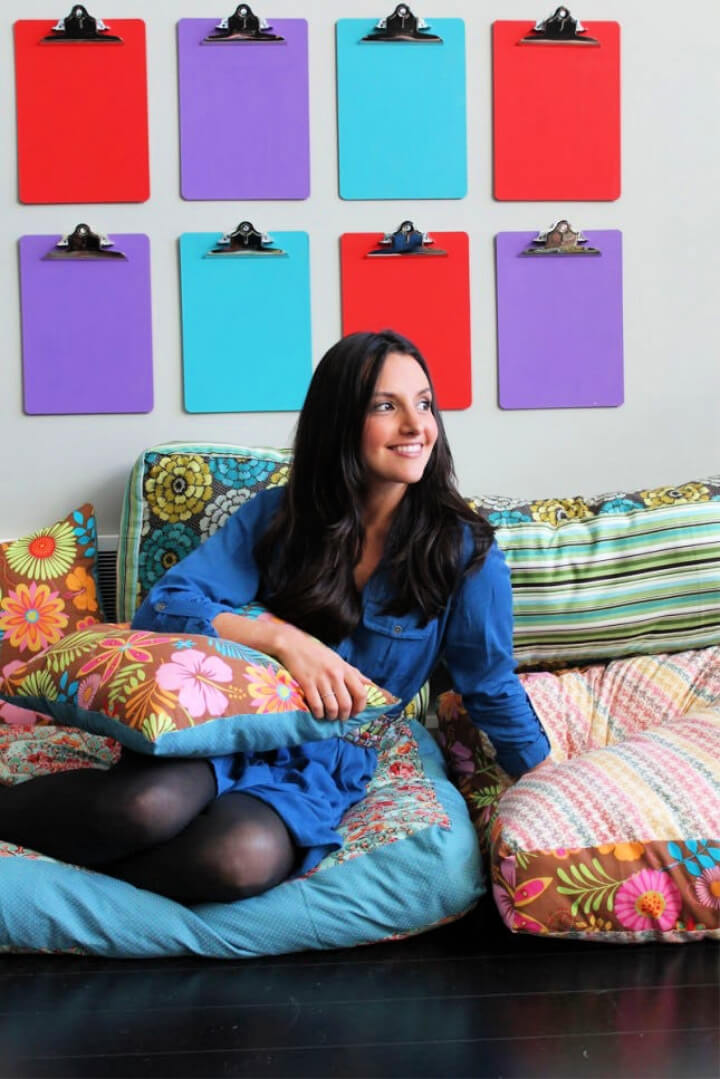 Make these huge and welcoming floor pillows and complement your décor just like that! All you are going to need is yards of fabric, polyester fiberfill, fabric scissors, needle and sewing machine. Check full details in the tutorial. brit co
16. How to Make Fabric Floor Pillow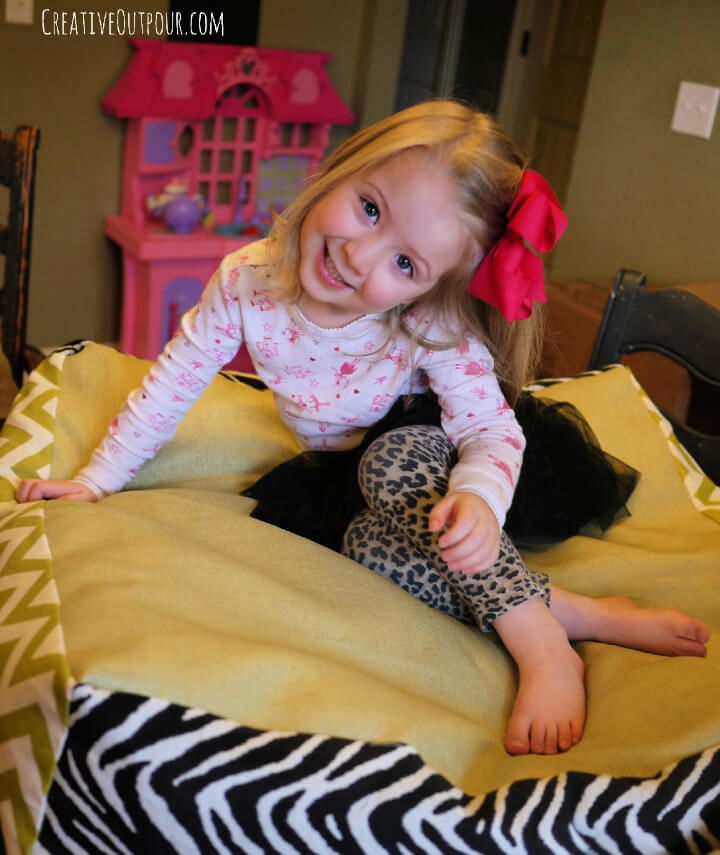 Use this tutorial to welcome the autumn theme into your house! This 30 inches wide floor pillow will add a stately look to your décor, and your kids are going to love it especially. The tutorial will walk you through the step by step guide. creativeoutpour
17. DIY Floor Pillows for Your Kids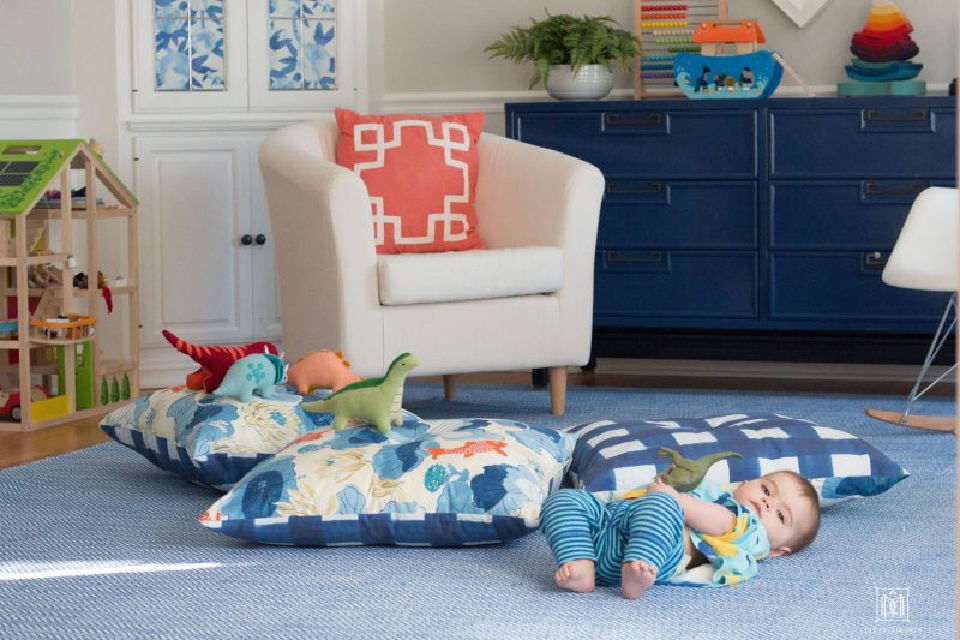 We all have been through that age where our imagination told us that the floor is lave, and we must step on the pillows to stay safe. Let your kids go crazy with these kinds of crazy imaginative games by making them these exciting floor pillows! diydecormom
18. Sewing Giant Floor Pillows With Handles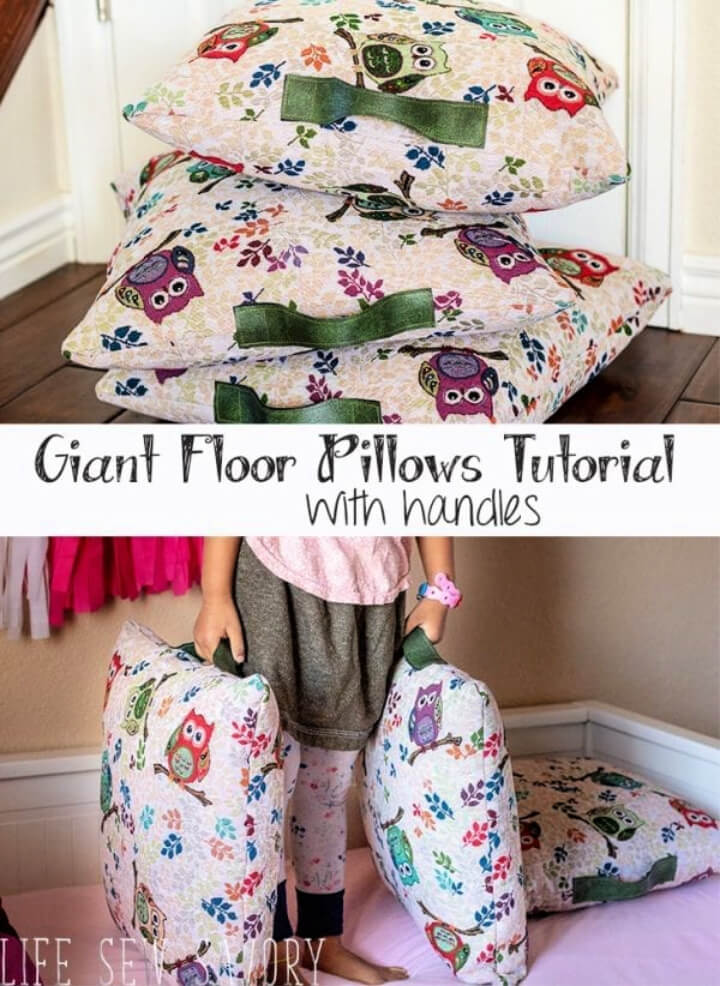 Make these giant floor pillows for your little ones. Add handles to make it fun hauling around. Holding SO many fluffy floor pillows all at once can be an excitement in itself. Making all the pillow forts, crazy movie night setup and what not! lifesewsavory
19. How to Sew a Floor Cushion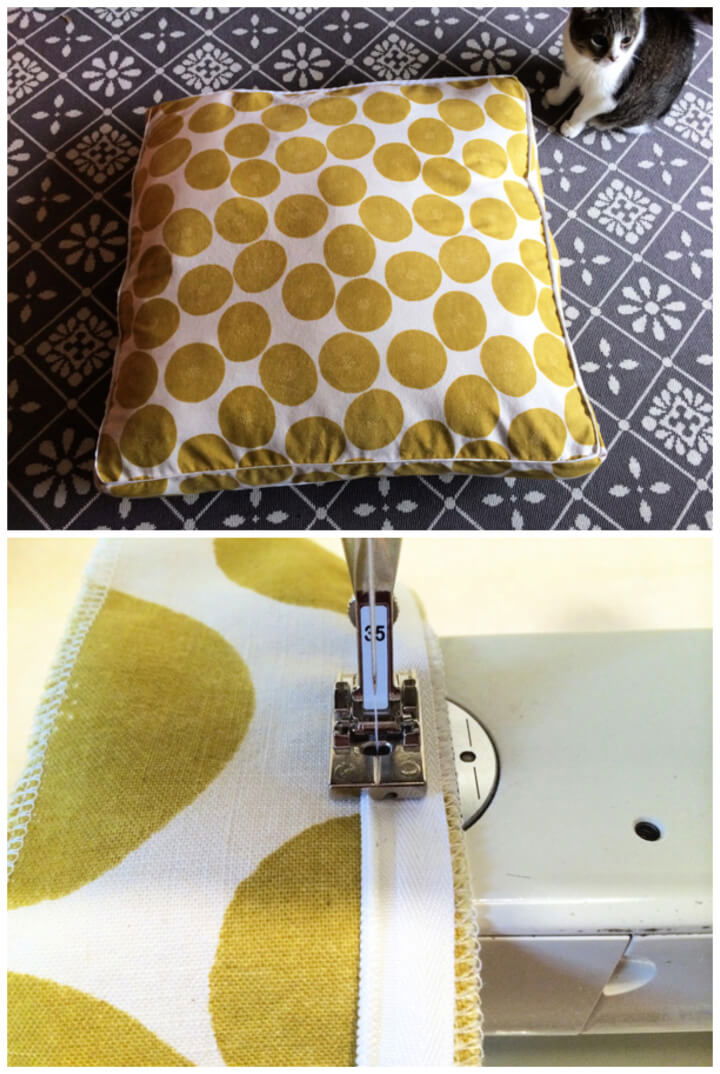 With the help of this tutorial, you can easily sew a comfy and fluffy floor cushion! The procedure is insanely easy, and you can totally match the fabric theme with your décor theme. Make something everyone will love around the house. mybluprint
20. DIY No Sew Large Floor Cushions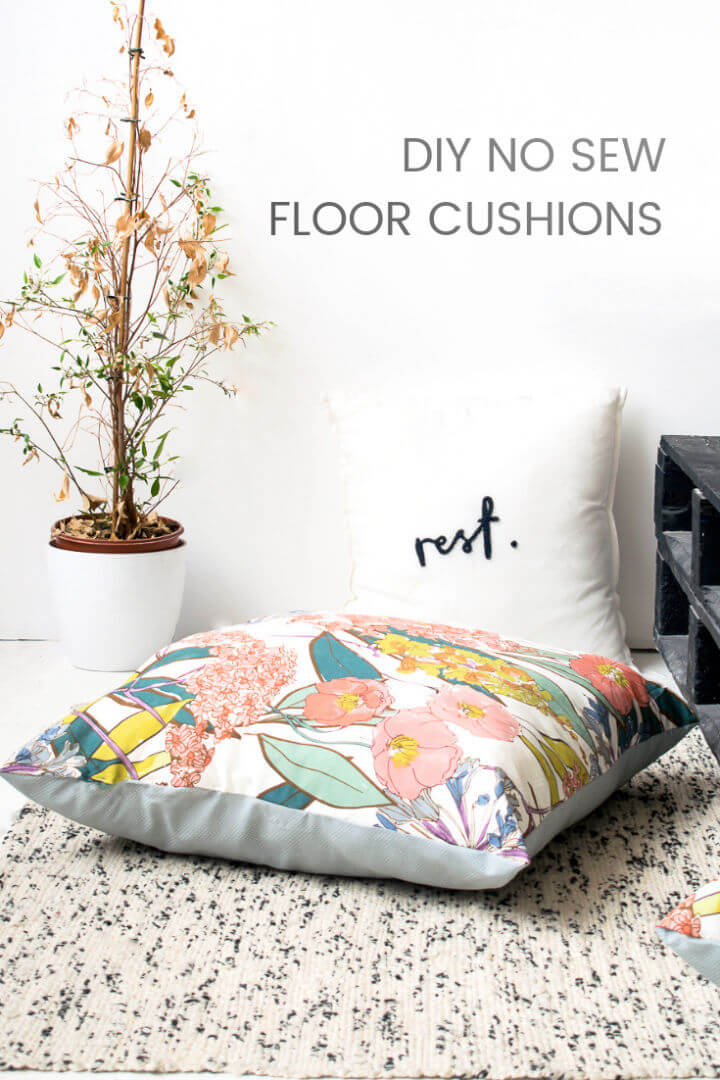 Are you the kind of person who is not SO fond of sewing? Well, in that case, you have landed in just the right place. Make a perfectly no sew floor cushion with this tutorial. Your magic potions will be gorilla adhesive glue and hemming tape! Check more in the tutorial. grillo designs
21. How to Make an Oversized Floor Pillow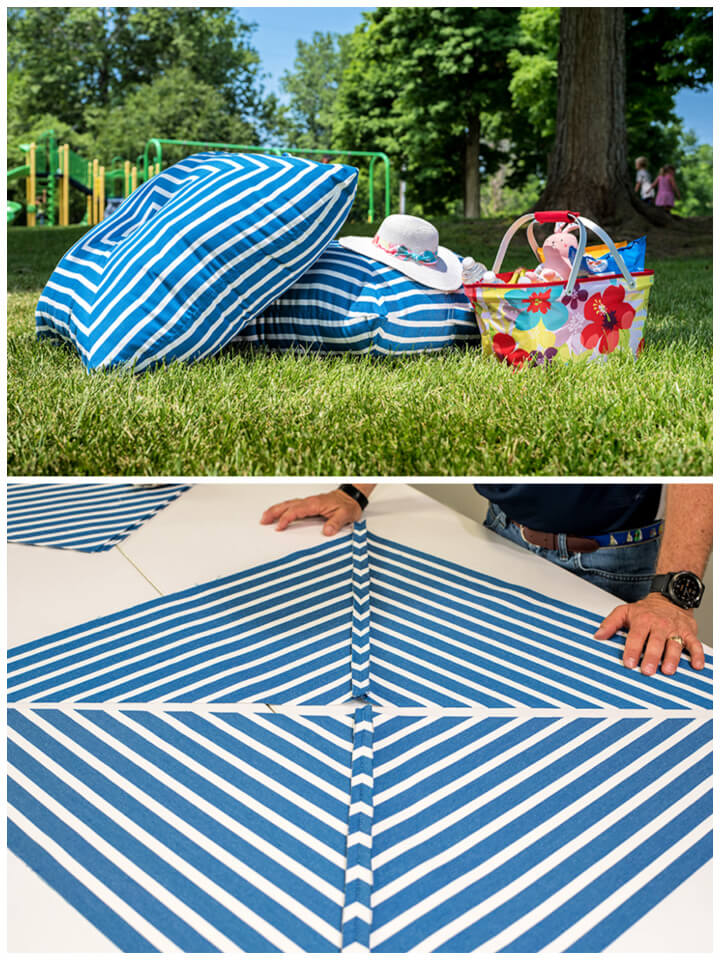 Are you looking for a fun family picnic day? With the food basket, sunblock and a large hat, add a large comfy cushion to the list to make the picnic as fun as it could be. While the kids are playing around the swings, you can relax on the cushions. sailrite
22. Easy DIY Large Floor Pillows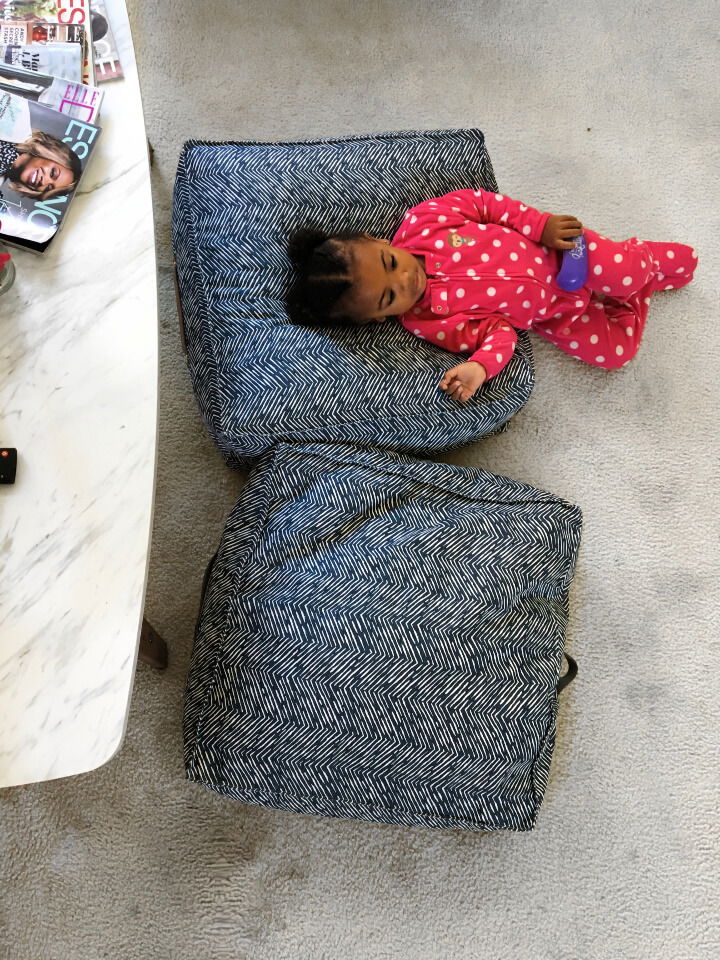 These easy to make large DIY floor pillows with handles are going to add a sparkling flair to your décor. Match the fabric with your décor theme, although these minimalistic stripes will add a stately vibe to the room overall. For details, hit the tutorial. thehandyhome
23. Adorable DIY Floor Pillow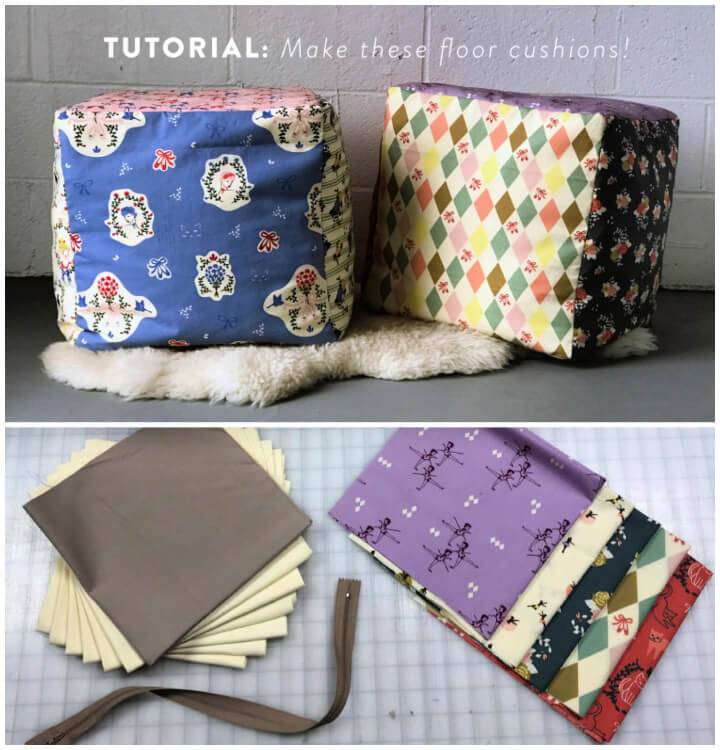 This fat quarter friendly floor pillow patterns are going to steal your heart, right away! Learn with this tutorial on how to make perfectly fluffed up poufs for your house. Your kids are going to love playing around them or well, thick pillow castle walls will do with these. birchfabrics
24. Small Round Throw Pillows Pattern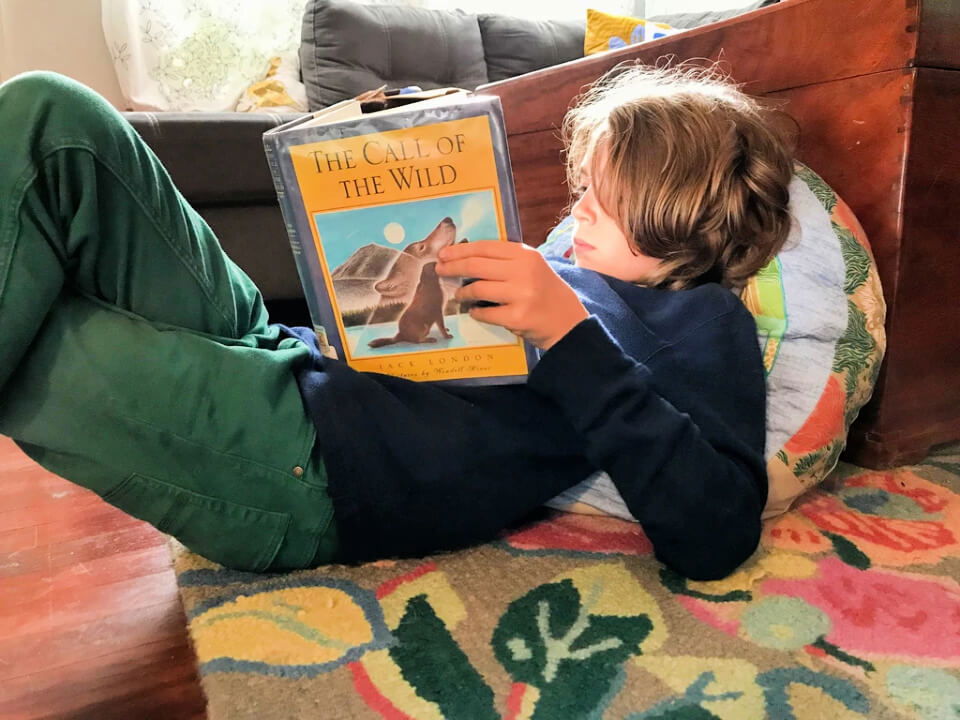 Throw pillows are everyone's favorite. Plus, they can have a broader and much durable use in the house. You can have them set up on the couch, bed, or on the floor. The tutorial will walk you through the step by step guide to make these fluffs for your home! shannon brinkley
25. How to Make a Square Floor Cushion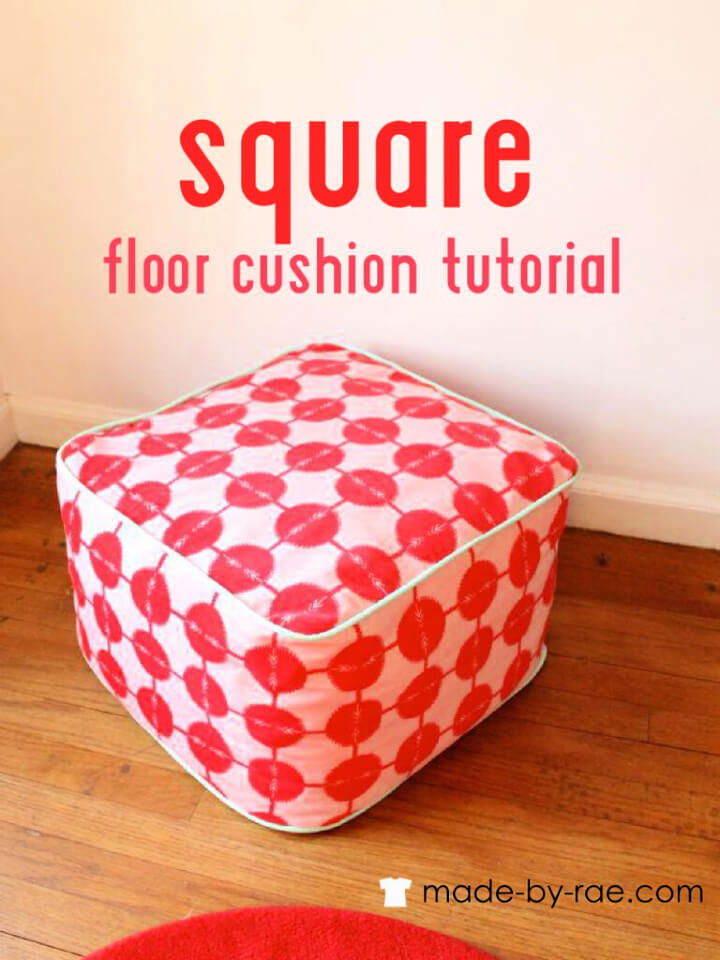 Did you know you can put your huge pile of scrap fabric into something this adorable? That's right. You don't need a polyfill stuffing for this square floor cushion. This tutorial suggests putting the scraps to some fluff-full use. Check details in the tutorial. made by are
Related DIY Projects and Ideas
Cushions or Pillow Ideas: Get inspired with these lovely DIY cushions or pillows that are a great way to add personality and comfort to your living room.
Crochet Pillow Patterns: Discover some great free crochet pillow patterns to add to your decorating projects and try out some new skills while you're at it!
DIY Daybed Cushions: From comfortable seating to a cozy reading nook, there are endless ways to use daybed cushions. Take a look at these easy DIY daybed cushion ideas that are so easy to make at home.
Baby Blanket Ideas: Get your needles and threads ready, because the time is now to make a baby blanket for the newest member of your family. These free DIY baby blanket ideas will help you make your own baby blankets.
Hoodie Sewing Patterns: Are you a beginner looking to learn how to sew? These free hoodie sewing patterns are perfect for beginners, so you'll find step-by-step instructions and photos that make it easy to get from start to finish.
DIY Shorts Ideas: If you're looking for some quick and easy summer shorts ideas, then look no further. We've got you covered with the best DIY shorts ideas to try out this summer.
Grocery Bag Patterns: These free grocery bag patterns will show you how to create beautiful and functional shopping bags that will be a hit with friends, family and neighbors.
DIY No Sew Pillows: Do it yourself and save money by making your own DIY pillow covers for your bed, couch or chair. This list of DIY no sew pillow covers ideas and tutorials will show you how to make your own pillow covers using simple materials.
Conclusion:
So, if you are looking for a quick and easy way to add some comfort and color to a room, why not try making one of these DIY floor pillows? With a few simple steps, you can create a custom cushion that is perfect for your home. And don't forget the kids! These fun and colorful floor pillows are perfect for playtime or nap time. Ready to get started? Check out our roundup of 25 DIY floor pillow and cushion projects to get you inspired.