A DIY loft bed is a kind of bed that kind of leads to your kid's own sanctuary! With stairs or a ladder, they often have a ladder too to slide off to the real world down! We have selected these pretty cool and fantastic 15 free DIY loft bed plans featured on Ana White that you can explore and make something totally precious for your kids or grandkids! Find budget-friendly 15 free DIY loft bed plans that come with detailed PDF guides, illustrations, videos and a step-by-step guide for the whole construction.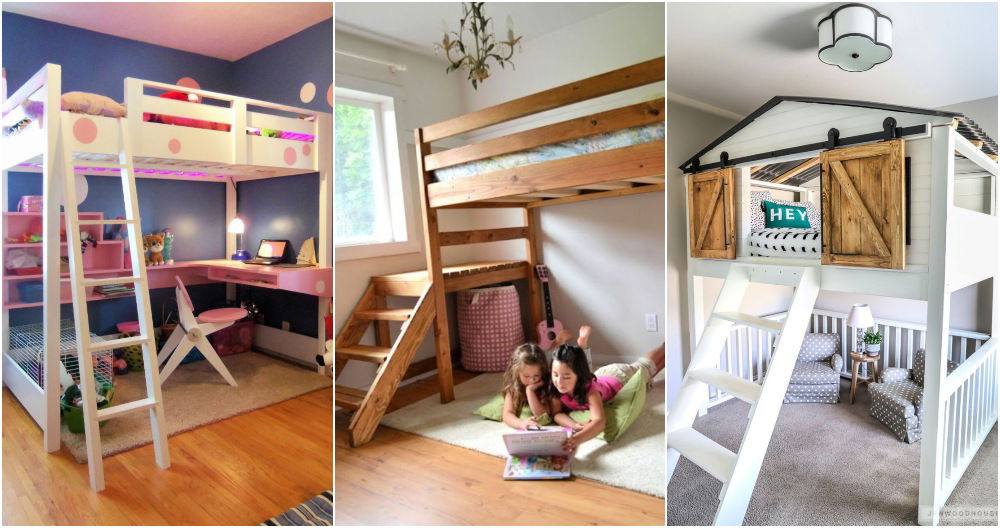 The plus point with a DIY loft bed is that it offers a vast storage option that can easily customize. The free DIY loft bed plans featured on Ana White here are quite rich in taste and style, including castles, forts, bunk beds with ample storage shelves, and perfect for twin beds storage ideas! You can get creative and add a design with a barn door, your kid's favorite Comic hero, say Super Man. We have got a complete guide for building the catchy hanging daybeds or loft beds too! Without saying more, let's just walk right through our exciting collection of free loft bed plans pdf and remodel your kid's room!
1. How to Build a Loft Bed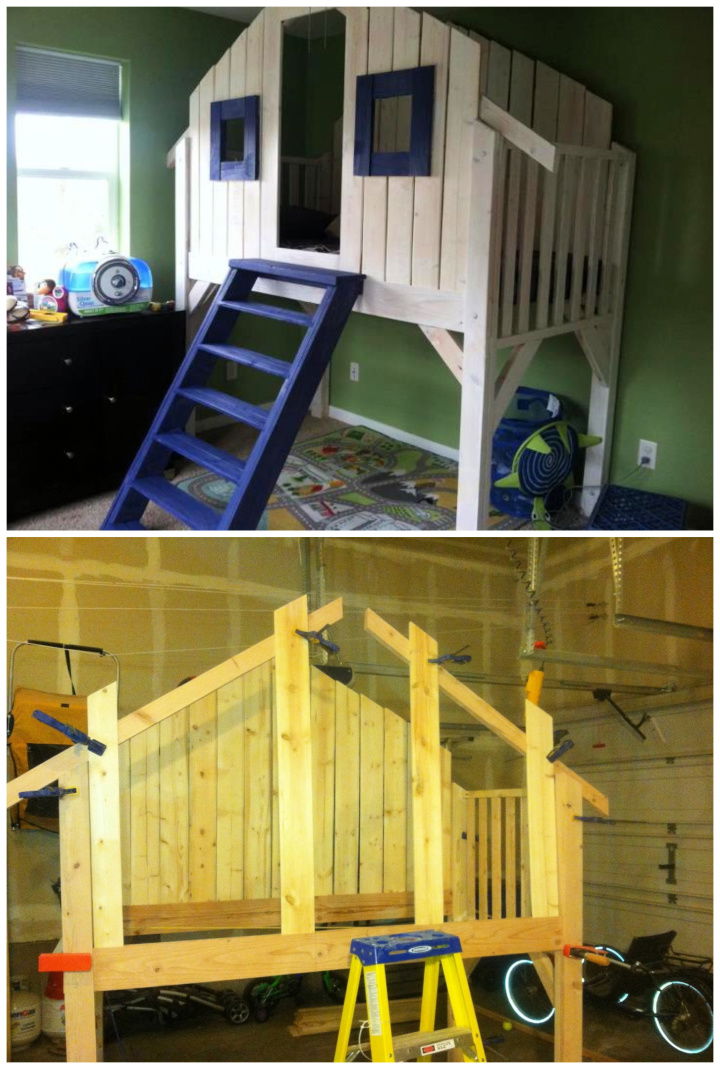 This is an intermediate difficulty level loft bed that is made using pine and poplar. This one is going to cost you $430, and you can end up making a complete castle outlook. The details like the matching color windows with the ladder are making it look so catchy! ana white
2. DIY Castle Loft Bed with Stairs and Slide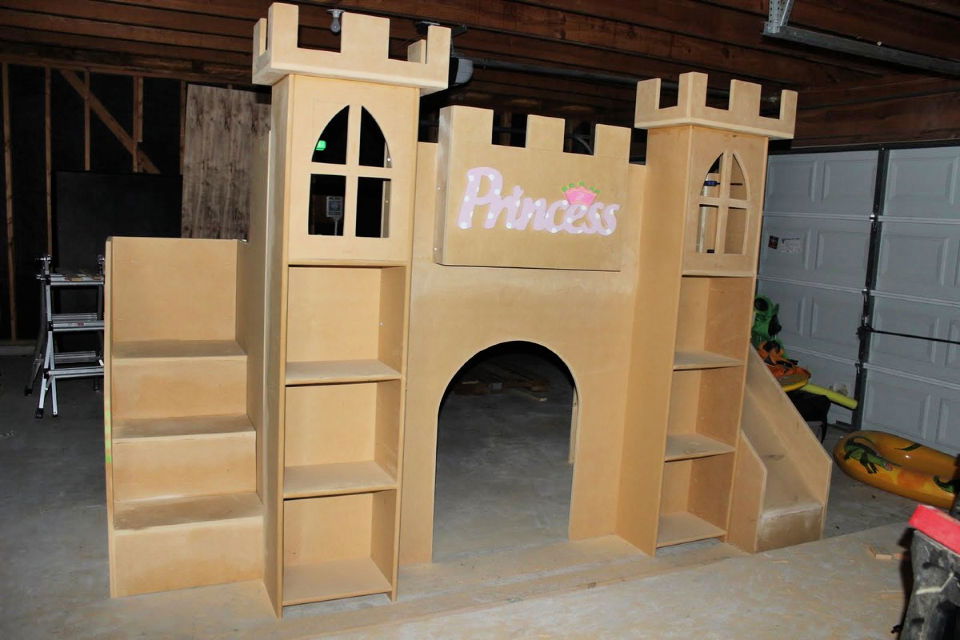 Build a complete castle for your little princess or prince with this castle loft bed plan featured on Ana White! This bed features a perfect set of stairs and a slide, and your little princess is going to love it! It is all made of plywood sheets. ana white
3. DIY Hanging Loft Bed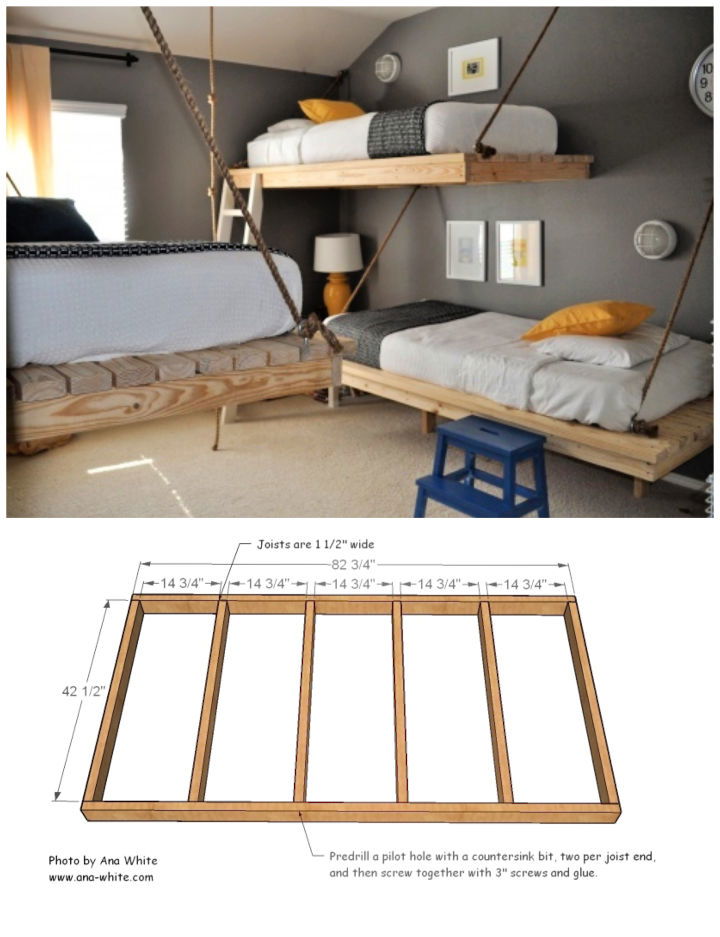 Check out this hanging loft bed with enough space available to hold your munching supplies like food, drinks, etc., By working around 17 2x4s and around 100 3" wood screws, 50 inches of a chain or rope and 8 eye bolts, you can pull this one off. ana white
5. DIY Playhouse Loft Bed Plan Free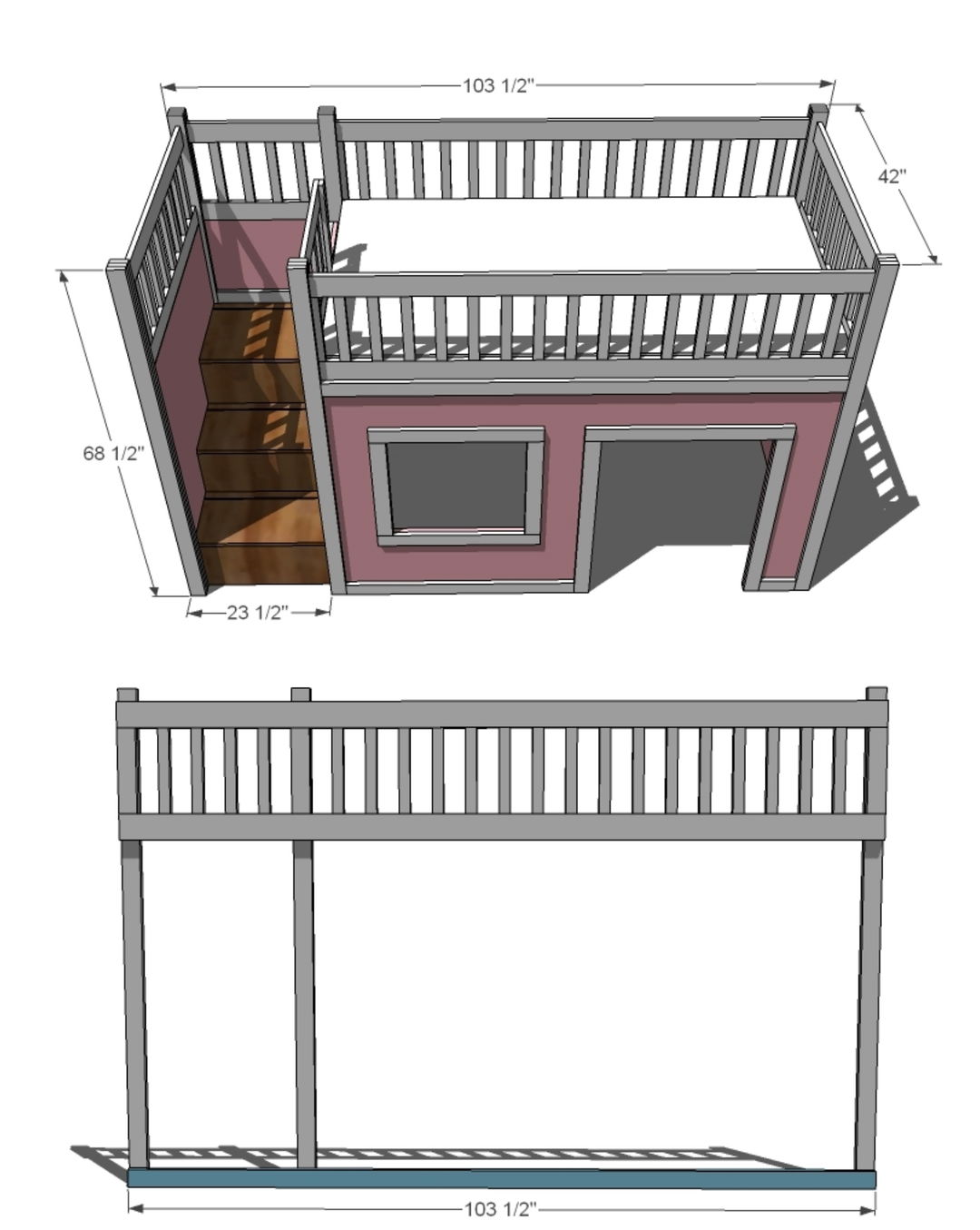 Check out this super cool hidden toy box kind of loft bed! Give your kid their own space to make it look as they like with a toy box at the bottom and a bed up to the stairs. You can make this using MDF or Plywood. Pro-tip; start by building front and side wall first. ana white
6. Ana White DIY Loft Bed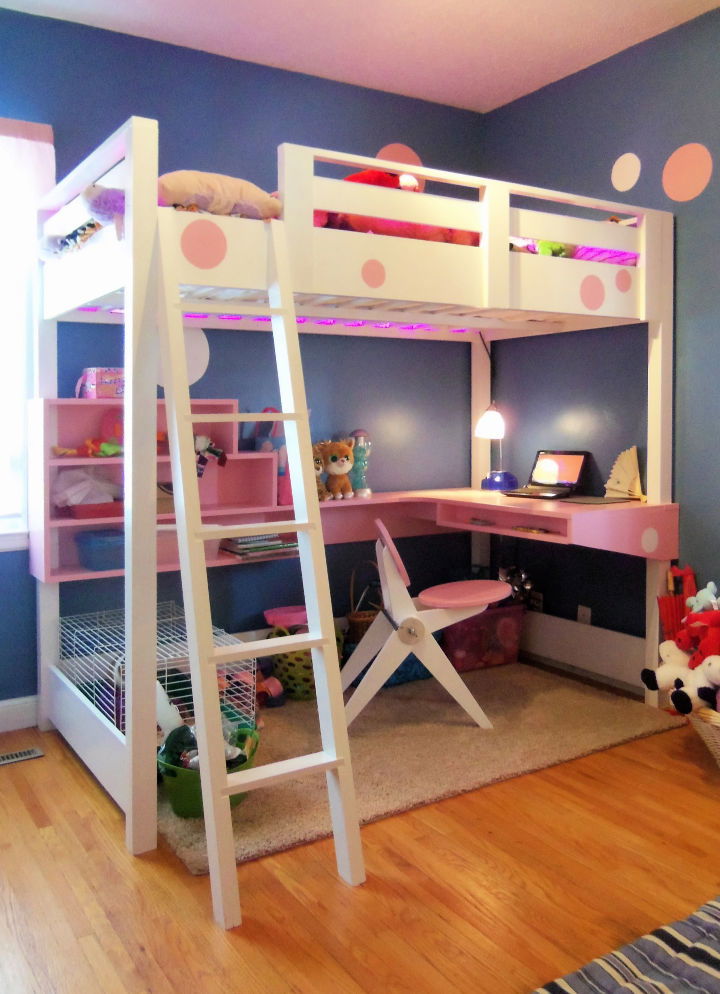 We totally love this ultra-modern and super chic loft bed! It is like you have your whole world in one place. Get your teen the most storage space for her room! The bed can easily fit standard twin size mattresses. Get the full and free plan. ana white
7. Camp Loft Bed with Stair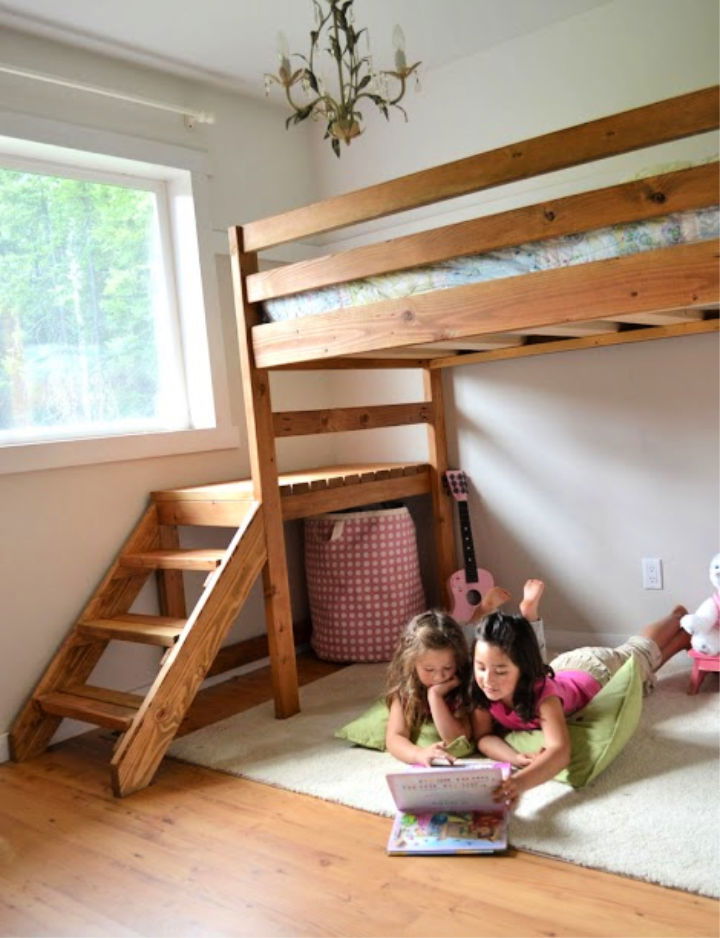 Build your own version of the Loft bed with stairs using 2×4 and 2×6 lumber. It features this uber sturdy and perfect platform designed for easy access of the kids to the bed. It is hardly going to cost you around $50 to 100. ana white
8. DIY Sliding Barn Door Loft Bed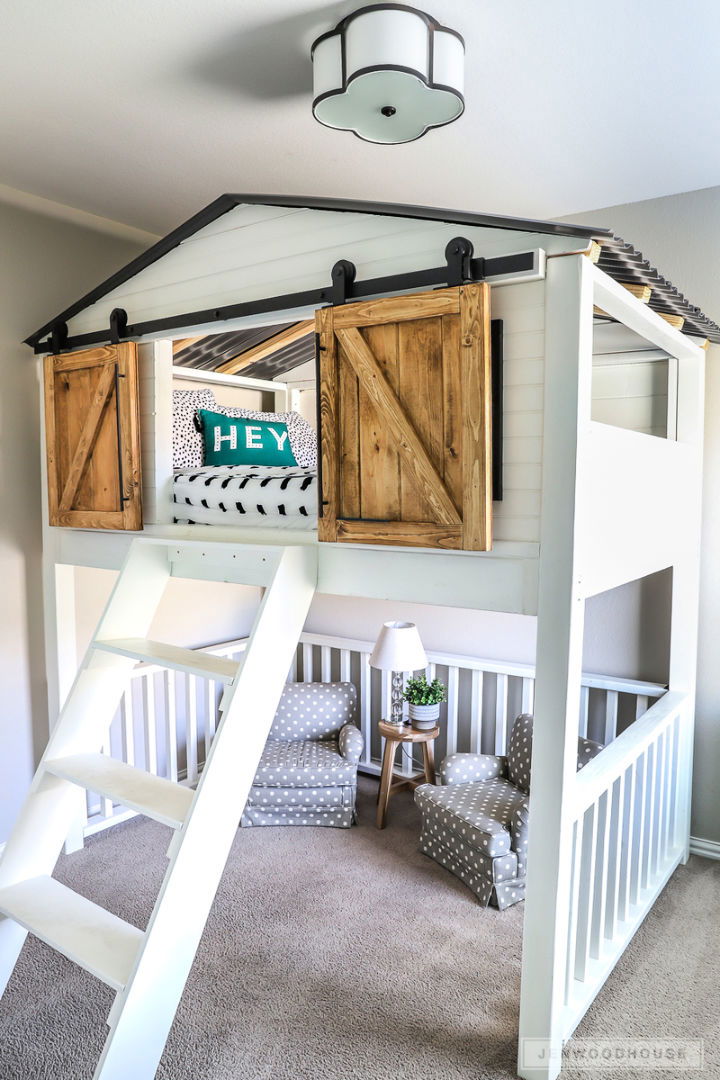 Well, well, look at this beauty! We can't take our eyes away from the enchanting details of this loft bed. It seems like such an absolute beauty, and this much perfection is hardly going to cost you under $600! The railing and added barn doors are a big YES! jenwoodhouse
9. DIY Pottery Barn Inspired Loft Bed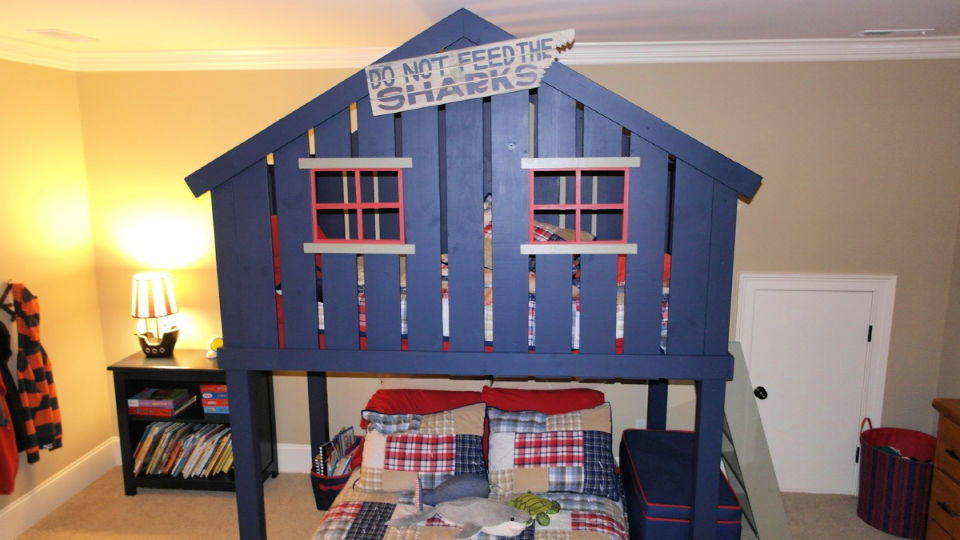 Inspired by the clubhouse kids bed from the Pottery Barn, this shark shack loft bed is going to be your kid's major loved place around the house. With such a perfect ad inviting bed, we are sure the troubles of going to bed on time will be at rest! ana white
9. Loft Bed With Storage Stairs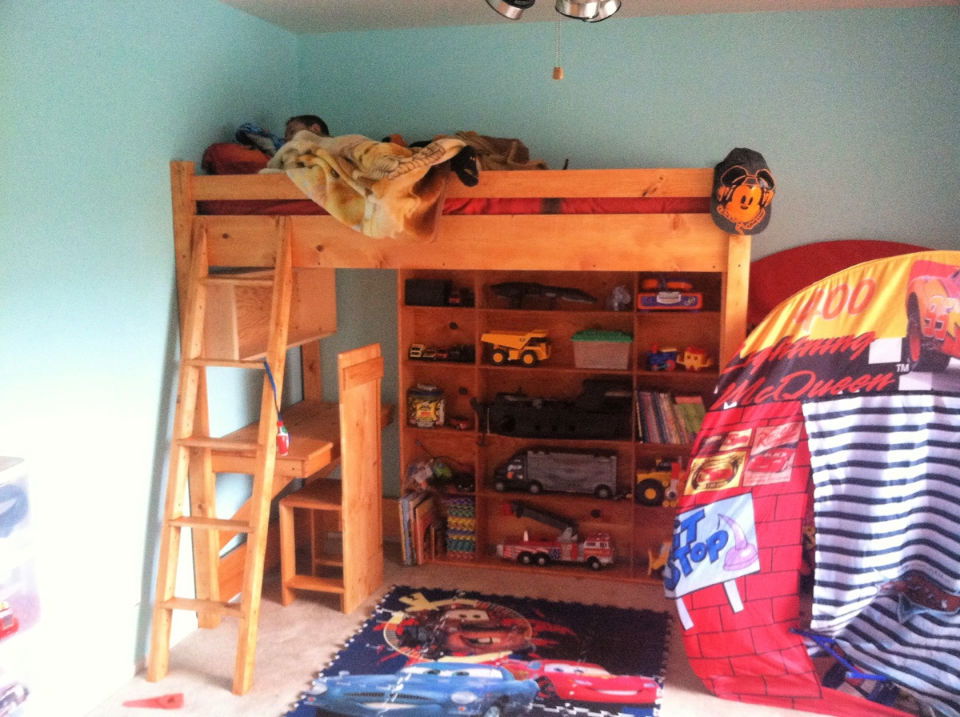 Build your kid a cozy loft bed with their own storage stairs! This can minimalize many problems. Especially the flooded toys one on the floor. And a perfect and beautiful study table with a chair at one end. ana white
10. Loft Bed With Stairs and Slide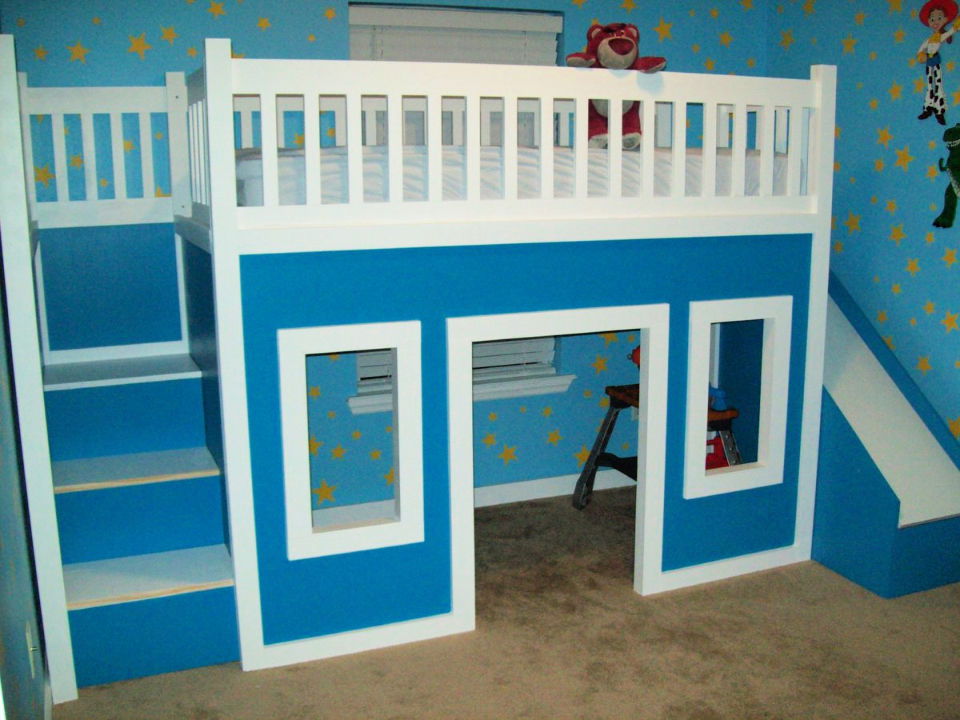 If your little one has reached the age of 6 or above it, this could be a perfect loft bed plan for him with added stairs and a slide at one end. This one here is made using Birch plywood and pine boards. Get the full guide. ana white
11. How to Build a Loft Bed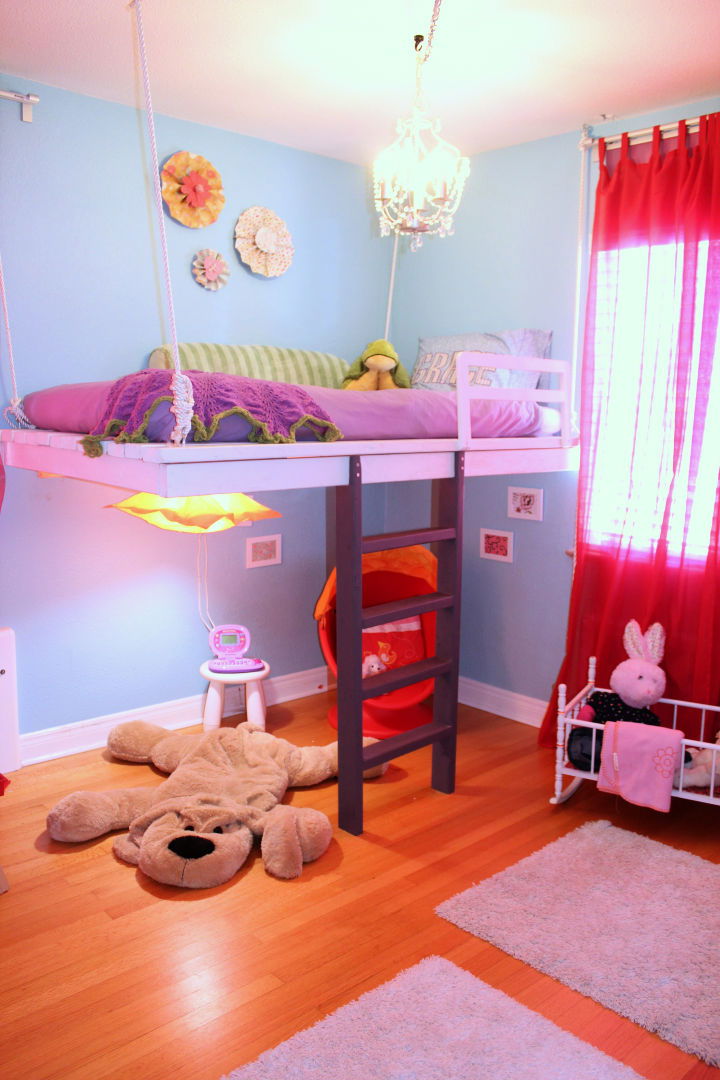 Check out this uber cute and dreamy loft bed with hanging ropes and added fairy lights outlook. Made using 2x4s and by just spending $200, this is even perfect for a beginner at DIYing around woodworking projects. ana white
12. Loft Beds for Girls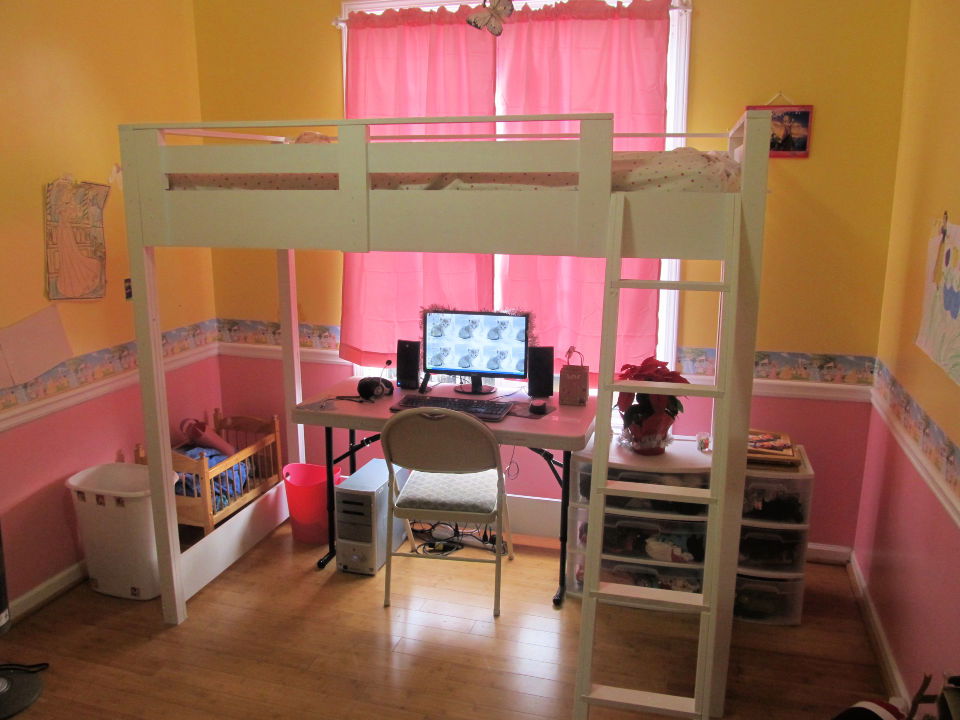 Another perfect loft bed idea for girls with storage enhanced design! This beauty is made using all white pine wood, and if your girls are sharing a room, two of these loft bed designs will totally solve the storage problems! All its going to cost is $450 for both beds. ana white
13. Full Size Loft Bed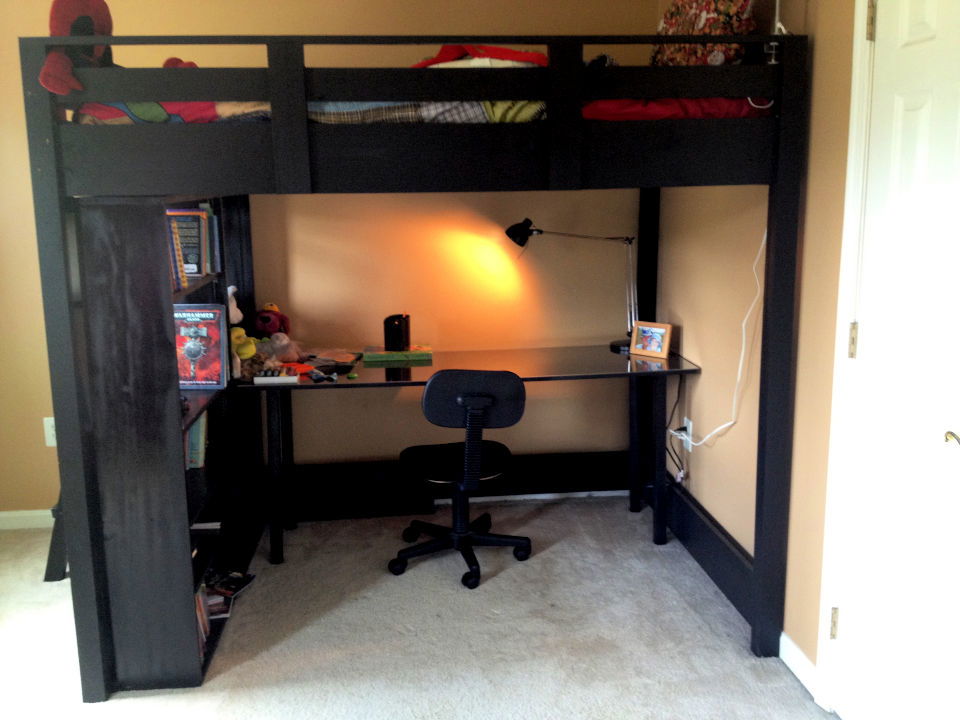 This full-size loft bed is another perfect idea for keeping your bed and work or study table on one side! The ladder is made by using 2×4's. The entire thing with desk and storage combined will cost you around $450. Made with Kiln dried wood! ana white
14. DIY Castle Bed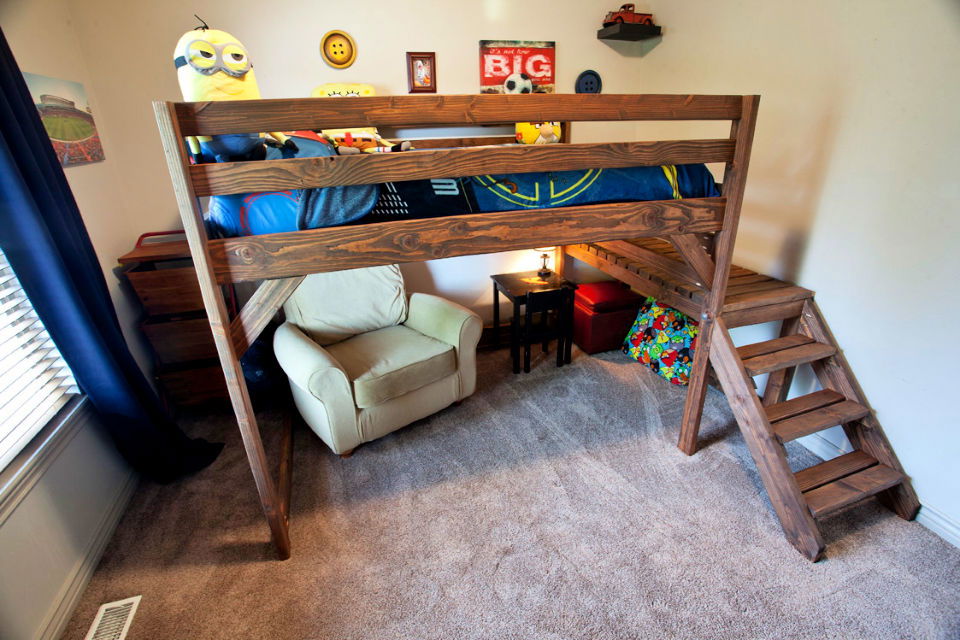 This castle loft bed is made using 2x4s and 2x6s, consistently! The estimated cost for this castle bed is around $125. By using standard fir studs, you can build your kid his own customized castle bed with a steady platform and a comfy bed on top. ana white
15. Superman Loft Bunk Bed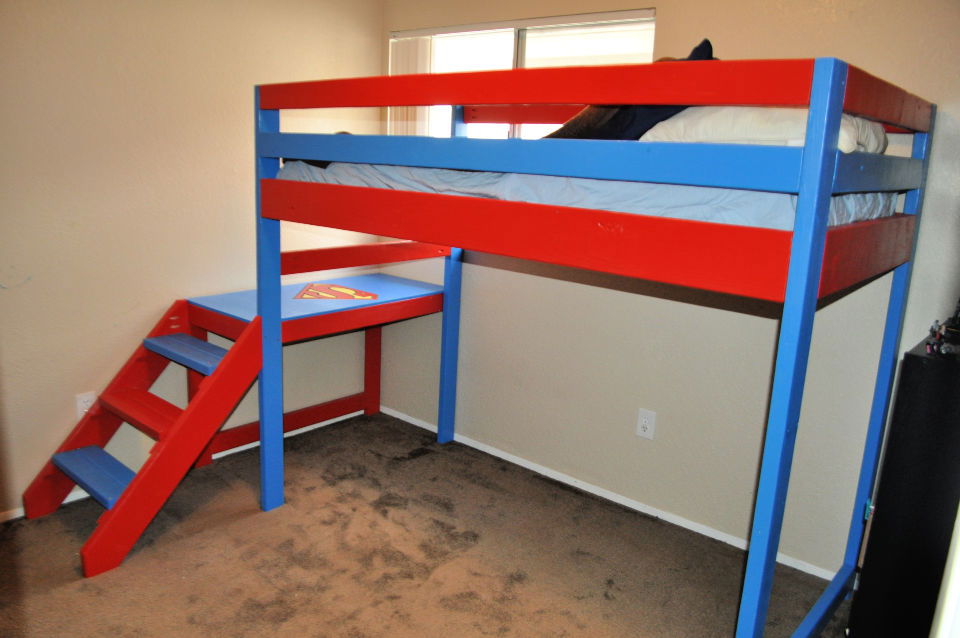 Has your little guy entered the comics-loving age? This Superman theme loft bunk bed can be his own superman planet! With the coordinated colors. This whole Superman-themed loft bed with the "S" logo and design will cost you under $200. ana white
Conclusion:
If you follow the steps guided in each of these free diy loft bed plans and preferable use the same wood like MDF, plywood, or cedar, you can actually save a lot of costs and make some quite inspiring and comfy DIY loft beds! These free loft bed plans featured on Ana White have this super magical quality that they have been built under a budget and from beginner to intermediate level! You can actually end up making entirely meaningful loft bedtimes for your kids, and they can cherish the perfect memories for life. Is there anything more beautiful than that?! We doubt that.