Don't know what to do with loads of cardboard boxes? They can be one of the most versatile crafting materials, and you can build outstanding cardboard houses like the dollhouse, pet house, and cardboard playhouse for kids. Go with these 15 DIY cardboard house ideas sharing the step-by-step guides, detailed diagrams, and even the video tutorials to build all sorts of cardboard houses. The size of the cardboard house you will build will also depend on the size of the cardboard boxes. Use the miniature ones to whip up a decorative barbie dollhouse. Even you can stack the different cardboard sizes to build an instant beautiful cardboard dollhouse, which will be the most exciting handmade surprise for a doll-loving little lady in the home.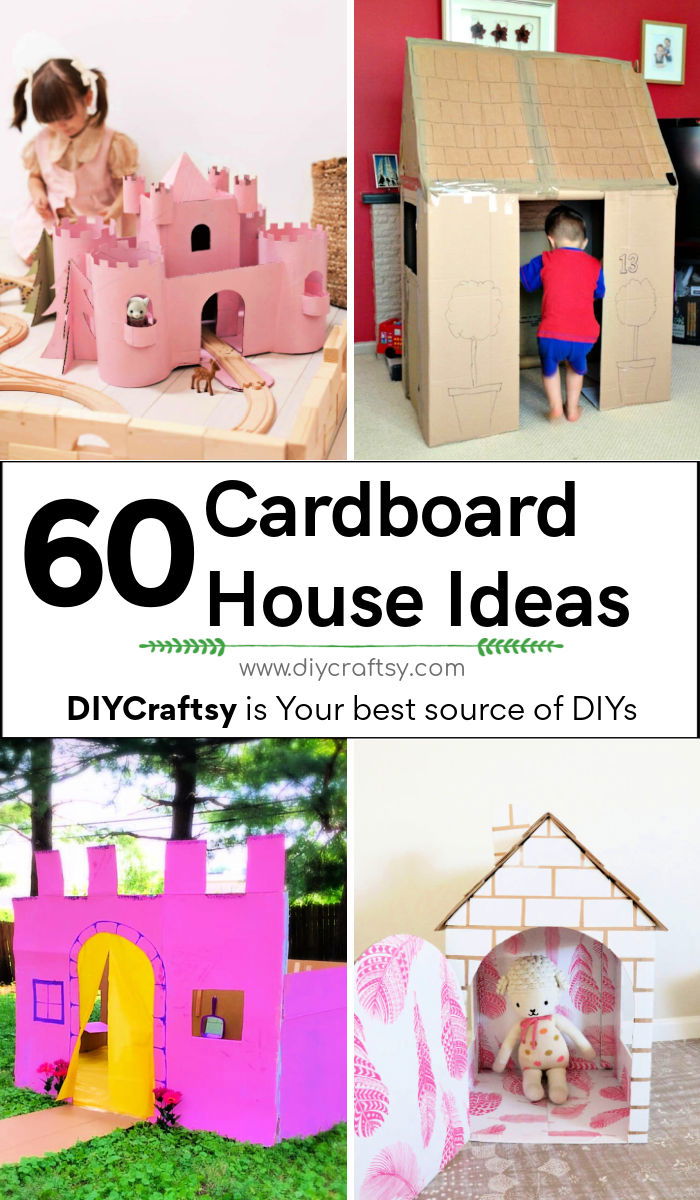 Are you addicted to online shopping? Then you will surely be messing around with truckloads of cardboard boxes at home. The online purchases, even the food items like pizza, are delivered in cardboard boxes. So, brainstorming how to recycle the old cardboard boxes if there is no space there in the recycle bin for the larger cardboard boxes. The larger cardboard box used for shipment delivers refrigerators and other items of this kind. Use large cardboard to make cardboard houses for kids. The only option you left with, to do some excellent crafts for kids with them. So, you can try these DIY cardboard house projects with them to help boost your kids' physical activities.
1. Cardboard Cat House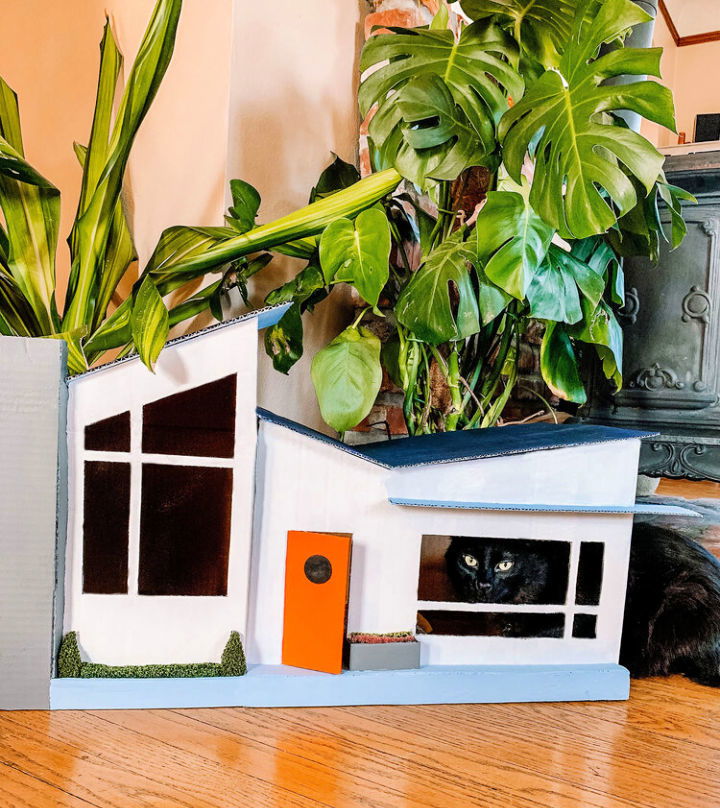 Are you blessed with lots of creativity? Then there is a lot to do with the cardboard boxes often lying around. Build this precious cardboard cat castle, a plush cat bungalow inspired by mid-century houses. The design of the house may vary as the cardboard box size and design vary. Get your hands on the fresh deliver box and Amazon box to achieve this cat house. The house is just perfect to house 2 large cat pets at the same time. You need cardboard, x-acto knife, metal ruler, craft paint, and measuring tape to do this project. thegreenmad
2. DIY Cardboard Play Castle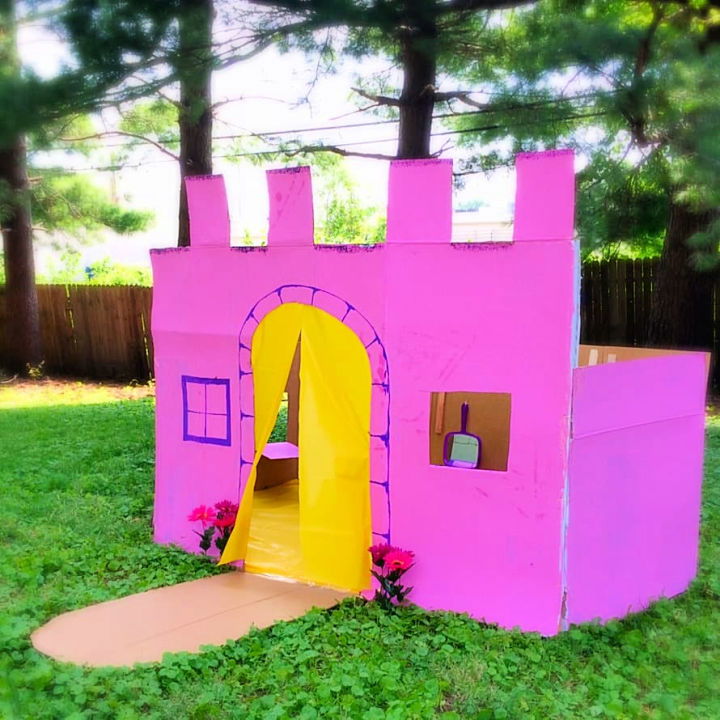 You can even think of the cardboard in many different ways to increase the kids' outdoor activities. Repurpose the old cardboard boxes from home, preferably the larger ones, to build this cardboard castle playhouse. That will provide hours of outdoor fun to your kids. The design is much achievable with a little creativity, precise cuttings, measurements, and painting. You need 2 cardboard boxes, an x-acto knife, paint, tape, Hobby Lobby flower interior decorations, and wood shims to build this cardboard fort. twitchetts
3. Handmade Cardboard Playhouse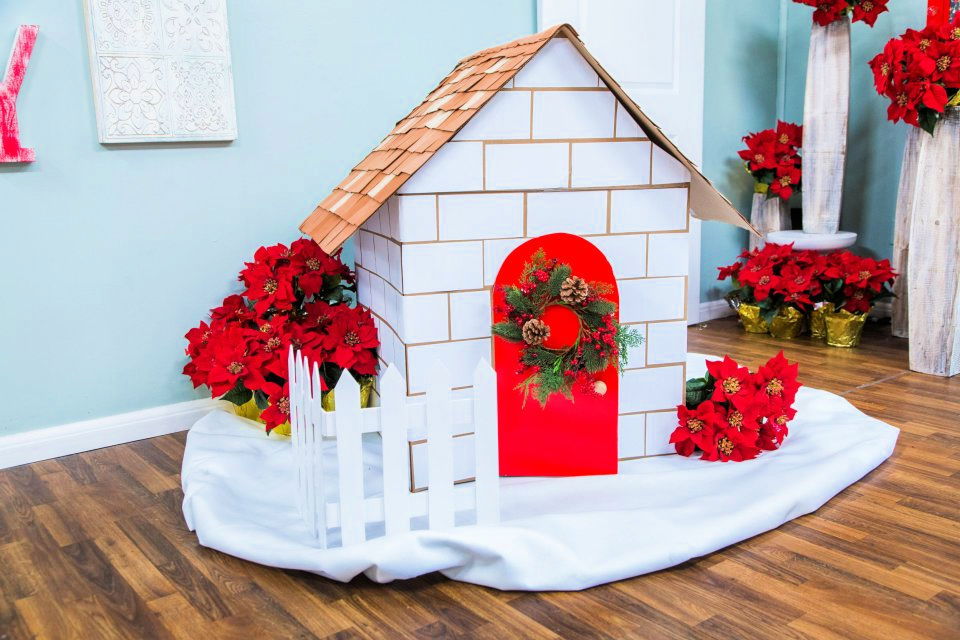 Look at this million-dollar bungalow design achieved with the cardboard. In features, it impresses with a brick style appeal, bungalow-style design, chevron shingled roof, mind-blowing flooring, fencing, and addition of red flowers and red color. This miniature cardboard bungalow is the prettiest gift to give to little kids at home, and it will surely provide never ending fun to them. The award-winning cardboard house can quickly be build using a 30 x 30 cardboard box, white printer paper, foam core, and drawer poles. In tools you need, X-acto knife, cutting mat, spray adhesive, scissors, and box cutter. hallmarkchannel
4. DIY Cardboard Playhouse From A Box
Are you willing to remove the sedentary habits from the life of your kids? Then build this cardboard playhouse that is sure to indulge them in physical play. It will promote various social skills too among the kids, along with boosting their physical activities. This great cardboard box house will surely impress at a first glance and is the best birthday gift to give to a little kid. You need two large cardboard boxes, white poster paint, black paint, blue cardstock paper for the shingled roof, LED string lights, doorknobs, and tape to build this cardboard bungalow for kids. sayyes
5. Build a Cardboard Castle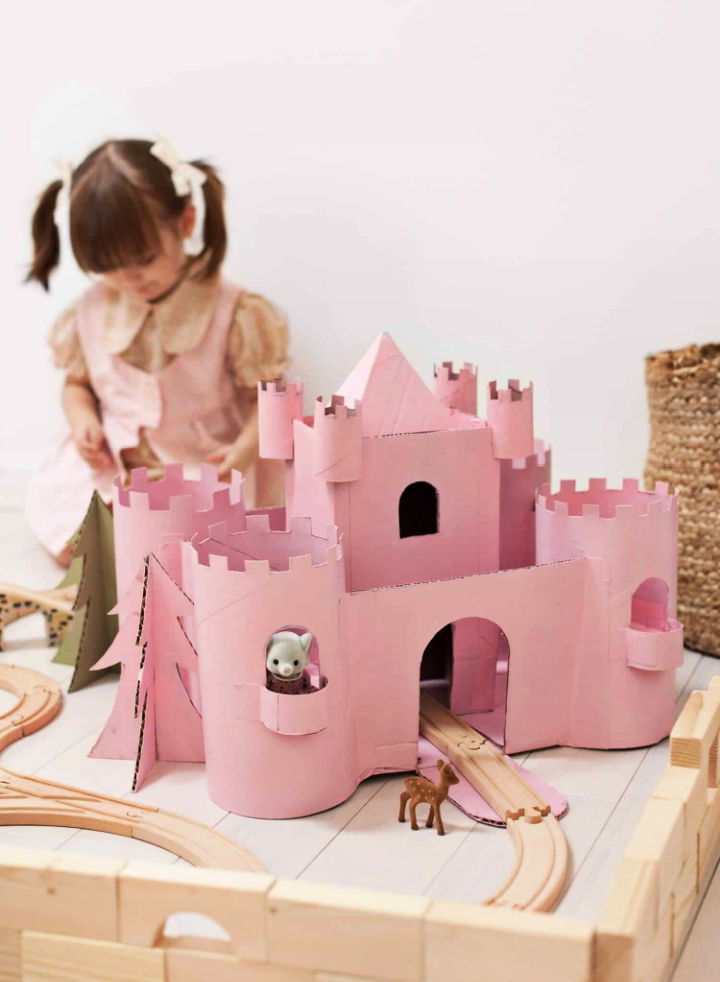 Kids are highly obsessed with the Disney princess and cartoon queen houses. So, build this upcycled cardboard castle playhouse will surely be the one that often comes in the kids' fantasy. This castle appears in the pink color and will be the heart-winning gift for all the little ladies at home. Building this castle will surely make you get rid of loads of cardboards that are not fitting in the recycle bin. Kids will be around this princess cardboard castle always to enjoy the time with the siblings and friends. You need 4 cardboard canisters, 6 TP rolls for turrets and balconies, a big box for main castle walls, a little taller one for the center tower, duct tape, and paint to build it. abeautifulmess
6. DIY Cardboard A-Frame Cabin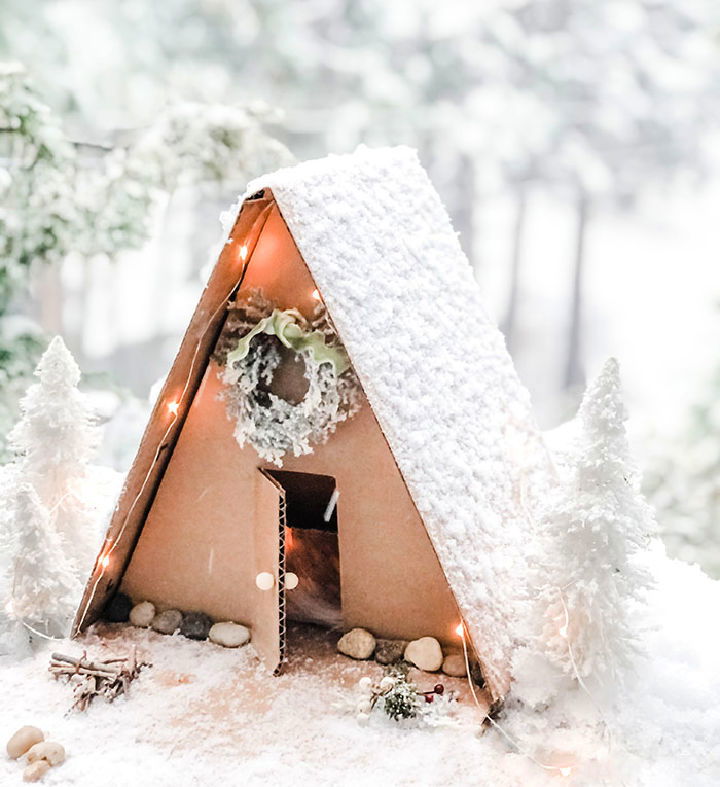 Celebrate the fall season with this mid-century modern A-frame winter cabin home decor. It comes well-lighted with LEDs and looks covered with snow. Look at this amazing cabin that will trigger leg trembling, and you will feel like in the snowy region. ,An alpine lodge inspires the design and it will be a mind-blowing addition to your home decors every new guest will talk about. You need one large cardboard, strong packing tape, fake snow, spray adhesive, round wooden thumbtacks, microlights, snow-covered trees, and battery-powered tea lights to build it. lovemaegan
7. Cardboard Box Craft – DIY Dollhouse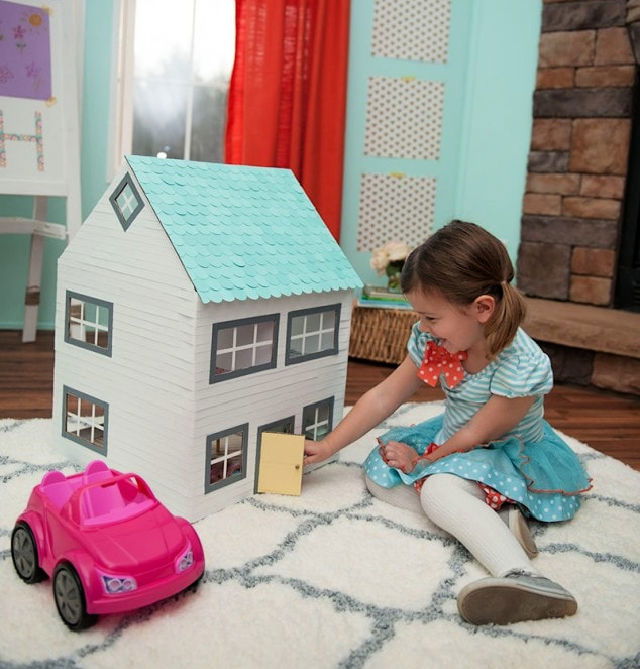 Don't know what to do with the truckloads of cardboard boxes? They are one of the best and highly versatile crafting materials. So, repurpose and upcycle them to build lots of useful, cute, and impressive things. Let your creative juices flowing and build this DIY dollhouse for your little princess's doll. It will win extra love and respect for her for you. To build this dollhouse bungalow with a shingled chevron roof, lots of rooms, and windows, you need cardstock papers, a cardboard box, painter's tape, small beads, spray paint, and custom cardboard cutting, measuring, and gluing tools. craftsbycourt
8. Build Your Own Collapsible Cardboard Tent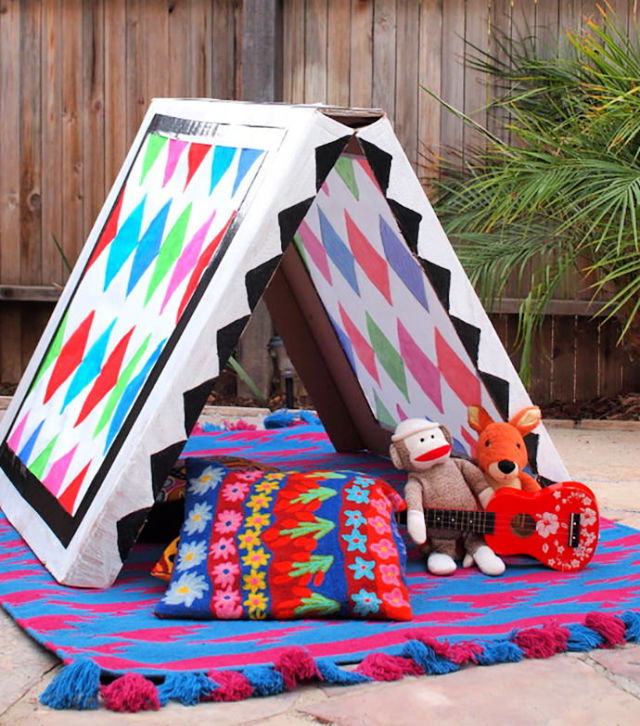 Check out another easy and fun project to do with the leftover cardboard boxes like large pizza boxes. Build this collapsible tent, which will provide shade to your kids when playing outdoors with DIY toys. This project will rock to let the kids come outdoors without any fear of the blazing sun. The project also involves fun painting with watercolors to paint the cardboard. You need a cardboard TV moving box, paint, duct tape, white craft paper, and custom cutting and gluing tools to build it. handmadech
9. Building A Deluxe Cardboard Playhouse
Are you getting puzzled at how to build a fully functional and beautiful cardboard playhouse with cardboard? Then get here complete step-by-step video instructions to build one like a pro. The instructions for a deluxe cardboard playhouse that every beginner can make. It will make the best handmade present for a fun loving kid and impresses with the succulent planters hanging below the windows. You need cardboard boxes, strong packaging tape, skylights, faux paper succulents, and a lovely shingled roof. homedepot
10. DIY Cardboard Playhouse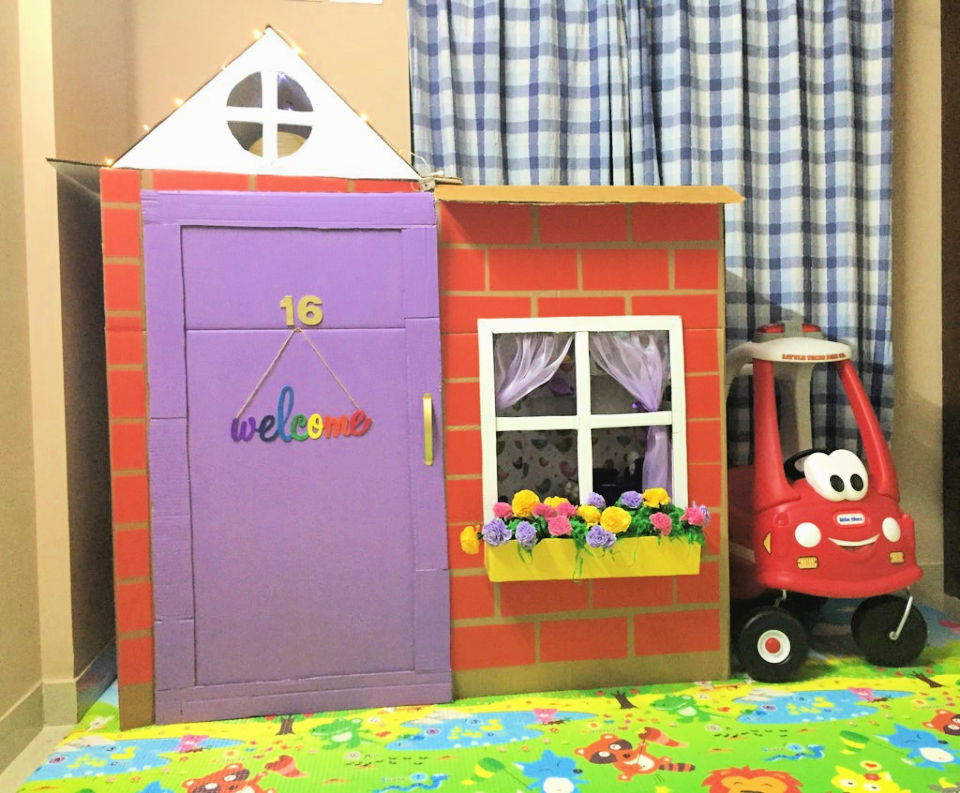 Boost the fun of your kids with the cardboard boxes that are spare in your home. The idea is to build a fun playhouse and structures that will stimulate the kids for fun play. Look at this sample cardboard playhouse that enchants with the planter box window and invites the kids with the brilliant purple-painted door having a hanging welcome sign. You need 2 large cardboard boxes, 1 medium, some mini cardboard boxes, decorative paper, card stock, wide corrugated paper rolls, glue, scissors, and a knife to build this mind-blowing playhouse. You also need fabric, foam mattress, LED battery lights, cake cardboard base, and leftover yarn etc to build this playhouse. instructables
11. Build a Model Cardboard House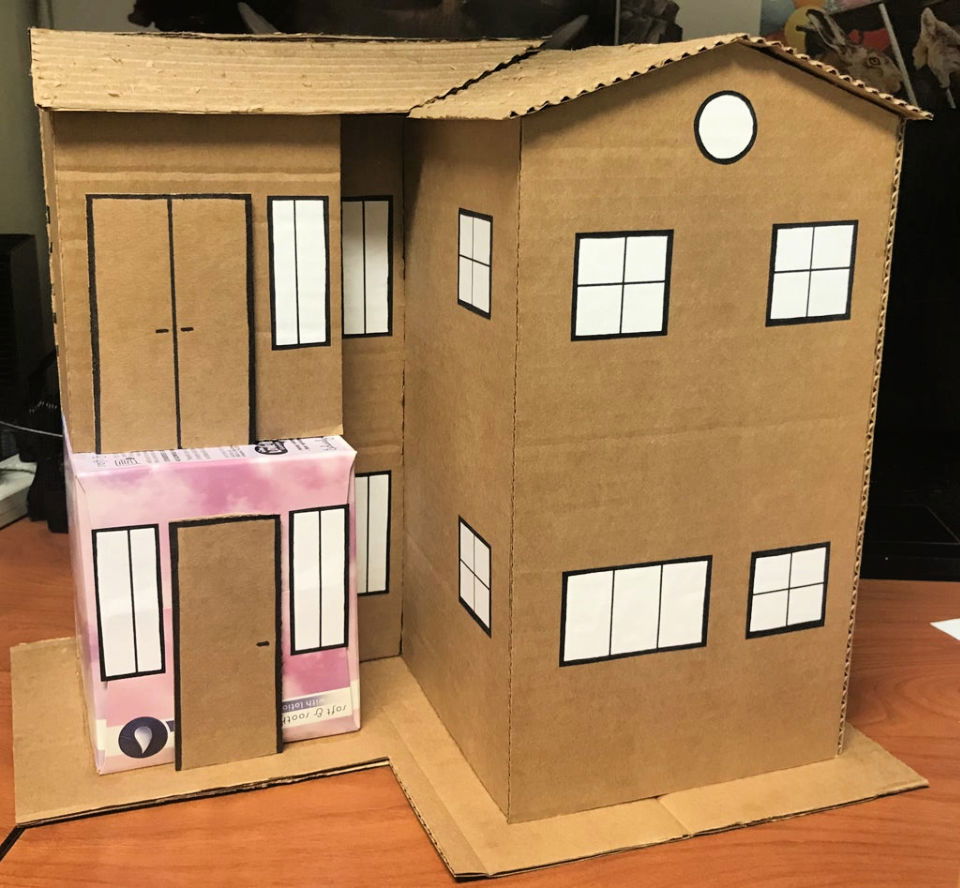 Feel free to work up this super gorgeous and brilliant model of a cardboard house. It comes with a multi-story building. This perfect adorable mini bungalow will make a great dollhouse and gift it to a special kid to win his/her heart. The best creative way to reuse those leftover stocks of cardboards. And you can paint this cardboard and can also add up with lovely LED lights for a fascinating look. Here you need a tissue box, scrap cardboard boxes, printer paper, liquid glue, ruler, X-Acto knife, pencil, and scissors to build this brilliantly beautiful cardboard house. instructables
12. Easy to Make Cardboard Box House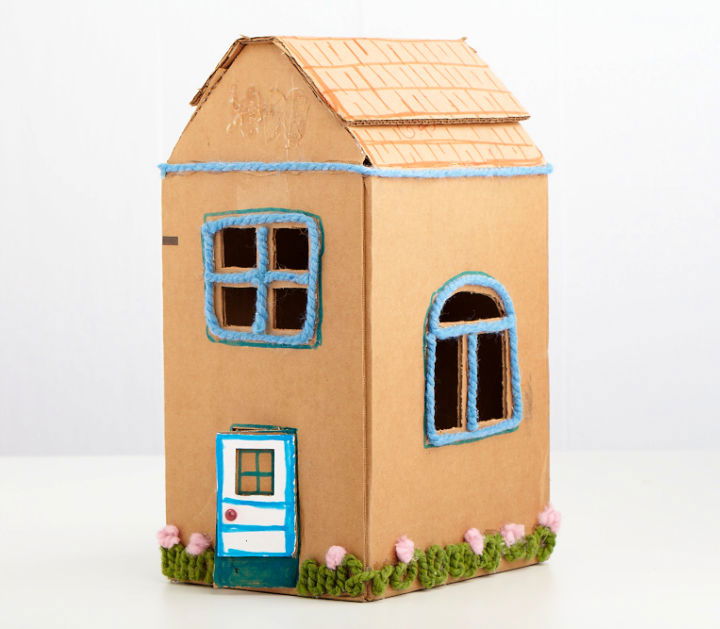 The cardboard boxes are always easy to find in excess, and they can be the strongest paper material to get crafty with. There are many amazing crafts to do with cardboard boxes, and building a fun playhouse or dollhouse comes at the top of the list. Follow here guides about how to cardboard box house that can be used to house the dolls also. From mini bungalow to princess castle, build all with cardboard boxes. You need ribbon, buttons, a cardboard box, a city cardboard building permit, glue, yarn, and other decorations to do this project. crateandbarrel
13. The Best Cardboard Box Haunted House
If you are handy at cardboard crafting and love to build decorative houses and playhouses with them, it will be easier for you to build this cardboard box haunted house. This ghostly bungalow is highly easy to build, and it will make a brilliant handmade Halloween gift for a little kid. The best house to house your witch doll. You need a large cardboard box, black paint, colorful markers, and haunted house decors and embellishments to build this haunted house. The spiders, mini skeletons, fake spiderweb, and Halloween stickers will rock as spooky decorations. happytoddler
14. Cardboard Box Dolls House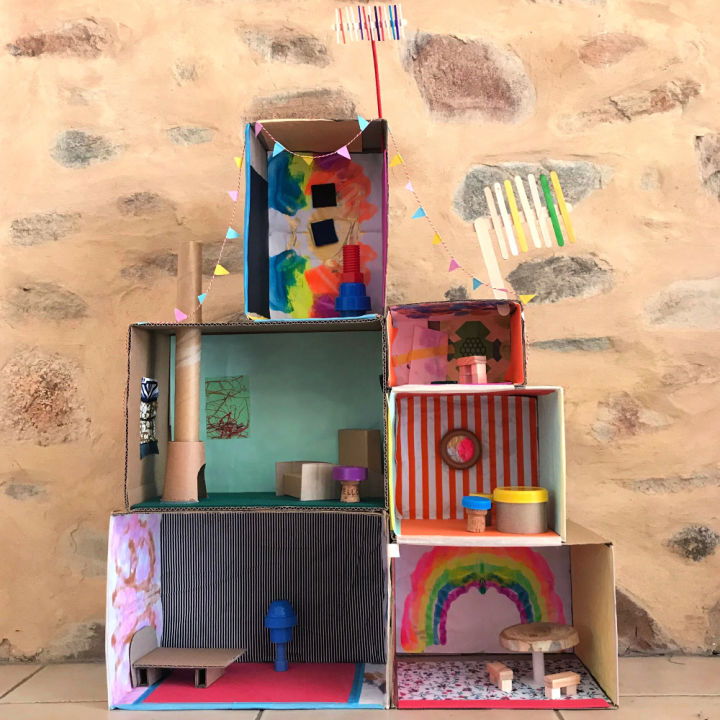 Here is the easiest cardboard dollhouse project that even a 7-year kid can do with ease. The project involves stacking a variety of cardboard boxes in different rooms and compartments of the dollhouse. You also need a cardboard tube to finish this beautiful cardboard box dollhouse. Paint the decorate the boxes in the way you like. Using decorative paper will be a great idea. Use the leftover cardboard pieces to build the super cute dollhouse furniture. minimadthings
15. Making Cardboard Box Playhouse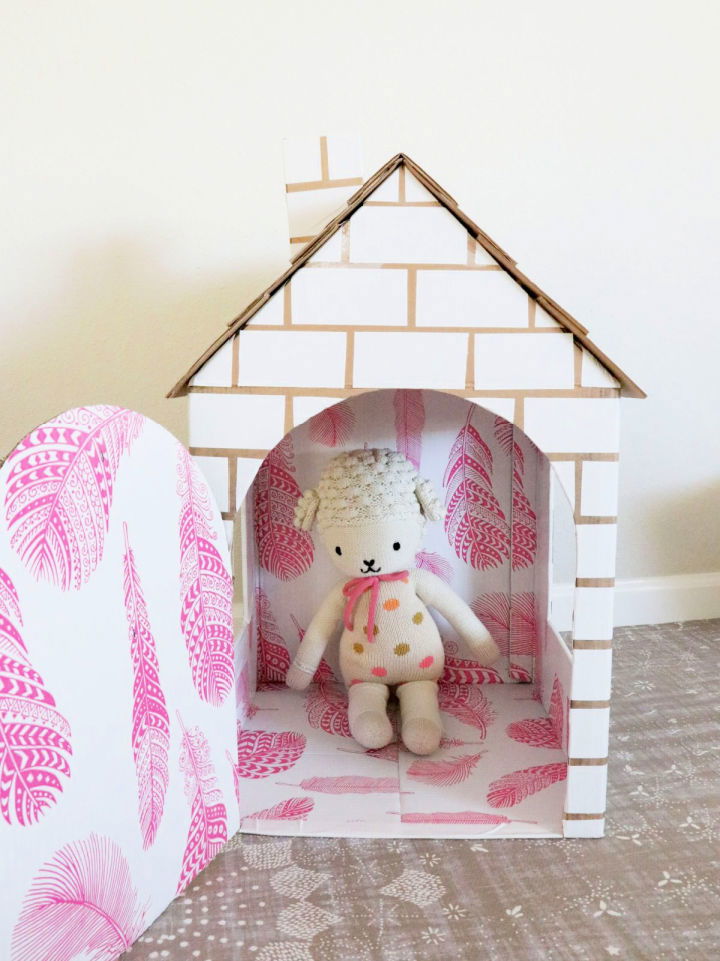 Give your little doll loving girls the hottest surprise of the year, the pretty bungalow style playhouse or dollhouse. The design gains attention with the chevron top and brick style appeal and impresses with the simple yet finest appeal. It comes with a big arched door covered with decorative papers for a gorgeous appeal. Paint and decorate it in the way you like using custom embellishments and items of decors. A large cardboard box will be enough for this cardboard house template project. healthygrocery
16. Homemade Cardboard Cat House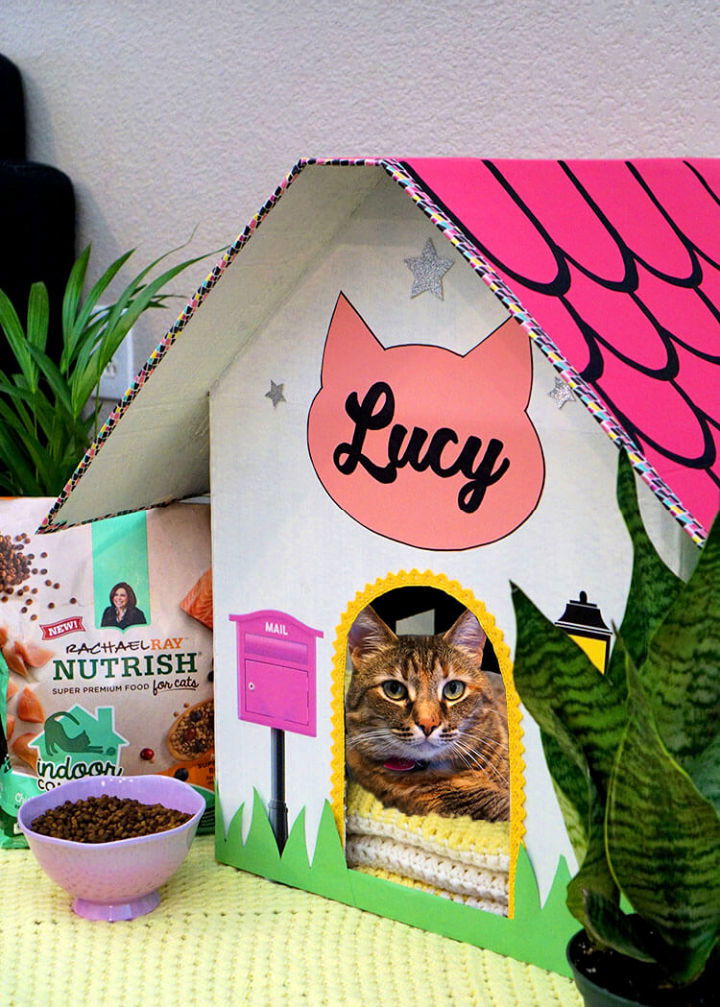 Why waste a huge fortune over a market bought pet house for your little cute cat when you can make a perfectly cute and comfortable cardboard cat house for her out of the cardboard box. It has been cut into a fancy cardboard cat house with A shape roof and decorated so much nicer with the paint colors and the markers with the name of the kitty on it to make it look much customized. happinessis
17/ Make A Cardboard Playhouse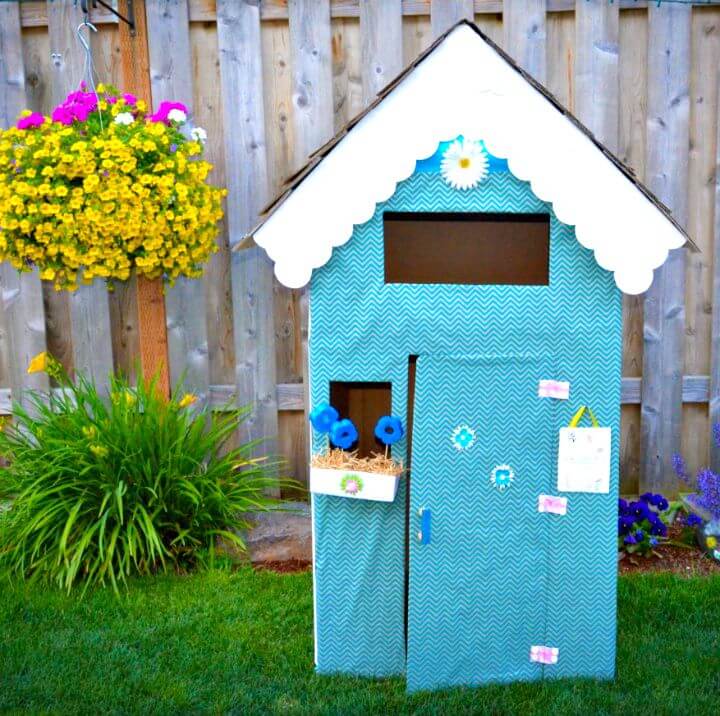 The summers are great to have fun with the kids and there are so many things to enjoy a long and making this lovely cardboard playhouse would be a nice idea to pass the summer noon with so much fun. You can cut the cardboard in any of the desired shape and then ask your kids to decorate it with ribbons, buttons, colorful papers and more. kixcereal
18. Cardboard Box Toy House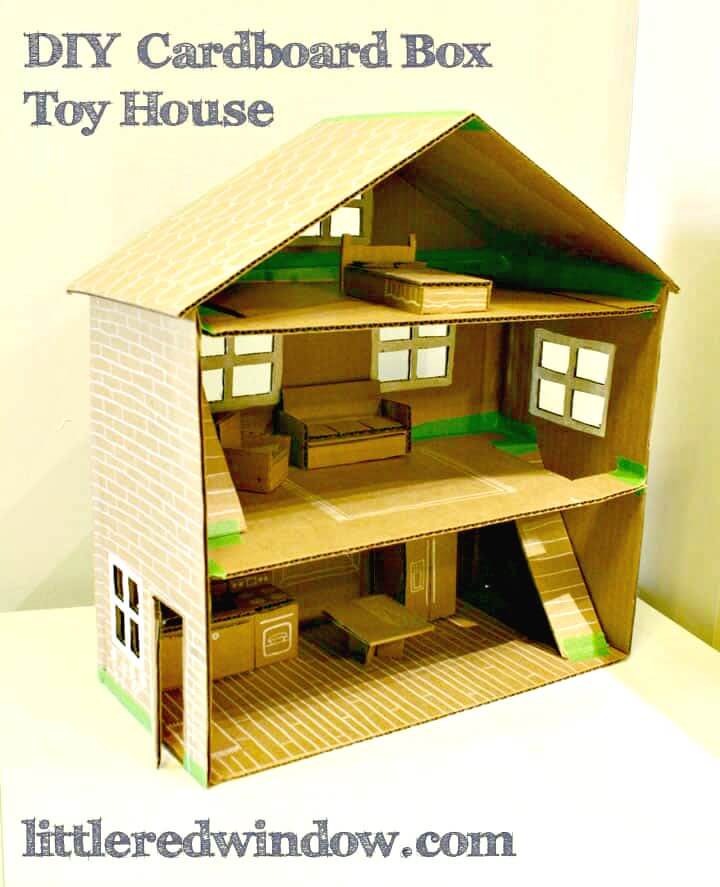 Girls love to have a dollhouse with all the sections like the bedroom, drawing room, kitchen, washroom, rooftop to let their dolls enjoy a luxury house and now you can make them the same lush dollhouse out of the cardboard box. Not even this three storey doll house but the furniture like bed, chairs, tables, kitchen island etc can also be easily made out of the little cut pieces left out of the cutting. littleredwindow
19. DIY Playhouse On The Block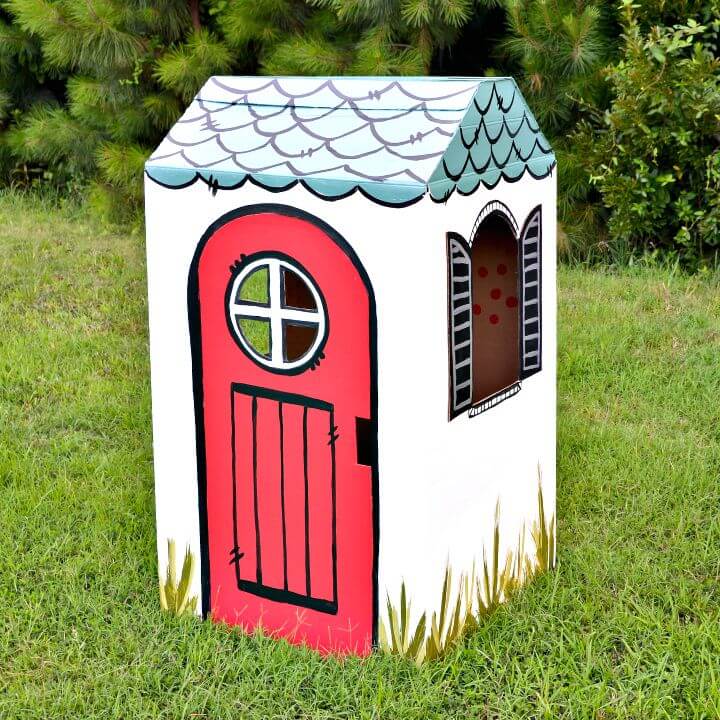 The large cardboard boxes that come to our places to deliver some stuff are one of the favorite playing thing for the kids and now you can spruce up the fun more by making this super gorgeous and colorful playhouse out of it. You can easily cut out the door, window and the roof and then indulge in a lovely painting session of the playhouse with the kids. projectnursery
20. Playhouse with Spare Cardboard Boxes
No matter how many toys they have or a room of their room yet a playhouse is the most amazing thing for the kids to play in and enjoy a great time there. So here is the idea of creating a super cute and fun playhouse for your little one out of the cardboard box and thus saving yourself a lot of time and money over a market bought one.
21. Cardboard Dollhouse with Lights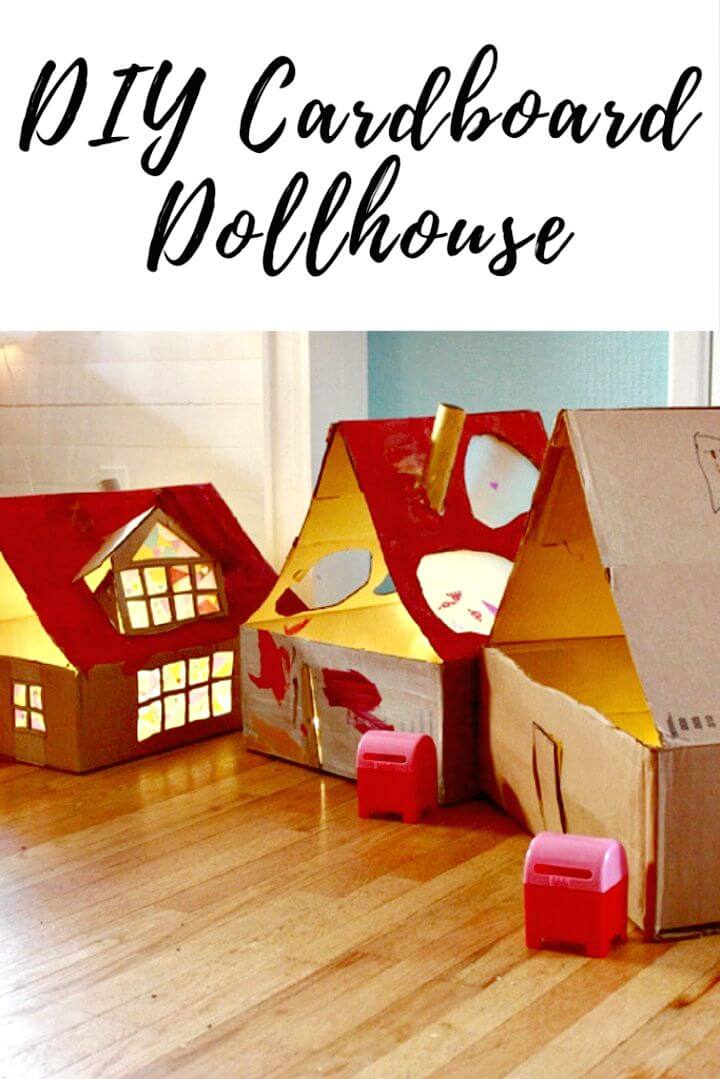 Cardboard is one of the most fun materials to get crafty with as it is cheap, easy to work with and you can easily dispose of it when you are done with it. How to make a dollhouse out of cardboard? Here is the idea of creating the pretty and cute little cardboard dollhouse out of the cardboard with all the features like doors, windows, and the roof and made to look more fun and fancy with the added paint hues and the lights. artfulparent
22. DIY Ollie's House Using Cardboard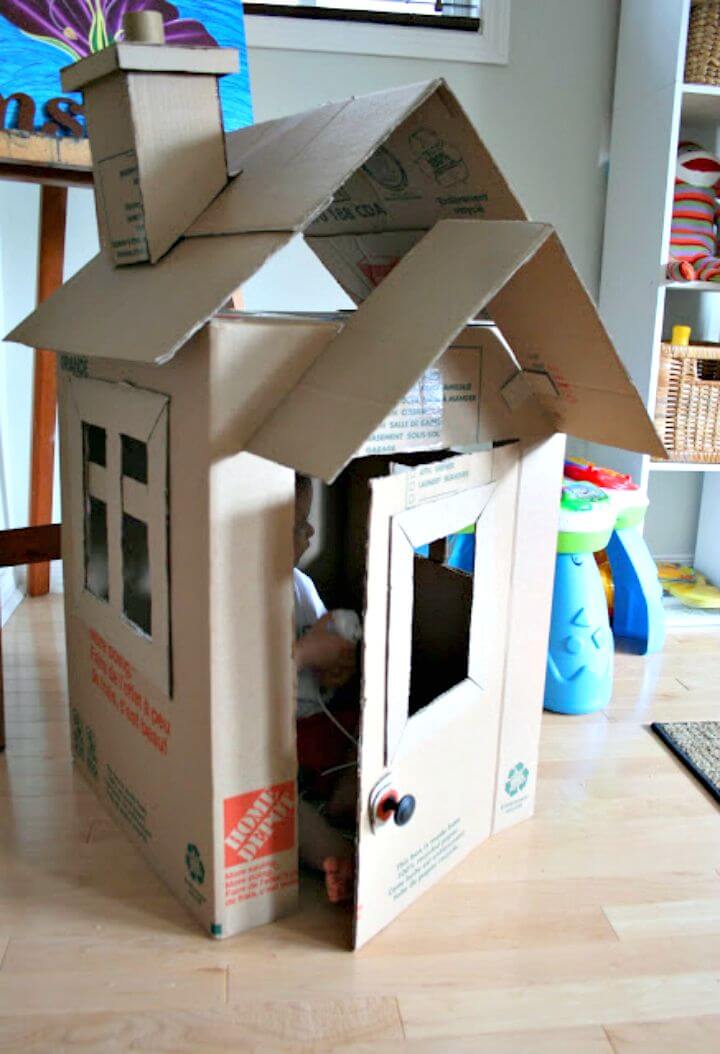 The little ones create a whole new world of their playful imagination in a small and cute DIY cardboard playhouse. And that is why they really want one and now you can easily and cheaply make one out of the cardboard boxes. This lovely kid's cardboard playhouse is easily made out of the big cardboard box with all the playhouse features. So, your little one can easily get inside with his toys to have some fun in his playful world. charcoaland
23. How To Make Cardboard Playhouse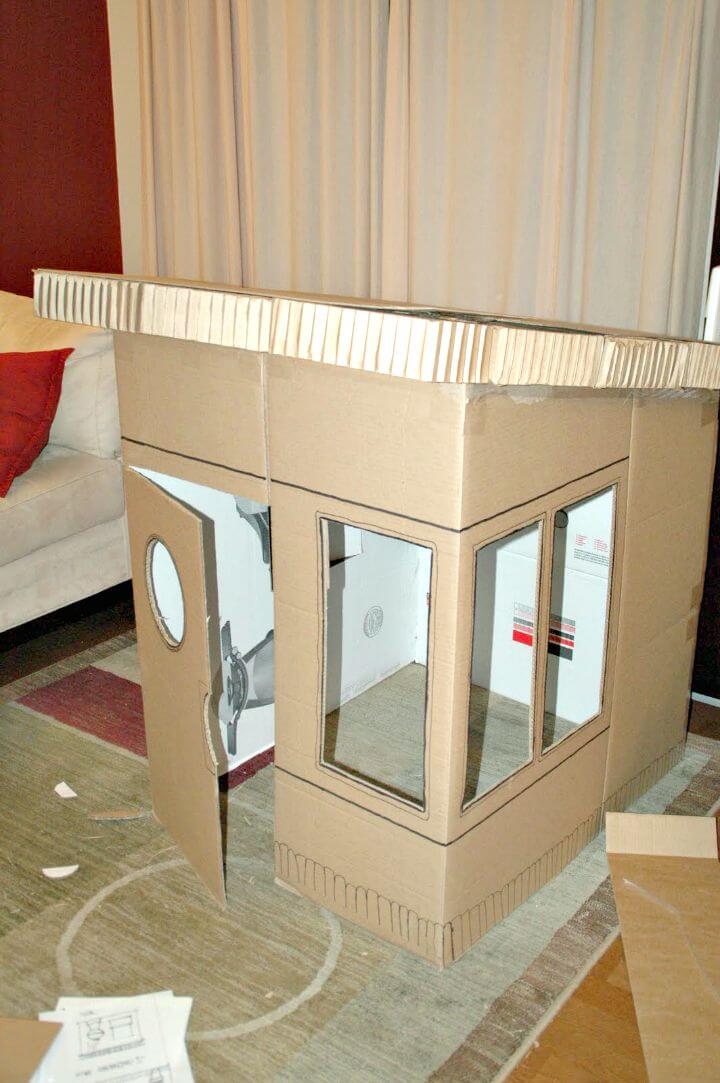 Whenever we welcome an electronic piece in the kitchen or anything other it comes in a cardboard box. Which offer you so many crafting hacks and the best of them is to make this super cute and fun kids cardboard playhouse for your little ones to hide inside and play. You can simply cut the cardboard box according to the tutorial and let your kids have fun playing with it. momsdailyadventures
24. Shingled Cardboard Cat House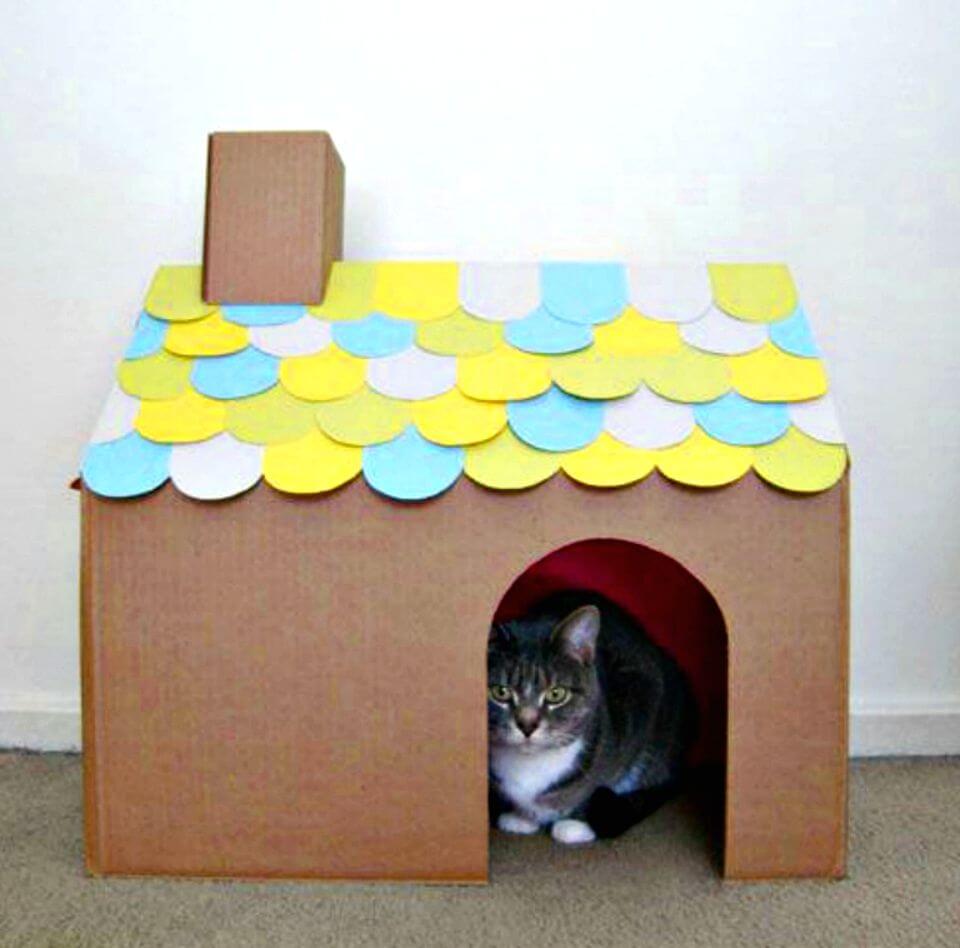 Here is how you can provide your little cute cat a perfectly comfy and cute cardboard box house to relax and sleep in and that too without spending a penny. Yes, you can craft a cardboard cat house with the colorful cardstock pieces used to form a beautiful scalloped rooftop on the cat house. catspro
25. Cardboard Camper Playhouse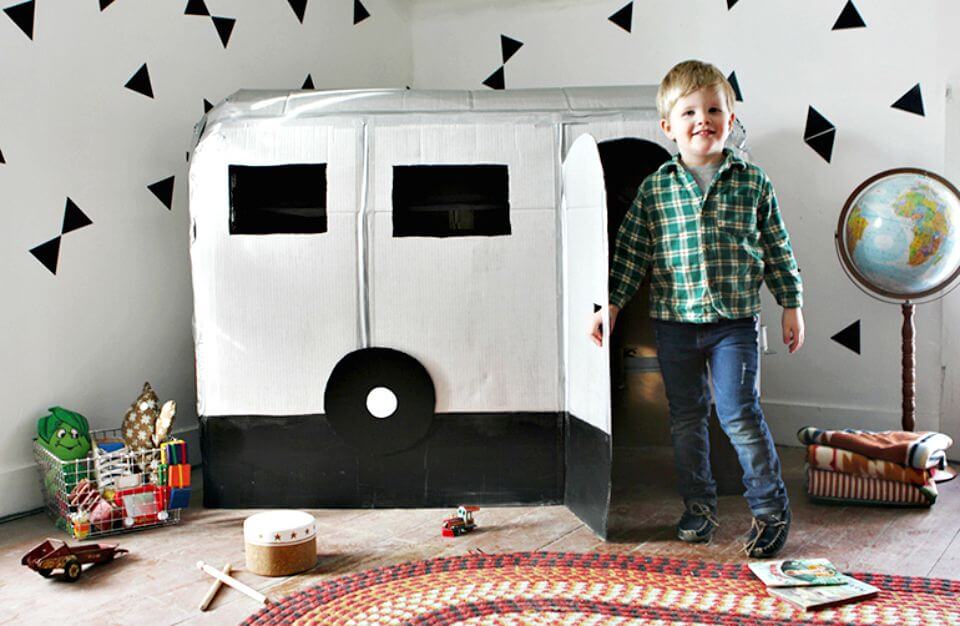 Kids want to have adventurous days to try different kinds of activities and playing at the home during the summer vacation. So, ease out their adventurous side with this fun camper cardboard playhouse to play with for hours and have so much fun with it. Just out the cardboard box in the camper design and then paint it up to look like more with the camper and here are the details doing it on your own themerrythought
26. How to DIY Cardboard Playhouses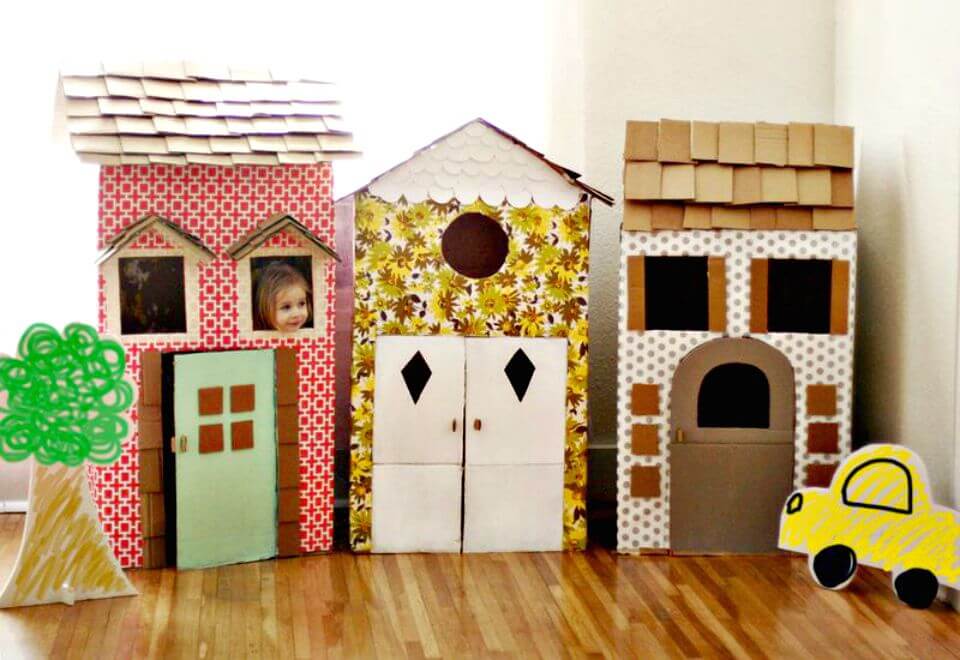 When you have little girls, the crafts are more sorted as they are excited about the dollhouses. Here is the lovely idea of making these colorful dollhouses for them. abeautifulmess
27. How To Make Cardboard Box Playhouse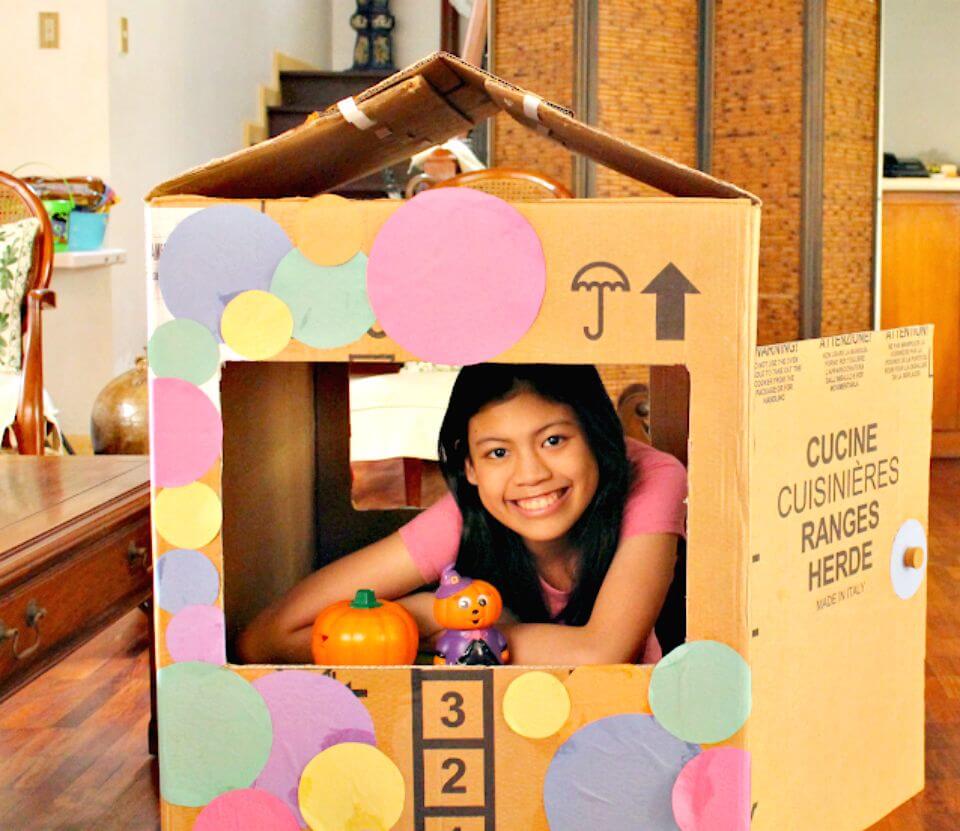 The cardboard boxes give you a chance to be a kid again with your little ones. And have so much fun making these fun playhouses out of them. You can ask your kids what kind of cardboard playhouse they want and make the desired features with a cardboard box. Make it look so custom and fun with the personalized coloring and embellishing on it. shesaidshesaidph
28. Plain Cardboard Box Into A Super Cool Playhouse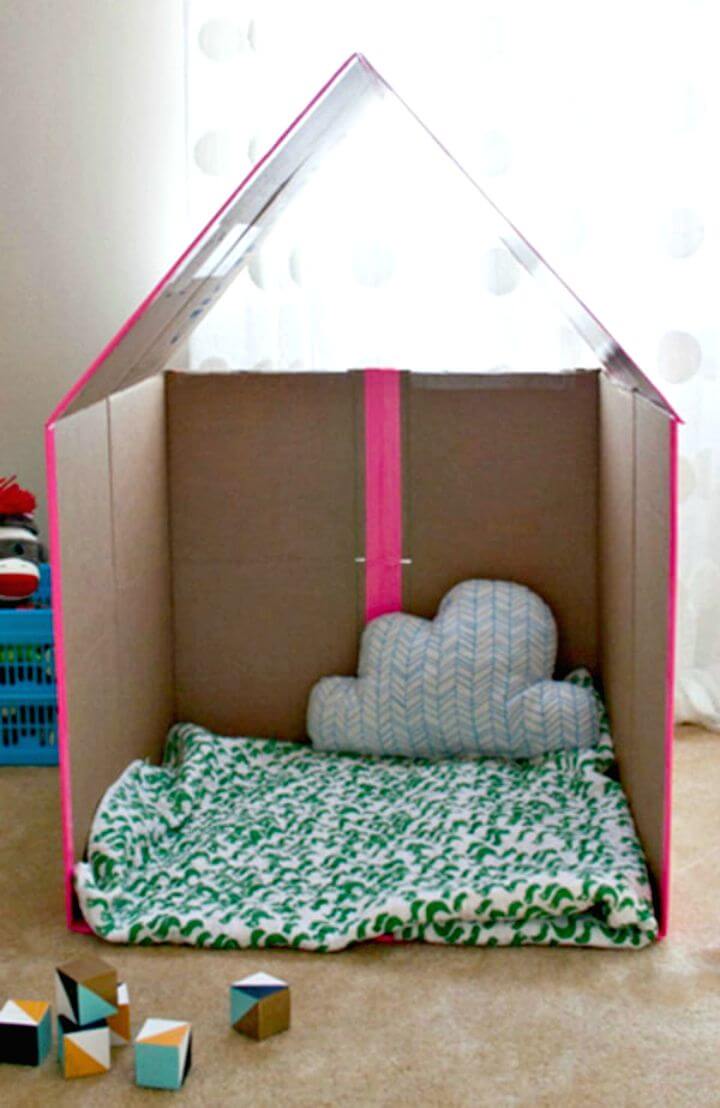 Kids really like the compact and tiny spaces of their own and play inside to enjoy their imaginations. So here is the idea of making a fun cardboard playhouse for him with simple cutting, taping and painting. That he would adore to the core to play in and have super summer fun. sheknows
29. Make Cardboard Box Barn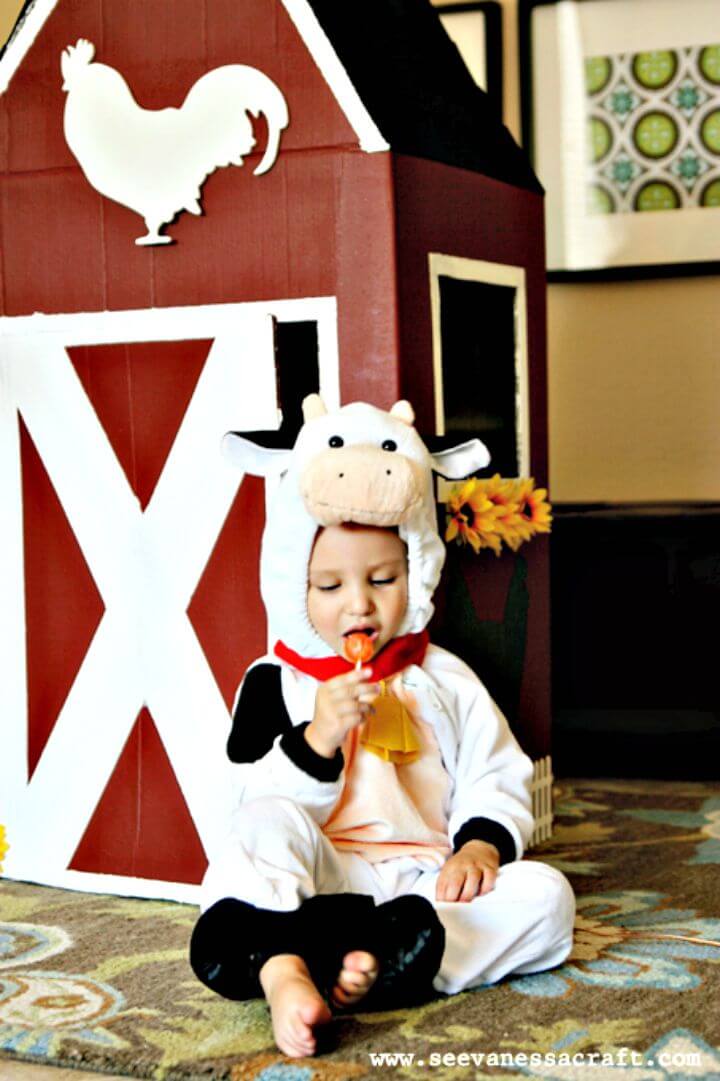 The kids love animals so much. If your little baby is also obsessed with the animals and birds around then make this lovely barn house for him to play with his animal stuff toys inside and have so much fun. You need a big cardboard box and some lovely paint hues to craft this playhouse. seevanessacraft
30. Simple DIY Cardboard Play House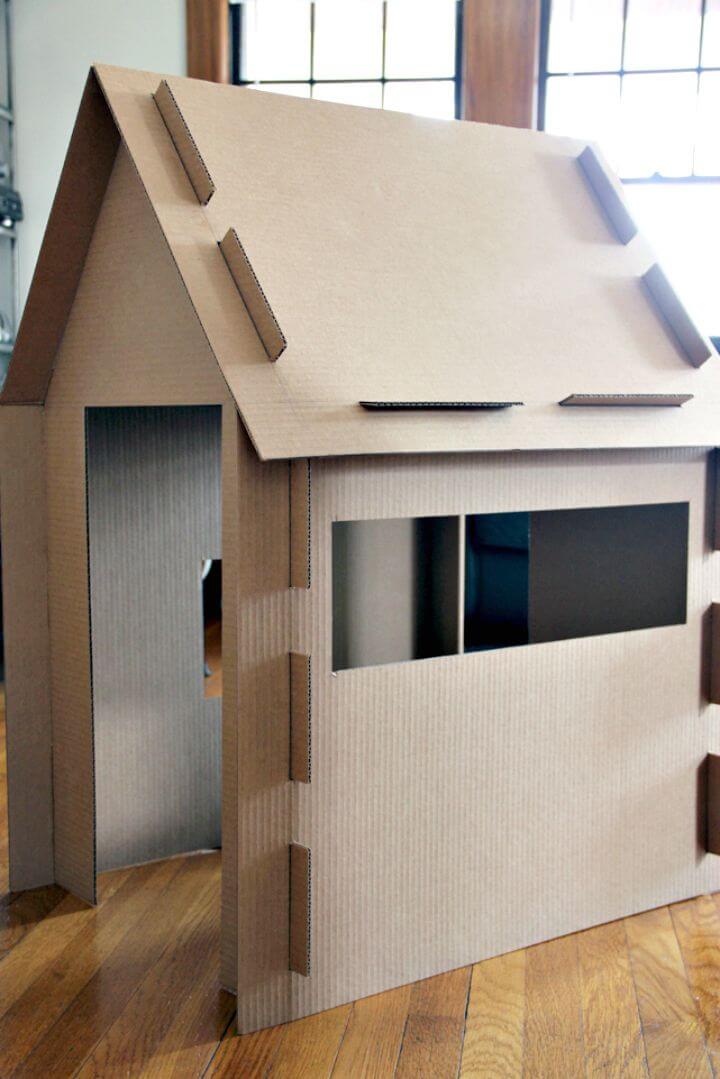 A cardboard box is super easy to cut and get some amazing crafts out of it for the kids like a super cute playhouse. You can create playhouse parts separately out of cardboard boxes and then join them together to form a playhouse. Complete details of the idea lying here projectlittlesmith
Here are more amazing cardboard house design ideas for kids, cat, dog, and dolls:
Browse the entire collection of these amazing cardboard houses ideas and see what design amazes you the most.
Conclusion:
We often receive online deliveries and home appliances deliveries safely in the cardboard. So, if there is a stock of cardboard boxes in your home stash store, then time to do something amazing with them. Get crafty with them and build a cardboard box house with them for little kids, pets, and the little girl's doll.
From outstanding princess cardboard castle playhouse to mid-century inspired bungalows to multi-story smart modern cardboard houses, build all with the help of these DIY cardboard houses for kids that will make you fall in love with those leftover cardboard boxes. These 60 inspiring cardboard house ideas are mostly beginner-friendly and will involve fun cutting, fun gluing, taping, and lighting mostly.