One of the most loved pets, the cats, can stay with you all the time making you feel happy by doing some innocent and fun acts. But after a long time play session with you, they will demand a cozy and comfortable resting space where no one will disturb them. So, a separate resting space or place is often provided to cats and dog by providing the special pet houses which may also come with a cozy pet bed installed inside.
So, if you are on a mission to bring a lot of comfort to your cat, then you should consider getting a cat house for her. If you just can't withstand with the high prices of the cat houses that you will buy from the market, then you can easily make a fantastic one at home without causing any load on your wallet. Here you will also learn that how you can plan the cardboard boxes for also making the larger playhouses and fun stations for little kids.
You will be profoundly amazed to see that you can build super beautiful looking and multi-featured houses also with the cardboard boxes that you may be having in dozens in your home trash store. You can make the outstanding kids playhouses houses with so many different materials like with wood but building them with cardboard boxes would be super budget-friendly.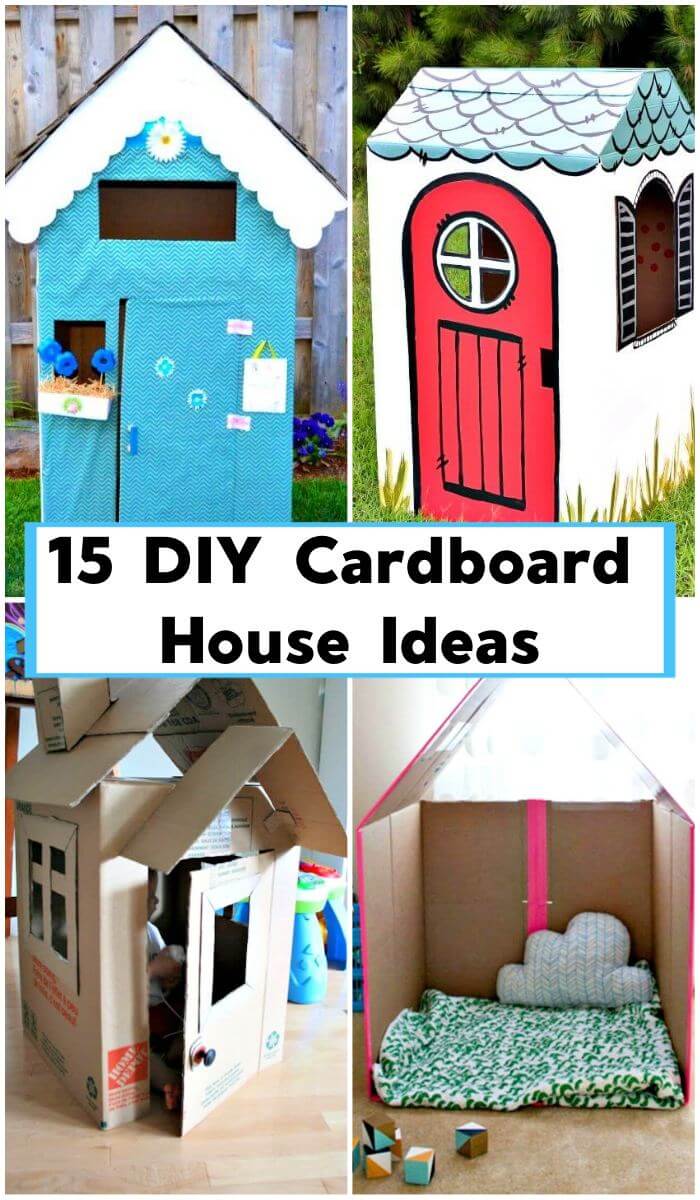 So, willing to make a perfect fun or playhouse design at home like a pro using cardboard boxes? Then just have a look at these DIY Cardboard House Ideas that will make you a big fan when you see the fantastic creativity involved in creating and composing these cat house designs. Just grab the bigger cardboard boxes from home, think of a unique bungalow style house design, next go with a craft knife to cut the windows and doors out of it to make a fabulous pet or kids playhouse design in just no time.
Make the simple bungalow style cardboard cat house design at home with the chevron roofs that will make a great gift for your cat. Peek into details of the given sample design that has been painted beautifully and is looking great. Make a cardboard playhouse and also decorate it with ribbon, scrapbook paper, button and with other lots of embellishments for an enticing appeal. Make also the custom toys houses for the kids using the cardboard boxes that may come with different levels and also make the kids playhouses on the block that will captivate the eyes.
Next, you also make the amazing lighted dollhouses out of recycled cardboard boxes that will make a great gift for the little girls. Browse the entire collection of these cardboard houses ideas and see what design amazes you the most. Duplicate your favorite design by browsing the attached link where you will find the full free guides, free plans and full tutorial for your respective project.
Cute DIY Cardboard Cat House: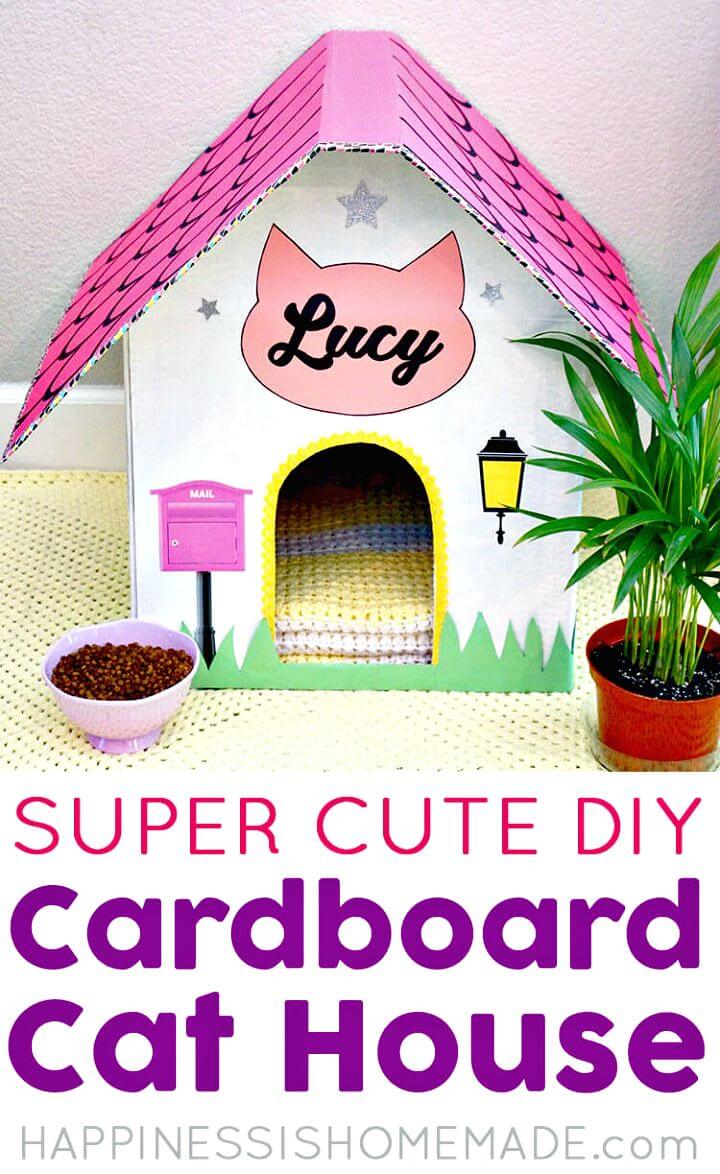 Why waste a huge fortune over a market bought pet house for your little cute cat when you can make a perfectly cute and comfortable cat house for her out of the cardboard box. It has been cut into a fancy cat house with A shape roof and decorated so much nicer with the paint colors and the markers with the name of the kitty on it to make it look much customized. happinessishomemade
How to Make Cardboard Playhouse: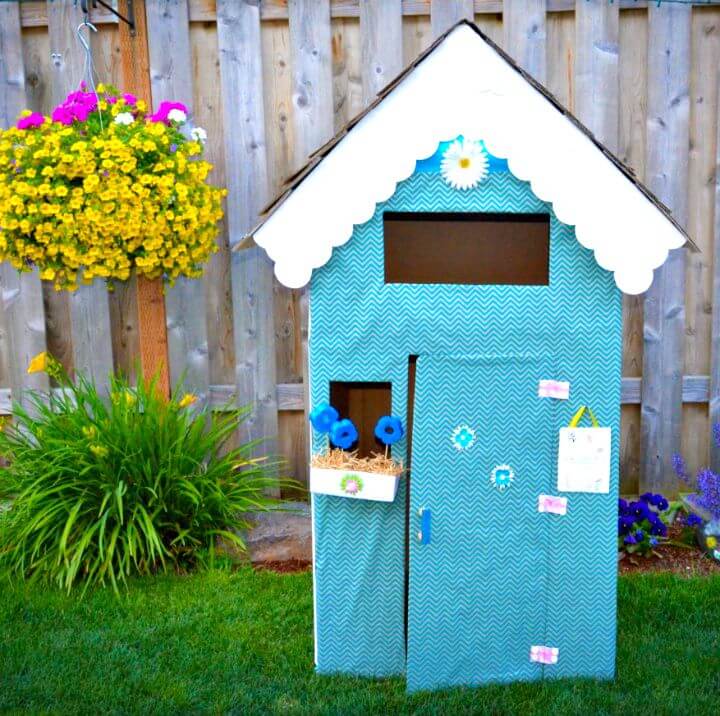 The summers are great to have fun with the kids and there are so many things to enjoy a long and making this lovely cardboard playhouse would be a nice idea to pass the summer noon with so much fun. You can cut the cardboard in any of the desired shape and then ask your kids to decorate it with ribbons, buttons, colorful papers and more. kixcereal
Easy To Make Cardboard Box Toy House: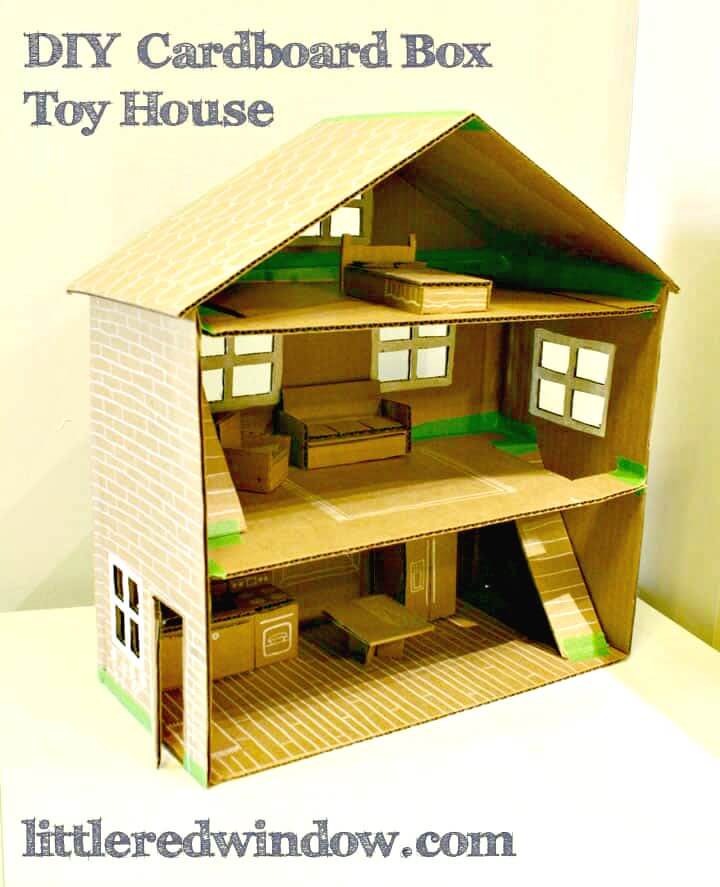 Girls love to have a dollhouse with all the sections like the bedroom, drawing room, kitchen, washroom, rooftop to let their dolls enjoy a luxury house and now you can make them the same lush dollhouse out of the cardboard box. Not even this three storey doll house but the furniture like bed, chairs, tables, kitchen island etc can also be easily made out of the little cut pieces left out of the cutting. littleredwindow
Adorable DIY Playhouse On The Block: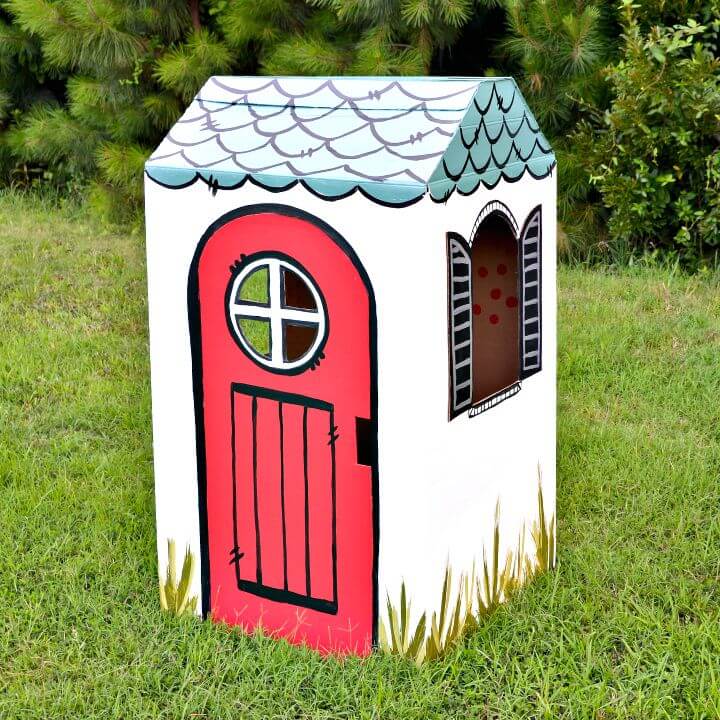 The large cardboard boxes that come to our places to deliver some stuff are one of the favorite playing thing for the kids and now you can spruce up the fun more by making this super gorgeous and colorful playhouse out of it. You can easily cut out the door, window and the roof and then indulge in a lovely painting session of the playhouse with the kids. projectnursery
Build a Playhouse with Spare Cardboard Boxes:
No matter how many toys they have or a room of their room yet a playhouse is the most amazing thing for the kids to play in and enjoy a great time there.  So here is the idea of creating a super cute and fun playhouse for your little one out of the cardboard box and thus saving yourself a lot of time and money over a market bought one. mykidsadventures
DIY Cardboard Dollhouse with Lights: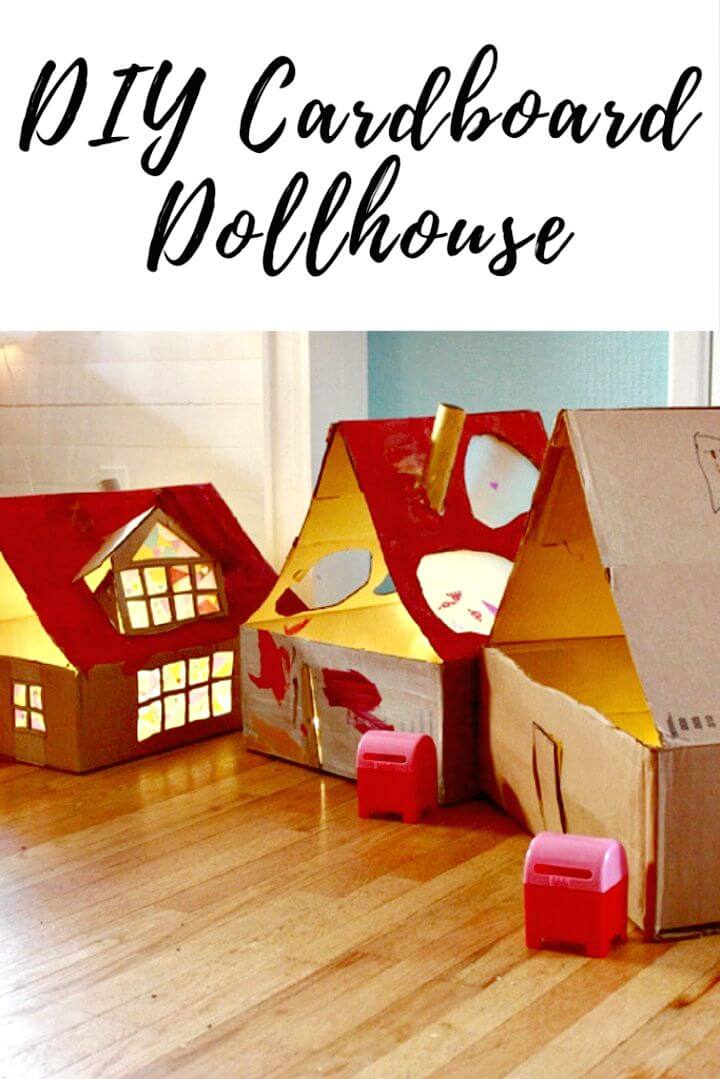 Cardboard is one of the most fun materials to get crafty with as it is cheap, easy to work with and you can easily dispose it when you are done with it. Here is the idea of creating the pretty and cute little doll houses out of the card boxes with all the features like doors, windows and the roof and made to look more fun and fancy with the added paint hues and the lights. artfulparent
DIY Ollie's House Using Cardboard: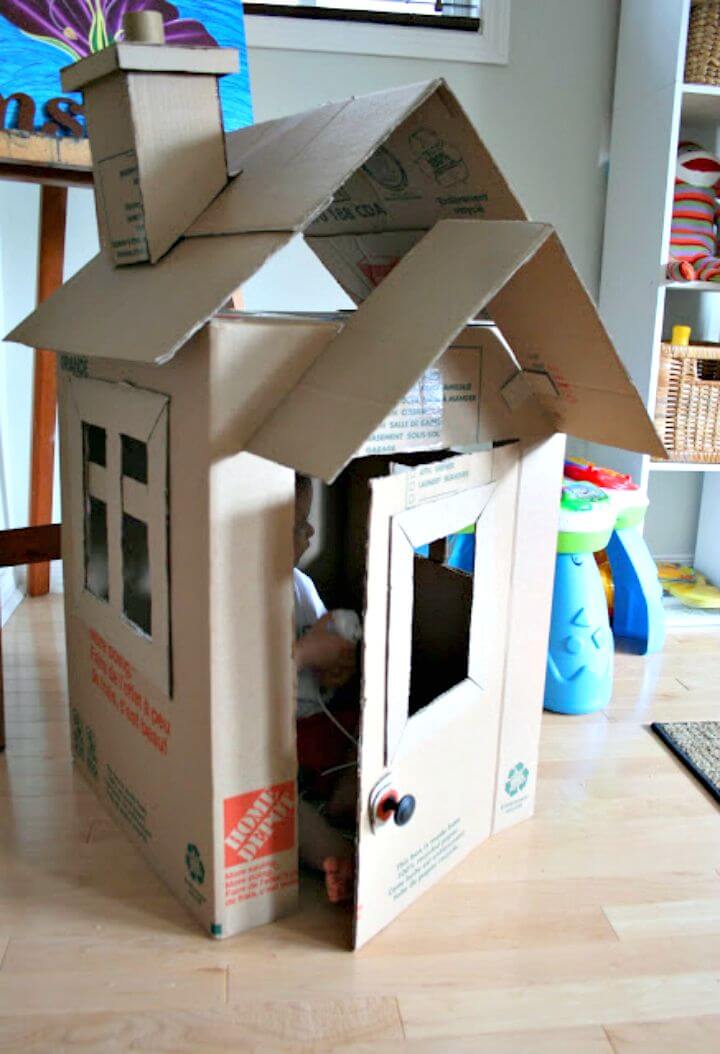 The little ones create a whole new world of their playful imagination in a small and cute playhouse and that is why they really want one and now you can easily and cheaply make one out of the cardboard boxes. This lovely playhouse is easily made out of the big cardboard box with all the playhouse features and your little one can easily get inside with his toys to have some fun in his playful world. charcoalandcrayons
How To Make Cardboard Playhouse: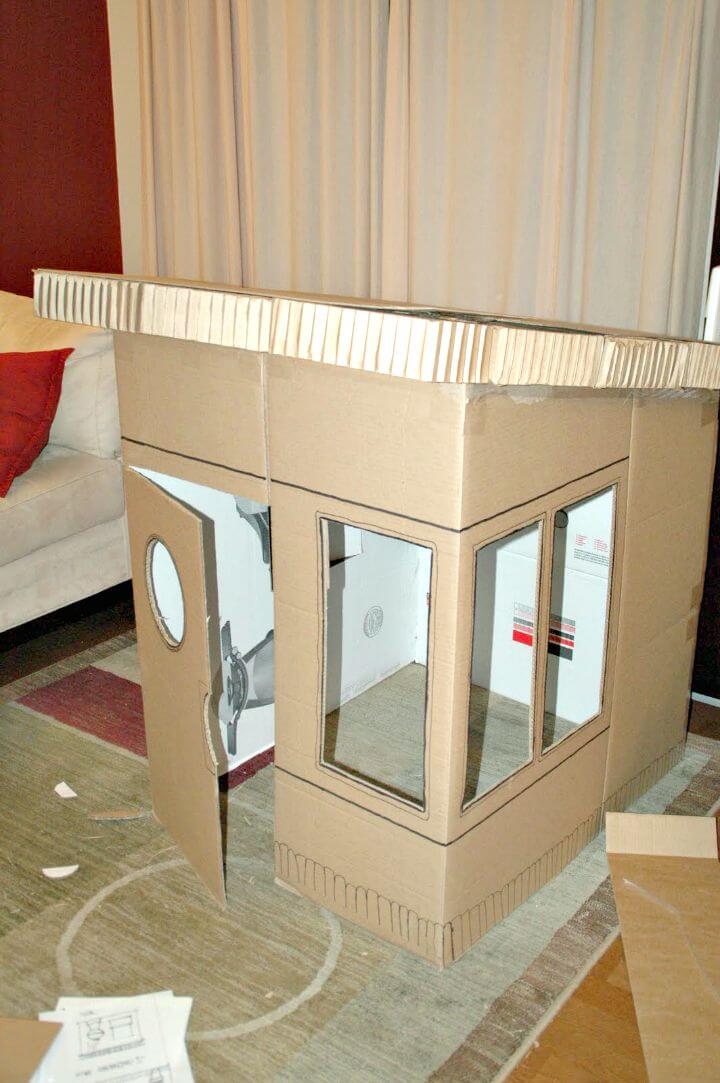 Whenever we welcome an electronic piece in the kitchen or anything other it comes in a cardboard box which offer you so much crafting opportunities and the best of them is to make this super cute and fun playhouse for your little ones to hide inside and play. You can easily follow a design and cut out the box according to it  with doors, windows and roof and let your kids have super fun playing with it. momsdailyadventures
DIY Shingled Cat House Cardboard: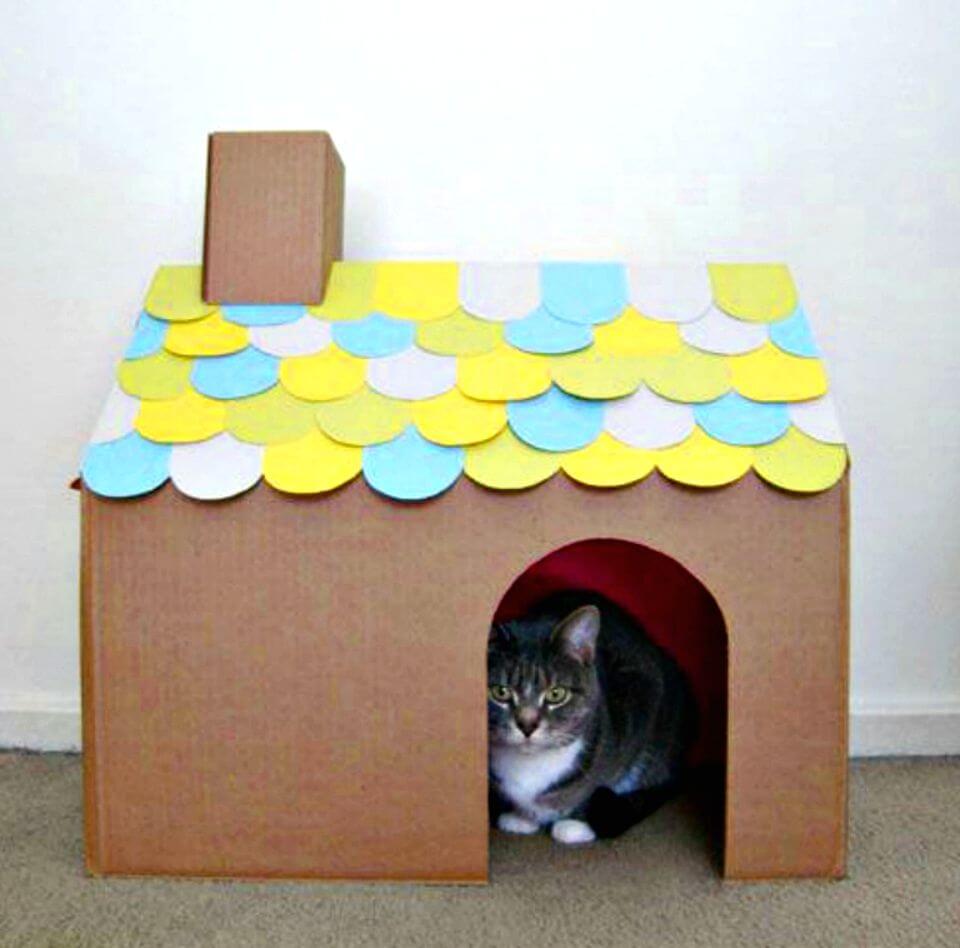 Here is how you can provide your little cute cat  a perfectly comfy and cute cat house to relax and sleep in and that too without spending a penny. Yes, the lovely cat house has been made out of a cardboard box with the colorful cardstock pieces used to form a beautiful scalloped rooftop on the cat house. catspro
Easy DIY Cardboard Camper Playhouse: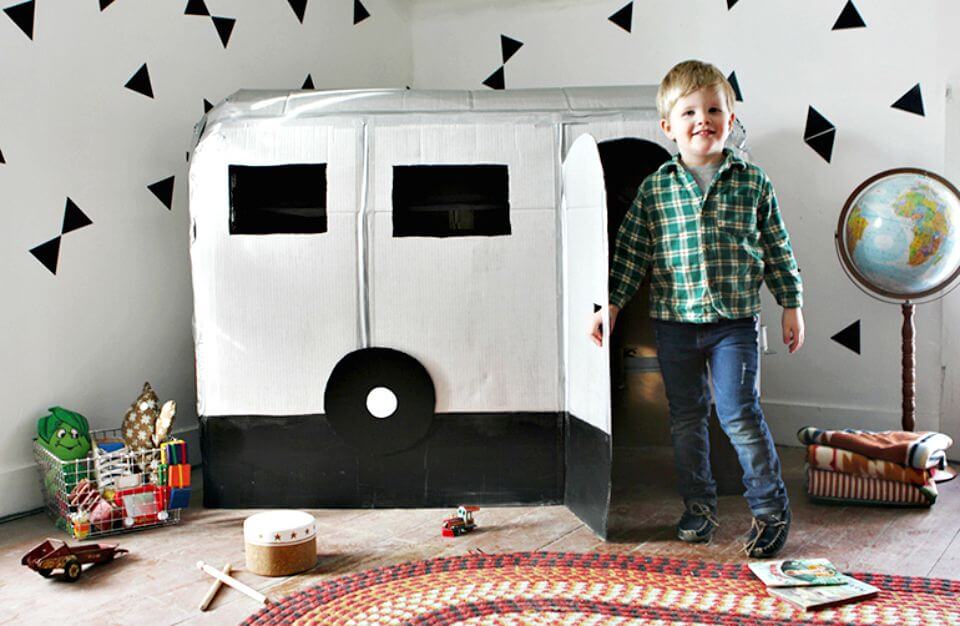 Kids want to have adventurous days to try different kinds of activities and playing at the home in the summer vacation. So ease out their adventurous side with this fun camper toy to play with for hours and have so much fun with it. Just out the cardboard box in the camper design and then paint it up to look like more with the camper and here are the details doing it on your own themerrythought
How to DIY Cardboard Playhouses: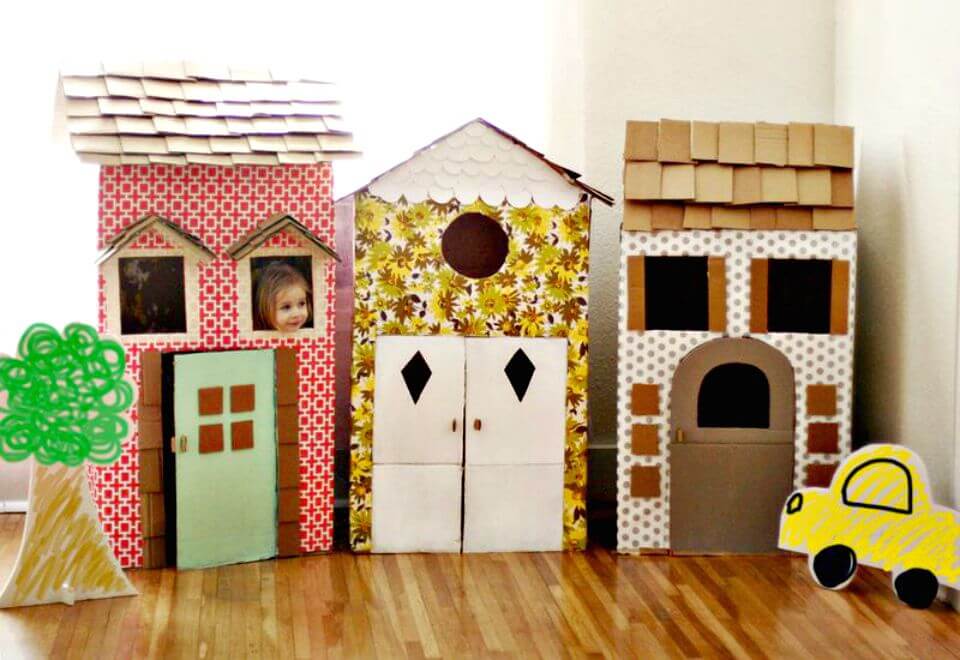 When you have cardboard boxes and the kids there are like the super fun and exciting options to use them for some fun playthings for your little ones. And when you have little girls, the crafts are more sorted as they are like hell crazy and excited for the playhouses and the dollhouses and here is the lovely idea of making these colorful dollhouses for them. abeautifulmess
How To Make Cardboard Box Playhouse: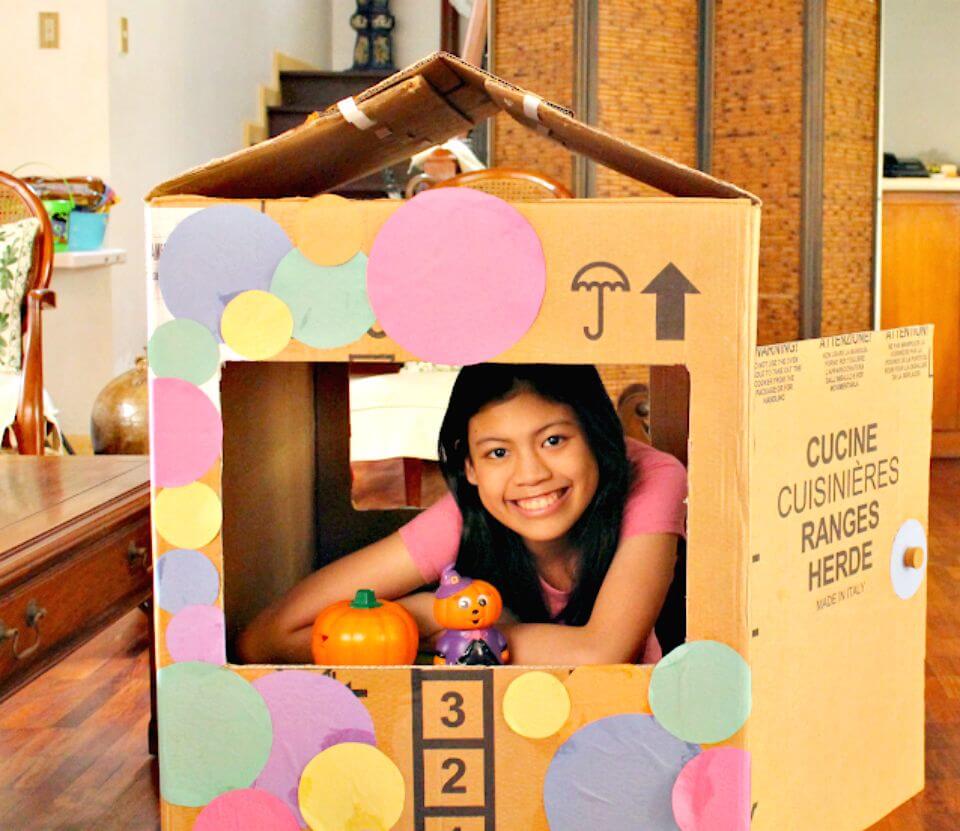 The cardboard boxes give you a chance to be a kid again with your little ones and have so much fun making these fun playhouses out of them. You can ask your kids what kind of playhouse they want and cut out the desired features out of the cardboard box and make it look so much custom and fun with the personalized coloring and embellishing on it. shesaidshesaidph
How To Turn a Plain Cardboard Box Into A Super Cool Playhouse: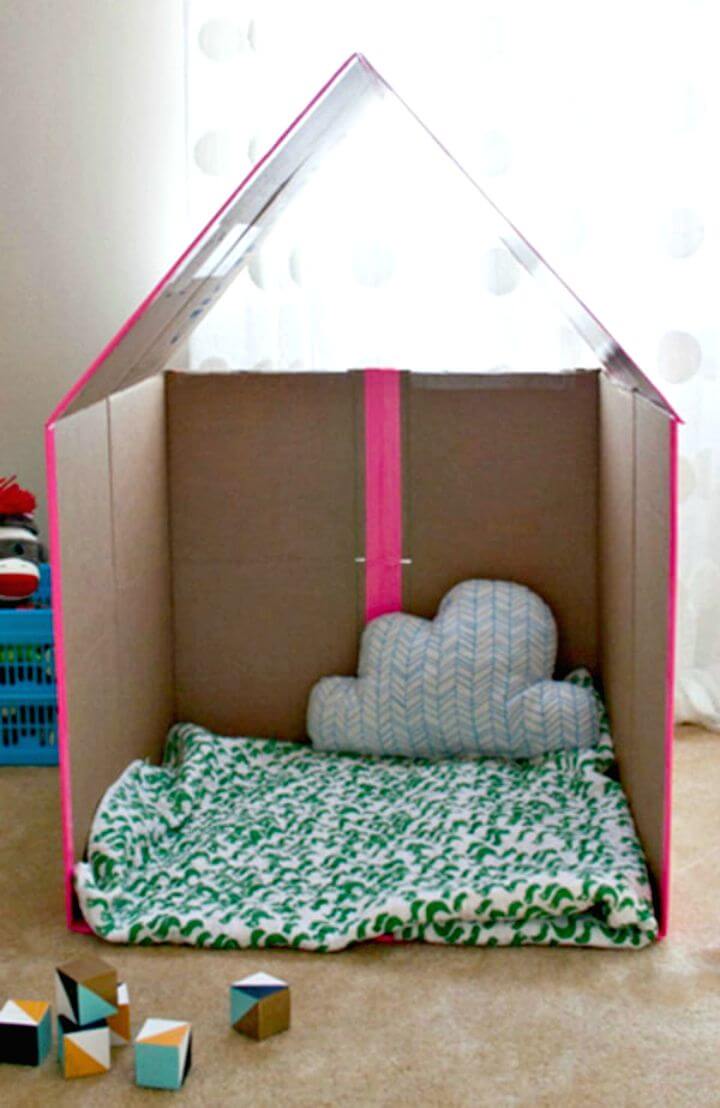 There is a fun thing about the kids that they really like the compact and tiny spaces of their own and play inside to enjoy their imagination to the fullest. So here is the idea of making a fun cardboard playhouse for him with simple cutting, taping and painting that he would adore to the core to play in and have super summer fun. sheknows
Make Cardboard Box Barn: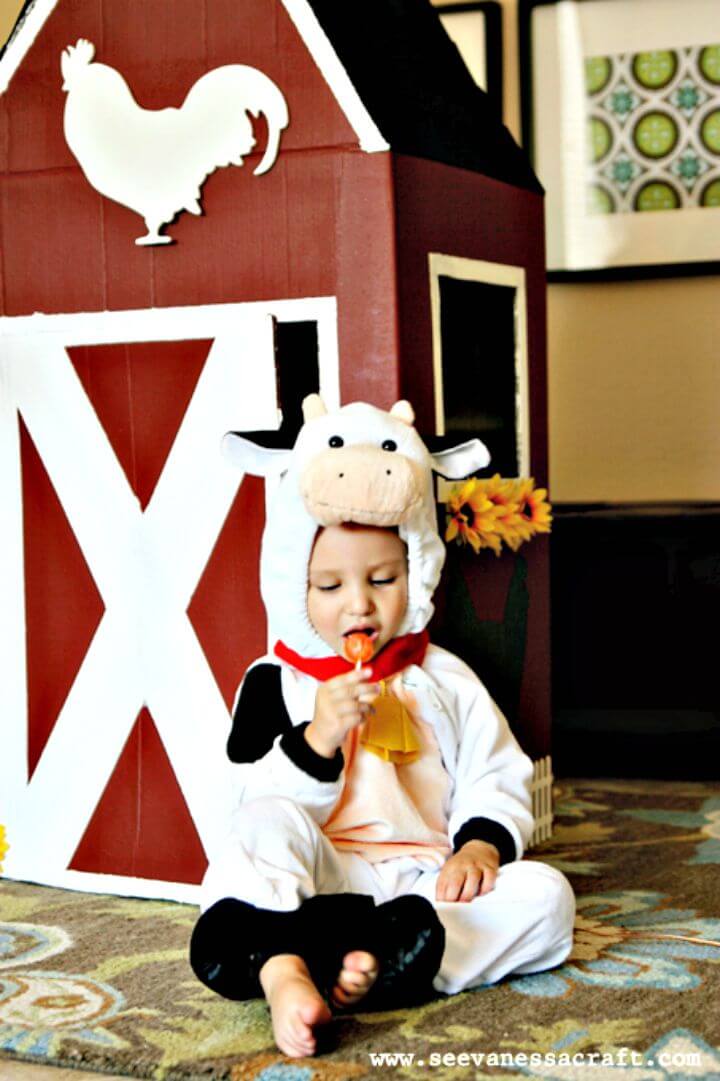 The kids love animals so much and if you little baby is also obsessed with the animals and birds around then here is the idea of creating this lovely and super cute barn house for him to play with his animal stuff toys inside and have so much fun. You need a big cardboard box and some lovely paint hues to install this lovely barn with a rooster sign on it. seevanessacraft
Simple DIY Cardboard Play House: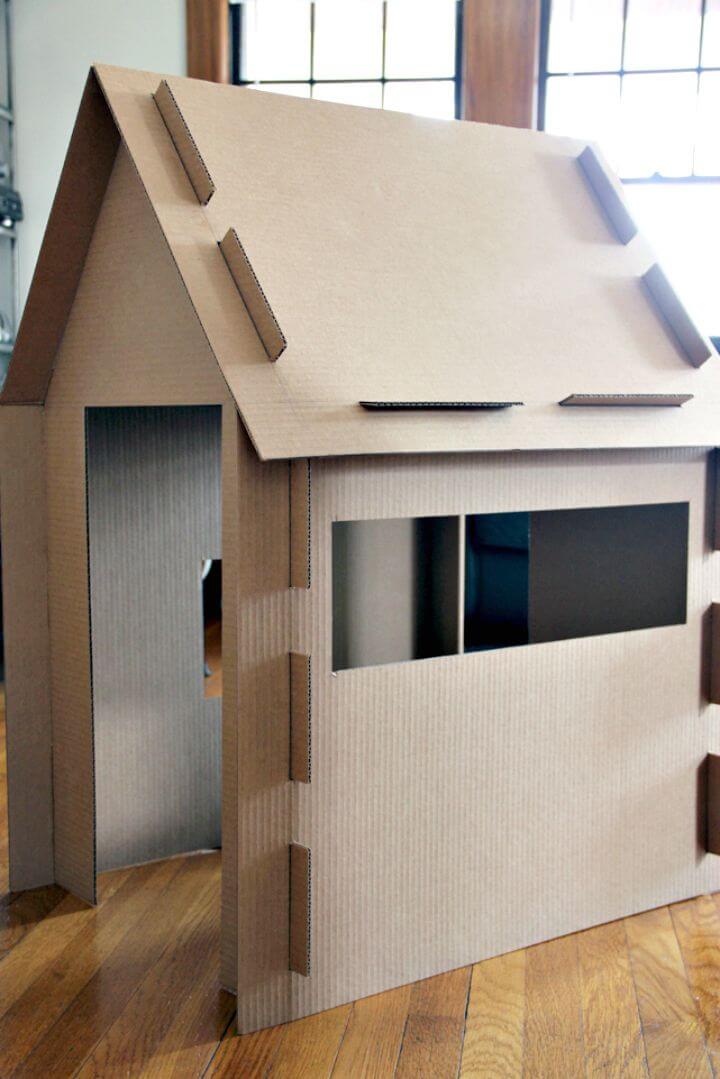 A cardboard box is super easy to bring under the knife or the cutter and get some amazing stuff installed out of it for the kids like a super cute playhouse. You can create all the playhouse parts separately out of the box pieces and then stack them together to form a lovely playhouse for your little ones to enjoy to the fullest. Complete details of the idea lying here projectlittlesmith