For a mom, her baby's safety always comes first! When a baby starts crawling, a mom just gets herself indulged in plannings to make every part and corner of home safe for her baby! When a baby gets his legs activated and starts walking, the moms tend to add more security barriers around the home to ensure better safety of her baby! In the list of these security barriers, the baby gates are the most preferred ones! These DIY baby gates can be seen mostly around the steep stairs, always dangerous for innocent and imperfect baby's walk or crawling! For the all the mom who want to block off their naughty babies down the stairs, we have brought here amazingly creative and budget-friendly DIY baby gate projects that comes with fully free step by step instructions and tutorials! Simply click on the links pasted under each baby gate project and get the step-by-step picture instructions!
Wooden baby gates are all popular around the globe! Just to trim down your expenditures, you can prefer the barn wood rather than the new wood to build the desired models of baby safety gates! Discarded mantelpieces, crumbled furniture items, pallets, rustic wooden doors and deleted wooden windows would be a great source to gain the required supply of barn wood!
DIY PVC pipe projects would get your second priority in building beautiful and lasting DIY baby safety gates! You can collect some PVC pipe supply from home trash store or just buy them for the market by paying a little from your pocket!
Old fabric like the tablecloth, curtains, quilt covers etc can also be used to build instant baby security gates! Some fabric baby gate tutorials have also been included in the list which you can checkout for rest of details and instructions!
If you are really thinking that baby gates made of barn wood, PVC pipes and home fabric go out of style then you can also prefer very modern versions of DIY baby gates for safety that will add will go best to your interior modern environments! A better example is the given plexiglass baby gate! You would also like these Pallet Projects for your home improvements at no cost.

Furthermore, one can also go with the plywood baby gates and those of made of metal grills! Just make any from the given collection and do a little math and measurements for better installation of them! Don't forget to use the recommended hardware for each specific installation! The given diy projects will also guide you about choosing better type of hardware that will install a baby gate to last longer!
Pallet Wood Baby/Pet Gate:

This pallet made pet and baby dog is totally custom made with custom measurements and custom design of a cross at the front which is totally hinting at the danger area for the cute kids and letting them no to go near as they can fall down the stairs and make get themselves injured. It is made by simple stacking of slats so know it all here with steps ithinkwecouldbefriends
Wooden Pallet Baby Gate Project: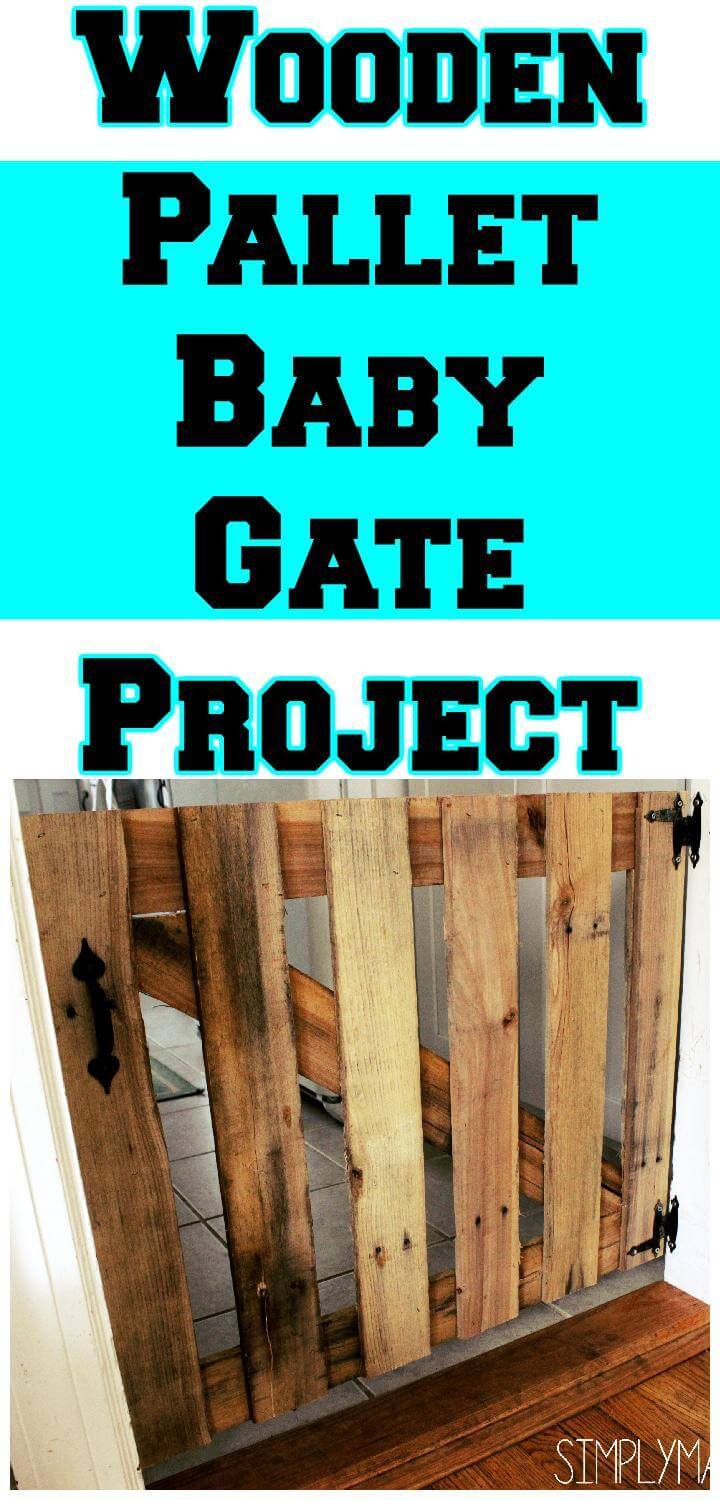 There are many sections of the house where yo do not want your pet to enter and create any damage and the outdoor gardens are one of them so you can make this totally simple and rustic pet gate with simple stacking of the pallet slats together and that is it. You can stain it but it looks best with that rustic beauty in it. Know it more here simplymaggie
DIY Baby Gate – BARN DOOR STAIR GATE: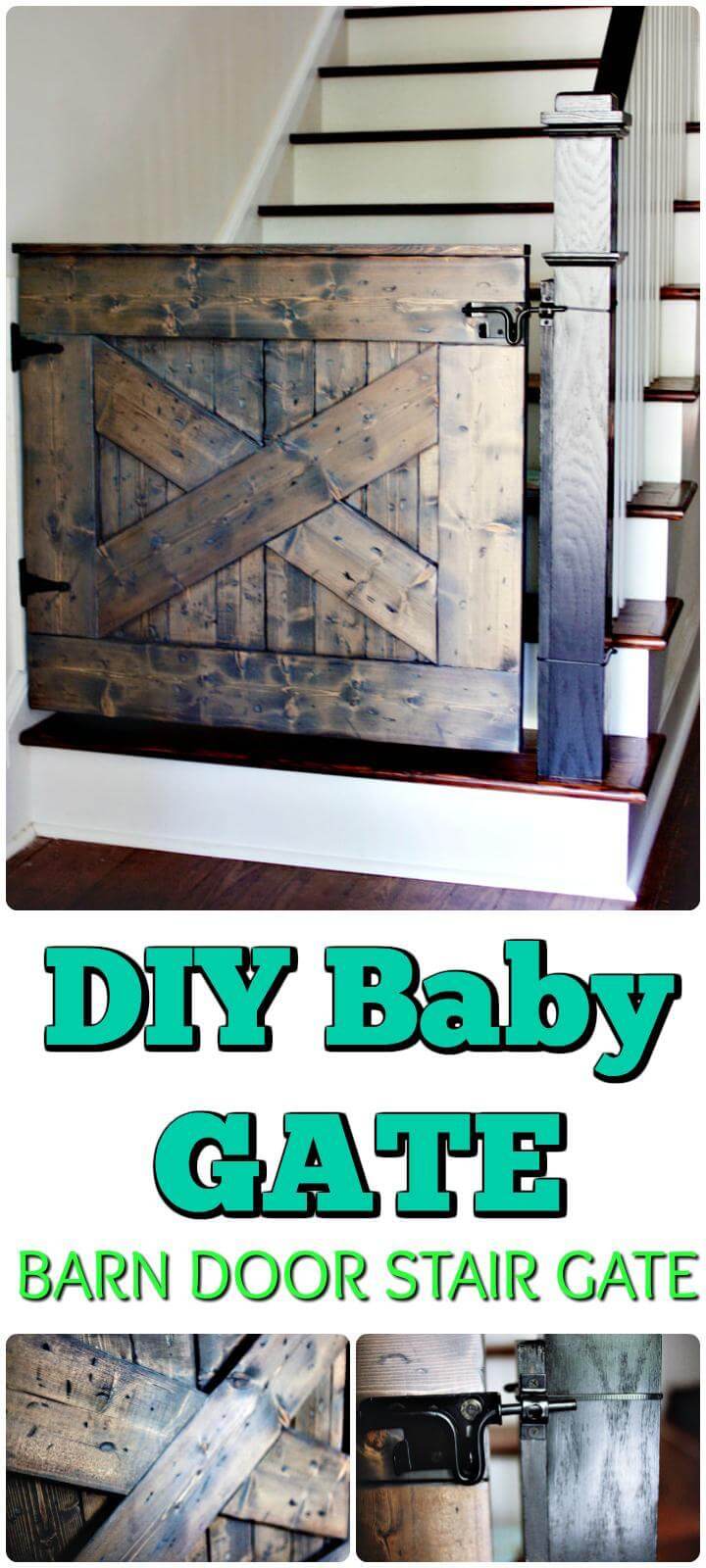 Ensure baby proofing and baby protection with this hand-built wooden barn baby gate! It costs you price equal to that of a market bought plastic baby gate but is more durable and adorable! This would really be a warming addition to farmhouse style home! Complete details and DIY tutorial for this wooden baby gate is here lesleywgraham
DIY Barn Door Baby Gate: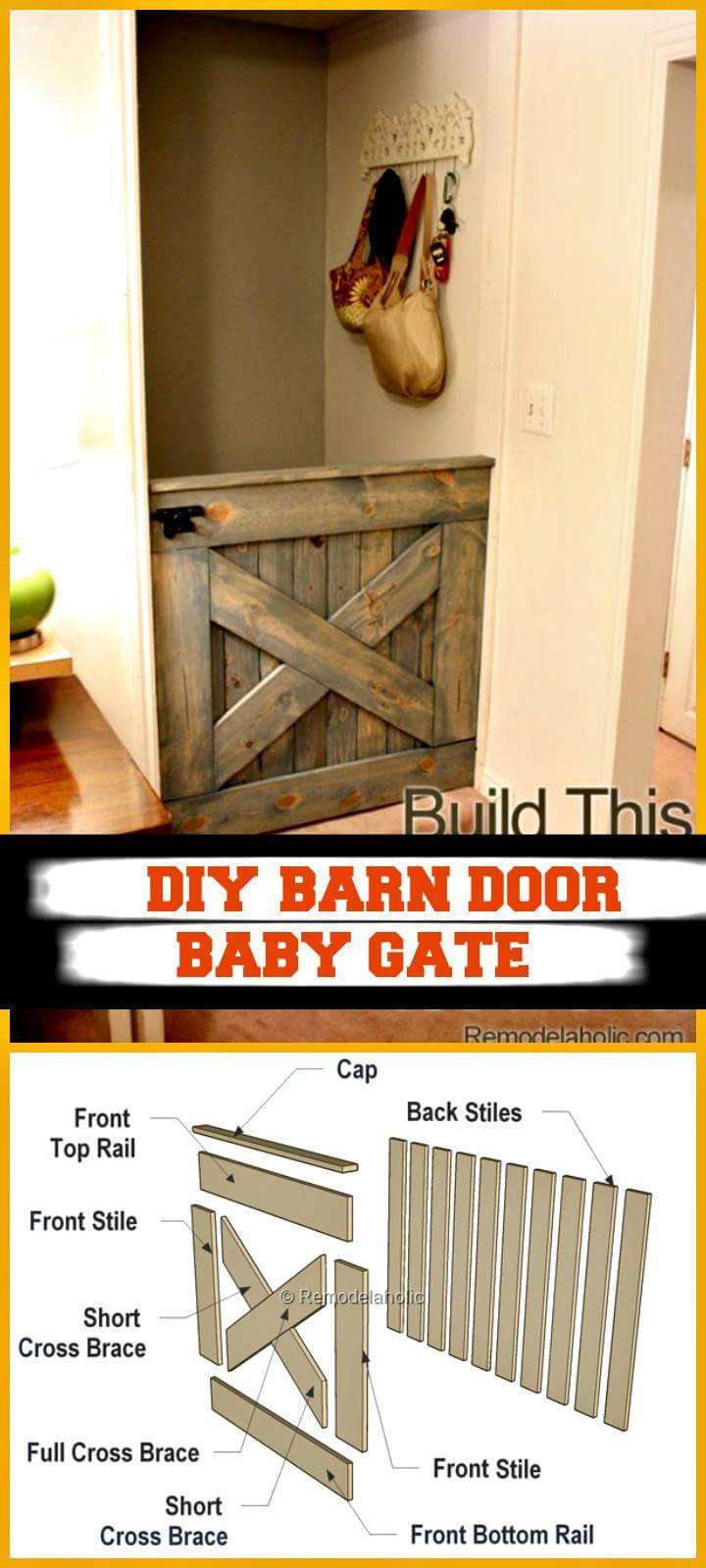 Keep the little baby girls and boys safe from falling off or getting hurt from the steep stairs by installing this wooden baby gate! Make use of barn wood to trim down your expenditures! Rustic barn wood would also add mind-blowing rustic details to your modern charming environments! Get the free pattern and instruction for this baby gate from here remodelaholic
DIY Dutch Barn Door – DIY Baby Gate:

Here is another beautiful dutch barn door and baby gate to inspire all the caring parent! Time to get crafty a little with old barn wood to ensure your baby's protection while being around the steep stairs! Want to try this wooden barn baby gate? Get complete details and DIY tutorial from here remodelaholic
DIY Self-Made Baby Gate: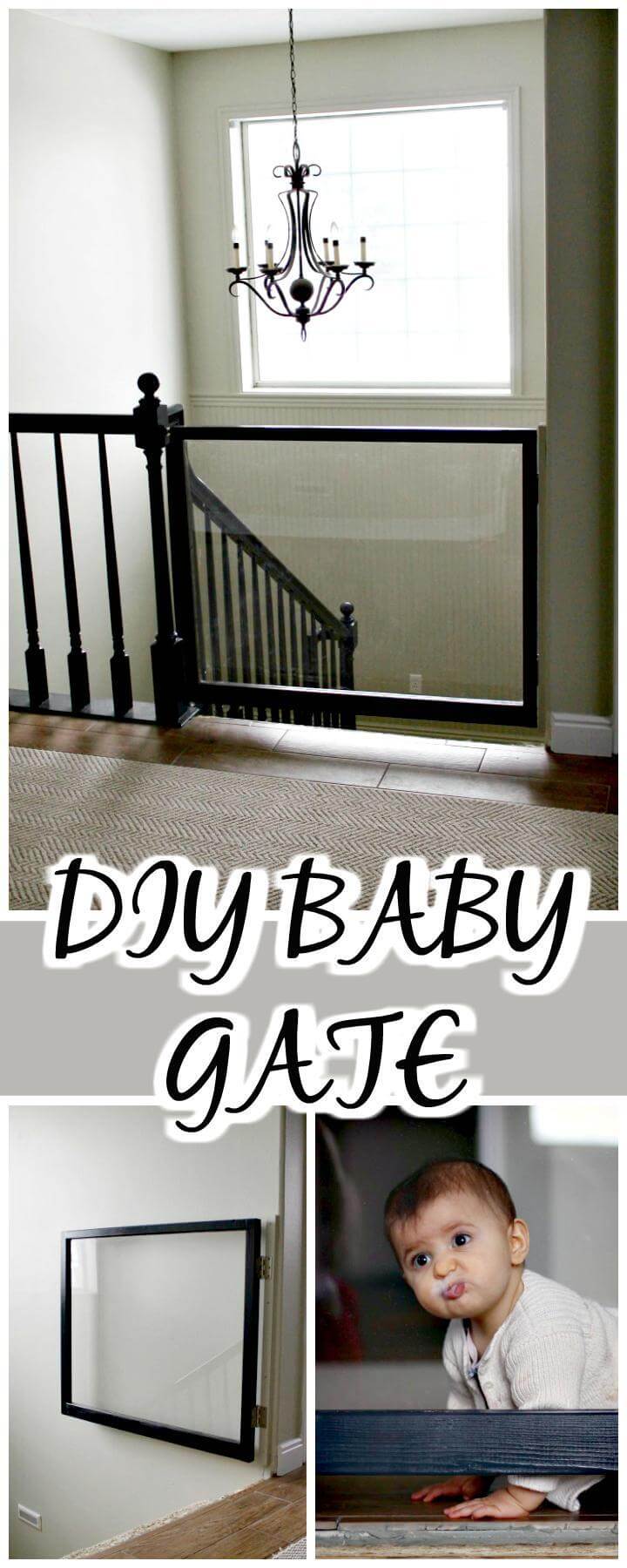 Get creative a little with some pine boards, plexi glass and some hinges and make this modern baby gate! It would also allow your baby to see what is happening on the other side of the gate! Another mind-blowing baby gate idea! Further project details and DIY guide is here chrislovesjulia
DIY Fabric Baby Gate: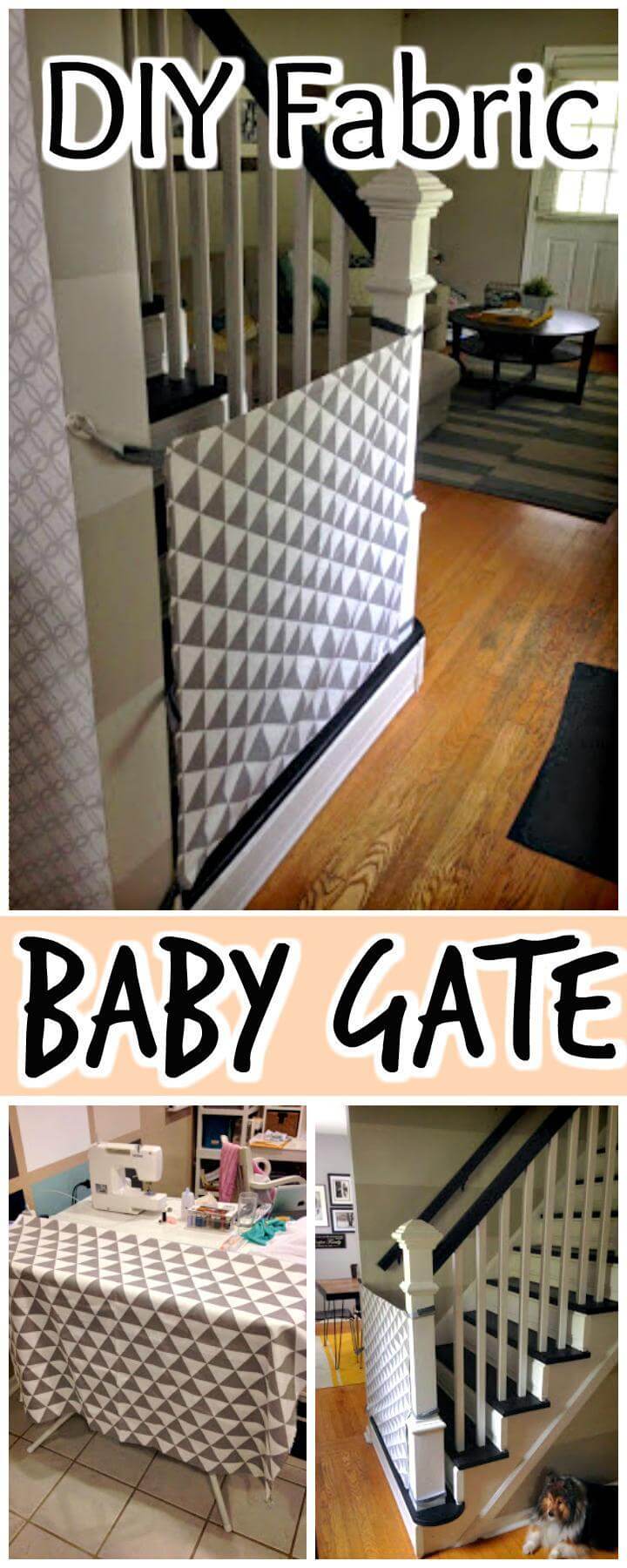 If you are afraid of heavy wooden or metal works needed to install a solid wooden gate then you can also prefer the fabric baby gates! Repurpose the old pillow and curtains to block your babies off down the stairs! This is going to a be a whole no-sweat and easy peasy baby gate project! Complete instructions and DIY guide for this fabric baby gate is here ejay-curlygirl
Easy Custom DIY Baby Gate: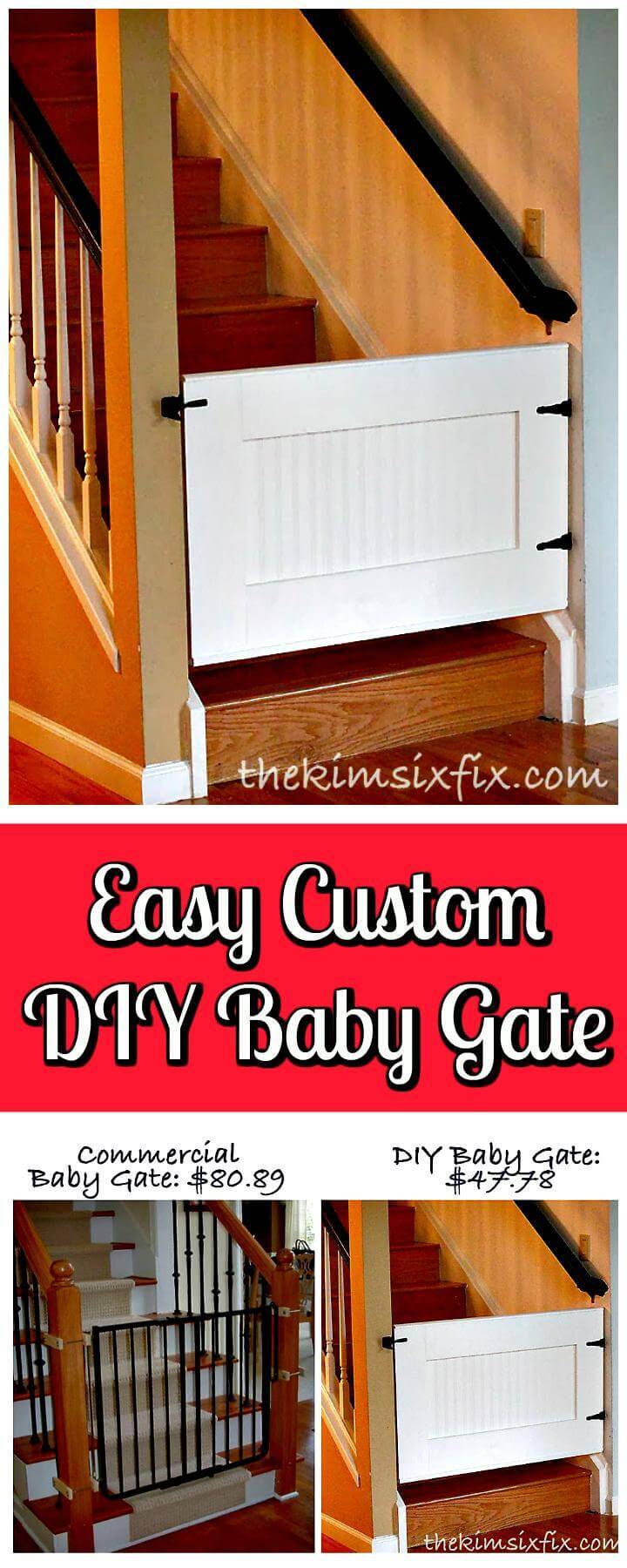 Need a custom, cheap and totally chic looking baby gate for your stairs? here is we have exactly that custom baby gate with us that you can easily build out of wood boards, an old door or thick wooden slats with hinges and thus easily and feasibly built the safety barriers for the kids and pets at home.Here is step by step tutorial of this project thekimsixfix
{Solution} DIY Gate for Bottom of Wide Staircase: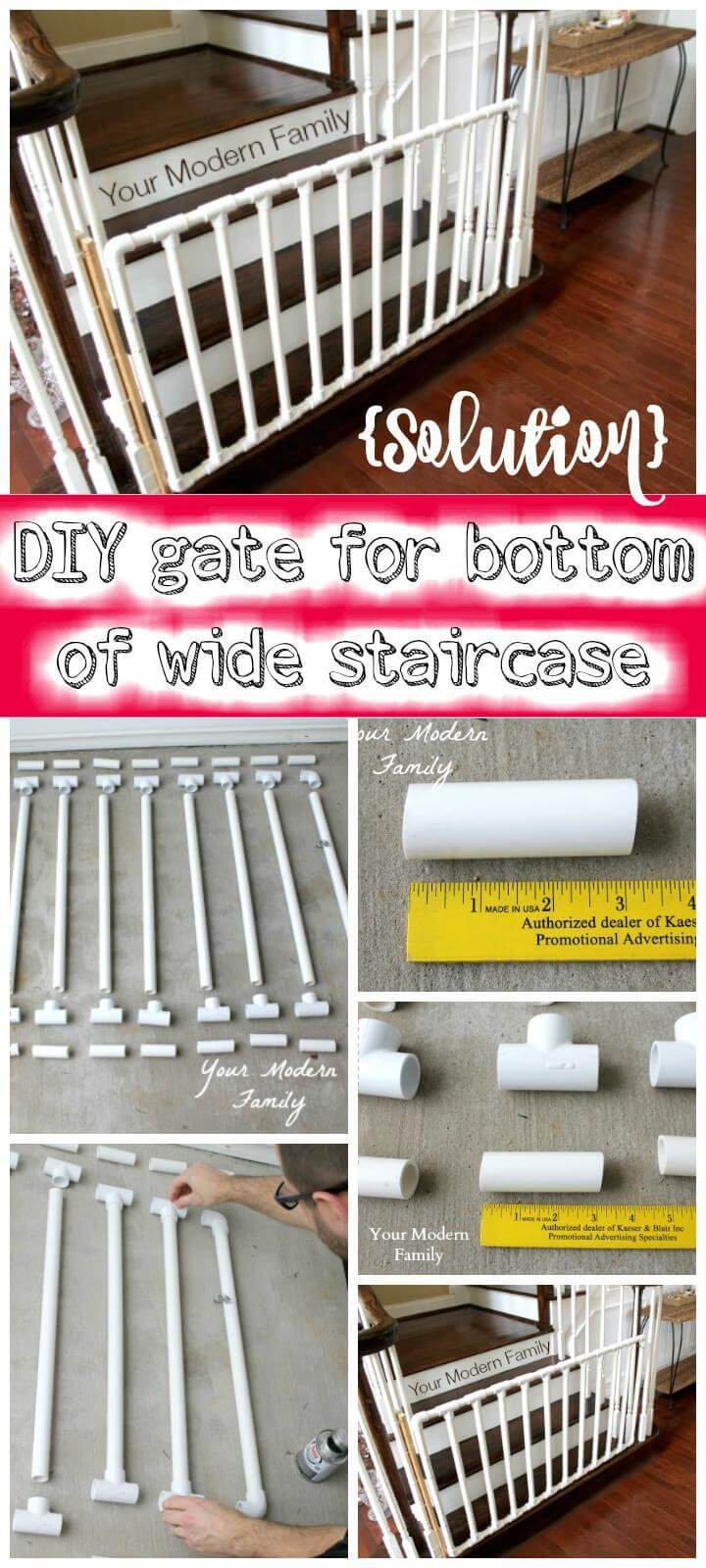 For the wide staircases bottoms this PVC pipe made custom baby gate is the best idea to pull off and try for sure as it fits well and nicely and also look quite industrial in looks. You can make one with custom changes in size and also in the paint to make it totally matched with the staircases and the whole decor. Complete directions of this project are here yourmodernfamily
Self-Installed Baby Gate:

Make the stairs a no go area for your crawlers so that they do not fall off the stairs and get themselves hurt. So make this lovely plywood custom gate as a hurdle that they kids can not cross to go down stairs. Its to easy to make with a simple slat stacking method and then screwing to the walls.Complete tutorial here chezerbey
10 Minute DIY BabyPet Gate:

Those who are facing a tough parent routine this ten minute DIY baby and pet gate would be perfect to get handy with on Sundays. There two safety gates made out of the pin boards one for the stairs and other for the outdoor so they are completely safe from falling and getting out and be lost findingpurposeblog
The Little Red Door – Baby Gate Tutorial: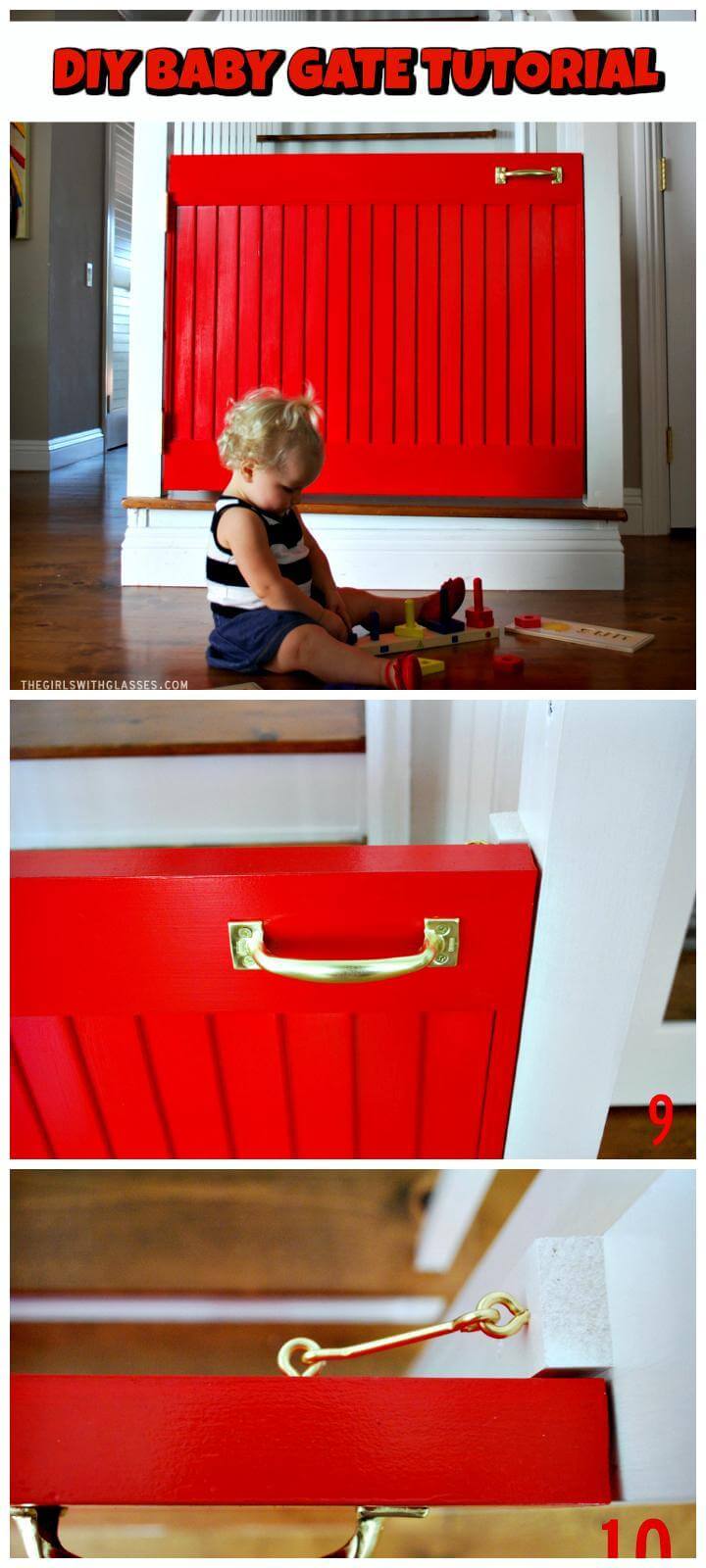 You can use an old as the safety barrier on your stairs so that even when you are not looking at your little monkey you feel relax about the fact that he or she would not try to climb up the stairs. Here the door turned into gate has been painted in red to contrast gorgeously with the white stairs so you can go creative with the stain session. See full tutorial here thegirlswithglasses
Charming + Safe – DIY Baby Gate: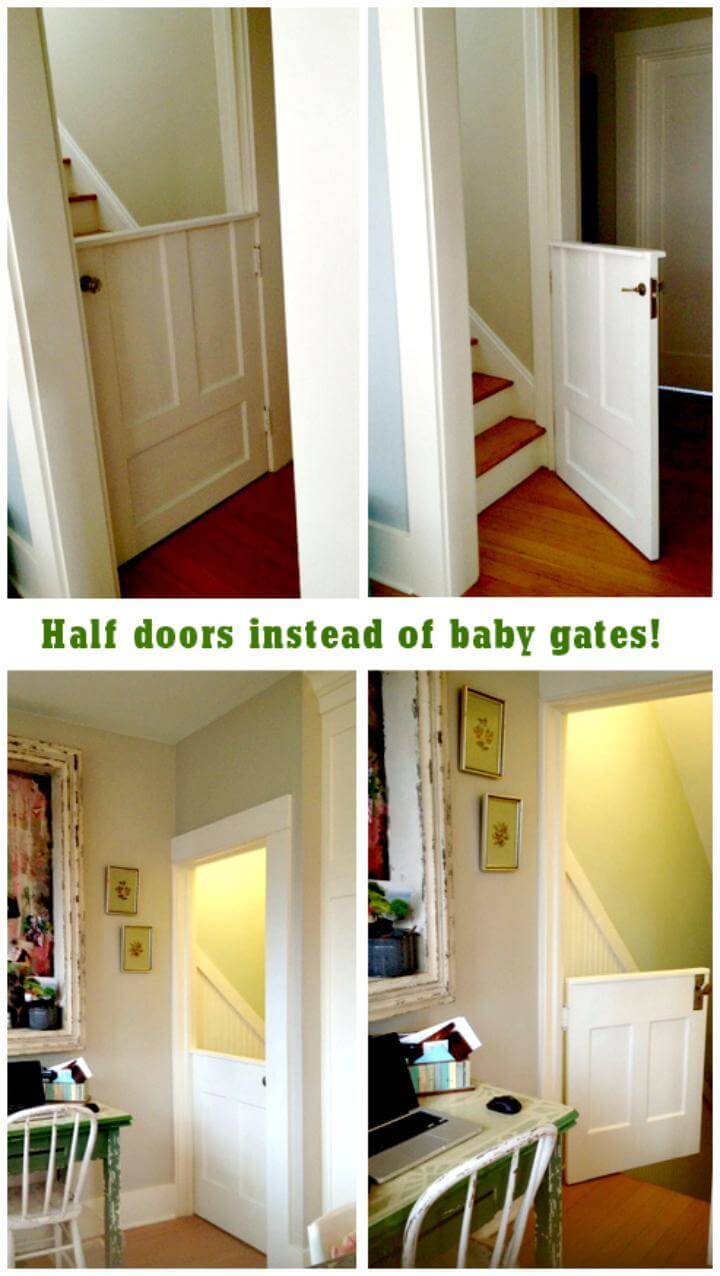 When your crawler or toddler is on his mobility mode you can block the stair case for him/her with this elegant and stylish white stained half door baby gate coming with the clutch as well. You can buy a door and half it to use for this purpose with matching stain hues. Here is some more detail of the project kellyraeroberts
Homebrew Baby Safety Gate: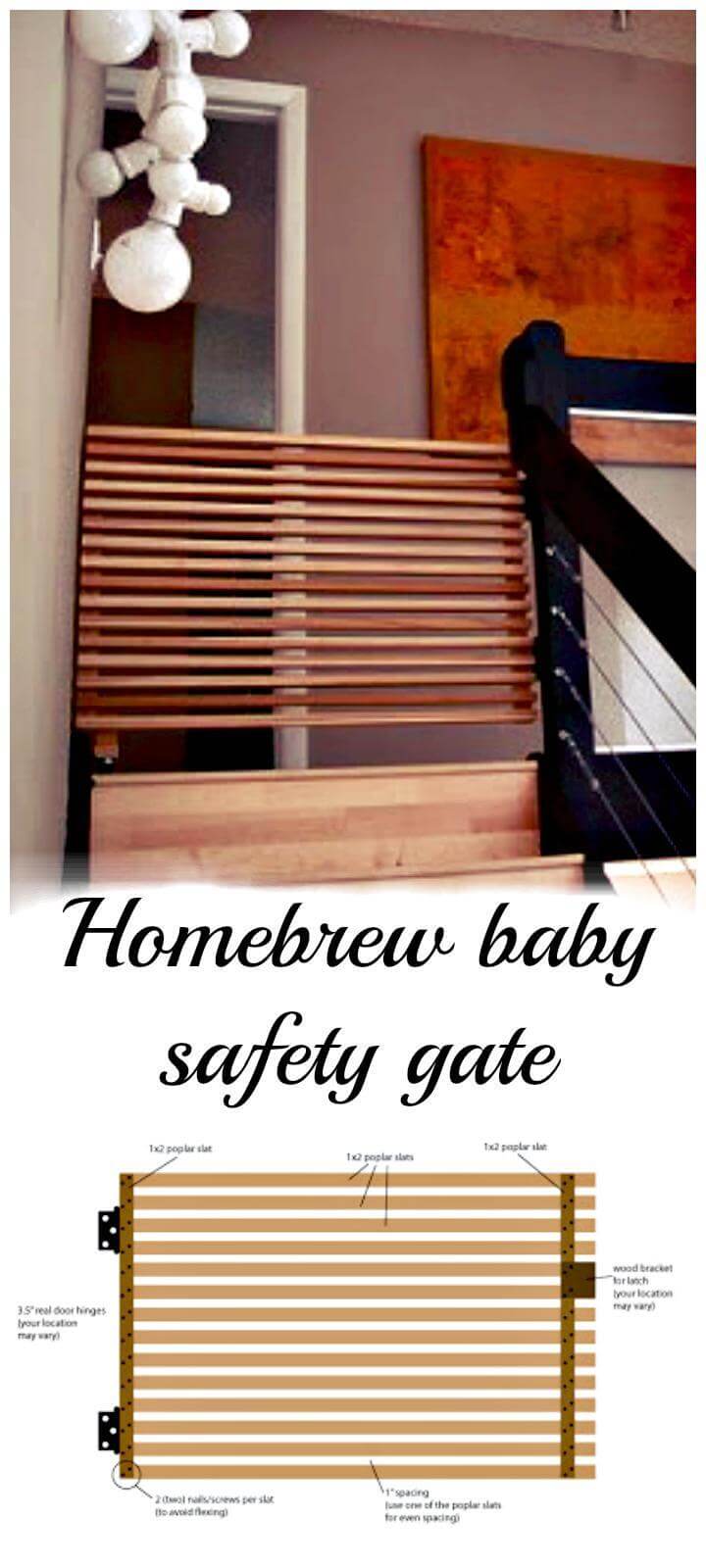 Saving the kids from all kinds of dangers it he first ever duty of every parent and stairs are also troublesome for the kids so here we offer you to build this cute and fashionable safety gate for the kids and that too at totally low maintenance as you require a few wooden slabs and some hardware for all kinds of joining. Get to see the full tutorial here blueantstudio
DIY Fabric Gate Video Tutorial: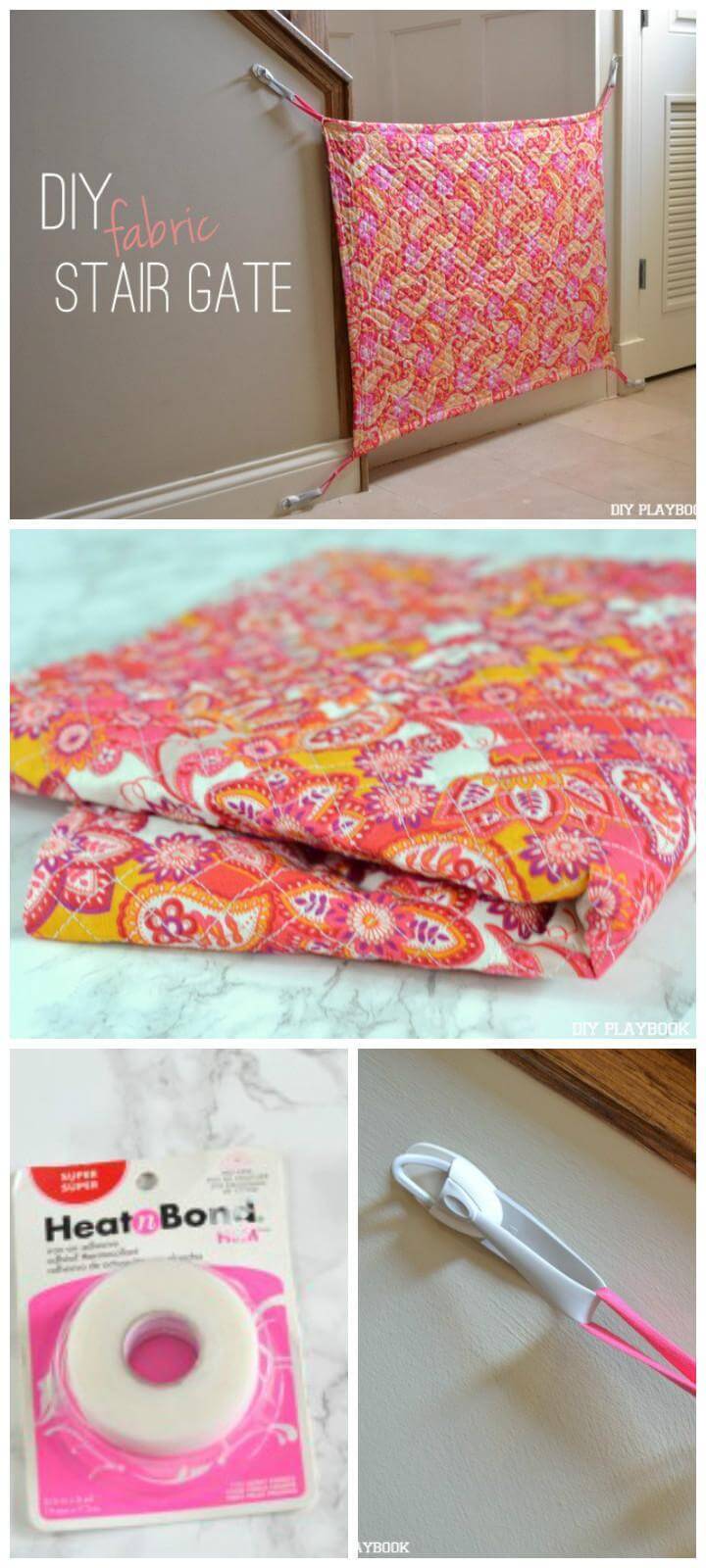 If you have not worked on any wooden project and you can not come up with a wooden baby idea then this fabric made baby gate is the perfect plan for you make some stair safety barriers for your kids and pets. Its totally cost efficient as well as really quick and easy to make so do browse this link to have step by step instructions of it thediyplaybook
DIY PVC Dog Gate and Baby Gate Tutorial:

There are lots of fun ways to build a baby gate for your stairs or some other troublesome sections of the house and here is this unique idea in this regard. This PVC baby or pet gate has been covered with fabric all over like a pillow case and hence with such effortlessly you can create a baby of low cost and that yourself at home. Full tutorial given here sewmanyways
DIY Classy Baby Gate:
When you have kids especially the naughty toddlers and early walkers the stairs are always a danger for them especially when you are not around them. So here is this sliding wood gate for to abandon the stairs with and get busy with your home chores fearlessly. This so classy gate would not harm a bit of your home decor so get its details here maisondepax
Industrial DIY Baby Gate: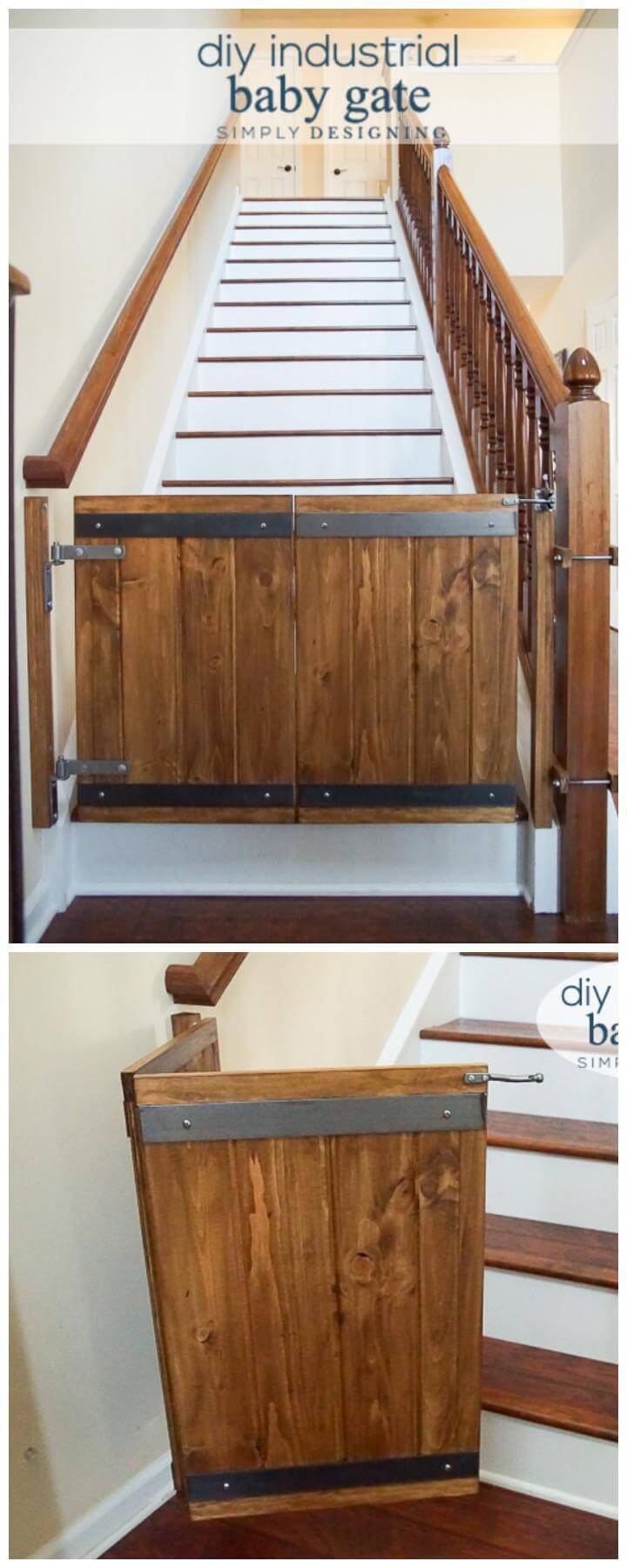 This double panel baby gate is really a rustic and natural wooden piece that would stylishly add to your stairs and elevate its decor even more rather than lowing it. Thick and wide wooden slats have been stacked together to form each panel and latches have been used to lock it down at the stairs. The complete instructional tutorial is here to seek all type of guidance simplydesigning.porch
How to Build a Safe and Strong Baby Gate: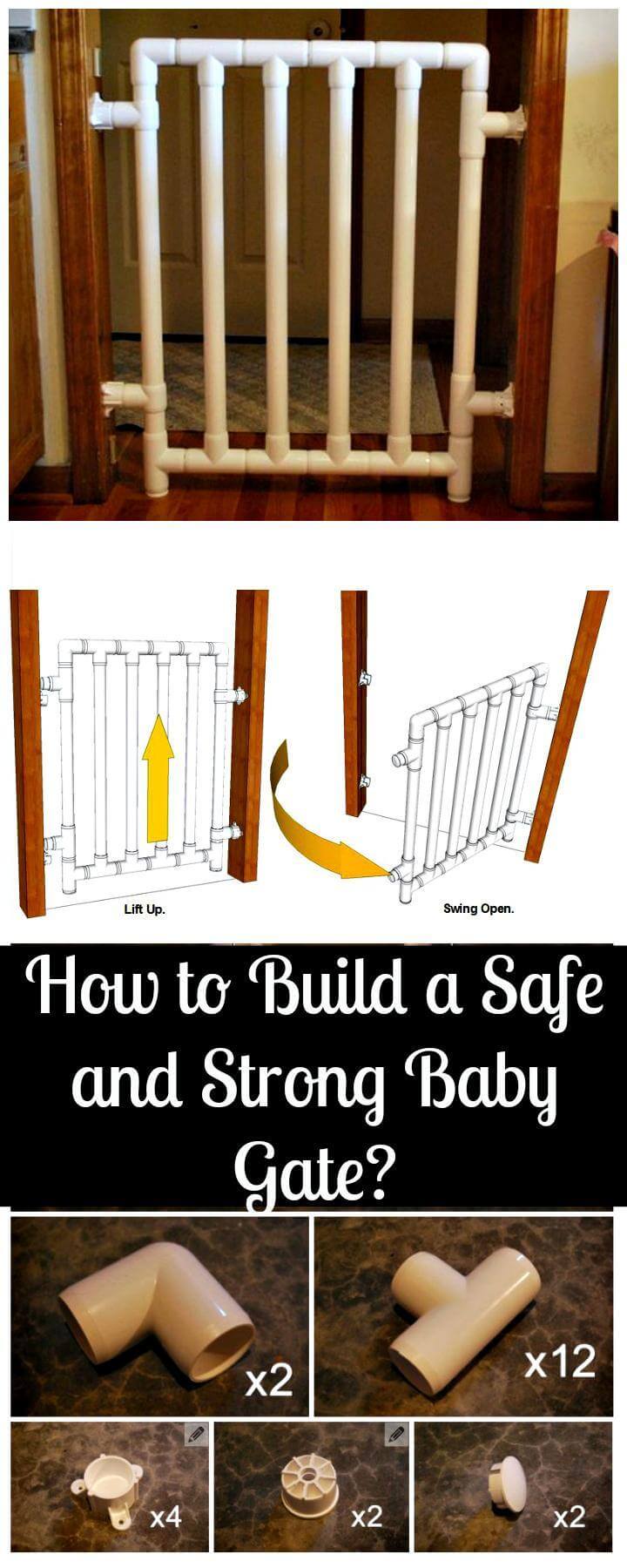 PVC pipe are proving to be really helpful, feasible and cost efficient too for the making of baby and pet gates at house and here is another awesome addition to the collection and looks perfectly strong and robust just like the wooden one. So if you in need of a baby gate you ought to give this plan a try and its tutorial directions are here instructables
How to Make a Baby Gate From an Old Wood Door: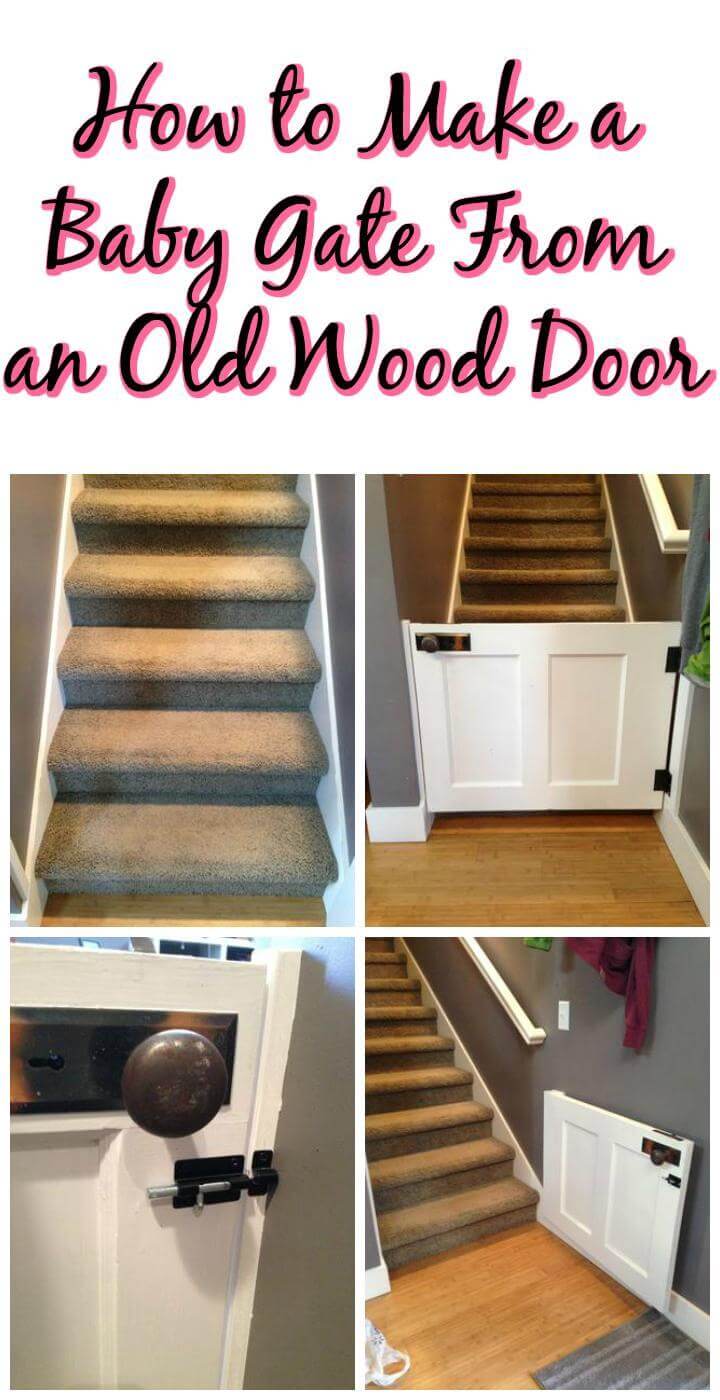 This utterly cute and simple baby gate is one of the easiest projects that you can choose to make yourself at home and make a safety hurdle for the kids on the stairs sot that they remain on the floor while crawling and toddling and do not try to climb up the stairs. Here it has the full tutorial of its making snapguide
Building a Better Baby Gate: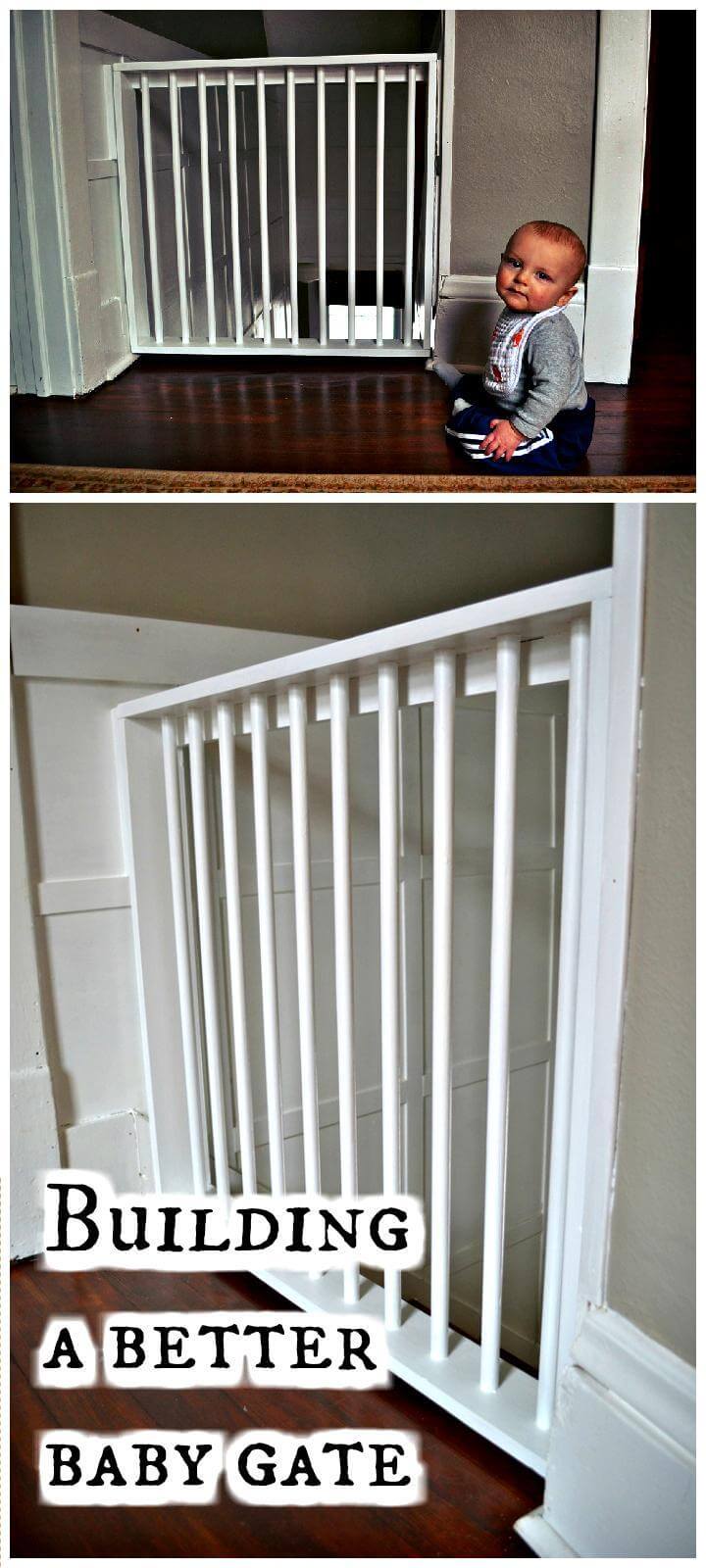 Get your baby in the safest zone of the house by keeping him away from the stairs by raising this cute and lovely DIY baby bate on the stairs case having been built nicely at home and stained in complete dazzling white all over to make it look really chic and stylish. The project has all its details and instructions of making right there newlywoodwards
Custom Baby Gate:

Making a baby gate of your own is the best idea to go for because it would be best fitting and suiting with custom measurements and style as well. So here we have this custom baby gate idea for you that would be too easy to get your hands dirty with and also flaunt it rustically with that brown stain all over it. Explore it more here averielane
DIY Baby Gate Step by Step Tutorial:

Get this super stylish baby gate for your stairs or any section of the house that you think is not for the kids to enter in. If you are a wood crafter you can easily get this done of your own as we have all the details of the supplies and the whole structural procedure right here with us with every inch detail so browse and enjoy making a classy baby gate ana-white
DIY Baby Gate for Stairs:

This stylish baby gate is really stylish and seems to be bought from a super furniture market with a hefty price tag but no it has been made simply made at home with wood and the white stain giving it all that chic and classy look. Having two panels it would be sufficient for a wide staircase as well. So if you need one make this one with all the tutorial guidance here allthingsheartandhome
DIY Wooden Baby Gate:

Here is a totally traditional in design doggy gate to block those spaces where you do not want your pet to enter. You would need lots of wood and some hardware to make it up and the stain colors as well to make it look that perfectly traditional and rustic in the final looks. The whole details and step by step instructions are here to follow for this lovely doggy gate wilkerdos
DIY Fabric Safety Gate for Baby and Toddlers:

Though the baby gates are made for the safety of the kids and pets but while kids are trying to climb them or opening them they can bang their heads with get themselves hurt so here we have a more safety idea that has zero chances of hurt and this is the fabric made baby gate which would be immensely easy and fun to make yourself at home with tutorial guide bowerpowerblog
DIY Baby Gate Building:

Either you have a high built deck in the outdoors or there is a fun tree house or play house there for the kids make it more safe and danger free for all your kid gang playing in it with this wooden made baby gated added to the staircase area. A lock or a latch would add more protection to it so learn it more here howchoo
DIY Baby Gate {or my husband calls it a baby cage}:

We have seen PVC pipe baby gates and the wooden baby gates and here the both have been combined and the result is a cute and strong baby gate with wooden frame and the pvc pipe in the middle section of the frame and lastly the matching hues have added elegance to it so it would become a proud part of your home dwelling. coveredinmodpodge
DIY Baby Gate Instructions:

There are lots of ideas for the baby gates and if you want a kind of that does easily get matched with your home decor and become a part of the structure than nothing can beat this handmade plywood baby gate having the same design and colors like the walls and feels to be totally seamless as a baby gate. Get the full tutorial here on this link typicallysimple
DIY Baby Gate Step By Step:
This so dazzling and chic white baby gate is just the apt thing you can opt for the safety for the kids when you know they can fall down the stairs and get them selves hurt. Using any available wood slat piece you can easily frame up up this lovely gate and paint it in white and lastly award it a latch so that it is opened and closed by yourself only. merrimentdesign