It's easier than ever to keep toddlers safe at home and create extra peace of mind. Learn how to build a diy gate for stairs with these 40 cheap DIY baby gate plans and ideas, including step by step instructions. These diy baby gate plans are suitable for all skill levels, ranging from an easy to install fabric gate with no carpentry skills required to a more advanced diy wooden stair gate with step-by-step instructions for beginners.
Whether you're looking for stair gate ideas out of wood or PVC baby gates, diy baby fences or homemade makeshift baby gate—there's a diy safety gate for every parenting style and budget. With the help of these diy baby gate ideas with blueprints and tips, creating an age-appropriate DIY baby gate that fits your home can be done in no time!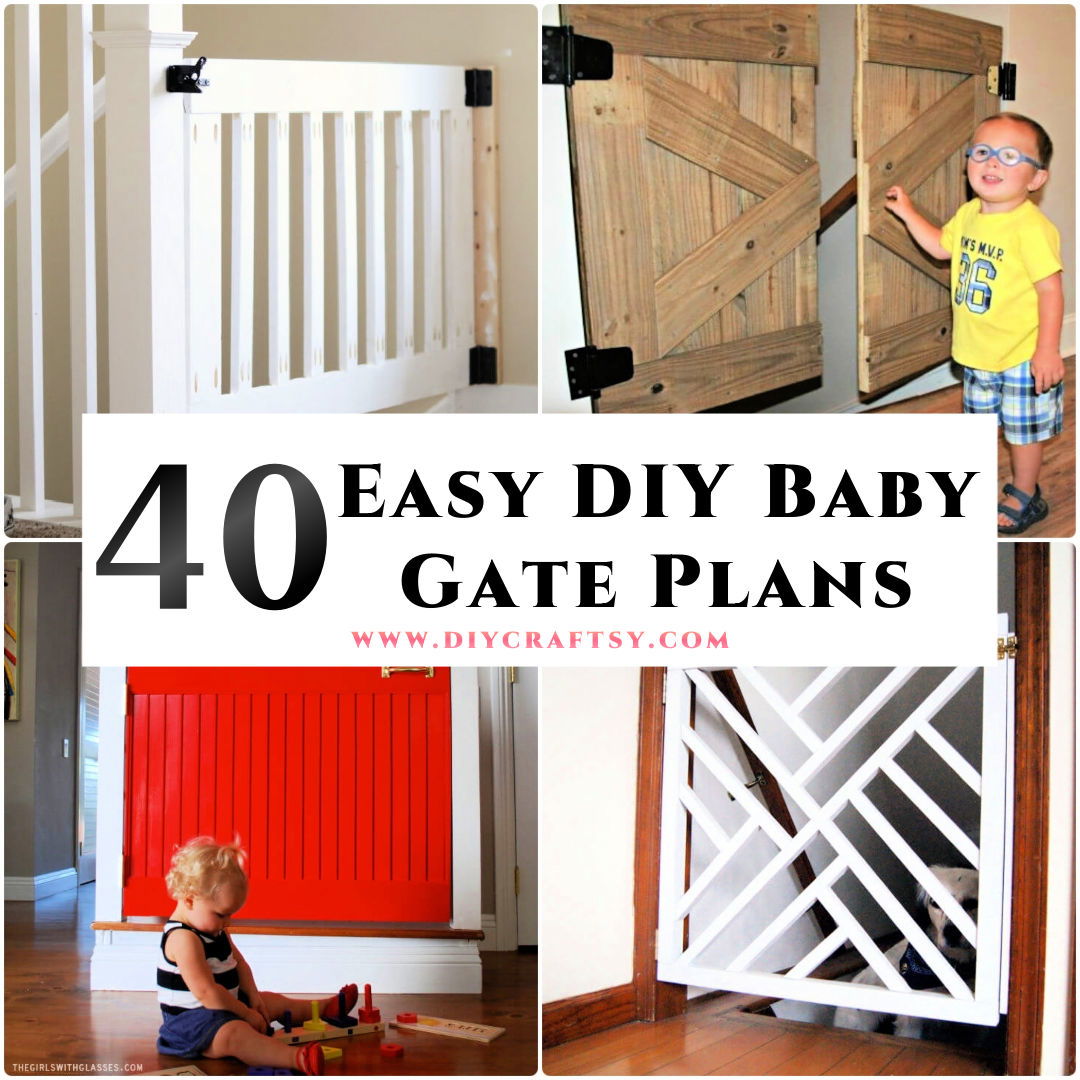 40 Cheap DIY Baby Gate Plans and Ideas
Keep your baby safe and protected with these 40 easy DIY baby gate plans and ideas! From PVC to Wood, Stair gates for indoors or outdoors, makeshift solutions and more – find the perfect plan to fit your budget. With easy-to-follow instructions on materials needed and how to build steps included in each plan, you'll be able to easily create a custom homemade baby gate that fits your needs while keeping your child safe. With plenty of DIY baby gate designs out of recycled material and ideas to choose from, you can easily build a safety gate yourself and have peace of mind knowing that your little one is safe.
What can I use instead of a baby gate?
You can use furniture to section off areas instead of a baby gate. Place furniture such as couches or tables at a room's entry/exit points to create an effective barrier without compromising on aesthetics. You may also consider using childproof door locks and knobs, window guards, and harnesses for stairs. All these are viable alternatives to baby gates that can be used to create a safe space for your little one.
An alternate way to block off staircases is by using fabric pieces. Hang a fabric piece of your choice, such as a curtain or blanket, at the top and bottom of the staircase. This will prevent curious toddlers from climbing the stairs while allowing natural light to come through. Plus, it has a much more aesthetically pleasing look than a baby gate.
How to build a farmhouse baby gate?
Building a farmhouse baby gate is easy! Start by measuring the area you need to cover. Buy the necessary materials, such as wood panels and hardware. Cut the wood to size, then assemble it using screws and nails. Add hinges for an adjustable fit and a latch for security. Apply paint or stain if desired, and enjoy your finished project!
How do you make a gate out of PVC pipe?
To make a gate out of PVC pipe, you will need to purchase 30-45 degree slip elbows, tees and cross fittings, along with the lengths of pipe needed. Cut the pipes to length and assemble the gate frame using glue and primer for a secure fit. Attach hinges or other hardware to the frame, then hang it in place. Lastly, use a door latch to secure it when needed. Hope this helps!
Can you use a dog gate for a baby?
Yes, a dog gate can be used for a baby to keep them safe in one area of the house. This is especially helpful when you need to do chores or take care of other tasks where your baby may not be supervised. Be sure to use a gate designed for infants, as this will ensure its safety and stability and prevent accidental openings. Additionally, never leave your baby unattended when using a dog gate.
Does a 2 year old need a baby gate?
Yes, a 2 year old needs a baby gate. Baby gates are important for preventing toddlers from accessing potentially dangerous areas of the home, such as staircases and kitchens. Make sure to purchase a baby gate that meets safety standards and is suitable for the size of your space. Also, ensure it is installed correctly and use it whenever your toddler is in an area that could be hazardous.
Do you really need a baby gate?
Yes, a baby gate is an important safety measure for any home with young children. It helps to keep them out of potentially dangerous areas, such as stairs or rooms with breakable items. A baby gate also provides much-needed peace of mind for parents and guardians, allowing them to relax while still providing protection. Investing in a good quality baby gate is an important step in ensuring the safety of your little ones.
How do you block off stairs for babies?
When blocking off stairs for babies, it is important to use a designated gate for this purpose. Make sure the gate you purchase is certified safe, as many gates are unsuitable for staircases. Install the gate securely and ensure it cannot be opened from the outside or bottom of the staircase to prevent accidents. It's also important to keep the stairs clear of objects to avoid tripping hazards.
At what age do you no longer need baby gates?
Baby gates are generally no longer necessary after a child turns two years old and is able to understand safety rules, such as not running around the house. It is advised that parents use their best judgment when determining whether or not to remove the baby gate since children develop at different rates. Safety should remain paramount for all households with young children.
What type of baby gate is the cheapest to make?
A tension mounted gate is the cheapest type of baby gate to make. It does not require any holes to be drilled into walls or doorways and can simply be installed using pressure from adjustable tension knobs. These gates are great for small openings but may not be as secure for larger spaces. It is important to use caution when selecting a tension mounted baby gate.
How do you build a baby gate without it sagging?
To build a baby gate that doesn't sag, you should use strong materials and secure them with screws. Consider using steel or aluminum tubing as the frame, with latches on the sides that are screwed in place. Make sure to select hinges and brackets of high-quality material so they can support the weight of the gate without sagging. Install the gate securely so it won't move when pushed. Test it to ensure it is stable and secure for your baby's safety.
How do you make a baby gate out of pallets?
To make a baby gate out of pallets:
Start by disassembling the pallet to create horizontal and vertical pieces.
Connect them together with screws or nails and then attach hinges and a latch to one side of the frame so it can open and close.
Secure the baby gate in place using screws or bolts.
In addition, you may want to sand down and paint or stain the pallet pieces to make the gate look more attractive. This will also help seal the wood and make it more durable. Be sure to use non-toxic paints when working with baby gates!
What is the best wood to make a baby safety gate out of?
The best wood to make a baby safety gate is one that is hard, durable and non-toxic. Cedar, maple and oak are all excellent options and can stand up to daily use. Avoid soft woods such as pine that may not hold up for long periods. Additionally, choose a paint or sealant certified to be safe for babies and children.
Can you use plywood for a baby gate?
Yes, plywood can be used to make a baby gate. However, taking the necessary safety precautions while constructing and installing the gate is important. Ensure that all edges are sanded down and that there are no sharp corners or splinters on the wood surface. Additionally, check for sturdiness and secure mounting before use. Even with these precautions, it is best to opt for a manufactured gate whenever possible.
How do I make a simple wooden fence gate for baby safety?
To make a simple wooden fence gate for baby safety, use two pieces of wood, predrill holes and fasten them together with hinges. Use screws to attach the hinges securely, then add a latch at the top of the gate. Test the sturdiness of the gate by shaking it gently before using it to keep your baby safe.
1. DIY Industrial Style Baby Gate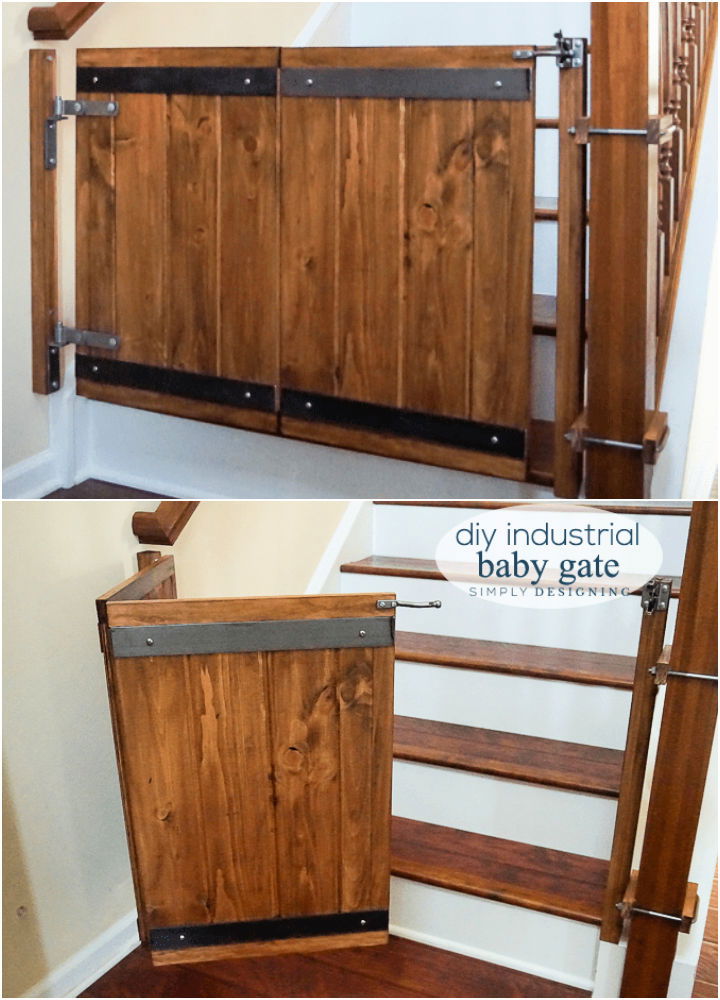 Make your staircase completely safe for the babies with this gorgeous and practical custom baby gate. The gorgeous wooden baby gate is easy to install with hinges and have been completely matched with the staircase for a complementary look. simplydesign
2. Building a Little Red Door Baby Gate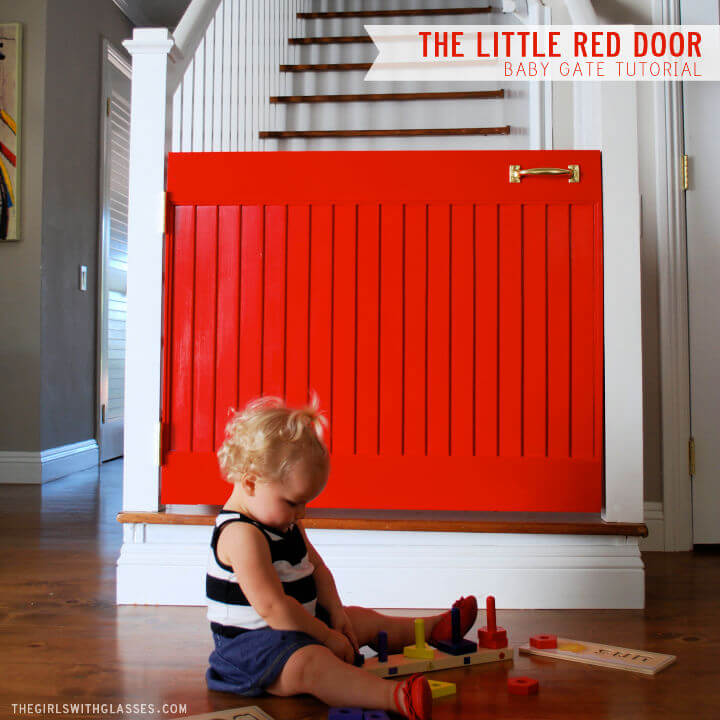 If you have been failed to make your baby stop from going upstairs then this gorgeous DIY little red door baby gate is the solution. This gorgeous and red hot baby gate has been made out of an old door to look damn pretty on your white staircase. thegirlswithglass
3. Wooden Barn Door Baby Gate Plan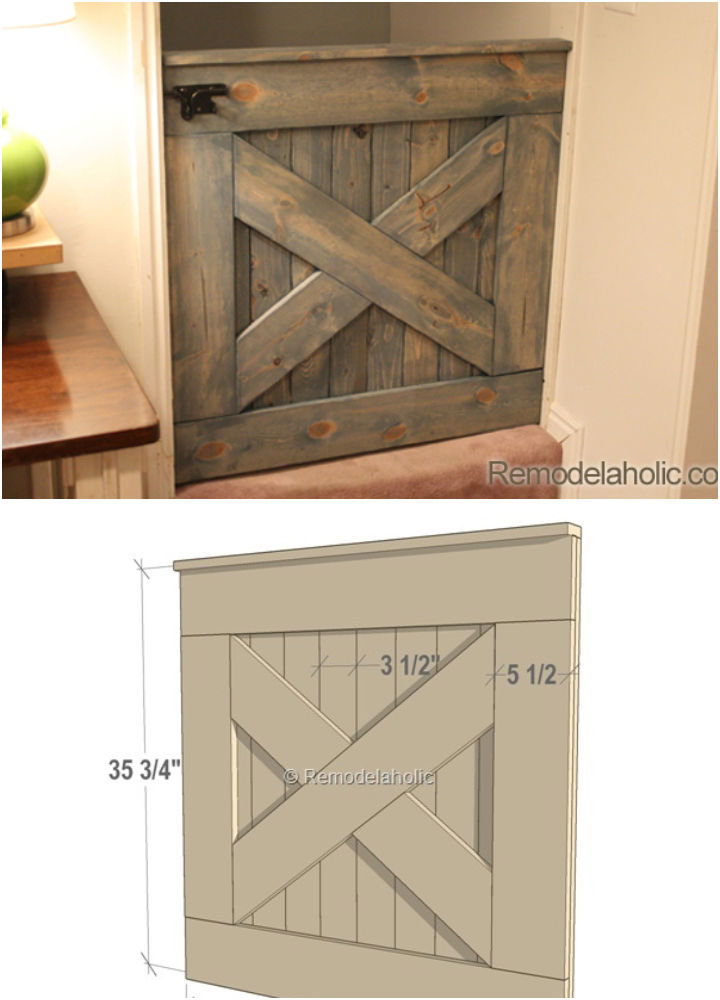 Time to make your staircases safe for your little toddlers so that they do not hurt themselves by falling off. This gorgeous baby gate is easy enough to make at home and the barn-style would really add to your home decor. Grab some wooden boards and your tools to create this super cute and cross designed baby gate. remodelaholic
4. DIY PVC Baby Gate for Stair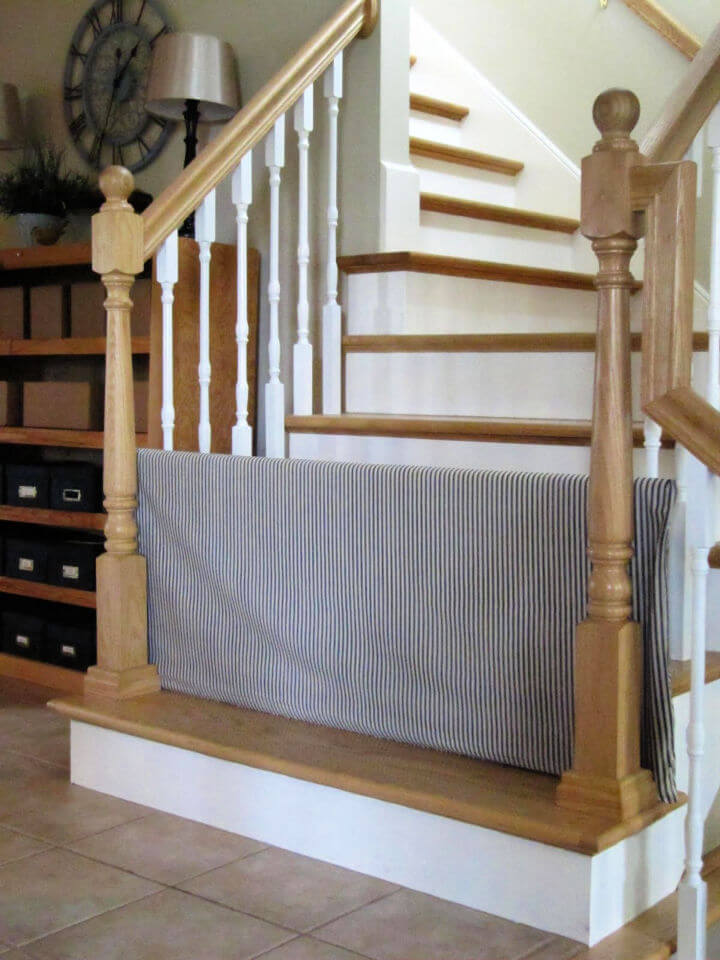 Not only our kid's but the pets need to be safe around the stairs too especially if they are old or in some certain health condition. So here is how you can make a cheap yet totally functional DIY PVC baby gate to restrict them down the stairs. Get some PVC pipe and some fabric to shape up this easy baby gate on your own. sewmanyways
5. How to Make a Fabric Baby Gate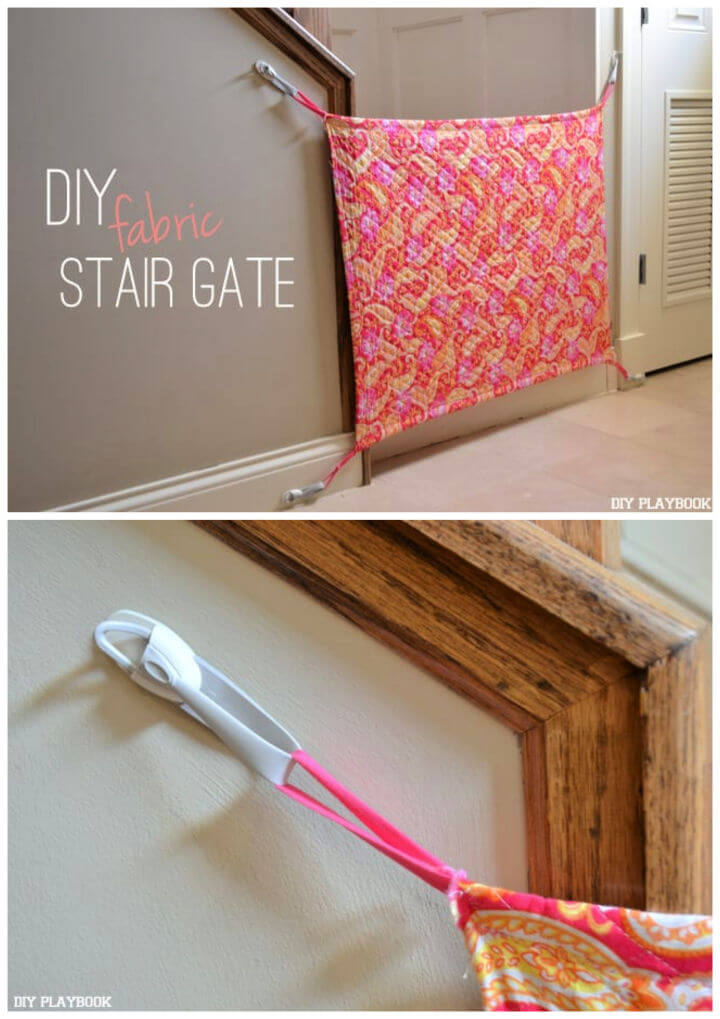 It's ok if you cannot work with the wood to make an urgent baby gate as you can do it with the fabric. Yes, this super easy and fun baby gate has been made out of some cute and colorful fabric and some cord bundlers. thediyplaybook
6. Baby Gate for Bottom Of Wide Staircase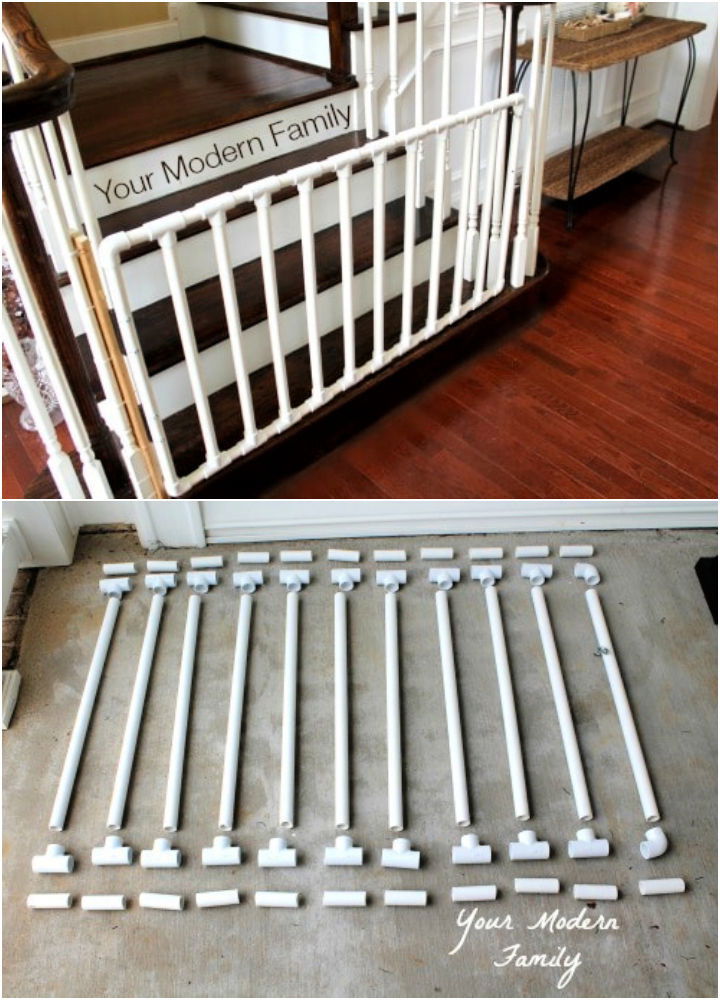 Stairs become the danger zone for your kids when they start walking or crawling. To prevent the entrance of the staircase for your babies with this DIY baby gate for the bottom of the wide staircase. The baby would be super cheap and fun to make out of the PVC pipes. yourmodern
7. DIY Wooden Baby Gate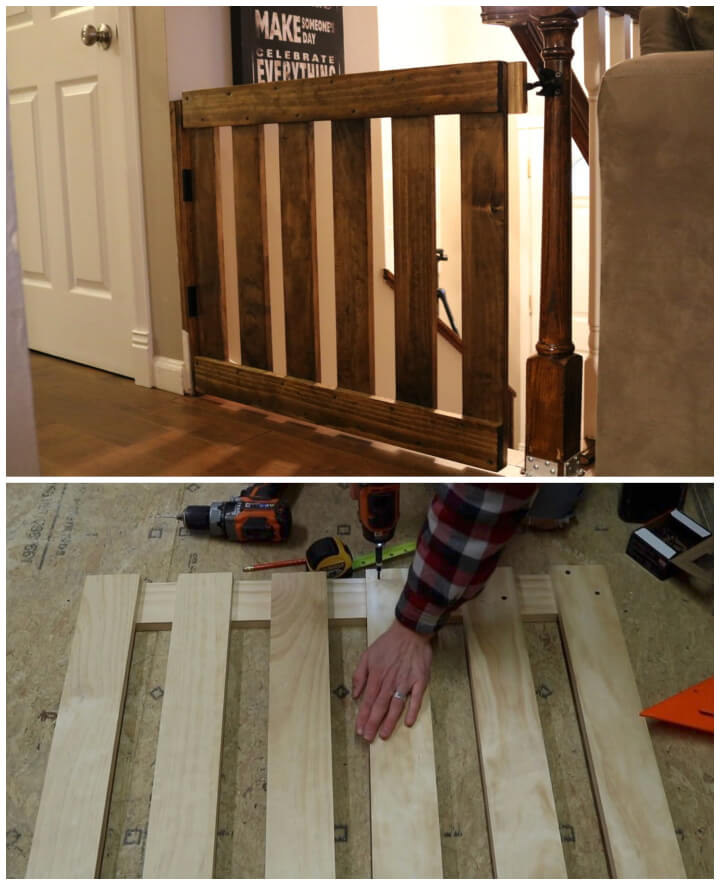 Babies are so prompt to climb the stairs once their tiny feet start walking and the parenting becomes tough with the toddlers. Here is the idea of a DIY wooden baby gate to make and get rid of all the tensions and worries. The pretty and totally functional wooden baby gate is super easy to make. instructables
8. Make a Baby Gate in 10 Minutes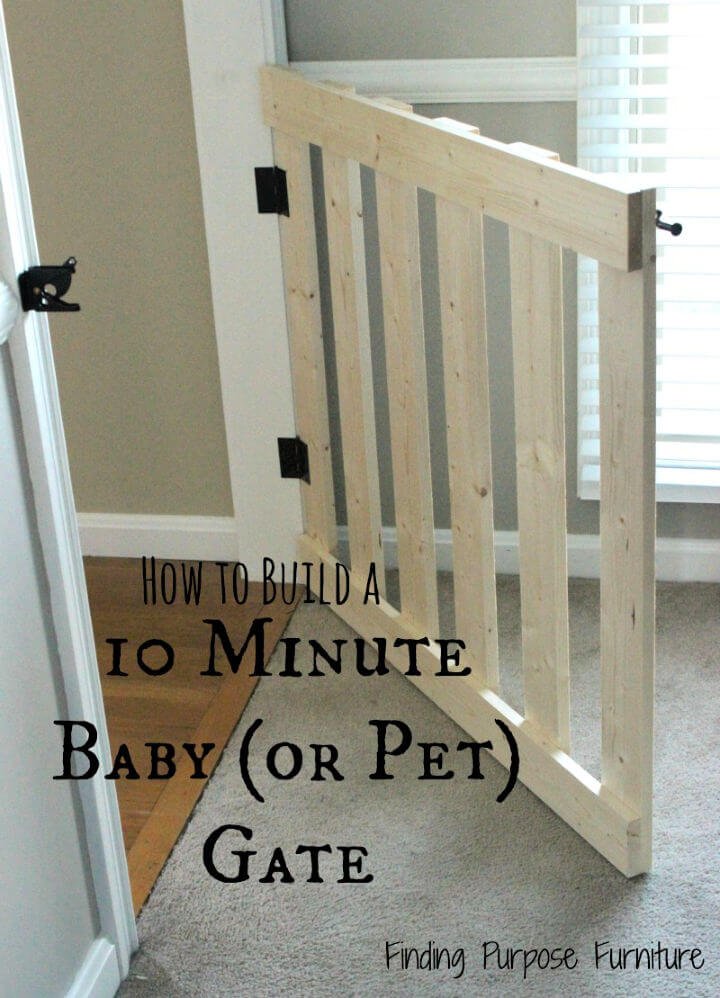 This 1o minute baby gate looks just so hot and gorgeous with that dark stained hued look. So if you are in need of a baby gate that does not damage the beauty of your house then this DIY 10-minute baby gate is perfect for you to get your hands on. findingpurpose
9. Cheap and Rustic DIY Baby Gate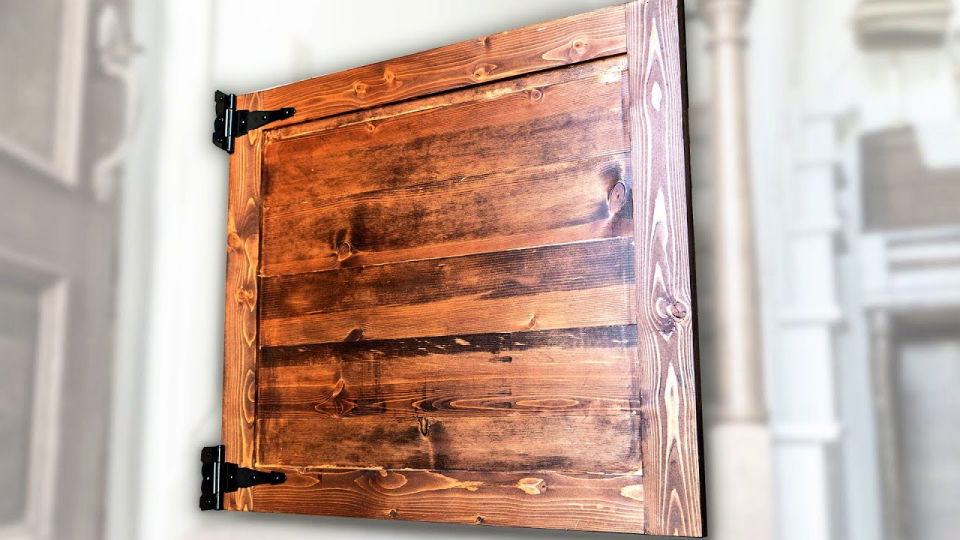 Here is another gorgeous and rustic looking baby gate that is sure to charm up your spaces and bring safety for your kids and pets. Grab a wooden board and get your tools to shape up this lovely baby gate which has been rusticated for a catchy and complimentary look. instructables
10. DIY Baby Gate Using Plexi Glass and Wood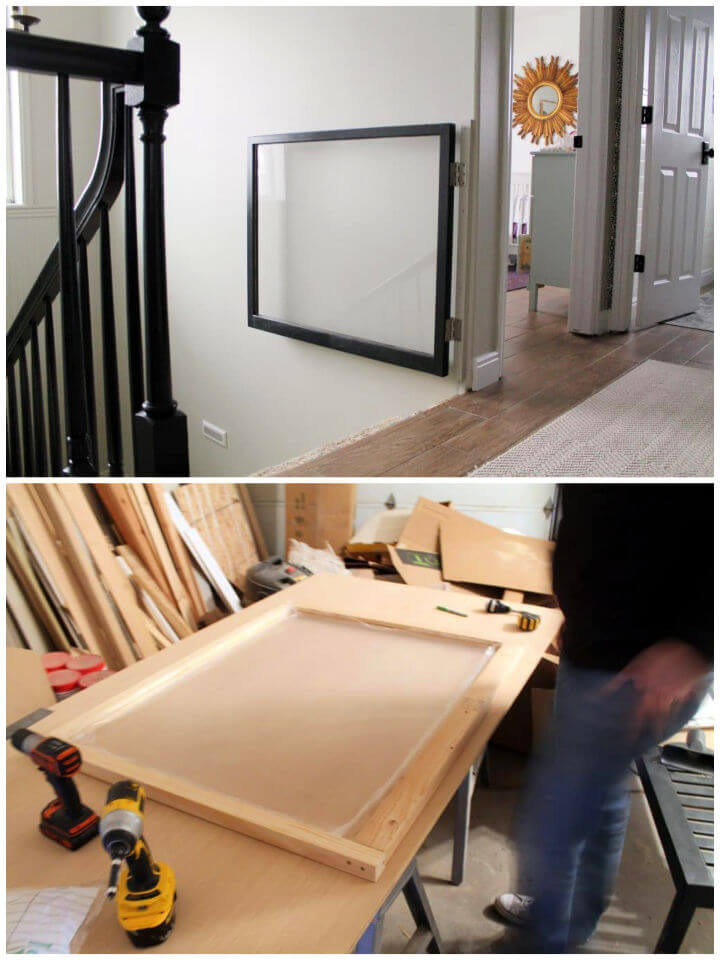 It's a horrible thought that you are working in the kitchen and your toddler sneaks into the stairs and get him hurt.  To get this thought out of your head you can make this easy DIY baby gate which is super elegant and pretty. Yes, the baby gate is made out of Plexiglass and a wooden frame. chrislovesjulia
11. How to Install a Baby Gate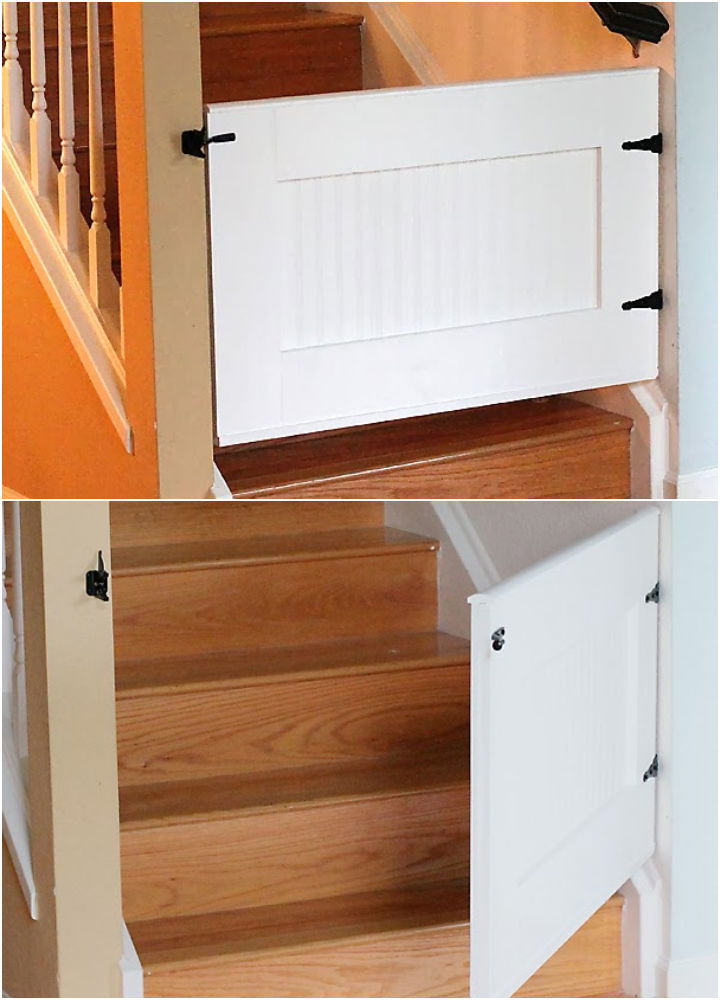 Why should we waste money on this like a baby gate when we can easily make one at home. So here is this gorgeous and easy DIY custom baby gate and has turned out to be exactly like a mini cute door. The white finish would really make it looks o pretty and perfect for a modern home. thekimsixfix
12. Modern DIY Baby Gate or Pet Gate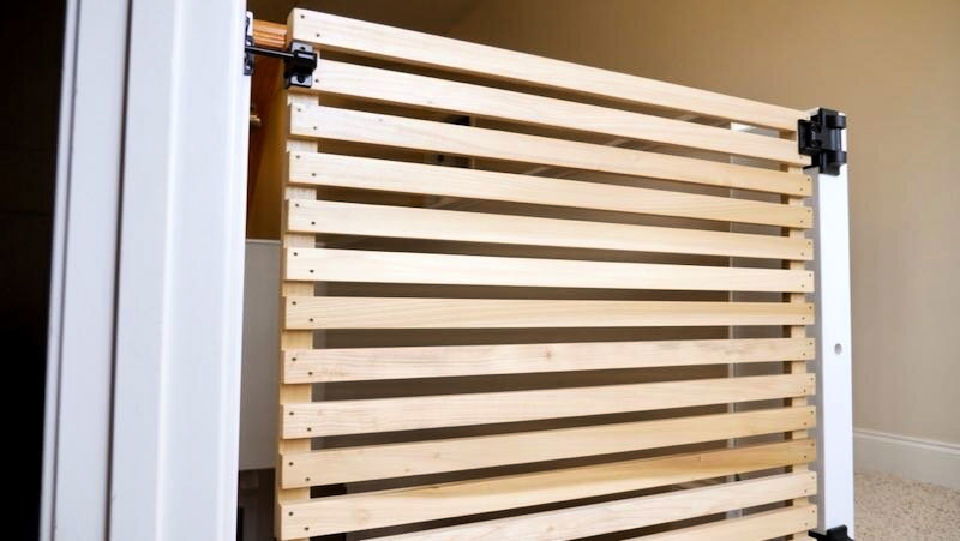 Building a baby gate at home is now so much easy and totally cheap and you can do it in just a few hours. With the basic wooden materials and tools, you can easily build this utter chic and modern baby gate or pet gate for your spaces. craftedworkshop
13. Simple Farmhouse Style Baby Gate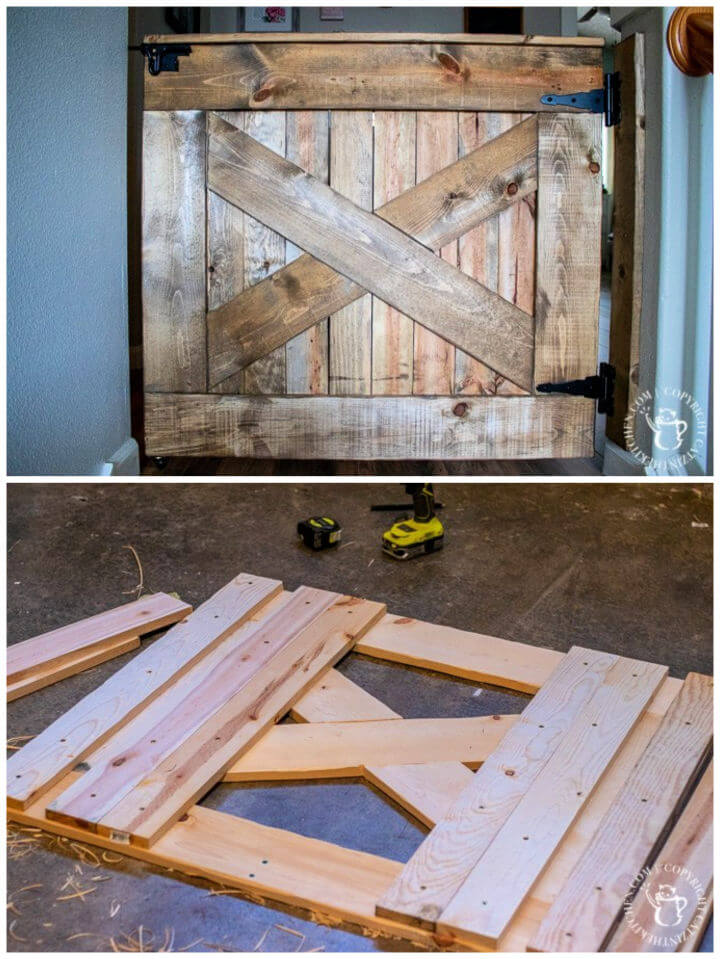 You can enjoy your baby's safety at the cost of some farmhouse beauty when you shape up this gorgeous baby gate on your own. You can either use some old or salvaged for the purpose or you can stain your wood in the farmhouse style to catch the complete beauty of this baby gate. catzinthekitchen
14. X Design Palette Wood Baby and Pet Gate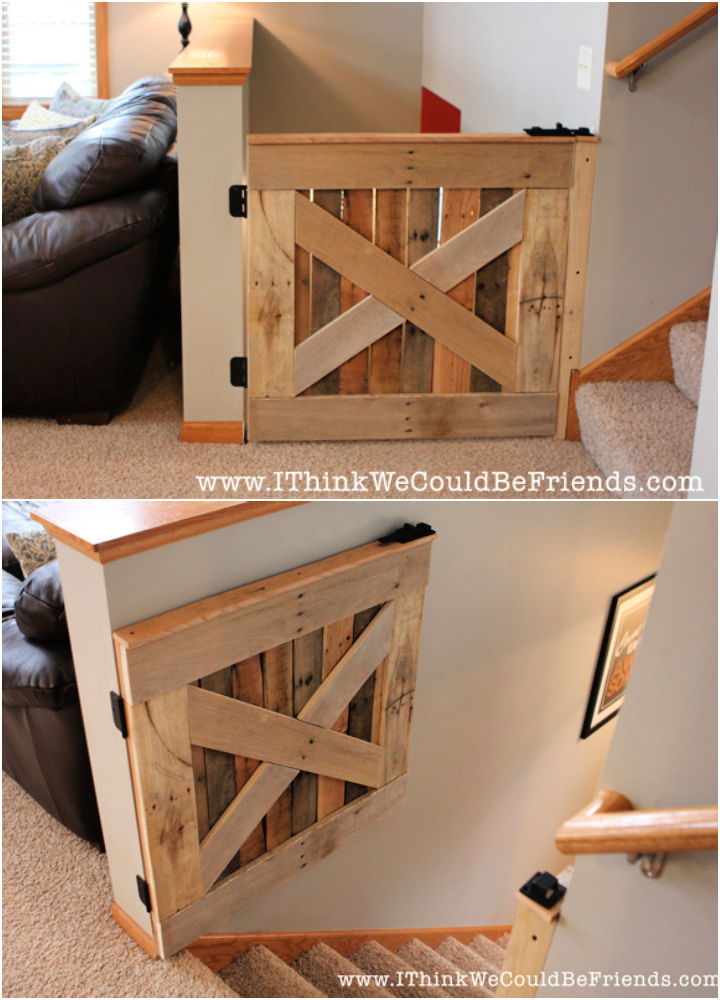 The pallet is the cheapest wood and can be found easily around and your baby gate needs can be fully satisfied with. With a few wooden boards and slats, you can easily shape up this lovely wooden baby gate from the pallets with the X design. ithinkwecould
15. DIY Baby Gate for Under $40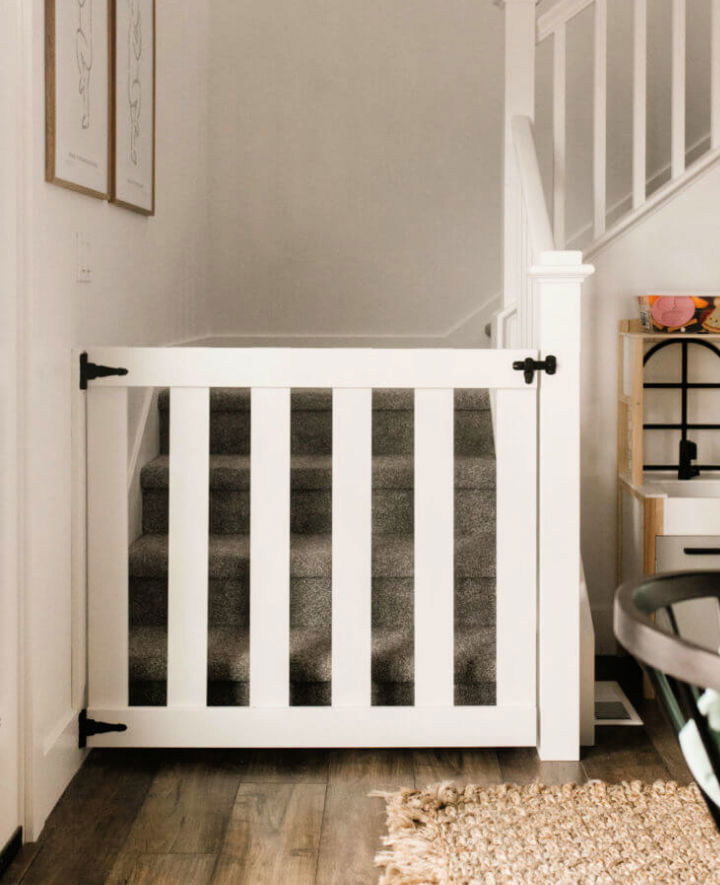 The more you restrain your baby from approaching the stairs the more he/she is going to go there. The best solution is to make a baby gate and get a long term solution to this problem. This wooden baby gate has been easily made out of the wooden boards and some hinges and you can easily do it too jessoakes
16. Budget Friendly Barn Door Baby Gate Ideas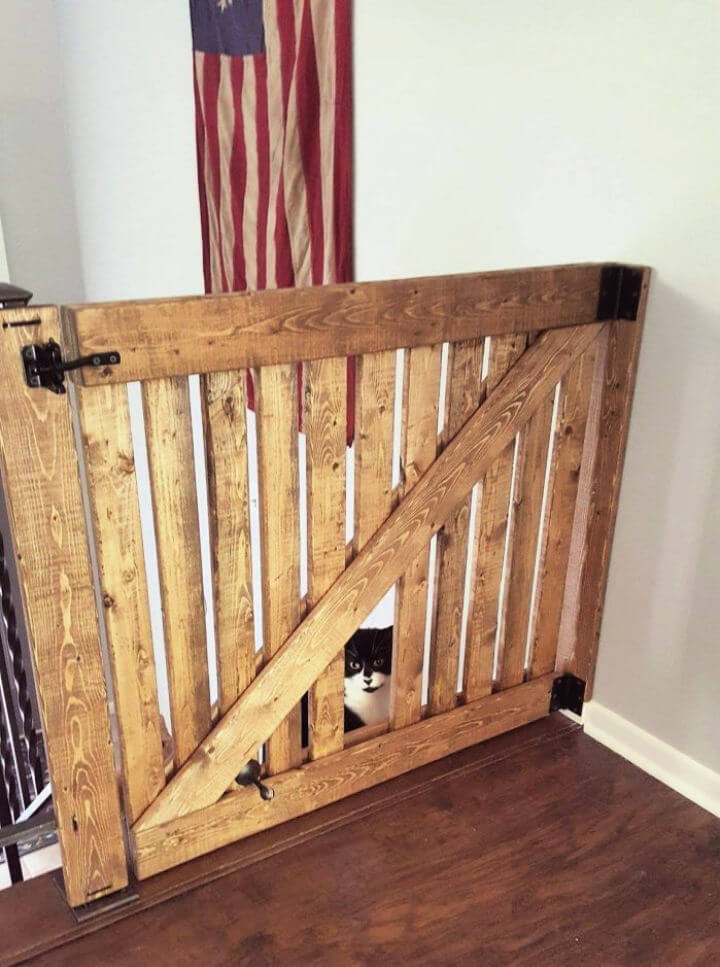 DIY has the solution to every problem so it can cope with your crawling babies when the early walking phase is prone to the staircase danger. Making this budget-friendly DIY barn door baby gate is the best thing to make your space totally safe for the little ones. factualfairytale
17. Build Your Own Baby Gates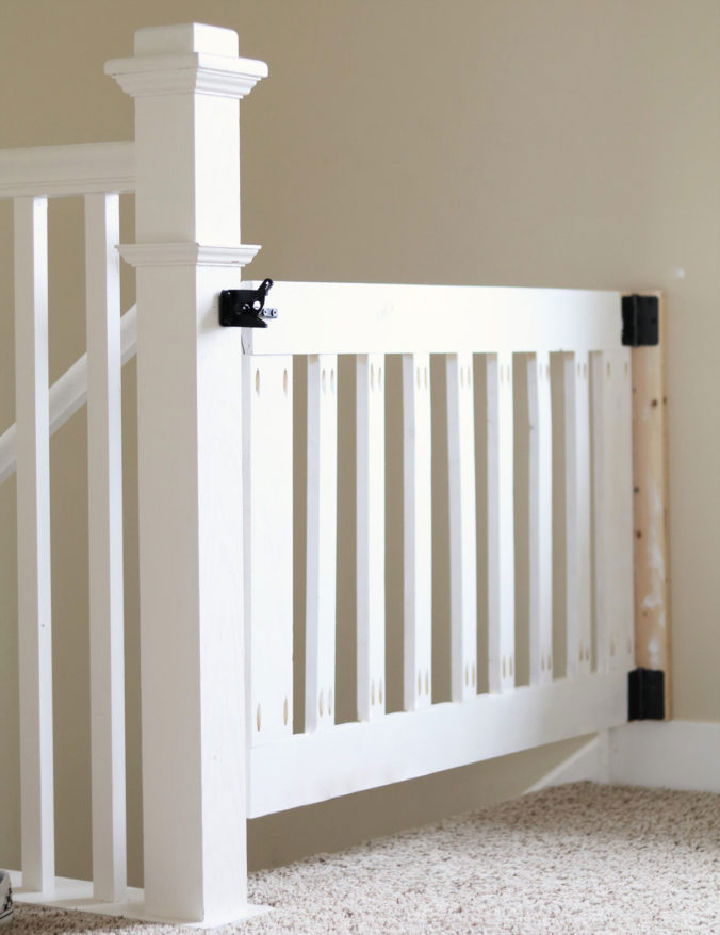 You can restrict your babies but you can easily control the danger and for the scary staircase you can make this lovely baby gate. The baby gate is quite easy and fun to make from some wooden pieces and hinges and thus cheaply creating a safe zone for your little ones. thelovenotes
18. DIY Baby Gate With a Rustic Flair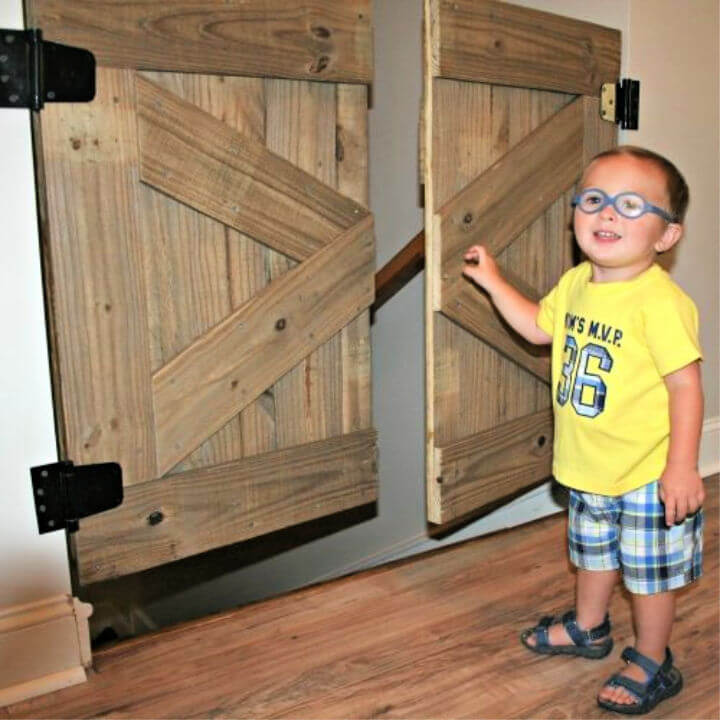 There are so many readymade baby gates available but you can make a custom one at home and that too with some personalized beauty appeal. This DIY baby gate with a rustic flair is the perfect project to work on when you are looking for a practical and beautiful kind of baby gate for your stairs. homedepot
19. Make Your Own Baby Gate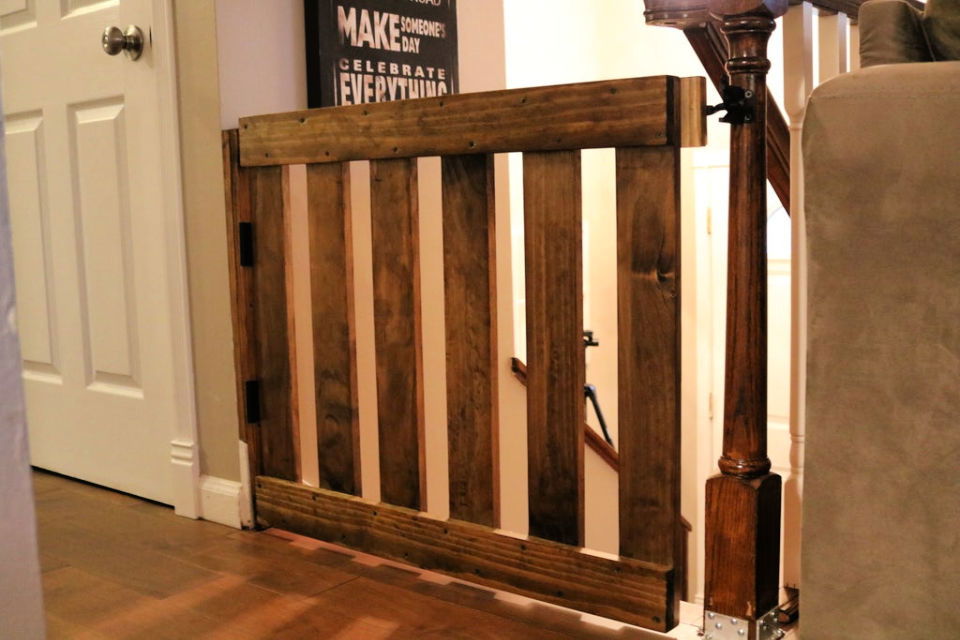 Declare your staircase the no go area for your toddlers with this DIY custom baby gate. The benefit of making the baby gate at home is that you can customize it according to the height of your baby. Check out the details of the idea right here to shape up one for your spaces. instructables
20. Creative Customizable Baby Gate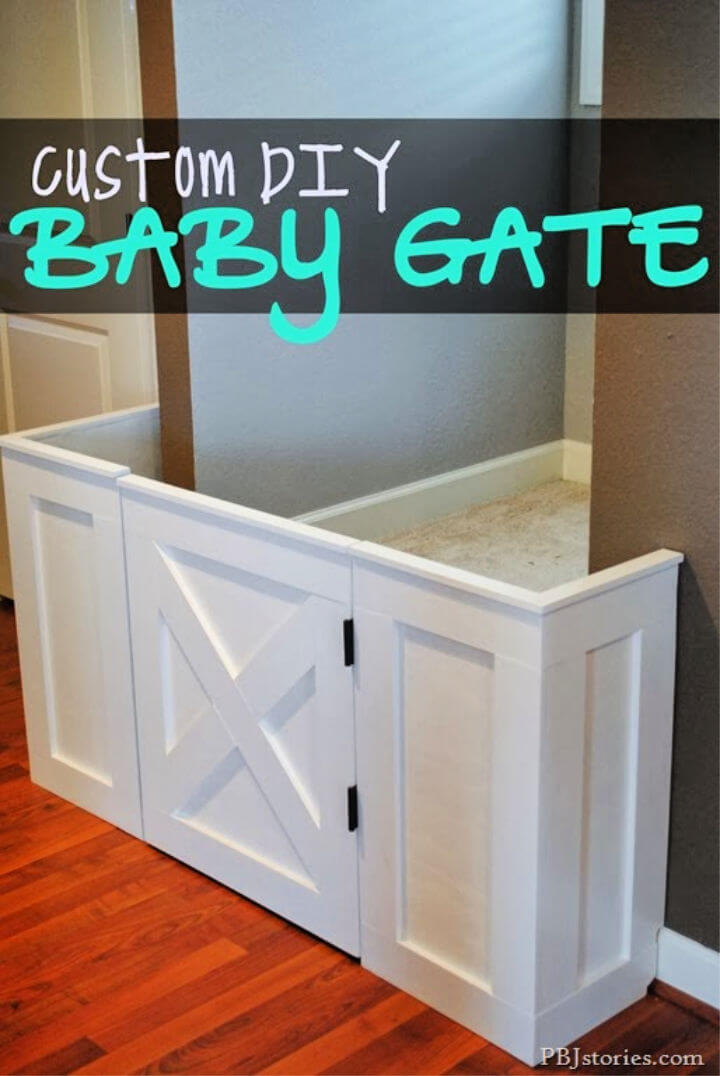 If not stairs the babies can get out of your sight in no time though the home entrance if you do not have an eye on them for a moment. So make this entrance blockage so that your baby is in the boundaries of your indoors and you can go tension free to perform your home chores. pbjstories
21. DIY Baby Gate for Deck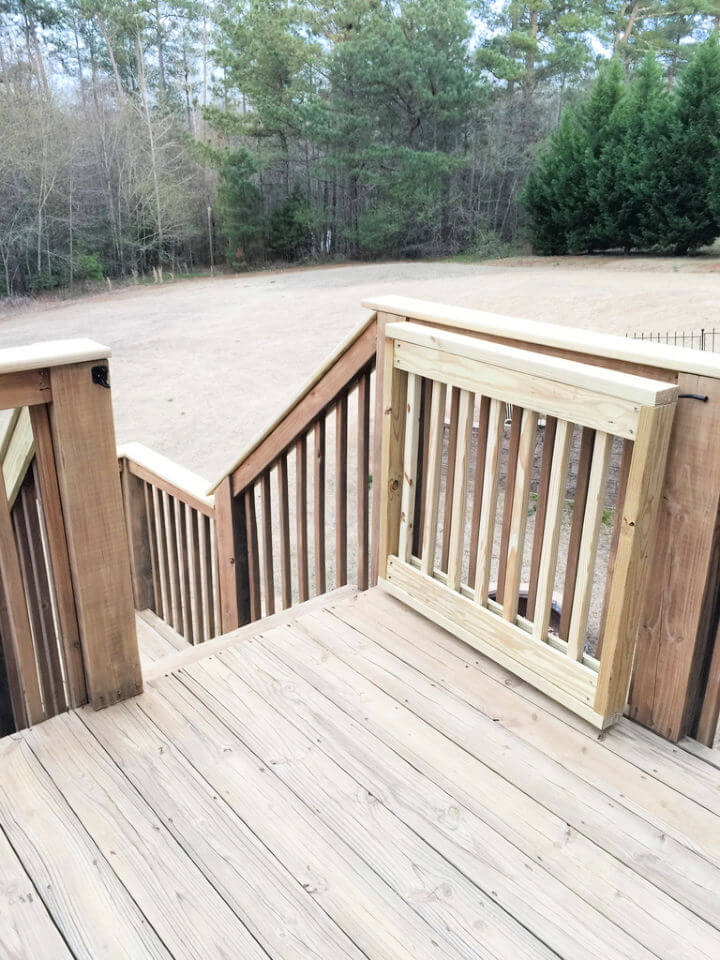 Not only the indoor stairs or the entrance but you can make a baby gate for the outdoors stations too. So that when you and your baby are enjoying the outdoors they are totally safe there too. This gorgeous and amazing DIY wooden baby gate is the perfect plan to secure the outdoors for the babies. bowerpower
22. Safe and Strong PVC Pipe Baby Gate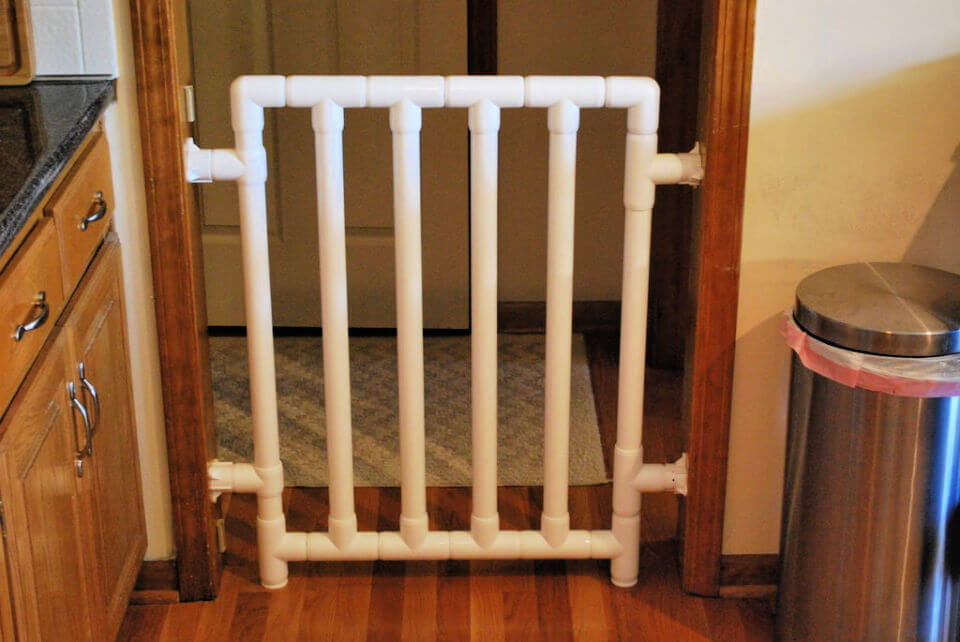 Kitchen is also one of the places that are not so safe for the babies so to restrict them going in there you can make this PVC pipe. The baby gate from the PVC pipes would be so easy and fun to create and would surely turn out to be safe and strong. instructables
23. DIY Barn Door Baby Gate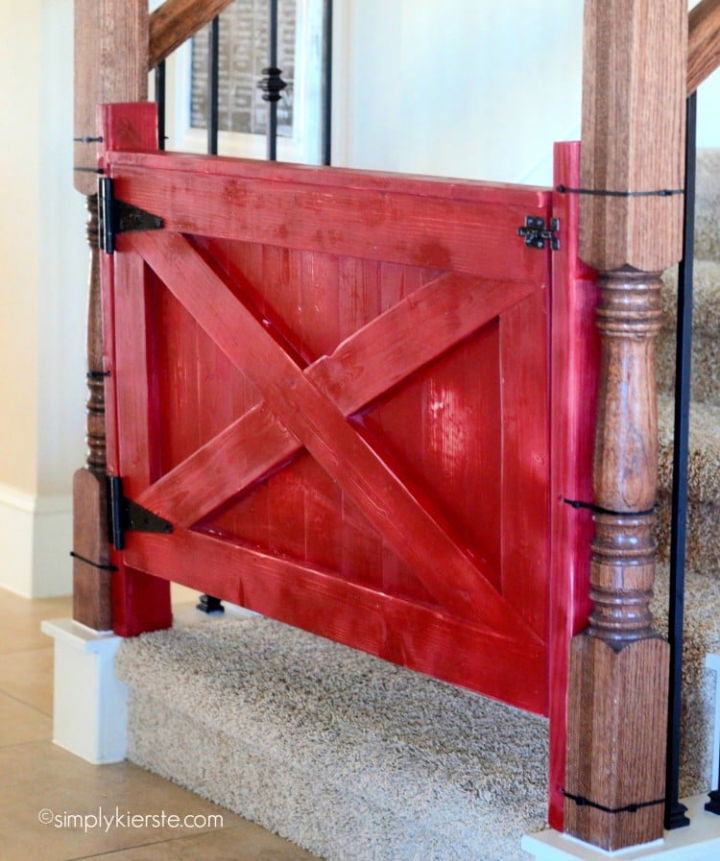 How about a baby gate that would not assure the safety of your little toddlers but also bring so much charm and beauty to your spaces too? This reddish hue DIY baby wood is a complete beauty and totally a sturdy possession. oldsaltfarm
24. How to Make a Giant Baby Gate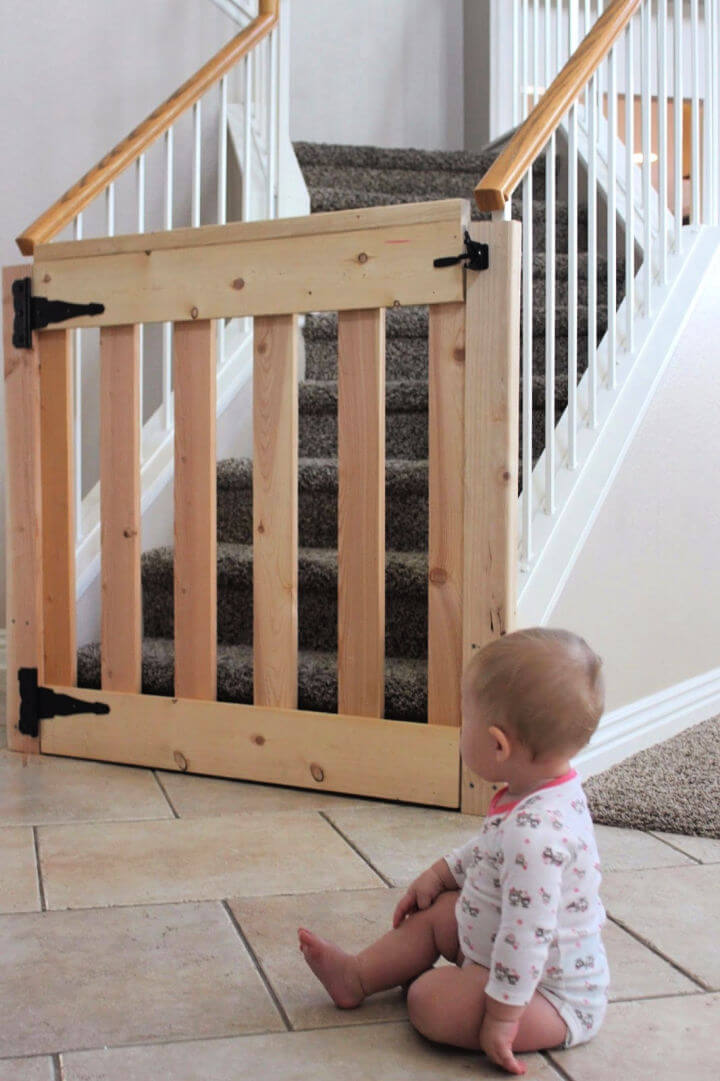 We are so delighted when our babies start walking with their feeble walk but we also get alert as they can hurt themselves from places like stairs. So here is this giant baby gate that your toddlers can never cross to reach the stairs thus satisfying you totally. minihouse
25. Classy Baby Gate With Protective Felt Strips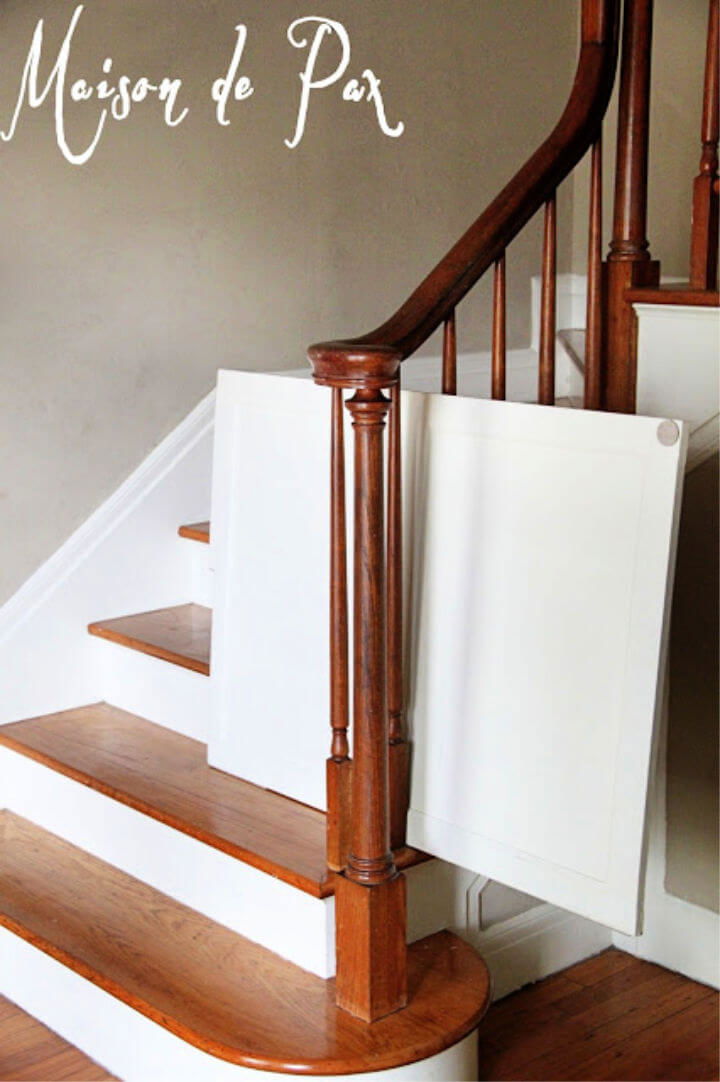 This baby gate comes with the protective felt strips and can be slide in and out depending on the needs. This one is also sturdy and durable and quite simple to build on your own. So gather your stuff. maisondepax
16. DIY Saloon Style Baby Gate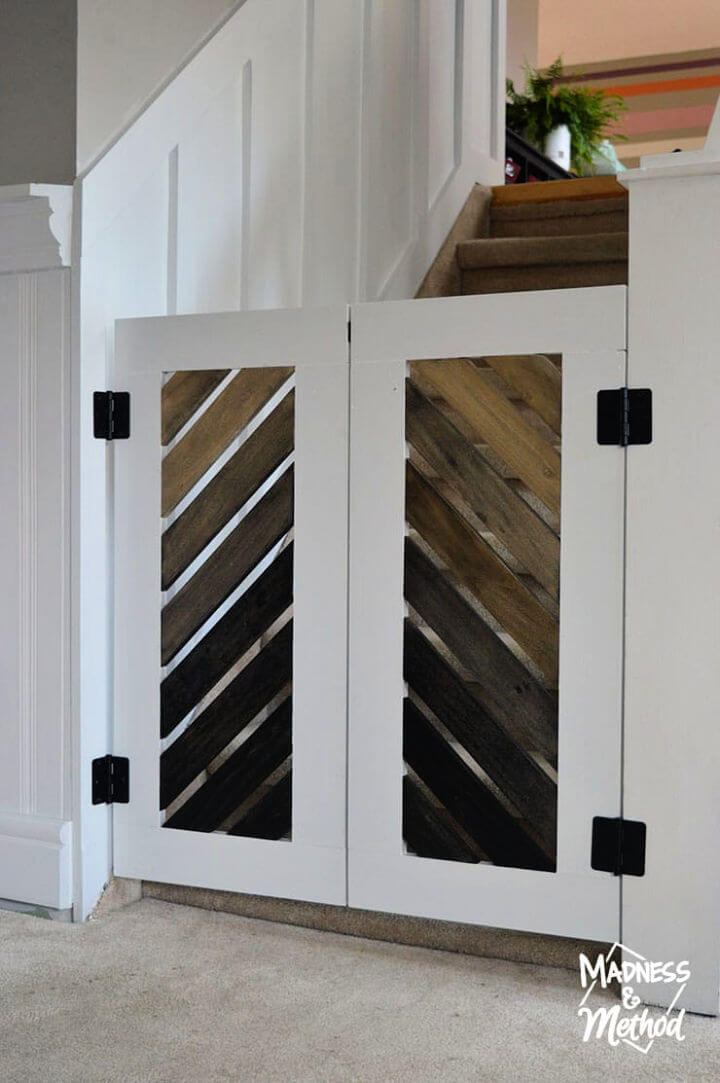 This DIY saloon styled baby gate seems to be a much more of a home beauty addition than a safety act for the kids. The white wooden frames of the two-panel door have rustic wooden boards arranged and this combination turns out to be so damn attractive and gorgeous. madness
27. Build a Barn Door Baby Gate Under $25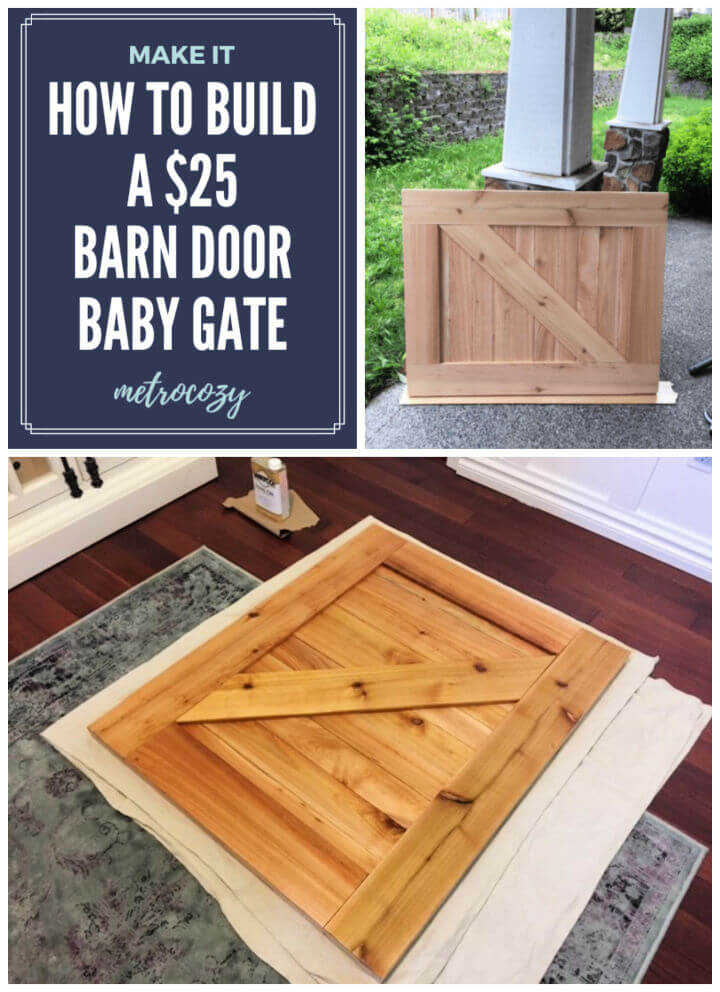 There nothing like getting some bonus fun just like this super cost-efficient baby gate which comes with a complete beauty of the barn style look so fabulous. This stylish and safety proved baby gate would cost you minimum amount like the 25 dollars. metrocozy
28. DIY Geometric Baby Gate for Stairs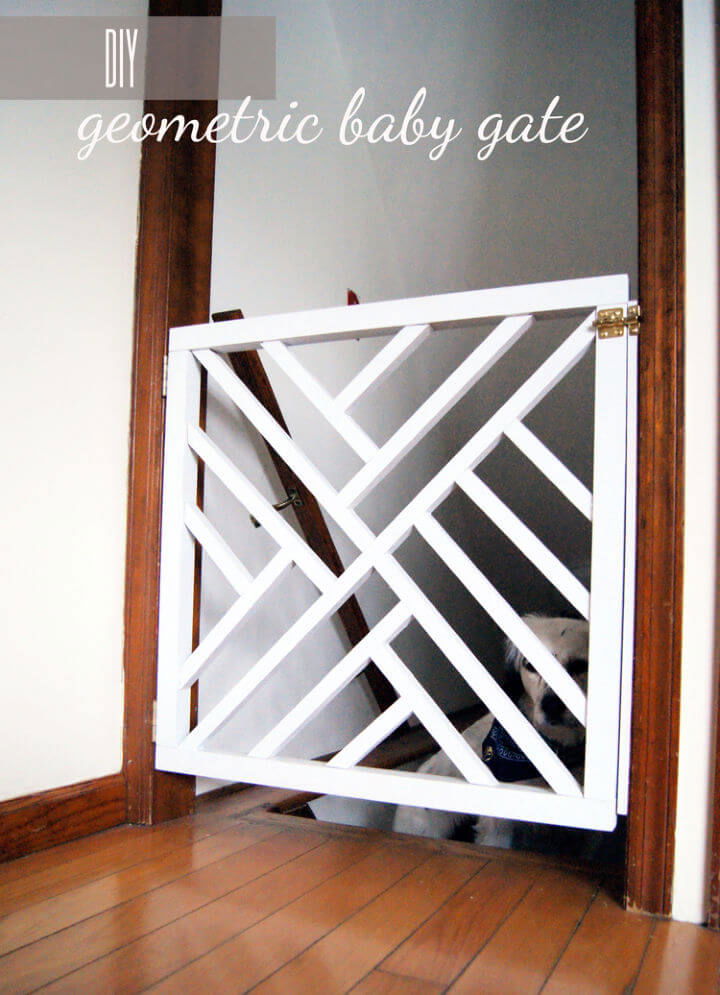 Why should we be boring with our wooden projects when we can go all creative and smart? So for your baby gate project, you can choose to shape up this gorgeous DIY geometric baby gate easily at home. The square wooden gate frame has an interesting wooden arrangement in geometric design. undeclare
29. How to Build a Lumber Wood Baby Gate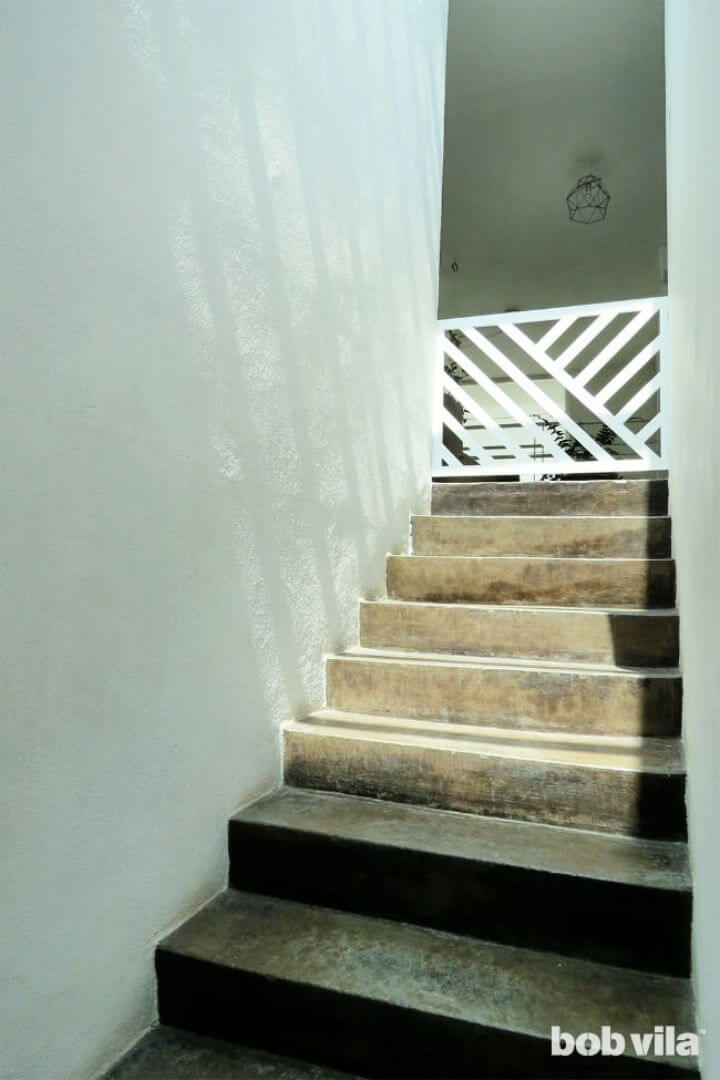 There is no need to stick with the tradition when you can make something stylish and interesting just like this handsome baby gate. Instead of going with the boring designs you can choose this lovely and chic baby gate design to work on. bobvila
30. Handmade Baby Gate With Cat Door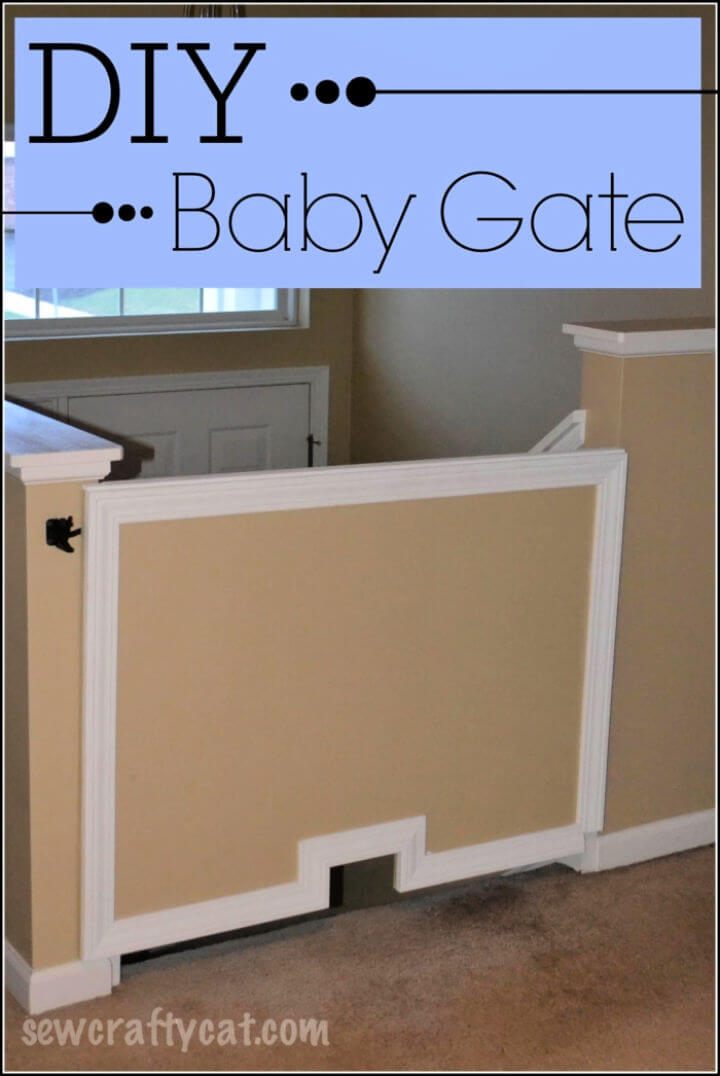 We cannot spend a big fortune of money on something that we do not need permanent just like this gorgeous baby gate. So drop your idea of buying a DIY baby gate when you can easily shape up one at home with some wood and stain hues. typicallysimple
31. Vintage Wood Headboard to Baby Gate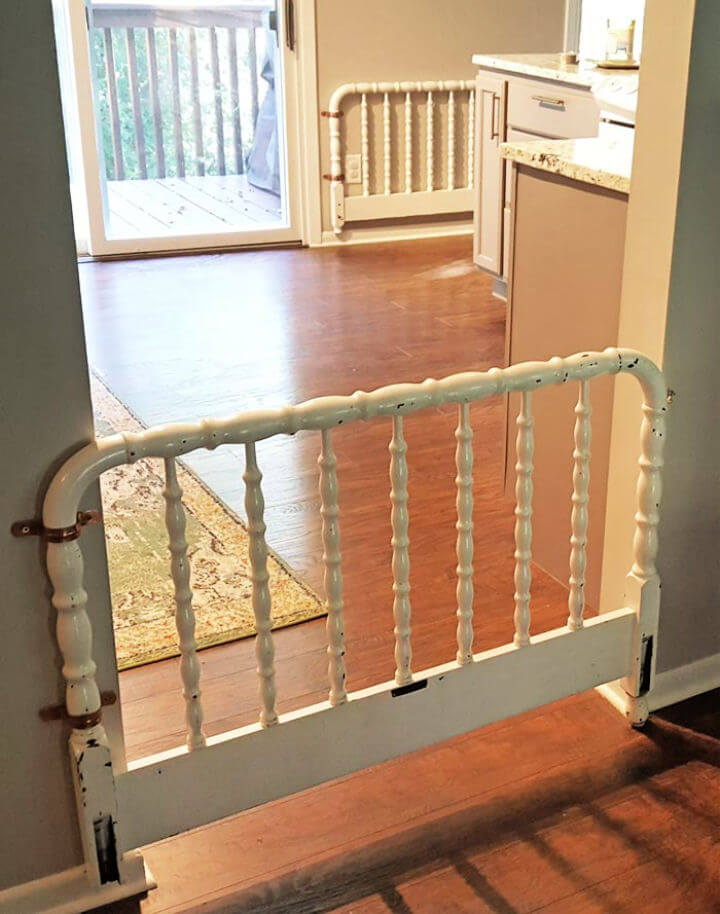 Who could think that a vintage and old headboard could make such a gorgeous and totally functional baby gate for your stairs? So look around and find a headboard with custom height to be used as the perfect baby gate with some makeover done with the paints. factualfairytale
32. Freestanding Baby Gate Building Plan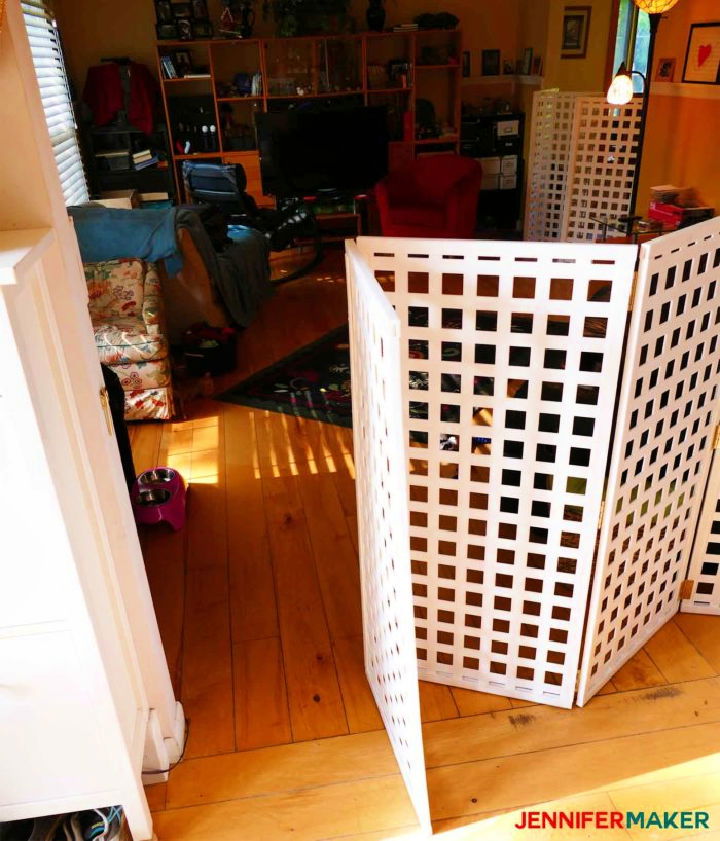 If you want to keep your babies and pets away from your office or the living room then making this DIY pet gate or baby gate is the best way to do that. This four-paneled tall and big gate has been made out of white plastic lettuce and would look so great in your home decor too.jennifermaker
33. DIY Farmhouse Baby Gate Or Pet Gate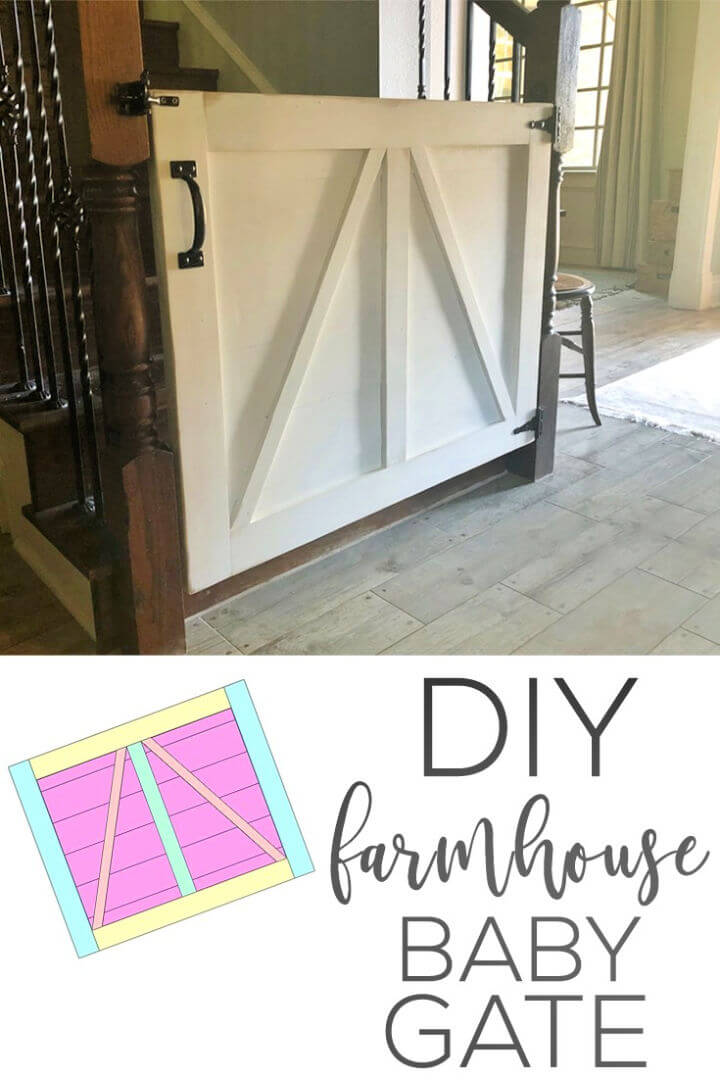 This gorgeous farmhouse styled baby gate is the perfect solution to keep your little ones stay away from the stairs. The baby gate is wide and tall enough to restrict those little stair intruders. The gorgeous white hues and the farmhouse styling really makes the gate look super so catchy and cool. shanty 2 chic
34. Make a Stunning Baby Gate in a Day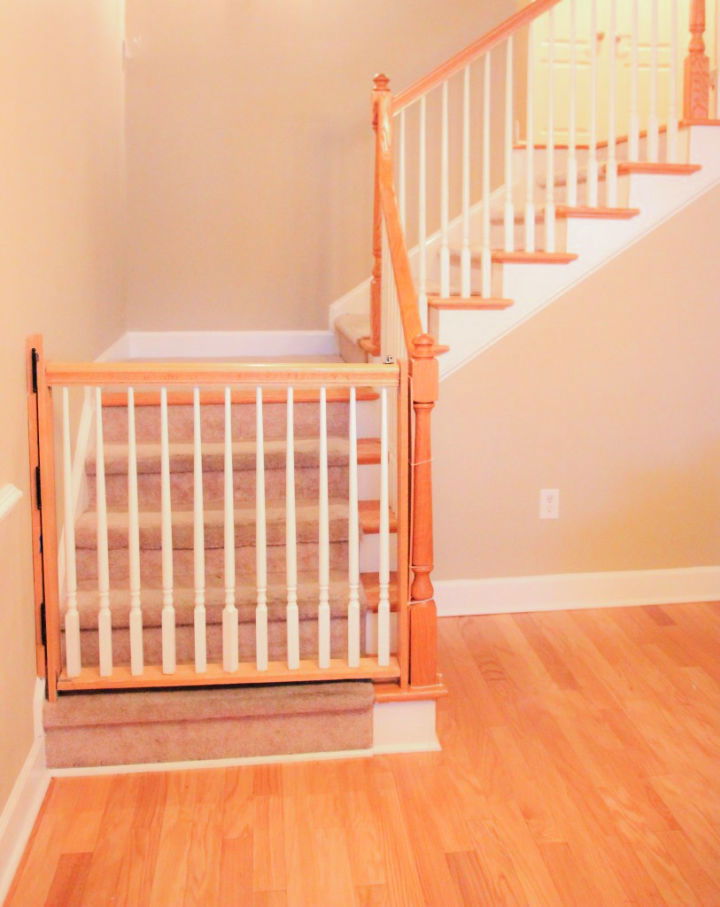 Another gorgeous and perfectly matching idea of creating a railing styled baby gate for your stairs to ensure the security of your little ones. The baby is quite easy and simple to build through a few supplies. thewooden
35. Free Wooden Baby Gate Plans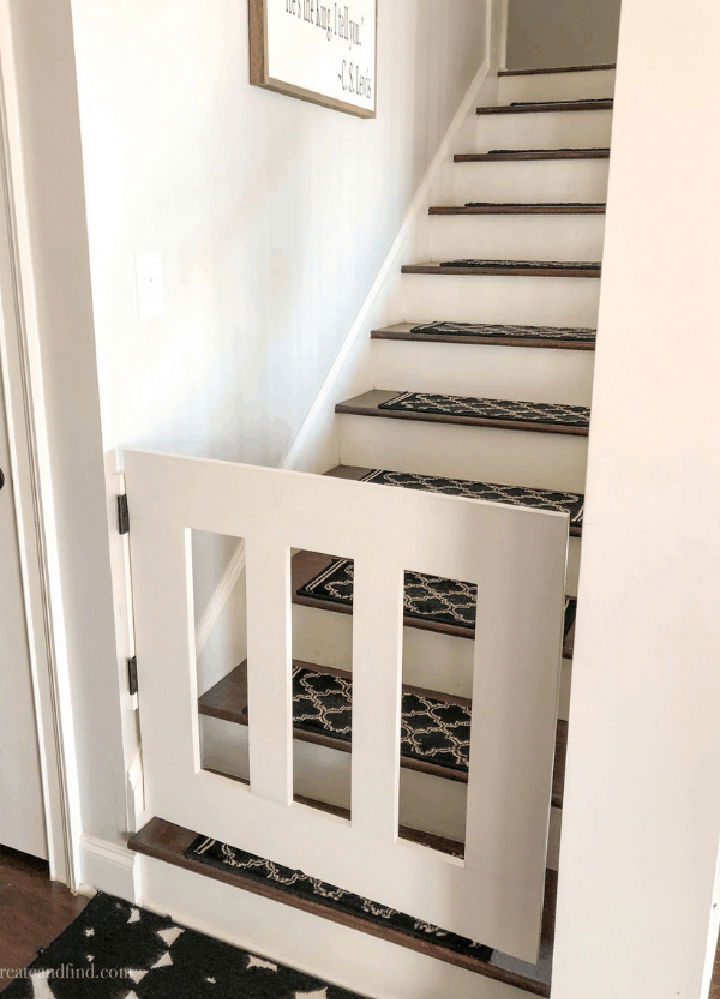 It's really a hassle when the kids or the pets keep using the stairs up and down. And we have to be after them for safety purposes. Build this DIY baby gate to be placed at the entrance of your stairs and block the way. With a few wooden boards and tools, you can easily shape up this pretty baby gate on your own. createandfind
36. Fabric Baby Gate Sewing Pattern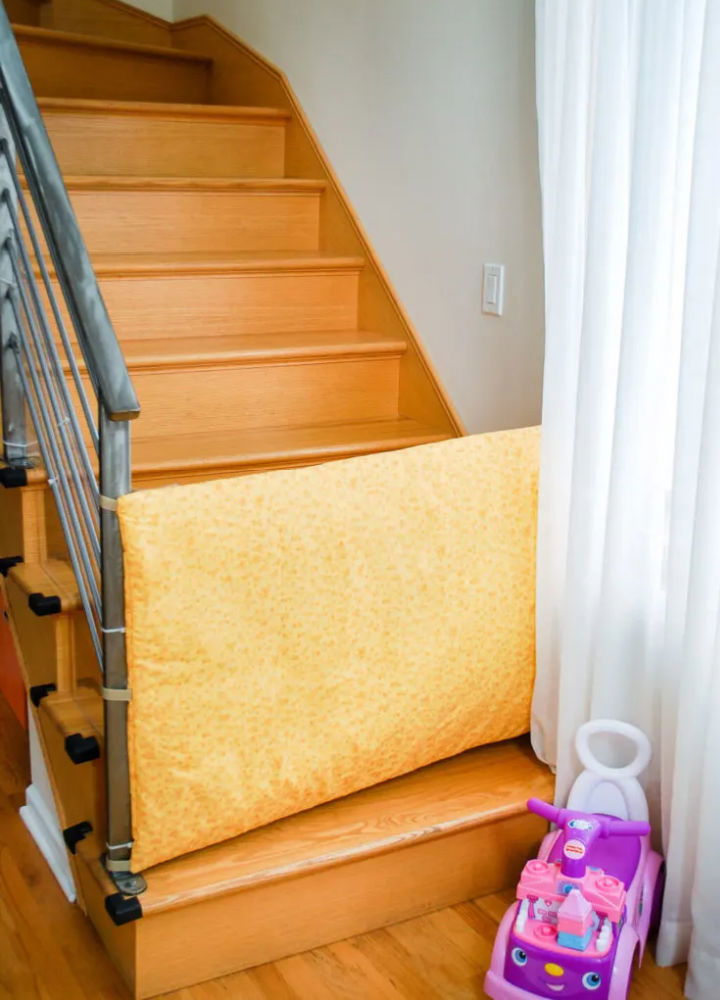 Many of us cannot work with wood but can easily deal with fabric. For them, we have this DIY fabric baby gate to make and block the entrance of the stairs. The cute fabric baby gate is super easy and fun to make, and here free sewing pattern. merrimentdesign
37. Baby Gate Plan for Beginners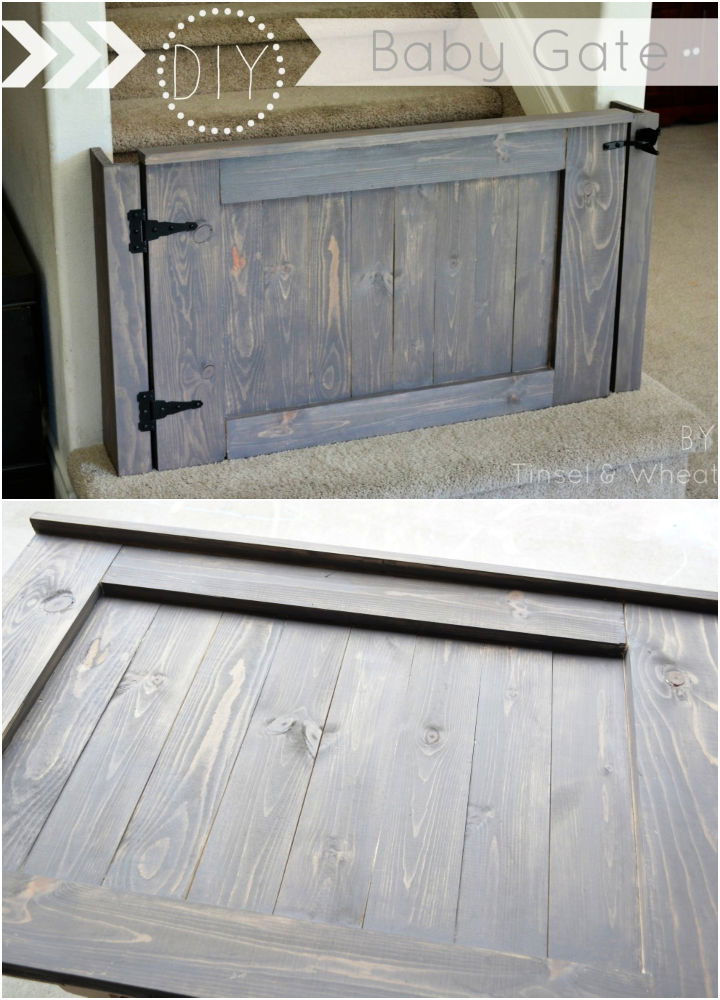 The barn wood styled baby gates are adorned much on Pinterest and now you can install the same at home. This lovely and cute small baby gate is has been simply made with the stacking of wooden boards and support of the hinges. tinselandwheat
38. DIY Dutch Door Baby Gate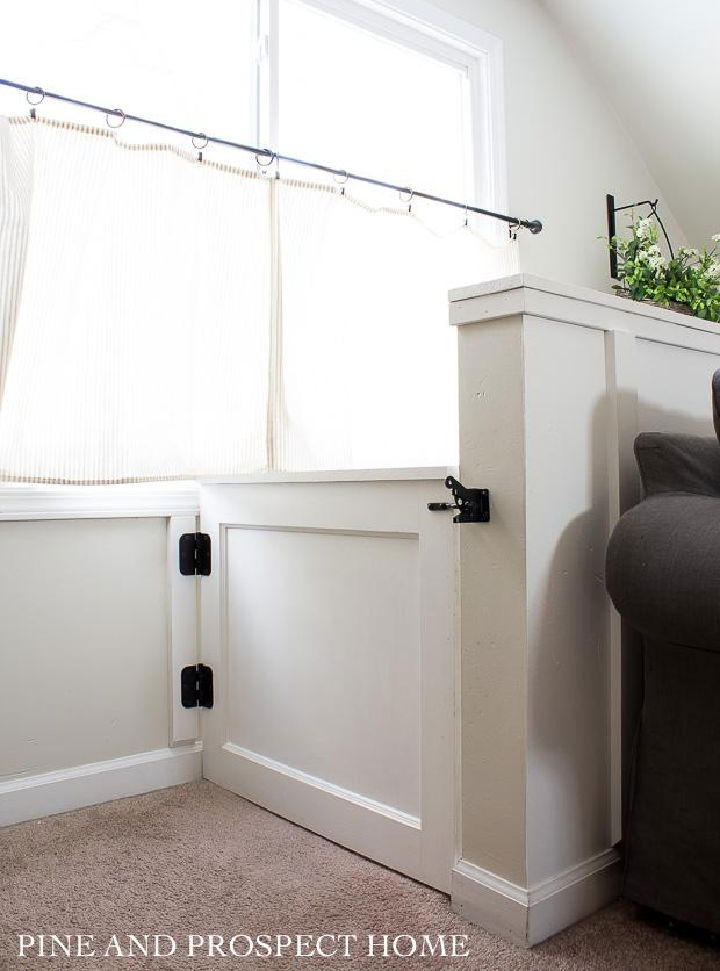 Not only stairs, you can make any of your area safe for your babies with a baby gate. You can easily shape up this Dutch door baby gate at home to make any of your space a no-go area for your kids. pineandprospect
39. How to Make a Pallet Wood Baby Gate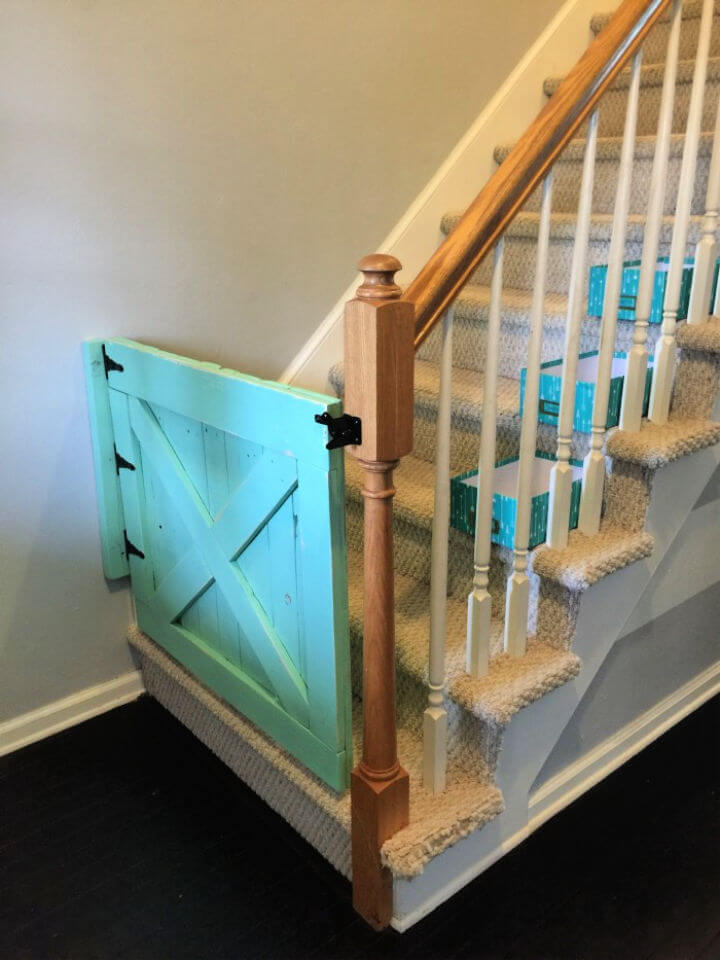 When our babies start crawling and walking, we urgently need to cover our stairs as the babies will surely try and climb them up. So here we have brought you the idea of this DIY baby gate having been made out of cheap wooden pallets. The gate is pretty for your stairs to bring some decorative appeal. medium
40. Homemade Baby Gate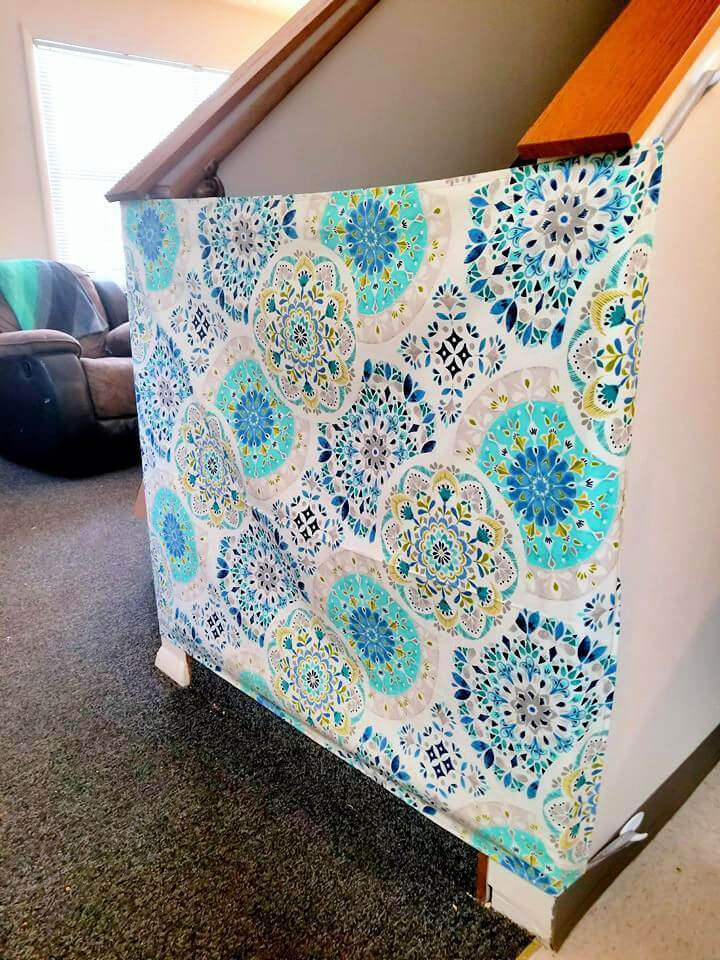 Another fun and easy idea to help you out for creating a super simple and cheap baby gate for the baby danger zones. This one has been made out of the fabric to cover up the staircase entrance in a complete covering way. momcan
Related DIY Projects and Ideas
Toddler Bed Ideas: Check out this collection of unique, easy-to-follow DIY toddler bed ideas that will help create a safe, cozy, and fun sleeping space for your little one.
DIY Easel Plans: These free DIY easel plans provide step-by-step instructions to build a stylish wooden art stand. Easy to follow and cost-effective, it's ideal for classrooms or studios.
Loft Bed Ideas: Discover creative and easy do-it-yourself loft bed ideas for kids! Impress your little ones with unique DIY bed designs that are both stylish and functional.
DIY Sandbox Ideas: Add fun and creativity to your backyard with these easy DIY sandbox ideas. From simple wooden designs to vibrant colors, explore the possibilities of your own custom sandbox creation.
Toy Storage Ideas: Organize your children's toys with these easy DIY toy storage ideas. From simple sorting boxes to upcycled furniture, find the perfect storage solution for any playroom without breaking the bank.
Pallet Playhouse Plans: Build a beautiful playhouse for your kids with these easy-to-follow DIY pallet playhouse plans! No need to buy expensive materials – reuse wood pallets and recycle old furniture.
One-Board Woodworking Projects: Make your next DIY project easy and fun with one board woodworking projects! With simple tools and easy-to-follow instructions, you'll be able to create beautiful items.
Wood Projects That Sell: From furniture to planters, learn how to make and sell unique items made from wood. Get DIY wood projects that sell with tips and tutorials for your next creative project.
Free Sauna Plans: Learn how to make your own sauna at home with free DIY sauna plans! Our easy-to-follow plans provide step-by-step instructions to help you build a quality and personalized sauna.
Conclusion:
Overall, it is clear that 40 Cheap DIY Baby Gate Plans and Ideas provide parents with a variety of cost-effective options for creating safe spaces for their children. There are plenty of creative and affordable DIY baby gate ideas for both indoor and outdoor gates to suit any budget or home design. With little creativity, even the most inexperienced parent can create an attractive and effective homemade baby gate with these free plans. Not only will this help maintain your child's safety, but it will also be something you can proudly display in your home.