Boost your multi-tasking skills and concentration by being around a gaming table. Find these 20 cheap and easy diy gaming table plans that will provide step-by-step instructions to build a gaming table like a pro. From simple to multi-featured high-end gaming tables, you will find gaming table design inspirations here. Enjoy your favorite games right in the comfort of your home with these DIY gaming tables.
They will allow you to spend quality time with your family, friends, and guests too. From a chessboard gaming table to a digital gaming table, check out all designs in this list of 20 Inexpensive diy gaming table plans that will allow you to enjoy great action-packed entertainment at home. Playing games will improve the social skills of kids, along with increasing the brain's speed. For adults, playing games can be a big fun way to calm down after a busy day.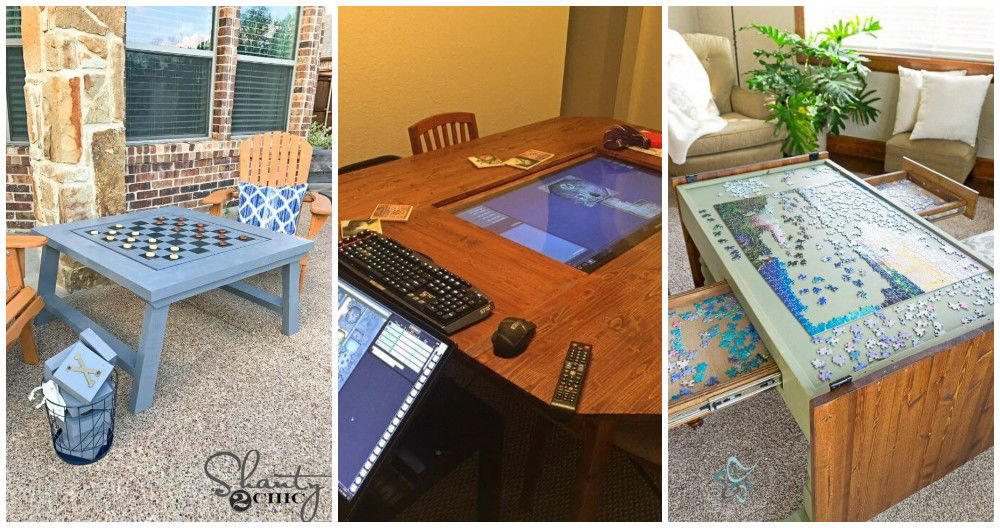 Just build the tables in accordance with your decided game. Add them up with custom built-in storage options that will hold well the game supplies and pieces. Install a digital screen in the center for digital gaming tables. Otherwise, you can stencil the tabletops for chessboard, checkers and tic-tac-toe game plans. Build dual-functional gaming tables with flipping over tops, upcycle the old tables, too, to build durable gaming tables. Check out all the hacks by taking a tour of these diy gaming table plans, providing the best energy-packed entertainment.
1. Build Indoor Kids Gaming Table

Boost the fun of your entire family, especially of kids, by building this digital gaming table. The inset gaming screen is the whole beauty of this gaming table. The elegant slatted design of the table will impress all. Building the base also involves building the frame separately for the central screen. Visual Tutorial here caethial
2. How to Make Carpetball Table

Boosting the fun activities of kids is the best way to win more love of them. So, build this carpetball table to provide hours of fun to your kids. This gaming table is an interesting IKEA hack. You need plywood, IKEA Expedit unit for base, and custom pressure treated lumber lengths to build this game. Full Tutorial here lipstickandsaw
3. Outdoor Checkers Game Table

Get your hands onto the fiberboard, plywood and cedar boards to build this outdoor checkers game table. After you build the table, install the tile sheet to one partition of the table and stencil the checkers to the other half separation of the tabletop. Black and white spray paint will rock for checkers. blackanddecker
4. DIY Puzzle Game Table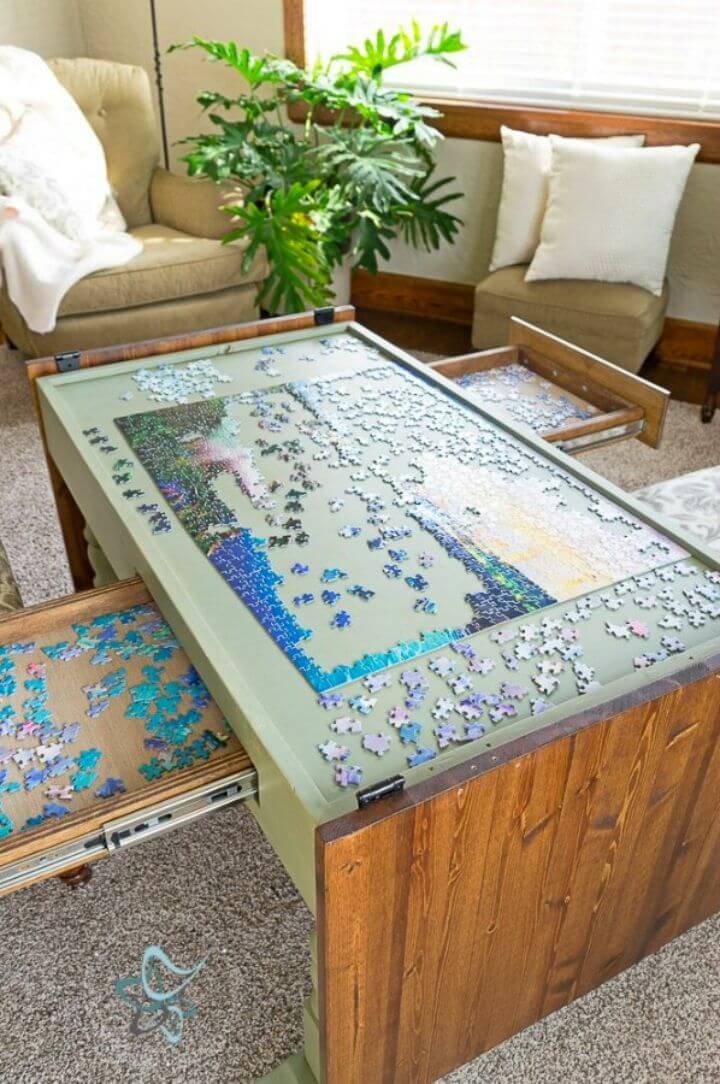 Keep your kids creatively busy with this puzzle game table, which provides drawers to store the puzzle pieces. The adults will also love to be around this game table for having fun with the jigsaw puzzle. Build this diy gaming table using 2x4s, old footstools, and dining tables. The table has height of more than a coffee table and can be closed with hinged drop leaves to pause the game. designeddecor
5. How to Make an Outdoor Game Table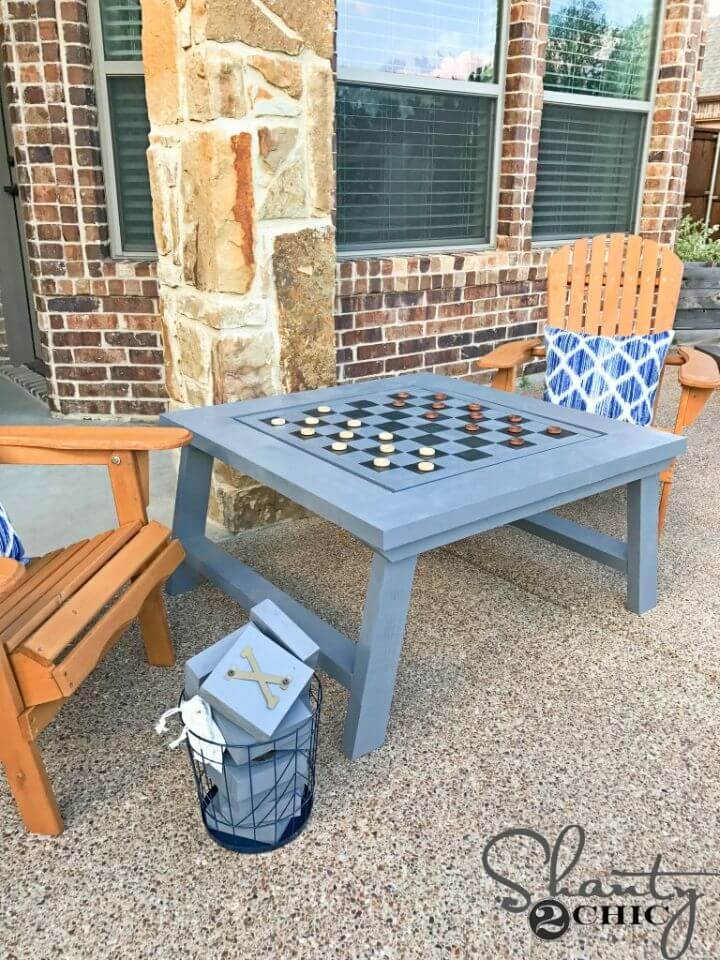 Spend only a weekend on building this outdoor game table will cost you less than $40. Flip over the top of this game table to give you different game plans like tic-tac-toe, checkers, and chess. Use the painted wooden square inlays for the central checker game, should fit in an already built frame. Tutorial here shanty 2 chic
6. How to Make Carpetball Table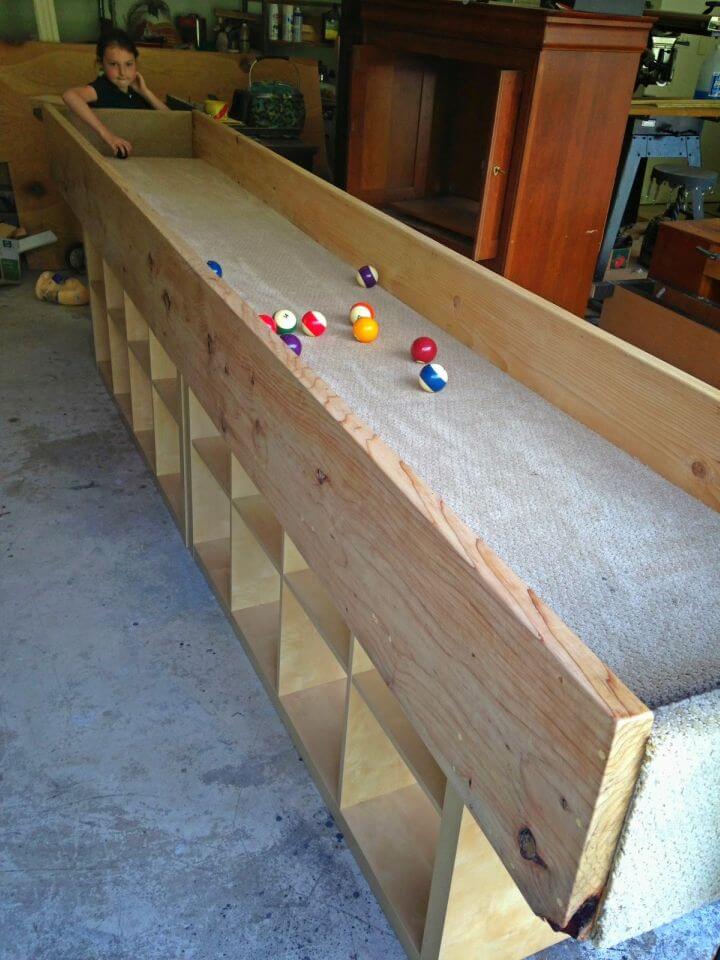 Use the IKEA components too to build a perfect gaming table like this carpetball table. Go handmade with the IKEA Expedit unit to build the base of the game table, will provide dozens of cubbies to store game pieces. Next, plywood and lumber lengths to build the longer box-style game tabletop. Details here
7. Custom Game Table – Inspired by Geekchic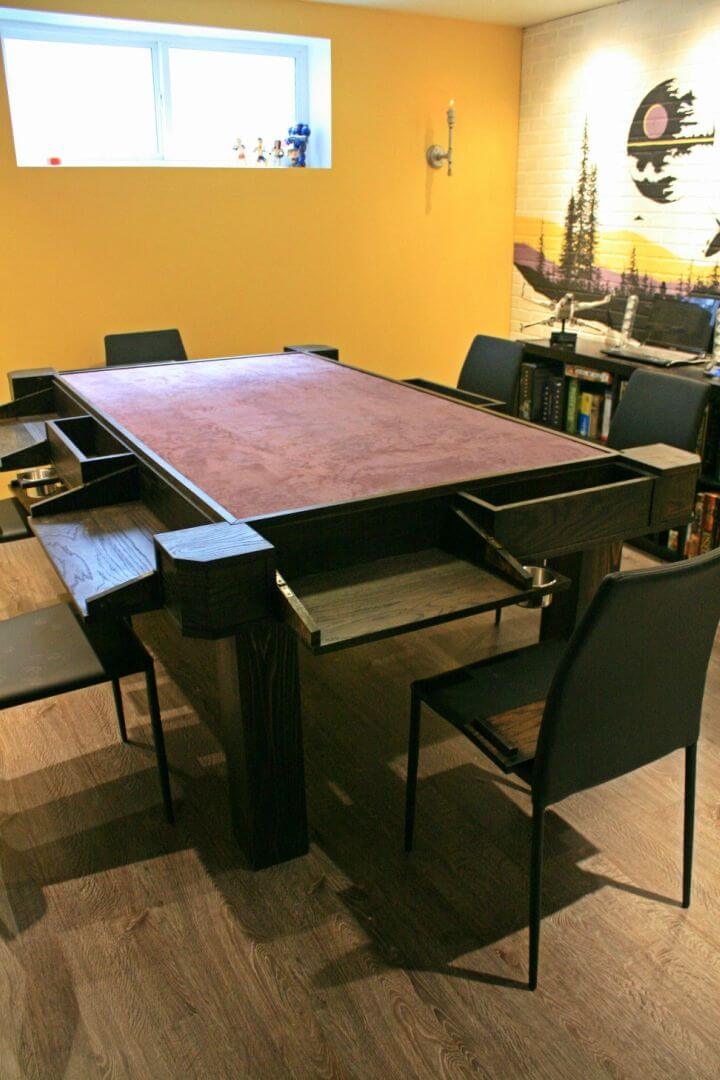 Playing games keeps you busy in a fun way, so be around this custom game table to spend quality time with your family. This table is inspired by Greekchic and provides custom storage compartments all around the table. Start building this table by building a box style tabletop with legs. imgur
8. How to Make Gaming Table
Promote alertness among your kids by building this gaming table, comes with a unique design. Put together first the wooden lengths to create a whole rectangular base frame. Next, fill it solid using plywood or any other wood. The given design provides storage cubbies on all sides to hold game pieces, cards, and other supplies. instructables
9. Make £40 Gaming Table
The gaming tables are highly expensive to buy, so consider making your ones on minimum cost prices. The project will demand 2no boards, premixed plaster, spray paint, and stick-on Velcro to build this gaming table. It will cost you much less, like $40. Further guides here simplifiedbuil
10. Build a Ricochet Game Table
Build this diy gaming table using a hollow-core door and banquet legs. For raised boundaries all around the table, use the 1x4s. Finish the game surface with a clear coat of polyurethane. Use the masking tape to paint clean game lines. This ricochet game table will be a whole family fun. Don't forget to cut slits for elastic. thisoldhouse
11. DIY Wooden Gaming Table
This table comes with claw feet and closes as the best coffee or dining table. Open the top to reveal the big gaming surface. It comes with a built-in cup holder and other gaming vaults. The design impresses with its fantastic design features and storage options. The expandable sections bring tons of functionality to design. geekdad
12. DIY Game Table for Indoor Game
Upcycle an old coffee table too into a precious gaming table. Use the chalkboard paint to paint the entire tabletop black, stencil checkers on half of the tabletop, and paint the tic-tac-toe on another half. The perfect gaming table to be around after a weeknight party. cookiescraftsand
13. Make Your Own Game Table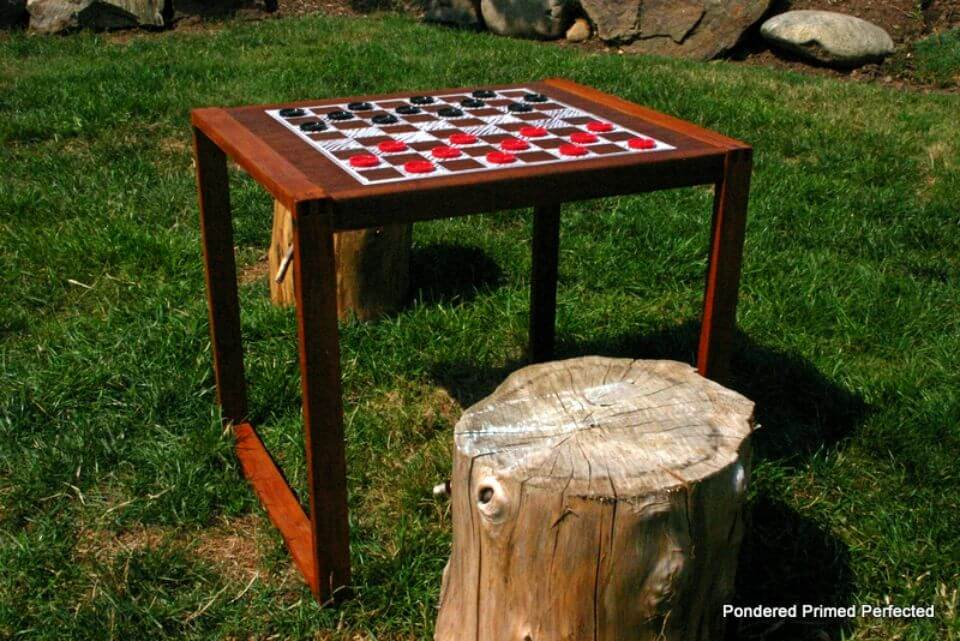 The easiest, quickest, and cheapest gaming table project ever. Just trace the checkers game plan on a craigslist table having box style flat legs to build this lovely game table. Trace and paint the equal checker squares, keep one empty and paint lines in each alternate square. ponderedprim
14. Easy to Make Retooled Table
You will love this old end table transformation, repaint an old end table, install a gaming board on its top. Keep one side of game board blank or paint game plans on both sides so you can flip the board over to change the game. Keep one side blank to keep using it as an original end table. sassycrafter
15. Inexpensive DIY Gaming Table
You will love to own this well-stained gaming table that comes covered with an edged top to be dual functional. Build the game box, raised it on a table height by adding legs, finish it with an additional top that will turn it into a lovely dining table. Remove the top to reveal the game from where you left off. Free plans here fackrelltrio
16. Outdoor Checkers Game Table
Get crafty with the cedar wood boards, 1/2″ x 2′ x 4′ plywood sheet, and with tile sheets to make this outdoor checkers game table. First, build the tabletop and next to the pedestal base. Combine them both to gain an outdoor checkers game table. Stencil the checkers using masking tape and finish the other half of the table with a tile sheet. homedepot
17. How to Build Poker Table – Gaming Table
Do you love to play poker? Then enjoy this game at home by building this diy gaming table. The table is 31 1/2″ high, 55″ wide and 55″ long. Grab the pinewood boards and scrap plywood to build this hexagonal-style poker table. Don't forget to give it a stain or paint finish. Full DIY Tutorial here blackanddecker
18. DIY Game Table With Wine Storage
Enjoy your favorite drinks too while being around a gaming table, the best game table with a built-in drink bottle rack. Use the lumber wood boards and plywood to get this table made. Finish the table with an edged tabletop. The best free plans to build a storage-friendly gaming table. designsbystudioc
19. Build a Vertical Wall-mounted Chessboard
You need 16 thin pieces of wood, 4 cylindrical dowels, 2 square dowels, and 4 pieces of crown molding to build this wall-mounted chessboard. Finish with stain and polyurethane for a sparkling wood finish. Use masking tape and black paint to paint the chessboard game. board games
20. DIY Rolling Game Table
Repurpose your old tables to build lovely gaming tables too. Upcycle an old coffee table into this rolling game table, comes on wheels. It provides built-in shelves to store game supplies, the best table to play letter puzzle. You need Kento coffee table with storage, 4 wheels, and veneer edging for this genius transformation. inmyownstyle