Every growing kid loves it to mimic their parents, especially the mom, who mostly can be seen working in the kitchen. So, the kids who keep on following their moms in the kitchen also become addicted to helping their moms in the kitchen and intend to cook something their own too. So if you are willing to please your cooking loving kids, then a DIY play kitchen would make a great gift. A DIY play kitchen makes the best toy for the kids and can keep the kids busy in playing with the siblings for hours. So, if you also desire to see your little kids cooking pretend desserts and other imaginary recipes, then you must own a play kitchen for your kids. It would be a fun and creative way to teach your kids some moral and cooking lessons.
However, the play kitchen you see in the shops and stores are always too expensive to buy, and you can't get access to them if you are finding yourself on a budget. So, opt for the DIY solutions and bring dashing looking play kitchen designs to your home that can be made by yourself at home. We are having here a beautiful collection of these 30 DIY Play Kitchen Ideas that will help you comprehensively that how you can make smart use of old and recycled materials of home to build functional and stylish designs of play kitchens at home. You will love these ideas as they promise to make you get even the stylishly modern designs of play kitchen at almost no-cost, so time to use your smart imagination and creative hands.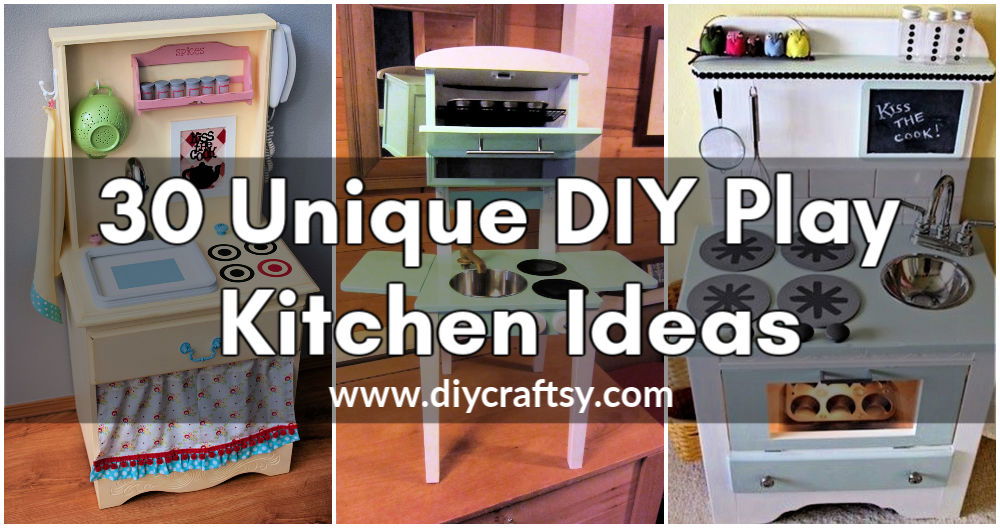 You like these DIY projects for kids:
You can do the manual wood constructions first to build the featured designs of play kitchen in custom dimensions. Use the lumber, pinewood, plywood and also the MDF boards to make outstanding play kitchens at home, here all you need to have a little woodwork experience. So, you can choose your favorite kitchenette model from the list and can try making it at home. You can select any design to duplicate according to your skill level. Just check out some amazingly beautiful hand-built samples given below on the list.
The list will also guide you thoroughly that how you can recycled old furniture pieces form home to make outstanding looking play kitchens for your kids. You can repurpose the nightstands, entertainment centers, old cabinets, chairs, and also various other items of old home furniture to build amazingly functional, stylish, and durable designs of play kitchens at home. Get inspired by some remarkable samples given below that will amaze your senses.
Moreover, you will learn various IKEA hacks to build modern-looking play kitchens at home, and you will also be provided with the smart tips about to installed sinks, faucets, stove, and custom storage shelves and racks to your handmade play kitchen. You will also find the ingenious tips here about how to decorate your play kitchens smartly and beautifully. Don't forget to visit the attached links for complete project guides and step-by-step tutorials.
Cute DIY Play Kitchen with Back Wall: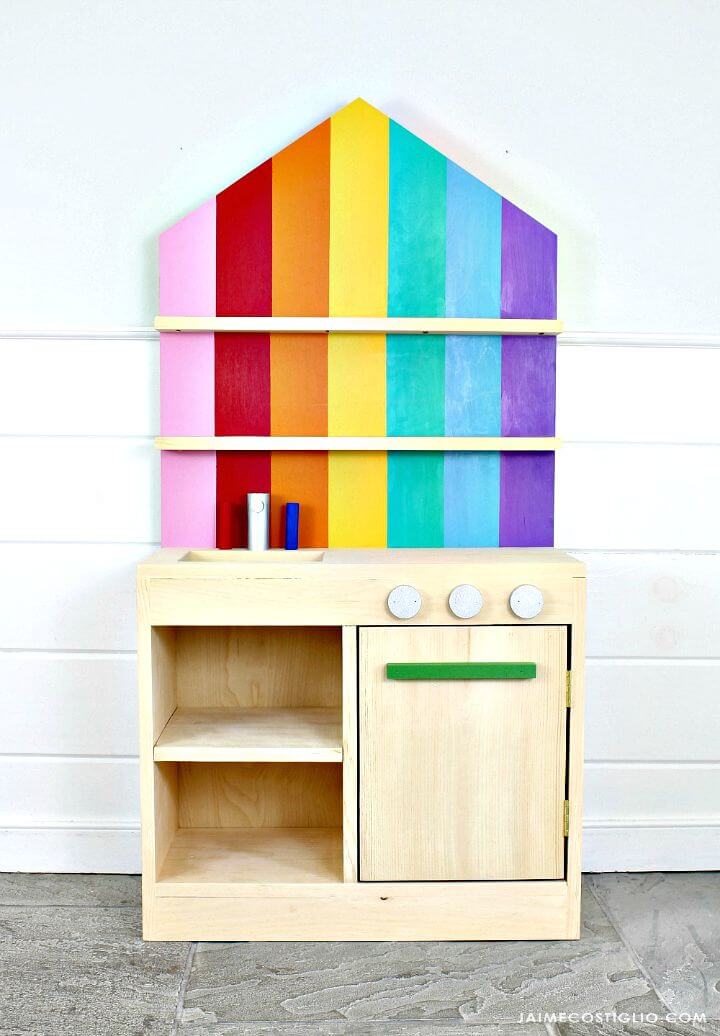 If you like to get crafty with the wood then here is an adorable wooden play kitchen model that you can duplicate for your kids to make them learn the kitchen skills. Here this play kitchen comes with interesting features like with a colorful wall that will enchant the kids eyes, with a faux stove, some built-in shelves and also with a sub-storage cabinet. Here all you need the custom wooden lengths to build the frame of the model and next you can make use of project panel to fill up the sides. Complete tutorial here ana-white
How to Make Play Kitchen: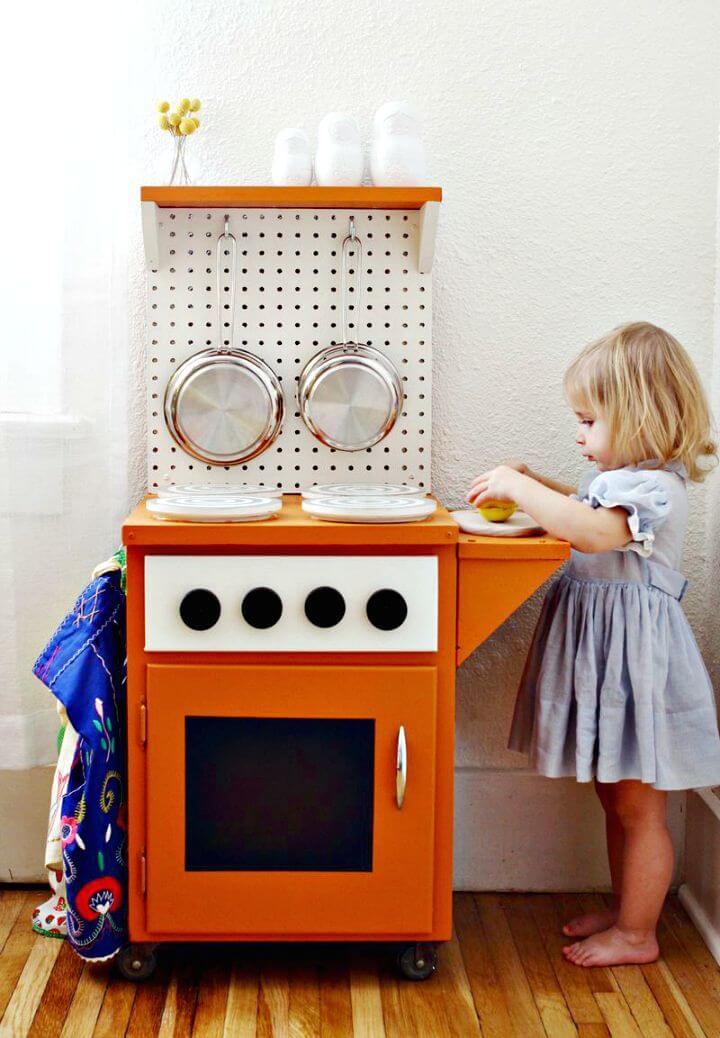 Checkout here another amazing remake of an old rolling cabinet that results into a beautiful kitchenette. Add the rolling cabinet with a pegboard back frame that will help hanging different kitchen tools. Install a new shelf to top side of the pegboard frame where you can put your kitchen items for display. The most amazing things is the edged outward surface that will serve as a work surface for food preparations. Don't forget to add the faux stove buttons and to paint your finally finished play kitchen model. Complete instructions here abeautifulmess
DIY Kid's Kitchen Playset: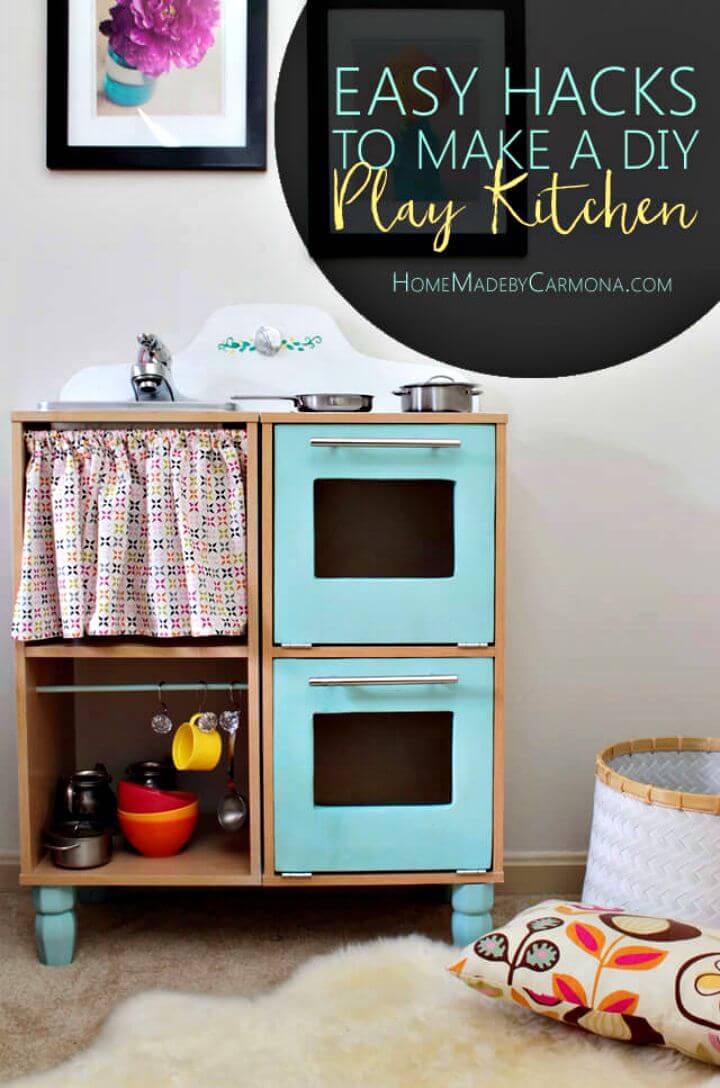 Make this squared shaped play kitchen with 2 cube-shaped bookshelves. Fit the plastic container to serve as a sink which also comes with a repurposed bathroom faucet. Add custom hardware to assemble the model and start using the different compartments for different uses. Add two compartments with doors, add them up with rod-style hardware pulls. One compartment comes with a wooden dowel kitchen utensil rack, hide the other with a curtain. Another great model of play kitchen that will make a great summer gift for all kids. Complete project tutorial here homemadebycarmona
Easy DIY Outdoor Play Kitchen from an Old Shelf: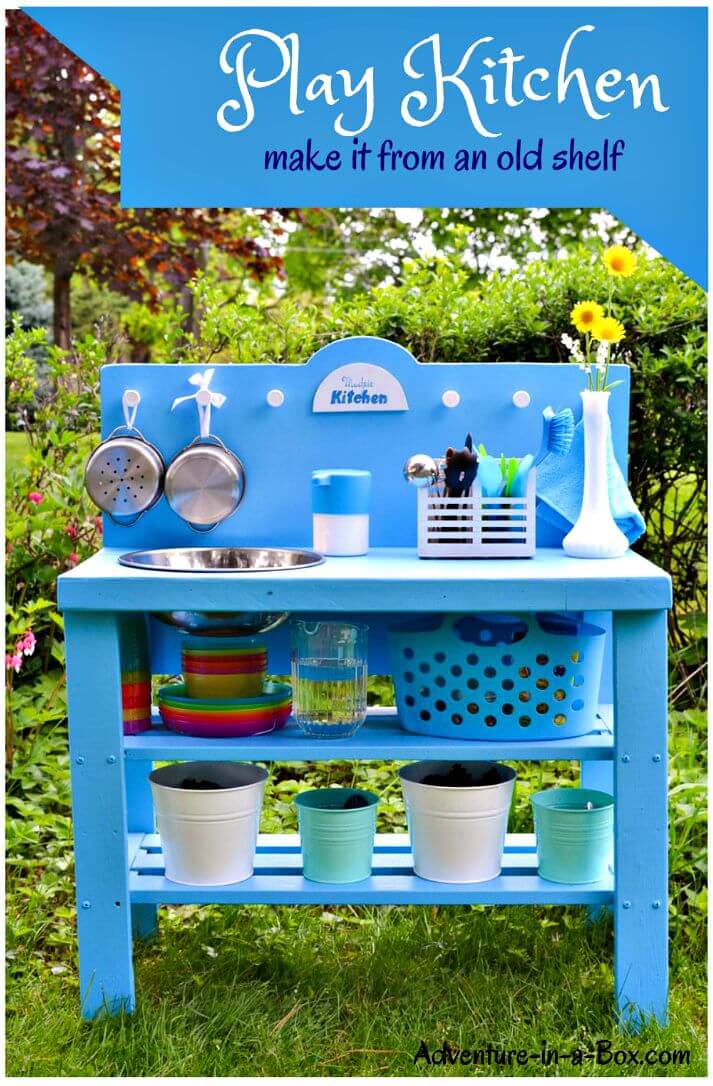 Get inspired of this another remake of an old shelf that gives a fantastic looking play kitchen that will rock at any outdoor. Add the bookshelf with a sink and back frame and build a precious play kitchen. Make the back and sink frame using custom wood lengths, project panels or plywood and paint your finally finished model in kids favorite colors. Add hooks and knobs to back frame for hanging kitchen tools and utensils and that's it. Complete instructions guides and tutorial here adventure
DIY Play Kitchen From A Cabinet: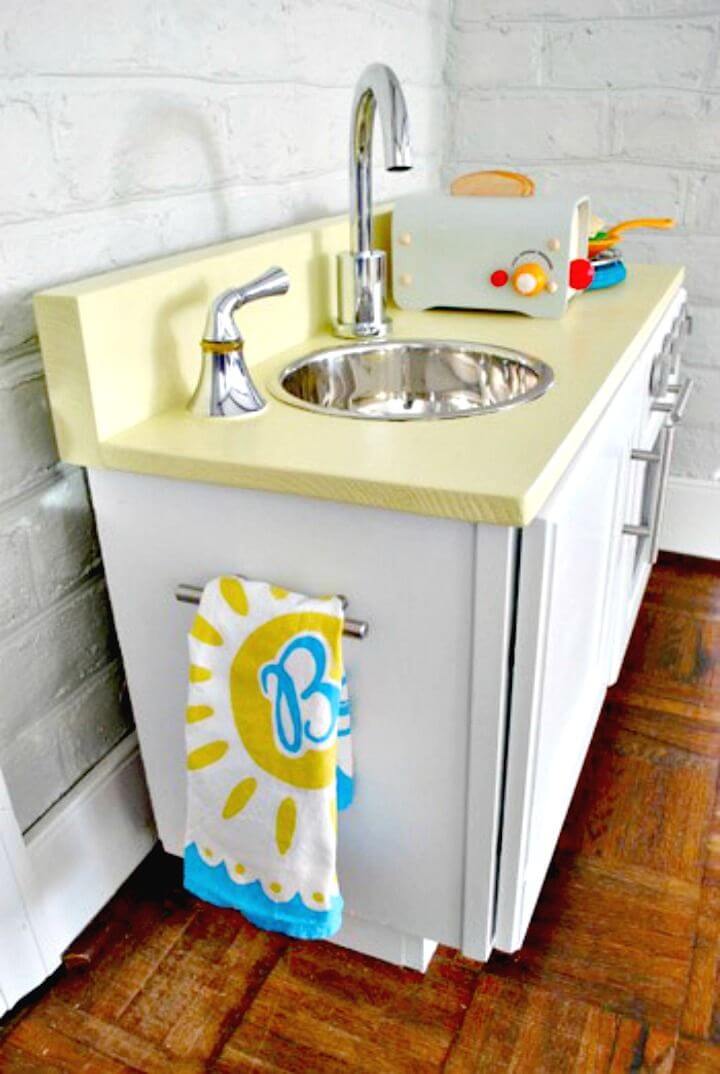 Repurpose also your old and retired furniture pieces to make great looking play kitchens for kids. You can reclaim the old dressers and cabinets easily to build handsome looking kitchenettes for kids and one brilliant one is here to inspire your creativity. Reburbish a cabinet, add with a top sink and back frame and get it transformed into a beautiful play kitchen. Fit a steel bowl in the hole of the top frame to make a sink and next add the sides with drawer pulls that will serve as towel racks. Another great design of self-made play kitchen. Intending to duplicate it? Full project details here younghouselove
Simple DIY Wooden Play Kitchen: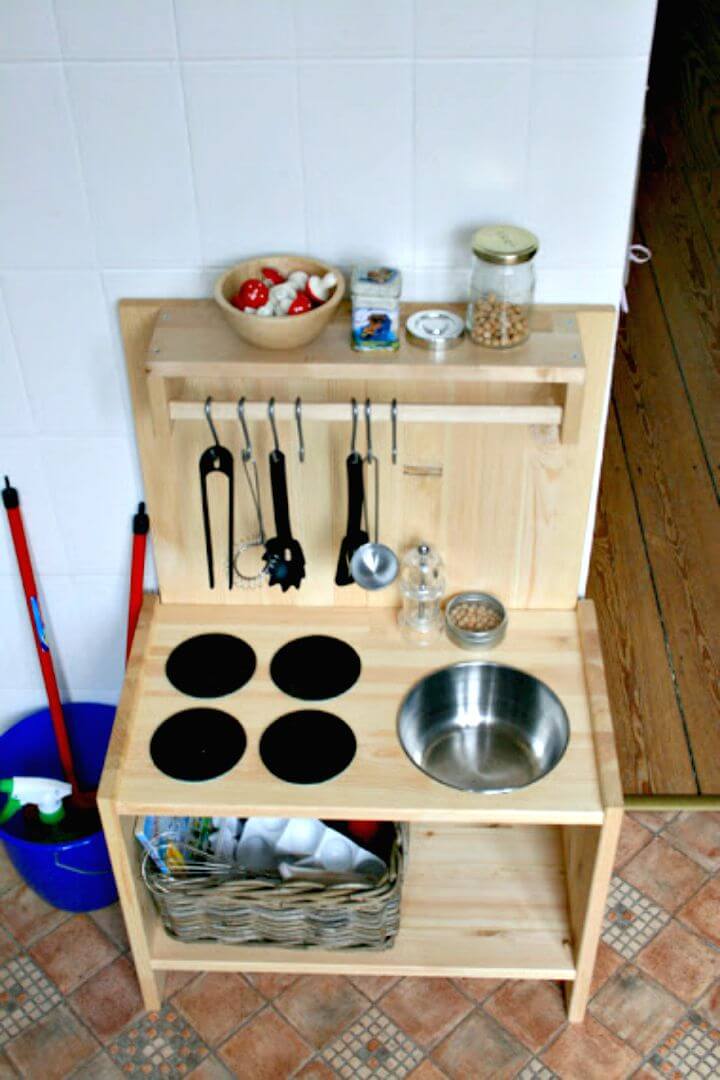 Kids will love this wooden play kitchen model, has all fun features. Here this enticing wooden play kitchen has been made to get all the signature features and hence it is having a stove, a back frame, a built in shelf or storage compartment and also a wooden dowel kitchen utensil rack that has been installed to top back frame. Here all you need the scrap wood lengths, and a wooden dowel to duplicate this enticing looking model of play kitchen. This will make a perfect summer gift for all fun loving kids and is something super beautiful to look at. Complete tutorial here artsyants
Adorable DIY Blue Play Kitchen: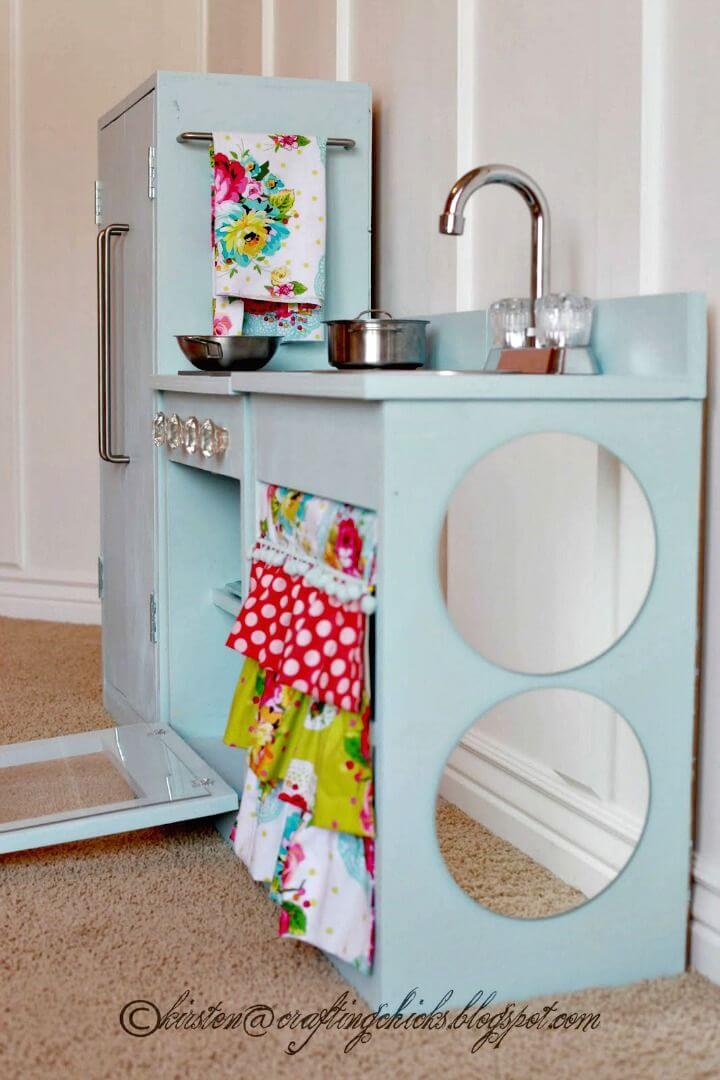 Checkout here another adorable wooden play kitchen that has been built for the kids and is really looking beautiful in dashing blue appeal. Make it using hardwood plywood and it offers a separate sink, a kitchen stove and a big cabinet to store your stuff. This is here another great and outstanding self-made play kitchen that will make a great gift to any fun loving kid. Moreover, cover a  compartment with curtain, built in storage shelves and add accent knobs for modern look. Complete project tutorial here thecraftingchicks
DIY Ikea Play Kitchen Makeover: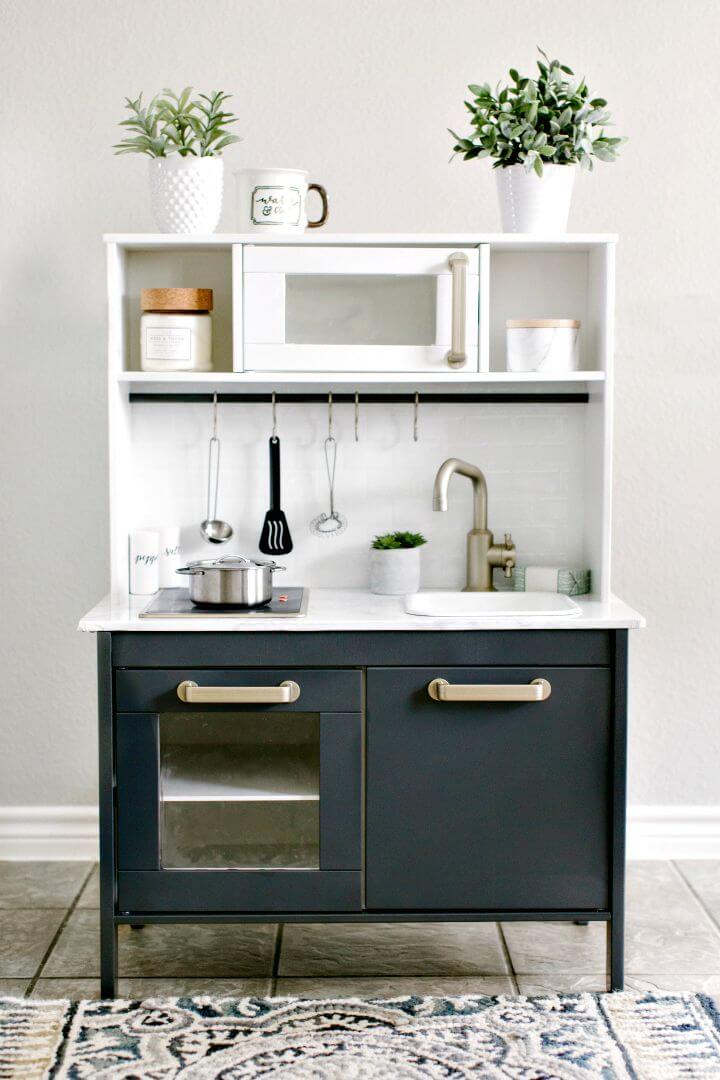 If you are sorting out a brilliant modern looking play kitchen for your little kids who love to cook and play with siblings then you will definitely like this play kitchen that is a smart IKEA hack. Do a creative makeover of an IKEA kitchen to gain this ultra-modern play kitchen. It will make the best gift of the year for all fun-loving kids. Here the utensils and pots and pans also come from IKEA and add extra grace to design. Willing to duplicate this another fantastic looking kitchen design? Grab the full project details from here katielamb
Turn Vintage Entertainment Center Into Play Kitchen: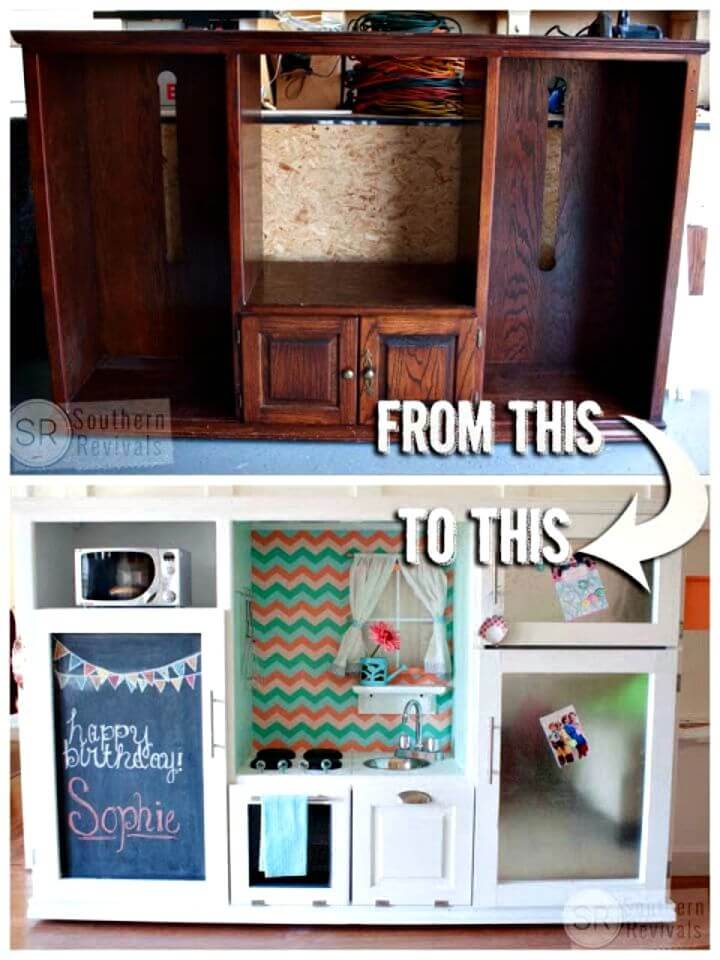 You can really get crafty with the old and retired home furniture to make some grat looking play kitchen in seconds. You will definitely fall in love with this amazing looking play kitchen that is a creative remake of a vintage entertainment center. Paint an old entertainment center for a chic white modern appeal, add it up with custom shelves and backings. Install new doors for a fully functional design. Grab the full free guides and visual instructions from here southernrevivals
DIY Children Stove With Oven: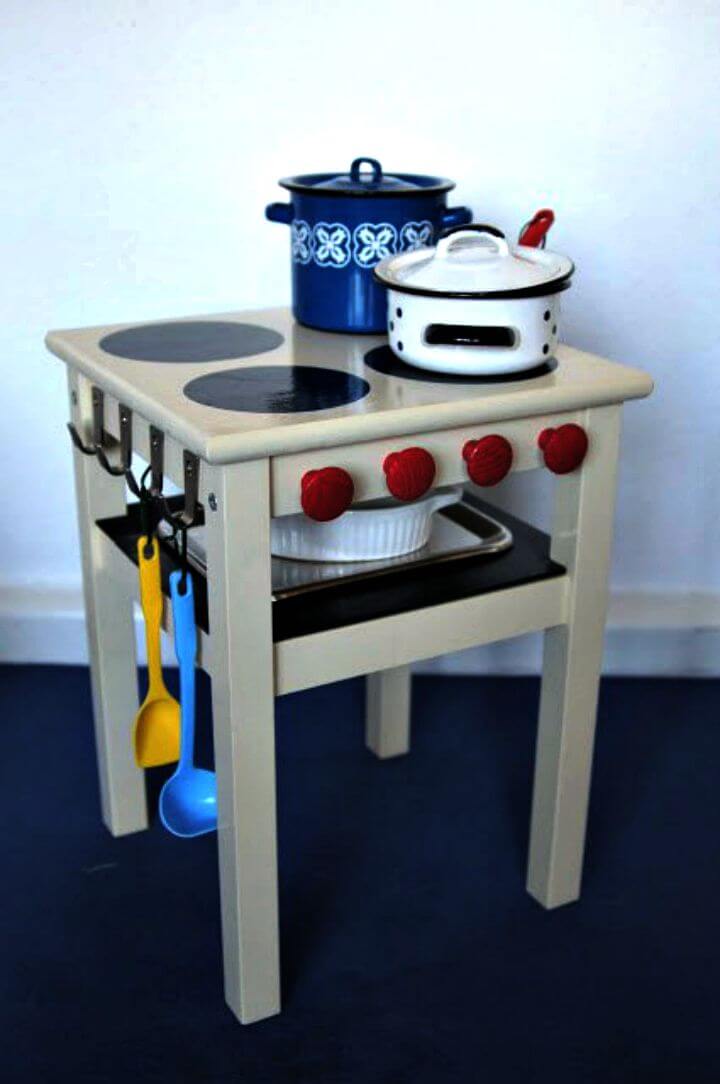 One more exceptional kids play kitchen that is having a small size but it comes with all the necessary features to make your kid busy in fun cooking. Build this children stove with a pine stool or oddvar. Paint it for a chic grey appeal and add with bigger black dots on the top for a faux stove. Add knobs, and hooks to sides, for a full functional appeal. Paint built-in shelf to double up the beauty of entire design. Another great and outstanding children play kitchen to duplicate at home. Complete project tutorial here ikeahackers
How To Build Play Kitchen: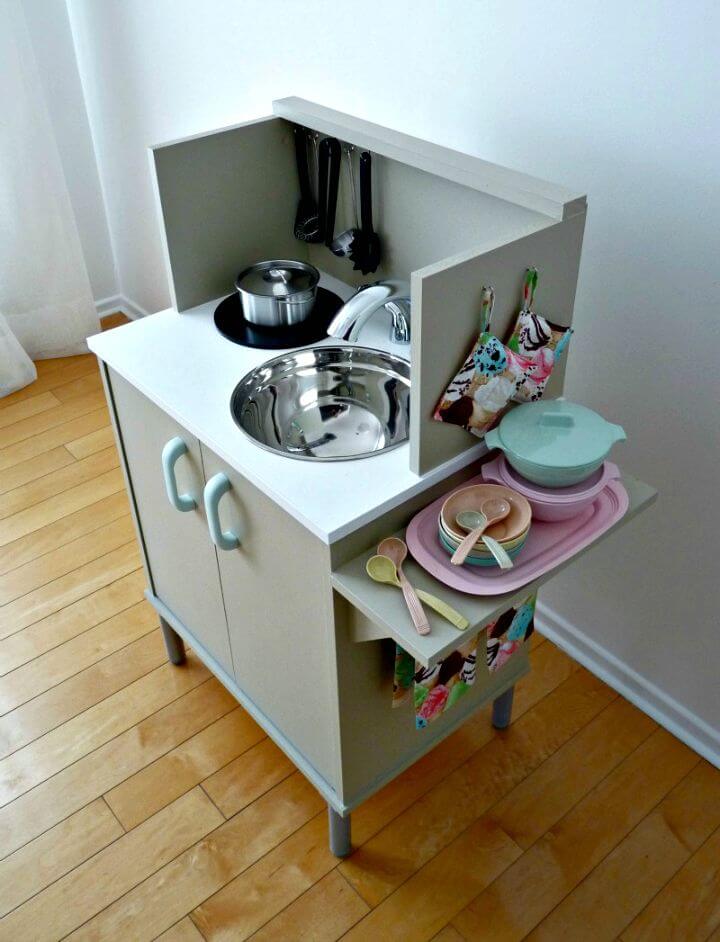 If you are a willing to get a play kitchen model for your kids that will not take much space but will be having all the necessary features then you must duplicate this given play kitchen. Build this miniature play kitchen with a wooden oven stand. Make a bigger hole in the top to fit the sink bowl, install upper back frame for tool hanging covering the sides a little. Put a black mat for the faux stove and also install an edges outside surface that will help to do easy food preparations. Another great design of play kitchen to make at home. Grab the full free tutorial and instructions from here danslelakehouse
DIY Pack-n-Go Kids Play Stove: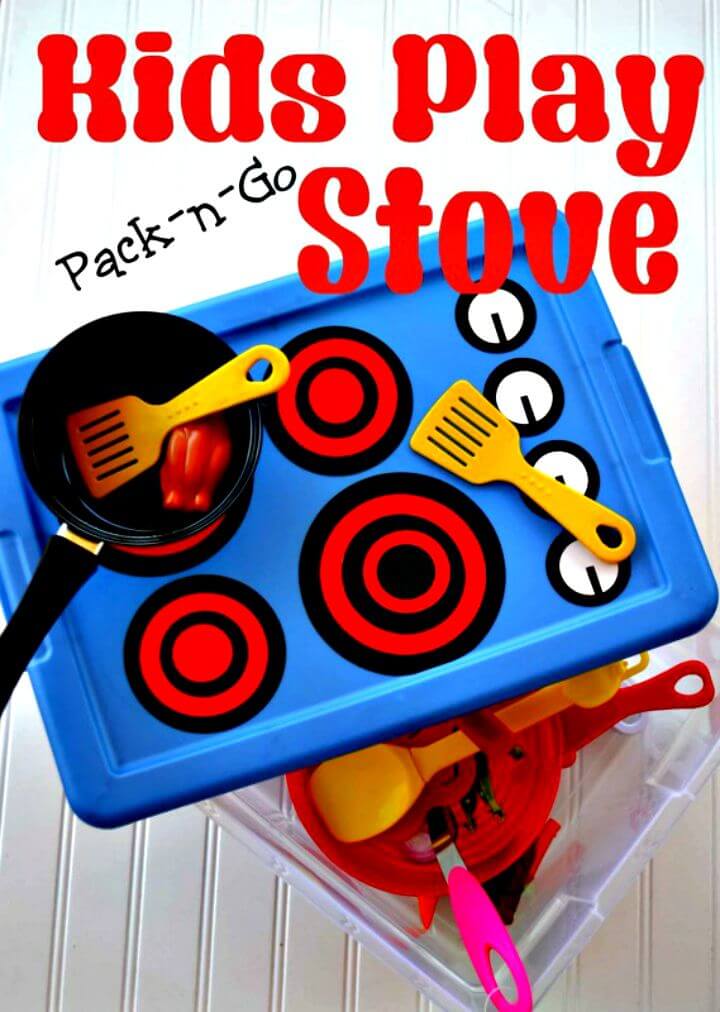 Here is another play kitchen that is super easy to make and here all you need a plastic container to duplicate this mini pack-n-go kids play kitchen. Just grab a plastic container and then add it up with cricut stickers on the top making the faux stove and stove buttons. Another great and outstanding play kitchen made with hands and will make a great gift to any fun loving kid. This is here the play kitchen that you can also carry with while going out for a picnic. Grab the full free guides and visual tutorial from here pinkcakeplate
DIY Play Kitchen in a Box – Sewing Tutorial: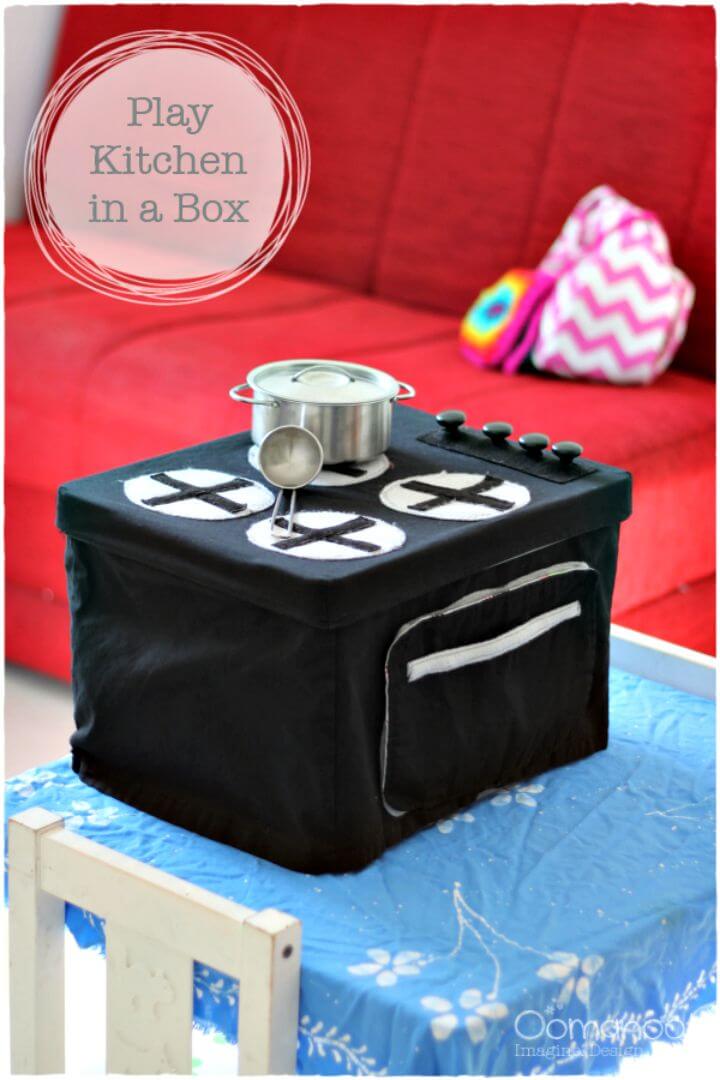 Look at this another great and fantastic play kitchen that is also super budget-friendly to make at home. Here all you need a plastic box and then a fabric cover of it which can come with custom pockets. Just grab your favorite fabric and sew the box cover and then paste custom felt round cutouts on it to display a faux kitchen stove. Use 4 bigger buttons or hardware round handles to display the kitchen stove buttons or controls and that's it. This is here another great and fantastic kids play kitchen project that you will love to duplicate. Intending to duplicate this handsome looking play kitchen design? Grab the full free guides and visual instructions from here oomanoot
Super Easy DIY Play Kitchen from a Chair: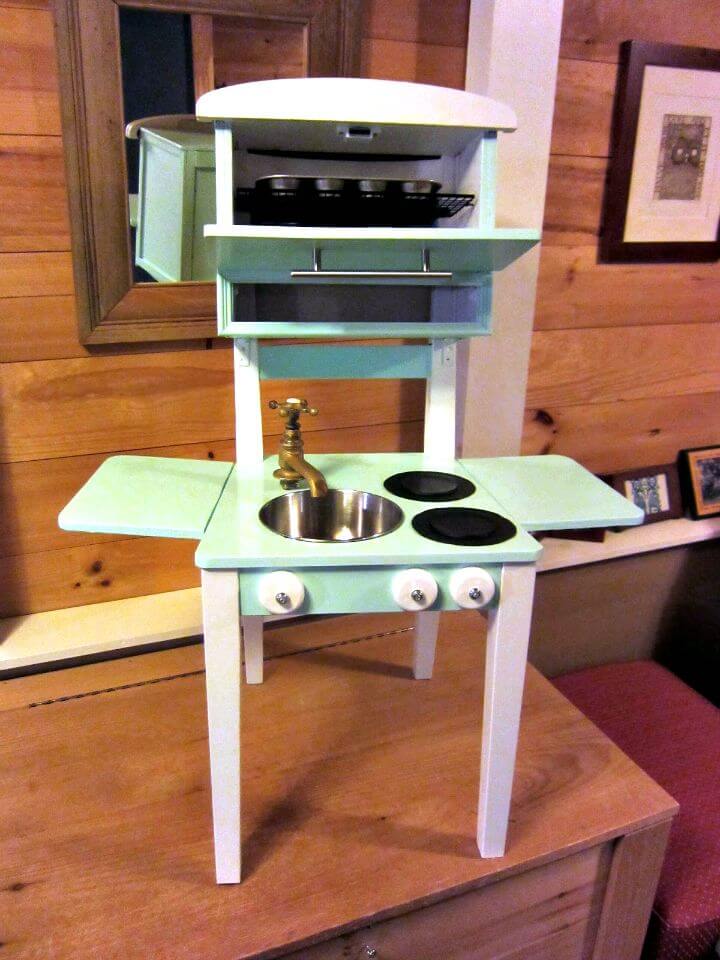 If you love the creative DIY projects then you will also praise this innovative kid play kitchen creation. This is here a fantastic remake of a chair that gives an alluring kitchenette that is both storage-friendly and fully functional. Add up chair seat with two drop leaves and with a bowl sink. Fit sink by making a big hole, next install a vintage faucet. Add round black mats or paint bigger black spots for the faux kitchen stove and also install the control buttons. Extend chair backrests with storage having folding down the hinged door. And it offers a slim storage pocket to hold the trays. Grab the full project instructions and tutorial from here alldadallday
DIY Play Kitchen From A $10 Piece Of Furniture: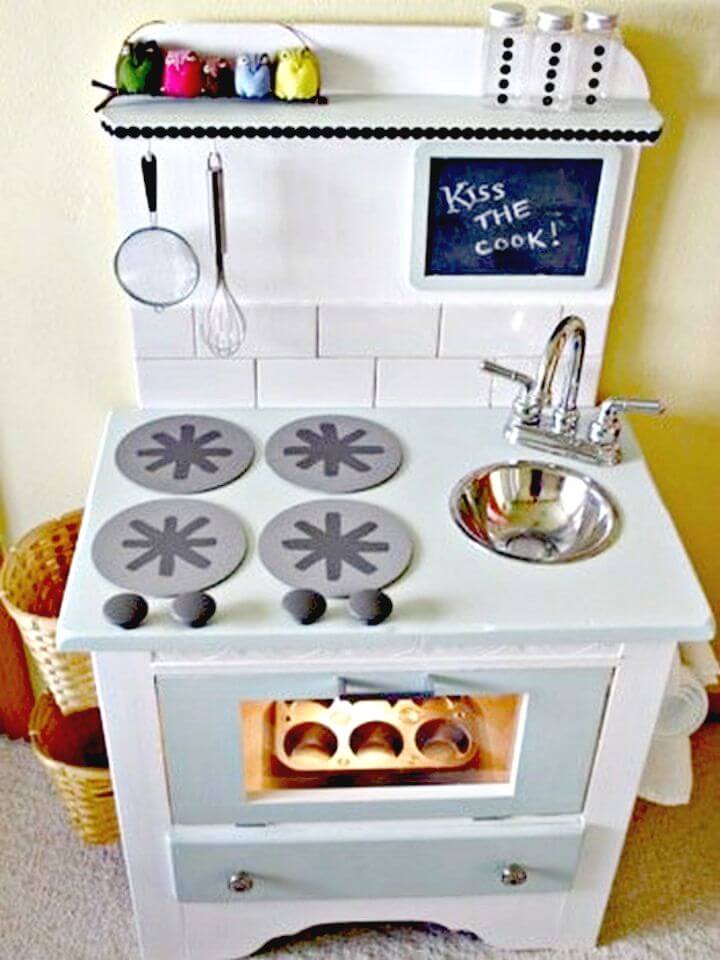 One more exceptional hand-built design of play kitchen is here to inspire your creativity. Create this design with a market-bought entertainment center. Modify the design to take the targeted play kitchen shape, next add with custom features. Like with black painted wooden round stove, with tiles, with a sink and a faucet and also with a spice rack. Next, paint it for a custom modern appeal finish with accent wood trim for extra grace. Grab the full free instructions and visual guides from here athomewithashley
How To Build Play Kitchen For Under $90: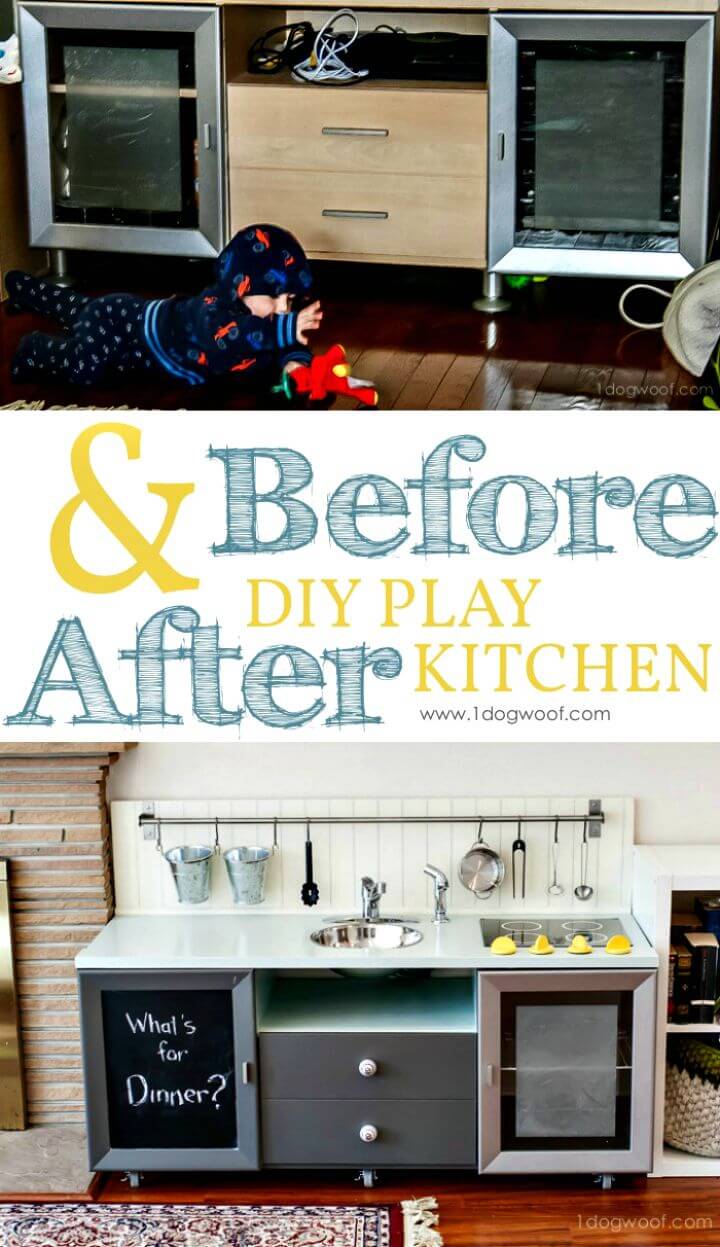 Checkout here another fantastic model of handmade play kitchen that has been done to rock and inspire and is really looking beautiful and enticing. Build it with an old cabinet, add with custom features to be perfect user oriented. Add new doors, shelves, an upper back frame and a curtain rod style utensil rack to your old cabinet model. This will transform it into a fetching looking design of play kitchen. This is here another brilliant and good looking play kitchen that will cost you under only $90. Complete project details and instructions here 1dogwoof
Build Your Own Simple Play Kitchen Stove: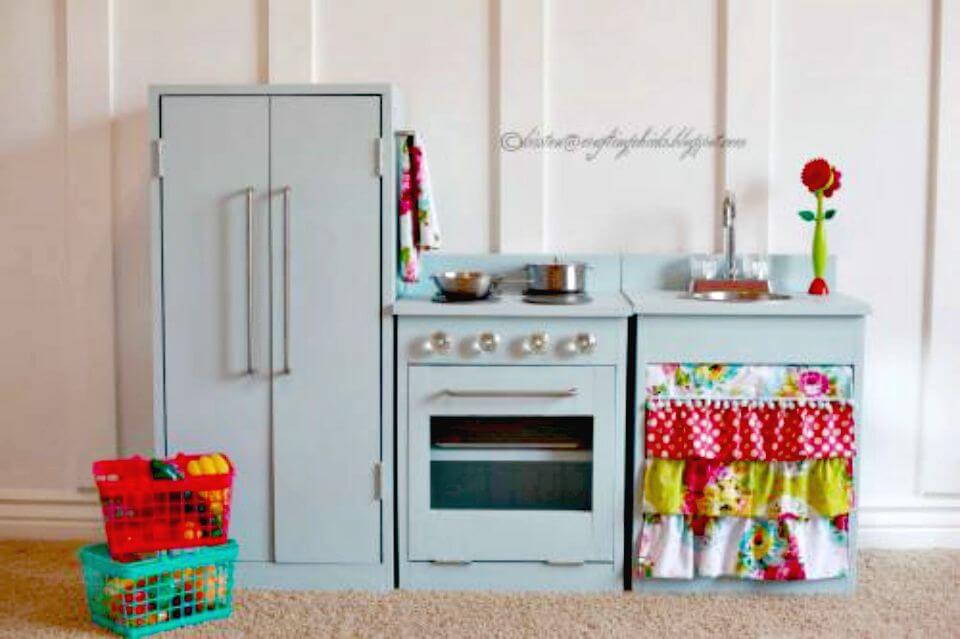 If you are good at wood working then you can produce some heart winning gifts at home to give to your kids. A very interesting looking sample here is this wooden play kitchen that is made of hardwood plywood and is something super beautiful to look at. here a separate cabinet, a kitchen stove and a kitchen sink has been made out of hardwood plywood and finally all the items have been painted in blue and put together for a super functional play kitchen. Further project details and instructions here ana-white
Awesome DIY Play Kitchen Reveal: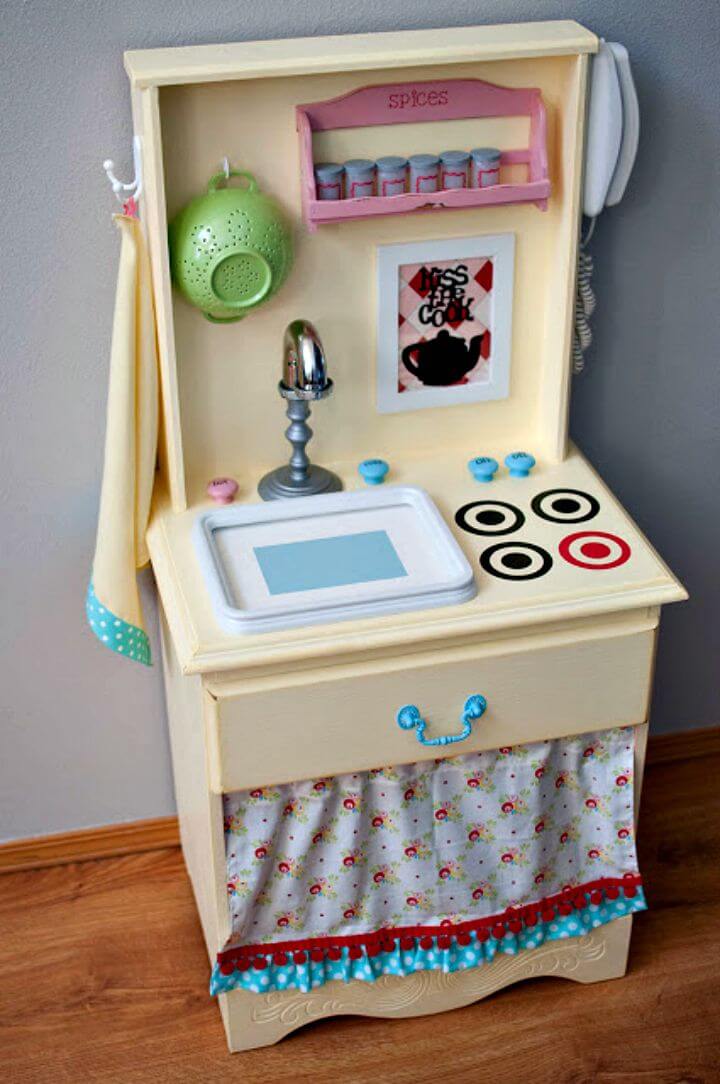 Get inspired of this another brilliant hack for a kids play kitchen. Just recycle also your old nightstands to make full functional designs of play kitchen. Checkout here a sample makeover of the nightstand that has been done to make a perfect play kitchen design that will not take much space. Add the nightstand up with a sink, faucet and also with a faux stove and transform it into a functional play kitchen. Next just install the upper back frame which may come with a spice rack and also with custom hooks for tool hanging. Willing to duplicate this sample play kitchen? Grab the full free instructions and tutorial from here littlegraytable
DIY "Manly" Play Kitchen: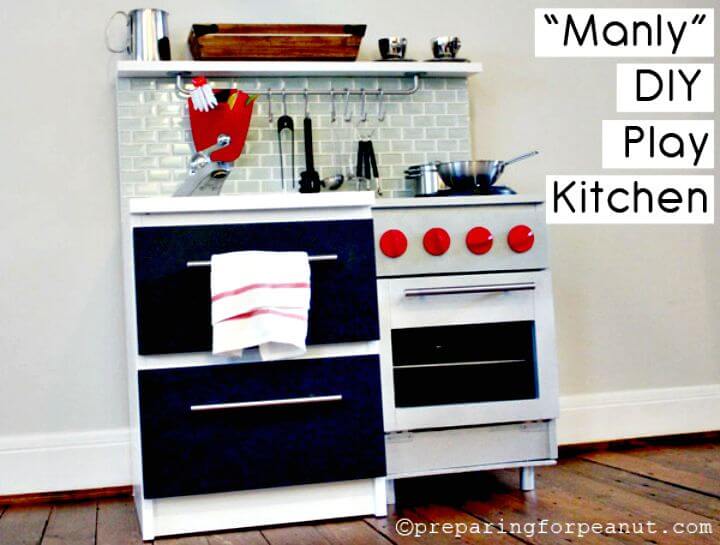 Here is another self-made design of play kitchen that you will definitely like to look at twice. This is here a very modern looking play kitchen that is colorful and storage-friendly and this will also something that will bring amazing modern visual details to any indoor space. Here this play kitchen also comes with the signature features like with the storage drawers, towel rack, an upper back frame having the tool rack and a shelf, a sink and a stove. Here the upper bike frame has been done with tiles and while the entire play kitchen has been painted modern and will definitely make a heart winning gift for a kid. Full project details and tutorial here preparingforpeanut
Super Easy DIY Play Kitchen Tutorial: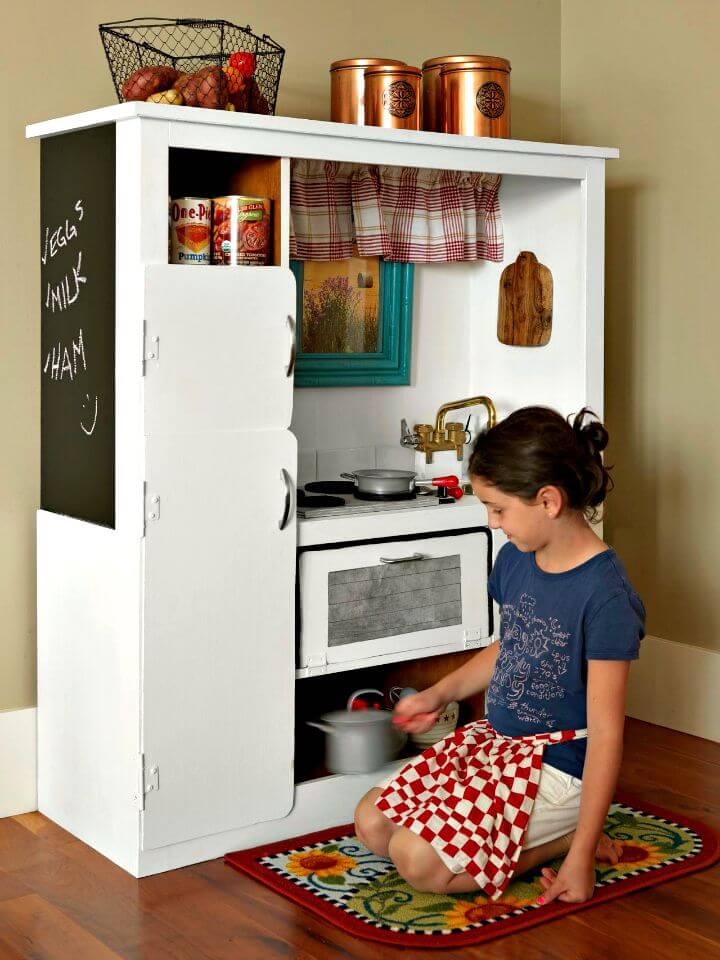 You can also visit the nearby thrift stores to find some old pieces of furniture which can then be refurbished and modified to make beautiful play kitchens for the kids. Checkout here this sample wooden play kitchen that comes with all the necessary features and has been done to inspire. This exclusive play kitchen design actually a smart remake of a thrift store wooden entertainment center that has been added painted in white, added with new doors, shelves and also with a sink and stove. Complete project tutorial here diynetwork
Quick DIY Kids Kitchen for under $10: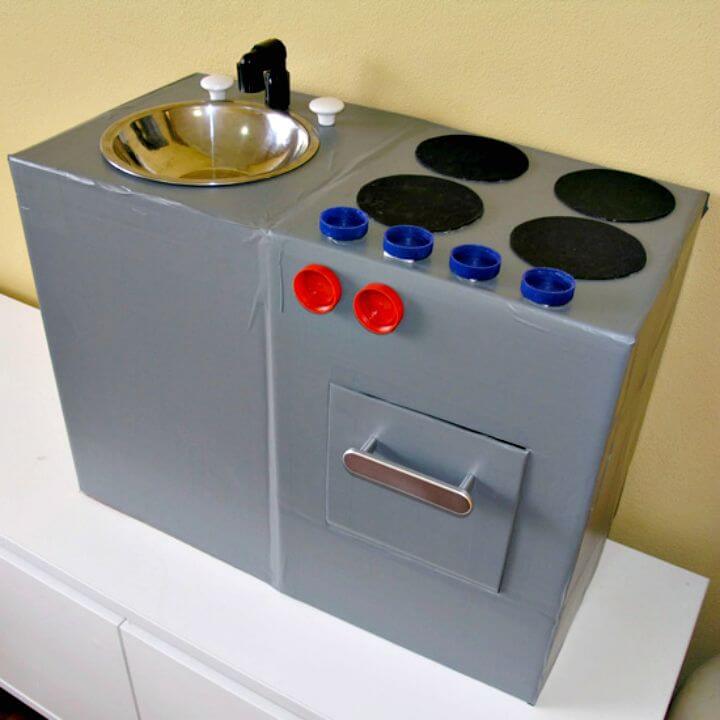 If you are not having enough money in hands but still want to give a good looking and functional design of play kitchen to your kids then here is a what you can do. Just built a functional and featured model of kids play kitchen just by spending less than $10. This is here another IKEA hack for getting a beautiful play kitchen for your kids. Just grab an IKEA aspivik roll front cabinet and then add it up with a custom drawers and drawer handles and with a sink, stove and control buttons and make a great kitchenette for your kids. Here the old plastic glass bottle lids have been used as the stove buttons. Complete tutorial here childhood101
Make Your Own Play Kitchen: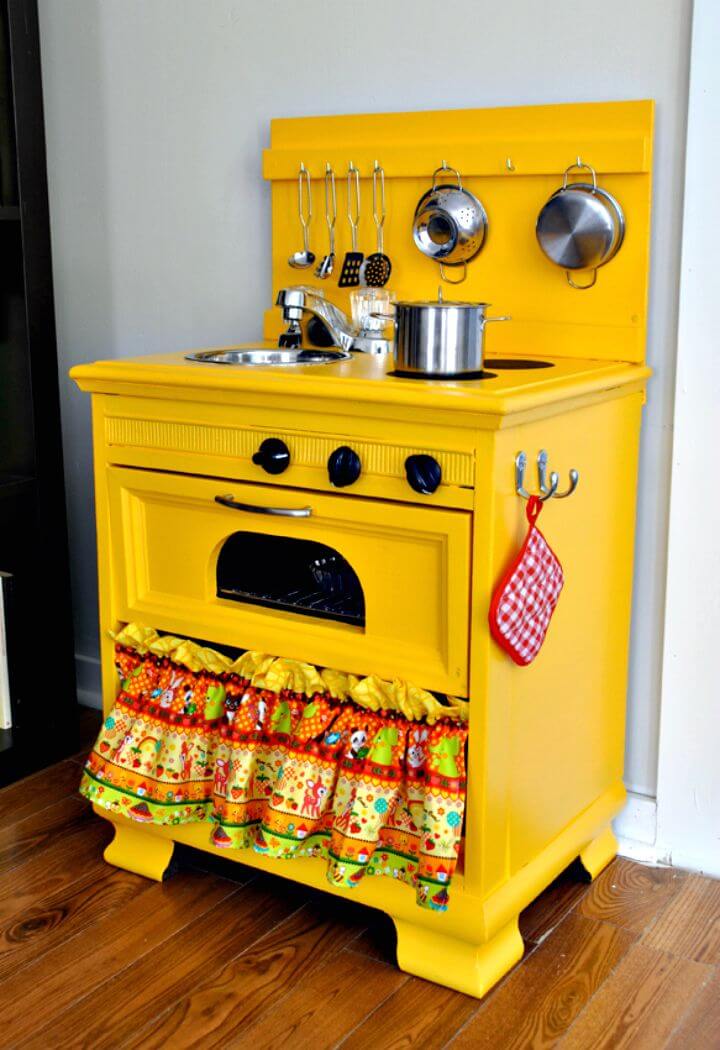 Having nothing to do special with your old nightstands? If yes, then why not get creative with them to turn them into fetching designs of play kitchens? Just peek into details and design dimensions of this sample play kitchen that is made of an old nightstand and it comes with a handsome upper back frame containing the utensil rack. Cut out the in round shape and fit the sink and faucet and next also make a faux stove there. Paint the entire model if kids friendly colors and that's it. Another great hack for functional and enticing looking kids play kitchen. Free tutorial and full project details here bubblestitchquilts
DIY Play Kitchen Set Out Of A Pair Of Nightstands:
Another brilliant restoration of old and retired nightstands here that has been put together to make a brilliant looking play kitchen. Both nightstands have been painted in white and one has been transformed into a kitchen sink and other has been intended to serve as a stove. Here the drawers have been removed from the nightstands to reveal the direct built-in shelves for storage. The sink has been added with a curtain. Use cricut to make the vinyl burner and also add the stove knobs for a near to real look. Grab the full project details and instructions from here thefarmersnest
How To Build Play Kitchen For $50:
Do amazing decorative makeovers of your old play kitchens just to make them look modern and brand new. Paint play kitchen in white, install modern hardwarelike the gold door handles. Marbleize sink and make new faux burners. You can also do the same with your old play kitchen just to add extra grace and charm to them. Complete makeover details here lifewithkymberlyjanelle
Build Your Own Play Cooker: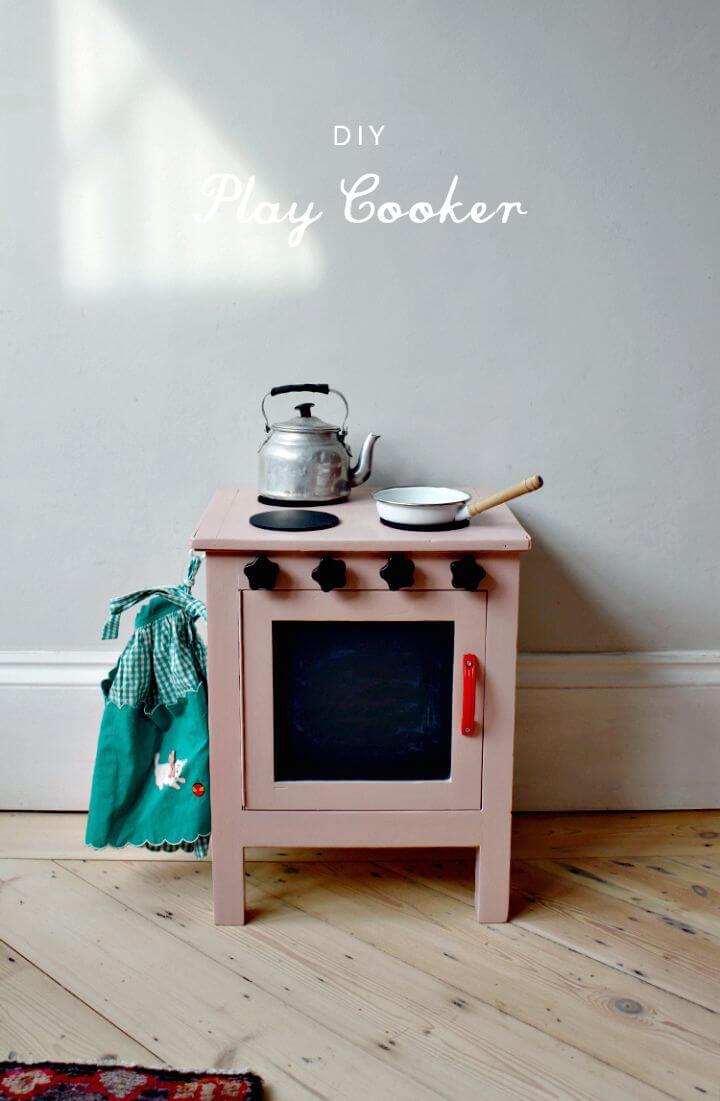 Repurpose also your bedside cabinets and tables to make fantastic looking play kitchens. Extend layout of a bedside cabinet with a plywood shelf and with MDF round burner discs. Paint discs in black. Install stove knobs in front side of the nightstand to create a fetching design appeal. Another cost-efficient hack for a gorgeous looking play kitchen. Complete project tutorial here kidplaydo
Super Easy DIY Child's Play Kitchen: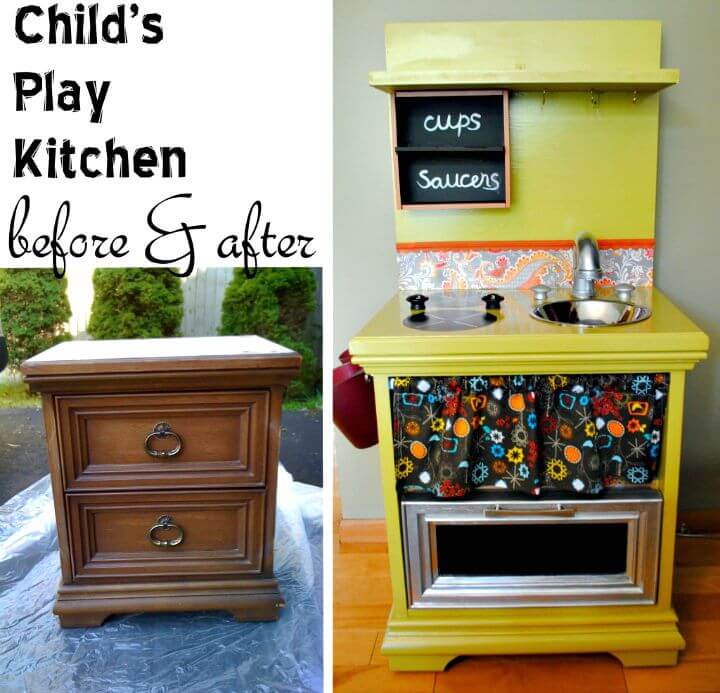 A precious kids' gift to make with hands, a kitchen play kitchen. Project involves transforming a nightstand into a modern looking play kitchen. Remove the drawers, add faux stove and sink features, next build shelves in compartments for storage needs. Complete tutorial here jennaburger
Turn Bedside Table Set Into Play Kitchen:
Again a cool bedside table transformation, appearing into a cool children's stove. Put the bedside table flat and then to finish it up with a handsome wooden top which can come with drop leaves. Then, install a sink and stove. Next add shelves in the compartments according to storage needs. Finish the other compartments with hinged doors to gain some fab looking cabinets. Complete tutorial here designsponge
Adorable DIY Play Kitchen Tutorial:
One more extra brilliant hack is here to inspire your creativity. Transform a bedside table into this chic looking play kitchen. Put together a pair of nightstands for this flawless kitchenette. Just install a sink to the top of one nightstand. Let the other come with a faux stove. Modify the lower compartment to get custom storage shelves, drawers and sub-storage cabinets. Don't forget to paint your finally finished models in your own favorite colors. Grab the full project tutorial and instructions from here naptimediy
DIY Play Kitchen With Farmhouse Style: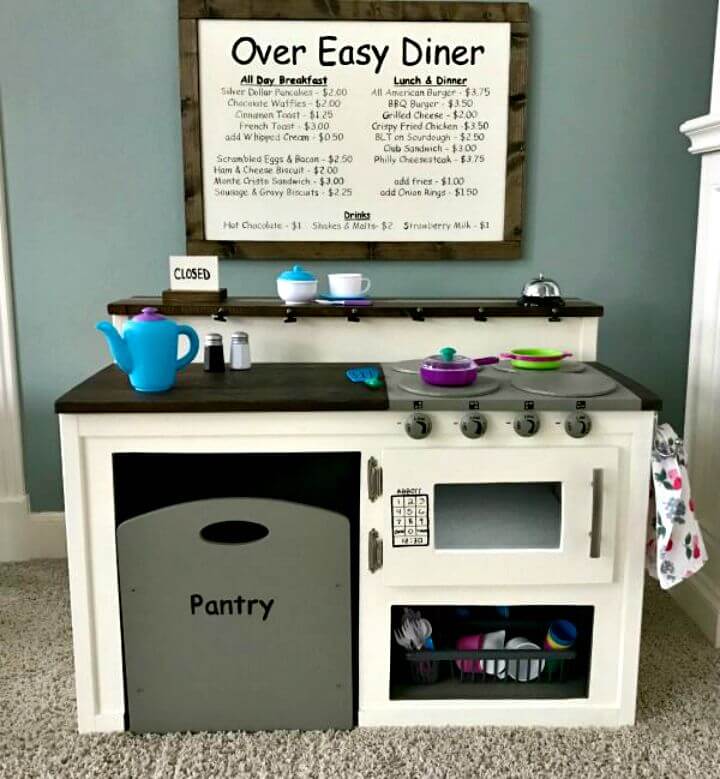 Duplicate this another glam looking model of wooden play kitchen that comes with interesting features and details. Here a farmhouse style play kitchen has been made that is just looking fabulous due to amazing design dimensions. Build overall design with MDF and plywood, next add play kitchen features like the sink and stove. Paint your finally finished model for a custom appeal and also add the custom embellishments to decorate your play kitchen. Complete tutorial and instructions here instructables
Make a Play Kitchen Out Of An Old Entertainment Center: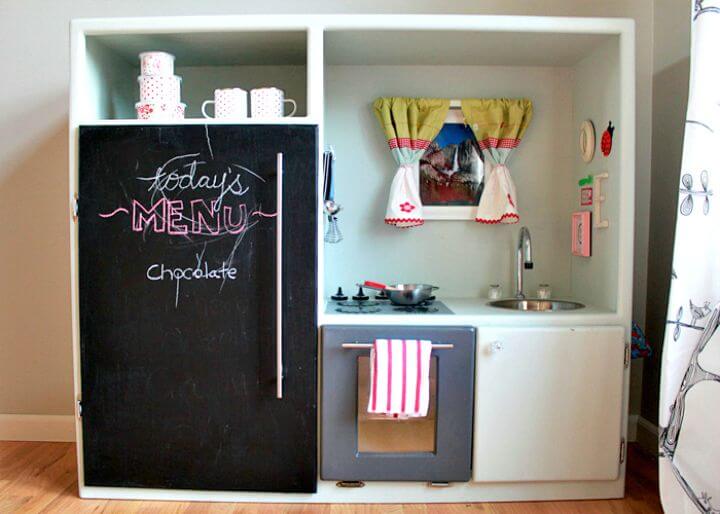 Look at this another creative and fancy creation of play kitchen that will definitely be loved dearly by all kids. Here an old entertainment center has been repurposed to build this very fantastic looking kitchenette. Paint entertainment center for a chic white appeal, install doors to secure the storage compartments. Install you stove and sink and make a brilliant looking play kitchen for your kids to play with the siblings. Full project tutorial and instructions here kitchentreaty