If added to our backyard or garden space, a swimming pool can really be a big fun way to beat the summer heat! It can also make you live some memorable moments of life while enjoying a poolside with a couple of friends, kids and family members! Every time the scorching sun makes your life bored, you can just get refreshed just by taking a very look at your swimming pool and if you just dive deep into it, it will totally remove the boringness from you! However, having a swimming pool in your backyard or garden is what the luxurious life demands but installing a swimming pool in your garden can cause a big load on your wallet!
However, you can prefer to get physically involved in building some outdoor swimming pools to gain some brilliant swimming pools without breaking the bank! Just to make you install a swimming pool of your dream at your outdoor or homestead, we have compiled together these 12 DIY swimming pool projects that are all mind-blowing and each project is full of professional planning and construction process, so you will learn all hacks to install a beautiful swimming pool!
However, installing swimming pool can also be beneficial commercially as it can really increase the resale value of your home! After taking a short tour of these brilliant DIY swimming pool projects, you will just become a master in installing a great looking and fantastic swimming pool at minimum possible investments! All these swimming pool projects are also budget-friendly and everyone can try any of these swimming pool projects to enjoy the life more! These swimming pool projects also provide different budget range and skill levels, so you can just choose your favorite projects according to budget and skill level!
Go handmade with rustic pallet skids and make brilliant looking round swimming pools that will definitely bring a flair of freshness to your outdoor! Install the market bought swimming pools to your garden and then add wooden decks around them to make them look extra great and beautiful, get inspired by a lovely sample given here! Install also the luxurious swimming pools that will definitely change your life and will be super fun-making and will turn your home into a dream house for sure! Get smartly crafty also with your dumpsters and transform them into fab looking swimming pools!
DIY Projects You'll Love for Home Outdoor:
Build the natural looking swimming pools to your home that may come with natural stones all around the boundary! Go also smartly handmade with bales of hay and build very natural looking garden swimming pools without getting a bit expensive! Build also the inground swimming pools that will be a super fun spot for a whole family and friends! Check out brilliant swimming pool samples are given below in the list and get inspired!
Just click once the attached source links to open the complete details for your favorite DIY swimming pool projects and also the comprehensive guides and step-by-step instructions for free!
Make a Swimming Pool Out Of Pallets: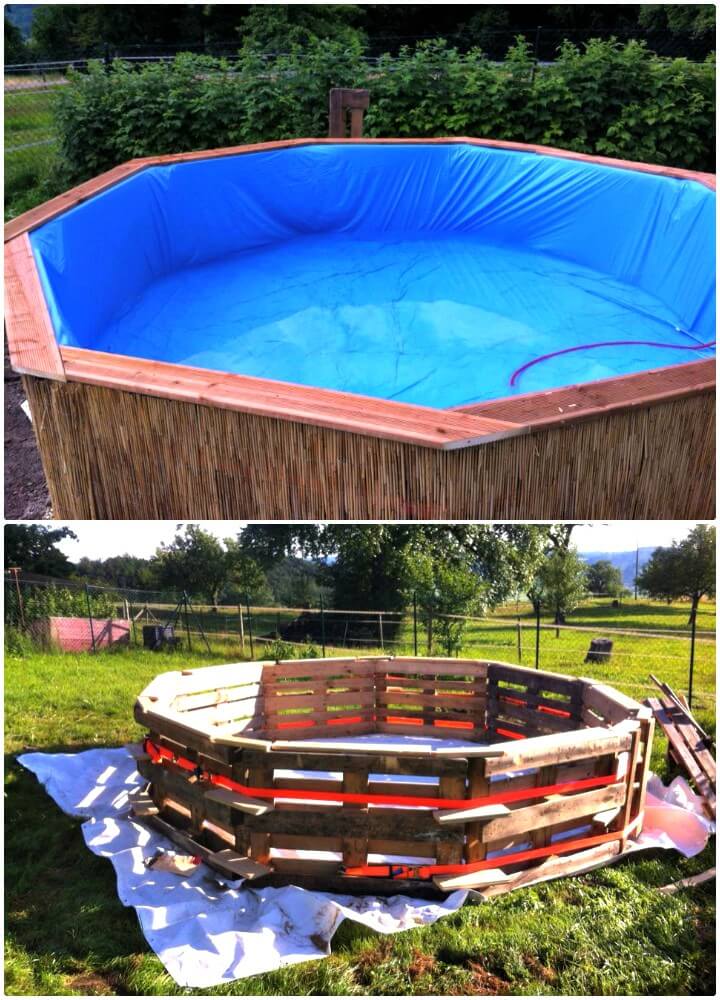 If you are intending to enjoy the summer season then you should definitely install a good looking swimming pool in your backyard or garden! You can install great looking swimming pools to your backyard without getting expensive! Check out here the fantastic wooden swimming pool that is made out of pallets that have been put together making a perfect round wooden wall which has been covered from inside using waterproof fabric! Complete project instructions here Pallet Projects
How To Turn Dumpster Into a Swimming Pool:
If you have just decided to dive deep into a swimming pool to beat the summer heat then you can also make a beautiful looking swimming pool out of an old dumpster that may be in your backyard or at any outdoor! Get inspired of this lovely dumpster swimming pool that is looking lovely due to beefy block style wooden dimension and has been made waterproof! Here you need to use extra wood along with a waterproof fabric to duplicate this great looking swimming pool project! Grab the full free instructions from here hgtv
DIY Swimming Pool 1000L IBC and Some Pallets: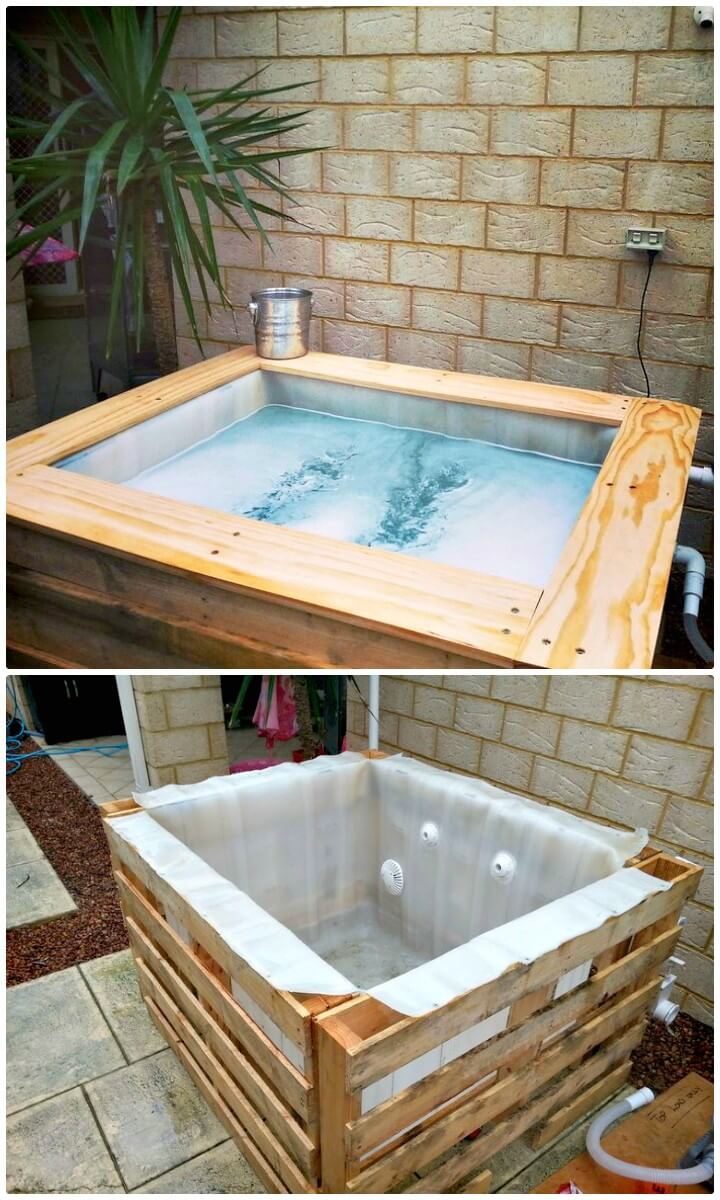 Have a look at this another low-cost wooden swimming pool that is made of sturdy wooden pallets and is really looking beautiful! Here 4 beefy wooden pallets have been put together to make a perfect square boundary of the swimming pool and next to the interior of this swimming pool has been covered with a waterproof fabric! Install the water pipes and pumps and make sure that all you have done is waterproof, double check for any leakage! Grab the full free tutorial and instructions from here instructables
How To Installation Swimming Pool:
You mostly need to hire professionals while installing a swimming pool to any of your outdoor space! But you can also install your own beautiful swimming pools at home like a pro just by learning the basic technique and knowledge! Here this sample swimming pool installation will really make you learn all the hacks and tips that you can use to install a beautiful and modern looking swimming pool to any of your outdoor or backyard! Complete project details and instructions here compasspools
Make Your Own Magiline Swimming Pool:
Check out here the super luxurious swimming pool that has been installed to own a modern living style and is really something super praise-worthy! But the very good news is that you can also install this swimming pool at home like a pro just by learning the perfect DIY guides! This is here the magiline swimming pool that is a professional construction and shared here as a smart DIY swimming pool project! Now you no need to hire professional help to install a modern swimming pool, you will be provided all the help and tricks here! Need to install this swimming pool to any of your backyard space? If yes, then complete project tutorial and step-by-step instructions here merlinswimmingpools
How To Build Custom Swimming Pool:
If you are intending to build a custom swimming pool to your outdoor which may come with lots of stairs and water levels then you will definitely like this sample swimming pool that has been done to inspire and is really looking lovely! Here the ground space has been dug deeper continuously after each step and hence a stepped swimming pool has been installed that is really looking lovely and enticing! Another great summer swimming pool project that you will love to duplicate in your spare time! Want to see this swimming pool next to your backyard or garden? Grab the full free instructions and tutorial from here designyoutrust
DIY Dream Swimming Pool From Scratch: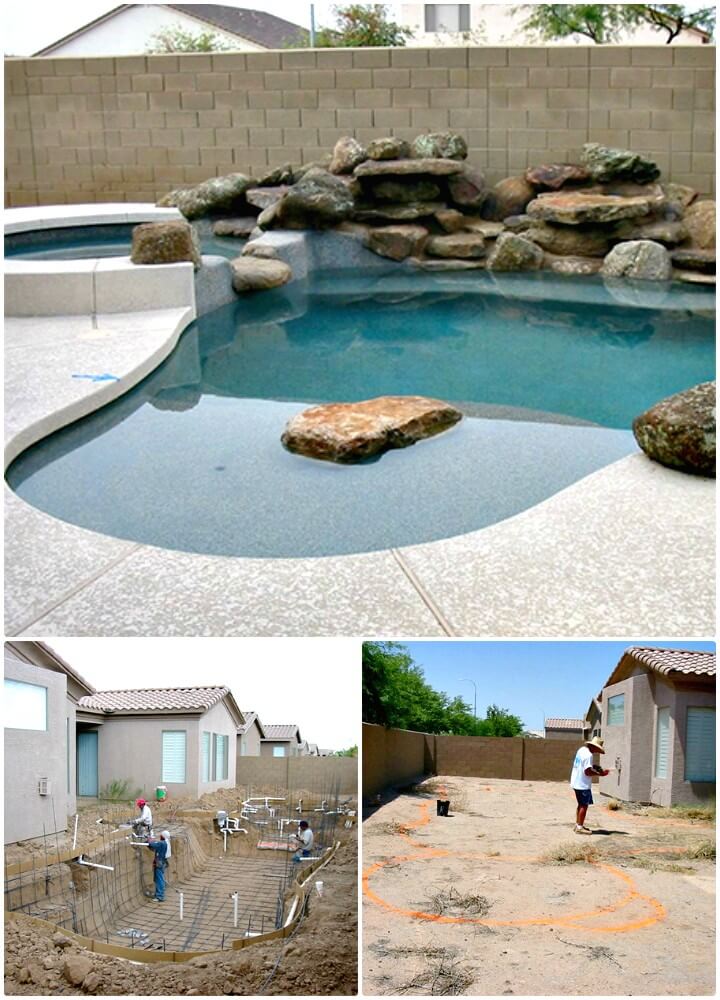 You can make all different kinds of swimming pools at home without getting a big expensive just by using your own creativity and imaginations! Check out here another fab looking swimming pool that is also purely self-installed and is something that will create a divine look of any home outdoor! Enjoy summer with the whole family by installing this special swimming pool to your outdoor! Here this dream swimming pools has been decorated with stones put all around its side that creates a dreamy natural look of this swimming pool! Another great swimming pool project that every home lover can do! Complete project instructions and step-by-step tutorial here home-dzine
DIY Natural Swimming Pool Tutorial:
One more exceptional swimming pool project is here that has been done to inspire! Here this very natural looking swimming pool has been installed to enjoy the summer more with friends and family! Plan out the space, dig it and then place the waterproof felt! Next give the swimming pool a fab interior made of rocks and next add benches all around and fill it up with water! Don't forget to give the swimming pool a brilliant tile floor! This is here another brilliant swimming pool project that you will love to copy! Complete project instructions and tutorial here davidwolfe
Adorable DIY Medallion Inground Swimming Pool: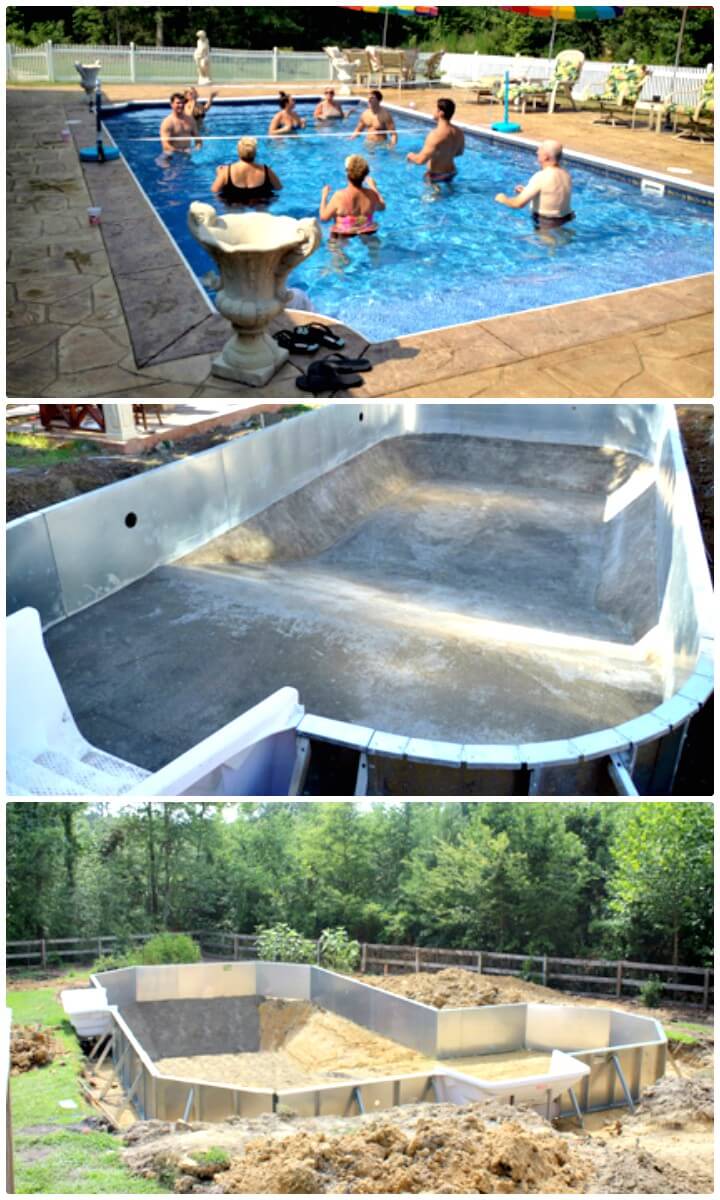 You will definitely fall in love with this another great medallion in the ground swimming pool that has been done to inspire and rock! The installation is also the same like other swimming pool projects and involves digging a hole, making the waterproof interior using walls and braces, building the special tile floor, adding the waterproof fabric and next just finish the plumbing! This is here another great looking swimming pool project that you can duplicate to boost the water fun of your outdoor to peak level this summer! Willing to duplicate this inground swimming pool? If yes, then just grab the full project details and instructions from here medallionpools
How To Make Swimming Pool – Inexpensive Project:
Willing to install some gorgeous swimming pools to your outdoor that will come with fantastic wooden deck also? If yes, then here is a brilliant hack for it, just install the normal kids swimming pool to your outdoor and then install a wooden deck all around to catch the sun rays, to enjoy the poolside sitting and also to make gossips with friends! This precious swimming pool with wooden deck is pretty cost-efficient to install and build and you can also clone it for any of your outdoor you want to develop this summer! Step-by-step instructions here Pallet Ideas
Gorgeous DIY Concrete Swimming Pool:
You will definitely fall in love with this fantastic concrete swimming pool that has been done to inspire and rock your outdoor! Here the idea building this swimming pool is also simple and smart! Just decide the space for swimming pool installation and next go for structural steel reinforcing! Next stack the concrete blocks for building concrete walls of the swimming pool and next just install the stairs and finish plumbing! Moreover, you can also install a custom roof to this swimming pool and can make it look more eye-catching and gorgeous! Another budget-friendly swimming pool project that you can do at home! Grab the full project details and tutorial from here instructables
DIY Swimming Pool From Bales Of Hay: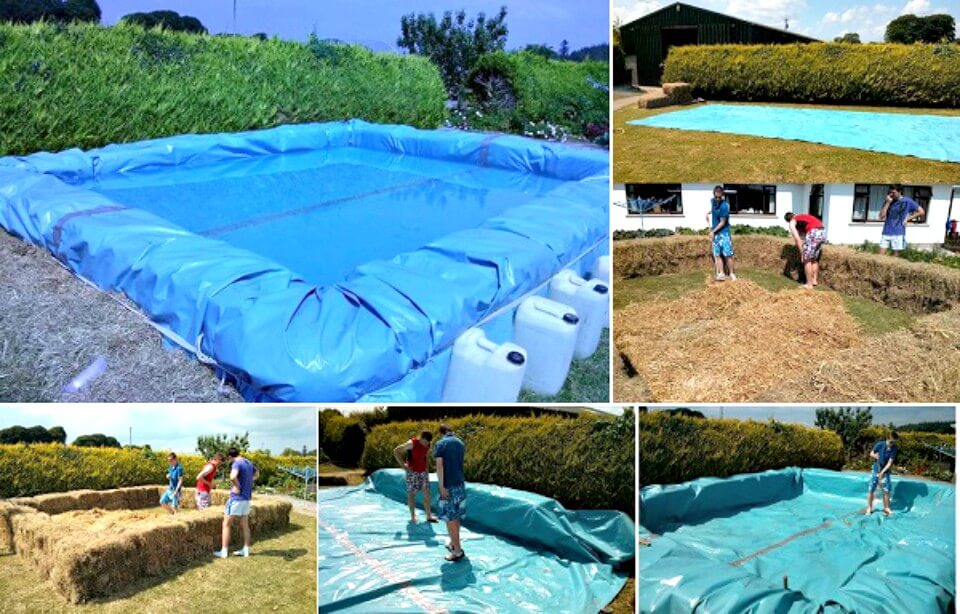 You will definitely fall in love with this another great design of swimming pool that will rock any outdoor! This is what you need to develop and improve your outdoors for summer fun, a fantastic swimming pool that comes in a rectangular shape and looks just lovely among the garden greenery! Here the boundary walls and floor of the swimming pool has been made of bales of hay and this really create a very natural looking raised dimensions of the swimming pool! Finally the outdoor waterproof fabric has been installed to inside the swimming pool! Complete project instructions and tutorial here goodshomedesign