The Perler beads are becoming highly popular around the globe as a versatile crafting material, and there are tons of different Perler bead ideas out there that anyone can do! So, to do some fun crafts, check these 40 best and free Perler bead patterns, designs and ideas that are super creative and genius. This list will provide you the so many easy Perler bead patterns to get crafty with the Perler beads for making lovely accessories, home decor, gifts and various other items that are on your need-list!
Jewelry making is a great technique and art, and the most used items for making jewelry are rhinestones, beads, and pearls! So, the Perler beads are not only to make great pieces of jewelry, but they can also be much more if you think from the genius perspective of thinking.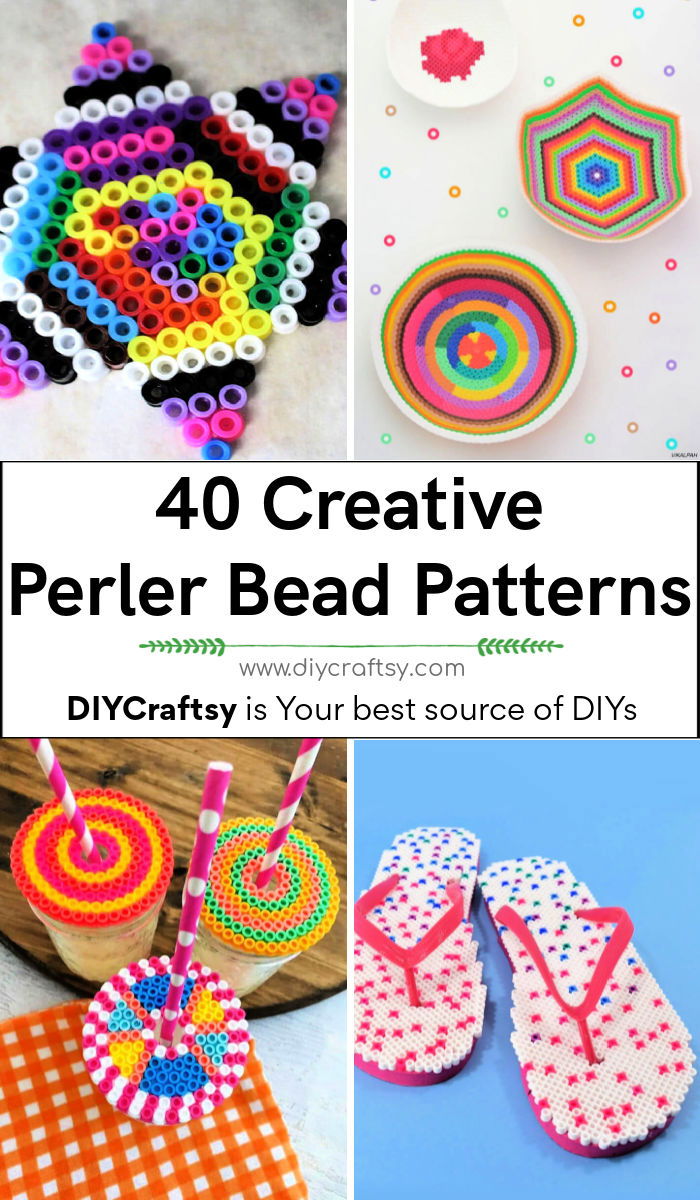 Check these 40 unique and easy perler bead patterns given below in the list to craft your own today! Each perler bead pattern includes step-by-step instructions and easy to follow visual guide.
1. Perler Bead Emoji Keychain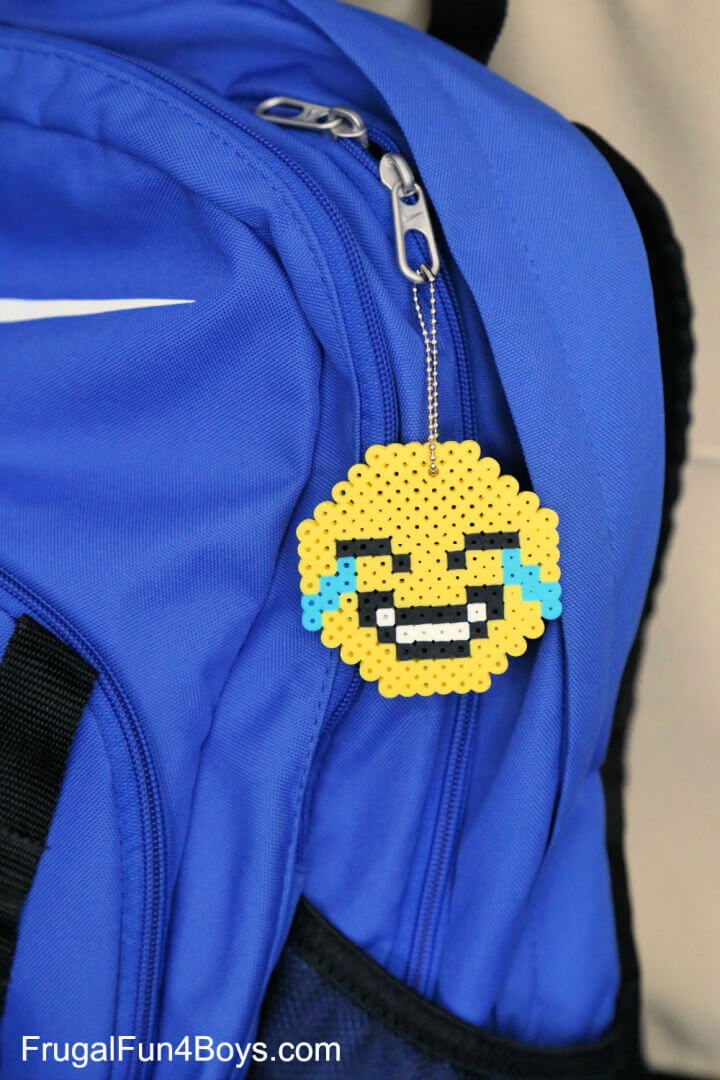 Crafting Perler's beads emojis is full of fun and enjoyment. Use these beads emojis to embellish or DIY your keychains. You can make these keychains to hang with kid's bags or your car keys. If you are new to Perle's beads, you would love to know about them! These perler beads are little and super cute to use in crafting projects. Use a pegboard for embellishing and making these emojis keychains. frugalfun4boys
2. Perler Bead Flip Flops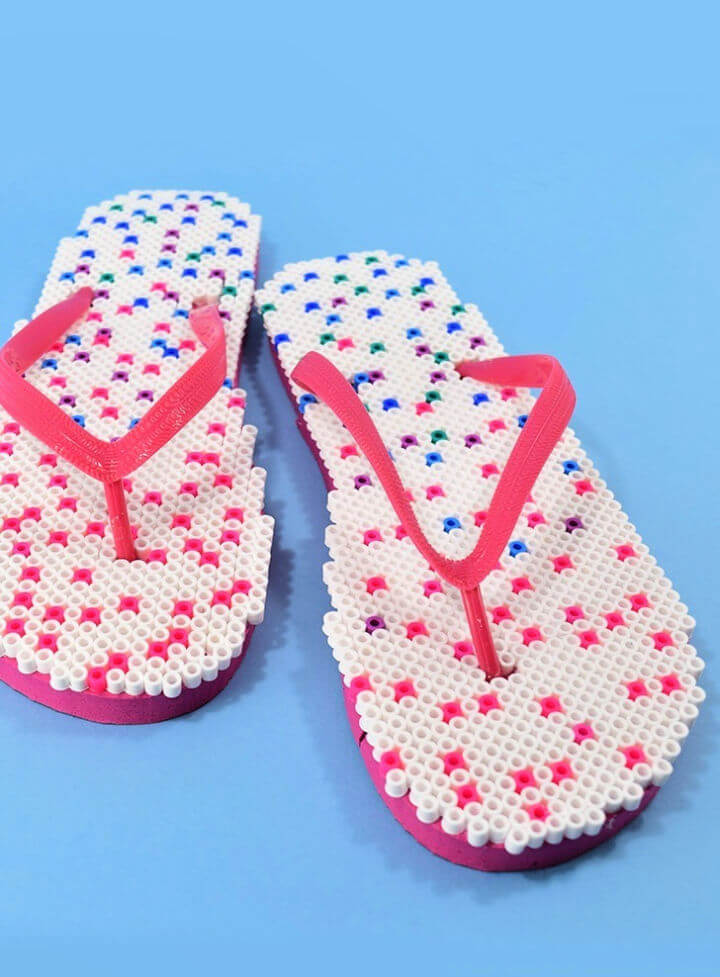 Enjoy this spring season with these colorful and vibrant flip-flops. Perler's beads, flip flops, pegboard, iron, and strong glue are the whole supplies to make these beaded flip flops. You can reuse a pair of old flip-flops to decorate with attractive beads. While gluing the beads, remove the straps for your ease of work. Once you have done ironing the Perles on the pegboard, place them on the flip-flops with glue. dreamalittlebig
3. Easy DIY Perler Bead Mermaid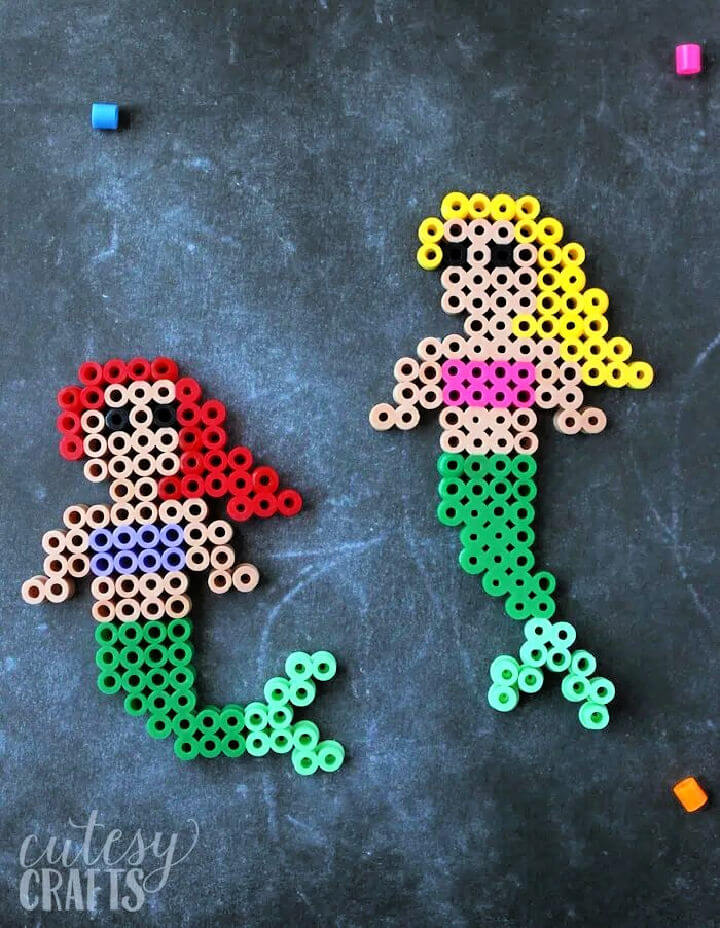 No doubt, kids get bore in Sumer holidays while staying at home. Kill their boredom by involving them in creative and innovative activities. Let them craft these beaded mermaids with Perles. They would love assembling pearls in Perler's trey. Moreover, if they are new to drawing and sketching, provide them with printable mermaid templates for ease of work. Not only the kids, but you can also work on this craft activity to relax and have fun. cutesycrafts
4. DIY Minecraft Perler Beads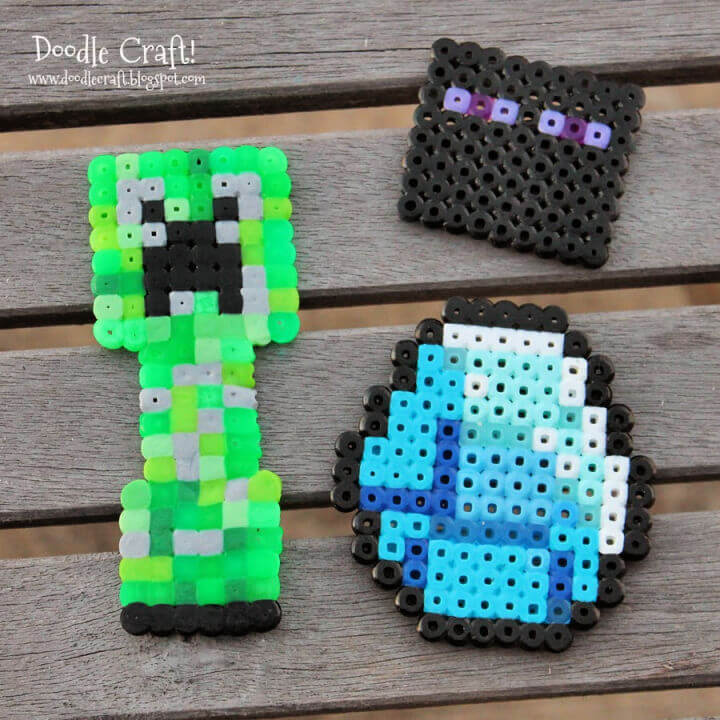 Well, girls are more excited about melting beads than boys. Let your little daughter to craft something different and unique for her art project with Perler beads. If she is not familiar with Minecraft, this project will be a great initiative for her. She would love creating the zombies and creepy swords with melted beads. You can also help her crafting these Minecraft especially, for the ironing step. doodlecraft
5. DIY Minion Perler Bead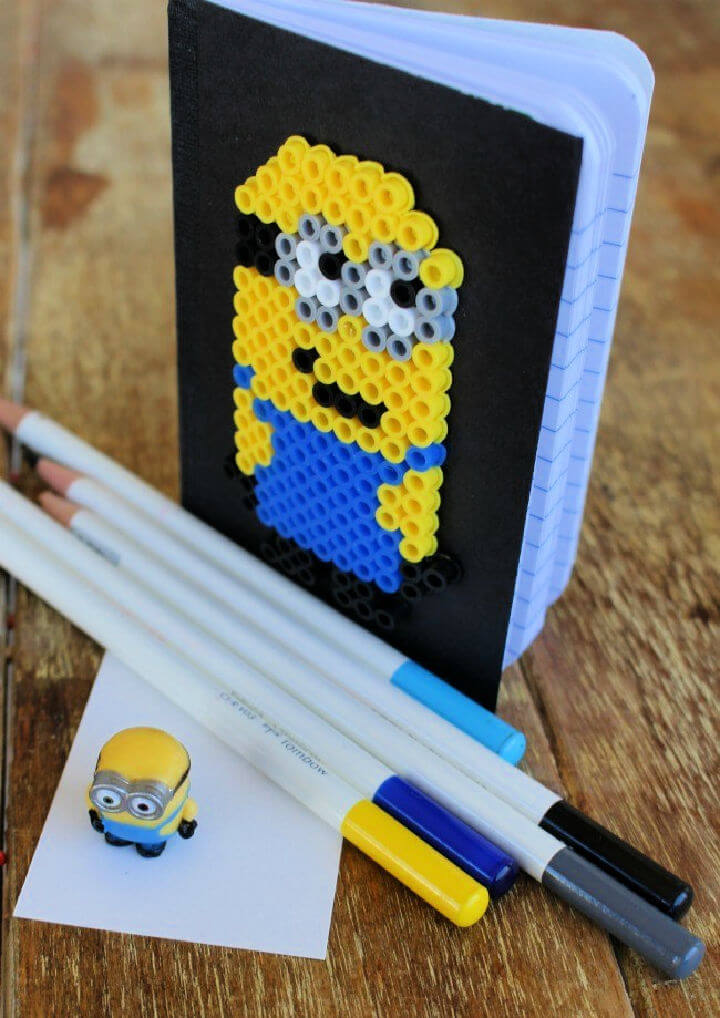 Decorate your notebooks, mobile covers, and kid's bags with these minion Perler beads. Download a free minion template online to make these covers effortlessly and efficiently. If you don't want to make a minion with a template due to less time and laziness, buy a Perler beads minion kit from a craft store. Later, you only need to use glue to stick the beads on the ready-made minion template. Kids would love and adore this fun activity. meandmyink
Watch This Video: DIY Perler Beads Cord Organizer – Perler Bead Patterns (04 Minutes 18 Seconds)
6. Summer Perler Bead Pattern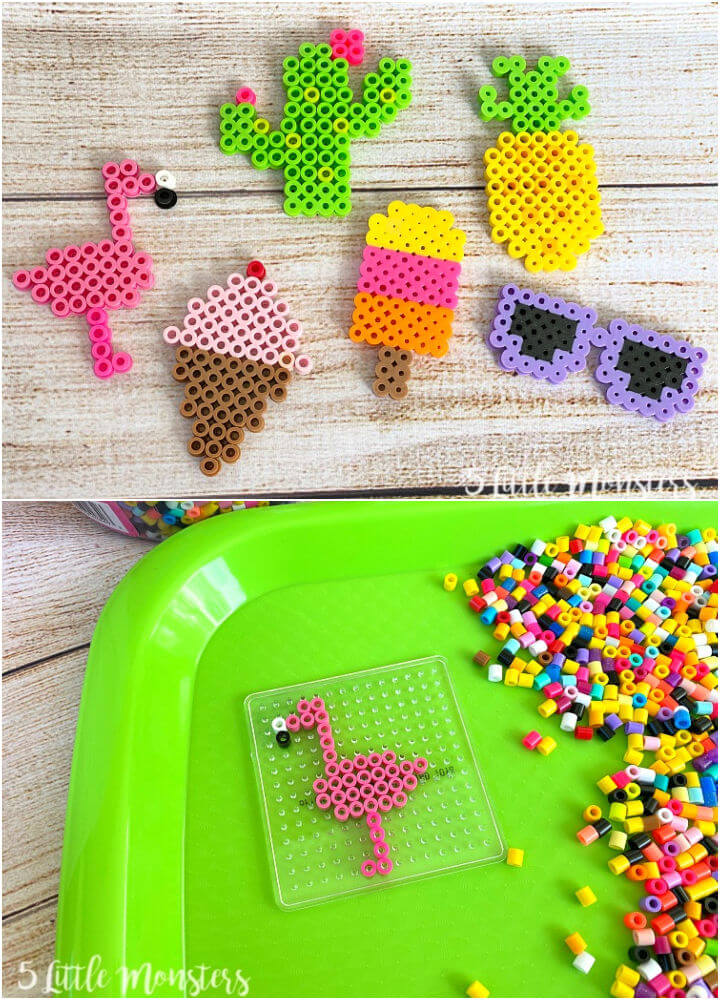 Kid's craft activities are more fun-loving and pleasing in the Summer season. Provide your kids with a pack of Perler beads and a kit to make the summer crafts. Instead of using the iron, you can use a circuit machine for transferring the beads permanently on the sheet. Additionally, let your kids craft their favorite characters in their own way instead of providing them with templates. Kids can also use the magnets at the ends of these crafts for kids to attach them with their iron toys. 5littlemonsters
Easy Craft Ideas:
7. Winnie the Pooh Perler Bead Keychains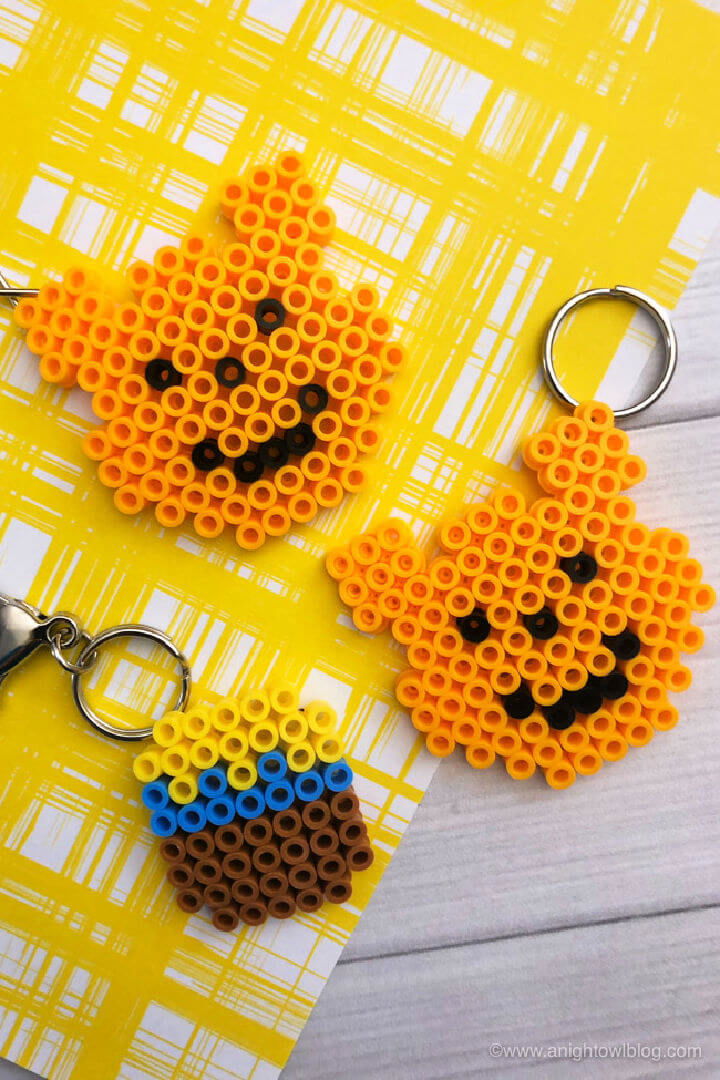 For your litter Disney lover, craft these colorful keyrings with affordable and incredible craft supplies. No wonder pooh is everyone's favorite character. You can create these Winnie the pooh keychain for the back-to-school day for your kids. Download the free Winnie the Pooh pattern online and use Perler beads in blue, yellow, black, and orange colors to make these key chains. Be careful while ironing and transferring the beads from a pegboard to a circuit sheet. anightowl
8. Mario Perler Bead for Kids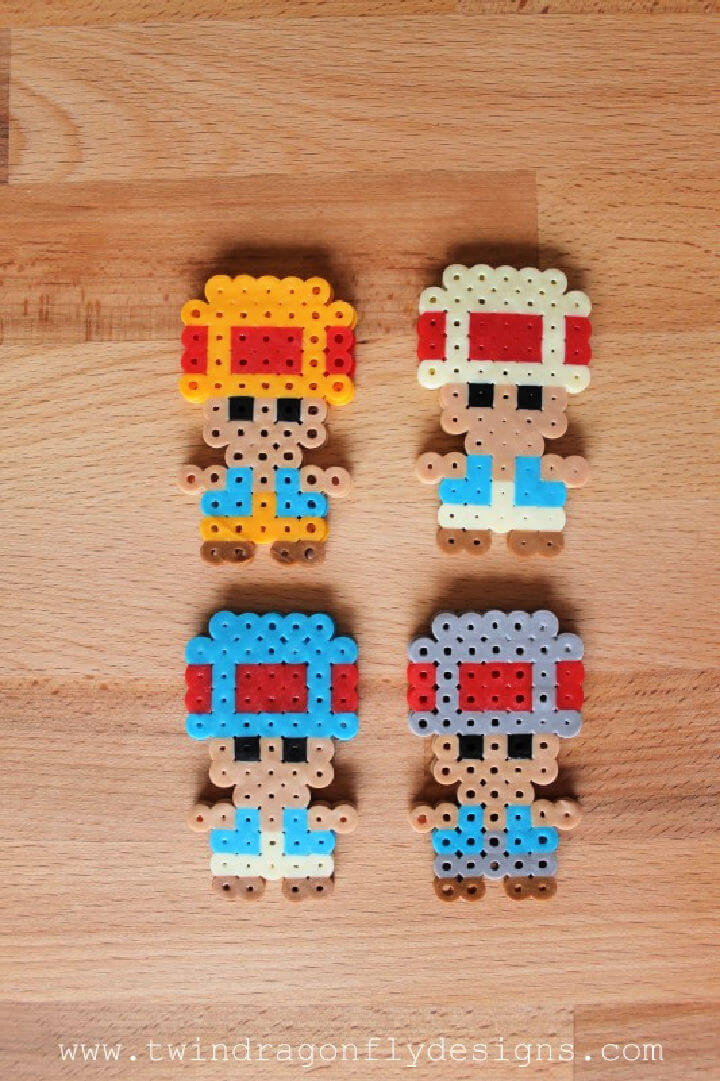 Use white, blue, red, orange, skin, and brown color Perler beads to make these super cute Mario. Basically, it is a kid's craft activity to engage and teach them color's differences creatively. Teachers can also involve their younger students in this craft and fun-loving activity. Moreover, use a Mario template to make with these Perler beads. It's not necessary to choose the same Mario color beads to create this piece of art. Kids can choose the colors of their choices to make Mario's. homemadeheat
9. Halloween Perler Bead Earrings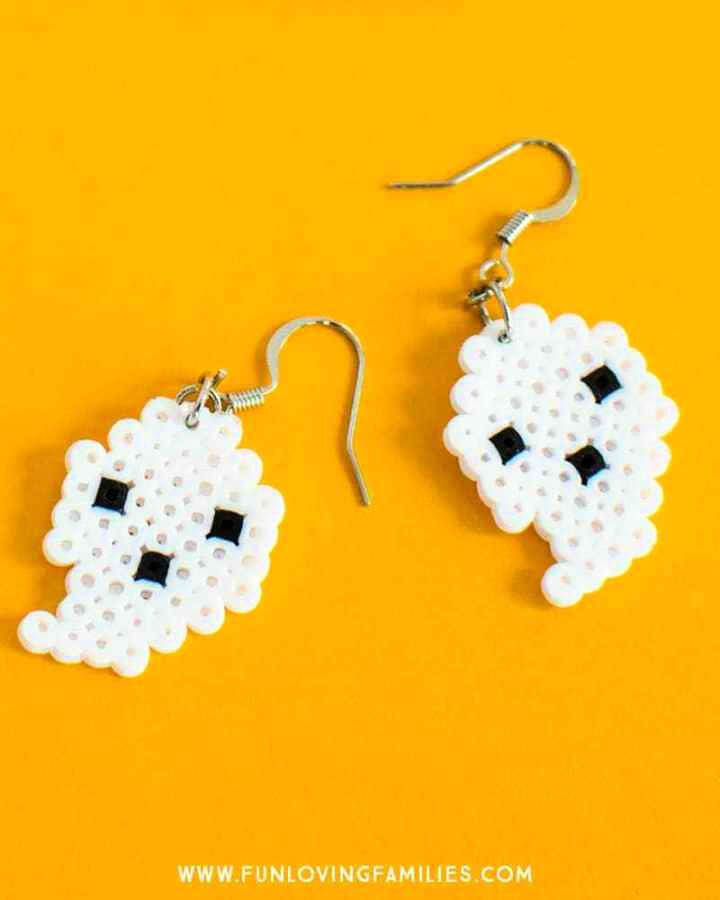 Complete your Halloween costume with these super adorable and easy-to-make Perler beads earrings. Use the beads of your favorite color and choice to make these ear hoops for dressing up at a Halloween party. You can create a ghost or any other spooky character with pearls according to the Halloween theme. Use jump rings and earring hook to get these beaded ghosts in the form of earrings. funlovingfamilies
10. Perler Bead Star War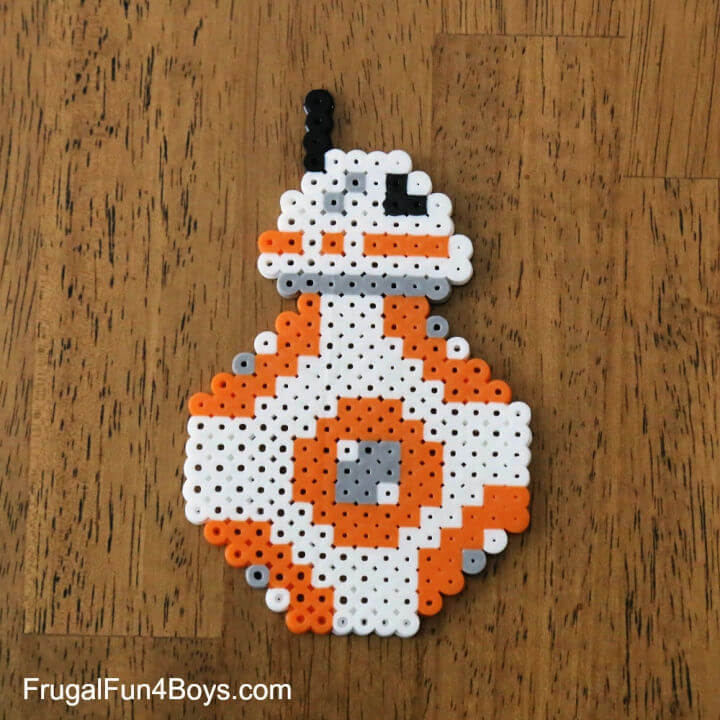 Create the featuring crafts and patterns for your kids of their favorite characters. For making these Star Wars featuring characters, use Perler beads and free templates. It would be easier for the kids interested in drawing and sketching to make these characters, even without templates. Use a pegboard, template if required, beads and glue to create these attractive Star Wars characters. frugalfun4boys
11. Citrus Perler Bead Coasters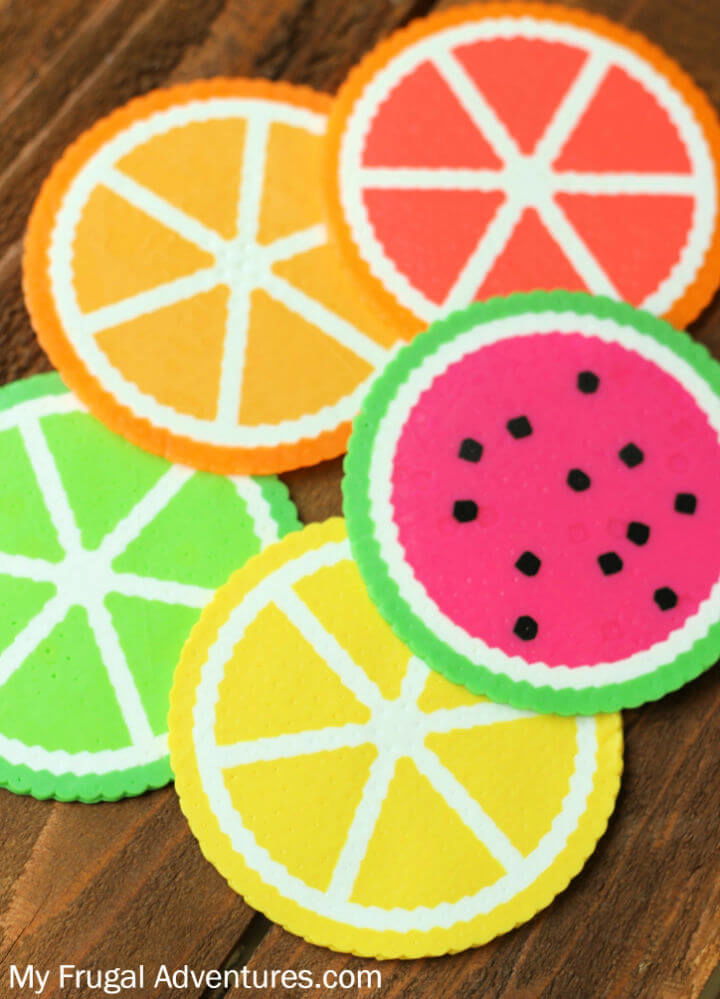 Bring more fun and colors to your coffee table with these vibrant and lively Perler beads citrus coasters. Not only for the tables. But you can also use these trendy coasters for kitchen decoration. It would be more fun-loving and easier for you to create the template and print them using a citrus machine. Perler beads will add more colors and spring reality to these coasters. Use a circle pegboard to make these fruity coasters. myfrugaladventure
12. Perler Bead Picture Frame Heart
Celebrate this love season in a new and more lovable style. Create this heart shape photo frame with colorful Perler beads. Kids can also work on this DIY photo frame and craft activity. Use a heart-shaped template to make this frame more effortlessly. You would love to display your precious moments with your loved one in a picture inside this frame. redtedart
13. Fuse Bead Grip for Nintendo Switch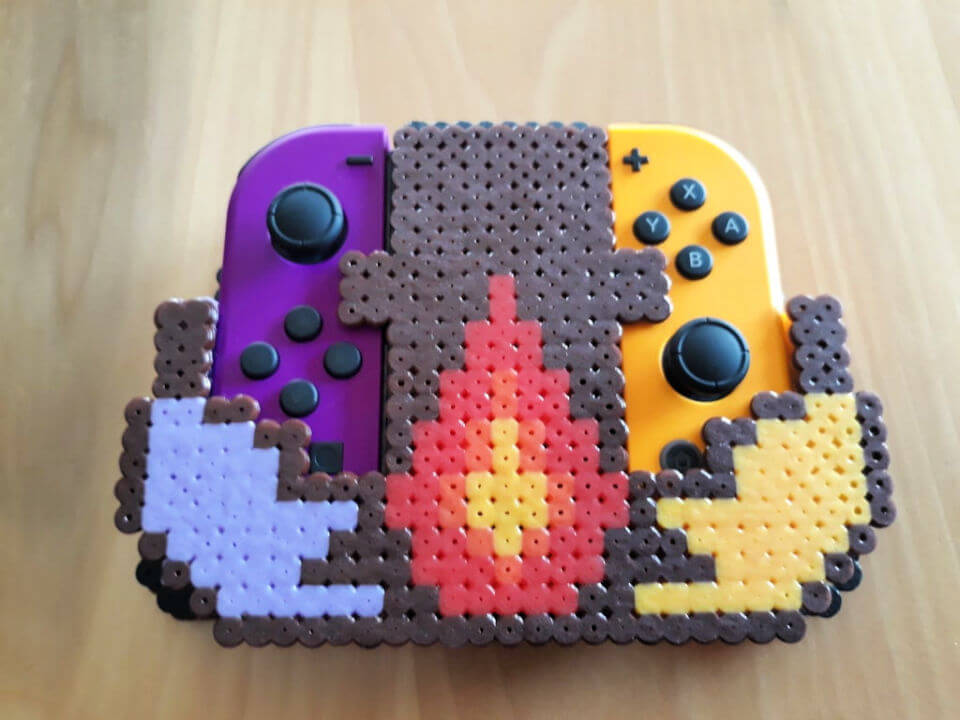 Fuse beads are in trend and look everywhere in craft projects. You can also use these beads more creatively for some productive art projects. Create these Nintendo switch grip with colorful and your desired colors of Perler beads. To make this grip, you can choose the pattern or template of your choice. Additionally, you require enough time and a collection of fuse beads with a larger pegboard to create this Perler beads Nintendo switches grip. instructables
14. DIY Harry Potter Perler Bead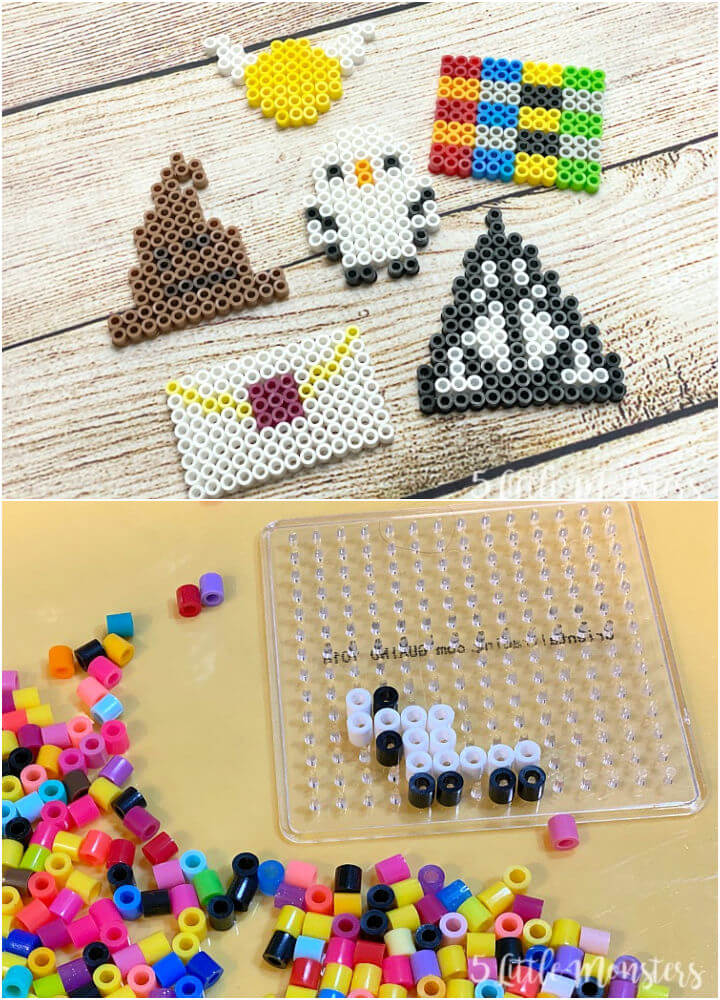 Involve your kids to do some theme crafts for their birthday table decoration by themselves. Provide them with all the affordable and non-dangerous craft supplies to create these Harry Potter characters. Use fuse or Perler beads to make these characters more exciting and fun. If it's difficult for the kids to work without a template, download it online. Appreciate your kids and their efforts to craft these mesmerizing beaded Harry Potter characters. 5littlemonsters
15. Fast Food Perler Bead Coasters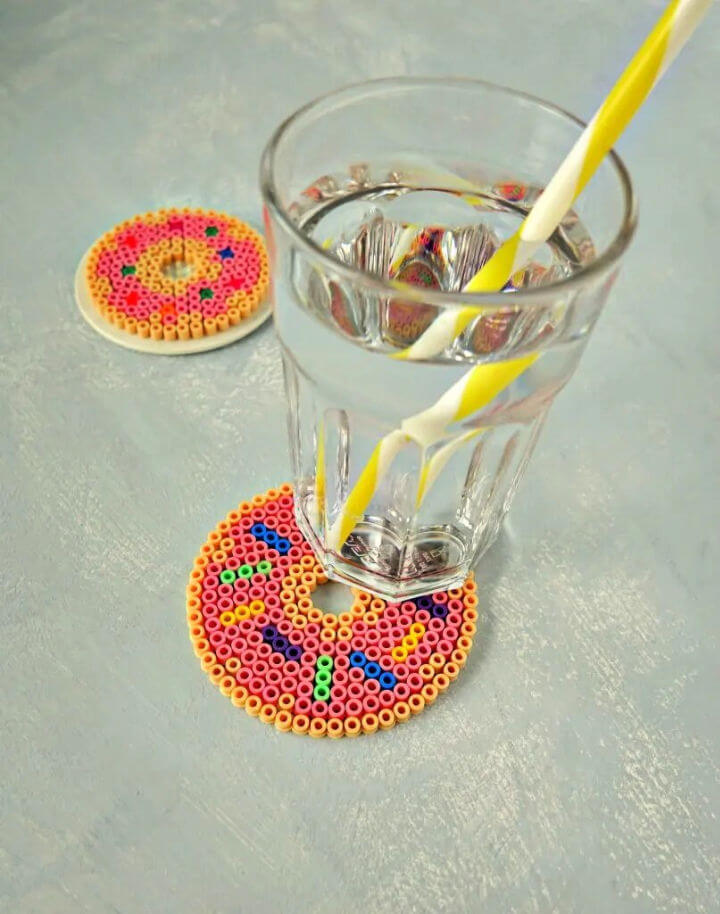 Coasters play a vital role in keeping your tables clean from coffee and tea stains. Not only for the cup's support, but you can also use them for décor purposes. Reuse your old wooden coaster and recreate them into colorful beaded table tiny mats. For this, use Perler beads in different colors and combinations to add more fun to this creative and stylish craft activity. themakeupdum
16. Dinosaur Perler Bead for Kids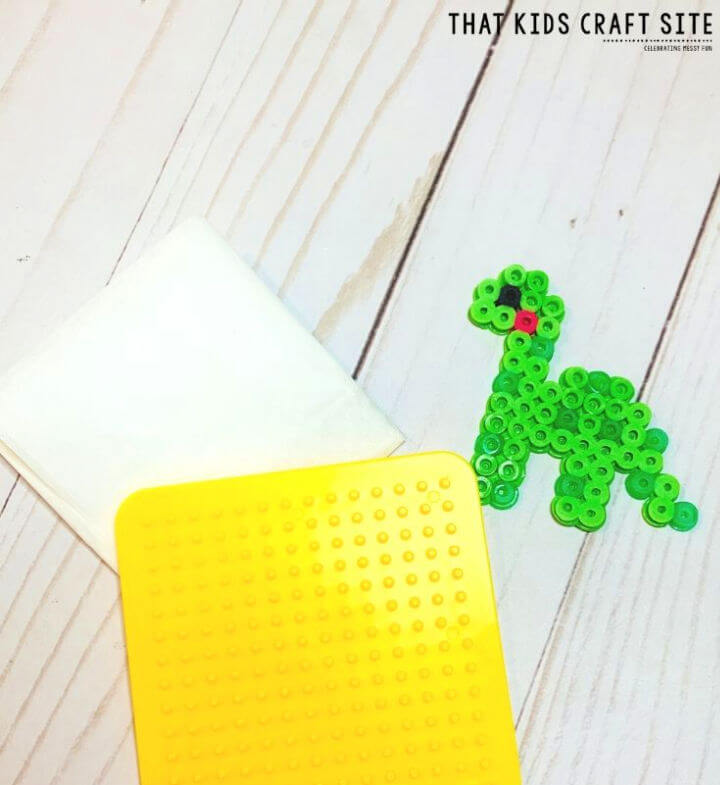 Boy's love crafting and having Dinosaur toys in their collection. For Dinosaur lovers, this activity is an ideal option to consider. Kids can make their own style of dinosaurs using fuse beads. It's not necessary to create the green beaded dinosaurs. Go with your favorite color beads to make this mysterious creature. If you have a template and the right size pegboard, you will make this DIY dinosaur in no time and effort. thatkidscraft
17. Perler Beads Bowl with Designs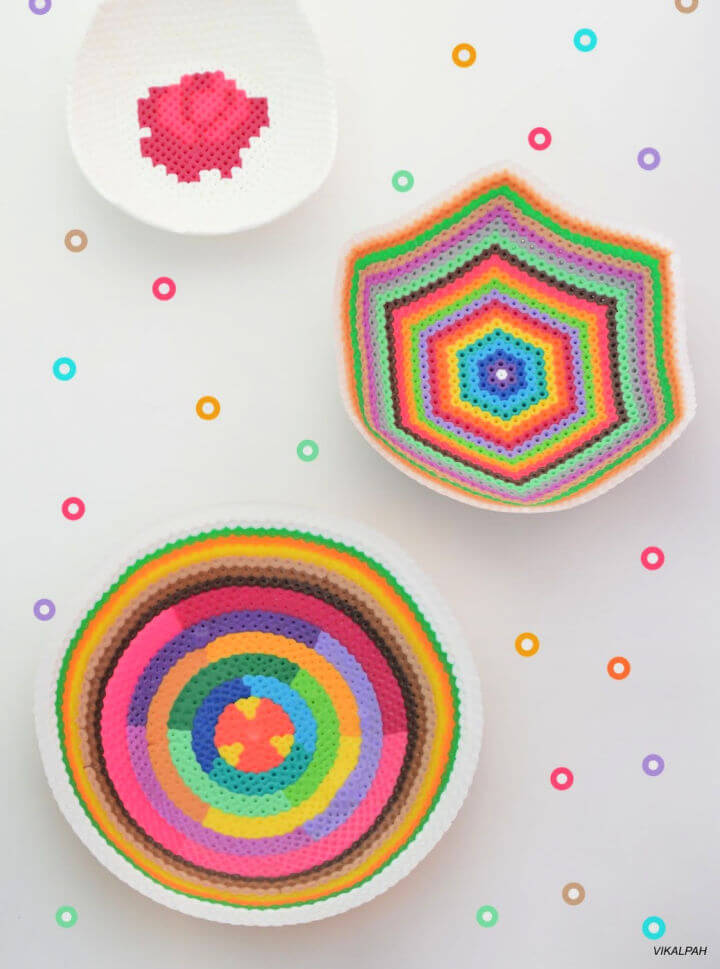 Redo your kitchen decoration and makeover with these stylish and colorful bowls. Use Perler beads to make these super cute and attractive bowls. Not only for kitchen decoration, but you can also make these beaded bowls for presenting treats and sweets at a party. Additionally, utilize these bowls for dining table decoration, as well. vikalpah
18. Fruit Perler Bead Magnets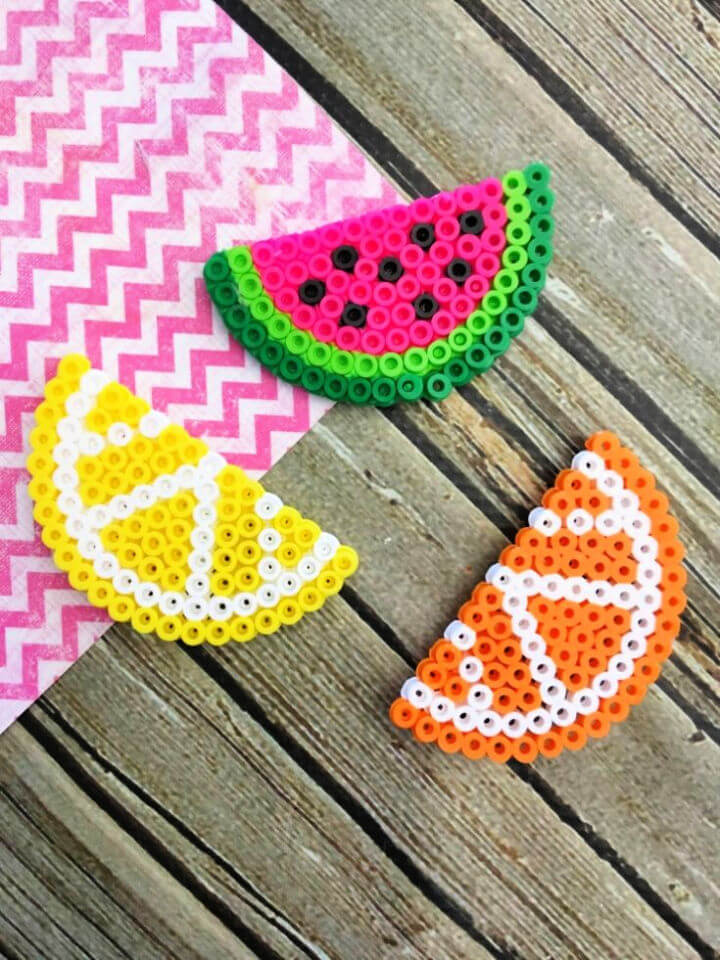 Download fruit templates to make these quick and adorable Perler beads magnets for table décor. You can use these magnets in several productive ways for decoration, as well as coasters for placing the cup of coffee on the table effortlessly. Use colorful Perler beads to make these magnets more enchanting and attractive. Moreover, utilize the sticky electromagnets on the backside of fuse beaded fruit. frugalmomeh
19. 3D Perler Bead Pokemon
Well, kids are more obsessed with Pokémon. You can surprise your kid on his birthday with these fuses-beaded 3D Pokémon. These 3D Pokémon look like Puzzle boxes. Use them in several ways for your kid's birthday décor or let them play with these super cute beaded characters. You can also ask your kids to participate with you in crafting these Super adorable and easy-to-make 3D Perler beads Pokémon. pinkstripeysocks
20. Giant Hama Bead Lollipop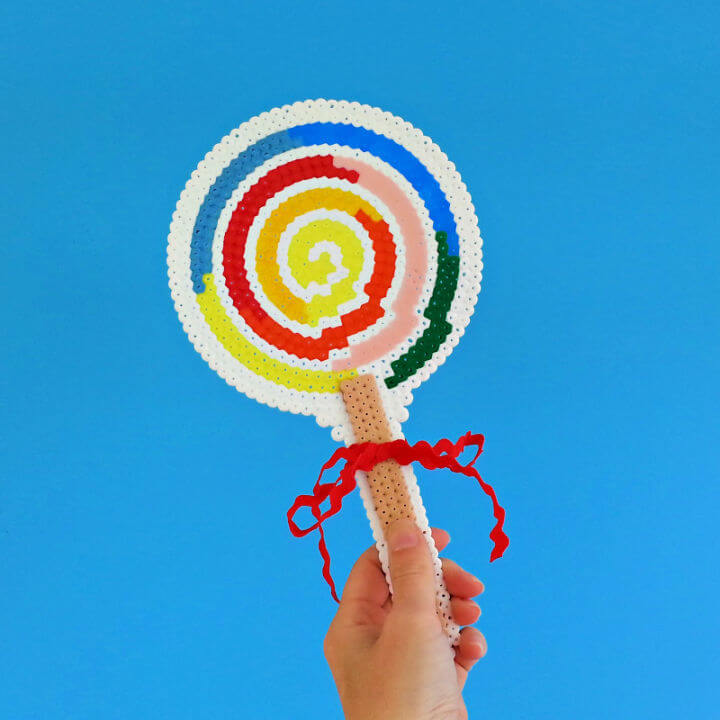 Looking for an ideal décor for your kid's birthday? If yes, you can also consider this colorful and good-looking Perler beads lollipop. Create these attractive lollipops using a free template efficiently. Moreover, embellish these Perler beads lollipops with ribbons and glitters for more fun. Not only for birthday table décor, but you can also display these pops in your room's vase as a spring décor. cupcakecutie
21. Daisy and Donald Perler Bead Necklaces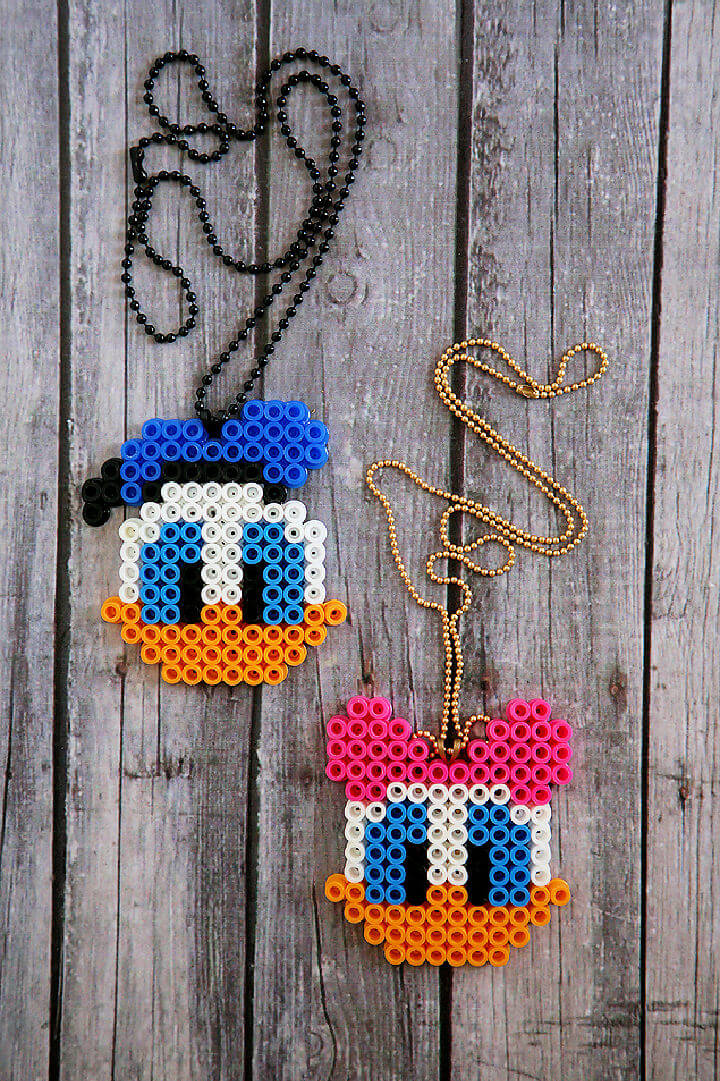 Complete your little daughter princesses costume with this royal and classy Perler beads necklace. Reuse an old chain to hang in this beaded charm. You can design the charm in your own way or according to your desire. On the other hand, you can write the first letter of your daughter's name or make her favorite character with beads. Not only for the necklace, but this beaded charm can also use to embellish other girl's accessories. eighteen25
22. DIY Perler Bead Unicorn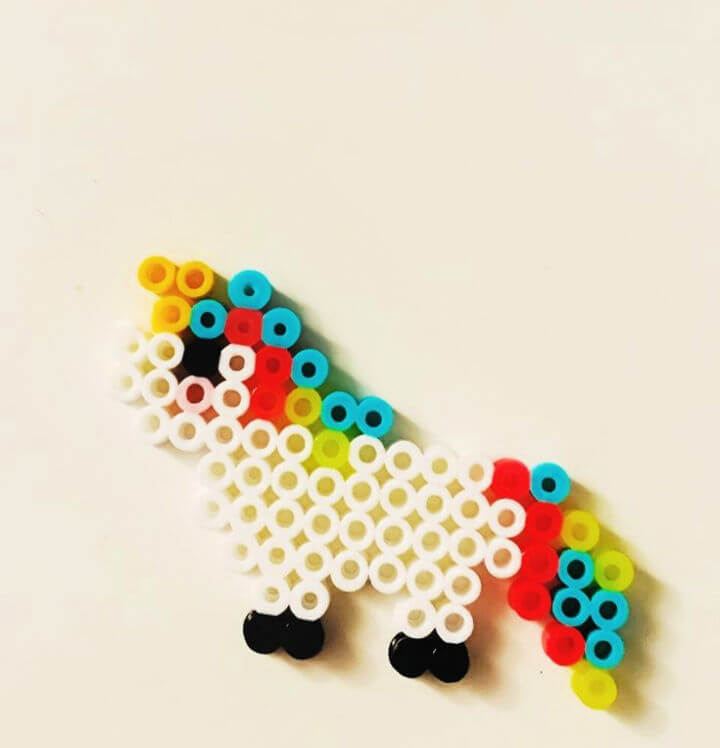 Kids and elders all love the unicorn because of fairy and rainbow colors. No wonder it's really easy to make a unicorn with Perler beads. You can ask your kids to create this character by using their favorite colors of beads. Moreover, use a pegboard with a free template to make the beaded unicorn efficiently and effortlessly. It would be full of fun and joy activities for the pre-schoolers to create their favorite and dreamier unicorns with fuse pearls. thatkidscraft
23. Shark Perler Bead Pattern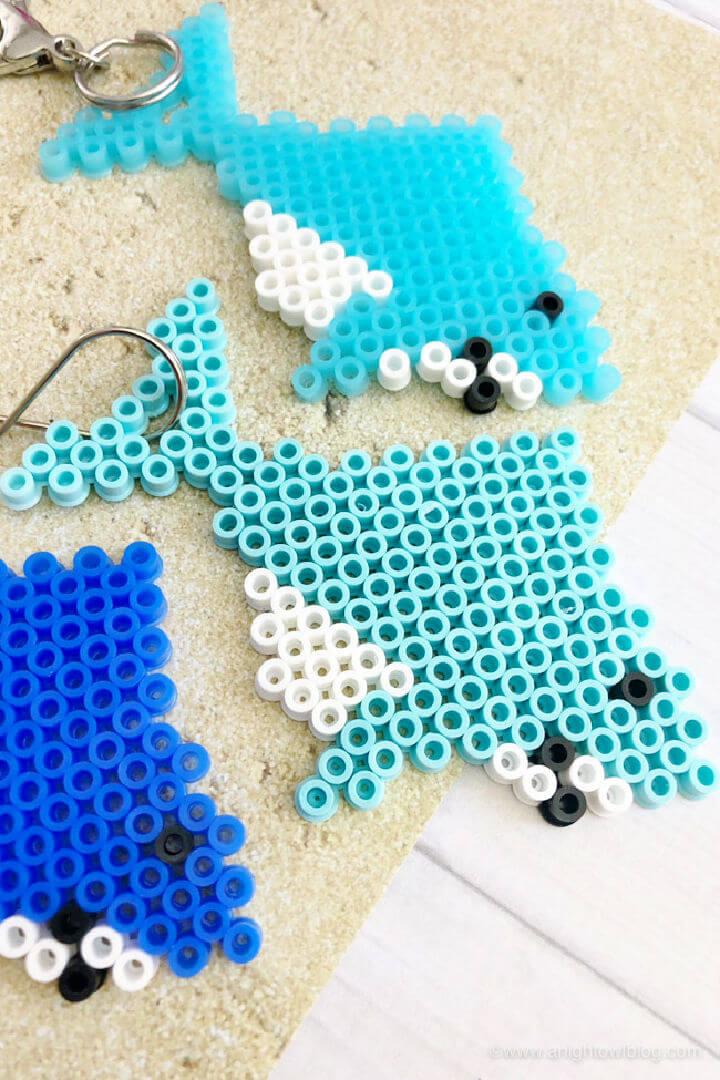 Make your keychain better looking and inspiring for all with these beaded sharks. Not only for chaining the keys, but you can also use these keychains to hang with kid's school bags. For making the shark wheel beaded craft, download or print a free template for your ease. Additionally, use a pegboard, glue, and iron to DIY these supernatural and funky shark wheels. Kids can also make these keychains for their dads on Father's Day. anightowl
24. Square Perler Bead Monograms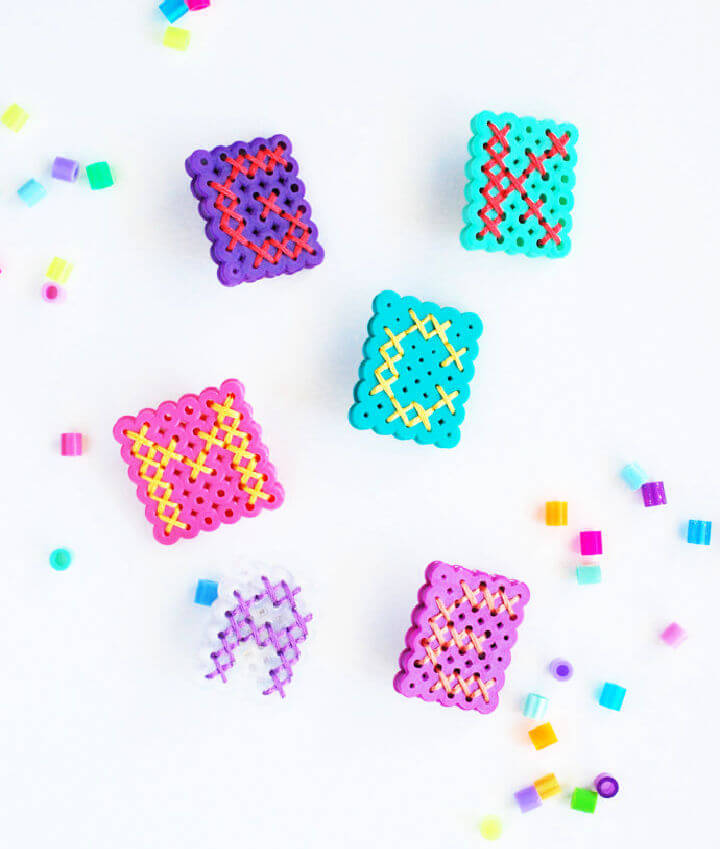 Kids love and have fun making things or different characters with Perler beads. To DIY these beaded monograms, you also require a sewing kit for stitching. Use Perler beads in different colors and combinations to make the monogram base. Later, make the cross stitches from base holes using colorful thread to create a realistic monogram. Use these pieces of beaded art for décor as well as kids. handmadecharl
25. Perler Beads Drink Topper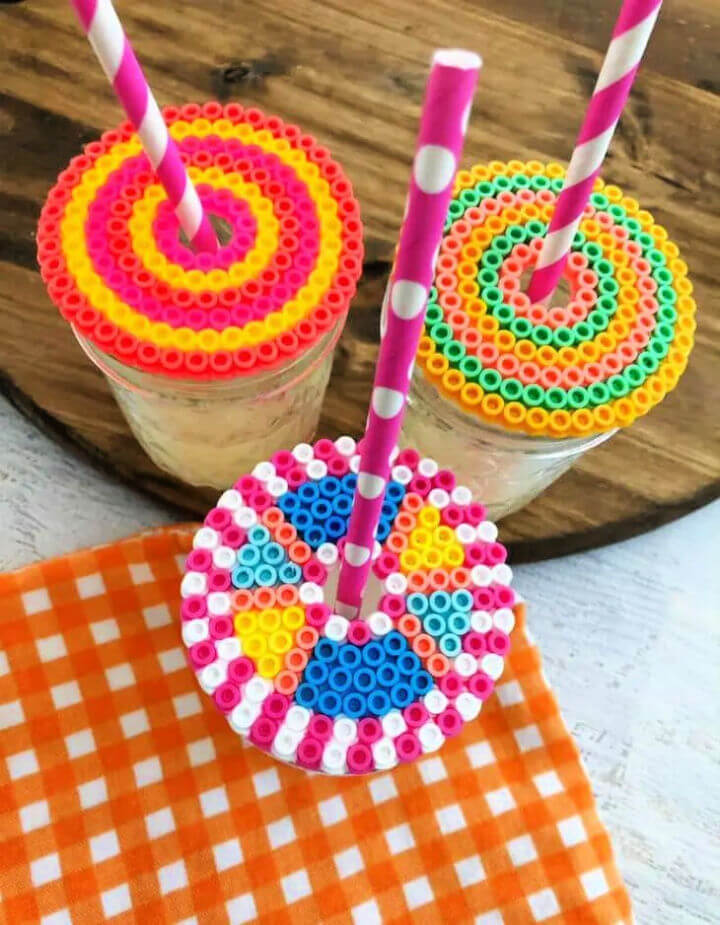 Are you looking for creative Perler bead patterns to decorate your kitchenware? If yes, these beaded toppers are the ideal option for you. You would love creating and putting these toppers on the glass in the summer season. Use these toppers not only for covering the containers but also for colorful dining table décor. Moreover, attract consumers to your mini cold drink corner with these super adorable toppers. isavea2z
26. Perler Bead Rainbow and Unicorn Brooches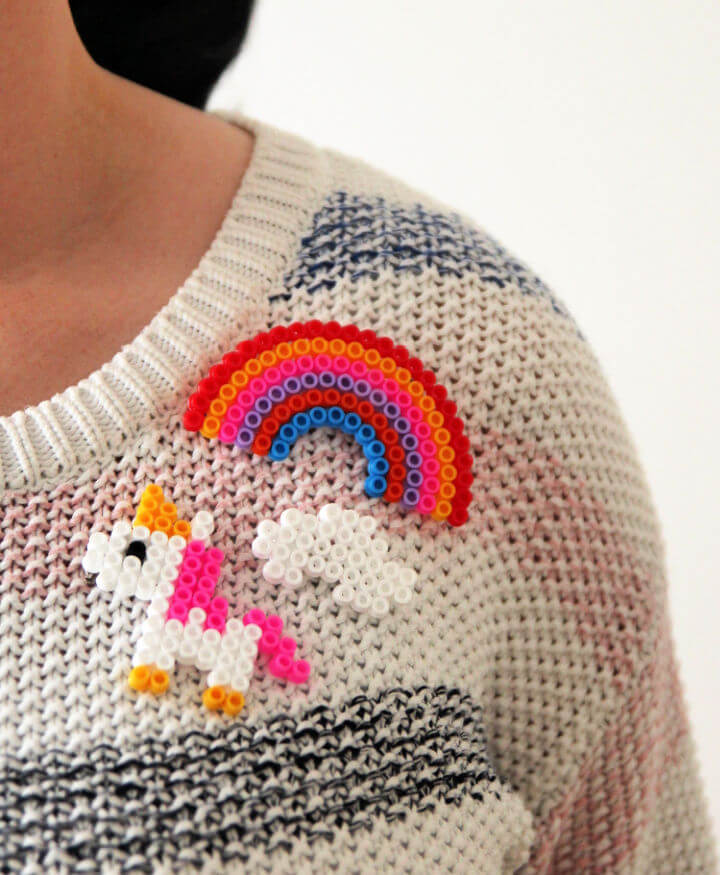 Get a new and versatile look of your winter wardrobe with these easy-to-make and inexpensive brooches. Create them using different colors and combinations of Perler beads. Not only in rainbow or unicorn shape, but you can also go with your favorite mini craft or character to make fuse beaded brooches. Use safety pins to place these adorable badges on your sweater or jersey. gatheringbeauty
27. Video Game Beadsprite Using Perler Beads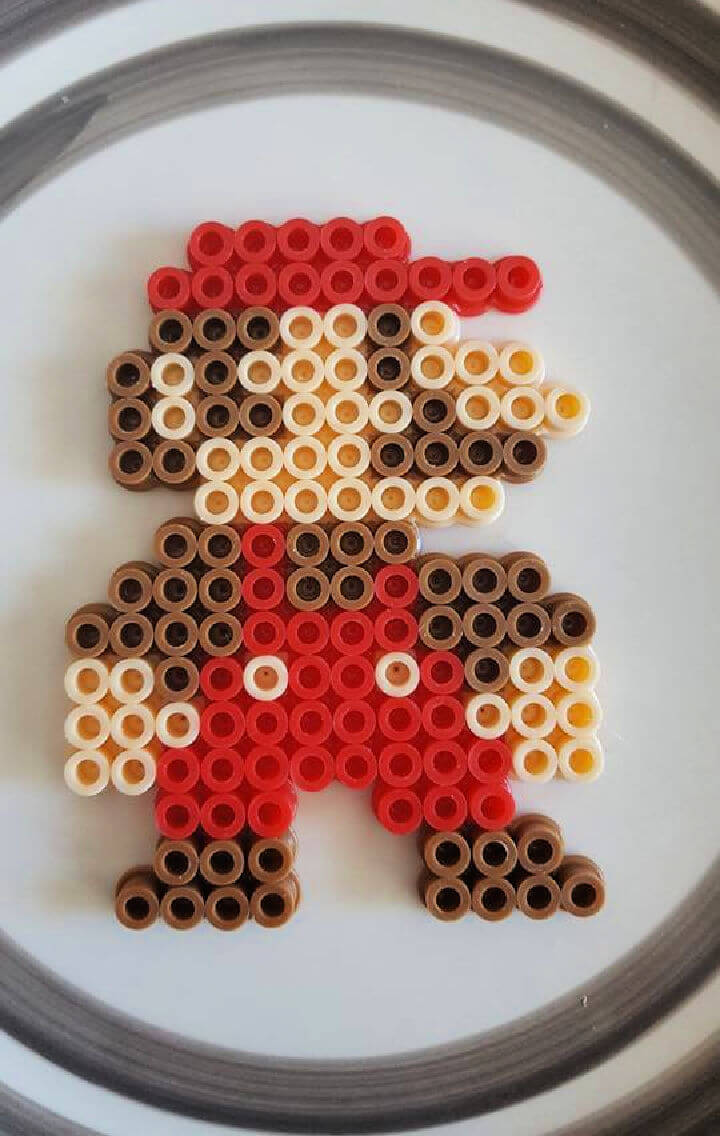 Making bead sprite is full of fun activities. No doubt, you require a huge collection of beads and enough time to make them, but you would love the end product. Moreover, you can use several colors and shapes of fuse beads to make bead sprite. If you are not familiar with video game crafting, download a video template or design to create the Beadsprite on the pegboard efficiently. instructables
28. Artkal Bead Majora's Mask from Legend of Zelda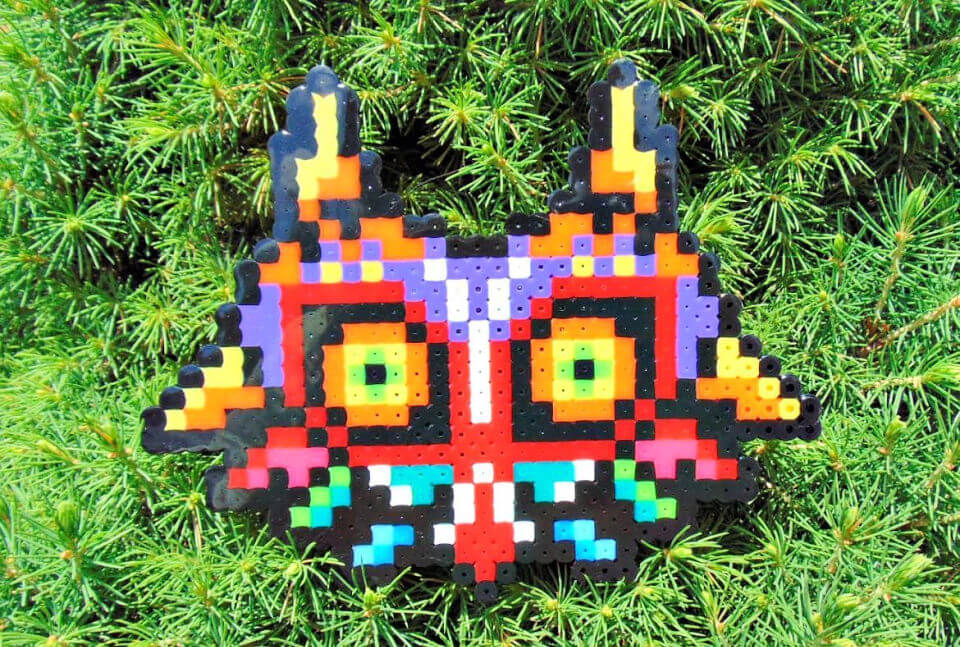 Well, fuse beads are in several colors and combinations that can use for crafting different art projects. If you want to utilize your collection of Perler beads creatively, use them for making a Majora's mask. You require two pegboards because of two boards pattern of the Majora mask. Due to the 2-panels, it may difficult and tiring for the kids to create this mask. However, they will do it efficiently under your guidance and supervision. krysanthe
29. 3D Red Beaded Rose for Girlfriend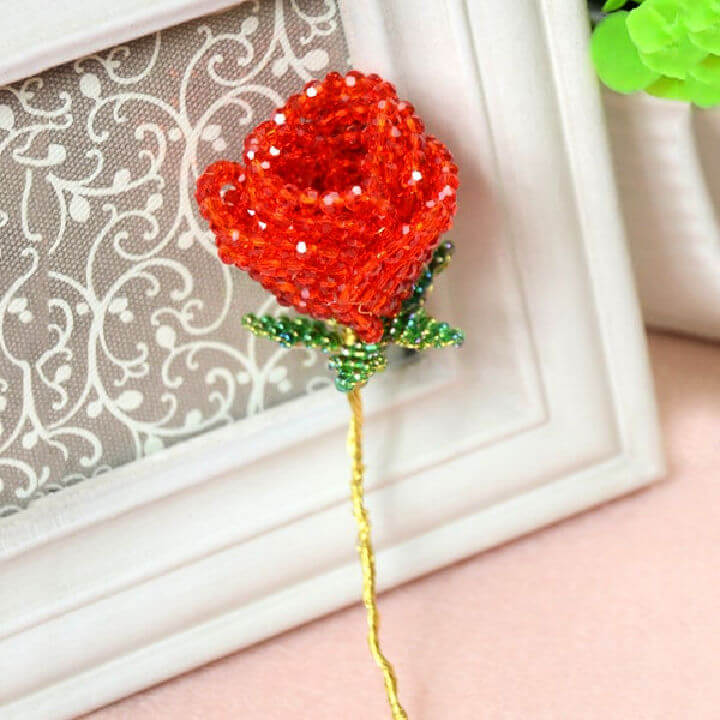 Looking for an ideal and impressive gift for your girlfriend on this Valentine's Day? Nothing would better than this Perler beads red rose. You don't need to invest higher to buy expensive gifts. Create this versatile and most loving gift in your own style for your loved one. Add leaves to this red beaded rose using Perler beads. Get a final and dedicated gift look by adding a thin copper wire stem on the end of this beaded rose. instructables
30. Perler Bead Disney Princess Chip Clips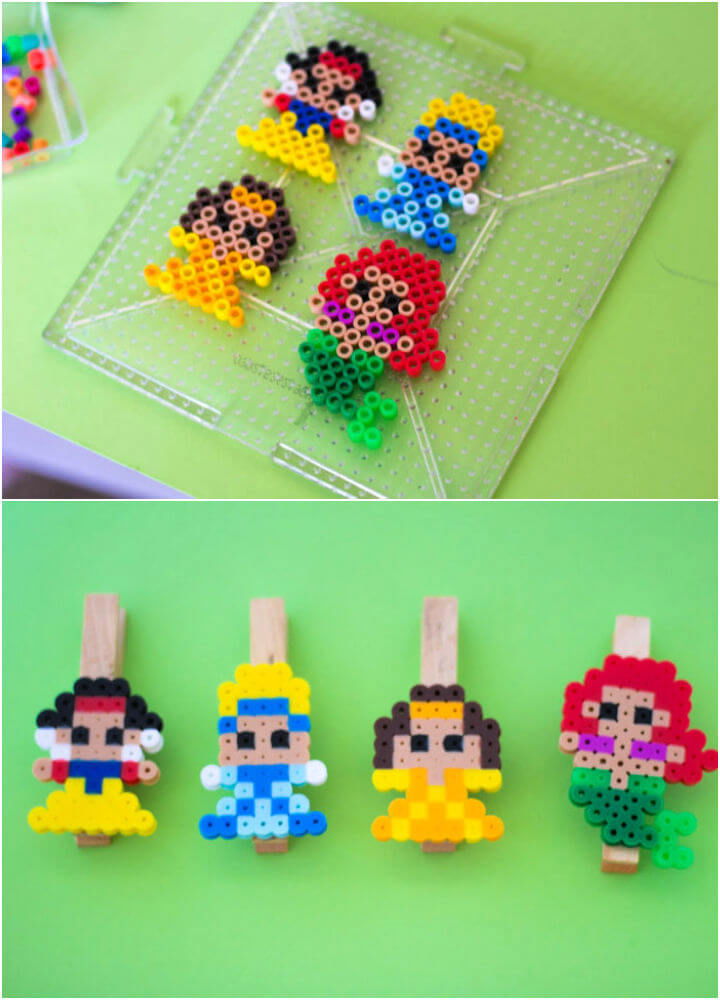 Create these adorable and quick Disney princess chip clips with Perler beads. You can use these clips in several ways for multiple craft projects. Draw the Disney princess template on paper before arranging the beads on the pegboard. Once you have done creating these striking clips, use them for hanging your favorite photos in the room or tying the gift bag in a new style. doityourfreaking
31. Hama Bead Keyring Owl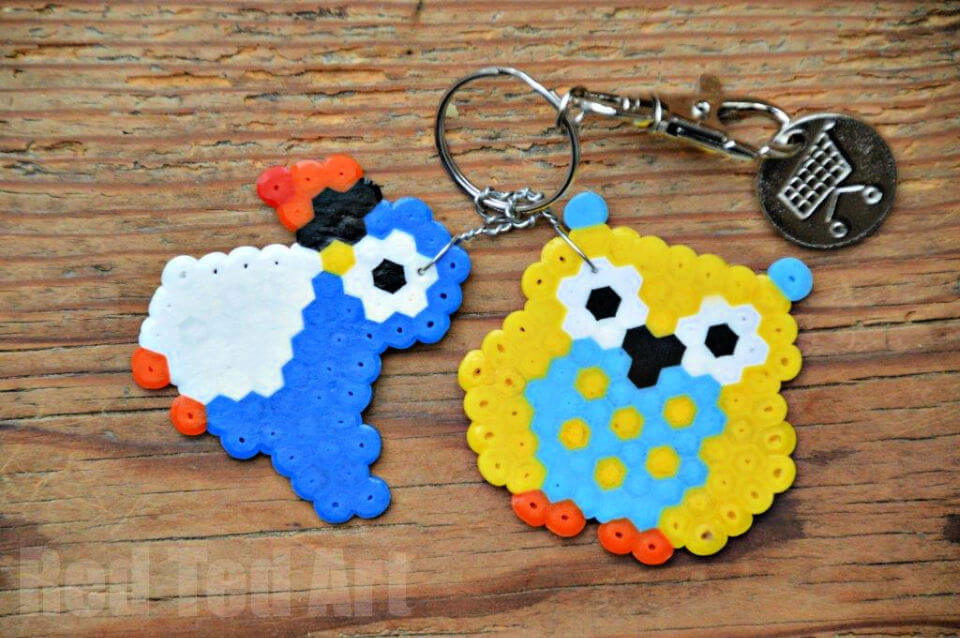 Teach your kids to make handmade gifts for their friends for Friendship Day. Give them templates and let them create these super funky Hama bead keyring owls. Not only for the kids, but this craft activity is equally fun-loving for the youngsters. Instead of using the templates, you can also make these keyrings using a hexagon and star-shaped Perler beads tray. You can also attach the owl or other characters with these rings. redtedart
32. How to Make a Cool Perler Bead Guitar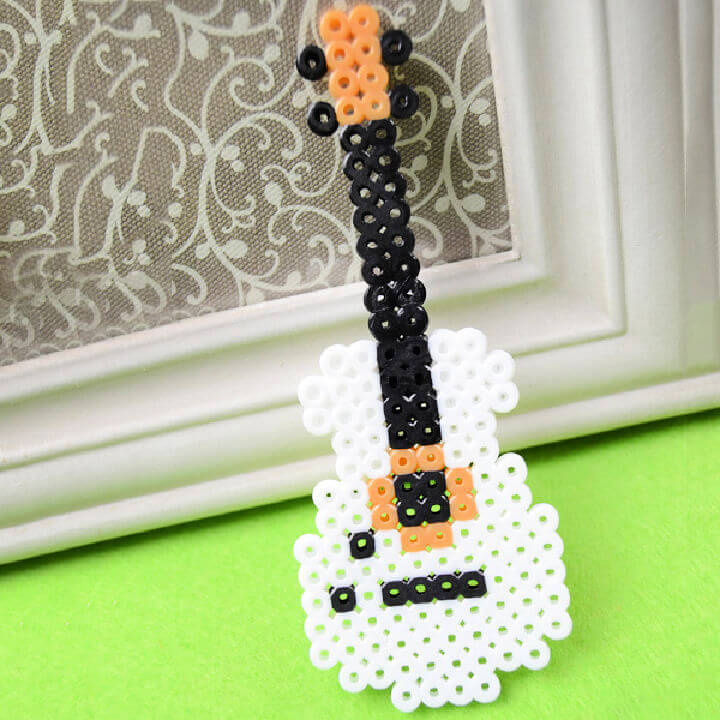 Celebrate this Summer or Spring season with your own style of home decoration. Make this rhythmic and stylish guitar for your kid's room décor for spring celebrations. Use a guitar-shaped tray or download the template to make this beaded piece of décor with ease. Instead of using the traditional guitar colors to make this art piece, go with your own choice of colors and combinations. pandahall
33. DIY Perler Bead Star
Perler beads have become the most popular and demanding supply for kid's craft projects. It's full of fun and joy to create different things with these melting beads. Use these beads and craft several art items for the kids. You can engage your class's students or kids in creating different characters like stars and rainbows with colorful Perler beads. Use these characters for teaching and entertaining school kids. easypeasy
34. Perler Bead DIY iPhone Case Holder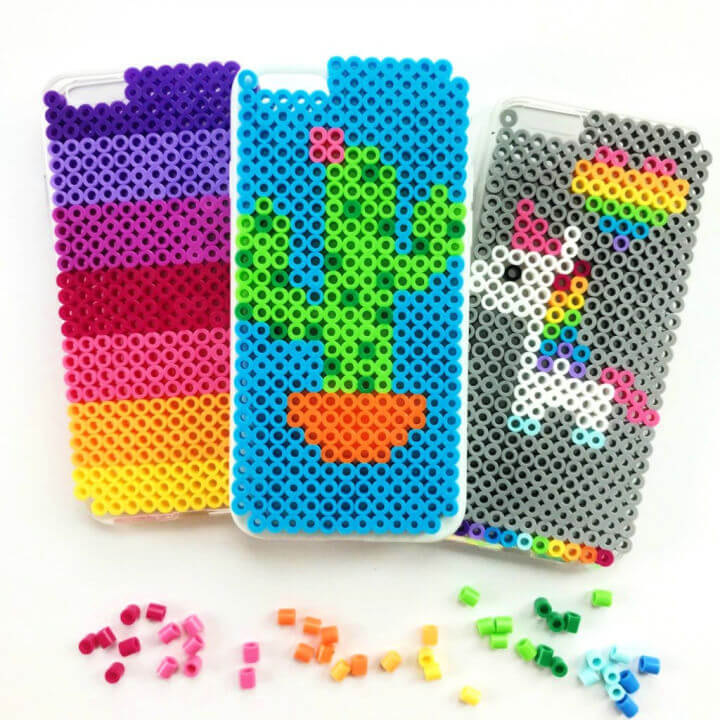 Play with Perler beads and create different things with them. Make a new style iPhone case holder with colorful fuse beads in different shapes. You can draw your favorite character or craft with these beads on the phone case. If you are not familiar with case designing, you can still work like a pro with a pack of Perler beads and a pegboard to design them. Draw the templates on the page and transfer them on pegboard with vibrant color beads. colormadehappy
35. Perler Bead Bookmarks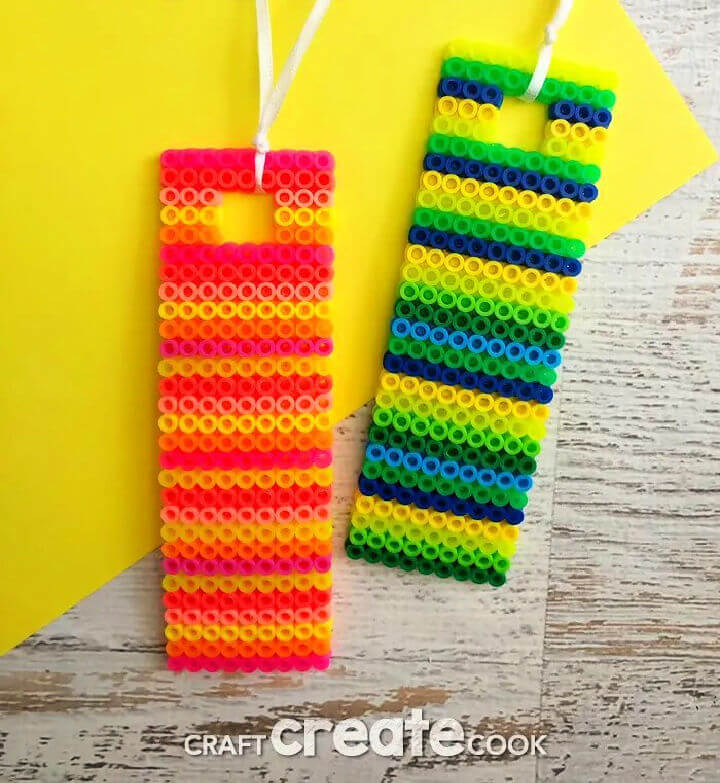 No wonder Perler beads are everyone's favorite item to craft art projects and unique things. On this Friendship Day, create an attractive and enchanting bookmark for your book lover friend with fuse pearls. You don't need to put too much effort and time into making these marks. Excitingly! You can create them in the desired shape randomly without any design restrictions. craftcreatecook
36. Jewellery Trays from Perler Beads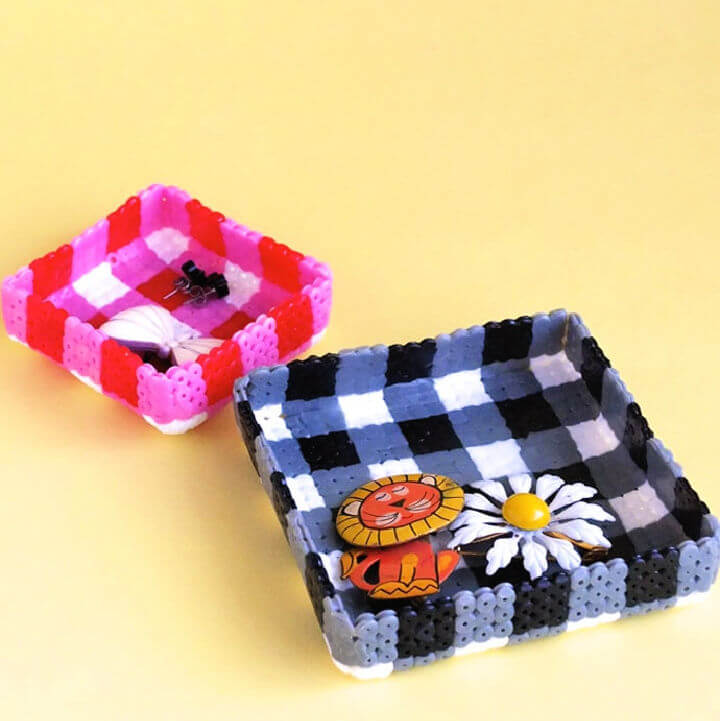 Organize and arrange your jewelry creatively and innovatively with these beaded jewelry trays. Reuse your old accessory's tray and redo them to make worth-seeing Perler beads jewelry organizers. You can use this tray for placing all the jewelry items but also for decorating your dressing tables. Luckily! You don't need to place your accessories in cabinets. Arrange all ornaments stylishly in these fuse beaded platters. mypoppet
37. Day of the Dead Perler Bead Skulls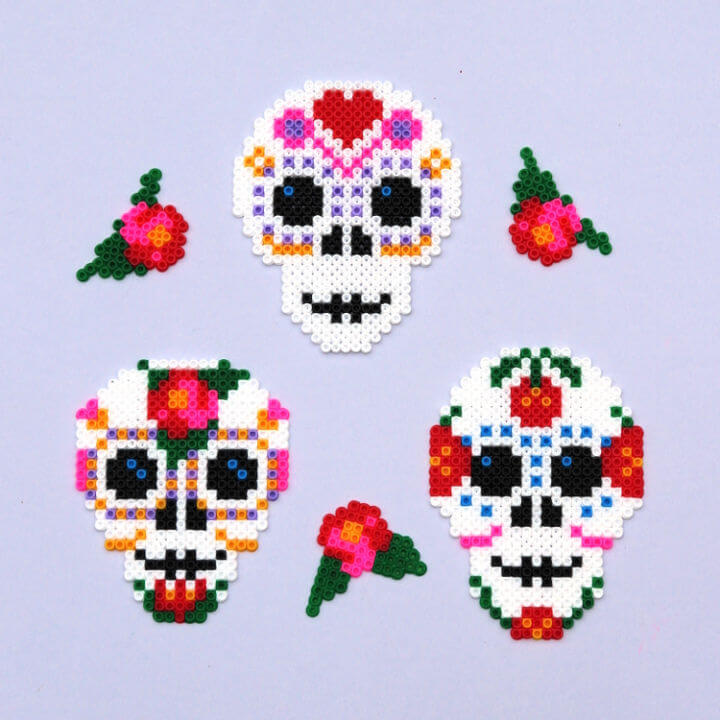 Relive your childhood memories and play with Perler beads by using them in different craft and innovative projects. Create these spooky skulls and flowers for Halloween decoration with fuse beads or pearls. Crafting the skulls with these beads is much easier than you think. You would love and have fun while creating these frighten craniums to décor your dining table for a Halloween party. If you are not familiar with DIY Halloween decorations, download the template online to make this skull more realistic. gatheringbeauty
38. Perler Bead Necklace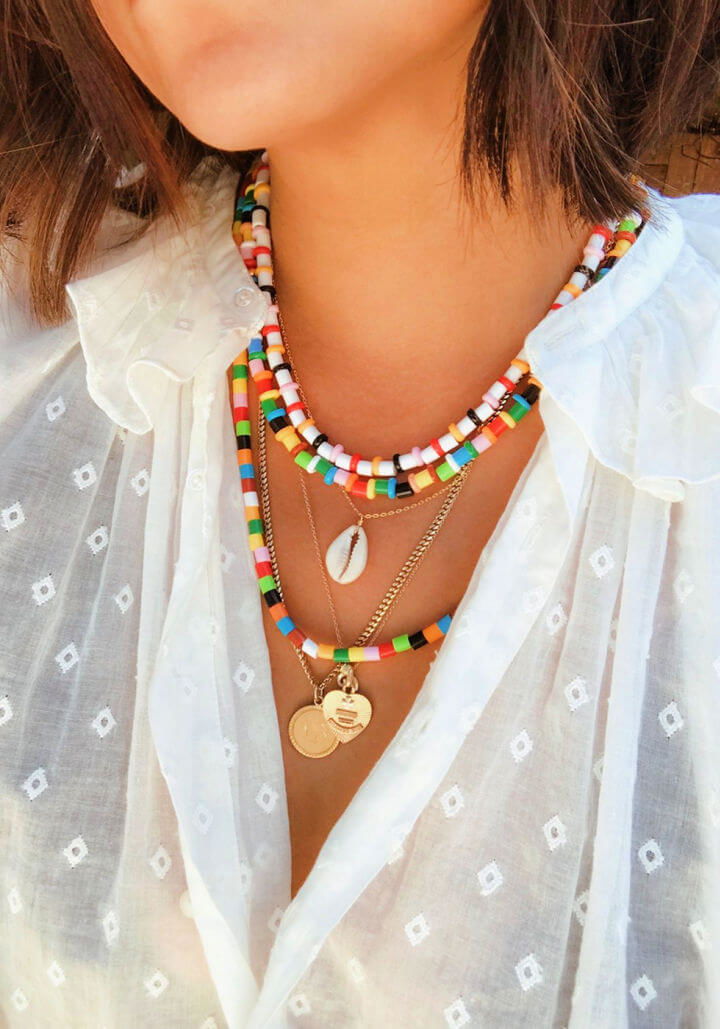 Enjoy your spring season and holidays by making these most elegant or beautiful necklaces. You don't need to buy expensive supplies and materials for creating these versatile pendants. All you need to do is utilizing the Perler beads from your craft collection. Moreover, use a thin chain or jewelry wire for assembling all these beads to give them a necklace shape. After that, use jump rings to join both ends of this customized necklace. Wear it with your summer or spring wardrobe to get a funky look! honestlywtf
39. 3D Perler Bead Pokeball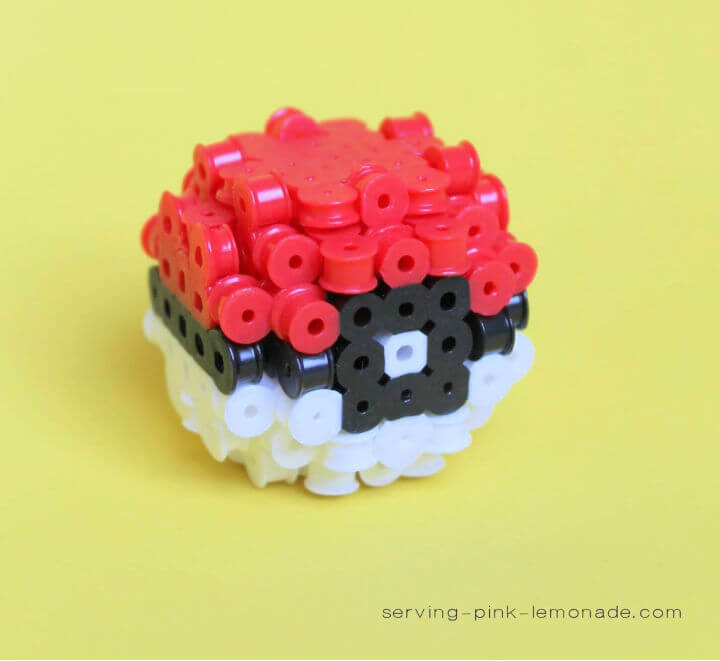 Create these mesmerizing and magical 3D Poke balls with different colors and combinations of Perler beads. You can create these balls in your own style and way, whatever you like to do. However, if you are new to this craft, get help with an online template. Making this 3D Poke ball looks like a puzzle box. So, you would enjoy working on this activity alone or with your kids. serving pink.
40. Colorful Perler Beads Change Holder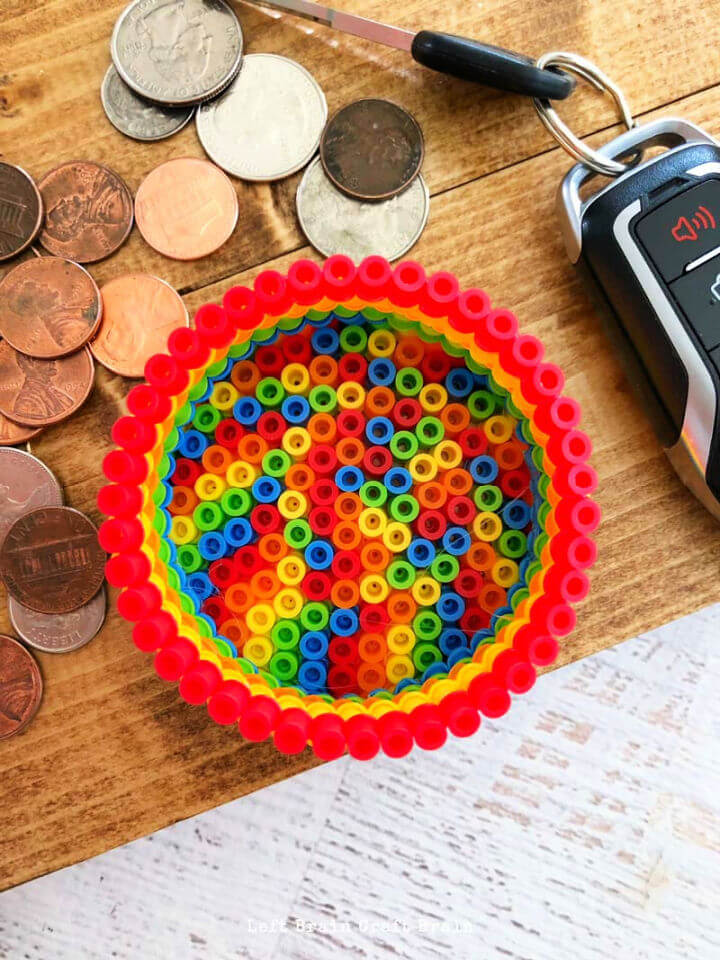 Make this super adorable and colorful Perler beads change holder easily and quickly. You would love to create this rainbow color holder for gifting and your gifts. Use a circular pegboard to make this new style holder for collecting and storing pennies. You can encourage your kids to collect coins by providing them with this tiny holder. leftbraincraft