Graduation is one of the most exciting and important moments in your life. And when it comes to celebrating this milestone, you're going to want to make sure that your graduation cap is just as special and meaningful as the rest of your graduation outfit. Learn how to make and decorate a graduation cap with these 15 unique DIY graduation cap ideas and decorations with step by step templates.
Your graduation day is one of the most important days of your life so it's time to plan ahead! To make it even more special, cheerful, and memorable, we have gathered up some fun-filled DIY graduation cap decorations for you. We have got fun-filled, crazy cheerful DIY graduation cap ideas for kids and adults alike. But, especially for your grown-up fellows who are off to high school now, they deserve these customized DIY graduation caps photoshoots.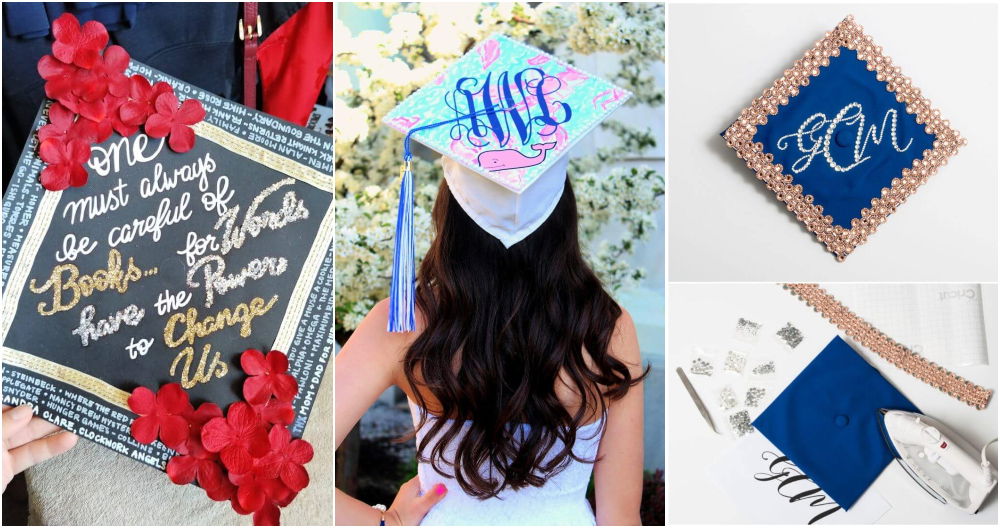 15 Unique DIY Graduation Cap Ideas and Decorations
You will be thrilled to explore our collection and know that all these graduation cap ideas are insanely easy to make and inexpensive. Most of the supplies used are already what you DIYers already have stuffed up in your craft drawers. Having said that, let's dive into our crazy, fun collection of DIY graduation cap ideas and decorations.
1. How to Make a Graduation Cap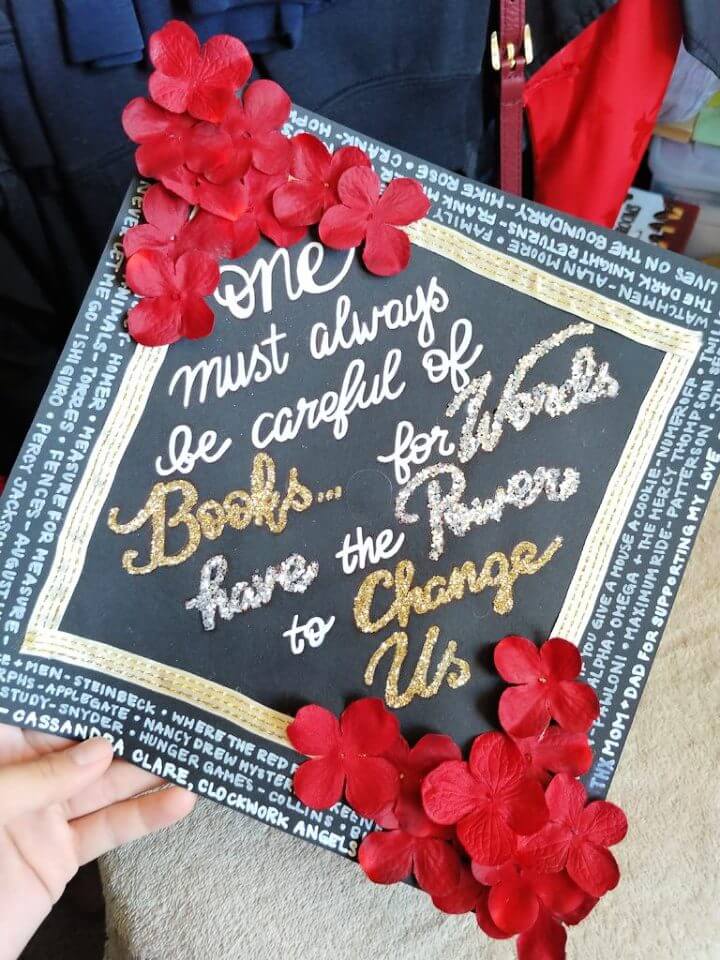 Introduce a floral and glammed up touch to your graduation day with this easy to make DIY graduation cap. Lace it up with flowers, ribbons, glitter, gold, and your most inspired saying to make it as personalized as possible. Hit the tutorial for details. instructables
2. DIY Decorated Graduation Cap
There are just so many ways to decorate your graduation cap using patches or rhinestones. You can also add a Monogram print of your initials to make it look like your own style statement. For this all glittery and gold look, head over to the tutorial now. mjtrim
3. Easy DIY Paper Graduation Cap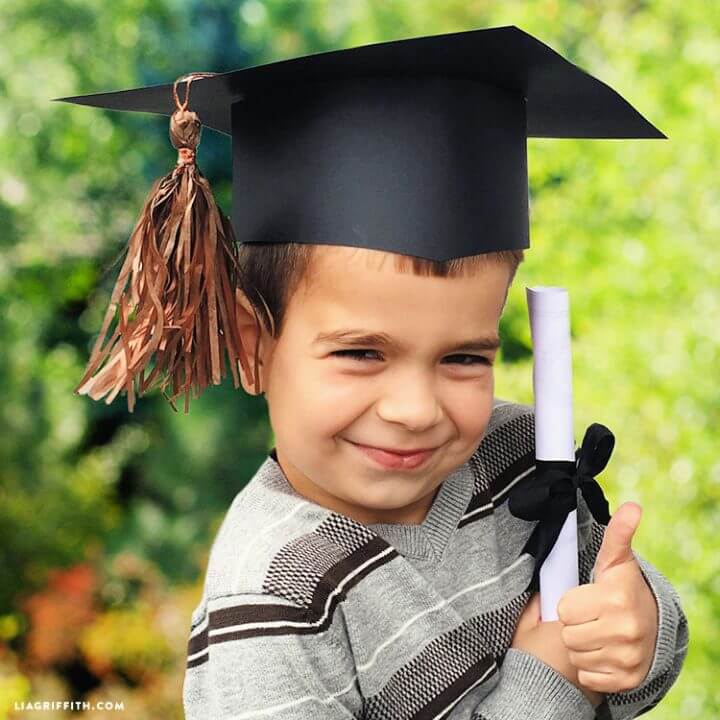 Minimalism never gets out of taste. For a simple yet memorable graduation day party, craft this stately paper graduation cap. Using a card stock, cut the band size depending upon the size of the head and add up tassels to make it look trendy. liagriffith
4. Homemade Graduation Cap Made of Money
If you are looking to reward your graduating kid or a beloved nephew or niece, this idea is going to steal your heart. Using a piece of cardboard, a sheet of tissue paper and a thin ribbon add up the bills at the surface of the graduation cap. Hit the tutorial for details. lessthanperfect
5. How to Make Hello Kitty Grad Cap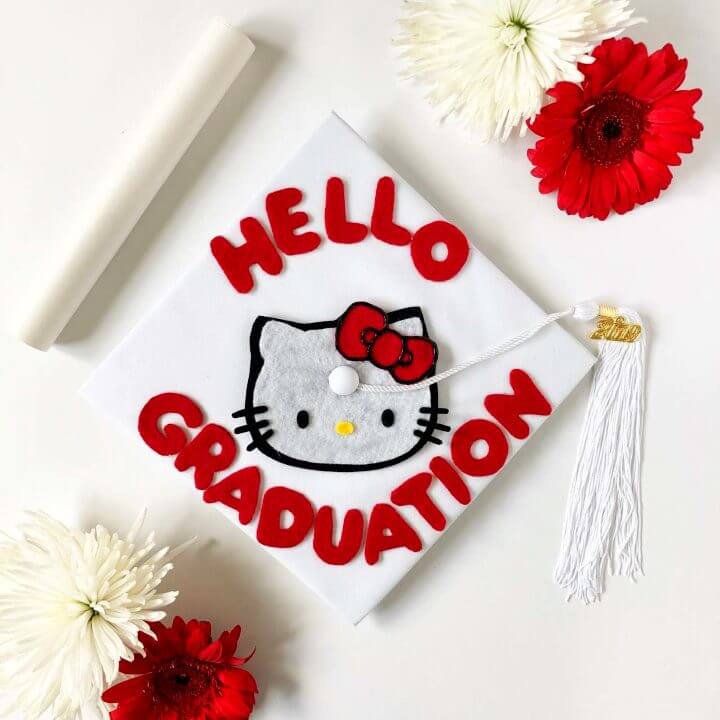 Help your kid stand out in the sea of graduates with this whimsical Hello kitty DIY graduation cap. It's insanely easy to make using different colors of felt on a plain white graduation cap. Get a Hello Kitty template to start with. Hit the tutorial for details. sanrio
6. Simple DIY Preschool Graduation Cap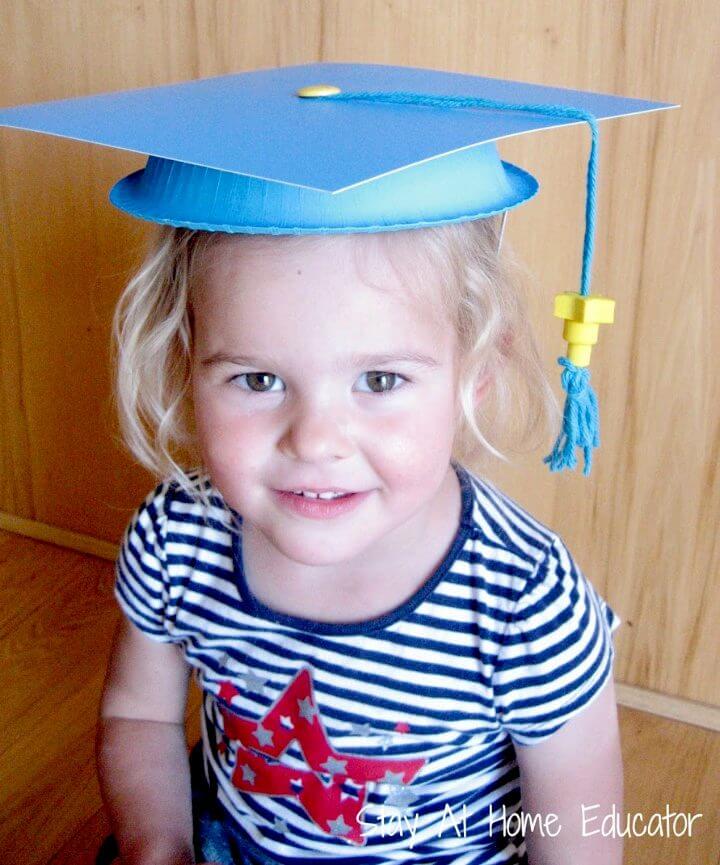 Get your hands on some paper bowls, poster board, acrylic paint and paintbrush, buttons, coordinating string, beads, and hot glue. Make your kid a perfectly adorable and befitting DIY graduation cap. Head over to the tutorial. stayathomee
7. Making a Spray Paint Graduation Cap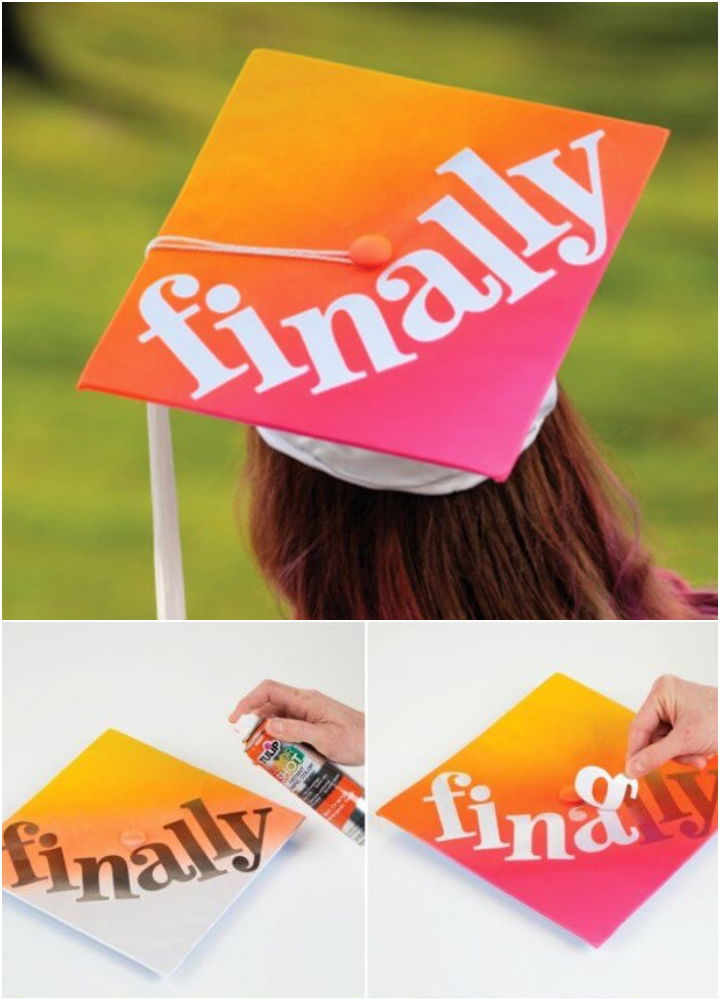 Check out this whimsical and meaningful graduation cap. Introduce a colorful and cheerful ombre look to your graduation cap using this tulip color shot instant fabric color. Head over to the tutorial now for step by step guide and details. ilovetocreate
8. DIY Bedazzled Graduation Cap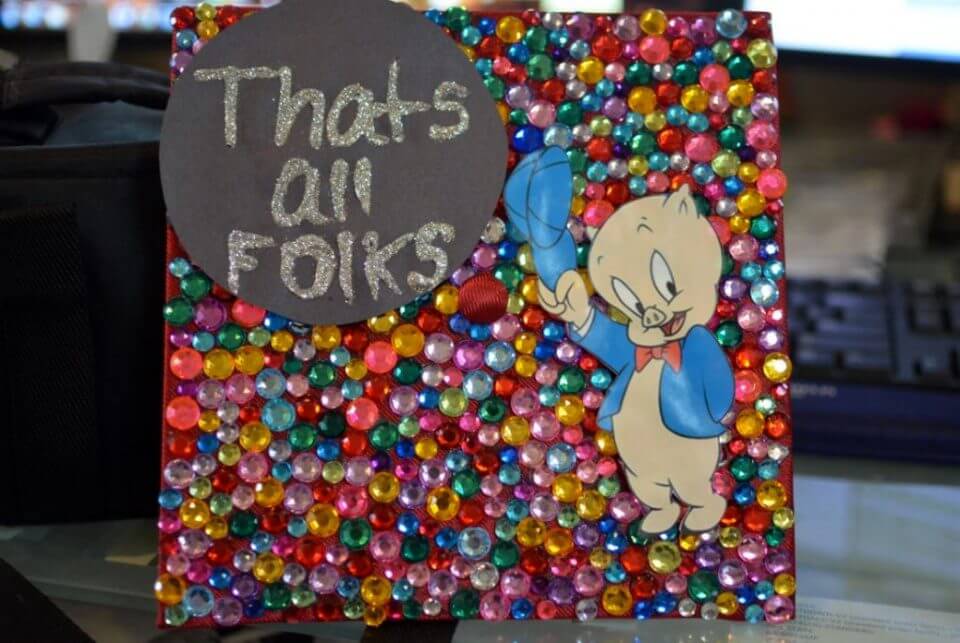 Well, well look at this totally enchanting and bedazzled graduation cap. You are going to need a matt cap, fabric glue, colorful and cheerful rhinestones, glitter glue and glitter! Be as creative as you would want to be. Hit the tutorial. graduation
9. Make Your Own DIY Graduation Cap Decor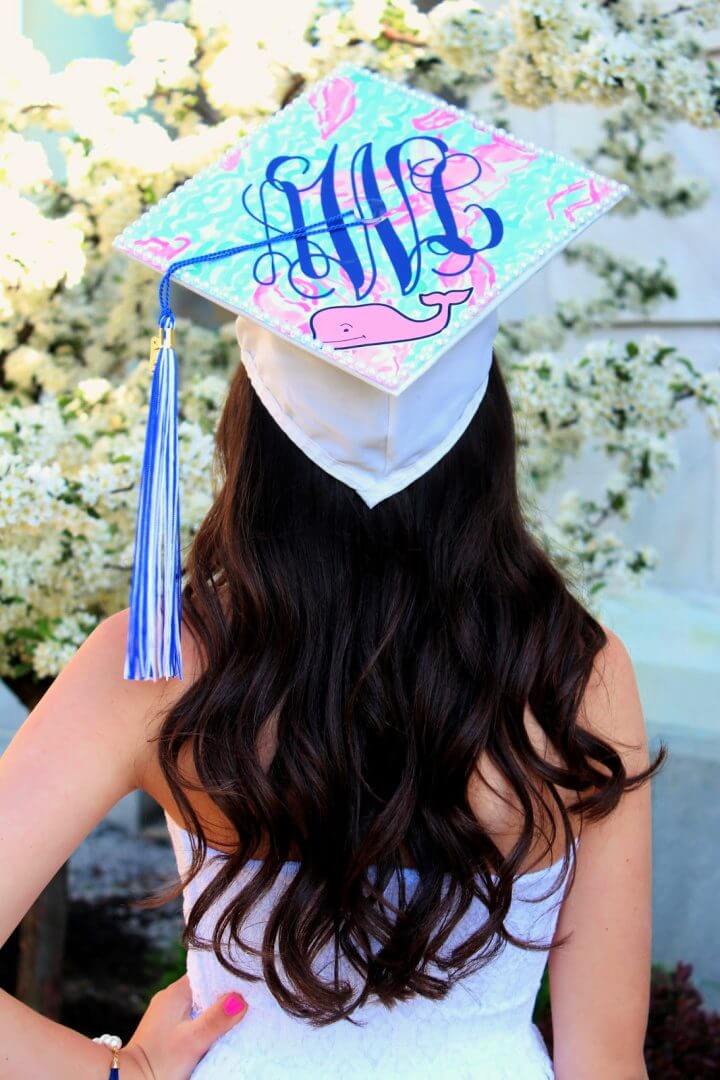 Make yourself stand out in the sea of graduates with this cheerful and vibrant DIY graduation cap. You can easily make this by using plain graduation cap, hot glue gun, poster board, adhesive pearls, stickers, glossy mod podge, and a few other supplies. belleoftheball
10. DIY Graduation Cap Headbands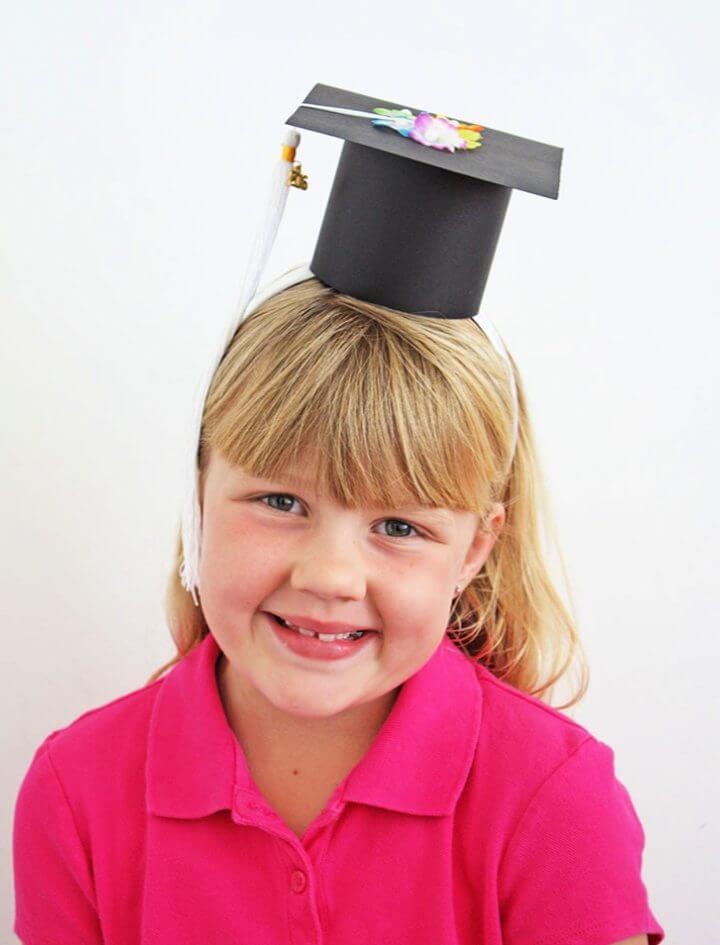 These cute graduation headbands can be a fun afternoon project for your kids to make at first. And then enjoy the afternoon with the celebrations. Add a bling of glitter or glam it up with flowers, glitter glue or anything they adore! Hit the tutorial. orientaltrading
11. Creative Graduation Cap Using Cricut Iron-on
Your graduation day is going to change your life. With this tutorial, you can celebrate this fact with full spirits. Using your Cricut machine you can personalize the graduation caps sayings or tags as you please! Hit the tutorial for details. polkadotchair
12. Create a Graduation Cap Messages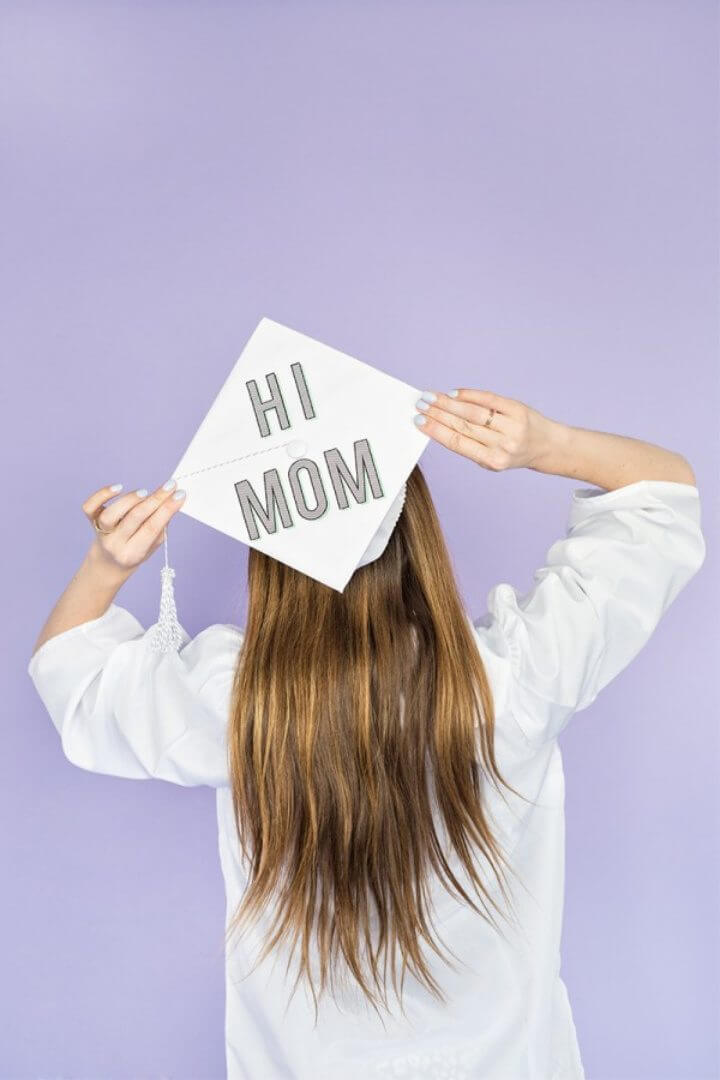 While your kids walk down the aisle of graduates to the stage, they can make these personalized graduation cap messages to cheer at you! This could make things even more special. Head over to the tutorial now for details. studiodiy
13. DIY Studded Graduation Cap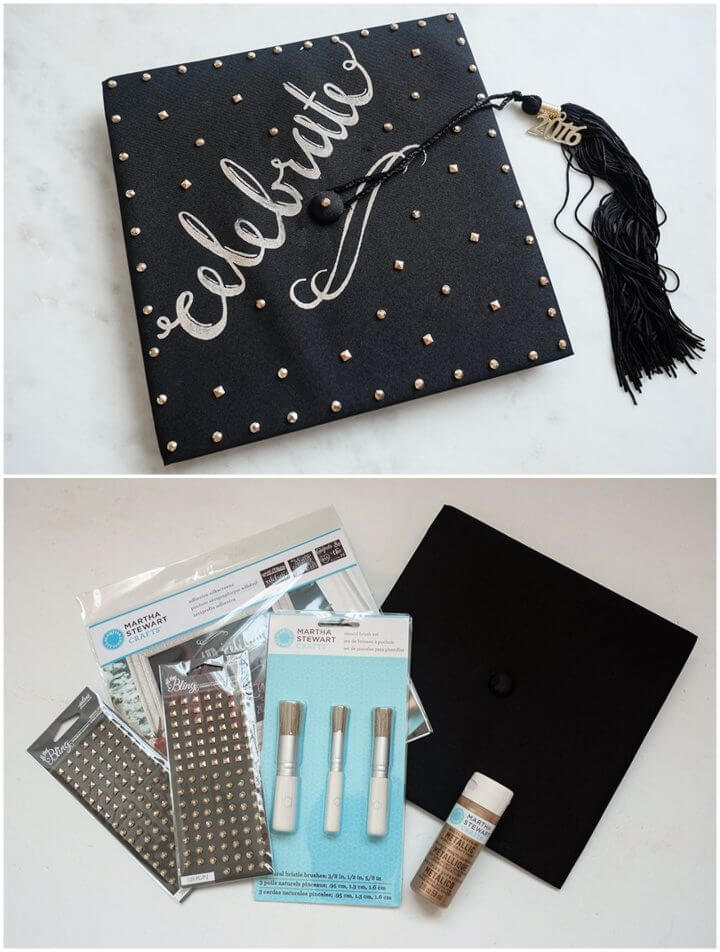 Make this majestic and stately DIY graduation cap using adhesive silkscreen, paintbrush or a sponge brush, some gold studs, and gold acrylic paint. You can also customize the saying in the middle of the cap's space. Check full details in the tutorial. stylestories
14. Handmade Graduation Cap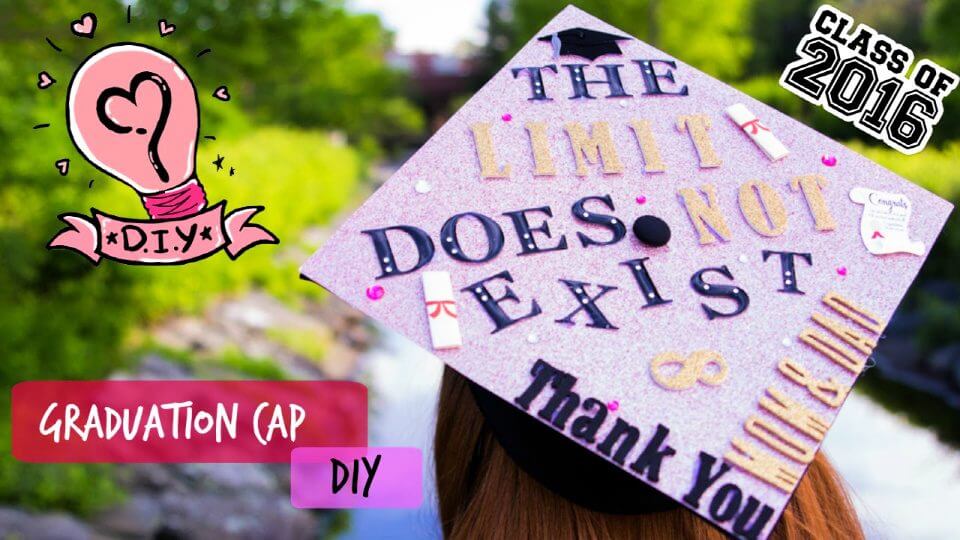 Make your graduation day the biggest inspirational and thankful day of your life! Greet the new beginnings with inspiring sayings to motivate you for a new start. Meanwhile, show gratefulness to the supporting hands. Check the graduation cap ideas tutorial for details.
15. DIY Toddler Graduation Cap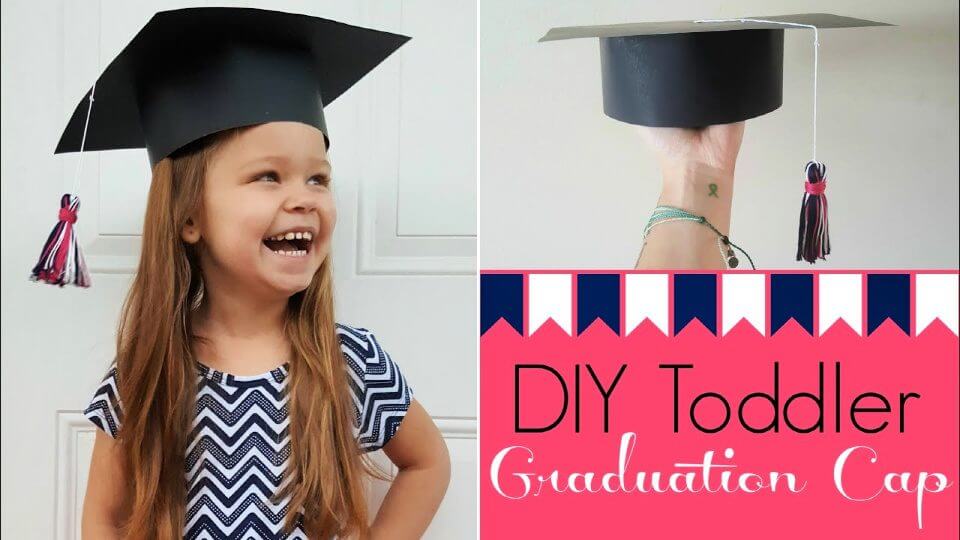 Celebrate even the tiniest of your toddler's achievements with this DIY toddler graduation cap tutorial. It is insanely easy to make, you can add up cheerful and colorful tassels to brighten up the cap. See the tutorial for details. youtube
Frequently Asked Questions
How do you make a homemade graduation cap?
Making a homemade graduation cap can be done with some simple materials like a cardboard box, scissors, markers/paint and glue. Start by cutting the box into a semi-circle shape and then decorate it however you'd like. Add tassels or other decorations as desired. Secure the cap to your head using an elastic band or ribbon and you're done! Congratulations on your graduation.
How to make a graduation cap design?
Creating a graduation cap design is simple. Start by gathering necessary materials, like fabric, scissors and glue. Then sketch out the design you'd like to create on paper. Cut the fabric and glue it onto the graduation cap following your design plan. Finally, embellish with decorations such as ribbon or glitter to make the cap unique. Congratulations – you've created a custom design!
What materials to use to decorate the graduation cap?
Decorating a graduation cap is an exciting way to make your special day even more memorable. Popular materials for decoration include glitter, fabric paint, and foam sheets. You can also add ribbons, jewels, and other embellishments to make the cap stand out. Have fun with it! Get creative and enjoy the moment.
Can you use a Cricut on a graduation cap?
Yes, you can use a Cricut on a graduation cap. You can make custom designs with the right materials and supplies to show off your unique style. You will need heat-resistant material like vinyl or HTV in order to use the Cricut machine safely and effectively on your cap. Make sure to follow all safety instructions when using the Cricut machine.
What glue to use for decorating a graduation cap?
For decoration on a graduation cap, you should use light-bodied fabric glue or hot glue. These glues will provide strong adhesion and are safe to use on fabrics. Additionally, they do not stain or leave residue when dried so your design will remain intact for years to come.
How do you put flowers on a graduation cap?
To put flowers on a graduation cap, start by selecting the type and color of flower that best matches your school's colors. Then, use fabric glue to attach the flowers to the cap in either a single line or an arrangement. Finally, let the glue dry before wearing your cap.
Related DIY Projects and Ideas
Graduation Party Ideas: There's no problem with celebrating a milestone in life, but it's difficult to find the right ideas for graduation parties. This article has fun graduation party ideas that are sure to get all your friends and family members excited!
Graduation Card Ideas: These simple DIY graduation card ideas include beautiful designs, free templates and printables that you can use to create a graduation card for the graduate in your life.
DIY Stickers with Cricut: Learn how to make cool stickers with cricut in your home with just a few supplies. These projects are easy to do and will help you use your machine to its fullest potential!
DIY Straw Toppers: Get inspired with these marvelous DIY straw topper ideas that are a fun way to add personality and flair to your glass, cocktail, or cocktail hour beverage brims.
Photo Booth Ideas: If you're throwing a party and have no idea how to make your own photo booth, this is the article for you! There are so many easy DIY photo booth ideas from which to choose.
DIY Cupcake Toppers: These beautiful DIY cupcake toppers are perfect for your next party. You can use them on top of cupcakes, on cakes, or even as decorations.
DIY Crepe Paper Flowers: These pretty DIY crepe paper flowers are fun and easy to do, perfect for spring. Make a bouquet or a garland or just one big flower for your next party!
Conclusion:
We are sure our adoring and celebrations-filled DIY graduation cap ideas must have taken you by heart. All these ideas are insanely easy to make, very inexpensive. You will never have to worry about finding the perfect graduation cap to make the day flawless. Why buy when you can make just the right thing for yourself? After exploring our DIY graduation cap decoration ideas, you can make this big day even more memorable for yourself, your kids, or your loved ones. Stand out in the sea of people and bring your own style statement to the event! Happy Graduation!