It is not that easy to organize an entryway! First, you have to declutter it that will demand functional storage units or organizers! Next, you have to manage an accent console there to nicely display your mural and picture frames for amazing first impressions. Later on, you can think to add a mudroom bench along with a beautiful rug. The things more complicated when you need to organize a small entryway. But you no need to puzzle at this issue, we have already solved it for you. Take a short tour of these 30 DIY Small Entryway Ideas will help you in every single way to organize, declutter and fancy up your entryway.
From building custom hanging hooks to impressive rugs to stably stylish mudroom benches! You are sure to get lots of wall art choices here to jazz up your main entrance. The mission of these small entryway ideas is to get your more than stylish entryway without costing you a lot of money.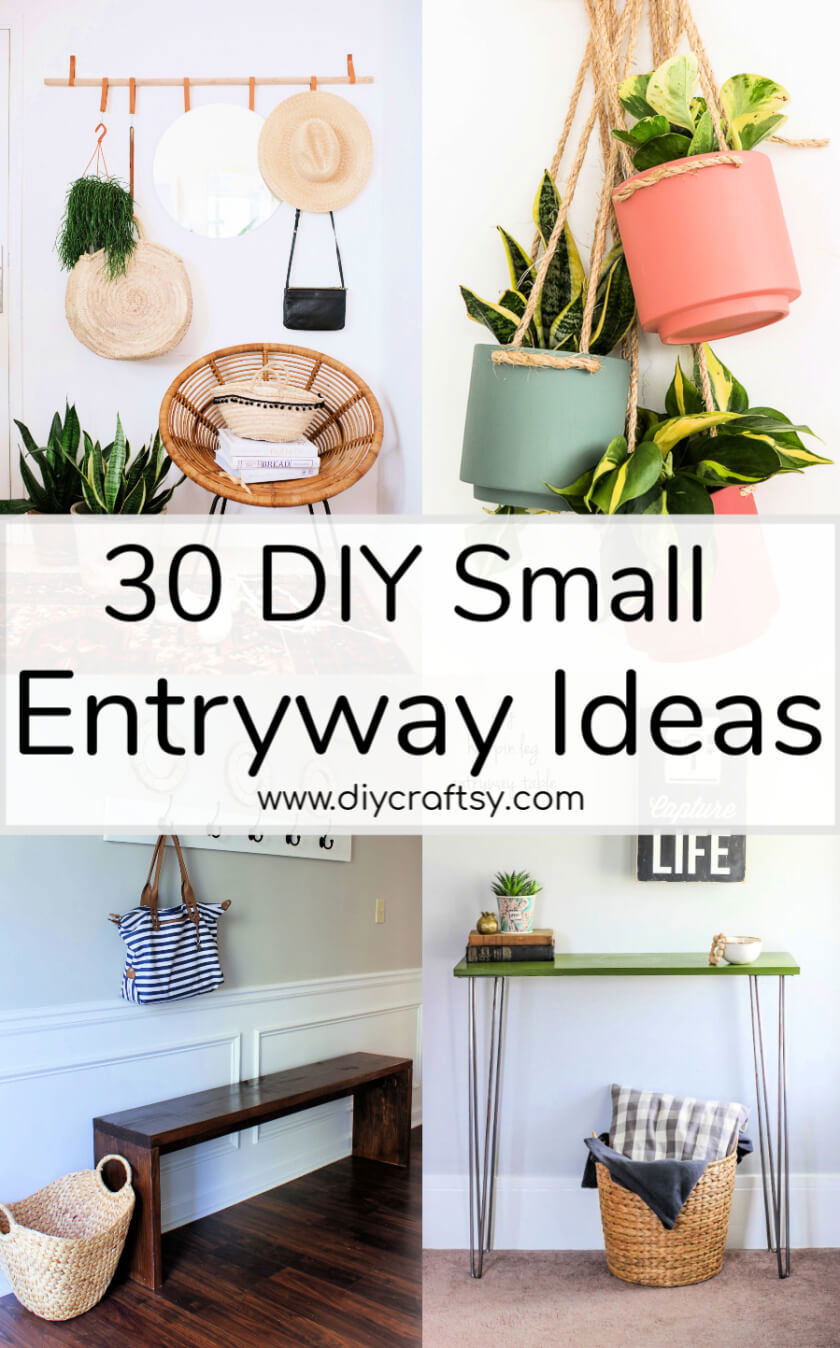 What do you do if you don't have an entryway?
These creative small entryway ideas will definitely make you think that the size of your entryway does not matter but the decors do. It will all demand you to think like a genius to DIY entryway with your own handmade items. Grab the details instructions from the list to build floating entryway shelves, get the free tutorials to build a mudroom bench with ample storage.
You will be guided here to build outstanding coat racks and accent consoles will bring a great functional character to your entrance. Take a one minute tour of all these DIY small entryway ideas to get more hacks to prettify your main entrance that is not very spacious.
DIY Garden Sign Crate Entry Table on a Wall: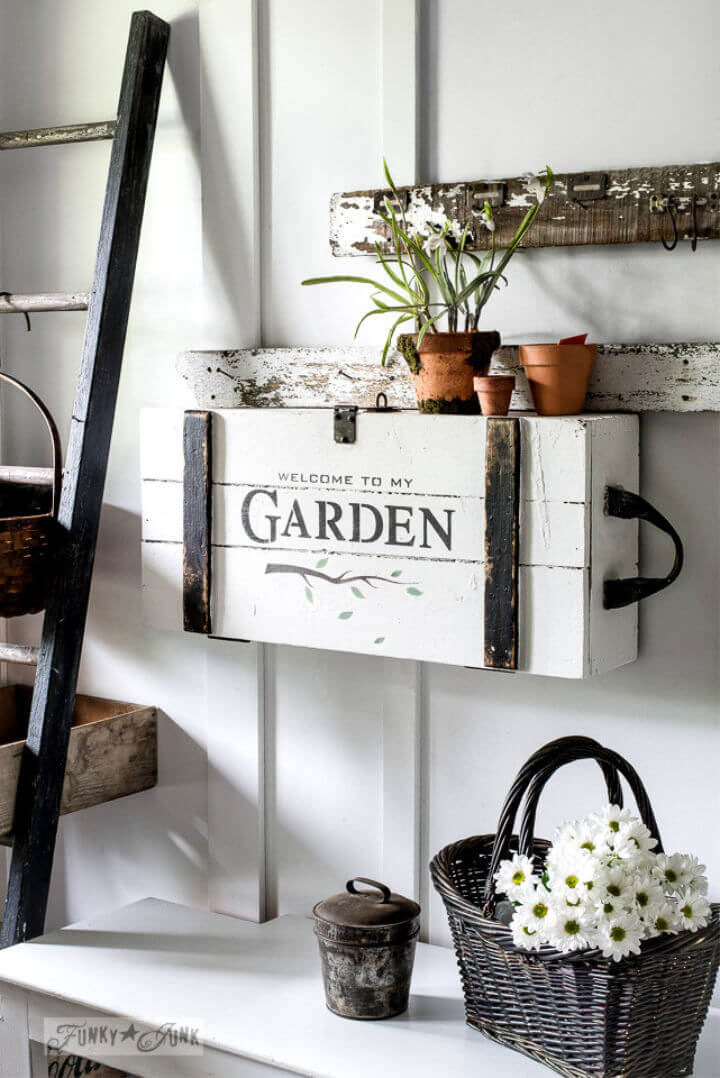 Thinking of bringing some rusticity to your small entryway, you need to get stylish quickly? Pick this garden crate entry table, can easily be set to entryway wall for holding your things in a style.
A miniature rustic entryway table that you can instantly mount on the entryway wall. How-to details here funkyjunkinteriors
Make Wooden Wall Mount Rack: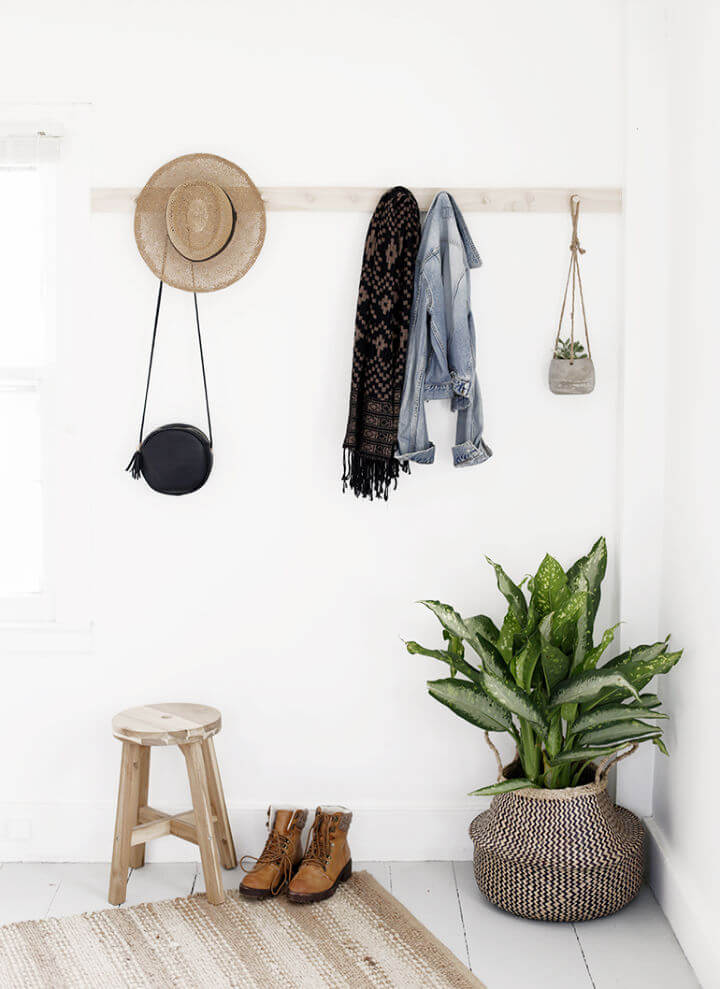 Mount also some hooks to your small entryway for an added functionality and charm. Drill a plan for some holes and then add the wooden peg hooks, instant wooden wall hooks are ready to go on the entryway wall.
Entryway wall hooks will also be the right choice to hang and organize your immediate items like hats, scarves, and handbags. Full details here themerrythought
DIY Hairpin Leg Table for Small Entryway: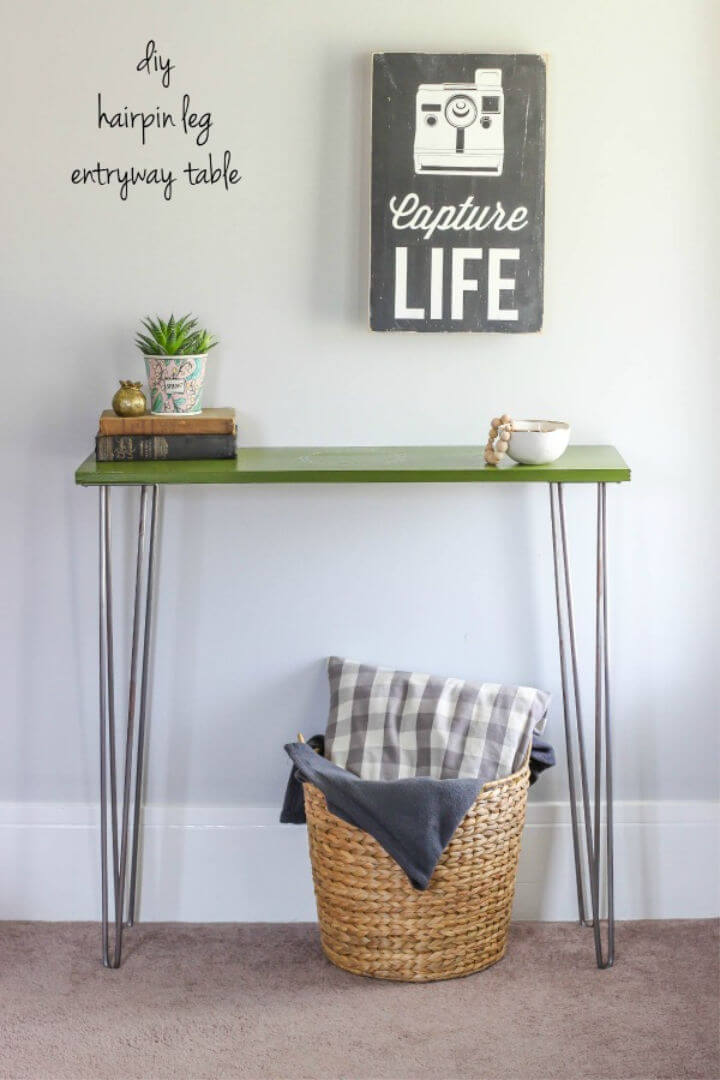 Impress the guests with this hairpin leg table when they walk in the door, another quick way to spruce up your small entryways.
Just add up the durable wooden boards with metal hairpin legs and build this cost-efficient model of a small entryway table. How-to details here purelykatie
Build a Entryway Shoe Storage Bench: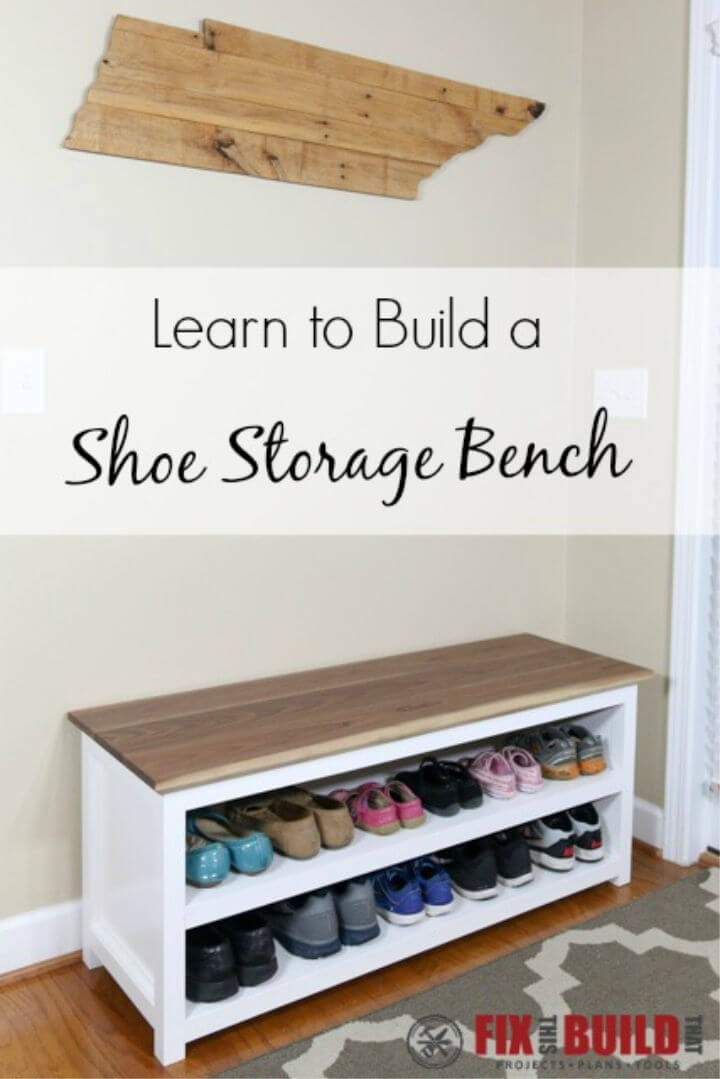 Redefine the entryway space by building this miniature storage bench, will rock as mudroom bench. It will provide ample storage space for the shoe storage as it comes with built-in shelves.
The chic white painted base under the unfinished rustic wood top, create a handsome rustic yet modern appeal of this bench. Details here fixthisbuildthat
DIY Entryway Console Table with Shelves: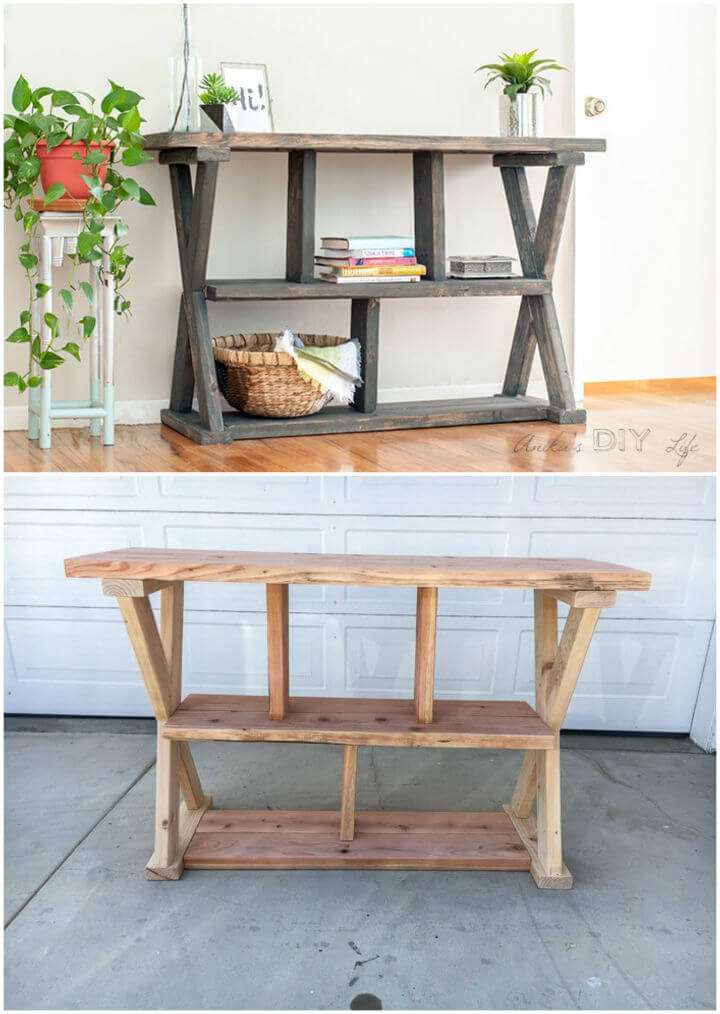 Gussy up your entryway or foyer home position with this stylish console table, made with hands. It is something very impressive that will meet the eyes of your guest first while entering your home.
Make this console table hold your accents and go for bigger statements of entryway decor. how-to details here anikasdiylife
Make $5 Hanging Planter: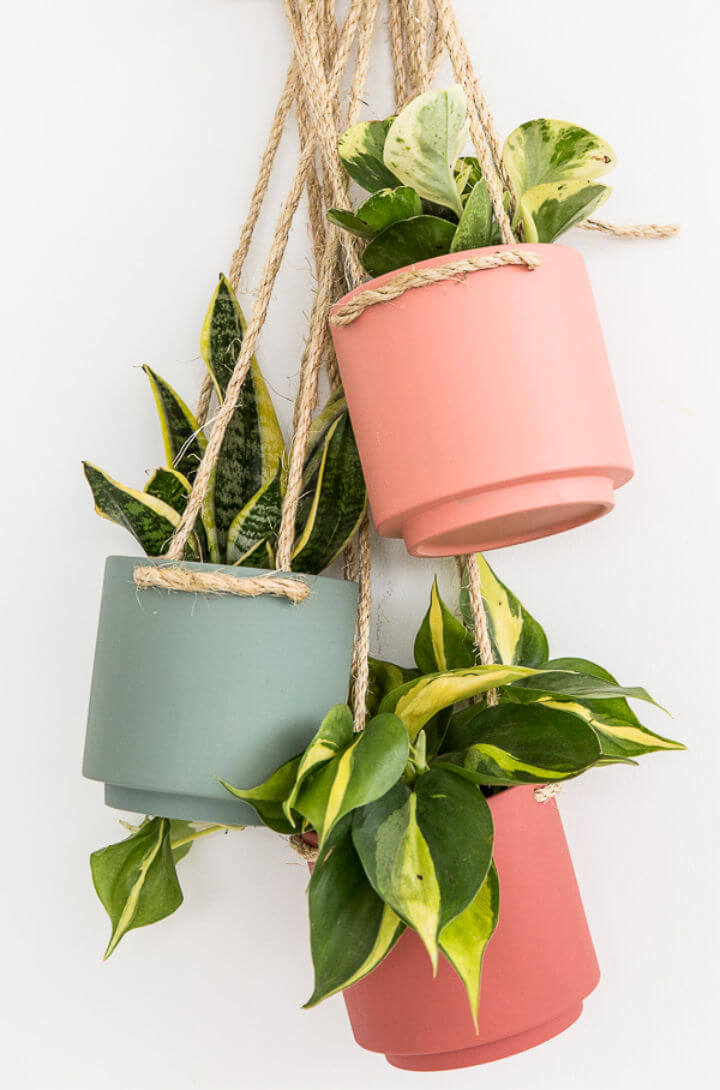 Consider giving a glam touch of the garden to your miniature entrance by hanging planter.
They will give a warm welcome to every new entering person and will help keep the moods happy. Here this cluster of colorful hanging planters will cost you only $5. Details here papernstitch
DIY Hanging Entryway Organizer: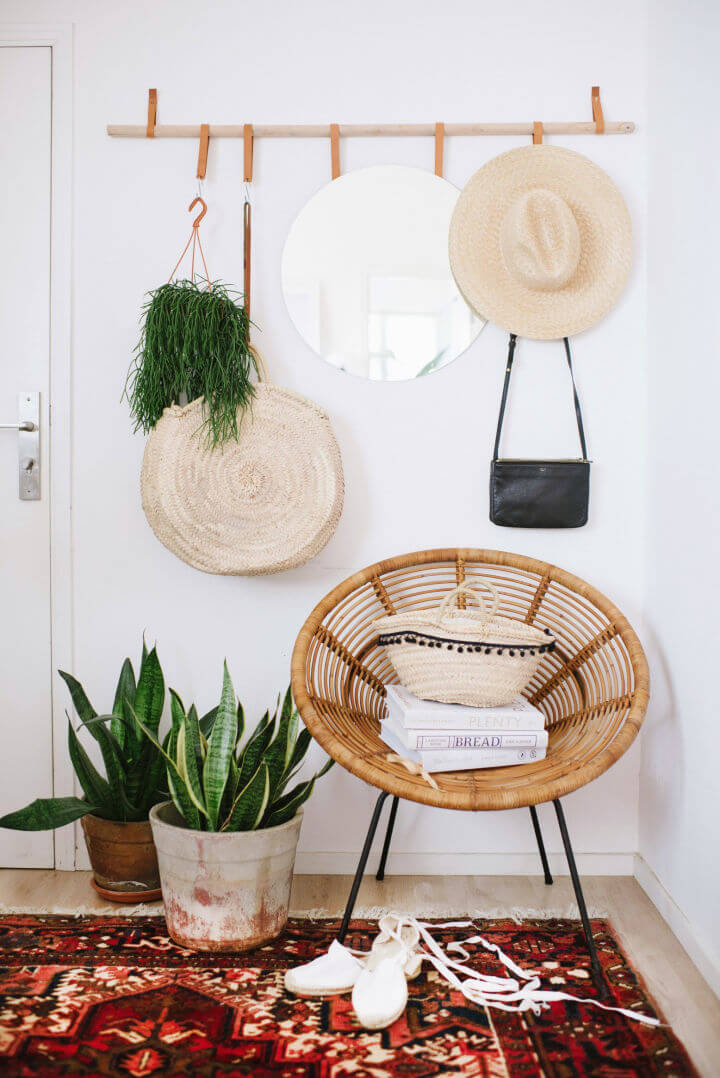 Have bored the old entryway wall hooks? Then let your entryway be more functional and stylish by installing this entryway wall organizer.
Make it using a reclaimed wood dowel and add the hanging leather loop hooks. Details here apairandasparediy
DIY Circle Chain Entryway Mirror:
Create a superb posh look of your entryway by adding this circle chain entryway mirror, will impress at a very first look.
Mount a round mirror on a wood round and then hang it up on the wall through metallic gold chains and hooks. Details here abeautifulmess
Easy DIY Entryway Coat Rack: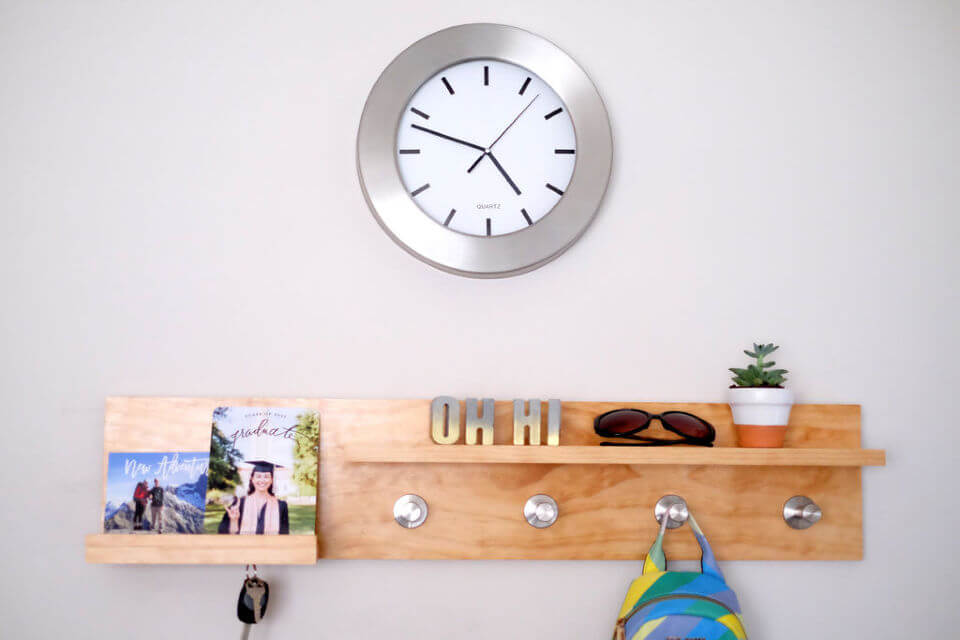 Performance-wise, this miniature entryway coat rack will just be magical. Make it using reclaimed wood slats and add custom display shelves, hanging hooks, and knobs for an extra functional behavior, a well-thought project to boost both functionality and decor of your small entryway. instructables
DIY Entryway Bench with Shoe Rack: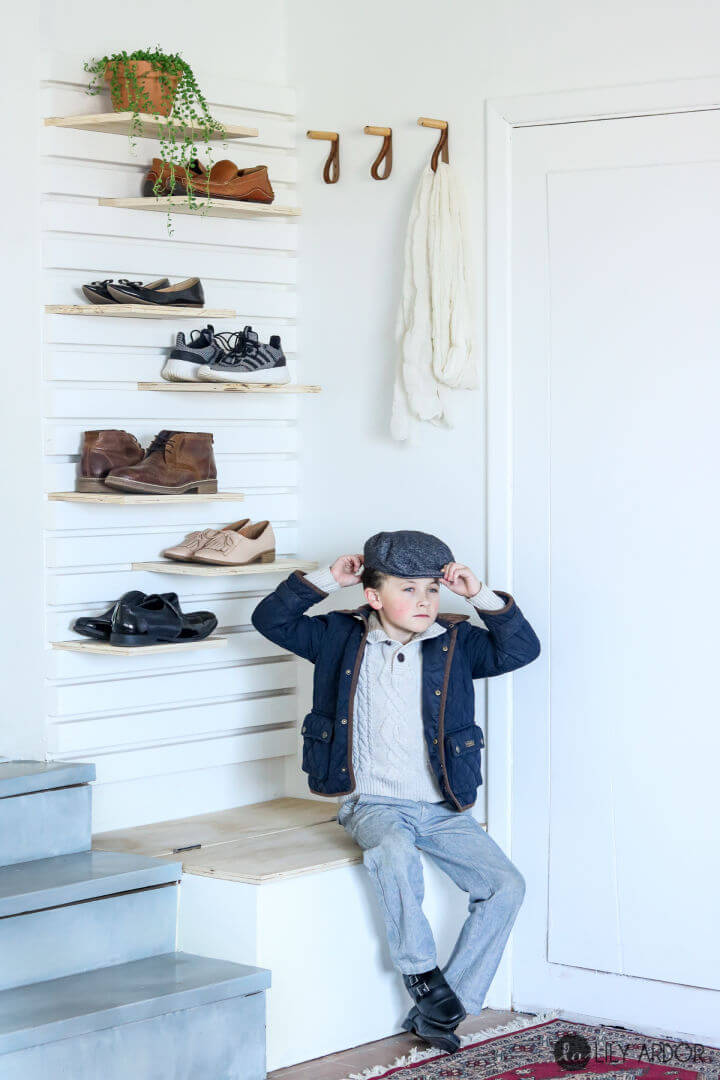 It will take much less time to get an attractive entryway or mudroom when you have a little stock of wood planks left over after a wood project.
Check out here a well-organized mudroom that provides both a sitting bench and a shoes rack providing individual shelves for shoe display. Here is how to make it lilyardor
How to Make a Entryway Bench:
By installing only a bench to your mudroom, you can bring a big wow factor to your entryway. Surge a great inspiration from this given bench design that is made of recycled wood planks and is too beefy to live longer than usual. How-to details here erinspain
DIY Coat Rack Behind the Door :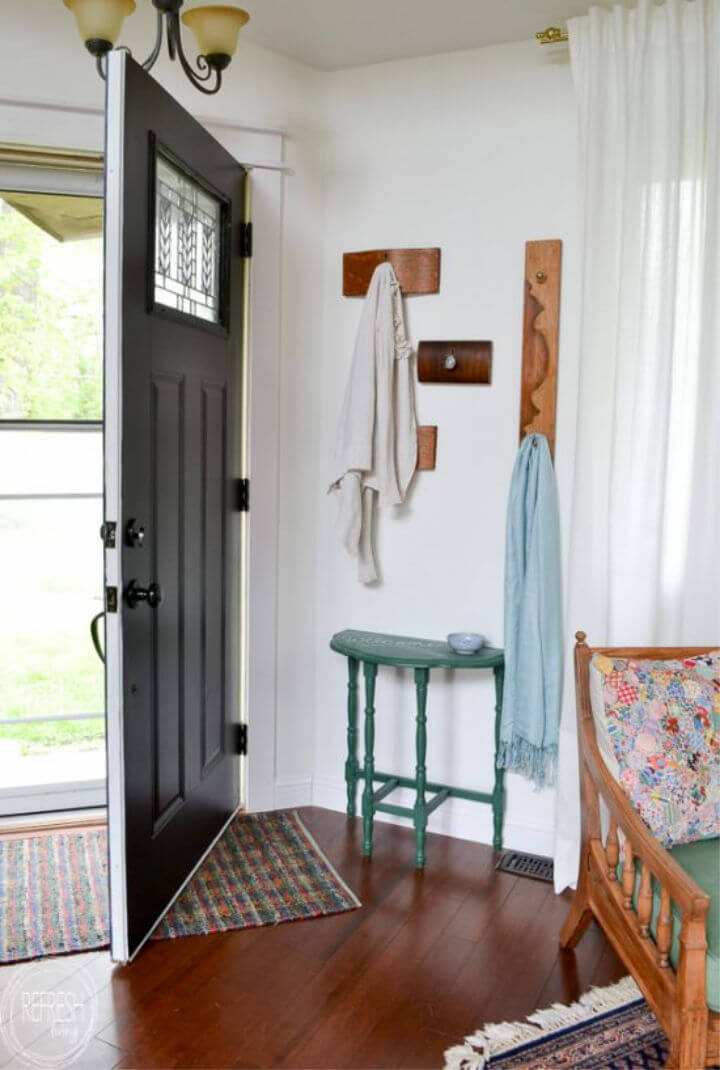 You often have nothing to do with the wall space behind the primary entrance door, use that space to bring charm and a big functional character to your entryway.
Do it only by installing a coat rack or a display shelf with knobs as you can see. Full instructions here refreshliving
Space Saving DIY Console Table: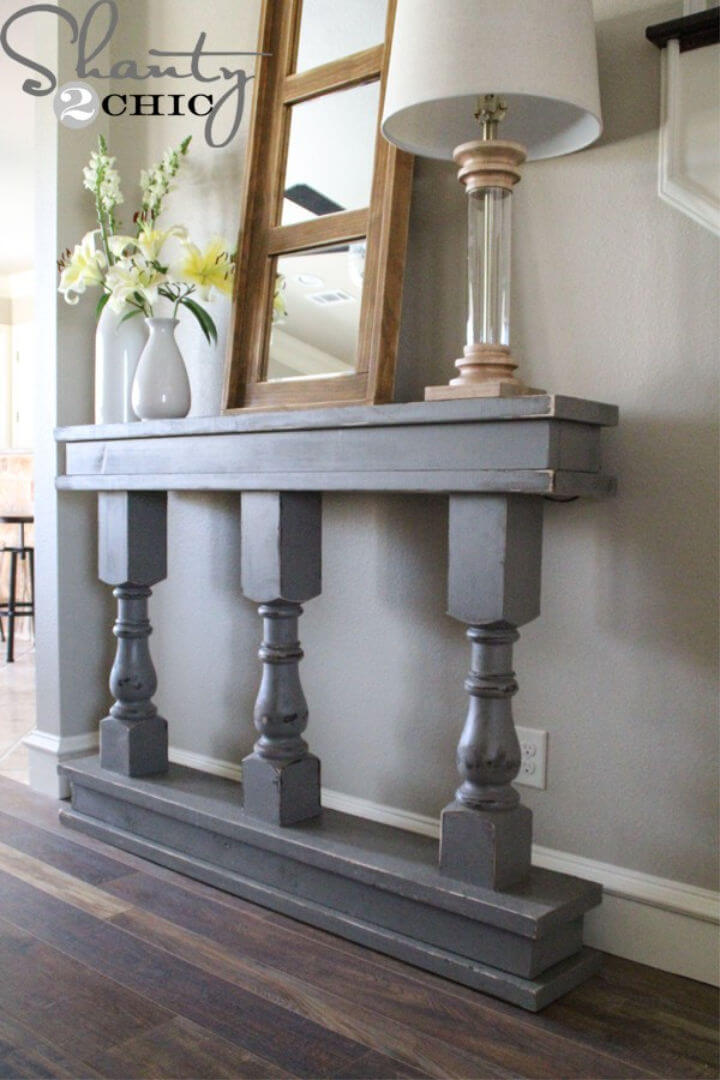 We just can't choose the items of furniture that comes in big dimensions, for every mudroom that is not very spacious. So, choose this space-saving DIY console table, will fit best to a miniature entrance also and will really do a great job.
Here this space-saving console table comes with two levels supported with in-between spindle vertical pillars. Details here shanty-2-chic
Entryway Wall Shelf: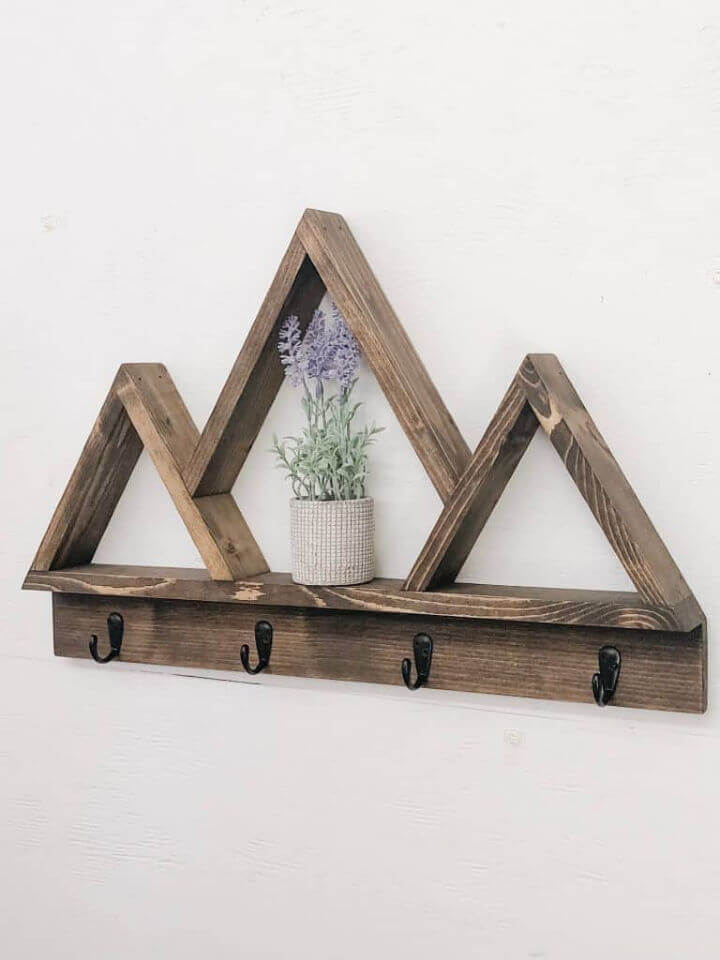 Promote a better appeal and look of your primary entrance by installing this entryway wall shelf, features a mountain peak style. Again you need a few weathered wood planks to make this rustic, yet modern wall shelf has knobs underside. Full how-to instructions here DIY Bookshelf Ideas
Entryway Key and Mail Holder Wall Organizer: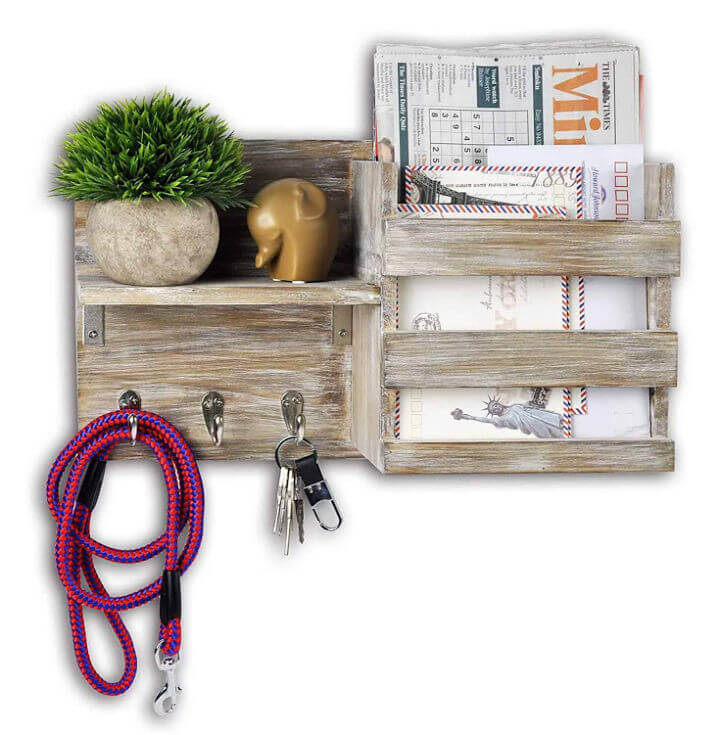 Foster the better looks and functional behavior of your entrance by adding this key and mail holder to your entryway wall, will be a pleasure to make at home.
Fewer wood planks will be enough to make this dual-functional mail and key organizer. How-to DIY Key Holders and Rack Ideas
Small Entryway Table for Fall Decor: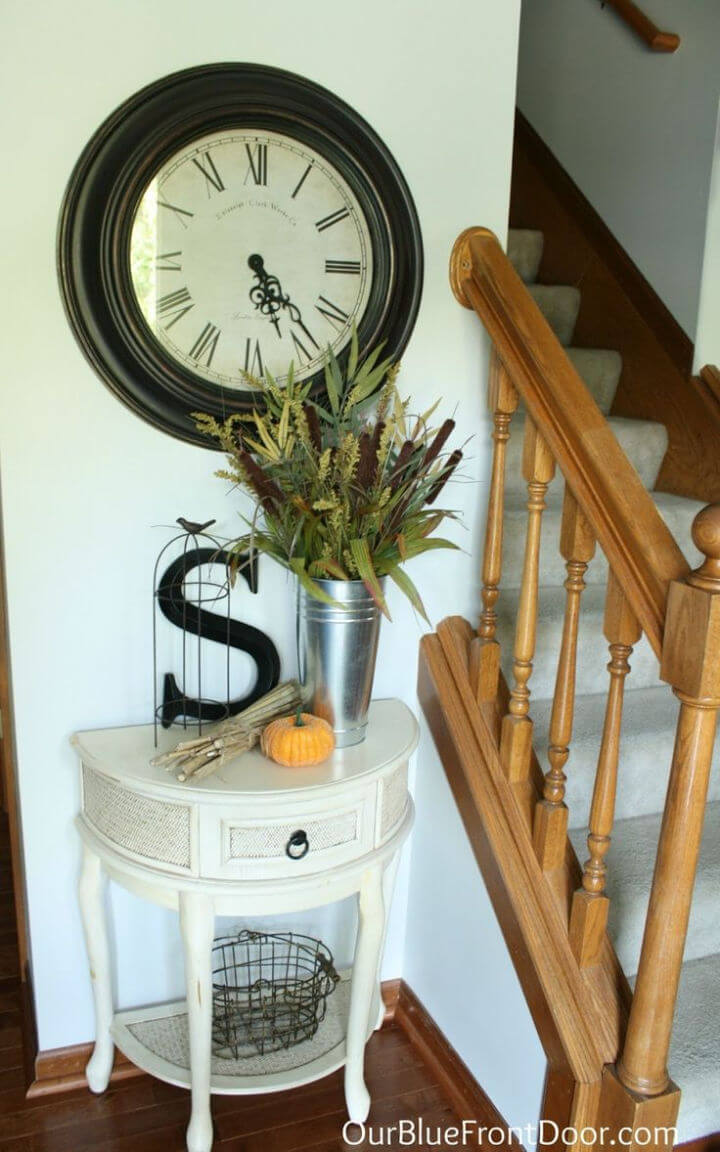 You can do multiple things to spruce up your entryway, adding a decorative console will be one of the most amazing options.
Choose this D-shape accent console, is storage-friendly due to the bottom shelf and has all the features to style up your small entryway.
Decor Entryway with Wall Shelf and Mirror: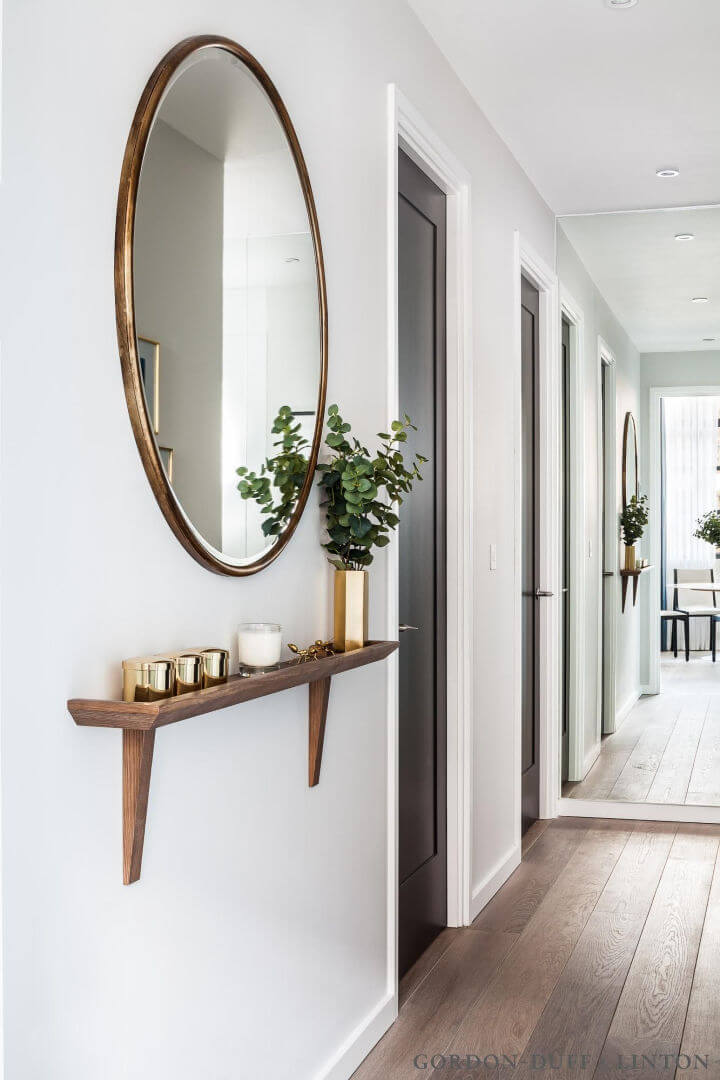 Having no plan to grace up your entryway? A round wall mirror and an accent shelf would be enough to make your hallway or entryway a lot more impressive.
Add the accent round mirror on the wall and install the decorative accent shelf just below it as you can see.
DIY Hanging Copper Hat Rack: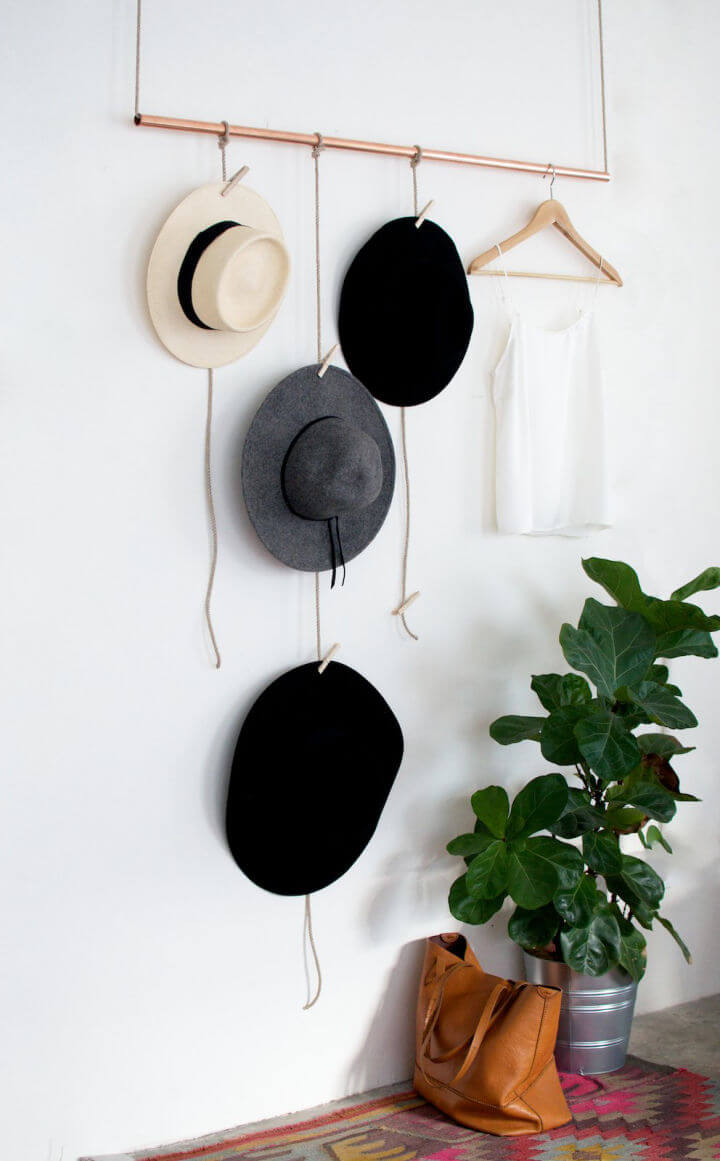 We are discussing here every single possible way to bring elegance and prominence to your small entryways that will be appreciated by all.
Improve your entryway with this hanging copper hat rack that is quite easy to build and involves cheap supplies like rope, copper pipe, and hangers. Details here apairandasparediy
Make an Entryway Rug: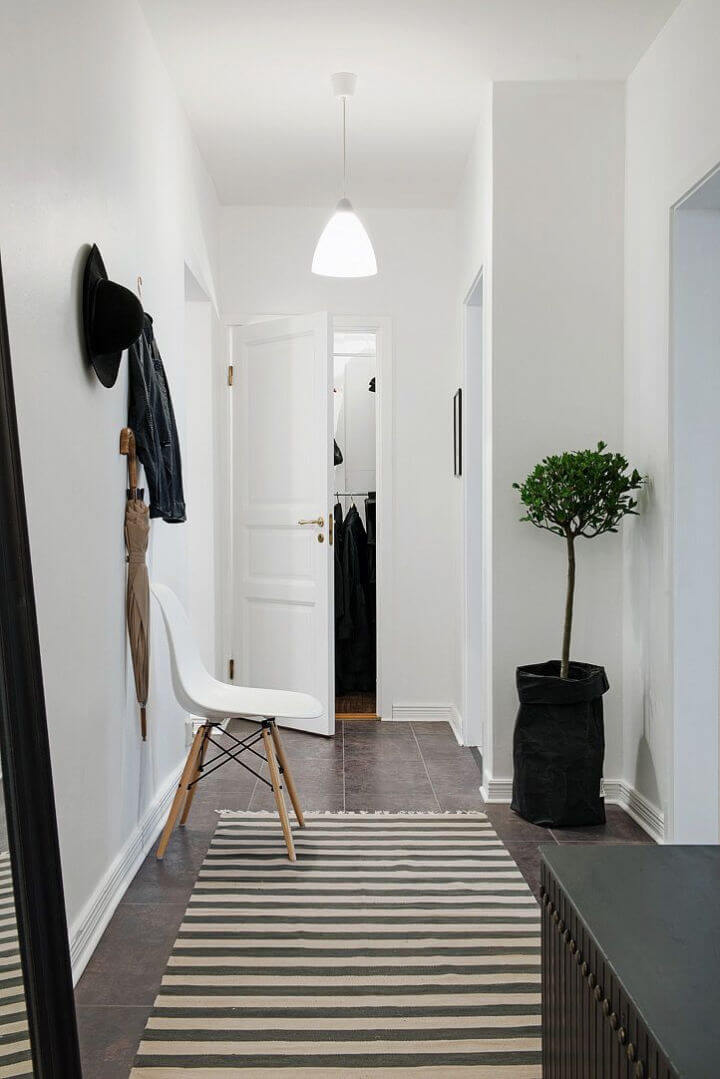 Go for also impressive first impressions of your home by updating your small entrance with a good looking rug, will make bigger changes to the overall appeal of your entryway.
Go with this striped entryway rug and see how it jazzes up your entrances. Details here
Entryway Metal Shoe Rack and Coat Hook: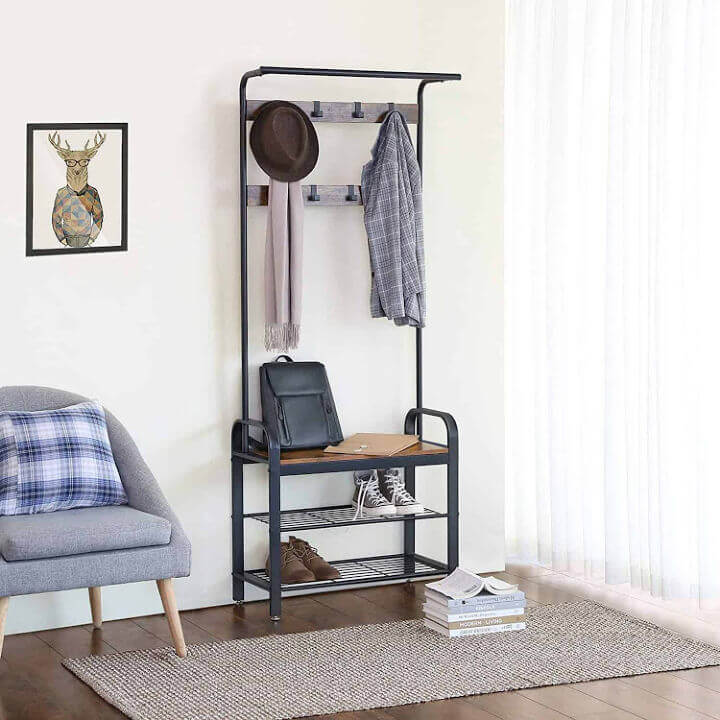 Set your entryway and hallway to perform much better by adding this metal shoes rack and coat rack, made to rock and inspire. This is something super quick to build and will be loved dearly by all the home members who need to organize some immediate items.
It is much like a hall tree and comes loaded with lots of shelving and hanging space. Full project details here
Boot Planter Under the Entry Shelve: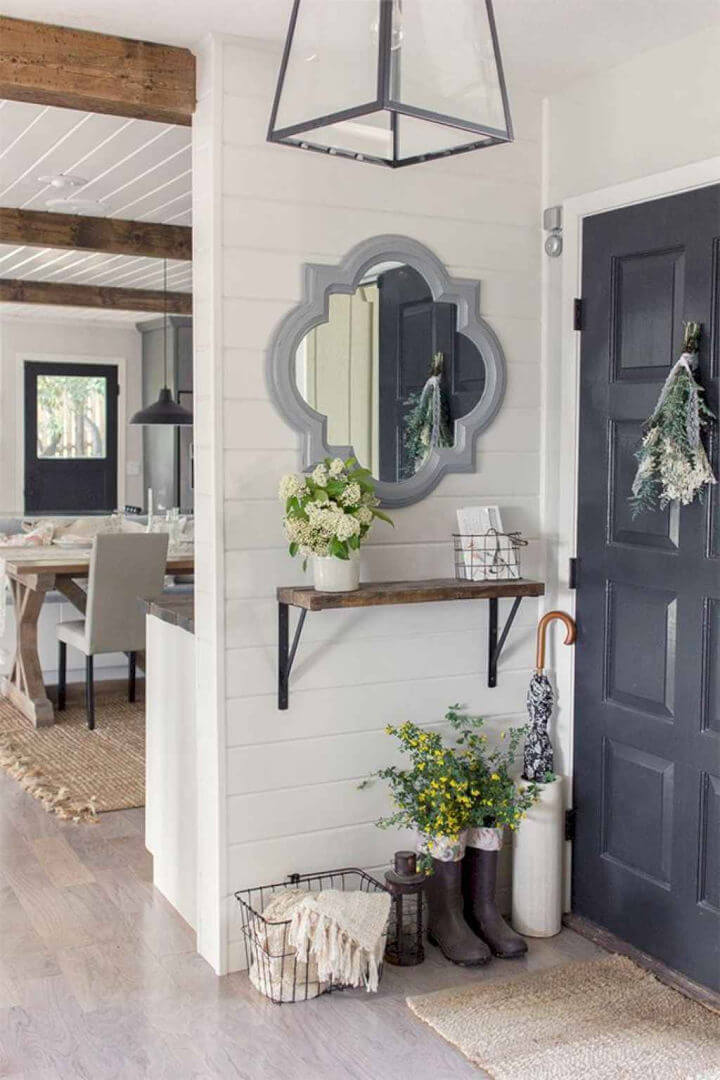 Add this another plan in your to-do list to gussy up your small entryway. This is all about to bring some natural decor vibes to your entryway while intending to improve entryway for an added functionality.
Install a shelf and make it hold a decorative planter and also put a rain boot planter underside and that's it. Full how-to tutorial here
DIY Table with Purse Organizer: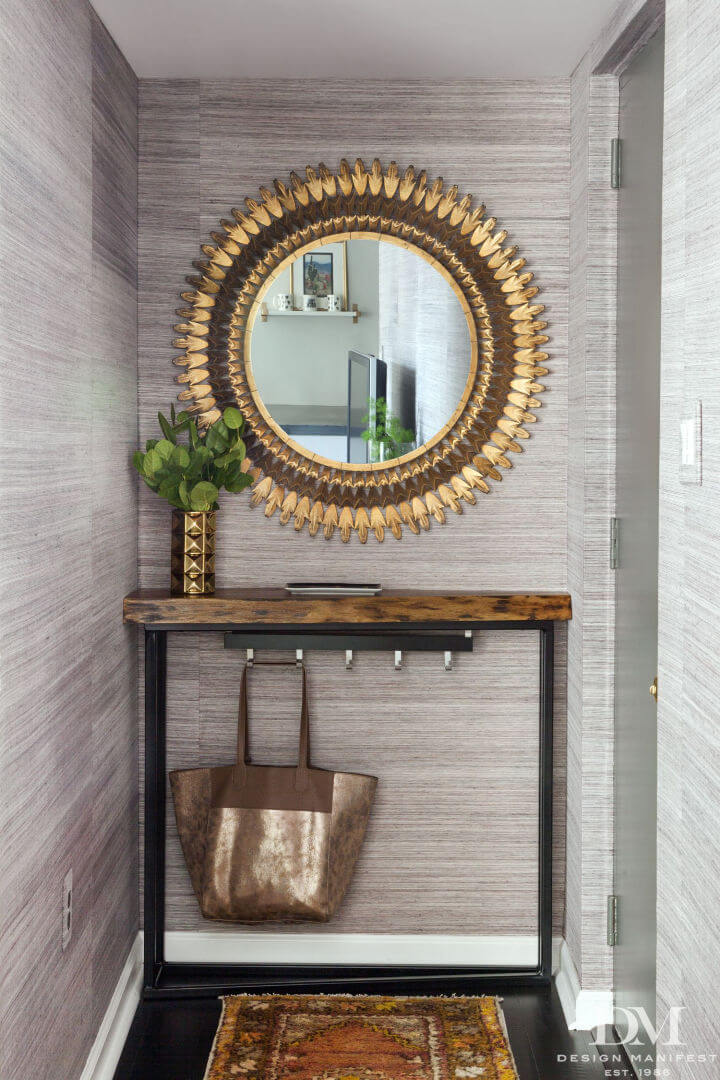 Here you are viewing the one of the bizarre mini entrance ever decorated at home.
It involves building a lovely entryway console with built-in handbag holder or hooks, next you can add an enticing round mirror on the wall that will engage the audience.
Small Entryway Storage Bench: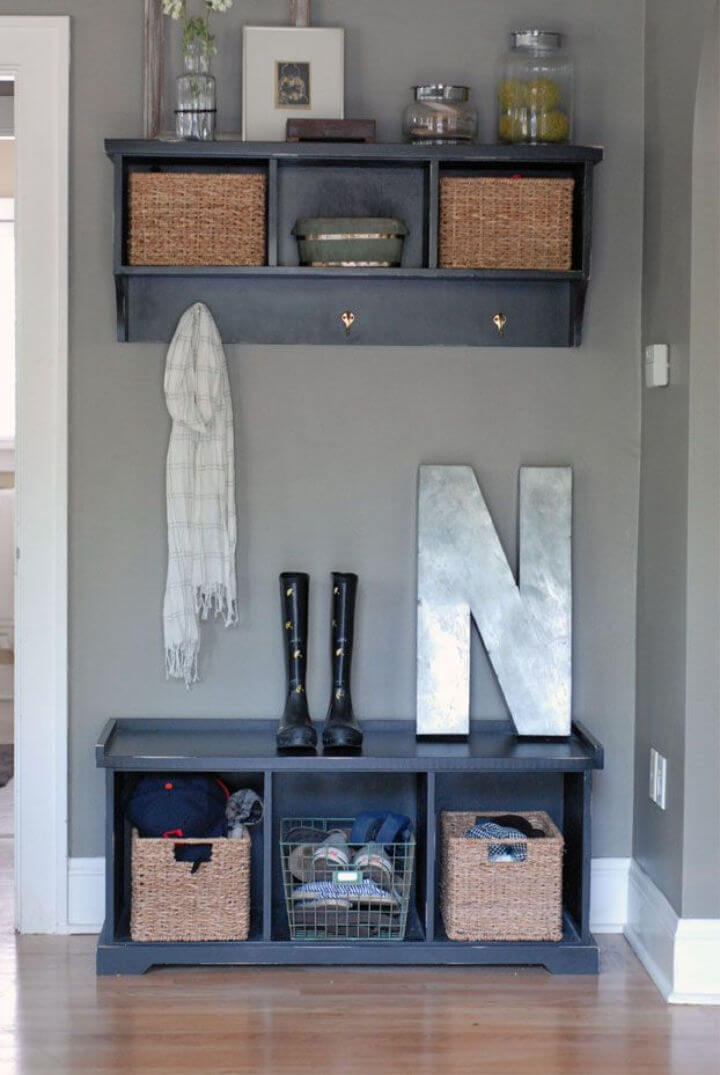 Opt for this storage bench also to make your small entryway focally stimulating and storage-friendly.
This easy-to-build bench will expand the functional span of your entrance and will also accomplish mudroom sitting space needs. Full how-to instructions and tutorial here
Hang Arts Above Table: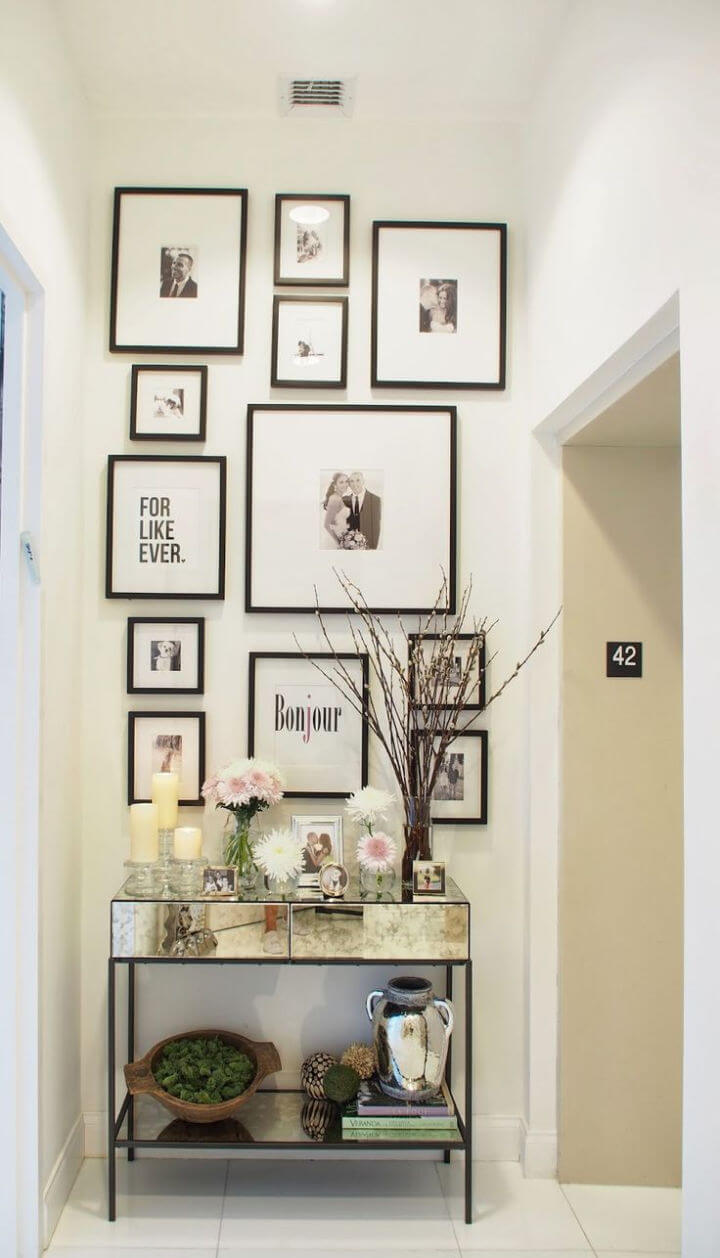 Create a divine appeal of your small entryway also by adding above table art frames. Make them also at home using your broad creativity.
Hang the photo frames in custom configurations to build a big gallery wall, will surely wow the audience.
Bench with Storage Drawers: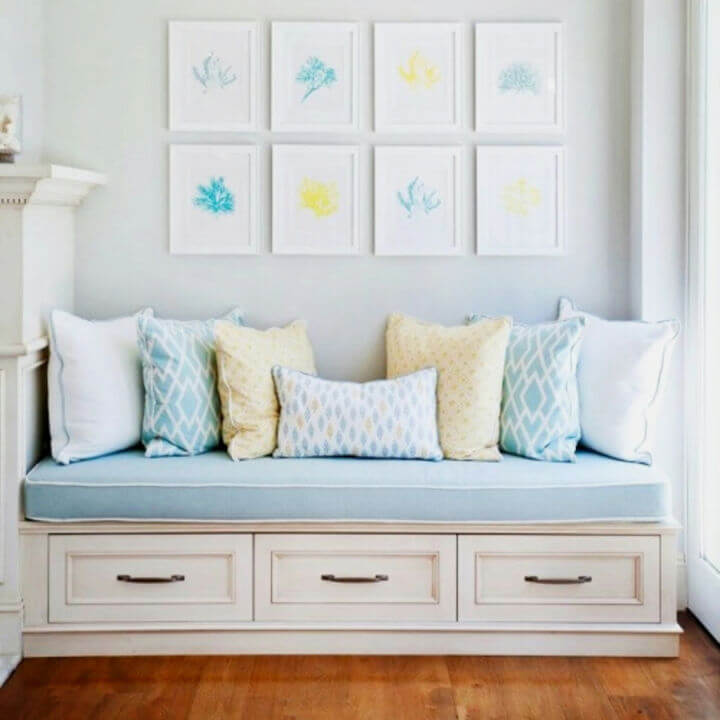 Relaunch your small entryway or mudroom by adding this mudroom bench that provides lots of drawers and hence super-secure storage space.
This options will rock when you need to update your entrance for party time sitting, to take afternoon naps or to enjoy book reading. Full how-to instructions here
Mini Corner Storage Bench for Small Entryway: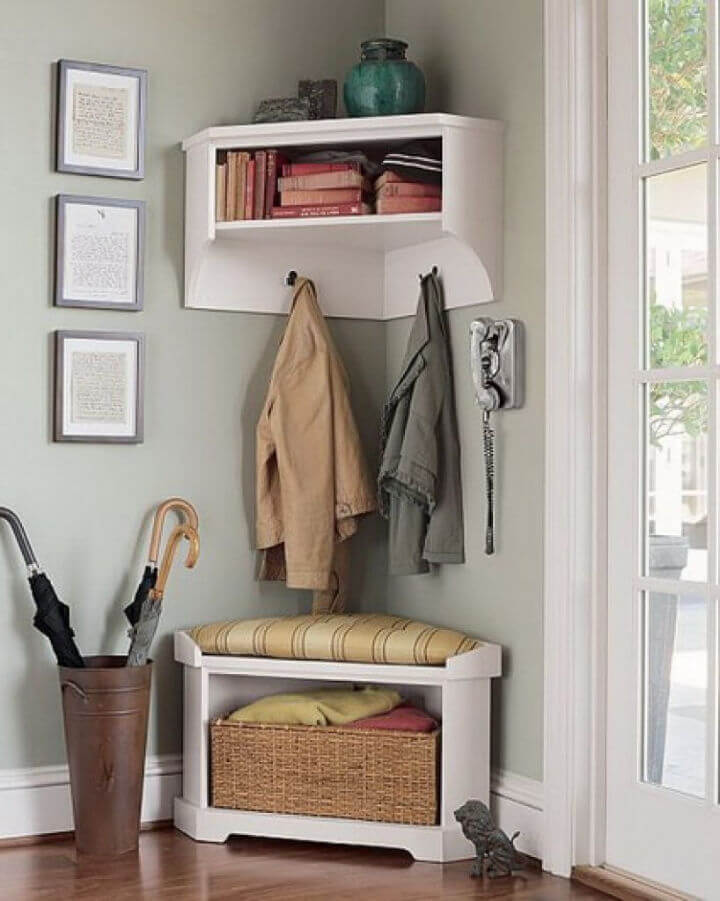 See this stylishly improved small entrance, done by adding a stylish corner storage bench and a storage-friendly corner shelf that hangs just above the bench.
A perfectly low-cost plan to update your entrance in a modern way while getting lots of storage, sitting and hanging space.
Wall Mounted Entry Table: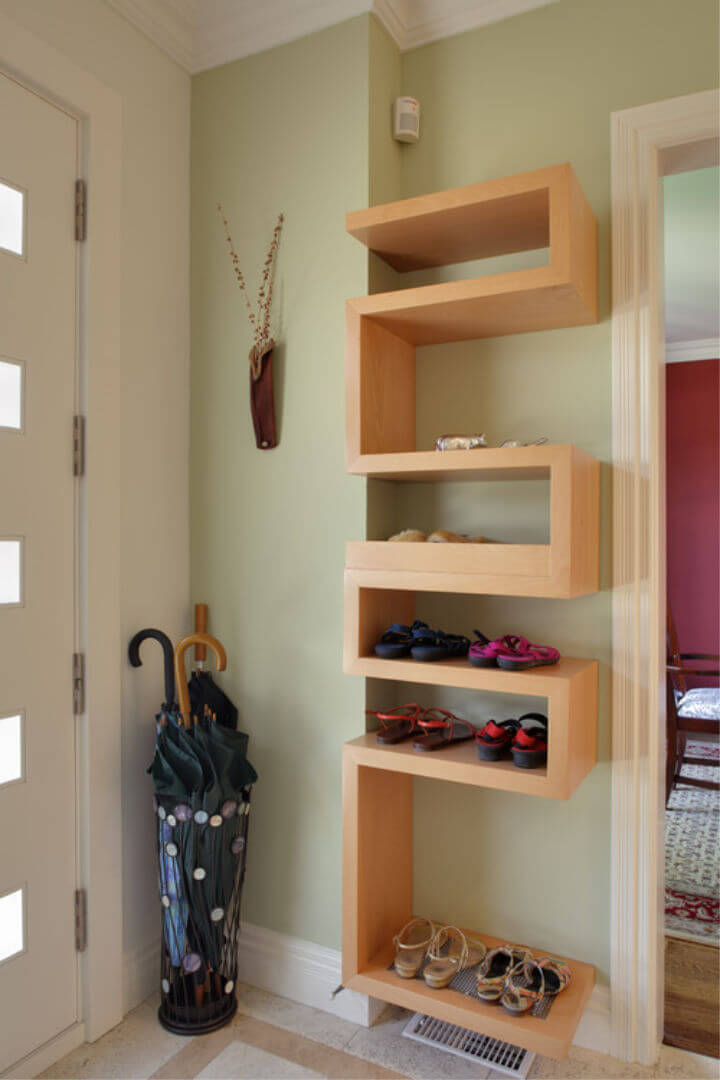 Once you stare at the amazing design curves of this wall-mounted entryway table, you will definitely find yourself praising the entire model that is more than beautiful.
A self-made design of entryway table that provides enough storage and display space to rank up your entryway. IKEA Kallax Shelf Hacks
Beautiful Wreath for Decor: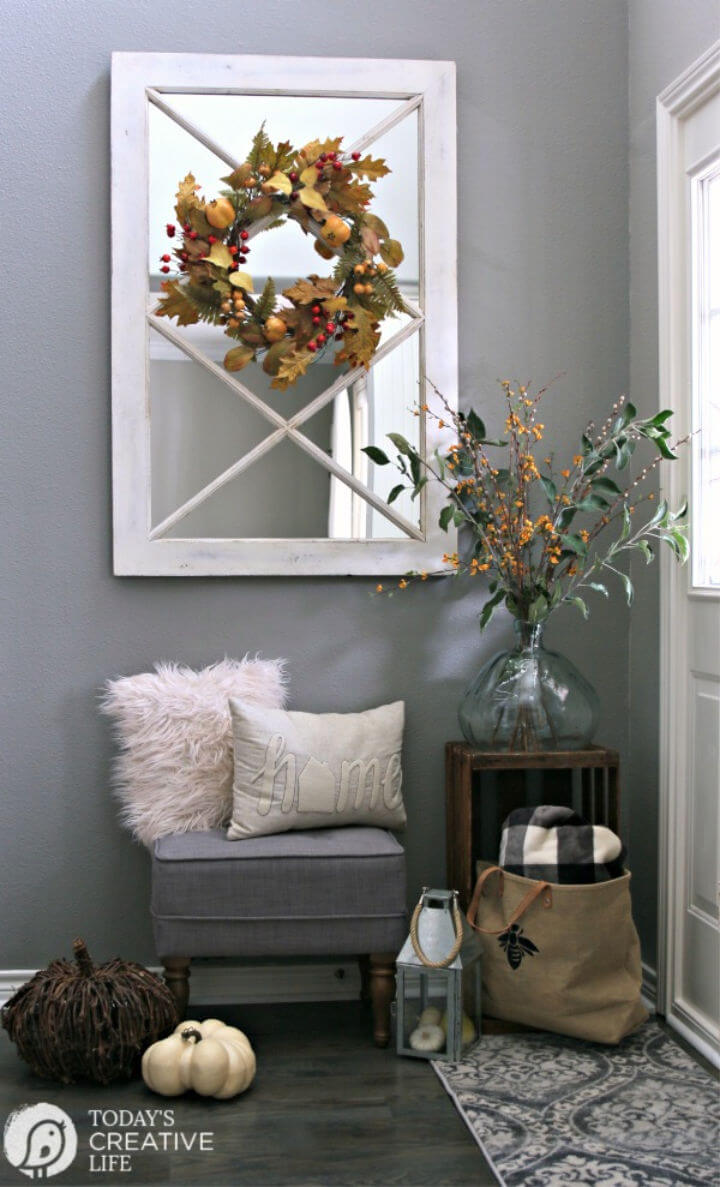 You will love the way this beautiful wreath will rank up the beauty of your entryway by being a prominent part of the entryway wall decor.
Here you can make this wreath using both faux or real flowers, foliage, and other springs and greenery.
DIY Plank Wall on Budget: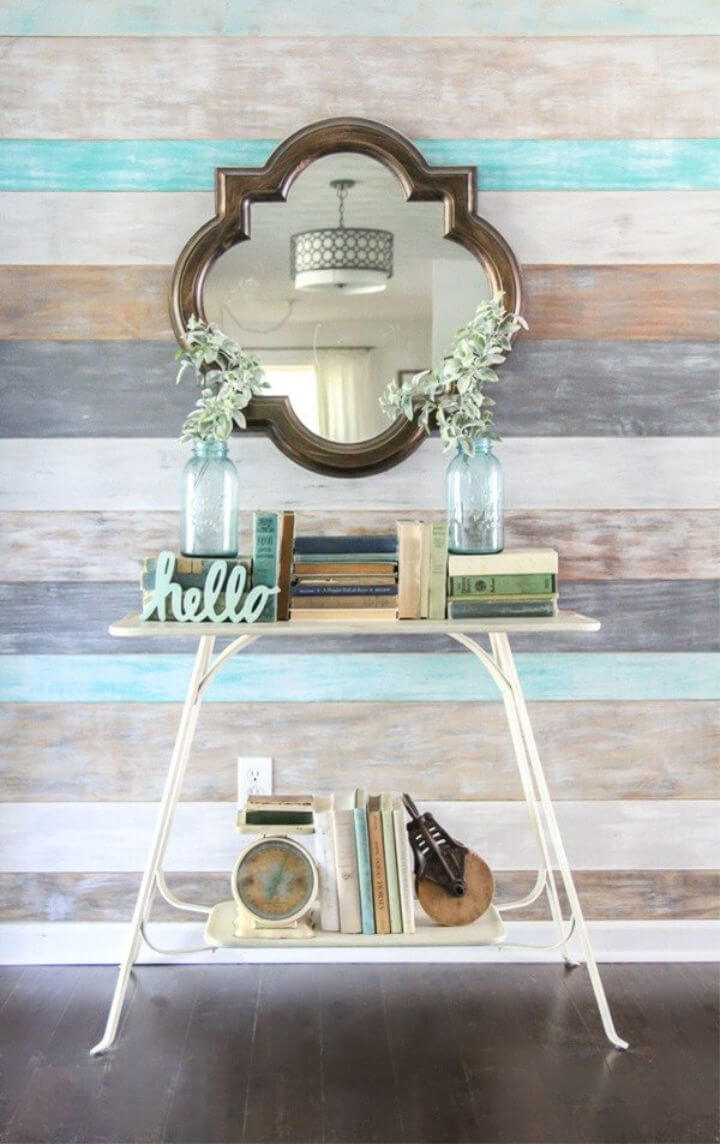 Go also handmade with the wood planks to make your entryway look gorgeous. This wood base entryway decor treatment will involve building an accent planked wall that comes with colorful wood plank inlays.
This planked wood wall is rustic yet modern and is guaranteed to amplify the beauty of your small entryway. Details here lovelyetc
Stylish Faux Fur Stool: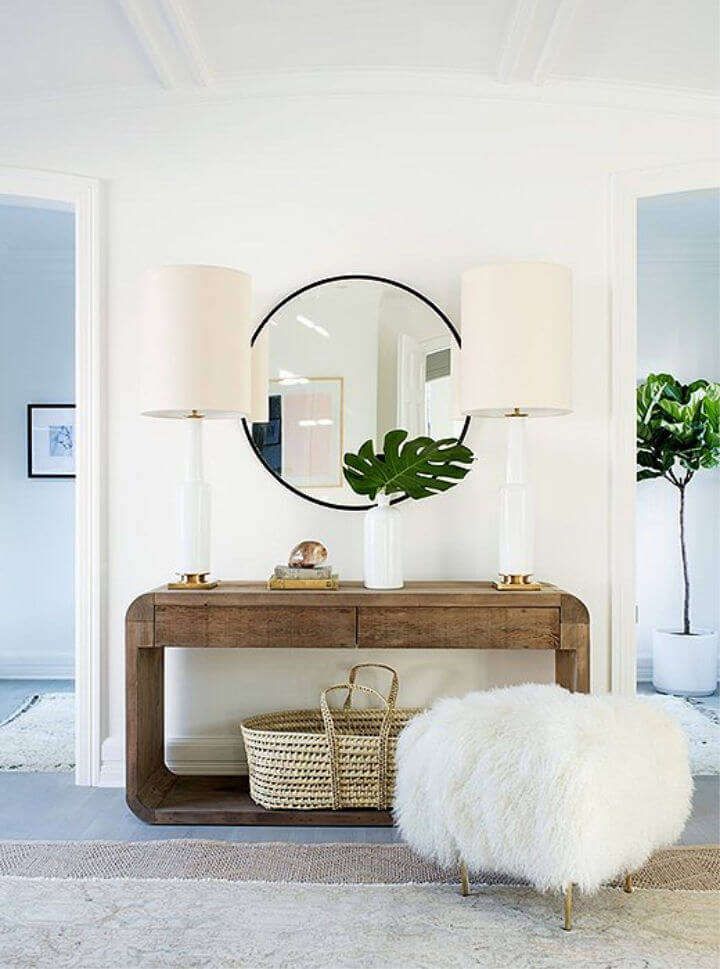 If you are making efforts to make your entryway look unique, then you must go with this stylish faux fur stool, made to rock your entryway.
It comes with short metallic gold legs and is sure to be an outstanding addition to your main entryway. It is both decorative stuff and a perfect seat for your mudroom.
DIY Daybed with Storage for Small Entryway: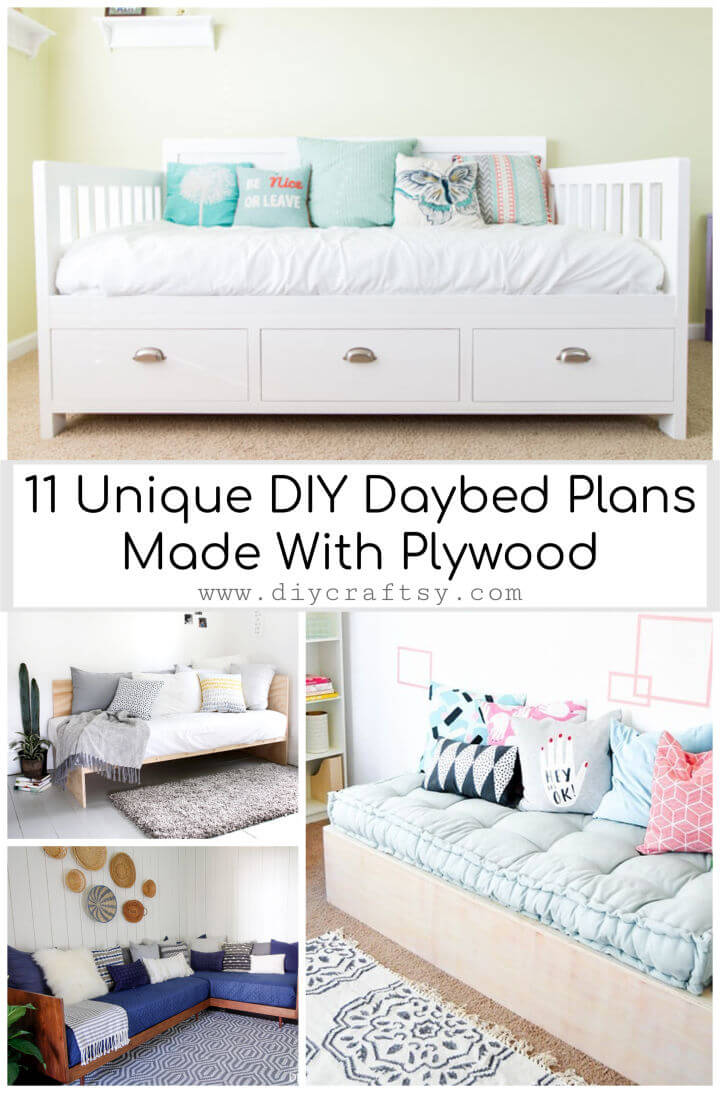 You may also like these easy to make DIY daybed with storage that helps you to organize your entryway in more comfortable ways! Try these DIY daybed with free plans.