Everyone knows that how soft the ripened red tomatoes are, a little weight over will mash them. So, prop up the weight of tomato harvest with these 10 cheap homemade DIY tomato cage ideas that will also be like a big focal point in your garden. Use these cages to hold the tomatoes off the ground and hence reducing the danger of tomatoes rotting or being damaged by an insect attack. Building a tomato cage can be challenging for many of us. But you can browse these 10 easy DIY Tomato Cages that involve step-by-step instructions, tutorials, and visual guides to build a tomato cage from scratch.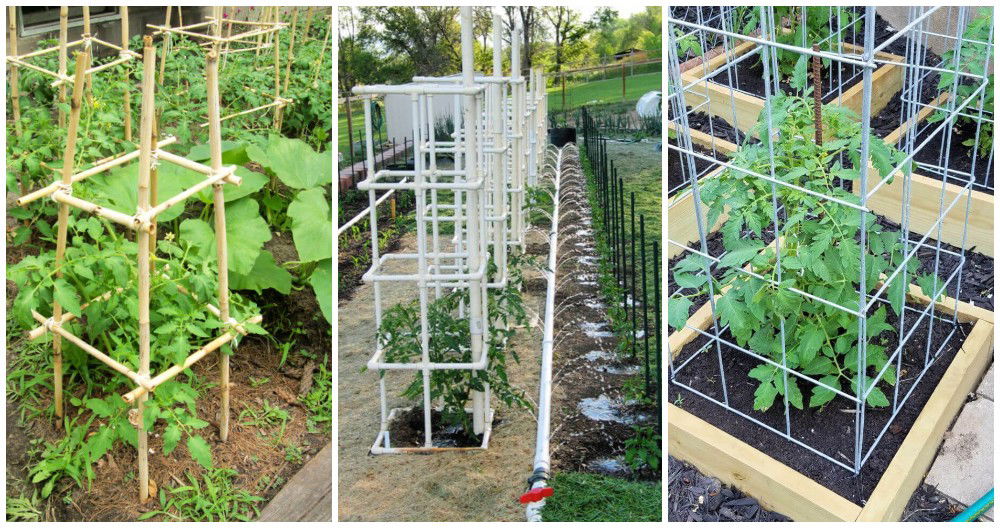 Using a wire fence mesh cloth to concrete reinforcing wire mesh, and also from PVC pipes to bamboos, you will learn here to build a tomato cage with all the possible materials. These tomato cages will help in both cases, to boost the tomato harvest and to easily harvest the tomatoes.
Here you will learn to install a tomato cage in so many different ways. First, you can use the wood or metal garden stakes that can hold the wire mesh cloth, building a taller tomato cage. Next, you can put together the bamboos and PVC pipes with custom fittings to make lasting longer tomato cages. This will cost you much less. Take a short tour of all these DIY tomato cage ideas and pick one to reproduce for your garden.
1. Build Your Own Homemade Tomato Cage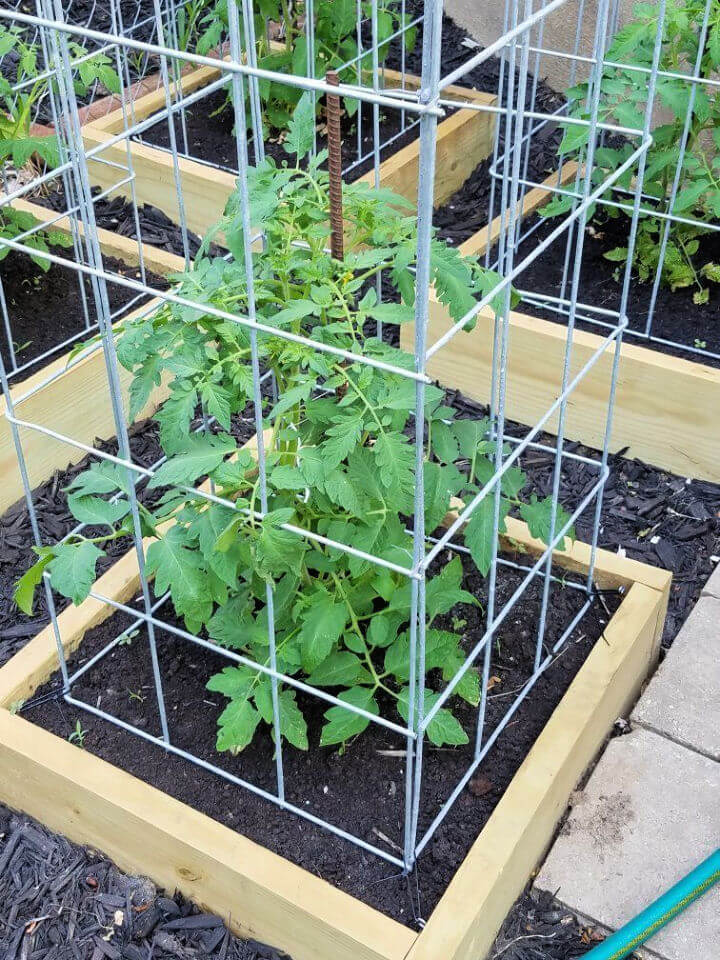 Extend your tomato harvest with this tomato cage, durable and cost-effective! Make it using cattle panels having size 4′ by 16′ and here you need 6 panels to make these tomato cages! The best to train the tomatoes to grow over the cage for less damage! instructables
2. How to Make a Wire Tomato Cage
Install this tomato cage wooden stakes and wire mesh fencing! As tomatoes are prone to damage, so building this wire tomato cage will help grow them safe! The fenced cage will build a fancy focal point in your garden along with blocking the pets off the tomato garden! diynetwork
3. DIY PVC Tomato Cage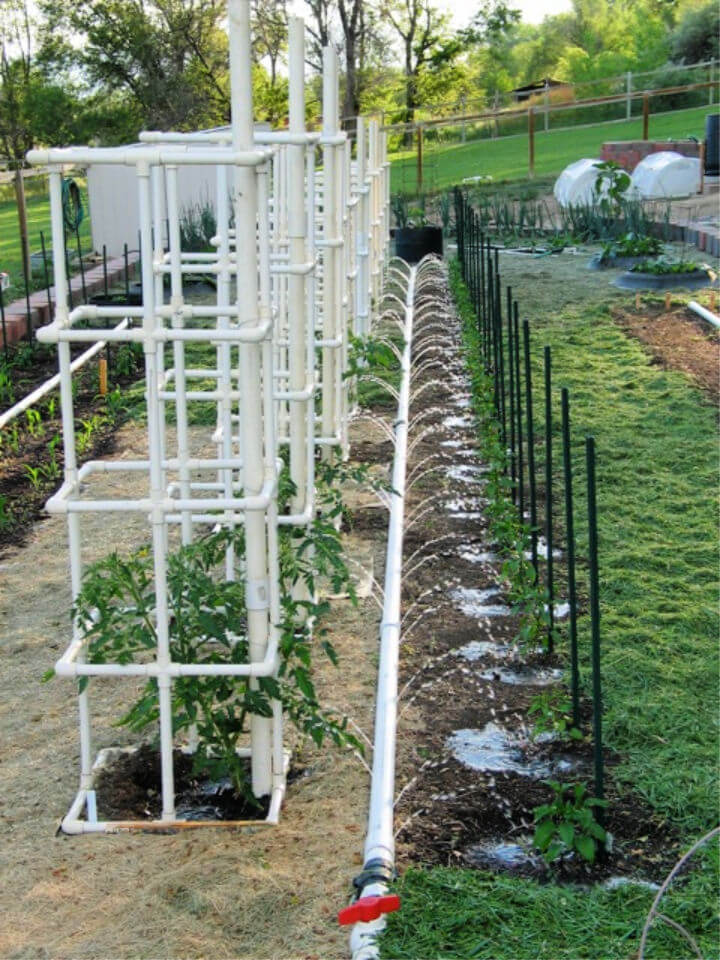 The metallic tomato cages have their own benefits, but one can use PVC pipes too to build tomato cages! Build the 4 and 5-foot tomato cages quickly using durable PVC pipes, elbow joints, T-joints, and custom fittings! The PVC tomato cages will live longer for sure! idreamofeden
Ideas to Build from PVC Pipe:
PVC Chicken Waterer: Find these time-saving DIY chicken waterer ideas using PVC pipe to keep you off the clock, all the time. Quick, easy, and will only cost you nothing.
DIY PVC Sprinkler: Make an above-ground sprinkler system using PVC pipe and some sprinkler heads. Try this DIY PVC Sprinkler for the step by step tutorial.
PVC Pipe Projects: Looking for an easy PVC diy? ANYONE can make these PVC pipe projects for the kids, backyard and more!
PVC Greenhouse Plans: Need a cheap, PVC pipe and long-lasting DIY Greenhouse? Simply check these DIY PVC greenhouse plans that are very easy to make!
4. Homemade The Bamboo Tomato Cage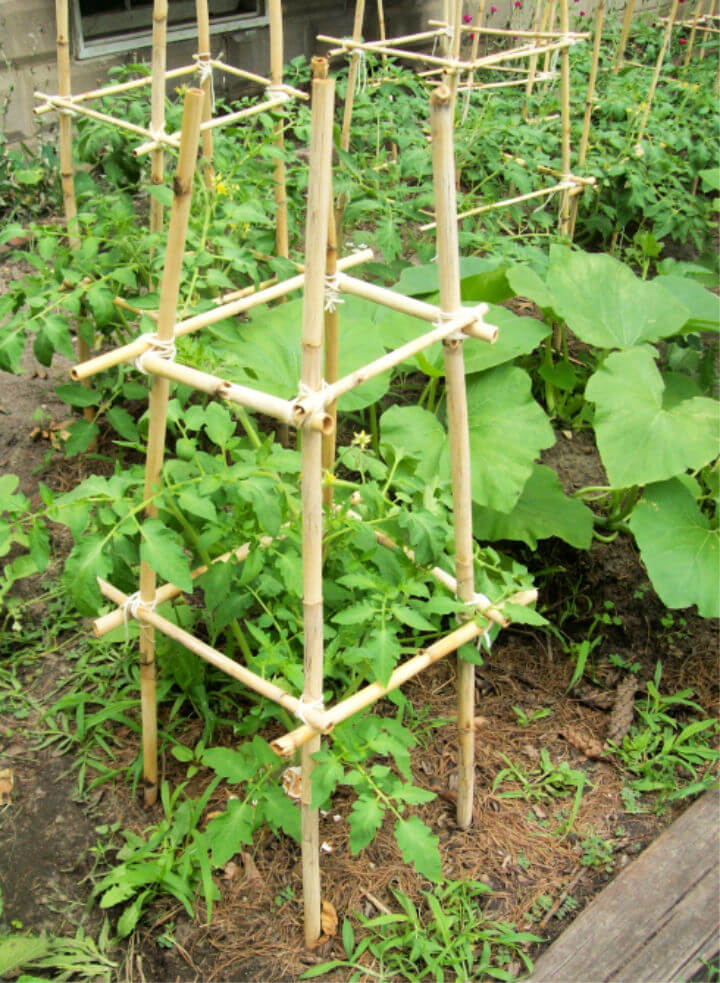 Build the tomato cages for free using a spare supply of bamboos! Use rope and tie them together building caged structures all around the tomato plants! A great idea for building most natural-looking tomato cages that will be super durable! The tomato cages at a $0 dollar cost price! inchbyinchrow
5. Ultimate Tomato Cage in 5 Simple Steps
Learn to install the ultimate durable metallic tomato cages like a pro in 5 simple steps! Use the livestock panels will cost you almost $20-$22, lay it down flat on the floor! Start cutting panels that you can fit together again to build a tomato cage! Use bold cutters to cut grid-style livestock panels! growingagreene
6. Low Cost DIY Tomato Support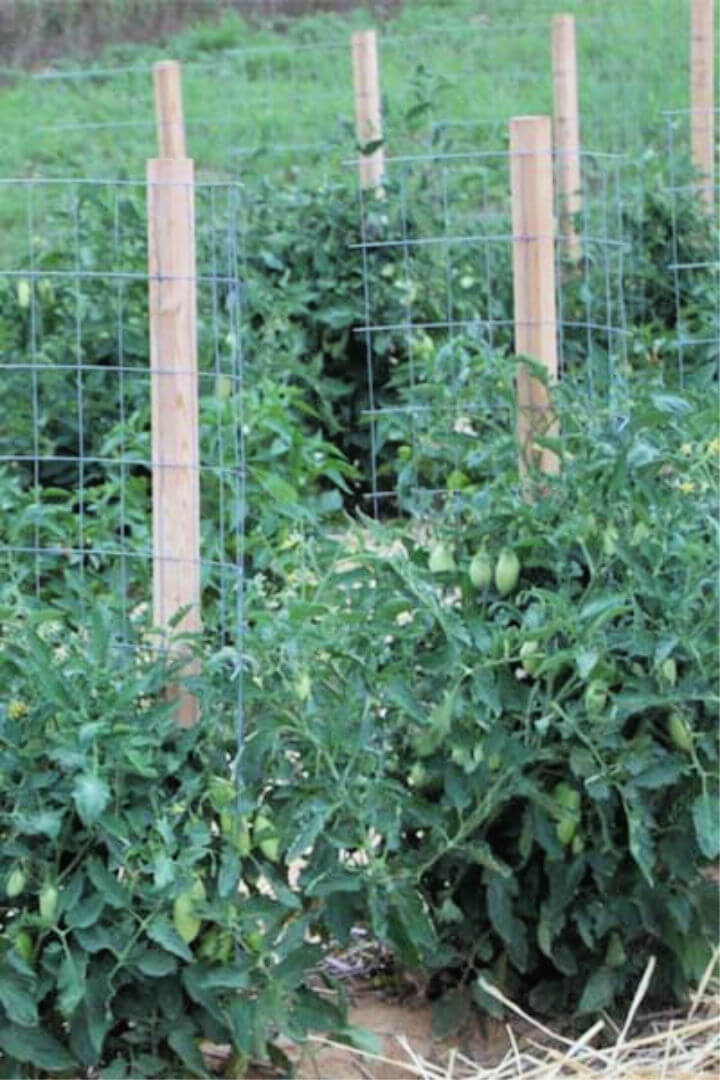 The tomatoes are much sensitive to insect attacks, protect them to grow in a healthy way using this tomato support! Build this support in a budget-friendly way using the wood stakes, welded wire rolled fencing and U-nails! Use wire cutters and jigsaw to ease your work! oldworldgarde
7. DIY Tomato Towers or Cages
One of the best durable and lasting longer tomato cages or towers to build at home! You only need rolls of metal fencing to install these taller tower-style tomato cages, which will be extra secured! Each 10ft tall tomato cage will cost you almost $10-$15! Full how-to guides here foodiegardener
8. How to Build the Best Tomato Cage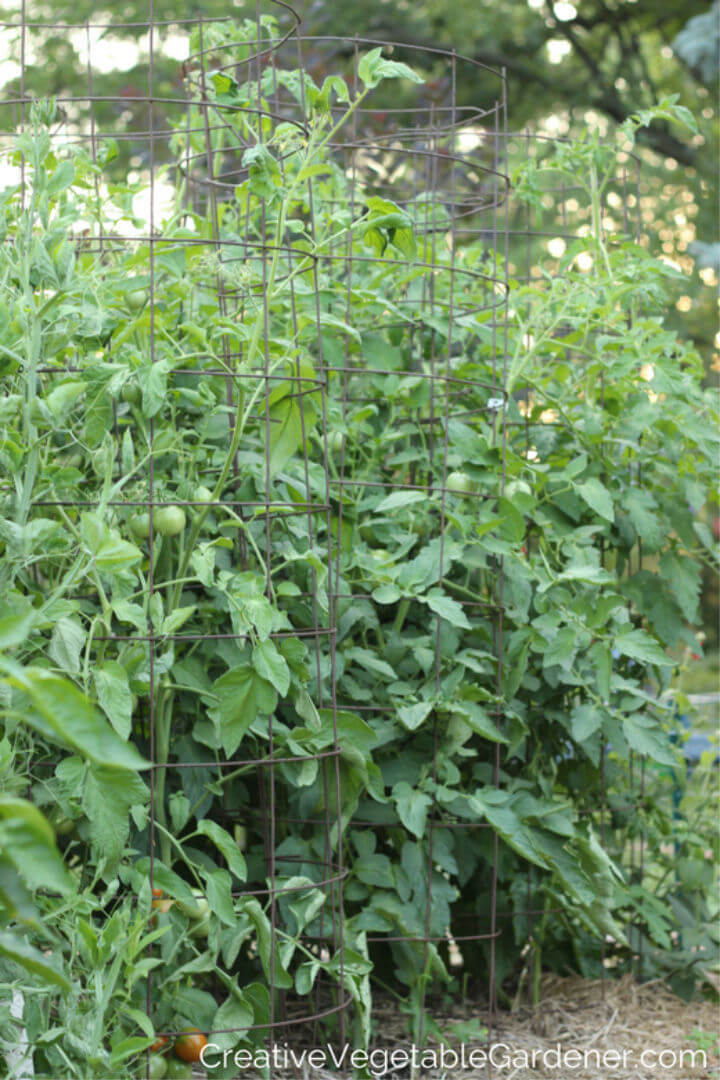 A totally new hack for building durable tomato cages in a budget-friendly way! Use the concrete reinforcing wire mesh to make tomato cages! Grab one roll 5′-150′ size to make almost 20 tomato cages, will have a very long lifetime for sure! creativevegetable
9. Easy to Make Tomato Cages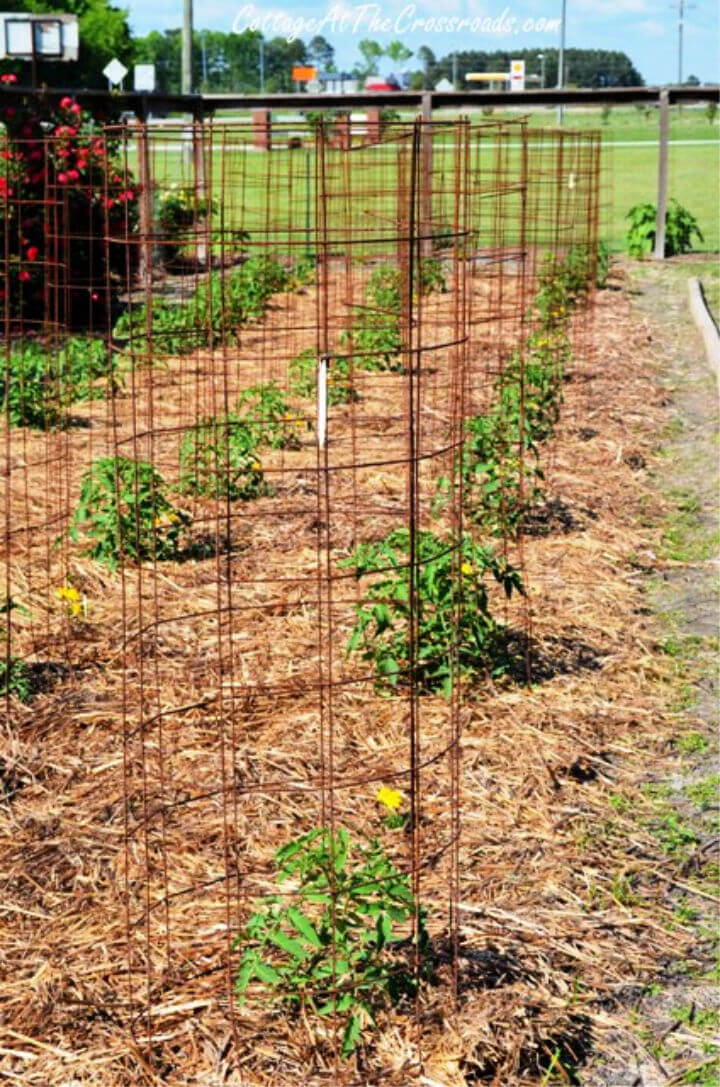 Cut the pieces down from a concrete reinforcing wire mesh having 6″ squares. You can buy a roll that should be 5 feet tall and 100 feet long, use wire cutters to cut the panels down. Assemble the panels again to build the taller tower-style tomato cages. Full guides here cottageatthecross
10. Raised Bed Tomato Cage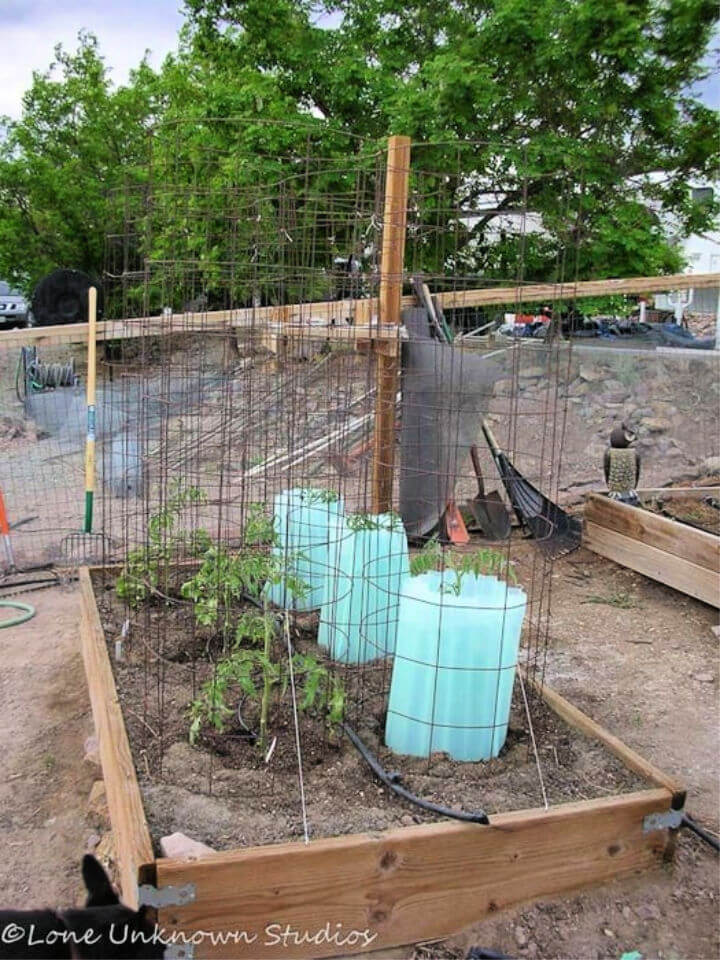 Want to build the most secure and protective tomato cages? Then opt for a welded wire mesh from the local hardware store to construct this tomato cage. Go for dry arrangements first and then cut the wire to be vertically around the tomato plants as lovely round cages. Wear safety gloves before using wire cutter. instructables