We all live differently and hence also follow some unique style of interior decors according to our taste! However, meeting the desires of a unique home decor style that you are incorporating to your home, will also demand the respective decor pieces, furniture items, wall art and also for the matching light decors! If talking about the custom indoor lights then there is a big range of indoor lights and lighting to choose from but to get the one that will fit best to your decor style, does something become more complicated task!
You can't visit hundreds of stores to find the indoor lights or lighting you are looking for, but at the same time, you can save a ton of your time and money by making your unique lights at home! Yes, you can upcycle various home materials from home to generate the perfect indoor lights in custom style, color and with other desired details!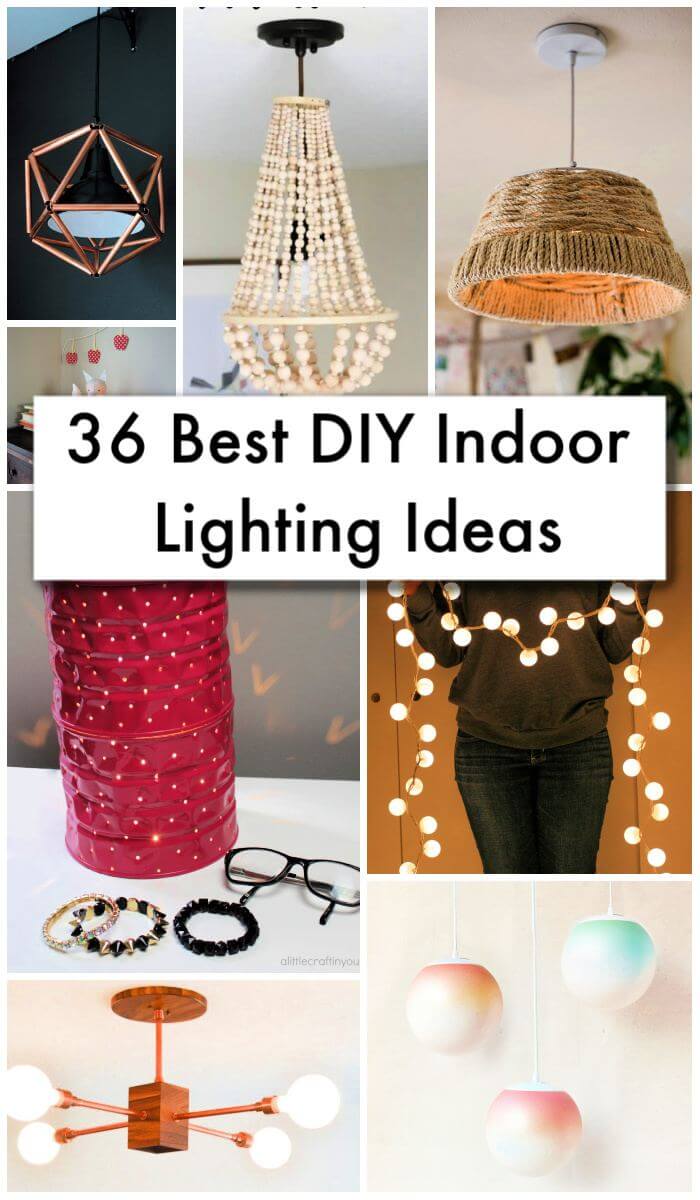 Also willing to make your beautiful indoor lights at home? Want some creative inspirations to take a good start? If yes, then take a short tour of this collection of 36 best DIY Indoor Lighting Ideas for your home decor that are genius and mind-boggling and will make you lights making professional! Here this list will inspire your creativity by exploring tons of different light making hacks that you have never thought or seen before! Here you will also be amazed to see a big list of common, retired, deleted and scrapped away home materials that you can reuse again to make the gorgeous indoor lights in no time! The excellent news is that all these ideas are going to fit in everyone's budget and hence everyone can take part in making these fab indoor lights!
Easy Home Decor Ideas:
Spray paint the wooden dowels and connect them in twisted arrangements using custom elbows and connector and finish them with light scones to gain perfect reading lights for your bedroom, install a one to each side of your bed! Just go handmade with a canning rack and fringe trim and craft outstanding boho fringe chandeliers at home that will bring great visual details to your interior spaces! Adorn your home by making lovely metallic light scones and also carry tons of focal stimulation and colors to your interiors by hanging colorful wooden bead pendant lights, will be super easy to make!
Spice up any of your interior by using a copper and metal pipe ceiling mount light fixture and also make the starlight garlands that will rock as party decors! Make the crystal ball chandeliers at home that will be super inexpensive to make at home but will look like expensive and posh kind of indoor lights and also bring tons of charm to your indoor by making electrified fox lights! Just check out some great samples are given below! Open the entire list to see some more interesting indoor lights ideas! Click also on the attached links to open complete free tutorial and visual instructions!
Make Wall Sconce Task Lights: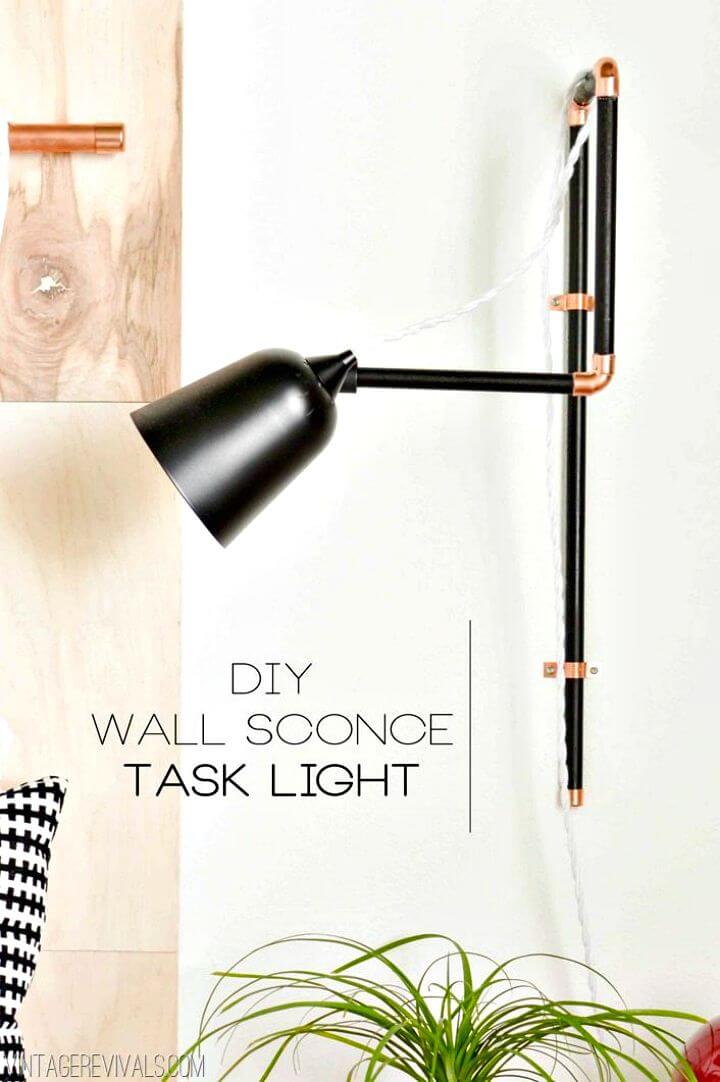 While going to sleep, you mostly tend to read your favorite books and also to do rest of your laptop tasks! This will demand a sharp,ly focused light to work or read conveniently, so these homemade wall scone task lights are here for a great rescue, made of wooden dowels, copper caps, and copper elbows! Full project tutorial here vintagerevivals
Pretty DIY Boho Fringe Chandelier: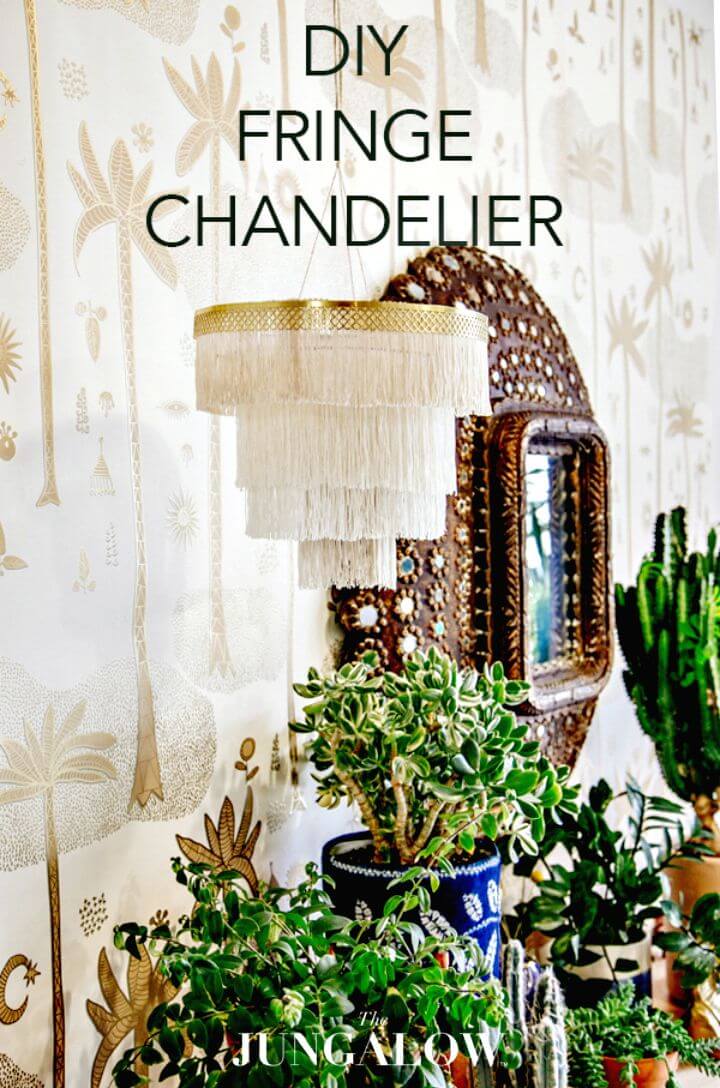 If you are a big fan of the unconventional fashion and decors and want to give a boho touch to your interior spaces then here is a brilliant suggestion to do it, duplicate this boho fringe chandelier that will be an eye-piece! Here all you need a canning rack, gold banding, fringe trim, and some glue to make this fringe chandelier! Full project tutorial here jungalow
DIY Metallic Pendant Sconce: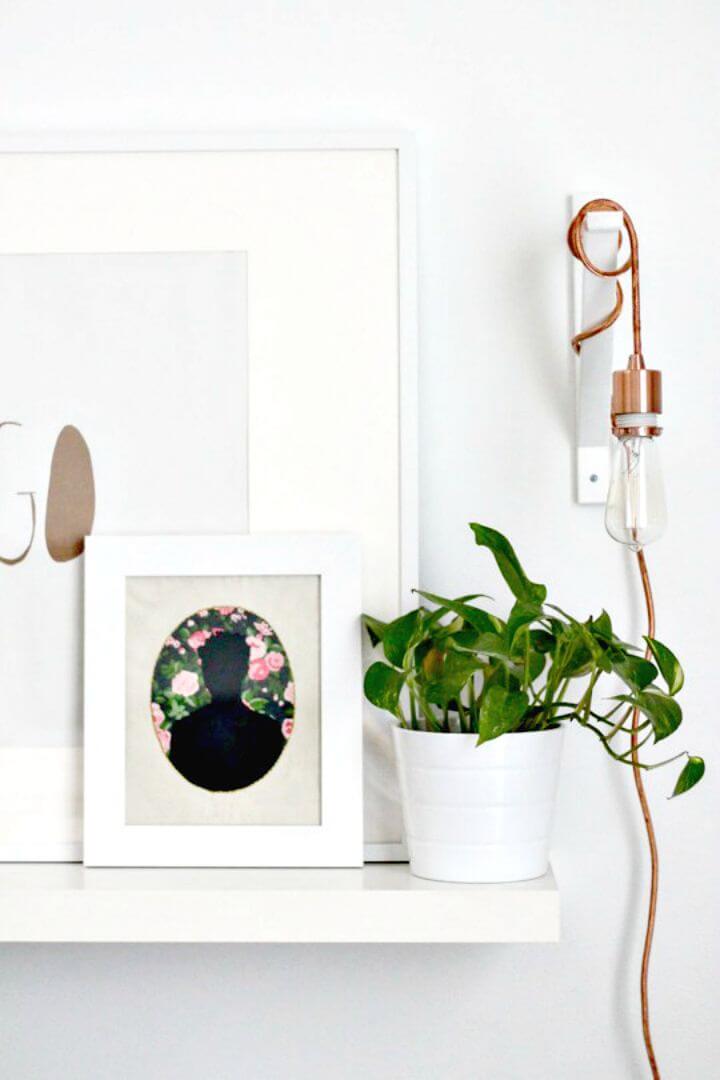 If you want to give your indoor spaces a sparkly metallic touch too then also make the metallic pendant scones at home! Stare at this sample golden pendant light that is a great IKEA hack, hang a metallic pendant light on the wall mounted IKEA EKBY Bracket and then fit the old light bulb in! Paint the wooden bracket in any color you like! Full project instructions here sugarandcloth
Cute DIY Wooden Bead Pendant Light: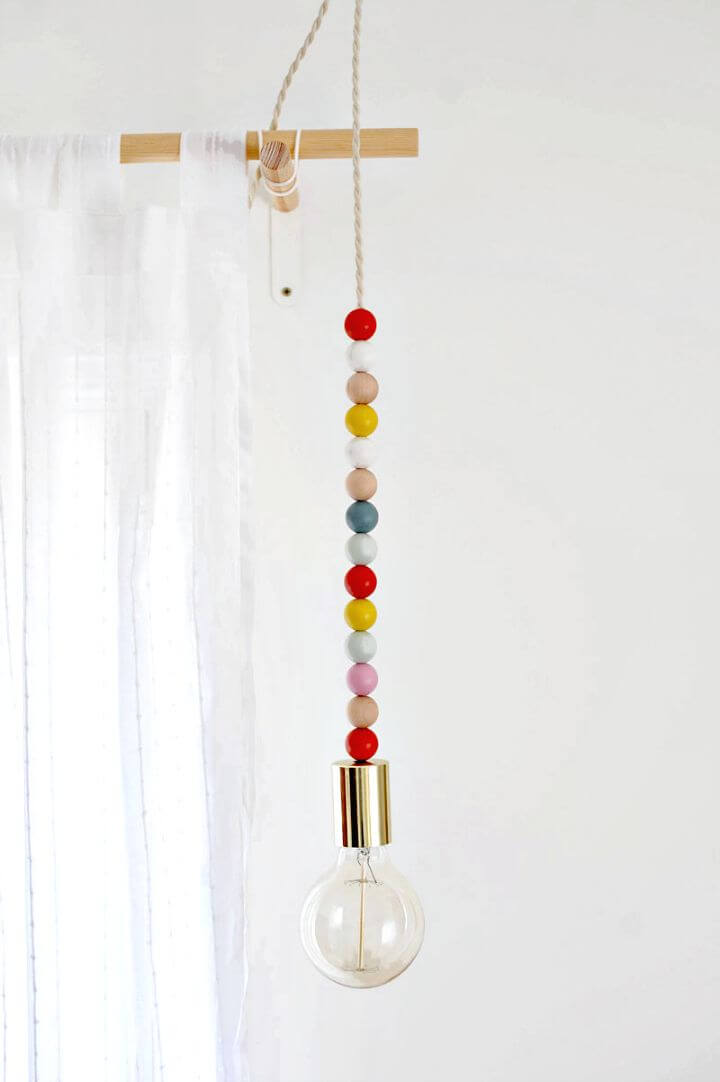 Check out here another precious indoor light that everyone can make at home! Just grab a rope covered wire and thread the colorful wooden beads onto it, next finish it up with a bulb socket and fit a custom light bulb inside! This type of light will bring a great nautical decor touch to your interior! Full project tutorial here newblooming
DIY Copper and Wood Hanging Light Fixture: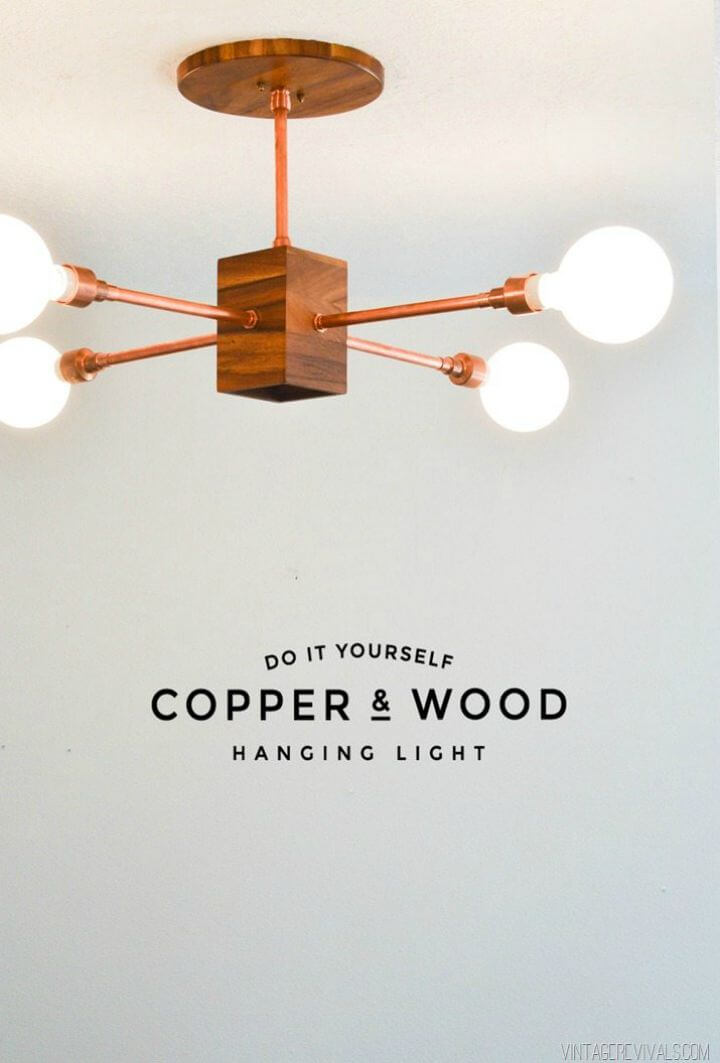 Here is another interesting indoor ceiling light to make at home, a precious copper and wooden ceiling light fixture that comes with 4 pointed arms that finish with a big white light bulb! Here the ceiling mount is made of a round wooden disc that has beautifully installed to the ceiling! The connections are made in the wooden box that is a repurpose wooden utensils holder! Full project tutorial here vintagerevivals
DIY Star Light Star Bright Light Garland: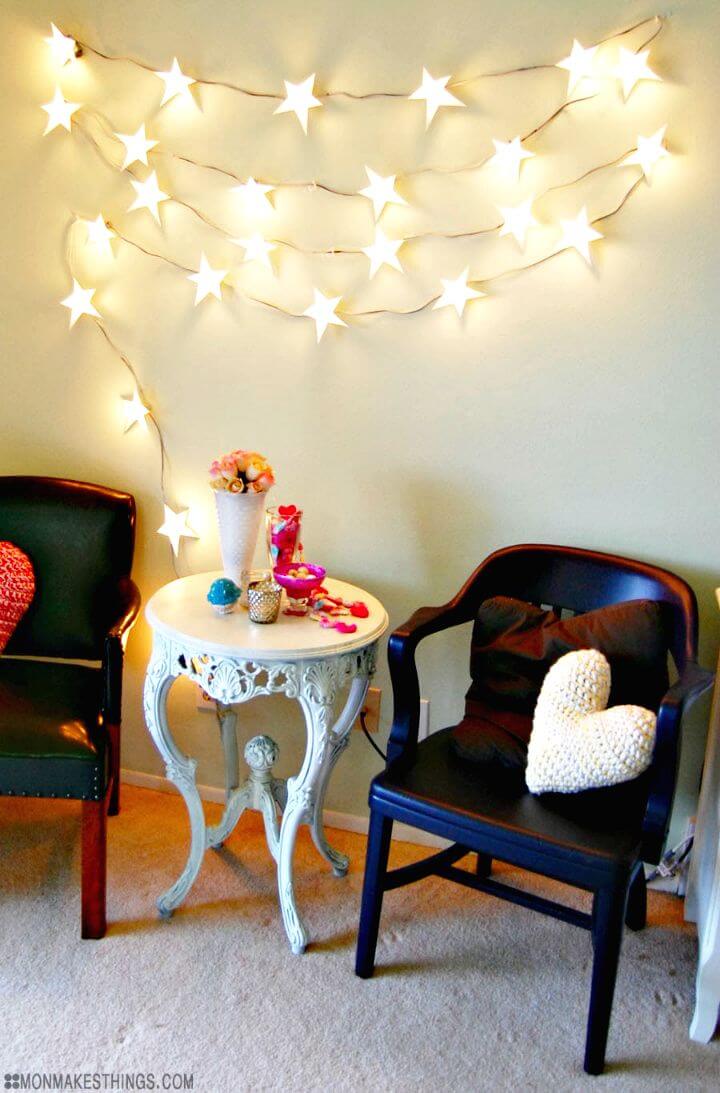 Want some fascinating starry lights for your indoor or party spaces? Then make them at home that can also be used for amazing festival decorations of your home! Just check out here the sample star light garland that is made of the globe string lights, and each globe light comes with a craft foam star cover, having the light bulb popped up! Full project tutorial here monmakesthings
Adorable DIY Crystal Ball Chandelier: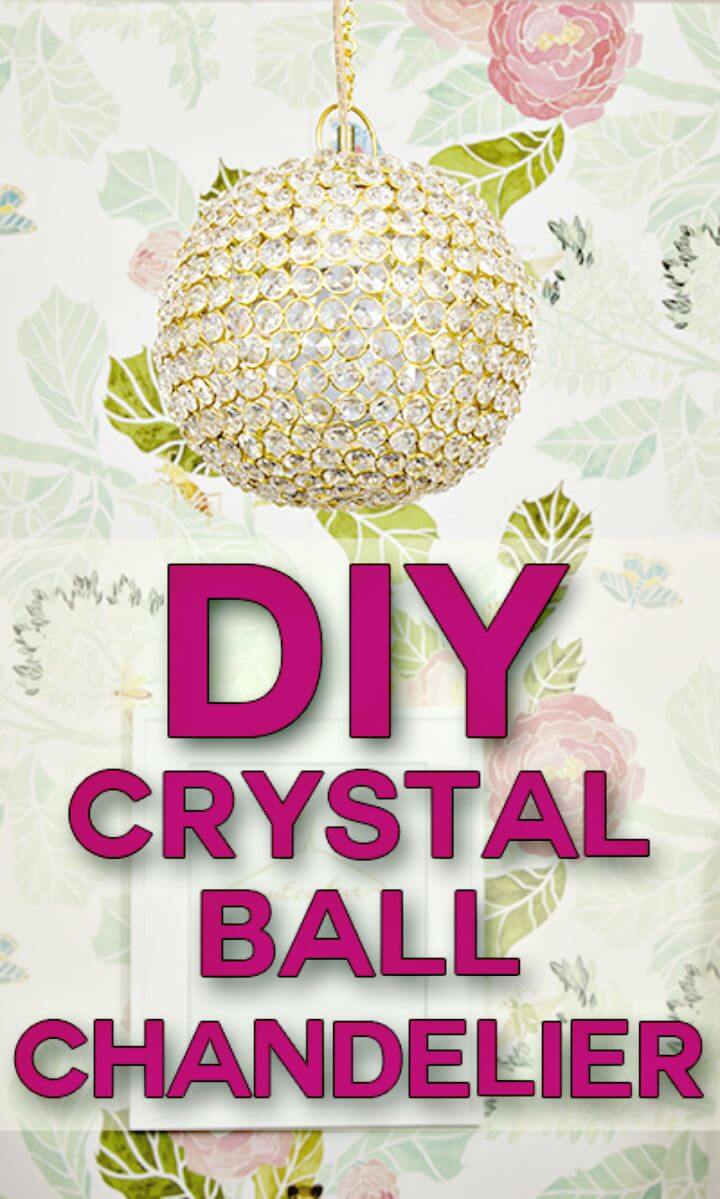 Want some expensive and posh looking indoor lights inexpensively? Then make some fantastic ones at home like a pro! Just check out there the crystal ball chandelier that will bring great visual details to any particular interior! Here all you need the gold and crystal balls, the ceiling canopy, bulb socket, and lamp cord to clone this crystal ball chandelier! Grab the full free tutorial from here viewalong
How to Make Electrified Fox Lamp: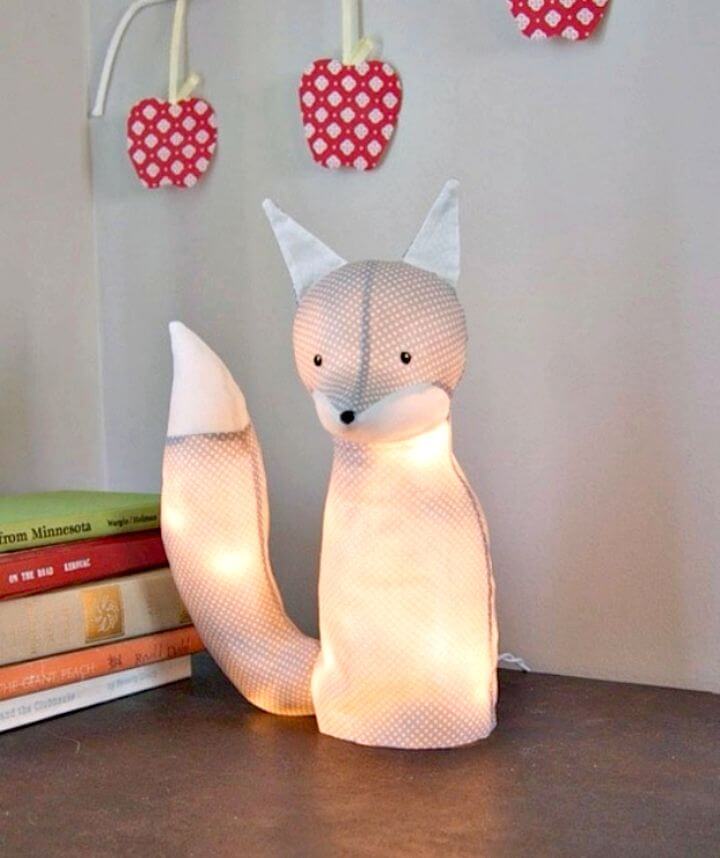 Willing to add some fun lights to your indoor that will be a center of attention? Then have a look at this electrified fox lamp that is looking damn beautiful and cute! Here all you need is a stuffed fox toy which you can also make at home! Next, remove the stuffing from the box and stuff the string lights in! Full project tutorial here matsutake
Awesome DIY Ombre Pendant Light: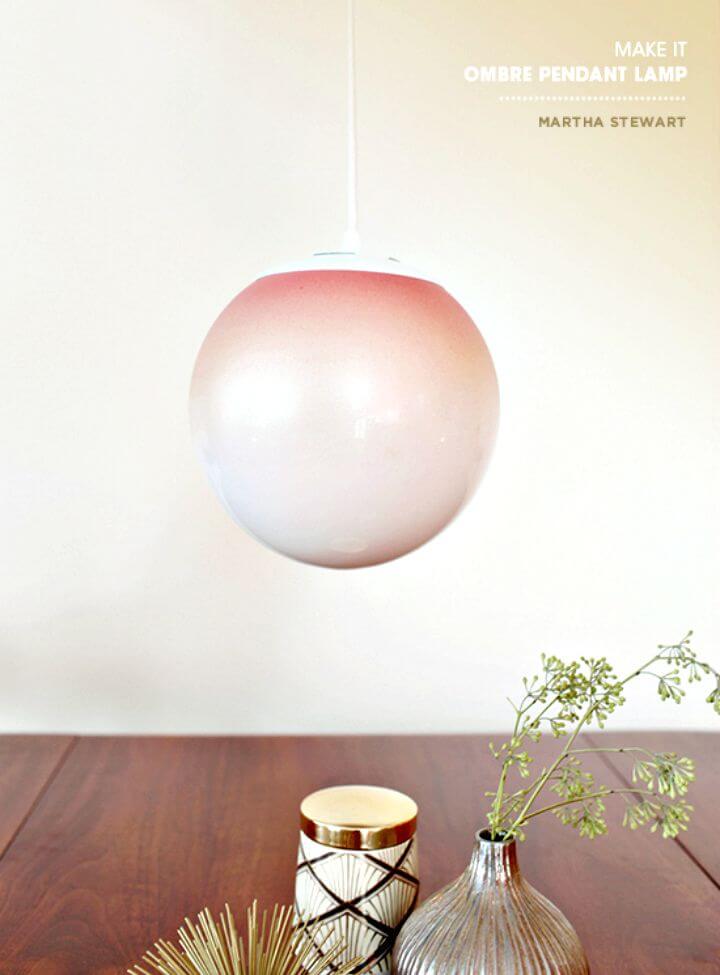 Are you a big fan of the ombre color effect? Want some ombre pendant lights for your indoor spaces? If yes, then make a cool one at home, grab a glass globe pendant light and then bring it to ombre appeal using custom glass spray paints and rubbing alcohol! Get inspired by the given sample! Full project instructions here designlovefest
How to Make Hanging Lights: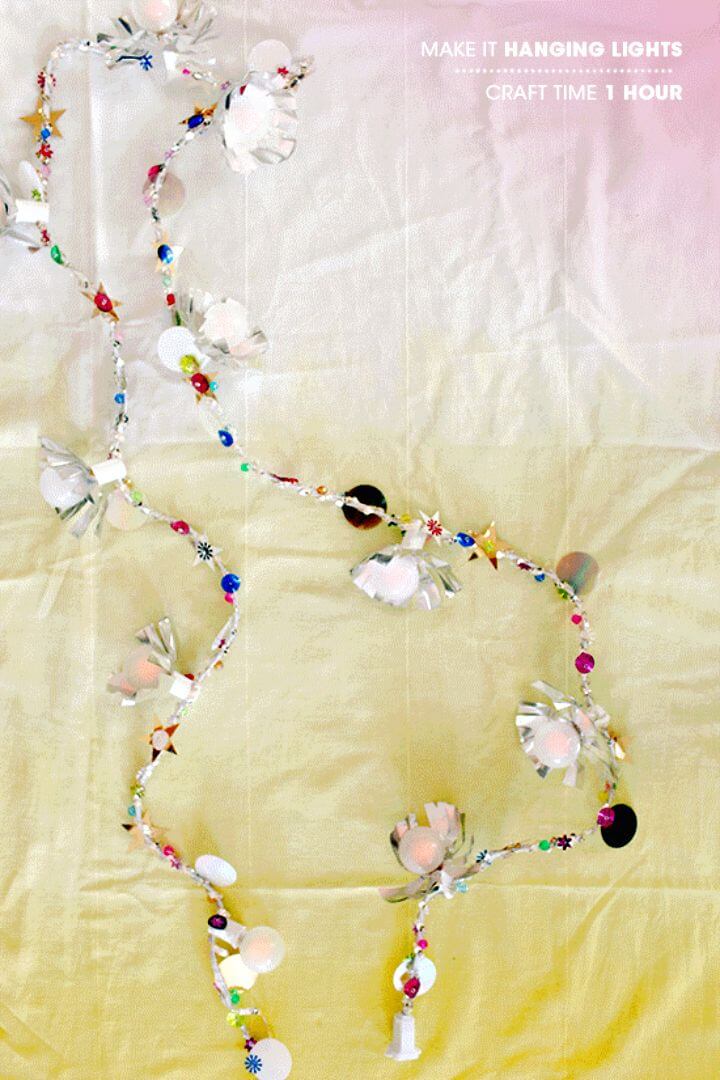 Get inspired by this another great indoor light idea that will create a stunning decor statement in your bedroom! Just grab the string globe lights, next string up the sequins, beads, stars and other decorative items and next make the custom reflectors or the shades for the globe lights using an aluminum sheet! Just check out here the sample hanging string lights that are making the headboard look divine! Full project tutorial her designlovefest
Beautiful DIY Tin Can Lamp: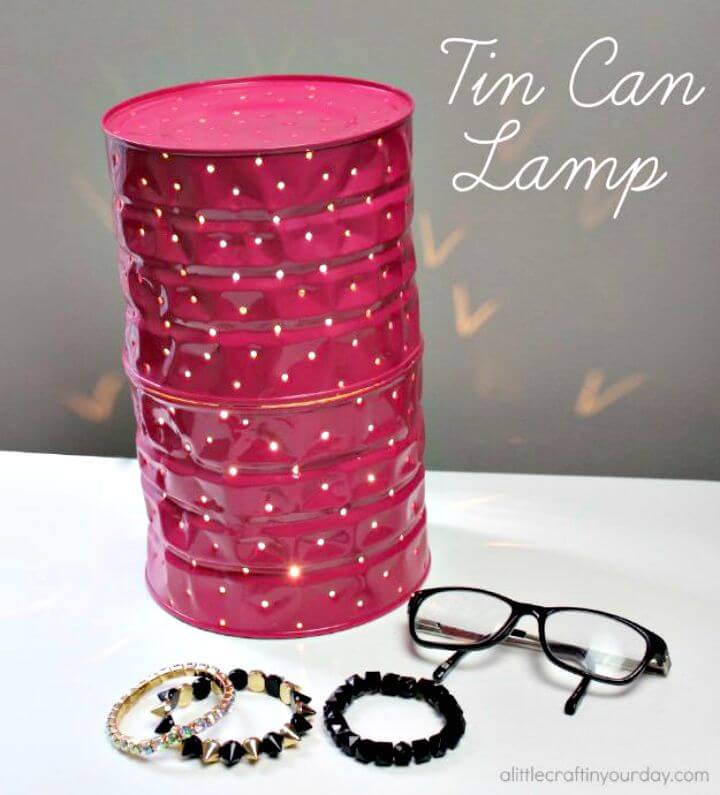 You can also recycle various materials from home to making interesting indoor lights! Check out here the super beautiful but inexpensive indoor light that is made of a tin can which comes with mini poked holes in all sides, and then a battery operated light has been put inside! Paint the tin can in any color you like and make use of nail and hammer to make tiny holes in sides of your tin can! Full project tutorial and instructions here alittlecraftin
Create Ping Pong Ball Lights: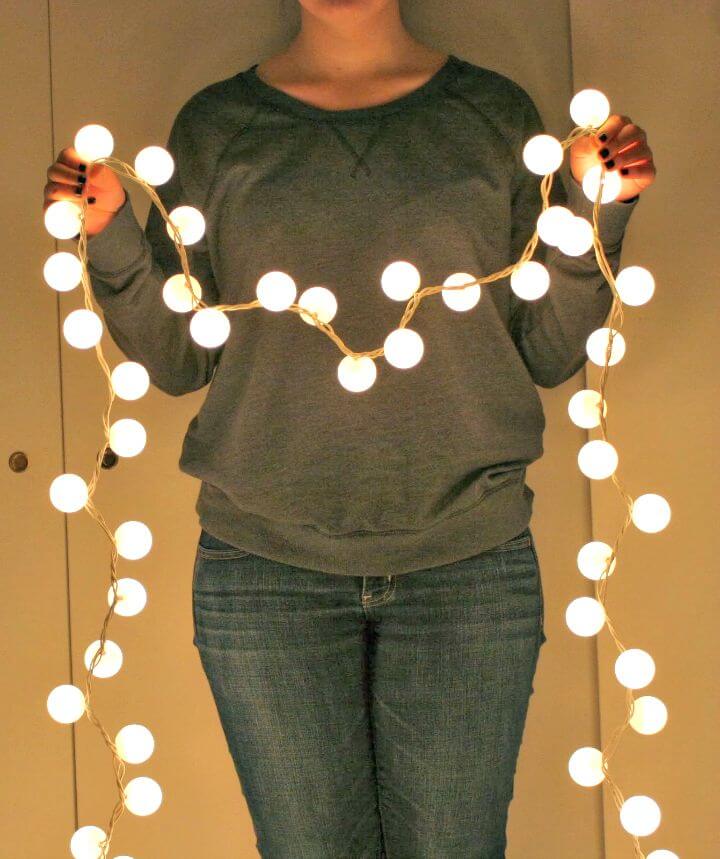 Need some mini globe light strands to make precious indoor lighted garlands? If yes, then these ping pong ball lights at home that are super easy to make at home! Just grab the string LED lights and also the white ping pong balls, give custom cuts to ping pong balls using a craft knife and then fix them over the LED lights! Full project tutorial here thesurznick
DIY Concrete Lamp Led String Light: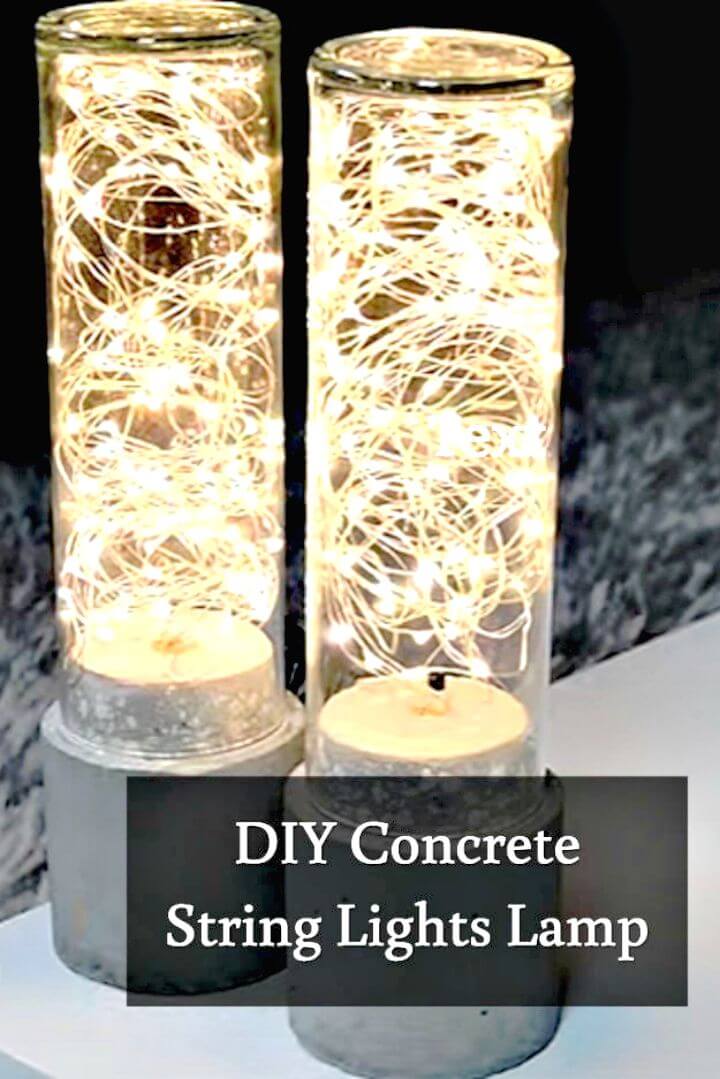 Here is another mind-blowing indoor lighting hack that will inspire your creativity! Just make the make the glassy cylindrical light centerpieces at home that would be a big breeze to make at home! Just grab the glass vases, stuff the LED string lights in them and then finish them with the concrete bases, would be super easy to make using PVC pipe molds and concrete mix! Full project tutorial here instructables
DIY Gold Sunburst Flush Mount Light Tutorial: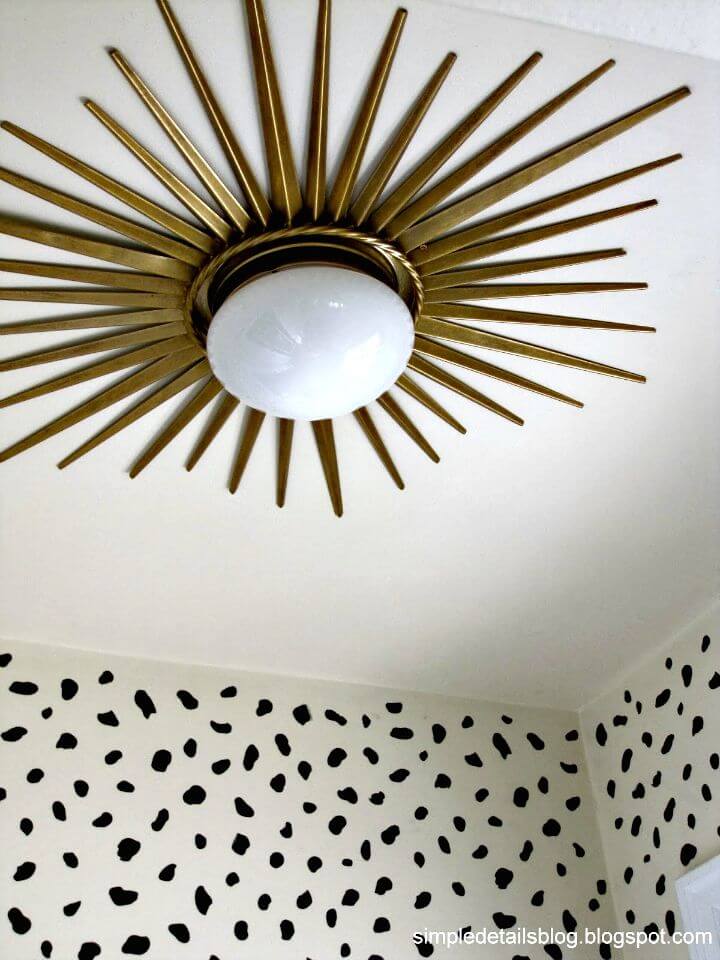 If you want that epic looking ceiling lights for your indoor spaces, then you can also make some super lovely ones at home without getting a bit expensive! Just check out here this sample sunburst flush mount light that is made of a Martha steward gold sunburst mirror with Hampton Bay Flush Mount Ceiling Light! Full project instructions and tutorial here simpledeta
DIY Laundry Room Farmhouse Light: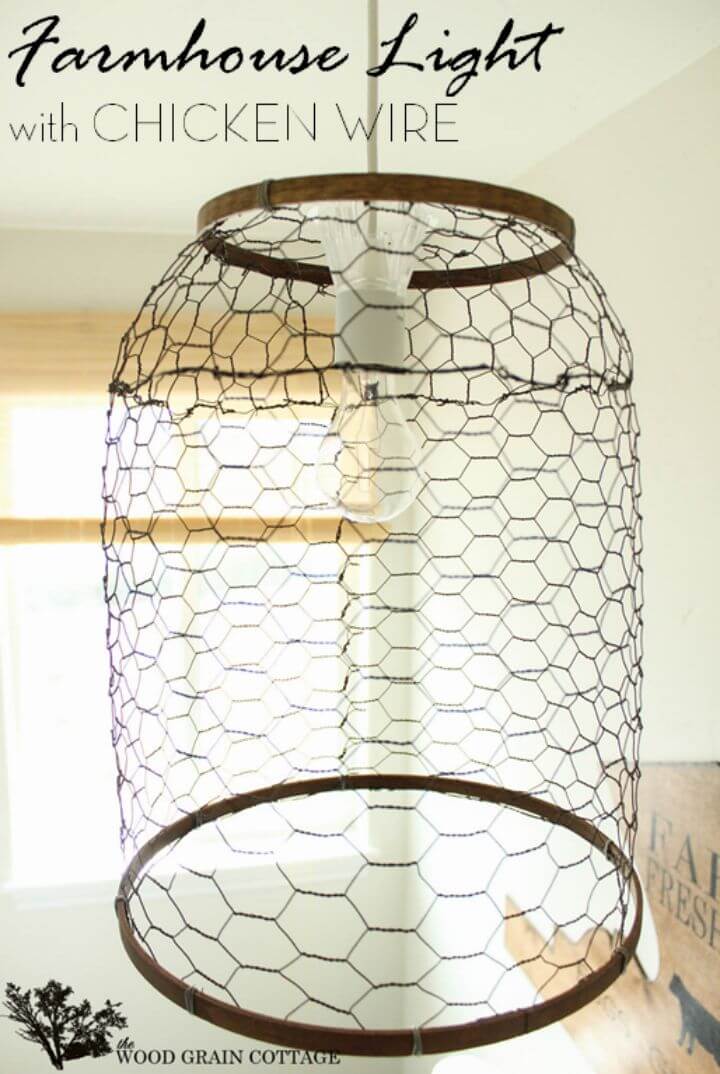 Are you a big of rusticity? Do you like the vintage or rustic decors? If yes, then you will definitely like this farmhouse pendant light too that will rock your laundry room! Here all you need the embroidery hoops, chicken wire, and a pendant light fixture to make this farmhouse light! Full project instructions and tutorial here thewoodgrain
DIY Woven Rope Pendant Lamp: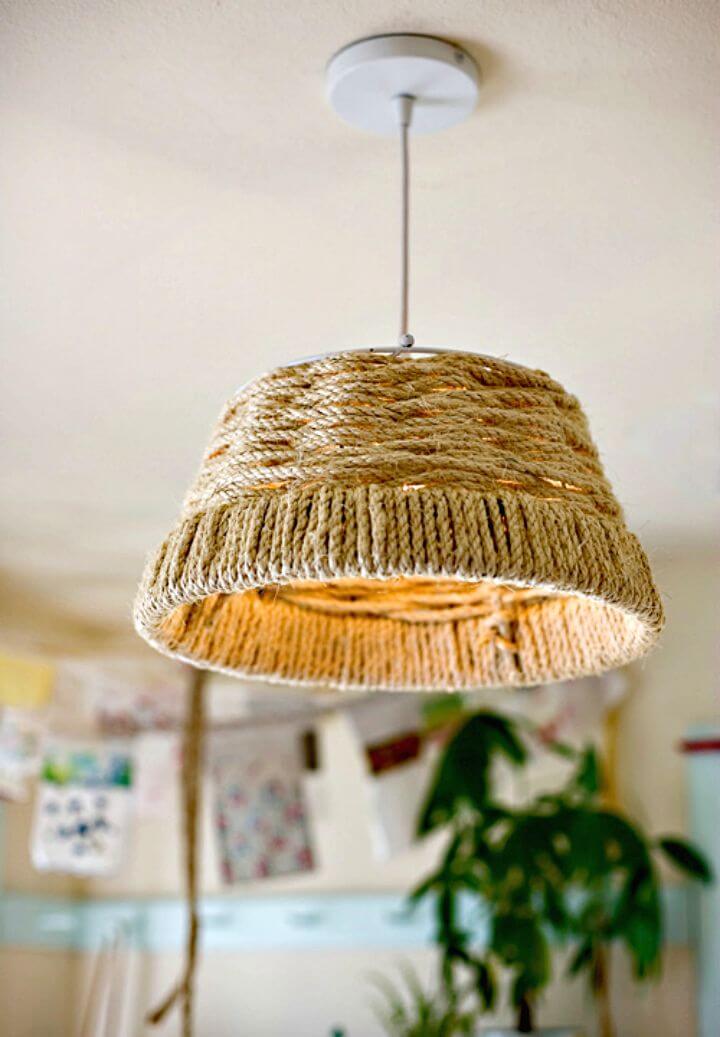 Fall in love with this another great pendant lamp that has been made to rock and inspire, and it will rock any interior! Here this interesting indoor ceiling light has been made using a hanging planter basket which has been woven with the sisal rope for a rustic nautical appeal! Finally, a pendant light bulb has been installed inside the basket using a round outlet cover plate which has been glued to the bottom side of the basket! Full project tutorial here designsponge
Easy DIY Anthropolgie Inspired Lamp: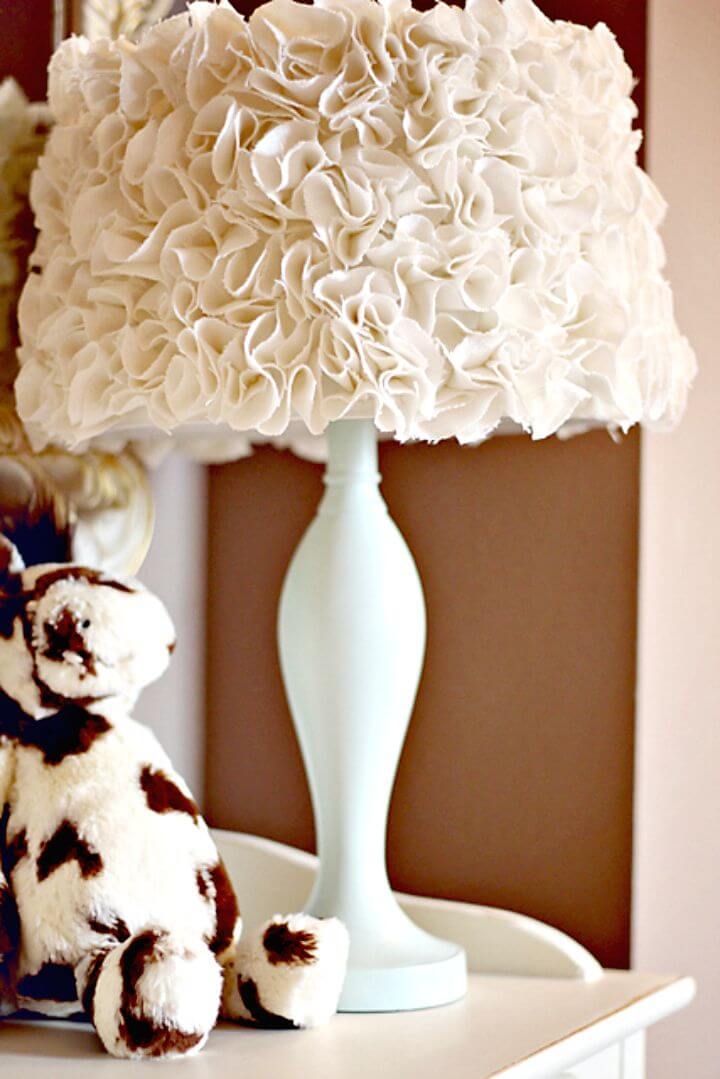 Make also the dazzling Anthropologie inspired lamps also at home using the various common home materials that will go for bigger statements of interior decors! Here all you need a lamp, with a lampshade on which you can glue some ruffled fabric pieces! Cover the whole lampshade with the ruffled fabric pieces, and that's it! Full project tutorial and instructions here thepintopony
How to Make Capiz Pendant: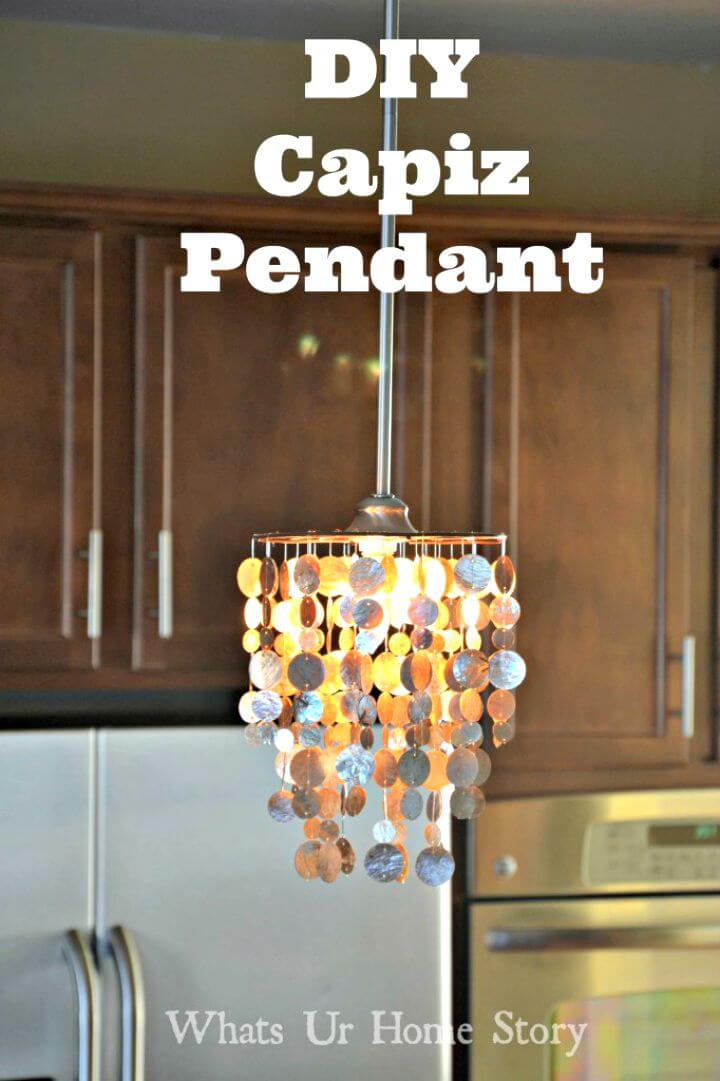 Make also the stunning capiz pendants for your home that will bring the pottery barn style to any of your selected or targeted interior space! Just check out here this sample capiz that looks glittery with the capiz strands hanging around the light pendant, they are looking like the big sequins! Full project instructions here whatsurhome
DIY Geometric Copper Pipe Pendant Light: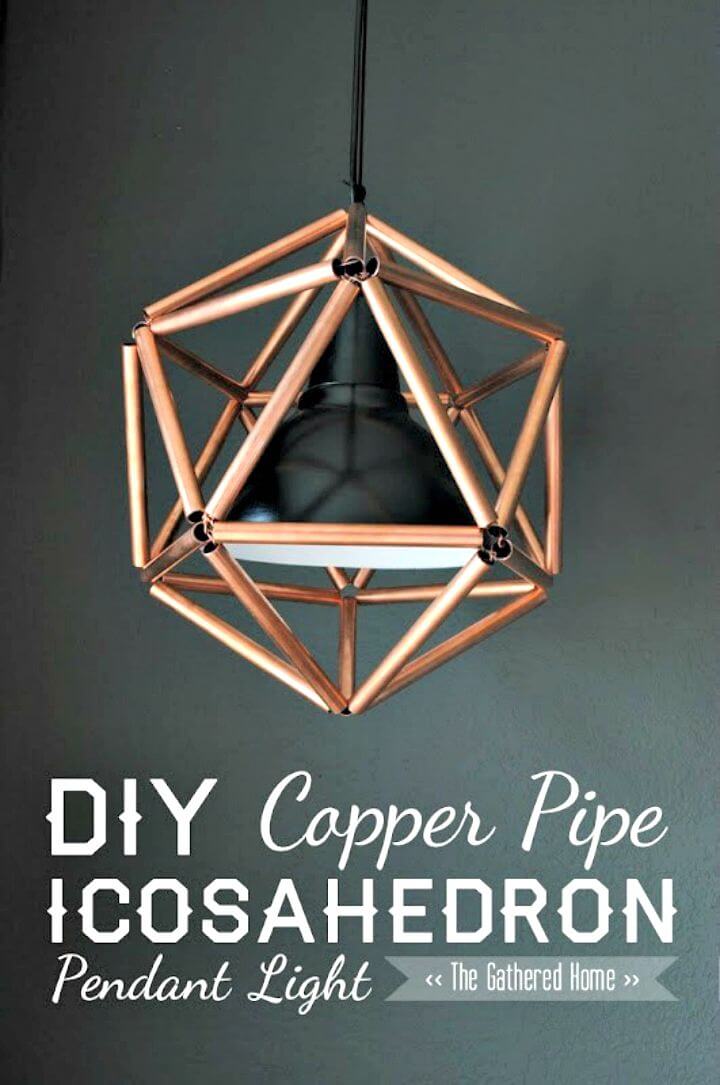 Put together also the copper pipe lengths to make the triangular pendant lights that will put every onlooker in great amazement! Just check out here the brilliant looking sample that has been made to inspire! Just grab the custom copper lengths, put the wire through them and then put them together to make a lovely geometrical pendant light! Full project tutorial here remodelaholic
Easy To Make Pixie Dust Lights: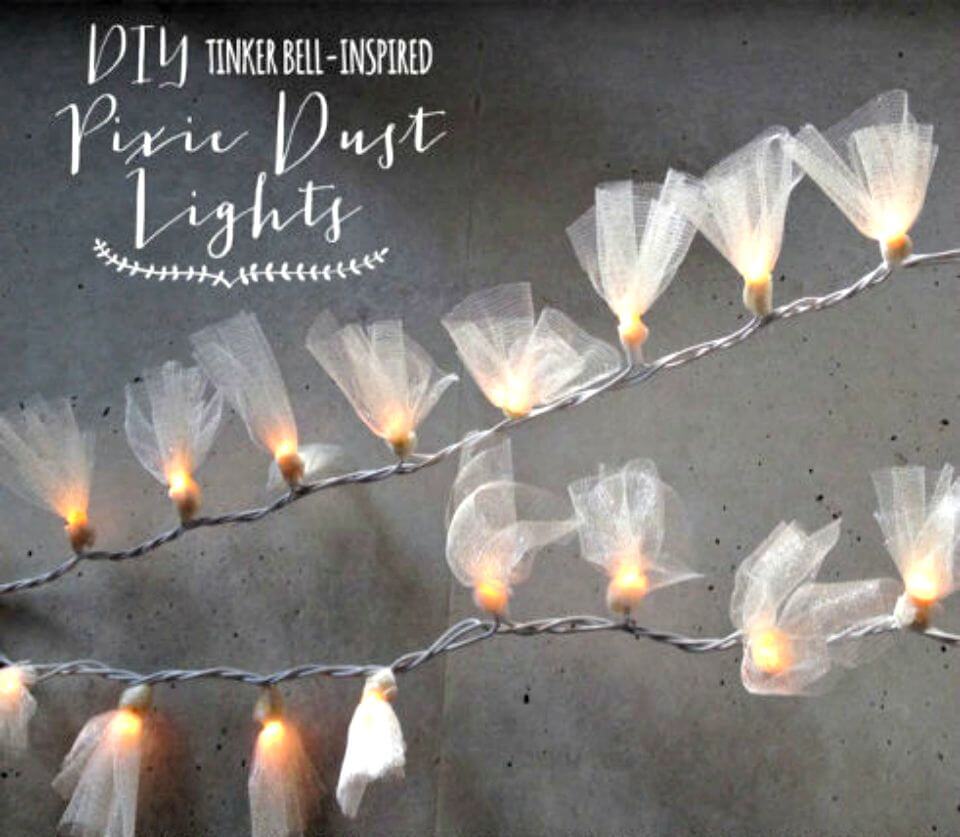 Fall in love with these more great and fantastic looking indoor lights that are super easy to make at home! These are here the pixie dust lights made of string LED lights and glittery tulle! Just cut the tulle squares and then tie them all around each LED lights to make these pixie dust lights! Full project instructions here disney
DIY Wood Bead Chandelier: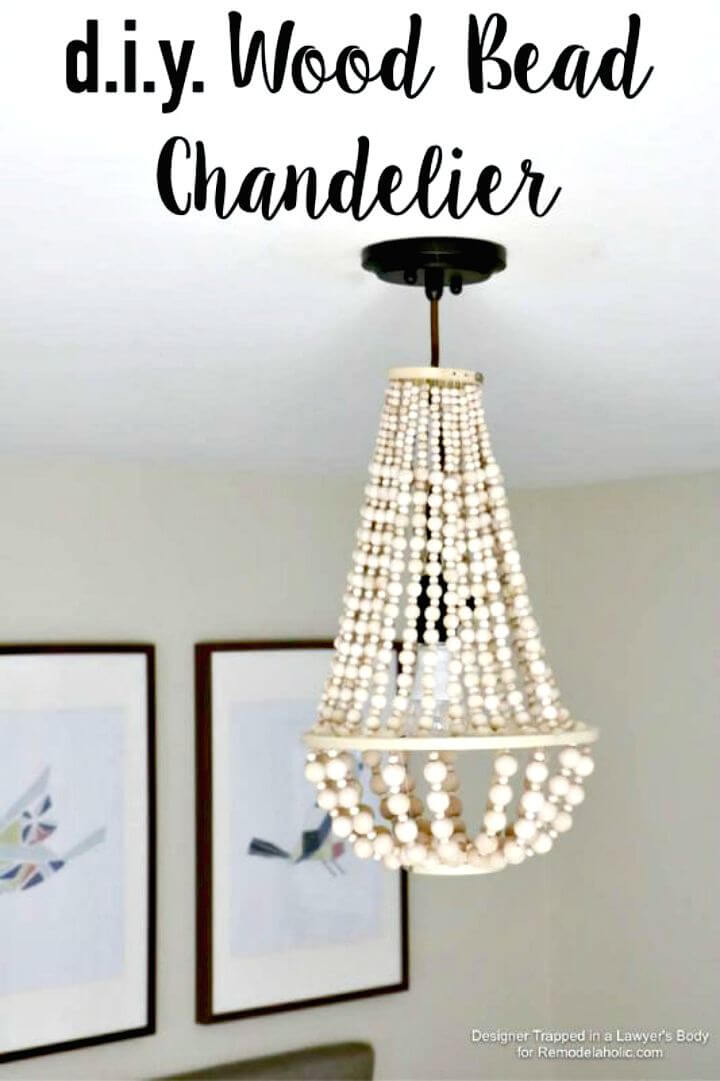 Check out here another interesting looking chandelier or ceiling pendant light that has been done to amaze and inspire! This is here the wood bead chandelier that has been made by making wood bead strands at home, thread the assorted wooden beads on a piece of quilting thread and make the wood bead strands that can be put around the assorted sizes of quilting hoops to make this chandelier! Full tutorial here remodelaholic
How To Make Bottle Lamp: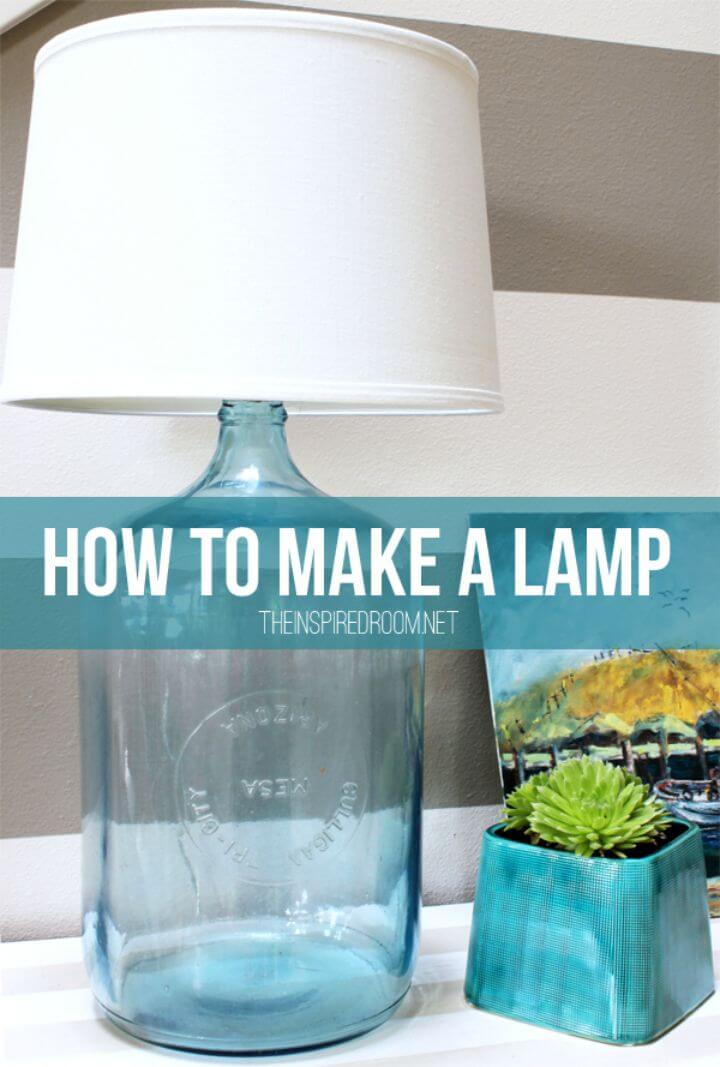 Repurpose also the old glass bottles and make fantastic looking indoor lamps that will go eye-catching! What you have to do is to install the lamp kit on the top of the bottle and then cover the light bulb up with a lampshade! Complete tutorial here theinspiredroom
Awesome DIY Brass Chandelier: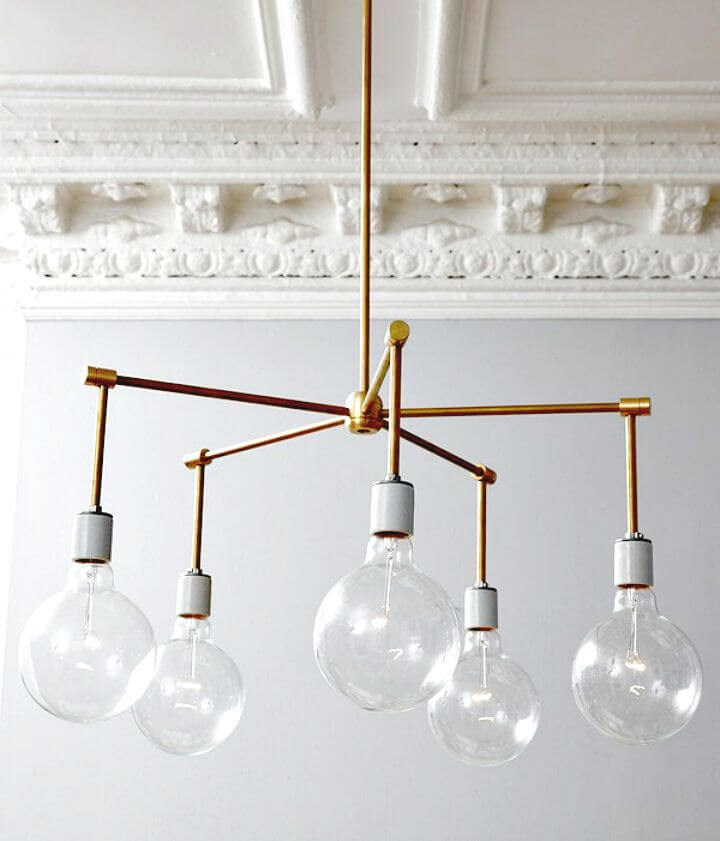 If you want to give that amazing metallic touch to your indoor spaces, then you can also make the super cool looking brass chandeliers at home, just like this given one! It is made of brass pipes, brass swivel, loop, keyless sockets and with large brass cluster body! Full project instructions here onekingslane
DIY Multi-bulb Dining Room Chandelier: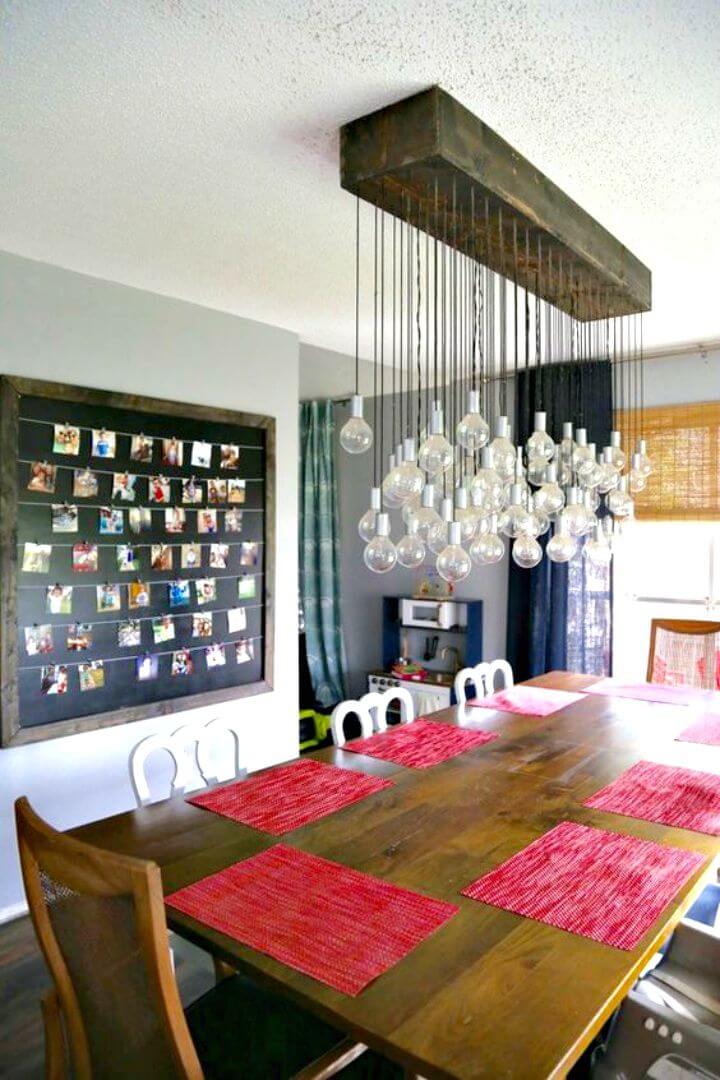 The chandeliers are often to see hanging over a dining table, and they provide a sharp focus of light! Make also the very good looking rustic multi-bulb dining room chandelier at home without getting a bit expensive! Just repurpose the old rustic wood and make the wooden box ceiling mount in which you will make all the connections, next end up the hanging wires with socks and then with bulbs and that's it! full project instructions here loveandre
How To Make Pendant Light: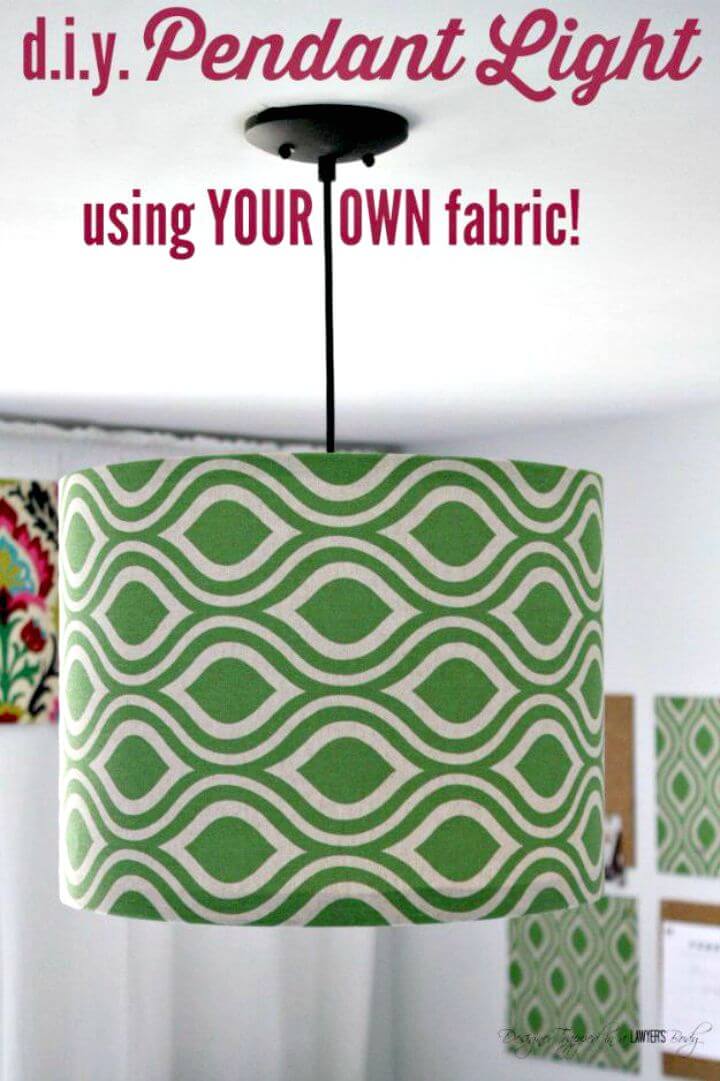 Make also cool pendant lights at home and also the awesome looking light lampshades! Make use of ordinary fabric, interfacing and a round top lampshade ring to make your cool lampshade which you install around a pendant light bulb for getting a great pendant light! Full project tutorial here designertrapped
DIY Trash Can Lights: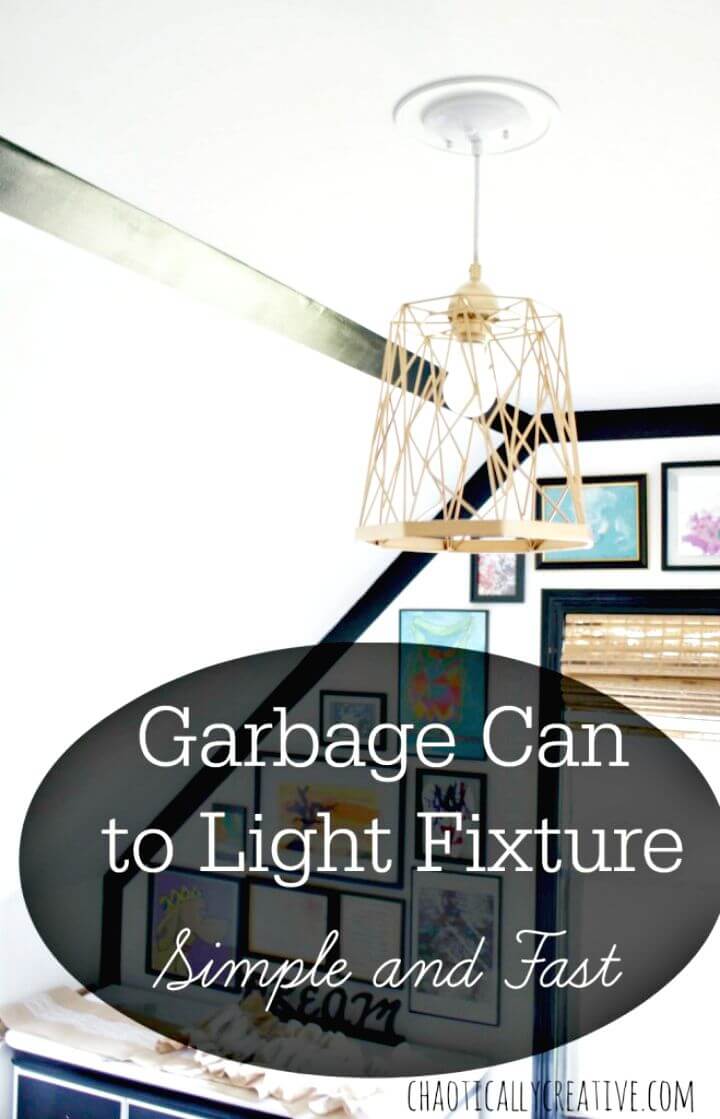 Go also smartly handmade with the trash cans to make fabulous looking trash can lights at home in no time! The trash cans would make the fabulous breezy lampshades! Just grab a trash can, a pendant light conversion kit, a pendant light kit, and some spray paint to make a cool trash can pendant light at home! Full project instructions and tutorial here chaoticallycr
Inexpensive DIY Halo Light Pendant: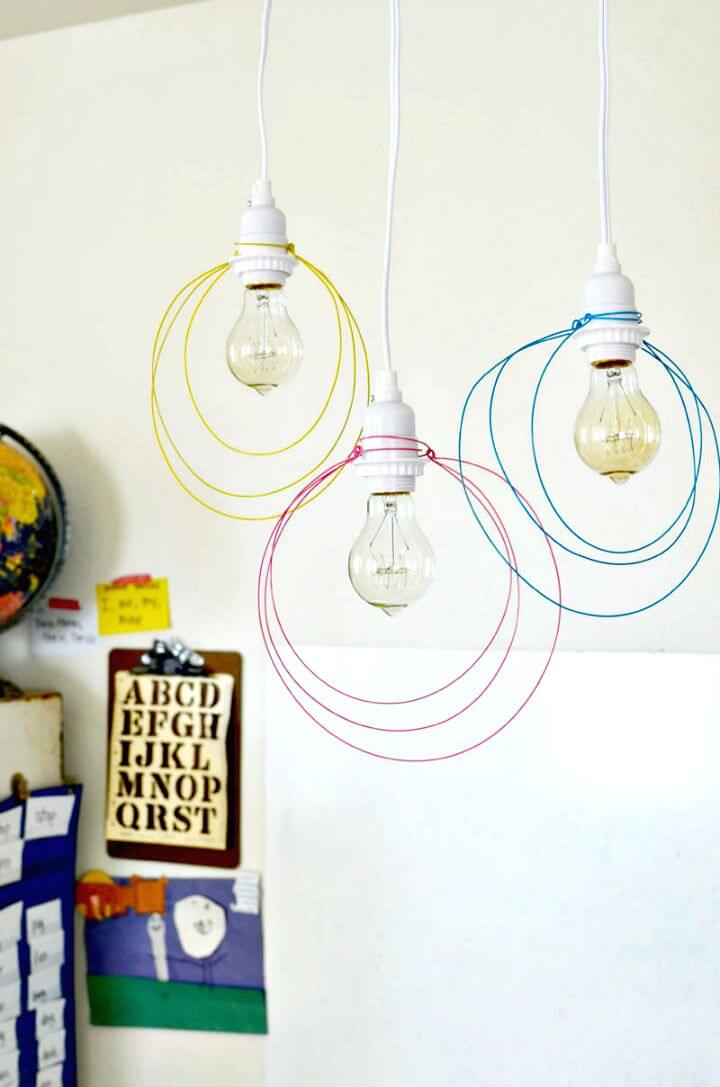 Need some more quick and inexpensive indoor light ideas? They also make the great looking halo light pendants for your indoor spaces! Just install the pendant light bulbs and then cover them with the spray painted wire loops that will encircle the whole pendant light! Full project tutorial and instructions here abeautifulmess
Make Glittering Lightscape: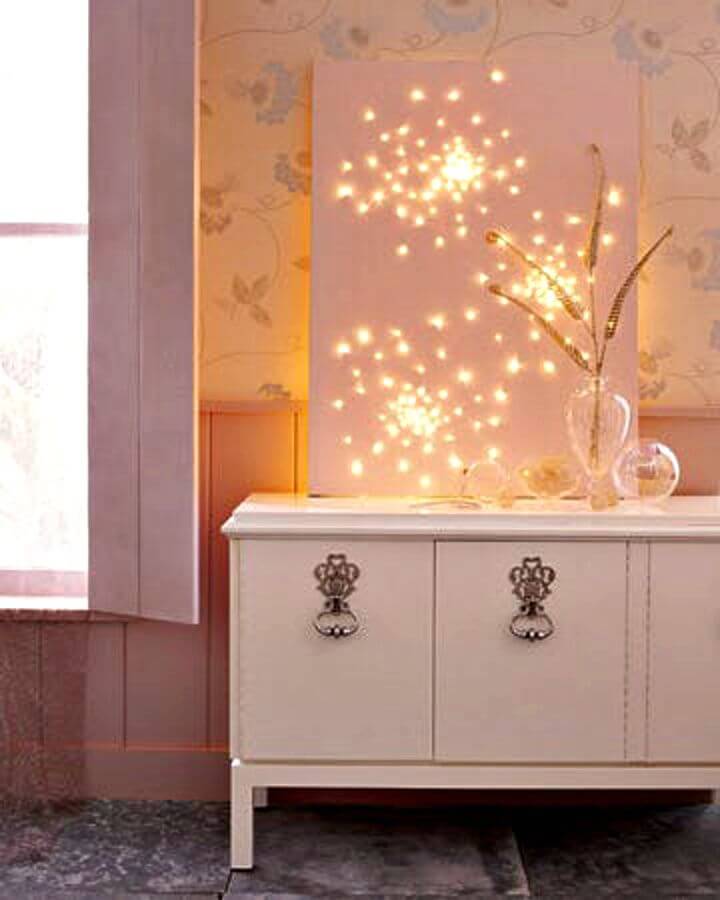 Also, grab the canvas and trace out your custom art or design on it! Then make the holes using an awl on the lines of your traced outlines and make sure they are all equally spaced! Next, put the light bulbs in the holes and make stunning glittering lightscrap! Complete instructions here apartmenttherapy
DIY Cone Light Garland: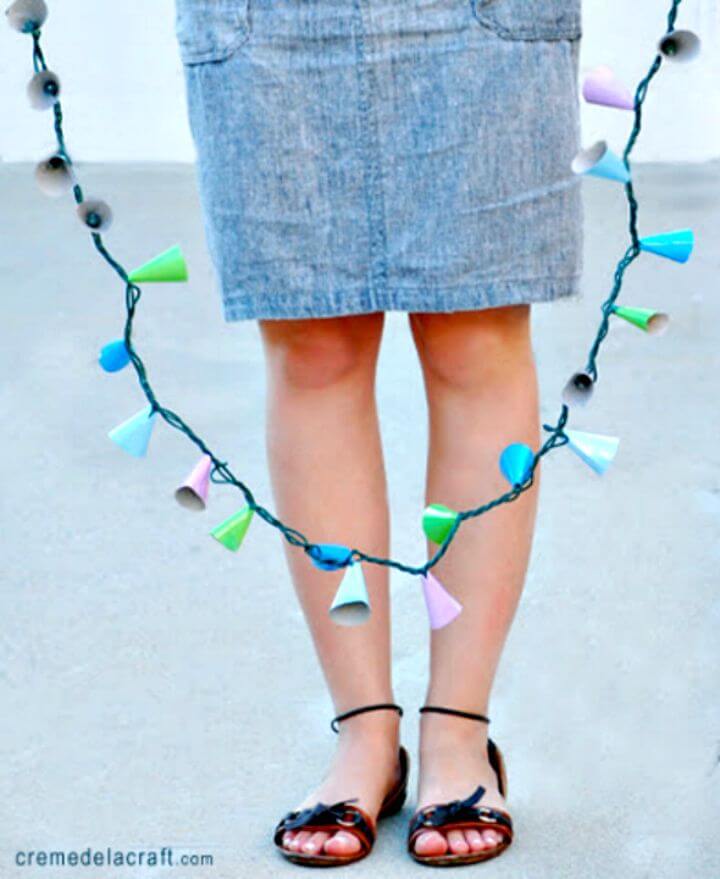 There are just never-ending ways to make precious looking indoor lights at home, here is another smart and creative one to hold your attention! Just make a cone garland at home just by grabbing the holiday lights from home and then covering each light with a kids birthday hat cone! Check out a lovely sample given below! Full project tutorial and instructions here cremedelacraft
DIY Flowers and Pom Poms Lanterns: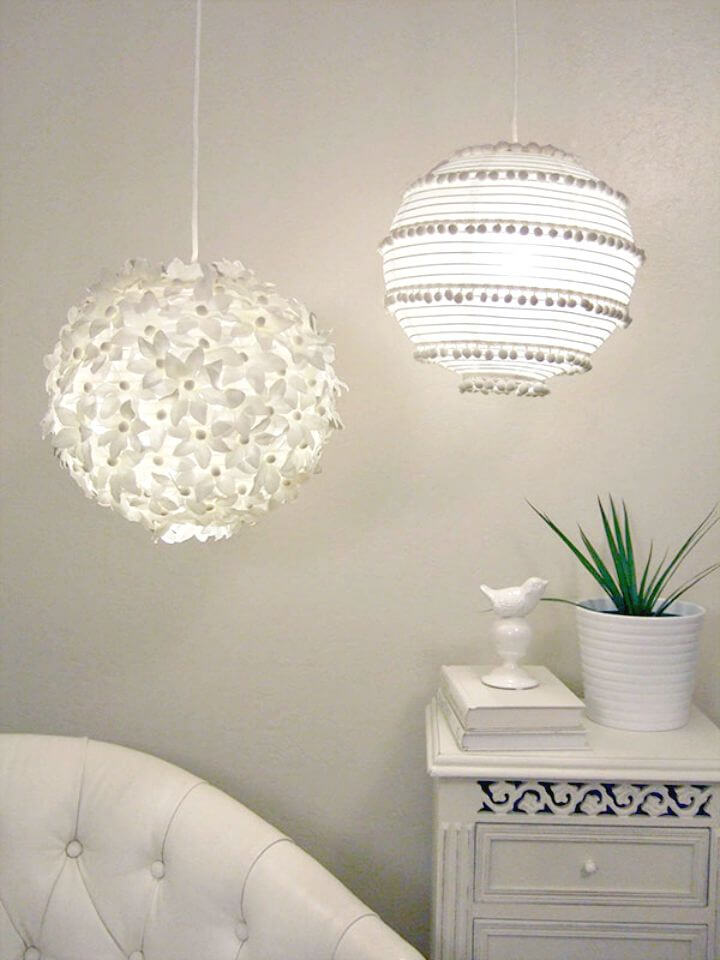 Here another great and interesting indoor light idea, this is also going to be super budget-friendly! Just make use of paper lanterns also to make fantastic and expensive looking indoor lights! Just glue the paper flowers all around the paper lanterns and also decorate the lanterns with the pom-pom fringe to make gorgeous pendant lights! Full project instructions and tutorial here craftynest
Make Plug-in Sconces, from Pendant Lights: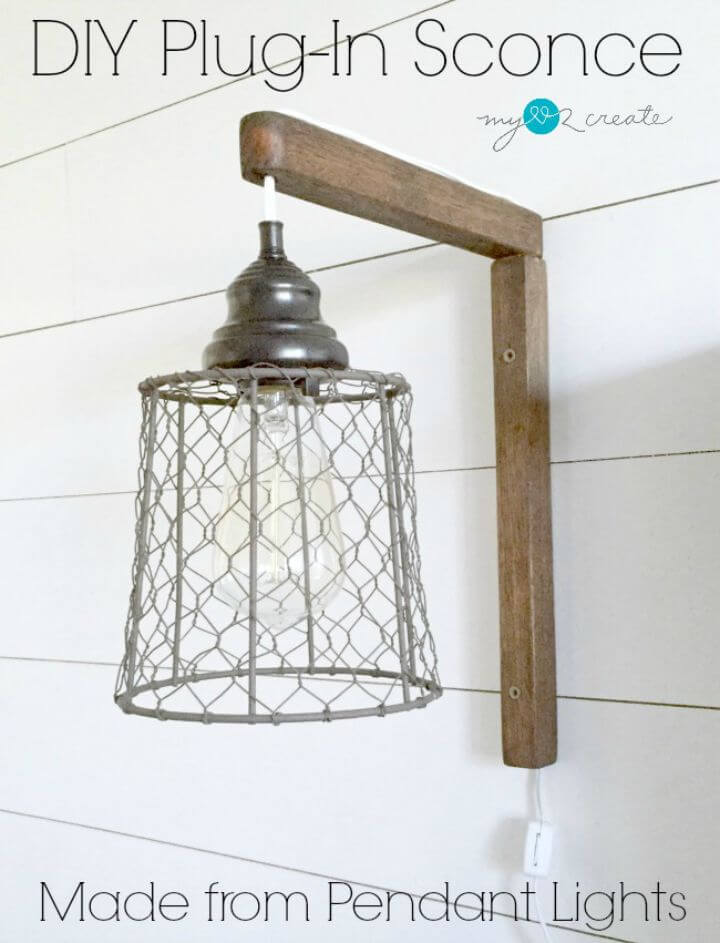 Check out here another great indoor sconce that is purely handcrafted and is truly beautiful to look at! Here all you need some wood, pendant light, wire and wire basket to make this given pendant plug-in pendant light! Another great pendant light to make at home! Full project tutorial here mylove2create
DIY Pottery Barn Knockoff Rope Knot Lamp: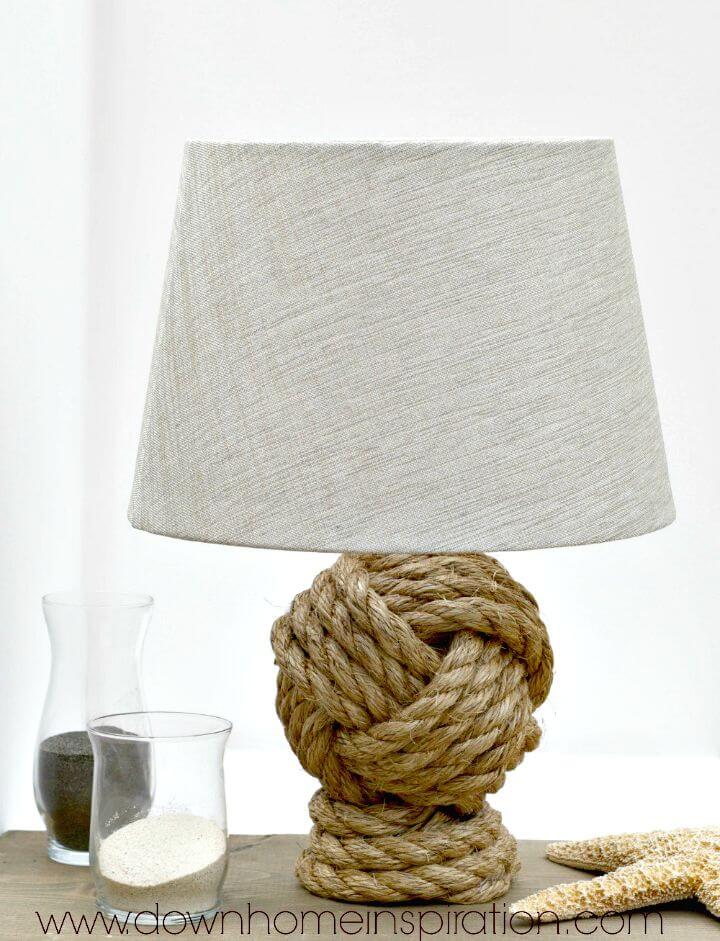 Make also the inexpensive pottery barn knock off lamps at home that will help to earn some praising comments! Here the pottery barn knockoff rope knot lamp has been made that is looking damn beautiful! Just make wraps of rope and then knot them together with a ball inside, next install the lamp kit and that's it! Full project tutorial here downhomein
Cute DIY Dollhouse Table Lamp: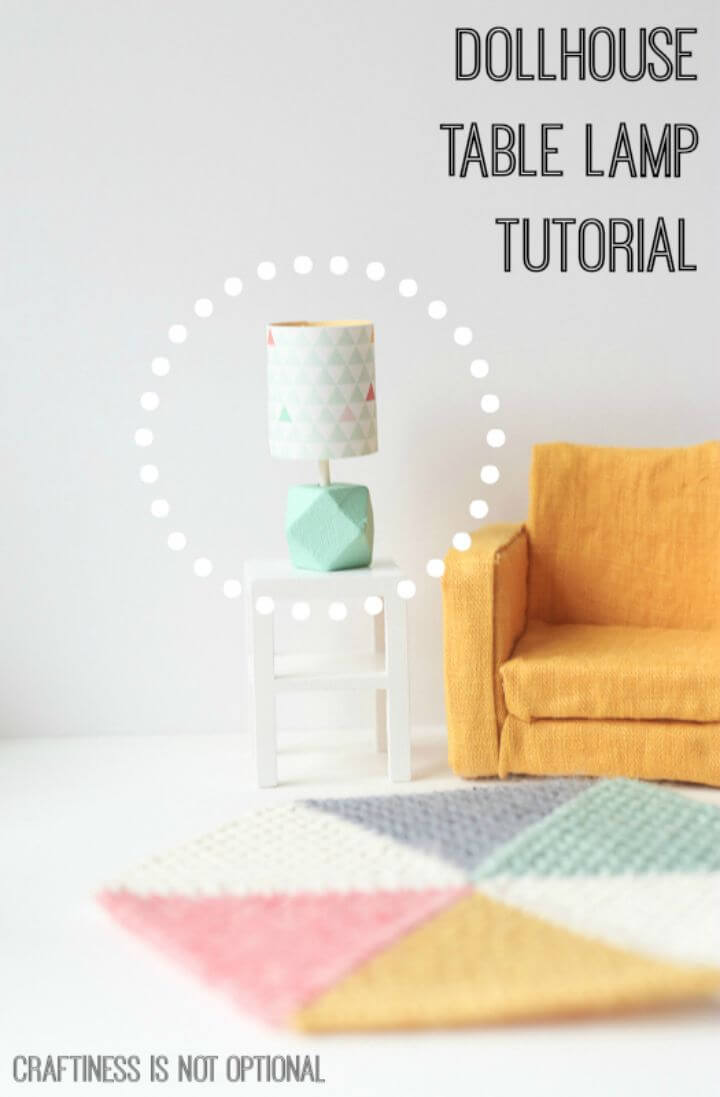 If you need to add a table lamp toy for your little girl's house then also make a cool one at home! Here is a beautiful suggestion, make use of wooden bead, a q-tip, foam marshmallow and of cardstock to make a lovely mini dollhouse table lamp! Get inspired by the given sample! Full project tutorial here craftinessisno
Make Your Own Seashell Lamp: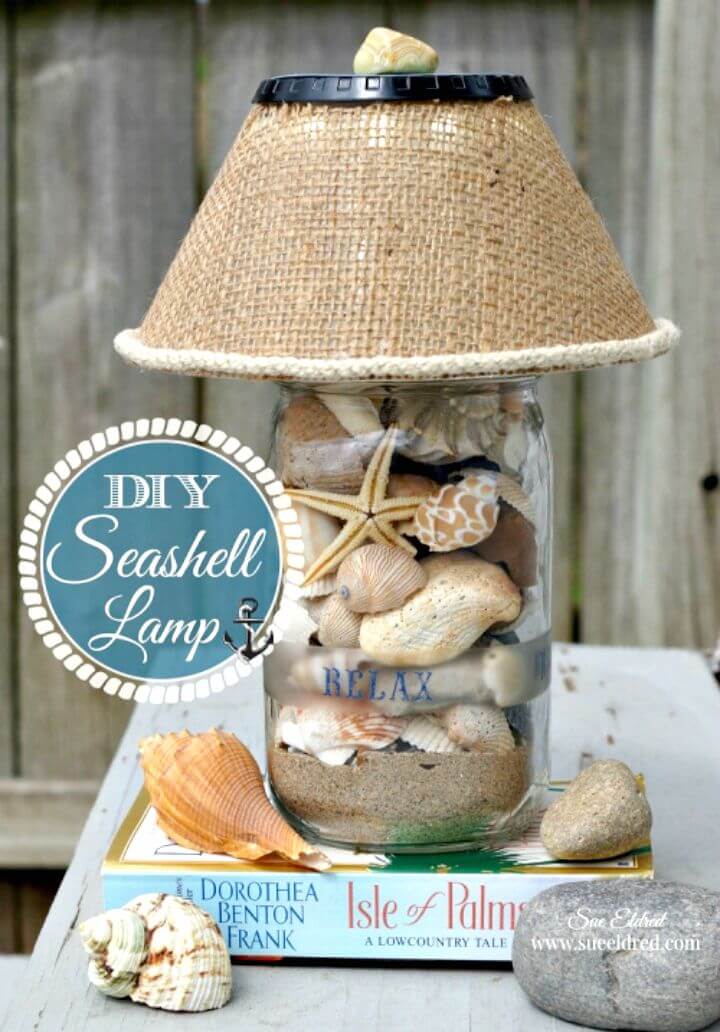 If you are willing to incorporate the beach or nautical decor theme to your interior spaces then here this given lamp is only for you, will bring a nautical decor touch to any particular room interior! Just grab a glass bottle and fill it up with the seashells and starfish figurines and next install the lamp kit and a lampshade! Complete instructions here sueeldred
Pretty DIY Brenna's Paper Capiz Shell Chandelier: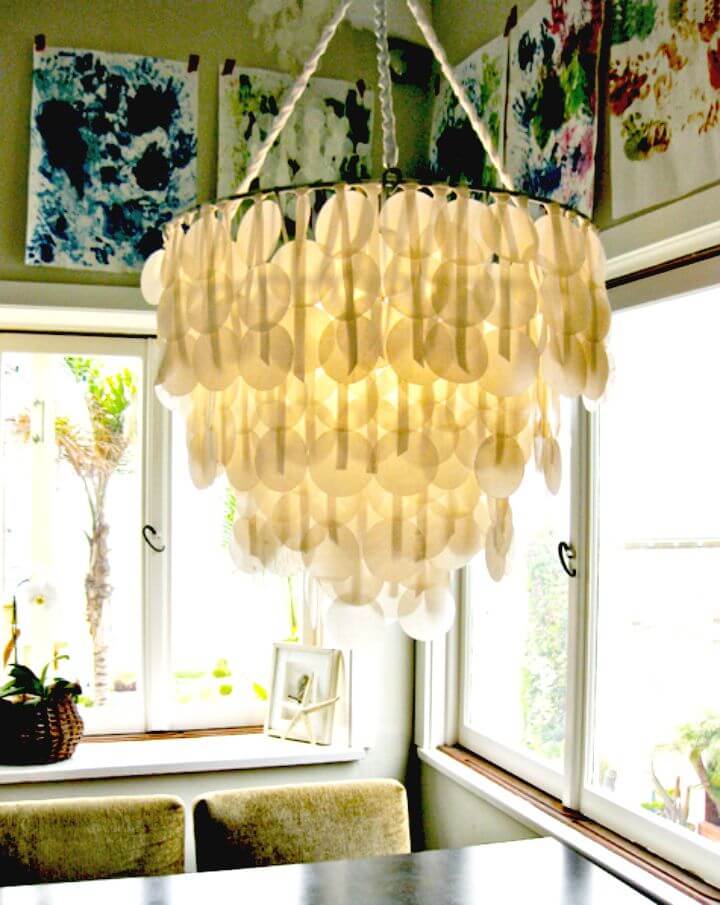 Bring great charm and visual interest to a particular indoor space with this capiz shell chandelier that is super easy to make! Here all you need the parchment paper, wax paper, circle cutter and a metal planter basket to duplicate this handsome-looking capiz shell chandelier! Full project tutorial and instructions here designsponge