Save a lot of floor space with these DIY hanging table ideas, will be a perfect table solution for dorm, apartments, outdoors and bedrooms. The hanging tables can also make changes to your outdoor living and will bring a unique style to your patio, porch, and garden sitting sets. From building a stylish hanging side table to the good looking hanging nightstand to outstanding coffee tables, you are going to get tips and tricks here for building all sorts of DIY hanging tables. What you have to do actually to install the swings on a decent height level, will be your hanging tables.
Need to look at some creative ideas? Then browse this list of 10 DIY hanging table ideas that are all divine help establish sophistication to any sitting space. The hanging tables will be a big center of attention and will provide next-level entertainments to your guests. You can target the wall space when need to store floor space, and you can also prefer these hanging tables when lacking wall space as these hanging tables can also behave very well as DIY hanging shelves.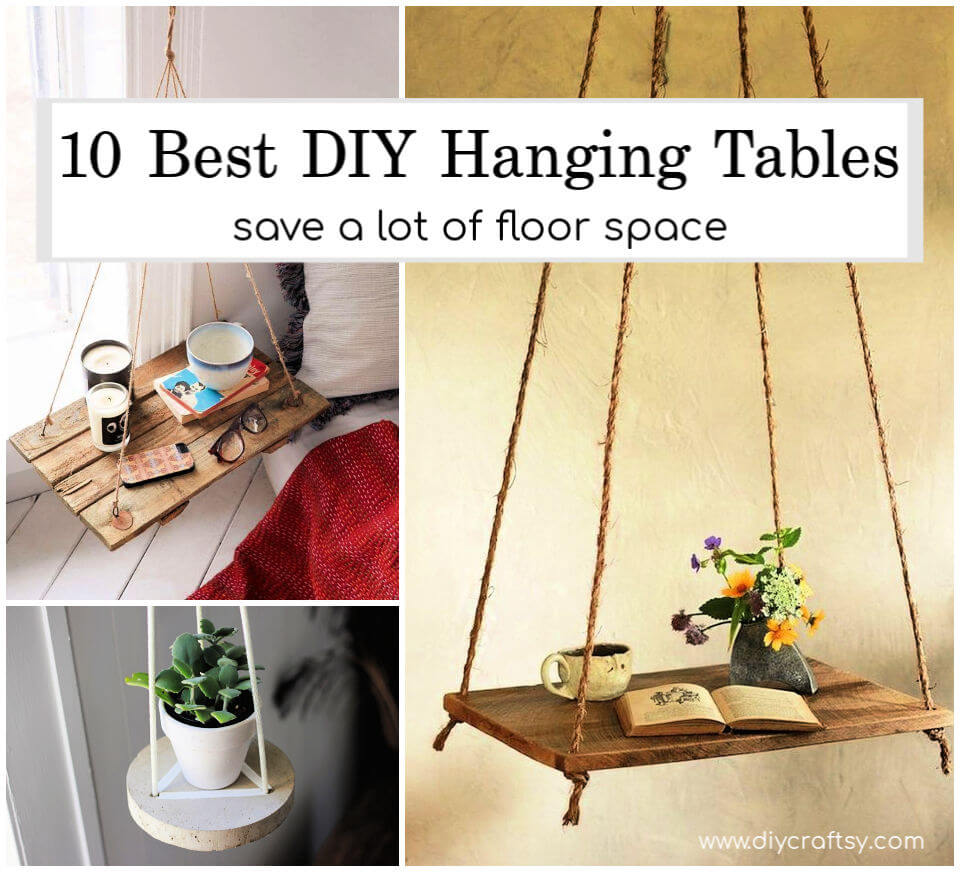 How to Build a DIY hanging table that can be utilized in an outdoor patio or indoors?
Hanging tables can do a lot more than to your home than you think. They can be set to a room corner on a decent height level as a planter stand, will be a stylish alternative to macrame planter hangers. Set a vintage theme to your bedroom by installing a hanging table with rope and pulleys. Here most of the hanging table plants involve the wooden tabletops, but you can feel free to go with concrete-made ones, will be more stable.
Use the recycled wood or get crafty with plywood or lumber slats to make hanging tabletops. Add them up with corner eye-hooks and then install the heavy-duty rope or metal chain suspensions. Rope will rock for the nautical appeal of hanging tables.
These DIY tables can also hang insides of your patio loungers, living room reclining chairs and insides of a sofa or daybed to hold the items of need or interest and also the refreshments. Take a short tour of all the DIY ideas to imagine a life with hanging tables. The space-savvy tables for interiors that are not very spacious.
DIY Hanging Table for Patio: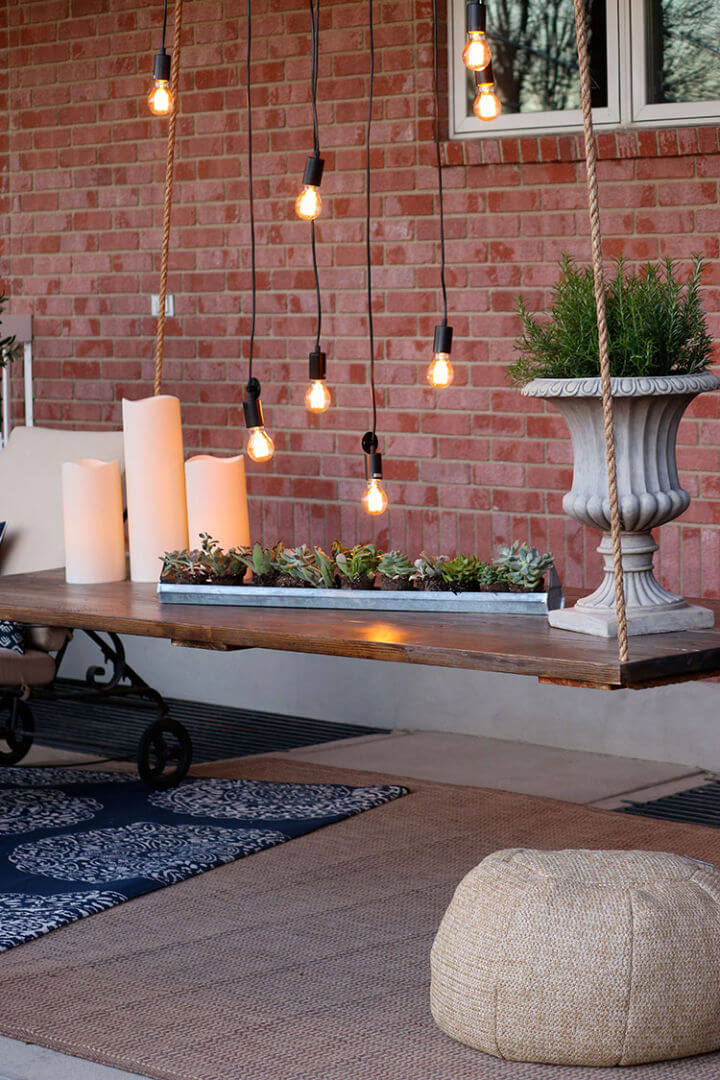 Make genius pieces of furniture for your home that will amaze everyone. Start winning the heart of your friends and guests by making first this hanging table, will rock for your patio and is looking graceful due to heavy-duty rope suspension.
A wood slats and some rope can easily make you get this hanging table. Details here homedepot
How to Make a Hanging Table: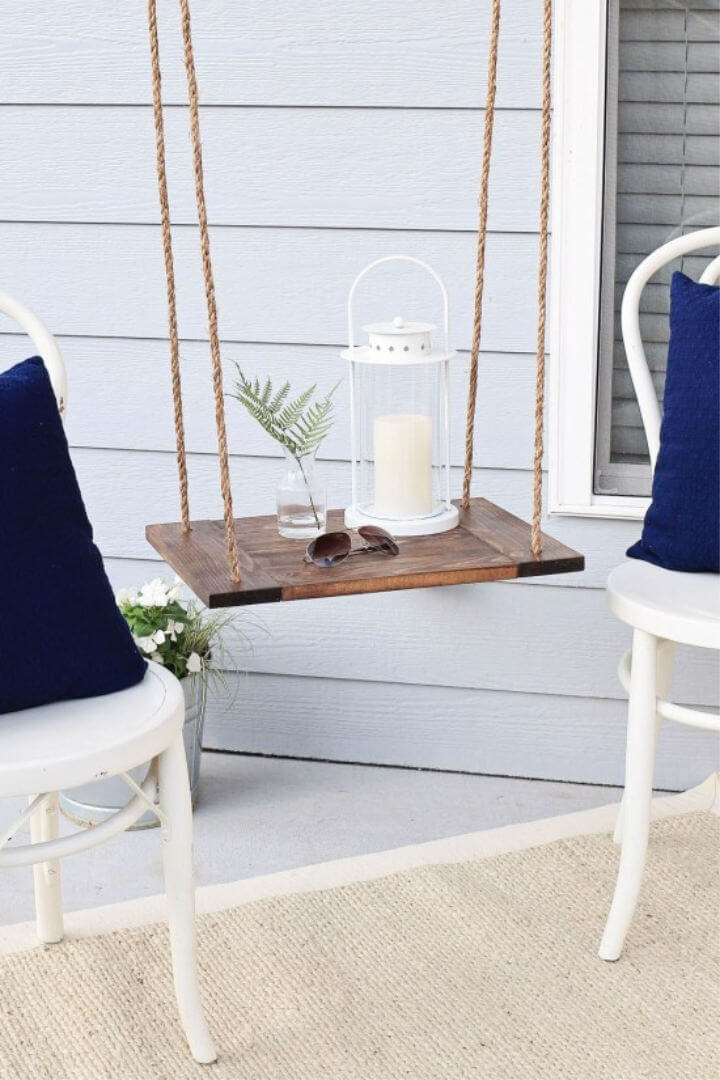 Raise the accent side table game to the next level by building this gorgeous hanging table, will beautifully hold your accents and refreshments.
It is just like a rope swing with a wooden seat and will offer a super easy construction work. A perfect conversation piece to add to your patio, garden, or gazebo. Details here angelamariemade
DIY Round Hanging Cement Table: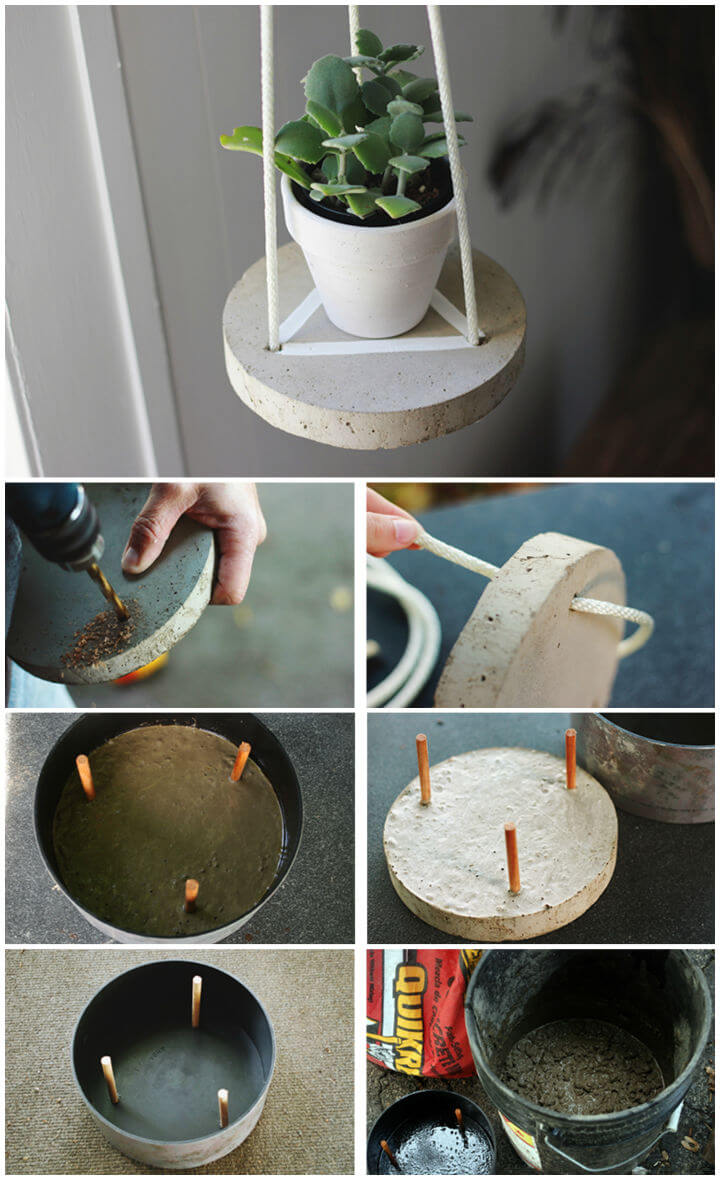 If your hanging table is going to stay long at outdoor that wood may get weathered after some time.
Make the concrete hanging tables, will have extra stability and will also survive in the harsh weather climates. This round cement table also hangs with rope. Here is how to make it themerrythought
How to Build a Hanging Table: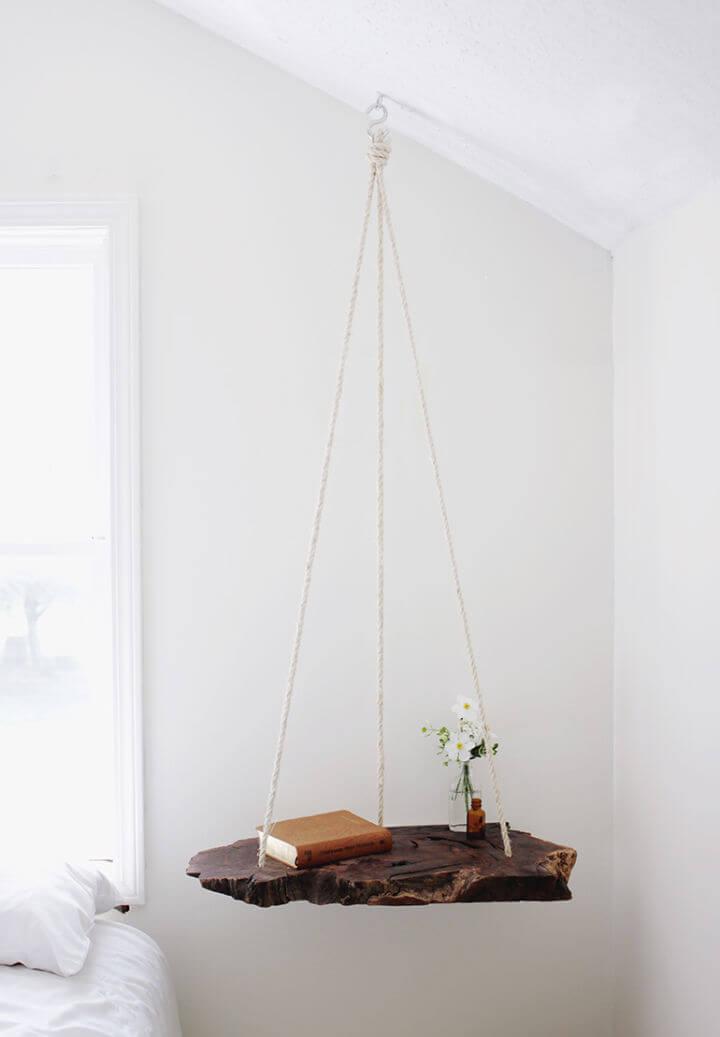 You can hang every piece of wood that is having a flat surface, in the air to serve as a hanging side table or coffee table.
This table will be an ideal choice if you want to save a lot of your space. Choose a random piece of wood with a little flat surface, and next get it in the air using a durable rope. Details here themerrythought
Make a Hanging Side Table: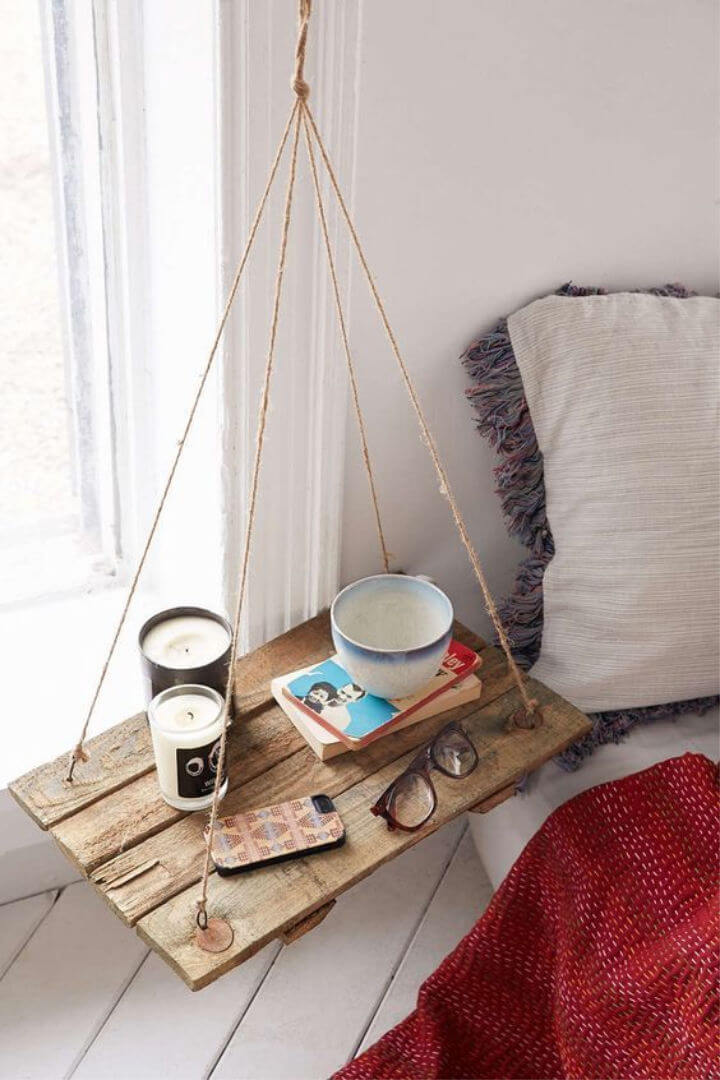 You will love to rest your refreshments and candles upon this hanging side table that will come in arms reach while sitting on a couch.
Again you have to put together the slats of wood to make a swing like a seat that you can quickly lift up using eye hooks and rope. Full how-to instructions here manomano
DIY Paracord and Pulley Hanging Table: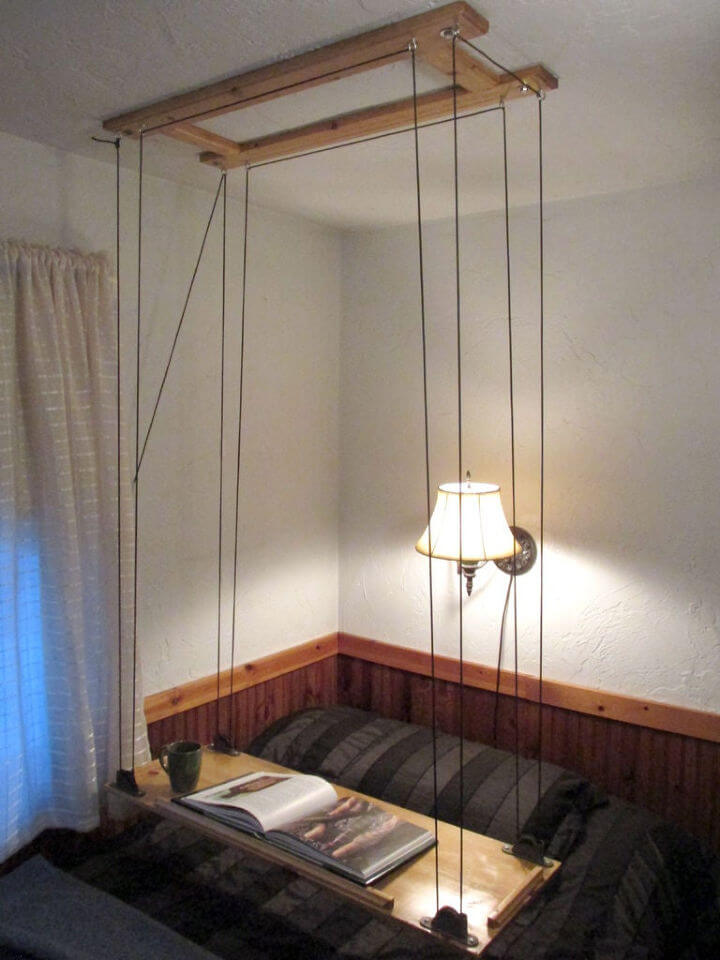 An exceptionally well-engineered hanging table that hangs to ceiling frame using pulleys and paracord. An entirely antique type of hanging table that will be economical to build for sure.
This hanging table will rock for your bedroom when you need to eat your breakfast or dinner there in style. A vintage hanging table to make in no time. Details here instructables
Hanging Table for Small Room: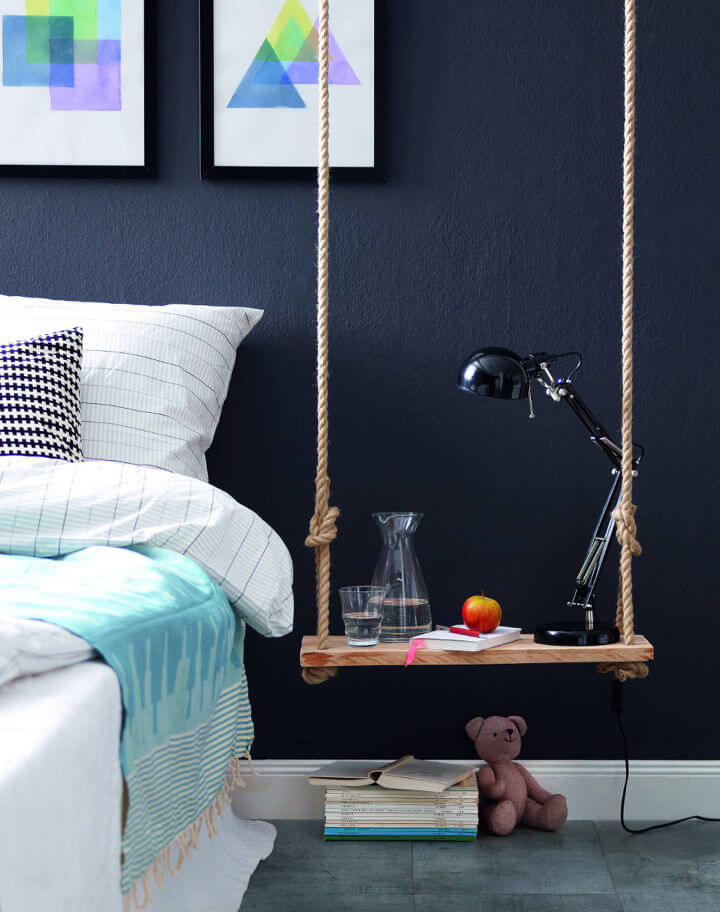 Build also affordable hanging nightstands to hold your night supporting materials with great care.
Here this hanging table is just like a swing, has a seat made of a single wood slat that is suspended through heavy-duty nautical rope threaded into side holes of planks.
Hanging Side Table for Outdoor Wedding: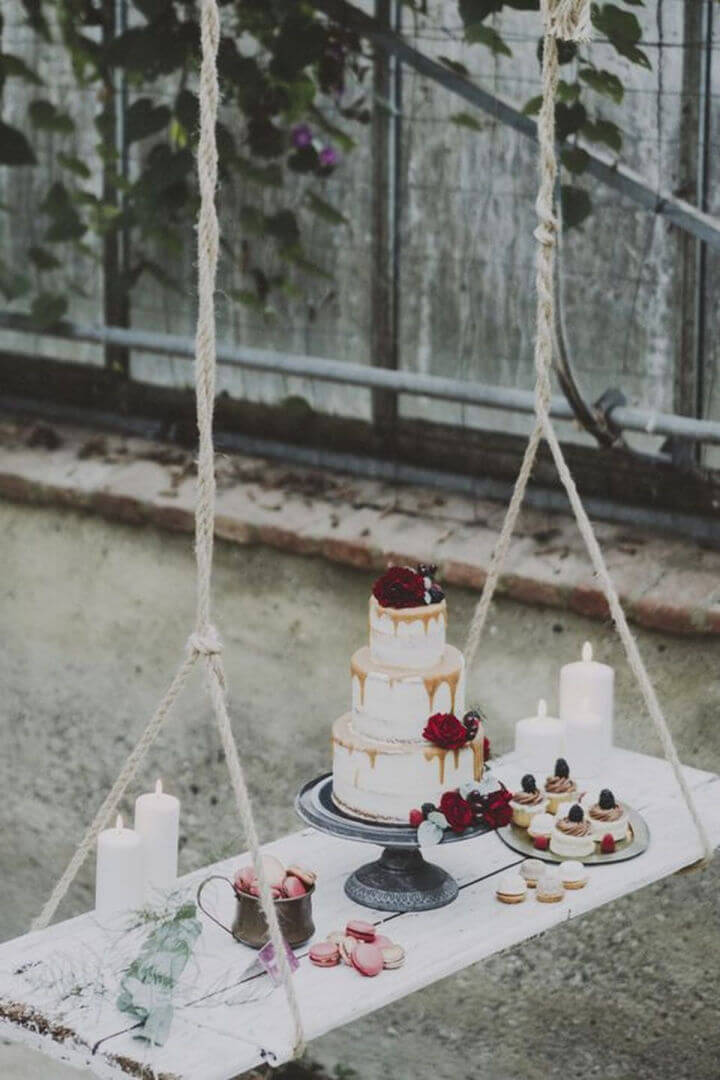 Bring also tons of focal stimulation to your outdoor wedding environments by installing some magical hanging tables, will look like coming from heaven to serve your guests.
Make a one using two distressed white wood slats and heavy-duty rope. Get inspired by the given hanging wedding side table.
Pallet Hanging Table: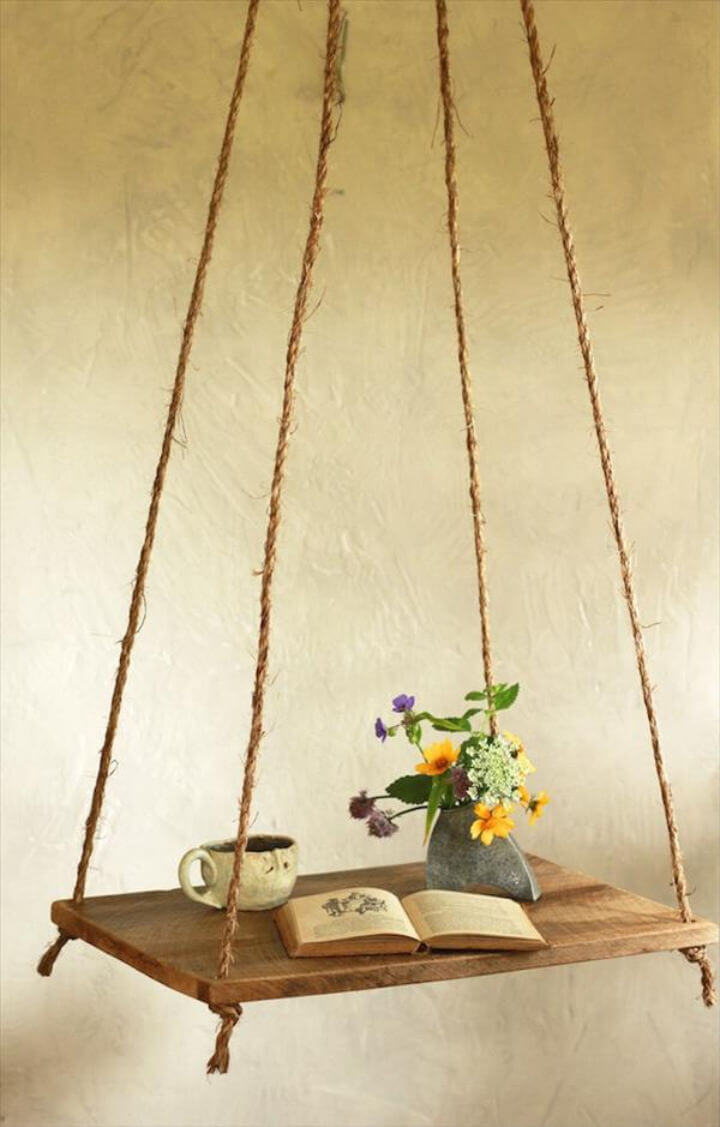 Pallets are free to grab, and they can easily be used to build free of cost hanging tables.
Put together some free pallet wood slats to build a flat square wood board, make holes in its corner and then pass the rope lengths into the holes and tie for easy suspension of the table in the air.
Outdoor Hanging Table: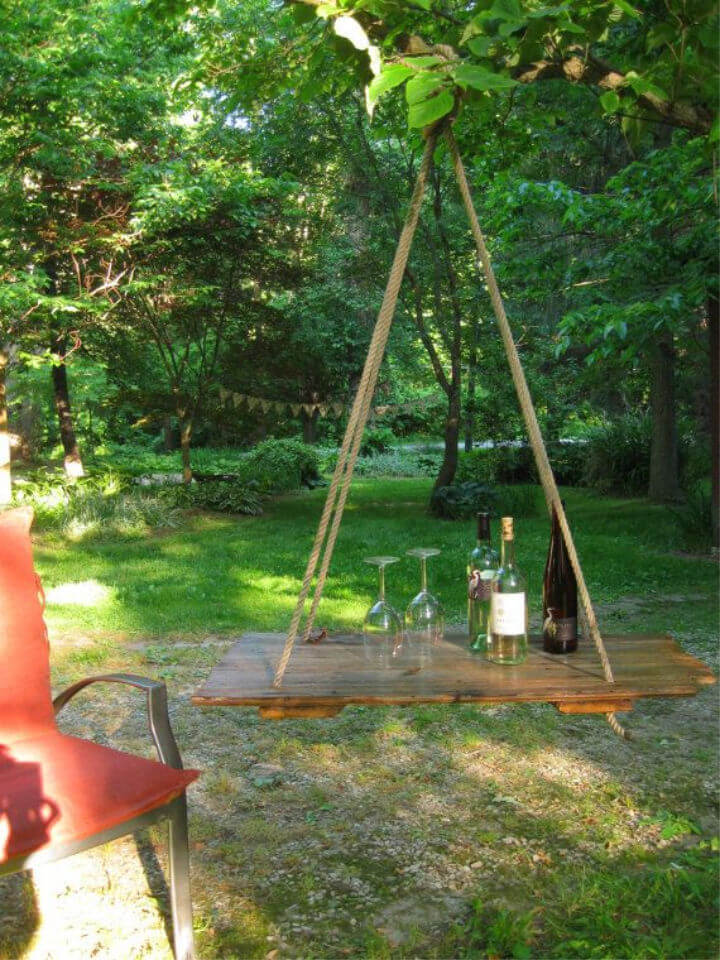 One more glam model of the DIY hanging table to add to your outdoor. It can be hanged on the tree branches or to any over the head support in the porch or patio.
This hanging table will rock for outdoor parties and fun and will help you easy prep the drinks by being on super comfortable height level. You can also turn this hanging table to outdoor bench to get comfortable sitting like swing.