Learn how to make rain chains with these 25 unique DIY rain chain ideas that add an elegant touch to your outdoor space. Discover our 25 DIY rain chain designs, ranging from simple and inexpensive to intricate and eye-catching. These rain chains serve as an attractive alternative to traditional downspouts, channeling water from your gutters to the ground in a visually appealing manner. With an assortment of materials, such as copper, glass chunks, plastic PVC pipes, and ceramic, you can make a DIY rain chain that matches your personal style and enhances your home's curb appeal.
From a cheap and easy homemade copper rain chain to a stunning wire-wrapped rock rain chain or a stylish DIY outdoor rain chain, our collection of DIY rain chain ideas cater to various skill levels and preferences. Equipped with step-by-step instructions, these DIY rain chain ideas ensure a smooth and rewarding crafting experience.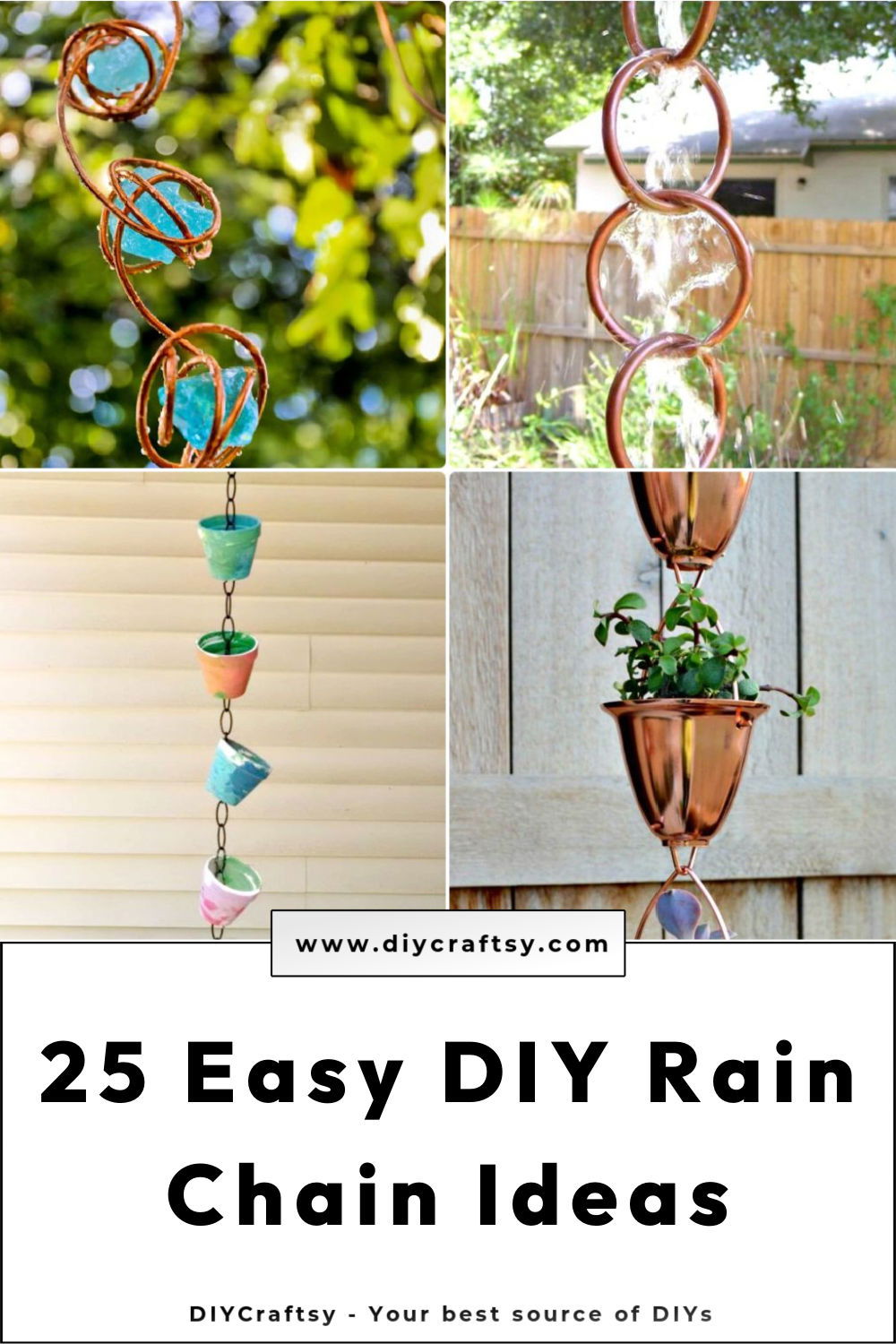 So, dive into the world of DIY rain chain ideas and transform your outdoor space with an artistic and functional accessory that captures the beauty of nature. Make your own DIY rain chain today and enjoy the mesmerizing sight and sound of cascading water during rainy days.
1. Cheap and Easy Copper Rain Chain
Build a beautiful and unique copper rain chain for your home with this easy and cheap DIY rain chain project. Gather the tools and supplies you need, such as PVC pipe, copper wire, solder, flux, pliers, cutter, hammer, etc. Notch one end of the PVC pipe using a saw. Wind it into a spiral shape with your fingers, then secure it tightly with cable ties. Cut the rings out of the tube using a cutter or hacksaw blade, then solder them together to make links in the chain. Finally, link each ring together to make an attractive rain chain that will look great in any garden or patio area! instructables
2. Make a Rain Chain With Copper Wire and Glass Chunks
Get ready to construct a unique and eye-catching rain chain with copper wire, recycled glass chunks, and rocks. This easy DIY craft is perfect for people of all skill levels looking to spruce up their outdoor decor.
All you need is some simple tools like wire cutters and your choice of colorful glass chunks or medium-sized rocks – the possibilities for creating a beautiful rain chain are endless! With this project, you can personalize it according to color, size, or texture; your creativity will be rewarded with amazing results! Get started now and make your own stunning rain chain today! craftedincarhartt
3. How to Make Rain Chains at Home
Gather brass plumber's chain, decorative cups or candle holders, clear sealer, safety glasses, bolt cutters, tape measure, drill and bit set, hole saws, and (optional) Dremel rotary tool. Measure the length of your rain chain for the best fit to your space. Cut the desired length using bolt cutters; use safety glasses during the cutting process for protection. Drill holes into each cup or holder along the chain's full length—use Hole Saw for circle-shaped cups/holders & Dremel tool for other shapes if needed. Apply clear sealant to keep rust from forming on exposed metal parts over time & hang! Enjoy your handmade rain chain! instructables
4. Making a Rain Chain With Yogurt Jar
Adorn your outdoor space with Japanese-inspired rain chain ideas, fusing ancient traditions with modern design elements for an elegant look. Transform Oui yogurt jars into a stunning rain chain with endless possibilities!
All you need is a glass drill bit, chain, wire, and some wire cutters or tin snips. Start by drilling holes in the sides of your yogurt jars spaced evenly apart. Thread the chain through each hole until all of your jars are connected with it.
To finish off, use the wire and cutters to securely attach the bottom end of the chain to an anchor point on your house to keep it in place! This stylish project adds charm while also helping to reduce water runoff during heavy rains. huntandhost
5. Make a Rain Chain With PVC Pipe
Do you want to get a unique and beautiful touch to your outdoor area? Making a rain chain with PVC pipe is the perfect way to do just that! All you need is a 2-inch wide PVC pipe, marker, drill with a ¼-inch bit, spray paint, 4″ landscape pins, 1 ½" split metal rings, small scrap wood pieces & screws. Use the marker to draw 8 circles of 3″ diameter on each side of the pipe. Drill holes in each circle using pliers and wire cutters after painting it.
Connect all pieces together using split metal rings before affixing them onto the ground with landscape pins and screwing them into the wood for extra support. Enjoy watching rainwater flow through your stunning new rain chain! bobvila
6. Make Your Own Ceramic Rain Chain
Now, make your own ceramic rain chain with just a few simple tools and materials. You'll need 20 blue ceramic bowls, 10m of galvanized steel wire, pliers with wire cutter, angle grinder with ceramic/glass cutting blade, electric drill with concrete bit & wood/plastic bit, PPE (gloves, etc.), paper, wooden board for support while drilling & sculpting the pieces of clay; about 20 nails any size to hold the rope in place during sculpture process; scissors; pencil; ruler; hammer. Follow this guide, and you will be able to make an amazing piece that you can be proud of! instructables
7. How to Install a Rain Chain
Installing a rain chain in your home is an easy and fun way to add beauty and functionality to your outdoor space. First, you'll need to cut hole in the gutter where the outlet will be placed. Then insert the outlet into the gutter so it collects rainwater from above. Once this is done, hang your chosen rain chain along with any accessories, such as cups or rings, for added decoration.
Finally, install an anchor stake at the bottom of the chain to secure its place; this will also help direct excess water away from structures and foundations on your property. With just these few steps, you can make sure that rainy days are always beautiful! plankandpillow
8. Gorgeous Rain Chain Using Binder Rings
Change your garden or backyard into a picturesque sanctuary with an eye-catching rain chain made from binder rings. This project is quick, easy, and cheap to make – all you need are some binder clips and some spray paint! Start by spraying the clips with indoor/outdoor spray paint in copper, then link them together in a pattern that you like. Finally, hang it from a shepherd's hook or downspout for a beautiful addition to your outdoor space. Make this simple yet gorgeous project today! hearthandvine
9. Handmade Mini Bucket Rain Chain
Impress your neighbors with innovative rain chain ideas, replacing traditional downspouts for a more visually captivating water drainage solution.
Welcome to the world of handmade rain chains. This mini bucket rain chain is not only unique and visually appealing but also practical! Every single step has been crafted with care: from choosing the right bucket and chain length to drilling holes for the link chain, suspending it up high, and then finally hanging each individual bucket on it.
This mini bucket rain chain comes ready to install and will be such a great addition to your outdoor decor. Add some extra charm to your home today with our beautiful handmade rain chain! instructables
10. Homemade Rain Chain Using Slag Glass
Sparkle your outdoor space with a one-of-a-kind rain chain made from slag glass! This easy DIY rain chain project requires only basic supplies such as various sizes and colors of slag glass, 20 gauge wire, needle nose pliers, gloves, safety goggles, and an old bath towel. With these essential items, you can easily make a stunning rain chain using slag glass pieces. Enjoy watching the rainfall cascade down the colorful links in this homemade art form that's sure to become an eye-catching focal point of your garden or backyard! victoryordeat
11. Adorable Copper Pipe Rain Chain
This adorable copper pipe rain chain brings charm and beauty to your home. Cut the coil into parallel chain lengths for easy soldering later. Then solder the links together and point the hole away from the house, filling it with landscape rock for a unique decoration. The copper pipe will naturally patina into green color, but you can experiment using some acid to get different patinas, creating a truly one-of-a-kind piece of art! dbclaxton
12. DIY Copper Rain Chain Succulent Planter
This DIY project is perfect for any gardening enthusiast looking to spruce up their outdoor space. With minimal effort, you'll be able to make a stunning succulent planter using an attractive copper rain chain and just a few basic materials. You'll need the rain chain, some cheesecloth, potting soil, and a garden hook or something similar to hang the chain from. Then simply fill each link of your newly hung copper planter with succulents and soil for an eye-catching arrangement that's sure to invite compliments! twothirtyfive
13. How To Make a Clay Pot Rain Chain
Discover artistic DIY rain chain ideas that combine form and function, creating mesmerizing water displays during rainy seasons.
To make this DIY rain chain, all you need are 6 small clay pots from a Dollar Store, a saucer, white chalk paint, washers, a black chain 8 ft., river rocks from the dollar store, and finish it off with a shepherd's hook. It's very simple to make and adds beauty to any outdoor space! Paint the pots with chalk paint and attach washers to their edges using glue. Then link the pots together using the black chain in descending order of size.
Finally, add some river rocks into each pot to give them some extra heft, preventing them from flying away when it starts to pour. Then, hang up this gorgeous handmade rain chain on your shepherd's hook and get ready for the endless charm and delight every time the heavens open up! ourcraftymom
14. Simple Copper Pipe Rain Chain
Learn how to make a durable and elegant copper rain chain with this simple guide. In just four easy steps, you'll coil the copper pipe into rings of different sizes, attach them with jump links for flexibility, and join them into a continuous chain. Hang it from your roof or gutter to enhance your home or garden's style. Our comprehensive guide makes it easy for anyone to make a beautiful, functional, and long-lasting copper rain chain. instructables
15. Inexpensive Clay Pot Rain Chain
Looking for an inexpensive way to make a clay pot rain chain? Look no further! With only 6 or more small terra cotta pots and 2-36″ extender chains, you can make your own rain chain in no time. Using pliers remove the link where you want each pot to rest and squish one side down so that it fits through the pot's hole perfectly. Enjoy beautiful rainfall cascading down your clay pot rain chain all year round with minimal cost and effort! themommyteacher
16. Stunning DIY Copper Rain Chain
Amaze yourself with a beautiful copper rain chain for your outdoor space, crafted from flexible copper tubing and delicately detailed with copper sheet metal and hobby wire. Tools you'll need include a broom handle, bench vise, metal cutting reciprocating saw blade, pliers, jig saw, 24 TPI thin metal jig saw blade, cordless drill, and drill bit for drilling metal*. Follow the steps carefully to build the perfect rain chain that will add beauty to any garden! fromhousetohome
17. Make a Rain Chain Out Of Neon Zip Ties
Introduce a striking addition to your home's gutter with this fun DIY project! Make a rain chain out of neon zip ties and wooden beads. All you need is $2 for materials: a package of assorted neon zip ties, wooden beads, and a nail or hook to hang from your gutter.
Start by making loops from the large zip ties, then slip the smaller ones around two loops before connecting them together. Keep linking until your desired length is achieved – it's that simple! Add an eye-catching feature outside your house today with this easy rain chain craft! dollarstorecrafts
18. Make a Rain Chain Using Copper Wire
Turn your garden into a wonderland with this simple DIY rain chain project. You'll only need a few simple items: ¼ inch of soft copper tubing, fine copper wire (optional), flower frog (optional), and one small piece of 2-inch PVC pipe. With some basic tools, including a pair of wire cutters, you can make your own custom rain chain in no time. Transform the appeal of your outdoor space with this beautiful addition to bring life to your home. It's quite an easy way to brighten up any yard while also helping to manage water runoff during heavy rains. hubpages
19. DIY Stock Tank Rain Chain Fountain
Explore creative rain chain ideas to transform your home's exterior, with stunning designs ranging from copper to DIY options.
Make your own stunning fountain with a stock tank rain chain! Just sink the 4×6 post where you want it, cut decorative ends on the 2x6s, and attach hooks to the inside face of the front 2×6. Bolt them to the 4×6 post, then cut a hole in the back side of the stock tank about 9″ from the bottom for power & tubing.
Tap into an outdoor outlet, run conduit, and add a weatherproof outlet box. Two 8.5 feet long chains turn easily into three ~5.5-foot chains – make an amazing rain chain fountain that will be your backyard centerpiece! joeshappyhour
20. Wire Wrapped Rock Rain Chain
This guide will show you how to make a stunning wire-wrapped rock rain chain. All you need is 2 spools of floral wire, 5-10 coils of thick decorative floral wire, 1 bag of decorative river rocks, and some simple tools: paper clips, pencils, wire cutters, or needle-nosed pliers (all on hand). This project requires no special skills — just follow the instructions and make an amazing rain chain that can be hung in any outdoor space to add beauty. Enjoy crafting this unique home decoration with your own two hands! dollarstorecrafts
21. Stylish DIY Outdoors Rain Chain
Add charm to your exterior with a stylish DIY outdoor rain chain. It's an attractive alternative to the traditional downspout that looks great and helps prevent erosion. Installation is a breeze – all you need is an extra gutter screw for support, then hang the chain from a rod laid across the opening of the gutter. For best performance, add a reducer for improved flow. Get creative and customize each link with beads or other decorations – put your personal touch on this functional outdoor decoration! myhomemystyle
22. Unique DIY Rain Chain Tutorial
Are you looking for a unique and creative way to decorate your outdoor space? Check out this DIY rain chain tutorial! Learn how to build, assemble, and install this one-of-a-kind rain chain with these instructions. With its whimsical design, the rain chain will add charm and character to any garden. This tutorial shares all the information needed to make your own stylish version of this traditional Japanese water feature. It's an ideal project for anyone wanting to make their own beautiful decorative accent piece that has both form and function!
23. Make Ombre Rain Chains With Step by Step Instructions
Incorporate sustainable DIY rain chain ideas into your landscape, directing water flow while enhancing your garden's aesthetic appeal. Bring a rainbow of color to your outdoor space with ombre rain chains! With these step-by-step instructions, you will have no trouble creating these beautiful creations.
Paint variously colored pots for an artistic background to your chain – from light blues and greens to dark purples and reds; you can choose any colors that fit in nicely with the rest of your garden. Assemble the individual pieces of the chain afterward for a finished look that adds character to any outdoor space. So get creative – make ombre rain chains today!
24. Easy to Make a Beautiful Rain Chain
This is how you can easily make your house look beautiful with a homemade rain chain! This video shows in detail you how to make one in just 20 minutes using marbles and aluminum wire. It's an easy way to water plants or redirect water like a downspout would – perfect for sprucing up the garden or outdoor area of your home. Get creative and follow this home talk rain chain video for simple step-by-step instructions on creating the perfect DIY rain chain project that will last season after season!
25. Quick and Easy DIY Ombre Rain Chain
Flaunt your own unique ombre rain chain with this easy DIY. All you need are nine small terra-cotta pots, one large saucer, outdoor paint, a paintbrush, a 12′ gold chain, pliers, and mini s-hooks. Start by painting the base and pots in an ombre pattern, then separate the chain into pieces. Use mini s-hooks to link each pot together before hanging up your rain chain from the top end of its last pot – placing a terra-cotta saucer below for runoff collection. Bring some vibrant color to your outdoors today!
Related DIY Projects to Try:
Conclusion:
In conclusion, these DIY rain chain ideas offer a creative and cost-effective way to enhance your outdoor space by guiding rainwater in a visually appealing manner. With various ideas, such as copper, ceramic, or PVC pipe rain chains and even ombre designs, you can create a distinctive and functional feature for your yard or garden. By exploring the numerous DIY rain chain ideas, styles, and techniques, you'll have the opportunity to craft a personalized rain chain that suits your taste and adds a touch of elegance to your outdoor living area.