We try our best to make our garden look beautiful by installing custom water features, centerpieces, and fascinating decors but there are some natural beauties of the garden that you can only attract to your garden to turn your backyard into mini heaven! Yes, we are talking about the colorful birds and butterflies that are the flying colors of your garden and are always a big bliss to see while dancing in the garden birdbaths, sitting here and there on the garden trees and also when chirping that is not less than a spell-binding symphony!
The butterflies are what that sit on the flowers and double up the beauty of your garden, and the fantastic colors of the butterflies dazzle all the garden audience! However, you can attract your favorite birds to your garden by installing the birdbaths and custom birdfeeders and in the same way you can also send for the butterflies by hanging the cool butterfly feeders on the garden tree branches so that the colorful butterflies would be on a routine visit in your garden!
Do you intend to bring some perfect butterfly garden feeders to your garden? You can buy the ready-made ones from the market, and they may not be budget-friendly, and it is also very possible that they will not go appropriate to your garden decors. Would not like you were thinking them to be, there are too many chances that the market bought butterfly feeders would lack some features that you are sorting out!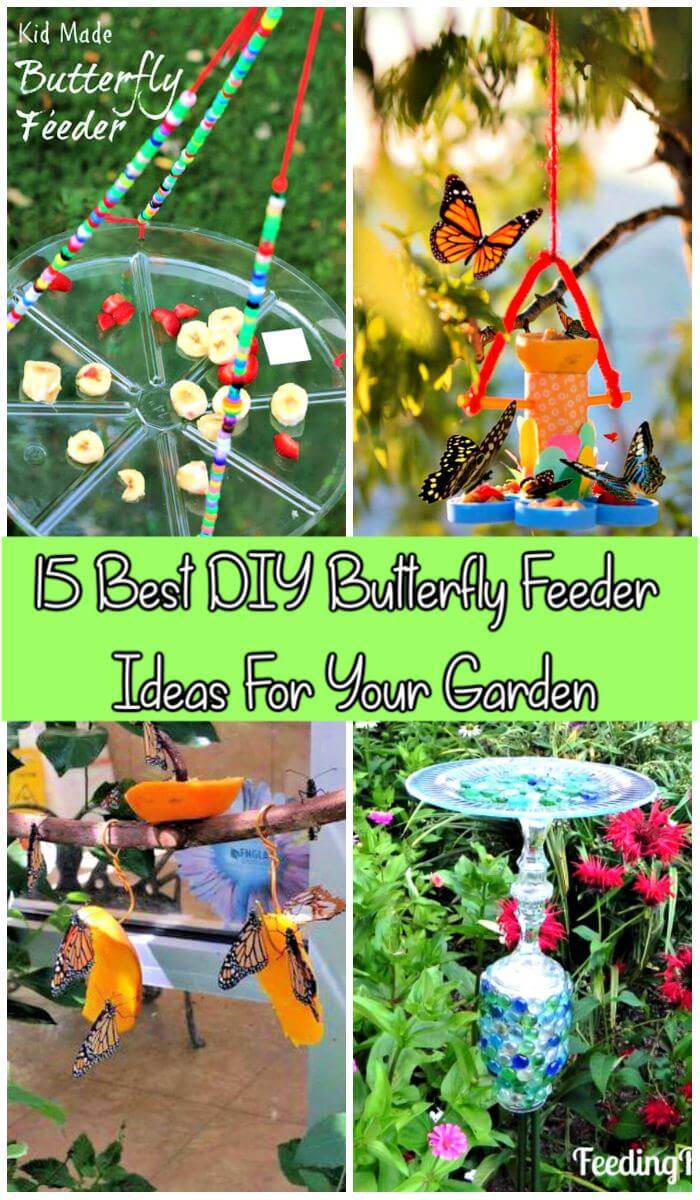 So, why save a lot of your money by making your custom butterfly feeders at home that will be made so to match your garden decors and also to suit the custom needs of you! So, if you intend to make some cool ones at home then take a short tour of these DIY butterfly feeder ideas for your garden which have only been shared here to inspire your creativity! Here all these DIY butterfly feeders are sure to please all the butterflies and are too beautiful to give an active call to the butterflies flying around your garden!
DIY Projects for Garden:
Recycle the empty toilet paper rolls, bottle caps, straws, and pipe cleaners and make fabulous butterfly feeders for your garden! Hold the Mason jar with upside down in a rustic rope mesh and fill it up with the butterfly food to make instant cool butterfly feeders for your garden! Go also handmade with the paper plates with the beaded string stands to make colorful butterfly feeders and also hang the custom decorative flowers aloft on the garden tree branches using string lengths and put the butterfly food on them like the lemon slices to make fabulous looking butterfly feeders in no time! Browse the entire list to see some more exciting and fantastic looking butterfly feeder samples and do hit the respective attached links to reach full free project tutorials, visual instructions, and step-by-step guides!
Adorable DIY Recycled Butterfly Feeder:
There is everything whimsy and gorgeous about the butterflies like their feathers, their intricate body patterns and the gorgeous colors that are why we love seeing them around. With this colorful and enchanting DIY butterfly bird feeder you can easily attract the butterflies to your spaces and enjoy flying them around your spaces and get yourself so much amused. You can learn the complete details of the idea right on the link here handmadecharlotte
Mason Jar Butterfly Feeder:
You can welcome the gorgeous creature of God to your garden, the butterflies with this adorable and easy to make butterfly feeder on your own. Simplest things like a mason jar, a sea sponge and a rope have been used to create this lovely butterfly feeder to be hung over your trees and let the butterflies come and enjoy some yummy food there. You can learn to make the feeder here gnowfglins
How to Make Butterfly Feeder: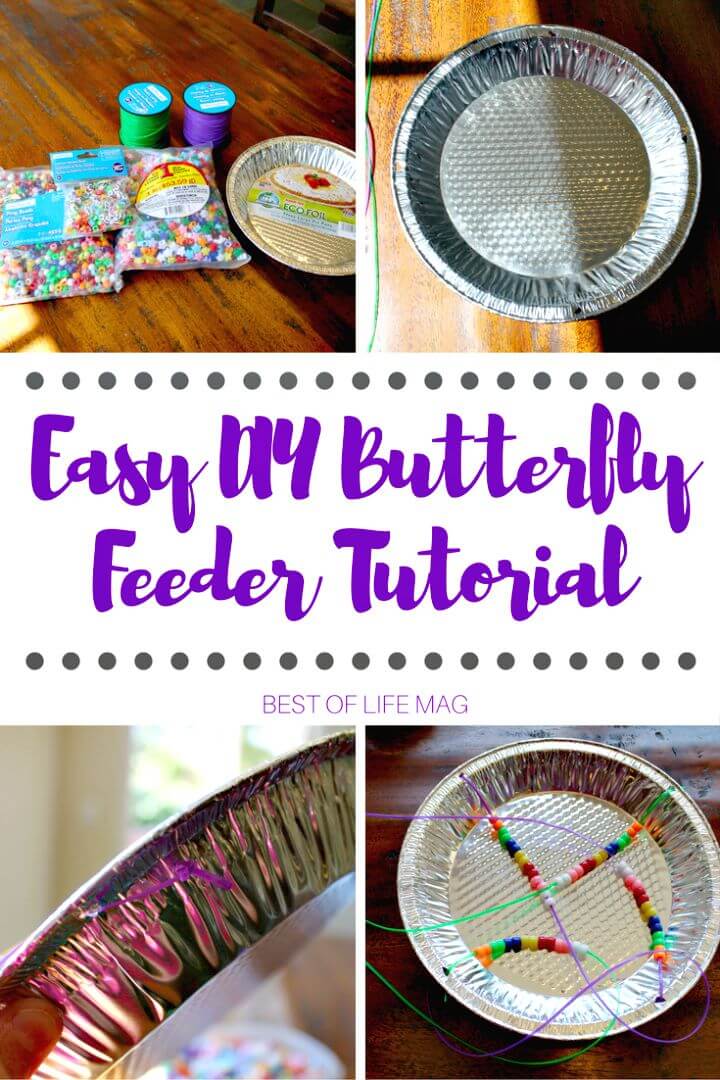 Bird or butterflies feeder not only provide a food spot to the little garden creatures but also add a lot to the beauty and decor of your garden spaces too. So here is this simple yet pretty and attractive butterfly feeder having been made out of a pie tin and some colorful beaded strings to make hang. You can follow the complete directions of this plan here bestoflifemag
DIY Re-purposed Jar Butterfly Feeder:
Butterflies are attracted to sweet things so you can make a nice sweet butterfly feeder for them in your yards to come an enjoy some treat. With a cute little empty mason jar being filled with some fruit pulp and juice and hung up high over a tree or a hook would make a nice butterfly spot for your butterfly fellows. Learn to make the complete feeder right on the link here melissacamarawilkins
DIY Butterflies Feeder in 6 Simple Steps:
Enhance the pollination level by inviting the pollinators to your garden spaces, and for that, you have to attract them to visit your places. This easy and pretty looking DIY mason jar butterfly feeder would be a nice idea to invite the batteries and let them feast on this feeder and take a trip of your garden with utter delight. So grab your supplies and built this feeder with all the details and instructions being provided here brightnest
DIY Butterfly Feeder Craft for Kids:
You must invite the cute butterflies to your garden in the summer so that they pollinate there and a good butterfly feeder would be a nice idea to attract them. With a pringles lid, some sponge and a sugar mixture you can easily install this yummy butterfly feeder and attract a whole flock of them to your spaces. You can learn the details of the idea here to make one yourself thehomespunhydrangea
Cute DIY Butterfly Feeder Using Plate: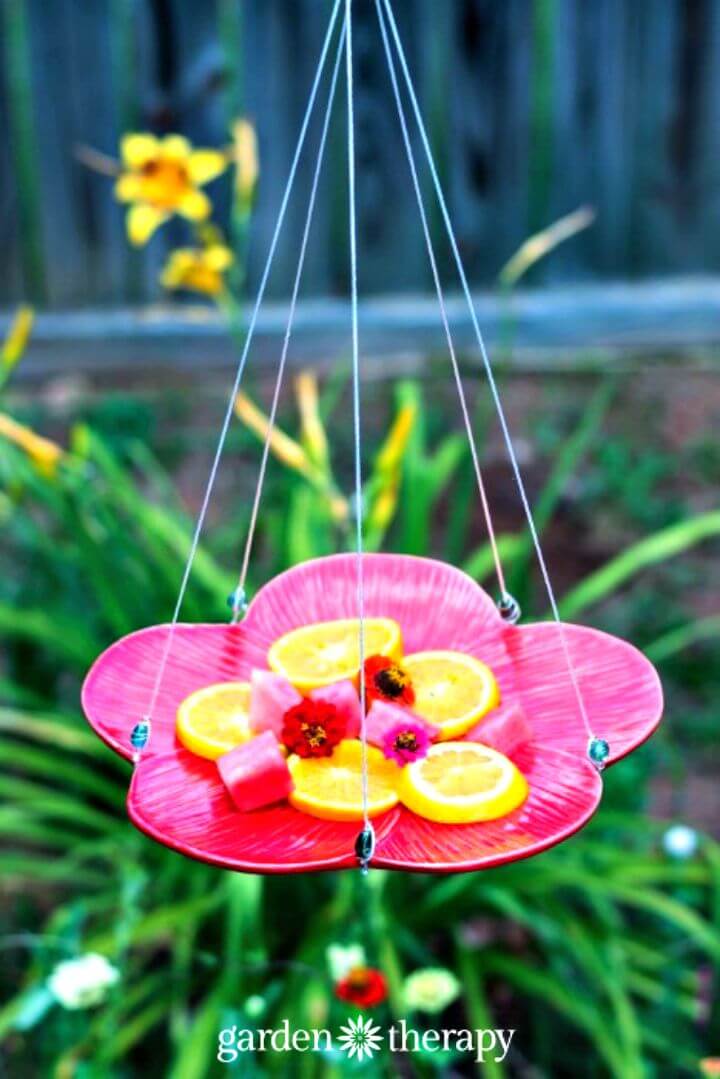 Butterflies are attracted to the bright summer colors, so if you are planning to make a butterfly feeder, then you should keep in an attractive color scheme. So, here with a pink plastic plate being loaded with juicy fruits like oranges and watermelons, an irresistible food feast has been created for these little cute butterfly fellows. You can check out the complete details of the idea right on the link given here gardentherapy
Easy DIY Fruit Feeder to Attract Butterflies: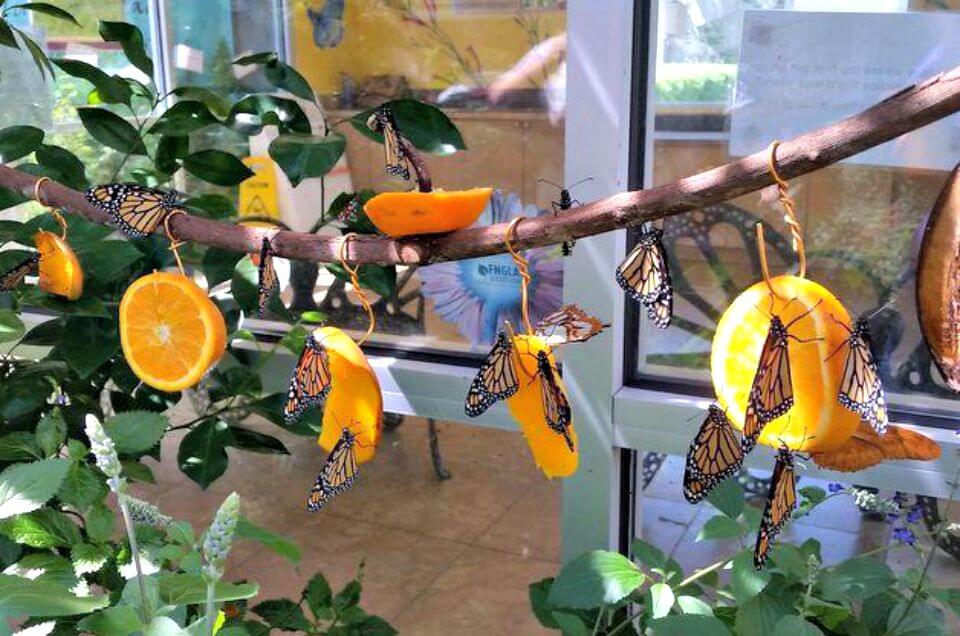 Here is this superb idea of creating a giant food station for a big flock of the butterflies and other garden-friendly insects and let them pollinate there. With a big wooden branch being loaded with fresh fruits over the copper hooks this natural feeder or the food station would attract a big number of the butterflies, bees and the birds too. Learn the complete details of installing it here birdsandblooms
DIY Homemade Butterfly Feeder:
You can make a cute butterfly feeder in two different ways so that you can invite more and more butterflies to your spaces and let them pollinate around. You can make a butterfly feeder with a plate with a seafoam filled with sugar juice, or you can make one with the mason jar using the same sugar food. Both the ideas have been shared here so check them out and make the one you find more feasible to work on ehow
Make a Spring Butterfly Feeder Jar:
You need to play with the colors to attract the butterfly in your garden spaces and here is the gorgeous and fun idea to do that. You can create this adorable and colorful butterfly feeder by painting a simple glass jar with your custom design and colors and make it hang over your trees or high plants. A fully detailed tutorial has been shared here carolynshomework
Easy DIY Bird + Bee + Butterfly Water Feeder:
Here is this multi-functional bird, bee and butterfly feeder as well as a bath for your garden spaces. Make this gorgeous and decor-oriented feeder and bath for the garden visitors using a grapevine wreath, some river stones, and a plate. Check out the details of this easy, quick and fun garden feeder idea right on the link here hometalk
How to Make Butterfly Feeder:
Add gorgeous colors to your butterfly bird feeders when you are working on one as it would attract more butterflies to your spaces. Here is this cute plate made butterfly feeder having been styled up with the beaded strings that make it look super cute and enchanting for the eyes, decor and of course the butterflies. Learn the details of the idea here to own one for your yard or garden readingconfetti
DIY Butterfly Feeder Tutorial:
This gorgeous and whimsy bird or butterfly feeder is no less than fancy and expensive garden art piece for your spaces, and surprisingly it has been made out of the feasible and simple things to find around. A glass plate, two glass candle holder and the jar have been stacked to shape up this feeder, and lovely marbles have been used to embellish it up. Learn the complete tutorial details of the idea here on this link feedingbig
Make Your Butterfly Feeder:
Here is another fun and totally budget friendly butterfly feeder to make and charm up the butterflies and your garden decor at the same time. Using a terracotta pot with a terracotta saucer on the top this simple butterfly feeder has been made and embellished with colorful gems and mosaic tile pieces. Use rotten fruits to attract the butterflies, and the feeder is ready to work. Details of the idea here thriftyfun
Simple DIY Bird Feeder For Under $5:
Using two colored floral wire and twisting them together this gorgeous and unique butterfly feeder has been installed. The twisted wires have been curled up multiple times to shape up this unique butterfly feeder that can easily hold the piece of oranges and applies inside and attracts the cute butterflies to come and enjoy some fun time in your spaces. Check out the easy details of the idea here acowboyswife