Learn how to build bookshelves with 40 free DIY bookshelf plans and ideas. Your books will thank you for a functional DIY bookcase. Building your own bookshelf is not only budget-friendly but also allows you to showcase your creativity and personalize your space. From slat wall bookshelves to styles featuring hidden storage drawers or cloud bookshelf ledges, these DIY bookshelf ideas have something for everyone. Dive into the world of creative bookshelves with wooden tabletop designs, reclaimed pallet wood bookcases, or even a charming tree bookshelf.
These free DIY bookshelf plans include written instructions, step-by-step patterns, and some even offer video tutorials to help you build your dream bookshelf. Whether you prefer a simple bookshelf design or something more intricate, like a Tetris DVD shelf, you'll find the perfect DIY bookcase plan for your skill level and style.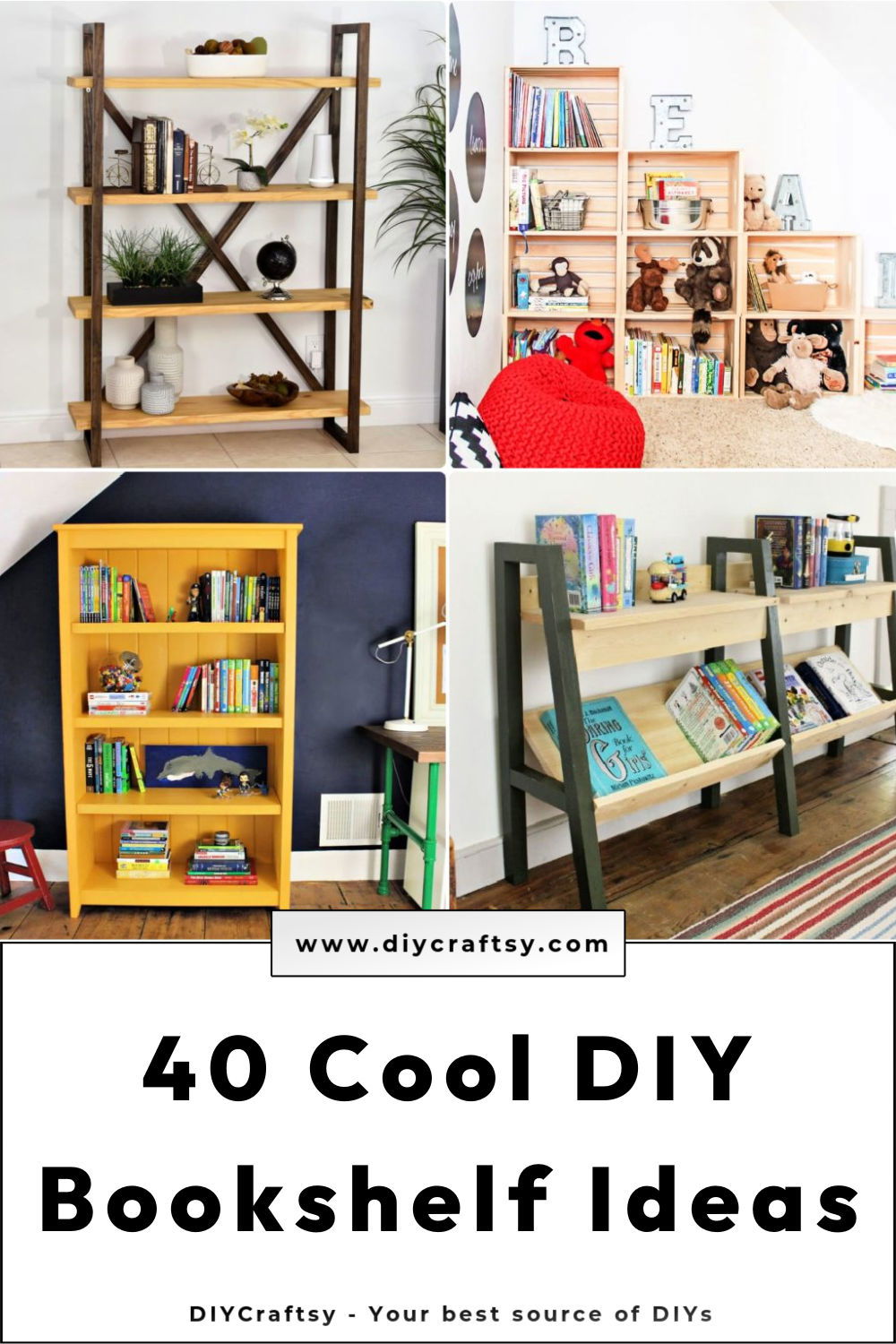 Don't miss the opportunity to build a unique and delightful piece of furniture that will become a conversation starter in your home. Pick up some materials, follow the instructions, and soon, you'll have an eye-catching and functional DIY bookshelf that showcases your personal flair.
1. How to Make Slat Wall Bookshelves
Spruce your home's aesthetics while smartly organizing your books with a unique DIY Slat wall bookshelves project. Specially designed to be strong and durable, this tutorial uses 23 pine boards, five dowels, and various screws alongside basic tools like a stud finder, miter saw, and drill.
The first step involves stud-finding and marking their positions, followed by installing the slats along these marks. After building and mounting the shelves, black dowels add the finishing touches to this elegant storage solution.
This is an excellent organization hack for bookworms and doubles as a visually appealing feature wall in your living space. This adds a unique flair to your home decor and offers ample space for showcasing your favorite reads. This viral design proves to be an attractive and functional addition to any room, making it a popular DIY choice amongst homeowners. xomyhome
2. Making a Small Wooden Bookshelf
Looking for a small, stylish, and practical DIY bookshelf? This easy-to-follow guide takes you through building a charming wooden bookshelf that suits almost any decor. You only require a few common tools and basic woodworking skills. The sleek and compact design features a tabletop for miscellaneous items and two shelves for storing books, magazines, or showcasing decor.
Not only is the design flexible, but it also allows customization options. You can adjust the size, add adjustable shelves, or even change the type of wood used from pine to oak. The finishing touches are also entirely up to you – keep it natural, paint it, or stain it to match your style. A simple afternoon project that results in a functional piece for any room. Build your bookshelf today! sawsonskates
3. Creative Space Saving Bookshelf
Optimize your child's learning environment by implementing colorful, interactive bookshelf ideas that encourage reading and foster a love for books. Immerse yourself in a world of fantasy, knowledge, and adventure in your reading nook! This creatively designed space, tucked away in an unused closet, is the perfect spot for bookworms to lose themselves in captivating stories.
Filled with an array of books, comfortable seating options like a pouf and a bean bag, and adorned with charming accents such as a colorful map and dry-erase dots, this space encourages curiosity and exploration.
It's more than just a reading corner; it's a sanctuary for fostering a love for reading and learning in children, ensuring it remains a pleasure and never becomes a chore.
Customize your tranquil reading spot with readily available items from your local store. Enhance your home with this imaginative space, and make every day a literary adventure! maisondepax
4. Make a Bookshelf With Hidden Storage Drawers
build a unique blend of functionality and charm in your living space with this DIY bookshelf featuring hidden storage drawers. This engaging project uses birch plywood, 1x3x8 boards, drawer slides, and wood finish to build a sturdy bookshelf that subtly conceals storage drawers.
Despite their inconspicuous nature, these drawers offer a creative space to tuck away essentials like remotes or your secret candy stash. The bookshelf's construction, primarily using ¾" plywood with solid wood trim, ensures lasting durability.
At 83 ¾″ tall, 18 ½″ deep, and 37″ wide, it provides ample space for your beloved books or decorative items. By adding this bookshelf with hidden storage to your space, you gain a unique functional element and a talking point for visitors to your home. woodshopdiaries
5. Beautiful DIY Cottage Style Bookshelf
Brighten your living space with a charming DIY cottage-style bookshelf, offering ample room for your favorite novels, souvenirs, and more. This sturdy and spacious bookshelf boasts clean lines and two adjustable shelves for customizable organization. Embrace your creative flair by painting it any color – like the bold mustard yellow demonstrated in our guide.
This guide offers a practical storage solution, like in a child's bedroom, where book storage may be lacking. Ready to build this beautiful piece of furniture? Find the complete, step-by-step plans in this tutorial.
And remember, always adhere to safety guidelines when undertaking any DIY project. Create, customize, and enjoy your cottage-style bookshelf – a beautiful blend of functionality and design. Make space for this charming addition to your home today! jaimecostiglio
6. How to Build a Tree Bookshelf
Explore quirky and innovative bookshelf ideas, such as tree-shaped shelves, industrial pipe designs, or corner bookcases for small spaces. Have a magical reading corner for your child with a DIY tree-shaped bookshelf. A key component of a jungle-themed bedroom makeover, this captivating storage solution combines functionality and creativity. Using common 1×6 and 2×6 lumber, construct a sturdy bookshelf with multiple branches using a Kreg pocket hole jig for secure assembly.
Branch angles of 10 and 30 degrees mimic a real tree, adding a whimsical touch. Your tree bookshelf stands tall and strong with just the right balance of wood glue and Kreg pocket screws. To build an authentic, warm feel, you can finish the bookshelf with high gloss paint or a more natural look with an 'Early American' stain.
Mount the bookshelf with corner brackets and drywall anchors, ensuring child safety. This captivating, easy-to-build bookshelf is perfect for nurturing your child's love for reading and nature. charlestoncraft
7. Cool DIY Midcentury Bookshelf
Kickstart your holiday gift-making journey with a mid-century-inspired modern bookshelf, perfectly sized for children. The practical design of this project prioritizes easy access and perfect height for young users. With ample storage and stylish angled legs, these bookshelves serve a purpose beyond aesthetics.
Accidentally fitting under eaves, these bookshelves could be a valuable addition to utilize your home's tucked-away spaces. The slanted bottom shelf, storing books flat and upright, expands storage capacity.
The top shelf is also sufficiently deep to hold larger picture books and miscellaneous items. While building this bookshelf, consider painting the legs before attaching the shelves for an easier finish. Embark on this DIY journey and delight in crafting a useful and unique bookshelf. jaimecostiglio
8. Modern Wooden Tabletop Bookshelf
Dive into the world of DIY with this charming and easy-to-follow bookshelf project. The bookshelf is designed using a single one-by-six softwood board, making it an ideal endeavor for anyone who wants to experiment with woodworking. The unique design, resembling a set of bookends, relies on gravity and a beveled leg to support your books, eliminating the need for a second bookend.
The project is also budget-friendly, with the entire shelf costing less than $5. Armed with a handsaw or power saw, a chisel, and some sandpaper, you can fashion a functional and stylish piece of furniture. Enhance your woodworking skills while adding a rustic touch to your living space with this ingenious bookshelf design. dunnlumber
9. How to Make Cloud Bookshelf Ledges
Discover creative bookshelf ideas that maximize storage, add style to your space, and inspire a love for reading at home. Transform your child's room with delightful DIY cloud bookshelf ledges, an affordable and simple project that doesn't skimp on the fun! With supplies including an 8ft 1×4 board, a 3/4in 4×8 piece of MDF, screws, a tape measurer, sander, jigsaw, compound miter saw, nail gun, drill, white paint, wood filler, and optional ceiling hooks, you'll build captivating cloud-themed shelves that truly elevate your room design.
You can design, cut, and assemble these unique pieces in under two hours. Paint them clean, crisp white for a dreamy effect, and add hooks for bonus functionality. Perfect for showcasing favorite books or hanging tiny outfits, these cloud bookshelf ledges prove creativity is truly boundless. howtonestforless
10. Handmade Freestanding Ladder Bookshelf
This handmade freestanding ladder bookshelf adds fun and functionality to any room – perfect for displaying your favorite reads! This versatile addition elevates your space's aesthetic and provides an efficient storage solution for books, decor, kitchenware, or bathroom essentials. Trending designs like ladder bookshelves are perfect for those who enjoy frequent rearrangement and don't want to rely on wall-mounted versions.
Built with simple construction, this project requires 2x2x8 boards, 1x2x8 boards, ¾" plywood, pocket hole screws, wood screws, and wood glue. It's a novice-friendly project you can complete over the weekend thanks to easy-to-follow building plans. So, why wait? Start building your custom ladder bookshelf today! woodshopdiaries
11. Free Floating Bookcase Woodworking Plan
Enhance your home's storage space with a DIY floating bookcase! Ideal for using tight spaces, this floating bookcase offers a versatile storage solution without taking up floor space. With common materials such as pine boards and thin plywood, you can build a sleek, space-saving design perfect for keeping books, decor, or children's toys.
The bookcase's floating design simplifies cleaning and adds a modern touch to any hallway. Its customizability means you can adapt the size to fit your space and finish it with a stain that matches your decor.
With a drill, miter saw, orbital sander, and a bit of dedication, you'll have a chic and functional floating bookcase in no time. This project is superb for those who want an easy, cost-effective way to maximize storage in their home. uglyducklinghouse
12. How to Make Rustic Wood Shelves
Transform any room with the help of DIY bookshelf plans, featuring creative designs like ladder shelves, modular units, and floating options. Spruce up your living space with rustic wood shelves, a simple yet stylish addition. This comprehensive guide will help you build these charming shelves using 2×10 pine boards and metal brackets to display your treasured items, from family photos to decorative pieces.
With detailed steps from sanding to waxing, you can transform plain pine boards into eye-catching, natural wood-like shelves that Joanna Gaines would be proud of! These shelves offer not just storage but also character to any room. Transform your home into a cozy pullback with this step-by-step guide on building rustic wood shelves. Perfect your interiors today with this fun and functional project. athomewiththebark
13. Reclaimed Pallet Wood and Crates Bookshelf
Experience the joy of building a DIY rustic pallet bookshelf, a sturdy and unique addition to your living space. With tools like a tape measure, drill, circular saw, and others, you can start building this masterpiece using materials such as 2x10s and 2x4s, crates, and reclaimed pallet parts.
The process involves building a 'skeleton' using your main boards, which you clad in reclaimed pallet wood for that rustic appeal. This versatile piece, offering fixed shelves and dividers, accommodates large and extra-large crates to provide varied looks according to your preference.
Safety is a priority; the reclaimed pallets are heat-treated and sterilized, ensuring you have a beautiful yet safe piece of furniture in your home. Transform your interior with this ruggedly stylish bookshelf today! jenwoodhouse
14. Simple DIY Bookcase With Angled Shelves
Elevate your child's room look with this DIY bookcase featuring angled shelves! Fusing practicality with design flair, this unique, handcrafted piece adds character to any room. The custom-made bookcase is crafted from 12″ wide pine boards, offering a charming and rustic look, while a Kreg Jig pocket hole system and table saw are the primary tools used to shape this stunning piece.
A rich walnut stain adds depth, warmth, and visual interest. The innovative use of angles in the shelf design provides a unique, aesthetically pleasing solution to book storage. This bookcase transcends age and will remain a treasured piece for years. Time to roll up those sleeves and build your bespoke piece of furniture. Your child's room awaits its newest heirloom! brepurposed
15. Affordable Reclaimed Wood Bookshelf
Add a rural flair to your living space with an easy DIY reclaimed wood bookshelf. Perfect for anyone wanting to build a chic, bohemian look, this project provides ample storage and allows you to exhibit your favorite books or decor items. Using simple materials like reclaimed wood, screws, and basic tools, you can construct an elegant 6-foot bookshelf with five 5-foot shelves.
This practical guide includes a clear plan, preparation tips, and step-by-step instructions to make your DIY journey a breeze. Recast a corner of your room into a stylish, functional space with this reclaimed wood bookshelf, and enjoy the satisfaction of building something unique and functional for your home. homemadebycar
16. Build a Leaning Ladder Shelf
Update your home decor with a DIY leaning ladder shelf, a charming addition to your space. Skip the high retail prices and build your unique version. This project is easy to take on, made with basic pine boards, plywood, and a dab of woodworking glue.
The outcome is a versatile shelf that leans gracefully against any wall, offering an appealing visual while building additional storage. Build your perfect shelves by cutting the plywood to your preferred dimensions.
Then complete your shelf by staining it with your choice of color. Not only does this ladder shelf save you money, but it also lets you customize your space according to your style. Try your hands at this project today for a blend of functionality and elegance! brepurposed
17. Building a Rustic Wood Bookshelf
Bring nature indoors with this DIY rustic wood bookshelf – a unique way to add charm and character to your home. This hands-on project results in a sturdy bookshelf built from solid pine boards. Make your living or workspace more organized and stylish as you follow simple step-by-step instructions for its construction.
In the list of materials needed for the task, the primary ones include 1×12, 1×2, 1×3, and 2×2 solid pine boards of varying lengths and some planking for the back. Notably, the main ingredient, the pine boards, lends the bookshelf its rustic charm and durability.
As you cut and join the boards, be prepared to witness your creativity transforming into a functional piece. The purpose of this bookshelf goes beyond storage. It can add an artistic look to your room, showcase your book collection, and serve as a testament to your creative skills. ana white
18. How to Make Wooden Bookshelves
Save money and showcase your personality by building a one-of-a-kind piece with easily accessible, budget-friendly DIY bookshelf plans. Drown yourself in a DIY endeavor with the challenge of constructing personalized bookshelves. Made to meet the specifications of 2″ width and 7″ height, this journey began with a simple request from a friend and resulted in the creation of solid, custom wooden bookshelves.
Utilizing wood, screws, and a versatile tool called a Kreg Jig, any DIY enthusiast can achieve beautiful and durable units for just $60 each. Inspired by the Kenwood bookshelves from Restoration Hardware, the project took on a unique character, incorporating a tea/vinegar stain and a touch of weathering for the character.
The result? An achievement that not only fulfills storage needs but also adds an appealing aesthetic to any living room. Take inspiration from this journey and consider crafting your bookshelves today. infarrantlycreative
19. Adorable DIY Henry Bookshelf
Dive into a new DIY project and breathe life into a space next to your couch with a custom-made, DIY Pottery Barn-inspired bookcase. Letting natural light filter through its open design, this charming piece fills your room with form and function.
The construction requires essential woodworking tools like a Rigid 12″ Sliding Miter saw and a Kreg Jig, which helps make precise cuts and pocket holes. Don't forget your Ryobi AirStrike Nailer and plywood for the back of the bookcase.
After assembling, give it a rustic touch with a coat of Rust-Oleum Wheat stain, corner sanding, and hardware brackets. So, get ready to transform a blank spot into a cozy corner with this bookcase project. shanty 2 chic
20. How to Build a Bookshelf With Written Instructions
Revamp your library with a creative DIY wall-mounted bookshelf that exudes minimalist design while offering exceptional functionality. Made to bear the weight of heavy books without bending, this bookshelf stands on your wall, making it ergonomically suited for eye-level browsing and simple floor cleaning.
Built from robust materials like oak veneer block wood and pine, it displays a unique hook design that conceals screws and fittings for a sleek look. The adaptable dimensions make it perfect for any space.
With an estimated budget of around $200, this tutorial offers an economical and durable alternative to conventional bookshelves. Equip yourself with tools like a router, sander, clamps, and drill, and embark on this exciting DIY journey. instructables
21. How to Build a Mountain Bookshelf
Unleash your inner carpenter and transform empty wall space into a mountainous haven for books with this DIY bookshelf mountain guide. This creatively designed bookshelf costs $220 and promises to accommodate a large collection of books within your living space.
Basic tools such as a power drill, circular saw, hand sander, and essentials like softwood planks and hardwood dowels are all you need to commence this project.
This unique design provides varying compartments, perfect not only for books but also for other trinkets. The mountain-like shape enhances its charm while serving a functional purpose. Make your own stylish, practical, affordable bookshelf mountain today, and let your books find their perfect abode. instructables
22. Build Your Own Inexpensive Bookcase
Delve into an inspiring DIY adventure as you build a customized bookshelf, perfect for your home's unique charm. This project reimagines interior decor, fostering creativity while maintaining a budget-friendly approach. Utilizing plywood, wood glue, clamps, sandpaper, and stain, the construction of this bookcase embodies both simplicity and elegance.
Every step is comprehensively detailed, starting with the assembly of base and vertical components, moving on to staining, and culminating in the shelf assembly. The contrasting color schemes offer an additional artistic flair.
Ultimately, this DIY bookshelf adds a functional aspect and exudes a personal aesthetic touch to your home decor. Build this elegant bookcase and provide a lovely abode for your favorite books and comics. ohohdeco
23. Modern DIY Mounted Books Shelving
Transform your living room with custom-measured, cut, and stained shelving that perfectly fits and enhances your fireplace. This DIY project involves building a wall-mounted shelving system, employing twin track 70″ uprights, brackets, and 12 pieces of wood.
The wood, ¾" thick, is divided into four long, two medium, and six small pieces. After configuring the perfect design on paper, measure and mount the uprights, then sand and stain the wood.
Following this, decide on the shelf placement and secure them with brackets. This creative endeavor allows you to adjust the height of shelves to accommodate objects like your TV or record player. Be ready to add a tasteful, practical element to your home with this custom shelving project. almostmakesperfect
24. Cheap and Easy Low-Waste Bookshelf
Maximize your living space with versatile DIY bookshelf plans, incorporating unique designs like corner units and wall-mounted options. Discover the charm of a DIY low-waste bookshelf, easy to assemble in approximately 20 minutes with minimal tools, building less than 1% waste and costing about $60. The versatility of this design allows for modification to fit your space, transforming an empty corner into a repository of knowledge.
Utilizing standard pine lumber and all-thread rods for construction, this bookshelf reduces waste, marrying affordability with sustainability. A professional carpenter and designer's insightful guide reveals the simple yet powerful method of constructing these shelves without succumbing to overbuilding.
The assembly requires common tools like a saw, drill, and wrenches, making it a friendly project for anyone with time and a dash of handyman spirit. The result? A sturdy, spacious, and eco-friendly home for your favorite books that will proudly serve for years to come. instructables
25. Making a Modular Bookcase
Incorporate sustainable bookshelf ideas into your decor, with repurposed materials like pallets or crates, or by supporting eco-friendly brands. Delve into the world of re-purposing with a DIY modular bookcase made from salvaged kitchen drawers. You can build an eye-catching piece of furniture while giving the nod to sustainability by using drawers rescued from a 1940s house. You can transform the old into new with creativity and basic tools such as a drill, sandpaper, and scissors.
These mismatched drawers are painted in coordinating colors and lined with decorative paper, resulting in a unique, customized appearance. By anchoring the drawers to your wall, you can achieve an intriguing, modular bookcase that organizes your books and enhances your room's aesthetic.
Add a vintage touch to your space by breathing new life into salvaged materials. It's a practical yet stylish way to reduce waste and showcase creativity. Embark on your adventure today and build a modular bookcase that reflects your personality and style. craftynest
26. Build a Tetris DVD Shelf at Home
Get ready to build a unique and functional Tetris-inspired DVD or bookshelf you can configure any way you want! This easy-to-follow guide uses solid pine wood, providing an affordable yet high-quality solution to your storage needs.
With an initial investment of around $85, you can build this versatile shelf that holds your movie collection and adds nostalgia and charm to your room.
Being 8″ wide, it fits DVDs perfectly while saving on costs. However, a 10″ variant allows more stackable options. Remember to ensure the wood is straight for efficient stacking. Let's get started on this creative project that blends utility and playful aesthetics. instructables
27. Homemade Cost-Effective Bookshelf Chair
Make a stunning focal element in your home with a DIY bookshelf chair, also known as a "biblio-chaise." Capable of accommodating up to 18 feet of books, this functional piece offers a comfortable seating area and an extensive library all in one compact design. With 41.5″ wide, 34.5″ long, and 29″ tall measurements, it's been expertly designed to pass through standard doorways, making installation a breeze.
The resulting piece is a testament to personal craftsmanship and a delightful addition to any home's interior decor. The materials required are easily accessible and cost-effective, offering a viable DIY alternative to purchasing this unique chair at retail.
With this engaging project, you can enjoy the double pleasure of a cozy reading corner and a wide bookshelf that can accommodate your special collection. Build this piece as a unique gift for a loved one or a charming treat for your home, and dive yourself into the joy of DIY crafting. instructables
28. Simple and Modern DIY Wooden Bookshelf
Take on a challenging yet rewarding woodworking project with this modern DIY bookshelf. Built using simple yet effective techniques, this project offers an opportunity to experiment with dado joinery, helping to align and stabilize your bookshelf. The design focuses on plywood for sturdiness and affordability, with added 1x2x8 and 1x4x8 boards for aesthetic detailing.
Though the router bit sizing will have a learning curve, the resulting bookshelf demonstrates proper tool selection. Using screws and wood glue ensures a solid structure, while including edge banding or square dowels as trimmings complete the sleek look.
With six straightforward steps, this tutorial offers a clear guide to crafting a sturdy, attractive bookshelf that not only stores your favorite books but also enhances the aesthetic of your space. woodshopdiaries
29. How to Make a Bookshelf With Crates
Unveil an innovative DIY storage solution using unfinished crates from Home Depot! These crates are versatile, providing easy customization with paint or stain and fitting together seamlessly to make a tailored storage unit for any space. The supplies required include:
Five large wooden crates.
Your preferred paint or stain.
A Purdy paintbrush.
A drop cloth.
The crates are stacked and secured to build a unique bookshelf, ideal for showcasing books, family pictures, and special collections. You can explore multiple configurations, from stair-step toy storage to shoe storage or a simple 4-crate square option. This effortless yet functional crate bookshelf brings a fresh and practical touch to your living space! creatingreally
30. Building a Bookshelf Using Pipe and Plank
From novice woodworkers to experts, DIY bookshelf plans offer step-by-step instructions for crafting a beautiful and functional piece. Plunge into a creative home project with this rustic DIY pipe and wood plank bookshelf, perfect for showcasing your book collection. This project can transform a simple wall into a unique focal point using explicit materials like 13ft long wood planks and standard-sized black gas pipes.
Prepping the planks requires drilling holes for the pipes and staining for that classic rustic appeal. The bookshelf is 13 feet wide and just over 10 feet tall, making it a standout addition to your space.
As a functional yet aesthetically pleasing home improvement project, this bookshelf not only offers ample storage for your books but also enhances the overall vibe of your home. Time to turn up your sleeves and embrace this DIY adventure! dusty coyote
31. Awesome DIY Rustic X-Style Bookshelf
Embark on a rewarding DIY journey by constructing a robust, rustic bookshelf using Simpson Strong-Tie products. A world leader in metal connectors and fasteners, Simpson Strong-Tie, equips DIY enthusiasts with essential tools to bring their vision to life. This stylish and sturdy wooden bookshelf project encapsulates style and strength.
Using a mix of brackets, angles, joist hangers, and post caps, this bookshelf is achievable within a budget of $75. A trip to the store for a similar quality bookshelf might set you back hundreds of dollars, proving once again the cost-effective allure of DIY projects.
Complete with a step-by-step guide and a comprehensive list of necessary materials, you're set to add a bespoke touch to your home decor. Grab your tools, let your creativity flow, and build something uniquely yours! jenwoodhouse
32. Unique Pallet Wood Bookshelf
Build your dream library with customizable DIY bookshelf plans, perfectly tailored to fit your room's aesthetic and storage needs. Bring a rustic allure to your bedroom with a DIY pallet bookshelf, a simple and versatile storage solution that can be crafted from reclaimed wooden pallets. This hands-on project provides ample room for your beloved books and other cherished items. Starting with a careful plan and the right tools, you'll progress through selecting, measuring, cutting, and sanding the pallet wood.
Paying heed to the finer details, such as the natural texture of the boards, will give your bookshelf a unique, characterful finish. Once assembled, fine-grit sandpaper can be used for a smooth finish before staining for an elevated look.
Besides being an eco-friendly and cost-effective project, this bookshelf will surely bring warmth and charm to your space. So, why wait? Gather your pallets and start building your piece of functional decor today! madewithlovetcbf
33. Making a Dollhouse Bookshelf for Kids
Swoop yourself in a fun and creative DIY project that marries utility and playfulness by transforming a simple bookshelf into a beautiful dollhouse. This 3-tiered bookshelf becomes a space for creativity and imagination with just some elbow grease. Shelves are lowered for optimal space usage, and, combined with additional MDF scraps; the basic structure quickly turns into an inviting home for doll play.
Aesthetic touches include a scallop-edged roof and a wainscot panel as backing, while love for simplicity guides color choices. Repainting stages ensure all elements harmoniously blend into the aqua, antique white, and gray palette.
This innovative project provides a wonderful gift for little ones and doubles as an attractive bookshelf, serving a dual purpose. With a bit of patience and an investment of roughly $50 plus the original cost of the bookshelf. Now, that's a creative challenge worth taking up! simpleasthat
34. Quick and Easy DIY Bookshelf
Get organized and add personality to your space with a quick and easy DIY bookshelf! It is perfect for bringing a personalized touch to their home interiors. This project combines the durability of Kee Lite fittings and the rustic appeal of wood, making it a perfect bedside companion for your books and magazines.
Despite having no woodworking background, you can easily build this shelf. The usage of Kee Lite fittings allows flexibility in design and easy assembly. With necessary parts, such as the Kee Lite Flange and a simple Allen Wrench for assembly, this piece comes to life in approximately 20 minutes.
Each shelf, firmly attached to flange fittings, can be placed at your desired height for a uniform or unusual look. If the need arises, the position of the shelves can be adjusted in the future. With this easy-to-follow guide, build a versatile piece of furniture that suits your evolving needs and aesthetics. simplifiedbuild
35. Creative Wooden Bookshelf
A DIY wooden bookshelf is the perfect way to add a personal flair of creativity to your home! Build your own adjustable, scaffolding-style bookshelf, perfect for accommodating the unique layout of any room. This project is an elegant solution for optimizing storage space stylishly.
Utilize common materials such as pine boards; a table saw, a miter saw, wood glue, nails, and a drill to customize a shelving unit that matches your aesthetic. With adjustable shelves, adapt the unit to house all your possessions, from books to decor items.
The simple yet modern design with an X-shaped backing adds an artistic touch to your space. Embrace the practicality and creativity of this adjustable bookshelf project to transform your room. themerrythought
36. DIY Industrial-Style Bookshelf for Kids
Build stylish and durable DIY shelves by combining iron and wood. Create a mid-century modern bookshelf at home to fancy up your living space! Take on a fun-filled, creative project by building a DIY industrial-style kids' bookshelf – the perfect solution to store and organize your children's favorite reads. This endeavor results in a handy and stylish piece with materials such as 1x6x8, 3/4″ 2×4 plywood, 1x2x6, 1/2″ metal pipe, kreg jig, and wood glue.
A solution for those seeking additional storage for their kid's room, this project enhances your woodworking skills and provides a personalized touch to your child's space.
The industrial style of the bookshelf adds a unique charm to the room, blending functionality and aesthetics seamlessly. With detailed plans and clear instructions, it's a project that efficiently utilizes your time and creativity. Dive into the enjoyable world of DIY with this kid's bookshelf project! cherishedbliss
37. Crate Leaning Shelf and Storage
Organize your children's books and toys with a stylish, easy-to-build DIY leaning shelf. This functional piece employs a mix of large wooden crates and a wall crate attached to two 1″ x 3″ x 8′ boards, forming a unique and adaptable storage solution.
Using basic tools like a miter saw, drill, and sander, the assembly process is simple and accessible. The shelf provides ample room for miscellaneous items, from books to accessories, making it an ideal choice for decluttering any room.
A custom wood stain or paint finish also adds aesthetic appeal to this practical item, enhancing interior decor. This crate-leaning shelf project makes your living space tidier and more attractive today. hertoolbelt
38. How to Build a Wood Wall Bookshelves
Smarten a children's room with a cozy DIY reading corner and a welcoming nook that fosters a love of books. This project incorporates a comfortable chair from Target and compact, custom-made shelves for storing a selection of favorite stories.
The shelves, made from a 2x6x8 pine board, are perfect for a small space, fitted neatly behind a bunk bed. Essential tools for crafting these shelves include a table saw, power planer, nail gun, and drill.
Simple and quick to assemble, these shelves not only hold books but also offer space for cherished toys and decor items, enhancing the charm of your kid's room. So build this engaging space and inspire your children to discover the joys of reading. themerrythought
39. Budget-Friendly Wooden Bookshelf
Explore the DIY world with this step-by-step guide on crafting your bookshelf. This guide serves as a testament to the positive effects of DIY projects on mental health, particularly for those combating alcohol addiction. Woodworking is a therapeutic tool that provides an engaging hobby and a new challenge.
Utilize basic tools like a miter saw, drill, orbital sander, and common supplies such as wood, wood glue, and screws. Build a sturdy, reliable bookshelf, perfect for your room or office.
The benefits include achieving a sense of accomplishment and displaying your handcrafted masterpiece. This bookshelf will hold your books and your journey toward self-improvement and new skills! diypete
40. Building a Rustic Bookshelf With Storage
Get a rustic charm to your space with a DIY bookshelf project. Featuring an appealing two-tone finish, the bookshelf also doubles up as an excellent storage solution. The project begins with materials such as a threaded insert, connecting bolt, espresso stain, Danish oil, dowel pins, and select pine.
The process begins with making the shelves and frames, then constructing the cross-support. Then, you cut the half-lap joint, attach the cross support, and sand the surfaces before applying the finish.
Afterward, assemble the frame, add the cross support, and insert the shelves to complete your rustic bookshelf. This bookshelf is designed for easy transport, and its two-tone finish makes it a centerpiece in any room. Make your space more organized and stylish today with this rustic bookshelf! diycreators
Related DIY Projects:
Find More Easy Organization Ideas
Discover simple organization ideas to streamline your life and boost productivity.
Storage Solutions for Your Home:
Get organized with our home storage solutions! From stylish DIY shelves to versatile drawers, find smart storage options for every room.
Conclusion:
In conclusion, these 40 easy DIY bookshelf plans and ideas provide creative and unique solutions for designing and building your own bookcases and bookshelves. With free bookshelf plans ranging from slat wall bookshelves to rustic wood shelves and even a tree bookshelf, these projects cater to various skill levels and aesthetic preferences. So, whether you are interested in making a space-saving bookshelf or a stunning centerpiece for your home, these DIY bookcase and bookshelf ideas offer endless options for personalization to suit any taste and style.