You can't buy new furniture every time when requiring a decor update in a particular home or room interior! Buying new furniture every time can cost you big and the problem is that what to do with the old furniture that is still looking durable and beautiful! So, buying new furniture may not be the right solution, so you can shake hands with some alternative DIY projects to upgrade your furniture to match your current home decors! If you are concerned only to update the old tables then you can do amazing table makeovers at home to get your tables again looking brand new and matching to a particular interior decor style! There is various outstanding DIY table makeover achievement on the internet and we have showcased some popular ones as these 100 DIY table makeover ideas to upgrade your tables that will help you to refurbish every kind of table like a pro with minimum investments! Here all these DIY table makeover ideas are special and will leave you no more with outdated tables in your home!
Do amazing dining table makeovers and upgrade the dining tables to match the new dining room decors! Check out here the sample dining table that has been waxed and then painted for a gorgeous looking appeal and comes with brilliant nature wood design texture! Also, paint your old dining tables for a modern or custom vintage-inspired look, check out there a precious dining table that comes with a dark grey top and chic white painted base! Check out some more brilliant DIY dining table makeovers given in the list that has been done using custom paint treatments!
How to build a simple table?
Another smart way to makeover your old home tables would be to use the stain and stencil treatments, just stain your targeted tables to vary the wood tone to any and next you can make use of custom stencils to personalize the final look of the table! Here you can go with any custom stencil from a quoted art stencil to a flower stencil and also from monogram stencils to vintage art stencils! Check out some remarkable stenciled tables given in the list that will definitely hold your attention!
In the same, you can also try the wood-burning technique to inscribe some amazing signs, monograms, and letters on wooden surfaces of the tables just to give them a personal statement! The DIY table makeover ideas for genius table makeovers are just endless! Moreover, you can also install the custom new legs to a table to change the look of it and next you can make the penny topped tables and side tables at home that will simply be attention-grabbing and much focally stimulating!
The list is having dozens of table makeovers that you can check all to get inspired! Just hit the respective source links to grab the full free instructions, step-by-step tutorial and complete free visual guides for your favorite projects!
More DIY Furniture and Decor Projects that You'll Love your Home:
DIY Cerused Oak Dining Table Tutorial:
Most of the interior tables that go out of style just do not match your interior decors! But there is always a solution, just do custom table makeovers and match the tables with your home decors again so it will be again performing better!
Here an oak dining table has been waxed and painted for an outstanding appeal and it comes with natural grains and wood textures appearing in white and also comes with chic white painted base that help create a stunning appeal of this dining table! Complete makeover details and tutorial here
Step by Step tutorial here: addicted2decorating
Easy DIY Dining Table Makeover Tutorial Before and After: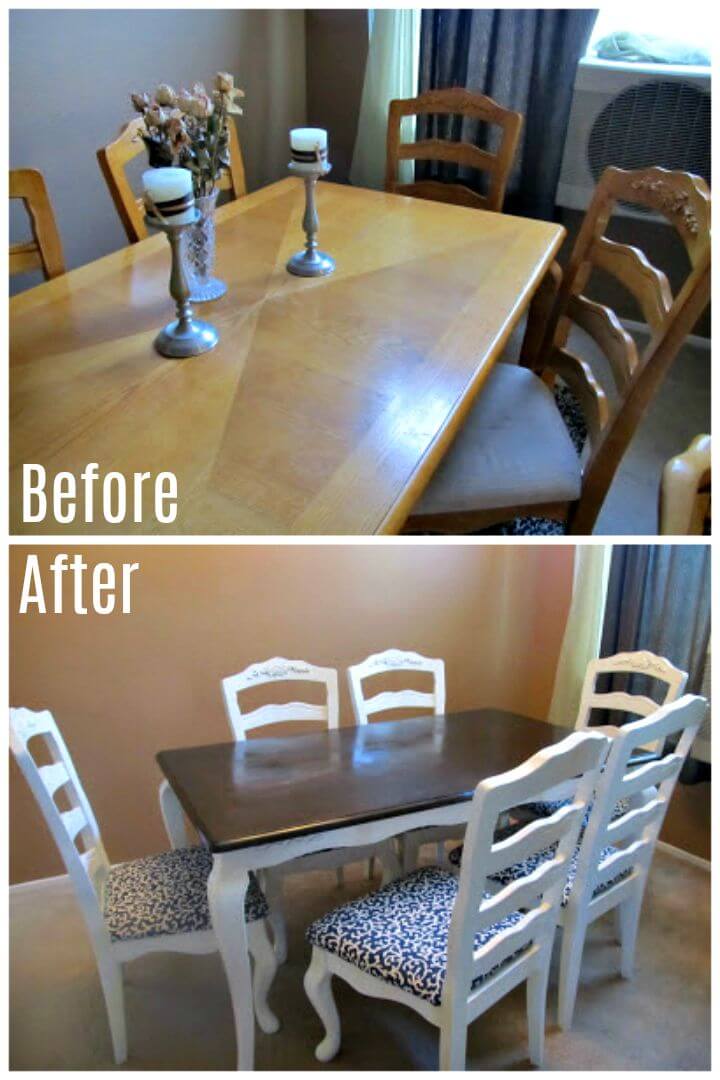 Another outstanding dining table makeover is here, here the appearance of the dining table has been changed from a natural wooden to a dual-tone appearance! Here the refurbishment of the DIY dining table has been done to get a white chic base and a sleek dark grey top and the dining table look just stunning in its final painted avatar!
This is here another smart furniture makeover that all home lovers can try out to match their tables to their interior home decors again! Complete project details and tutorial guides are here
Step by Step tutorial here: prettyprovidence
DIY Table Stained And Stenciled Makeover :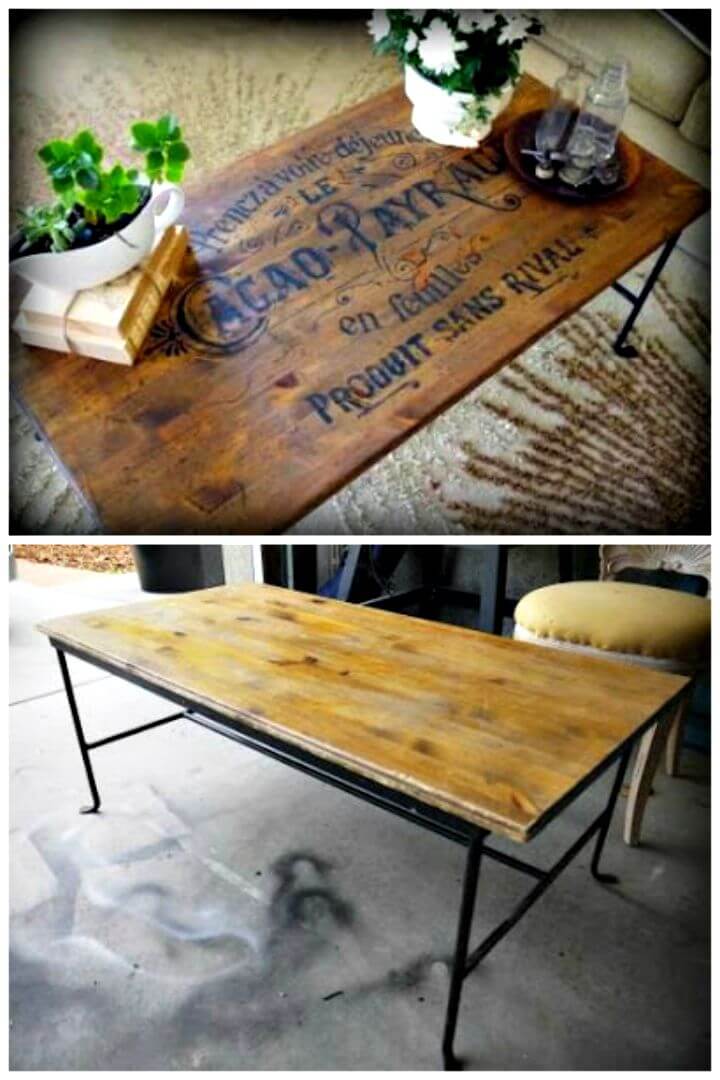 If you are want to personalize the entire table then it would really be a fab idea to make the tabletop stained and stenciled for custom patterns, name letters or quotes! Check out a remarkable sample given below that comes with interesting details and is much visually pleasing!
Here the rustic wooden tabletop has been stenciled for custom monograms, name letters and quotes creating a very personal look of the table! This is here another mind-blowing table makeover idea that all home lovers can duplicate! Complete project details and tutorial guides are here
Step by Step tutorial here: redhenhome
Modern DIY Farmhouse Dining Table:
The dining table sets are the most expensive in the home furniture! So, build lasting longer and stylish dining table sets at home without getting expensive using the recycled wood! Look at the precious given sample, made to inspire and is super cost-efficient to make erinspain
DIY West Elm Inspired Patio Table:
Make also the lovely West Elm Inspired furniture knock offs at home without getting a bit expensive! Just like this given patio table that comes with flat box style legs and is wholly made of recycled wood slats! Full how-to instructions here effierow
DIY $50 Square Hairpin Leg Coffee Table: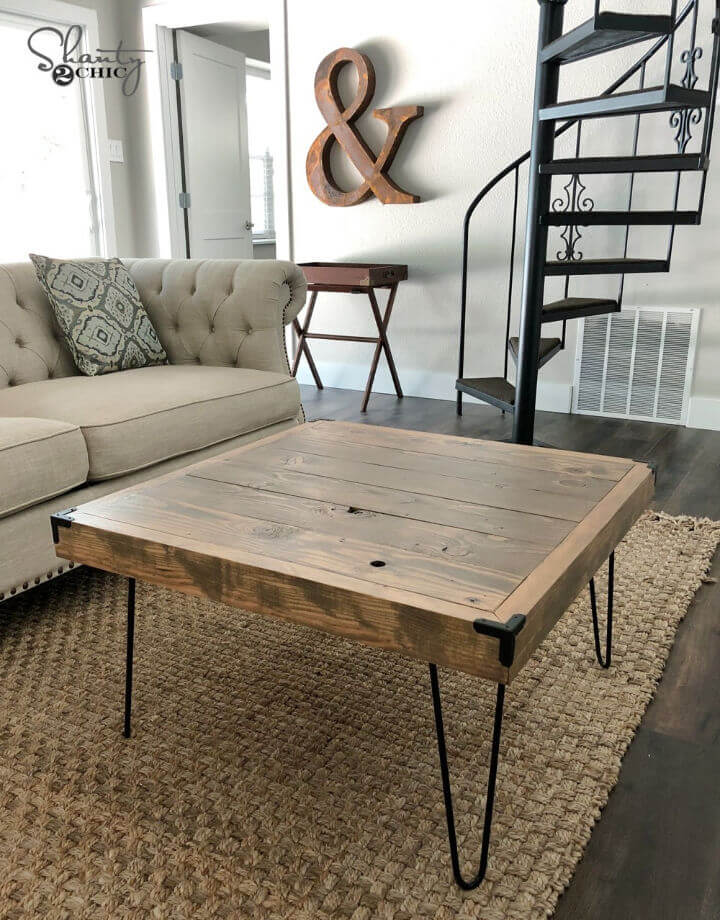 Grab this dainty rustic square coffee table for your modern living room, which will give a fab rustic touch to your living room! Here making of this table will only cost you $50 dollar and it will also make an epic handmade present to someone special! For an industrial touch and appeal, it also stands on metal hairpin legs! Details here shanty-2-chic
How to Build a Side Table:
Rock your sitting furniture sets also with this superb DIY side table that is quite easy and frugal to make also! Go handmade with the recycled wood planks to build this stylish rustic side table, sure to impress to everyone looker! Here is how to make it build-basic
Build Your Own Wood Slab Coffee Table:
Finish a wood slab with metal hairpin legs and build super budget-friendly coffee tables in no time! Peek into design details of this given wood slab coffee table that will cost you much less but is sure to style up every living room! How-to tutorial here ispydiy
DIY Outdoor Side Table Under $10:
Bring also tons of visual charm to any of your sitting space by adding this precious outdoor side table! It will only cost you under $10 and is super easy to duplicate at home! It gains uniqueness from the flat box style legs and base! Use the recycled wood to make it! Details here toolboxdivas
Industrial Table Using Crate and Pipe:
Make also the fabulous industrial side tables at home using the recycled wood crates and metal pipe scrap pieces! Install the reclaimed metal pipe legs to the bottom side of a wood crate and build lasting longer industrial tables for your outdoor or indoor sitting sofa sets! Here this table is also storage-friendly! Details here brepurposed
Build a Farmhouse Table:
No matter which home decor style you are currently following, you can build all sorts of tables at home without going for major investments! Look at this stunning farmhouse table that is sure to bring antique vibes to your home and is just super quick and easy to make! It is made of recycled wood planks and also comes with matching benches, will rock for dining purposes! Details here lovegrowswild
How to Build an Outdoor Table:
Grace up your outdoor dining spaces also with this herringbone dining table that is a piece of cake to make! Here this solid wooden table stands on criss-cross legs and will also make a great handmade gift for outdoor lovers! Full how-to instructions here cherishedbliss
Outdoor Dining Table Under $60:
Want to build some fascinating and good looking tables for your outdoors? Then do duplicate this outdoor dining table that will cost you under $60 and is just a breeze to make! Here all you need is the old wood planks or slats to build this dining table! Full how-to instructions here shanty-2-chic
Modern DIY Side Table:
Put a glance at this modern side table that is sure to be a modern addition to a bedroom! It will amaze the audience with its amazing design curves and will work up super quickly! Here all you need the discarded wood square pieces to build this lovely side table in just no time! Full how-to tutorial here southernrevivals
How to Make Farmhouse Table:
Following the farmhouse decor style in your home or just want to give a farmhouse-style touch to your home? Then do make this farmhouse table that comes with an impressive wood appeal and will amaze all with its edged top! Full how-to instructions and tutorial here theturquoisehome
DIY Kitchen Table on a Budget:
Spice up your kitchen with this handmade table also that will rock for the breakfast and dining routines and is something that will whip up super quickly! Again grab the wood slats with alluring design textures and then pack them together to make a beefy tabletop that you can finish them with reclaimed metal hairpin legs! Full how-to tutorial here homedepot
Wooden Table with Pallet Wood:
Pallets are free to grab, and they can instantly be changed into beauteous tables that will rock your spaces! Look at this graceful model that is looking divine in the rustic wood appeal! The chevron top and the blue painted table base are the prominent features of this handmade table design! Here is how-to make it lovelygreens
Easy DIY Wood Slice Table:
Finish also a wood slice with a custom table to make round rustic tables that will be a big center of attention for sure! Gussy up any of your sofa set with this rustic delight, the wood slice table, will make a great side table and end table and is just timeless to build! Full tutorial here liagriffith
Live Edge Wood and Steel Table:
If you strive for the durability and stability and furniture, then a fabulous homemade table is only for you, will last for years to come, and it just looks fab with the metal base! The blank wooden edged top and galvanized box style steel legs are the main features of this table design that are sure to impress! Full how-to tutorial here lemonthistle
Make a Kid???s Craft Table:
If your kids just love to get crafty in very of their spare time, then here is something that will make a great gift for them! This is here a kids' craft table that comes with a built-in storage rack and also with a craft paper holder installed to one side! use the pine boards to make this lovely design of table! Full how-to tutorial here makingjoy
DIY Farmhouse Kid???s Table:
One more beautiful design of the table to make at home for the kids who love to be crafty in their spare time! This is here a farmhouse kid's table that comes with a white painted base and with the stained wood top and is just looking! This matching set of tables will also make a great handmade gift! Details here ourhandcraftedlife
Farmhouse Style Dining Table:
Look no further if you need a good-looking dining table! Clone this farmhouse style dining table that comes with a white paint base and with the rustic-edged wooden top! It will rock for 8 to 10 people and will also make a great part-time conference table for your family! Details here domesticallycreative
Modern DIY Dining Table:
You will definitely fall in love with the design dimensions of this modern DIY Dining table that is delicate, elegant, and stylish at the same time! It gains uniqueness from the bright blank wooden edged top and also from the box style flat wooden legs! Full instructions here woodbrew
DIY Industrial Coffee Table:
Bring a great style to your living room also with this industrial wooden pallet coffee table that is made at home entirely! First, just plan and build the base of the table like a frame for a box and next just finish it up with a rustic wood top! Paint the base of the table for an industrial appeal! Details here littleglassjar
Make Your Own Outdoor Side Table:
Do you take great pleasure in sitting at outdoor? Then do make some lovely tables for your outdoor and patio sitting sets like a beautiful coffee table and a side table! Duplicate this flawless side table that just looks great with the concrete top and also with a flat box-like base! Details here fixthisbuildthat
Build Your Own Stump Table:
Give a fantastic rustic touch to any of your sitting furniture plans by building this gorgeous stump table, made of a cut apart tree stump that has been raised on metal hairpin legs! Give also nice wood finish to make the table look extra beautiful! Full details here 17apart
DIY Farmhouse Coffee Table:
Here is what you can do wondrous with the recycled wood slats, a handsome design of farmhouse coffee table made of reclaimed rustic wood slats! It will be a rocking addition to every rustic or modern sitting furniture set, and you can also give this table a nice wood finish for a custom appeal and look! Full instructions here farmhouseonboone
How to Build Plumbing Pipe Table:
Look at this another beauteous model of the industrial table that will rock as both as a dining table and coffee table! Here it comes with a metallic base made of reclaimed industrial pipes and next it has been finished with a solid wood top made of recycled wood slats! Full how-to tutorial here 4men1lady
Build a Live Edge Table:
Here you need the two wood countertop live edge slabs, steel legs, joining biscuits and a lovely wood finish to make this very special live edge table that will be a big treat to view! Here this table also comes with a flat wooden box like legs! How-to instructions here lovecreatecelebrate
Unique DIY Outdoor Kids Table:
If you just love building your own tables at home, then do make these outdoor kids' table that will make a great gift for kids! Here this table comes with angled legs and is just super easy to access with the miniature wood chairs! Full how-to tutorial here bybrittanygoldwyn
Affordable DIY Round Coffee Table:
Here is another great and modern looking table that you can quickly build! A round top coffee table that comes with robust wooden dowel legs! This table comes with a round plywood top that is super easy to cut out and can also be finished in any shade of wood using a nice wood stain! Full how-to tutorial here themerrythought
30 Minutes Lego Table:
Win also the heart of your kids instantly by building some cool gaming tables for them! They will definitely like this Lego table that will be ready in only 30 minutes! Here this Lego table comes with short metal hairpin legs and looks graceful with the low height! Full instructions here gina-michele
Pallet Wood Side Table with Rustic Style:
If you are handy at woodworks and just love to recycle the wood all around, then do make fabulous tables at home using leftover pallets! Take apart the slats of pallets and then just put them together to build this glorious model of side table that is also storage-friendly! Here is how to make it makingmanzanita
Easy DIY Rustic TV Console Table:
If you love the rustic type of furniture and really want to build some cool rustic tables at home, then crates will also be a great option! Put them together with a combined bottom and top and then raise them on wheels and build storage-friendly tables and media consoles like this given one! Details here thecraftingnook
How to Make a Kids??? Picnic Table:
Boot the visual of your outdoors and also the entertainments of your by building this very special kids' picnic table that comes with amazing design curves and is just super quick to whip up! This picnic table is sure to be loved dearly by all the kids at home! Details here lovelyindeed
Make a Wood and Metal Coffee Table:
If you strive for the sturdiness in wooden furniture, then you will definitely fall in love with this wood and metal coffee table! This industrial table also comes with a flat box like base and just looks great with the solid wooden top! The super durable design of the wood table to make at home! Details here purelykatie
DIY Side Table with Hexagon Shaped:
Bring also amazing geometrical vibes to your living room and outdoor spaces by building this glorious model of hexagon-shaped side table that is just looking fabulous with the criss-cross base! Here you need a white painted base and a hexagon wood top to clone it! Details here thehandymans
Space Saving DIY Train Table:
Another big surprise for the kids, the lovely train table that all kids will just love to play with! Just build the normal table with the metal pipe legs and then just finish it by installing a train track on the top and here you go! Get inspired by the given sample, made to rock and inspire! Full how-to details here cherishedbliss
How to Build Plywood Side Table:
Having some leftover plywood at home? Then just repurpose it to build a graceful design of table that will live for years to come! Build a big box out of plywood and then just finish it with the robust wooden dowel legs and gain a lovely storage-friendly side table, will also make a great nightstand! Full how-to tutorial here themerrythought
Easy to Make Hanging Table: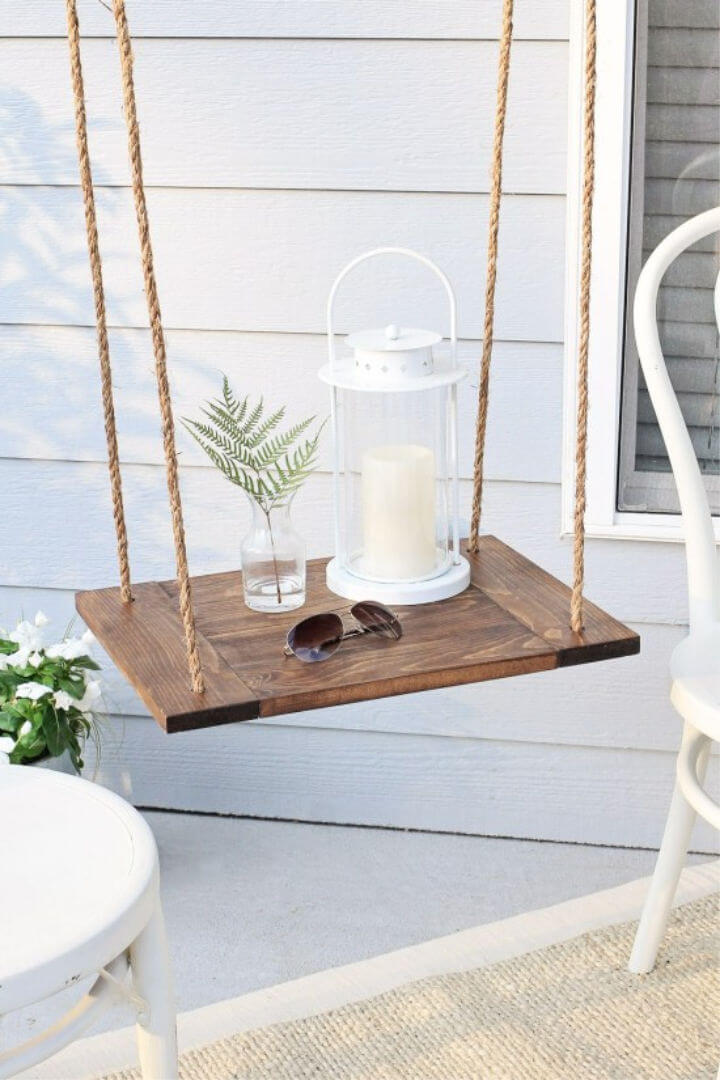 If you are not willing to use further inches of your floor spaces but need to get some cool tables, then this hanging table will make a great choice for sure! Just build a wooden tray like shape and then just hang it up using rope lengths and gain a hanging side or end table for your space like the given one! Details here angelamariemade
Build Your Own Children???s Picnic Table:
One more great and lovely looking design of a picnic table that will win your heart in no time! A children's picnic table that comes with metal legs and with wood slice top! It will also be a great addition to a modern living room! Full how-to instructions here tinselandwheat
Coffee Table Inspired by West Elm:
Using your creativity, you can build all sorts of tables at home you are interested in! Clone also this West Elm inspired coffee table knock off that is solid and comes in lovely square dimensions! It looks great with a low flat base and will also make a cool gift! Full how-to tutorial here diycandy
Copper Pipe and Wood Slice Table:
A rustic yet modern type of coffee table to make at home using the leftover metal pipes and rustic slices only! In features, it is having two built-in shelves made of rustic wood slices, and the entire table stand is made of repurposed copper metal pipes! Full tutorial here diyinpdx
DIY Floating Top Console Table:
If you just strive for uniqueness and style in everything then this floating top coffee table will definitely impress you at a very first look, this is here a floating top console table that stands on big vertical wood slats legs, and it will also make a great sofa behind the table and also a cool mini bar! Full how-to instructions here pneumaticaddict
Make a Convenient Side Table:
Keep your refreshments in arm's reach with this hand-built side table that is just looking great with the unique design! Top of this side table nicely come over the armrest, and hence, it becomes more convenient to approach this table! Full instructions here bobvila
Build a Ballard Inspired Side Table:
For home lovers, the stylish furniture is like a big addiction, also build this Ballard inspired side table that is highly unique and affordable to make! It comes with an adjustable pedestal base and looks great with the round top! Full how-to instructions here build-basic
DIY Farmhouse Writing Table:
An ideal table choice for your read and write purposes! A fabulous farmhouse writing table that is totally made with hands! Upcycle also the old wood slats to build this antique table design that is just looking fabulous! Full how-to instructions here cherishedbliss
DIY Mid Century Modern Side Table:
Have great respect for the stylish and featured furniture furnishings? Then you will surely like this mid-century modern side table that looks like a wood crate on the legs and comes with a storage drawer that will securely hold your items of need! Chic white and choco mix appeal makes it look extra beautiful! Full how-to tutorial here rogueengineer
Build Your Own Wood Side Table:
Sometimes simplicity goes beyond the fashion, and the same will do this wood side table that is made of square wood slats! It comes with a lovely square wood top that will nicely hold a table lamp and all your items of decors! Full how-to instructions here hawthorneandmain
How to Build Timber Side Table:
This is what you will call beefy and stylish, a fantastic wooden side table made of timber wood posts! Here the bottoms of the pots have been cut smartly to make the lovely tapered legs that bring a great style to the side table! Full how-to tutorial here francoisetmoi
Make Wood Slab Table:
Look at this another fantastic table design that is rustic yet modern and will definitely be a big center of attention! Just grab a wood log slice and raise it up on the metal hairpin legs and build this nice looking wood slab table in no time! Details here thecraftedlife
How to Build a Coffee Table:
Gussy up your living room also with this lovely design of coffee table that becomes storage-friendly due to the involvement of the bottom shelf! The edged top, angled legs, and slatted top are the prominent features of this coffee table! Full how-to tutorial here build-basic
Pottery Barn Inspired Table:
Enjoy gatherings at your patio by using this pottery barn inspired table that has totally been made with hands! Here solid slatted top of the table stands on stylish trestle legs, and this makes this table looks extra beautiful! Here is how to make this lovely pottery barn inspired table! Full how-to instructions here shanty-2-chic
DIY Console Table for $50 or Less:
You will be in big amazement when you see the price tag of this console table, it will only cost you $50, and it is just super graceful and enchanting! The design features the criss-cross sides that are a big center of attention, and there are two built-in shelves too to organize your things and concerns in style! Details here lifestorage
Side Table with Himmeli Copper Pipe:
Look at this one-of-a-kind side table design that comes with himmeli copper pipe vase and is something super graceful to put in sides of your living room sofa! This table gains entire uniqueness from the geometrical base, and it looks extra beautiful due to the round wood top! Here is how to make it homedepot
Easy DIY Farmhouse Coffee Table:
You will fall in love with the rustic appeal of this farmhouse coffee table that is totally handmade! This rustic design of the table will be your first choice when you need to give a rustic touch to your living room! Again grab the heavy-duty wooden posts and wood slats to make it! Tutorial here lovegrowswild
Build a Wooden Coffee Table:
Pile up also the lumber or pine wood slats to make this coffee table that stands on the white painted metal hairpin legs to gain a precious style! A rustic yet modern and super unique design of the wood table to make at home! How-to details here abeautifulmess
Outdoor Game Table Under $40: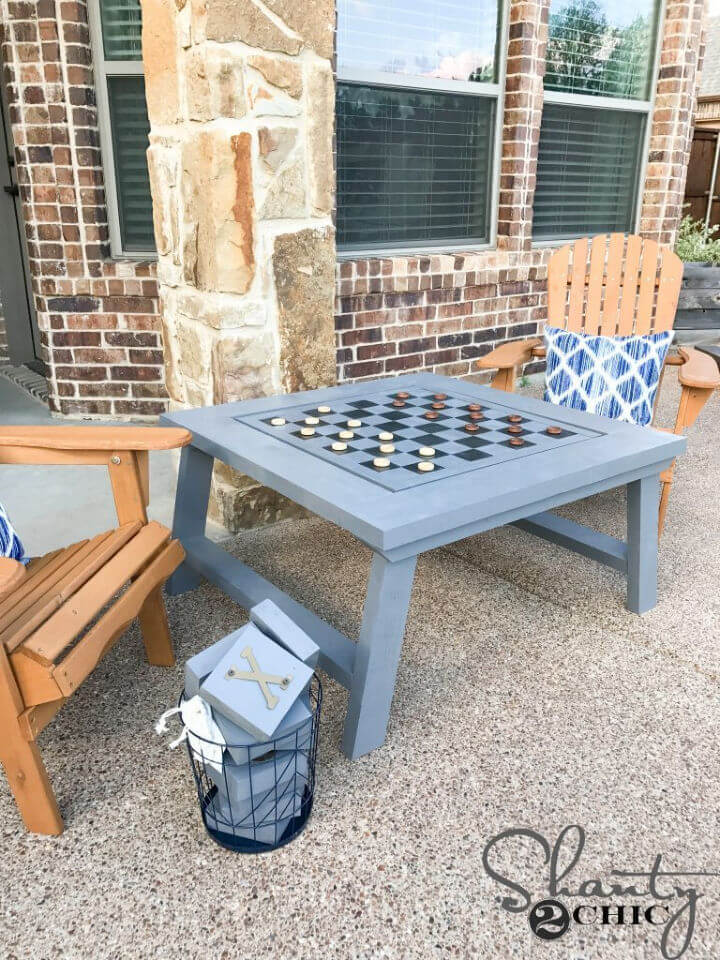 Win more love of your kids by building some great entertaining designs of tables for them! This outdoor game table will rock for them for sure and is a breeze to make! It comes with a $40 price tag and will make the best gift ever for your kids! How-to instructions here shanty-2-chic
Quick and Easy DIY Pallet Console Table:
Paint a recycled pallet skid, finish it up with a flat wooden top, and next give a nice wood finish to the top, and here you go! This will make you get with a lovely accent and console table that will prominently hold items of decors and choice! Full how-to instructions here kleinworthco
DIY Farmhouse Dining Table:
If you still love to live in the antique environments, then this dining table will make an ideal choice for you! The large edged top of this table is made of reclaimed wood slats, and next, it stands on robust reclaimed wood legs to gain a unique style! The milky white and choco appeal of this table will win everyone's heart! Details here rogueengineer
Modern DIY Slat Coffee Table:
Also, jazz up your modern living room with the rustic vibes that will come from this rustic coffee table made of recycled wood slats and stands on reclaimed wood legs that come on an angle and award a great style to the entire table! How-to instructions here remodelaholic
How to Make Side Table:
This handsome side table design is highly delicate and will rock for your modern living room and sofas for sure! Here all you need a round wood tray and wood dowels to build this very fantastic side table design at home without getting a bit expensive! Here is how-to make it! How-to details here homemadebycarmona
Build a Square Coffee Table:
You will love the way it will look in the center of your living room sofa set, the square dimensions and bottom shelf of this coffee table will please every onlooker, and it will also be super storage-friendly! Want this table for your sitting spaces? Free plans and instructions here shanty-2-chic
Rustic Dining Table – Perfect for Beginner:
A dining table is most expensive to buy from the market, and you can also build stylishly beautiful dining tables at home without getting a bit expensive! The making of this dining table makeover before and after involves simple arrangements of wood slats, and it also stands on slim long wood slat legs! Don't forget to give a nice wood finish to protect early weathering of it! Details here ana-white
Industrial Folding Table:
Opt for the folding and portable furniture if you are going through short space issues in your home or living room! So, also build the stylish folding tables at home just like this industrial folding table that comes with upcycled metal pipe base and is having a wooden top that can fold half easily! Details here homemadebycarmona
How to Build a Farmhouse Table:
Another fantastic design of dining tablet that will rock in a farmhouse style dining room! This is something that will make a great gift for a rustic furniture lover, and it also comes with a white painted base! Do build the matching benches to put in sides to enjoy dinners with friends! Details here leapoffaithcrafting
DIY Outdoor Side Table:
One more stylishly beautiful design of outdoor side table that you can whip up super quickly! Here it comes with flat box-like legs and also with a solid wood top! Here you need the square wood dowels and recycled wood slats to make this outstanding outdoor side table in no time! Full how-to details here theinspiredworkshop
Scrap Wood Side Table:
There are never ending designs of side tables out there that you can build quickly at home to style up any of your sitting furniture set! Here you need the solid square wood posts and the leftover painted wood planks or the fence pickets to clone this side table! How-to details here rogueengineer
5-Minute Hairpin Leg Coffee Table:
Bring great visual details in your living room by adding this gorgeous hairpin leg coffee tablet! It gains beauty from the diagonal striped and is just looking nice with fine dimensions! it also stands on metal hairpin legs and is just super quick to whip up! Details here uglyducklinghouse
Make a Balustrade Coffee Table:
Pack flat the solid wood slats or boards and then build the robust wooden squares that you can gain in tiered arrangements by using stylish short wooden legs in the mid! This will make you get with a fantastic square coffee table design that will also provide amazing inside storage space! Full how-to tutorial here itsagrandvillelife
Truss Beam Farmhouse Style Outdoor Table: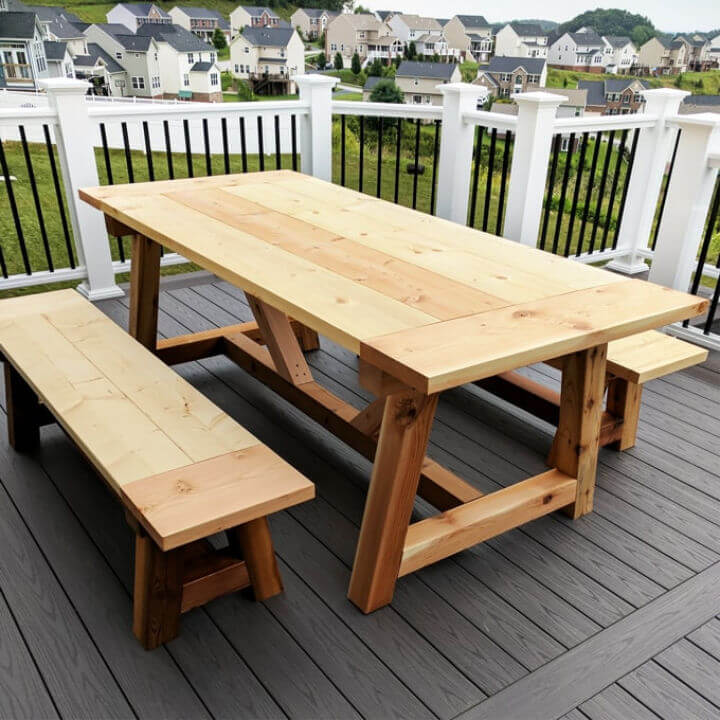 Boost the guest and family entertainments also by setting this truss beam farmhouse style table to any of your outdoor or patio! It stands on robust wooden legs and looks extra graceful due to edged top! It has also been strengthened with cross beam support! Details here justagirlandher
Geometric Wood Art Table:
Get your efforts praised by building this geometric wood art table that is simply mind-blowing and will be an appreciated addition to every sitting furniture plan! Again get crafty with the wood slats of equal dimensions to make the top of the table and give an accent side trimming at the end! finish with metal hairpin legs! Details here diyhuntress
Rolling Storage Ottoman Coffee Table:
Look no further if you need a stylish coffee table for your living room that will also add a lot in the storage-space of your living room! Peek into details of this rolling storage ottoman coffee table that is looking just mind-blowing with built-in storage-options! It gains too much beauty from precise square dimensions and also from the rustic dark tone of wood! Free plans and tutorial here shanty-2-chic
DIY Outdoor Dining Table Under $20:
Rock you're outdoors also with this epic handmade outdoor dining table that will cost you under $20 and is a piece of cake to make! The stylish red appeal and the miniature dimensions of this table will win the heart of every onlooker! Here is how to make this outdoor dining table! Full how-to tutorial here anikasdiylife
Epoxy River Table with Waterfall:
We can bet that you have never seen a beautiful table like this that is looking stunning with a waterfall inlay! This epoxy river table will make a great centerpiece for your living room and is just timeless to build! The most beautiful design of the table to make at home! Full video tutorial here fixthisbuildthat
DIY Farmhouse Table with Removable Legs:
Raise also your dining game to the next level by building this very rare design of dining table! It comes with removable legs and will also be super easy to store even to narrower home spaces! You will definitely fall in love with the sleek dark tone of this wood table! How-to instructions here angelamariemade
Adorable DIY W-Trestle Dining Table:
Another gorgeous and beauteous model of the dining table to make at home without getting a bit expensive! This is here a W-trestle dining table that will amaze all with its enticing design dimensions and it also comes with a solid sleek wood top that looks bright due to shine on the wood grains! Details here anikasdiylife
Build a Husky Dining Table:
Depending on your style, you can try building every design of the coffee table at home. Elevate the look of your sitting home spaces with this husky dining table that is sure to impress and as simple as ABC to build at home! The box style flat legs and robust edged top are the main features of this dining table! Details here jenwoodhouse
Make a X-Brace Console Table:
Get your entryway and hallway dignified with this x-brace console table that is also a beginner-friendly woodwork project! It will bring a great functional character to any hallway and will also make a great foyer accent table! Free plans and tutorial here rogueengineer
Rustic Industrial Pipe Coffee Table:
Lift the mood of your living room also by giving a hot industrial furniture touch that will come from this industrial pipe coffee table! It has base entirely made of reclaimed metal pipes and next it has been finished with a rustic choco wood top that is made of 4 wood slats only! Full how-to details here nickandalicia
DIY Counter Height Farmhouse Table for Four:
Boost the also the performance of your home by building this wooden table that comes with counter height and hence will be multipurpose! It will make a great desk, party table and also an accent table! Details here ana-white
Round Pedestal Coffee Table:
Bring tons of charm to any living room by adding this pedestal round top coffee table that is also purely handmade! Finish a round top with a reclaimed pedestal base, and here you go! Make the round top with the leftover wood planks! Details here woodshopdiaries
Wood Beam Round Dining Table:
Upcycle also the leftover wood beams to make epic round dining tables that will make perfect conversations starter pieces for sure! Make the base of the table using robust wood planks and then finish it up with the round wood top! Full how-to tutorial here jenwoodhouse
Build a Round Trestle Dining Table:
A perfectly elegant dining table for four people, around the trestle dining table, that looks great due to amazing shine on the wood grains and is handmade one! Here this table is made of dried lumber and is quite easy to make! Plan a custom wood finish for a custom tone of wood! Details here rogueengineer
How to Build a Console Table for $20:
Spend also only 20 dollars from your pockets and make this console table that is rustic yet beautiful! This table here is a perfect choice if you need to provide the necessary rustic elegance to space! A few recycled planks or posts would be enough to make it! Details here thehappierhomemaker
Make a Wooden Pallet Side Table:
Another great option for making low-cost yet durable tables at home will be pallets! Plan the pallet wood slats and make the unique and rustic type of tables for your spaces! Duplicate this stunning pallet side table that is made of upcycled pallet wood slats, and it stands in style on short metal hairpin legs! Details here grillo-designs
How to Make a Suitcase Side Table:
Raise also an old vintage suitcase on custom wood or metal legs and build a handsome looking side table that will be a total pleasure to look at and to add to a sitting furniture plan! It will also make a great bedside table as you can see! Here it comes with tapered wood legs! Details here theweathereddoor
DIY X Leg Patio Table with Pipe Trestle: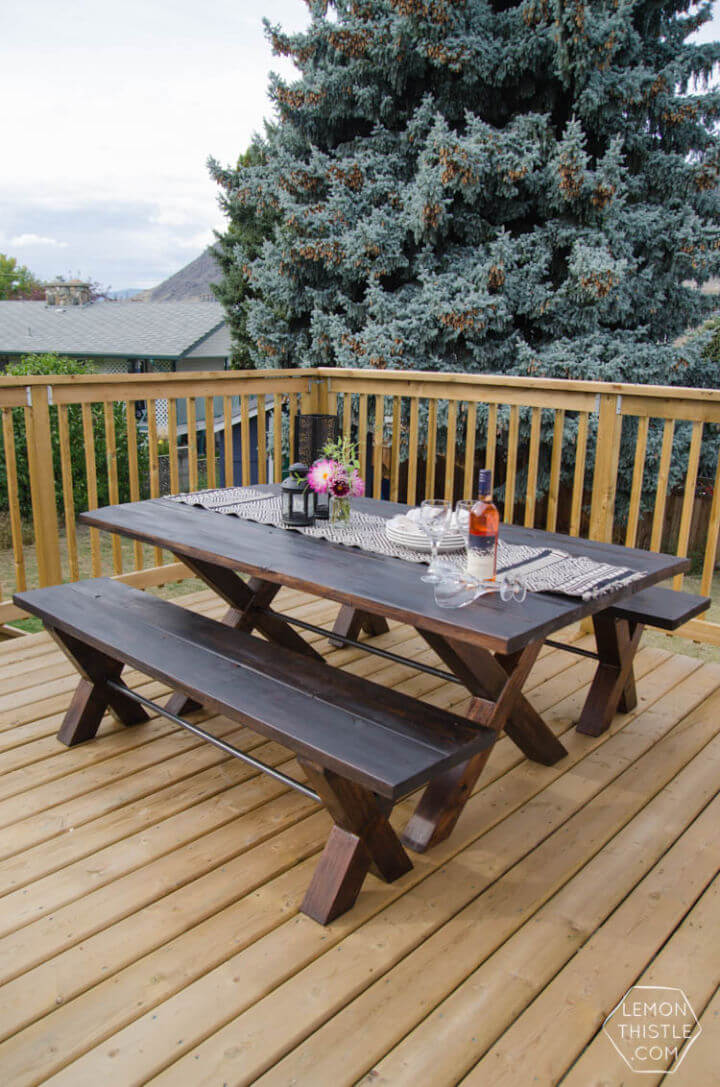 Here is what you need to organize your patio for parties and dinners! The stylish patio table and bench side that is having x-leg trestle bases! Threaded metal pipes have been installed as strong cross beams, and the criss-cross legs make both benches and table stand in style! How-to instructions here lemonthistle
Outdoor Coffee Table with Beverage Cooler:
A perfectly beautiful and stylish design of the coffee table to make this summer will boost your outdoor entertainments! Here this table comes with a square patterned slatted top that is having an icebox installed in the center that will make a great beverage cooler! Don't forget to install extra wood braces to strengthen the table design more! Details here buildsomething
Build a Nautical Picnic Table for Bigger Kids:
If having bigger kids in the home then here is a big surprise for them, a self-made nautical picnic table that comes with attached benches and is a nice wood creation! Build first the boat style sides and then cover them with slatted arrangements of wood slats! Install the parasol at the end in the center of the top! Details here housefulofhandmade
DIY Small Outdoor Coffee Table:
One more elegant and sweet mini coffee table to make at home, it comes with small criss-cross trestle legs that bring great beauty to entire design! The addition of flat bottom feet and crossbeam brings a lot more stability and style to this table! Details here rogueengineer
Outdoor Table for Backyard Oasis:
A nice covered box style square coffee table will be an elegant addition to your backyard sitting furniture sets and is also super quick to whip up! Finish this table for a rustic look and do rock your spaces with it! Here is how to make it! Details here diycandy
Restoration Hardware Inspired Dining Table:
You will love to duplicate this another fantastic design of table that gains entire beauty from the unique art style base strengthened with extra wood braces! Build both tabletop and base separately and then combine them both to build this restoration hardware inspired dining table! Details here livingletterhome
Build Your Own Games Table:
Build also the elegant gaming tables at home for your little kids that make the best gifts for them! Check out here the sample mini square table painted for a chic white appeal, and it also comes with secrete stash and with a bottom shelf to store the gaming tools and concerns! How-to instructions here home-dzine
DIY Pallet Outdoor Science Table:
If your kids love to do the science experiments and you want them to be a genius in the future then do build this great looking science table at home that is storage-friendly also! Repurpose one or two pallet skids to build this elegant outdoor science table that is sure to impress! Full how-to tutorial and instructions here littlebinsforlittlehands
Easy to Make a Lego Table:
It is a great mind practice for the kids to play with the Lego blocks so provide them ease of playing Lego by building this Lego table! One more stylish design of gaming table to make at home and it will be a super gift-worthy for sure! it comes with Lego mat inlays and also with bottom storage shelves! Here is how to make it domesticimperfection
DIY Free Pallet Porch Table:
Enjoy making this another great table for free using free pallets! Upcycle the wood slats to make the slatted wood top and then also repurpose the separated pallet stringer boards to build the robust base of the table as you can see! Here this table also comes with a bottom shelf! Details here hertoolbelt
Build a Herringbone Coffee Table:
You will love the way it will style up your living room, the herringbone coffee that will also bring a great chevron effect to your living room! Here making of this table is all about to build the multi-chevron top of this table, use the white painted slats to plan the base of the table! Full how-to instructions here buildsomething
Pretty DIY Narrow Hallway Table:
You will love the small dimensions and blue painted appeal of this rocking wooden hallway table! A slim type of hallway table that also comes with a bottom shelf and it can easily be stored to narrower home spaces! A perfect accent table to make at home! Details here addicted2diy
Outdoor Convertible Coffee Table and Bench:
You will become a big fan of the folding features of this coffee table that you can also unfold to make a cool bench to enjoy outdoor sitting! This is here a convertible coffee table that will be a significant addition to any green outdoor or park! Full how-to instructions here handmade-haven
Outdoor Coffee Table with a Concrete Top:
You can also mix the recycled wood with various other materials to build a nice looking coffee table of choice! you will become a big fan of the stability of this outdoor coffee table that comes with a concrete top and also with a box-style wood base! Grab concrete slabs and some wood planks to build this table! Details here bybrittanygoldwyn
Pottery Barn Knockoff Outdoor Side Table:
Are you a big fan of pottery furniture? Then you will love to clone this pottery barn side table knock-off! It is having a faux iron box style base made of painted square wood dowels and then has been finished with a white painted slatted wood top! Full how-to instructions here southernrevivals
DIY Round Side Table Under $30:
Reclaim also the old broken-up furniture from home to build new epic models of furniture in no time! Here a pedestal table has been given a new round top and appears as a lovely side table! Do make this gorgeous table at home by spending only $30 from your pocket! How-to details here shanty-2-chic