IKEA Kallax or Expedits are the self standing simple but elegant looking shelving units that can easily be put against any interior wall! The IKEA Expedits are the old ones and the new modern series of IKEA shelving unit has been named as Kallax which is sure to please anyone! As the IKEA Kallax or Expedits always come in geometrical shapes with finely built-in cubes, so they can be hacked in number of different ways to suit different needs of a home lover! Here we have a big collection of 60+ IKEA Kallax Shelf Hacks or DIY Expedit Shelf that will not only inspire you but will also leave you with a boosted creative mind! This list of IKEA Hacks is going to uncover a whole bag of tricks to you that will come in handy to reestablish IKEA Kallax into custom pieces of interior furniture! Hit the reference links for each project further details, instructions and step-by-step tutorials!
The very good news is that IKEA Kallax, the new IKEA shelving unit series, is super budget-friendly, durable and will go very best to modern home interiors! You can trim your selected shelving unit to a size that will fit your space and then can start using it by inserting boxes and diy shelves for storage and display purposes! This not ends here, the list of furniture items you can easily make with IKEA kallax, is really big! For example, one can built amazing sideboards, nightstands, TV stands, entertainment centers and beautiful cabinets with IKEA Kallax! At the same time, one can also rebuild them into fetching sitting bench, daybeds, reading nooks and other items of this kinds which would be storage-friendly too!
These stunning IKEA Kallax transformations involve the effortless and budget-friendly methods to let your personalize these shelf units per your storage needs and demands. For a daybed, nursery bench or window seat you have to give the Kallax a foam seat and fill up the cube with storage baskets or bags.
If you are using them as side boards, crafting table, island or a simple storage unit you can add doors, drawers and the legs for a feasible and functional makeover. And adding wooden tops, wooden covering and the painting techniques are other easy methods to bring that perfect matching or contrasting touch to these IKEA Kallax possessions so that they suit  best your home decor and styling!
IKEA Kallax Bookshelf into Storage Bench:
No doubt IKEA stuff is really smart and ingeniously built but if you use your creative powers and crafty intelligence you can turn them out to be something more useful, fun and functional for the house. A perfect sample is right here with us to show you how a long tired book shelf from Ikea has been turned into a window bench with five storage baskets under the bench seat. So not only you enjoy the window visionary sitting on this cool bench but also store a lot of stuff in the baskets down to do away with the clutter in easy and quick way. Know the complete idea here with every inch detail mommyvignettes
DIY IKEA Shelf into Laundry Folding Area:
The famous IKEA stuff is really functional and you can make the most out of them by doing some custom changes in their structure or design and make them perfectly satisfying for your urgent needs and demands. Like here is a cute shelving unit has been turned into an laundry unit with added top board and the tucked in baskets in the shelving boxes. You can hold and house almost all your laundry stuff in and under this laundry unit and thus organ zing the laundry room so damn easy and nicely. Here is the link to explore this project and know the complete guiding tutorial for it six2eleven
DIY IKEA Shelves Craft Room Storage: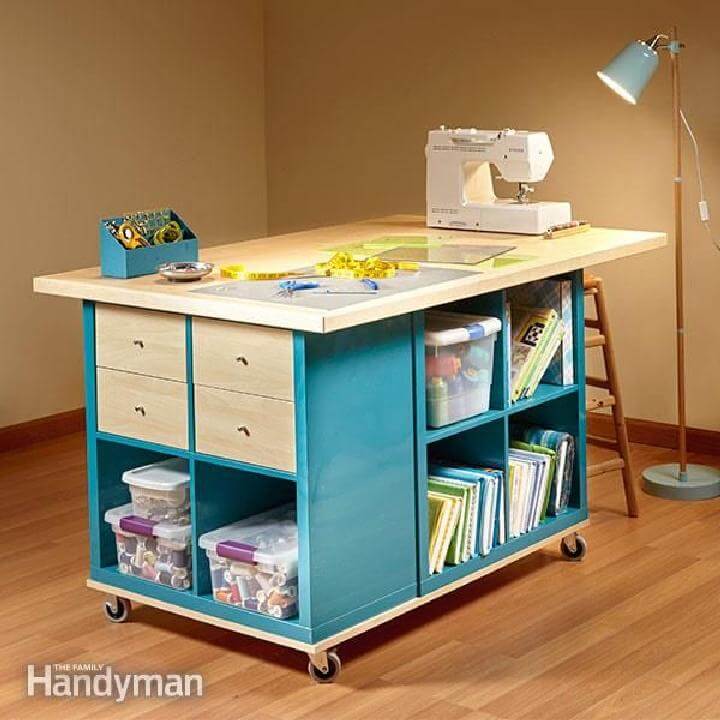 For the craft lovers there must be a working station or corner with a functional working table which can hold, organize and store all their crafting supplies along with providing the huge space to work on the crafty projects. SO here is the brilliant idea to turn this simple Ikea Kallax shelf into multiple functional working table with caster wheels at the ends making it really easy for the mobility. The shelving boxes and the drawers would make it really feasible for you to store all your supplies, material and stuff in apple pie order for easy and quick approach. See the full tutorial here with step by step instructions  familyhandyman
DIY IKEA Kallax into Standing Desk:
A well organized and well stored working table is the need of every house having the students or the working persons. So to prepare a cheap yet totally functional and chic in style working table you can use two IKEA kallax shelf units with an added top shelf and drawers and off course the metal legs making it look really like a professional working table piece. The white stain really brings the modern chic vibes in the decor with all the stuff like computers, books and files being aptly organized in the shelving boxes. Incorporate it with a  stool or chair and your very own comfortable home station is ready. Tutorial here apartmenttherapy
DIY Smart IKEA Kallax Hack with Pops of Colors and Doors:
This four shelf bx containing simple square shelf unit from the Ikea kallax has been turned into the gorgeous organizing unit with the added doors on two shelves and the pop out of vivid red hues is making it look really a fabulous piece for the modern home decor. So you can organize your bunch of stuff on the open shelves and hide or store the important and safety items in the drawers while the top loaded with books and some cute vases. Living room, entrance, hall or even the bedrooms would accept this lovely shelf unit with open arms for being super functional and gorgeous. Learn the full tutorial here refinery29
DIY IKEA Kallax Command Center with Storage and Chalkboard:
Having a command center in a house really makes our routines work easier with everything being nicely planned and organized on it. So here we are going to show you how a simple Ikea Kallaz shelf unit has been turned out to be a super functional command center with addition of a chalk boards to write on some daily tasks to be performed on time or any important reminder. Storage baskets, files, decor pieces, mails, keys in short you can organize each of your daily essentials on it in a well stored manner. See the full tutorial here to get such an amazing command center for your family and house. ironandtwine
DIY Kallax Shelving Units into Master Bedroom Storage:
The simple box shelves from the IKEA has been used so wisely and smartly to organize the master bedroom of yours and that too super stylishly. Behind the bed and at the front of the platform bed the IKEA shelves have been used for the perfect storage of baskets, bed sheets, pillows, books,  vases and so many other needy things. The purpose of showing this well stored master bedroom is to let you know how you can customize and personalize the IKEA purchased shelves for a more better performance in storage, style and decor field. Get more details of it here bhg
DIY Fabric Lined Kallax Bookshelf: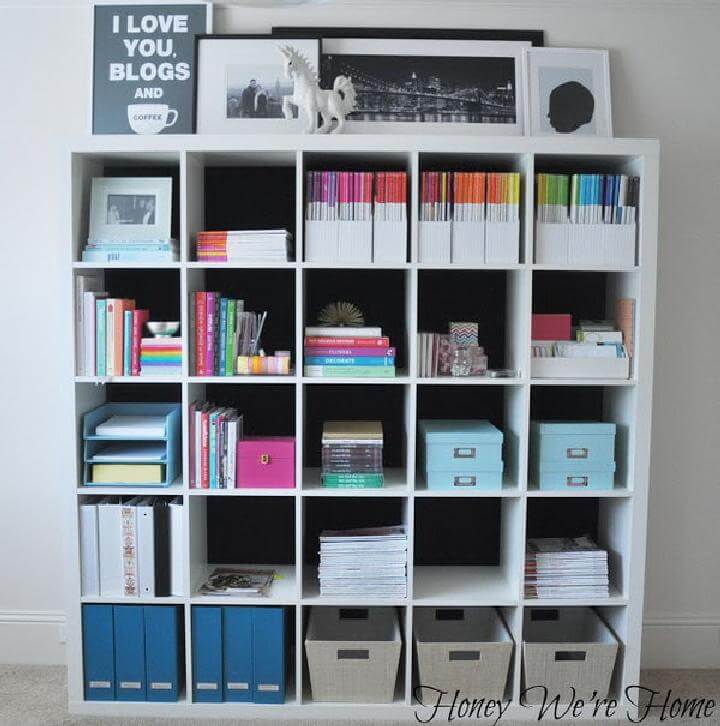 There are many fun ways to add some dramatic styling to your IKEA Expedit or Kallax and we have one of them right here with us. Using a big black fabric  and using it as the back cover of the Expedit shelving unit you can so nice and simply make it look a bit different and smart. This 5 minute project would go so well with your decor creating a superb contrast of white shelves and the black background to the whole decor of the relative space. Though so easy yet the details are given here for a more convenient approach to it honeywerehome
DIY Kallax Bookshelf with Storage:
A bookshelf is the dire need of a house especially when you have a nicely built study room there. An IKEA bookshelf is the best choice one can ever make to organize and store his books, magazines and important files in apple pie order. But you can really go crafty with these shelves and add some personalized touch to make them look more awesome and stunning for your spaces. Like to this bookshelf unit doors have been added at the bottom row and the doors are the painted art canvases. The aqua blue and white color scheme turns out to be really exquisite so you can choose the hues that suits your decor and styling more. See the tutorial here for a detailed guidance dans-le-townhouse
DIY IKEA Kallax Nightstand:
Shelves are the most convenient stuff one can easily opt for storage and organization. So here we are showing you to use the four box IKEA Kallax shelf in three fun and smart ways depending on your storage needs and demands,. Firstly you can convert it into a nice and chic bar with bottles and glasses being nicely organized all over. Secondly it can be a cool media organizer with TV screen on the top and the rest of the things on the shelf cubbies. Thirdly it would be a super fun and functional nightstand along your chic bed holding all your necessities in order. So do browse it to know every bit of styling you can do to this shelf unit theeverygirl
DIY IKEA Shelving Unit into TV Stand:
The shelves are perfect for all kind of storage and with a little bit changes in the structure or addition to the design you can make them more apt and suitable for your storage needs. For example this IKEA shelf has been turned into a sleek Media console table and the only thing added to it is the base stand table to let the shelving unit rest on it. Using any wood near with the slim designed legs the stand to hold the Shelf turned Tv stand on it.  Give the supportive stand the matching paint coat and fill the shelves with your accessories and a super stylish and chic media table is ready to rock your living or bedroom. Tutorial here infarrantlycreative
Custom IKEA Kallax TV Stand:
Here is another great transformation hack to share with you all. Another IKEA Kallax shelf has been turned into a gorgeous and functional media console table for your living room and that with a rustic touch. All you need to do is just add the small legs to give this bookshelf an uplift from the ground and a media stand like look. That mid century modern look has been achieved with the maple stain hues being nicely painted on the legs and inside the box shelves. So style up and organize your living with this amazing hack  ikeahackers
Easy DIY Kallax Beverage Storage Unit:
Bring some fun and entertainment to your spaces with a nicely built wooden bar in your gathering places like living. And using an IKEA shelf you can create a lovely and functional beverage bar to enjoy some fun time with family and friends. A Hutten wine storage rack gets perfectly fit into the upper box shelf of the Expedit with the glass rack occupying the other top box. One of lower box has been provided the door to hide some stuff from the kids. The blackish stain hues make it a perfect addition for the modern style home and for the chic decor. Tutorial here ikeahackers
Brilliant DIY Kallax Bar Cart:
Make your servings really very impressive and also easy with a bar cart. You don't have to buy one as you can make one of your own using an IKEA Kallax shelf unit. You don't have to create big changes in the unit to turn it into a bar cart. Just add the baster wheels at he ends and its all done to roll on and serve the guests with drinks and food delights being carried on the shelving racks. So do hack the idea having all the details lying right here sugarandcloth
Creative IKEA Kallax TV Stand:
Watching TV, reading magazines and watching our favorite movies is the best way to kill the boredom so here is a nice idea to organize all your entertainment stuff at one place. This is a small and cute media stand made out of an IKEA Kallax by just adding the four small legs to the shelving unit.Magazines, books and your medium LED TV would be nicely housed on it and thus making your entertaining hours more organized and fun. Grab the full details of this functional project from this link theeverygirl
DIY Kallax Beverage Bottle Rack & Storage Unit:
If you are a wine lover then you definitely need some storage space for the wine bottles so that you can enjoy the booze time anytime. If you have an IKEA Expedite at your house then you can easily turn some of the shelving boxes into the beverage storage racks and that too super stylishly. Using the wooden pieces in each shelf box the bottles have been so nicely organized in order and it also makes room for a lot of bottles at one place. Catch it all here ikeahackers
DIY IKEA Kallax Mini Home Bar: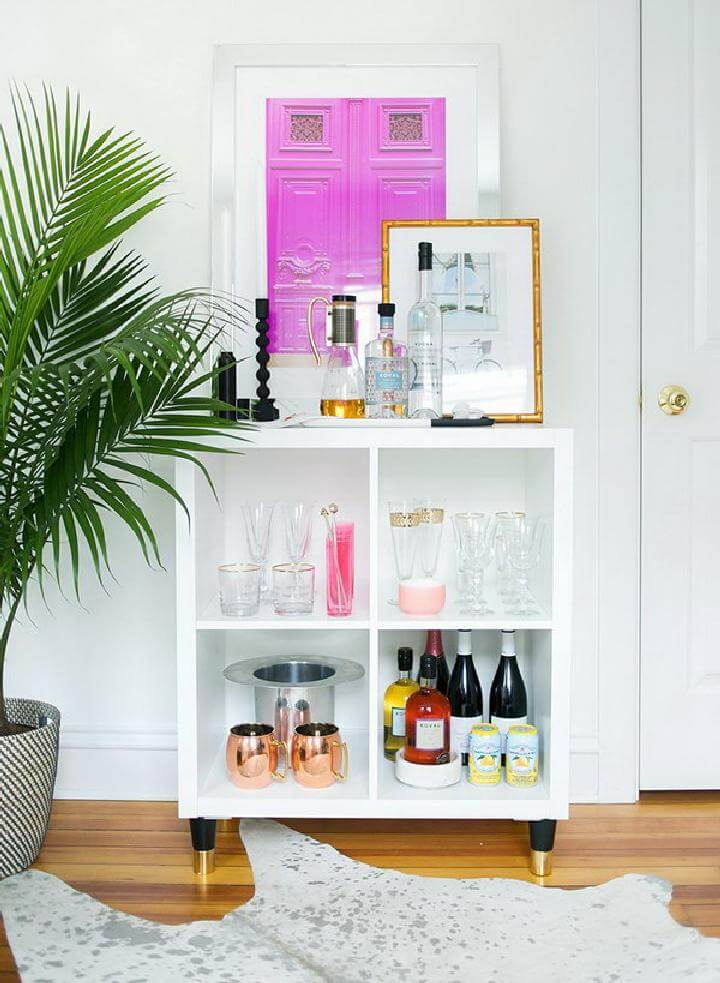 Its not easy to create a bar station in your home when you are short on spaces as there is a lot to store like beverage bottles, glasses, stirrers, bottle openers, ice baskets etc. But not to worry at all as you can order this cute and lovely IKEA kallax shelf unit and turn it into a mini bar for your living room spaces with your bar stuff being nicely organized all on it. Just add the four small legs and its done with the transformation of it into a cute and chic bar. Complete details here theeverygirl
DIY IKEA Kallax Shelving Units into Corner Bed Frame:
If you have two girls and they share a room you would really like this idea of building a corner Bed from an IKEA kallax shelving unit. Some wooden planks have been added to the top shelf to form the bed frame and thus so nice and easily a corner bed has been built with a lot of storage under it for toys, bed sheet,s pillows and lot more. So do hack this fun and highly functional idea and make a perfect bedding and that too spending lest out of your pocket. Grab the full tutorial here jlm-designs
DIY Neon Yellow Kallax Shelf:
The IKEA Kallax shelves can be a really stylish, gorgeous and functional replacement to the hall tables, foyer tables and console tables in any of your spaces. Just a little bit teasing with the structure, design or the looks of the Kallax shelf and it would be a perfect personalized piece to rock your decor with. And here is simple method is shown to beautify and style up the simple kallax into a fun organizing and storage unit with a lovely coating or yellow neon on the inside sections of the unit and no doubt it turned out so damn gorgeous and appealing. See it full here flaxandtwine
Smart DIY Kid's Playroom Kallax Hacks:
The IKea Kallax shelving units are just perfect for all kind of storage and organization so they can be used to put in order a play room of your kids. Get two Kallax units laid down on the room floor, provide the top a comfortable padding and the shelving boxes the colorfully decorated and painted doors and the lovely bench with storage is ready to rock the room decor.A  bunch of the toys and kid's other stuff would get easily hidden in the shelves and it would be really easy for the mothers to clear the play room. So Do hack this amazing and useful idea to maintain the tidiness of kid's room along with a cozy seating as bonus mommo-design
DIY Kallax Platform Bed with Storage:
If you always dream to have a storage base bed in your bedroom then its the perfect time to turn your dream into reality and that too cheaply. Incorporating an IKEA Kallx bookshelf with some wooden planks the perfect bed frame has been created with a huge storage space to house and hide a lot of your things in.Storage baskets, books, bed sheets all would be nicely stored up in this Shelf unit turned out bed platform and thus letting your bedroom reveal some tidy and immaculate style statements. vanillajoy
DIY IKEA Kallax Playroom Storage:
Its like customary to have a cozy cushion bench seat in the play rooms or the kid's room. So how about having a cushioned bench that is storage worth at the same time? Here is the perfect sample and example with the IkEA Kallax shelf units have been  joined together to built this nursery cushion along with the immense storage space for the toys and playing stuff in apple pie order. So hack the idea and for that you can grab more details of it from this link provided so browse and learn this amazing transformation of the shelves etsy
DIY Upgraded Kallax Shelving Units:
When you are working on a living room styling and decorating,adding a functional and stylish console table is also the major part of this renovation task. So make a customized and personalized console table for your living to hold and house knick knack with an IKEA Kallax shelf unit. The added doors and drawers along with the tiny legs are the lovely additions done to the Kallaz unit and turned it out into this chic and fancy console table for your living to hold your art and crafts, decorous display, books and so much other. Get to see more of this living room re-styling here fabricpaperglue
DIY Kallax or Expedit Shelving Unit Bookcase Dollhouse:
The little girls can not imagine their room without a doll house there to play with all the time. So if you are pondering upon pulling off a doll house for your doll then we have a perfect plan for you. Getting an IKEA Kallax shelf would be enough to make  cute and fully featured doll house for your little angel with some extra crafty work. For that extra effort you need to get some wrapping paper and the card boards as the major supplies. The roof of the doll house has been created with rope with a cute window too and at the end it looks really a fancy doll house with all that doll furniture and stuff. Tutorial here for complete details landofnod
DIY Kallax Zig-Zag Modular Credenza:
A home furnishing is undone without a cue sideboard being nicely displayed in your respective spaces. And its the perfect chance for you to create a custom build sideboard for your living room, hall or bedroom spaces with personalized touches of your creativity and imagination. And you can do it nice and well with the IKEA Kallax shelving units being brought together and provided with the cardboard doors. The three cute doors have been made to look really fun with those zig zag pattern and that brownish hues adding a feel of rusticity to it and the whole decor. So store and organize in style with this shelve turned module credzena astralriles
DIY Kallax Shelving Units into Storage Unit with Natural Elements:
All your storage problems would be solved so nice and easily with the IKEA Kallax shelving units as they are really good to work on and mold in some perfect personalized storage pieces. Like here pairing up the two square style Kallax shelving units a big storage unit or console table has been built to house plenty of your stuff on it. With the two pull off drawers it looks more customized and professional while some decor stuff on the top adding to the style and beauty of your spaces. Grab the full details of this project here lisannevandeklift
DIY Ikea Kallax Banquette Seat:
With the fabricated back and the padded top this IKEA Kallax shelf unit has been easily turned into a banquet seat for your halls and foyer spaces to let you sit and get ready for the morning outdoors. And the storage baskets getting perfectly tucked in, gives you immense storage space for a lot of knick knack stuff to get hide or housed in them and thus let you enjoy the complete clear and tidy spaces. You can catch the full details of this double functional idea right here krysmelo
DIY IKea Kallax or Expedit Storage and Display Unit Makeover:
An IKEA Expedit has multiple shelves to hold a plenty of and a variety of stuff in and on it. This is why they are the favorite storage console items of every homey person here. And now we would show you another amazing idea to turn this shelving unit into a more exquisite and functional display unit to elevate the decor of your spaces. And for that purpose the middle rows of the shelves have been provided with the cute little doors made out of the cardboard and stained in the rustic brown hues for that perfect shabby chic look of the unit. Complete tutorial guidance here thecraftqueen
Self-Made IKEA Kallax Black and White Banquette Seat:
Adding something in your home furniture should always be a addition to your decor and home styling too. This lovely IKEA Kallax  shelf unit turned black and white banquet seat is the functional piece of furniture along with the exquisite looks to upgrade the home decor also. You need that black and white strapped fabric to form the long back and to cover up the padded seat. The storage baskets getting into the shelf boxes are also striped and combine they really bring the high class fashion vibes to the interiors. Check out the full tutorial here mymelodrama
Timeless DIY Expedit Playroom Bench:
The IKEA Expedit shelve are just perfect to adopt for some fun furniture possessions for the kids too. Like this perfect bench seat for the kids room, play room or nursery has been yielded with a little bit customized and fun additions. Firstly a padded seat has been added to the top for a comfy and comfortable seating and then the shelf cubbies have been provided with the doors. The doors have been decorated with some fun animal images to make them match perfectly with the playroom theme and decor. Know it all here with complete details pinterest
Super Easy IKEA Kallax Built-in Bench with Storage:
Creating all kind of storage furniture for your all homey sections is now easy and fun if you have feasible access on the IKEA Kallax shelves. Kitchen storage units, office desks with storage or a simple console unit for the spaces you can create it all with the IKEA Kallax shelving units with added craftsmanship. All you need to do is built the wooden tops and the drawer doors with knobs to turn these shelves into a more advanced furniture possessions for storage and organization. See the full tutorial guidance on this link ikeahackers
DIY IKEA Kallax Reading Nook Bench:
For the readers there should a comfortable reading corner in the house where they have a comfy seat and books near them to enjoy some fun time of their leisure. Its now totally easy and in budget for you to create that reading nook in your any of your spaces using the IKEA Kallax shelving unit. All you need to do is just provide it a cozy padded seat and house your favorite books in the shelving cubbies under the seat. So sit grab your favorite book and kill the boredom being in so much comfort and relaxation. You can check out the details of this project right here ru.pinterest
DIY Expedit Built-in Cube Bench:
Create a perfect comfort spot in your living, bedroom or any other such places to rest and relax on or just read a book by comfortably lingering on it. A cushion seat or a padded bench seat is the perfect idea to have that leisure spot in the house and now you can create it of your own using an IKEA Kallax shelving unit with a raised back and padded seat and that's it. You can make customized changes with the colors and the length depending on your needs. Here is the full tutorial ikeahackers
DIY Modern IKEA Kallax Corner Reading Nook Bench:
Kids just love to read the story books or hear them from you their mom and dad or the cute grandparents. So create a lovely and fun reading corner in their rooms or in the play rooms and that too yourself. Just buy tow IKEA Kallax shelving unit and put them together to serve as the bench seat with padded seats adding more the comfort and coziness. The base storage cubes would perfectly hold the toys and books and thus making the space look fully organized and immaculate.Tutorial view here campestral
DIY IKEA Kallax No-Sew Window Bench:
A window bench witness a lot of sweet and sad memories of us all as its the best spot to sit and unleash the feelings of our inner self. So if you do not have a window bench seat you really need to get one and using the IKEA Kallax shelving unit you can perfectly create one with the padded seat and the doors provided to the base shelf cubes so that whatever you store inside is hidden from the eyes of everyone. Small metal legs have been added to give a perfect height. Grab all the details of this smart plan from this link mommyvignettes
DIY IKEA Kallax Bench with Cubbies:
Here is another amazing alternation of the Kallax into a window bench to sit and enjoy a cup of coffee there in the morning or reading your favorite novel in the afternoon. The storage cubes have been provided with the baskets and the top with the padded seat with foam covered with the fabric. For more details just click on this link and enjoy the step by step instructions theadorablemess
DIY Kallax Sideboard with Wooden Top and IKEA Legs:
Sideboards are great for storage and they also add a nice style statement to your decor too. So if you are planning to have one you can use the IKEA Kallax shelf for the purpose with some altering work. The shelf has been provided with the wooden top and sofa legs and thus so nice and easily a chic and modern styled side board is ready to knick knack stuff on it. See the pictorial guidance here comfort-works
DIY IKEA Kallax Cabinet:
Adding doors to an IKEA Kallax would turn it into a super chic and super stylish closet cabinet for your bedrooms, living rooms etc, You can use wood or card board to form up the doors and enjoin them to the shelf unit with metal hinges. Wheels have also been added to make it move easily here and there ,with the white dazzling stain bringing modern elegance to the spaces. Complete project here with all the needy details pinterest
DIY IKEA Kallax Neon Bookshelves:
A working space either in house or in an office is just incomplete without a functional and gorgeous bookshelf there. IKEA kallax shelves are the perfect ones to adopt as the bookshelves with the added neon shades making them look more fabulous, fun and interesting for your decors. So organize the books, magazines or files in style with these neon bookshelves. Full tutorial here flaxandtwine
DIY IKEA Cubbies into Rustic Storage Apothecary: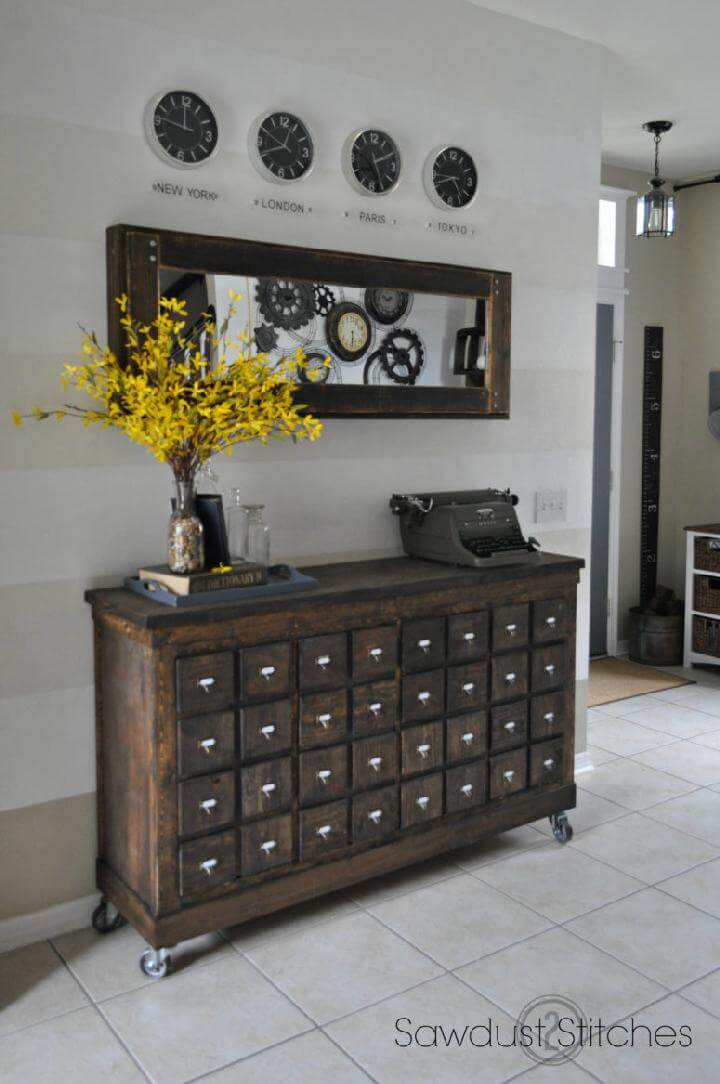 If you are a genius wood crafter then you can do a lot of incredible transformation work with the IKEA cubbies and shelves. For an amazing inspiration we have this IKEa cubbies turned into an gorgeously rustic storage apothecary to style up the halls, living areas and the foyer spaces. Edges to the top and base, four doors with pullers and the wheels are the additions done to this Ikea shelf unit with a finishing choco rustic stain. Get to know more about it right here  sawdust2stitches
DIY IKEA Expedit Long Storage Unit: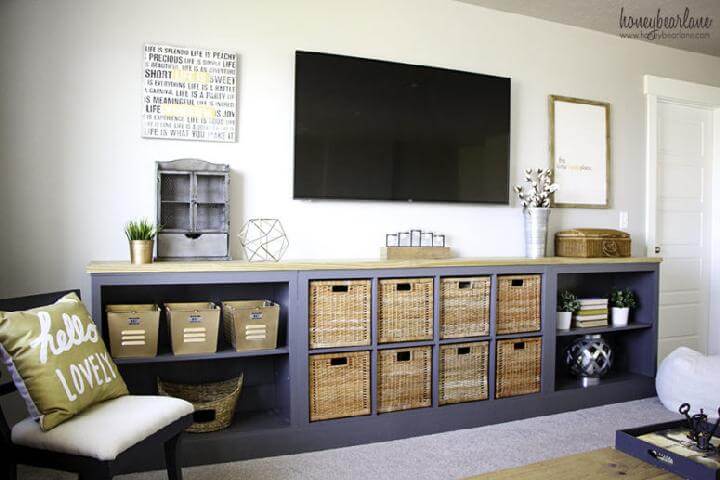 Storage is always an issue but when you have the IKEA expedit hacks you can solve this storage problem so nice and easily. Here is a a big storage unit created from the IKEA expedits with just an added wooden top an the dark grey color. The perfectly fit in baskets, vases and ornaments really make it look an adorable addition to the living spaces on the TV wall. So now you how to store and organized in the most stylish and beautiful way honeybearlane
DIY IKEA Expedit Canvas Photo Art Piece:
When you do not want your clutter or storage stuff to be seen in your expedit or kallax, adding the doors is the best idea to hide it all away. And to add the most gorgeous, unique and stylish kind of doors, the lovely images have been printed out on the paper and attached on each door panel and together they form a very pretty photo collage. So do try this idea having all details right on this link jonacodesigns
DIY Brilliant IKEA Kallax Storage Unit:
There are just so many things to store in the house that you need on daily bases like the serger, sewing machine, printers and other supplies related to these items. So make a perfect sideboard table to store and organize all these possessions at convenient spots and that too in style. This modern chic sideboard has been made out of an IKEA Kallax by only adding the legs to the shelving unit and no doubt it turned out so damn gorgeous. Tutorial here sarahhearts
DIY Kallax Airport for Boy's Room:
If you have kids then getting an toy station would always be in your to do list. SO do not hang the idea more as you can now easily do it with an IKEA Kallx shelf. Here is nicely shown how a simple Kallax shelf unit has been turned into a cute toy station with the top serving as the lovely airport for the toy plane. So store the toys in style in the kid's room using this fun IKEA hack having details here mommodesign
DIY Kallax Vinyl Record Shelf: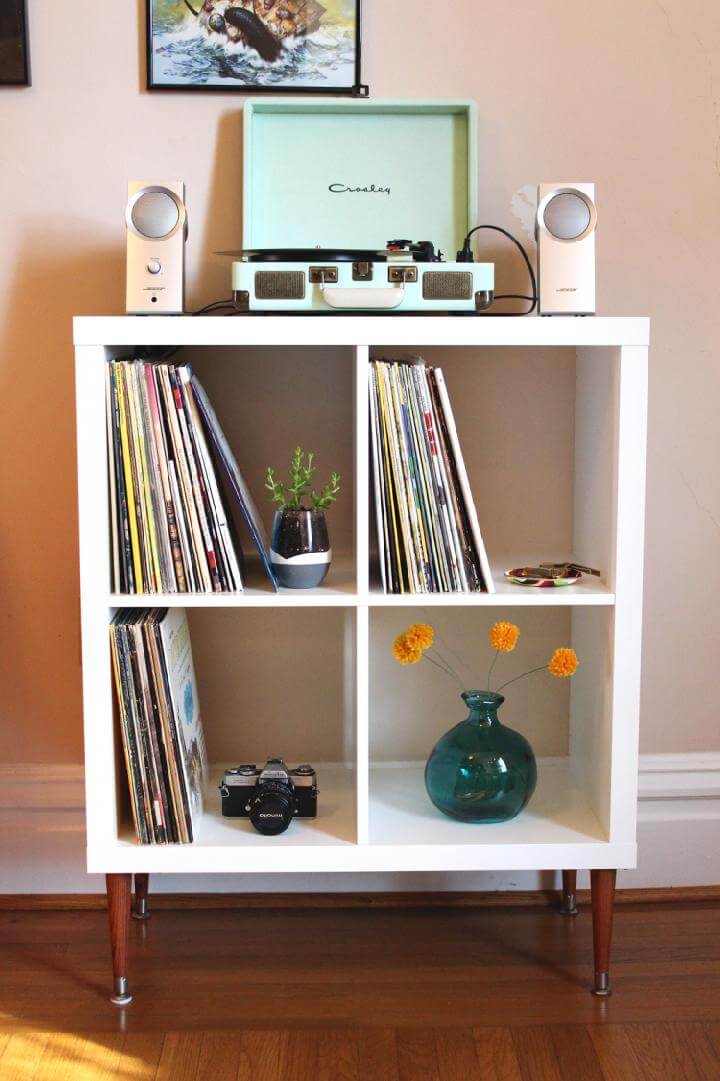 With some simple additions to the IKEA shelves you can really customize the stuff for your personal use to deal with your storage needs and demands. Like this small IKEA kallax has been provide d with the lovely brown legs and thus instantly turned into a record holder. It would look super gorgeous in any of your spaces adding some chic style statements to the spaces. Grab the complete details here thesurznickcommonroom
DIY Easy Kallax Shelving Unit:
There are lots of fun and smart ways to give your IKEA cubbies the best makeovers and that too with low cost expenditure. But there are some instantly quick and easy tricks too that you can incorporate to get a customized piece out of those cubbies. A perfect example is here where the lovely Kallax has been turned into a cute book storage unit with the addition of the legs only. Tutorial details here deliacreates
DIY Kallax and Plywood Nightstand: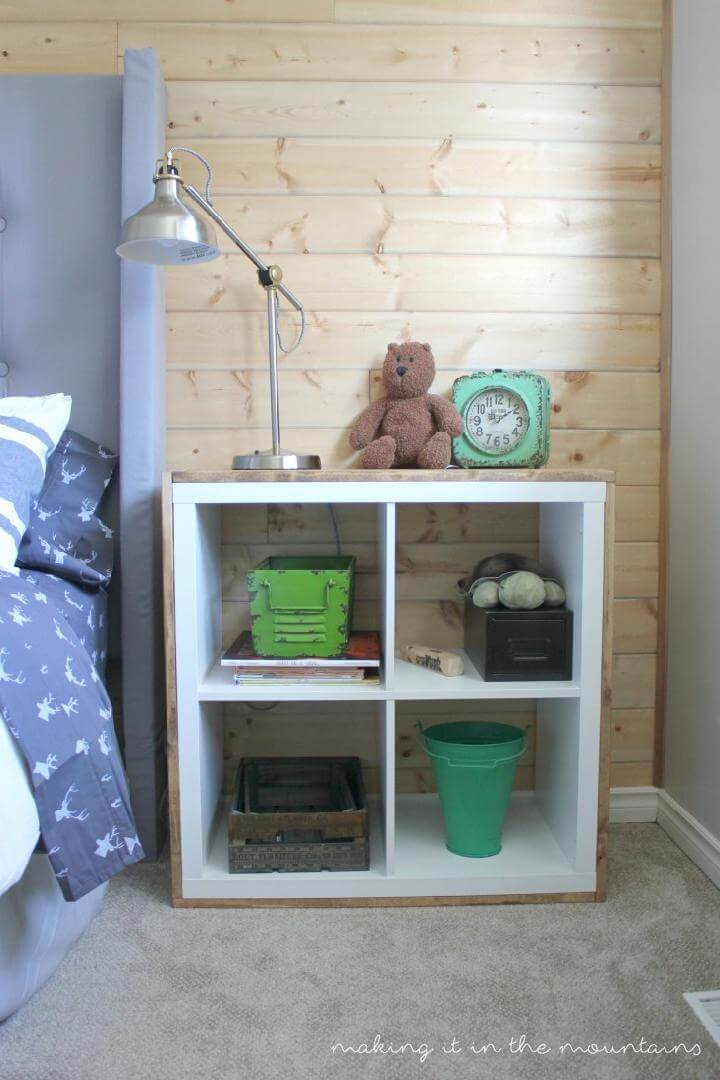 For an IKEA hack you do not need to be an expert you can do it so simply and nicely of your own with easy ideas like the above one. Here only the plywood has been used all around the shelving unit as an over all covering and that is it. A shabby chic night stand is ready to grace up your bed and bedroom with this s simple and cost efficient transformation idea. Grab the full tutorial here makingitinthemountains
DIY IKEA Kallax and Hemnes Craft Storage Unit:
Till now you have seen the functional transformations of the IKEA kallax and Expedit and now there is one more addition. Yes combining the  IKEA Expedit and an IKEA chest of a drawer a might storage unit has been installed to house and hold a big bunch of your necessities, knick knack and stuff that needs safe storage on the shelves and in the drawers respectively. Simple and easy tutorial here craftystorage
DIY Brilliant IKEA Kallax Storage Coffee Table:
There is an incredible IKEA hack for the coffee lovers who want a chic style coffee table with lots of storage. You would only need some wood to make the top of the IKEA Kallax shelf unit having been turned into that modern century styled coffee table. It has a broad table top for sufficient serving and the great storage with tucked in baskets. So do hack this idea and regularize your living center piece. Full details here makescoutdiy
DIY IKEA Kallax Bookcase into Coat Rack:
You have the IKEA hacks where you were to add into the structure or design of the KALLAX or Expedite but here in another amazing transformation project involving the removal of the shelves. Yes removing the middle sections of the shelves from the book unit you can turn it into a coat rack by adding a hanger holding pipe or rod there. So make your cloth organizing really easier and fun with this book unit turned coat rack. Get its all details here karapaslaydesigns
DIY IKEA Kallax Storage Unit with Colorful Distressed Doors:
Storage console shelves are the must part of all houses and we always opt for the IKEA Kallax shelves for being super gorgeous, functional and immense storage worthy. And adding something to these shelf units would really make them look an appealing piece of furniture for your decor spaces. So add this differently stained stressed wooden pieces to the shelf cubbies of the Kallax and add a shabby chic style statement to your spaces and also make your accessories safely hidden or housed behind the doors. ifyouwanttobeall
DIY Wooden Frame for Large Kallax Shelving Unit:
There is a huge need of storage in the dining room so here is we showing you an IKEA hack to bring some fun storage and elegant organization in that spaces. The huge IKEA Kallax unit has been here used to perfectly store and show off your lovely dining purchases and also keeping them hold in a safe way. Here the shelf unit has been stained in rustic brown to match the vibes of the dining room so you can do. See the tutorial here pinterest
DIY IKEA Kallax Retro Gaming Cabinet:
If there is game lover in your house then you might be having a tough time with the organization of gaming tools and other susch stuff. So lets just pay a strong heed to the matter and bring your game fanatic this lovely game storage unit that would be his ultimate gaming station or hub. Games, gaming apparatus and gaming tools he can organize them all in the kallax turned storage unit with doors added to the side cubbies. Full detailed tutorial here strawberryunicorn
DIY IKEA Expedit Dollhouse:
While boys love cars, truck and plane like toys girls are in sheer love with the dolls and the doll houses. They can spend the whole day decorating and playing with their doll house. So if your princess is insisting to have a pretty doll house then order a IKEA Kallax square unit as you can easily turn it into a doll house with some colorful wrap paper. So save your money and still mange to bring a priceless smile on your girl's face. A complete tutorial guidance here mommodesign
DIY Wood Wraped IKEA Cube Shelving Unit:
Wrapping it up all around with the wood and using the storage baskets in the storage shelf boxes this IKEA Kallax has been turned into a an amazing storage unit that you can use as sideboard in any of your places to hide the clutter and store your necessities in the most gorgeous and stylish way. Legs also have been added to make it look more like a console table or sideboard. Catch more details of this project here remodelaholic
DIY IKEA Kallax Nightstand:
Girls room needs a separate organizer for the accessories like shoes, bags, make up and perfumes. And luckily you can get a lovely, feasible and totally stylish kind of organizer for your dress up accessories with an IKEA Kallax shelf unit. Just add legs to it and its ready to be a perfect addition to your bedroom spaces and helping you to get ready on time with each thing on its perfect spot. The lovely makeover tutorial is here refinery29
DIY IKEA Expedit Kid's Playroom Storage Cubes:
There is a lot to store and organize in a kid's room like story books, toys and other gaming stuff. So floating shelve are perfect for the story books and for the toys you can put your hands on the IKEA Kalalx shelving unit. In the last sections of cubbies fabric bags have been tucked in instead of baskets holding the toys in them and thus making it really easy for you to clear up their rooms in minutes. Complete details here projectnursery
DIY IKEA Kallax Kitchen Island: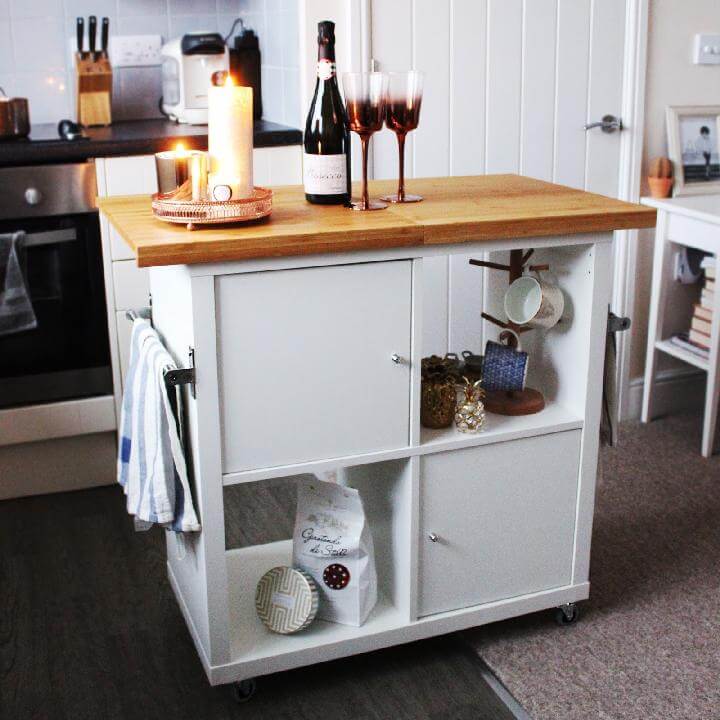 A kitchen is not a kitchen without an island there so if you are looking for a cute yet highly functional island table you can use the IKEA Kallax shelf unit for the purpose. Just add wheels to the base and a skydd wood top which you can also use for the chopping so nice and easily.  Add doors to the boxes which would hold the crockery and towel racks too on the both sides and its done. Grab step by step information right here jenloumeredith
DIY IKEA Expedit Cube to Industrial Storage Unit:
By playing with the paint you can really make your furniture possessions look one of a kind.And its also the best way to make your furniture pieces go matched with your home decor and the styling theme of your spaces. Like this lovely IKEA Kallax shelf unit has been turned into a stunning piece of visual please with the grey and orange stain hues being painted on the edges and inside respectively. Get the full tutorial here grillo-designs
DIY IKEA Kallax Shelving and Storage Unit:
With shelves the storage is no more a tangling problems for the homey persons and thanks to the IKEA Kallax for giving us the best of the shelves to fulfill our storage and organizing needs. Here is the lovely Kallax turned into a super storage unit and that too with a huge eye appeal. That visual beauty and style has been added with doors built in the pattern of + sign. See the step wise instructions here homeli.co
DIY IKEA Expedit Personalization:
You can customize your furniture possessions and really bring the boho vibe in your home styling and decor. Like you can print out your favorite poster of any favorite personality and on different pages so that when pasted on the doors of the IKEA kallax they combine to make the picture. This is the best idea to personalize your furniture pieces and make it look really stand out. See the full detailed here and know more about it homeli.co
DIY IKEA Kallax Shelves with Integrated LED Lights:
You can really make the shelves look fabulous and fancy with little cute additions like here the LED lights have been added to the IKEA kallax making it look really a lovely piece for your living, hall or bedroom spaces, It would realty create some fun romantic vibes in your decor when the lights are on and their dim lights prevails in the spaces at night. So do hack the idea and for that you can check out the tutorial here homeli.co