Trends in decorating a home change from season to season and hence the decors also! Wreaths are also one of the decorations that can come with different appeals just to give a warm welcome to an event, celebration or a party! Wreaths are all publically famous to be hanging on your front door to welcome the spring or fall weather! Just by changing the embellishments of a wreath you can change the theme of a wreath to serve your purposes! We would love you to have a glance at these 50 Easy DIY Wreath Projects and Ideas throw lights on different methods of DIY wreath making and crafting! These Easy DIY wreath ideas also provide tons of information to design and embellish a wreath for a particular event! Time to get crafty a little with the 24/7 home materials and supplies to get your favorite wreaths just at the drop of a hat!
Time to save all your expenditures you would have spent in purchasing your favorite wreaths, just go for a few magic tweaks of your hand and craft the same looking beautiful wreaths you see in shops and stores!
Grab a grapevine wreath form and adorn it up with faux flowers and pom-pom trim, a beautiful fall wreath is ready to go to your primary entry door! Go handmade with coffee filters and cupcake liners and craft most beautiful DIY wreaths at home! Grab a metallic wreath form and wrap painted burlap pieces all around it, next accentuate with a polka dot ribbons and hang on your favorite wall as an eye-catching wreath!
Make adorable DIY paper flowers wreath that will look near to reality and will live more than the original flower wreaths! Let your grapevine wreath forms come with a burlap wreath and a nest embellishment and this would give you a stunning spring wreath to hang on your front door! Make a sketch of the bunny by twisting and wrapping the metal fire and now use ivy to highlight the bunny wire sketch, frame it up and hang on your favorite interior wall as an enticing art piece! You will also like DIY PVC pipe projects for your home and garden.

Make the beautiful floral wreaths using colorful paper like the beautiful dahlia flower wreath and also spruce up your front door with brooch style wreaths that come with a cone-like shape and are super attractive! Fill dense a wreath form with pom-poms or with the mini garden terracotta pots for making super adorable wreaths in no time!
There are never-ending suggestions to make unique DIY patriotic wreath projects each time! For more hacks and genius DIY wreath inspirations you can spend only 1 or 2 minutes to take a tour of this entire DIY wreath collection! Hitting the source links will bring you to the original tutorials, step-by-step instructions and picture guides where you can also meet the original owners of the DIY wrath projects!
DIY Timeless Spring Wreath: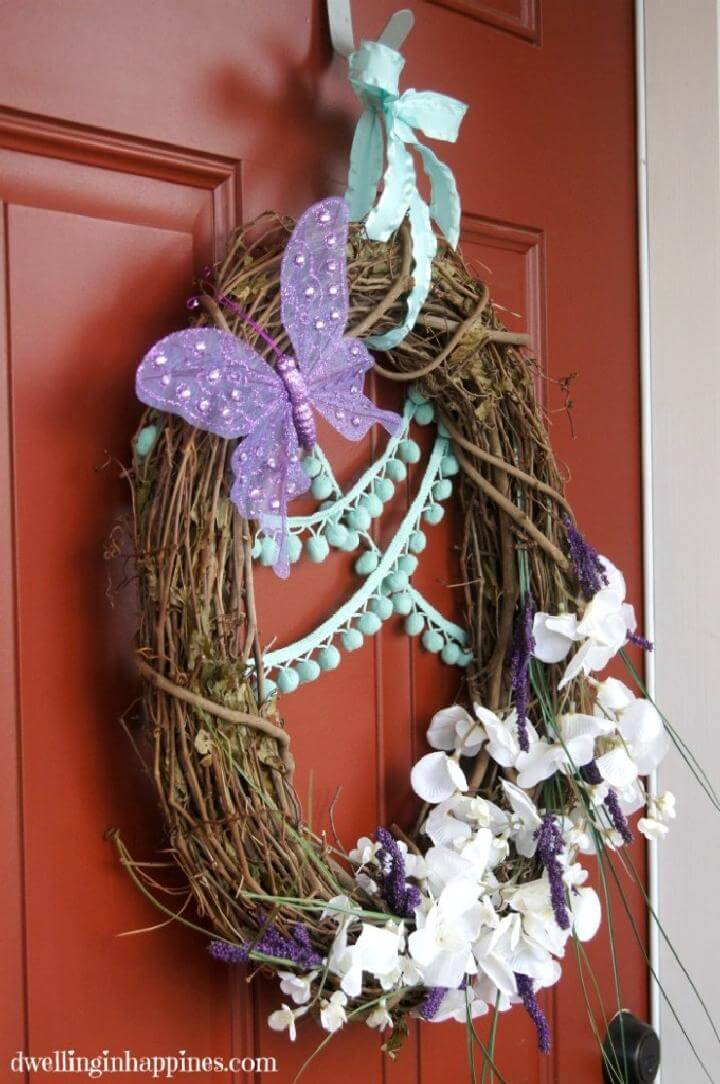 The wreaths are the part of the decor which changes according to the weather and seasons so for the spring you need a cute flowery wreath, and you can make it on your own at home.Here is this beautiful and soft colored wreath made out of the faux flowers and some homey lying accessories like pom trim and a large cute butterfly.Here is the link of tutorial dwellinginhappiness
DIY The World's Easiest and Foofiest Easter Wreath: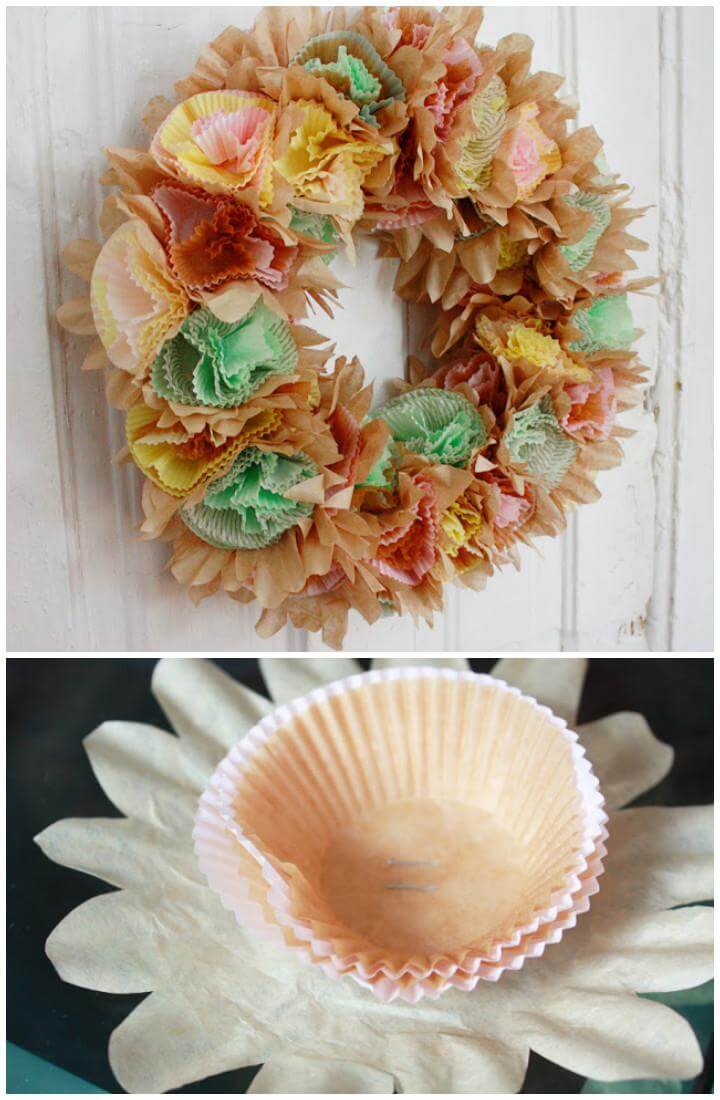 This charming and immensely adorable wreath has been made out of the cheapest and the simplest of the supplies that you can easily find in your kitchen. Yes with the colorful cupcake liners and the coffee filters this quirky and fluffy kind of wreath has been easily created at home and would look fun on your doors for the spring welcome. Tutorial here auntpeaches
DIY Handmade Bow Burlap Wreath:

To create a wreath is now easy like a child's play and you can do it so well with the provided supplies. Like this lovely and cute wreath has been made out of a metal wreath ring and the ribbon rolls having been passed through the ring wires. Lastly, a ribbon layer with a bow gives it a nice finish touch.Here is the full tutorial to understand more about the project odapopave
DIY Precious Butterfly Spring Wreath: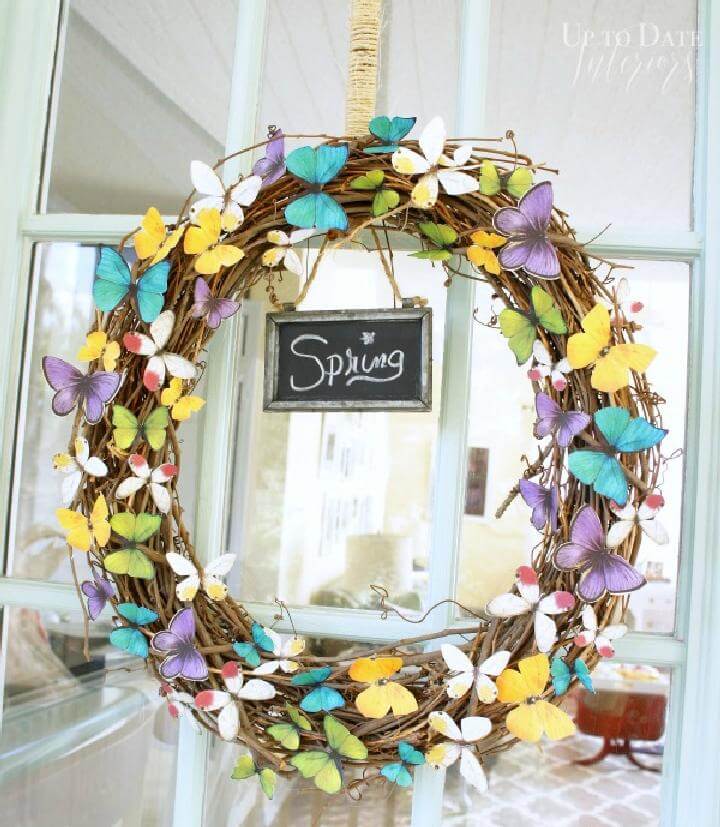 The best thing about the spring is the lovely blossoms and flowers in the gardens and parks and the cute butterflies hovering over them so you can get a huge inspiration from this lovely natural scene and make this cute butterfly wreath. Just make a lot of butterflies with the butterfly printable and then glue them to the wreath ring and it's done.Here is the link of its tutorial ptodateinteriors
DIY Pink Paper Flower Wreath: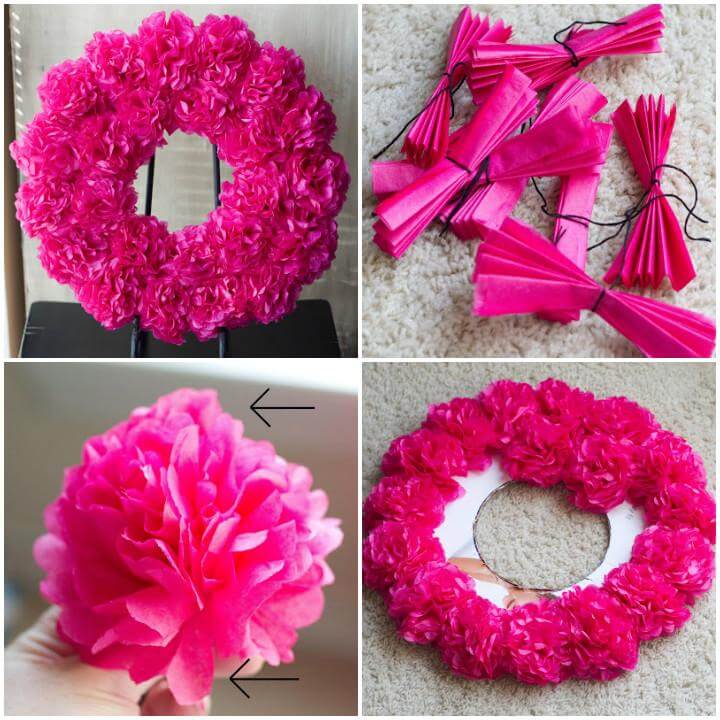 Tissue papers are one of the easiest and the cheapest kind of things to be found, and they can be used to create a lovely wreath for the colorful and sunny spring welcome to your spaces. The pink tissue has been used to make the flowers which have been further added to the cardboard ring and its ready to be on your doors and make a perfect, gorgeous display.Link here mynameissnickerdoodle
Homemade Fabric Spring Wreath: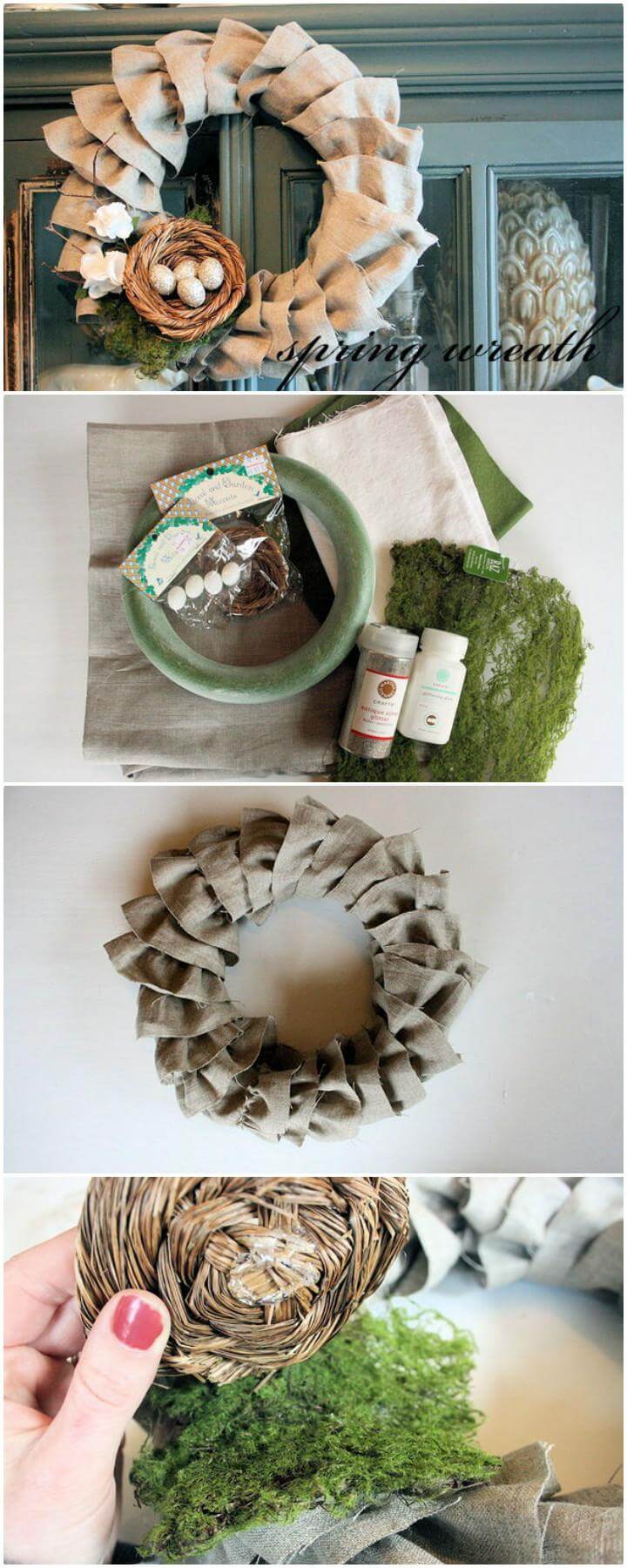 Welcome the spring and add some fun touches of decor to your spaces and start it up with the door and a wreath is the perfect door decor. Here is an utterly cute and fun looking wreath made out of the cheapest of the things like the burlap and to make it look different a cute nest with golden eggs has been added to the wreath. Check out the complete tutorial here jonesdesigncompany
DIY Bunny Box Wood Wreath: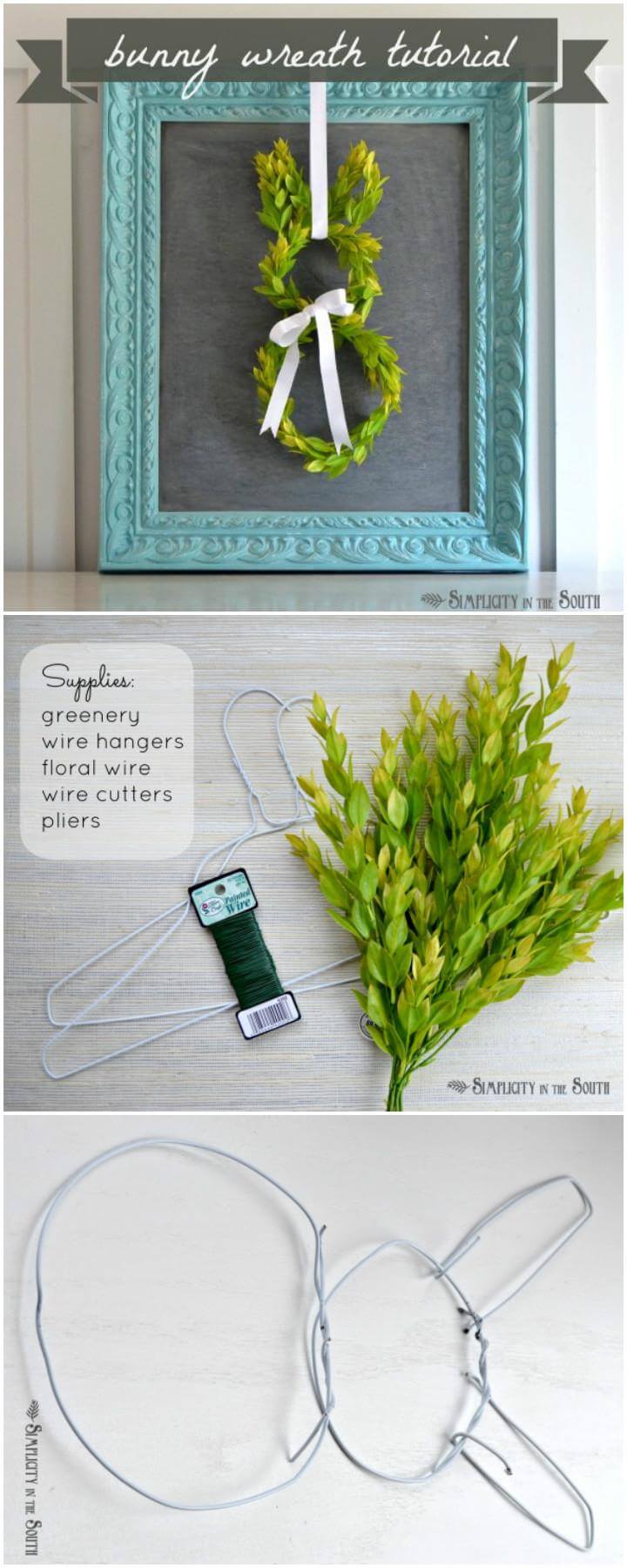 It's not compulsory to create a wreath in that traditional ring shape, so there is an open chance for you to create a wreath of any of the favorite things, character or images you like the most. For a perfect sample, we have this bunny wreath made out of twisted wire, some green stems and two cute ribbons added to make it look more impressive and fun.Here is the link to for complete tutorial access simplicityinthesouth
DIY Natural Rustic Monogram Spring Wreath: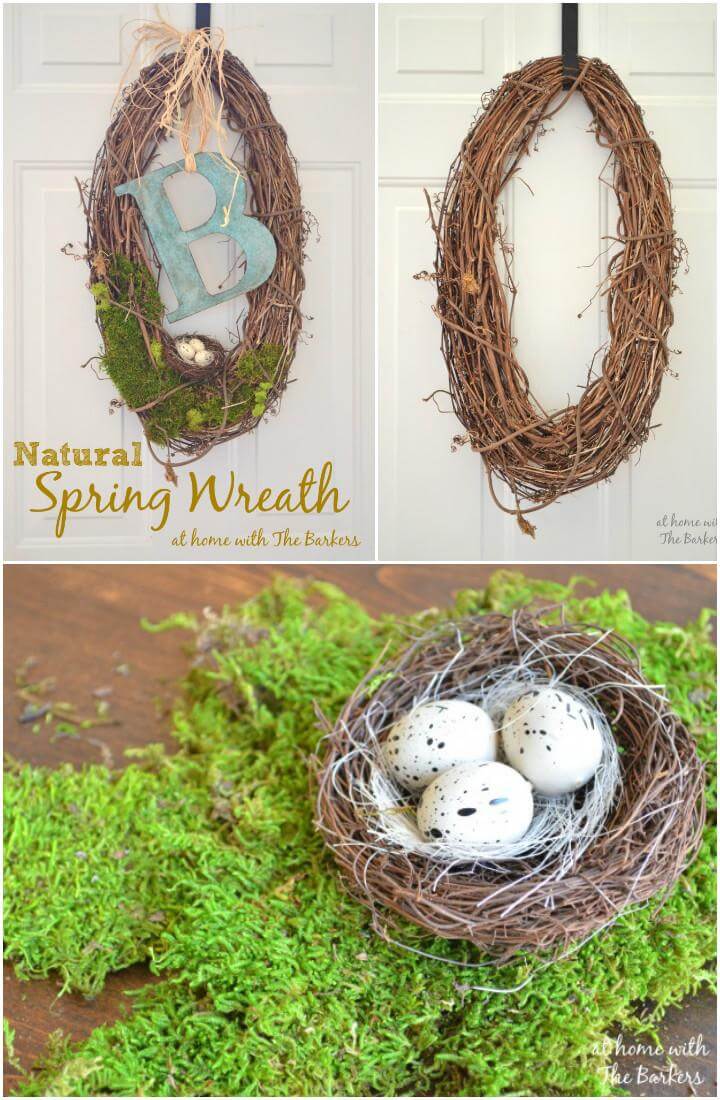 There are lots of ways to make a wreath or to decorate it with your imagination and ring some custom and fun vibes to the decor for the welcome of the beloved season "spring." Here is the link showing you how you can create this immensely natural inspired wreath with some moss and a cute nest with eggs. Here is the link to let your grab complete details of the project athomewiththebarkers
Easy but Beautiful Dahlia Wreath: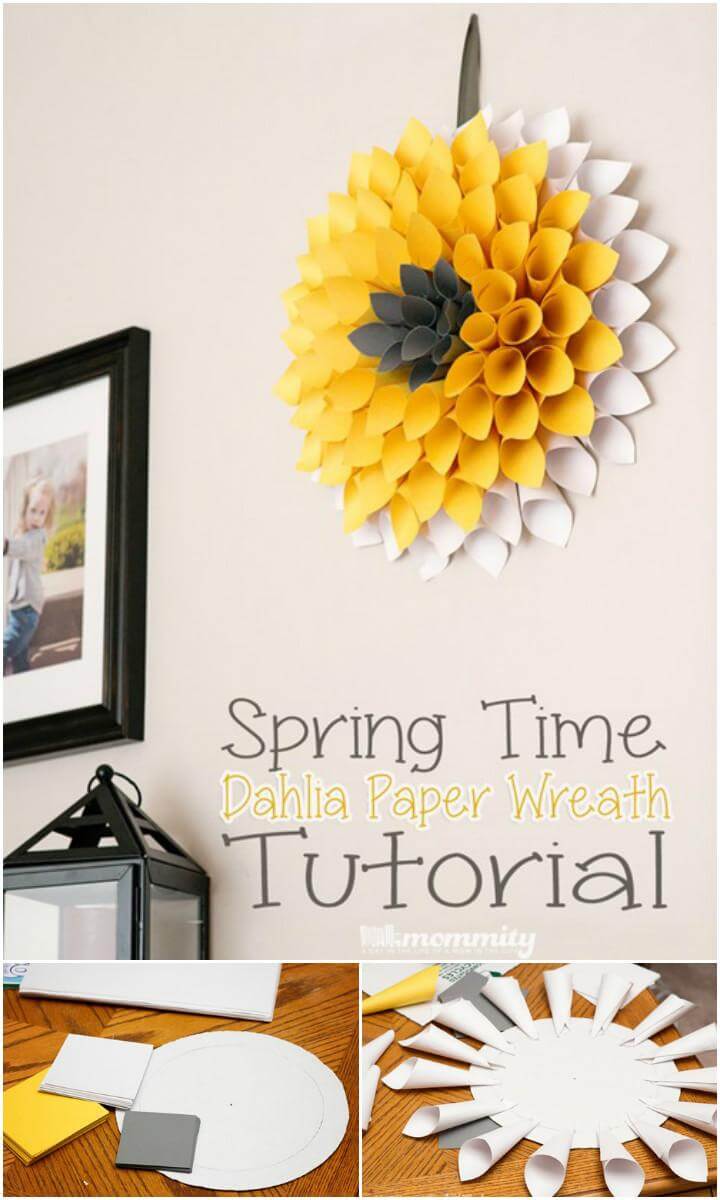 One of the best and the easiest crafts to do is the papercraft, and you can use it for lots of your decor projects and also for the making of the wreath for the spring. So choose white, black and yellow paper, make the cute cones out of them, and they glue them to form a lovely flowery shape wreath and make it display on your indoor walls to bring some springy vibes there.Tutorial here mommity
DIY Easy Orange Gerbera Daisy Wreath: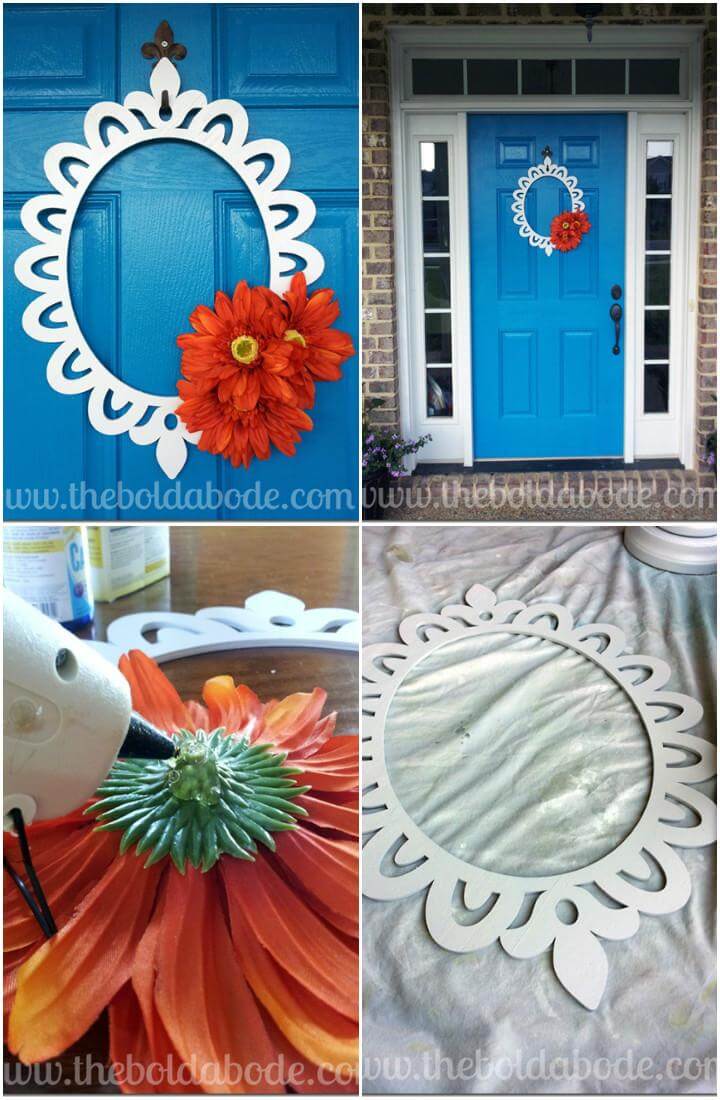 Those who are like the lazy crafters or those who do not have much time to spend on the lengthy crafts this cute spring frame wreath is the best idea to get their hands dirty with. An acute deigned frame has been picked up, and then an orange color flower has been held in one of the holder holes in the frame and thus so quickly and nicely a beautiful door decor is ready. Tutorial here theboldabode
DIY Floral Front Door Hanging Decor: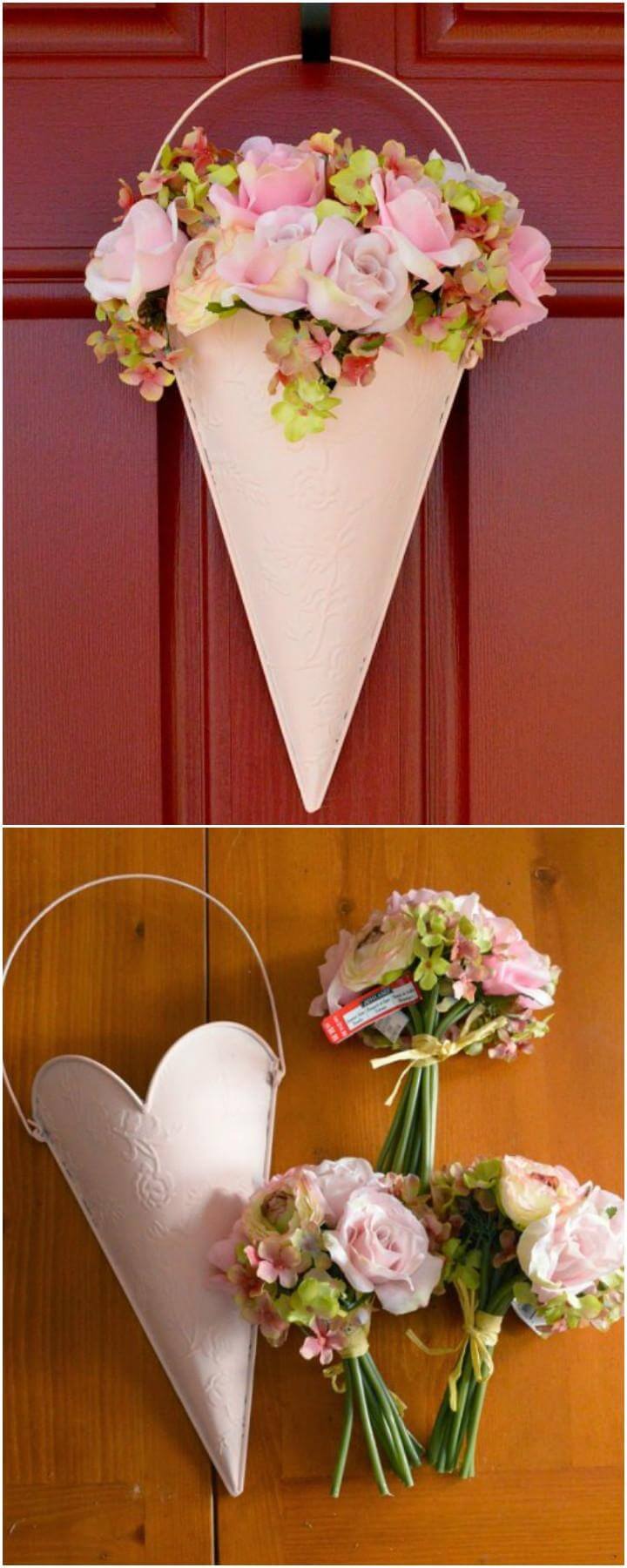 Here we are going to show one of the prettiest and the quickest door decor to make and display instantly there. Grab a cone metal basket and add a bunch of colorful flowers to this basket and it would be ready to welcome the spring in your spaces with the most fun and colorful natural vibes. Here are the too simple and too quick tutorial funhomethings
DIY Easy Yarn Pom Pom Wreath: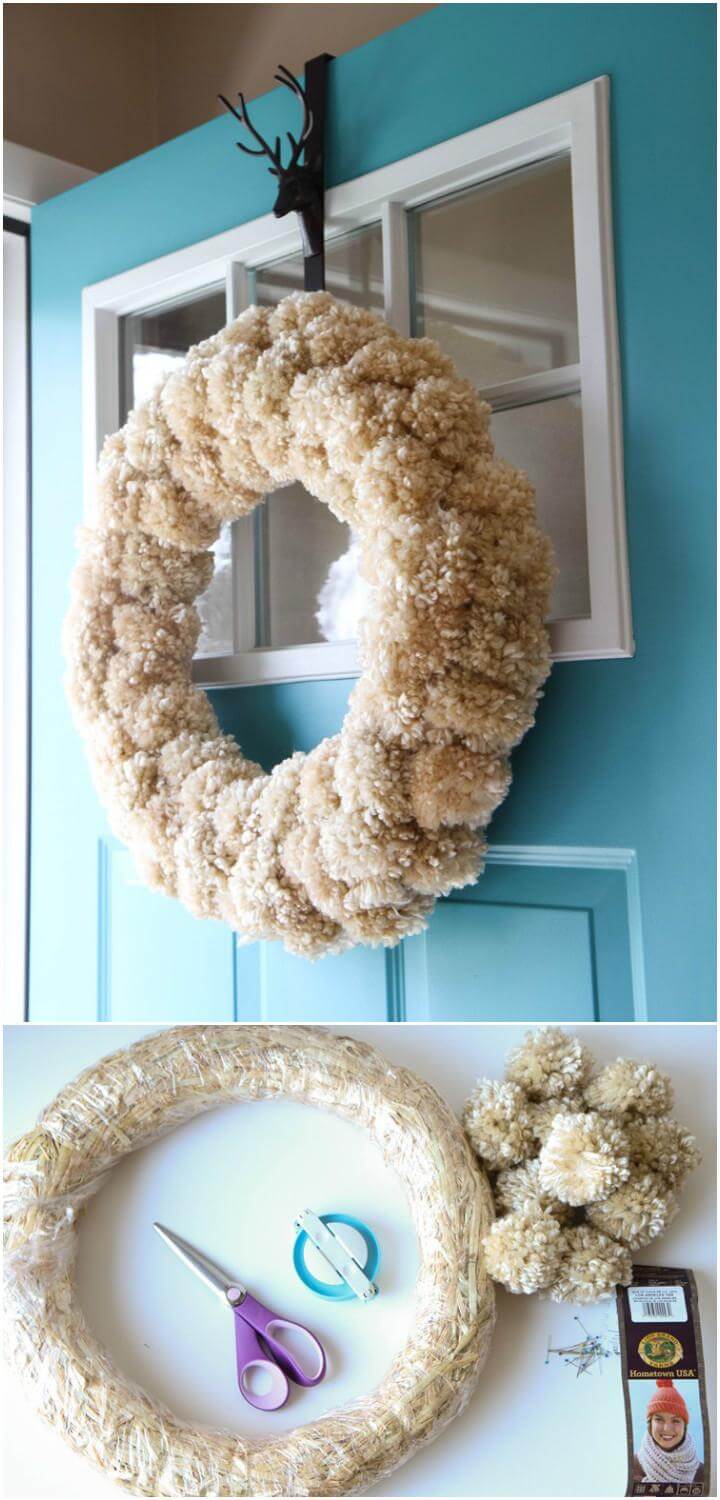 Making some of your own gives you some creative delight, and there is like a lot to create easily at home even if you are a busy housewife. So change the decor according to the season, and for the spring a cute wreath is the best thing for the outdoor spring decor. You can take a wreath ring and cover it all over with the yarn flowers, and a completely personalized wreath would be ready to rock your spaces. Tutorial link here momadvice
DIY Adorable Flower Pot Wreath: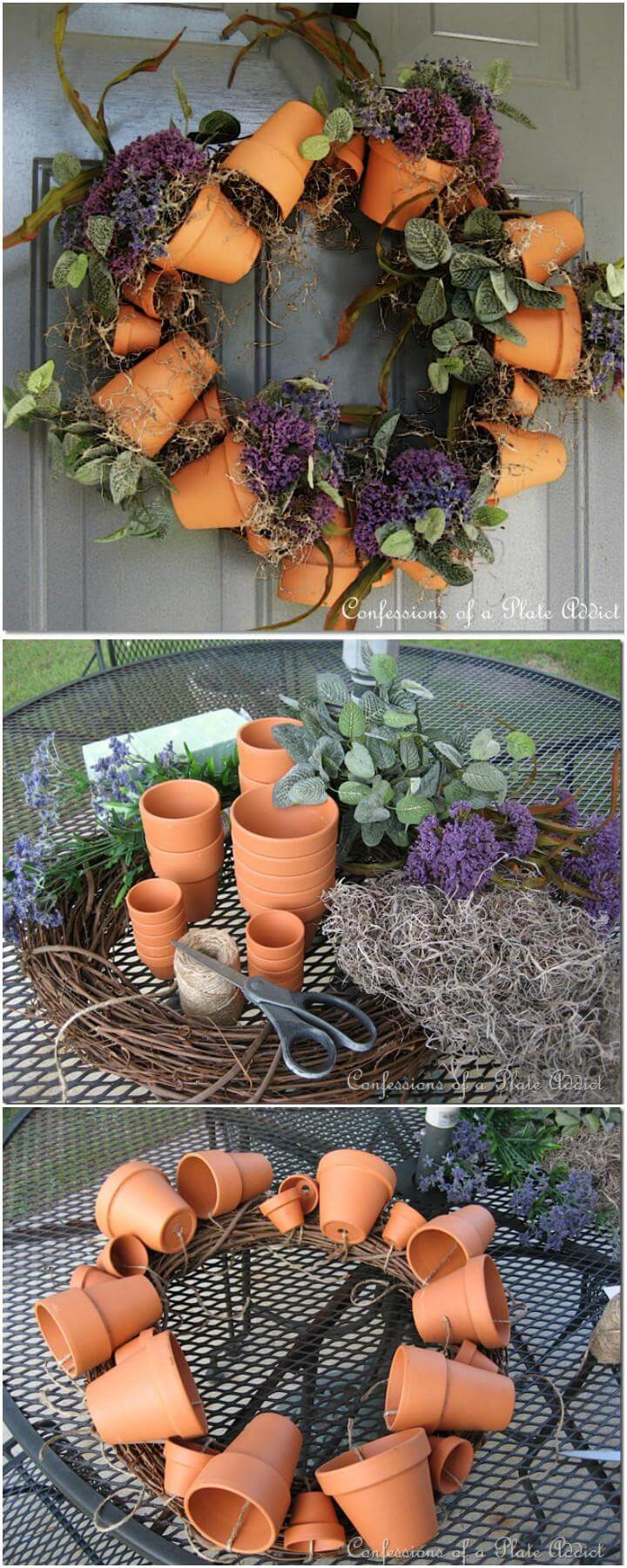 Spring is the best kind of season to exercise your green thumb and plant your favorite flowers and herb in the pots. But how about making a wreath out of the terracotta pots? it sounds weird but it really looks stunning as shown above. Bind the pots to the wreath ring and then fill them up with the flowers and the most innovative kind of spring wreath is ready.Full tutorial is here confessionsofaplateaddict
DIY Gorgeous Fabric Ball Wreath: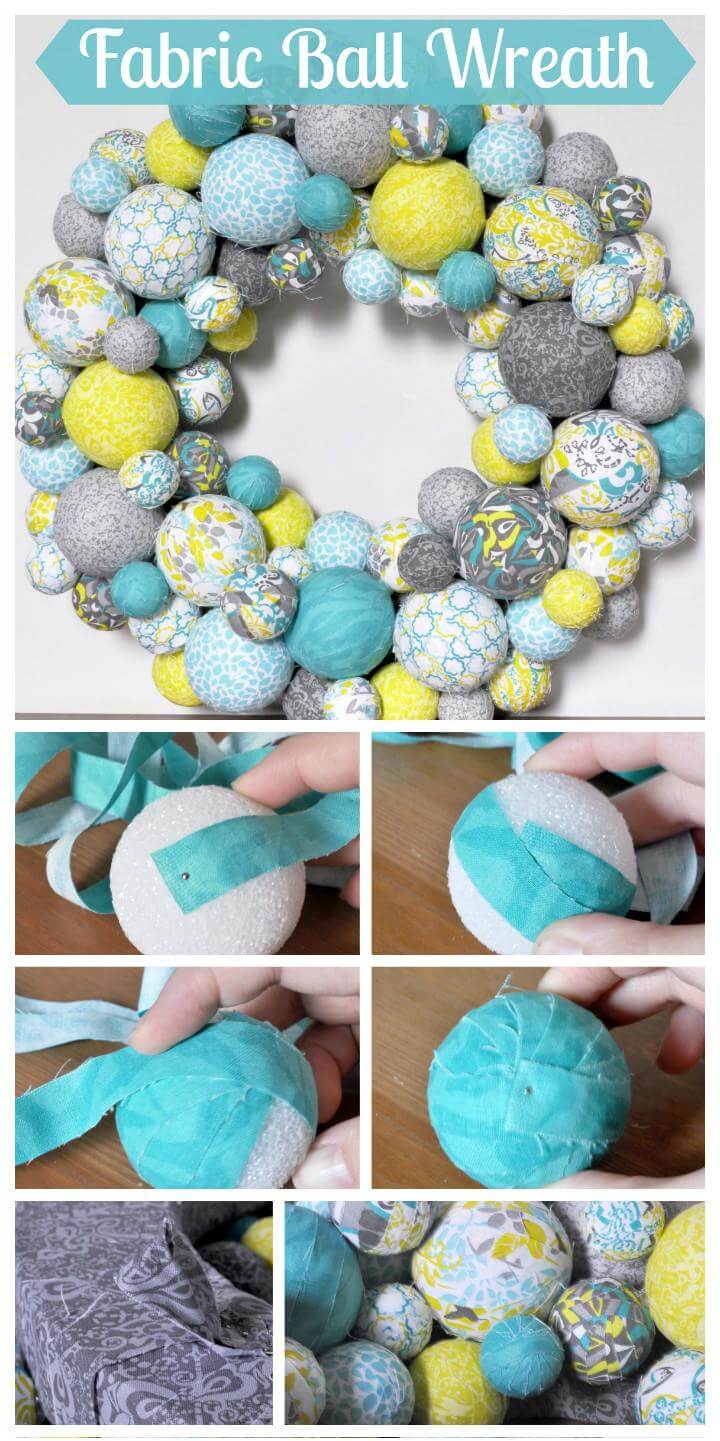 Take some balls of various sizes, wrap them up with different colored and patterned fabrics and then glue them around a wreath a ring to get the cute and pretty wreath for the decor of your walls, windows or the door. As the spring season is all about the cute flowers and colorful blossoms so do choose the exciting and vivid hues to make the fabric balls. Detailed tutorial link is here thelovenerds
DIY Beautiful Ruffled Muslin Wreath: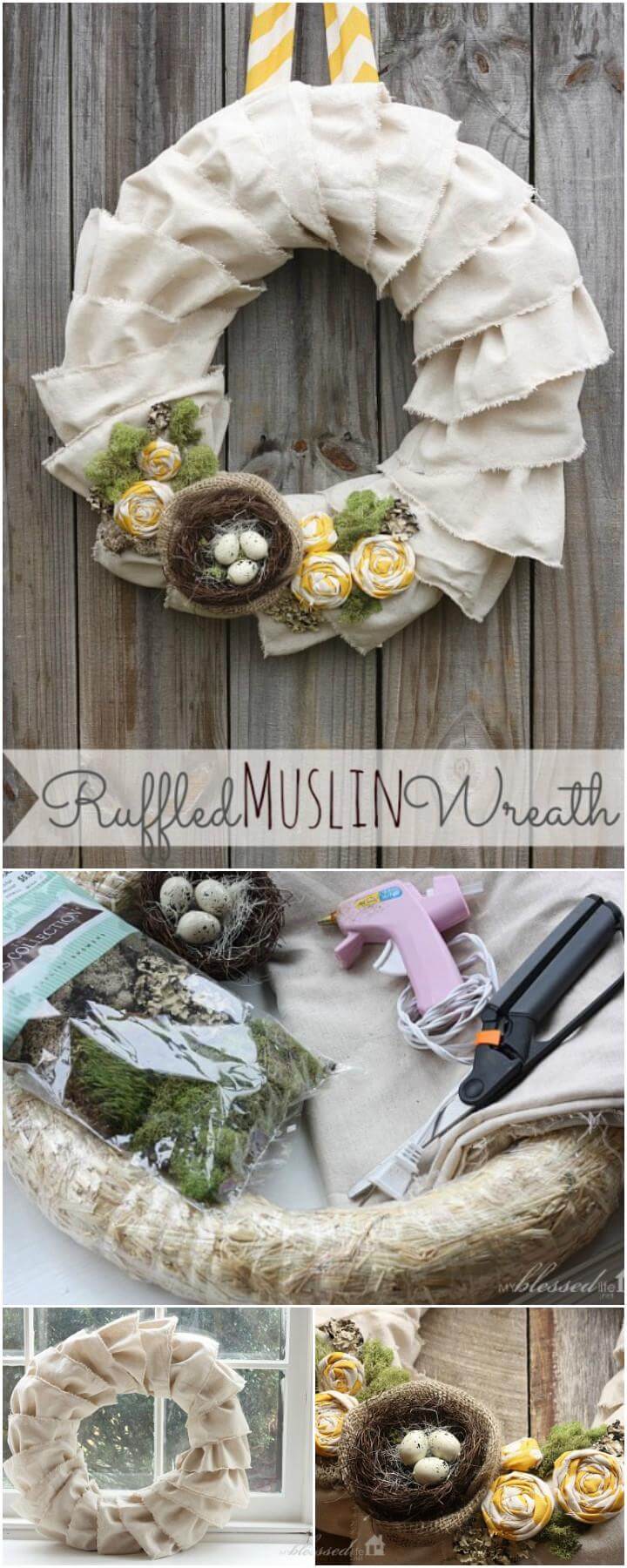 Not only ours but the spring season is also favorite of the birds as they mate and lay eggs in this season. So you can mark this lovely natural process of the birds in your home decor especially in the spring wreath making. Here is this lovely muslin ruffled wreath decorated with the fabric roses and a faux nest with eggs and looks really an impressive and appealing wreath. Catch the full tutorial here myblessedlife
Handcrafted DIY Paper Hydrangea Wreath: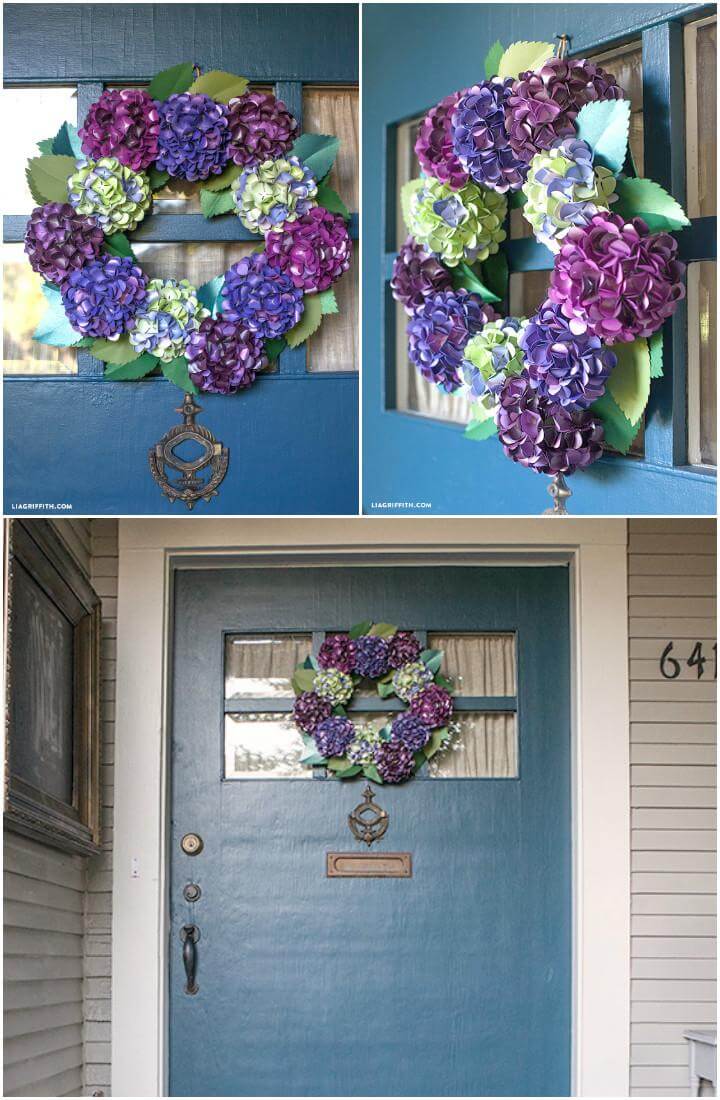 hydrangea flowers are so damn gorgeous and they can be used for a lot of decor and embellishing in your spaces like a cute flowery wreath for the spring season. This cute hydrangea flower wreath has been easily made with the bold hues and paper and then glued to the wreath ring to look that gorgeous and fun on the doors and welcome spring in an enchanting way.Tutorial here liagriffith
DIY Beautiful Gumball Wreath: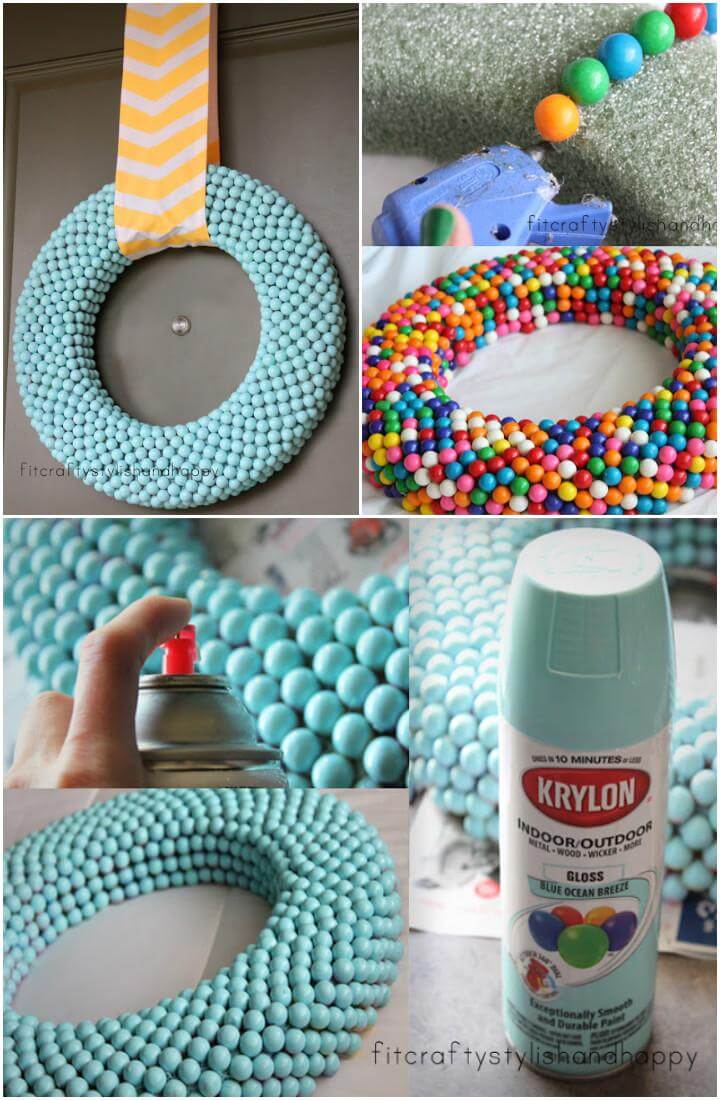 The gumballs can be purchased hundreds in numbers and that too at the cost of just a few pennies and here is a fun project to make out of the gumballs for the decor betterment of your house. It is a lovely wreath made out of the gumballs, and they spray painted in blue, and it's visible how amazing and stunning it looks on the door with a ribbon hanging. Get the tutorial here fitcraftystylishandhappy
DIY Gorgeous Living Succulent Wreath: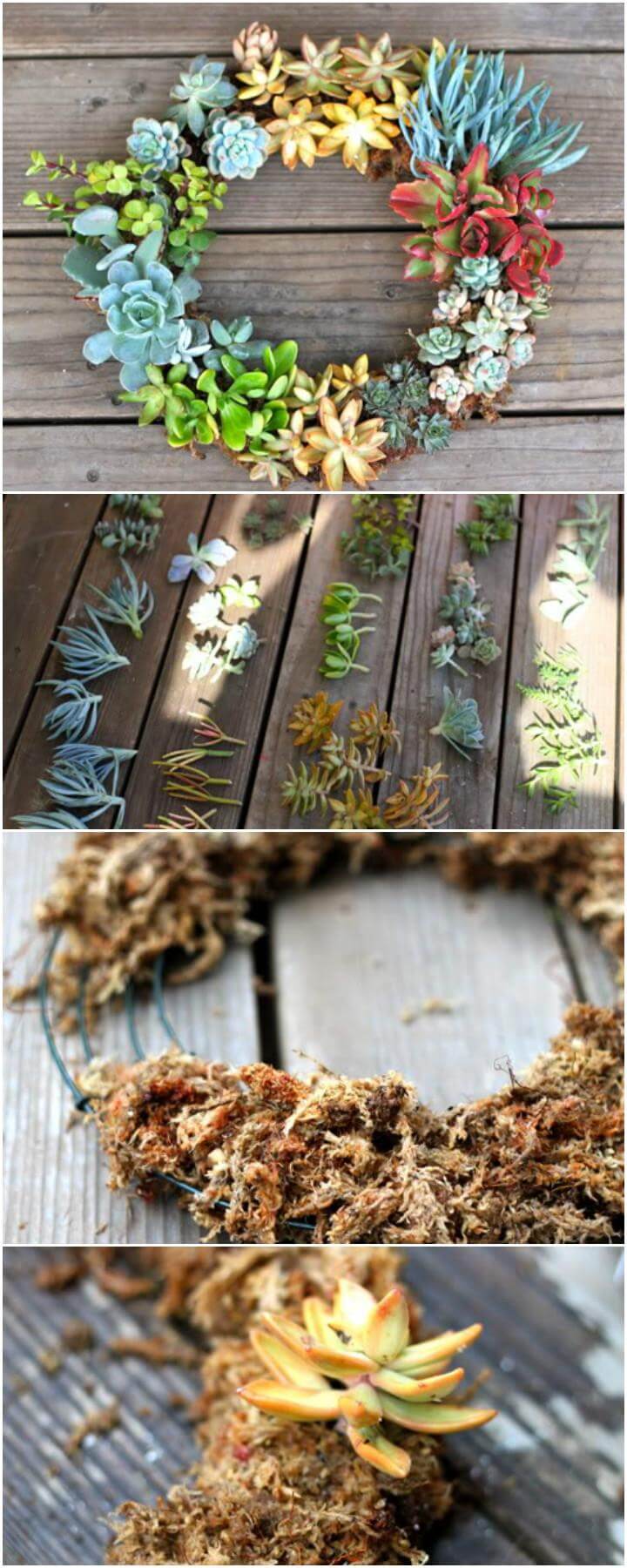 How about succulents living on your door? yes, its possible you can make a succulent wreath and let the succulents live there for the spring time. Just add some moisturized moss to the wreath ring and the plant your succulents in it and its done so nice, easily and cheaply. You can check out the full tutorial here for step by step instructions of the fun project prettyprudent
Handmade Rustic Floral Wreath: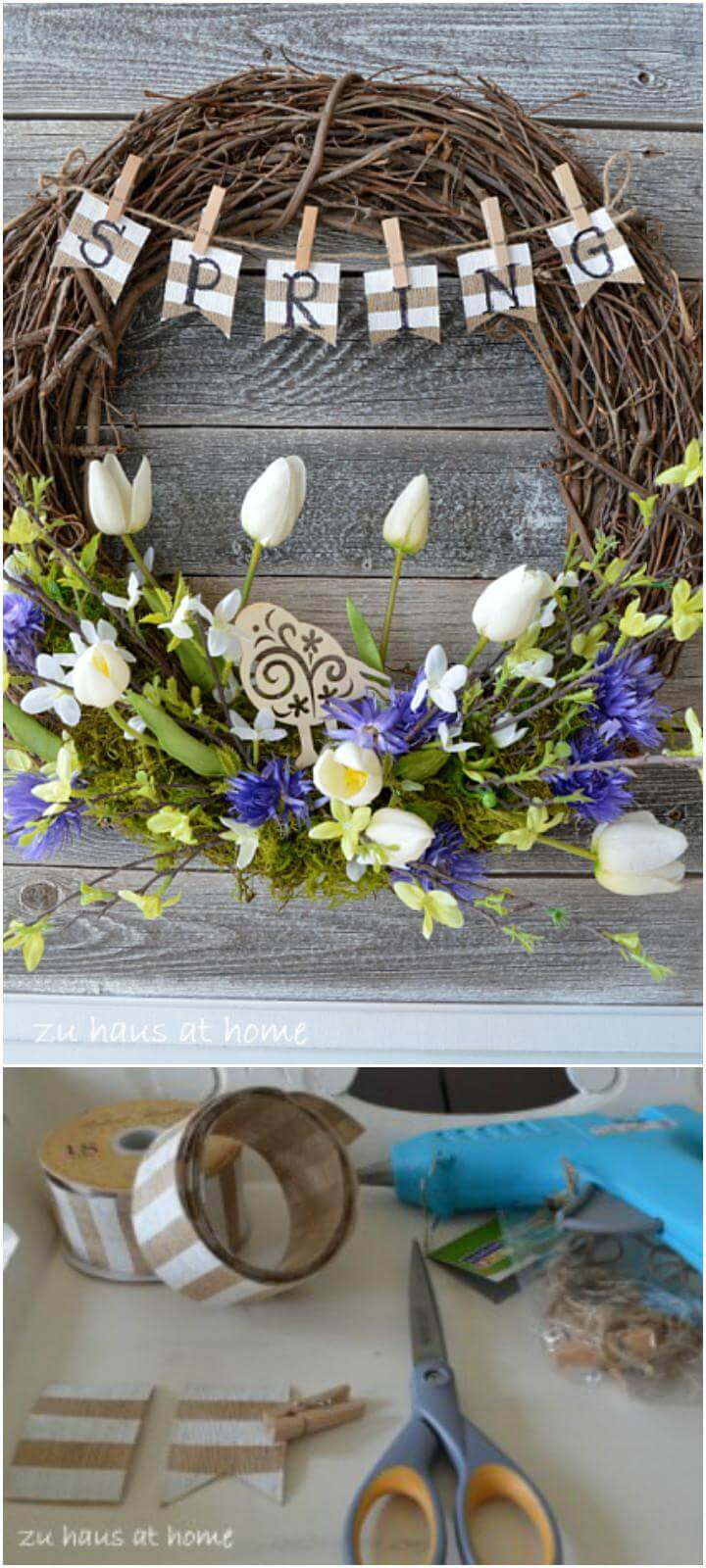 Whenever there is a celebration we make the banners for sure so why not celebrate the arrival of the spring the most pleasant and colorful season of the year. So here is the perfect spring wreath made out of some lovely spring flowers and a cue SPRING banner on the top adding cute and fun vibes to the wreath and hereabouts the making details of it uhausathome
DIY Baby Breath Monogram Wreath: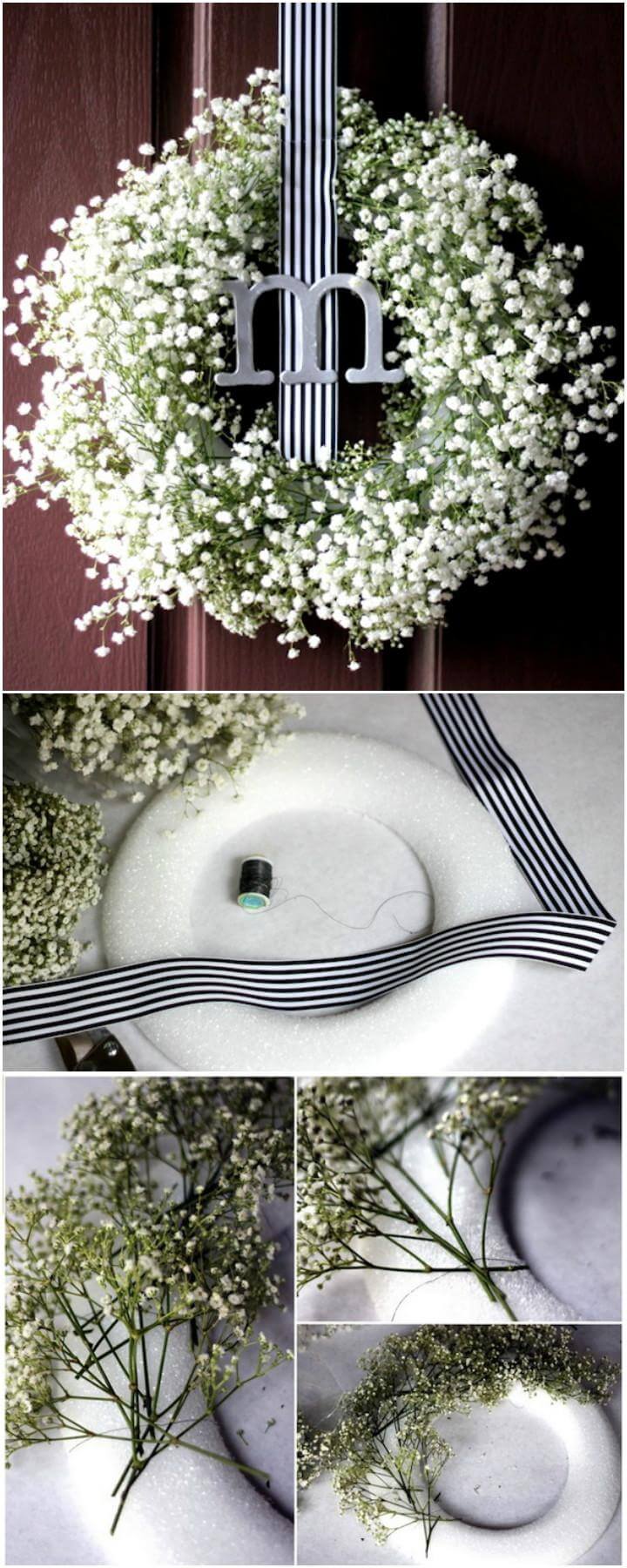 The lovely, soft and delicate flowers named the baby's breath are gorgeous things you can choose to decorate the wreath with and make a perfect display on your door decor for the spring. Here is this lovely baby's breath wreath made so easily on a styro wreath ring and looks really whimsical and captivating. You can check out the tutorial details here twodelighted
DIY Blue Burlap Wreath: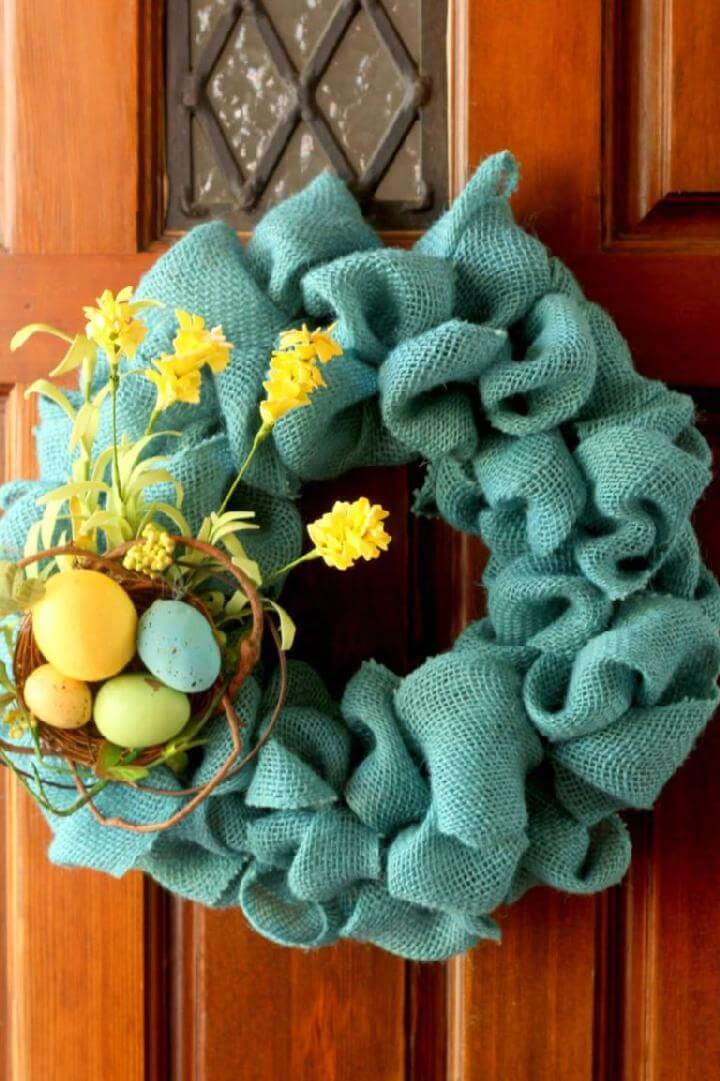 Making a burlap wreath is common wreath phenomenon but if you chose some striking shades to make it you can really bring the fun and charm to your wreath. Like this wreath has been made with the bluish-green burlap ribbon and the yellows eggs in the nest which has been used to decorate the wreath here. This yellow and blue contrast really brings the exquisite factor here. Check out the lovely tutorial here dukemanorfarm
DIY Front Door Wreath Basket: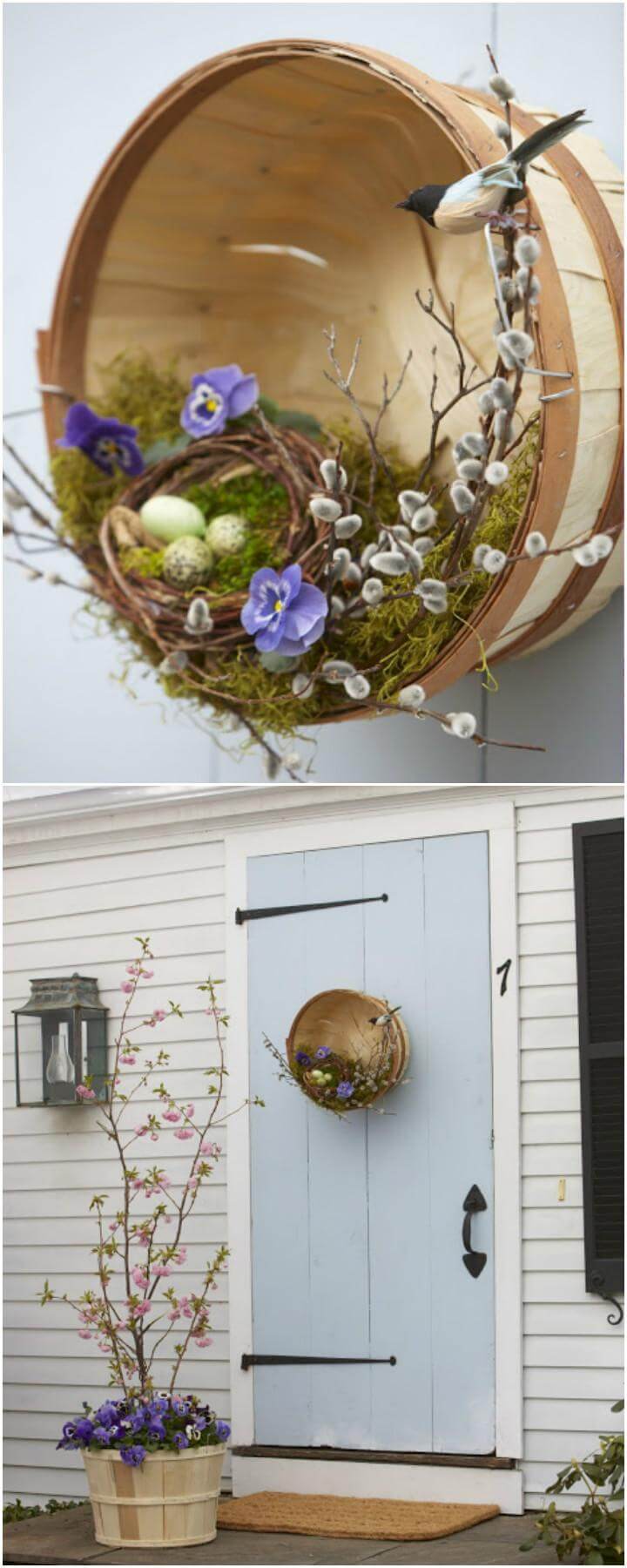 The spring can be symbolized in so many decor ways like a cute nest with birds because spring is the really a birdy season. So grab a basket, add some hay or grass, a faux nest with eggs and some cute birds and the lovely nest basket would be ready to rock your spaces especially the outdoor furnishing. Here is the easy tutorial to know more about it yourcozyhome
DIY Easy and Timeless Wreath: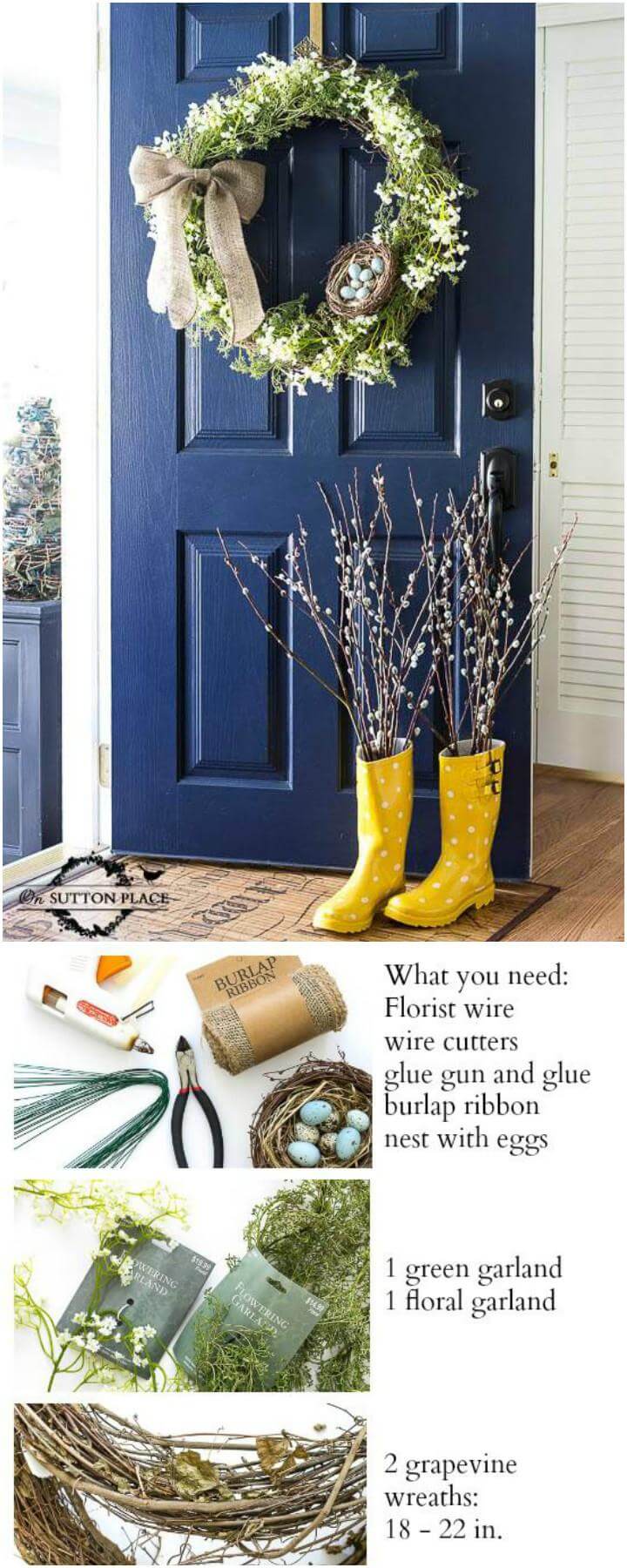 This so cute and whimsy kind of wreath made out of the simple supplies like a grapevine wreath, some baby breath flowers and a faux nest with nests. Nests really symbolizes the lovely and cheerful spring season with so they would really add a cute spring touch to your spring wreath. Here is the link to know about this cute wreath and make it on your own at home onsuttonplace
Homemade Front Door Floral Monogram:

You can replace the wreath ring with lots of things of your personal choice and decorate your door in a hugely different but fun way.Like instead of a wreath this floral monogram has been made and used as the perfect door decor with the cardboard, foam and the pretty and colorful flowers adding really an embellished touch to the doors for the spring.Tutorial here daisymaebelle
DIY Colorful Dollar Store Wreath: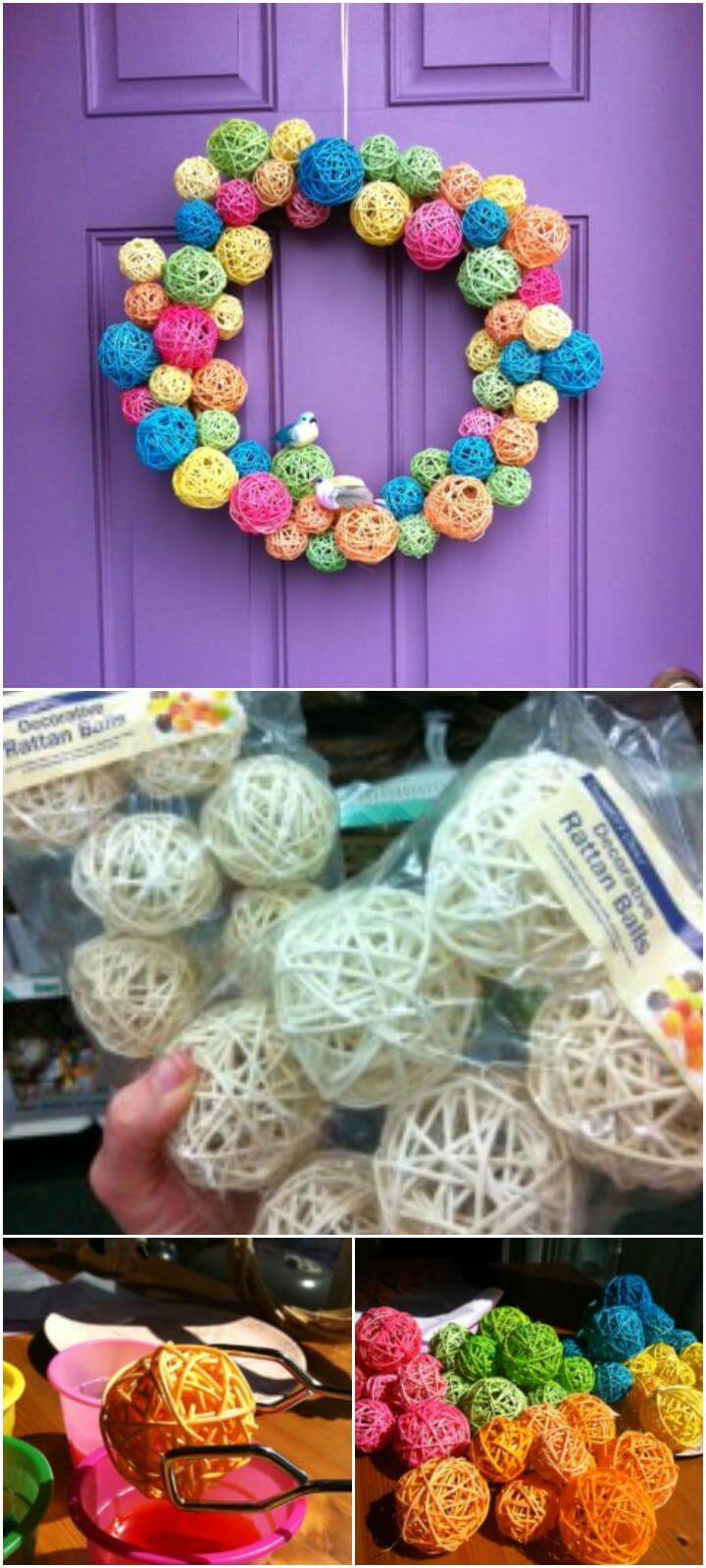 Rattan yarn balls can be attained in a bunch at the cost of just a few pennies and used for lots of colorful decor of your house for the colorful spring season. Grab the white rattan balls, soak them in your favorite colors and them use them around the wreath ring to create a really pretty, fun and totally matching kind of wreath out of them.Here is the link for complete tutorial dollarstoremom
DIY Superb Wreath Made of Cupcake Liners:

Ladies just cannot resist themselves to buy the coffee cup liners whenever they are off to market. So here we have a cute project that would really bring in use those bunch of coffee cup liners. So make this pretty and so cute wreath out of the coffee cup liners and display it on your doors to give the spring a really colorful welcome. Tutorial here the36thavenue
DIY Adorable Baby Grass Wreath:

This lovely wreath would really steal your heart with its overloaded cuteness and sheer beauty. The icing on the cake is that it has been made out of the really feasible supplies like the fur type green yarn wrapped on the round tube and those cute white daisies glued all over and creating really a fancy look. A ribbon in pink has been used to hang it up on the walls and its done.Here is the link to grab its all details here pattyschaffer
DIY Satin Flowers Spring Wreath:

The satin fabric is gorgeous and fun and nice to use for the making of so many decor projects for your spaces and here is a special one for the spring made out of this satin fabric flowers in green and red and looks an outstanding piece.You can choose the colors you like and make it so nice and easily at home and thus saving a lot of your money.Tutorial here fancyfrugallife
DIY Old Checked Shirt Bow Wreath: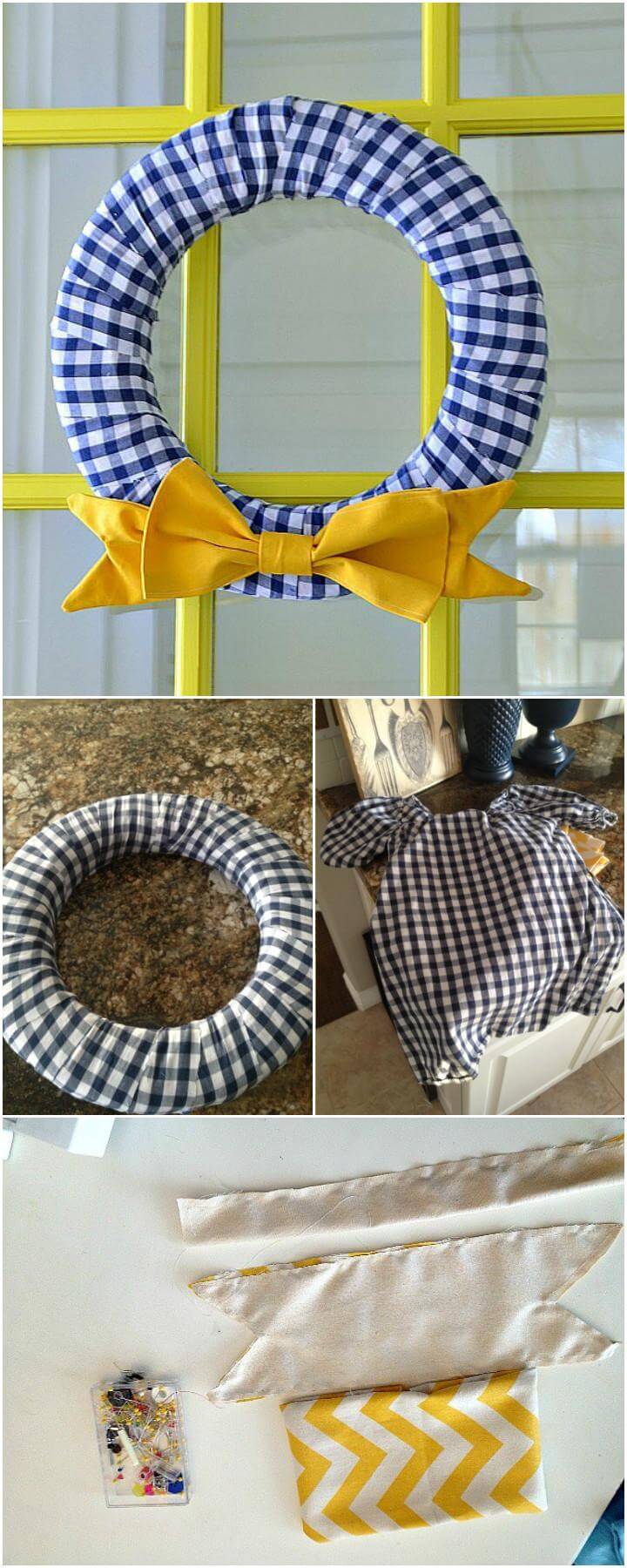 Bring some nautical vibes to your home decor with this lovely blue and yellow colored wreath for your spring outdoor decor. You need a blue  and white fabric for the wreath ring coverage and then a yellow and white chevron fabric piece for the bow and together they would create this lovely wreath ring.Here is the simple and quick tutorial to make it on your own at home tatertotsandjello
DIY Beautifully Embellished Straw Wreath: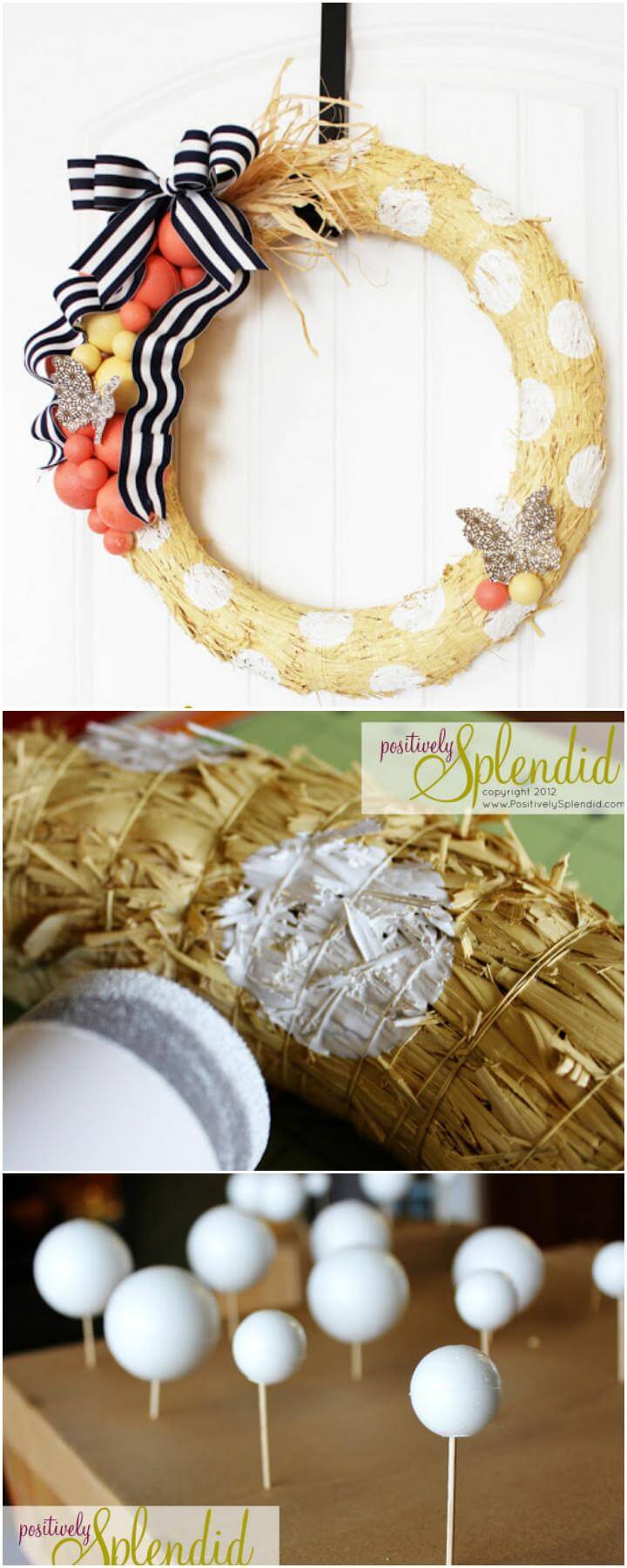 Here is another creative looking wreath that is just so much fun and easy to create out of the simple and fun supplies lying around you. The pain work is the most prominent in his wreath because the straw wreath has been painted with the white dots and the foam balls have been painted and then glued to one side of the wreath with an added ribbon to spruce up the look of the wreath.Grab the details and tutorial guide here positivelysplendid
DIY Easy Pom-Pom Spring Wreath: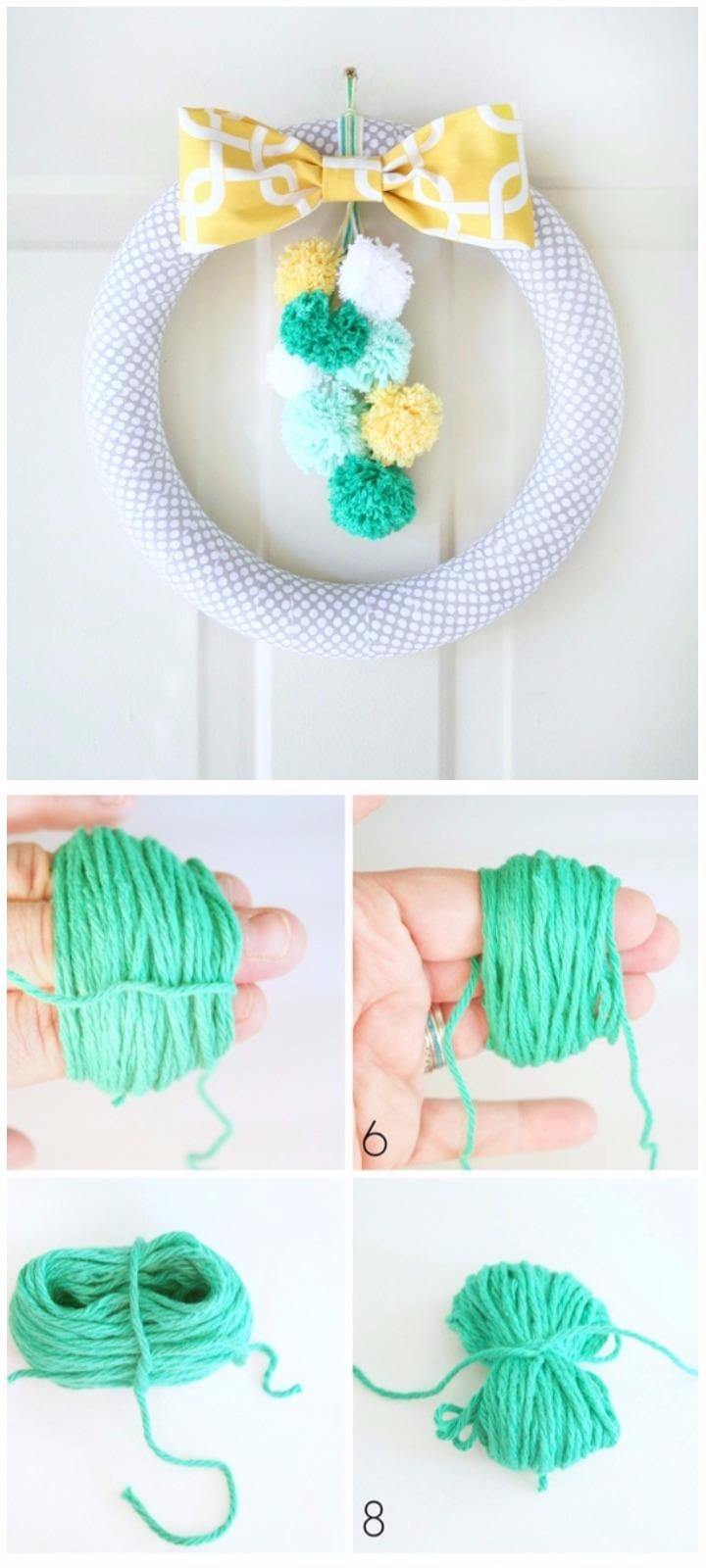 There is just a huge variety of the items you can create on your own for all type of occasions and events. Here is this lovely pom pom wreath which would look really unique and fun on your doors and have been made simply with some fabric and the yarn pom poms added in the center, attached to a cute fabric bow. Its too easy to craft so just learn the complete directions here thecraftedsparrow
DIY Wreath with Mini Spring Banner: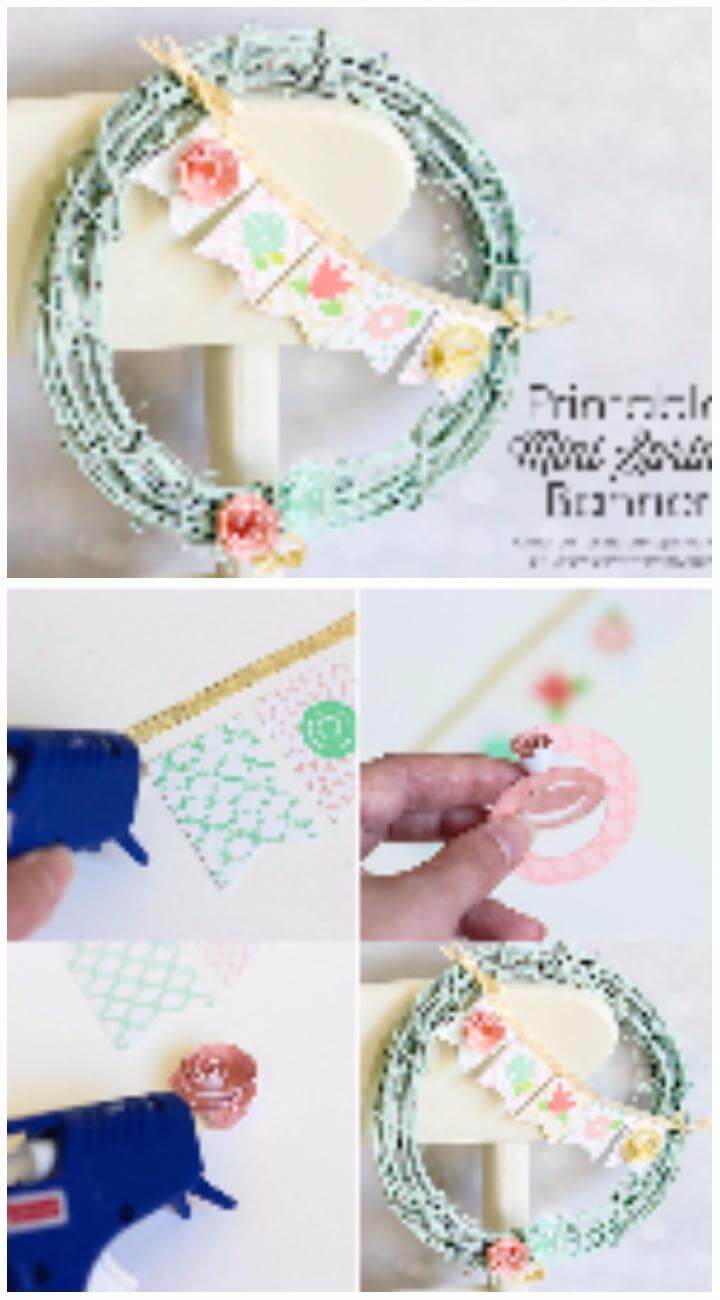 There are lots of imaginative and fun ways to make a pretty wreath for your doors and also make it look nice and welcoming on your doors or walls. Paint your wreath ring and then make a cute flowery banner out of some fabric and some cute flower printable to decorate the wreath with and make it look really a delightful addition to the spring decor for the outdoors.Tutorial is here iheartnaptime
Homemade Garden Hose Spring Wreath: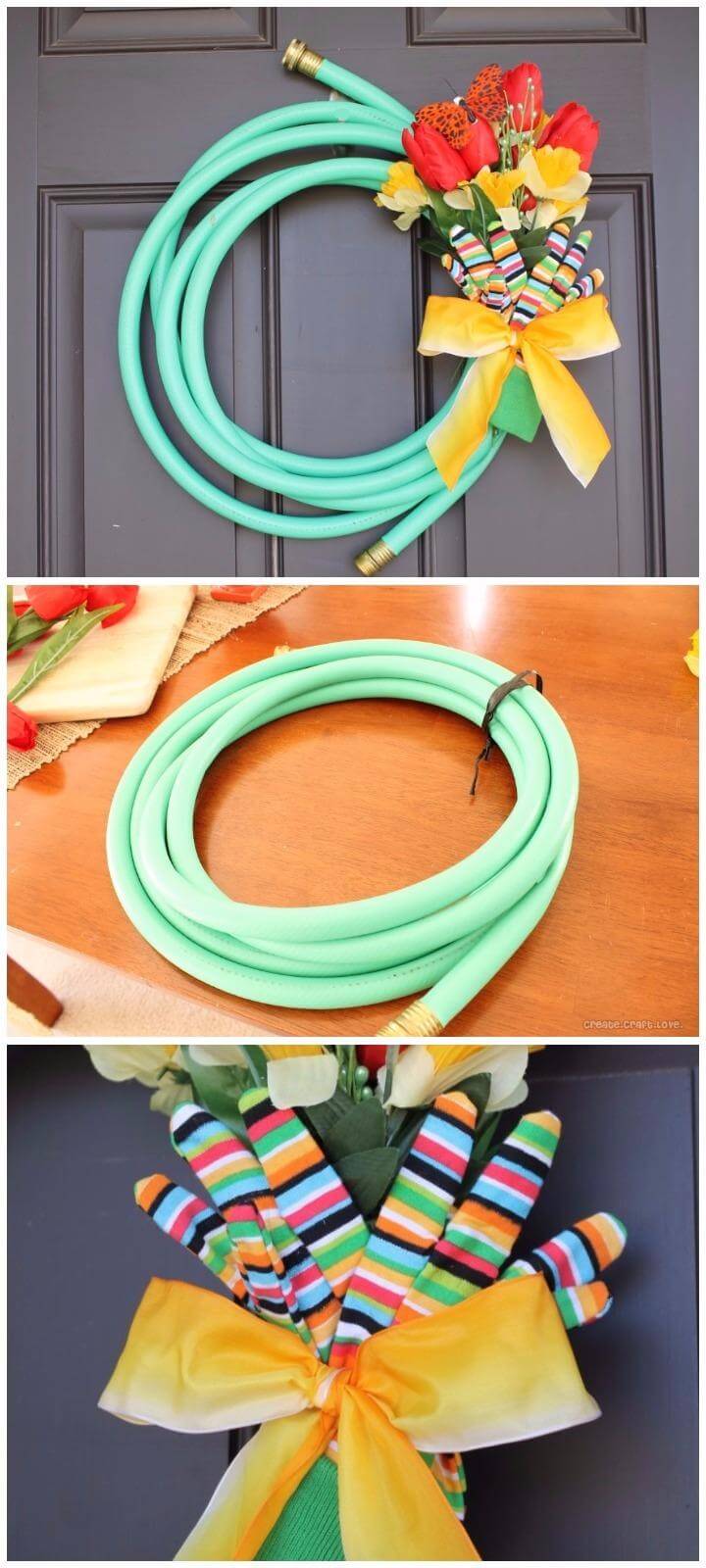 The things in your garden can be used to decorate your spring door by making a cute, fun and totally personalized wreath. For example this totally quirky kind of wreath has been made out of a pipe hose, a ribbon and some colorful gloves and turns out to be really attractive and exciting. Though fun and easy to make yet the complete tutorial is here createcraftlove
DIY Yarn Wrapped Beautiful Spring Wreath: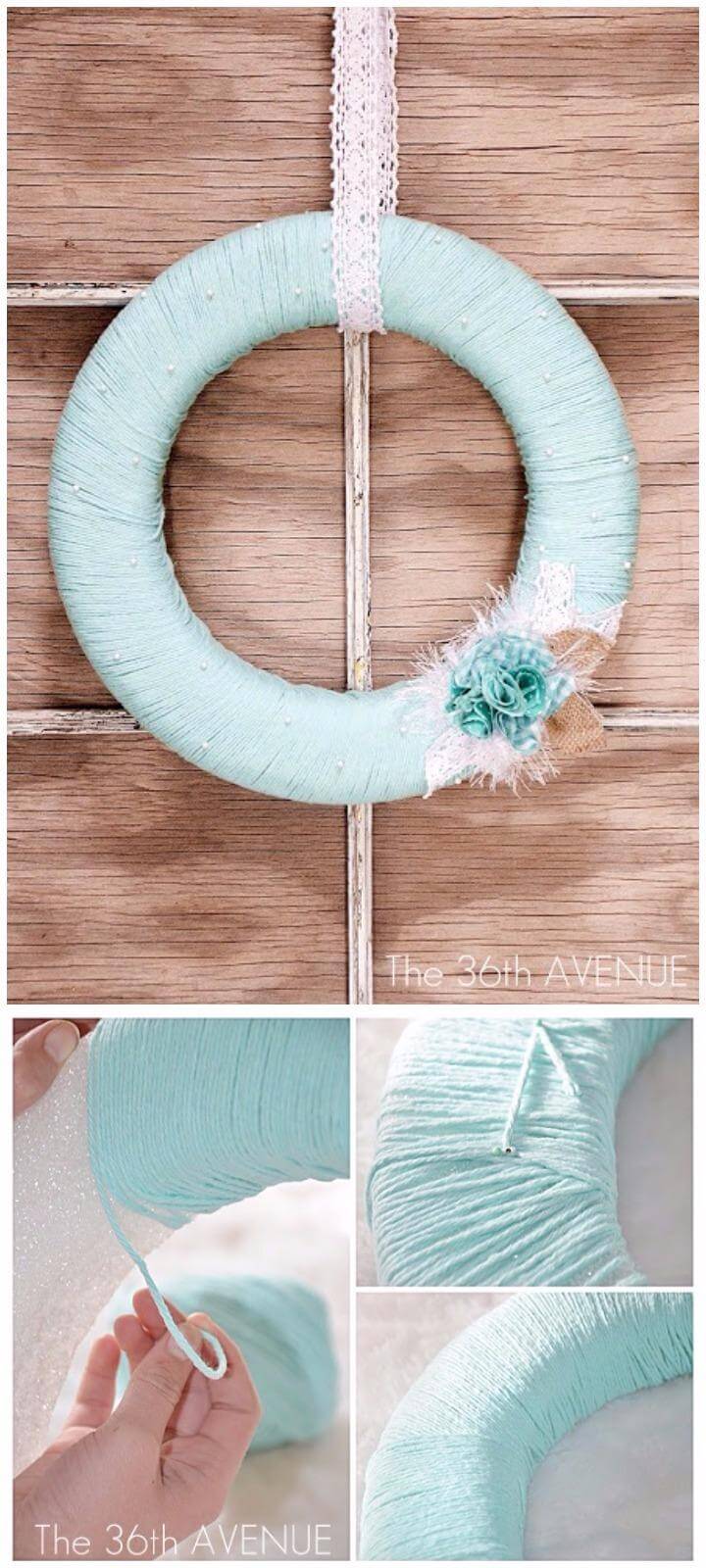 Here is another amazing wreath that is just so easy and fun to make on your on and we have shared the whole tutorial so that you can grab the step by step details of the project and make it for the spring. Just grab some yarn to wrap around the wreath ring, and some white beads and flowers would make it look all the more embellished and fun.See the full tutorial here the36thavenue
DIY Precious Lemon Wreath: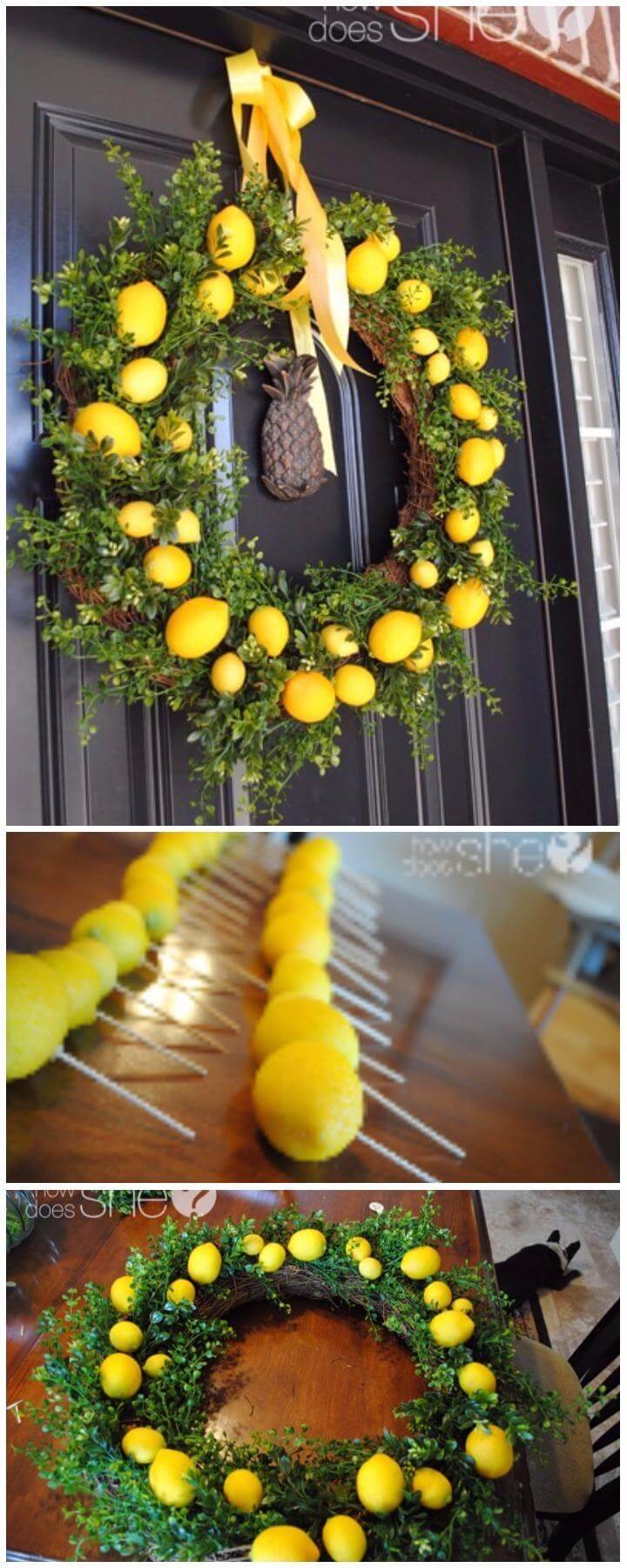 Let the lovely smell of the lemons spread in your outdoors with this lovely and totally fun looking lemon wreath made out of the lemons and some green stem being wrapped over a wreath ring. It would be much unique and fun to do and bring some cute vibes to your outdoor decor for the spring season. Here is the complete tutorial howdoesshe
Easy Ruffly White DIY Wreath: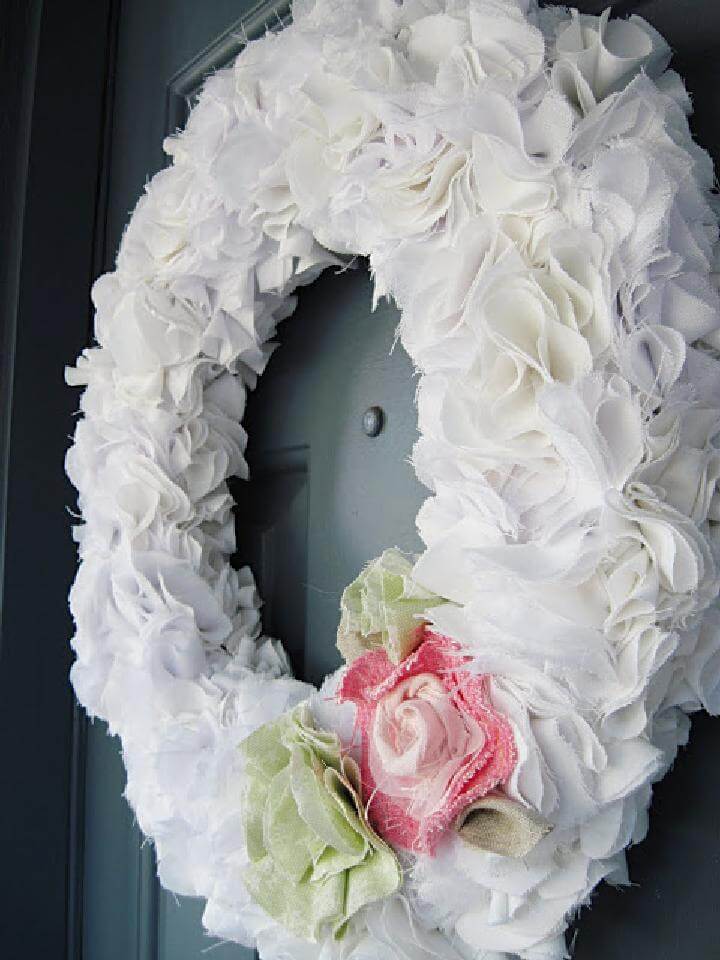 Fabric can do a lot to your home decor and that too coming at almost no cost at all. SO this pretty ruffled wreath has been made up with the white fabric for the complete ruffle covering of the ring and the green and pink fabric for the flowers to make it look a bit embellished and spruced up.Here is the link for complete tutorial to know more about i twoshadesofpink
Charming 10 Minute Ribbon Wrapped Wreath: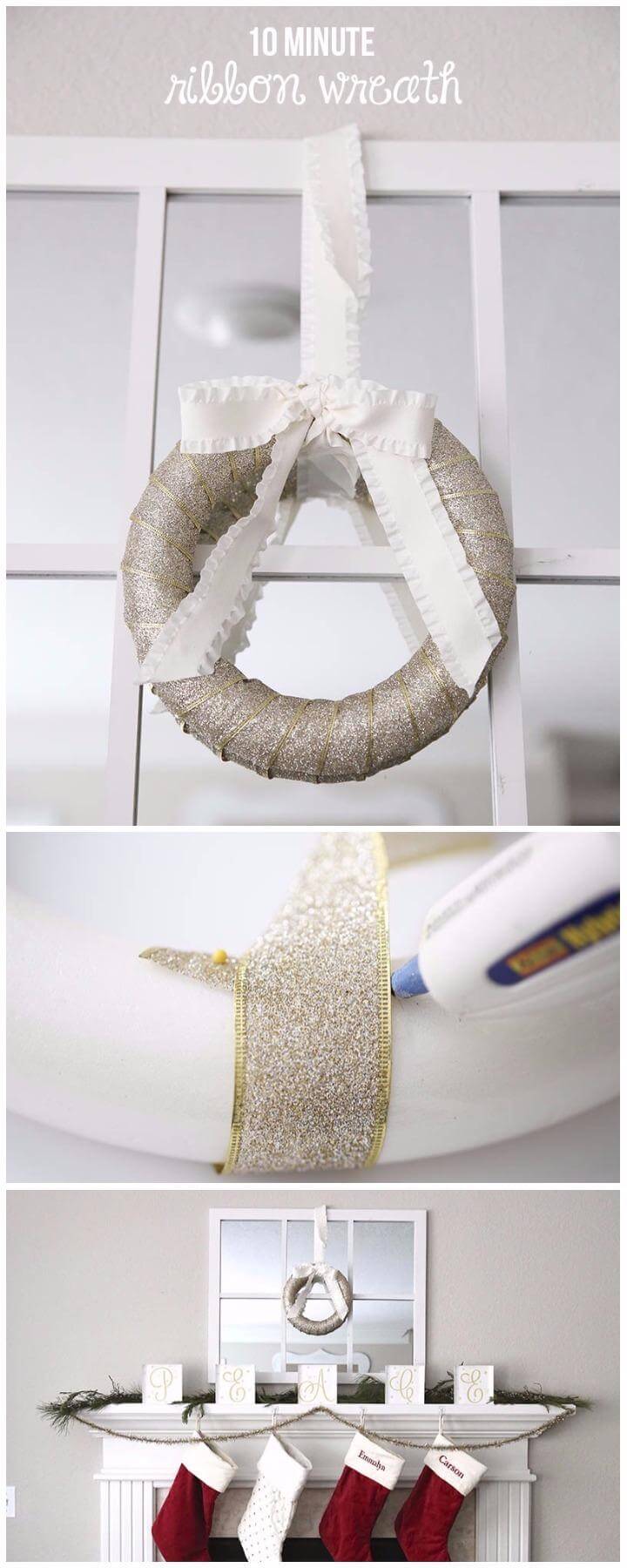 This gold ribbon wreath can be termed as the most simple and yet the most cute and pretty kind of wreath ever created at home and that too in the least time of ten minutes. Yes just grab a gold ribbon and wrap it around the wreath tube along with some ribbon bow at the op adding more cuteness and adorable factor to it.It can be perfectly used to enhance the indoor decor for any of the occasion iheartnaptime
Beautiful Pottery Barn Inspired Butterfly DIY Wreath: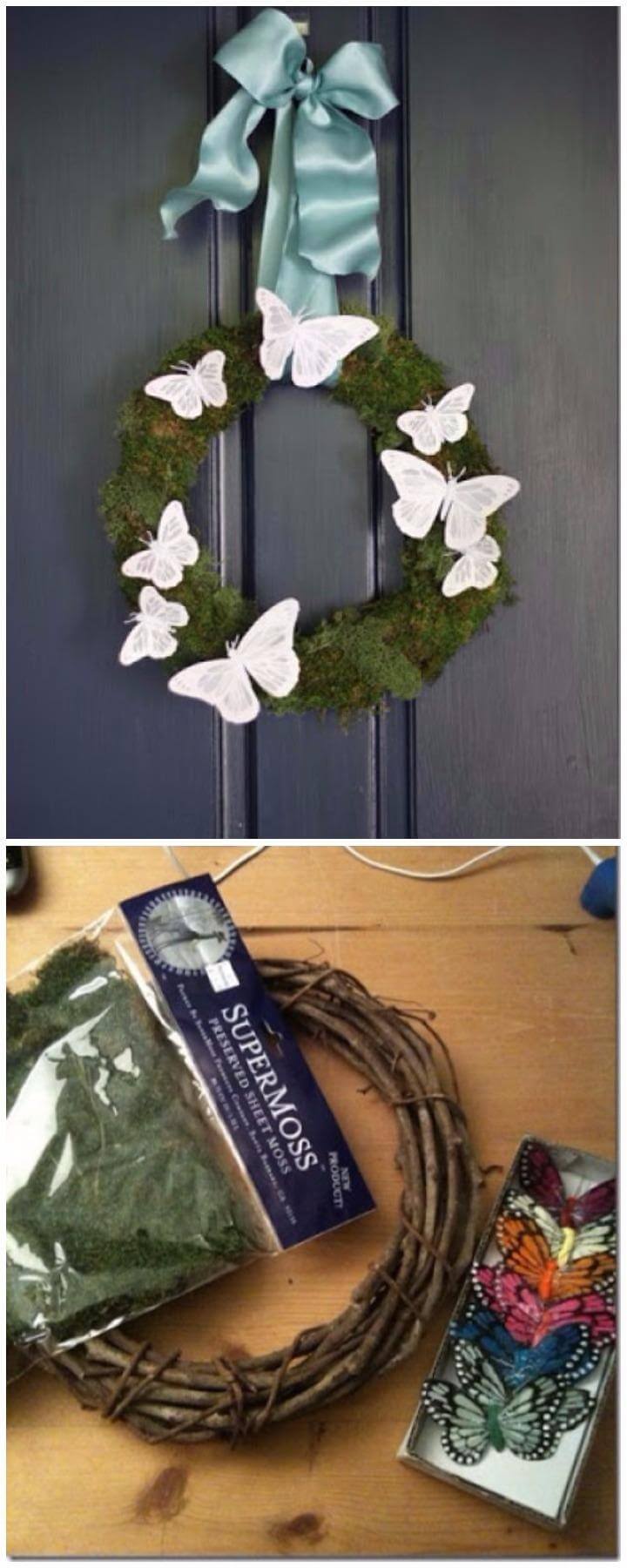 This totally simple and organic kind of wreath is just so feasible to create at home with the three simple supplies an those are the grapevine wreath, some moss and some cute butterflies. The moss would be used to cover up the wreath and the butterflies for the embellishment and this so magical and pretty wreath would be ready to spruce up your fun spring decor.Catch the complete directions here tatertotsandjello
No-Sew Beautiful Fabric Wreath: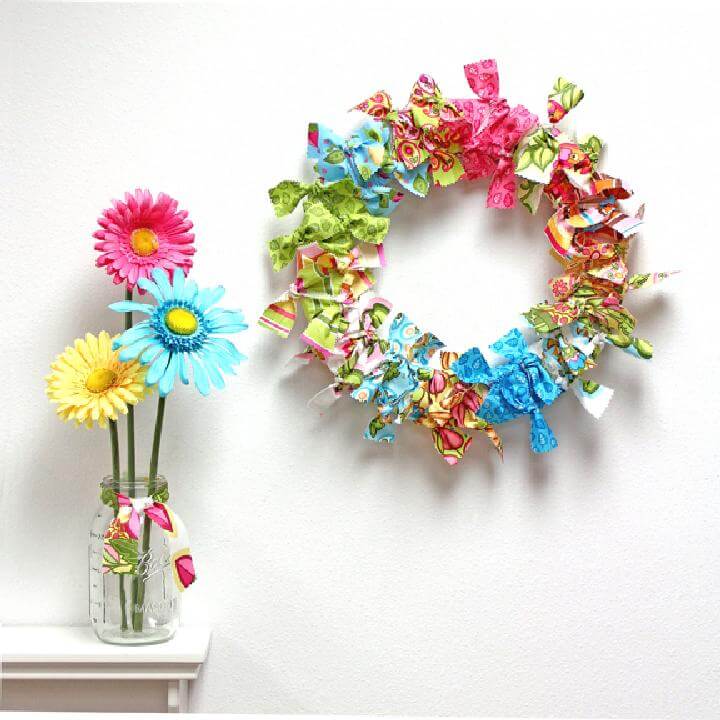 The fabric wreaths are so easy to create because woman love to work with the fabric and they know lots of technique handling it too> But this fabric wreath is so nice and fun to make with the colorful fabric cut into the stripes and the tied on the wreath in this shape of bows and its done. So those who do not know sewing can also easily handle this cute wreath making for the spring.Tutorial link here beautyandbedlam
DIY Adorable Coffee Filter Wreath: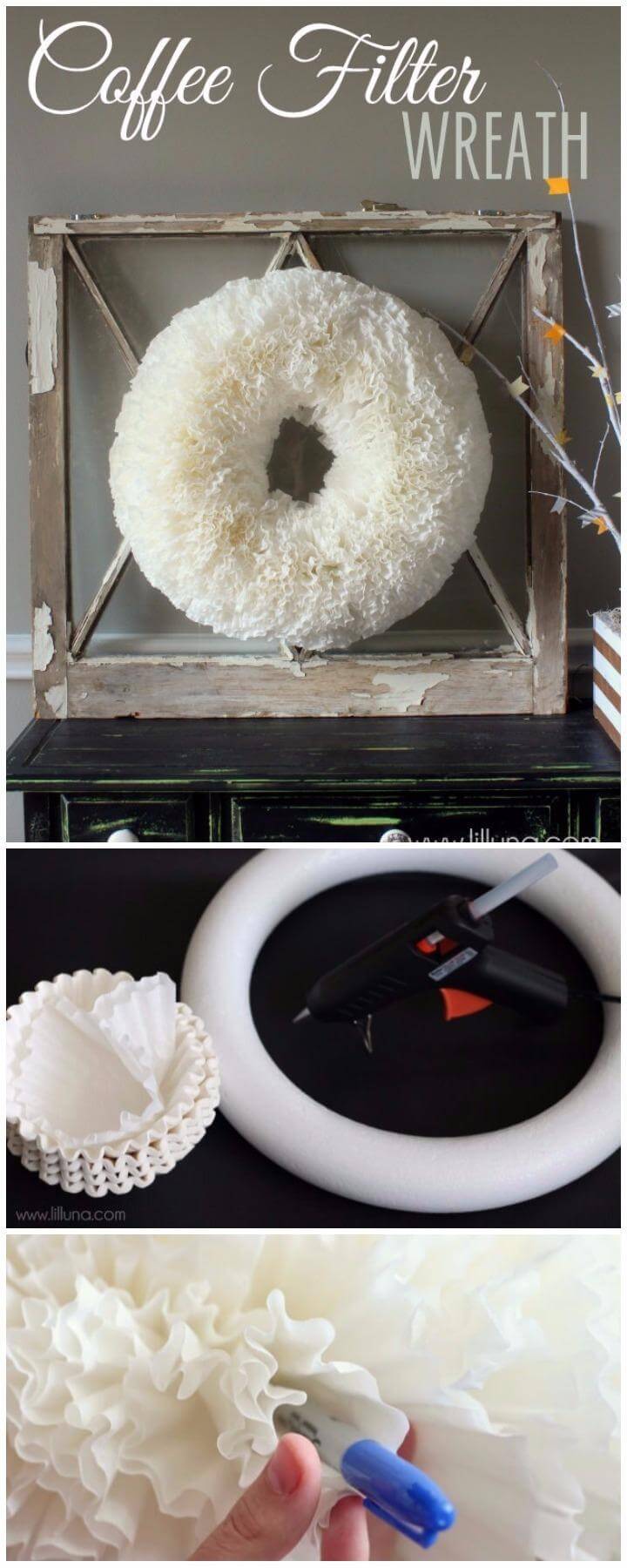 Get the cheap and inexpensive way to make a cute and really magical kind of wreath. Yes take out the coffee filters out of your kitchen and curl them a bit to use as the cute white flowers and then embellish the wreath with. This complete white and dazzling wreath would really look an exquisite display wreath for the spring on your doors, walls or the windows too.Catch the complete tutorial details here lilluna
Cost-Efficient Pool Noodle Wreath:

The pool noodle can serve you as a great material for the making of the perfect wreath for your decor. This perfect fabric wrapped wreath has been nicely made out of the pool noodle and looks really a chic piece and thus would really look great on the up to dated home decor being displayed on the walls, windows and the doors.Grab the complete tutorial details here to make it on your own iheartnaptime
Self-Made Paper Flower Wreath: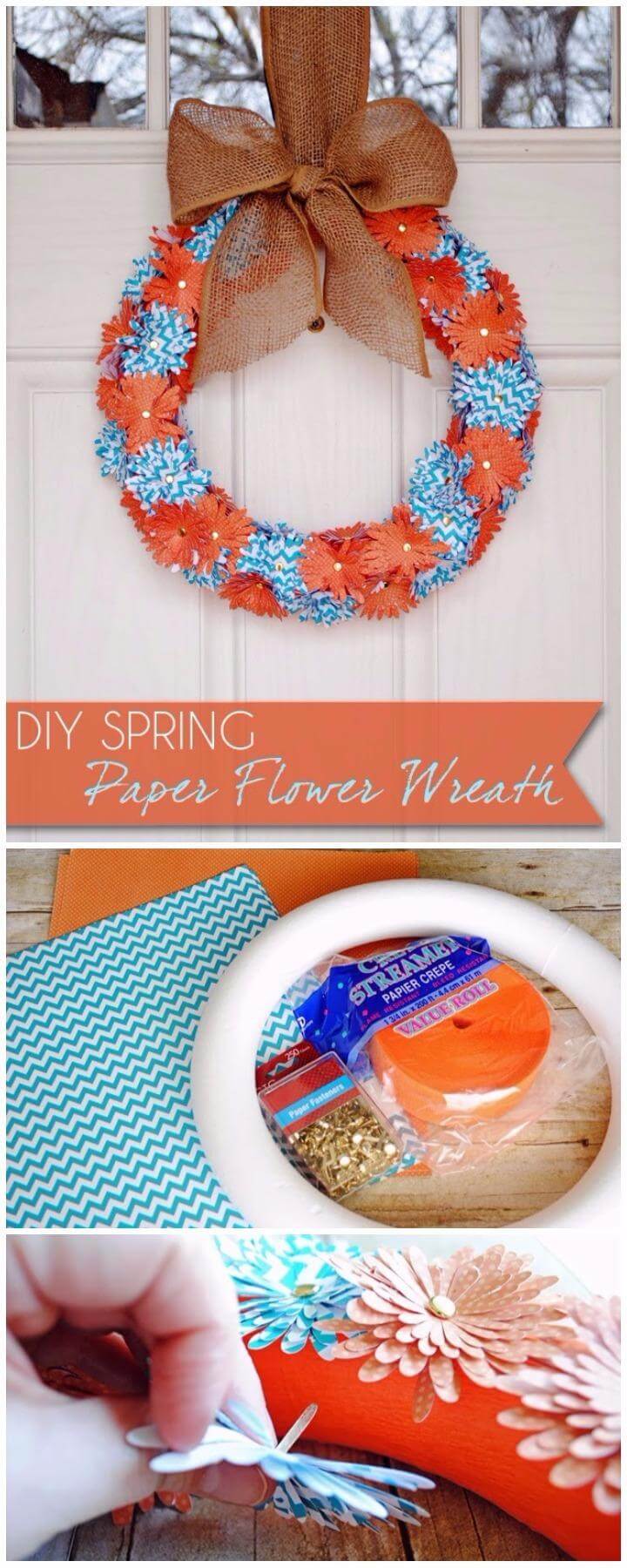 Make some flowers out of the designed paper in your favorite pattern and color and them use those flowers to embellish your wreath ring and thus the most cute and most adorable wreath is ready to rock your door decor.Here is the complete tutorial to know every inch detail about the kind of paper to use and the process of making these so cute flowers ishouldbemoppingthefloor
DIY Cherry Blossoms Flower Wreath with Egg Nests: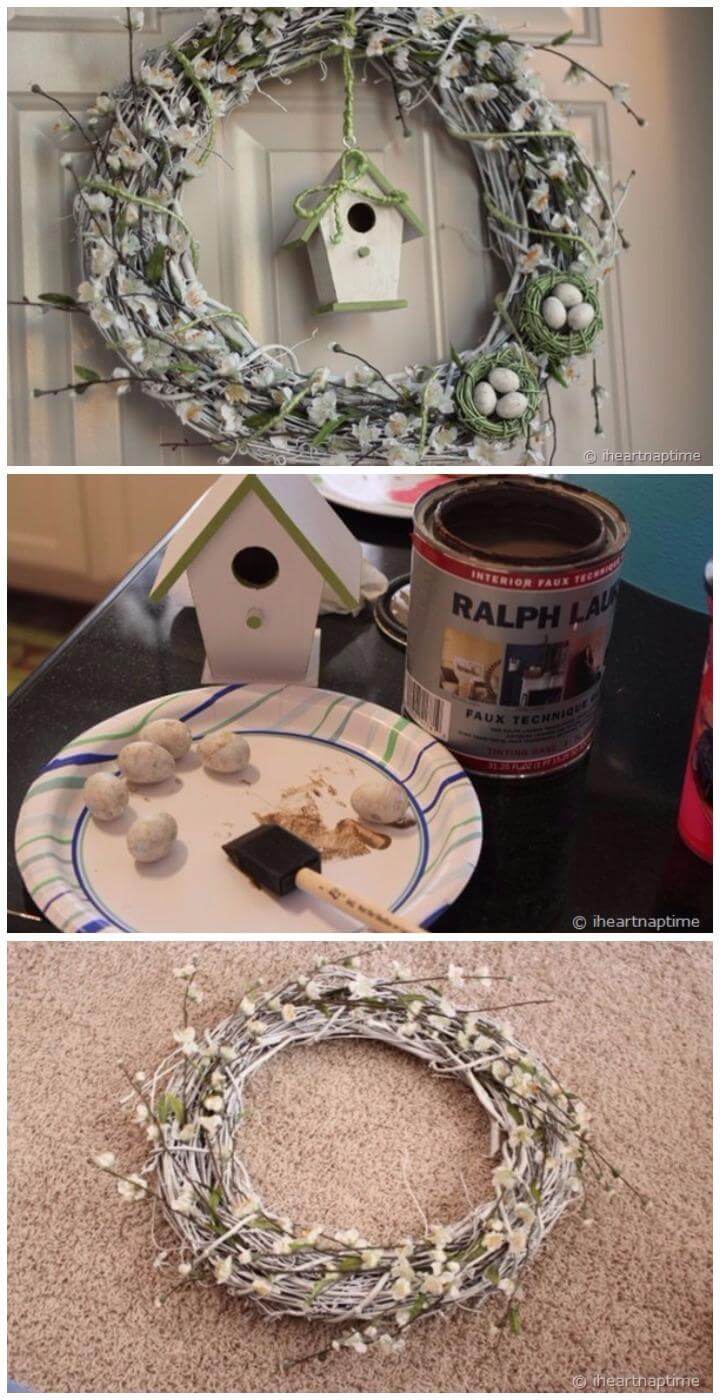 Here is this lovely cherry blossom flower wreath which have been decorated so nicely that you would be surely making it compelled out of it its overloaded cuteness.It has been covered with the cherry blossom and then decorated with the nests, eggs int he nest and the cute little bird house in the center.Here is the link to know more about the adorable wreath iheartnaptime
Handcrafted Aqua Striped Wreath with Felt Flowers: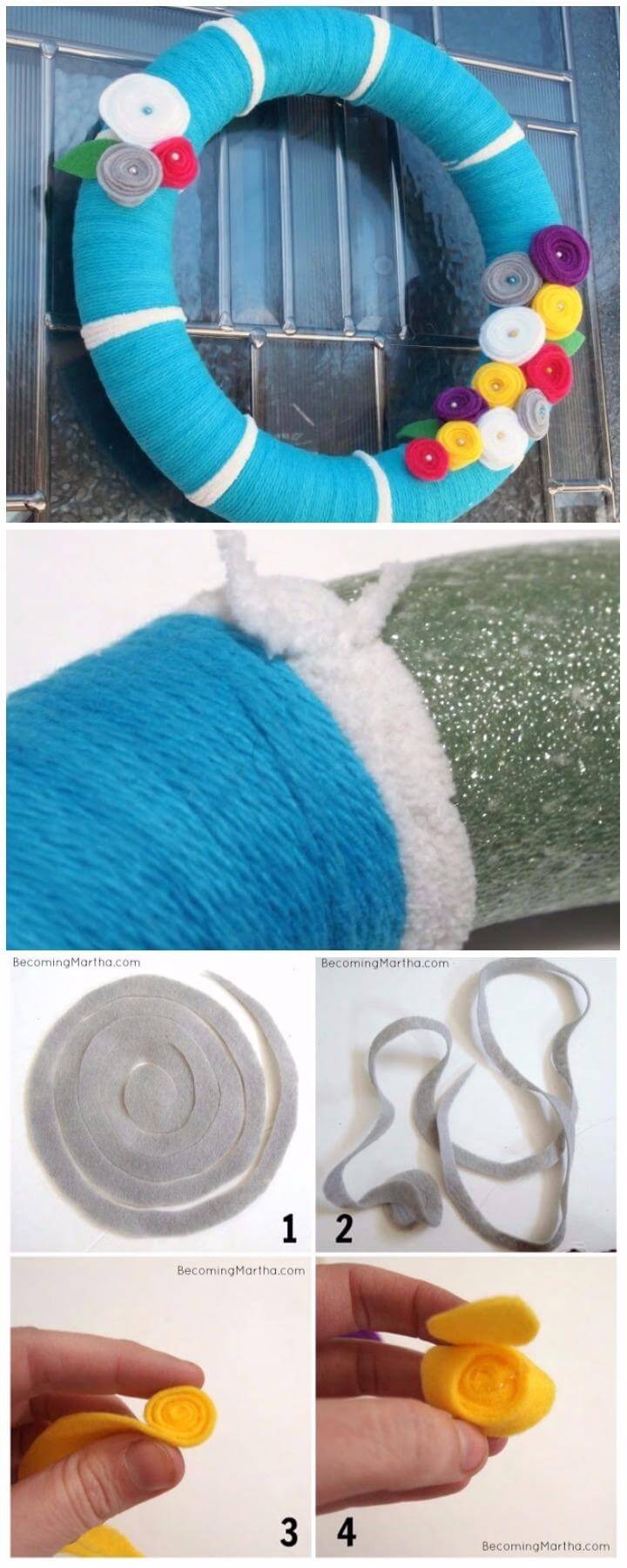 Ladies just love doing projects with the yarn and the fabric after the making of the jewelry so here is this lovely wreath made out of the yarn and the cute felt. The yarn is to cover the wreath ring and the felt is to make the cute rolled roses and then glue them to the wreath. Here is the link to know more about the cute wreath project becomingmartha
Gorgeous Duck Cloth Wreath: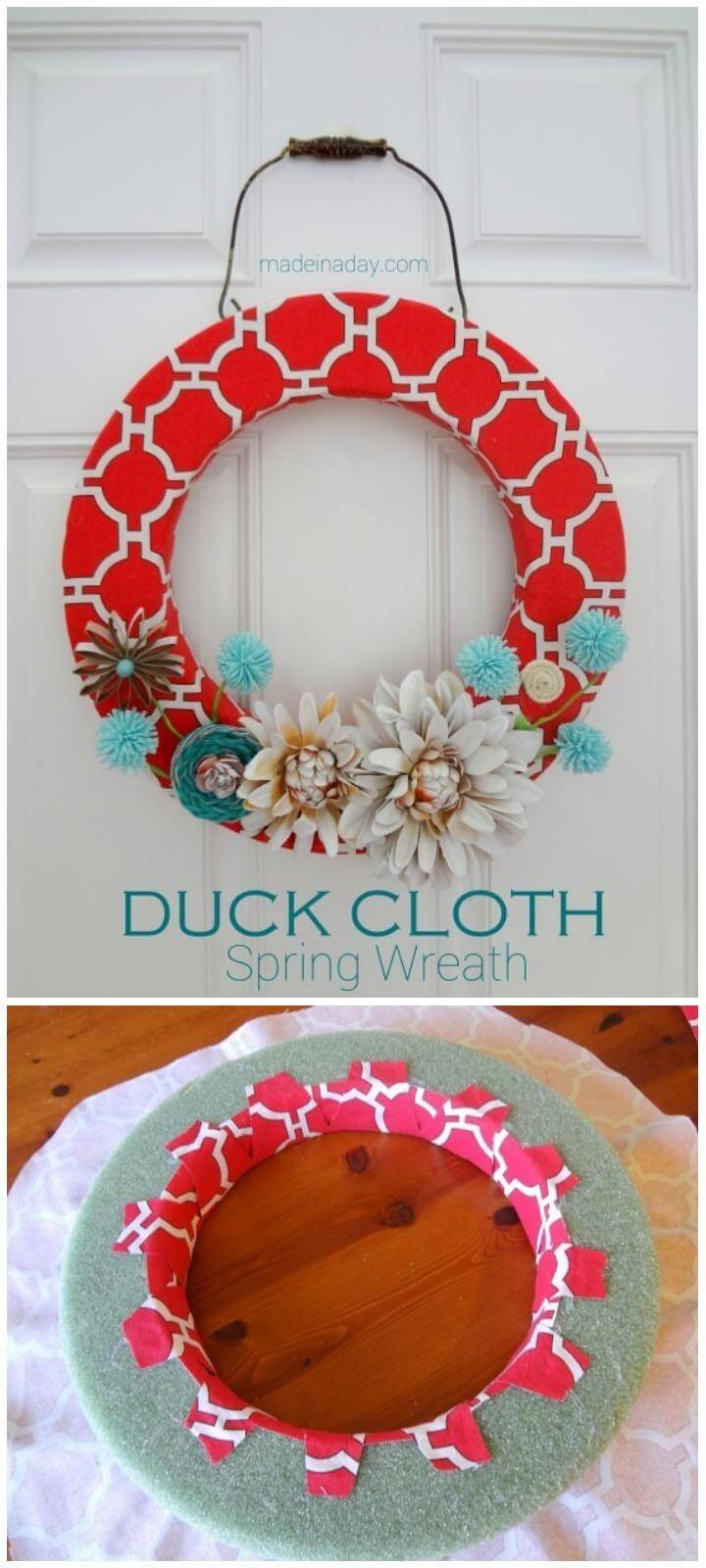 You can make any kind of wreath that comes to your imagination depending on the kind of supplies you use. Like a wreath making some loud color statements, you can choose to make this one. It has been made out of the duck cloth having vibrant color and design and with some faux flowers the wreath has been embellished to look more great and stunning.Get the complete tutorial here madeinaday
DIY Adorable White Ruffly Felt Wreath:

You can create a lovely wreath out of the felt as this is the most soft and the most easy to handle. so for acute and dazzling kind of wreath, you can choose white felt to make the cute curled ruffles, and they glue them on the wreath ring and make the best of the wreaths for the spring and make your door look lush and graceful at the same time.Check out the full tutorial here designsponge
Homemade Lovely Tulip Wreath: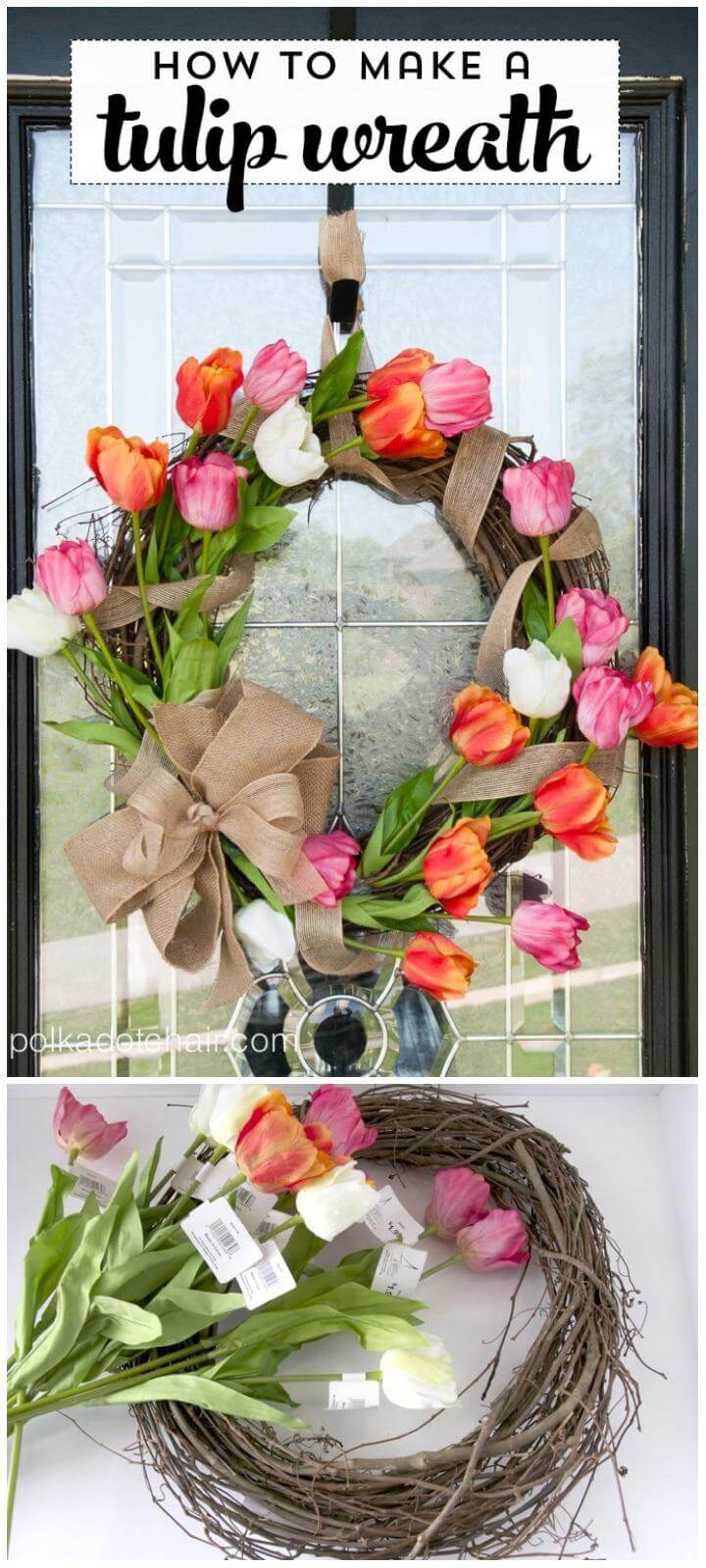 The lovely tulips can steal anyone's heart with their cuteness and beauty and now you can make everyone go wow on them with this lovely tulip wreath. Grab some lovely and colorful tulips and attach them to the wreath ring and with some added ribbon bows made out of the burlap you can add more delight and fun to them. Here is the complete tutorial to comprehend more about this project polkadotchair
Fetching Moss Rock Wreath with Mushrooms: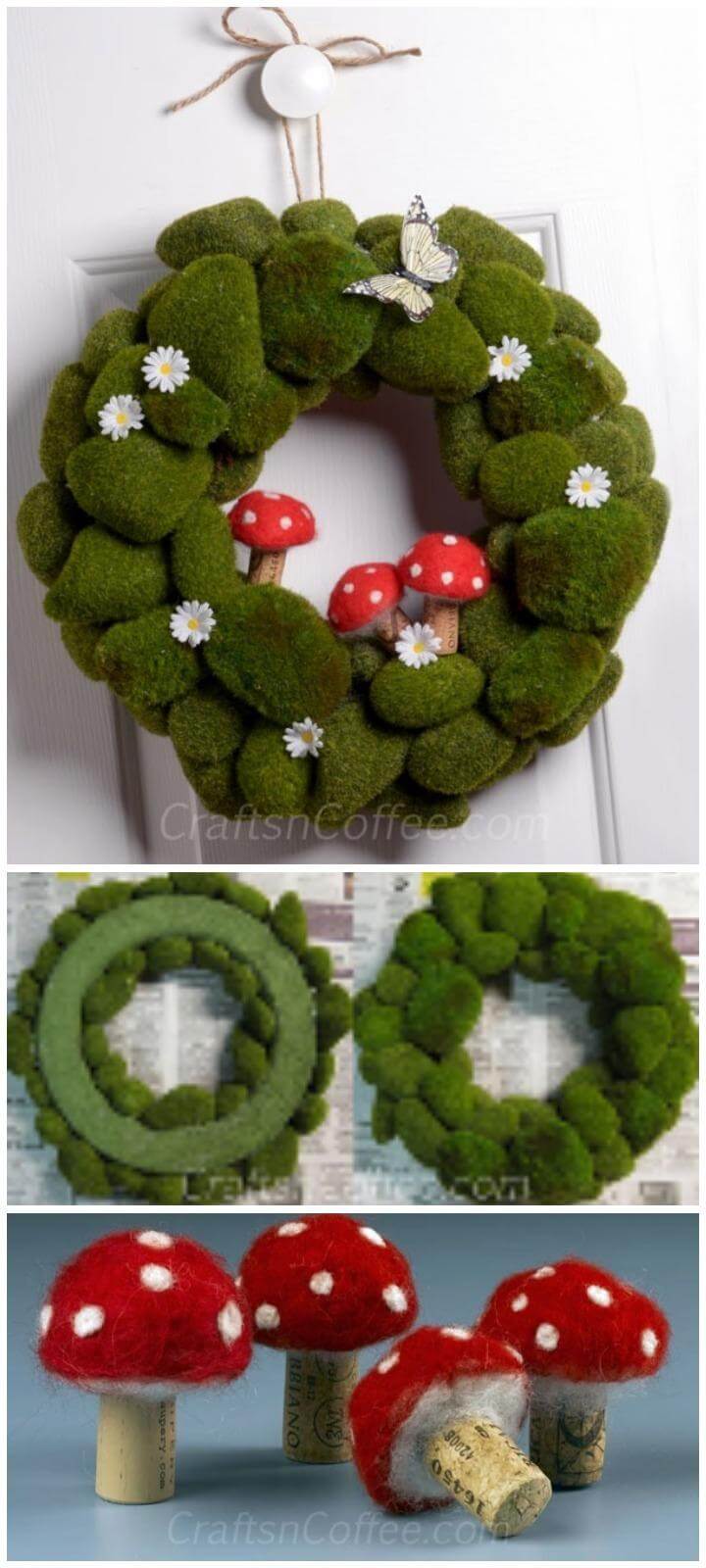 Here is one of the various impressive and the most adorable kind of wreath that you would see in this collection and also the unique one too. The cute wreath has been made out of the moss rocks and the mushrooms and decorated with the cute tiny daisies making the wreath look more pretty and enchanting. Her is the tutorial with all the needy details and instructions craftsncoffee
Lovely Fabric and Felt Flower Wreath: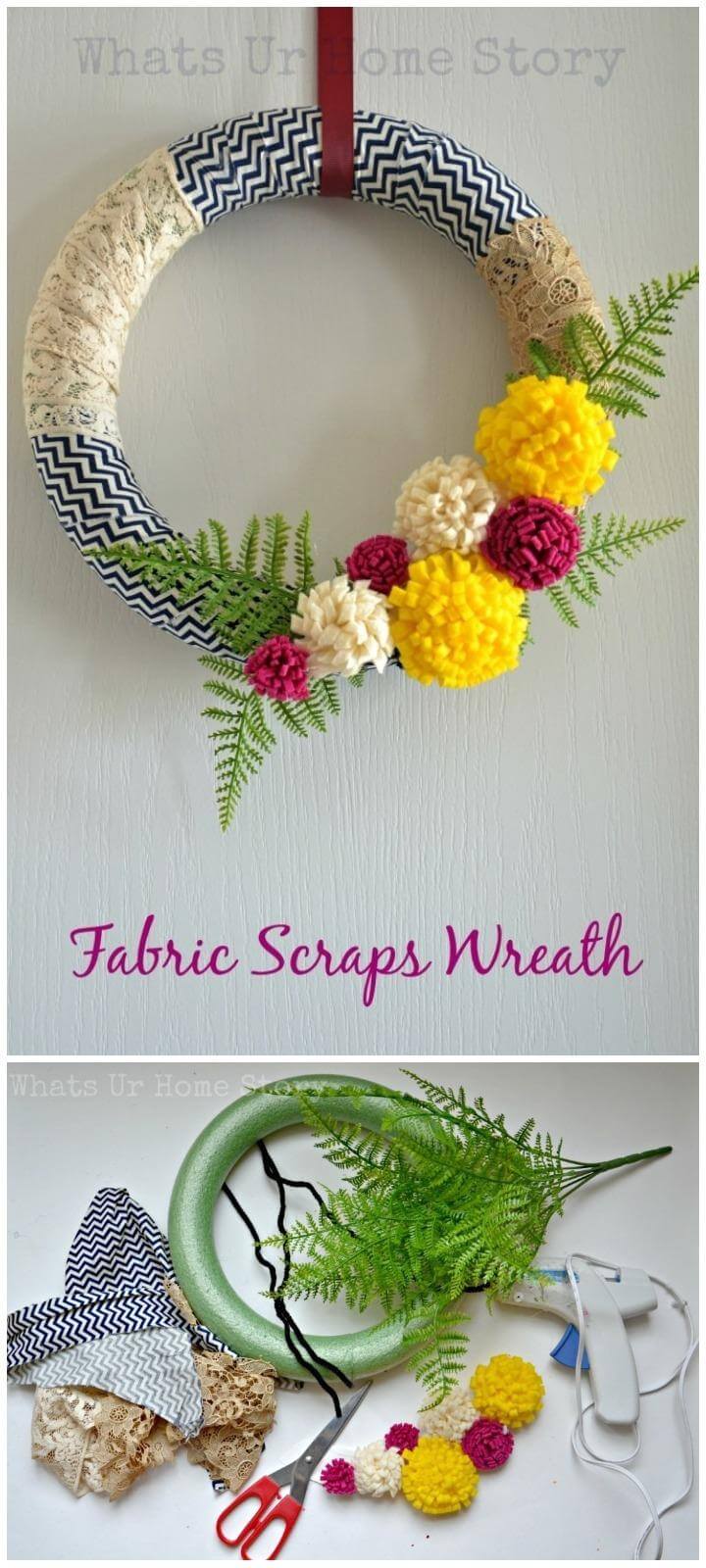 With the things lying around near you, you can really create a cute a nice looking wreath for yourself and decorate your front door with it. Just grab some left piece so the fabric and the laces and wrap the wreath ring with them, and then add some faux flowers and faux greenery to the one side of the wreath to make it look all embellished.Here is the link to know more details about this cute wreath whatsurhomestory
Handmade Greenery and Flower Heart Wreath: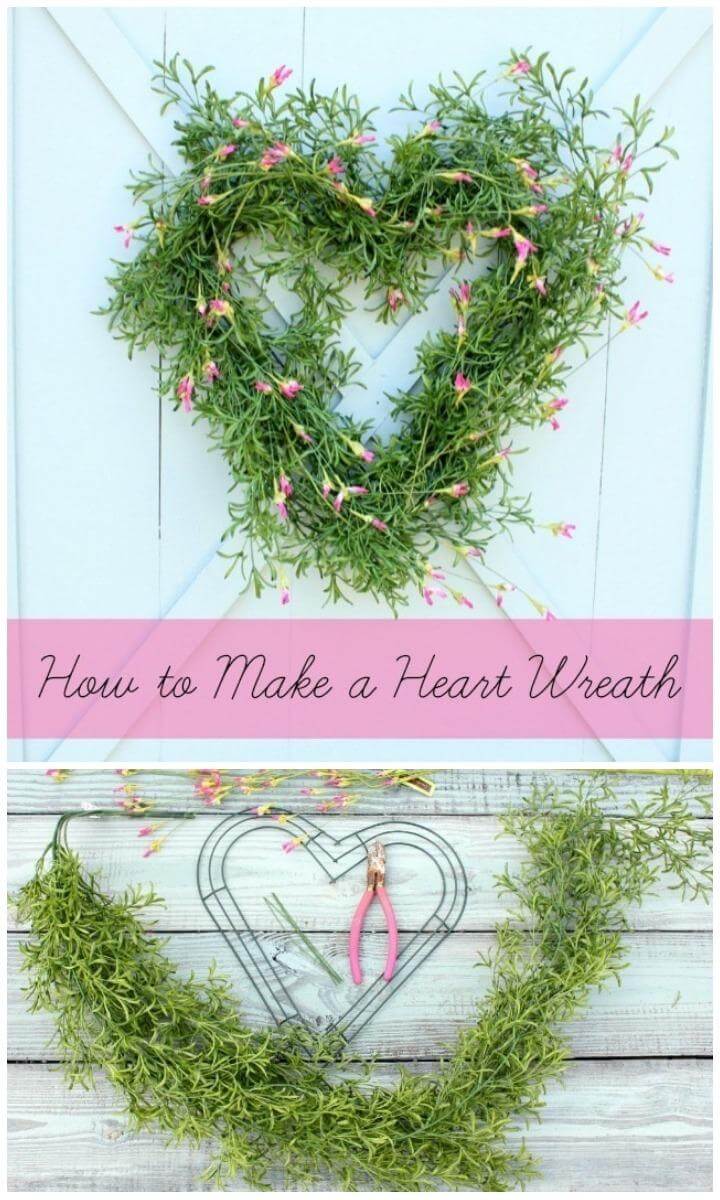 You can desire to make the wreath in any of the shapes you like to bring some innovative outdoor style statements there.So here we have this lovely heart-shaped wreath made out of a heart form, some greenery and the cute little pink flowers adding the real cuteness and beauty to the wreath. Here is the complete tutorial to know each inch detail about this project and make it on your atertotsandjello