Wreaths are one of the most used holidays and festival decor, and they are mostly made with natural elements. They can be made in lots of different ways, and these 30 inspiring and easy DIY wreath ideas will surely help you a lot in making the professional wreath designs like a pro. They mostly come in a round shape and can be loaded with custom items representing custom seasons, themes, and events. From rustic to farmhouse style to modern wreaths, check out readymade samples of all by exploring this list of 30 DIY Wreath Ideas that are all impressive and beautiful.
This list of unique wreath ideas will share step-by-step instructions to make a geometrical wreath, grapevine wreath, mesh wreath, burlap wreath, valentine wreath, flower wreath, and other DIY wreaths using wire too. Finally, you will get detailed tutorials and diagrams to whip up alphabetical wreaths also. So, looking through these projects will add lots of hacks to your bag of wreath doing tricks.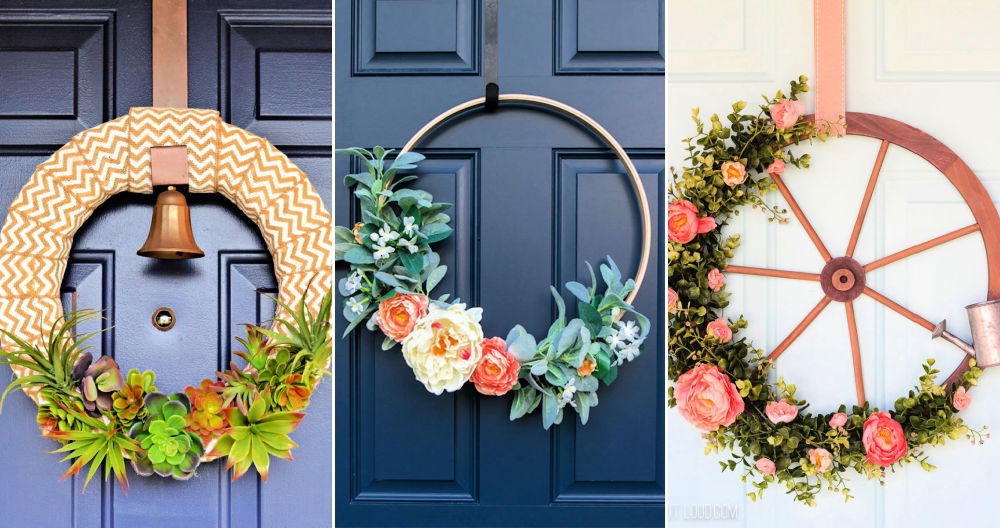 Best Wreath Ideas for All Season of 2021:
DIY wreaths are one of the best seasonal decors, and they can be made specifically to celebrate the arrival of all four seasons. You will see a wide array of DIY wreath ideas ranging from summer wreath to winter wreath and fall wreath to spring wreaths. You are to use so many different wreath forms while making wreaths like wire-made, foam-made, and grapevine wreath forms. Use the MDF hoops, metal hoops, and embroidery hoops as super beautiful and graceful wreath forms.
Make the DIY wreaths with faux or real flowers and load the foliage and Lamb's year bushes for a glam green touch. Use the fabric scraps and bandanas also to make adorably cute fabric decorative wreaths for holidays and festivals. Learn more by taking a short tour of these best DIY wreath ideas that will make sweet handmade gifts to homey persons.
1. DIY Summer Wreath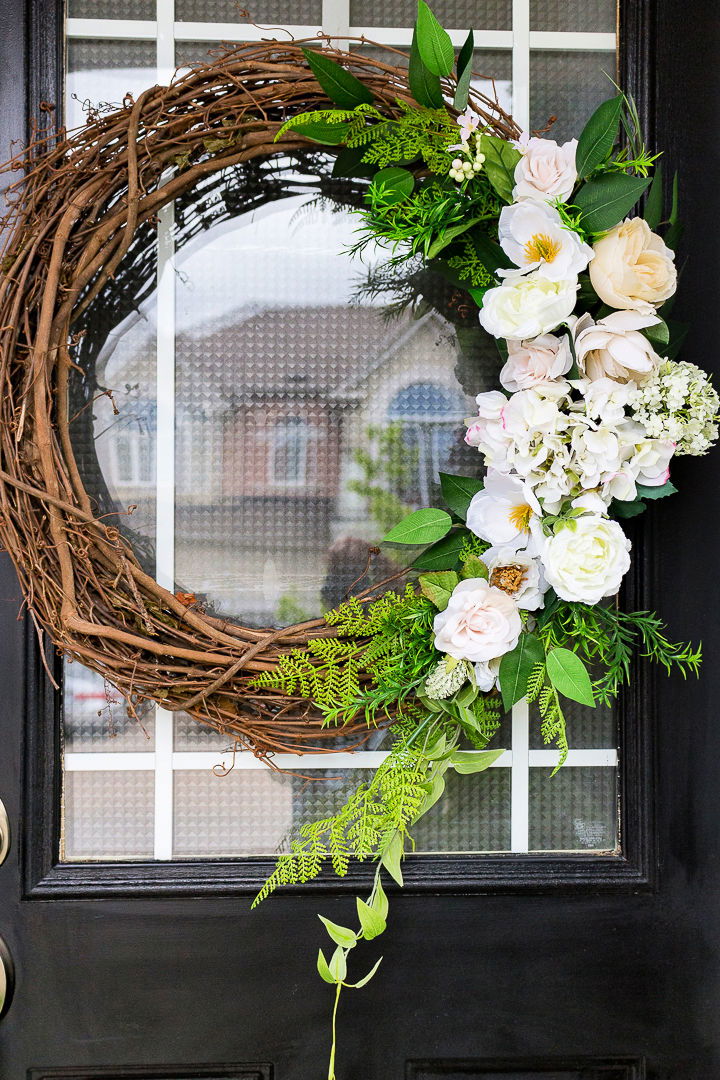 Welcome the hot sunny days with a green and rustic wooden wreath, which will work up super quickly and fast. Grab a grapevine wreath and load some greenery over. It should come around the faux or real flowers you have added to one side of the wreath. Next, hang this wreath up on the front door or a living room wall for a fresh, natural elegance and woodsy charm. A quick to build DIY wreath idea. craftberrybush
2. Farmhouse Wagon Wheel Wreath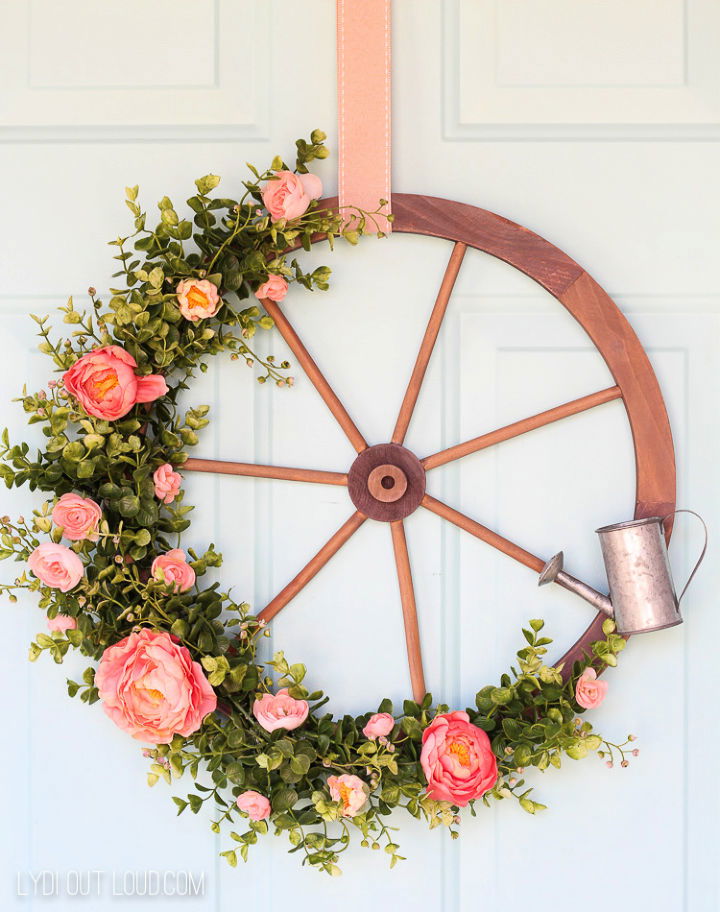 Satisfy your love for the farmhouse style decor by whipping up this very adorable and glam wagon wheel farmhouse style wreath. The idea is to load some greenery, flowers, and foliage on the wagon wheels creating a fantastic glam wreath. It will be a real delight to stare at and will definitely give a glam touch of green elegance to your front door or a living room wall. You need peach ranunculus stems and peach ranunculus bushes. A mini galvanized metal can and a wagon wheel wood wall decor for this project. lydioutloud
3. Lighted Garden Hose Wreath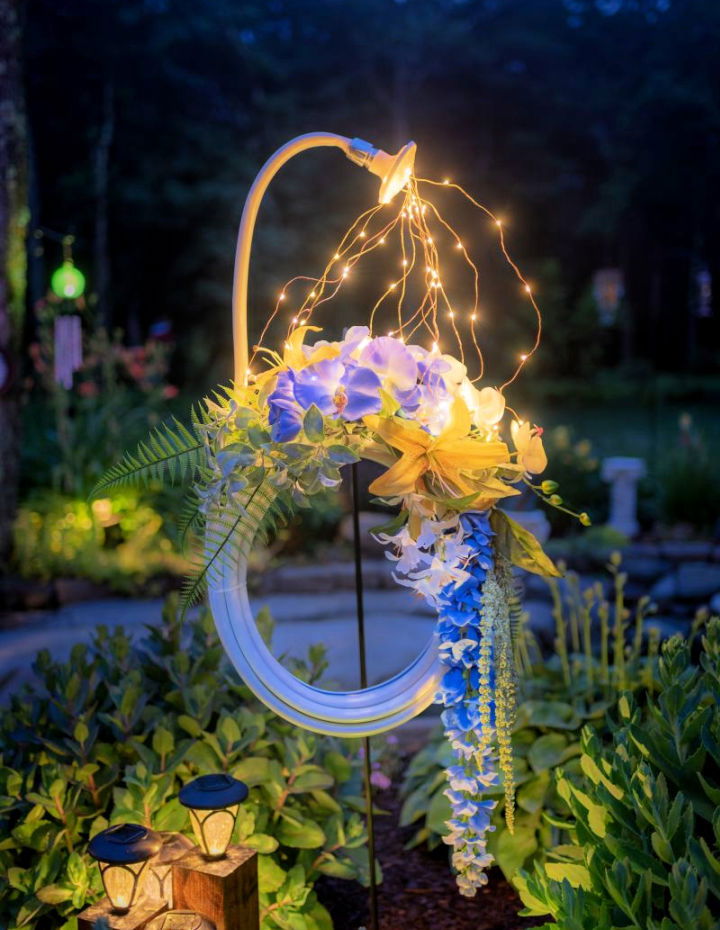 Bring your green space into prominence by adding this light decor centerpiece. This is a super brilliant lighted garden hose wreath, which will be the best light feature to add to your green space. You need a garden house, copper tubing, watering can nozzle, zip ties, foam wreath foam, thick craft wire, and glue to craft this extra beautiful lighted wreath. Go with your favorite faux or real flowers and LED lights. thenavagepatch
4. Rustic Farmhouse Wreath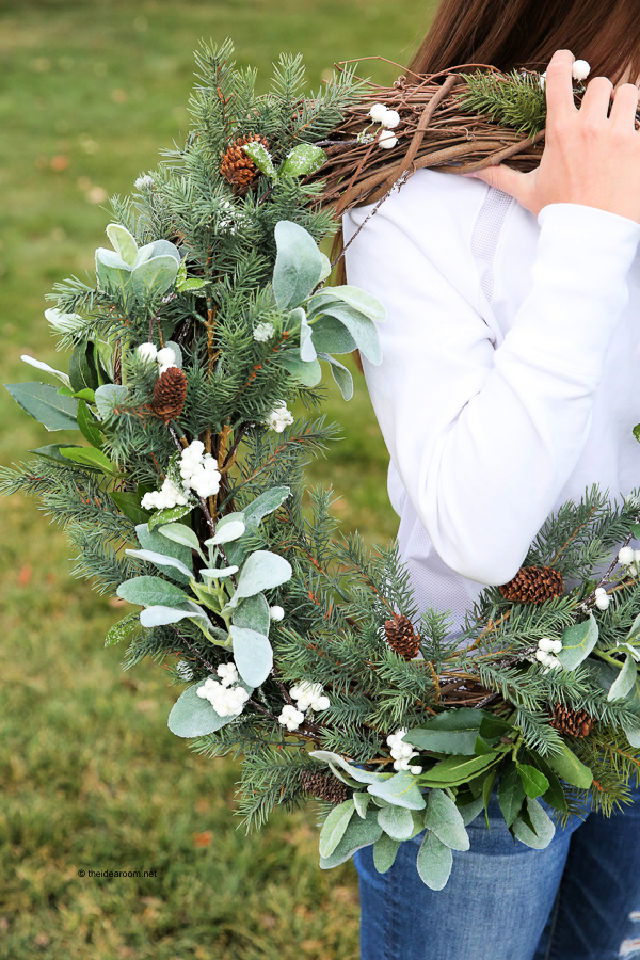 Dazzle the audience by featuring the rustic farmhouse charm in your DIY home decor. Make your guests say a big wow by crafting this rustic farmhouse wreath. It will be a pleasure to whip up. You need a handful of cheap supplies to craft this awe-inspiring design of a 24'' wreath. In supplies, you need grapevine wreath, pine and pinecone spray-green and brown, 19″ sweet baby spray with 74 lbs.& Berries-Two-tone green, bloom room 28" Lamb's ear leaf spay-green and 30″ berry spray-white. theidearoom
5. Modern 4th of July Floral Wreath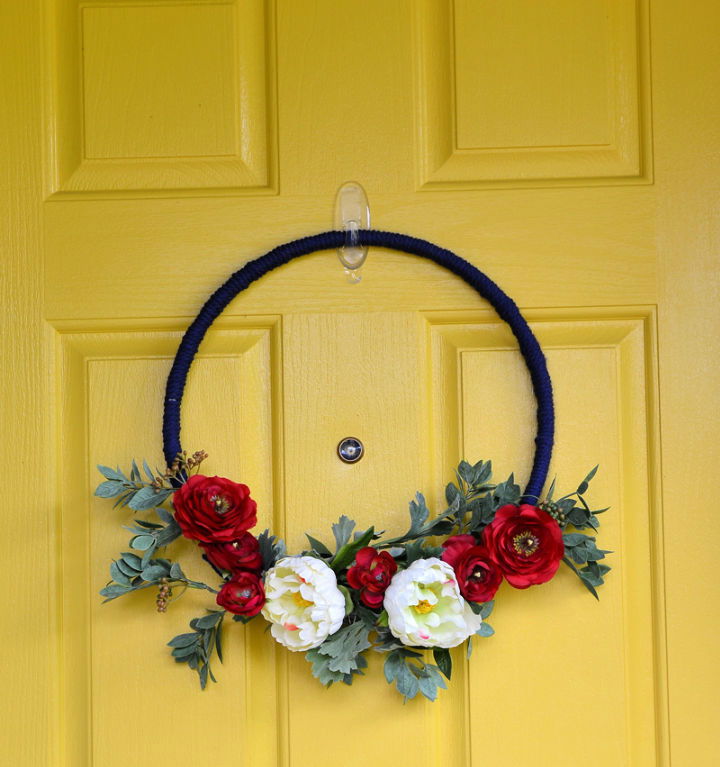 Celebrate the independence by whipping up super cute patriotic day wreaths too. Learn how to make a perfect 4th of July floral wreath, which will get lots of attention from the onlookers. To whip up this glorious Independence Day wreath, you need a large embroidery hoop, blue yarn, floral wire, and assorted red and white flowers. The making of the wreath is pretty quick and beginner-friendly. One of the best wreaths to make at home. sisterswhat
6. Fall Hoop Wreath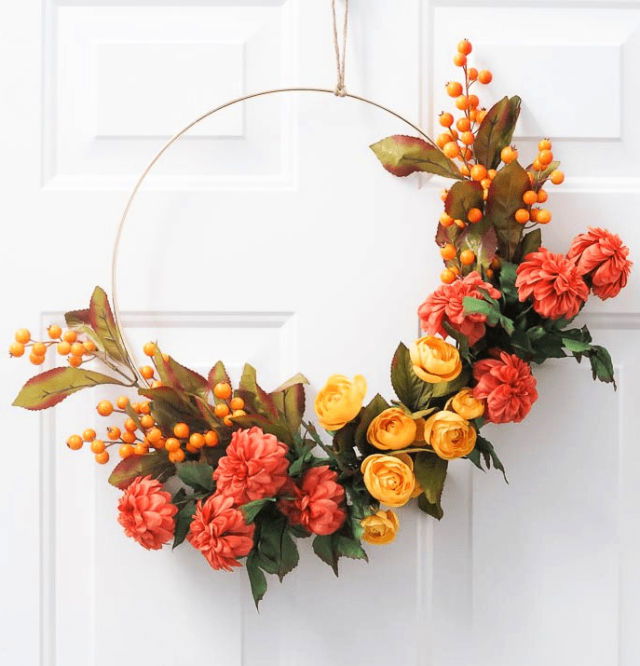 You can celebrate the arrival of all the season by making appropriate wreaths that should hang over the front door. So, choose this fall hoop wreath to tell the passersby about the season you are celebrating. Just glue the fall charms like fall flowers, sprigs, fall leaves, acorns, and other items of this kind, even the small faux pumpkins, on a metal hook and get your hands onto a precious fall wreath. This wreath uses an 18" gold macrame hoop, orange berries, rust flowers, and yellow flowers. simplydesigning
7. Terracotta Pots Succulent Wreath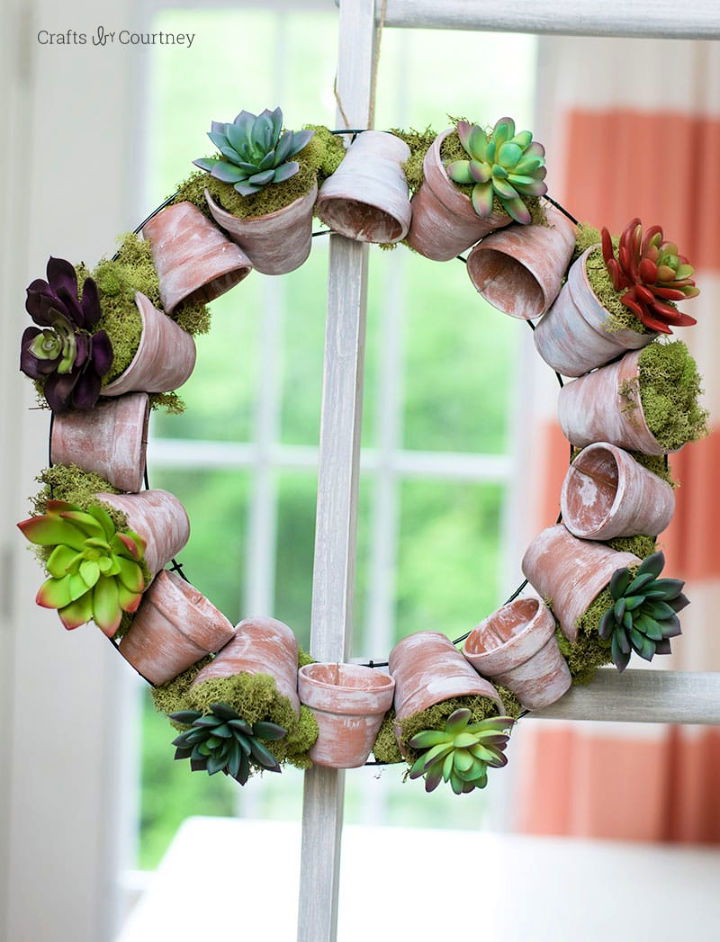 Fall in love with this, another great wall mounted wreath that is actually a smart presentation of your love for succulents. Feature the mini succulent pots all-around a wreath foam and make this super unique decorative wreath, which will bring the natural freshness of green in the air. Make the succulent pots using clay pots, moss, succulents, foam balls, and give them a nice chalky paint finish. The final step would load the pots on the wire wreath. craftsbycourt
8. Make a Citrus Wreath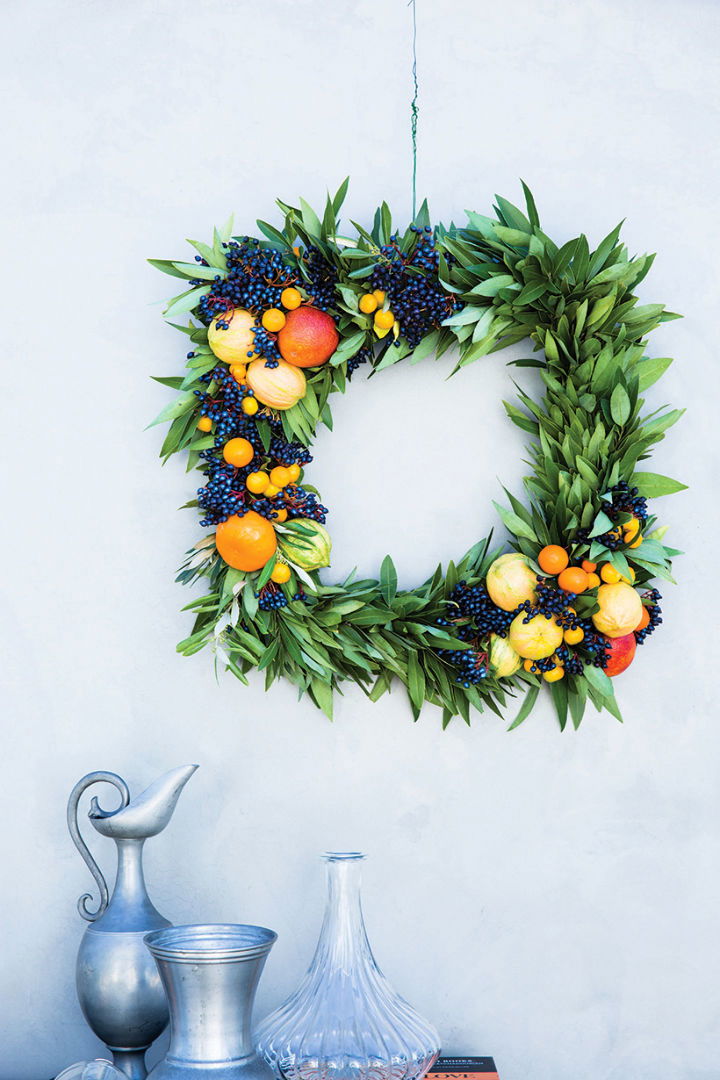 Come with a unique twist in the design and make this square citrus wreath to fancy up your spaces. It will hang like a charm on your main door or primary entrance and will be a way to express your love for citruses. It is pretty quick and easy to whip up this wreath using 23 floral stem wires, wooden skewers, paddle wire, square wire wreath frame 12", kumquats, small blood oranges, tangerines, yellow lemons, laurel branches, and privet branches with berries. camillestyles
9. Simple Spring Succulent Wreath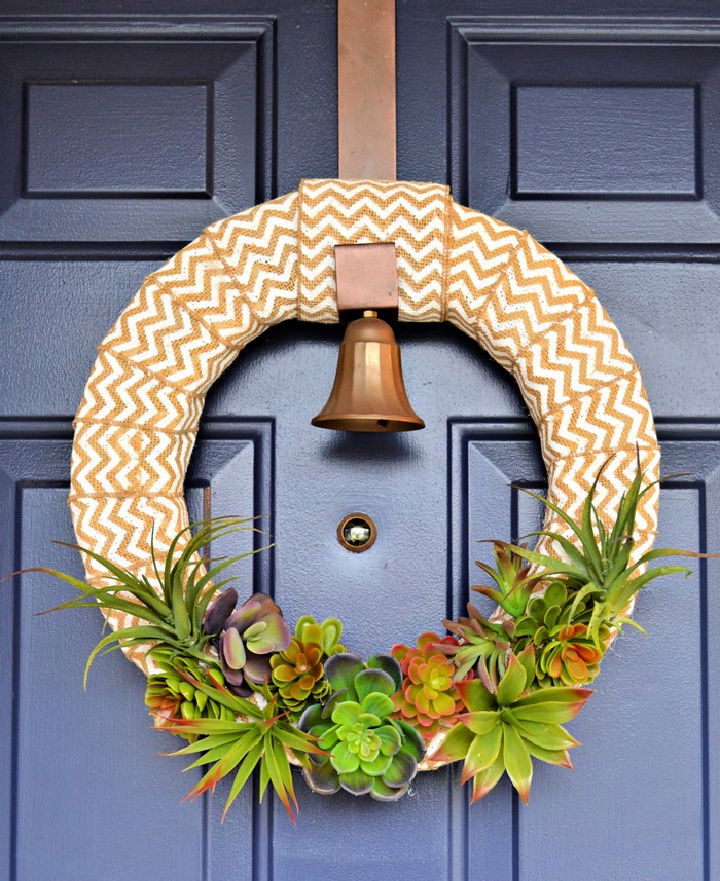 This is something nice and gorgeous to look at, a brilliant succulent spring wreath that features a chevron design pattern. It will only take 15 minutes to craft this wreath, which will give a divine decor touch to any of your space. Wrap a chevron ribbon all around a wreath foam and then load the faux succulents on it until it gets half covered. One of the best DIY wreath ideas to make at home. Every beginner can make it with great ease. madincrafts
10. Tulips and Hydrangeas Flower Wreath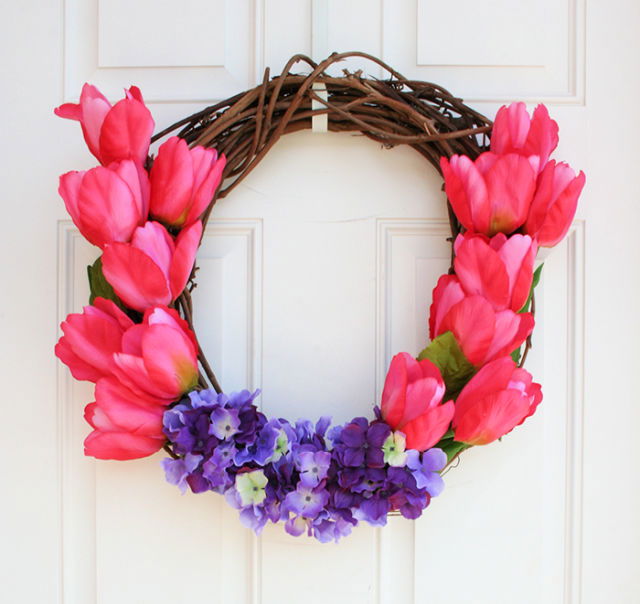 Celebrate the arrival of the most amazing season of the year, the spring, the season of colors and flowers, by making this gorgeous flower wreath. It features red tulips and purple hydrangeas and will be ready in minutes. Use the hot glue and keep on gluing the plastic tulips and hydrangeas on a grapevine wreath until it gets covered beautifully, to gain a precious flower wreath. This wreath will be the coolest handmade gift to a homey person. 259west
11. Scrap Fabric Hearts Wreath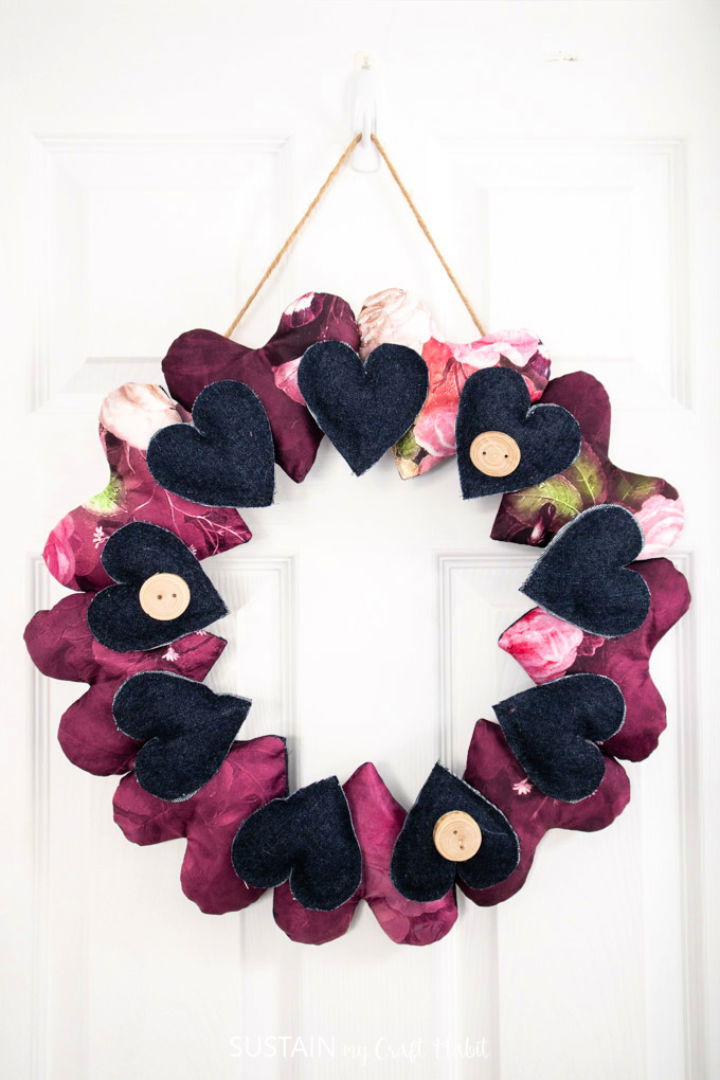 Bring the ultimate love in the air by featuring this appealing heart wreath on any interior wall. Use the fabric scraps and make the miniature stuffed hearts that you can put on a 16" MDF wreath to make this impressive heart wreath. Use the printable heart templates to make the hearts with denim or any other printed fabric. You also need a sewing machine, fusible lining, polyester fiberfill, and wood buttons for this project. Use the glue for all your adhesive demands. sustainmycraft
12. Outdoor Spring Hoop Wreath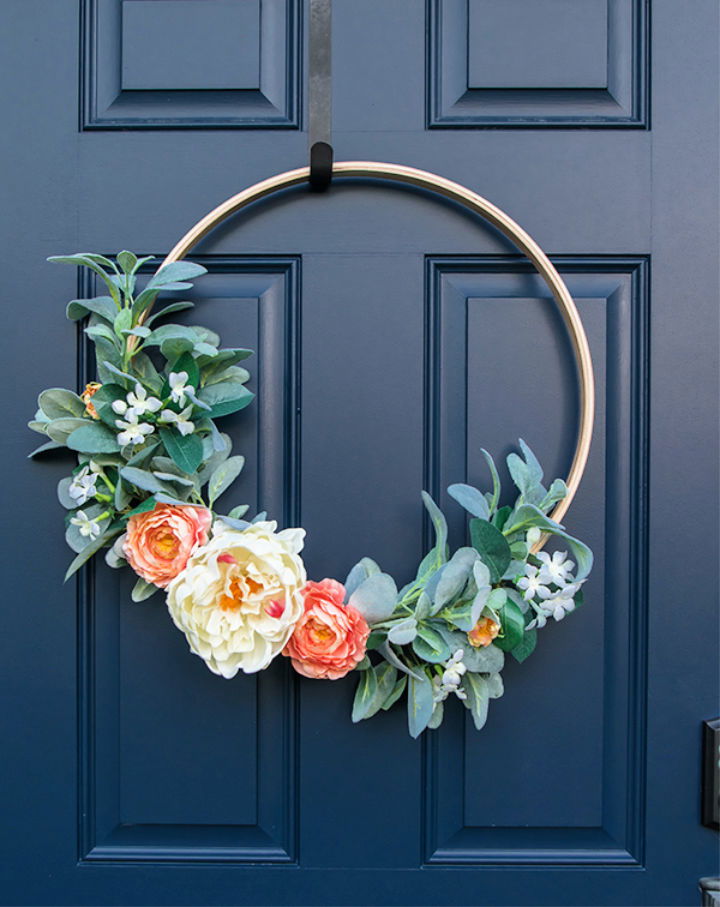 Make brilliantly beautiful wreaths using the embroidery hoop also. Get here step-by-step wreath ideas and instructions about how to make a lovely wreath using an embroidery hoop. It will work up fast and will surely dazzle the audience. Try out making this wreath with both hoop steel rings or embroidery hoop. After you choose your wreath form, load the greenery like Lamb's ear and flowers on it. Use glue to fix them in place and finish with a ribbon or twine loop to hang on the wall or the front door. cravingsome
13. DIY Succulent Wreath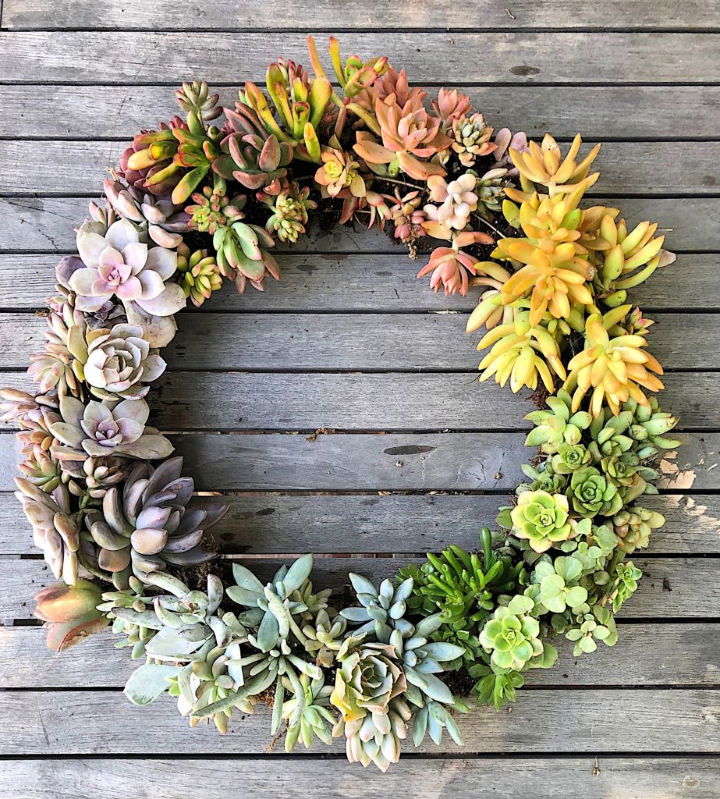 Take your home decor to the next level by making this heart-winning succulent wreath. It Is to make with 10-12″ wire wreath form. You need more or less than 50 small succulents to complete this gorgeous design of succulent wreath, which will be a great pleasure to whip up. You also need the sphagnum moss and floral wire for this DIY wreath project. It a one of the coolest DIY wreath design to craft in no time. my100yearold
14. Fall Woodland Wreath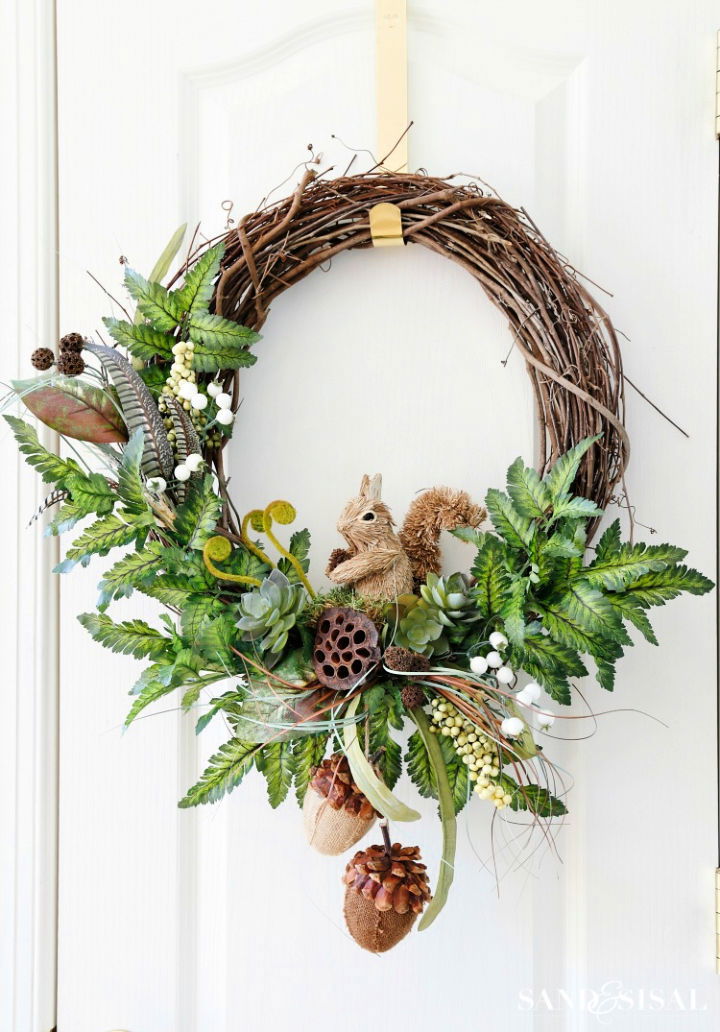 Rock your fall home decor to the next level by adding this superior handmade grapevine wreath. It features all the fall accents like fern stem bunch, acorns, straw squirrel, and fall berry floral picks. Gather these fall accents and load them on a grapevine wreath creating a precious fall woodland wreath, will be loved dearly by all. Choose your own greenery to add to this interesting and visually captivating wreath. The design is superior and will work up shortly. sandandsisal
15. Foraged Fall Wreath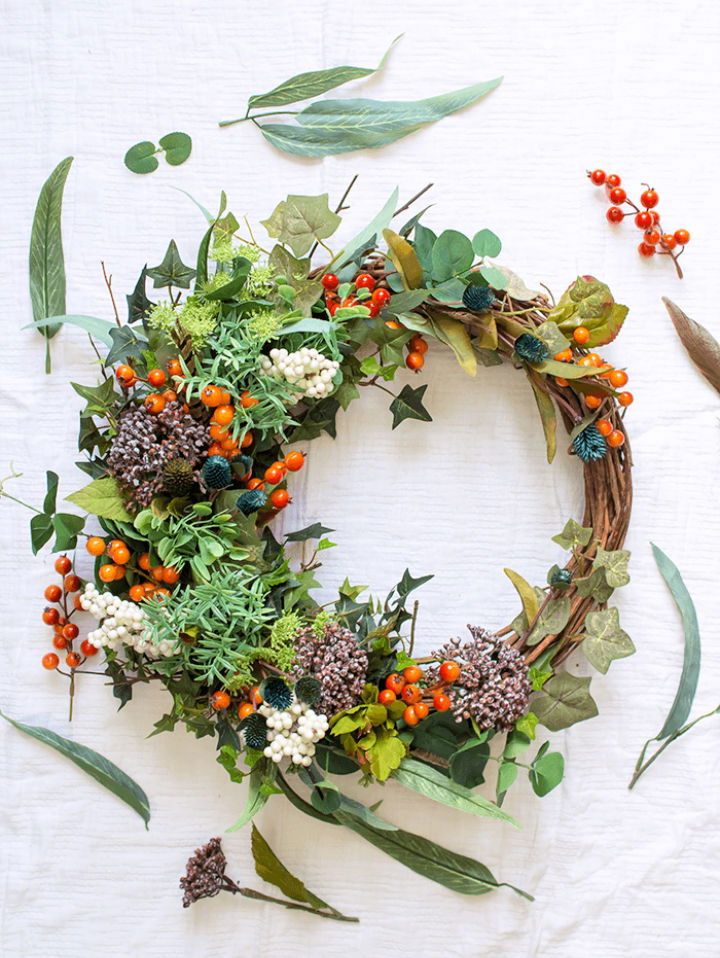 One more brilliantly beautiful fall wreath is here to impress you. It will work up fast and comes with lots of enchanting details. Choose the grapevine wreath to use as a wreath base, and then load the fall accent materials, greenery, and other fall embellishments to complete this wreath. The very needed supplies for this wreath are grapevine wreath, wire clippers, faux foliage, and faux flower. Try this wreath out with your favorite fall decor. aprettyfix
16. Asymmetrical Holiday Wreaths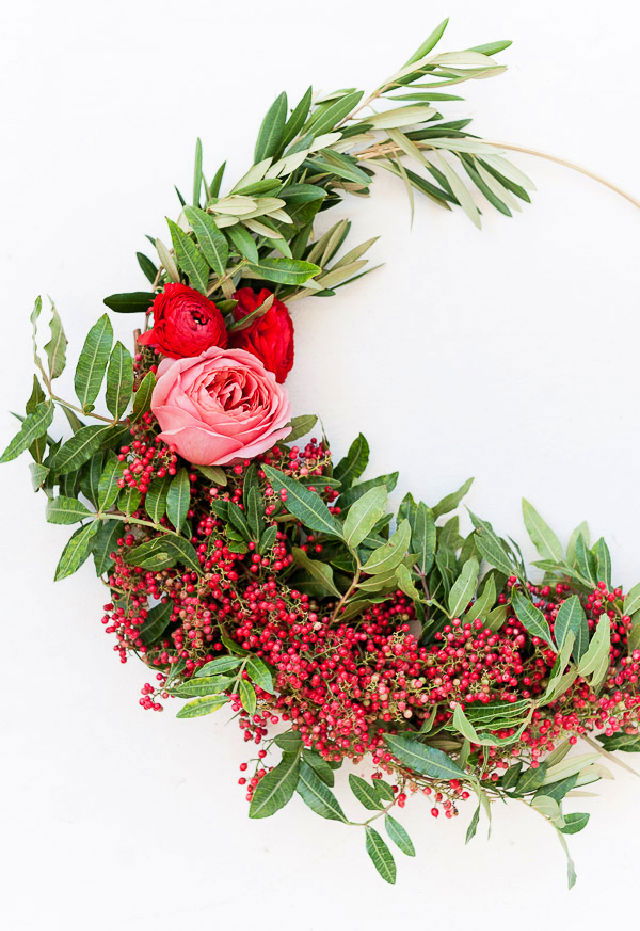 Have you ever been to making asymmetrical holiday wreaths? If not yet, then learn here how actually to make them professionally. After giving them a try, they are surely going to be your new favorite thing. This asymmetrical holiday wreath will also smell nice. Hence it will be much more than a precious visual delight. To make this lovely one, you need 12″ gold macrame hoops, floral wire, shears, corsage stems, greenery, and fresh flowers. One of the best wreaths ever made. papernstitch
17. DIY Heart Succulent Wreath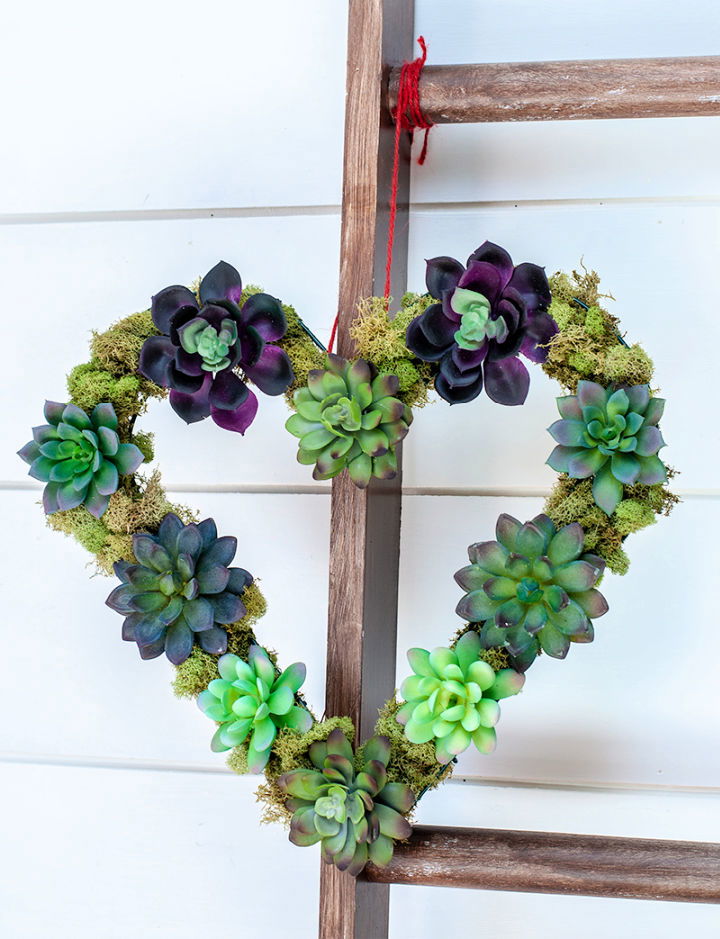 This wreath will rock for Valentine's Day, and it comes in a pretty heart shape. Grab a wire heart wreath, load the moss and succulents, and tie them in place using the floral wire. First, cover the entire wreath form with the moss, and then with the faux or real succulents. This handsome wreath will never get out of style and can be adorned more using custom accents and embellishments. Use the ribbon or twine of choice to hang it up on the wall. craftsbycourtney
18. Pretty Vintage DIY Floral Wreath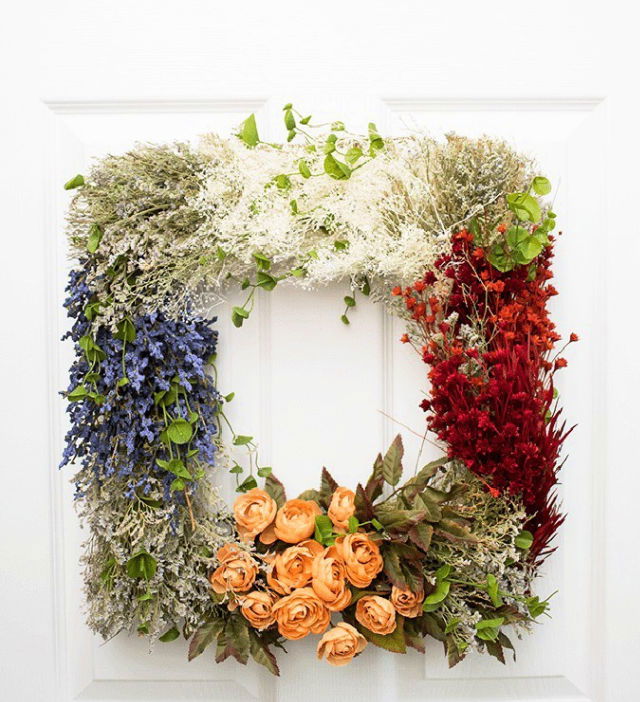 Are you a big fan of the geometrical wall decor? Then are highly in interior design decor, and you can make a few nice-looking ones at home. Take a start by making this pretty vintage square floral wreath, which can be mounted on any wall for bigger decor statements. Every wreath love will fall for this market-style floral wreath that features tons of colors and shades. You need a square wire wreath form, mixed florals, floral wire, and wire clippers to make this floral wreath like a pro. aprettyfix
19. Silk Flower Wreath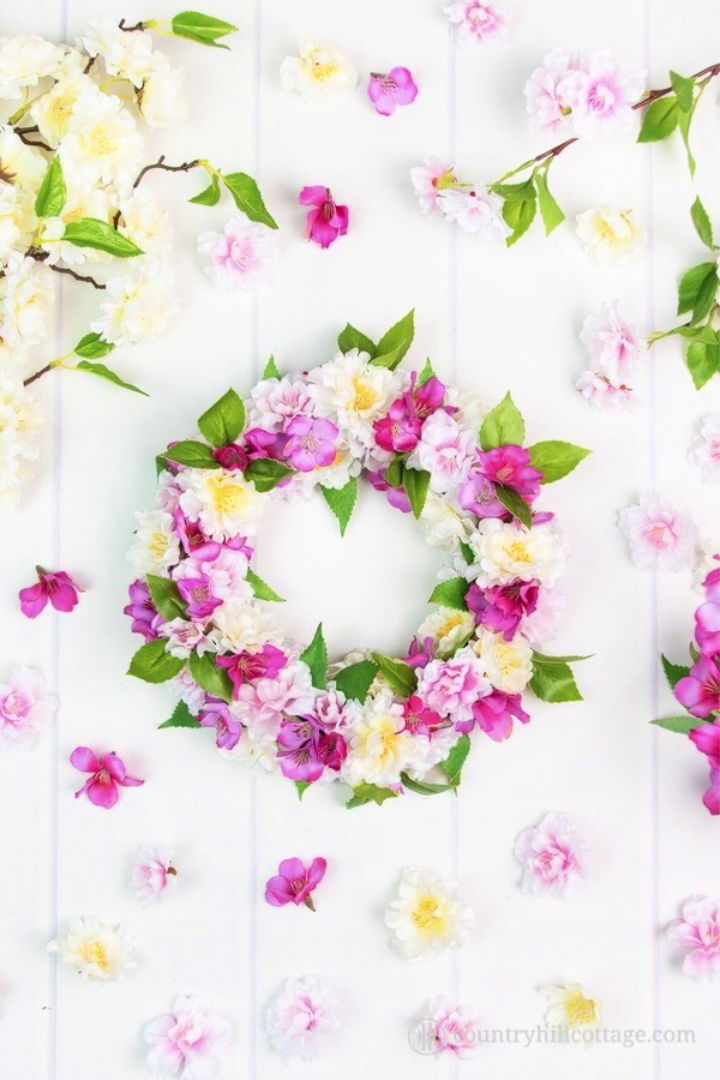 The best design of wreath to celebrate the spring season will never get out of style. It features spring blossoms and silk flowers and is something that onlookers will love to keep on staring at again and again. Take the blossoms and few leaves to size and then glue on a foam wreath foam; 12'' wreath foam will rock for this project. Use the glue to fulfill your adhesive demands and grab the ribbon for hanging this wreath on the wall. countryhill
20. Sage and Blush Spring Wreath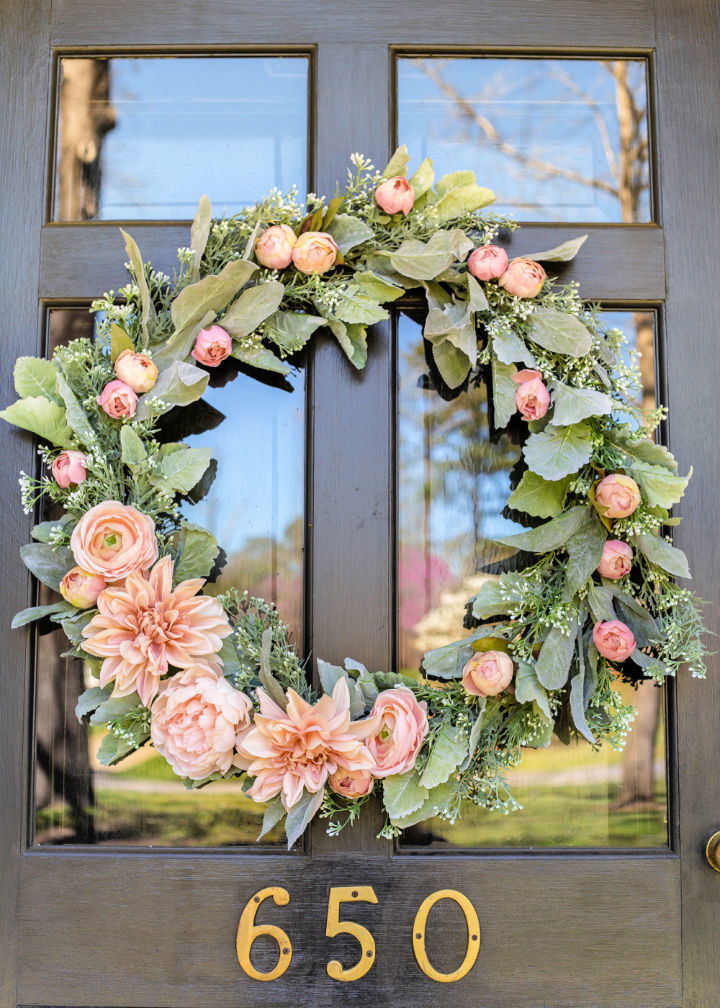 The wreath designs are never-ending. Check out another one that is looking amazingly cute and decent and will make a fabulous handmade surprise to home lovers. To make this enchanting wreath, load the Lamb's ear stems, Lamb's ear bush, white berry bush, peony stem, dahlia stem, ranunculus stem, and garden rose bush. Just load all these materials on a wire wreath form to get the job done. blesserhouse
21. Easy to Make a Boxwood Wreath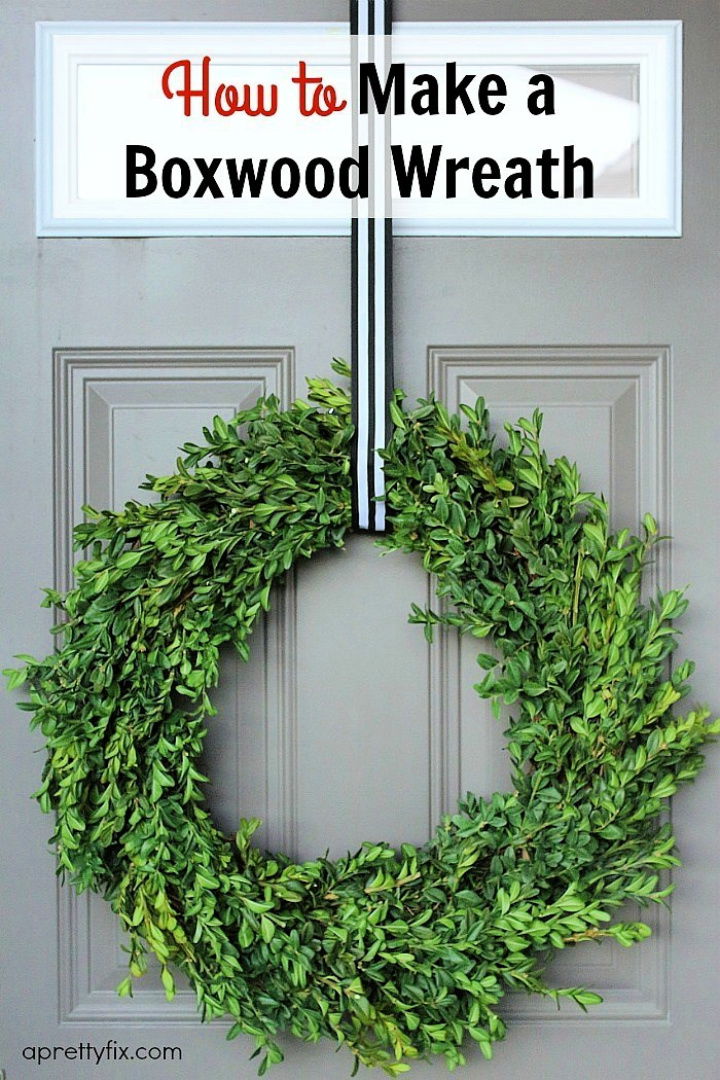 The woodsy charm and the grace of greenery will surely get appreciated if you feature this boxwood wreath in your home decor. Making this wreath is a child's play, and you will have tons of pleasure while putting together the supplies like the boxwood, grapevine wreath, and custom accents getting a reward for this sensational wreath at the end. Use any ribbon of choice for the stylish and beautiful hanging of this wreath on the main door. A one of the best wreath featuring greenery majorly. aprettyfix
22. Drink Umbrella Wreath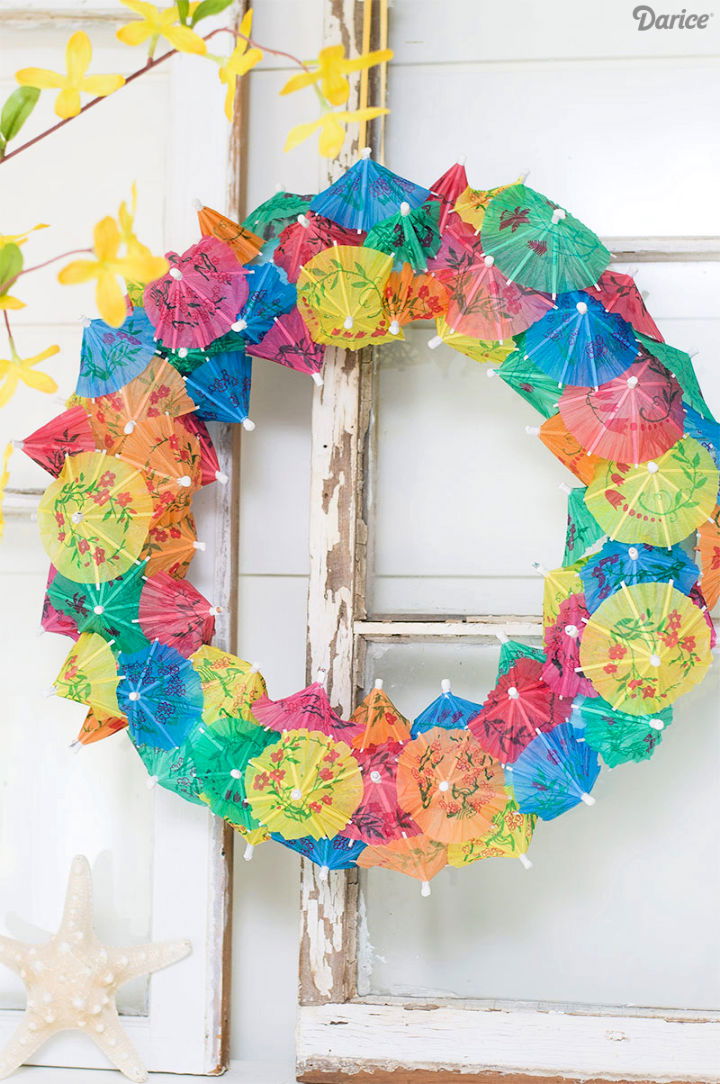 These DIY wreath ideas will rock for summer holiday party decor and can be made quickly with many supplies. You need colorful paper drink umbrellas. Foam wreath, Darice Crepe paper streamers, and some creativity to produce this fetching design of a colorful and super impressive wreath. Use the glue dots for all your adhesive demands. This wreath is super unique and can choose to give a warm welcome to the spring season too. A one of the loveliest craft creation. Darice
23. Giant Wreath Under $10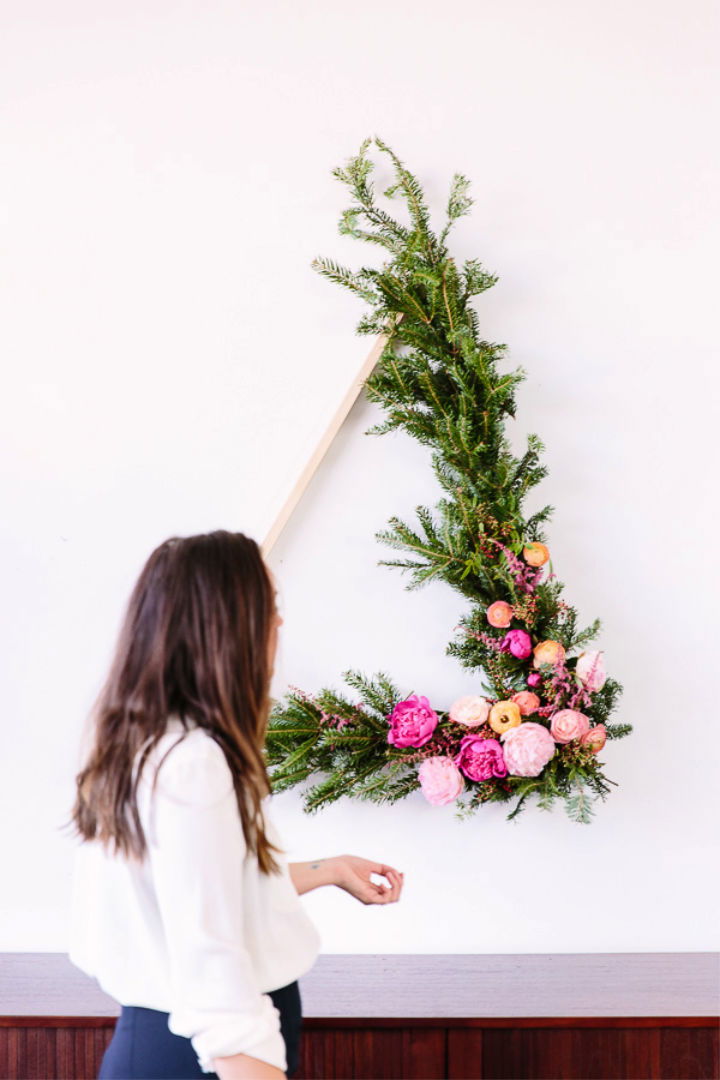 You will decorate your spaces with this another darling decor wreath that is surprisingly beautiful and enchanting. To make this wreath, you need tree trimmings, 2 pieces of .75" x 1.5" x 6′ pine board, and floral wire to whip up this very unique and geometrical design of wreath. Just make the triangular wreath form using the pinewood lengths and then load the greenery on the wreath form to get this adorable creation. One of the best DIY wreaths ever built. papernstitch
24. Pinecones and Greenery Wreath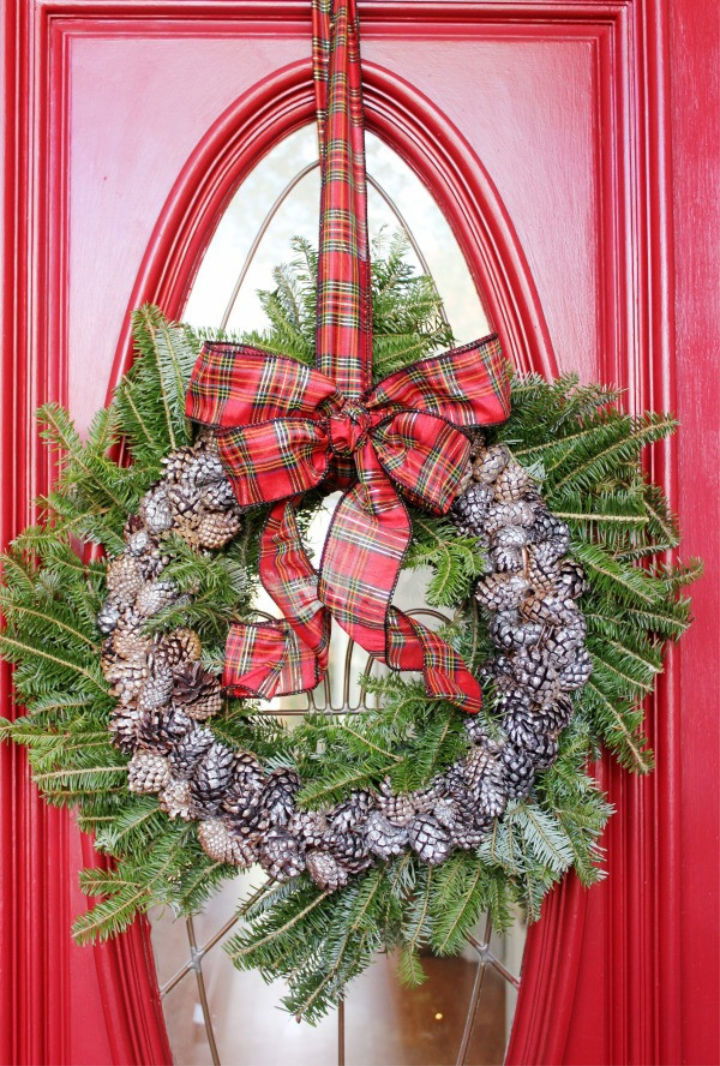 Create a festive look for your home by whipping up this very adorable DIY wreath that is graceful and enchanting also. The pinecones, greenery, and decorative ribbons go great together, making this wreath look amazing and beautiful. Use the grapevine wreath form for this wreath, and you are all free to experiment with this wreath with custom accents and decor. After wreath form, you need ribbon, a fresh evergreen wreath, and 2 bags of mini pinecones to complete it. homedepot
25. Floral Winter Wreath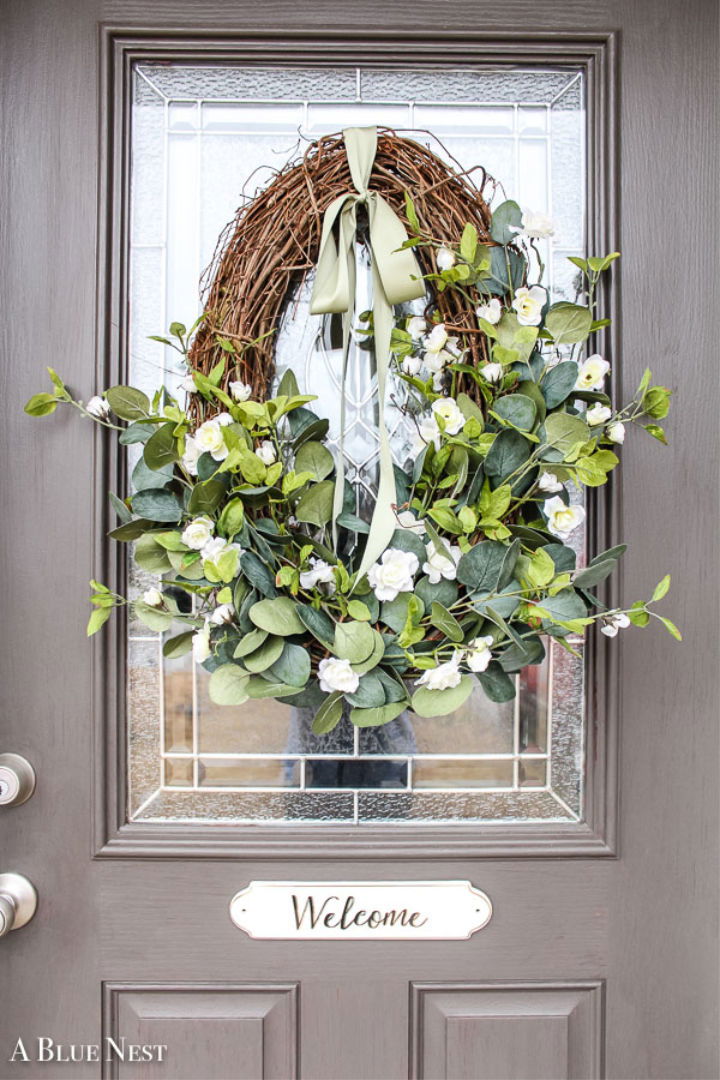 Take your winter decor to the next level by crafting this fabulous winter wreath that is pretty quick and awesome to craft. Again, choose the grapevine wreath to make the wreath base, and then load the faux eucalyptus bushes and white flower bush on it to get this sublime winter wreath. Making this wreath is a totally beginner-friendly project, and it will be shortly hanging on your front door once you start making it. abluenest
26. Sunflower Bandana Wreath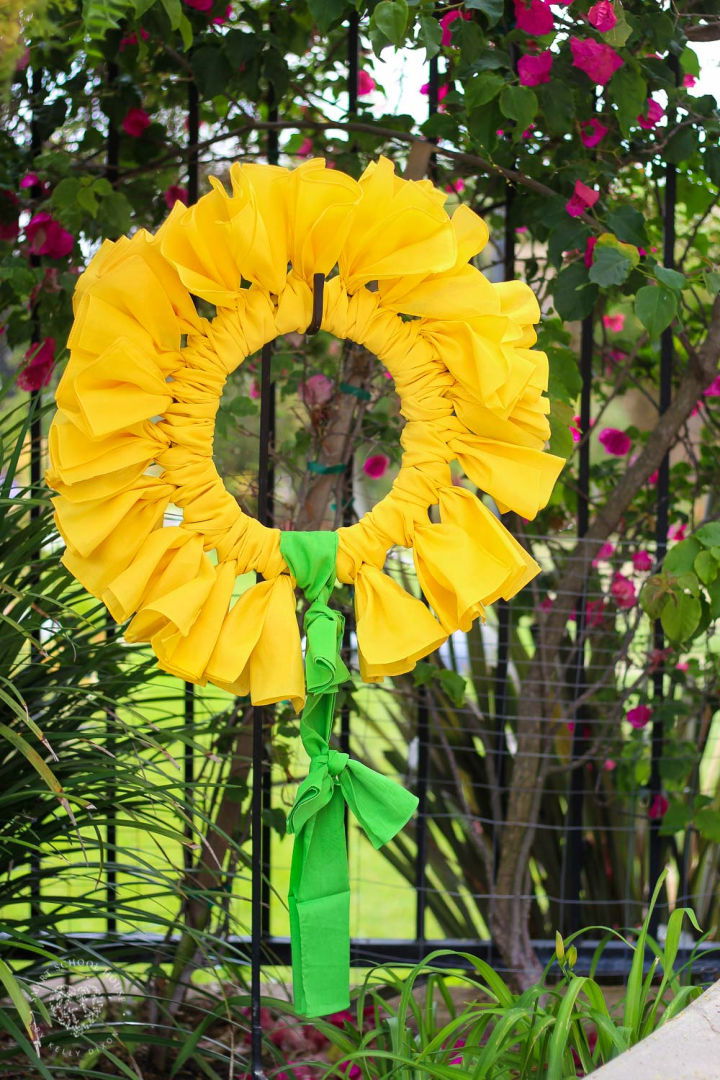 You cannot always use the flower bushes, foliage, and lots of other natural accents to make the beautiful wreaths. Use the bandana and other fabric scraps also to make beautiful wreaths. Make this sunflower bandana wreath using the yellow and green bandana, and it will work up really fast. The project is all about covering the wire wreath form with the bandana, which can be knotted in place, to make this beautiful wreath. smartschool
27. Wreath with Wood Slices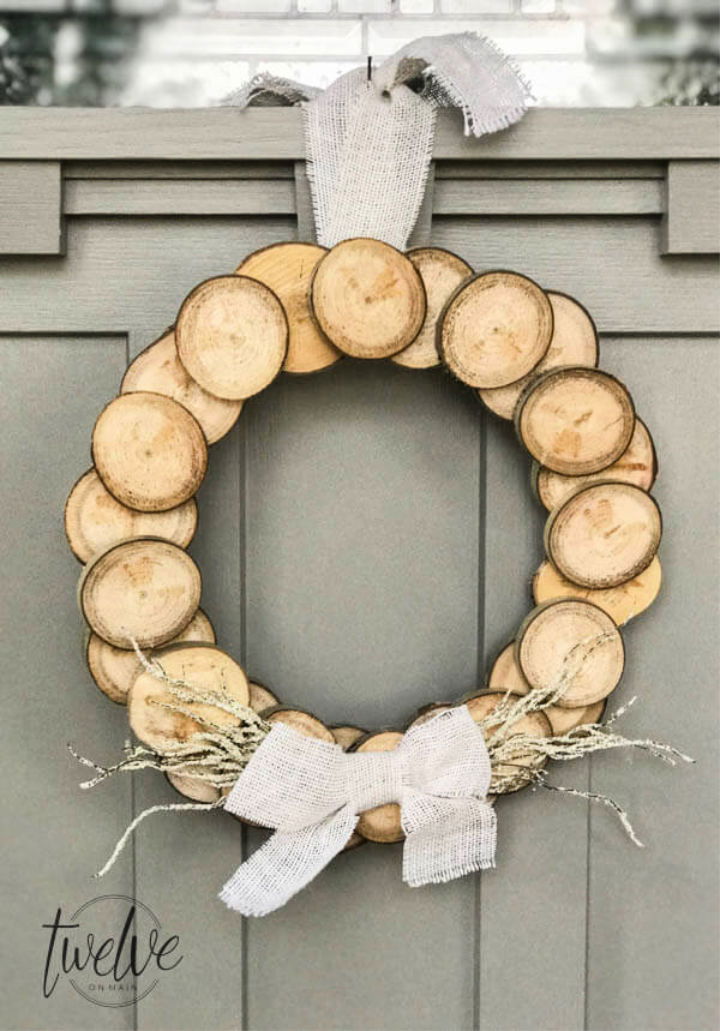 There are tons of different ways to make beautiful wreaths at home, and here we are sharing another creative one. You will learn here how to make graceful rustic wreaths at home like a pro. You have to use the wood slices to cover a flat wreath foam using the glue as a great adhesive. Use some other decor and accents to make this wreath look extra beautiful and gorgeous. Use the burlap ribbon to hang this wreath up on a wall or the main entrance. twelveonmain
28. DIY Hydrangea Fall Wreath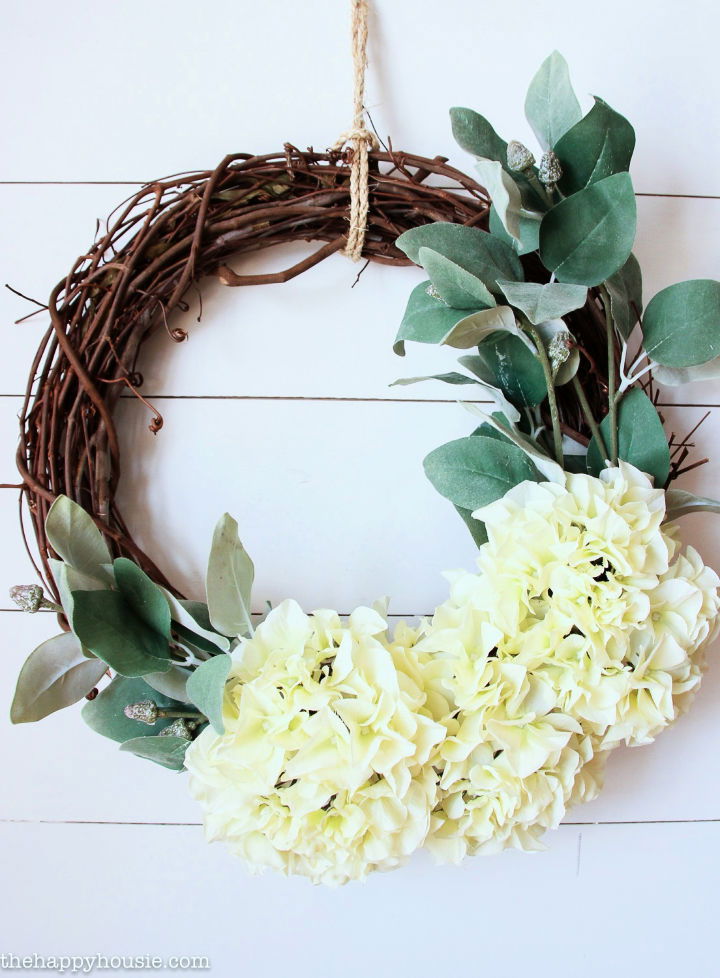 Look at this another fantastic and beautiful wreath that is perfect for winter months and will feature woodsy charm and lovely green elegance. The wreath will be a total pleasure to whip up and be made in just 5 minutes or less. You are all free to experiment with this wreath with any other flowers rather than the white hydrangeas. Use the glue to adhere to all the flowers and leaves in place. Use a piece of rope or twine to hang this wreath up on a hook. thehappyhousie
29. Floral Monogram Wreath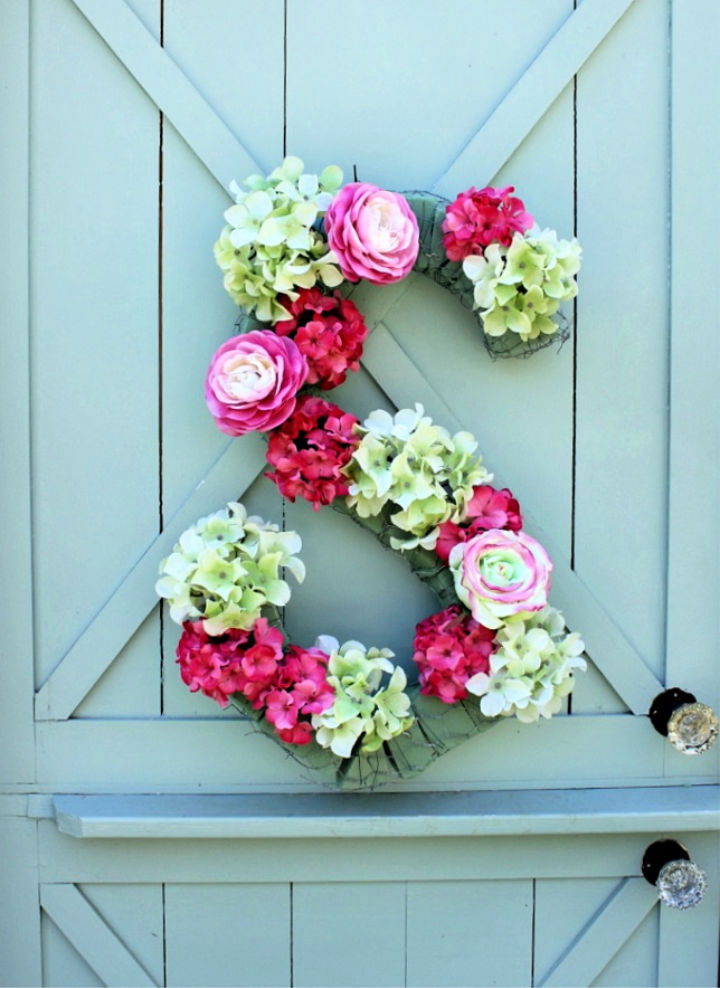 Make the alphabet style wreaths at home, which can be featured in your home decor as interesting name letter monograms. Learn here how to make an "S" alphabet wreath, which will bring tons of prominence to an interior wall. The best decor to give any interior a glam personal touch, and you need a handful of ingredients to whip this wreath up. You need chicken wire, floral foam, assorted silk flowers, and floral wire to make this wreath. Trace the letter on a cardboard piece and cut it out to make a template. daisymaebelle
30. Summer Wreath for Your Front Porch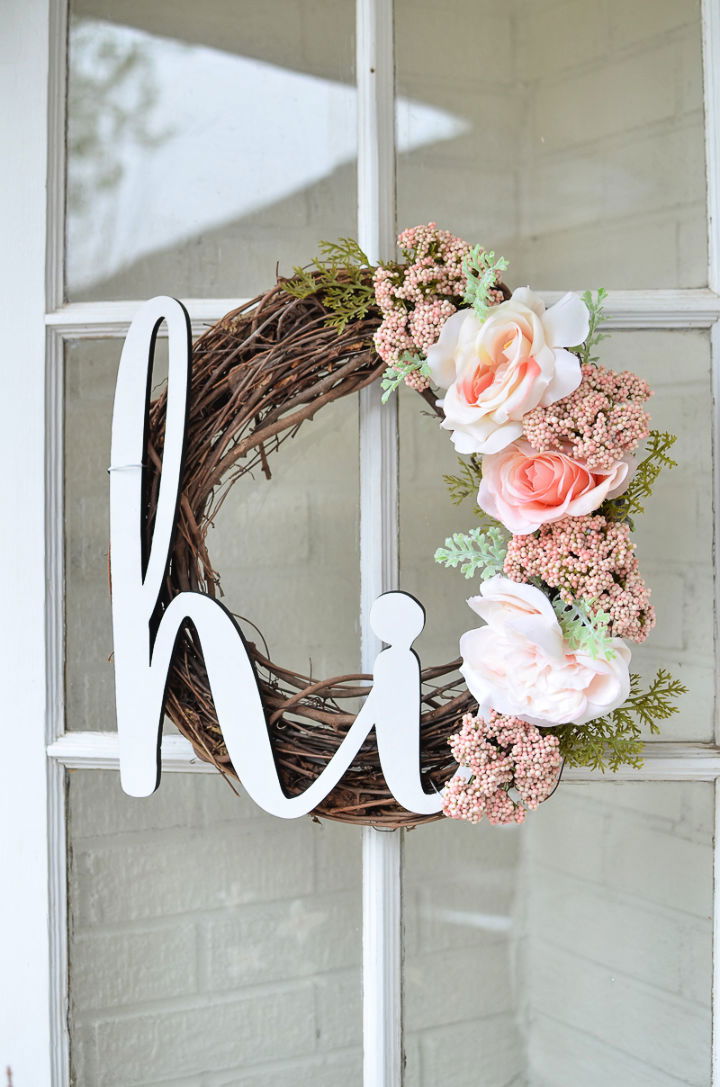 Fall in love with this DIY wreath from our flawless new summer wreath ideas that will be amazing to feature in the front porch area. You must need a 14" grapevine wreath to whip up this glam design of wreath, and it will hang like a charm on any wall or door. Give a warm welcome to guests and the summer season by making this very special floral wreath. You need a 14" grapevine wreath, the 12" wood "hi" cut out, floral stems, wire, and coffee to complete this lovely wreath. sarahjoy
Conclusion
All these DIY wreath ideas are really inexpensive for your home decor, and they cost you nothing extra when you DIY these at home. So, get here all the best and easy to make wreath ideas to craft every type of market-style wreaths at home inexpensively.
These simple DIY wreath ideas will help save a lot of your money you would have spent on buying the exclusive wreaths. From simple to those with intricate details, get here guides to make all sorts of wreaths like a pro. Hang these wreaths on the main doors to give a warm welcome to your favorite seasons.
Make your guests feel special, too, by having the decorative and quoted wreaths on the party gates and also make lovely wreaths for your holiday and festival celebrations. Use faux or real things like foliage and flowers to get these wreath ideas made.