Organizing outdoor is an expensive affair as you will simply leave the shop or outlet after looking at the sky-high price tags on outdoor furniture! So, head over to low-cost alternatives, bypass expensive outdoor luxury furniture by making DIY furniture at home! Concrete projects will be an ideal choice to set high standards of visual grace to your patios, garden, park, and lawns! The diy concrete benches will last really long and due to their minimalist designs, they will be a smart choice for modern outdoor furniture! For concrete benches inspirations, see these 10 easy to make DIY concrete bench ideas that will award a totally new gorgeous look to your outdoor benches! Along with redefining the aesthetics of your fine outdoors, they will also be a great help to accomplish your outdoor sitting space desires in a prudent way!
Making the diy concrete bench molds can be a little tricky but if you are having little woodwork experience, it is going to be easier for you! Build the bench design molds that will give a solid concrete bench wholly or you can build separate molds for legs and for bench berths! Both ways have been discussed here!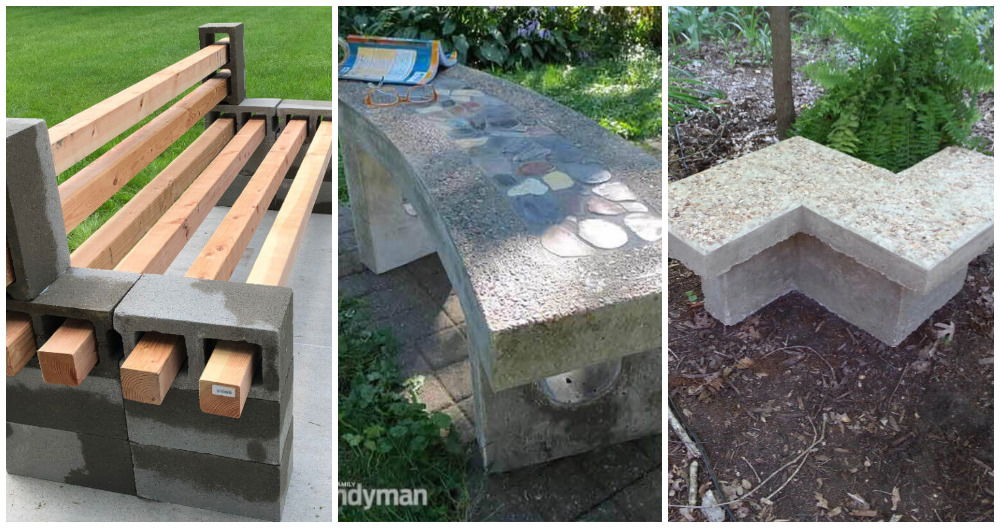 Opt for the concrete and wood bench combos, which will be equally beautiful and most come with removable wooden berths! Build concrete legs and finish them with wooden tops or pass the heavy wooden posts straight through the stacked cinderblocks to make quick lovely concrete benches even with armrests! Choices are all yours! Learn how to make a concrete bench with these cement garden bench projects
DIY Stone Inlay Concrete Bench: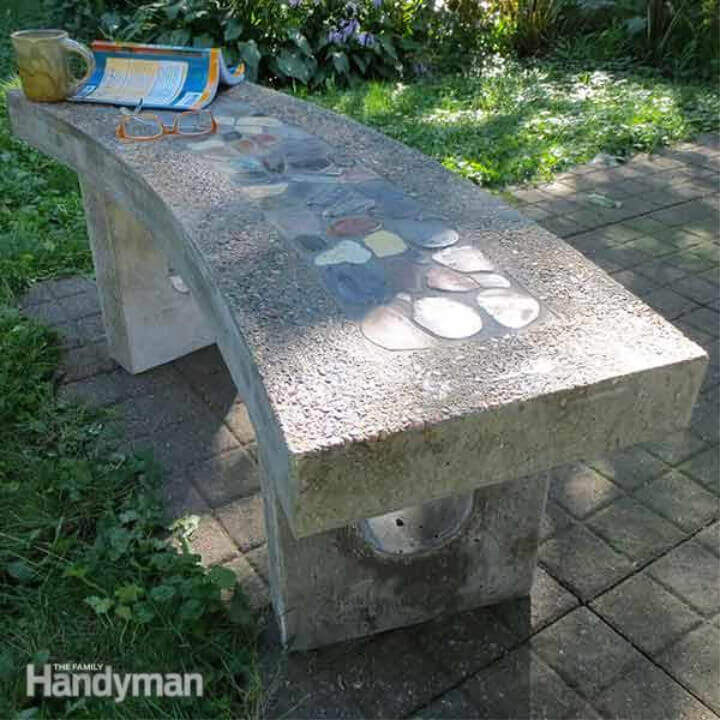 The outdoor furniture furnishings should always be stable as they have to withstand the harsh outdoor weather! So, choose the concrete medium also to build lasting longer benches for your outdoor! Make this arched-shaped concrete bench using plywood molds, has a stone inlay and looks great with the durable concrete block legs having holes in them! Full tutorial here familyhandyman
How to Make an Easy Concrete Bench:

Many outdoor can be seen complaining about the instability of outdoor furniture! So, resolve it by building a concrete outdoor bench, will live for years to come and can handle a lot of weight! Here making is a bit tricky, but it will go smoothly once you understand making and using the molds! Full diy cement bench  tutorial here popularmechanics
Make Concrete Garden Bench:

This one is going to be pretty simple to make, a solid block style garden bench will surely impress! Make a U-shape wood mold and fill the concrete in it, smoothen the surfaces using the concrete level tools! Take the bench out after it gets dried well! Full how-to instructions here instructables
Pallet Outdoor Furniture: Find these DIY pallet outdoor furniture ideas that are all amazing and creative, help you to build you all patio furniture with free pallets. You can find free pallets here.
DIY Corner Bench: A DIY corner bench with built-in storage is an ideal choice for a front porch or a deck or patio. Learn how to make a corner bench!
Pallet Sofa: Get inspired by these DIY pallet couch plans and projects which are sure to make you get with your favorite pallet sofa designs.
DIY Outdoor Concrete Bench:

The wooden and concrete combo is definitely going to be smart, stability will just be guaranteed! Pile up the concrete block to build bench legs! Next, build a bench berth with cross flat alignments of square wooden posts! A perfect bench design to build for seating around an outdoor fire-pit! Full how-to instructions here homemade-modern
Modern DIY Concrete and Redwood Bench:

You will love the way it will look at your patio providing comfortable seating to your guests and family members! Again build the slim concrete blocks, with a little raised bud in the center, will be durable legs of your bench! Next, arrange the solid wood planks to build bench berth and enjoy! Details here remodelaholic
Adorable DIY Concrete Block Bench:

Building durable outdoor benches with the concrete blocks and wooden planks, is becoming a trend! You can also build them with the backrest positions, will be loved dearly by all the outdoor lovers! Stack cinderblocks and then pass the square wood beams straight through them and build an outdoor bench with backrest as you can see! Full tutorial here retail.usa.sika
Build Concrete Bench for Backyard:

Need stylish seating at your backyard? Here is the ultimate bench solution for you, a concrete bench that comes with berth made of durable wood beams! Build the concrete blocks using plywood or MDF molds and then make them hold the square wood beams over their head! This will give you a durable backyard bench design as you can see! How-to guides here bhg
DIY Chevron Inspired Concrete Bench:

Do you really feel passionate about the chevron effect and decors? Here is a way to bring a chevron effect to any of your outdoor! Build tis chevron concrete bench, will only demand a chevron mold that you can easily build using wooden boards! A stunning design of bench to duplicate at home! Details here thegardenfrog
How to Make Concrete Garden Bench:

You will love the design curves of this homemade concrete bench! it will hold you in a little while sitting on it as it is a little curved! Separately build the legs and berth of the bench using custom wooden molds! Building wooden molds, is going to be a little tricky part! Full how-to instructions here traditionaloven
Concrete Bench Perfect for Backyard:

A cost-efficient plan here to gain stylish seating options for your backyard! Build two concrete blocks and place them in your backyard with a little distance in between! Use them as bench legs and then make them hold a flat wooden bench berth! Another great concrete bench idea!