Learn how to make a cinder block bench with these 15 easy diy cinder block bench ideas, including step by step instructions. Whether you're experienced or inexperienced, DIYers of all skill levels can find an option to suit them. This guide will break down each diy cinder block bench so you can easily recreate it in your home. Learn how to build a variety of benches, including the cinderblock and wood bench, the cinder block planter bench, a fire pit cinder block bench and more!
Each diy cinder block bench includes step-by-step instructions, estimated costs, and time to give you a better look into the entire project. With this easy guide, you'll be able to make a cheap diy cinder block bench quickly and enjoy it in your own backyard!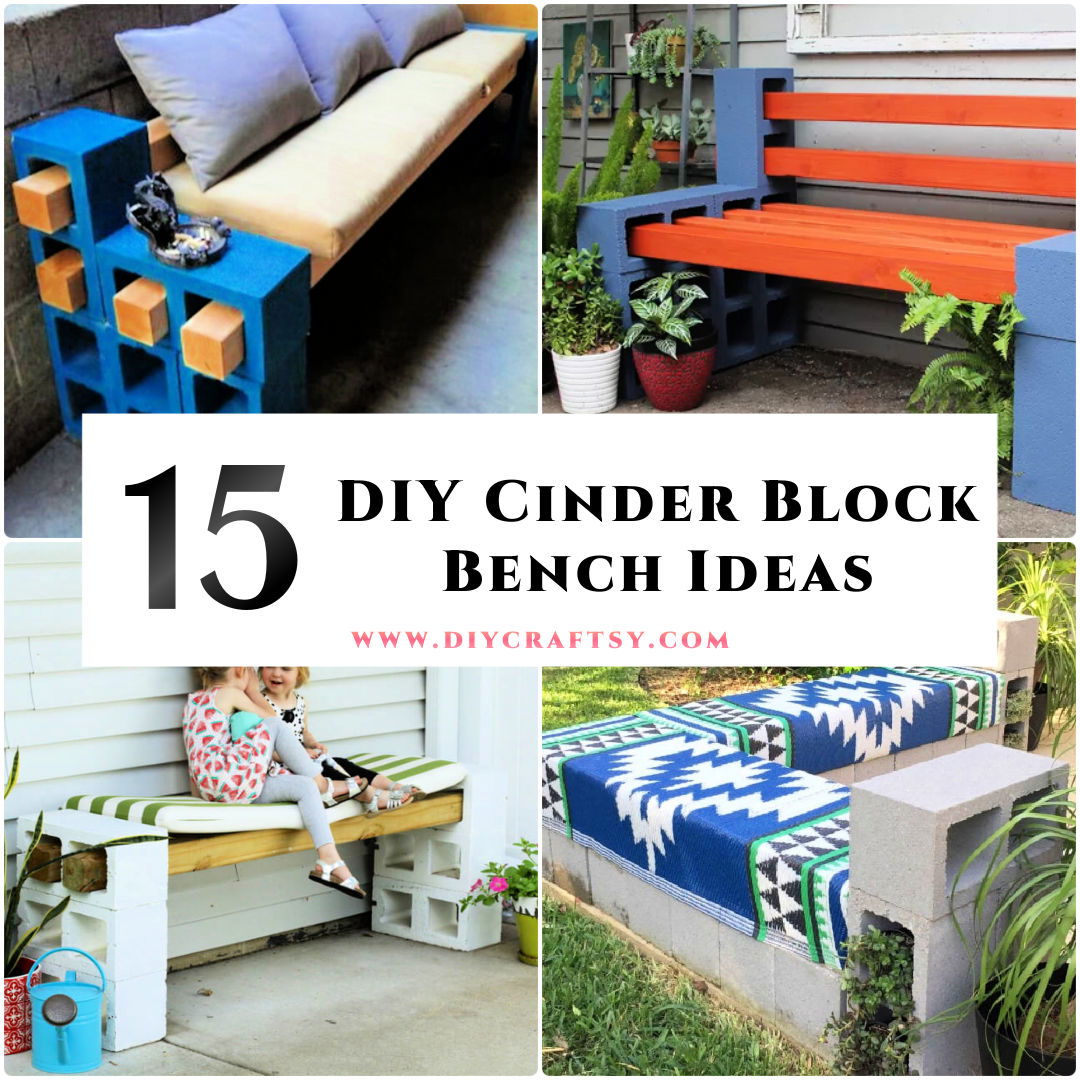 Easy DIY Cinder Block Bench Ideas
We shared 15 easy DIY cinder block bench ideas for transforming your outdoor space. Whether you're looking to add seating or just create a unique, eye-catching feature, these DIY cinder block benches are sure to inspire. Learn how to make the perfect cinder block bench with step-by-step instructions and helpful tips on creating a diy concrete block bench design that stands out from the crowd. Create a welcoming outdoor area with one of these stylish diy cinder block bench ideas that provide durable comfort and rustic charm.
How many cinder blocks do I need for a bench?
The amount of cinder blocks you need for a bench depends on the size and design of your project. Generally speaking, 12-16 cinder blocks should be sufficient to create the base frame for an average-sized bench. Consider adding more depending on the size and weight load requirements. Be sure to use quality materials and construction supplies for proper installation and longevity.
Are cinder block benches comfortable?
Cinder block benches are not particularly comfortable due to their hard and uneven surface. They can be made more comfortable by adding a cushion or pillow and repainting them for an aesthetically pleasing look. With the right additions, cinder block benches can become quite comfortable seats.
What materials do you need to make a cinder block bench?
You will need cinder blocks, concrete adhesive, a drill and screws, a saw, sandpaper or grinder, measuring tape, markers and paint. You may also want to consider getting some wood planks for the seat of the bench and other decorative materials like pavers or tiles. Make sure you have your supplies ready before you begin your project.
How do you make a cinder block seat?
To make a cinder block seat, start by selecting the desired number of blocks and stacking them. Secure them together with mortar mix, then apply grout between each layer. Let dry for around twenty-four hours before using. Finally, cover the seat with fabric or paint for a unique seating area. Enjoy!
Is it cheaper to use cinder blocks or wood?
It all depends on the project. Cinder blocks are generally more affordable, but wood is easier to work with and can be used for many projects. Wood also tends to provide better insulation than a cinder block. Ultimately, you'll need to consider cost, ease of use and insulation when choosing between cinder block and wood.
Is it cheaper to pour concrete or use cinder blocks?
The cost of pouring concrete and using cinder blocks depends on the size of the project and local market conditions. Generally, poured concrete is cheaper than cinder blocks; however, cinder blocks may be more affordable for smaller projects. In either case, getting several quotes from reliable contractors is important to ensure you're getting a good deal.
What is the difference between a cinder block and a concrete block?
The main difference between cinder and concrete block is in its components. Concrete blocks are made from cement, water, and aggregate, while cinder blocks are created by mixing coal cinders with clay and water. Cinder blocks may be lighter in weight than concrete blocks, but they lack the strength of concrete blocks. Both blocks are widely used in construction.
How much weight can cinder blocks hold vertically?
The amount of weight cinder blocks can hold when supported vertically depends on the size and strength of the block, but generally speaking, a single 8″x8″x16″ cinder block can support up to 2000 lbs. The number increases significantly when blocks are placed next to each other and reinforced with mortar. Always check local building codes before constructing anything with cinder blocks.
Is it cheaper to make your own cinder blocks?
It can be cheaper to make your own cinder blocks, depending on the type and quantity of materials used. Sourcing high-quality recycled materials and using basic DIY tools can be a cost-effectivecost-effective way to create strong, durable cinder blocks. However, buying pre-made is often much easier and more economical in the long run.
What kind of concrete do you use to fill cinder blocks?
When filling cinder blocks, it is important to use concrete formulated for the job. An appropriate mix of Portland cement, coarse sand, and gravel should be used at a ratio of 1:2:3, respectively. Additionally, adding an admixture or plasticizer can help ensure perfect consistency and ease of application.
How do you secure cinder blocks to concrete?
Cinder blocks can be attached to concrete using either mechanical fasteners such as masonry screws or a cement-based adhesive. To ensure secure attachment, drill pilot holes in the cinder block and tap the fastener in tightly. Alternatively, mix an appropriate bonding agent according to manufacturer instructions and apply it to the back of the block before installing. Allow sufficient time for the adhesive to cure and harden before use.
Do cinder blocks have to be filled with concrete?
Yes, cinder blocks must be filled with concrete for strength and stability. To properly fill a cinder block, use a pre-mixed bag of concrete or mix your own using one part cement, two parts sand, and three parts gravel. Pour the mixture into the block's hollow core and flatten it with a trowel. Allow the concrete to cure, and then use mortar to seal any exposed joints. This ensures a strong, secure wall.
1. DIY Outdoor Cinder Block Benches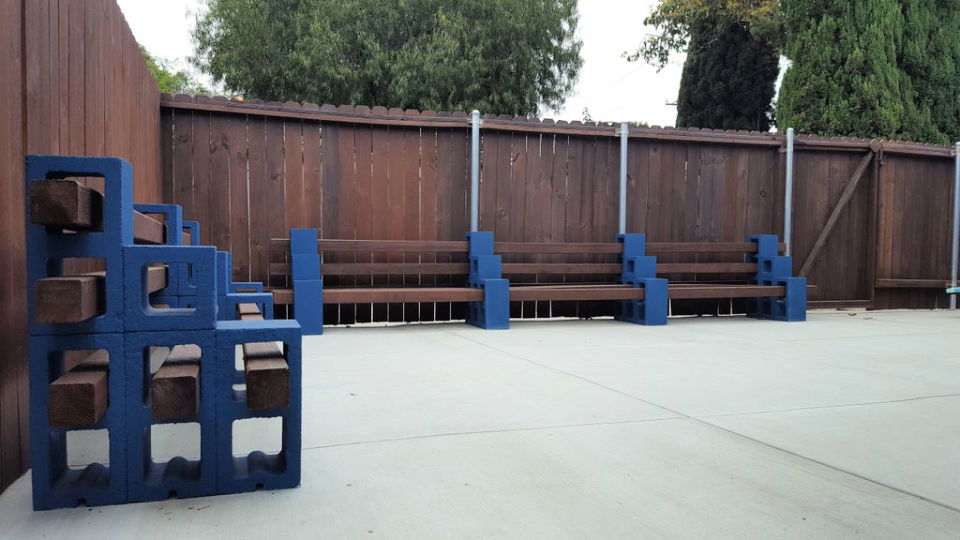 You will love all the genius ways people use the cinder blocks in their gardens! One of them is to build cinder block benches, a cost-efficient yet durable way to overcome outdoor sitting space issues! Paint and stack the cinderblocks for bench sides, then put the robust wooden beams straight through them to gain some cool benches! Details here instructables
2. How to Make Cinder Block Bench
Some robust wooden beams and a stock of cinderblocks will be the total cost of this durable garden bench. It is as stable as it is lovely, go with painted cinderblocks and painted 4×4 wooden lengths to come with an amazing appeal of the bench! How-to details here fabeveryday
3. Making a Bench Out of Cinder Blocks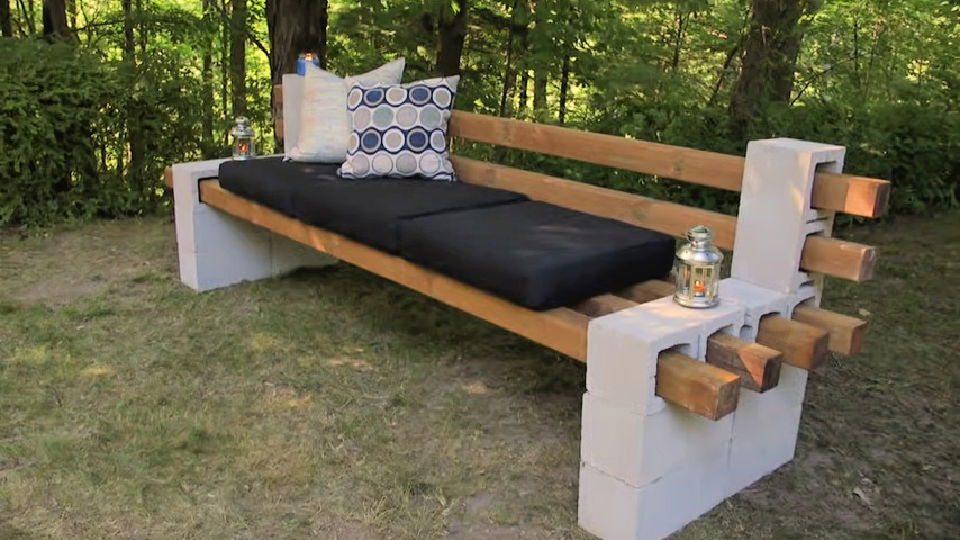 This depends on how you want to sit on a cinderblock bench, so you can come up then with the bench design with or without the backrest! This cinderblock bench provides a comfy backrest and will provide sitting space to multiple sitting members! Build it also in the same way! Complete how-to instructions here homesteadsurv
4. How to Build Concrete Cinder Blocks Bench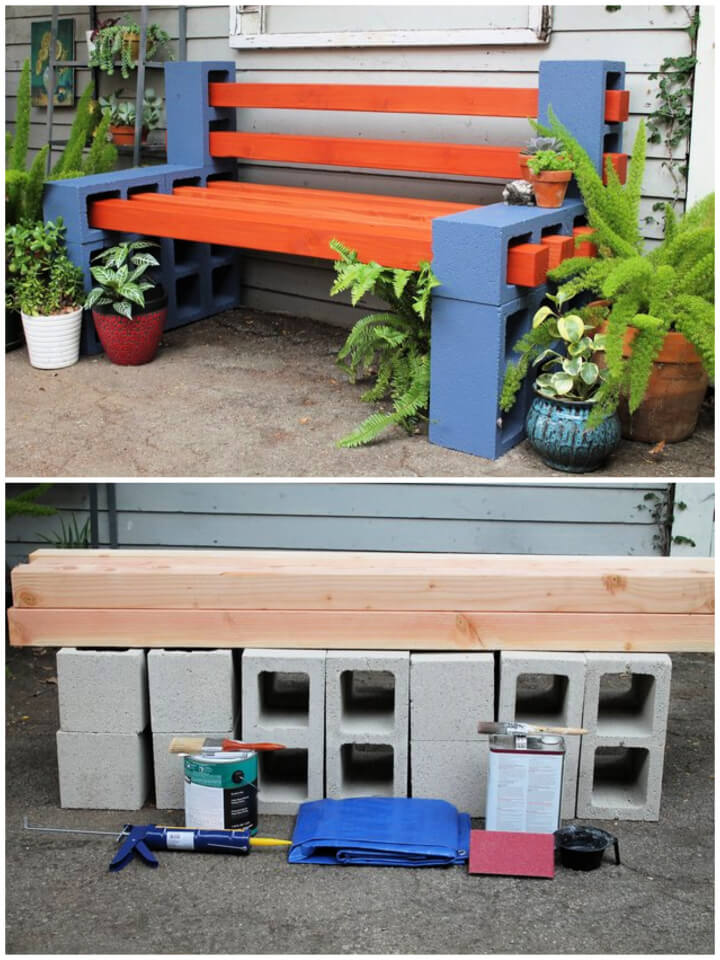 Sometimes simplicity goes beyond your imaginations. You will find it so true after taking a look at this outdoor bench! A simple yet stylish DIY bench design to make with cinderblocks and robust square wood beams! Paint the bench for an appeal other than the given below! Details here hunker
5. Outdoor Cinderblock Seating Ideas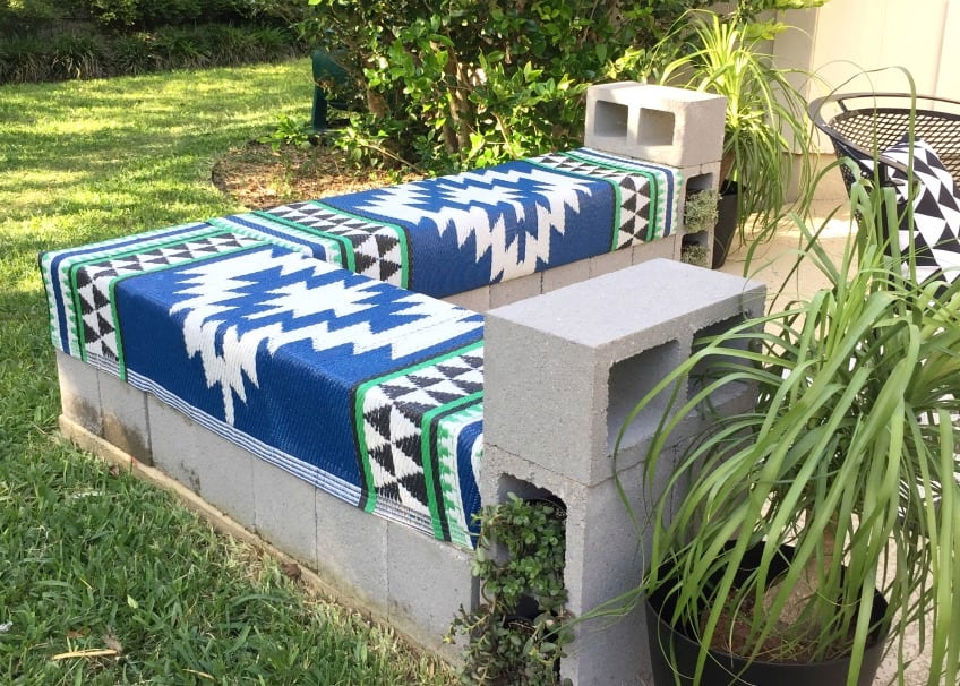 Use the cinderblocks alone to install outstanding outdoor seating! Yes, they can be put together in custom arrangements like in L-shape around a patio or deck and then can be cushioned for instant seating! You will love the way they are building this outdoor seating! Details here jenniferperkins
6. DIY Cinder Block Bench for Your Backyard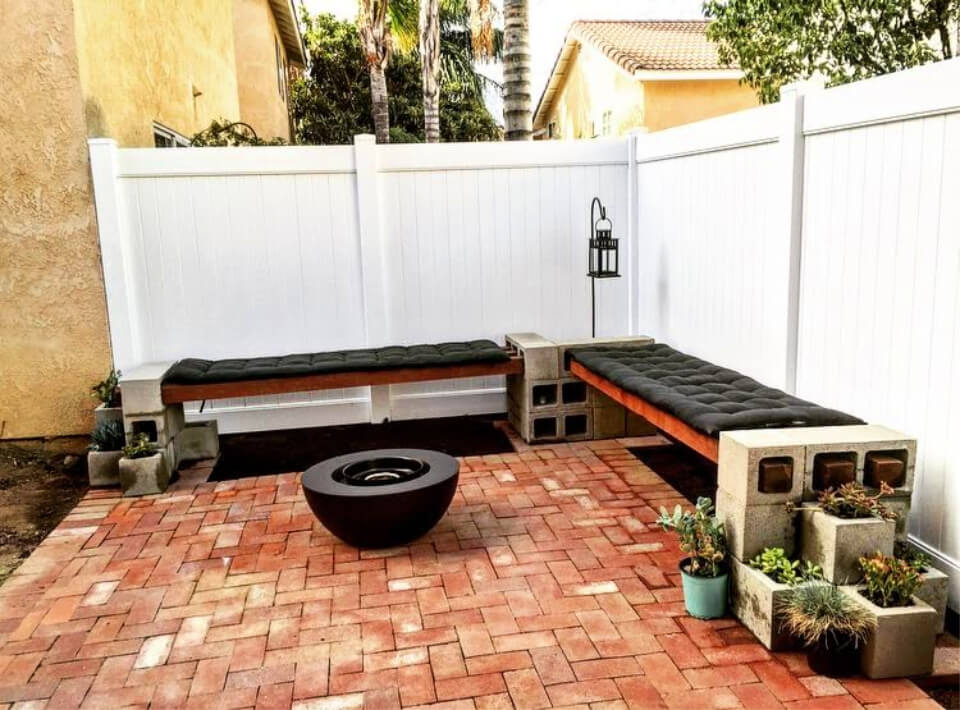 Need to some sitting furniture sets to your paved backyard floors? Opt for the cinderblock benches, will be extra stable and cost-efficient to build! Grace up your backyard sitting and party areas with this L-shape corner bench fits best to a corner and also ends up with cinderblock accent planters, beautifully garnish the space! Further details here mincerepublic
7. Easy DIY Cinder Block Bench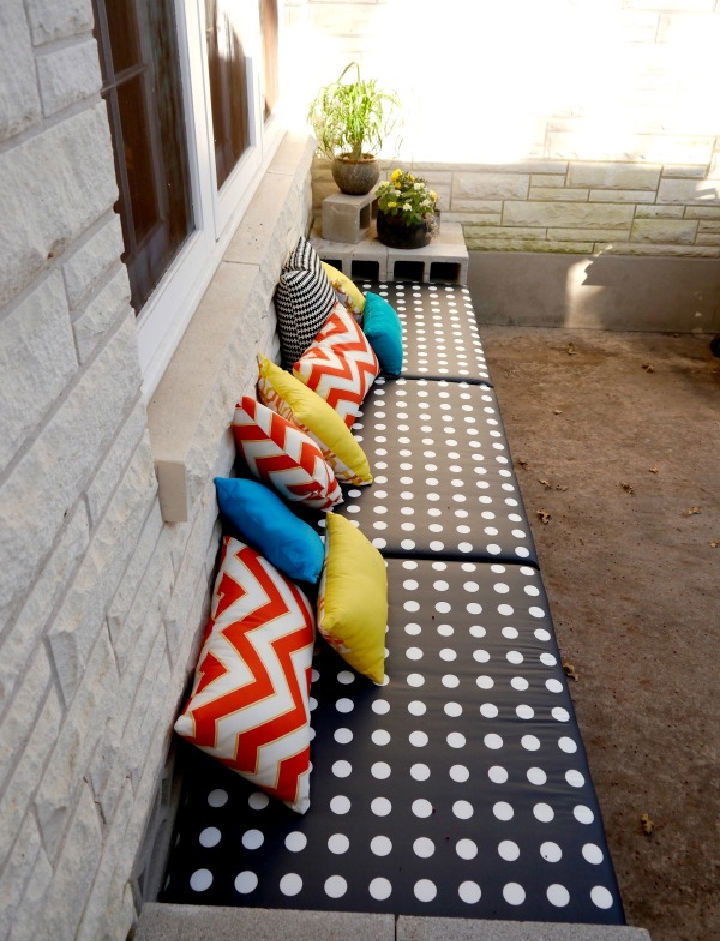 You only need the stacks of cinderblocks to accomplish stylish outdoor seating desires! Put together the cinderblock up to two or more layers, finish with a comfy seat mattress after you reach a decent bench height! How-to details here creatingreally
8. Homemade Cinder Block Bench for Your Patio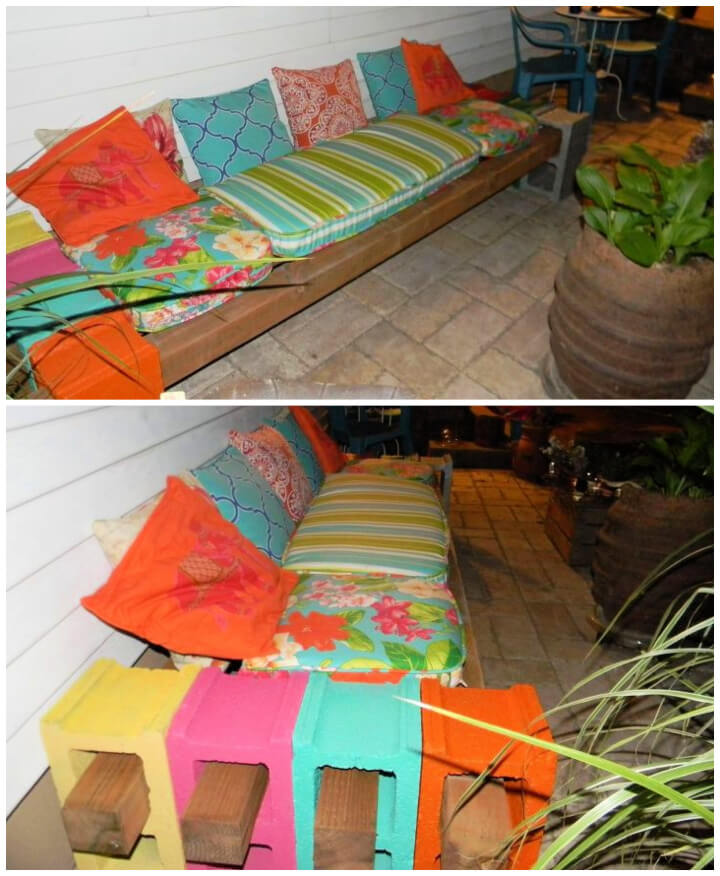 Overcome your patio sitting needs with this low yet beautiful cinderblock bench! Again the threaded rods through the cinder blocks build this stable patio bench. Every patio lover will love to own it now! Make an instant copy of it using 4×4 wooden posts and cinderblocks! Full how-to instructions here hometalk
9. Cheap DIY Cinder Block and Wood Bench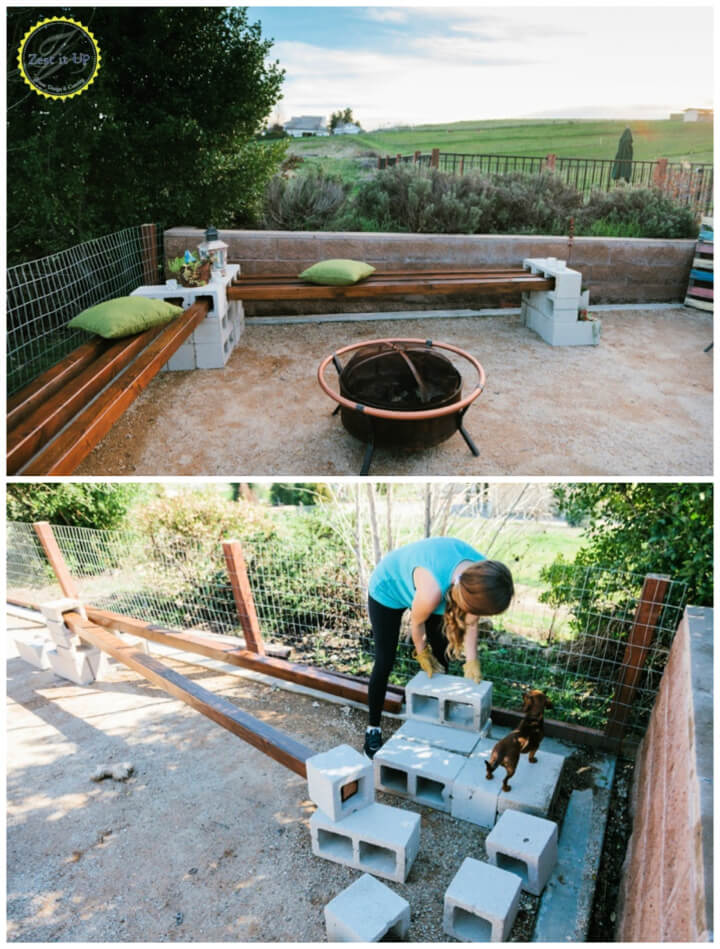 Achieve your stylish outdoor seating goals with the cinder blocks, the life-changing blocks for outdoor lovers! They can be beautiful planters at one time and a stable bench at another time! Improve your patio or garden with this corner cinderblock bench, will not take too long to be ready to sit on! Details here zestitup
10. Cinderblock Bench With Two Stable Wood Planks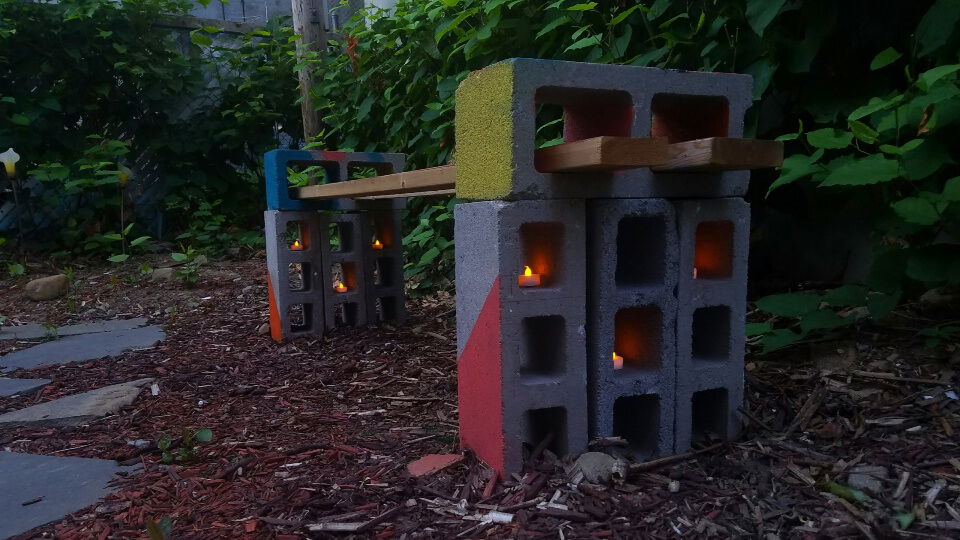 Duplicate this cinderblock bench using two stable wood planks and stacks of painted cinderblocks, will be accented sides of a bench! Here custom lights have been put inside the cinderblock for brilliant outdoor night light decor statements! One more beginner-friendly cinderblock bench creation! How-to details here avdoeswhat
11. How to Build a Cinder Block Bench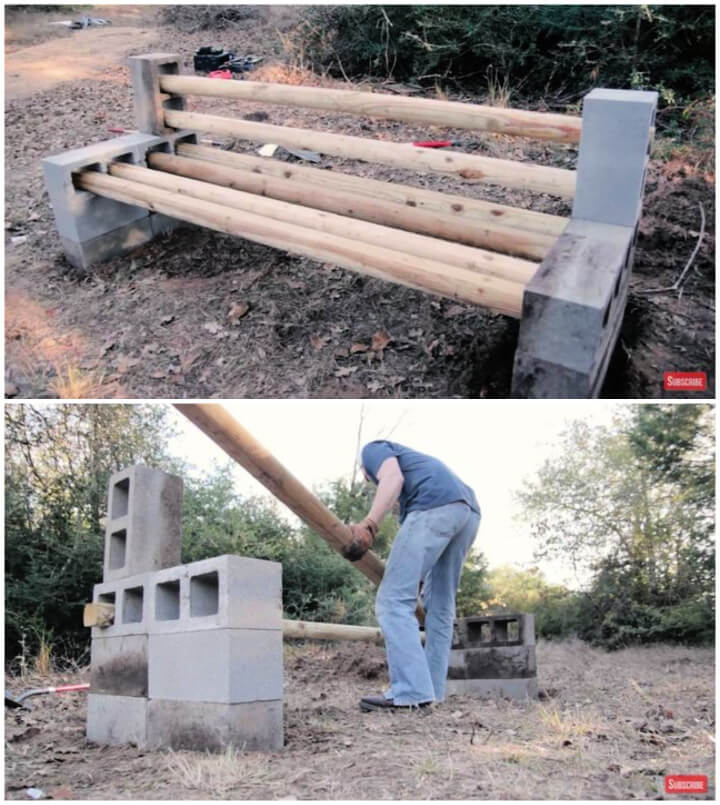 Landscape timber and cinderblocks again here to rock your outdoor! Another fascinating bench design to make with them will be an ideal space for outdoor sitting and daydreaming! Here this large bench also comes with a stable backrest! Here is how to build it steemit
12. Outdoor Bench from Cinder Blocks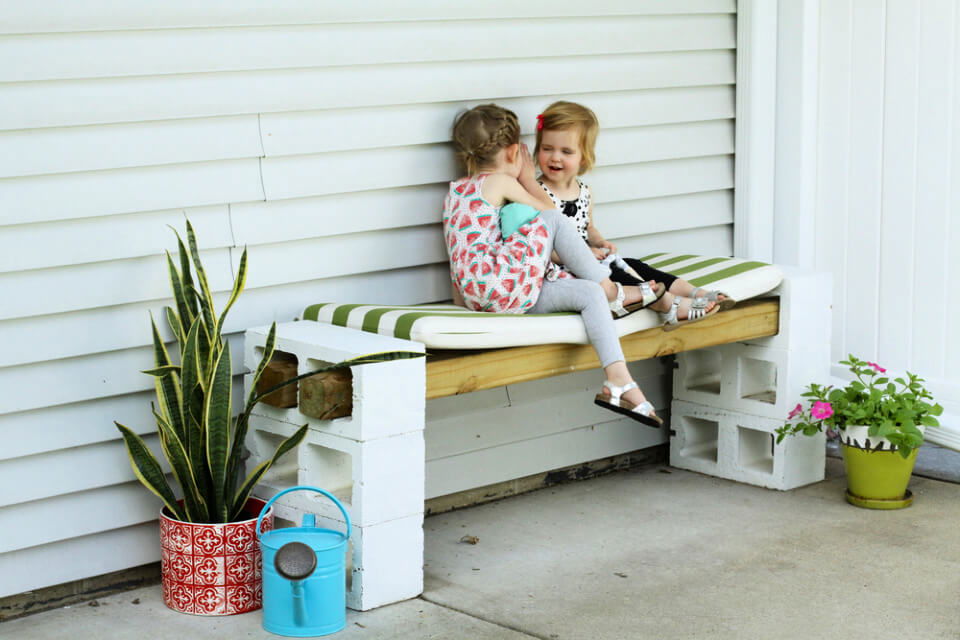 One more stable design of cinderblock bench that comes on a raised height level! Again install the seat with durable wooden posts may be 4x4s! Chic white-painted cinderblocks make bench sides! Full instructions here modernchemist
13. Cinder Block Outdoor Bench Under $100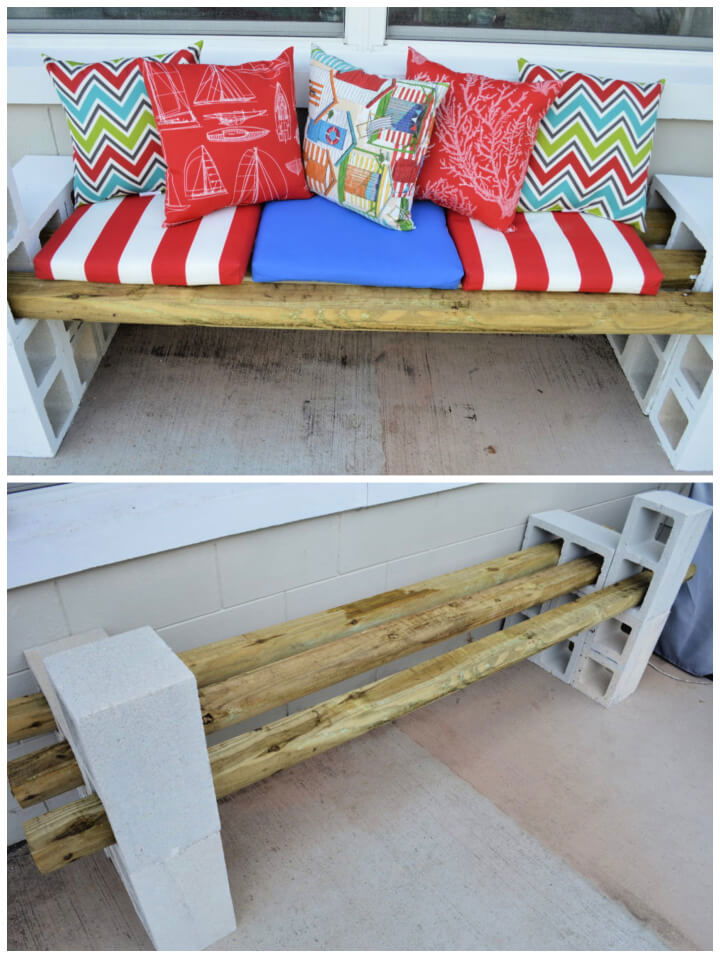 Outdoor benches are always expensive to buy, grab them cheaply using the cinderblocks, the super versatile blocks for stylish outdoor living! Build this outdoor cinderblock bench, will cost you under $100, will be extra stable and beefy for sure! Don't forget to cushion it up! Details here themrsinglink
14. Simple DIY Cinder Block Outdoor Bench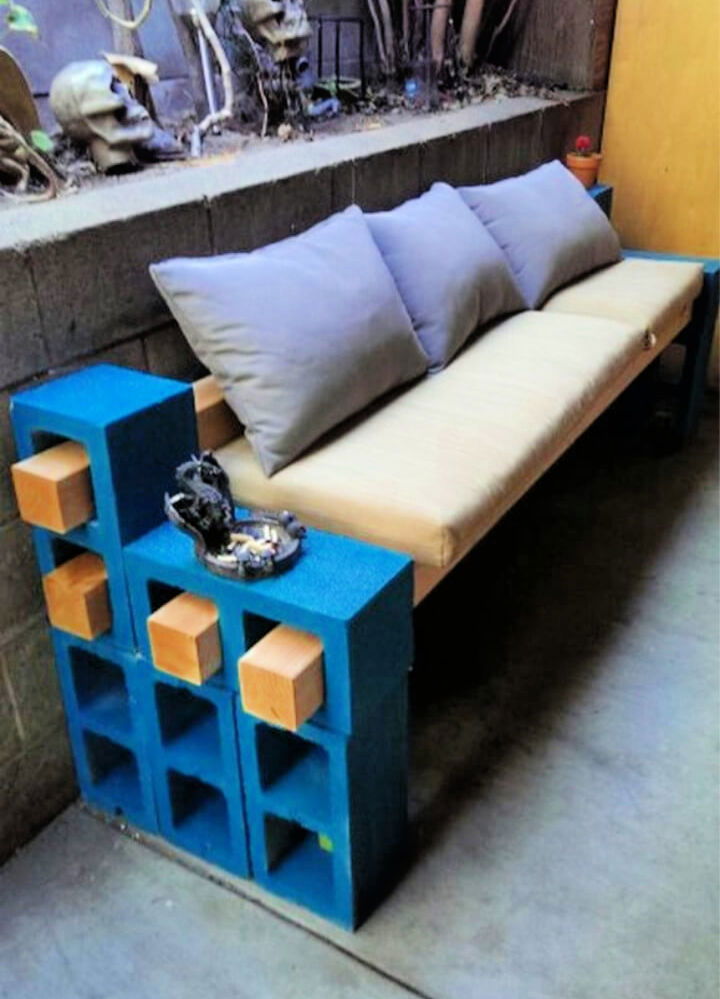 A premium outdoor bench made of blue-painted cinderblocks that hold the square wooden posts in them! This bench also supports your back with the stable backrest position, will be unbeatable in stability and price! An ideal bench design to build for your patio!
15. Easy Cinder Block Bench Design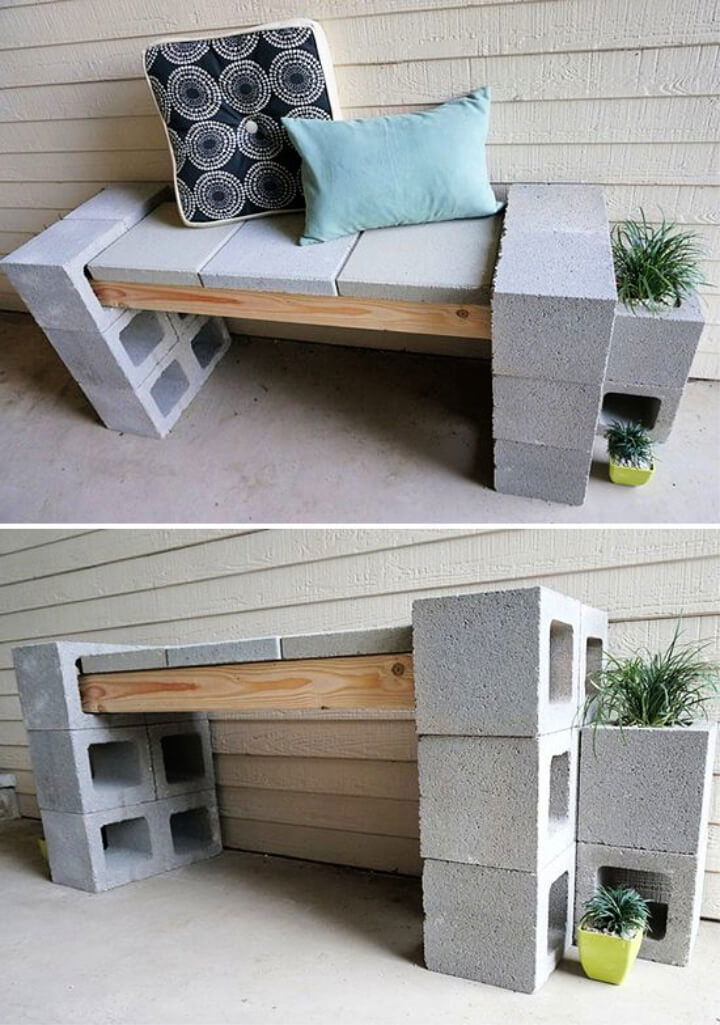 With your broad creativity, you can give amazing variations to your finally completed cinderblock benches! This cinderblock and square wood beam bench is having a super solid concrete tile top achieved by putting the tiles flat on the cross wood beams! How-to details here
Related DIY Projects and Ideas
Outdoor Bench Plans: Build your own custom DIY outdoor bench with these easy-to-follow DIY plans. Choose from various materials and styles to find the perfect outdoor bench for your space.
Pallet Bench Plans: Transform your outdoor space with these cheap DIY pallet bench ideas. Get creative and make the perfect furniture for any area in your home!
Corner Bench Ideas: Build an easy DIY corner bench for your home with this step-by-step guide. Maximize space and add extra seating – perfect for a kitchen nook or entryway!
Pallet Couch Plans: Get free DIY pallet couch plans and create a unique, comfy place to relax in your own home. Transform old pallets into stylish furniture with our easy-to-follow instructions!
DIY Adirondack Chairs: Looking for adorable DIY Adirondack chair ideas? Check out these creative, easy-to-follow instructions and start building your own stylish seating!
Pallet Chair Plans: Create a unique and stylish chair for your home with these simple DIY pallet chair plans. Step-by-step instructions make it easy to build this affordable furniture piece.
Chaise Lounge Ideas: Free DIY chaise lounge plans to help you create your own stylish and comfortable lounger. Perfect for patios, decks or any outdoor living space – start building today!
Sofa Arm Table Ideas: Add convenience & style to your living room with this Super easy DIY sofa arm table. Easy to assemble and perfect for drinks, books and more!
Related DIY Outdoor Projects to Try:
Fire Pit Ideas: Are you looking for an easy and inexpensive way to create a fire pit in your garden? Look no further! We have cheap DIY Fire Pit Ideas that inspire you, from cheap to simple designs with upcycled materials. 
DIY Backyard Ideas: Create the backyard of your dreams on a budget with these incredible DIY backyard ideas. Find creative ways to repurpose and reuse items for cheap outdoor decoration, lighting, furniture and more!
DIY Cinder Block Planter Ideas: Bring a modern, stylish twist to your garden with these easy DIY cinder block planter ideas. Get creative and craft unique designs to make your outdoor space stand out from the rest!
Cinder Block Raised Bed: Discover how to build a cinder block raised bed with this step-by-step guide. Find top tips and creative cinder block garden ideas for your outdoor space.
Conclusion:
Overall, making a cinder block bench at home is an inexpensive and creative way to add seating solutions to any outdoor space. With just some simple supplies and materials, anyone can create a unique and stylish bench that will last for years. Whether you want a modern or rustic look, these 15 easy DIY cinder block bench ideas provide plenty of inspiration for your next backyard project.