Do you want to add some comfort and style to your bench, window seat, patio bench, or storage bench? If so, you might be interested in learning how to make your own DIY bench seat cushions. DIY bench cushions are a great way to customize your seating area and save money at the same time. You can choose the fabric, color, size, and shape of your cushion to match your decor and preferences. Plus, you can make them without any sewing skills—all you need is some foam, batting, fabric, and a staple gun. Learn how to make a bench seat cushion with these 25 easy DIY bench cushions, including clear step-by-step instructions, sewing pattern, and detailed images.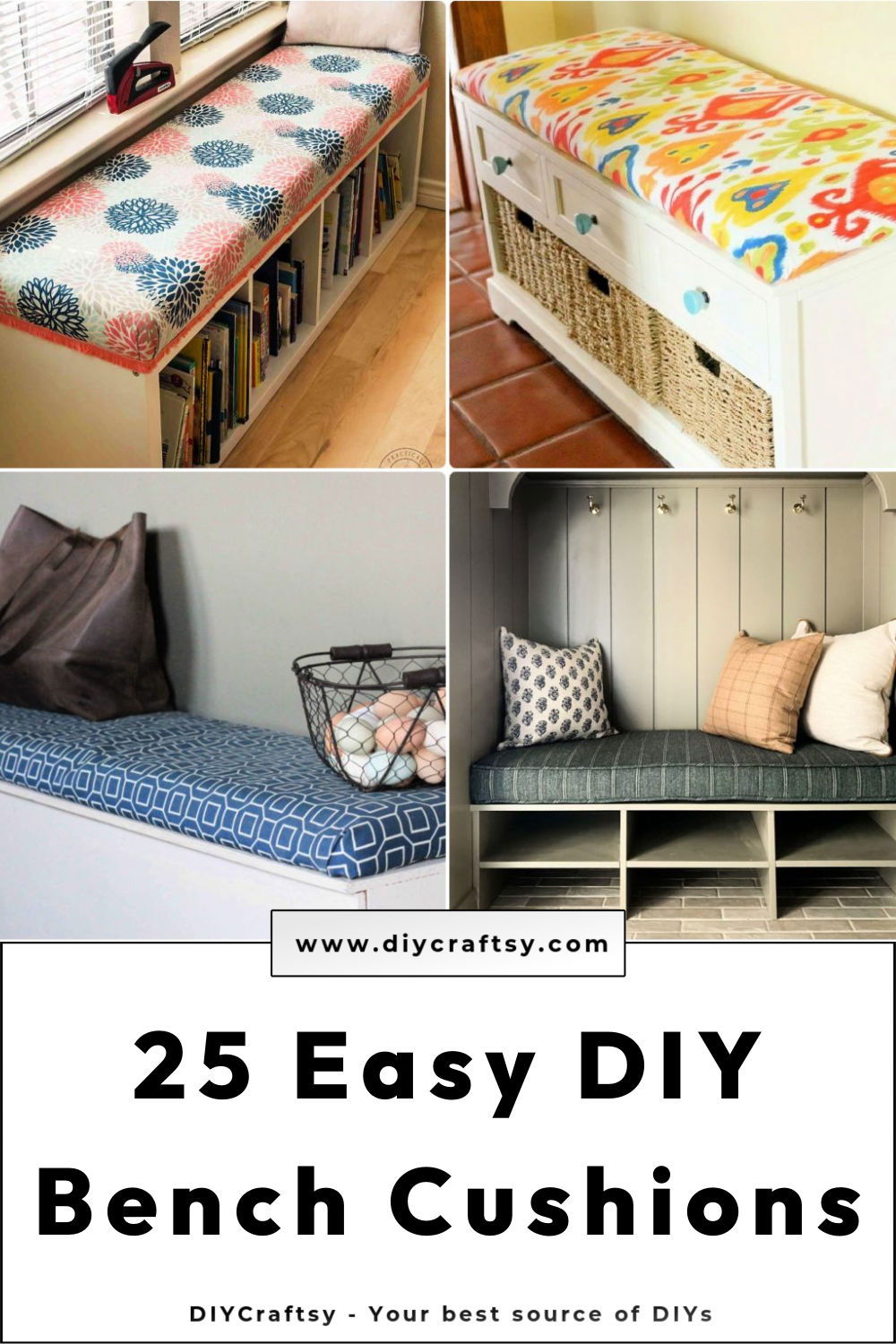 DIY Bench Seat Cushions
If you're feeling crafty, try making your very own bench seat cushions to transform your seating experience. Making a bench cushion yourself allows you to customize the cushion size, fabric, padding, and even the stitching pattern to best suit your preferences.
These DIY cushions for bench guide is an enjoyable and fulfilling task. With a wide range of materials and styles, making DIY bench cushions is an easy project. Pick up your materials today and start making your own DIY bench cushion.
1. No Sew DIY Bench Cushion
Impress friends and family with your DIY skills and make a comfy bench cushion in just over an hour without touching a sewing machine!
This incredibly simple no-sew bench cushion is the perfect way to upgrade any window seat, outdoor bench, or reading nook. All you need is one IKEA Kallax cubby storage unit turned on its side, plus some fabric of your choice, and you'll have a luxurious custom-made cushion in no time. The best part? You don't even need to be an expert sewer – use a staple gun to ensure the fabric fits snugly around the frame for guaranteed results that look great! So why not try this easy project today and give your seating area or favorite spot in the house an instant upgrade? functional
2. How to Make Bench Cushion Without Sewing
This tutorial provides the perfect solution – no plywood or sewing is required. You can quickly make a comfortable, stylish seat cushion with basic materials and supplies. Plus, easy-to-follow instructions will walk you through the entire process so that even those with limited experience can achieve great results.
From selecting fabric that fits your style and needs to cutting and assembling pieces into a finished project, you will be sitting pretty on your freshly made DIY bench cushion before long! So don't wait any longer – start today making an awesome seating addition for your home or outdoor area without breaking the needle and thread! happierhome
3. Make Your Own Tufted Bench Cushions
A statement piece for your home with these easy and stylish DIY tufted bench cushions! Add a modern touch to any room with this unique and eye-catching design.
Start by picking up upholstery thread and big curved buttons that will be the perfect surface to cover. Use the same fabric to unite the bench for a cohesive look, ensuring all sides are evenly tucked in. Or get creative – mix different textures of fabrics to make an interesting contrast.
Once you have it in place, sew on those buttons, and voila – you have some beautiful tufted bench cushions that turned out beautifully! With a few steps, you can easily transform any old bench into something special—in no time! happilyeverafter
4. Easy DIY Wood Bench Cushion
The perfect addition to your bedroom, this easy DIY wood bench cushion is custom designed with functional and unique touches. Crafted from solid wood, this handmade bench is large enough to hold two suitcases and features a modern style for any interior decor.
The easy-to-assemble wooden bench has a cushion that can be upholstered with faux leather or vinyl for an added luxury touch. With its sleek design and construction, it's the best spot to store away seasonal clothing at the foot of your bed or under a window – making it both stylish and practical. Find out what makes this easy wood bench cushion so special today! manzanita
5. Modern DIY Bench Cushion With Leather Straps
Bring chic comfort to your home with this modern DIY bench cushion project! This intermediate sewing project is perfect for anyone looking for a small-scale, soft pattern that will add warmth and texture to any room. With the help of our leather straps, you'll be able to easily attach your handmade cushion to any bench of your choice.
Not only will it look stunning, but it will also provide comfortable support! With its organic texture and contemporary design, this fabric cushioning will surely be the perfect counterpart for any furniture piece in your home. Let us show you how easy crafting a beautiful bench cushion can be – let's start making the most fabulous addition to your interior today! francoisetmoi
6. How to Make Bench Seat Cushion
Transform your home decor with a unique and highly creative DIY bench seat cushion! This project is an achievable goal even for novice sewers.
All you need are basic sewing skills, 6 hours of spare time, and a few materials to make this easy bench cushion look professional. With the right fabric selection and pattern design, a stunning piece of furniture will envy all your friends. Get ready to make something truly special – take on this challenge today! erinzubotdesign
7. How to Sew a Bench Cushion – Free Pattern
Get your creativity and imagination flowing with DIY sewing! Make a bench cushion like no other, starting with scrap metal and slowly turning it into fabric. Experience the satisfaction of transforming everyday items into something special as you work with fabric and a sewing machine.
If you love crafting or working with your hands, there's nothing like making your furniture from scratch. With patience, dedication, and guidance, you can make the perfect bench cushion that will add to the comfort of any space. So what are you waiting for? Put on those gloves and start building today! dunnlumber
8. Handmade No Sew Bench Cushions
Do you want to update your outdoor furniture without breaking the bank? Look no further than no sew bench cushions! This easy, inexpensive way to customize your bench cushions will be the perfect addition to any outdoor space.
With these no-sew options, there's no need for a sewing machine or fancy materials – just a little creativity and simple tools. From classic tufted pillows to creative fringe styles, you can make custom bench cushions that fit perfectly into any setting.
Whether you are searching for cheap bench cushions or one-of-a-kind pieces made with love and care, DIY no sew bench cushions have got it all! madepretty
9. Free Patchwork Bench Cushion Sewing Pattern
A DIY patchwork bench cushion can add a unique touch of creativity and style to any room in your home! With just a few basic skills, such as sewing straight seams, inserting stuffing, and sewing on buttons, you can make a beautiful bench cushion that looks like it took days to create!
This free patchwork bench cushion pattern will guide you through making your personalized masterpiece, so don't be shy about showing off your craftsmanship – with this project, everybody wins! The patchwork pattern is eye-catching; its vibrant colors give life to any dull area, and its intricate design makes it stand out. Plus, tying the patches together at the end gives it an extra cute look that nobody else has! sewcanshe
10. How to Make Seat Cushions for Bench
Making your seat cushions for a bench is an easy way to add comfort and aesthetics to any space! All you need are safety pins, fabric, foam, and scissors – this project can be completed in under 10 minutes without sewing.
Cut the foam down to size using scissors or a knife, then take your fabric and cover it around the cushion's edges before securing it tightly with safety pins – it's that simple! Not only will these homemade seat cushions look great on your bench, but they'll also provide additional comfort.
This is a great project if you're looking to spruce up your window seating area without too much effort. So don't wait another minute. Get out those supplies and start making beautiful DIY seat cushions today! collectivegen
11. Make Your Own No-Sew Bench Cushion
Making your perfect seating space is now easier than ever with a DIY no-sew bench cushion. With a few supplies and less than an hour, you can transform any old bench into one stuffed with comfort and style made from scratch – without requiring any sewing abilities!
From making the custom cushion size to covering it in fabric, this project helps ensure you have the perfect fit for your decor. Gather some foam, batting, fabric spray adhesive, scissors, measuring tools like yardsticks and pencils, and dressmaker pins, and get ready for your dream seat! blueskyathome
12. How to Make Bench Cushions
Bring comfort and style to your home with this DIY bench cushion! Perfect for any room in your home, this no-sew cushion will surely be a conversation starter. The fabric is soft enough for all-day lounging but durable enough for everyday use.
With its unique pattern and colors, you'll love how quickly it adds warmth and character to any space. Plus, crafting the custom cushion yourself instead of buying one pre-made will save money while achieving a high-quality result. Get creative with the furniture in your home today – start making your bench cushion now! homestead128
13. Make a Removable Bench Cushion
Maximize the comfort and convenience of your outdoor furniture with this DIY removable bench cushion! Whether you're looking for a comfortable place to relax or need an extra seat around the table, this versatile cushion will meet your needs.
The easy-to-install design features high-quality foam padding that provides superior comfort and support. Plus, its removable cover makes it incredibly simple to clean when needed. You'll enjoy all the benefits of a premium bench cushion at a fraction of the cost without compromising on quality or style.
So plan those weekend getaways in style and make every hour count with this fantastic removable bench cushion! It will surely make your stay even more enjoyable by providing lasting comfort throughout the day. simplybeautiful
14. IKEA Besta Bench Cushion Hack
This DIY cushion hack gives you a unique and stylish look on your IKEA Besta bench! Make a luxurious seat in no time using leftover plywood from other projects or inexpensive pieces from the local hardware store.
This fun and creative project is perfect for those with some spare time looking for an affordable way to make their furniture stand out. You can easily make a beautiful bench cushion with minimal supplies that looks great and adds character to any room.
Plus, it's simple enough for beginners but still offers plenty of room for customization to make something unique! Add this easy IKEA Besta bench cushion hack today and enjoy the amazing results of your hard work! angelarosehome
15. DIY Bench Seat Cushion Using a Bed Pillow Upcycle
Are you looking to give your home a unique, personalized touch? Then why not make your DIY bench seat cushion using an upcycled bed pillow? This project is surprisingly easy and cost-effective, but the result looks like it came from a high-end boutique.
With just a few simple materials – including a bed pillow, hand towel, fabric of your choice, hot glue sticks, and gun – you can craft something unique that fits perfectly under the dressing table or in any other room. This little upgrade will brighten your space with eye-catching colors and textures – it's also comfortable enough for anyone to enjoy! Get inspired today by crafting this bench seat cushion with an upcycled bed pillow; your guests will surely be impressed! rootsofhome
16. Homemade Window Seat Cushion
This easy-to-make DIY window seat cushion is crazy easy to make, using a curtain as the fabric to cover the bench cushion – no sewing required! You can make a stunning window seat cushion with basic supplies quickly.
Whether you want something bold and unique or more subtle and calming, this project will give you an amazing result that'll add instant style and coziness to any room. Enjoying relaxing afternoons in front of your beautiful new window seat has never been easier – get started on making yours today! domestically
17. No Sew DIY Window Seat Cushion Under $50
Turn your window seat into a comfy spot to relax without breaking the bank with this no-sew DIY window seat cushion for $50. Perfect for those looking for an easy, quick fix that will last.
With this cushion, you can easily customize the size and shape of the window seat cushion by cutting it down to fit any space better. You don't have to be a DIY expert either – in just 20 minutes, you'll have an upgraded, luxurious seating area that looks like something out of a magazine!
Best of all, you'll only need to spend around $50 on supplies! Transform any room with a new look at an unbeatable price now – take advantage of this no sew window seat cushion today! housebeautiful
18. Simple DIY Bench Cushion in 15 Minutes
Love a quick DIY project? With just 15 minutes and no needle or thread required, transform any bench with this easy DIY, no sew bench cushion. Make your custom cushion in the comfort of your home, customized to match your style and space.
You can make an inviting space for friends and family in only fifteen minutes while adding a splash of color. Get creative! Use fabric remnants from previous projects or pick a new pattern to make any room warm and inviting. So grab some fabric glue and start today – it's a simple, fast, budget-friendly way to instantly makeover benches! oldhouse
19. DIY Upholstered Bench Cushion
Would you like to make your own cushioned bench seat? This easy-to-follow guide will show you how to make a beautiful padded cushion seat on plywood in no time – and best of all, there's no sewing required. With this project, you can make the perfect spot to relax and unwind while adding value and visual appeal to your home.
All it takes is simple materials such as foam padding, fabric, batting, plywood base, and staples – plus some patience as you assemble the piece. The result? A stunning upholstered bench for an elegant addition that will last years of enjoyment. So don't wait any longer – start making your own DIY upholstered bench cushion today! abbottsathome
20. No Sew Bench Seat Cushion Pattern
Do you want to add a touch of personalization to your home decor but don't have the time or patience for complex craft projects? Look no further than a DIY, no sew bench seat cushion pattern!
This quick project will have you lounging in comfort and style in less than an hour and for way less than ready-made cushions. Whether you choose a plush velvet fabric or a bold geometric pattern, this cushion will look beautiful on any bench seat. With step-by-step instructions and high-quality foam inserts, all that's left is customizing it with the colors and fabrics of your choice.
Make something unique that reflects your personality – so be creative and let yourself go wild! You'll be amazed by how happy you are with the result. So what are you waiting for? Get started now and make a one-of-a-kind cushion that will bring joy into any room in your house. thriftydecor
21. DIY Bench Cushion With Removable Cover
Start your DIY journey today with this easy and quick tutorial to make your banquette seating cushions! Forget about spending a fortune to get custom-made cushions; you can now craft something unique and stylish at home.
Say goodbye to plywood, as this project does not require it – all you need is some fabric of your choice, batting, foam pieces, thread, and ties. With the help of the envelope closure technique we provide in this tutorial, you can add an extra personality twist to your cushion cover – perfect for adding a special touch to window seat cushions. Get creative and craft a highly stylish bench cushion with a removable cover that perfectly fits into every home's interior decor! treehouse
22. DIY Upholstered Window Bench Cushion
With a quick and easy no-sew upholstered bench cushion tutorial, you can make an attractive yet affordable way to make your space more inviting than ever before! You'll need just a few supplies, such as plywood or OSB, 3″ or 4″ thick foam, and upholstery or other thick fabric.
This project is perfect for window seats, banquets, breakfast nooks, benches, and more. Once you have the materials in place, it will take virtually no time to construct your cushion – put it on the seat or bench of your choice and enjoy! Whether you're looking to add comfort to an existing piece of furniture or spruce up an otherwise mundane spot in the home, this DIY upholstered window bench cushion will do the trick.
So grab that good book off the shelf along with some coffee for extra relaxation, and get ready to sit back on your newly crafted creation! wellinginteriors
23. How to Make a Tufted Bench Cushion
Let your creativity soar and bring a touch of sophistication to any seating area with this DIY tufted bench cushion! If you're looking for an easy yet stunning furniture upgrade to make your living space come alive, look no further than this stylish tufted cushion.
No sewing is required – follow the simple step-by-step instructions, and soon you'll have a beautiful, custom look that will transform your decor in no time. Perfect for making cozy reading nooks or pretty upholstered benches indoors or outdoors – the possibilities are endless!
With the detailed guide and materials list, anyone can make their eye-catching tufted bench cushion without breaking the bank or spending hours on difficult projects. So don't wait another minute – start crafting today and enjoy the added comfort and style of having a custom tufted bench cushion in your home.
24. No Sew DIY Window Bench Cushion
Bring out your inner DIYer and make an eye-catching statement in any room with this no-sew DIY window bench cushion! You can easily upholster bench seat cushions for any space with simple tools, minimal fabrics, and no sewing required.
This handmade cushion is easy to make and great to sit on – perfect for adding comfort and style around the house. Plus, with its unique design that adds texture and dimension without looking too busy, it's sure to be a conversation starter when friends come over. Get creative and show off your crafty side by making this trendy yet timeless home decor today!
25. Making Your Own Bench Cushion
Welcome to the world of amazing DIY projects! If you're looking for an easy, no-sew way to make a professional-looking bench cushion that will fit your home decor perfectly, look no further than this DIY bench cushion.
This innovative project requires minimal effort; even those with limited sewing skills can achieve beautiful results. All that is needed is some fabric, foam padding, batting, and tools such as scissors and measuring tape. The tutorial offers step-by-step instructions so anyone can easily make custom cushions. With this creative endeavor, you'll be able to have a stylish cushion in no time at all!
Not only does it save money, but it also gives you the chance to make something unique for your home. You won't find a better value or more personalized choice anywhere else! So why wait? Start crafting your bench cushion today with this simple yet effective guide – guaranteed satisfaction included.
26. Free Sewing Pattern for Bench Cushion
Are you seeking a great DIY project to get you started on your sewing journey? Look no further than this fabulous free pattern for a stylish bench cushion! This simple yet effective design is best for any built-in benches in mud rooms or window seats; the piped edge adds more sophistication and flair.
The easy step-by-step instructions make constructing this long bench cushion without boxing super straightforward, and with minimal materials, it's an affordable way to spruce up your home. Get creative with fabric choices and let your imagination run wild – show off your craftsmanship by making one yourself today!
Related DIY Projects to Try
Conclusion:
In conclusion, learning how to make a bench seat cushion can greatly enhance your home's aesthetics and comfort. With 25 easy DIY bench cushion ideas ranging from no-sew projects to modern designs using leather straps, there's a variety of options to suit your preferences. These cushions not only add a personal touch to your space but also provide a cozy spot to relax. Go on your DIY bench seat cushion journey today and transform your bench seating into a stylish and cozy place to unwind.