Satisfy your concrete crafting obsession with these DIY concrete stool ideas that require only a few basic tools and common materials. Featuring a concrete effect will also help bring modern industrial decor style to your home. Building these stools will be great for a couple of more reasons. They can e the smartest furniture items to use in multiple different ways. Along with being used for stylish seating, employ them as nightstands and planter stand too. Get the best design inspirations from these 10 best DIY Concrete Stools that are sure to have a long functional life in your home. At the same time, they are quite simple and quick to build.
Filling a bucket a little with the liquid concrete and then drying the custom wood dowel legs in it, is what most concrete stool constructions are all about. Paint your completed stools to match targeted space decors or current home decor theme.
The concrete stools are going to be the best stools to add to your indoor bar areas due to their gorgeous style and unbeatable stability. Finish the concrete stool tops with metal hairpin legs instead of dowel or other wood legs for a quick lovely variation. Paint bottoms of legs a little for a dipped appeal of stool and also wind cork steel and concrete bar stools will be one-of-a-kind for sure. Look through all the DIY Concrete Stool Projects and get yourself inspired.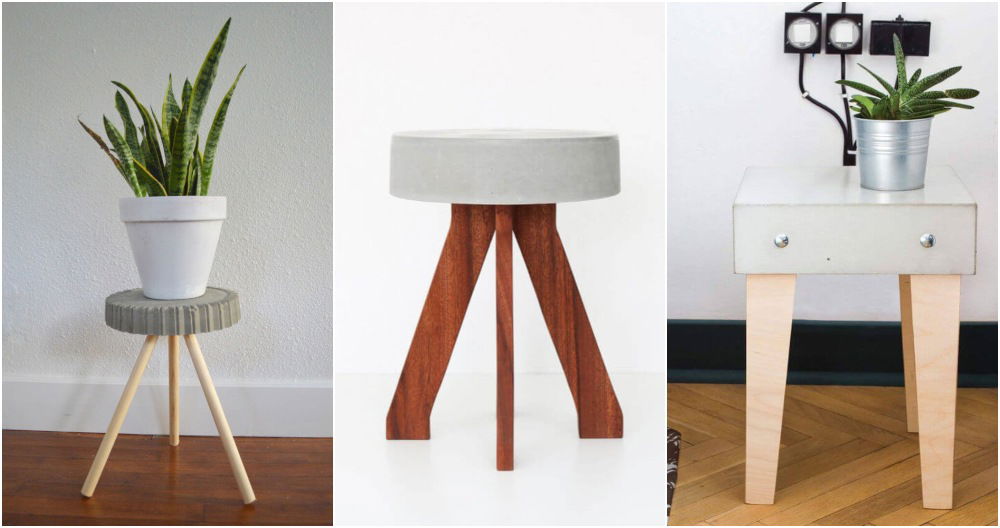 Concrete is a versatile building material that can be shaped into a variety of forms. It's also one of the most durable materials available. Learn more about concrete projects and how to make them using cement.
1. DIY Bucket Concrete Stool Under $5
A stool and a planter stand, this handsome wood dowel and cement creation will perform better for both purposes. Fill a bucket a little with concrete, next push the wooden dowels deeper in it and let them dry in place. Remove the bucket mold to gain a brilliant concrete stool. Full how-to guides here hometalk
2. Make Industrial Concrete Stool On Budget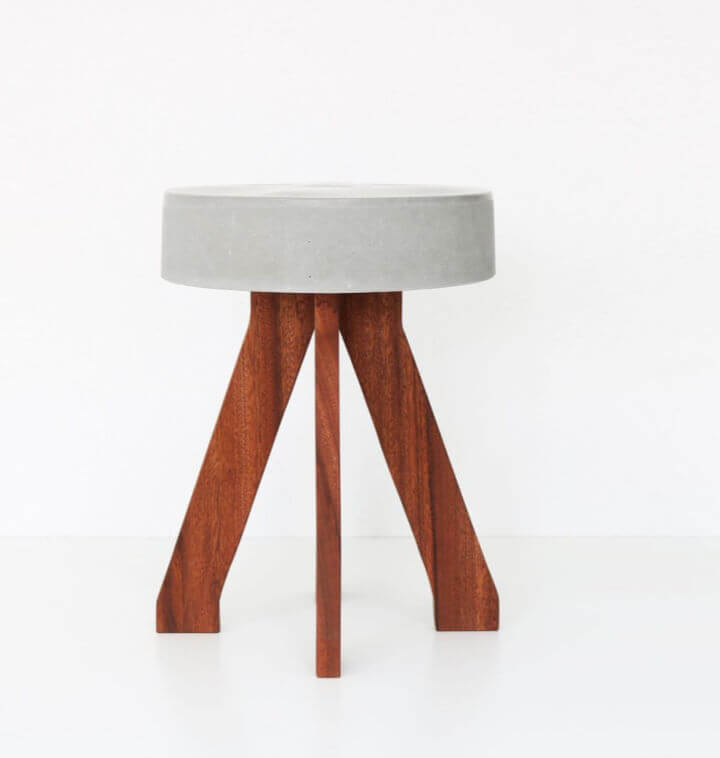 Building durable round concrete tops is super easy, and you can simply finish them with custom bases or legs to build lovely stools. Here a concrete round sits beautifully on an artistic wooden pedestal base, and this builds a lovely concrete stool, will never get out of style. Full How-to guides and tutorial here dwell
3. Fashionable DIY Concrete Stool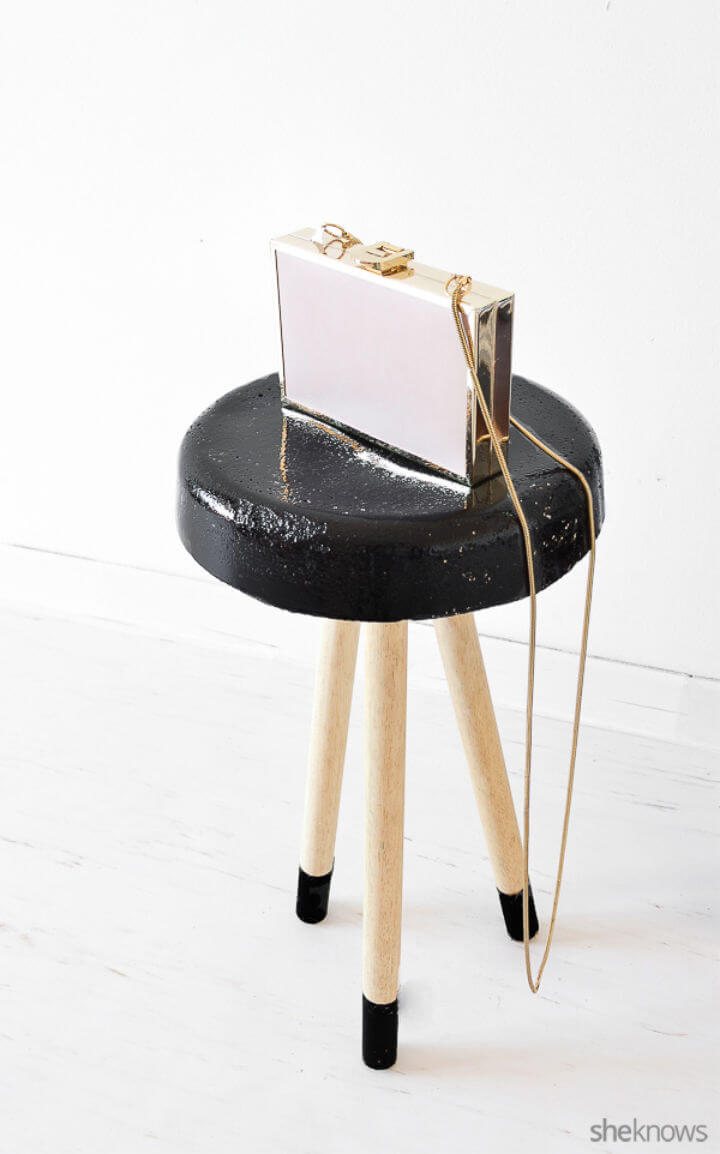 Using wooden dowels and concrete is the most common way to build the lasting longer and durable stools with heavy-duty wooden dowel legs. This stool gains attention due to black painted top and little black painted feet. The crazy wooden stool that will be ready in no time. Full how-to guides and tutorial here sheknows
4. Homemade Bucket Concrete Stool
Boost the decors of your home, spending less than $5. The making of the stool is pretty quick and easy, and it involves filling the bucket a liquid concrete and then to adjust the wood dowel legs in it to dry in place. After all, get dried well, you can take your solid concrete stool out. Step-by-step tutorial here homemade modern
5. DIY 5 Gallon Concrete Stool
You will instantly fall in love with these concrete stools that will be a pleasing addition to your backyard to sit around a party table. Use the 5 Gallon buckets with lids to use as a mold to make these stools with removable lids. Paint the finally finished stools to match the surrounding space decors. Details here instructables
6. Simple Concrete HRS Stools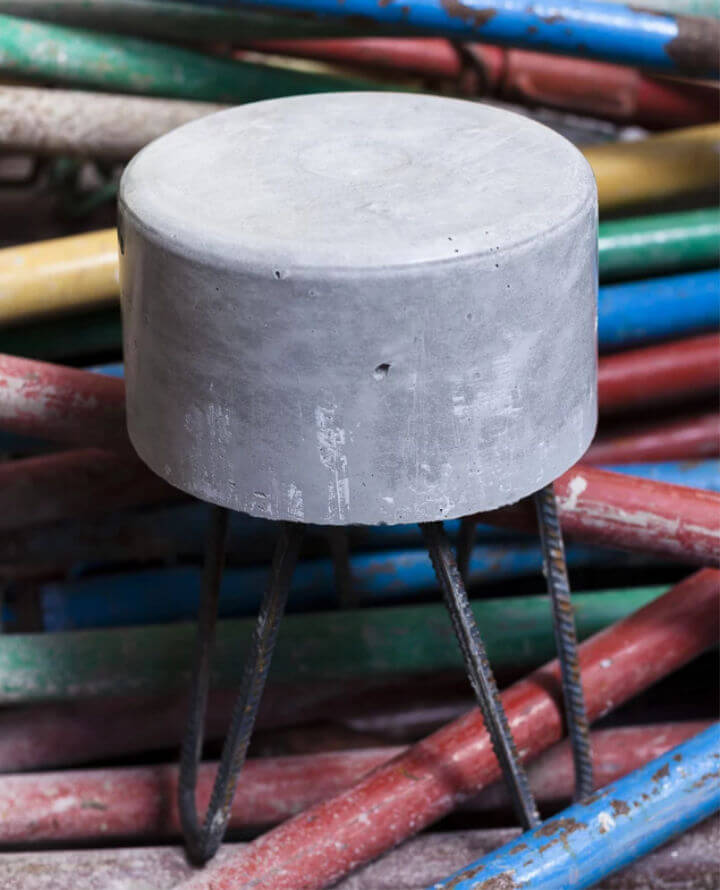 Willing to feature the concrete in your indoor or outdoor decors? Then consider making these HRS stools that are affordable and stand on the metal hairpin legs in style. The best choice for the planter stands. Use paint to get them in a custom colorful appeal that will be a perfect addition to any space. Full how-to guides here designboom
7. How to Make a Concrete Stool
The fringed texture of the concrete seat in this stool makes this concrete stool design a bit more fetching and visually pleasing. Achieve this design quickly using a custom mold and round wooden dowels will be a smart choice for the stool legs. Here is how to make this planter stand or stool. Details here dandylione
8. DIY Outdoor Concrete Stool
Feel free to duplicate this fetching concrete stool, will be a lovely addition to your patio or outdoor deck to hold the planters and pots at a lovely height. Here round wood dowels and square wood dowels both can be used to make brilliant stool legs. Full how-to guides here wikihow
9. Wiid Cork Steel and Concrete Bar Stool
This stool features cork, steel, and concrete and is a hot combo of all these materials. Here all you need is to give height to a cork steel stool by adding a concrete base. Use custom bucket molds to build the durable concrete base for these bar stool. An easy but amazing DIY concrete stool project.
10. Beauitful Monter Concrete Stool
The most beauteous model of concrete stool that you can get as next most stylish nightstand in your bedroom. Build a square concrete stool seat and make it stand on the tapered wood slat legs to build this monster concrete stool. A brilliant nightstand to make at home.