Looking for a unique and affordable way to add some personality to your home decor, patio or outdoor living space? Try making your own DIY concrete planters! Concrete is a versatile material that can be used to create all sorts of shapes and sizes, so you can really let your creativity run wild. Learn how to make a concrete planter with these 25 diy concrete planters that are perfect for beginners – all you require is some quick-setting concrete, a few simple tools, and a little bit of time.
Check out our step-by-step diy concrete planters tutorial below if you're not sure where to start. We'll show you how to make different styles of concrete planters, each with its own unique look. So what are you waiting for? Start planning your diy concrete planter today!
How to Make Concrete Planters: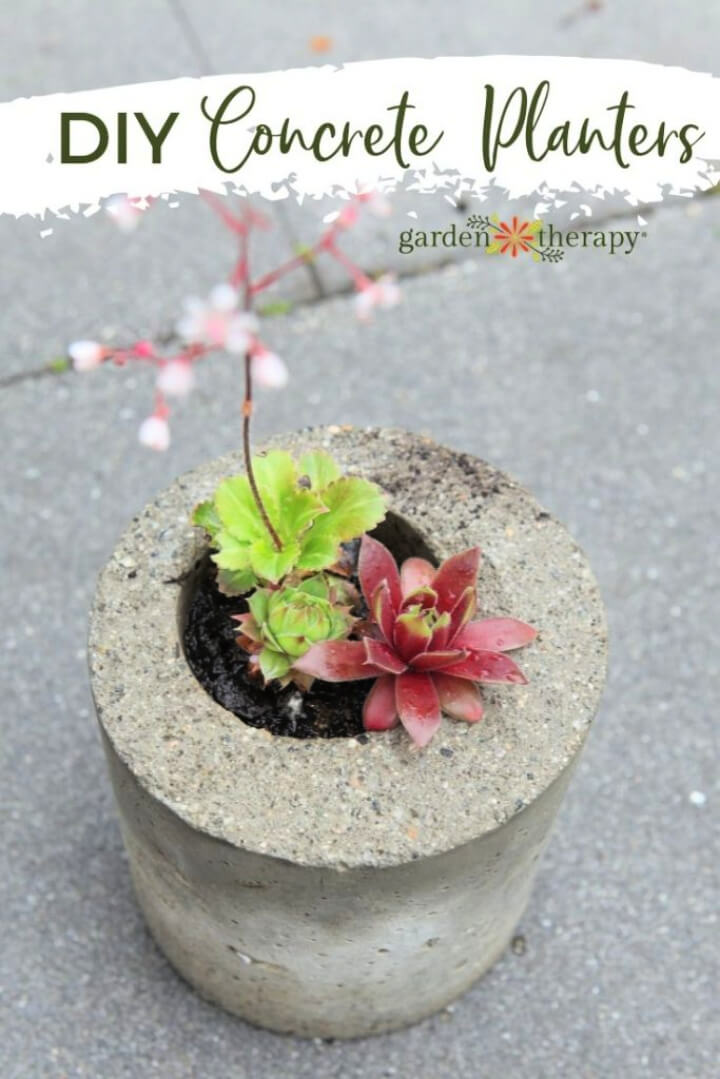 See the roughness of concrete styling up your gardens and patio areas! Use the custom molds and make very good looking concrete planters! Use a round container and a mold and make this handsome concrete planter! An affordable and easy to make patio centerpiece! How-to details here gardentherapy
Make Your Own Concrete Planters: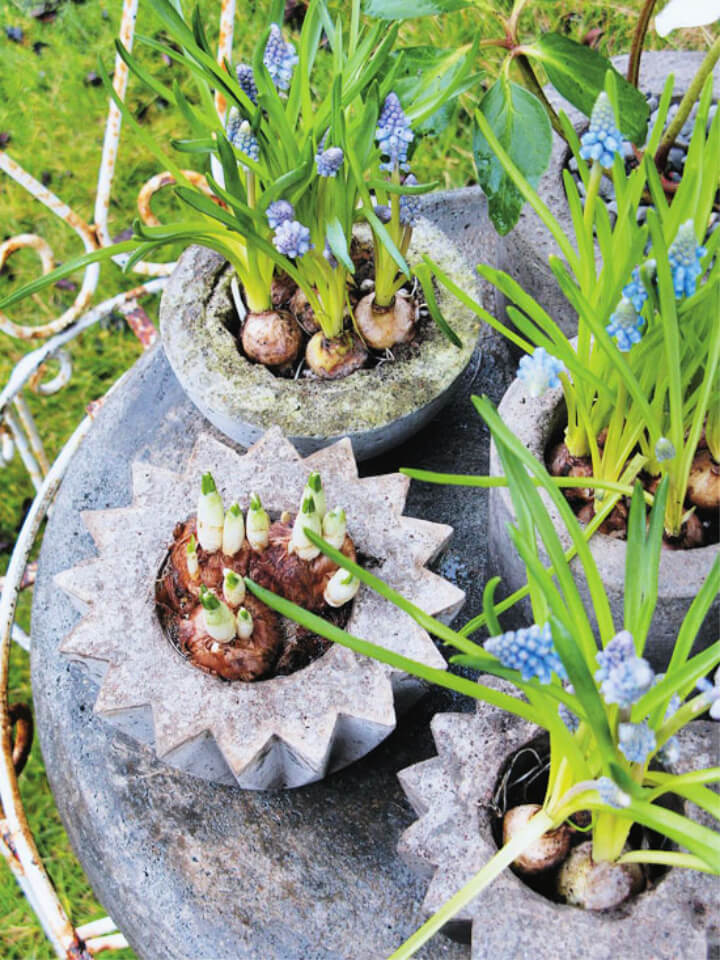 Use also two different sizes of bowls and make good looking concrete planters, will have the shape of your bigger bowl! Give diy concrete pots a nice decorative finish using paint and then set them in your garden around the bigger green beauty stations for brilliant garden decor statements! Details here bhg
DIY Concrete Planter With Cardboard Forms: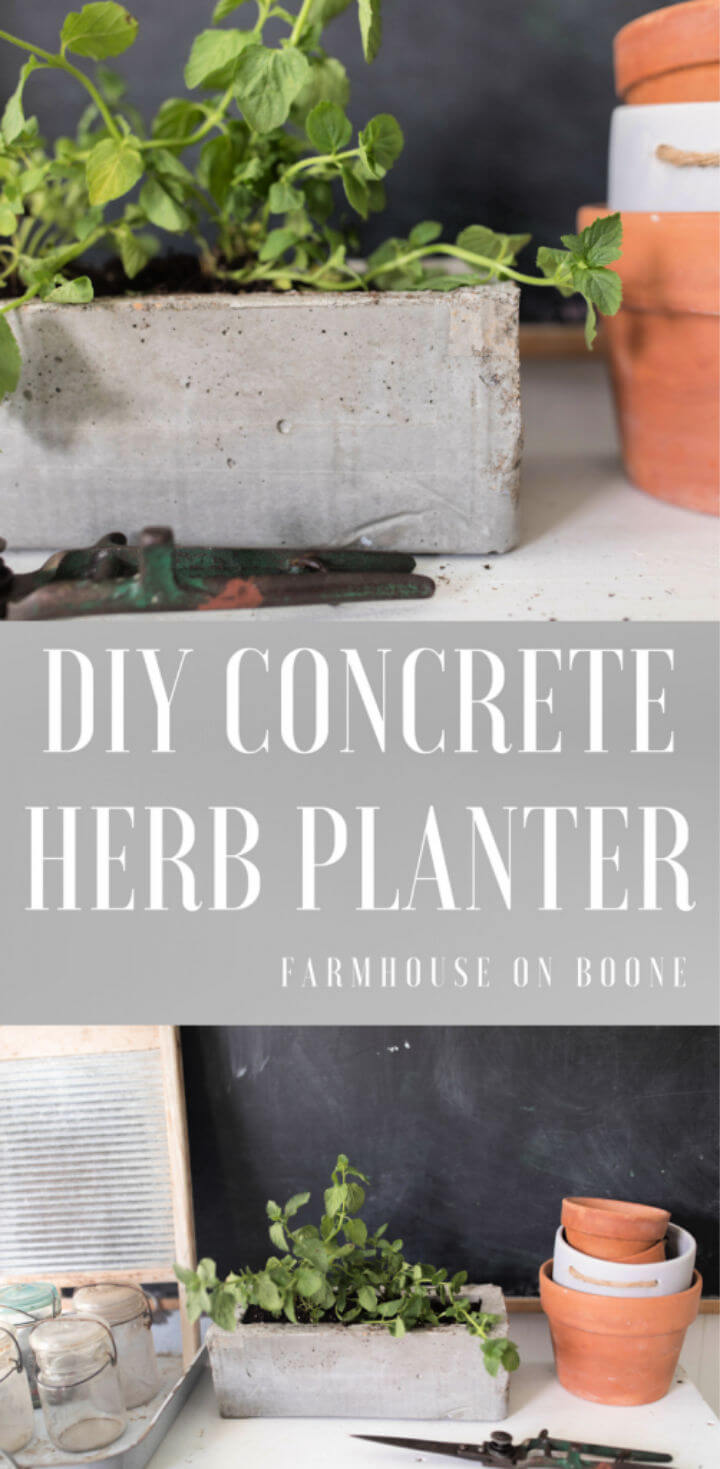 Make also custom box like molds out of cardboard sheets and make awesome rectangular or square planters for your spaces! Paint your concrete planters for a great look, will look divine in your garden! The cardboard forms will be easy to remove after the concrete gets dried well in a planter shape! Full instructions here farmhouseonboone
Related DIY Concrete Projects:
DIY cinder block planter: Looking for some creative and unique ways to spruce up your outdoor space? Why not try a DIY cinder block planter! Cinder blocks are an inexpensive and versatile material that can be used in a variety of projects. With a little imagination, you can transform them into beautiful planters for your flowers or plants.
Concrete projects for beginners: DIY concrete projects are a great way to add some extra personality to your home. Plus, they're relatively inexpensive and easy to do. See some of the best DIY concrete projects you can try out.
DIY succulent projects: Looking to add a little bit of greenery to your home without spending a fortune? These DIY succulent projects are perfect for you! From simple planters to more complex designs, there's a project for everyone.
Cheap diy home decorating projects: There are many ways to make your home look amazing on a budget, and one of the best is through DIY home decor projects. These can range from simple things like painting or wallpapering, to more complex tasks like building new furniture or creating murals and garden decor. By doing these diy home decorating projects yourself, you can save a lot of money and end up with a home that looks like it was professionally decorated.
How to Build a Rock-Solid Concrete Planter: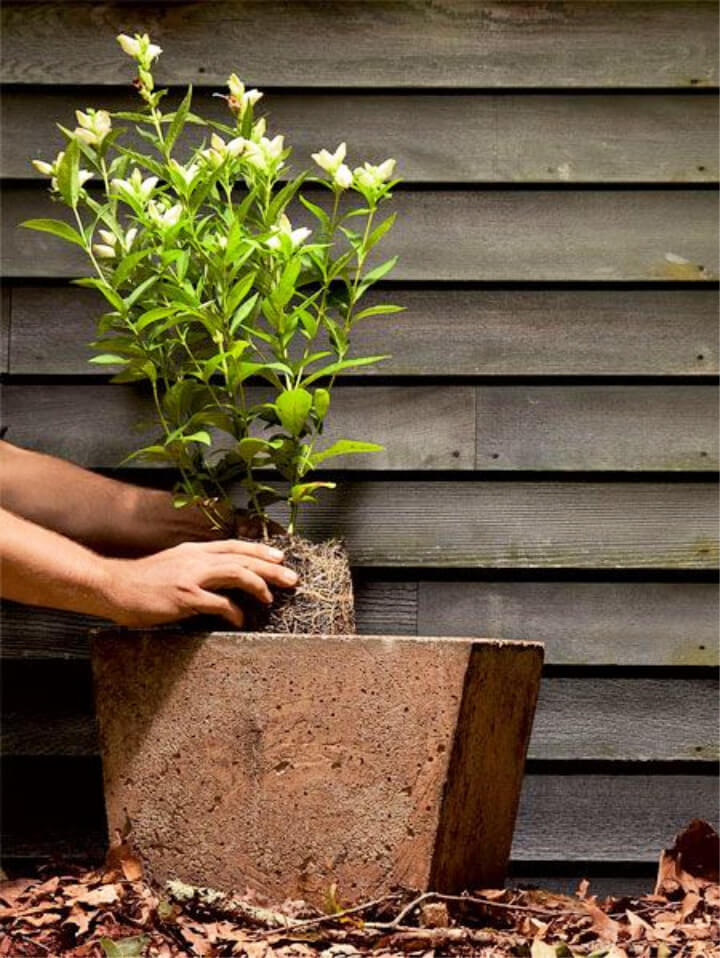 While being on a mission to spruce up your garden in a genius way, you should not miss out this adorable garden accent, a rock-solid concrete planter! Will be a super stable eye-piece in your garden and is something so simple and easy to make! Details here popularmechanics
Make a Concrete Planter With Rapid Set: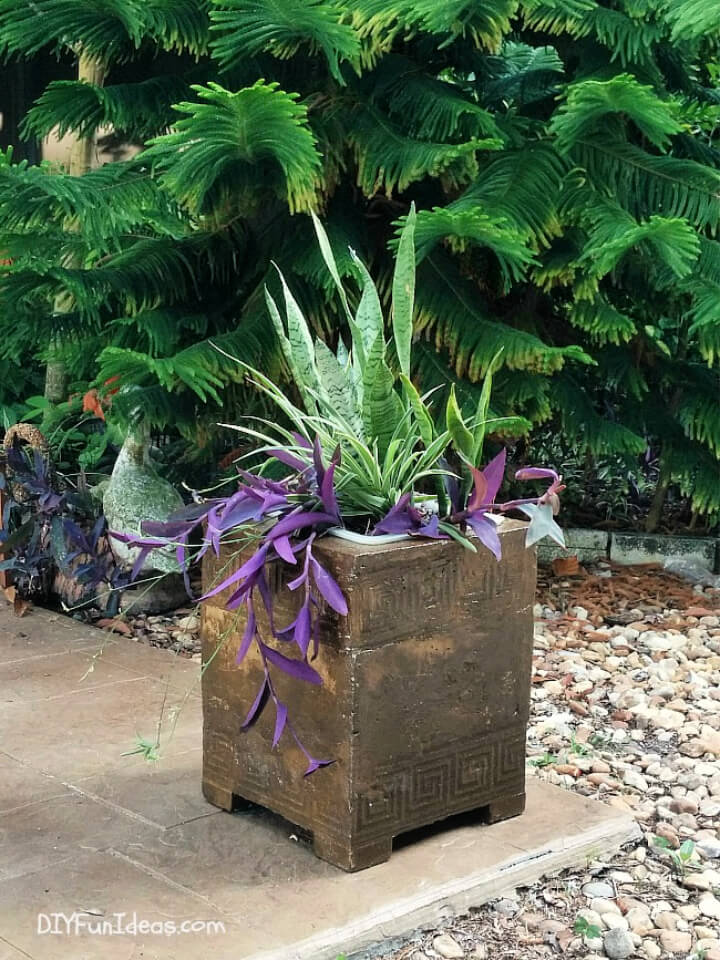 Use melamine wood boxes in two different sizes to make this concrete planter that comes with accent stamped surfaces hence gains a lovely design texture! You can many other box-style objects from home to build the planter mold, and the cardboard sheets will also rock! Full how-to tutorial here diyfunideas
DIY Wooden Based Concrete Planter: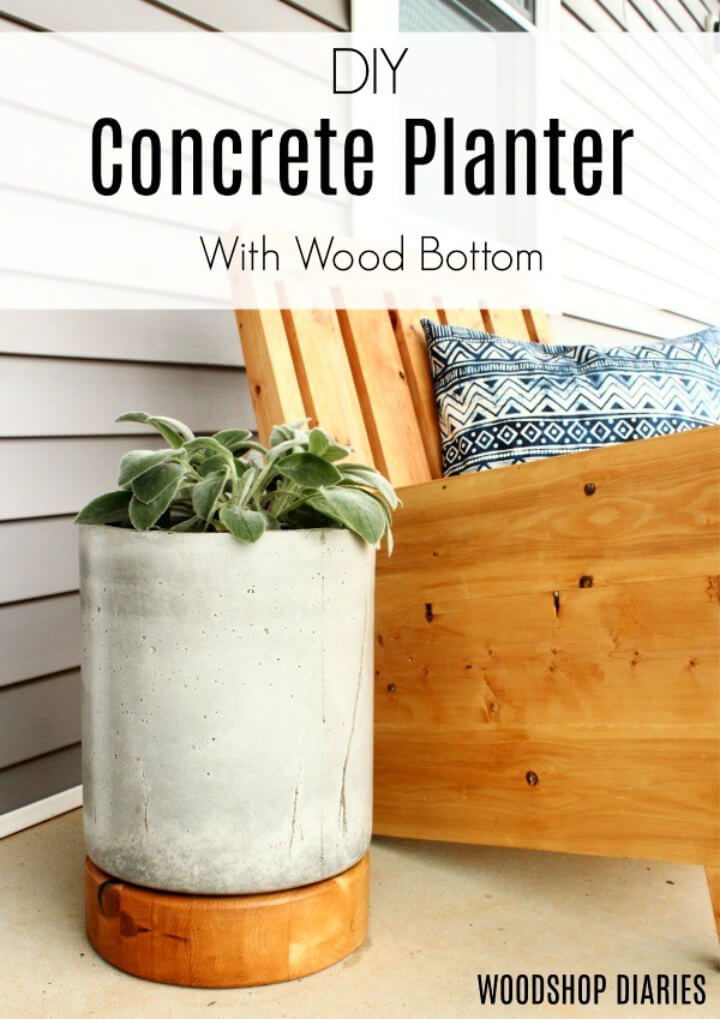 Give a wooden touch to your concrete planters so they will look extra beautiful! Prettify any patio or garnish any sitting areas by setting this concrete planter with a wooden base in sides! Make the planter form using two different sizes of plastic buckets and then fill concrete in them! Use recycled wood to make the round base! Full how-to instructions here woodshopdiaries
DIY Concrete Planter – It's Easier Than It Looks: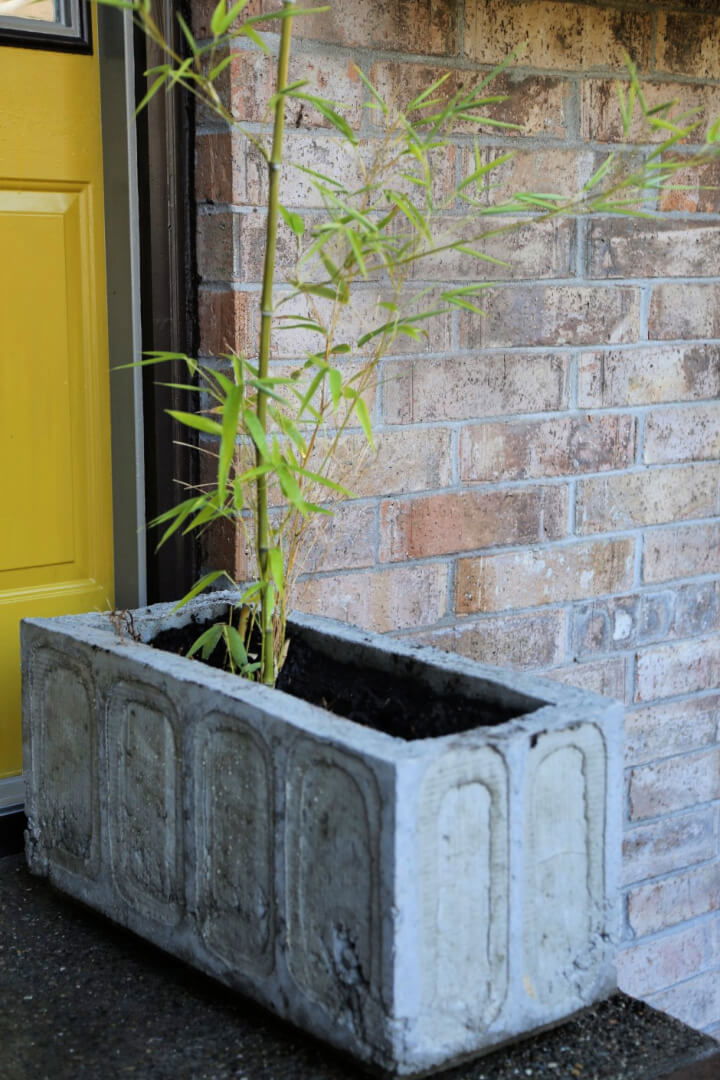 If you strive for stability and style in everything, then you can't resist the concrete planters, which will be the enchanting centerpieces for every of your space that need a natural decor treatment! Here this planter also comes with beautiful stamped and textured sides! Here is how to make it thissortaoldlife
Quite Versatile and Easy Cement Planters: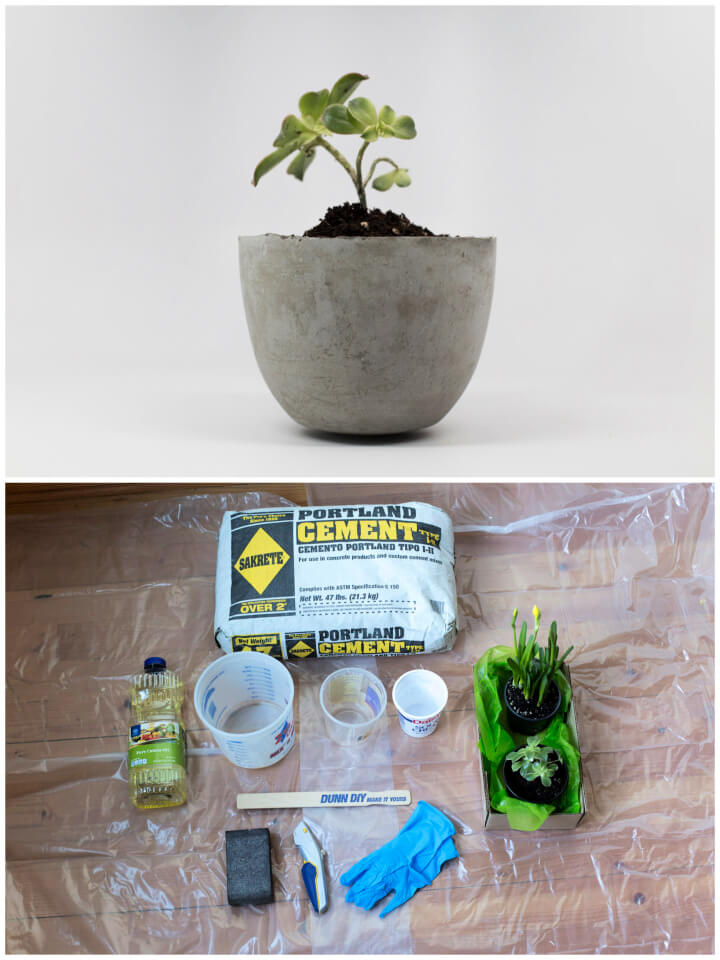 Fill the concrete in the big plastic containers and then push the smaller ones in them deeper for making inside of planters and next set them to dry well! Take them out, fill potting soil, and start using them as handsome decors in your garden! This is the type of planter that will bring modern details to space! Details here dunnlumber
How to Make Modern Cement Planters: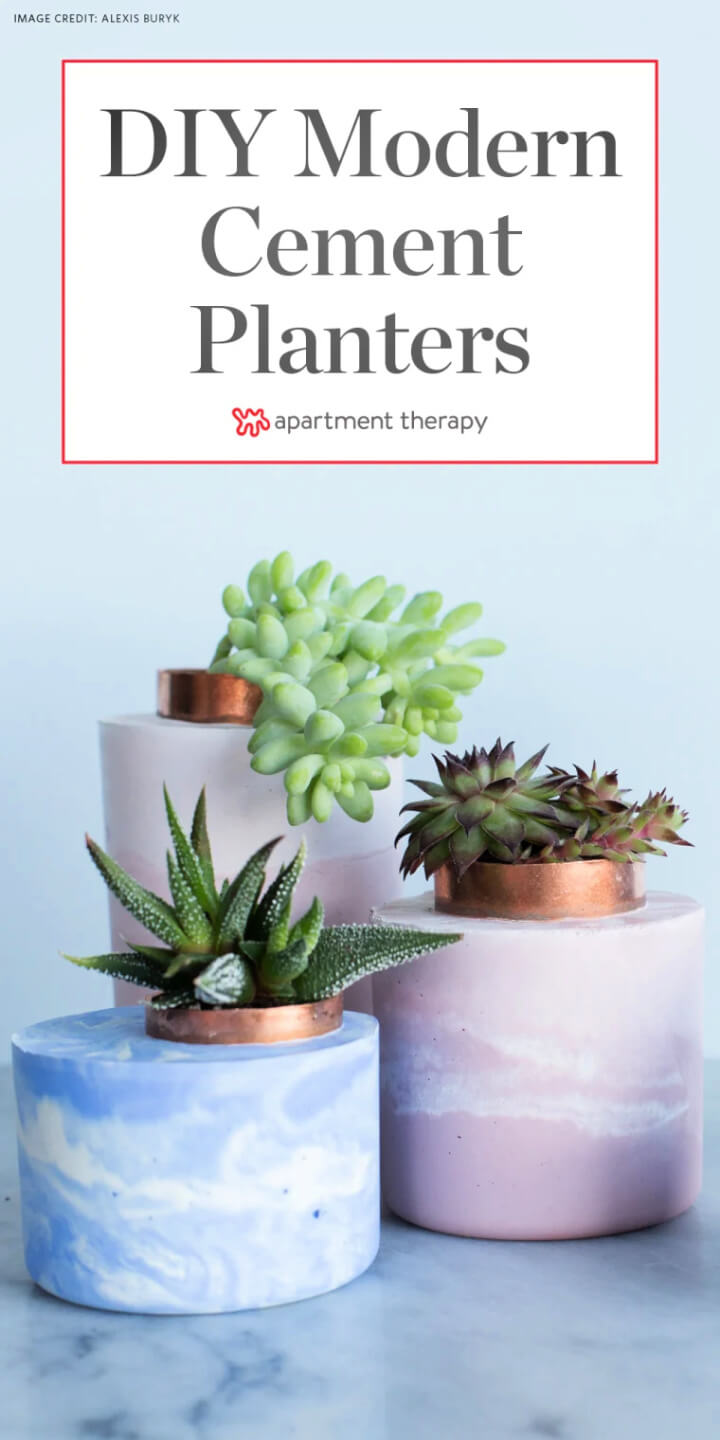 Learn how to make concrete planters lightweight and durable! The marble effect is trending in interior design decors! So, if you are thinking to add some cool cement planters to your indoor then consider making them in chic marbled appeal! Use the cement and vermiculite to make these jazz colorful and marbled planters, will be a modern addition to any space! How-to instructions here apartmenttherapy
DIY Tall Concrete Planter: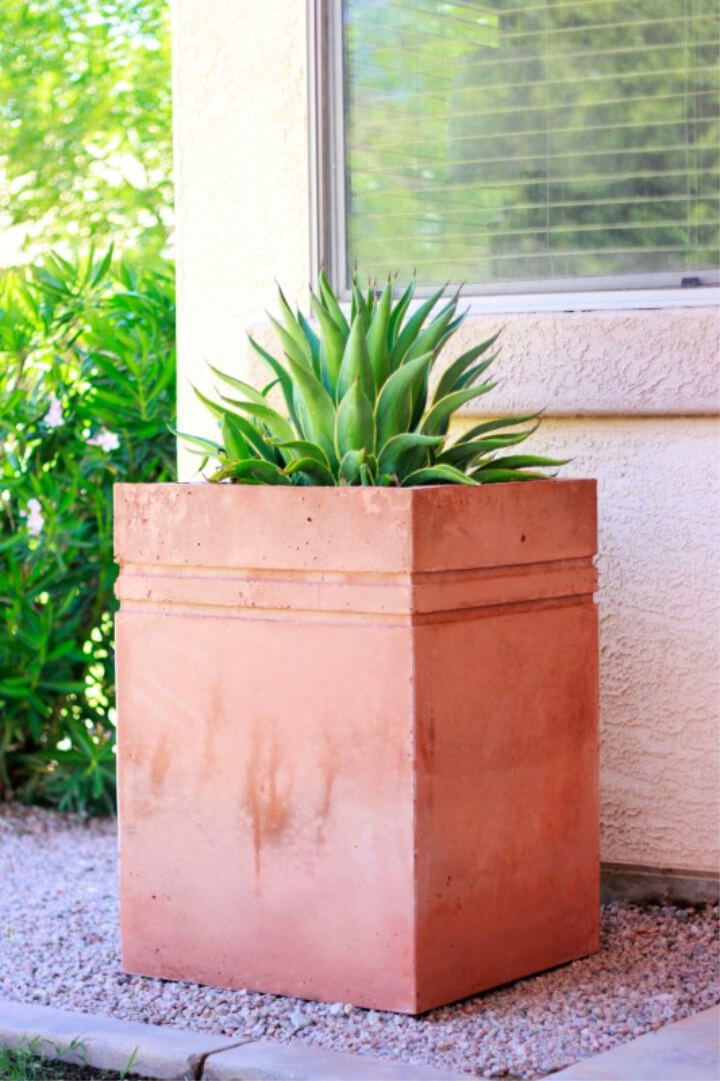 You can use almost anything to create a custom mold for the concrete planter! Make this tall concrete planter at home, will lift up the mood of your garden instantly! Make the planter mold using melamine sheets and use a vertical PVC pipe length in the center of the base for the drainage hole! How-to instructions here remodelaholic
Make 2 Cement Balloon Planters: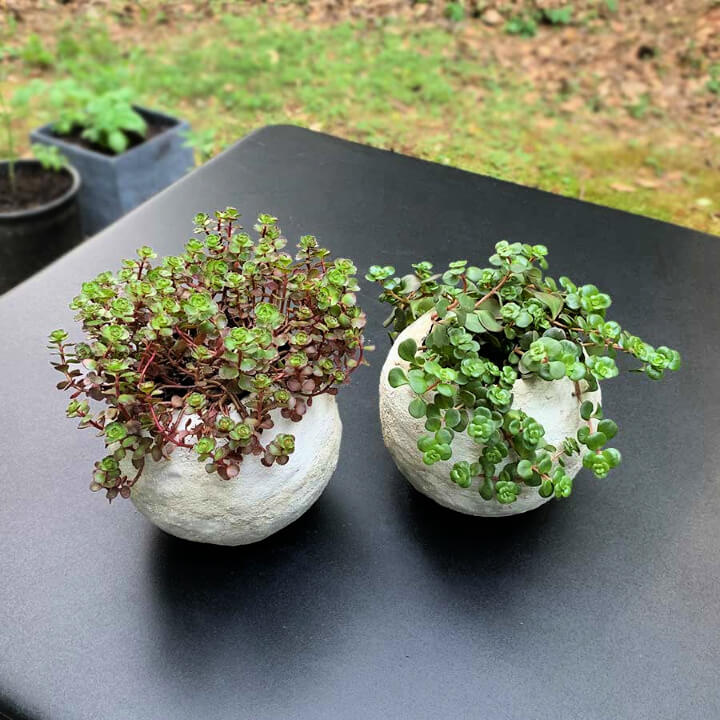 Wow the garden audience with the spherical globe style planters, will not be a big hassle to make! Use blown-up balloons as molds and set a thicker layer of cement around them! Use q-tips for making drainage holes and then release the air from the balloon to the leave with fantastic globe style planters! Complete details here artsyprettyplants
DIY Concrete Planters to Display: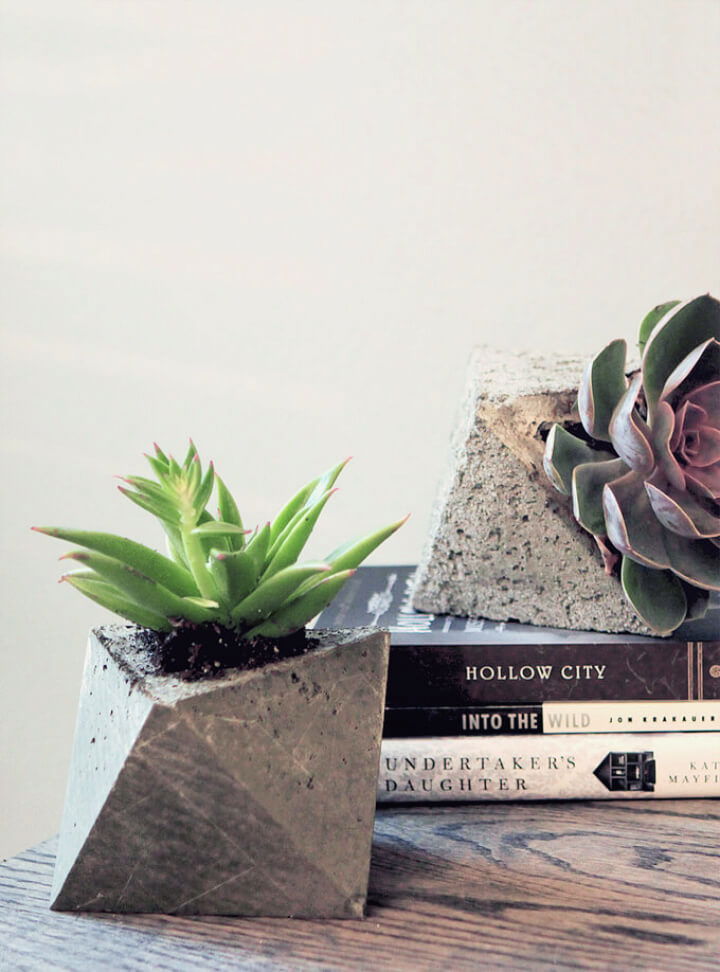 Spruce up any of your space with this faceted concrete planter, will bring the geometrical decor touch also to any space! Grab a template for the mold and then cut the decided lengths out of cardboard! Put the sizes together to make lovely planter mold and next fill concrete in them! A smartest concrete planter design to make at home! Details here grayhousestudio
DIY Cement Planters and Garden Globes: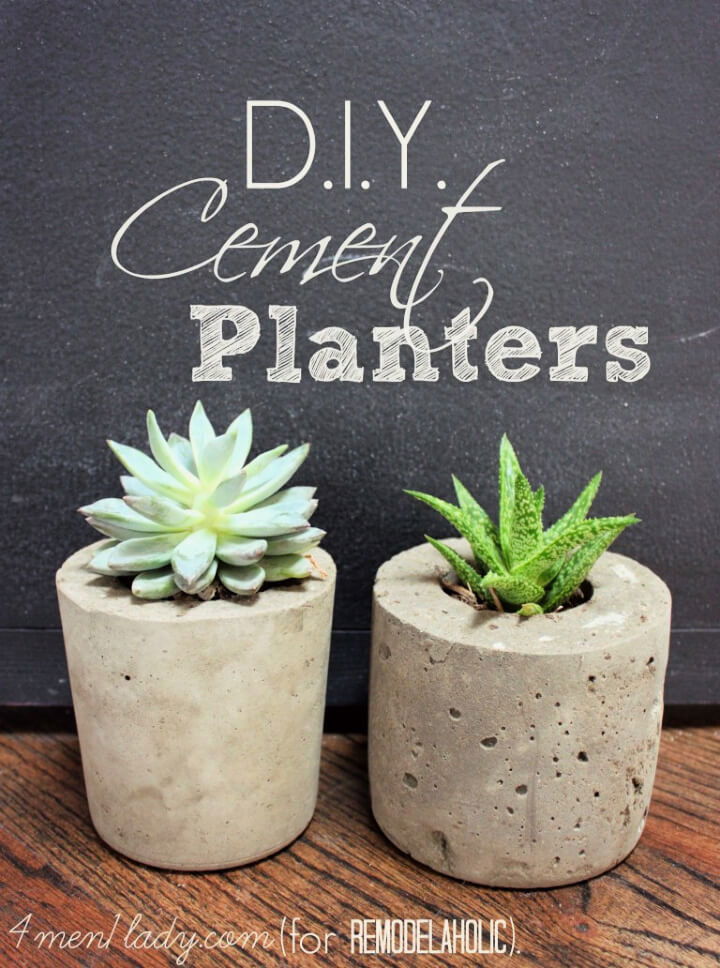 Be confident about your garden decors by adding these cement planters, will always be noticeable! Use containers from home to make the plaster mold! The affordable type of planters to beautify your garden more, also make them hold the candles to make lighted home decor centerpieces out of them! Details here remodelaholic
DIY Concrete Planter With Wood Feet: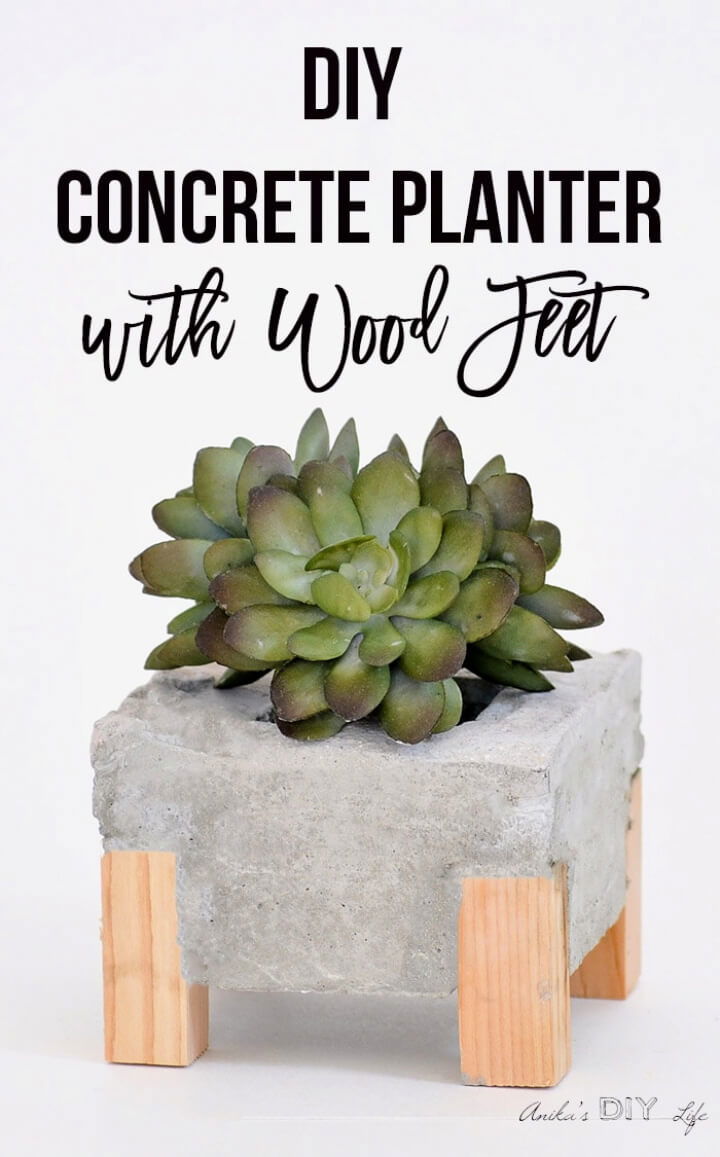 The wood and concrete combination will be much appreciated! So, make a concrete planter with wood feet, will be a main focus of attention! You will love to stare again and again at this concrete planter! Use a cardboard box as mold and empty out its corners for adding legs, will dry in the liquid concrete! Full instructions here anikasdiylife
How to Make Painted Concrete Planters: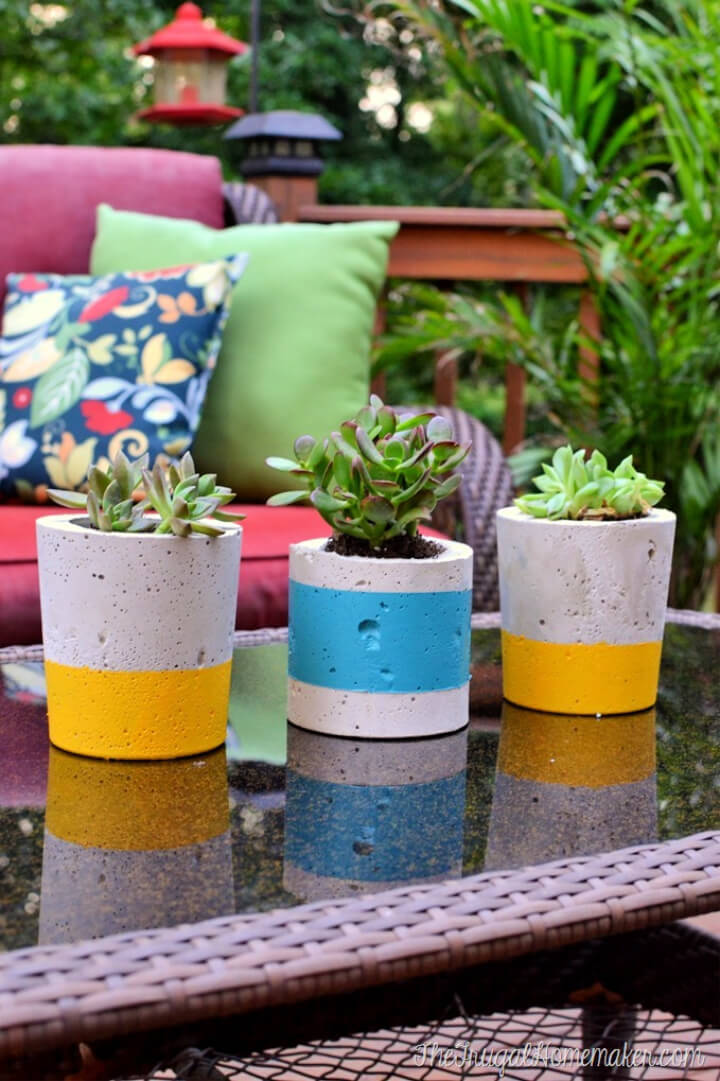 If you love your garden, then you will surely be willing to owe this collection of painted concrete planters! They can be put together on any flat surface for instant grace and charm and will be a big center of attention! Complete how-to details here thefrugalhomemaker
DIY Geometric Concrete Planter: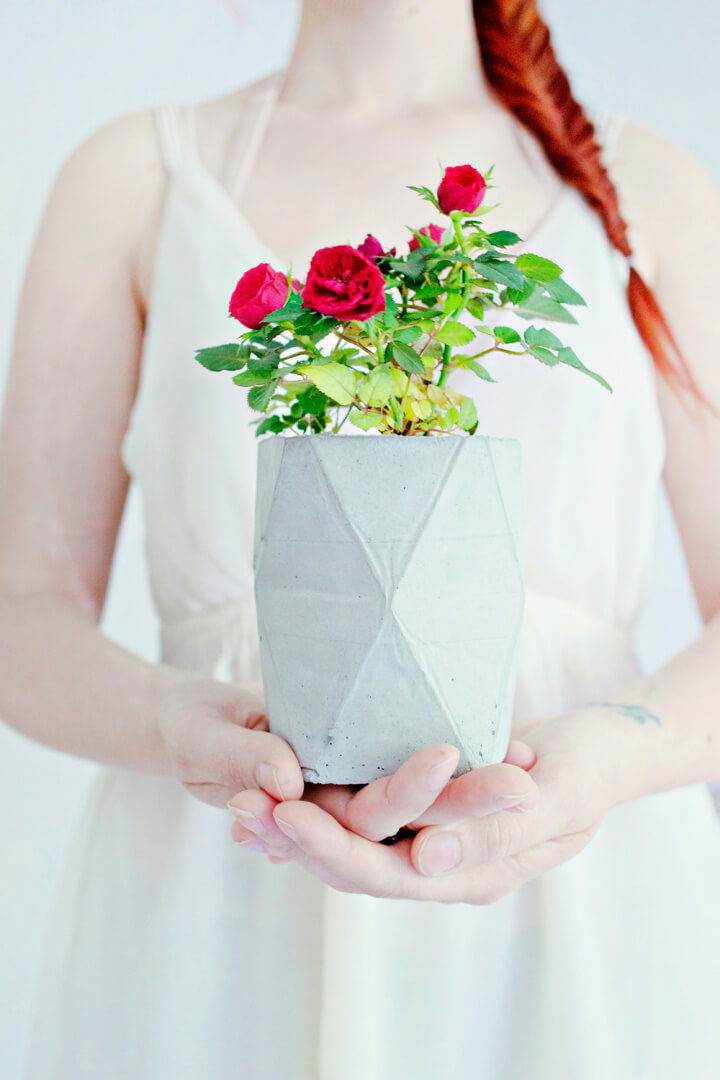 Again make a faceted mold out of cardboard with the help of a template, next fill concrete in the mold and make a gorgeous geometric concrete planter, will definitely be a big eye-piece for every space you need to garnish quickly! Paint every face of this planter differently for a quick visual boost! Details here lanaredstudio
DIY Asymmetrical Concrete Planters: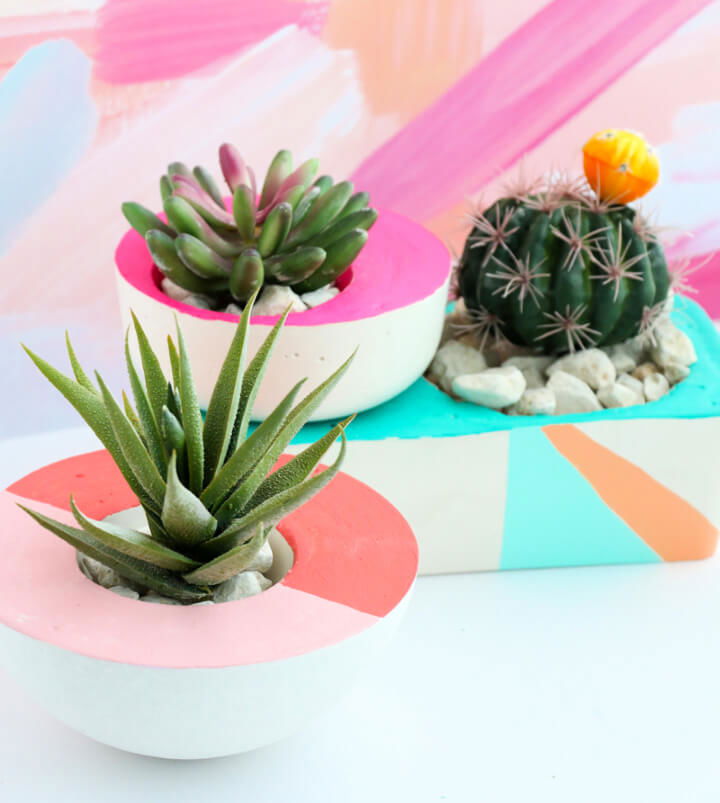 Award your patio a new look with this asymmetrical painted concrete planters, have a bowl shape! These planters gain focal stimulation from a color-block painted appeal, will be loved dearly by all patio lovers in home! Another great planter design idea! Details here akailochiclife
Build a Concrete Pumpkin Planter: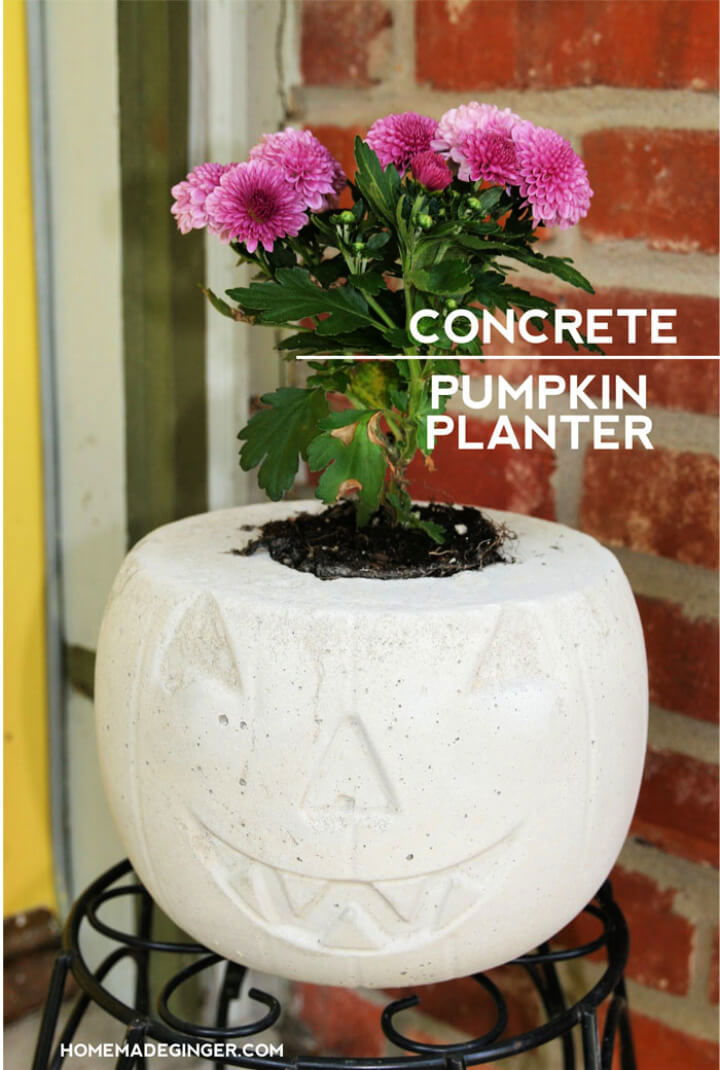 Spruce up your fall and Halloween decors with these scary pumpkin planters, the easy to make concrete planter! Grab the pumpkin lantern globe and fill it up with the concrete and build a pumpkin planter in no time! A bizarre design idea for pumpkin planters! Full how-to tutorial here homemadeginger
Make Concrete and Gold Plant Pots: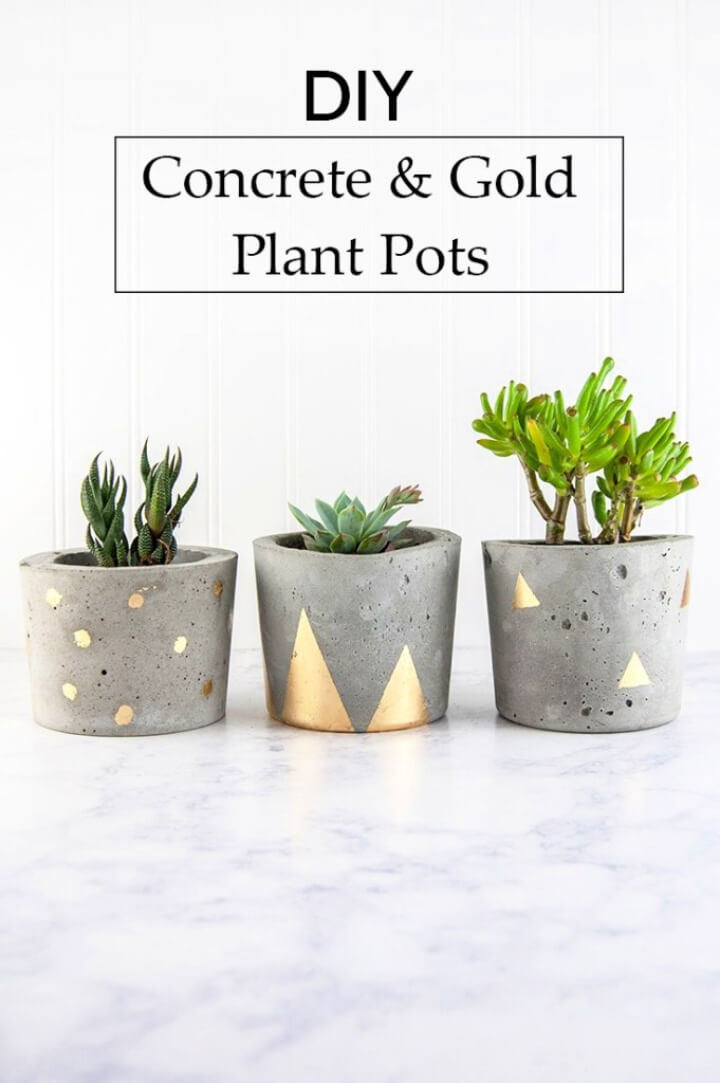 Style up any of your space with a golden touch that will come from these gilded concrete planters! Make the concrete planters like you do and then give them a touch of gold using gold paint, gold leaf treatment or gold glitter! Fill the concrete planter with potting soil and then plant the succulents in them! Full how-to tutorial here diyinpdx
DIY Cement Hanging Planters: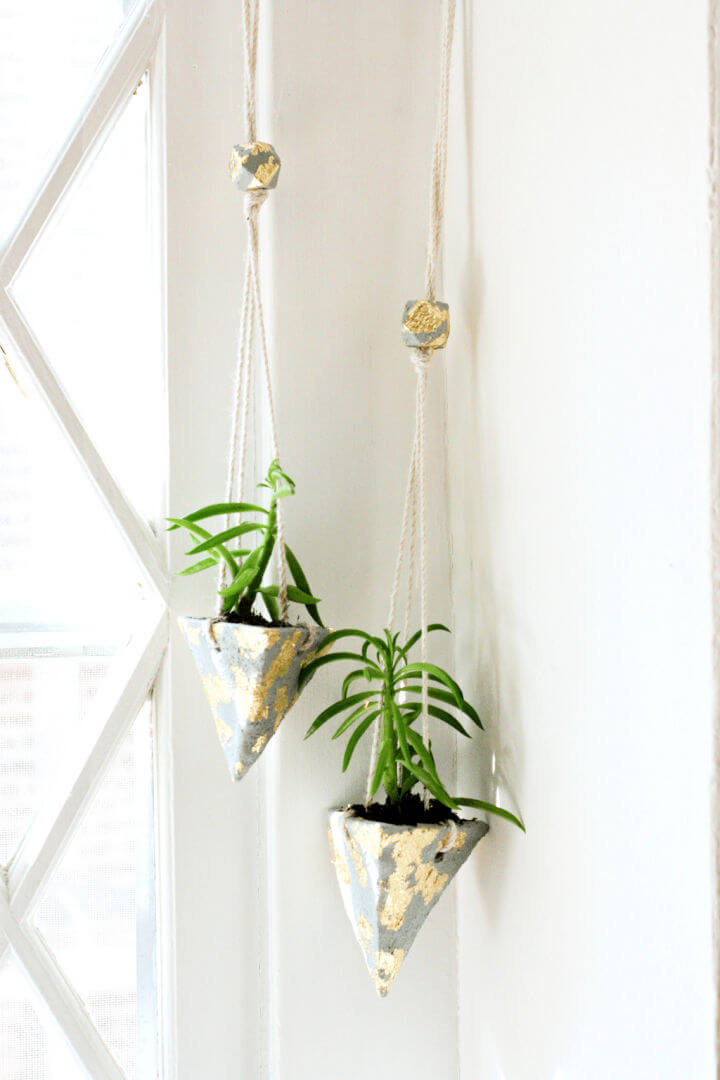 Grace up any interior with these pyramid style cement hanging planters will be the most adorable hanging charms! The best natural decors in modern style, should definitely be a part of your home decors! Using custom rope or cording to hang these planters up stably! Full instructions here prettylifegirls
DIY Tiered Concrete Planter with Copper Pipe: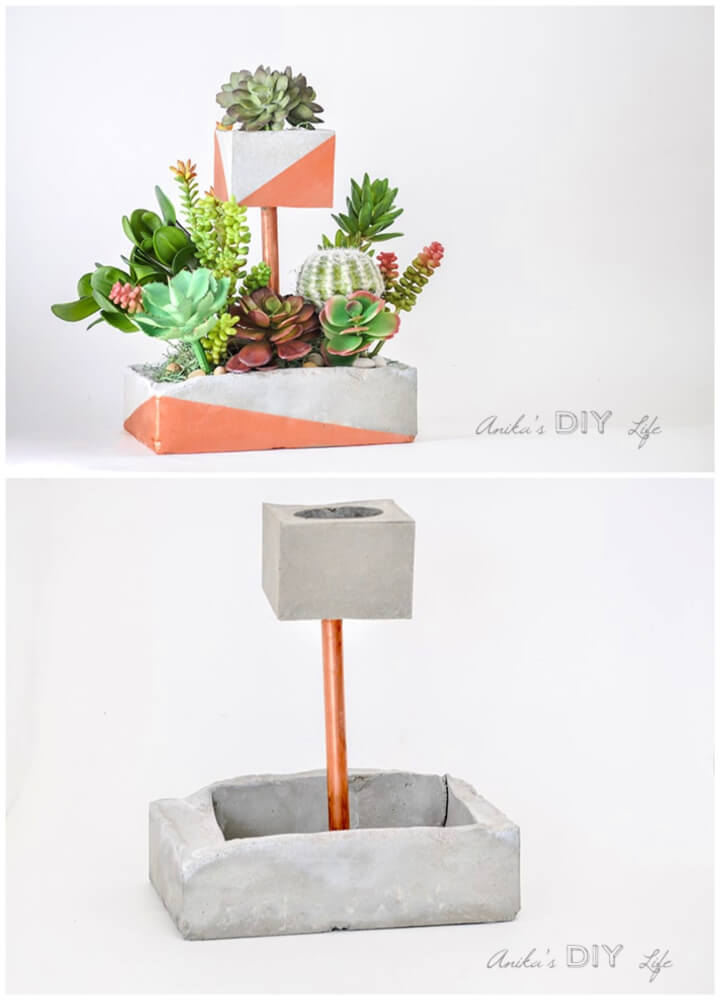 Get the concrete planters doubled so they will be extra charming! Bring prominence to any of your space with these tiered concrete planter,  made of two different sized concrete planters, a smaller one is tiered on a copper pipe, gain a stylish elevation! Full how-to instructions here anikasdiylife
DIY Cement Planter Vases: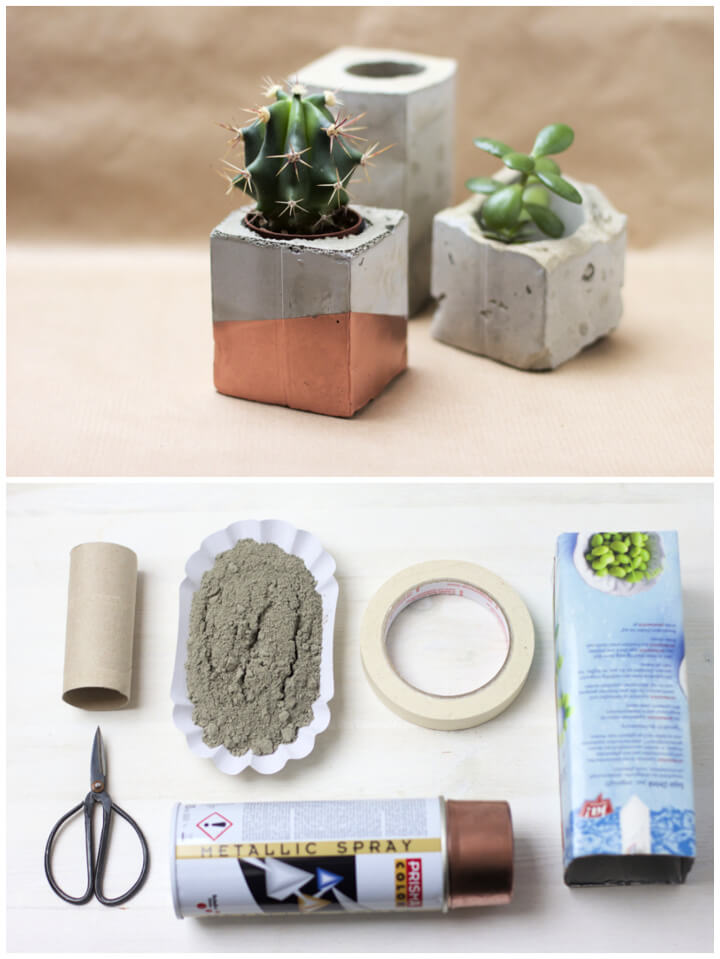 Build also miniature cactus and succulent planters with concrete and make them gilded by giving a gold decor treatment! Use the masking tape and spray paint your completed mini planters for a gold-dipped appeal and here you go! The mini yet beautiful type of planters to make at home! Full how-to tutorial here welovehandmade
How to Make Faux Concrete Planters: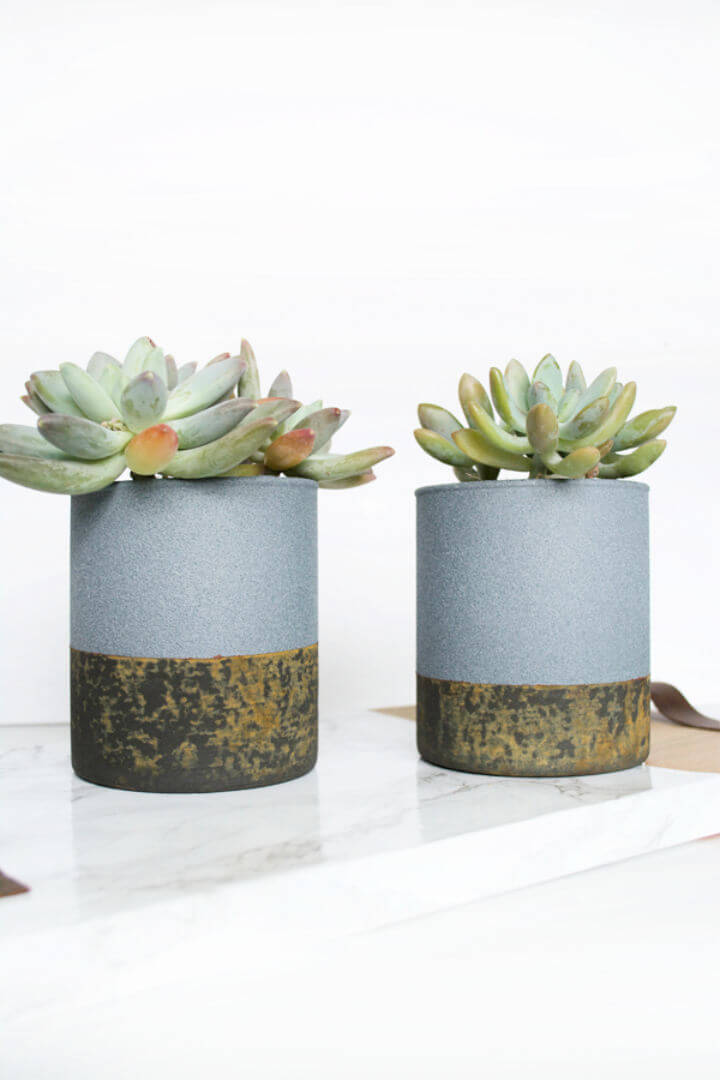 Satisfy your love for the concrete planters also by building faux concrete planters! Here is a smart hack for it! Grab the glass planters and spray paint them with fav spray paint and build faux concrete planters in no time! Next, make use of rust activator to give half of the planter a rustic patina finish look! Complete project details here brepurposed
Beautiful DIY Concrete Planters: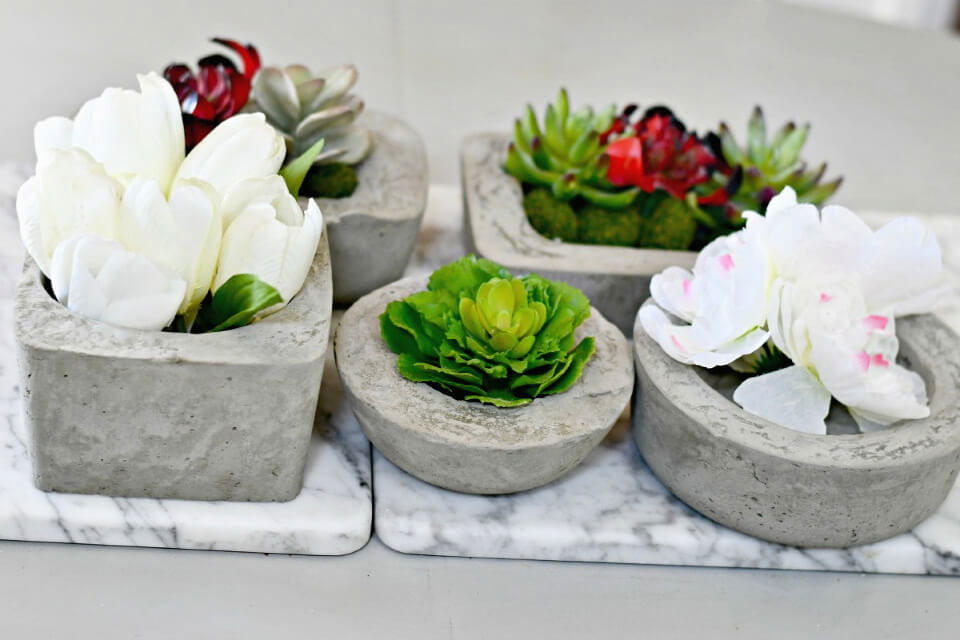 Make a plan to decorate your garden with decorative planters, then make a set of planters with concrete! Opt for different shapes of concrete planters like round, bowl style, cylindrical and square box style planters! These concrete planters will be the first choice to make any space look beautiful! Full how-to instructions here hip2behome
Stylish and Easy DIY Concrete Planter: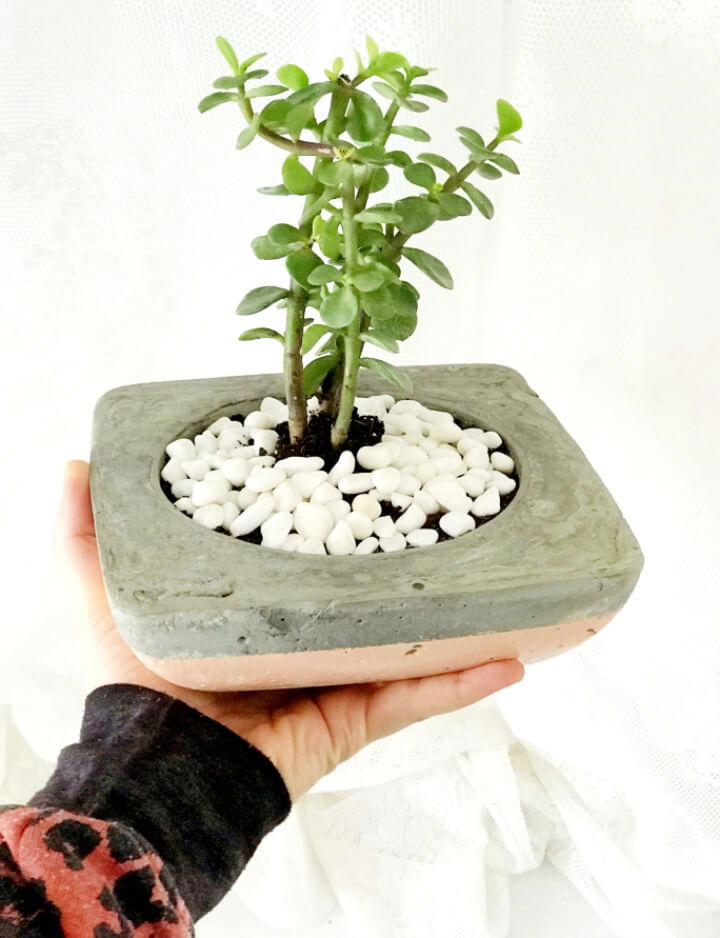 Chose custom molds to make a concrete planter of choice and next paint it with for a dipped look and add to your home decors as a handsome centerpiece! It will award a new look to your home decors and will be the super affordable type of decor to make in no time! How-to details here jollyslice
Conclusion:
DIY concrete planters are simple and easy to make, and they can be used to hold a variety of plants and flowers. All these diy concrete planters can also be customized to fit any style or decor. Best of all, they are very cheap, and no special skills or tools are required. So if you're looking for an easy way to add some style to your home, consider making your own concrete planters.