As a kitchen or bathroom, the laundry room is also a room that often comes with a short-space interior. You can plan it bigger in your home architects but what to do if having a small laundry room that is more likely to be congested with a little addition of further materials. You can make space bigger there but you can go with some DIY hacks to make your laundry room more functional and well organized. Bring back the efficiency of your laundry room by doing a smart makeover of it. Installing shelves for laundry room will be a great practical choice with these 12 unique and functional DIY laundry room shelves that are easy to build and come with free plans. While using the right kind of laundry room shelf, you will be able to nicely shift the floor items on the wall space. Hence, freeing up lots of floor space for better performance and appearance of your laundry.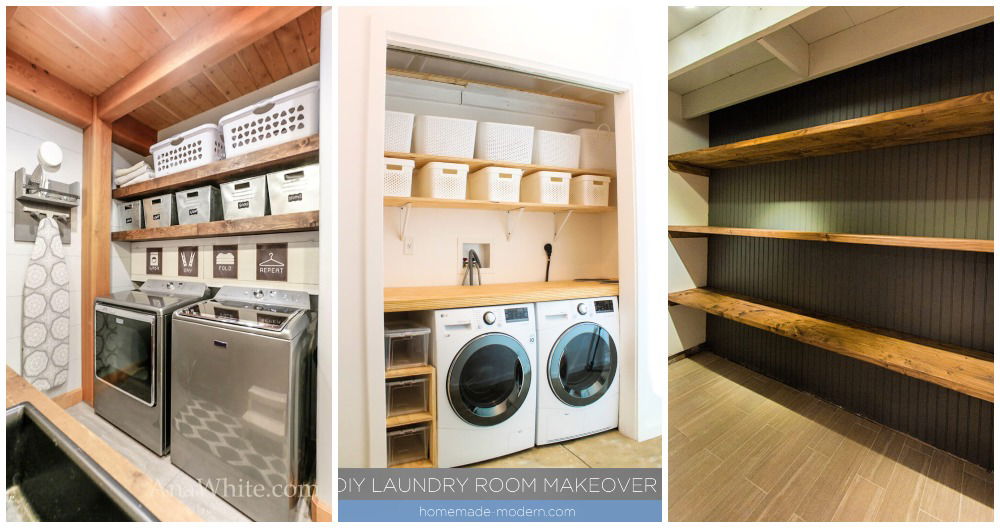 In these DIY laundry room shelves, the floating shelves would be an ideal choice. They can also come with the peek-a-boo drawer like cloth drying racks and dual functional behavior will definitely be appreciated by all. From miniature to large to extra large corner-to-corner shelves, you are going to find instructions for every kind of laundry shelves here. Don't worry about the budget, all the projects are sure to be easy-on-wallet and will be the smartest investments to declutter your laundry. Look through all the DIY laundry room shelving ideas and choose the one that fits bests your laundry, budget and skill level.
DIY Floating Shelves for Laundry Room:
If you are thinking to invest in some amazing home improvement projects, then consider organizing your laundry room also. The ideal and most stylish solution would be to install the floating shelves for laundry room, which will not use the floor space if there is already big congestion of materials. Free how-to tutorial here fourgenerations
Inexpensive DIY Shelf in the Laundry Room: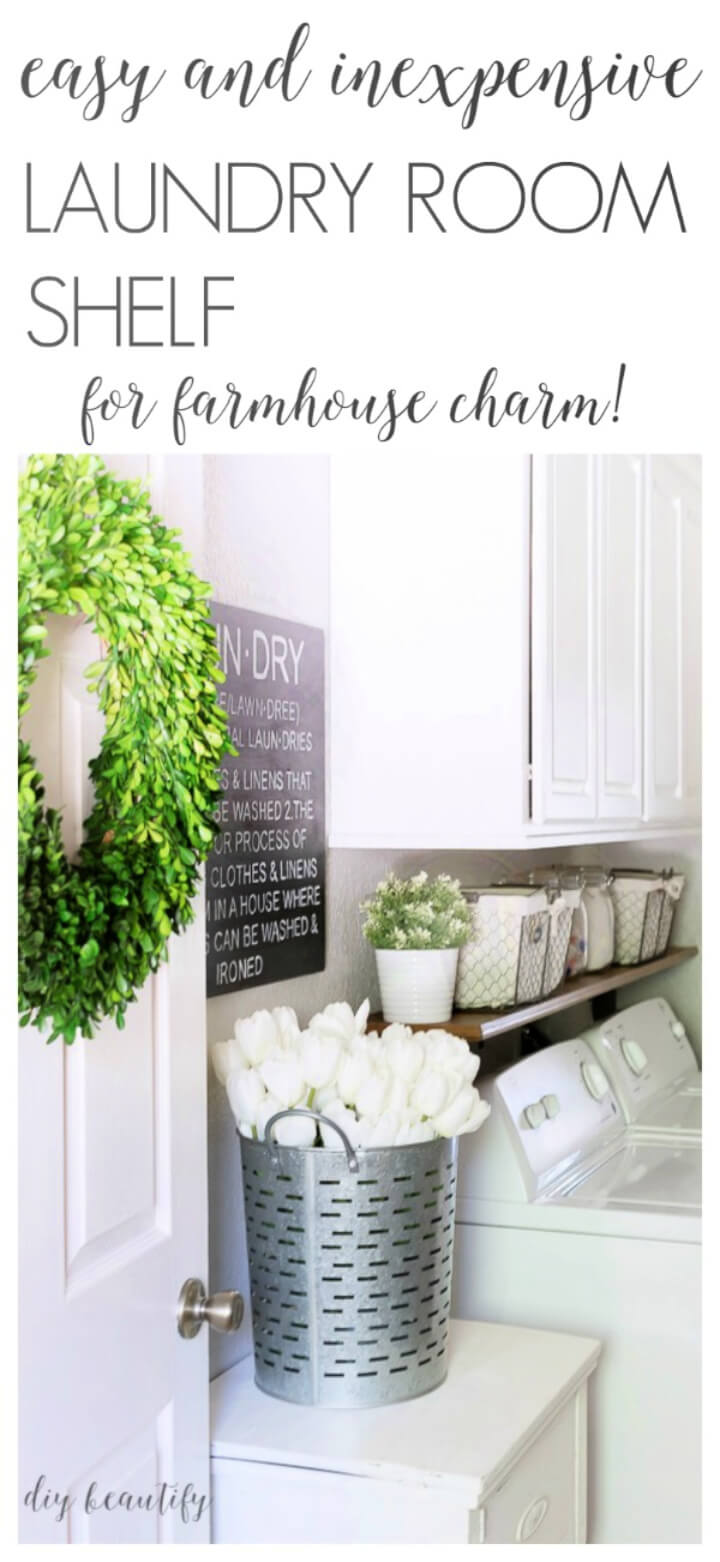 Having a short space laundry room is not the issue; it will all depend on the smartest storage solutions you will add to it. Transform your laundry room into a functional and well-organized space by adding this inexpensive DIY shelves, sure to hold the concerns in a fashionable manner. Tutorial here diybeautify
Build Laundry Room's Wood Storage Shelves: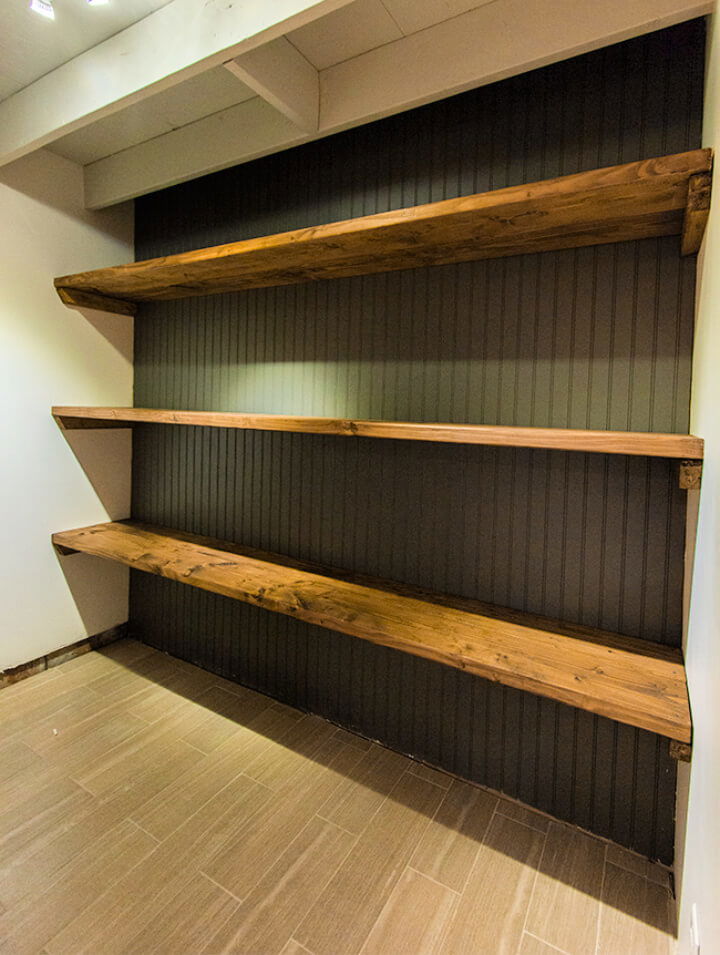 The messy collections in the laundry are not going to appreciate at all in any way. You should definitely get organized there for a boosted efficiency of laundry. Usethe wall space for more storage space, and these wood storage shelves will be a practical choice, will not use further inches of floor space. Complete tutorial here jennasue
Find DIY Storage and Organization Ideas:
DIY Desk Organizer: See these DIY desk organizer ideas that will help you keep your workspace neat and organized so you can be more productive and creative!
Pantry Organization: No issue how big your pantry is, you can use a little more space and organization. Keep pantry organized and clutter-free with these pantry organization ideas.
Makeup Organizer: Here are some of the best Makeup storage + organization ideas, tips + tricks for storing your makeup + beauty products.
Jewelry Organizer & Holder: Find these wall mounted jewelry organizer ideas for bracelets, necklaces, rings, and earrings.
DIY Spice Rack: These most useful and inexpensive spice rack ideas will help you organize your spices in the best way and declutter your kitchen fast.
DIY Wood Shelving for Laundry Storage:
Planning your laundry to perform better? Then just add some floating shelves to your laundry improvement plans. These DIY laundry room shelves will provide arresting display and storage space without creating a mess. Take a look at the sample laundry wall shelves, will maximize the laundry space. Complete tutorial here thriftydecorchick
Make a Laundry Rack + Shelf: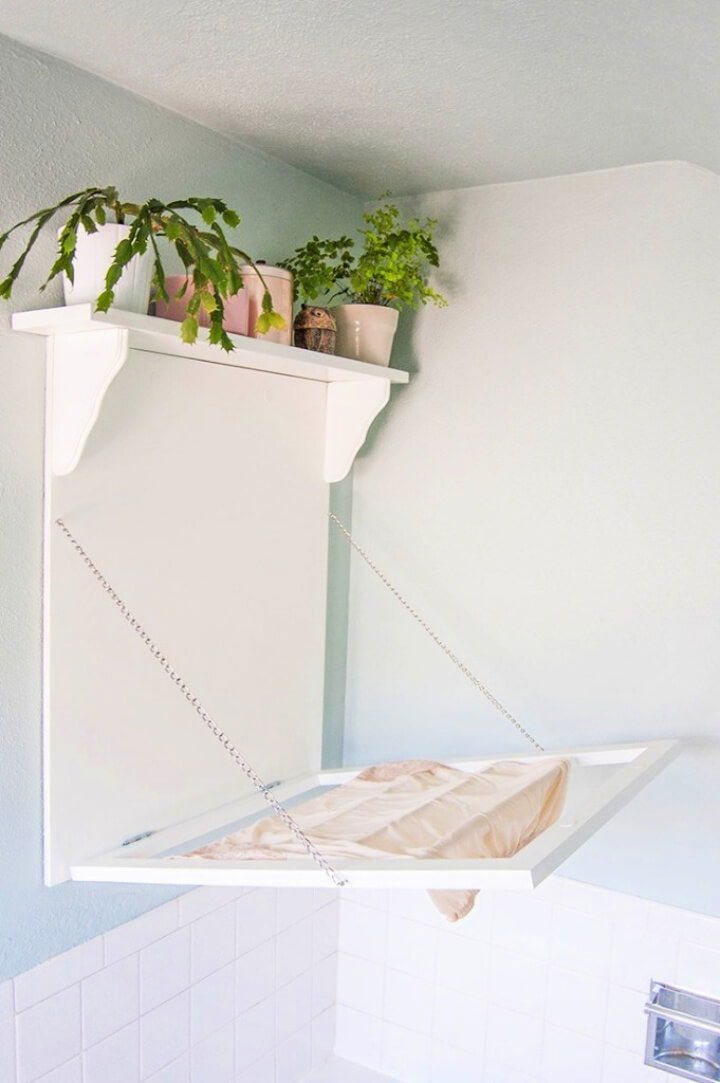 You will love to get this laundry rack due to its dual functional behavior. It gives a brilliant shelf at the top and grabs attention with the metal chain supported folding down cloth drying rack. A 2 in 1 laundry storage idea. Full how-to instructions and tutorial here diyinpdx
DIY Homemade Laundry Room:
Keep the items out of sight that is extra in your laundry room, another smart trick to get a well-performing and organized laundry room. So, consider adding this shelf and basket storage in your laundry, will help keep everything in place. Complete how-to help here homemade-modern
How to Build Laundry Room Shelf:
Figuring out some smart storage solutions to create a stunning organized look of your laundry? Then here are some cool tips, build a plywood countertop, a  laundry storage unit or dresser and the wall-mounted shelf. Use old and recycled wood to take it easy on the wallet. Complete instructions here abeautifulmess
Make Shiplap Walls and Shelves:
Reinvent your laundry by adding these smart storage solutions, the shiplap walls, and shelves. Add the wood slats one by one on the wall for a shiplap accent wall there, will be like a wood wall paneling project. Next, add the slatted rustic wood shelves in front of the shiplap wall to organize laundry clutter. Full instructions here howtonestfor
DIY Laundry Room Shelves and Shiplap Wall:
Insulate your laundry first by installing a shiplap wall and then add gorgeous shelves over it, will be a gorgeous solution to get your laundry organized in no time. Here floating shelves have been added must be made with the durable wood boards and slats. Complete tutorial here thriftyandchic
DIY Floating Shelves Pull Out Drying Racks: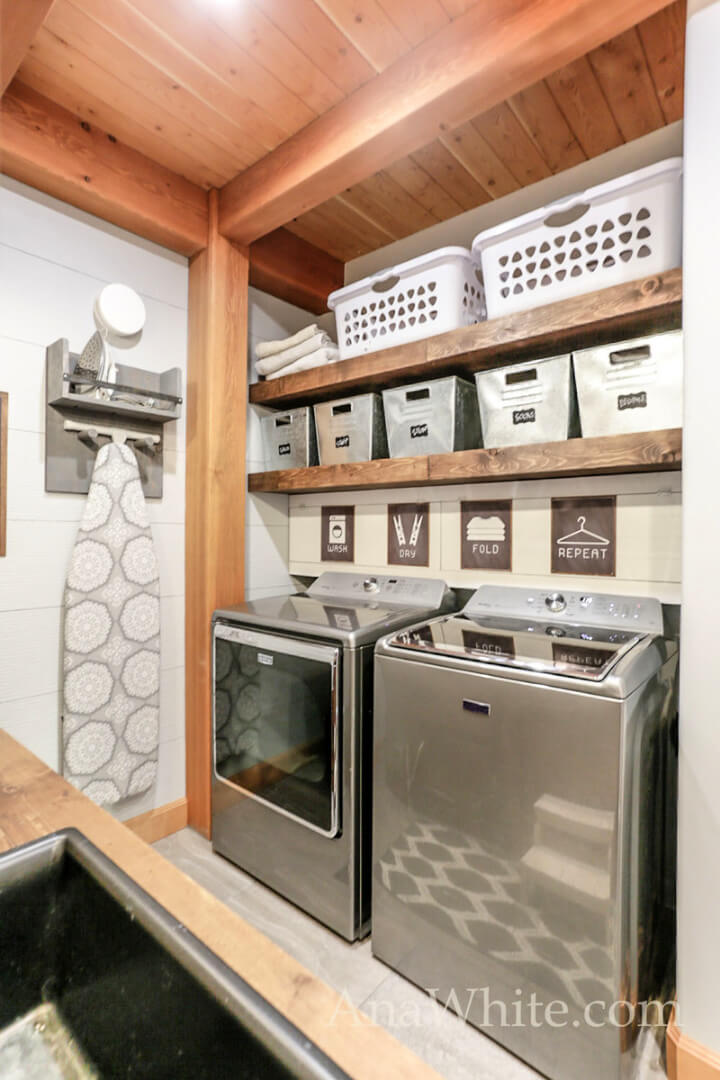 Lift up the mood of your laundry by instant decluttering. You can easily do this by building these floating laundry room shelves in the laundry. Here is a creative and genius twist, add the floating shelves above washer and dryer with the pull-out drying racks, will just be like the slim slatted drawers. Full how-to tutorial here ana-white
DIY Laundry Room Shelf:
Help your laundry to stay organized even when you add a lot of things inside. This shelf must be your first choice in this regard. A flat plywood shelf, supported with the heavy-duty metal shelf brackets. Complete how-to tutorial here lovelyindeed
DIY Wall Shelves for The Laundry Room:
The wall shelves will be the ideal candidates when intending to add storage in your laundry room. Here is another great choice for the DIY laundry wall shelves, the slim long wall shelves, can be enlarged to one corner to another. These shelves will definitely provide a large storage capacity. Complete guides here whatsurhome