When we intend to develop our outdoors for never-ending outdoor fun, we always look forward to installing some swings and slides there that will always make the most loved fun stations for kids! Swings are popular not only for the kids, every outdoor lover just loves to sit on a swing to get instantly relaxed! Swings just make you enjoy the wind blows and breezes more and they also make the perfect platform to read a book at outdoor or to enjoy the daydreaming!
So, if you have decided to come up with a cool looking swing at your outdoor then some innovative suggestions and amazing swing projects are waiting for you here that you can do yourself at home! Learn to make your own favorite DIY swings at home using the recycled materials just by taking a short tour of these 25 DIY Swing Ideas & Plans (Bed, Chair, Bench) that are full of smart hacks and are sure to make you inspired!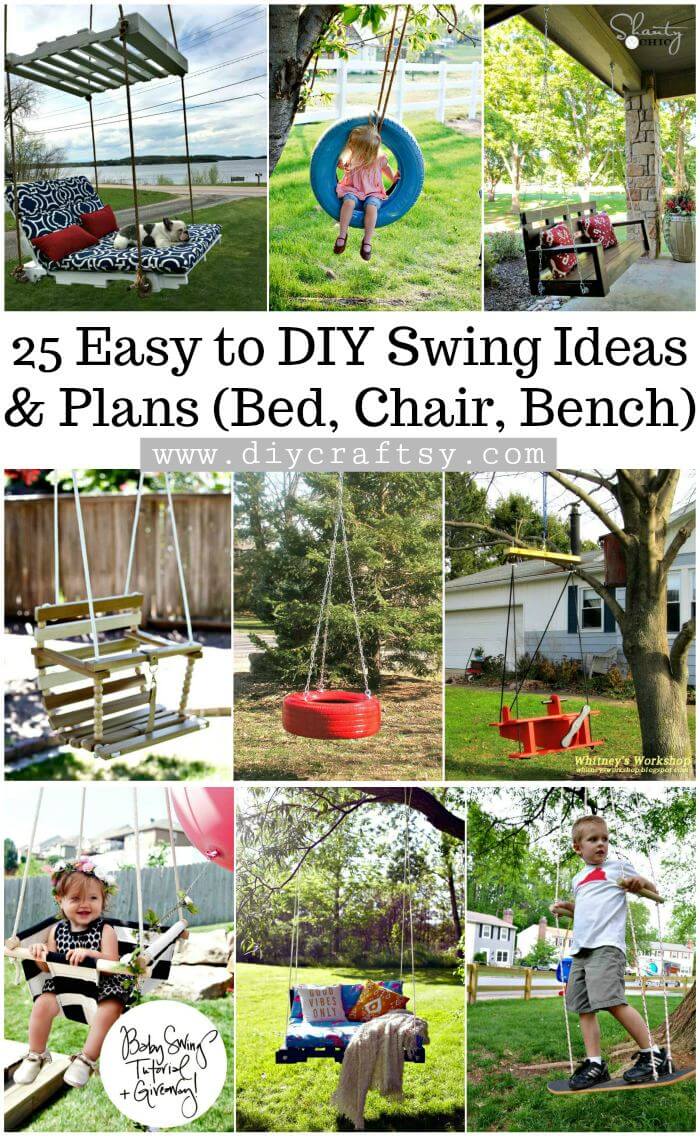 Make smart use of wooden planks and nautical rope to make interesting looking tree swings that will live for a year to come! Get ingeniously craft with home wood and old furniture pieces to make outstanding porch and patio swings, check out here the sample swing that is made of the headboard and has been cushioned in a fancy way! Do also custom constructions with wood and build a custom model of wooden swings that will provide custom sitting space and will also fit best to your space, get inspired by the given lovely porch swing sample! Please, all you toddlers by making adorable baby swings at home using outdoor fabric, wooden dowels, and rope and also make smart use of wooden rounds or discs to make single-strand tree swings!
Recycle pallets to build lasting longer wooden swings or just also upcycle the old skateboards to make outstanding outdoor swings as they will make perfect swing seats! Make alluring platform swings using PVC pipe or plumbing pipes, have a look at the dashing sample that has been woven and is really durable!
Repurpose also the old vehicle tires to make great looking outdoor swings, just paint the tires to make your garden decors and then hang them up using a heavy duty rope! Hang also the uncut pallet skids with heavy duty rope and make great looking no-cost swings and also get crafty with the wood scrap and leather belt to make baby swings that will also come with front closed to safely hold your babies in for swinging fun!
DIY Projects You May Like:
Reclaim also some old denim jeans and some wooden sticks to make adorable toddler swings that will go fetching to eyes! Next also build the fancy wooden swings beds at home that will come with self-standing frames and can also be moved here and there, have a look at the sample swing bed that comes covered with curtains hanging all around!
Check out more DIY Swing Projects given below and make a list of swings that you are willing to duplicate for your outdoor! Gab the step-by-step instructions and free tutorial by hitting the attached source links!
Build Your Own Tree Swing: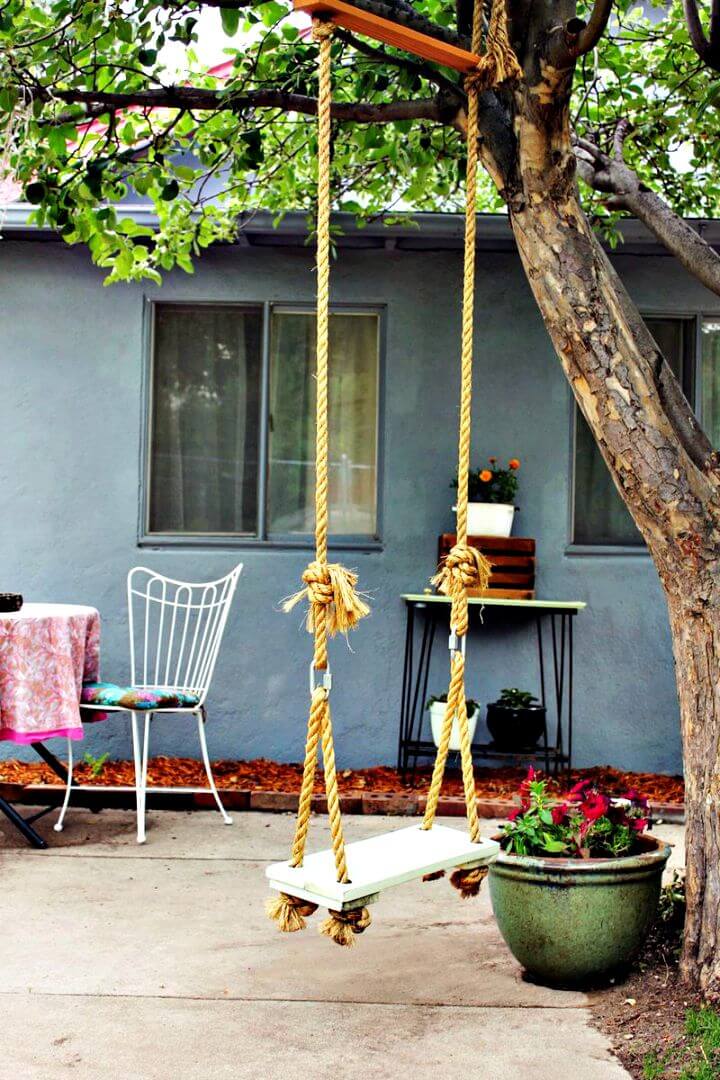 Bring tons of fun to your outdoor by installing custom swings that will be enjoyable for every age group! Without spending too much fortune, you can easily make outstanding looking swings at home! Check out here this sample tree swing that is made of the wooden slat and heavy duty nautical rope! It hangs on a tree branch and is really looking fantastic! Just drill holes in the wooden plank and then add it up with two rope loops one to each side, next add these ropes to swing rope using quick chain links and enjoy! Complete tutorial here abeautifulmess
DIY Summer Back Porch Headboard Swing: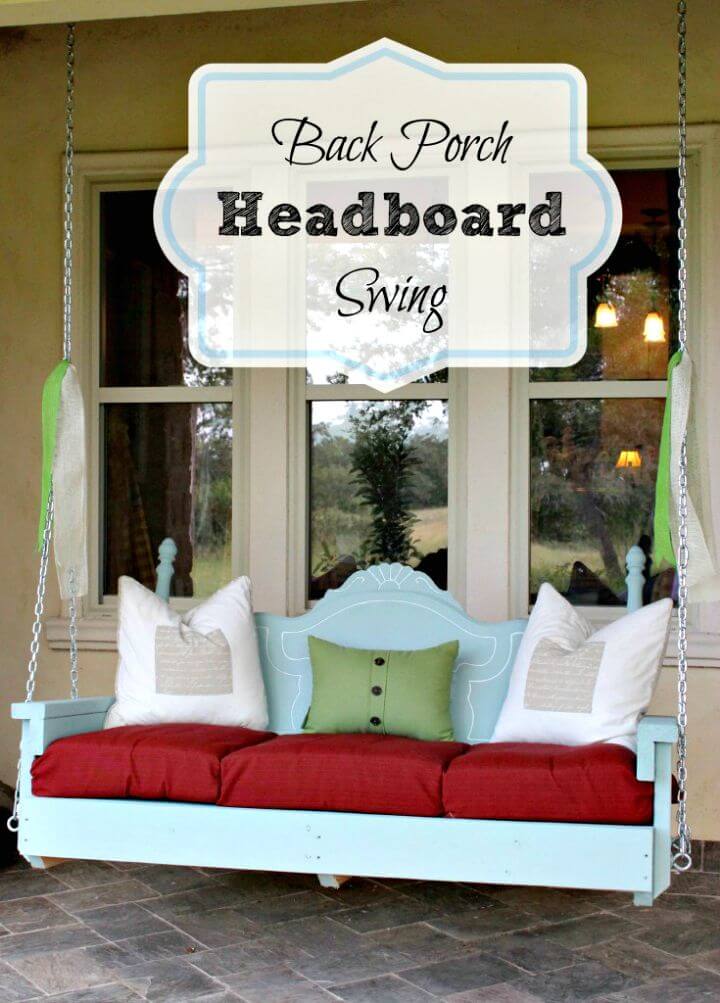 Look at this another fantastic wooden swing that has been done to rock and inspire! Here all you need is to get crafty with the wooden planks and lengths to make the swing seat that has been added to a repurposed headboard piece that builds the accent backrest of the swing seat! Finally, the swing has been hanged using the eye-hooks and heavy-duty metal chains! Fancy up the swing seat with custom paint colors and also comfy up your swing with custom cushions! Grab the full free instructions and tutorial from here therusticpig
Adorable DIY A Porch Swing: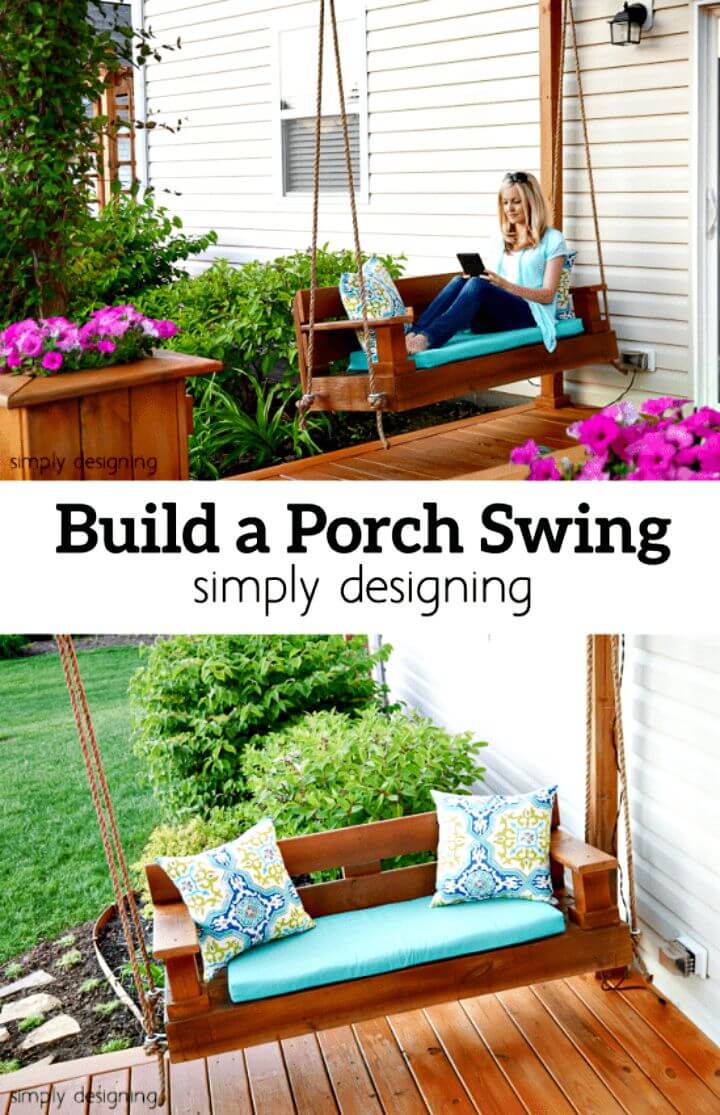 Another fantastic wooden swing is here that has been made with the custom wooden lengths and planks manually and comes in beefy dimensions! Here the custom wooden lengths have been put together to build a heavy-duty wooden seat that also comes with armrests! The finally finished wooden swing seat has been brought to a distinguished look through sanding and staining and this wood treatment also bring durable weather protection to swing! Cushion up your swing and then hang it up using nautical rope and metal eye-hooks! Grab the full free tutorial and instructions from here simplydesigning
How To Make Baby Swing: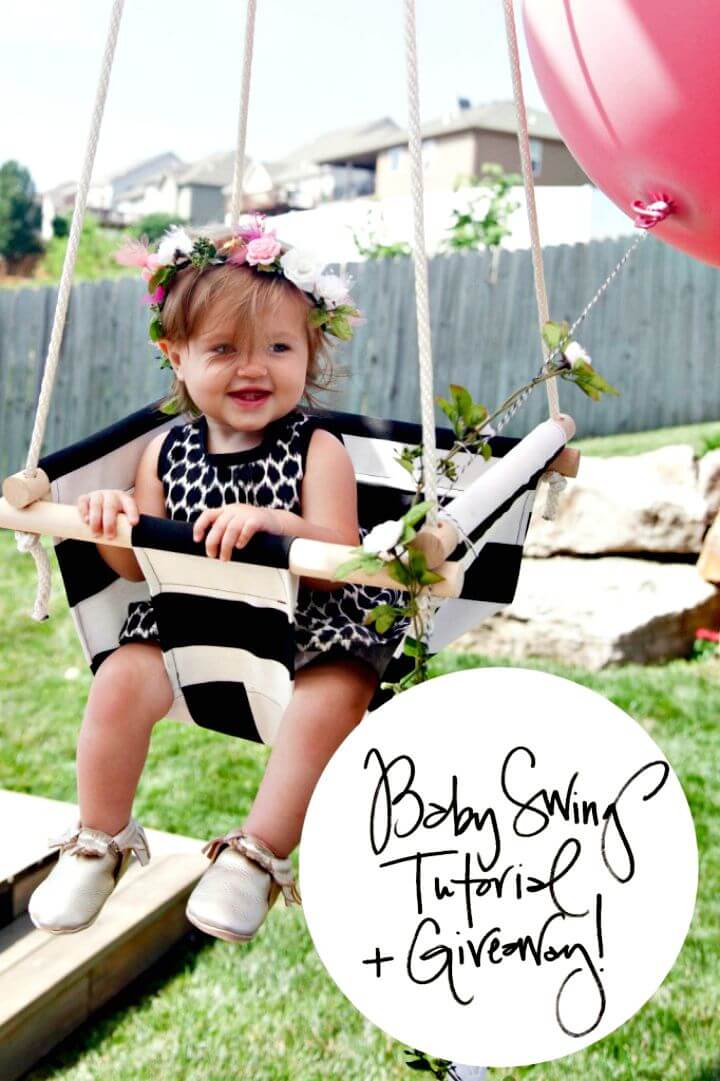 One more outstanding swing is here that has been made for a baby and will also hold your baby safely! Here all you need some wooden dowels, outdoor fabric, and heavy-duty rope to make this fantastic baby swing! Here is the idea is to cut outdoor fabric lengths with sleeves and then to slide in the wooden dowels in the sleeves to build the swing seat! Drill holes in the dowel end and hang them higher using heavy duty nautical rope! Another great sewing project to do at home! Complete project instructions here themakerista
Quick Easy DIY Tire Swing: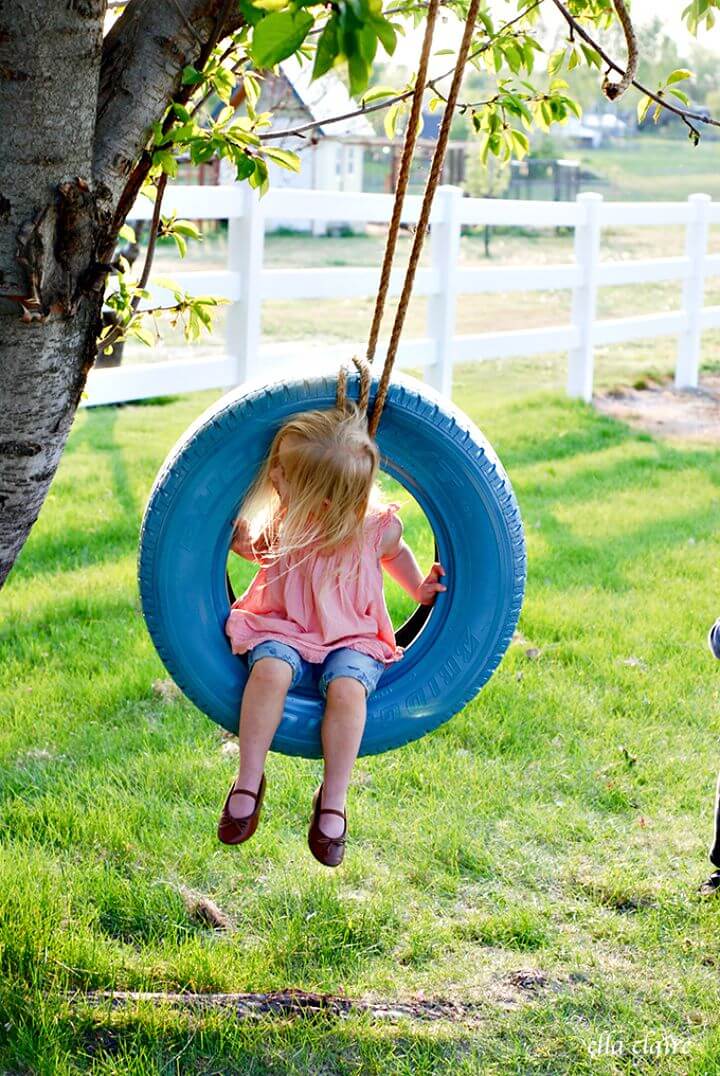 Recycle also the old tires to make no-cost swings for your garden or for any outdoor that will live for a decade! Just grab the old vehicle tires and paint them in custom color and next just hang them on tree branch using heavy duty nautical rope! This type of swings will just rock for kids and will be super budget-friendly to make at home! Another brilliant and easy to do swing project to do at home! Grab the full free guides and visual instructions from here ellaclaireinspired
Awesome DIY Platform Swing: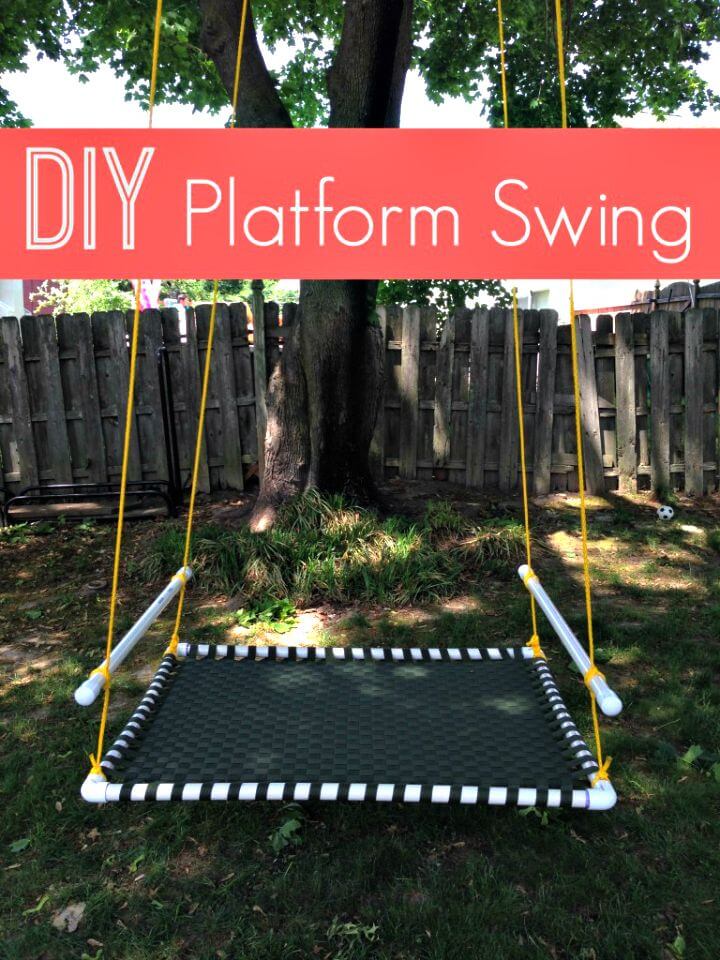 Check out here another fantastic and glam looking swing that is made of PVC pipe! Here the PVC pipe build the entire frame of the swing which has been woven with the nylon webbing to build a platform swing! Next, this entire swing has been hanged using the hollow braided poly rope! This is here another fantastic swing that can be made without getting expensive! Intending to duplicate this fantastic-looking swing? Grab the full free guides and visual instructions from here thenaughtymommy
How To Build Outdoor Pallet Swing: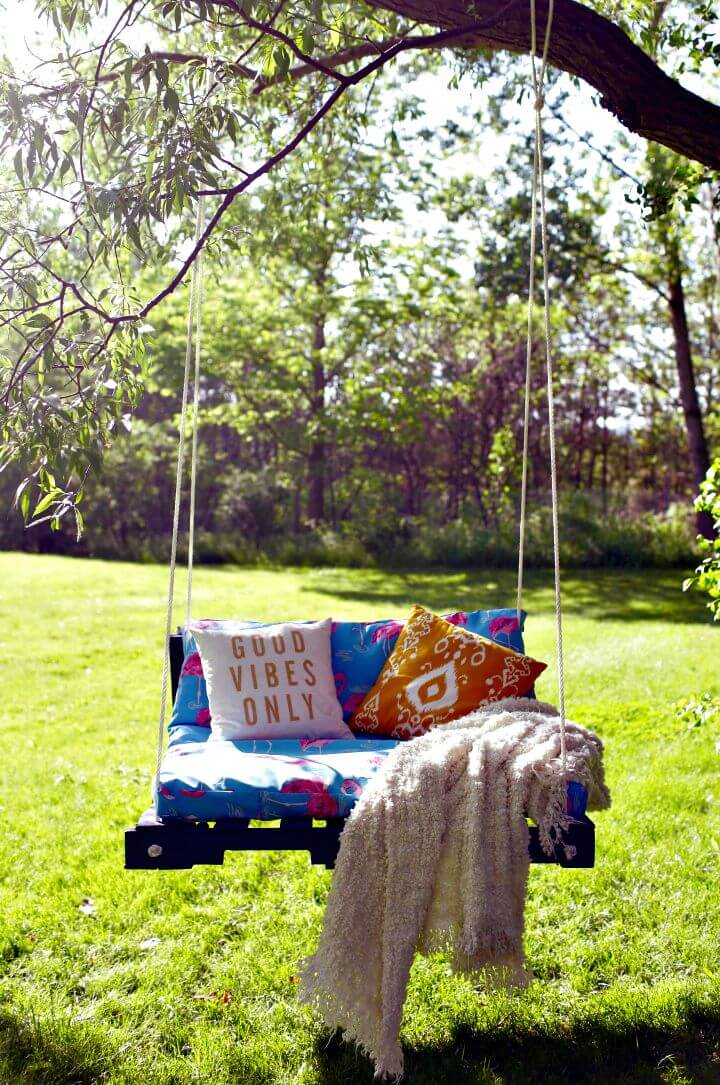 Cut a bigger pallet in haves or use the mini pallets to build an L-shape wooden seat that can easily be cushioned and hang higher using heavy duty rope to make adorable swings at a zero-cost price! Check out here this sample swing that is made of blue painted pallets and has nicely been cushioned to look fantastic at outdoor! Drill holes in the corners of pallets and just thread the rope ends into that can be secured in place by tying knots! Pallet-made swings are sure to live for years to come due to their hardwood nature! Another great and fantastic pallet swing idea! Complete project tutorial here thesorrygirls
Quick DIY Skateboard Swing: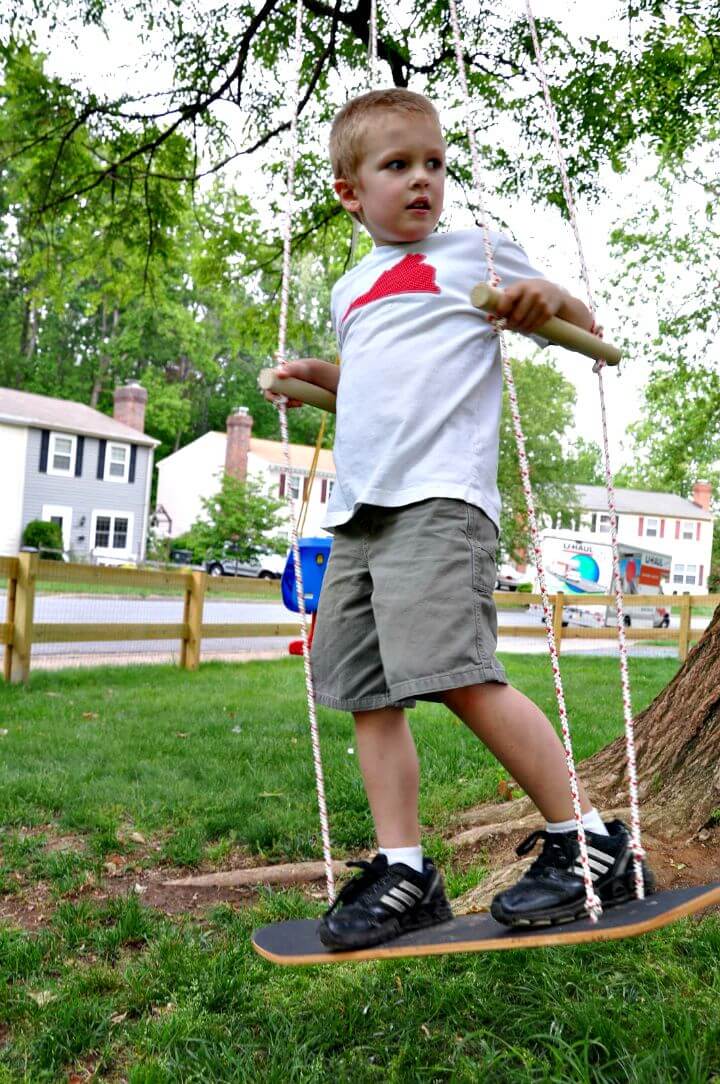 Repurpose also the skateboards to make adorable looking swings, the skateboards will just make outstanding swing seats! Just hang the skateboards by a thread the rope ends to both of its sides and make fetching looking kids swings without getting expensive! Just drill holes in the sides of a skateboard for passing the rope and install the arm swing supports that you can hold in hands while riding the swing in standing position! Get inspired by the given sample! Complete tutorial and instructions here littlebitfunky
Super Easy DIY Swing Tutorial: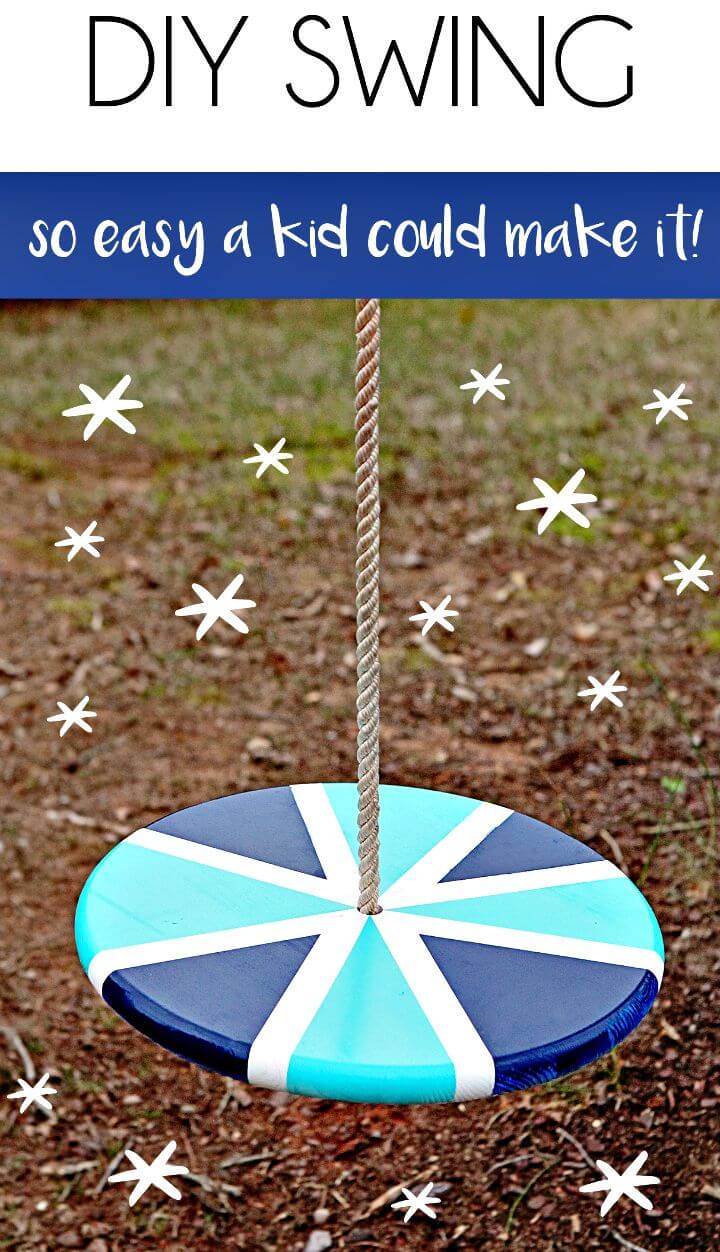 Another great idea for making a charming outdoor swing! Just grab a fab looking wooden round disc and thread it onto a piece of heavy-duty nautical rope and make adorable toddler and kids swings! The idea is to drill the hole in the center of the wooden round disc through which you can pass the rope and knot to get the wooden disc hanging onto the rope! Paint your disc in flattering colors that your kids will like and that's it! Another lovely and easy sewing project to do at home! Complete tutorial here bowerpowerblog
Quick Easy DIY Pallet Swing: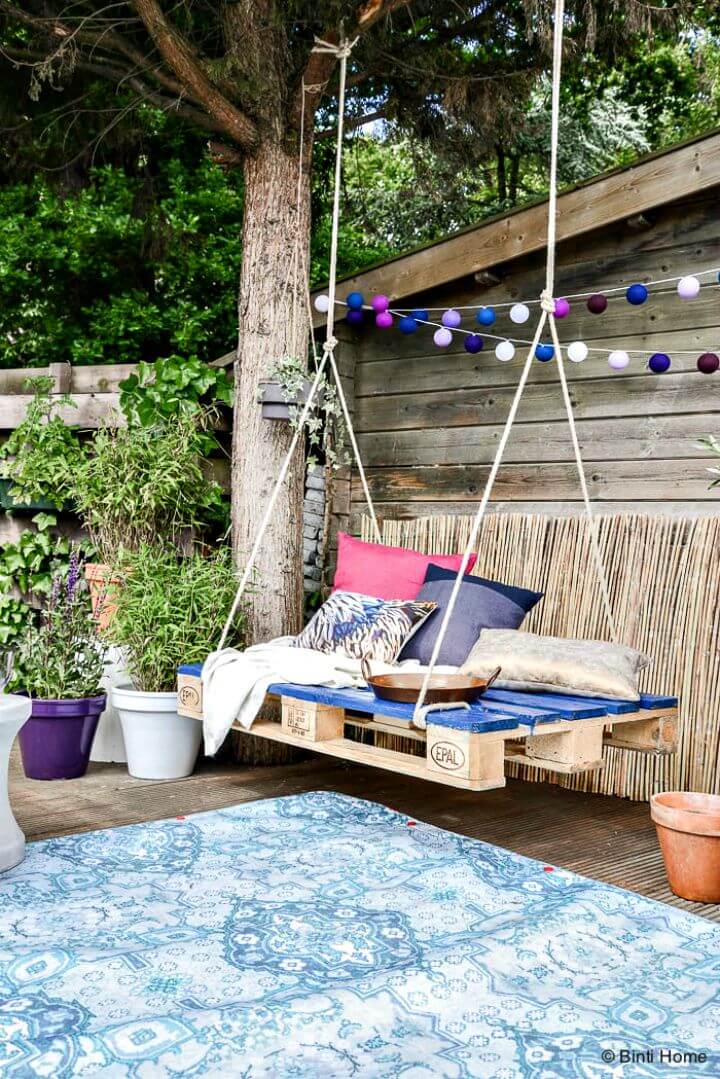 If you are having some heat treated pallets kids like the EURO pallets lying in your home then they can be used as ready-made swing seats! Have a look at this sample wooden pallet swing that is quick to build and here all you need is to hang the pallet as swing just by fastening the rope to its all 4 ends! Make sure you pallet swing seat is flat and well cushioned! Also, paint your pallets for a more dashing appeal and that's it! Complete project instructions and guides here bintihomeblog
How To Build Tree Swing for Baby: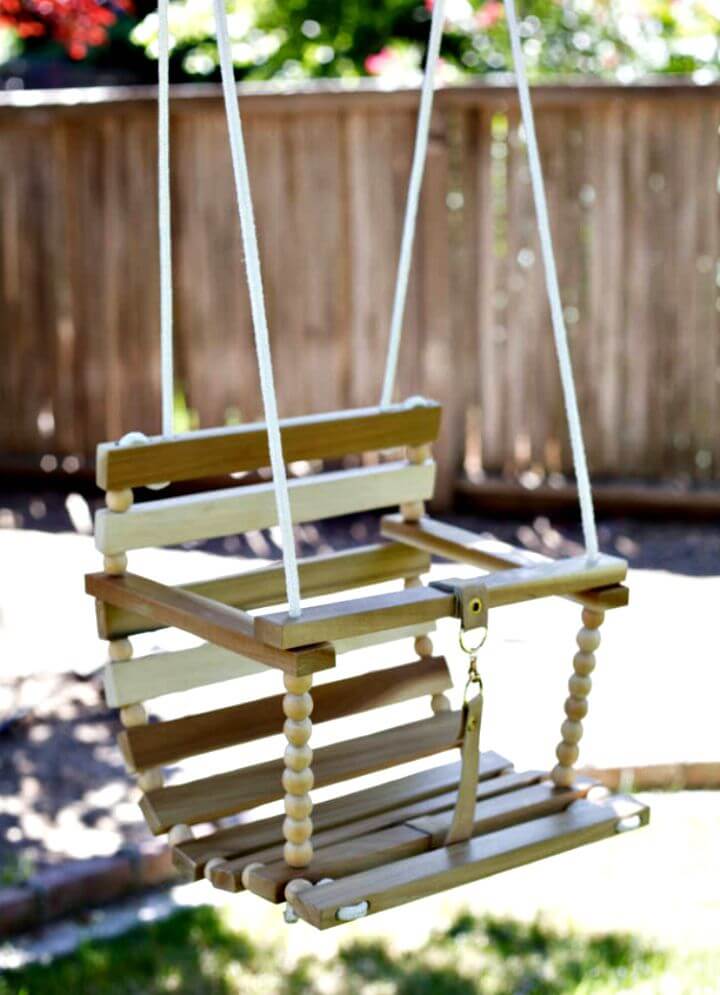 If you are looking forward to make some baby swings then here is a great suggestion! Just thread the wooden beads and custom wood planks onto a piece of rope and make adorable baby swings in no time! Check out here the sample that has been done to inspire and is really looking lovely! Willing to duplicate this swing? Grab the full free guides and visual tutorial from here momtastic
DIY Toddler Swing From Recycled Materials: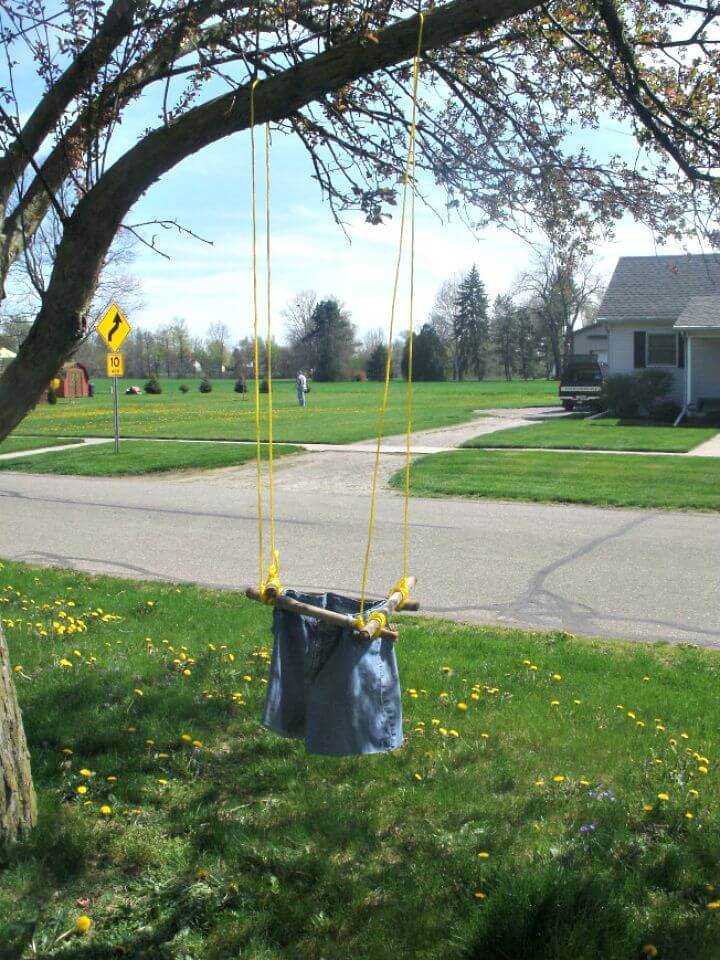 Here is another mind-blowing and fantastic swing to make at home for your toddlers! Here the old denim jeans have been cut to shorts sizes and has been transformed into a swing using the custom wooden frame made of wooden sticks or dowels! Here the wooden swing frame has been tied in place using the swing rope and next you can just make your toddler fit or sit in the jeans to enjoy the swing! Complete project tutorial here lazyhippiemama
Build Your Own a Rope Swing: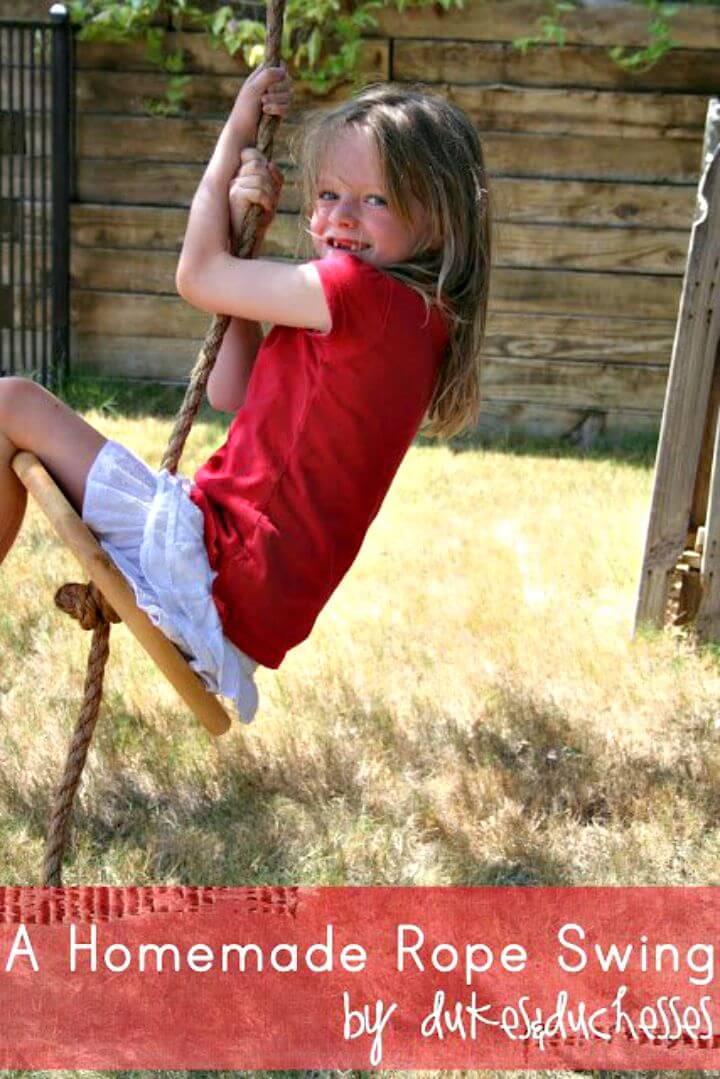 Get inspired of this another rocking design of self-made swing that is really good for toddlers and little kids! Here all you need a piece of swing rope, the durable nautical rope would work great! Next you can thread a wooden round or disc onto the swing rope to make a handsome looking swing in just no time! Grab the full free tutorial and instructions here dukesandduchesses
DIY Wooden Kids' Swing Set: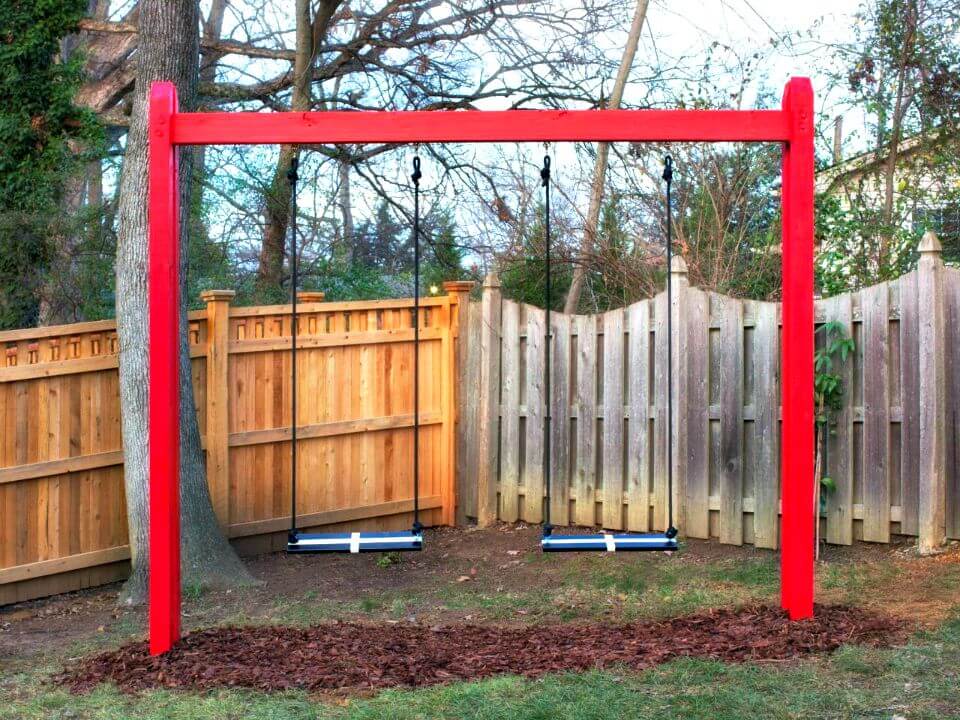 If you are looking forward to raise your garden fun by installing some cool looking swing sets then you can simply duplicate this wooden kids' swing that comes with 2 built-in swings but you can enlarge and frame and can also increase the number of swings according to need and desire! Here the entire self-standing swing frame is made of pine boards and has been painted in red for a glam look! Intending to duplicate this handsome swing set? Grab the full free tutorial, free plans and instructions from here hgtv
Build Your Own an Outdoor Swinging Bed: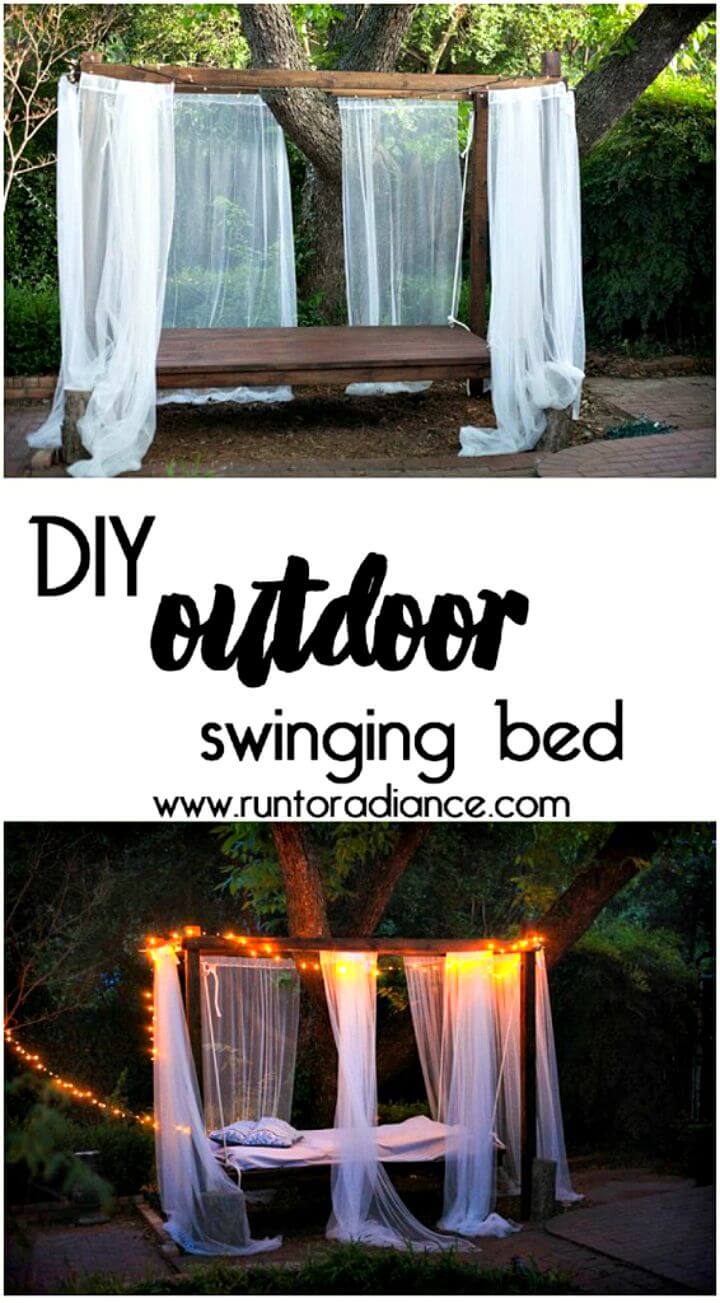 Here is the perfect reading nook and the relaxing station for every outdoor lover, a handsome swinging bed that comes covered with white curtains for a little privacy! Here this swinging bed also with a handsome roof frame which has been got dignified more with accent outdoor lights! Here the entire frame of this swinging bed is made at home and the frame stands on 4 heavy duty pillars! Here this swing comes with a flat wooden bed hanging in the air and has been well cushioned! This is here the bed swing that will turn any outdoor patio or garden space into mini heaven! Complete tutorial and step-by-step instructions here runtoradiance
DIY Airplane Swing Tutorial: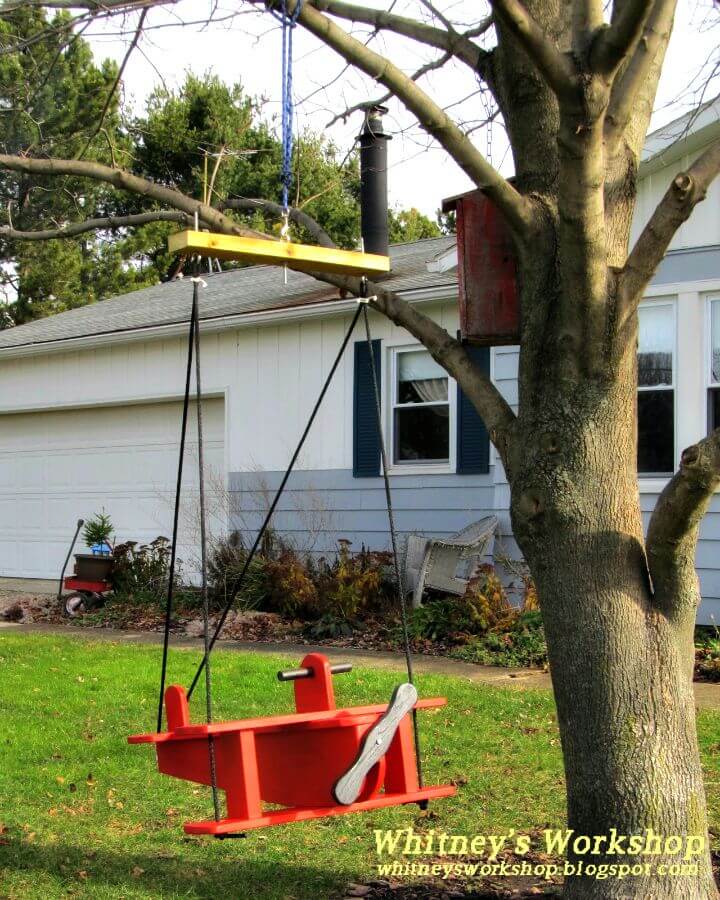 Here what you can give as the best summer gift to your kids and toddlers! Just build this airplane swing that is made of wood and has been painted in red! Let your little pilots ride on this airplane swing and see them having a great fun! Another amazing fun station for kids, the adorable wooden swing! Here building this creative airplane wooden model is pretty easy and you can easily do it if you are having a little woodwork experience! Here is how to make this airplane swing! Grab the full free tutorial and instructions from here whitneysworkshop
How To Build Porch Swing: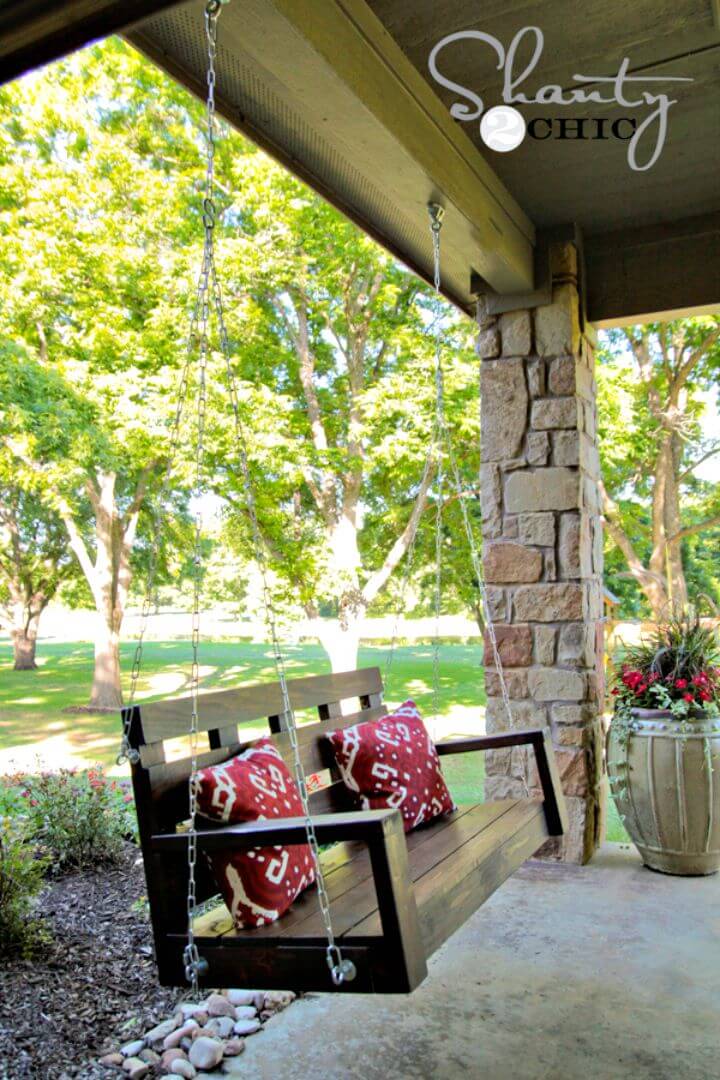 Bring great visual details and lots of fun to your patio or porch by installing this lovely wooden swing! Here all you need to plan and make a durable wooden seat that may come with eye-hooks fixed to each side or corner to attach the swing rope! Here this wooden swing is made of heavy-duty wooden planks and you can prefer the pine or lumber for it! The armrests, backrest and the pillows really make this swing super comfortable and here 6 eye-hooks have been used to bring this swing in the air for enjoyable swinging experience! Complete tutorial and visual guides are here shanty-2-chic
Awesome DIY Rustic Rope and Wood Tree Swing: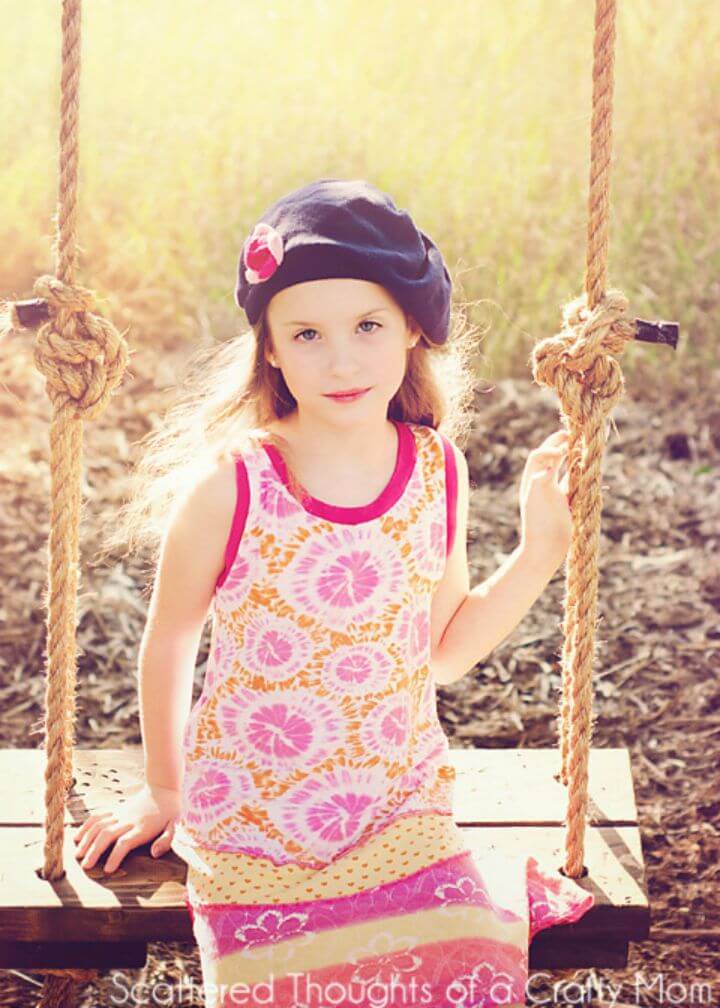 This is here another beautiful swing that you can duplicate to raise the kids fun! This is here the simple but durable wooden swing that hangs on a tree branch! Here all you need is to make a wooden seat for the swing that can easily be made using one or two wooden planks and the backside supports! Drill holes in the sides of your finally finished swing seat and next grab two lengths of rope to thread into the holes making a loop to each side of the swing, tie knots to secure the loops in place and next add the swing rope to hang the swing in the air! Complete project tutorial here scatteredthoughtsofacraftymom
Build Your Own An Swing: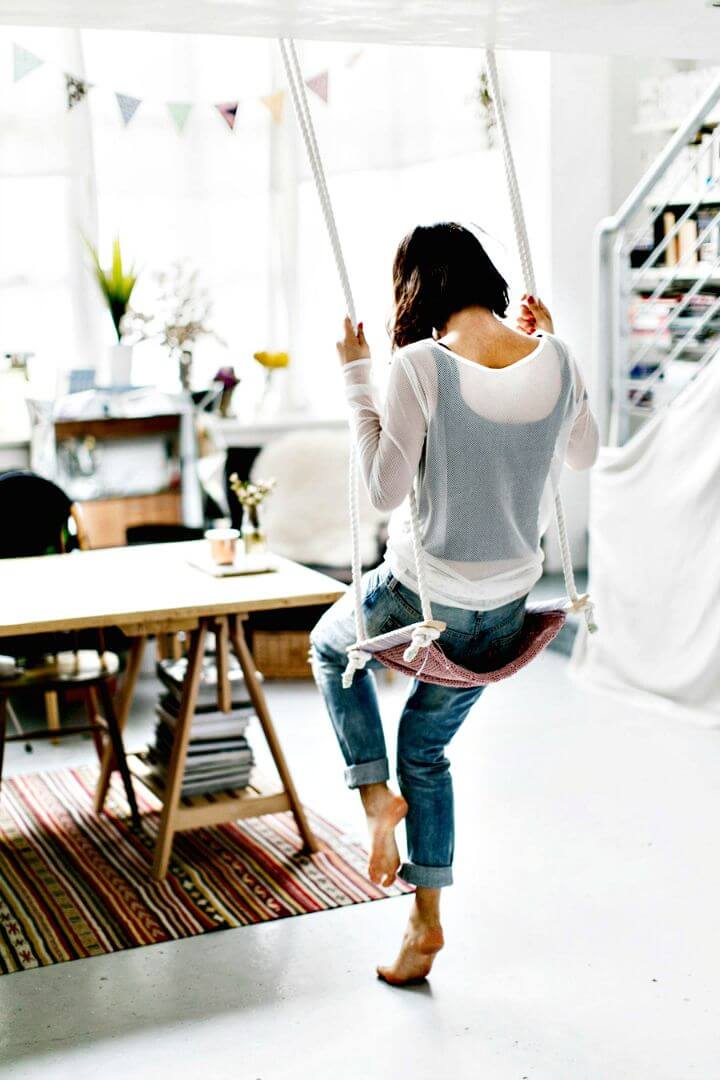 Use also your knitting and crochet skills to make adorable swings that can also be installed to any indoor space for an instant relaxing station! Here all you need is to crochet or knit a yarn seat that can be added with wooden side supports for attachment of swing rope lengths and that's it! Install the wooden supports to each side of the yarn seat using the yarn loops around them and next you can drill holes in the wooden supports to tie the swing rope! Full free tutorial and instructions here parkandcube
How To Make A Tree Swing Out Of An Old Pallet: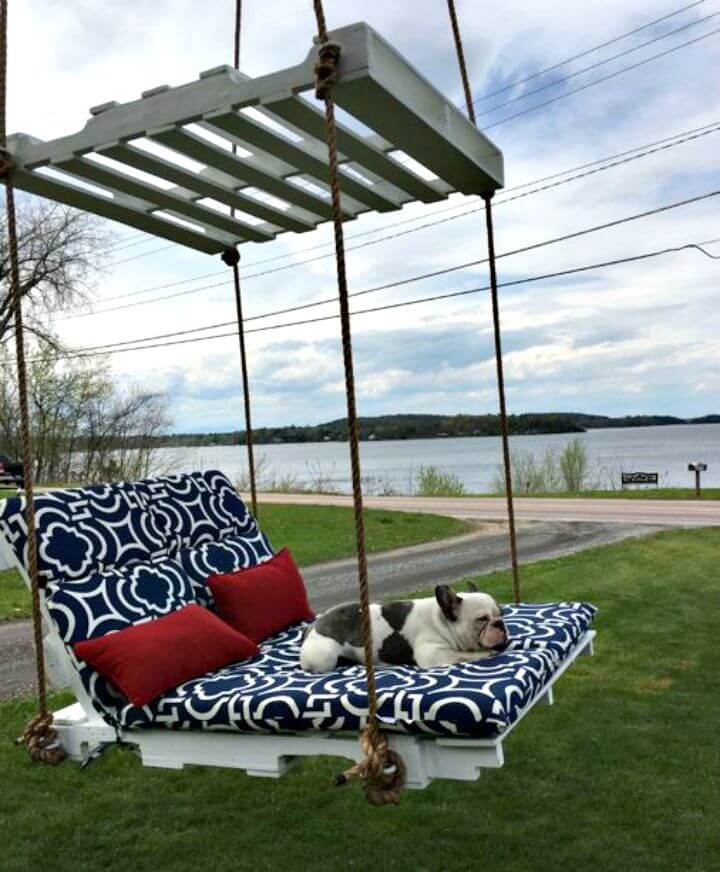 We can bet that you would have not seen a wooden swing more beautiful than this tree swing that is made out of pallets and is too durable to live for decade! Here all you need is to make a seat of the swing, just add a pallet with an angled backrest and you are done! Next you can add install the eye-hooks to each corner of the swing seat and hang it up using nautical rope or metal chain lengths! To not get all the 4 swing rope lengths mixed up, an additional pallet has been installed to top side of the swing that direct the swing lengths to be straight all the time! Cushion and paint your swing and that's it! Complete project tutorial and instructions here pallets.sfglobe
Adorable DIY Porch Swing: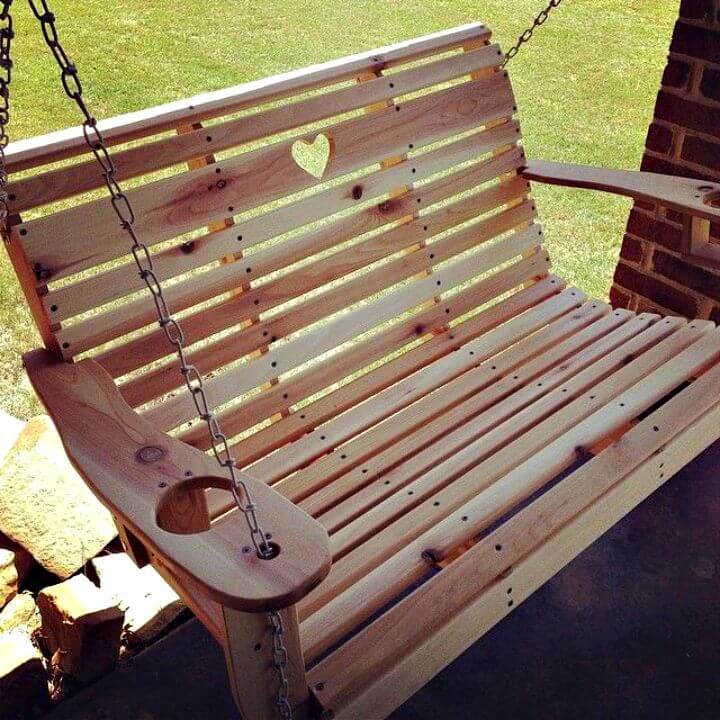 Look at this another fantastic swing that has been made to inspire and is really beautiful! This is here another beautiful porch swing that comes with a cutout heart in the backrest for a love theme! Here all you need is to build the frame of the swing first using custom wooden lengths and then you can fill up the frame by slatted arrangements of wooden lengths and planks, here this wing seat also comes with a backrest! The whole beauty of the swing comes from the art style armrests that come with artistic curves and also with holes in them to hold the beverage glasses and mugs! Complete project details and tutorial here instructables
DIY Tree Swing for Two in the Backyard: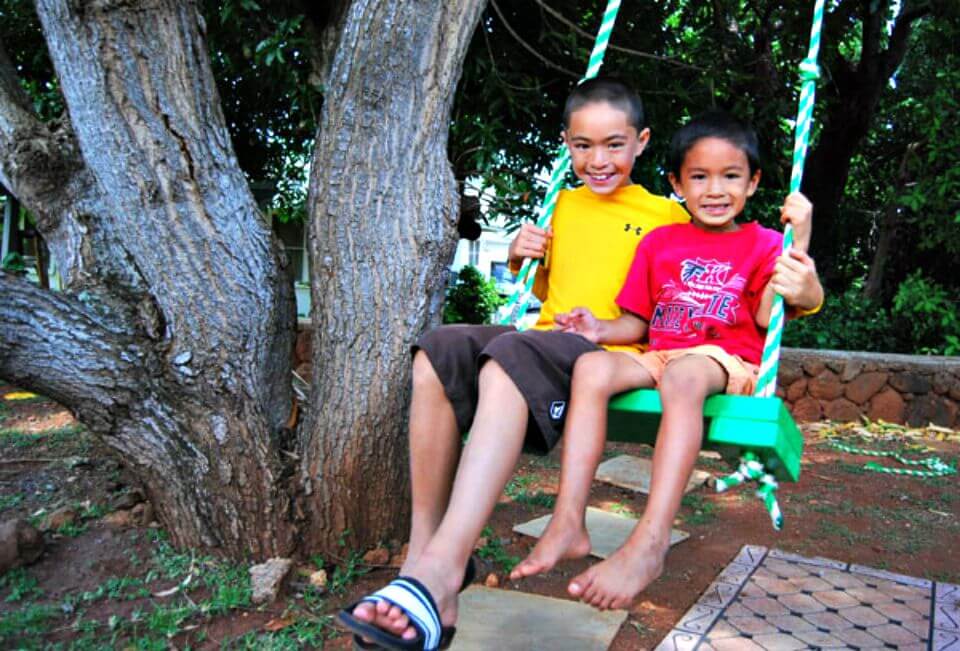 Make the summer afternoons of your kids more enjoyable by installing some swings in the backyard! Check out here the sample tree swing that is good for two and will really be easy and cost-effective to make at home! Here all you need the pressure treated 4' pinewood length and the hollow-core braided rope to duplicate this brilliant swing that has been painted in green for a bright look! Again add the pine with a bottom support wooden support to each side and then drill holes in the sides for threading into the swing rope! A pretty simple and easy peasy swing project! Grab the full free project instructions and details from here builtbykids
Simple DIY Chair Tree Swing: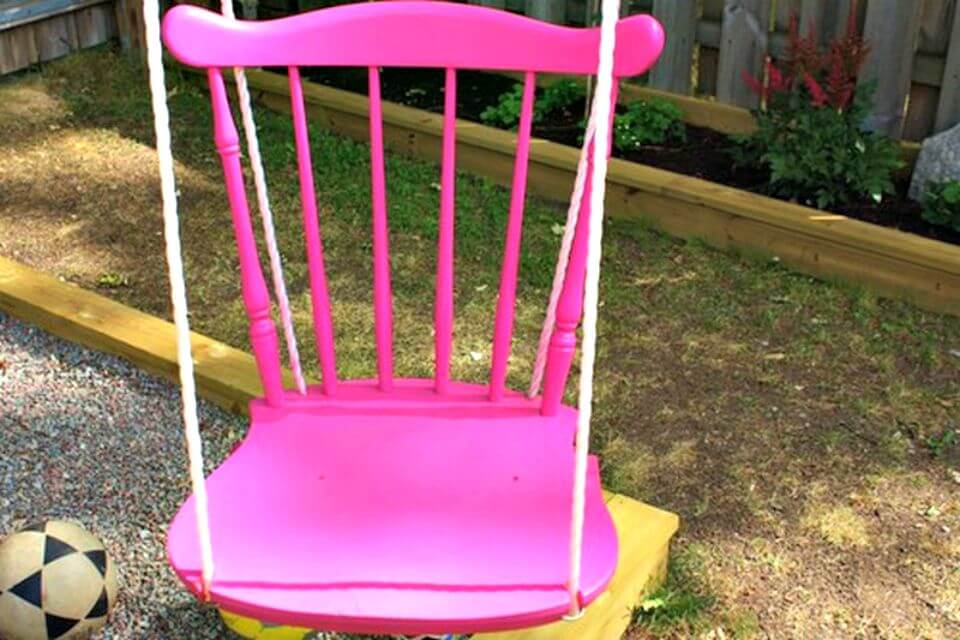 Really don't know what to do with your old chair lying useless in your home? Why not turn them into good-looking swings that will hang like a charm at your outdoor? Here an old chair with removed legs has been brought to hanging position using the poly rope and the eye-bolts and hence a fantastic swing has been made out of the old chair! Finish your swing chair in any color your kids like and it will also be a great idea to give weather protection to your swing! Grab the full free guides and visual tutorial from here theownerbuildernetwork
Make Your Own Platform Swing:
Checkout here another brilliant and outstanding swing hack that will definitely inspire your creativity! Here an old mini trampoline has been transformed into a brilliant looking kids swing and it is super soft, flexible and comfy to sit on! Here all you need to do first is to detach the legs of the trampoline and next you can hang it up using the heavy-duty rope or metal chain lengths! This will result into a handsome looking platform swing that will be loved dearly by all kids! Complete project tutorial and instructions here andnextcomesl
DIY Fun Tire Swing Tutorial: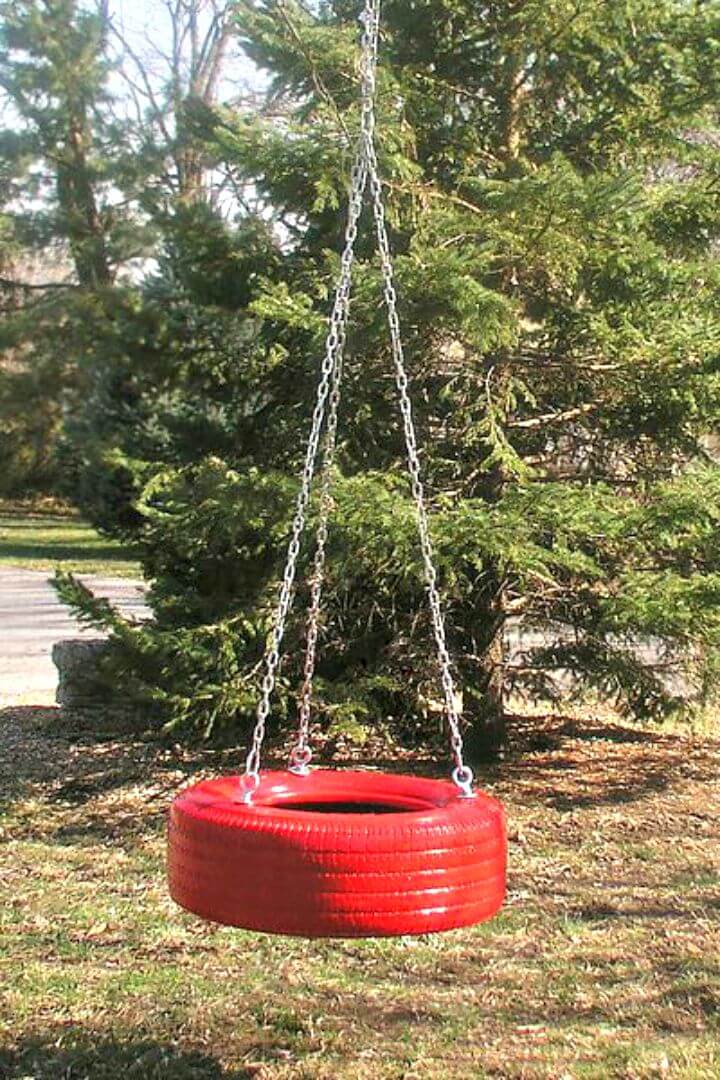 You will be highly amazed to see that what amazing and brilliant you can do with the old vehicle tires that are worthy for nothing mostly! Just repurpose the old tires and make adorable swings out of them without getting a bit expensive! The tire-made swings will also be unbeatable in durability and will also withstand the hardware outdoor weather conditions! Here first the tire has been given an enchanting appeal using latest primer and paint and then has been suspended in the air using metal chains lengths and eye-bolts as you can see! Complete project instructions here ehow