In this modern era of fashion, we love to wear different styles and personalities to look unique everyday! So, when you wish to wear a new style every day, you also go through a makeup process and session for that that totally change the look of you! So, wearing different styles also demands lots of different makeup products and tools and you can easily see the big collections of makeup tools and products in the makeup rooms of the style lovers especially in the rooms of fashion loving ladies!
More your makeup tools and accessories more difficult would be to organize them! You can't put all your items of makeup in a drawer for a big mess and this would not just provide the easy of the pick of your favorite tool or product that you are going to use! So, you should definitely quite the deal of storing all your makeup in a single drawer that even has no dividers or boxes install in it, so you can opt for the super functional makeup organizer that would provide space to storing different makeup tools and products on different shelves and compartments so it would be super easy to select your tools!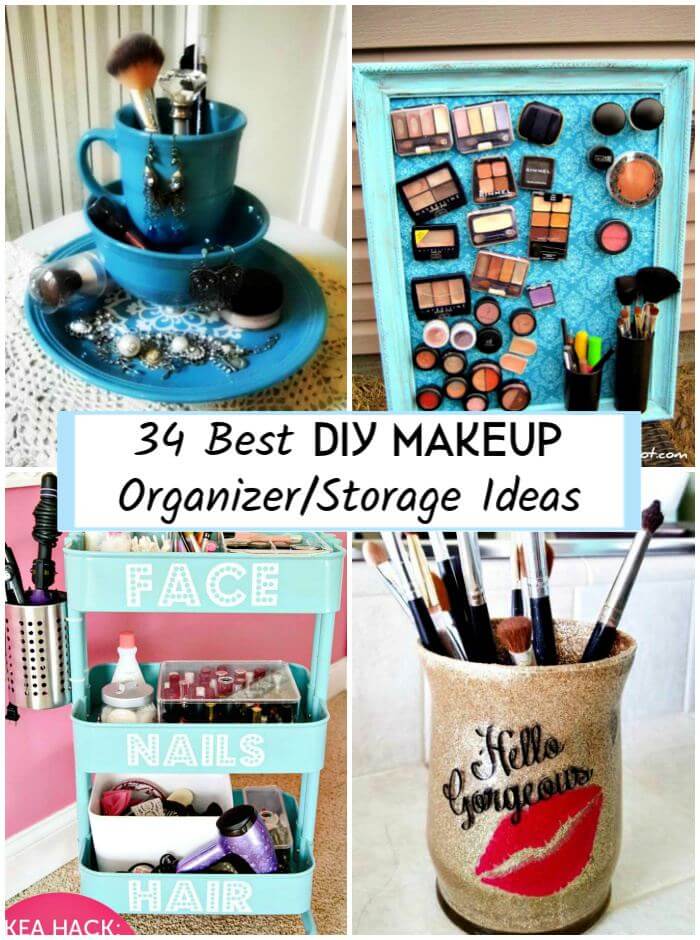 So, are you looking forward to gaining some best of the best makeup organizers? You can buy some amazing one but buying from the market can be a matter of bigger investments and not all can afford it! So, you can try making your own special makeup organizers at home like a pro and this is not going to be difficult for any of your when you will see these DIY makeup organizer/storage ideas that are insanely clever, creative and cost-efficient! Here you will learn that how you make use of the items that are no longer in use or lying as extras in the home, to make fantastic makeup tool organizers in just no time!
Adorn the ordinary glass and mugs with glitter, vinyl stickers and with custom words and start using them as stunning makeup tool organizers! Organize your makeup vertically on the wall using the makeup magnetic board out of an old picture frame and also avail the various IKEA hacks to make stunning modern makeup tool organizers, an interesting sample here is the rolling makeup vanity that is made of IKEA Raskog! Also go handmade with the sushi mats and with black elastic length to make fabulous makeup tool organizers at home without getting a bit expensive, get inspired of the given sample that can be rolled up easily!
DIY Jewelry Ideas:
Make the wooden boards with shelves and add them up with the hanging Mason jars that can be secured in place with the metallic hose clamps, to make interesting beauty stations or makeup organizers at home! Check out dozens of more homemade makeup organizer/storage given below in the list and do clone your favorite makeup organizers that will fit best to your needs and makeup room décor style! Visit also the attached links to reach to full free project tutorials, step-by-step instructions and to comprehensive visual guides!
DIY Makeup Glitter Brush Holder:
Today the good looks of your personality are everything and that's why the makeup has become crucial for both genres! Especially the women take the keen interest in doing makeup and here is a great way to store your makeup items especially the makeup brushes! Here the ordinary glass votives have been spruce up with glitter and then have been adorned with custom vinyl words and also with custom stickers! First layer the mod podge and then sprinkle the glitter over! Complete tutorial here leapoffaithcrafting
Adorable DIY Make-up Magnet Board: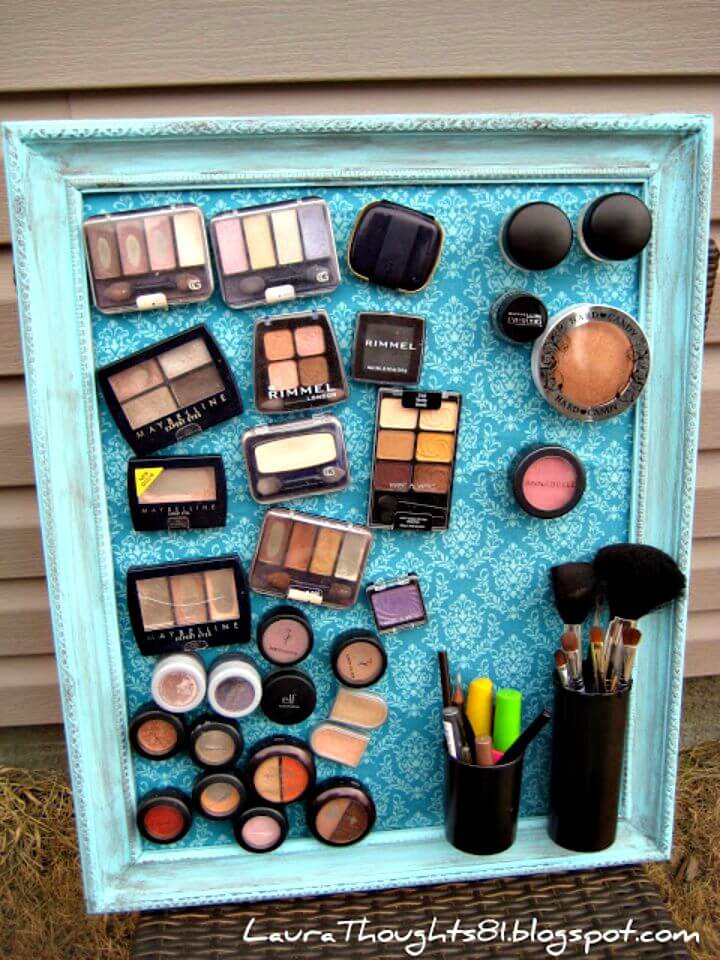 Another fetching makeup organizer is here to grab your attention! This is here the lovely makeup magnet board that beautifully organizes all your makeup items! The secret behind the scene is the board which comes covered first with a metal sheet and then with custom printed fabric! Finally ,tiny round magnets have been mounted underside each makeup item which has then been mounted on the board! Complete project tutorial here laurathoughts81
DIY Rolling Vanity – IKEA Raskog Hack:
Here is how to gain your furniture on wheels for easy transportation, just go handmade with the IKEA raskog and make a rolling makeup vanity that will brilliantly store your items of makeup! Check out here an interesting sample that also comes with a steel holder installed to one side of this makeup vanity that will brilliantly hold your hair drier and also the hair straightening tools! Complete project tutorial and visual instructions here polkadotchair
Make Your Own Makeup Brush Organizer:
makeup brushes are always something that are delicate and get damage so early! So, if you are a makeup lover then you will surely grab some systems first to organize your makeup brushes! Check out here this ample makeup brush organizer that is made of sushi mat which comes with few wooden sticks wrapped in black elastic length and hence a beautiful makeup brush organizer has been made! Complete project instructions and tutorial here irinascutebox
How to Build a Beauty Station:
Just fall in love with the rustic appeal of this handmade built makeup organizer that has been designed to overcome the different storage needs and demands of makeup lovers! Here a custom piece of wood has been added with 3 glass containers that stay there with the help of metallic hose clamps! Next, there is a bottom shelf to organize your remaining items of makeup! Here the background wooden board has also been stenciled and painted for a custom gorgeous appeal! Complete project instructions and tutorial here blahblahmagazine
Cute DIY Plastic Bottle Make-up Organizer:
If you are having the old glass or plastic bottles in your home lying useless then time to reuse them again to grab the good looking makeup organizers at home! Have a look at this sample plastic bottle makeup organizer that is looking lovely and brilliantly beautiful! Here custom items of makeup have been stored in these plastic bottles and hence they make the perfect transparent makeup organizers! A super simple and low-cost idea for nice makeup organization! Complete project instructions and tutorial here alittlecraftinyourday
DIY Leather + Copper Make-up Organizer:
One more extra brilliant makeup organizer is here to amaze your senses! Here this very gorgeous looking makeup organizer is made of colored leather lace, copper tumblers and with a piece of wood! Here the idea is to mount the copper tumblers to piece of wood using custom hardware! Here it has been done by using the colored leather lace that has been threaded into the wooden board holes and comes perfectly around the copper tumblers! Complete project tutorial and instructions here abeautifulmess
How To Sew Frame Organizer:
Organize your makeup tools and accessories also in a style using this A-frame makeup organizer that is made of fabric, Pellon Peltex and also with Velcro and is really something super praise-worthy and adorable to look at! This handsome self-standing makeup organizer would just rock on every makeup dresser and would also make a great gift to a friend or family member! This is here actually a sewing project as you have to sew also the fabric pockets! Complete project tutorial and instructions here haberdasheryfun
How To Turn Coffee Cup Into Makeup Storage:
If you are intending to get some instant makeup organizer then here is a brilliant hack for it! Just wrap the coffee cups in twine and then adorn the top of them with printed duct tape round and get outstanding makeup organizers for your dresser table! Check out here the sample coffee cup makeup organizer that are sure to go eye-catching on any makeup vanity! Complete project tutorial here hearthandmade
Easy DIY Leather Makeup Brush Holder:
If you are concerned with the good condition of the makeup brushes and don't want them to get damaged early then you can simply opt for some outstanding storage options for them! Check out here the leather makeup brush holder that is much visually attractive and has been made to inspire your creativity! Here all you need a piece of leather, leather cord and an exacto knife to make this handsome makeup brush holder! Complete instructions and tutorial here helloglow
Gorgeous DIY Chevron Glitter Vanity Tray:
Make also great looking trays to organize your makeup tools, accessories and other items of interest! If you love the colors then you will definitely fall in love with this glitter vanity tray has been done to rock and inspire and comes with chevron glitter stripes for a more glam look and appeal! Here this vanity tray is made of cardboard shoes box lid and is really eye-captivating! Complete project details and guides here onceuponherdream
Adorable DIY Hanging Makeup Organizer:
One more fabulous makeup organizer is here that is super cost-efficient and also super storage friendly! Here this charming makeup organizer has been made out of fabric, plastic paper, and with hanger! Here both sides of this self-sewn makeup organizer are storage friendly as each side comes with custom pockets! This is here another lovely and fantastic makeup organizer idea to inspire your creativity! Complete project guides and visual tutorial here agirlandagluegun
Make a Roll-up Makeup Brush Case:
If you are intending to gain some makeup kits or cases to do some makeup during the traveling then you must own this roll-up makeup case that has been done here to hold only the makeup brushes and is just looking damn lovely! This is here a brilliant sewing project that you can easily do at home! The idea here is to sew the two clone pieces of fabric together first for the rolling case that can next be stuffed a little with batting! Here the wide inside has been done using the laminate! Complete project details here sew4home
DIY Washi Tape makeup Brush Holder:
Get inspired of this another great looking makeup brush holder that is made of a glass vase! Here this glass vase has been adorned with the washi tape stripes and also comes with custom letters and monograms for a glam modern appeal! Here this handsome brush holder has been filled with white beans to give fantastic grip to makeup brushes! Complete project guides and tutorial here leroylime
How To Make Storage Drawers Using Beauty Box:
Just duplicate this another fantastic looking makeup organizer that is made of 3 beauty boxes! Here the lids of the boxes build the sides and bottom of this makeup organizer while the boxes have been stacked as storage drawers as you can see! Finally finished storage boxes have been finished with a pink ribbon and also with pink ribbon drawer pulls resulting into a very adorable looking makeup organizer! Complete project instructions here sweetandbitterblog
DIY Aluminum Vase makeup Brush Holder:
Make also adorable makeup organizer at home using glass cylinders or jars and the decorative aluminum sheet! Here first the aluminum sheet has been rolled and then has been secured in cylindrical position using the flat head screws and bolts and finally has been put inside the glass vases or cylinders to make amazing looking makeup brush holders! Just Check out there the lovely samples and get inspired! Grab the full free tutorial and instructions from here sugarandcloth
Amazing DIY Swanky Two-tier Organizer: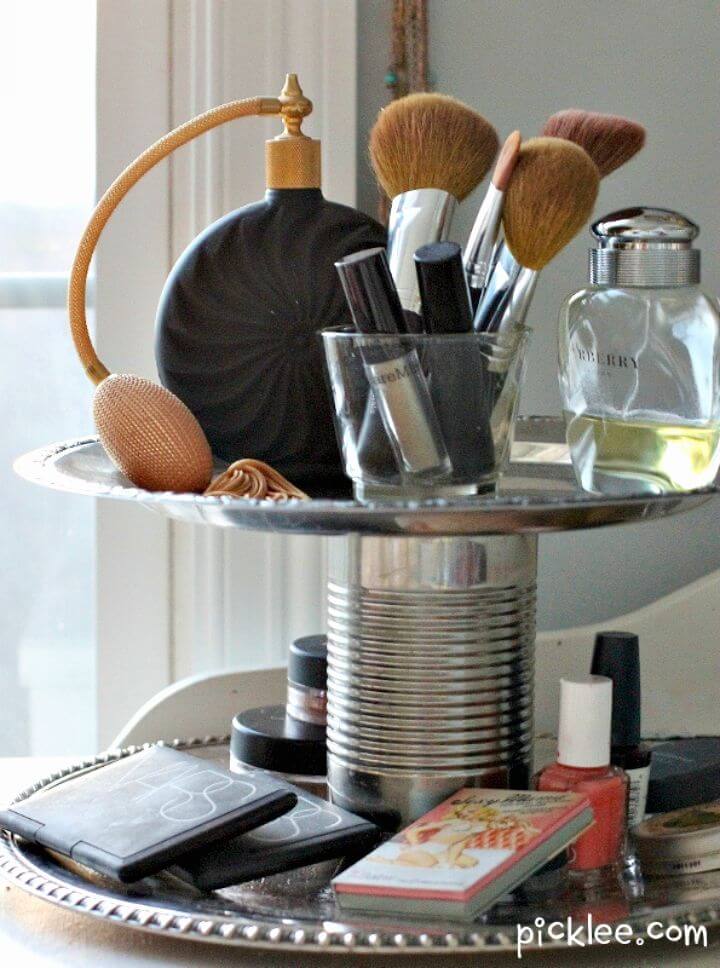 Check out here another great looking makeup organizer that is made of two vintage silver plates and of a steel tin can! Here the idea is to sandwich the tin can between both plates and hence you will get a two tiered makeup organizer! Just get inspired of this lovely swanky two tier organizer that has been done and inspire and is really looking much focally stimulating! Use the hot glue to secure the parts in place! Complete project instructions here picklee
How To Make Makeup Brush Holder:
Have a look at this another dashing makeup brush holder that is made of fabric and is really looking stunning! Here first the white fabric has been sewn for the inside pouch that comes with custom tiny sewn holdings to hold the makeup brushes nicely in place! Finally the enchanting printed fabric has been sewn to give a fantastic outside to this makeup holder! Another outstanding and extra brilliant makeup organizer idea to duplicate! Grab the full free tutorial and instructions from here centsationalstyle
How to Create a Clay Lipstick Holder:
Go also smarlty handmade with the polymer or air dry clay to make outstanding makeup organizer or holders! Have a look at this tunning lipstick holder that is made of gold and white clay! Here a rolled out layer of gold clay has been sandwiched between two white layers and then a custom shape of lipstick holder has been cut out from them! Get the leftover clay in tile or block shape and add as bottom supports or legs to lipstick holder! Final step would be to push in deep your lipsticks before the clay dry well, this will create the holdings in the clay! Complete project instructions here seekatesew
DIY Scrap Wood makeup Brush Holder:
Having some wooden cubes or blocks lying around for nothing? Why not reuse them again to build great looking makeup organizers and makeup brush holders? Just have a look at this dashing sample that has been stained and sealed for a lustrous choco brown wood appeal! Next this stained wooden block has also been adorned with the decorative brass L-brackets pasted around every top corner! Drill some holes in the top of your finally finished block and put your makeup brushes vertically in the holes! Complete project instructions and guides here earnesthomeco
DIY Mason Jar makeup Organizer:
Fall in love with this another great but rustic looking makeup organizer that is made of an old wood plank and with some recycled mason jar! Here the custom hose clamps have been used to hold the mason jars in place over the wooden plank in hanging position and next you can just store your makeup items, tools and supplies in them! This is here another brilliant but rustic makeup organizer that you can duplicate in just no time! Grab the full free instructions and tutorial from here thediyplaybook
Easy DIY Makeup Palette And A Giveaway: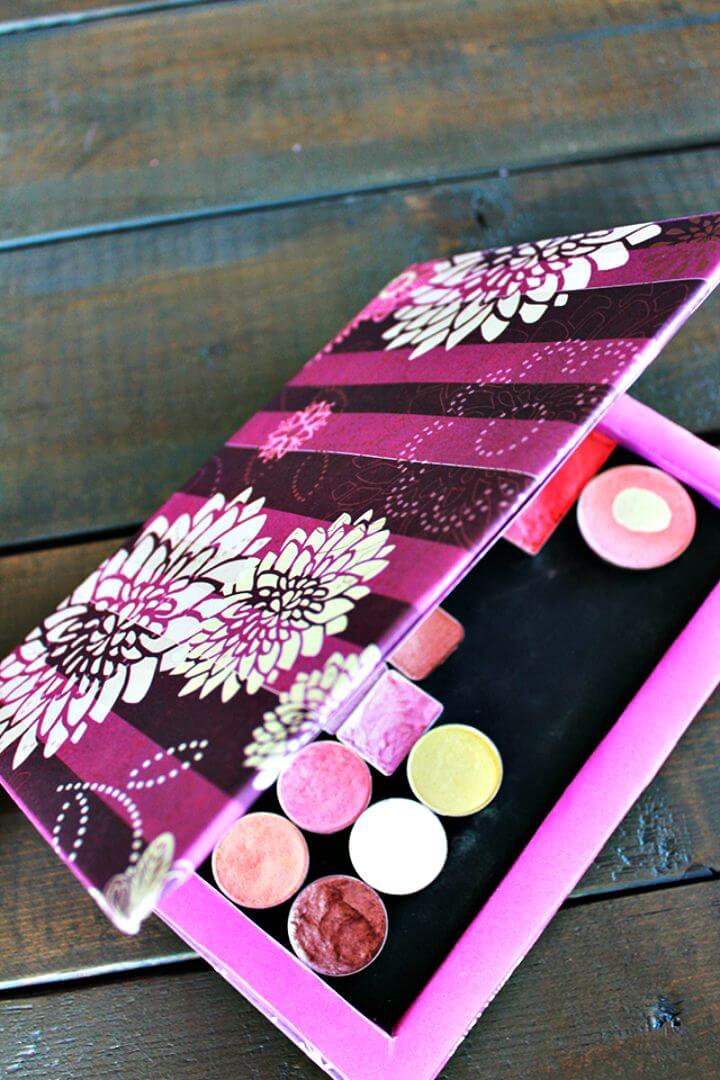 Have a look at this another beautiful and stunning looking makeup organizer that is having a book like shape! Actually it is having a tray like base and comes with a top lid! Adorn the with scrapbook paper or with printed fabric and just enjoy a great makeup organizer! You can repurpose various cardboard boxes of this kind from home to duplicate this handsome makeup palette! Complete project instructions and tutorial here prettylittledetails
Cute DIY Glitter Brush Organizer:
Have a look at this another modern and beautiful looking brush organizer that has been done to inspire and is really looking enticing! Here a glass jar or container comes with interior made sparkly with the custom colored glitter! The idea here is to layer the mod-podge first to entire inside of the jar and then you can sprinkle the glitter over the mod-podged areas to get a glittery interior that would also be visible from outside! Another brilliant and outstanding makeup brush holder to go to your makeup room! Complete project guides here savorandsavvy
DIY Ribbon-Tie Vanity Basket:
One more outstanding homemade makeup holder is here that is having a tray or basket like shape! Here a cereal box has been cut to take a shape of a basket and then has been covered entirely with the custom fabric having colorful prints! Finally the one side of the basket has been adorned with a ribbon tie and other has been embellished with a flower décor! Intending to clone this ribbon-tie vanity basket? Then just grab the full free instructions from here onceuponherdream
DIY Gilded China Dish Makeup Organizer: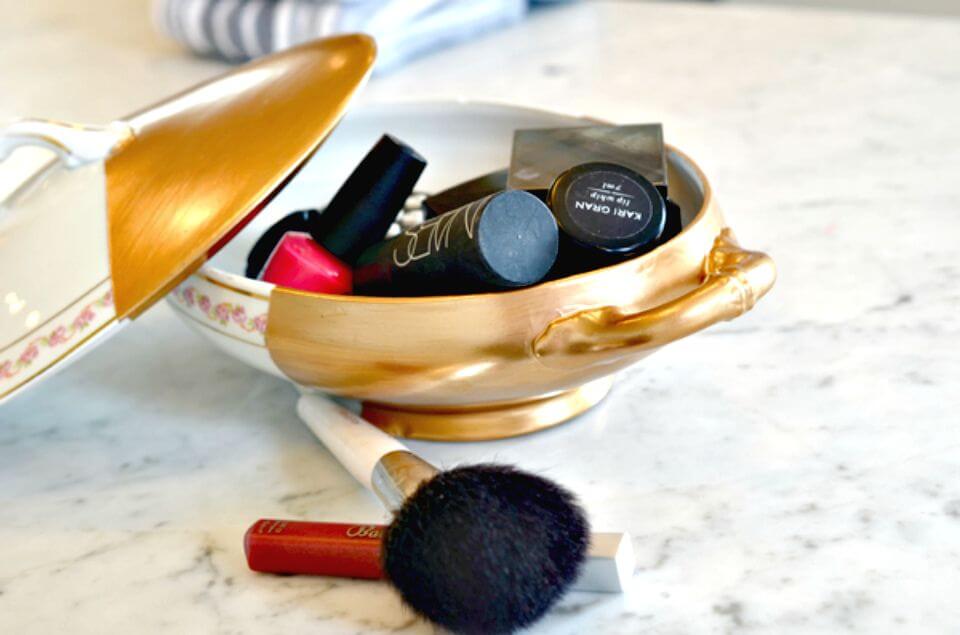 Adorn also the ordinary china dishes and trays with gold leaf or gold paint and make great looking makeup organizers just like this gilded china dish make holder! Here a sweet posh look of the china dish has been created with a fab touch of gold! Here you can use both gold leaf and gold spray paint to do so! Use the masking tape to cover the areas you don't want to cover with gold, this will also work great if you need to make some gold patterns! Grab the full free instructions from here alexandrahedin
How To Make Gold Spray Painted Makeup Brush Holder:
You will definitely fall in love with this another great looking makeup brush holder that is looking just fabulous with the gold painted stripes! Here all you need a glass cylinder which you can cover with masking or stencil tape to paint the gold stripes or other gold logos, monograms or patterns! Next fill the jar with anything like with pebbles or stones or even with white beans to hold your brushes nicely in vertical upward position! Grab the full free tutorial from here vickyb
Cute DIY Sharpie makeup Storage Jars: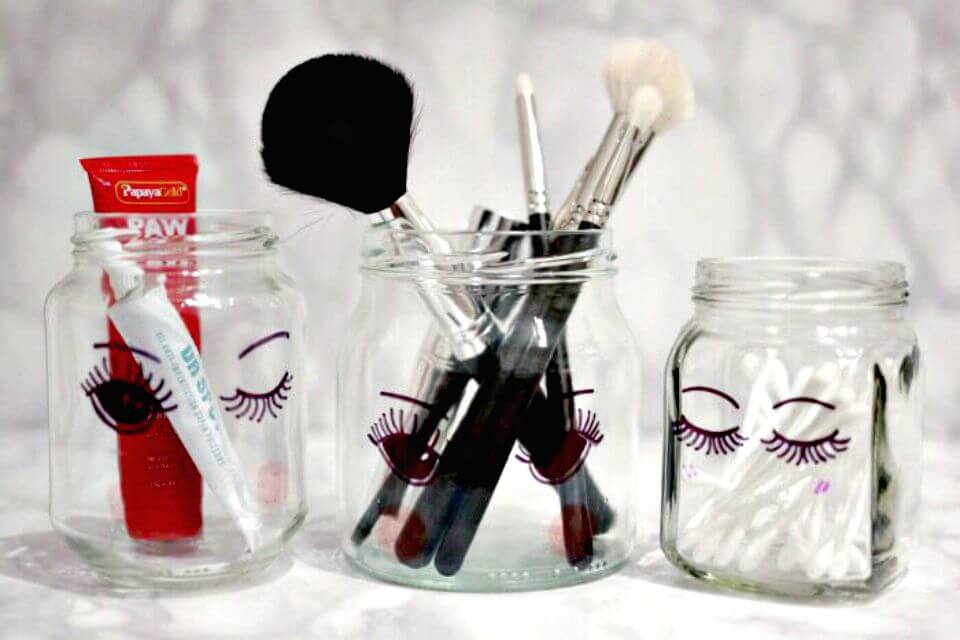 One more praise-worthy makeup storage idea is here to inspire your creativity! Here the recycled mason jars have been painted for beautiful eyes and then have been placed to serve the purpose that is to hold the makeup tools and items! This is here the no-cost idea to grab some makeup organizers for your home! Complete project instructions here lingyeungb
DIY Fingernail Polish Display Stand:
If you are having a big collection of colorful nail polishes then you will definitely like to them to display beautifully in your makeup room! Check out here a fingernail polish display stand is here that is super easy and budget-friendly to make! Here an old picture frame and the black foam board has been used to make this nice nail polish stand that will also make a great gift to a makeup lover or to a fashion enthusiast! Another great hack for no-cost makeup organizer! Complete project tutorial and instructions here angelaeast
How To DIY makeup Storage:
Store your makeup items also with this hand-built makeup organizer that is made of 3 cardboard boxes! Here the lid has been cut and modified to build the sides, base and the top while the boxes have been inserted as the pull out drawers! Paint the entire model or use the custom stencils or scrapbook paper to adorn it more and do add custom drawer pulls! Here the drawers come with ribbon bow pulls that come in black color and are really looking great! Complete project guides and tutorial here peachfizzz
Super Easy DIY Makeup Brush Holder:
Organize your makeup brushes also using the glass candle jars! Here a glass candle jar has been filled with crystal accent beads and then have been give a ribbon bow tie wrap for an accent look! Next the makeup brushes have been dipped in the bead so they will remain stand in vertical upward position! Here both the pink bow tie and ribbon has been used in alluring pink color that is a color of ladies! Complete project tutorial here prettyinpigment
Simple DIY Lipstick Holder:
Grab cardboard box and sheet and built the custom makeup organizers with lots of custom built-in compartments! Check out here this fantastic lipstick holder that is made of cardboard and has beautifully been planned to give a tight fit compartment to each lipstick! Here first you can draw the grid on the cardboard sheet and next can cut the custom boards and parts that will fit as a grid in another cardboard tray! Complete project instructions and tutorial here emilydenisephotography
Quick DIY Makeup Storage:
If you need to store your makeup items instantly without wasting a minute then here is a mind-blowing way to do that! Just grab any type of containers from home and just adorn them up with custom accents, stencils or monograms and then just start organizing your makeup brushes and items! Check out here the custom makeup organizer that come dignified with the punched tiny flowers glued around the container! Grab the full free tutorial from here craftyourhappiness
How To Sew Travel Makeup Organizer:
If you always love to carry your makeup items with you even when travelling then you can also make some fab looking travel makeup organizers or kits at home! Check out here the folding travel makeup organizer that is made of fabric and comes with custom fabric compartments to hold the makeup brushes beautifully! This is actually here a sewing project that is to do with two different types of fabrics and also with custom accent ribbon! Here the fabric with gold polka dots has been used that really looks stunning! Complete project guide and visual instructions here ehow
DIY Jewelry & Makeup Holder With Dinnerware: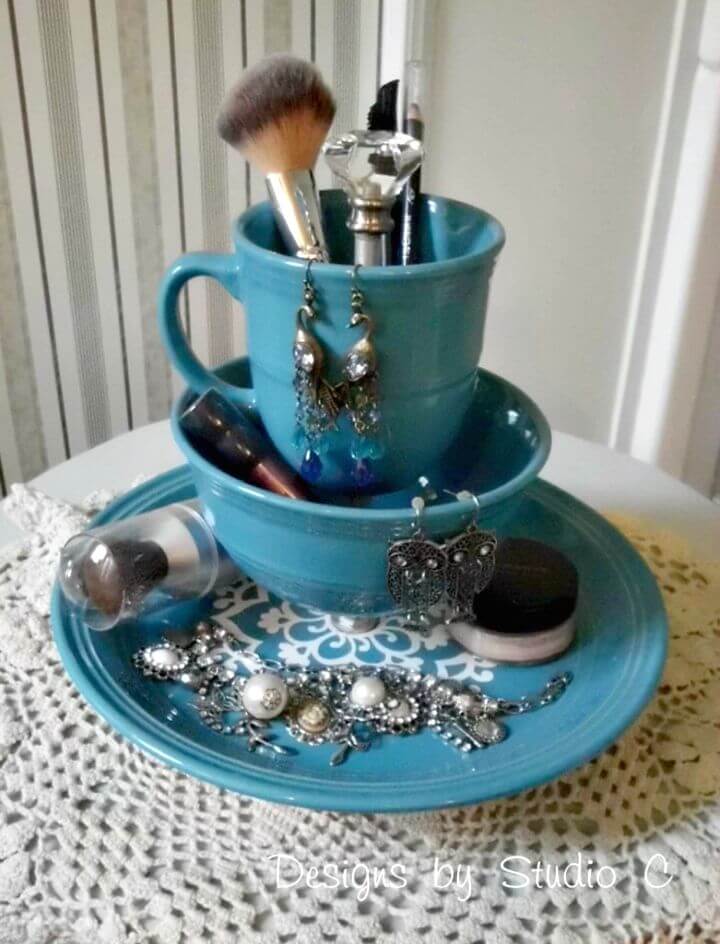 You can also go handmade with ordinary kitchen utensils to make gorgeous looking makeup holders without getting expensive! Check out here this sample makeup holder that is made of dinnerware! It is here a stack of a plate, bowl and a cup that have been glued in place and make a charming makeup organizer! Intending to duplicate this another beautiful looking makeup holder? Grab the full free guides and visual instructions from her designsbystudioc