It is the mostly the case that you need some additional storage space in a bathroom interior no matter how big it is! However, adding storage space in the current layout of the bathroom without using too much floor space, can really be a hard task to do but if you go with your creative mind then you can really use every inch of your bathroom storage space smartly along with adding some super smart storage options!
However, if you are on a mission to organize your bathroom by adding extra storage space then you can surely do some DIY bathroom projects that will help in low-cost bathroom organization! So, add a lot of storage space in your small or big bathroom without spending too much fortune just by following these 50 brilliant DIY bathroom storage ideas that too innovate and smart to win your heart! All these DIY bathroom storage ideas and projects would also help to boost the performance and beauty of your bathroom!
Install the shelves to narrower bathroom spaces to get a handsome amount of storage spaces and also organize the toiletries by stacking a few crates, would make a great bathroom storage unit! Go manually handmade with wooden lengths and build wall hanging cabinet for your bathroom that may come with sliding doors also, get inspired by the given sample that comes dignified with a wood molding!
Make outstanding bathroom mirror frames that will also serve as shelf there also boost the bathroom storage space by installing bathroom mirror cabinets that will hang on the wall above the sink! Next install also the industrial shelves to your bathroom wall by making use of recycled wood and plumbing scrap and also make the tiered bathroom shelving units that will help in the easy organization of your bathroom!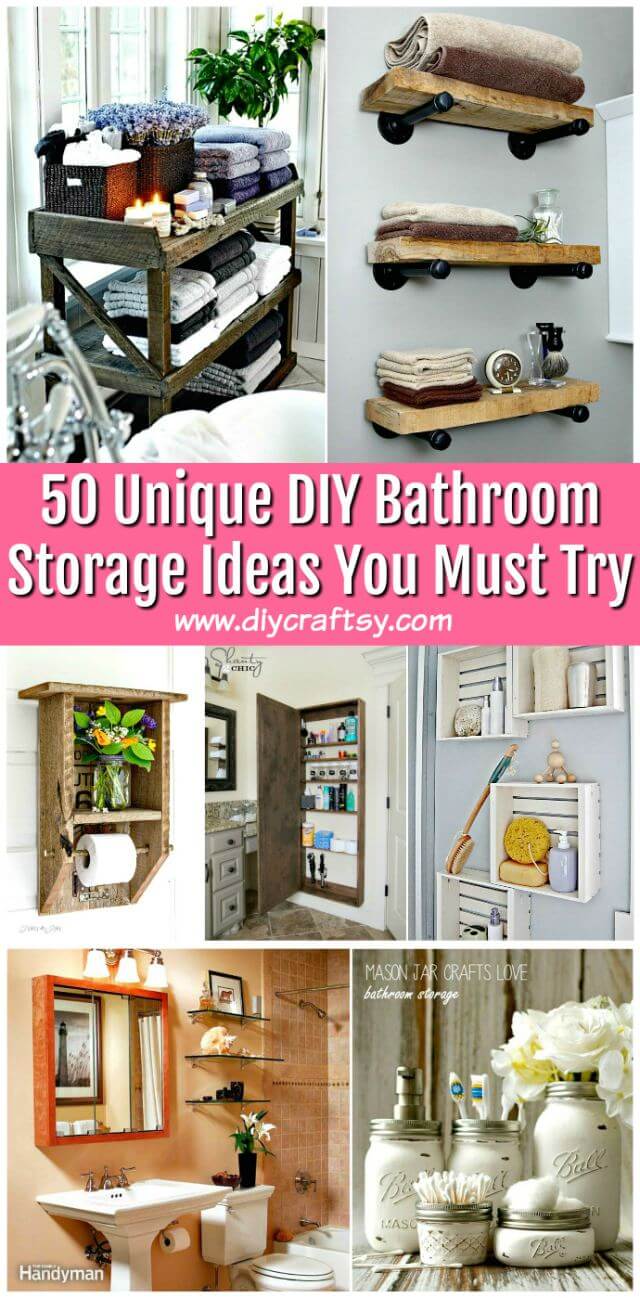 You can also add dual functional items in your bathroom that will take low space but will perform in two ways resulting in maximized bathroom storage space! For example, you can add the custom shelves to your bathroom that will also come with the toilet paper roll holder, next you can install the mirror cabinets which will provide both a bathroom mirror and cool hidden storage space behind the mirror!
Mount also the mason jars on your bathroom walls or cabinets that will work great as mini organizers or storage units and also add custom plastic bags to your bathroom to hold your items of need and interest! Check out there the sample bags that come dignified with vinyl triangles! Make also storage ladders for your bathroom that will come with hanging metal baskets and also make smart use of copper pipes and custom joints to install storage towers for storing towels!
More DIY Projects for Your Home:
There are tons of DIY bathroom storage ideas more given in the collection which can see just by taking a one minute tour of the entire collection! There is also a link attached to each listed bathroom storage idea and project which you can click to reach to full free tutorial and instructions!
Great DIY Bathroom Storage:
You will definitely fall in love with this another fantastic bathroom storage unit that has been done to inspire and is really looking great! In features, this handsome storage unit offers 3 levels of shelves and also having sides strengthened with cross supports or braces! Here you can use any recycled or new wood to duplicate this handsome looking bathroom storage but here it is having shelving levels made of plywood and the whole frame with pine wood planks! Complete project tutorial here remodelaholic
Adorable DIY Reclaimed Wood Bath Caddy:
You can also make your bathroom look great by adding custom bath caddies and trays! Check out there the sample wooden bath caddy that is made of reclaimed wood and brings a great rustic touch to entire modern bathroom interior! Here this caddy will also help organize your bathroom stuff especially the shampoos, oils and candle lights! Complete project details here ehow
DIY Bathroom Shelves Tutorial:

If you are having a lack of storage space in your bathroom then you must install some shelves there to organize and store your stuff! Here is a brilliant bathroom shelves project that you can try out to get your bathroom interior functional! Here space next to the shower and are made of plywood! Here to install the shelves levels first the shelving supports have been installed on targeted walls and then bottom plywood sheets have been screwed in the wall wood supports! Next, the top plywood shelves have been installed for make floating bathroom shelves! Stain or paint the wood for a custom tone and enjoy! Complete tutorial here homestoriesatoz
DIY Wooden Crates Rolling Bathroom Storage:
Another super budget-friendly bathroom shelves project is here that will definitely please all the bathroom lovers! Here a super charming storage unit has been made to organize the bathroom stuff! The empty wooden crates have been stacked to make this adorable storage unit which has finally been raised on caster wheels for a rolling storage unit! You can paint the crates in a different way to gain a colorful model of bathroom storage shelves at just a no-cost price! Complete tutorial here homedepot
Adorable DIY Sliding Barn Door Bathroom Cabinet:
If you willing to fulfill your bathroom storage space desires with a handsome design of wooden cabinet then you must select this given bathroom cabinet that is more good looking and featured! This is here the sliding barn door bathroom cabinet that is made at home and is looking damn gorgeous! First, build a shelving unit by making use of custom wood planks, accentuate its top with a custom wood molding and then install the most fetching feature, the sliding barn door! First, install a sliding hardware system and then the barn door! Complete instructions here shanty-2-chic
DIY Bathroom Mirror Frame For Storage:
Get inspired of this another cool hack to boost the bathroom storage space! Just install the bathroom mirror frame just to wall area above the sink and let it serve for two purposes at one time! First it would a great bathroom mirror and also bathroom wall storage unit! Just make a rectangular tray like shape using plywood sheet and then install the mirror! A super simply and easy peasy idea for bathroom storage! Grab the full free guides and visual tutorial from here bobvila
Build Your Own Three Bathroom Storage Ideas:
If you are willing to gain modern storage options in your posh looking bathroom then here are 3 mind-blowing storage ideas for your bathroom! The first smart hack is to install the mirror wall cabinets that will give a bathroom mirror along with hidden storage space! Next you can grace up your bathroom interior by installing glass shelves and finally you can go with the built-in pantry shelves that will help storing all the spare bathroom items! Complete project instructions here familyhandyman
Cute DIY House Shape Storage Shelving:
You can vary the design of bathroom shelves according to your bathroom interior décor style! Here is a shelving project that would help bring extra grace and uniqueness to your bathroom interior along with providing amazing shelving space! Just install the fab house shaped wall shelves that can easily be made of wood and would bring great charm and grace to your bathroom! Here only 4 planks of wood have been used to craft this adorable house style wall shelves which come painted in white! Grab the full free tutorial from here burkatron
How To Make Toilet Paper Holder: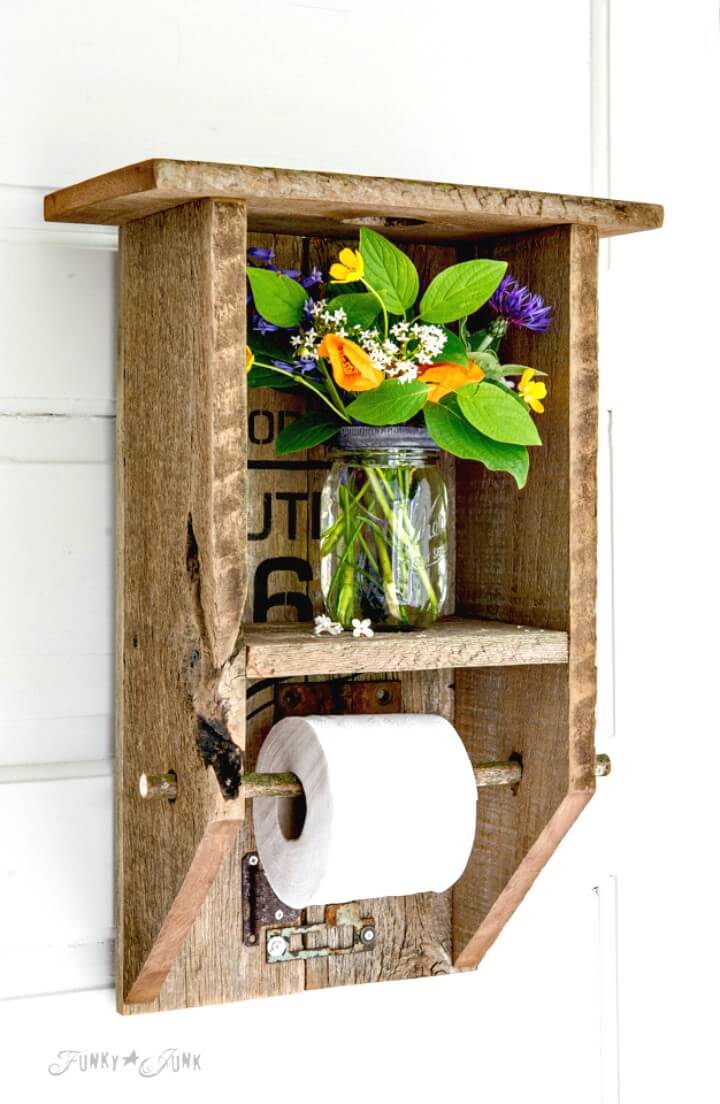 Boost your bathroom storage space also by adding cool designs of toilet paper roll holder! Peek into design details of this handsome looking toiler paper holder that is made of a few wooden planks! This this toiler paper roll holder also provides a storage box and an accent shelf at the top and hence helps boosting the both decors and storage space of the bathroom! Here is how to make this special bathroom toiler paper holder funkyjunkinteriors
How To Make Restoration Hardware-inspired Shelving:
Check out here some more good looking bathroom shelves, purely homemade and will definitely help to organize the bathroom stuff in a nice and organized way! Here the shelving brackets or supports are made of plumbing pipes that are having floor flange feet fixed in the wall and comes with ending capes! Finally the custom wooden lengths have been placed over those metal pipe shelving supports to gain brilliant bathroom shelves! Complete project tutorial here 7thhouseontheleft
How to Build a Bathroom Medicine Cabinet:
Another brilliantly smart hack is here to boost both visual and storage space of your bathroom! The idea here is to build the bathroom medicine cabinet that may also come with the mirrored front door! Check out here the sample bathroom medicine cabinet that comes with a vertical row of mini shelves installed to each side and is just looking amazingly beautiful! Just go with custom lumber or pinewood slats to duplicate this handsome model of medicine cabinet! Grab the full free tutorial and instructions from here diynetwork
DIY Wood and Acrylic Bathroom Shelf:
Check out here a brilliant modern bathroom storage idea using wood and acrylic sheet! Here the wooden boards been connected as at a distant through acrylic sheet sides, the idea is to make holes in the sheet and in the side of wood shelves and then to assemble them using wood screws! Next also drill bigger holes in the extended bottom edges of the acrylic sheet sides and fit a rod in them that will give the towel rack! Complete project guides here pneumaticaddict
How To Build Tiered Bathroom Shelving:
Get inspired of this another good looking bathroom shelving unit that is made of plywood and comes with 4 tiered wooden
tray shelves! Here all these tiered wooden trays have been installed to A-frame wooden sides for making a beautiful bathroom shelving unit! Here all the wood planks that build this tiered bathroom shelving unit have been in white for a chic white look! Another great and outstanding looking bathroom shelf idea! Complete project tutorial here blackanddecker
DIY Toilet Paper Holder Shelf:
Here is another brilliant shelf idea for your bathroom! Here along with a wooden shelf, there is also a bronze toilet paper holder installed to bottom side of the shelf that makes this shelf dual functional! Here the wall installation has been done using the corner hardware brackets and hence the functional behavior of the bathroom has been boosted without getting expensive! Grab the full free tutorial and visual instructions from here diyshowoff
How To Build Bathroom Mirror Storage Case:
Overcome also your bathroom storage space problems by installing custom bathroom mirror cabinets! Get inspired of this amazing given sample that has been done to amaze and provides ample storage space in form of built-in shelves! Here custom wood planks have been put together to build a rectangular frame and then shelves have been added to it! Next a door with a mirror mounted on ithas been installed using hinges that will also hide the inside stored items! Complete tutorial and instructions here shanty-2-chic
How To Make Dollar Tree Bathroom Organizer:
Check out here another brilliant small organizing station this made to add extra storage space in your bathroom! Here the dollar tree jars have been mounted or hanged on a pallet wood plan and then has been labeled for making a cool organizer! Next the saw-tooth hangers have been used to install this organizer to the wall area and hence a brilliant bathroom storage unit has been achieved! Grab the full free guide and visual instructions from here savedbylovecreations
How To Build Box Shelves Bathroom Storage:
Organize your stuff also with these box style wooden shelves that will also bring great geometrical statements to your targeted bathroom interior wall! Here the custom wooden slats have been sanded, stained in dark and then have been put together for making good looking rectangular frame which have then been installed to wall using metal L-brackets! These shelves will just rock to store the toiletries, towels and other items of bathroom stuff! Grab the full free tutorial from here bobvila
DIY Bathroom Industrial Pipe Shelves: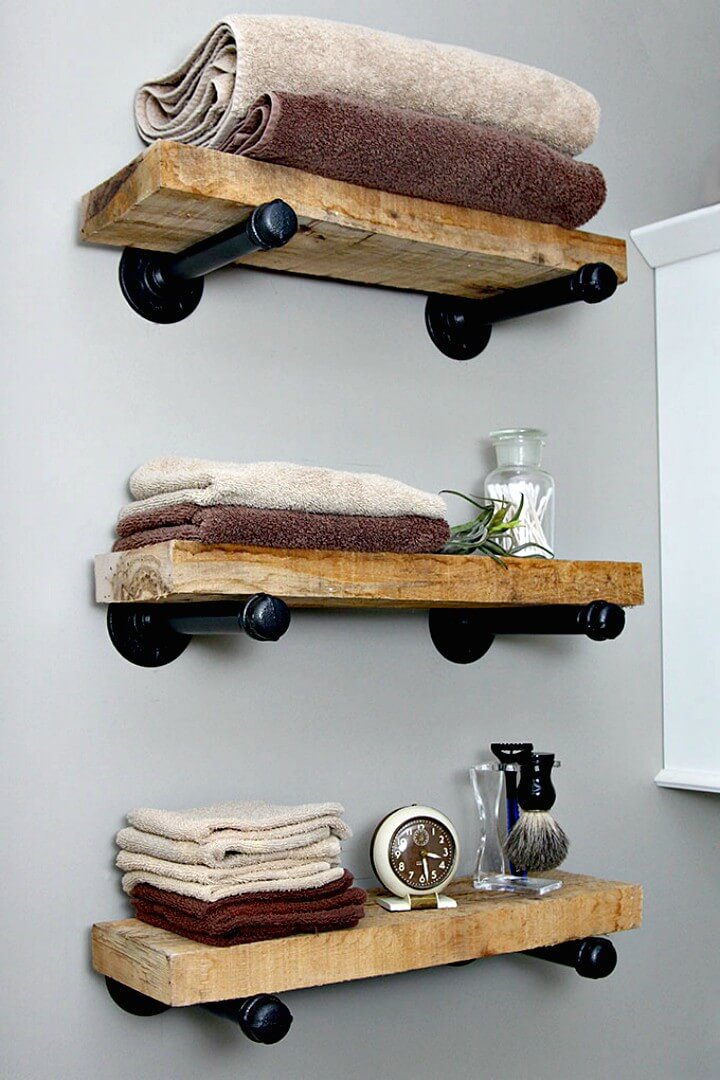 Get inspired of this another shelving system that has been installed to a bathroom wall and is sure to live for a decade! These are here the industrial pipe wall shelves that come with plumbing pipe brackets installed to wall using floor flanges and screws and these pipe shelf brackets then end with accent caps! The final step is just to place your wooden shelves over the metal pipe brackets! Grab the full free guide and visual instructions from here houseofhawthornes
Quick DIY Mason Jar Bathroom Storage:
Make also genius use of mason jars and hose clamps to make adorable bathroom storage organizers at a cost nothing to zero! Check out here the sample demonstration of these hanging jars that are holding the bathroom stuff brilliantly! Here the hose clamps have been tightened around their openings of mason jars and then the clamps have been screwed in the bathroom mirror board! A easy peasy garden storage idea! Complete instructions here lollyjane
Bathroom Storage Shelves Out Of Shipping Pallets:
Check out here another mini but smart shelving unit that is made of pallets and is something super beautiful to look at! Here a mini shipping pallet has been altered to gain some storage shelves and finally have been added with a black iron pipe installed to bottom side and serves as a great towel rack! Here both ends of metal pipe coming out of the wooden edges, have been secured with metal pipe ending caps! Complete project tutorial here hgtv
Build Your Own Rustic Bathroom Shelf: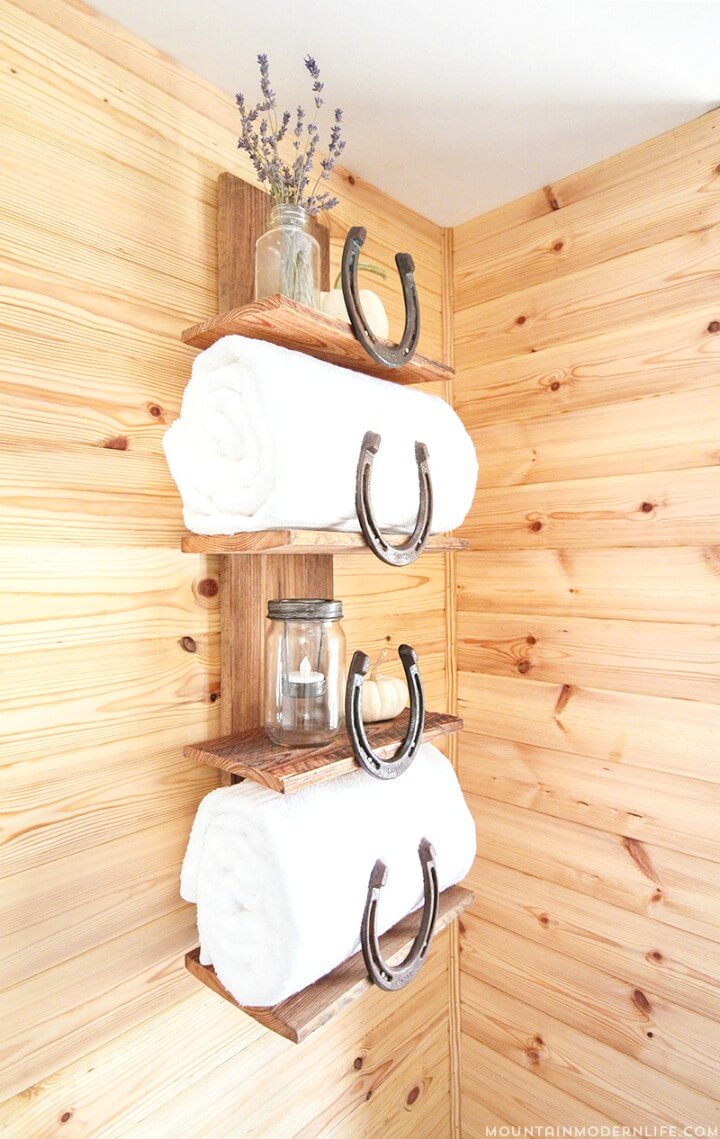 If you are willing to organize your towels in your bathroom then here is another great bathroom storage idea! Just duplicate this rustic bathroom shelf that provides different shelving levels that are installed to a big wooden plank and hence make a big shelving tower! Next a horseshoe fence has been installed to each shelving level that brings a great rustic touch to entire bathroom shelving unit! Here is how to make this very handsome looking bathroom shelf at home! Complete project tutorial here mountainmodernlife
Simple DIY Bathroom Storage Bags:
Here is another handsome bathroom storage idea that will definitely amaze your senses! Here the custom cotton bags have been sewn at home that have been adorned with metal iron-on-vinyl labels and are really looking great! These bags have been placed on a bathroom shelf and they just store different items of need and interest there! Grab the full free guide and visual instructions from here thelovelydrawer
DIY Hanging Bathroom Shelf For Only $10:
Check out here another marvelous design of hand-built wooden shelf that has been made to inspire and is really looking lovely! Here a few of wooden lengths have been put together to build these very interesting looking bathroom shelves that hangs on a wall support through a nautical rope support! Just put together some robust wooden lengths to build the frame first and then add the cross shelves! Complete project guides and visual instructions here shanty-2-chic
Make Your Own Storage Ladder:
This is here another fantastic design of bathroom storage unit that will just be mind-blowing to place in a bathroom interior! This is here the storage ladder that is made of single wooden slats and it finally comes with the metal baskets hanging over the ladder rungs giving the user super smart and cool storage options! This is here another fantastic and lovely bathroom storage idea that you can easily duplicate! Complete project guides and visual tutorial here cleanandscentsible
How To Build Bathroom Storage Ladder: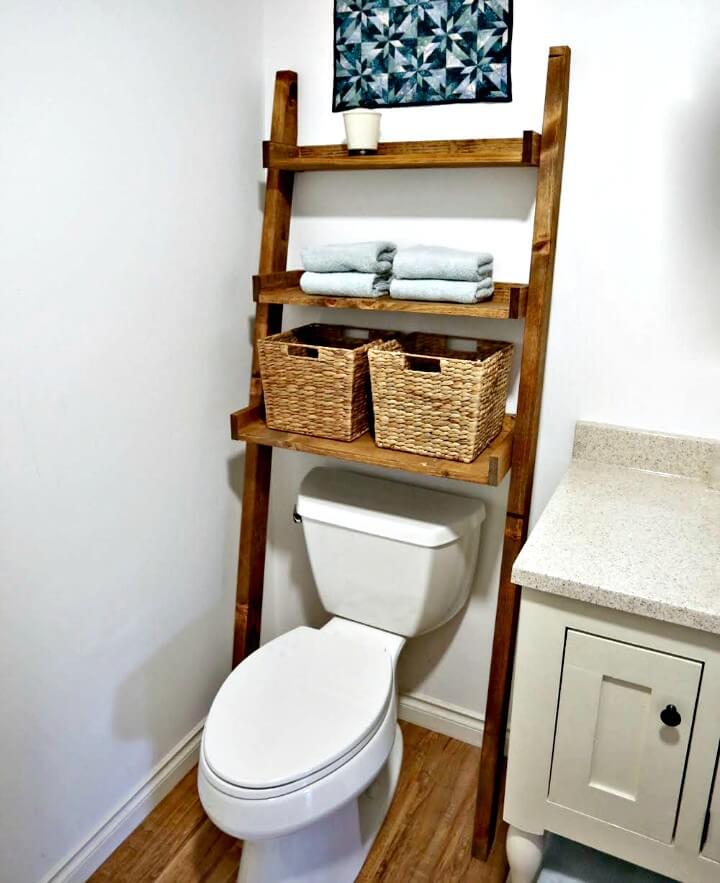 Check out here another mind-blowing and fantastic looking bathroom storage ladder that has been done to inspire and is just looking damn lovely to look at! Here this handsome bathroom storage ladder is having beautiful wooden shelves installed in place of ladder rungs that will hold beautifully your different materials and items of need! Grab the full free tutorial and instructions from here ana-white
DIY Copper Pipe Towel Rail: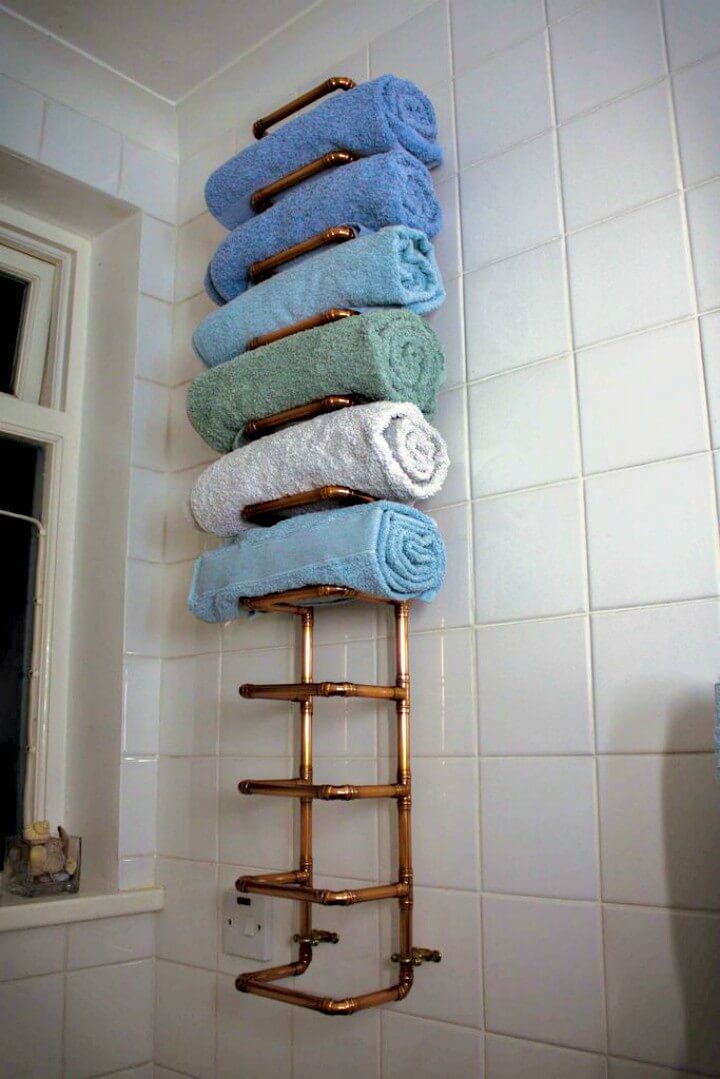 If you are to organize a lot of your towels in your bathroom then you will definitely like this handsome towel rack or rail idea! Here the copper pipes have been fitted together using custom elbows and joints and hence a fab copper pipe towel rail has been made that has been installed to wall using custom hardware! Go for a soldering of copper pipes and also finish the copper pipes with metal polish! Grab the full free guide and visual instructions from here instructables
DIY Wire Basket Towel Rack:
Have a look at this another phenomenal bathroom storage rack that is dual functional and is really handsome to look at! Here the wire basket has been mounted on the bathroom wall and comes with hanging thick copper wire loops at both sides that hold a copper pipe in them beautifully to build also a towel rack there! This is here another smart storage solutions for your bathroom that will cost you nothing big also! Grab the full free tutorial and visual guides from here ajoyfulriot
DIY Farmhouse Style Towel Rack:
In bathroom you are often to organize your clothes and towels and here is a how to manage beautifully your all types of clothes in the bathroom! Just build the great looking towel racks at home using a wood plank and some metal hardware hooks! Check out there the sample farmhouse style towel rack that is looking just fantastic in modern bathroom interior! Here is how to make this towel or cloth rack! Grab the full free guides and visual tutorial from here angelamariemade
Easy DIY Mason Jar Bath Storage:
This is here another mind-blowing and fantastic mason jar storage idea that will definitely help to organize your bathroom stuff nicely and beautifully! Here a custom wooden cubby or box has been made using custom wooden slats which holds beautifully the 3 mason jars inside! Fill the mason jars with custom bathroom items and materials and just maximize your bathroom storage space without getting expensive! Complete instructions here lizmarieblog
How to Build Shelf Shocked:
Build also great focal stimulation to your bathroom interior walls with these fantastic wooden shelves that are a delight to view and comes with iron scroll shelf brackets that have beautifully been fixed to targeted bathroom wall! For building shelves, you can just grab the custom wooden lengths that can be sanded well and then stained to match your bathroom decors! These shelves would also bring a glam rustic touch to your bathroom! Complete tutorial and instructions here doordiy
Fast and Easy DIY Bathroom Shelving:
Check out here another brilliant and fantastic bathroom shelving project that will cost you just nothing! Just install the wooden crates in custom configurations to any of your bathroom interior wall and let them serve as fantastic bathroom shelves, Check out here a brilliant crate bathroom shelving scheme that is sure to inspire your creativity! All you need some empty wooden crates to maximize your bathroom storage space beautifully! Complete project instructions here hgtv
DIY Bathroom Storage From Vintage Crates:
Get inspired of this another great and fantastic shelving scheme that has been done to inspire and is really looking cute! Here the idea is just to grab some vintage wooden crates from home which can be mounted on any bathroom wall using the L-brackets and screws! Check out here the sample vintage wooden crates that really bring great storage space to bathroom! Complete project instructions here hometalk
How To Build Crate Storage:
Get inspired of this another lovely and handsome looking storage unit that will rock for both bathroom and bedroom! Have a look at this stunning-looking wooden crate that comes with a built-in drawer! Grab a wooden crate, install inside supports and the slide in a hand-built drawers in it! Finally you can create a custom look of the crate using a custom paint shade or color of your choice! Grab the full free tutorial and instructions from here home-dzine
Easy DIY Pallet Bathroom Storage:
Check out there another fantastic storage unit that is made to organize the bathroom stuff and is really looking beautiful! Here this adorable creation has been done with pallets! Dismantle pallets and then use the single wood pallet planks to build custom sides of the storage unit! Here all you need to follow the slatted arrangements of the pallet wood slats to build all the parts and sides of this bathroom storage! Complete instructions here hometalk
Adorable DIY Pallet Laundry Shelf:
One more exceptional storage unit is here that you can make for your bathroom without getting a bit expensive! This is here the wooden organizers that comes with 3 plastic baskets hanging inside to store your stuff! This would make a handsome laundry room organizer or dresser and you can also employ it in your bathroom to store the related bathroom accessories and stuff! Grab the full free guides and visual instructions from here pennypincherjenny
DIY Bathroom Pallet Storage Shelf:
Looking for some low-cost yet awesome bathroom improvement projects? If yes, then you will definitely like to build this brilliant pallet storage shelf that has been installed to one side of the bath tub and comes in natural rustic appeal! This would also bring a glam wooden touch to your modern bathroom interior and is something super beautiful to look at! Here all you need is to alter a pallet skid a little to get some storage options in it and next you can just install it to sides of your bath tub! Grab the full free tutorial and instructions from here recyclart
Adorable DIY Leaning Ladder Bathroom Shelf:
If you are going through some short storage space issues in your bathroom then you will definitely love to do this handsome bathroom storage project that is all about to build a custom ladder! Here custom wooden planks have been put together to build a ladder that comes with adorable tray like shelves installed in place of rungs and hence it serves as an adorable storage unit in the bathroom! You can make it stand anywhere in your garden against any wall! Complete project tutorial here ashleygrenon
DIY Mason Jar Bathroom Storage:
Want to add some amazing storage space in your bathroom without spending a penny from your pocket? If yes, then you must recycle some Mason jars that can be put together easily with your items of need and interest stored in them! Check out here the sample Mason jars that store different items of bathroom beautifully and are really looking great! A super easy and low-cost bathroom storage idea! Grab the full free tutorial and instructions from here masonjarcraftslove
How to Make Magnet Board:
If you are addicted to do some makeup too in your bathroom then you will definitely love this bathroom project that is all about to organize your makeup items in your bathroom! Here a handsome magnet board has been installed to bathroom wall that is made of an old picture frame which comes covered with a metal sheet having a printed fabric overlay! Finally the tiny round magnets have been glued to bottom side of the makeup items which have then been mounted on the magnet board! Another great bathroom storage project! Complete tutorial here laurathoughts81
Make Hair Tool Storage Cabinet:
Along with enjoying taking bath and makeup sessions in your bathroom, we also love to style up our hairs in our bathroom and here we are with a hack that how you can add more storage space to your bathroom to store your hair tools too! An interesting solution here is to install a hair tool storage cabinet and here is a sample cabinet that you can duplicate in just no time! Here using extra wood and a plastic hair tool organizing station, handsome hair tool storage cabinet have been installed that comes with a folding-out door! Complete project details here theidearoom
How To Build Bathroom Storage – Nail Polish Shelf: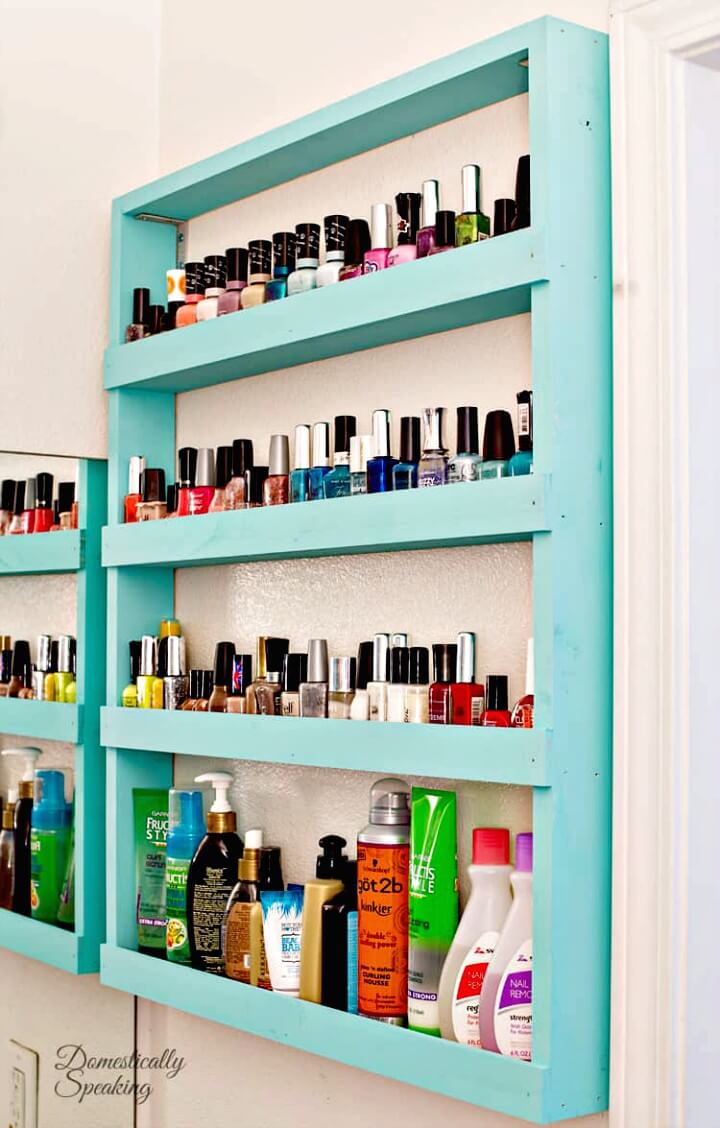 One more extra brilliant bathroom storage project is here that has been done to organize the nail polishes and toiletries! Here you need to grab some hobby wood boards and a piece of plywood sheet to build this very stunning looking bathroom storage unit that is just looking fabulous! Here the plywood sheet comes as flat backing of this shelving unit while the shelves and their front fences are made of hobby boards! Paint your finally finished model of bathroom storage in your own way and enjoy! Complete instructions here domestically
DIY Wood Caddy With Rope Handles:
Add also some custom hand-build caddies to your bathroom to make your bathroom clutter-free! You can duplicate this given wooden caddy that is made of recycled wood and offers 4 built-in storage compartments! Furthermore, a handsome rustic touch has been give to caddy by installing rope handles that will help carry it easily! Another great and brilliant bathroom storage idea! Grab the full free guide and visual tutorial from here makinghomebase
Quick DIY Toothbrush Holder:
You can also make use of the discarded materials to organize your bathroom! Here is a great idea to bring extra storage space to your bathroom using only the plastic bottle caps! Here great looking toothbrush holders have been made using the reclaimed bottle caps and the idea here is cut only some notches in the bottle caps and then to fix them on the wall to hold your toothbrushes! Complete project instructions here ohohblog
Adorable DIY Bathroom Storage Shelves:
Just have a look at this another fetching bathroom organizer that is looking much graceful due to being painted in white! Here custom wooden lengths cut down to size and plywood has been used to make this epiec looking model of bathroom storage! The A-frame sides and the tiered tray style shelving levels just make the design much focally stimulating! Another great and low-cost bathroom storage idea! Complete visual instructions here homedepot
Easy DIY Bathroom Storage Shelf:
If you are willing to gain some extra storage space in your bathroom then you must own this wooden shelving tower that is purely handcrafted and is sure to inspire your creativity! This brilliant looking bathroom storage shelf come with different built-in shelving levels and is something super beautiful to look at! Here all you need is to get some wooden lengths or planks which can be packed together in slatted arrangements to build all parts of this bathroom shelving tower! Complete tutorial here blackanddecker
DIY Hang a Rope Swing Shelf:
Peek into details of this another great looking rope shelf that is much focally stimulating! Here all you need a wooden plank and some rope to build this very handsome looking rope swing shelf! Just drill some holes in the sides of the wood plank and then hang it higher on your bathroom using threading rope into the holes, tie cross knots to secure the rope in place and that's it! Complete project instructions here deeplysouthernhome
DIY Bathroom Shelving For $25 Or Less:
Install brilliant looking shelves to your bathroom without getting expensive! Check out here the sample bathroom shelving that will only cost you under $25 but will bring a glam modern touch to your bathroom! Just install custom wooden shelving supports first using durable wooden lengths and next put MDF shelves on them! Finish your shelves with accent wood molding and hence install great looking bathroom shelves without getting expensive! Complete project instructions here rainonatinroof
How To Make Bath Tissue Storage:
If you are tangled in bathroom storage problems and want some instant storage solutions to organize the bath tissues then here is a great hack for it! Here a tall glass cylindrical vase has been used to hold a stock of bath tissue rolls and have been adorned with custom pattern made with the copper foil tape! This is here another brilliant and outstanding idea to store your bath tissues in a nice and graceful way! Complete tutorial here designimprovised
Adorable DIY Cottage Bathroom Storage Cabinet:
Duplicate also this very modern looking bathroom storage cabinet that comes in chic white appeal and is really looking handsome! Here this handsome bathroom storage cabinet is made of custom wooden lengths put together precisely for the frame and for the shelving levels! Finally this hand-built shelving unit or wall cabinet has been accentuated with custom wood moldings for an accent look and hence a glam bathroom storage cabinet has been achieved! Grab the full free tutorial and instructions from here hgtv
How To Turn Pallet Into Bath Tray:
One more lovely and outstanding bathroom project is here done with pallets! Here the custom pallet wood planks have been sanded, stained and then have been put together to build a graceful bathtub tray that is looking just fabulous! Here this adorable looking bathtub tray will definitely bring great visual details to your bathroom along with a rustic touch! Grab the full free instructions from here practicallyfunctional