Improve the outdoor living and organizing your patio with pallet patio furniture. You can really do it using the lovely free pallets! Pallet patio furniture will allow you to sit easily while enjoying the outdoor weather and conversations with friends and with beloved family members. However, getting the adorable and luxurious type of patio sitting furniture may cause a big load on your pocket but using the low-cost alternatives, you can still have all the fun with wooden pallets.
Reuse pallet skids to build the lovely and budget-friendly pallet patio furniture sets that may include the comfy pallet sofa, coffee table, and side table. Hence pallet furniture will provide you a great gathering experience and organizing your patio will also help increase the resale value of your home for sure. To try various suggestions about how to make pallet furniture? We have got here these 20 DIY pallet patio furniture plans & Ideas that modify in style. These pallet wood furniture comes with custom added features like with built-in storage space and also rolling wheel legs to be touch to move and much more.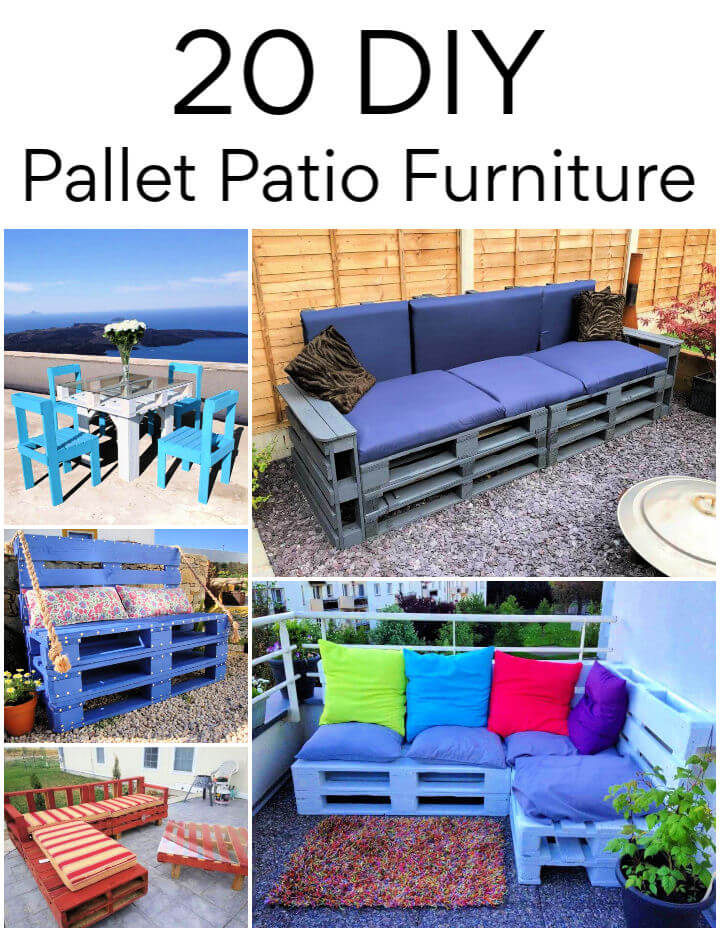 How to make pallet outdoor furniture?
Raise a large skid of pallets on wheels and then finish it up with the metal pipe backrest and armrests. And build a lovely patio daybed that you can cushion in your own way. Join bottoms of two pallets and finish with concrete tile top and gain a fabulous DIY coffee table. Build the hexagonal top pedestal coffee table and dining tables out of pallets that will be an easy type of furniture to add to your patio.
Cushion the stacked pallets to gain gorgeous sitting sofa set and build the central coffee table for it using free pallets. Build 2-seater cushioned patio benches out of pallets! Also, accomplish your easy DIY home projects by building a fantastic L-shape patio sofa with pallets. Check out the entire collection to see all the DIY Patio Furniture Ideas and click on attached links to grab full free tutorials and step-by-step instructions.
More Outdoor Pallet Projects You May Like:
Outdoor Pallet Sofa: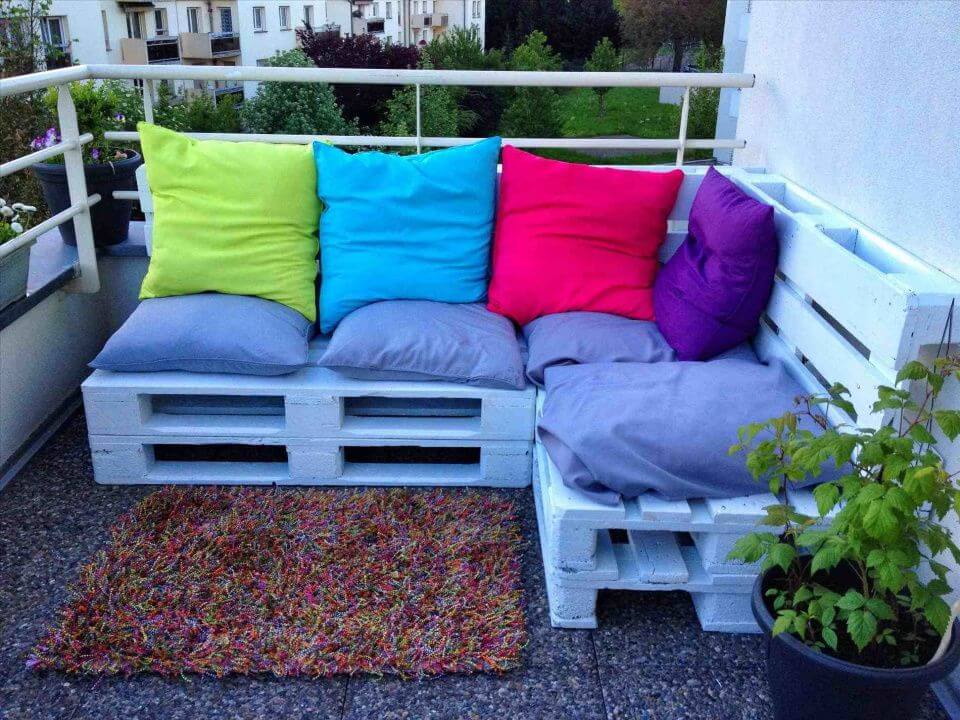 Here is what you can achieve worthy and signification by simply piling up the pallets. A super beautiful looking wooden pallet patio corner sofa that comes cushioned nicely. And looks great with the single pallet backrests.
DIY Pallet Sofa for Patio: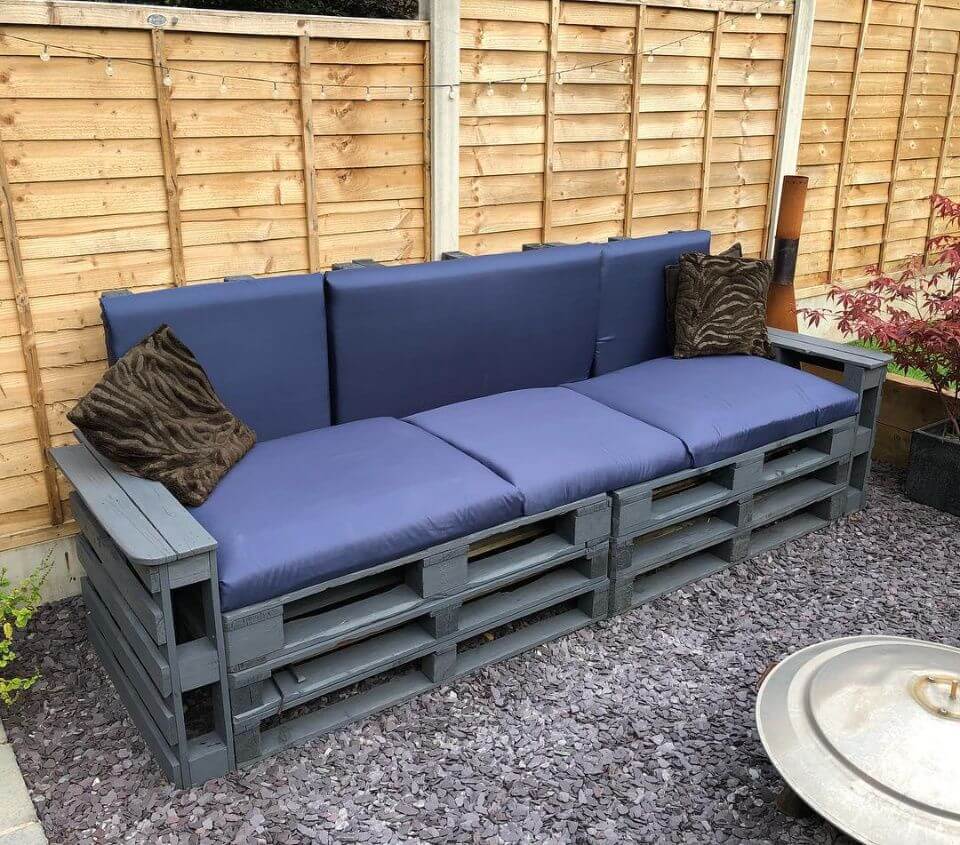 One more exceptionally beautiful dark painted pallet patio sofa that will make the luxurious outdoor seating. It can be dragged to your pallet garden, home deck, porch or terrace to accomplish sitting desires. Pallet Sofa
Build a Pallet Daybed: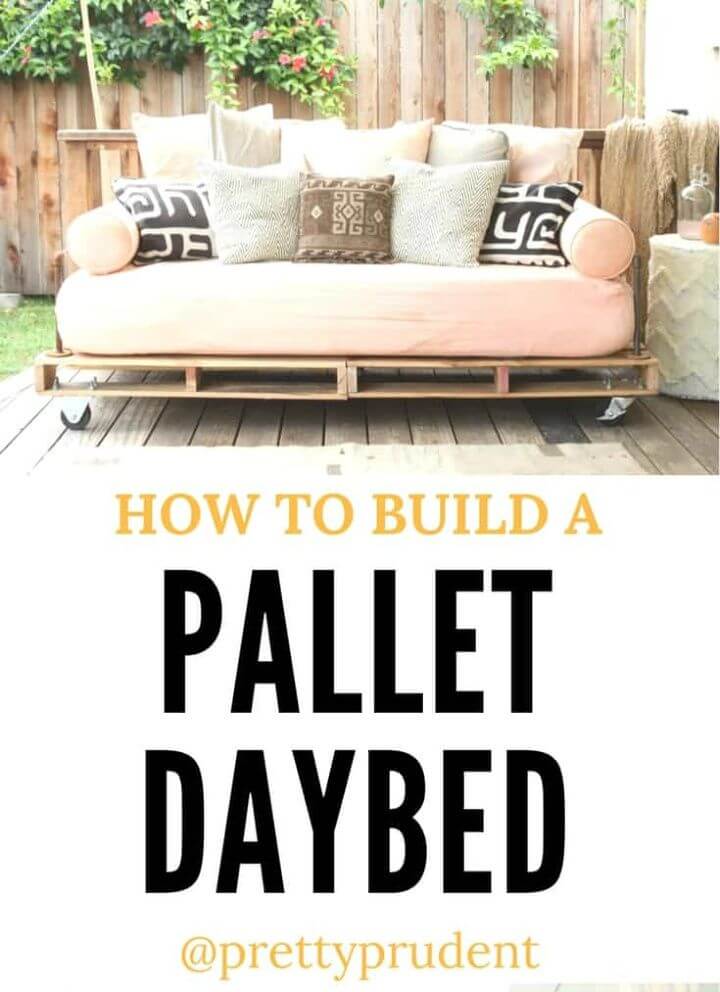 Build the lasting long wooden pallet daybeds that will simply make the outdoor life easier and a bit more comfortable. Finish a large pallet with wheels and then with metal pipe armrests or side fence and then cushion to make this perfect beauty. prettyprudent
Pallet Table and Sofa for Patio: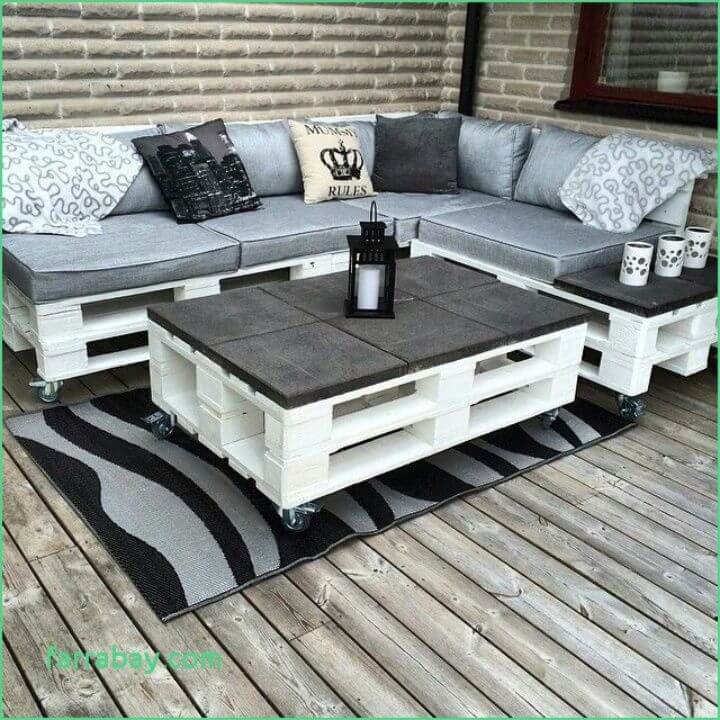 Stack 2 equal sizes of white-painted pallets! add rolls to the bottom side of the stack and finish with concrete tiles top and gain a super beautiful pallet coffee table. And also stack the pallets of the same size to build an L-shape sofa, a whole pallet sitting furniture set to make with pallets. DIY pallet patio furniture instructions are here: farrabay
Pallet Daybed: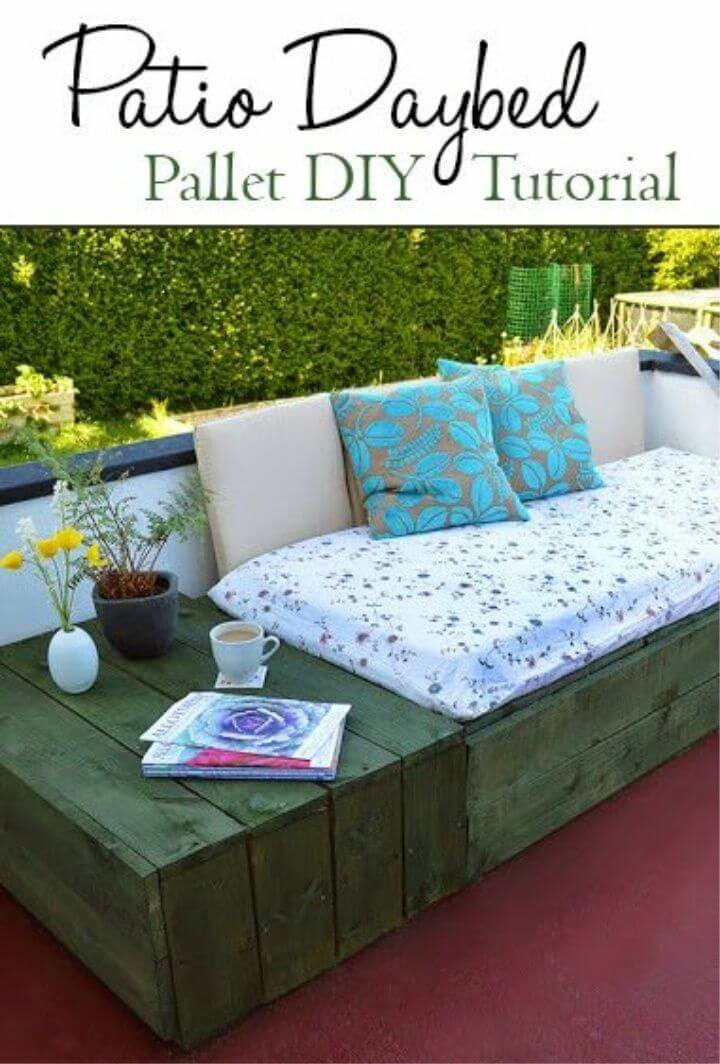 Chill out at your patio with this lovely DIY daybed that is super quick and easy to build. Pile up the pallets and then fill them up solid using extra wood and finish with the comfy mattress. There is no need for a side table. DIY pallet couch tutorial here. lovelygreens
DIY Broad Pallet Patio Furniture: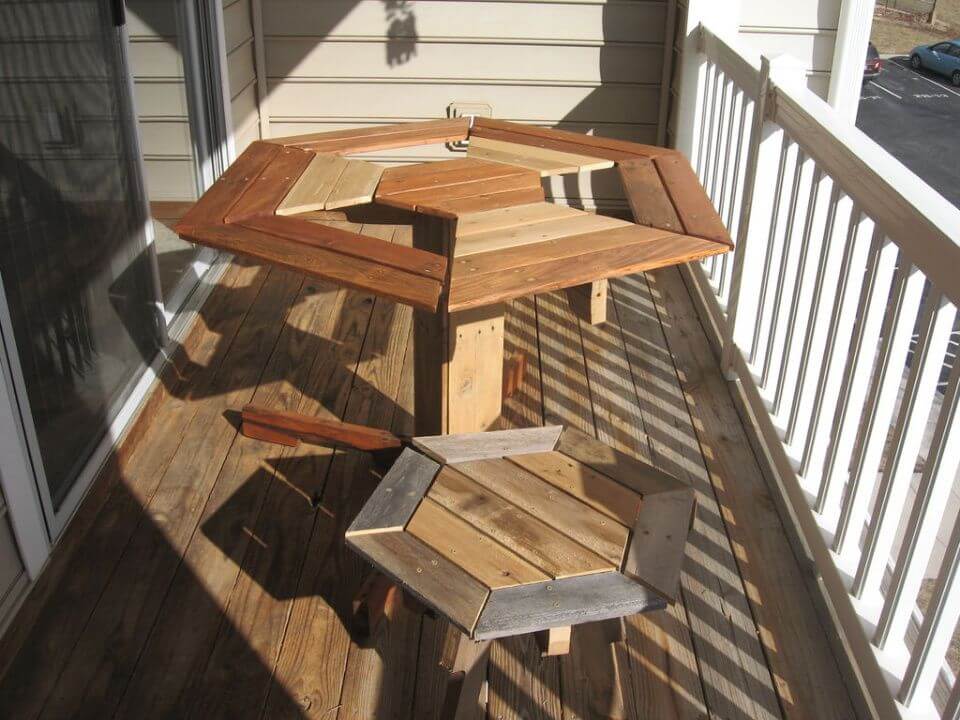 This wooden pallet patio furniture set comes with a hexagonal pedestal dining table and with a matching hexagonal stool! Both are made of separated pallet slats. instructables
Patio Pallet Seating: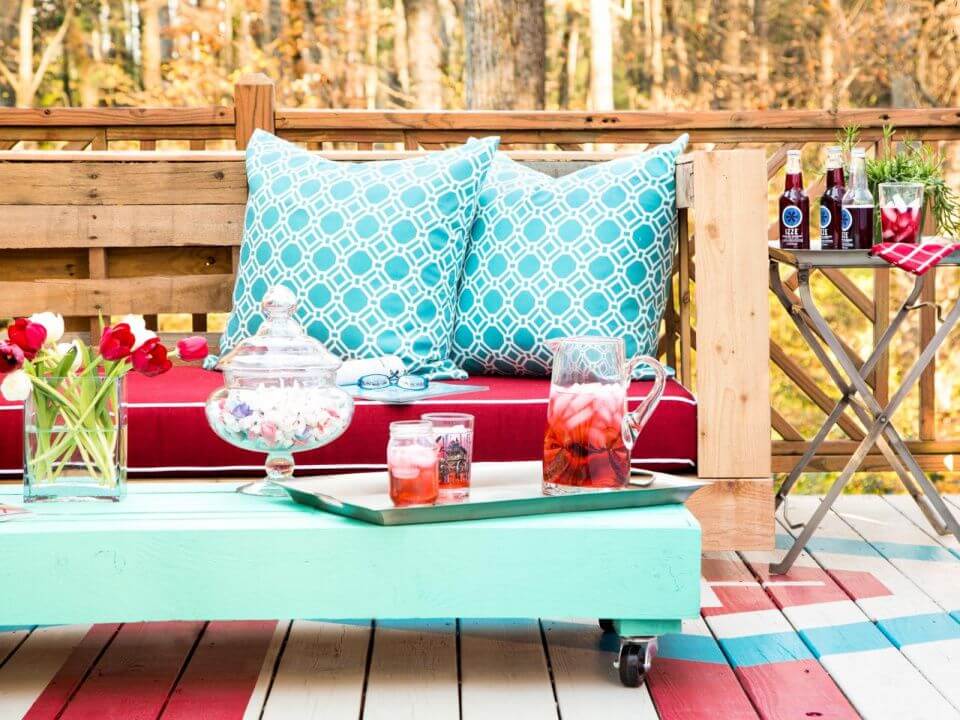 Enjoy great afternoon parties at your patio by building this super comfy and stylish wooden patio seating. Includes a lovely cushioned sofa and a coffee table in front, all made of free pallets. hgtv
How to Build Pallet Wood Sofa: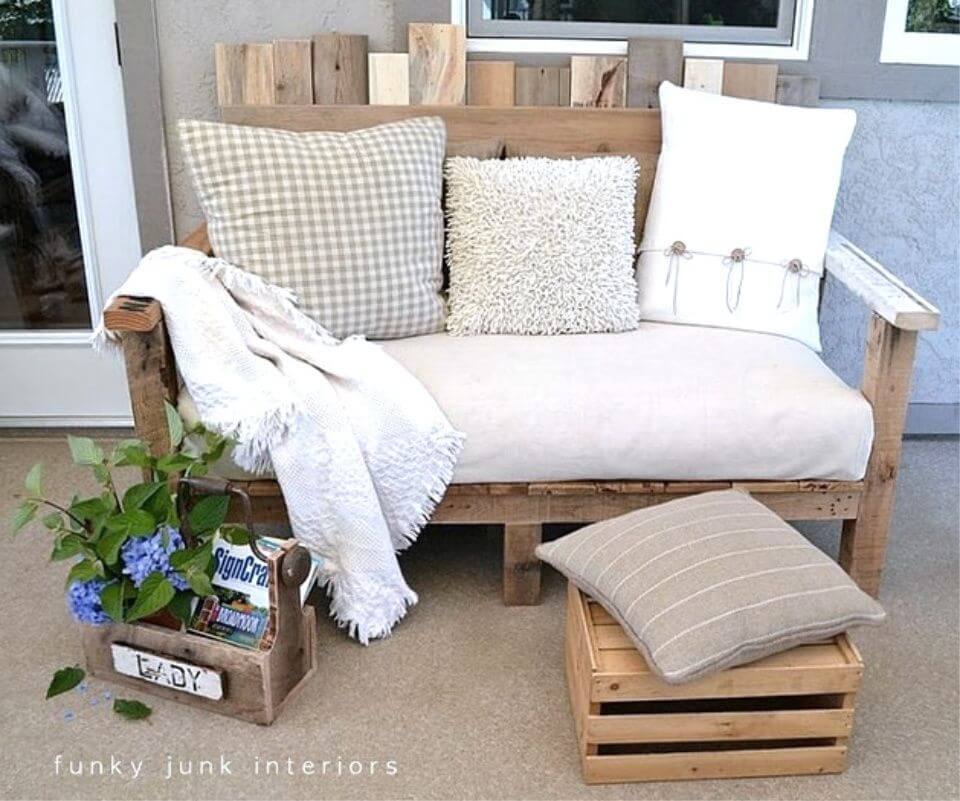 Meet your sitting space needs at outdoor also with pallets by building a quick wooden pallet sofa. Raise a single pallet skid on short wooden legs, install armrests and backrest and then add a comfy cushion or seat mattress. Pallet bench seat plans here funkyjunkinteriors
Build Patio Pallet Furniture: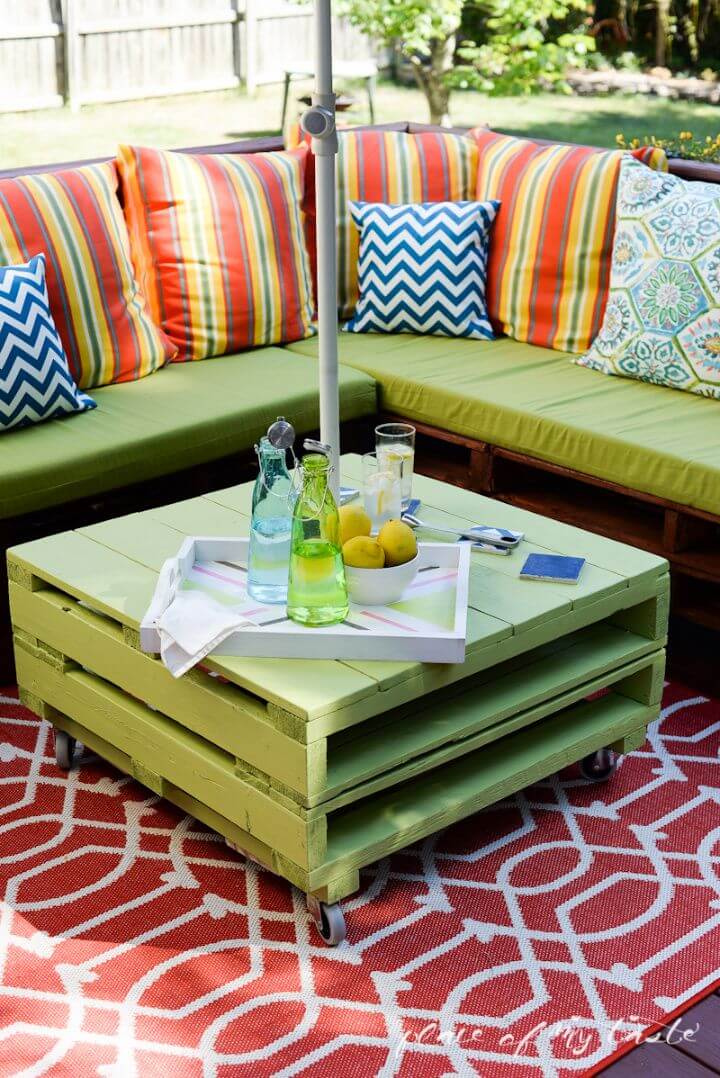 It is a matter of bigger investments to organize a patio as outdoor furniture comes with high price tags. So build the amazing patio furniture with free pallets and organize your patio for free. Duplicate this given pallet L-shape sofa and coffee table set, pretty easy to build with pallets. placeofmytaste
Make Outdoor Patio Furniture from Pallets: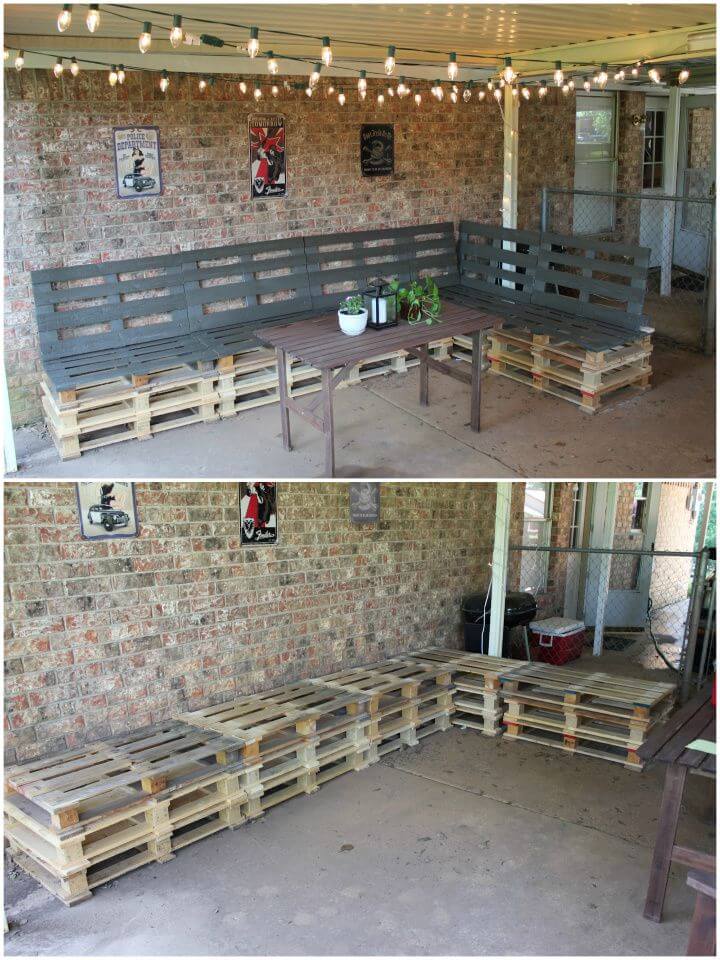 Having a big stockpile of pallets? Then why not stack it smartly at your patio making a lovely sitting sofa set, will rock for occasional patio gatherings. Get inspired by these profitable pallet projects and build given L-shape pallet sofa. Built to rock and inspire. thesassysparrowblog
Pallet Table with Hammock: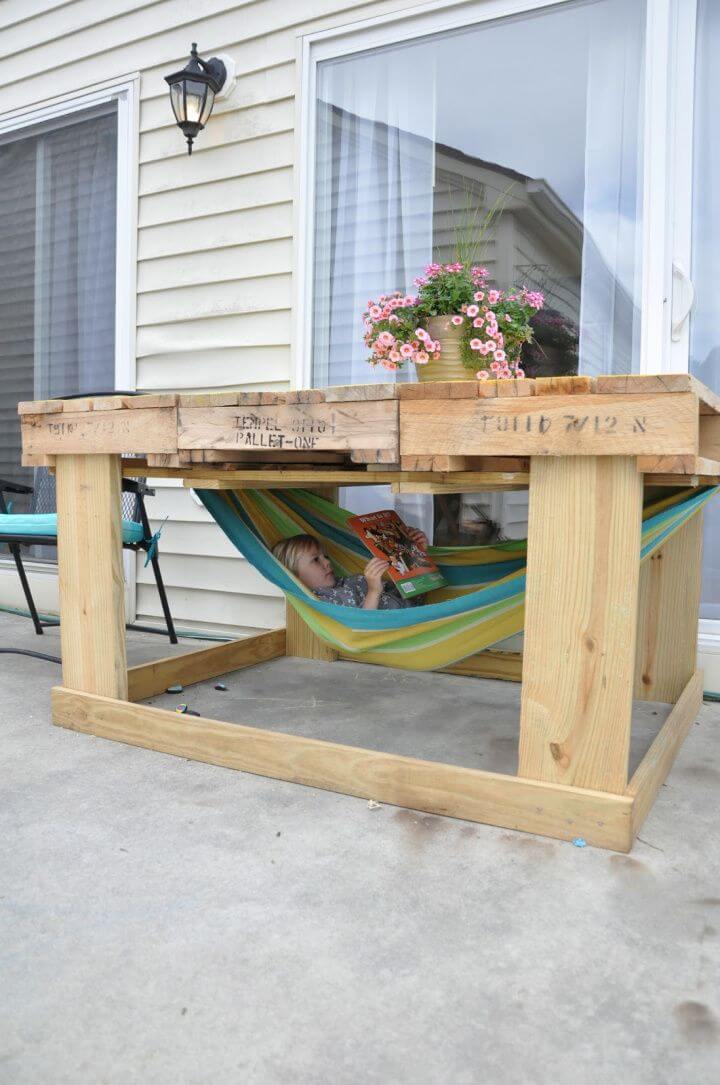 Build also amazing dual functional pallet patio furniture that will be loved by all. Check out this very adorable wooden pallet table that comes with a hammock installed underside! Where kids can rest and enjoy reading books without exposing themselves to the roasting sun. littlebitfunky
allet Swing Bed for Your Patio: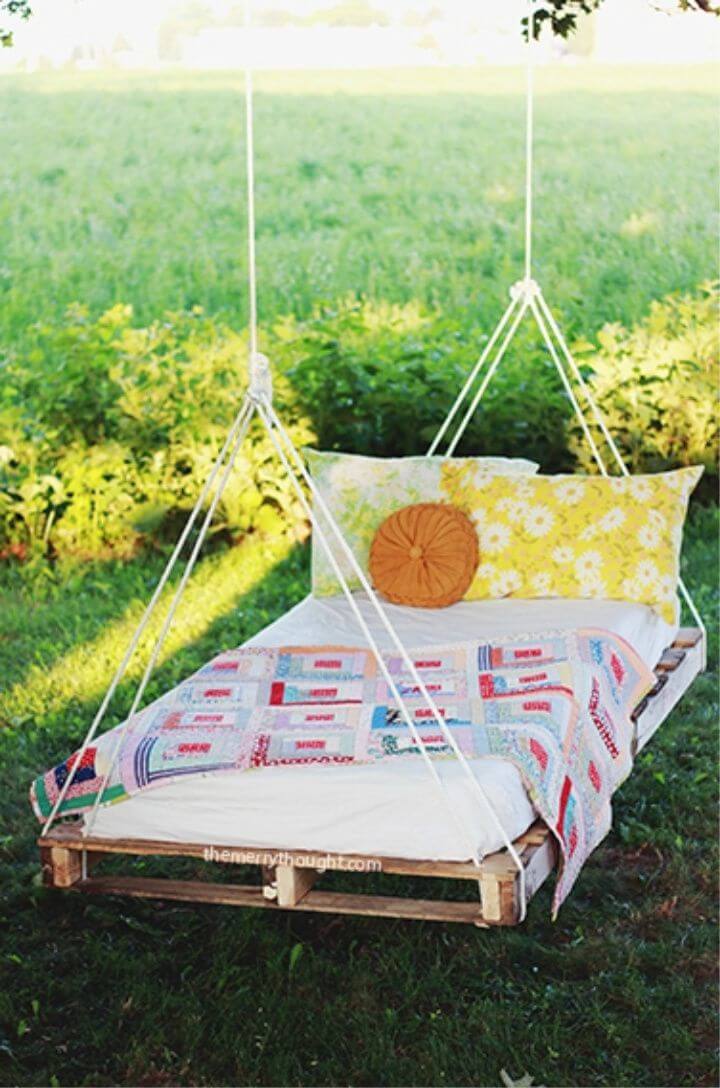 Grab an old mattress from an old bed and also get a large pallet and some rope to clone this pallet swing bed. A perfect outdoor reading and relaxing nook that everyone can build for free. It will make a great swing for kids. themerrythought
How to Build Pallet Patio Furniture: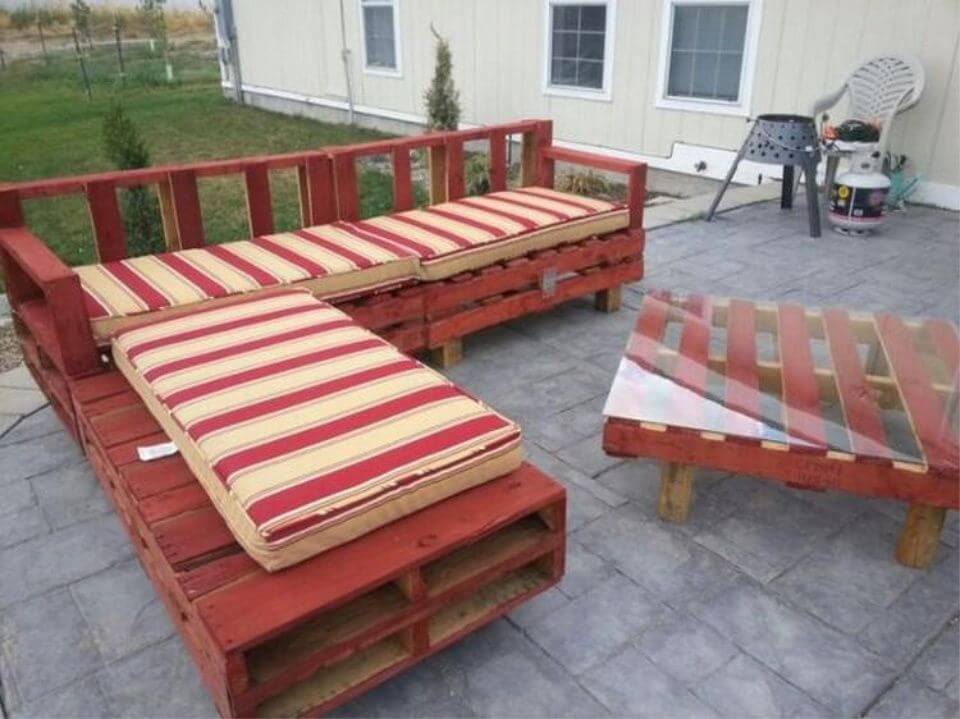 Another great L-shape pallet patio sofa set that will rock to enjoy party time gossips with friends. Painted in red and has beautifully been cushioned and will make a great gift to outdoor lovers. DIY pallet patio furniture futuremediaga
DIY Patio Bench You'll Love: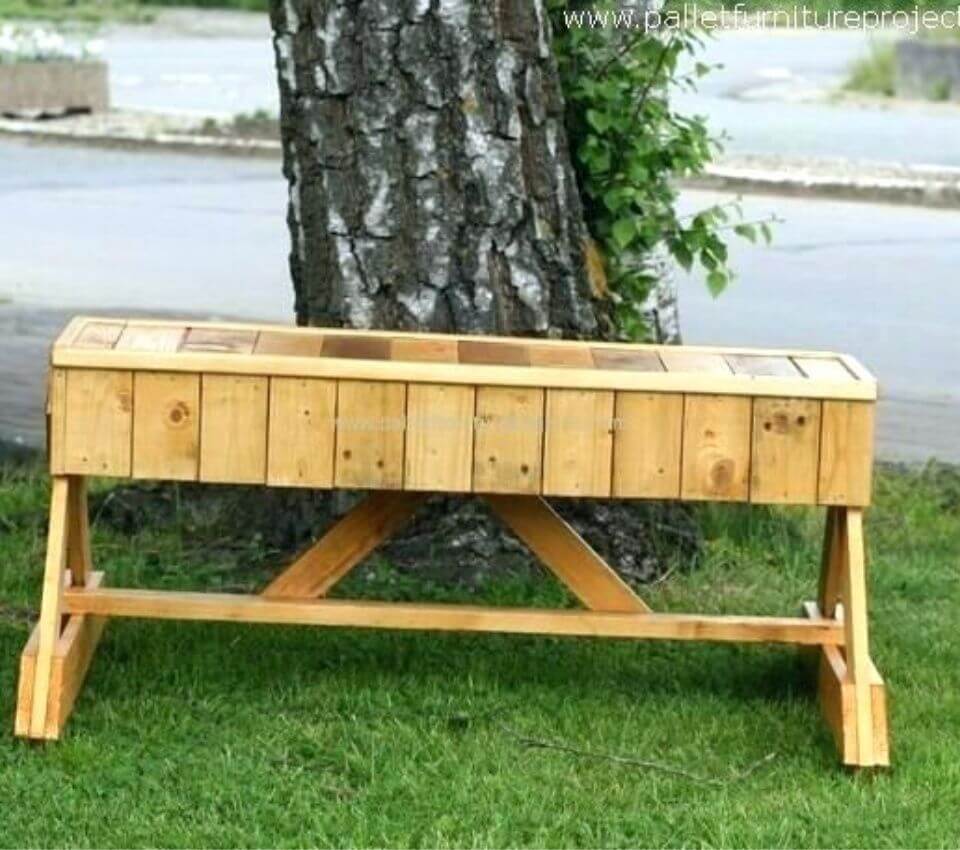 Every onlooker will be a big fan of the design of this handmade pallet patio bench that is lovely and durable too. It is also made of separated apart pallet pieces and will make a great pallet outdoor sitting bench to enjoy daydreaming. bilingualchildren
Pallet Adirondack Chair Tutorial: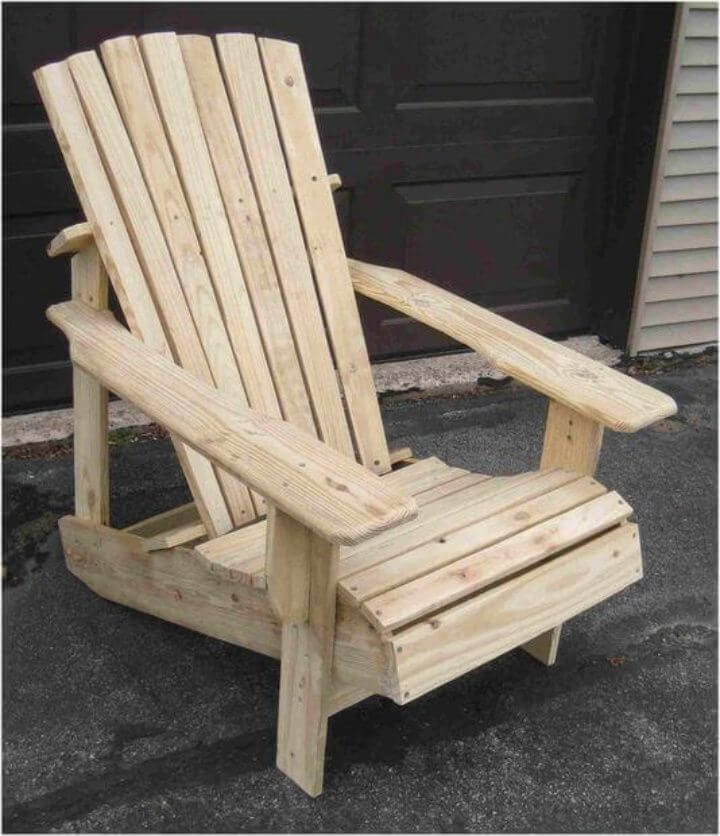 This is one of the smartest furniture made from pallets that everyone will love for sure. A sturdy wooden pallet Adirondack chair that will inspire all the onlookers with its amazing design curves. A great pallet furniture idea homestratosphere
If you need more Adirondack chairs then we've published best Adirondack Chair Plans that are 100% free and easy to build.
Hexagonal Tree Bench From Wood Pallets:
Here is how to sit together around the shady tree in the summers! Just build this perfect hexagonal tree bench using the pallet wood slats and it will nicely be around the tree trunk. This will also add a great curb appeal. instructables
Cushioned Tree Swing for a Sunny Day: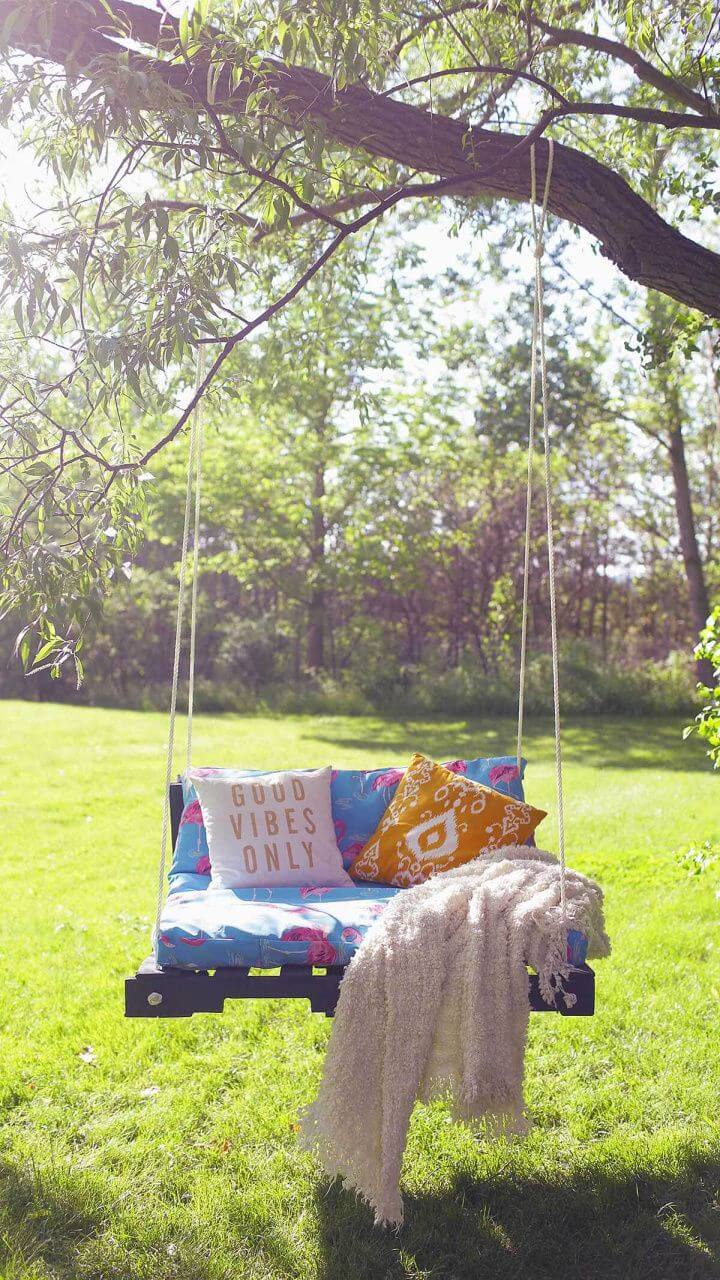 Do make the great pallet furniture plans at home, just tweak your hands on pallets and build this comfy cushioned tree swing! This pallet swing will be the most enjoyable seat in the summers for kids and adults. Again build an L-shape out of pallets and then cushion it up well and hang in the air using rope and hooks. To build great outdoor pallet projects get some free pallets and try at home. thesorrygirls
How to Build a Pallet Bench for Patio: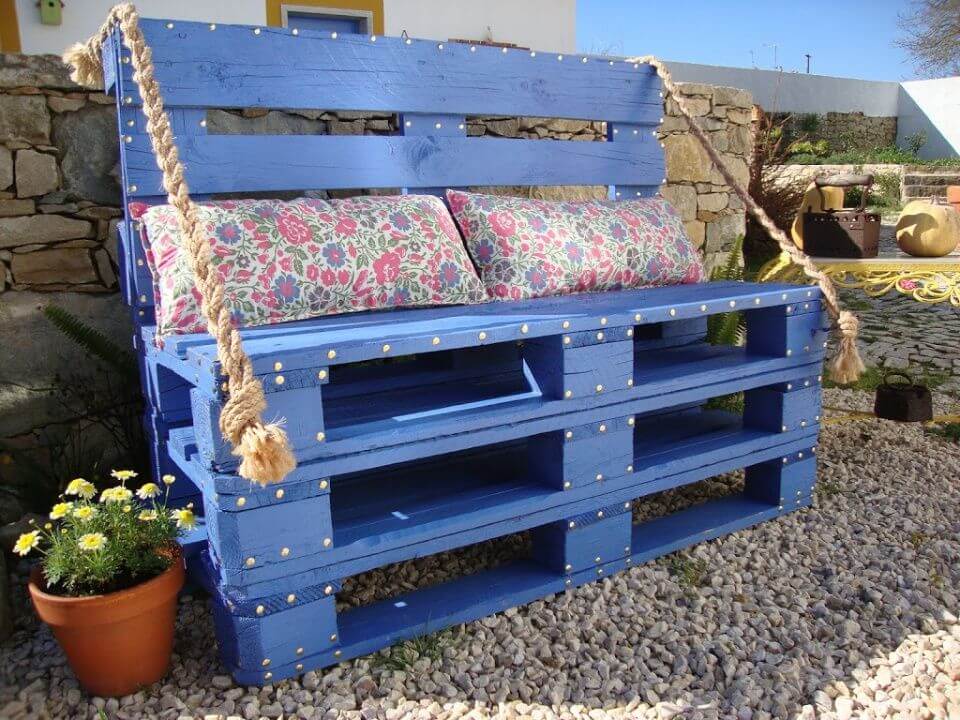 Look at this another gorgeous wooden pallet bench that comes with fine dimensions. Stack 3 pallets to build the seat and then add a single pallet vertically as a backrest and support it to the seat using rope armrests. Here this blue painted pallet bench come dignified with accent headed nails, give a great metallic touch to it. fantasticviewpoint
Furniture Made from Pallets: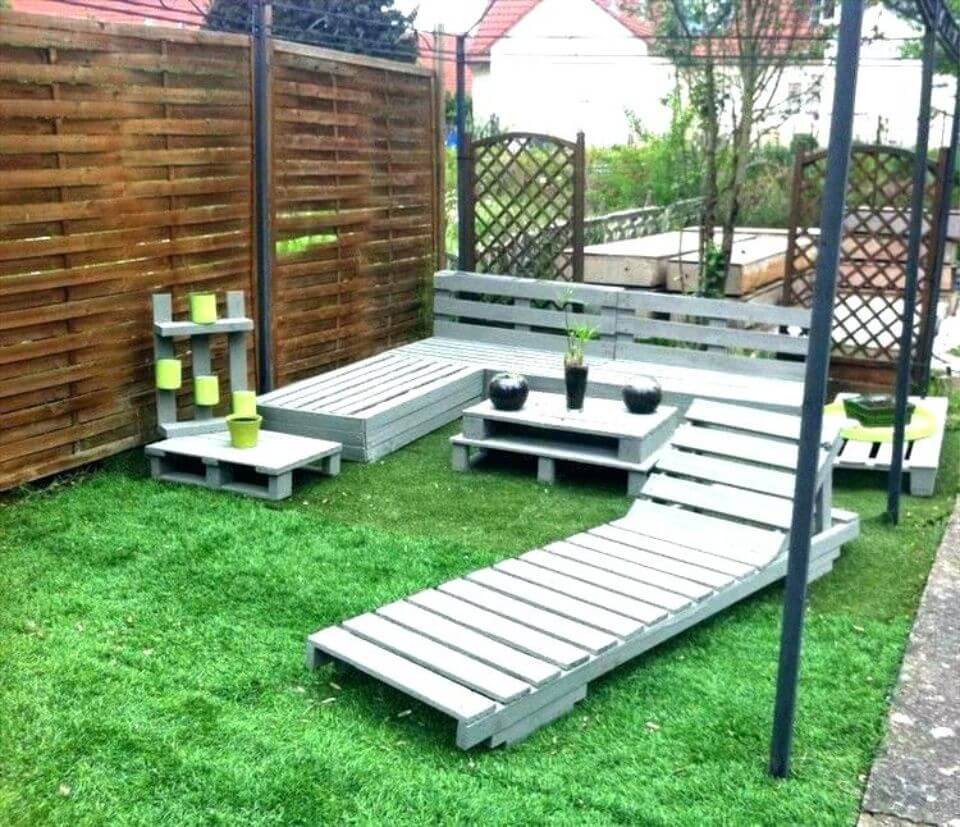 A perfect wooden lounger, a sofa, DIY pallet coffee table, and a single pallet side table are the total assets of this patio furniture set that is only made of free pallets. Pallets are free to grab so this entire furniture set will cost you nothing. dilaps
DIY Pallet Patio Furniture Set: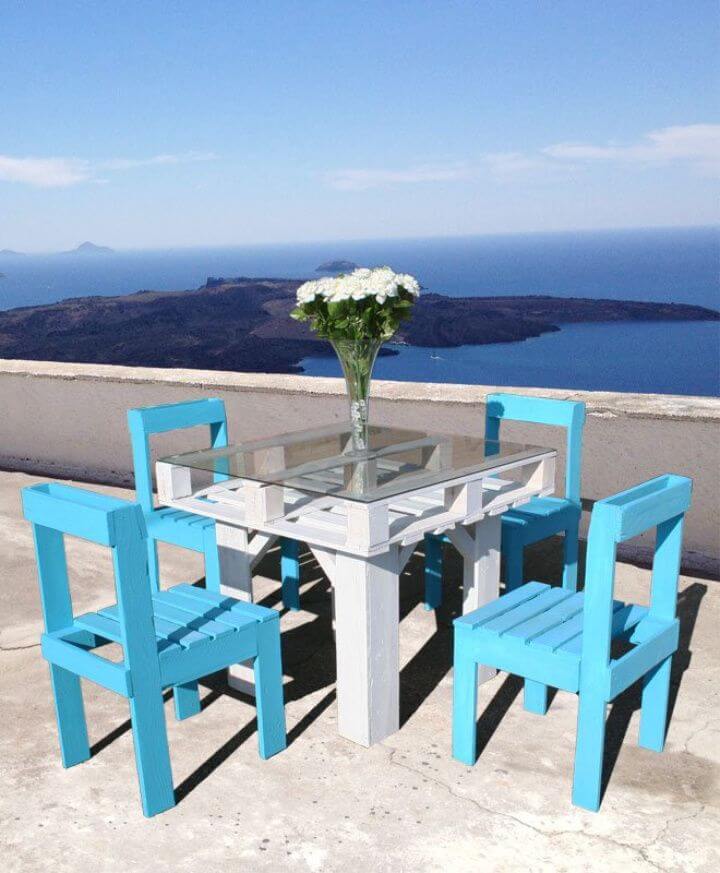 At a very first look, you will become a big fan of this wooden pallet patio furniture set. That has been made for kids and is super beautiful due to white and blue painted appeal. The central pallet table comes with a glass top. Complete pallet furniture plans are here ellisbenus