A headboard may be a highly crucial component of your bed if you are concerned with a great design appeal of your bed and also willing to put some extra features on your bed! Apart from this, wooden headboards may also to insulate your bed so you will feel more warm and cozy! The DIY headboard comes with various custom added features from reading lights to mobile charging stations and also from storage pockets to decorative mantels! To buy a custom headboard design can really cost you big, however, if you are all a big fan of wood made pallet headboard then you can head over also to shipping pallet skids to build fab wooden headboards in a super budget-friendly way! You can build every stylish and featured model of a wooden headboard with pallets and you can check out these 40 DIY Pallet Headboard Ideas as a great proof here and have been shared only to give a boost your creative thinking!
Put together the well resized and gritted pallet slats to make lasting longer headboard that may also come with a flat shelf where you can organize the bedroom eye-pieces and decors! Have a look at the given sample that has been painted in black and comes with blank wooden boundary all around! Put together rustic pallet slats to make bigger wooden rectangles that can be added with custom legs and lights for making cost-efficient but great looking pallet headboards!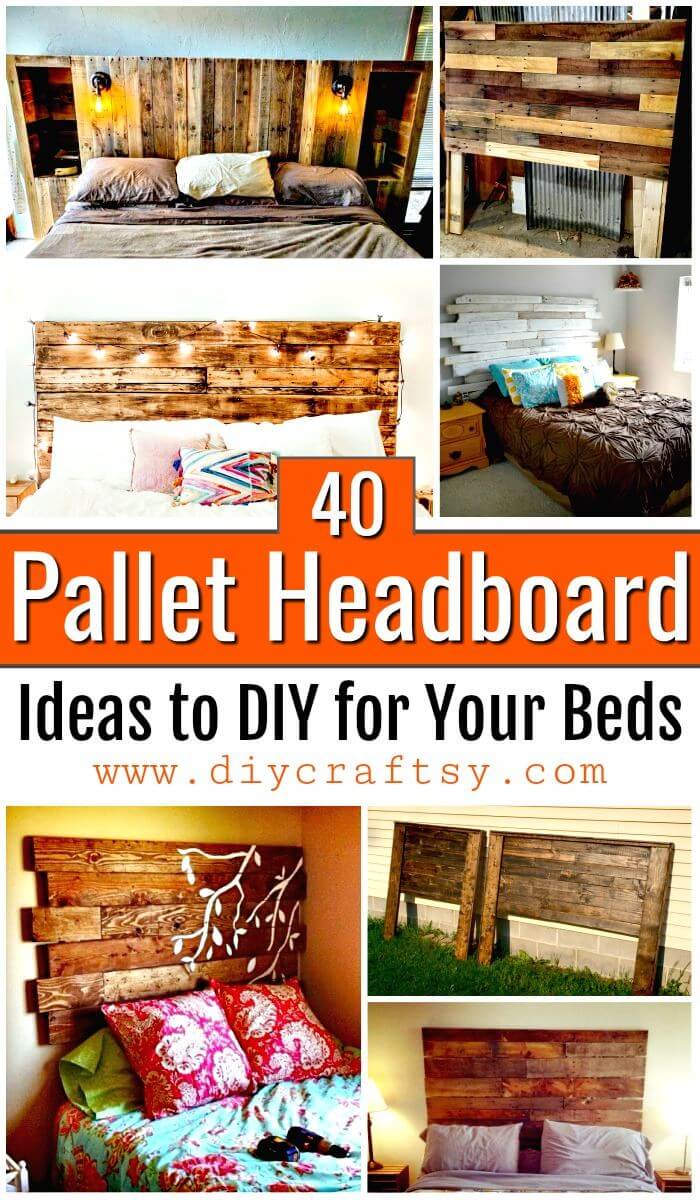 Moreover, make also bigger double door or gate style headboards that will help to create a dashing look of the entire bedroom, get inspired by a sample given below! Also pack the wooden pallet slats tight to make bigger rectangular wooden slabs with mantels so they will make interesting headboards for your bedroom! The pallet slats from different pallets can also be packed for making the pallet headboard with multiple wood tones that will definitely go eye-catching!
Next, the list pallet headboard ideas will also guide that you how you can personalize your finally finished wooden pallet headboards! The first thing you can do in this case is to change the tone or color of the headboard and hence can match your headboard with your bedroom decors! Paint also custom shapes and quoted art on your pallet headboard and personalize them! Furthermore, you can also change the style of pallet slat packing to vary the design texture and hence creating a personal headboard for your bedroom!
Make also use of custom art stencils to create a much focally stimulating and personal pallet headboard designs for your bedroom! If you are not happy with your headboard then you can also install the whole headboard walls with pallets for free, take a look at the give rustic pallet headboard wall that will definitely hold the attention of a home lover!
more Pallet Ideas You May Love:
You will definitely be an expert in building a headboard with pallets after you check out this entire collection of hand-built wooden pallet headboards! For each pallet headboard design you want to copy from the list, just visit the respective source link and you will be provided with free step-by-step tutorials and visual instructions!
How to DIY Pallet Headboard Tutorial:
Add some shabby chic touches to your bedroom decor and styling with this pallet headboard having been done so easily and simply at home. Just dismantle the pallets, stack the pieces together, stain them and lastly white wash them and get this shabby chic piece to dazzle your bedroom decor with. Here is the link you can check to grab the tutorial details of the awesome headboard project from the recycled pallets amommyslifewithatouchofyellow
DIY Pallet Headboard From Wooden Pallets Tutorial:
Add some warmth of the wood to your spaces with this pallet headboard for your pretty beds. Its a mini size headboard and thus would be so much easy, time and money saving for you to build on your own. So what are you waiting for, grab some pallets and award this rustically gorgeous headboard to your beds and enjoy the accomplished look of your bed and the bedroom decor at the same time? Complete details of the project here heatherfignar
Build Your Own Pallet Headboard In Easy 4 Steps Tutorial:
The rustic charm about the pallets really makes it the favorite of the furniture and the decor lovers. Here is another marvel of the gorgeous and rustic pallet headboard with the modern twist of the pretty design and the added lamps at both sides. The tutorial of this shabby chic headboards consists of only four simple steps and you can learn it all here thesimplyinspiredblog
DIY Rustic Pallet Headboards Tutorial:
If you are working the home decor renovation or the makeover ideas then you should really be working in these cutely rustic headboard possessions too and that too from the recycling pallets. Not only for your bed of king size you can create this warming headboard for your kid's bed too. Here is the complete project showing you the easy direction of making this big and small pallet wood headboard smsdesignsmn
DIY Up-cycled Headboard From a Wood Pallet Tutorial:
The pallet wood is one of the salvaged wood that you can cheaply get and use for some custom furniture raising for your house. Being salvaged and lying uselessly around the wood comes under natural textures and shades of the rusticity so when you combine them together a piece of such gorgeous and distressed headboard would be ready to jazz up your bedroom decor level.Tutorial details in easy steps here diynetwork
DIY Wood Pallet Headboard Tutorial:
When you are working on pallets you have all the possibilities to merge your desires in the project as this pretty and functional headboard from the pallets have been totally turned out as a custom possession with the addition of the shelf on it. You can display lots of your pretty decorative on the shelf like vases, candle holders and more and thus add a bunch of beauty and style to your bedroom spaces. Catch the fully detailed tutorial here savedbylovecreations
Easy Build Your Own 'love' Headboard Tutorial:
You can add oodles of charm to your bedroom decor by just changing the headboard piece of your bed because of the bed covered with the sheets and its the headboard that remains open to the decor. So here is this totally personalized headboard with the LOVE art on it. Yes by stacking the pallet planks together the headboard structure has been installed and beautified with the painted LOVE letters on it in yellow for a really funky and chic look. You can check out the details of the project here housetweaking
Easy Build Your Own Pallet Headboard Tutorial:
The distressing appeal of the pallet wood is really something that can not be cherished by the fresh wood possessions so here is this lovely pallet wood headboard to enjoy the peculiarity of the rustic wood in your bedroom decor. With the easy pallet slat stacking method, you can yield this simple and feasible pallet headboard. The rustic appeal has been enriched with the brown stain and here are the gorgeous results with the added lights to make it look more stunning and awesome thesoulscripts
Easy DIY Chevron Pallet Headboard:
If you are a lover of wooden furniture then we can guarantee how many times you would have felt a cold sighed watching those gorgeous and modernly designed pieces on the expensive brands and markets. But no more desiring its tome to fulfill them on your own and that too saving your money like this gorgeous and stylish chevron headboard have been feasibly created at home to award your bed the ultimate chic look. You can know the details of the project here thecarpentersdaughter
DIY Giant Pallet Headboard With Lights Tutorial:
You can customize your pallet headboard in lots of fun ways and here is the example of this pallet made headboard with the big upward size. Yes, the headboard has been made so much big in length and looks really awesome standing so proudly at the back of your bed. Stained in the rustic hues the pallet headboard looks so much pretty and perfect for a chic bedroom to bring some warmth of wood there livefromjulieshouse
Easy Make Your Own Pallet Head Board Tutorial:
Here is this perfect pallet headboard to bring the country side appeal and beauty to your spaces and enjoy the natural vibes in your bedroom. You can easily grab the pallets around and then cut out the pallet slats and then stack them together to create this functional and beautiful headboard on your own. You can use it in the natural finish or it can refine more with the rustic beauty with the brown stain hues whiskeywomen
Easy DIY Pallet Headboard Tutorial:
Even the single beds can be made to look so much beauty and fun with the gorgeous and the unique headboard additions to them. You can now use the pallet wood to install an awesome headboard piece for your bed like shown above. The headboard is fully rich with the rustic appeal and the weathered beauty and those white painted vines on it the headboard looks more stunning and fun. You can check out the details of the idea right here hometalk
DIY Pallet Wood Headboard with a Secret:
Here is a headboard so much more functional than just providing your back a support. It has been awarded with lots of functional roles to make your bed look nothing but a royal hit for your bedroom decor. The pallet wood pieces have been used to install the amazingly multifunctional headboard with the lights and the side cupboards to hold a bunch of your possessions in them. You can own this utterly useful and gorgeous in style headboard by getting the tutorial details here Pallet Ideas
Easy DIY Planked Headboard Tutorial: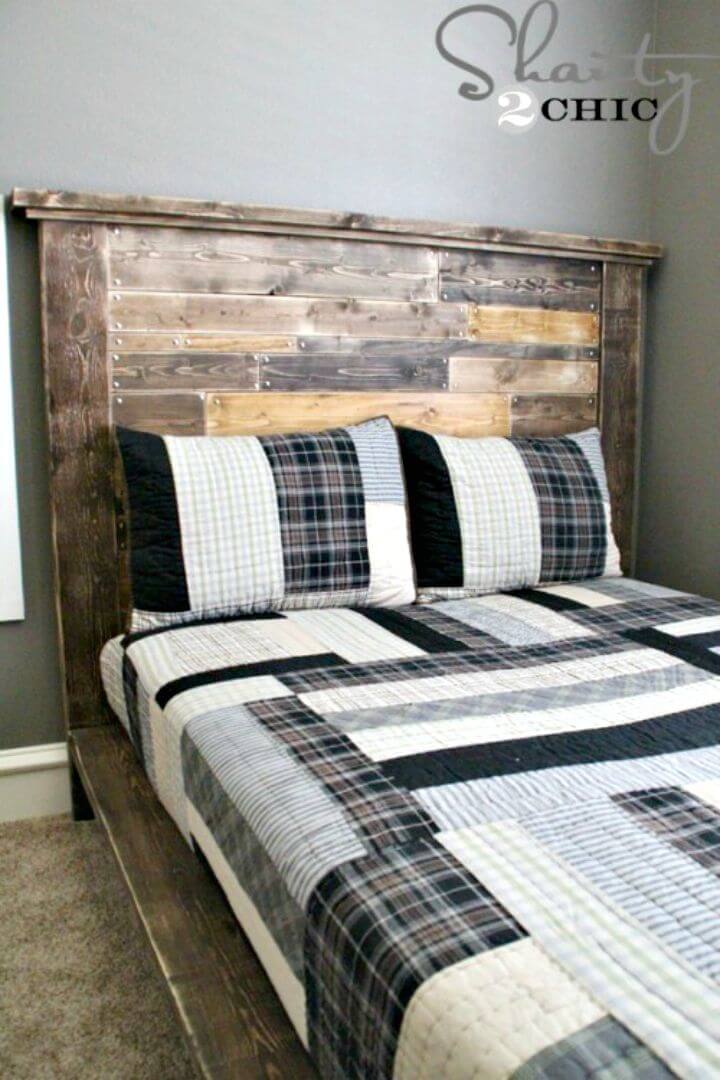 Even the room of your kid would look super gorgeous with this pallet made headboard to adorn their mini single beds.You can easily get the pallets ordered at cheap rates and then feasibly use them to shape this totally simple and cutely rustic headboard and accomplish the look of your kid's bed and the bedroom too. You can check out the details of the project here shanty
Easy How to DIY Rustic Pallet Headboard:
The headboards add great appeal to the decor of your bedroom and here is how you can bring the rustic beauty in your bedroom with the pretty addition of this lovely wooden pallet headboard. Made out of the pallet planks this headboard feature a simple structure along with the top shelf where you can display a bunch of your decor possessions and the crafts. Find the tutorial details of this multi-functional headboard here diyprojects
Easy How to Make a Pallet Headboard Tutorial:
A simple and rustic pallet headboard can make your modern and chic styled bedroom look so pretty, balanced and full of natural vibes. The icing on the cake is that its all easy, fun and cheap to work with the pallets especially the making of the headboard involves just the cutting down and the stacking up the pallet planks together. Here is the link to grab the details of this texture full headboard on your own allforthememories
Easy How To Make Pallet Headboard Tutorial: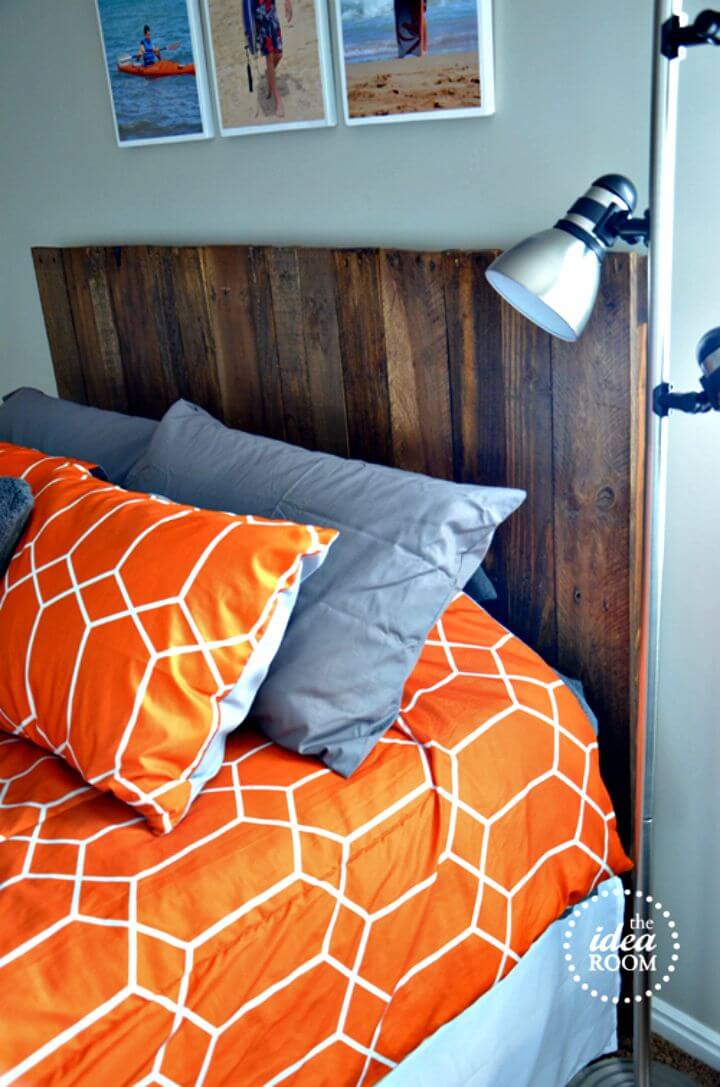 We all just get captivated by the warmth of the wood and the natural texture it exhibits especial the rugged would bring out the rustic factor even more. So to enjoy the woodish beauty in your bedroom you can get your hands dirty with this pallet headboard made up so easily with the simple cutting and stacking method of the pallet slats together and then stained in the pretty rustic brown shade for that perfect gorgeousness. You can check out the tutorial of this rustic headboard here theidearoom
Easy Make Your Own Pallet Headboard Tutorial:
The pallets are really making it easy and fun for the furniture lovers to get their desired designs and structures and add them in their home. This pallet made mighty headboard is the perfect example of how an amazingly creative piece can bring the huge decor changes in your bedroom spaces. The giant size headboard would mount up on the walls and spread it rustic beauty to the whole bedroom styling. Check out the completely easy details right here lizmarieblog
How To Build a King-Sized Pallet Headboard Tutorial:
A bed without a headboard is just so undone as it make the bed look less interesting and less functional too. So here is how you can lend the completely accomplished look to your bed with this pallet made headboard in king size to fit well the back of your king size bed. Not it would complete the bed functionally but it would also add oodles of rustic charm to the bed too. Here is the link to grab the step by step details of the idea diywithrick
How To Build a Pallet Headboard Tutorial:
Bring the huge modernistic look in your bedroom decor with this pretty and cute headboard to be mounted at the back wall of your bed. Made out of the rugged and the distressed piece of the pallets this headboard turns out to be so much natural and warming and with the coat of the white wash it look just super cool and chic to be an apt part of your modern chic bedroom. Have its details right on this link thinkingcloset
How To Build Pallet Headboard Tutorial:
Reclaiming the pallet wood has become really an art in the world of crafting furniture for the house. The wooden pallets have been broken down from the pallet skids and then stacked together to shape this feasible structure of the rectangular headboard to behind your bed and become the accent part of your bed and the bedroom decor. You can check it out all with easy instructions and step by step details shabbyshackcrafts
How To Build Your Own Headboard From Wooden Pallets Tutorial:
The headboard in the picture has so much interesting features to offer and compel you to make the same for your bed. This headboard got design, the perfect rustic appeal, the painted vine at the left and the functional lamp at the right and thus it would be the focal point in your bedroom decor once added at the back of your bed. You can learn the easy and fun details of this pretty headboard right on this link provided instructables
How To Build Your Own Pallet Headboard Tutorial:
If you have a platform bed in your bedroom you can make it look more pretty and fun with the addition of the a gorgeous and stylish headboard to be at the back. The pallet slats have been stacked together to shape up this pretty headboard and then stain it in the subtle rustic hues to make it look more appealing and full of natural texture. You can check out the details of this big pallet headboard right here mrsfancypantz
Easy DIY Distressed Headboard Out Of Pallet Tutorial:
Now you can read your favorite novel or book or work on the laptop while sitting on the bed and moving your back to the headboard for the support. What would help you to do these tasks is the pair of the lights added to the headboards made out of the pallet wood pieces. It has been made up with the pallet plank stacking and then white staining it for that perfect shabby chic look of it. Check out the details of the idea right here on this link livesimply
How To DIY Pallet Headboard Makeover:
Pallets have made it so much easy and fun for all the furniture lovers to cherish the most fascinating piece of the decor in your spaces. So if you have desiring to get a wooden headboard for your bedroom decor then you should make it out of the pallets ad a cute one is here with us. Its a small size wall mounted pallet headboard with the roughly done white wash making it so shabby chic for your modern rooms. You can catch the details of the idea right on this link smartgirlstyle
Easy DIY Pallet Headboard Tutorial:
If you also want to get your hands on the pallets then you should really be considering this easy and fun idea of the headboard making for your pretty bed and bedroom and elevate the decor of your spaces with it. The stacking of the wooden slats together this rustic and textured headboard has been easily installed with the painted words Awake My Soul at the right which make it look more stunning and custom. You can check out the details of the idea right here oodalollie
How To DIY Pallet Wood Headboard Tutorial:
There are so many ways to award some fresh and unique looks to the decor of your bedroom and changing just the headboard of your bed can do so. Here is this lovely pallet headboard that you can easily craft yourself and bring the ultimate natural vibes in your modernly decorated bedroom. So get some pallets, grab your tools and start working on this utterly functional and cute pallet projects with the details lying here revivalwoods
DIY Reclaimed Wood Look Headboard King Size Tutorial:
There is a kind of satisfaction and peace when we look at the traditional furniture pieces and now you enjoy some traditional appeal in your bedroom with the addition of this rustic styled headboard to be attached at the back of your bed.You would only need some wooden pallets and the rustic shade of the brown stain to own this gorgeous and naturally beautiful headboard for your bedroom decor. Check out the details of this brilliant headboard idea here white
Easy How To Make Headboard Out Of Pallet Tutorial:
Not only for the beds of the elders the pallet headboard can be added to the baby crib too and thus make it look so much cool ,fun and cute for your nursery room decor. Here is how you can create this feasible pallet headboard and then mount it on the walls of the baby's room behind the crib and bring the most quirky and cute vibes there. From cutting of the pallets, stacking and then staining you can check out the details of the complete headboard idea here inlovewithahouse
Build Your Own Pallet Headboard Tutorial:
After serving their primary functions in the shipping the pallets can be repurposed for the home furnished goals and making an headboard is the most easy and fun idea to recycle this bunch of cheap wood. Here is this totally unique and excitingly beautiful piece of wooden headboard made out of the pallet cut planks pieces. With the minimal width but excessive length this headboard would surely add the stand out appeal in your bedroom decor. Details of the idea right here buggaluggsblog
How to Make Your Own Pallet Headboard Tutorial:
If you think your bedroom decor is getting dull and boring and you need to quirk it up a bit then adding this functional and gorgeous headboard with a top shelf would be the perfect idea to get your hands dirty with. Just cut out the pallet wood pieces, stack them neatly to each other and get this simple headboard having been made to look so dazzling and chi with the white paint coats. By displaying your vases, candle jars and other crafts on the shelf you can bring more romantic vibes to your spaces lifestorage
Easy DIY Headboard Out of Old Pallets Tutorial:
If you are looking for a gorgeous and attractive headboard for the room of your teen girl then here is the one that would fall in love with. The rustic pallet wood has been availed to shape up this simple in structure but rich in beauty pallet headboard for her single bed. Pallet shave been cut down into pieces and then attached to each other to shape up this beautiful and enchanting headboard with oodles of rustic charm and countryside appeal. The lamp add more to its functionality and style and you can check out the complete details of the idea here wearethatfamily
Super Easy DIY Pallet Headboard Tutorial:
The headboards are the functional part of your bed and they also decide the decor factor of your spaces so they ought to be awesome and gorgeous. So instead of wasting your money on the market bought pallet headboards with hefty price tags you can use the cheap pallets and create one simple and rustically beautiful pallet made headboard to be the focus of your bedroom beauty and style. You can check out the details of the simple and fun tutorial here
taushpointo
Build Your Own Pallet Headboard For A King Size Bed Tutorial:
Here is this lovely pallet made a headboard for your modern beds to add some rustic appeal to your chic bedroom decor. It would be so much fun and functional to use the reclaimed pallet wood for the purpose of headboard making as it would be fun, cheap and so much easy to work with too. Here is the link you can check out the details of this pallet headboard to own it mydiyenvy
Easy Build Your Own Pallet Headboard Tutorial:
Step by step instructions here: ricedesignblog
DIY Barn Door Headboard Tutorial:
The pallets can serve so many functional roles with their ability to get recycled so beautifully. Here is how the long pallet slats have been stacked together to shape up this utterly rustic and distressed headboard for your comfy bed and awarding it the perfect accomplished look. The added lamp at the side really makes it look more shabby chic and fun. You can check out the details of the idea here lilluna
Easy DIY Headboard From Pallets In 8 Simple Steps Tutorial:
The headboards really decide the beauty and style of your beds and the bedroom decor and now the pallets can help you out to create a perfectly matching and complimenting bed for your bedroom spaces. With the cut out pallet planks you can easily form a nice and custom size headboard for your beds and with the stain and paint of your choice, you can lend it the desired and matching look. Easy tutorial details are given here thesawguy
DIY Headboard From Recycled Wood With Custom Lighting:
Now you do not need to spend money on the market bought headboards as you can make a perfectly functional headboard out of the recycled wood lying around like the pallets. With the easy stacking of the pallet boards together this awesome pallet headboard has been nicely installed with the custom lights on both sides making it look so custom and personalized. Complete details of the tutorial here removeandreplace
Build Your Own Inspired Pallet Headboard Tutorial:
Another fun thing while working with the pallets is that you can easily shape up the desired design that you have been having in your head. Like this gorgeous pallet headboard has been installed with the scalloped design on the top and the headboard turns out to be really unique and chic with the coating of white stain on it. SO grab some pallets, two stair spindles and some white paint to do this utterly functional and gorgeous pallet headboard project mamasdance
DIY Nautical Pallet Headboard Project:
Here is how you can create a headboard more easily and create a perfectly shaped and sized headboard for your lovely bed. SO besides the pallets, you would be in need of some plywood sheets to get nailed together and form the basic structure of your headboard. On this plywood headboard the pallet cut planks would be glued all over and thus so feasibly your nautical headboard would be ready. Fully detailed tutorial here musingsofamodernhippie