There are a bunch of ways to upcycle old pallets, and one great option is to turn them into a cozy bed for your furry friend. Learn how to make a dog bed out of pallets with these 20 easy DIY pallet dog bed ideas that can be customized to fit your dog's size and style. These pallet dog beds are the perfect way to show your pet some love, and they'll be sure to appreciate the extra comfort. These pallet dog beds are easy, inexpensive and eco-friendly to make.
Whether you want a simple pallet dog bed or something more elaborate, there's sure to be an option here that's perfect for your pup. And once you've made one, your pet will have the best spot in the house to rest and relax. Check out these step by step pallet dog bed ideas made from recycled pallets and other materials; your furry friend will love it!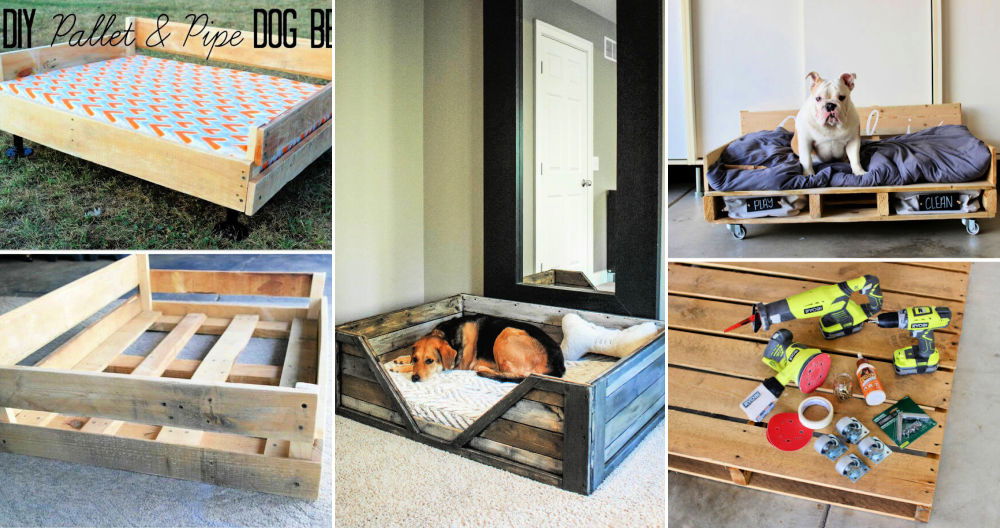 So, what are you waiting for? Get started on one of these DIY pallet dog beds today!
Cozy DIY Outdoor Dog Bed Out of Pallets: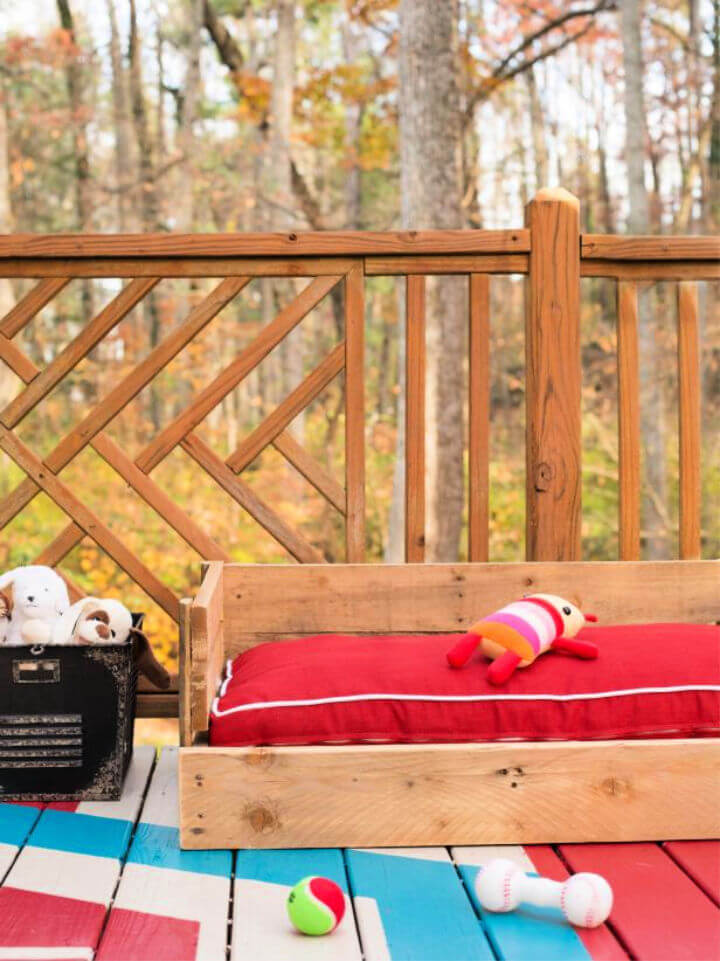 Like we have our outdoor furniture to relax and rest on similarly we need a bed for our dog in the outdoors too. You can make the cheapest yet totally functional bed for your dog using the pallets and that too on your own. Follow the easy tutorial of a cozy pallet dog bed here hgtv
Build Pallet Dog Bed On Casters: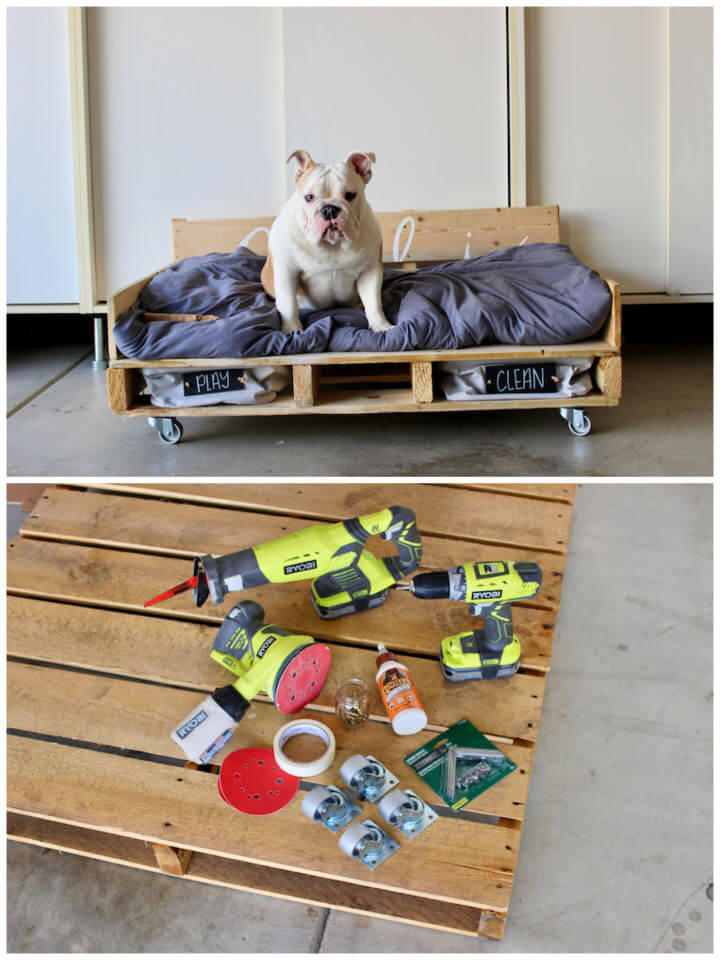 The pallet can not only make your furniture dreams come true but also your pets too. So if you have a dog you can build this utterly gorgeous and completely luxurious god bed. The bed has wheels to easily move and storage cubbies to let your store some of your pet stuff too. Details are given here homedepot
Easy DIY Pallet Dog Bed: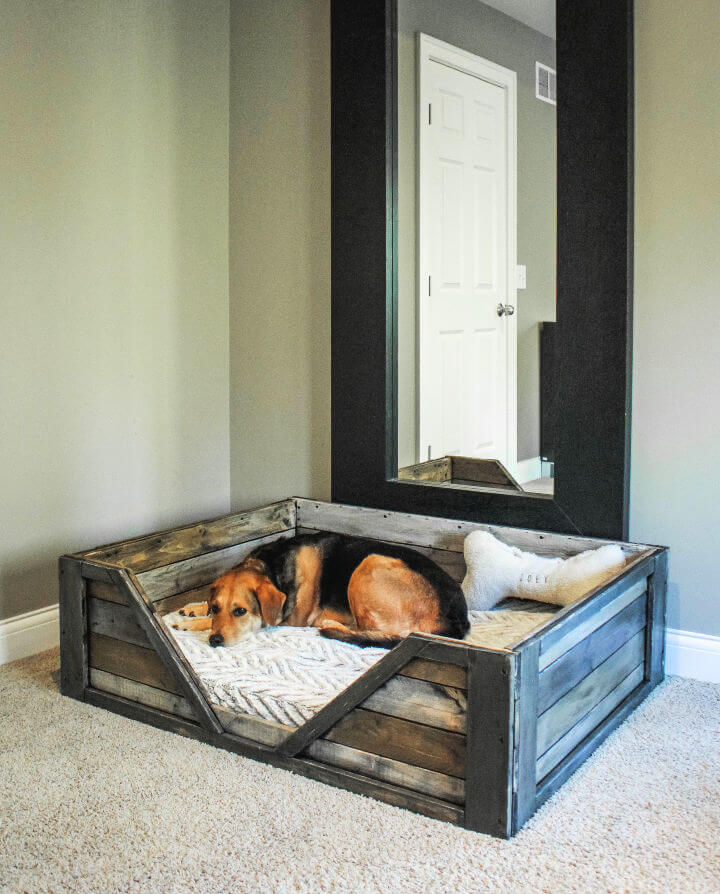 If you have pallets around then it's time to use them for the building of this super luxury and large pallet dog bed. The Bed is big enough to let your dog relax in so many positions and its rustic look really wins our hearts. The complete tutorial of the dog bed has been given here ruggydiy
How to make a dog house: We've rounded up a bunch of different DIY dog house plans for you to choose from, so you can find the perfect one for your furry friend.
How to make a pallet dog house: If you're looking for an inexpensive way to build a dog house, consider using pallets. Pallets are often used in shipping and can be easily repurposed into a number of different things, including a pallet dog house. With a little bit of work, you can turn a few pallets into a cozy and comfortable dog house for your furry friend.
DIY Shipping Pallet Dog Bed: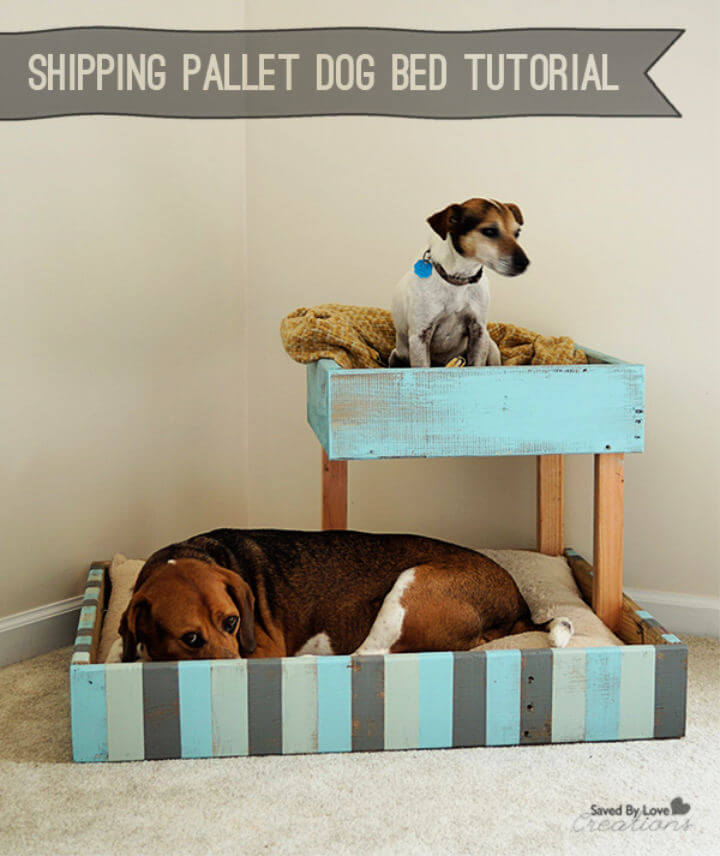 It's time to make your dogs feel super comfortable and fun while sleeping or resting with this lovely shipping pallet dog bed. This two-in-one dog bed would nicely accompany both of your little boys. The shabby chic colors of the bed would look great in your home decor too. You can check out the details right here savedbylovecreations
Make a Mobile Dog Bed From Shipping Pallets: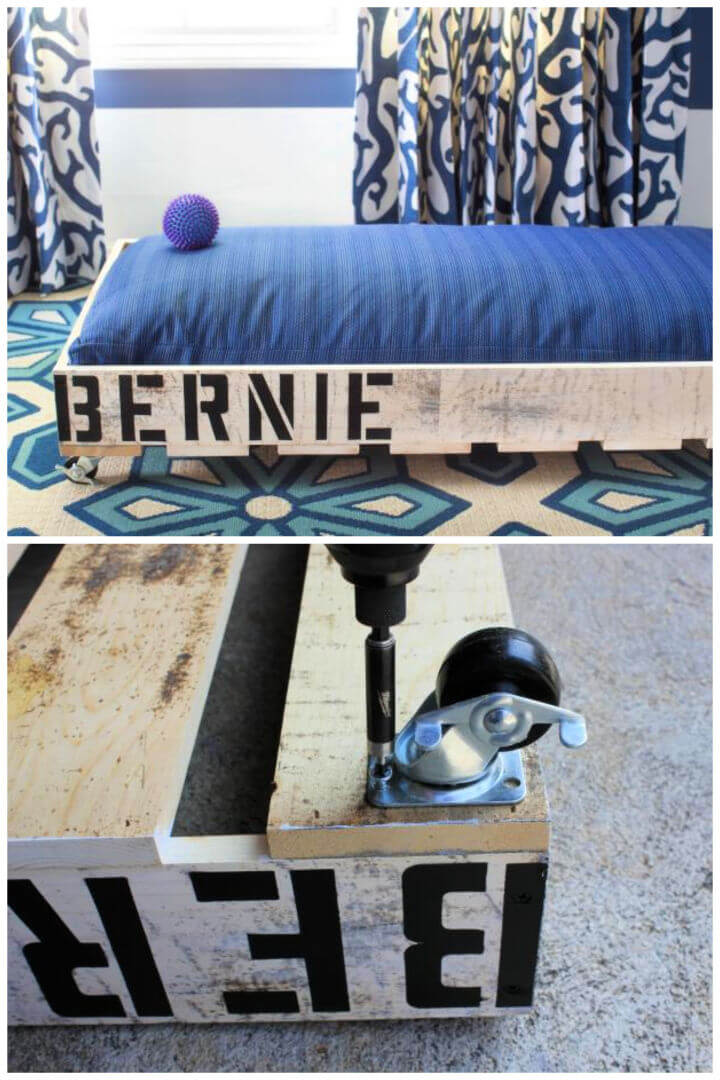 Do not let your dog sleep on the floor when you can make such luxury and comfy bed for him/her and that too at the cheapest of the cost. Yes, you can use the free pallets to shape up this sleek in design wooden dog bed. The bed got wheels so that you can easily move it from place to place. Free and fun details here hgtv
Turn Pallet into Dog Bed: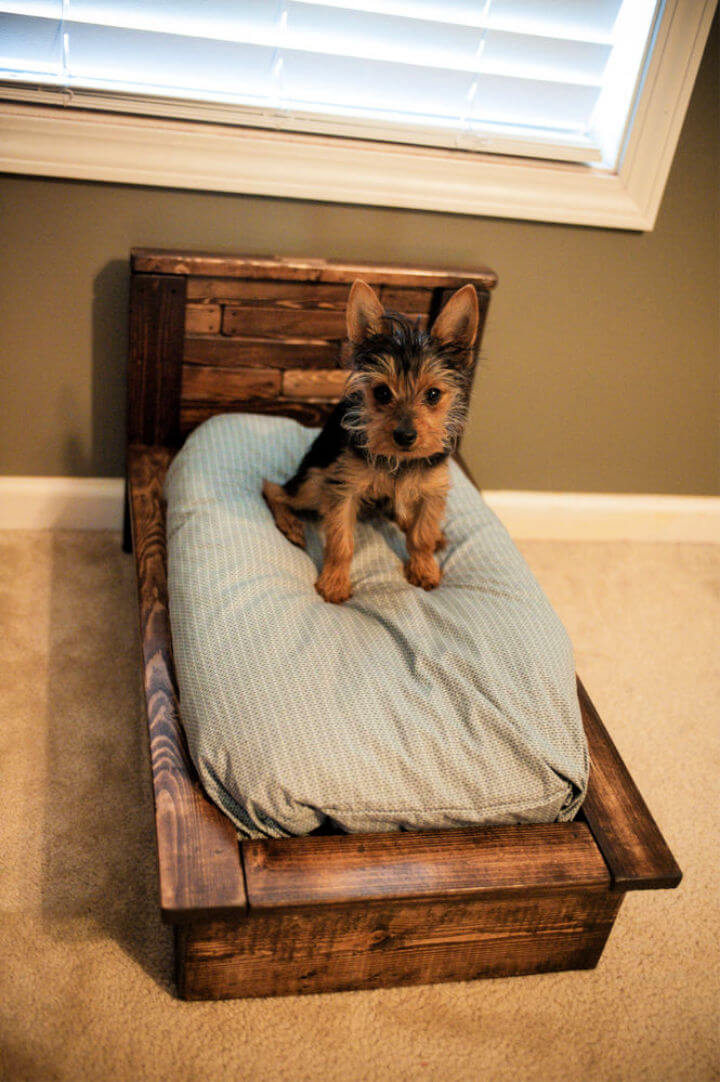 This rustically gorgeous bed looks so adorable and there is a reason behind its loaded cuteness. This little cute bed has a shape like that of ours and the aggressive rustic stain hues are adding oil to the fire. The pallet wood dog bed is so damn easy and fun to create and your dog is going to fall in love with it. Details here instructables
DIY Pallet & Pipe Dog Bed Platform: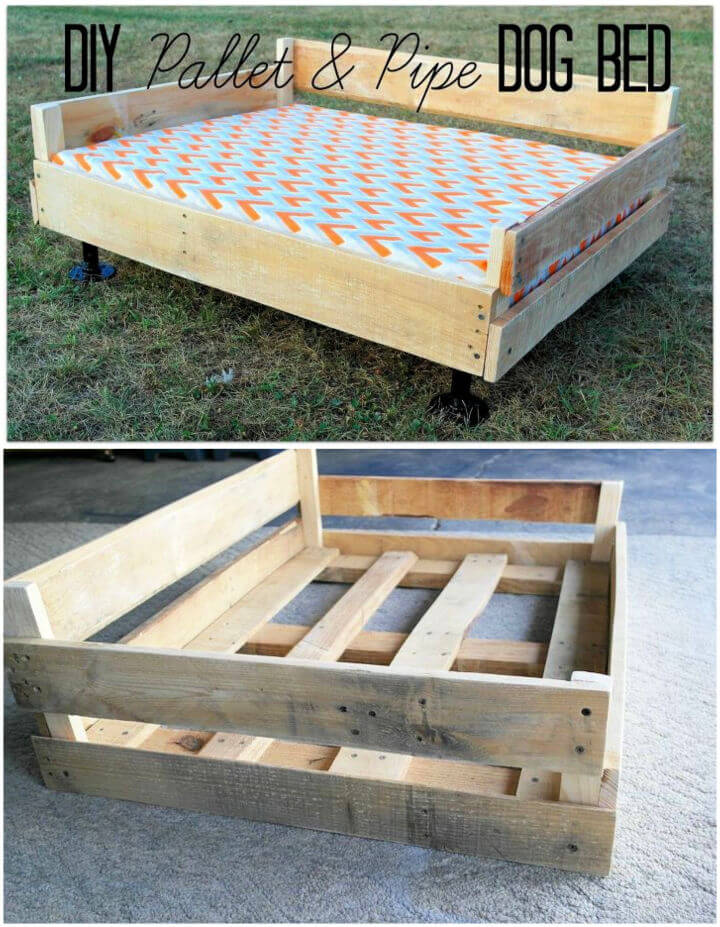 Dogs love two things the most one is to eat and the other is to sleep. To make this DIY pallet and pipe dog bed for your little one to enjoy cozy and comfy sleep hours on. The bed is super luxury and also super stylish as the pipe legs make it raised from the ground. Get the details of the platform bed here hometalk
DIY Doggy Pallet Bed: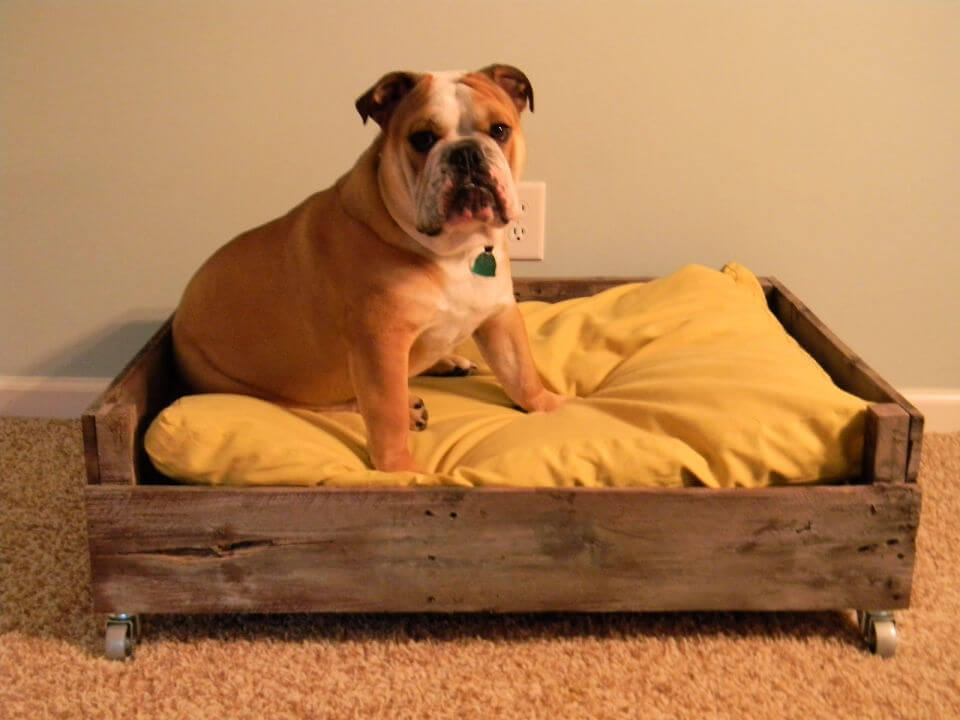 Another gorgeous and functional idea of a DIY doggy pallet bed to make and let your little ones have a comfy and cozy spot to sleep on. The use of pallet wood makes this dog bed so damn easy and cheap to avail and we have the complete details lying here abritofhappiness
Tailor A Dog Bed With Pallets: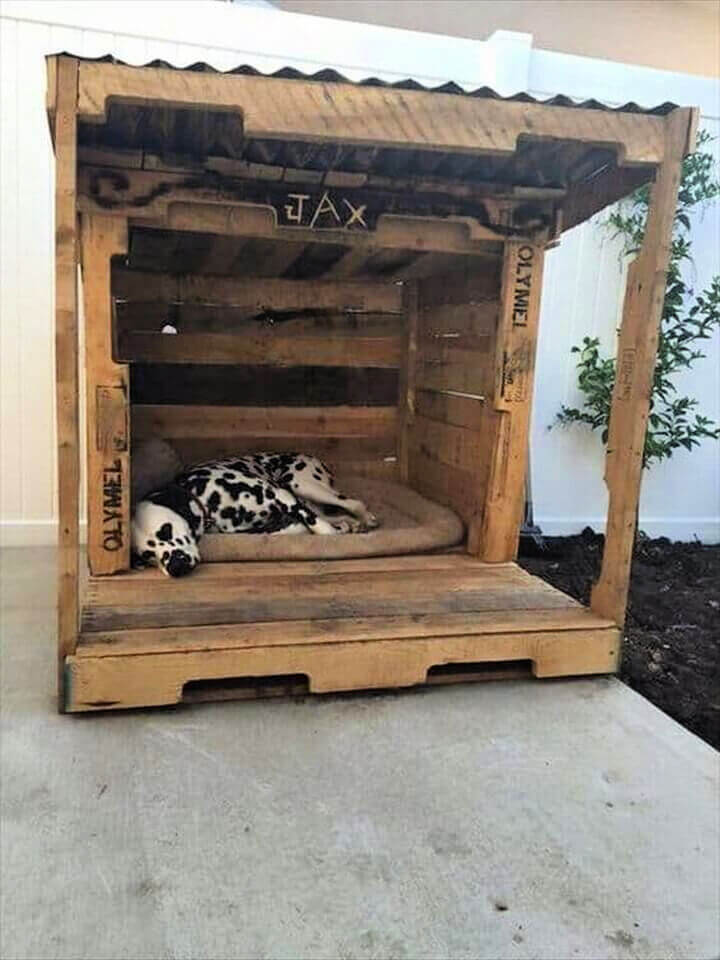 This outdoor dog bed comes with a roof and feels to be no less than a dog house. The roof makes this dog bed perfectly suitable for both of the seasons to let your pet relax and sleep when he is tired of playing or easting. So grab a bunch of the pallets to shape up this luxury dog bed on your own. Details here youtube
DIY Outdoor Dog Pallet Bed: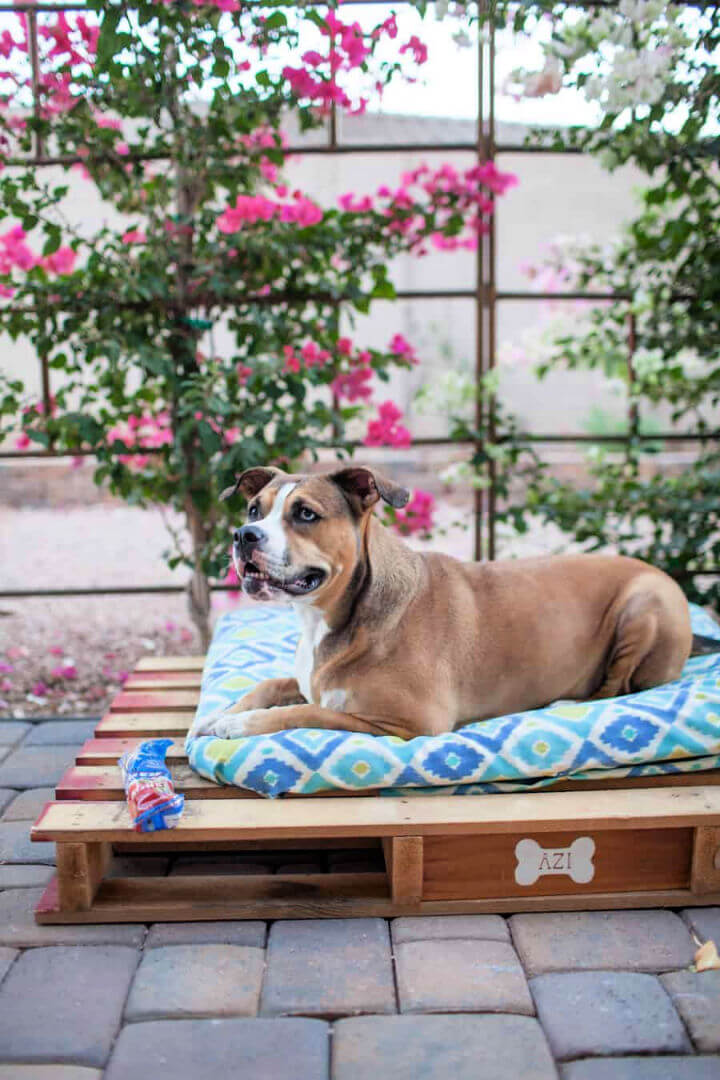 Here is the easiest pallet bed to make for your little pets and make them all feel comfortable and fun at home. With a little work on a pallet skid, you can easily transform it into a dog bed and a mattress would make it completely ready for the dog to rest and sleep on. Follow the easy and fun tutorial here joyfullymad
DIY Waterproof Homemade Dog Bed: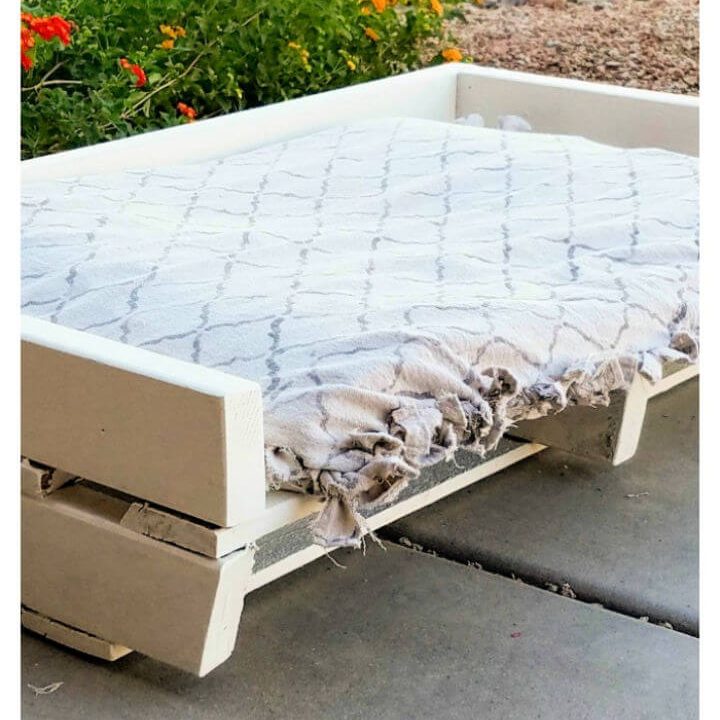 The market-bought dog beds cost a big fortune for being so expensive so here is this waterproof homemade dog bed for you. The chic white dog bed would really add to the beauty and vibes of your modern home. Being waterproof the bed can be washed super easily without any damage and here are details.
Adorable DIY Pallet Dog Bed: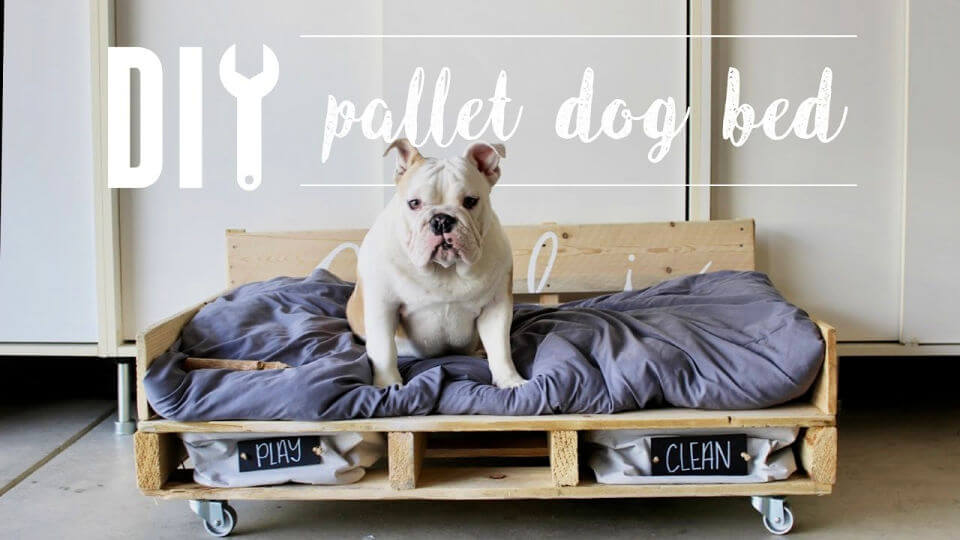 This adorable DIY dog bed is no less than a royal-like bed that you see in the stores but have been made at the cost of just a few pennies. The dog bed has a little headboard which has the name of the dog written on it too. Follow the easy instructions and tutorial of this dog bed
Make Your Own Pallet Dog Bed: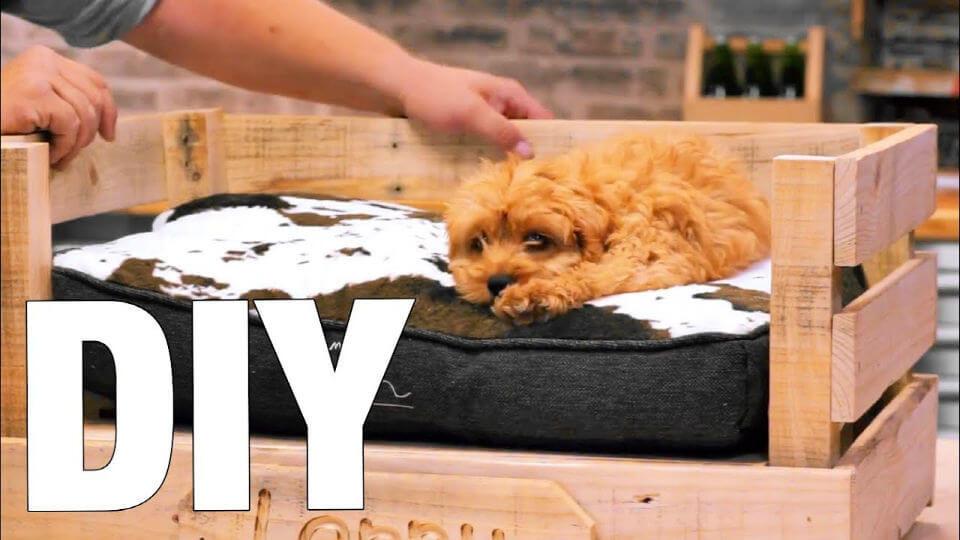 This small in size bed in crate style is super easy to make and would be a perfect sleeping spot for your little furry fellow. So grab some pallets and dismantle them into slat pieces and then use them to install this super easy and cute dog bed. Follow the easy and fun details of the idea right on the link here
Build a Custom Pallet Dog Bed: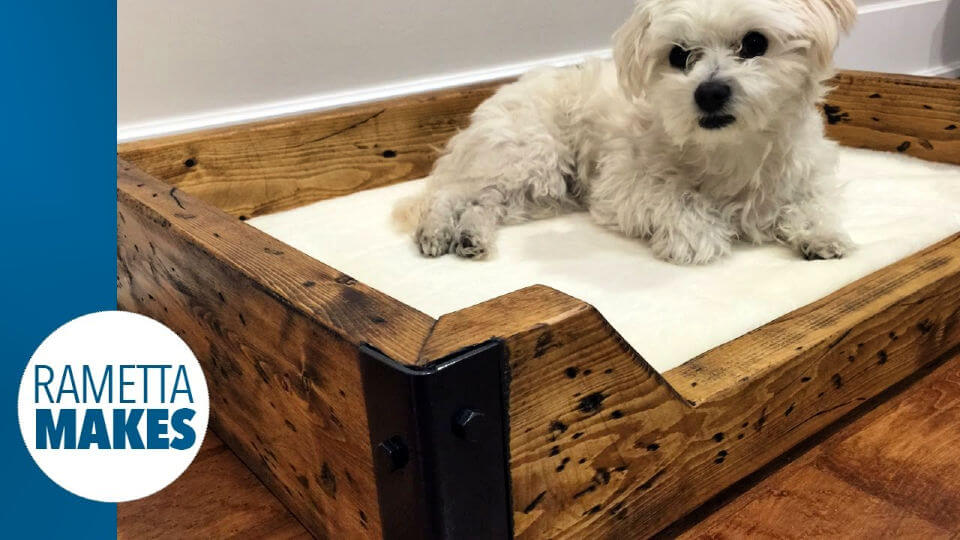 Make your dog all loved and completely being at home with this gift of a handmade comfy bed. You can use some recycled pallets to shape up super cute and custom pallet dog beds. The dog bed has been given a complete rustic look for the perfect woods appeal and texture. Easy and fun details here
How to Make Pallet Dog Bed: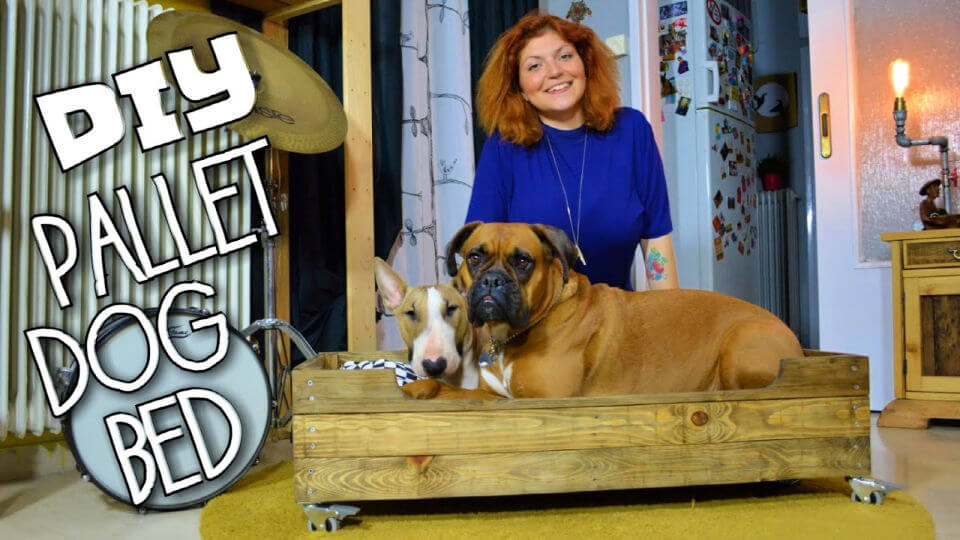 A night of comfortable sleep is what makes your dog feel all active and fun and this pallet dog bed is perfectly that kind of bed. The gorgeous wooden bed with rustic beauty would make a great addition to your spaces. So grab some pallets and your tools to shape up this gorgeous and functional bed for your little one.
DIY Recycled Pallet Dog Bed: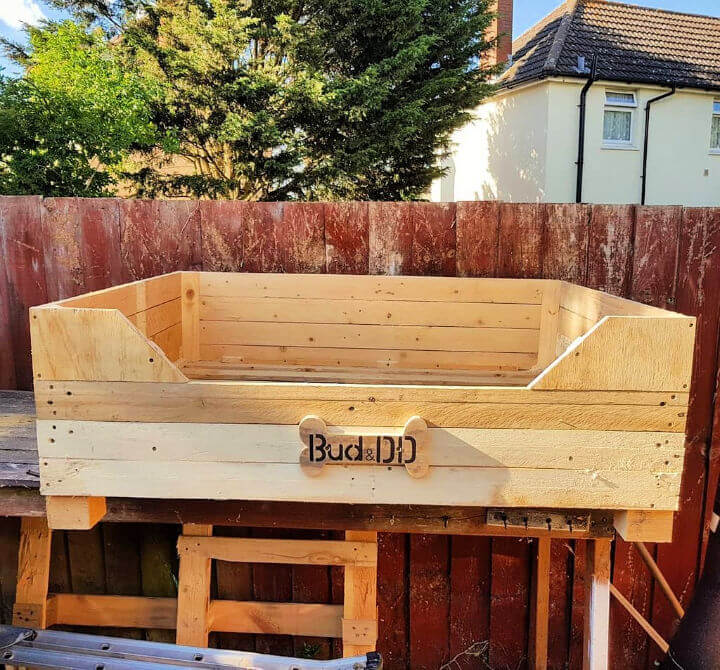 This gorgeous pallet dog bed is not less than a fantasy for your pets for being so adorable, comfy and luxurious. The one cute feature about this dog bed is that it has been adorned with a dog bone name plate at the front. You can paint up your dog bed in any of your favorite hues for a custom look.
Make a Pallet Dog Bed: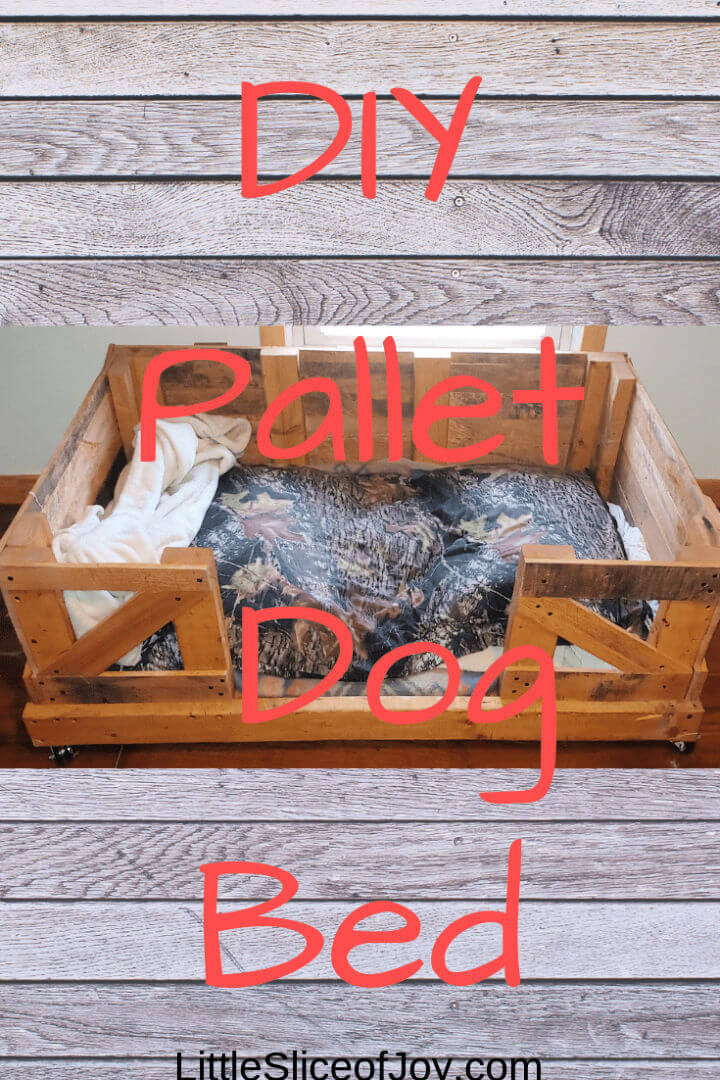 Your dog would be more than happy when you get this gorgeous dog bed for him/her. Sleeping on this handmade pallet dog bed would be much more comfy and fun than the floor. So get your hands on some pallet wood and take out your tools to shape up this super luxurious and fun dog bed. littlesliceofjoy
DIY Pallet Dog Bed Idea to Make At Home: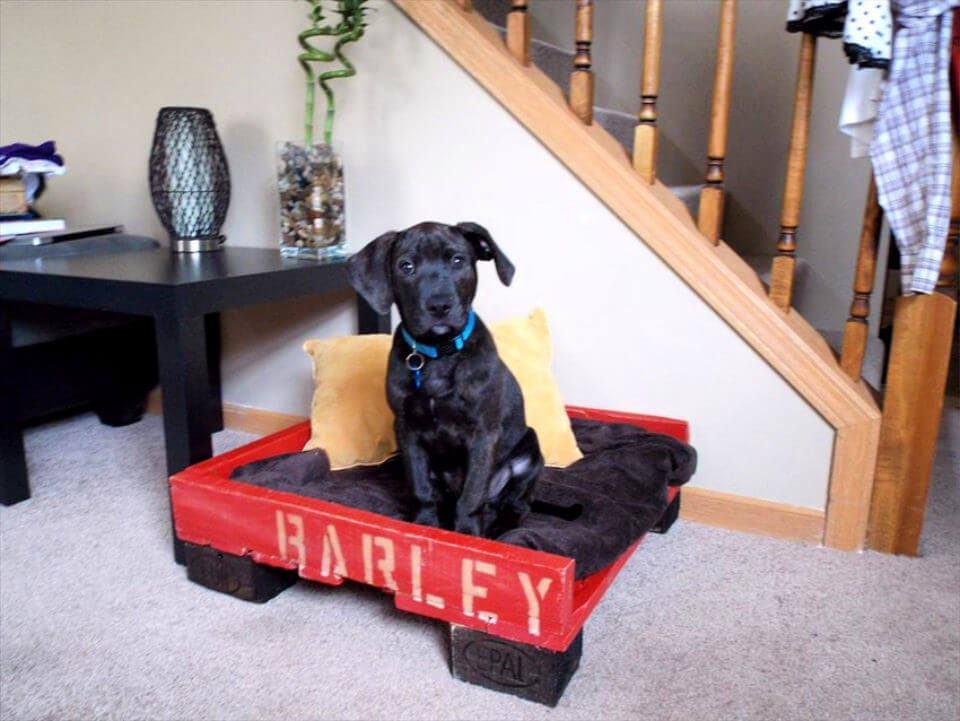 Another gorgeous bed for your little cute pets to have now more comfy and easy sleep hours. The wooden dog bed has been raised from the ground with the help of wooden footsteps. The combination of the red and chocolate hues really makes this dog bed look super awesome.
Pallet Dog Bed: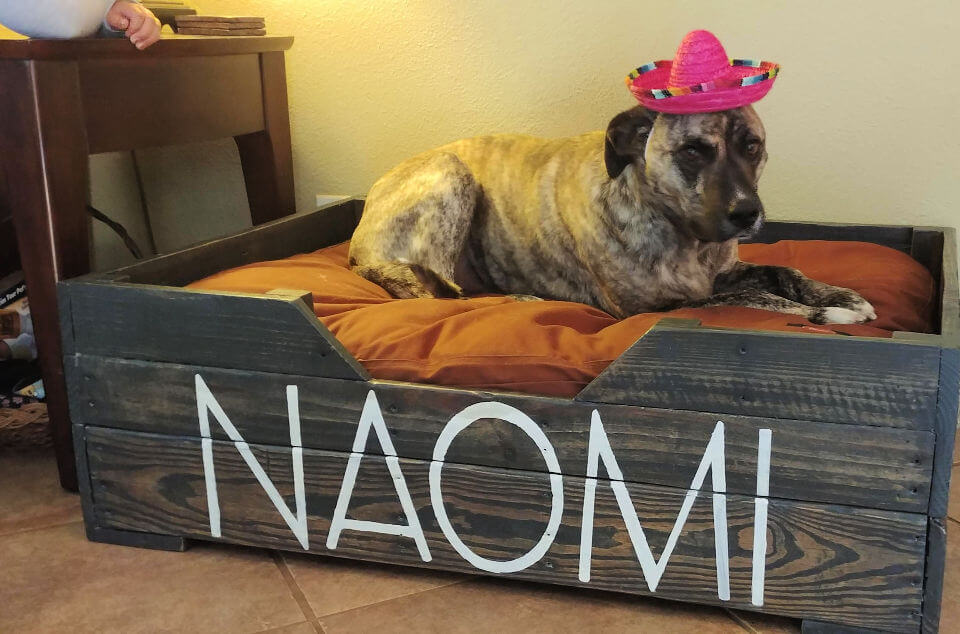 If the birthday of your pet is coming and you are thinking of a gift for them then making this pallet dog bed is the perfect idea for the purpose. The dog bed is super spacious and looks luxury with the name of the pet being printed on the front.
Old Pallet Dog Bed:
Pallet wood is the best thing to get your hands on when you want something sturdy and functional at cheaper rates just like dog beds. This gorgeous dog bed has been made out of pallets and looks super chic with the pretty paint hues and the dog bone adornment making it a perfect dog belonging.
How much does a dog bed cost?
The average cost of a dog bed is around $30 or high. A dog bed can range in price depending on the size, material, and cost of the materials. However, there is a wide variety of pallet dog beds available that cost you nothing, so you can find one that fits both your budget and your dog's needs.
How to wash a dog bed?
There are many different ways to clean a dog bed, but the best way to wash it with warm water, you will need to:
1. Remove the bedding and any toys or other items that may be stored inside the bed.
2. Gently scrub the bed with a sponge, dish soap, and warm water.
3. Rinse the bed with clean water, and allow it to air dry.
4. Replace the bedding and other items inside the bed.
How to sew a dog bed or dog bed mattress or dog bed pillow?
Dog beds are designed for dogs of all sizes and sleeping habits. They provide a safe, soft place to sleep in.
There are many different ways to sew a dog bed pillow, dog bed mattress or dog bed pattern. Make your dog bed more comfortable with these free dog bed patterns and then sew the dog bed following the instructions in the patterns.
How do you make a simple dog bed?
1. The easiest way to make a pallet dog bed is to use an existing pallet and stack multiple levels. This can be done by simply screwing or nailing two pallets together at a right angle. Be sure to use sturdy wood glue as well to reinforce the joint.
2. Another option is to cut the pallet in half lengthwise. This will create two bed-sized pieces. You can then either attach them together or leave them separate. If you choose to attach them, use screws or nails and make sure they are flush with the surface so your dog won't catch any sharp edges.
3. If you have a few carpentry skills, you can create a more elaborate dog bed. This can include notching the pallets to fit together like a puzzle or creating an open-air design with slats.
Conclusion:
Looking for a unique way to update your pet's sleeping area? These pallet dog bed ideas are both stylish and eco-friendly. Plus, they're easy to make – perfect for any DIY enthusiasts. So why not give one of these pallet dog bed designs a try?