Cooking food is a good hobby and has also become a profession now! To provide better food to people is the best way to serve humanity and this pious reason is all responsible that this profession has continual additions of people! If you are too interested in cooking wood and really want to make it easy then we are having here a better DIY furniture solution for you that is also budget-friendly and has wholly been done by giving some genius twists, modifications, and wise readjustments to pallet boards! This DIY pallet kitchen island with stove is an amazing project out of 100% free pallets. We are talking about and gives you a whole setup for quick food preparations!
This easy pallet kitchen island unit can be dragged to any suitable location where cooking the food can be a pleasure like in your garden area! This pallet kitchen island is has been made all in one as it provides awesome storage solutions involving the spice racks, storage cubbies, shelves and compartments, and also drawers and towel rack setups! A stove has been fitted to one corner and can be got on fire while intending to cook something! The design also offers a counter-top to display some items of embellishments and also to serve the tasty food to people waiting nearby!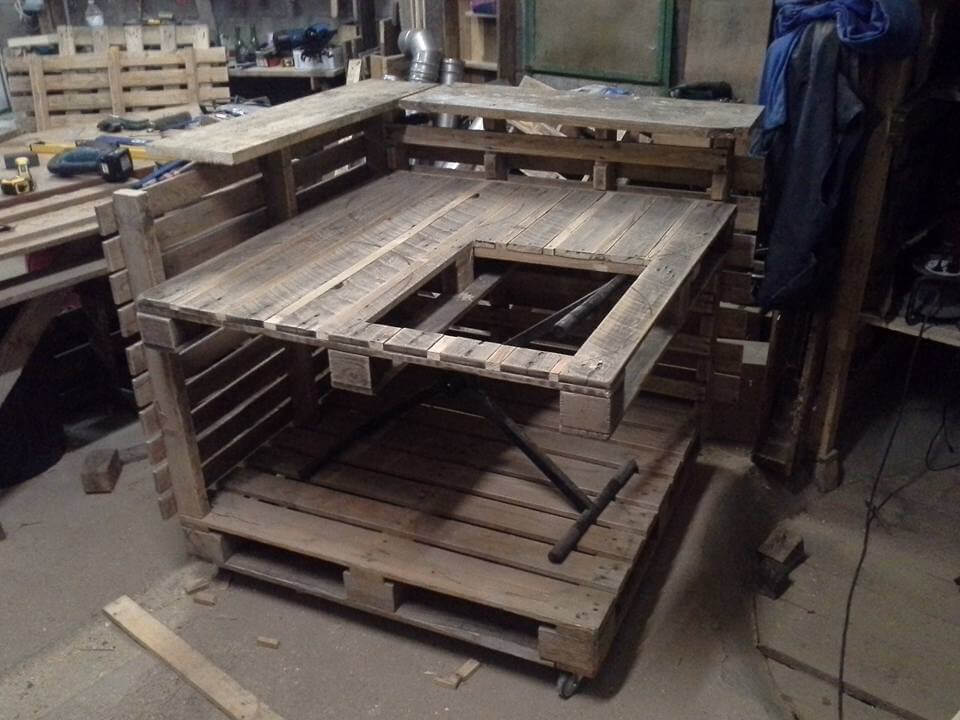 Setup a whole bigger skid of the pallet to install the base of this island, then use some modified pallet boards to gain two sectional walls! Keep on securing the installed part with hardware like nails, nuts and bolts, screws, metal brackets, and metal plates! Now install the 2nd floor of it which is actually the working surface for this whole kitchen stand layout! Leave the space to fit the stove later!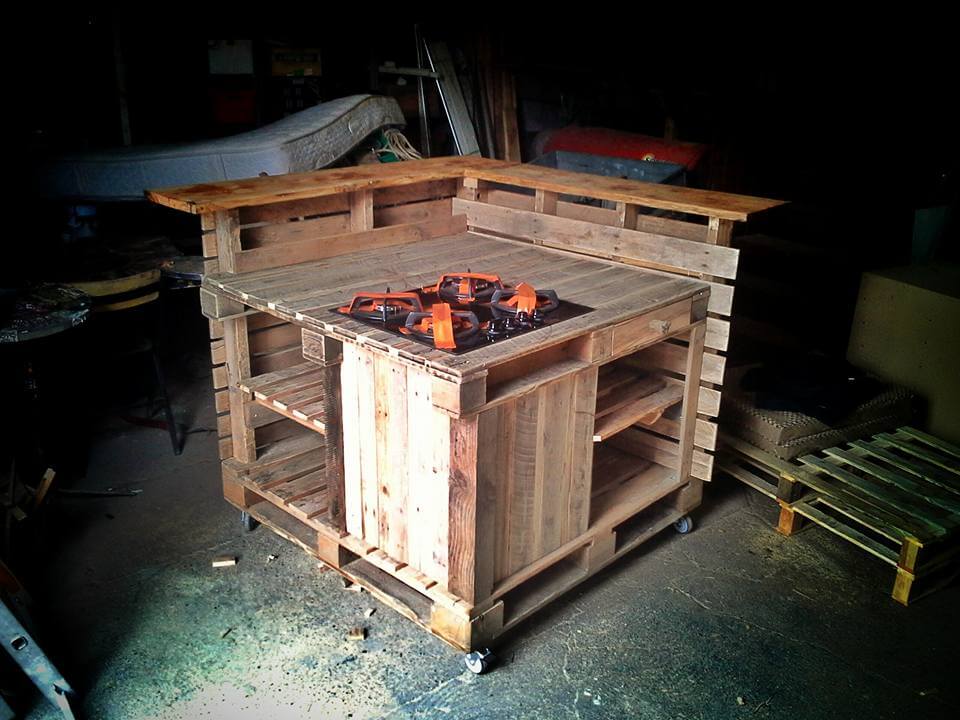 Add one more level, fit the stove set up in the wooden holding, and hid some sections using pallet-made dividers or walls! At this point, there lot of options and you can decide to go with any for a custom look of this kitchen island! You can add multiple levels to gain a number of shelves and also add the hinged doors instead of using fixed wooden walls! Raise the side walls a little and do add the countertop for multiple functioning!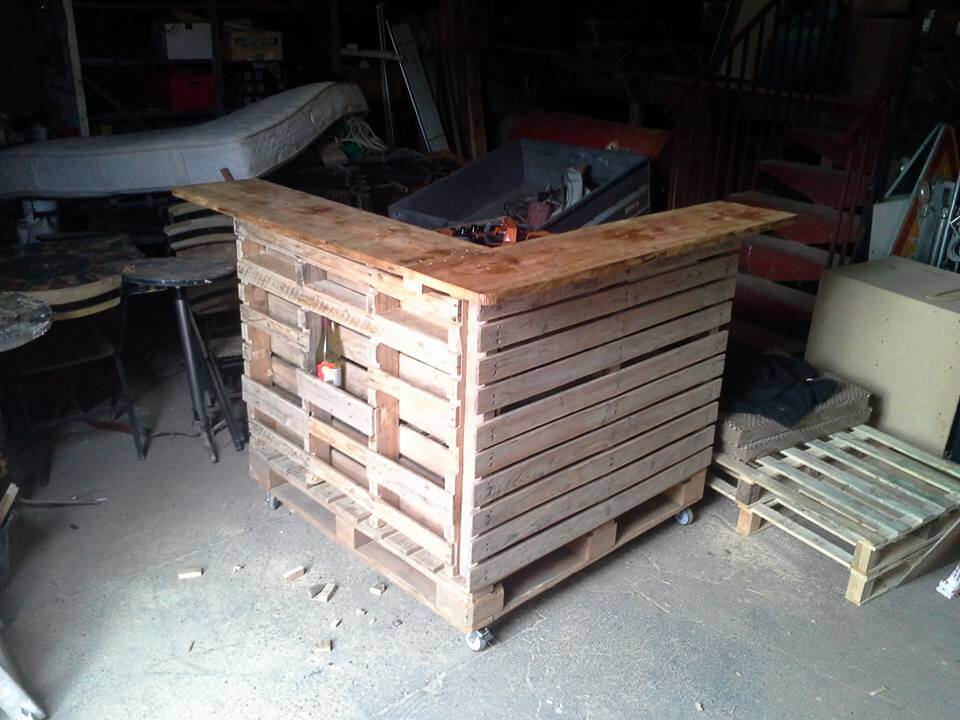 One of the sidewalls has been modified to gain multiple little holdings and shelving levels that can be planned to store the beverage bottles, some packed materials, and everything you may use during the cooking session!
Pallet Kitchen Island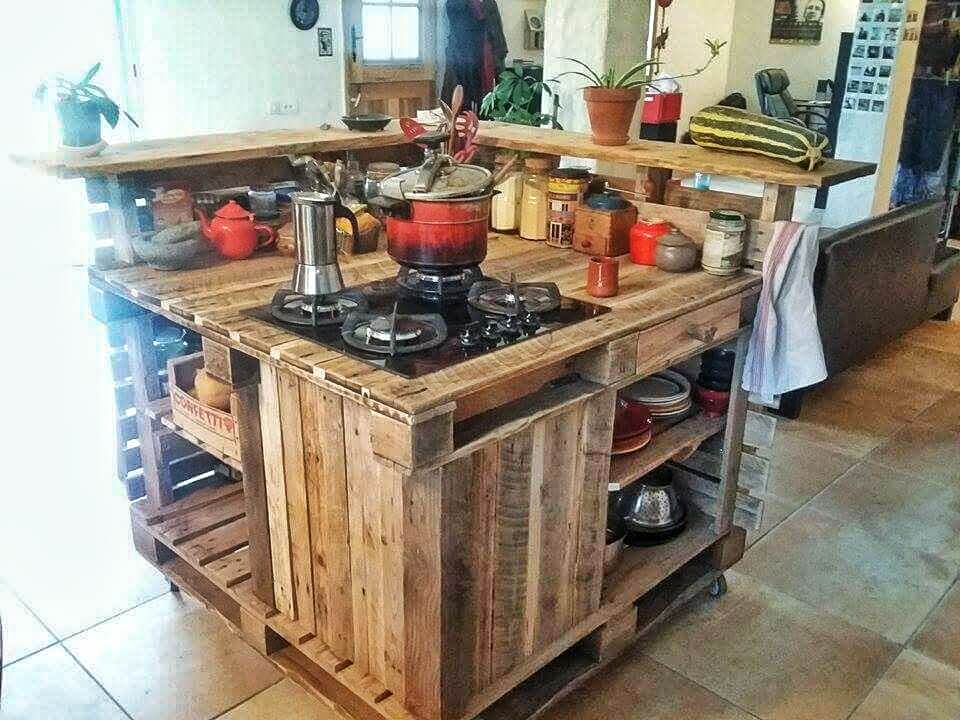 This is here a fully equipped and loaded sample of it that gives a clear details about how to utilize the design for different types of storage at the same item involving, crockery items, kitchen spices, and cooking apparatus!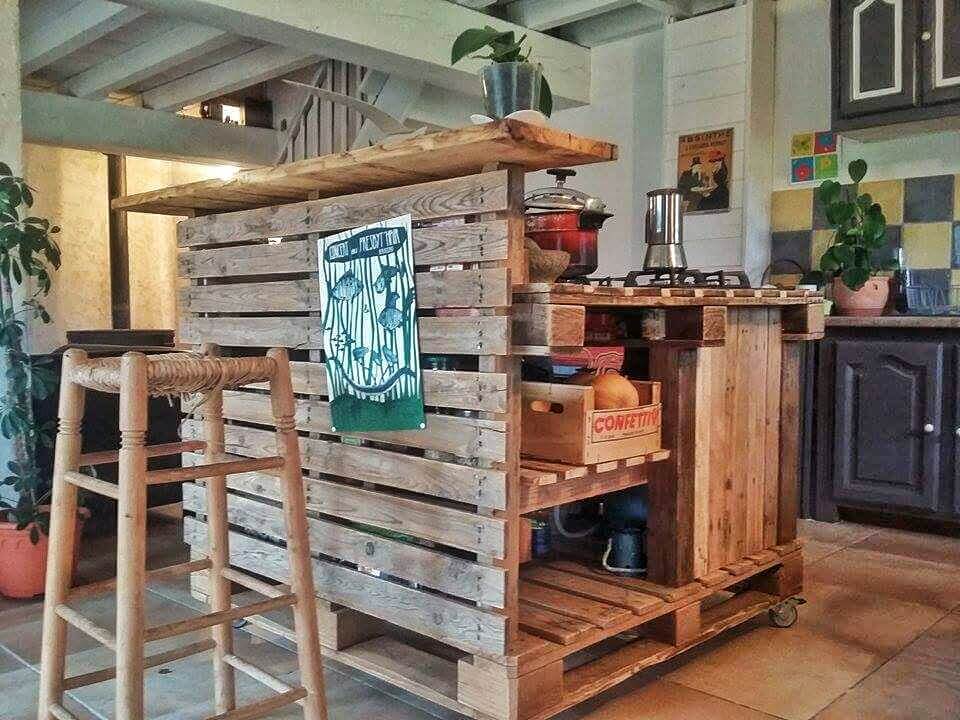 Table design offers wide storage space at each side and you can install furthermore drawers and racks to give safe storage space to the rest of the kitchenware! Pallet cubbies and dice sections are always feasible to create the shelving and drawers setup and one should focus on these parts of pallets for a more creative and storage-friendly manifestation of the kitchen island!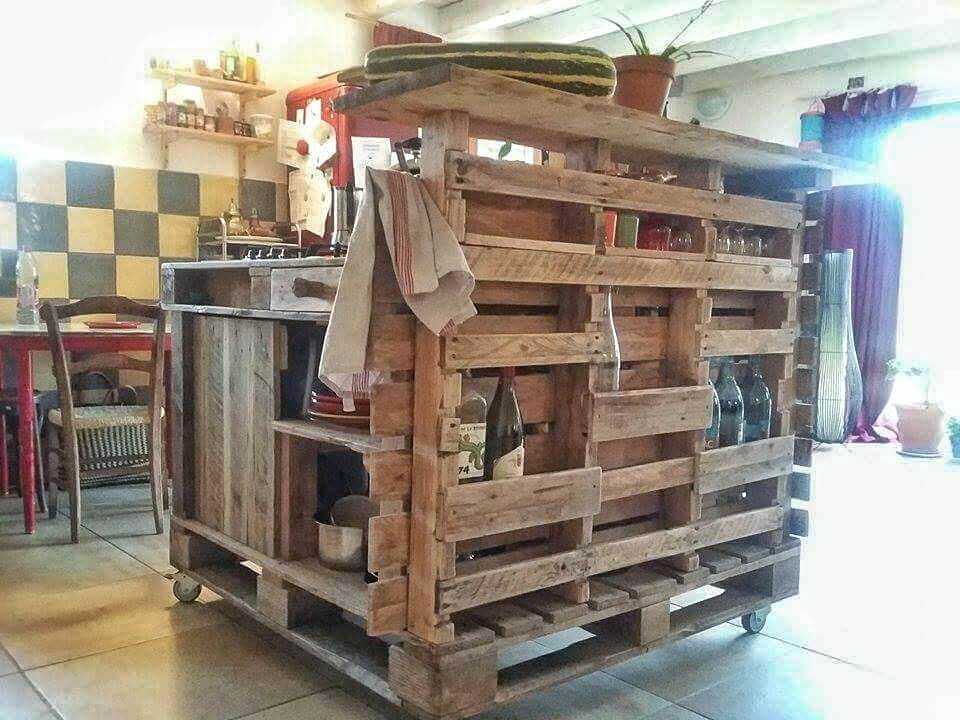 Each side of this rolling kitchen offers clever spaces to store your stuff and also in a neat way! One can also add some hooks to the sides of it to hang some cooking tools and pans easily! This cooking unit can be dragged to anywhere as wheels have been installed to its bottom to move its bulky wooden mass effortlessly!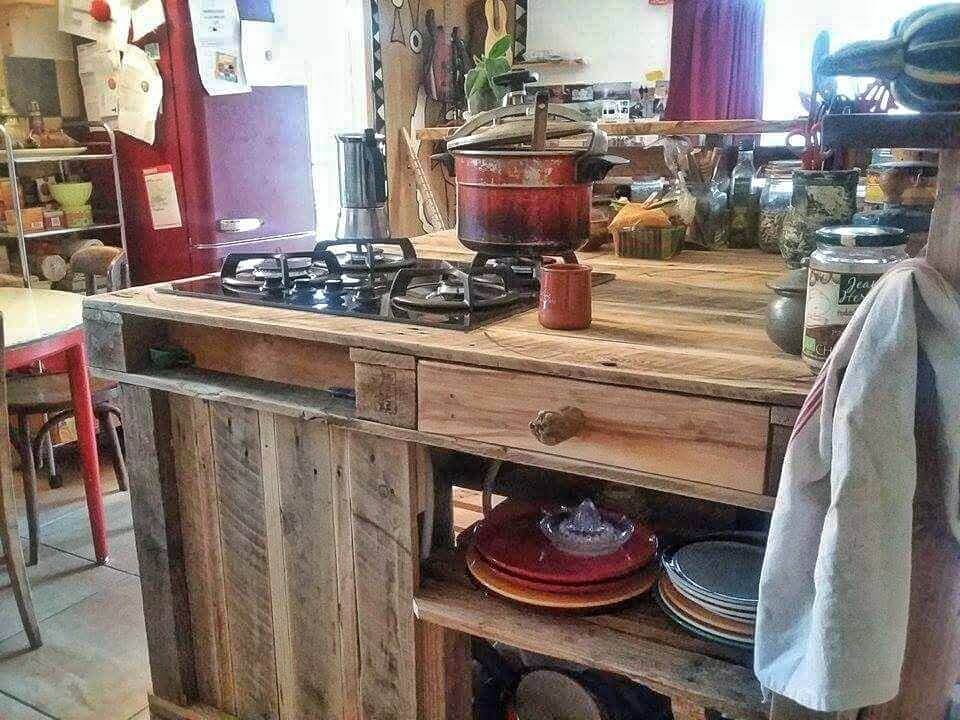 This is a rustic model finished by only sanding a little, the desired look or appearance can be created by making wise use of paint! Multiple paint shades can also be selected for a stylish colorful appearance! Stain coats, polyurethane treatment, and some varnish coats can also be given for a rocking wood tone with a lot of shine on the wood grains! If you need one this is made by Les palettes du coeur.