Playing in the trees while being on height is one of the most enjoyable kids' funs. What makes it possible is a treehouse. So, build one of the best tree houses for your kids with the help of these 8 DIY tree house out of pallets, time to take the pallet wood recycling to the next level. The hardware nature of pallets will ensure long-lasting structures of a treehouse. Going with dismantled pallets will make it all easier to build all from slatted deck to well-cladded walls to a solid chevron roof. Furthermore, plan the remaining pallet slats to build treehouse stairs too. For amazing design inspirations, open up this collection of 8 DIY wooden pallet treehouse plans that will be the best gift for the kids. It will have several different benefits too.
A treehouse, if added with some fun playing stations, will make the best gym for the growing kids. Add them up with slides, monkey bars, and old recycled tires for maximum fun. From a simple box style miniature treehouse to a large bungalow-style treehouse, you will find step-by-step pallet projects instruction and tutorials for all here.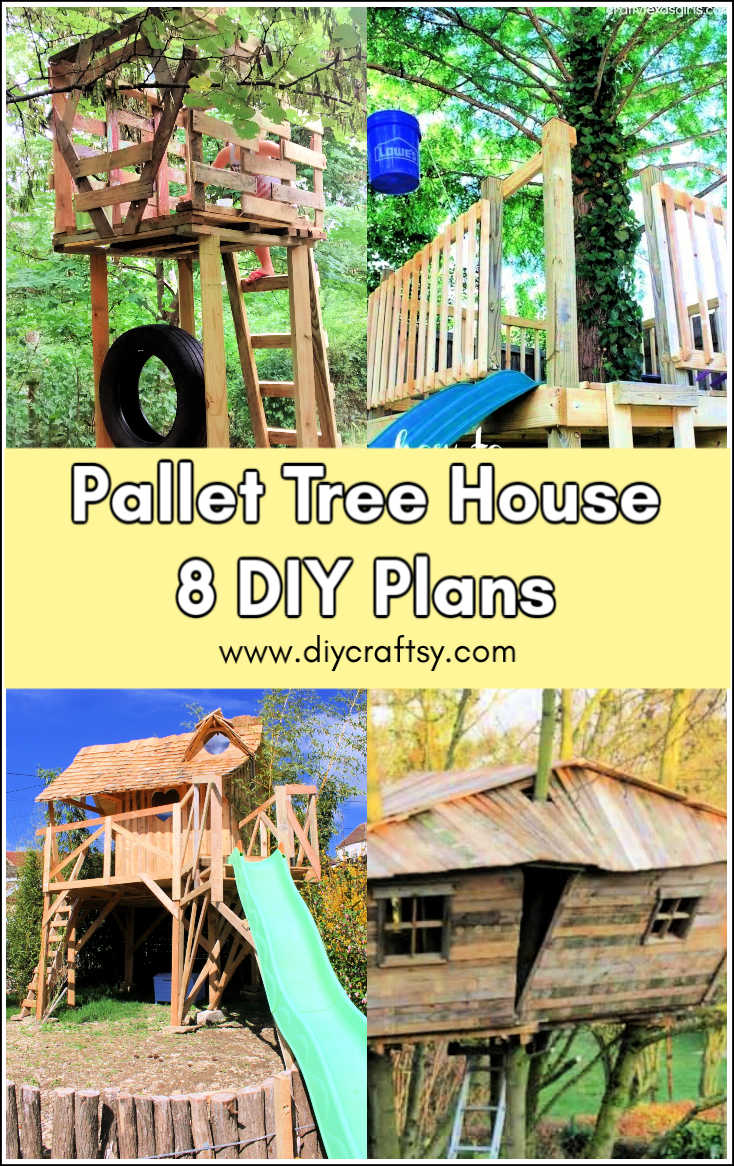 Opt for more substantial wood beams to install well supported elevated tree house decks. Recycled windows will be a smart choice to moderate indoor weather conditions. Chevron shingled and tilted corrugated metal roofs will be ideal. The list of these DIY treehouse plans includes the free plans fitting to every skill level, will put your kids to regular exercise too.
1. DIY Tree House Out Of Pallets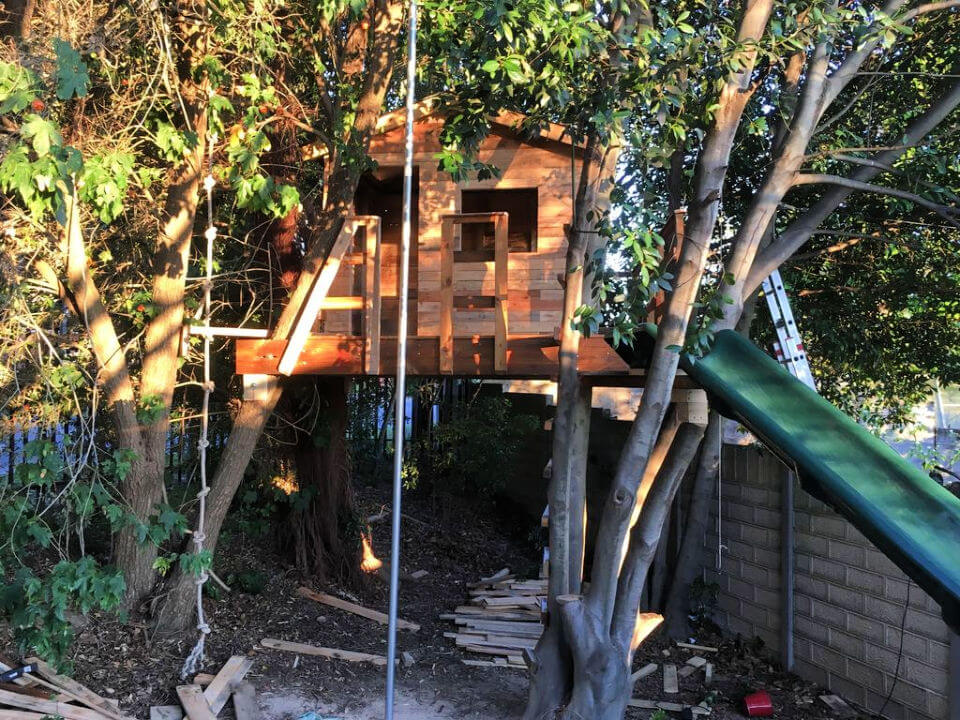 Encourage your kids to spend more time at outdoor by being physically active, by building this wooden pallet treehouse. First, build the deck, next start frame, clad with separated pallet wood slats, and here you go. Along with pallet cladding, you need 38×50 battens, corrugated tin roof, wood beams, glass sliding, and pallet railing, etc.. instructables
2. Build Your Own Pallet Tree House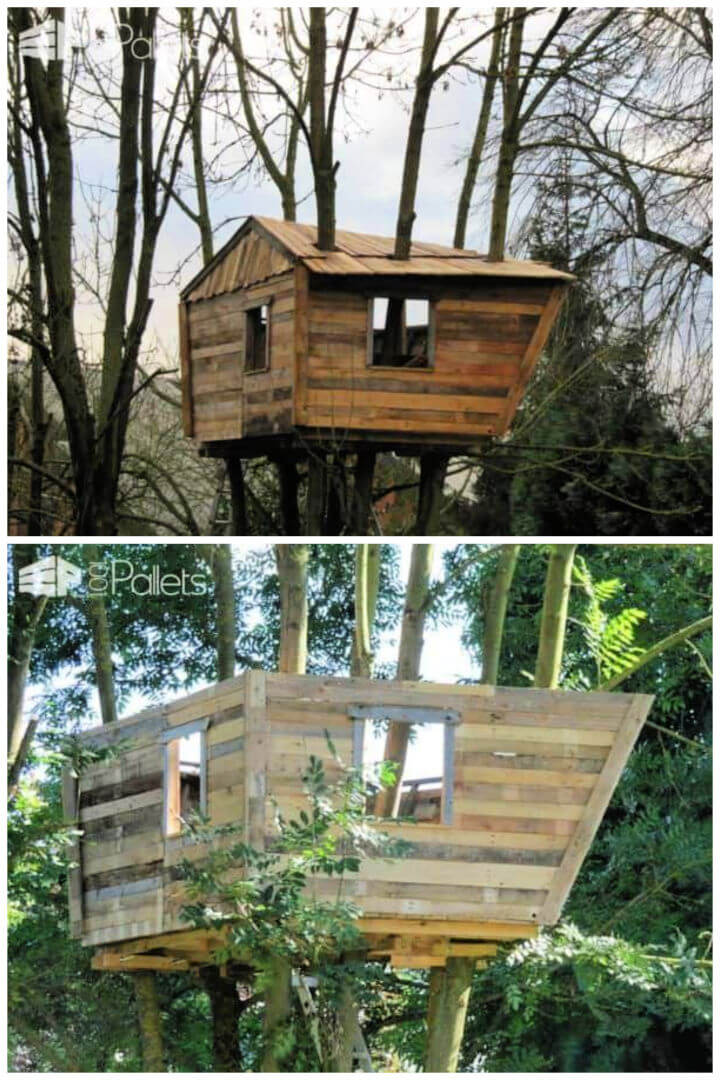 Build a miniature bungalow for kids in the tree, will be the best fun way to boost the physical activities of your kids. The walls fit best among the tree branches. Kids need to climb stairs for an easy reach. Again build first the rough frame, clad with the wall. Start it from making the base or deck floor. 1001pallets
3. DIY Reclaimed Woode Pallet TreeHouse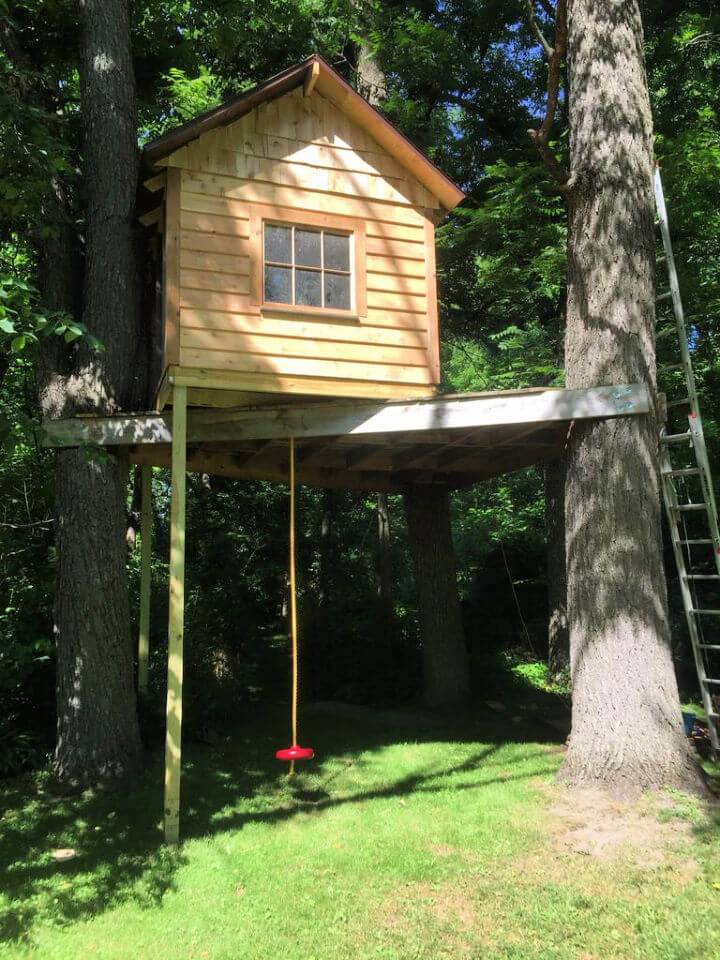 Get ready with a variety of cutting tools, plywood, 2×6, 2×10, 2×4, and 2x8s wood slats to build this long-lasting tree house infrastructure. One of the best fun cave for the kids built like a pro. In features, it provides a fenced deck, a bungalow like the design. Add it up with the glass-paneled windows, and clad with pallet wood slats. instructables
4. Princess Castle Treehouse Out Of Wooden Pallets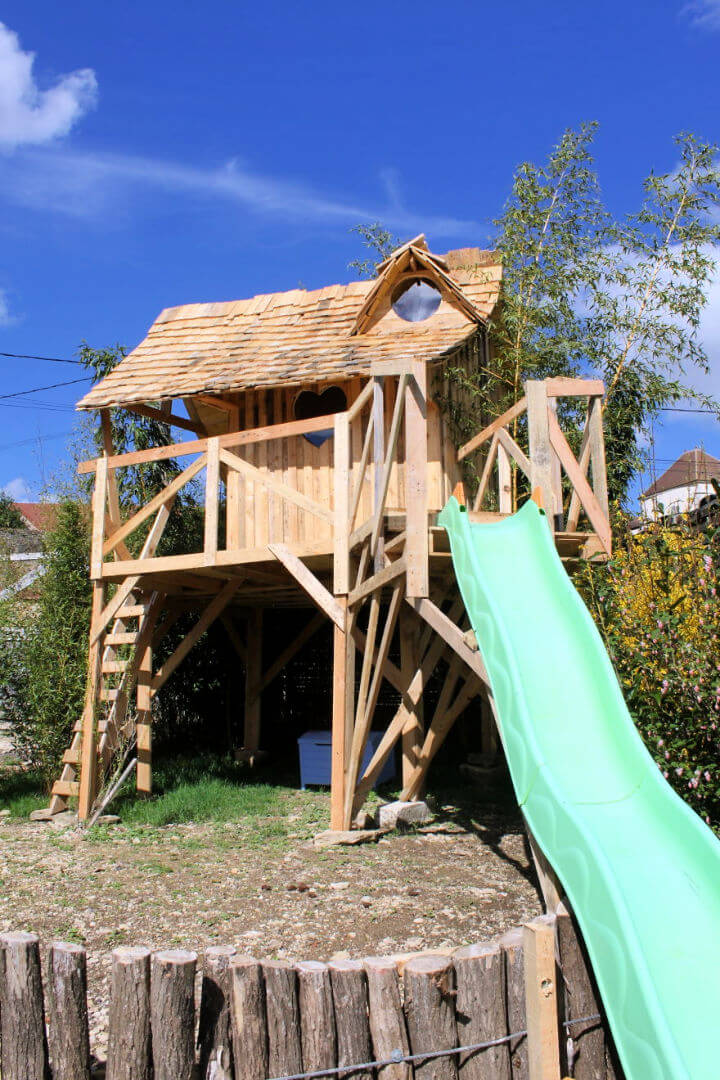 The design will impress with its amazing features. It is all in one treehouse. It will be a playhouse for the kids and a fun treehouse, too, at the same time. Install the stilted wooden beads to build a leveled floor first. Next, raise the sides from ends to build the rest of the house with a chevron roof and fenced deck. Don't forget to add a slide. livestly
5. Adorable DIY Pallet Tree House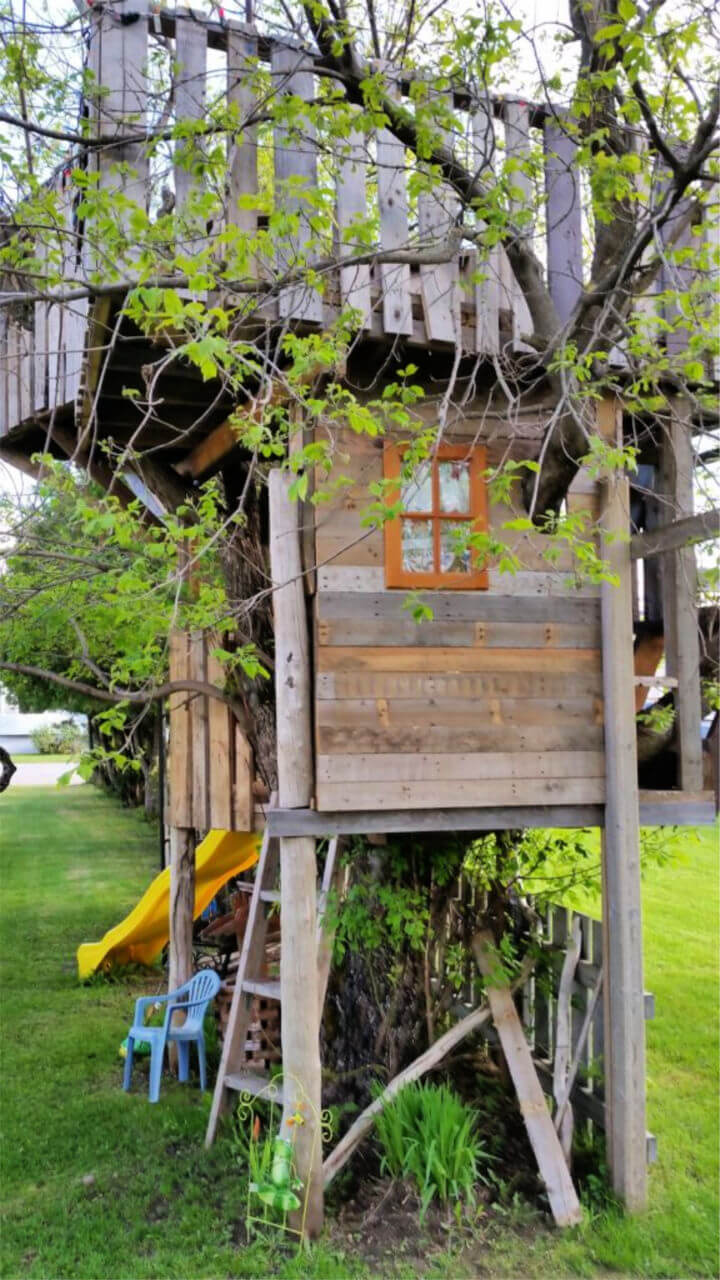 Building a treehouse is the best way to increase the physical and outdoor activities of the kids. Grab the wooden pallets and recycled wood planks from old wooden decks to build this fantastic treehouse design. Pick the leftover lumber too to make the rest of the design. Along with a well-built structure, it provides a slide too. tinkeringwithtony
6. How to Make Pallet Tree House
Learn here all the hacks to build a wooden treehouse from scratch. Get the detailed guides and step-by-step instructions to build this miniature treehouse will rock as a kids' gym too. The project is all about to build an elevated and well-supported box in the trees, build stairs for easy access. Fit the old tires among the leg beams for kids hanging. belleofdirt
7. DIY Small Space Pallets Tree House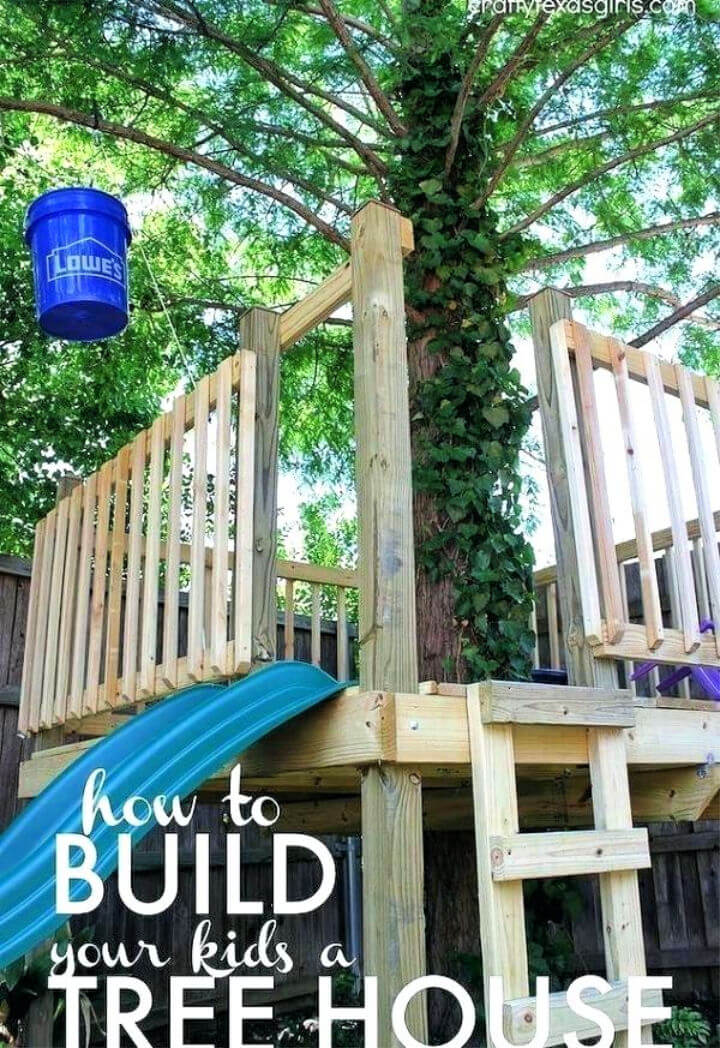 There is a variety of treehouse design that one can build quickly with free recycled pallets. Use the heavier 4×4 wooden beams to support the treehouse deck. Build the floor, and add safety grills all around, make them quickly with separated pallet wood slats. Plan the pallet slats to build the wooden stairs too. Details here
8. Turn Old Pallets into Tree House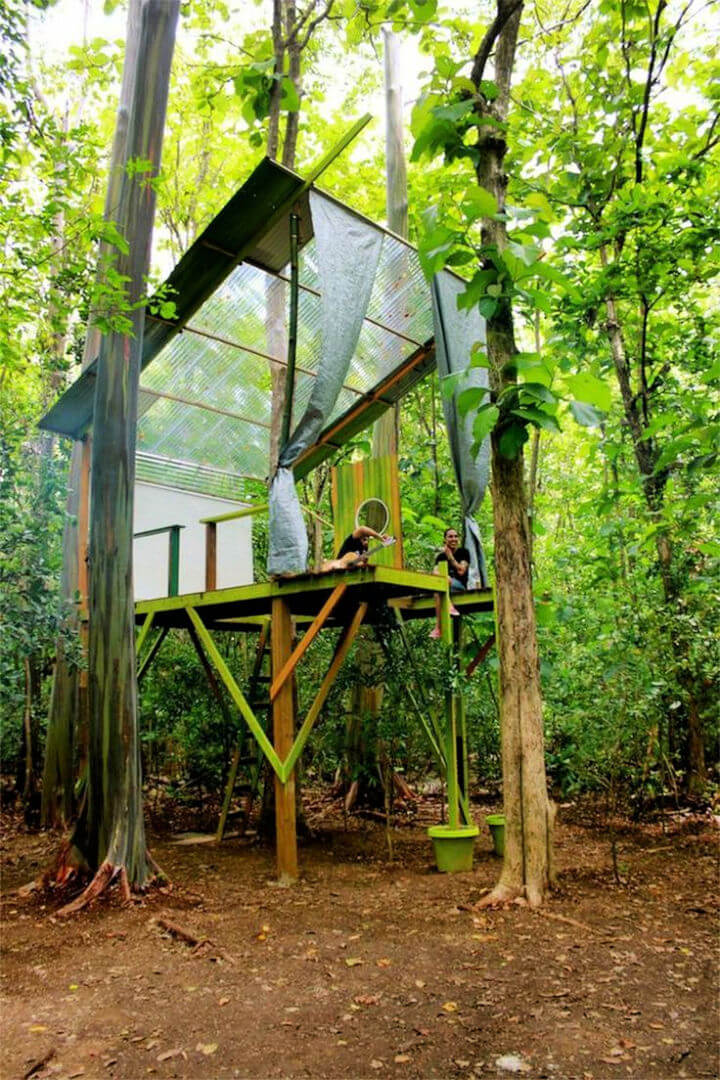 A big thanks to old pallets for this one of the most beautiful treehouse designs. This design comes with a waterproof transparent roof. You can select a corrugated metal roof too. Next, the design impresses with curtains that add privacy. Install braces to support the structure more in place. Paint or leave blank.