Dogs just like it to live among the human beings and this shows how much they are social in nature! It is also the reason behind that dogs are most adopted pets! Many of us are having dog pets of different breeds! If you are also wishing to have a friendly dog as the pet then probably the very first need would be to get a dog house! Avoid buying the dog houses as you can build the same luxurious one at home using free wood sources like pallets! To help you more in understanding how easy it is to build a pet house with pallets, we have brought here this DIY pallet dog house step-by-step tutorial that will guide you through all the basic and complicated constructions steps! Start building this dog house by building the base first, select an uncut solid pallet as a base and makes it look smoother with a plywood overlay!

By keeping the size and dimensions of the dog house in mind, start building the basic skeleton using slats of pallets, would contain solid pillars and cross beams! Finish the frame by filling solid using more pallet wood and don't forget to apply the stain coats for better visual and weather-protection!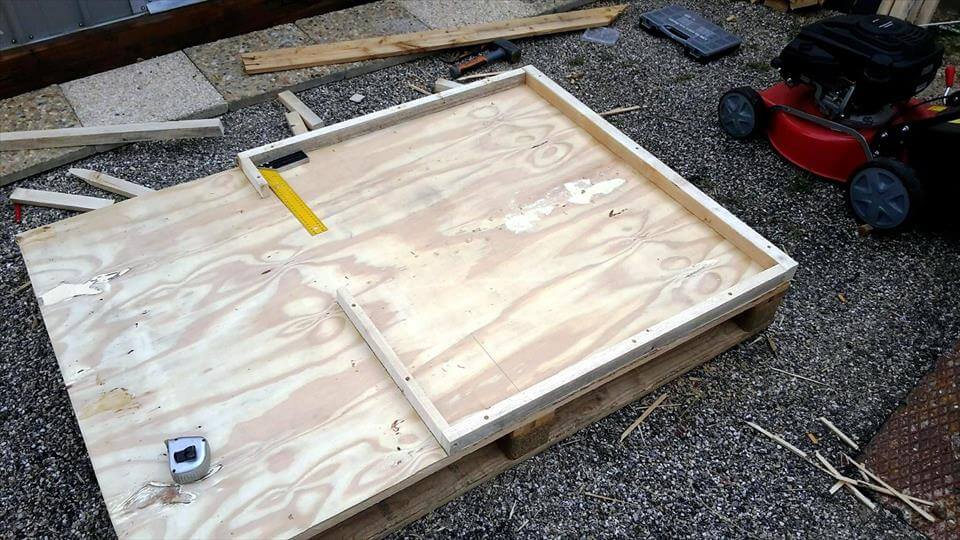 Take a complete pallet board and combine it with a plywood sheet overlay for extra smoothness! Size of plywood sheet must be equal to size of selected pallet board!
Now leave the space for front veranda and put the raised wooden boundary around the rest of base as you can see! Keep the measuring tape and angled rule in hand to add precision to your work!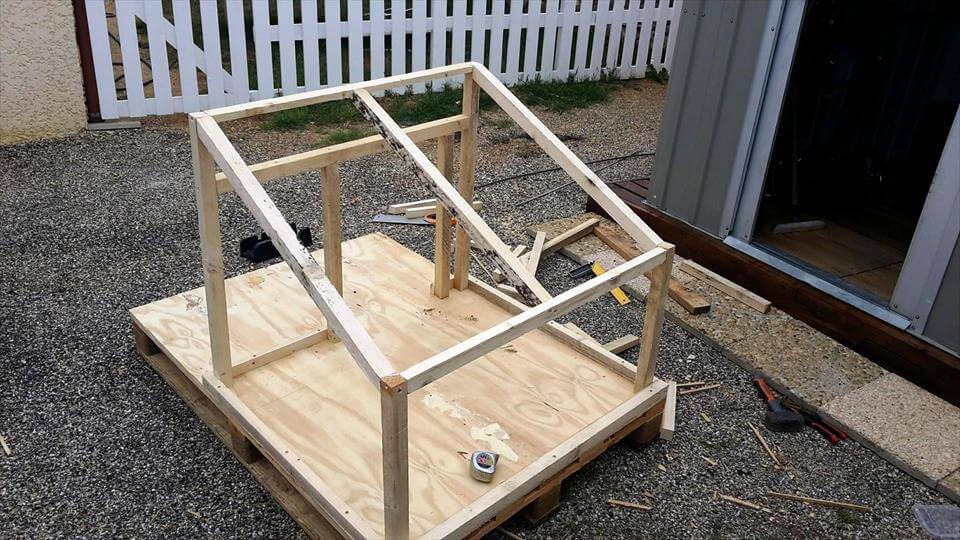 Decide weather you want to have a tilted roof or a raised balanced roof! All you need is to shorter the length of back pillars to desired extent! On the other hand, raise the back pillars equal to front ones to gain a balanced flat roof! Tilted roof would be recommended as it has additional benefits like it would not allow the retaining of rainwater!
After you decide the design of the roof, connect the back pillars to front ones using durable wooden cross beams! Use an extra one in the mid to ensure sturdiness of the roof!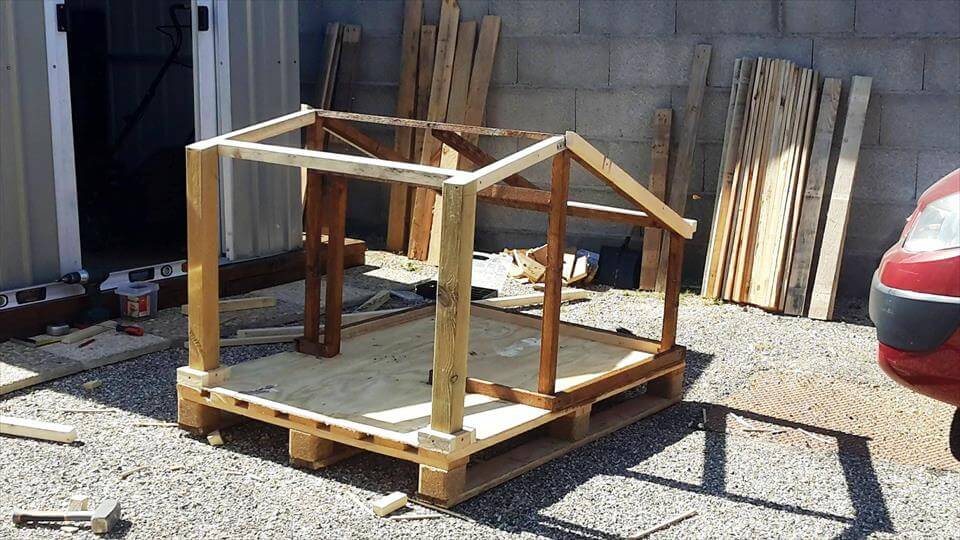 After ensuring the stability of doghouse frame, install next the pillars for veranda and join them to roof pillars using wooden cross beams! Rummage around to gain thicker wooden lengths from home to use as front veranda pillars as it require more stability!
Here doing little things will matter a lot, small square shaped supports underside the pillars bring a stylish sense to entire design!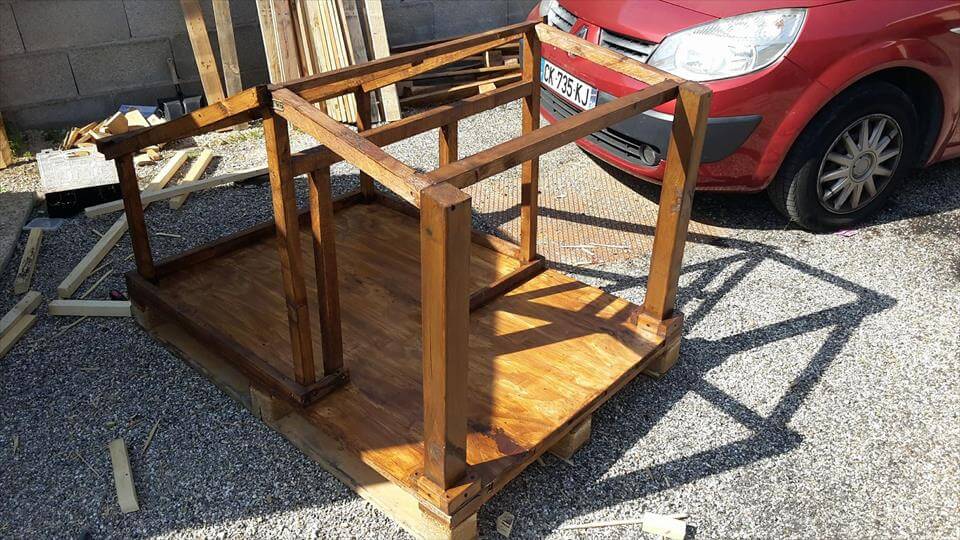 Make sure that you have all the attachments correctly! Go for a little inspection and start staining the dog house frame after your satisfaction about the joints!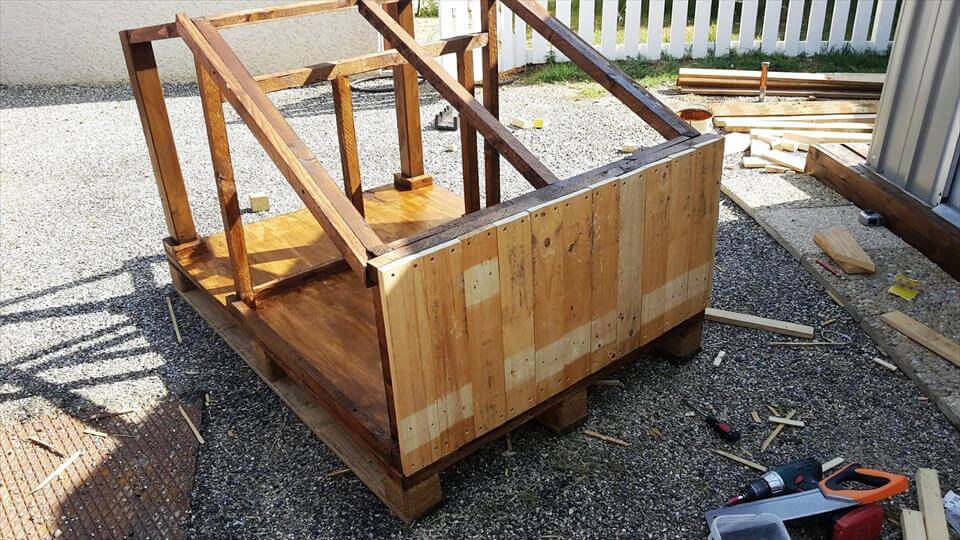 Double up the thickness of the side and back cross beams by providing layering one more wooden length! These extra wooden supports should have a little extra size to cover the corners perfectly!
After adding extra braces and cross supports, start filling the the sides and overall frame with straight removed pallet planks!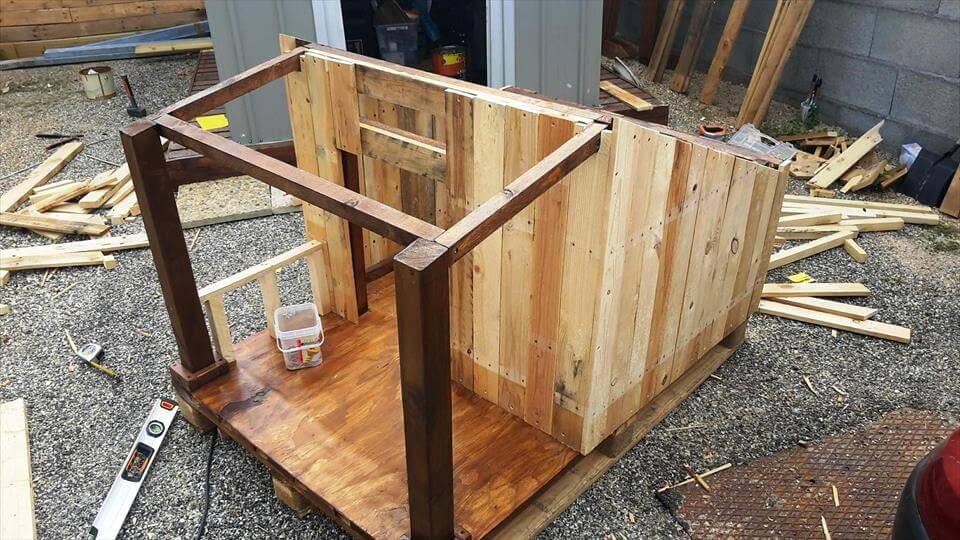 Starting from the lower back side, fill up the entire frame solid except the front veranda! Decide the size of front entrance and just leave that measured space unfilled!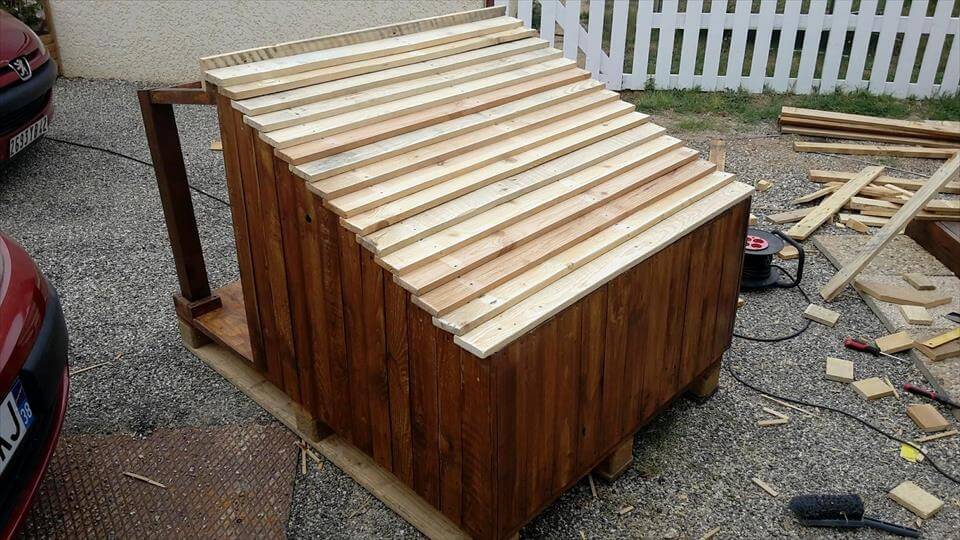 Time for the shingled roof! Start from low back side, start arranging the pallet slats flat just like the stair steps! Finish it up when you reach the peak!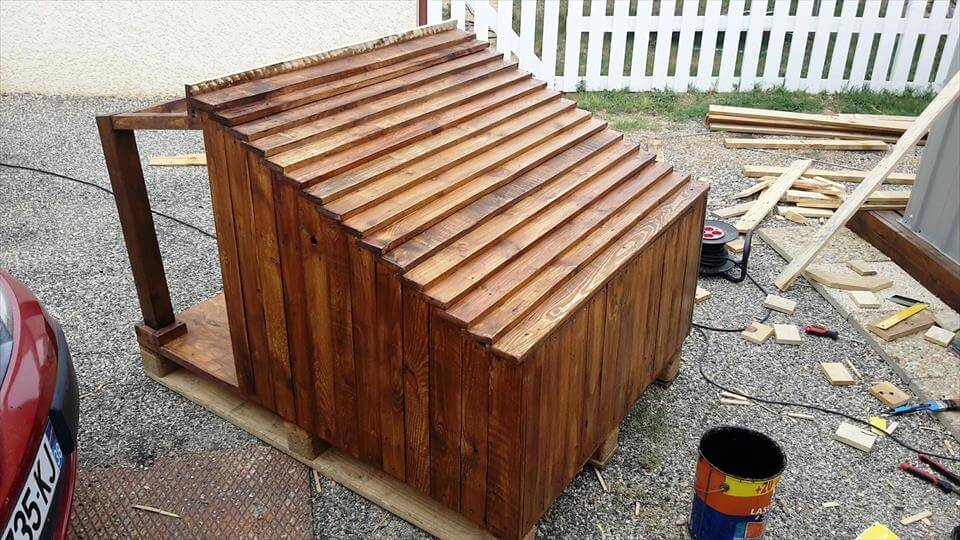 Again pick the stain bucket and tools and start staining the shingled roof! Apply coats equal to number of coats you have applied already to rest of the design!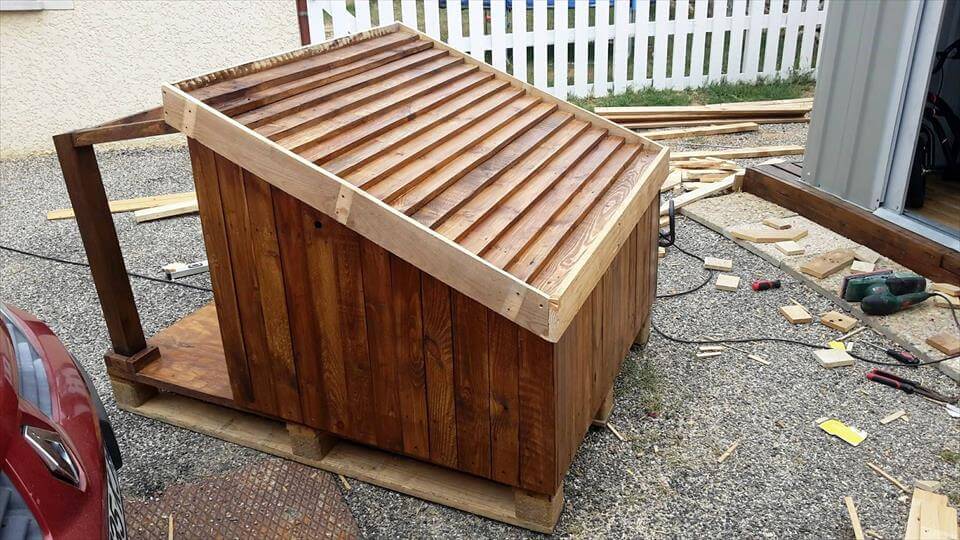 Next step would be to go for side trimming of shingled roof!! Pick more of pallet slats and resize them to fit right to each side of the tilted roof!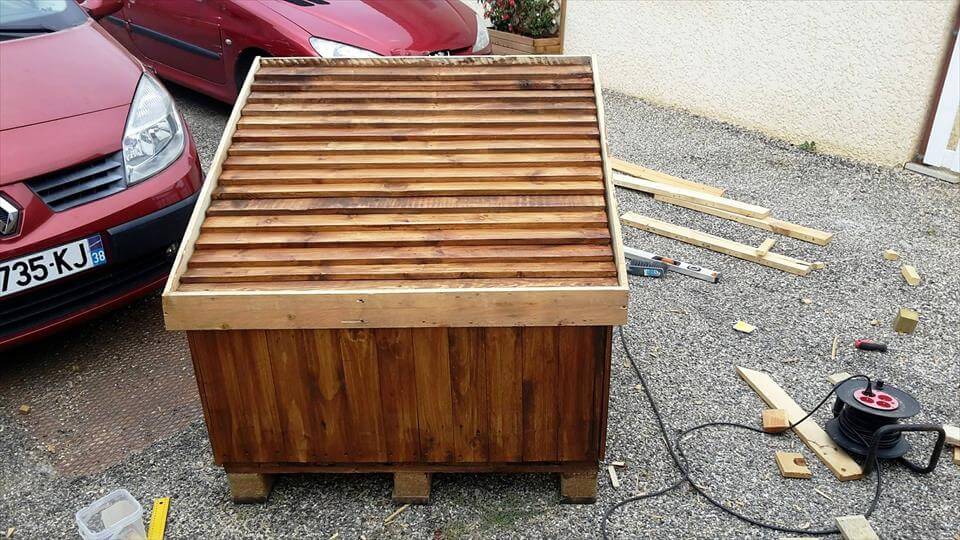 Trim down the access of edges and try best to gain the neatness!!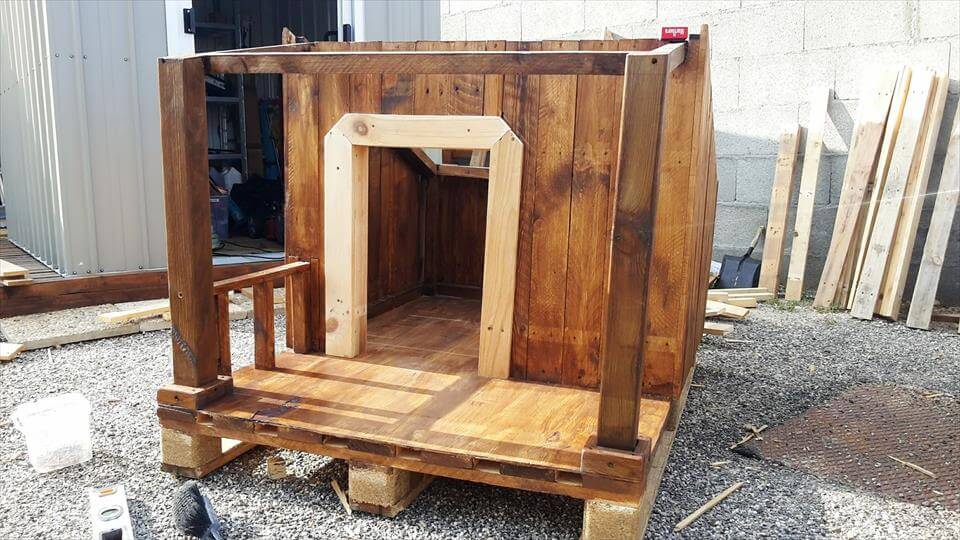 Install the entrance frame and also the one side fence wall of the veranda!! Both would be easy to plan using dismantled pallet slats!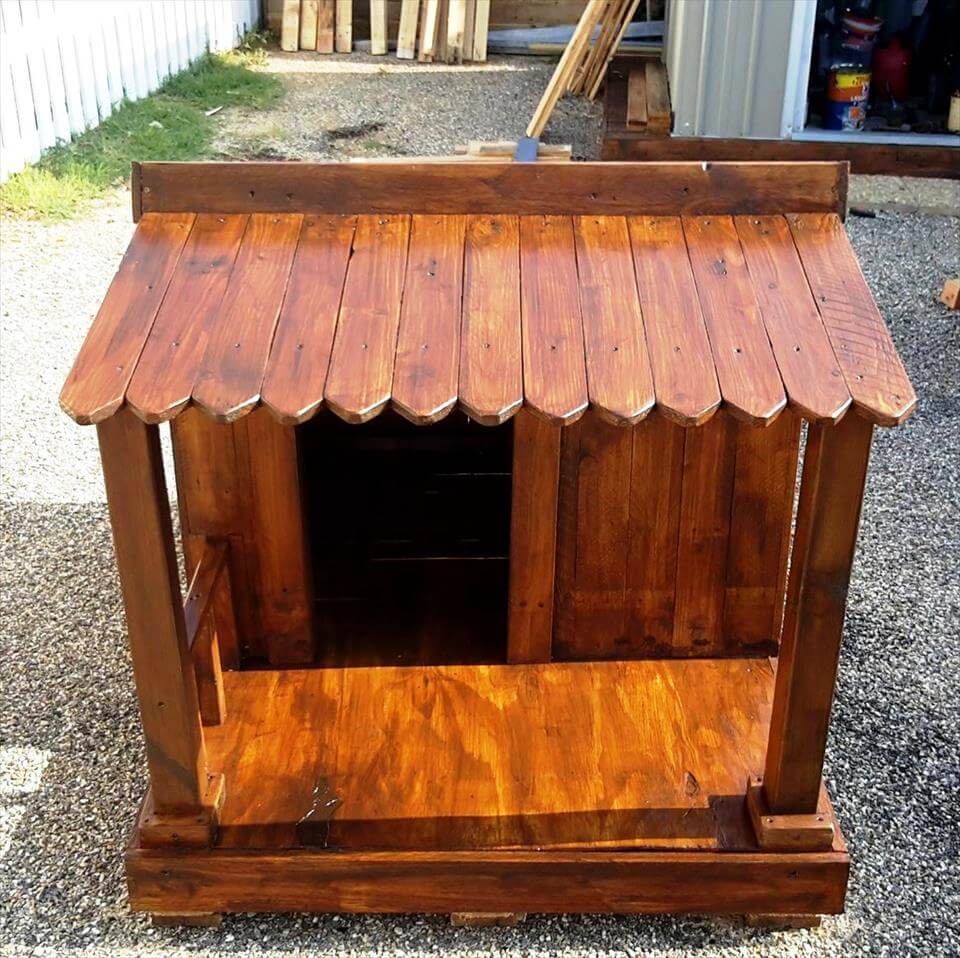 Build the veranda roof or shelter by putting flat slats of pallets one by one after getting them resized! Keep the front edges of veranda roof in V-shape just like a wooden fence! This would bring prominence and artistic vibe to entire design!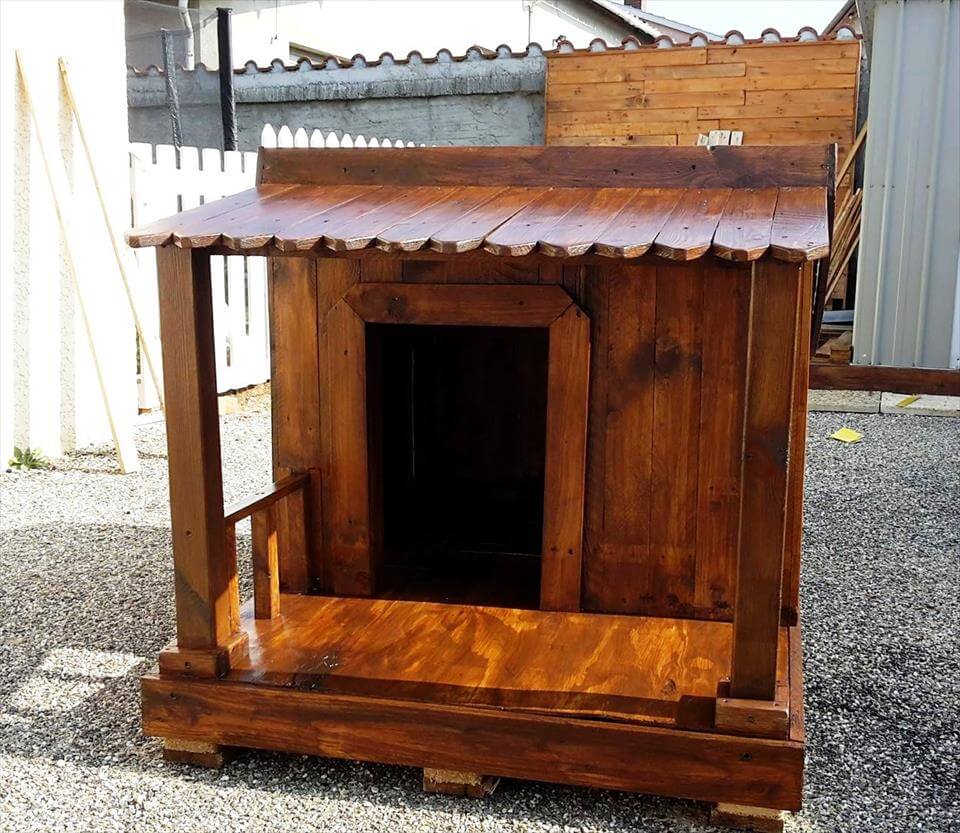 Stain well also the roof of veranda and just gift it to your dog!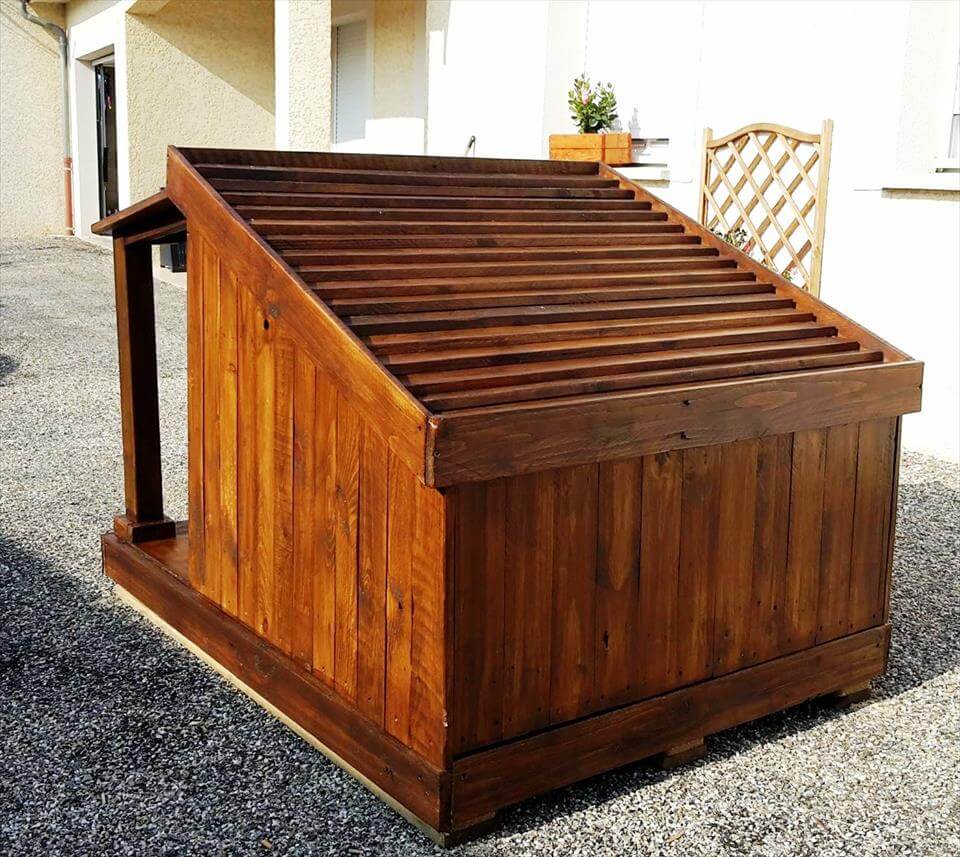 Perfect dog kennel or pet house one can build with hands!!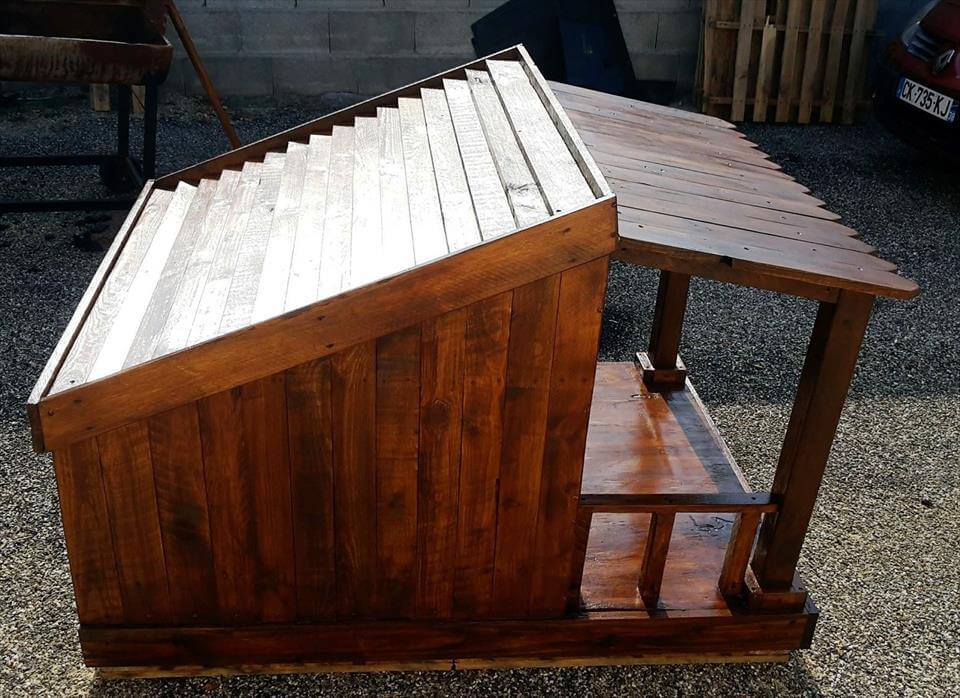 The blasting good news is that you will get it with a zero investment! It is all a wallet-friendly pallet project!!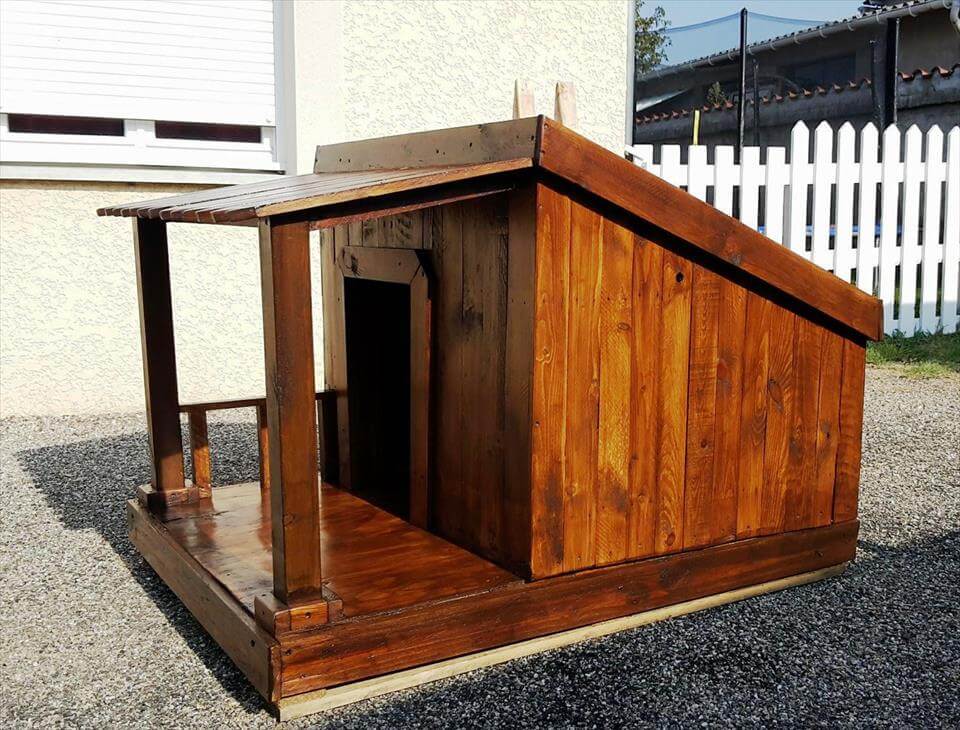 Don't forget to seal the wooden surfaces after staining for necessary shine and crystal clearance and also for long lasting weather and water protection!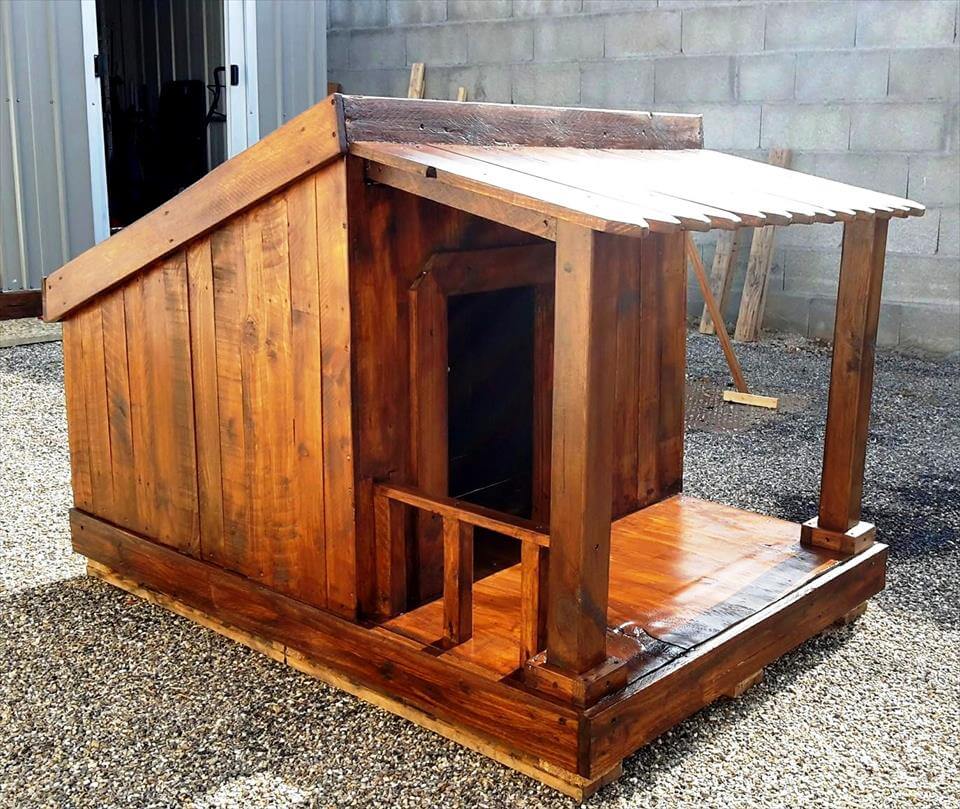 Add this precious ever dog house in your list of weekend's DIY projects and do clone it for your pet friend! It would be make an ideal house also for the cats!
Made by L'atelier de la palette – idées, déco, fabrication, vente