Learn how to make a bed from pallets with these 30 free DIY pallet bed frame ideas and plans, including step by step instructions for beginners. You might want to consider using pallets to make a stunning bed frame that will add style and personality to your space. Pallets are cheap, versatile, and easy to work with. You can paint them, stain them, or leave them natural for a rustic look.
You can also customize pallet beds to fit any size of mattress, from twin to king, and add features like lights, storage, or a headboard. Whether you want a cozy twin bed, a spacious queen bed, a romantic pallet bed with lights, a simple platform bed pallet, or a majestic king size bed frame, you can find a pallet bed idea that will inspire you. Find 30 amazing DIY pallet bed frame ideas that you can totally do yourself.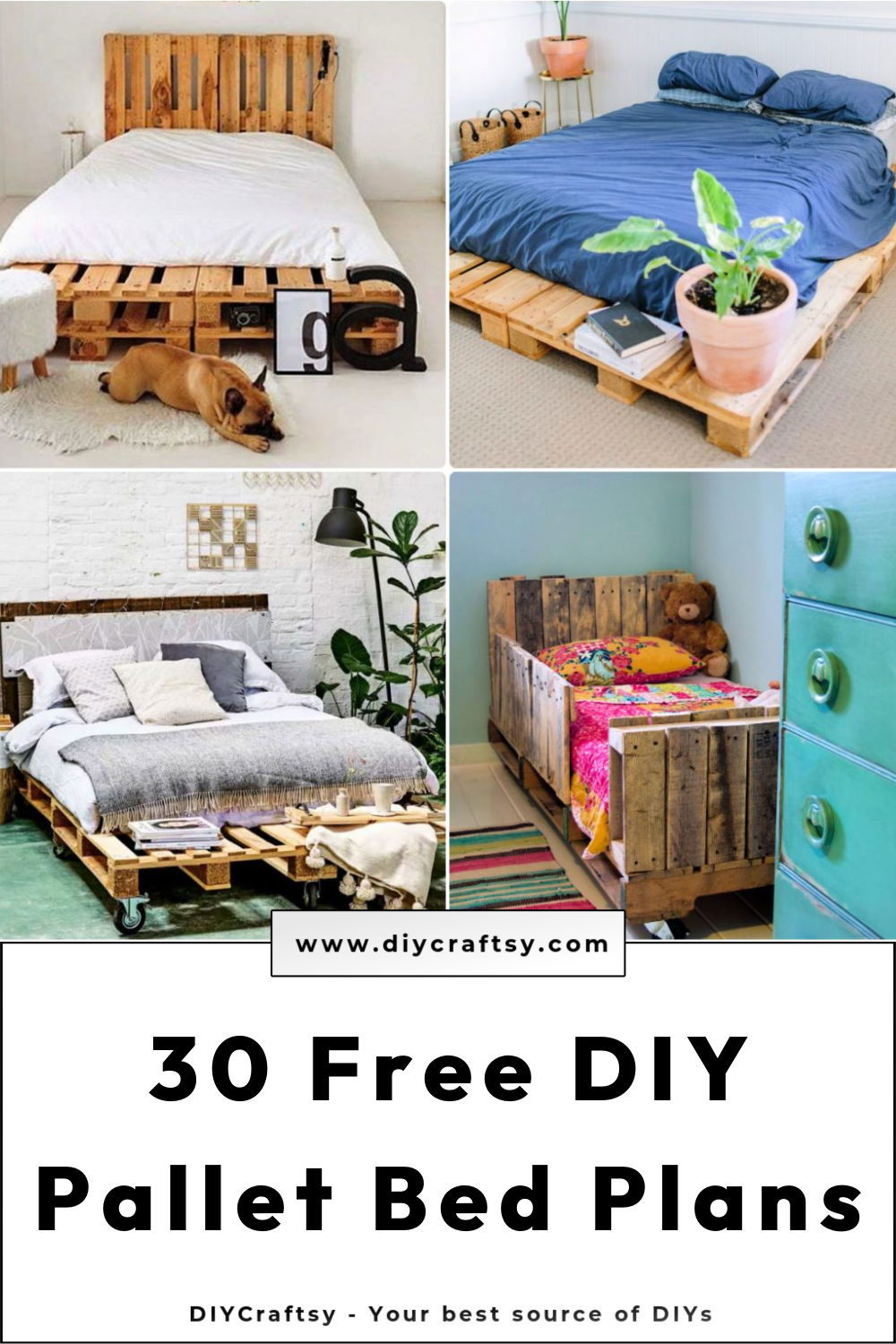 DIY Pallet Bed Frame Ideas and Plans
Using old pallets for your bed frame or furniture is very eco-friendly and sustainable. Pallets are made of wood that would otherwise go to waste or end up in landfills. By recycling them, you are saving trees and reducing your carbon footprint. Plus, wooden pallets have a unique charm and character that will make your bedroom feel cozy and inviting. You can find pallets for free or cheap at local warehouses, stores, or online marketplaces. Just make sure they are clean and safe to use before you bring them home.
The pallet bed frame is easy to assemble and customize. You don't need a lot of tools or skills to build a pallet bed frame. All you need is free pallets, a power drill, some wood screws, sandpaper, and maybe some paint or stain. You can follow one of the many pallet bed frame ideas or get creative and design your own. Also, you can make your pallet bed frame as simple or as elaborate as you want. You can add a headboard, footboard, drawers, shelves, lights, or even a canopy. The pallet beds option are endless!
Transform your sleeping space into a cozy sanctuary with our DIY pallet bed ideas. These DIY pallet bed ideas and plans, complete with step by step guidance, will become your go-to resource for crafting a comfortable and perfectly personalized sleeping space. Let's explore these pallet bed ideas right now!
1. DIY Pallet Bed Frame King Size
Make a budget-friendly and stylish bedroom with a DIY pallet bed. This simple yet trendy king size bed frame pallets option won't cost you a dime and is super easy to make. In this article, we share tips on choosing the right pallets, such as opting for the 4-way block pallet for added support and storage space.
Once you have your pallets, sand them down to remove splinters, and consider painting them for a personalized touch. Assembling the bed is a breeze, with four pallets making up a queen-size bed.
Add a cozy rug underneath and top it off with a comfortable mattress and soft linen sheets to complete the look. Get ready to transform your bedroom without breaking the bank! collectivegen
2. How to Make a Wooden Pallet Bed
Make the bedroom of your dreams with these beautiful pallet bed ideas that showcase the endless potential of reclaimed materials. Learn how to build your chic and eco-friendly DIY pallet bed with this simple guide that's easy to follow. In line with the growing trend for recycled materials, this project allows you to transform four identical pallets into a stunning bed frame.
Suitable for beginners and seasoned craftsmen alike, the project requires basic tools like a tape measure, electric drill, and sander, as well as materials such as pallets, wood screws, castors, and chalk paint.
With gradual instructions and helpful tips, you can build a loft-style Scandi-inspired bed that brings a touch of cool elegance to your bedroom. Let your creativity shine with this eco-friendly and budget-friendly project! idealhome
3. Recycled Pallet Daybed Plan
Transform your rooftop terrace into a cozy and stylish retreat with these movable DIY daybeds made from pallets. Whether you want a spacious lounging area or separate seating for outdoor meals, this versatile design covers you. Gather your supplies, including two pallets, a drill, self-tapping screws, wheels, exterior wood paint, and sandpaper.
After cleaning and sanding the pallets, paint them with your desired color. Attach wheels to easily move the daybeds around your terrace while ensuring stability with wheels that have brakes. Complete the look by adding comfortable floor cushions.
Sit back, relax in the sunshine, or enjoy breathtaking sunset views over the sea. Get creative and take your outdoor space to the next level with this affordable and stylish pallet daybed project! essenziale
4. DIY Wood Pallet Bed Frame
Design an affordable and charmingly rustic bohemian bedroom with a DIY wood pallet bed frame. This creative project is perfect for renovating and decorating on a tight budget. Start by sourcing wood pallets from hardware stores or other locations. Cut each pallet in half to adjust the width to fit your mattress.
Join the pallets together at the center braces using screws to ensure stability. Once completed, place your mattress on top for an effortless boho vibe. This project adds charm to your space and saves you money. Get inspired by this project and indulge in the rustic beauty of this bed. thewonderforest
5. Make Pallet Twin Bed for Kid's Room
Have a unique and space-saving bed with this DIY pallet twin bed project. This platform-style bed is perfect for small rooms or growing families and uses wooden pallets on casters. The author shares their creative process of making pallets and provides step-by-step instructions.
The bed frame is customized with a specialty-sized mattress from IKEA to fit your needs. This guide includes a list of materials, such as wood, screws, casters, and paint, as well as helpful tips and measurements for different mattress sizes. Build your custom bed and optimize your space with this creative and practical pallet bed. projectnursery
6. How to Make a Bed Frame Out of Pallets
Upgrade your sleeping quarters with these eco-friendly pallet bed ideas that blend form, function, and environmental consciousness. Transform pallets into your dream bed frame with this easy DIY project – comfortable, stylish, and effortless! No need to spend a fortune or be an experienced carpenter. Start your new adventure today and enjoy a good night's sleep! You can construct a unique and cost-effective bed frame with just seven standard EUR pallets and some basic tools.
Start by sanding the pallets to smooth their rough surfaces, ensuring a comfortable sleeping experience. Trim and round the edges for a polished look. After applying a fresh coat of white paint, connect the pallets using metal corners and screws.
Once assembled, your cozy bed is ready for a new mattress, providing a cozy and stylish addition to your bedroom. Sleep in comfort and enjoy your handmade creation. instructables
7. Platform Pallet Bed Ideas
Explore our collection of pallet bed frame ideas that cater to every design preference, from minimalist to bohemian styles. Discover how to transform your bedroom with a fresh and mature vibe in this DIY room makeover. This platform bed from pallets offers a bigger, more cozy space to relax with a cost-effective option by purchasing four old pallets for $50.
To start building, cut two pallets to fit the desired dimensions and prepare them by cleaning and sanding. Then paint the pallets with white Taubmans Endure low-sheen paint, enhancing the rustic charm. The final result will exceed expectations.
The project showcases an affordable bed, adding the perfect finishing touches to the room. If you're looking for a budget-friendly and creative room makeover, this transformation provides inspiration and ideas to revamp any space. honeynfizz
8. DIY Toddlers Pallet Bed on Wheels
Discover the art of building a delightful and pocket-friendly pallet bed for your toddler with our detailed DIY tutorial. Perfect for repurposing pallets, this project requires minimal supplies and tools. The step-by-step instructions guide you through the process, including sanding the wood, cutting the pallets to size, and attaching bolts and casters for stability.
This guide also explains how to construct the headboard and footboard, providing helpful tips for reinforcing the slats and attaching side rails if desired. Complete with personal insights and a friendly tone, and this tutorial offers a creative and cost-effective solution for crafting a unique bed for your little one. loridanelle
9. Simple DIY Pallet Bed
This simple DIY project uses standard EUR pallets to add a cozy elegance to your bedroom. Follow these easy instructions to build your dream bed! Two people can design and build a stylish bed frame for a 160 cm x 200 cm mattress in just four hours. Ensure your pallets are safe and free from harmful substances before use.
Follow the step-by-step instructions, including cutting the pallets to the desired size, sanding the surfaces and edges, and attaching rubber or felt pads to the bottom of the pallets. Finally, assemble the bed in your bedroom and place the mattress on top.
Let children tenderize the mattress by jumping on it to ensure its comfort. Transform your sleeping space into a cozy haven with this creative and affordable pallet bed project. instructables
10. DIY Pallet Bed With Attached Night Stands
Unveil the secret of transforming free pallets into a comfortable, stylish sleeping space. You can construct a stable DIY bed frame with built-in bedside tables and storage cubbies with just a few simple steps. This creative project proves that bedroom furniture doesn't have to be expensive.
You can find free pallets in good condition at various locations, such as lumber yards, big box stores, or industrial areas. Simply stack the pallets, arrange them for stability, and voila! You'll have a unique and comfortable bed frame. Add some mini white Christmas lights underneath for a charming night-light effect.
Get creative with painting and distressing the frame, and consider adding glass tabletops for a touch of elegance. The possibilities are endless; the best part is it's completely free! So, indulge your creativity and rest in your pallet bed frame. foodjunkie
11. Building a Pallet Daybed – Step-By-Step Instructions
Unearth how to build a DIY pallet daybed and create a cozy outdoor retreat in your backyard. This project is perfect for those looking to save money on outdoor furniture without compromising comfort and style. The author shares their experience building a pallet daybed with wheels for easy mobility and arms for added comfort.
The project requires standard-sized pallets, which can be obtained from local pallet distributors, along with basic tools and supplies such as sanding discs, bolts, nuts, and washers. This guide provides step-by-step instructions on sanding the pallets, attaching them, adding casters, and treating the daybed for outdoor use.
Additionally, the author suggests using pipe and flange to make sturdy arms for the daybed. With creativity and some DIY skills, you can build your pallet daybed and enjoy the outdoors in style. prettyprudent
12. Farmhouse Pallet Bed With Rolling Trundle
Recast your child's room into a cozy oasis with a dreamy DIY farmhouse bed made from pallets! This project is not only cost-effective but also environmentally friendly. Using reclaimed pallet wood, you can add a little touch to the bed's headboard and footboard.
The step-by-step guide, complete with detailed measurements and cut lists, ensures that even beginners can easily tackle this project. The bed design includes a flat bottom for the mattress to rest on, eliminating the need for a box spring.
Additionally, the article highlights the impressive features of the dream bed collection from Mattress Firm, including a cooling layer that disperses body heat for a comfortable night's sleep. Experience the joy of creating a unique and cozy space for your child while supporting a charitable cause. infarrantlycreative
13. Make Your Own Pallet Swing Bed
Dive into a cozy oasis with a DIY pallet swing bed. Enjoy the ultimate relaxation spot just steps from your door! This easy and quick project requires pallets, 2 x 4 lumber, a drill, screws, a saw, measuring tape, rope, a mattress or cushion, and vinyl zippered mattress covers.
Simply measure the size of your mattress, assemble the pallets, add other boards if needed, and secure everything with screws.
Drill splits in the corners of the pallet, thread the rope through, and tie it securely to a tree. Enclose the mattress with vinyl covers for protection. Enjoy lazy summer days swinging and lounging in this dreamy, cozy swing bed. themerrythought
14. DIY Patio Daybed With Wood Pallets
Time to get that DIY spirit flowing and make the perfect place to relax with your patio day bed made from wood pallets! Perfect to make a cozy and budget-friendly outdoor seating area. You can save on other wood by using four pallets of the same size, double stacked and secured with screws while ensuring sturdiness.
Cover the front and side with local mill planks to make a polished look. To find a suitable mattress topper without breaking the bank, repurpose a foam mattress from a folding guest bed. Add an attractive facing with six planks and utilize the extra space to create a built-in table.
Finish the wooden bench with two coats of water-based fence paint. Look for stamps on the sides of the pallets, avoiding any marked with 'MB' or 'DBMB,' which indicate pesticide treatment, while those marked 'HT' have been heat-treated to kill organisms and are pesticide-free. lovelygreens
15. DIY Underlit Pallet Bed
Discover eco-friendly and budget-conscious pallet bed frame ideas that effortlessly combine style, comfort, and sustainability. From construction to comfort, this DIY underlit pallet bed is ready to set the mood for an evening of relaxation! Designed for a full-size bed, this project combines salvaged pallets and creative craftsmanship. Begin by planning the bed layout on graph paper and dry-fitting the pallets. Adjustments may be necessary, but that's part of the fun!
Assemble the bottom of the bed, adding legs made from 2×6″ lumber for support and elevation. Once the structure is secure, it's time to paint. Incorporate a string of lights between the boards to add a touch of ambiance.
For the headboard, varnish and attach a pallet, extending its width with an additional half pallet. Install a power strip and phone charger for convenience and attach lights inside the headboard. For the footboard, use a combination of pallet wood and filler pieces, sanding, varnishing, and adding lights.
Drill holes and insert glass marbles to enhance the design, allowing the light to shine through. This bed is a cost-effective and creative project that will impress your guests and provide a comfortable night's sleep. instructables
16. Building a Daybed Using Two Pallets
Putting together a pallet daybed is easy, with just two pallets and some DIY creativity! Begin by acquiring two free pallets and attaching them with bolts. Install legs for stability and add small wheels for easy mobility. Enhance the swing's stability with skirt boards and attach cedar picket boards to hold the PVC rail.
Assemble and paint the 1 1/2″ PVC pipe in a vibrant apple-green color. Attach the rail and place a twin-size air bed as the swing seat. Complete the swing by staining the wood and covering the air mattress with a painter's drop cloth. Sew matching pillow covers for added comfort.
Finish the rail system using fittings that can be screwed or threaded onto the wood, and connect the remaining pipe, elbows, and T fittings with glue. This project is a creative and affordable way to enjoy the outdoors while lounging on your unique pallet swing. ondawaytosomewhere
17. DIY King Size Pallet Bed
Be the king of your bedroom with a DIY king-size pallet bed! Create the perfect retreat in your bedroom with this project. This project is not only creative but also budget-friendly. Gather four pallets and base lumber to construct the frame, ensuring the desired height and stability.
No nails or screws are needed for assembly, simplifying the process. Adjust the height of the base to suit your preference and accommodate your furry friends. Use peel-and-stick carpeting or any material that suits your style to add comfort. Protect the mattress by laying an old sheet over the pallets.
Once complete, enjoy a spacious and cozy bed for you, your spouse, and your beloved pets. Let your inner decorator shine by adding your personal touch to this versatile project. Get inspired and enhance this idea to suit your unique taste. instructables
18. Outdoor Hanging Pallet Bed Design
Take outdoor relaxation to the next level with a cozy hanging DIY pallet bed design! Using free pallets, you can construct a unique swing that adds character to your backyard. Ensure you find two identical pallets and check for any chemicals that may have been used on them.
After measuring and securing the pallets with 2×4 boards, build a sturdy frame to support the swing's weight. Drill holes for the rope and choose a strong, weather-resistant option. Consider painting the swing before hanging it, and use a stopper knot for easy adjustments.
Finally, decorate the swing with pool noodles for comfort and attach outdoor cushions and pillows. Enhance the ambiance with LED solar string lights for cozy evenings outdoors. Get ready to relax and enjoy your pallet board bed swing! isavea2z
19. Build Your Own Pallet Single Bed
Encounter how to build a budget-friendly and stylish DIY pallet bed frame in this informative video tutorial. You can save money on home decor by repurposing pallets while adding a unique touch to your bedroom. Follow the step-by-step instructions to assemble the bed frame quickly and easily. With minimal effort, you'll be on your way to enjoying a personalized pallet bed in a matter of minutes. Watch the video now and embark on your pallet bed project today!
20. Build a Queen Size Pallet Bed With Lights
Turn your bedroom into a dreamy oasis with this DIY Queen size pallet bed adorned with twinkling lights! Transform standard pallets into stylish and boho-inspired beds using step-by-step woodworking instructions. The pallets bed with lights only takes about 3 hours and requires basic tools like a battery sander.
The pallet queen bed video provides all the necessary guidance to bring your pallet bed to life. The tutorial also shares the random acts of giving initiative, where to purchase LED light strips to enhance the bed's aesthetics. Join the DIY trend and try building your pallet bed today.
21. DIY Pallet Floor Bed With Hidden Storage
Make a rustic and cozy retreat with these charming pallet bed frame ideas perfect for adding warmth to your bedroom. Unlock the hidden storage of your dreams with this DIY pallet floor bed – perfect for a unique and stylish bedroom! This engaging tutorial will take you through constructing a unique bed frame from pallets, maximizing the center space for convenient storage.
This project showcases the builder's creativity and offers a practical solution for organizing your bedroom. The finished product is a visually appealing bed frame combining rustic charm and functionality.
Whether a beginner or an experienced DIY enthusiast, this project will inspire you to build a customized piece of furniture. Follow this tutorial and start making your dream bedroom today!
22. Light Up Wood Pallet Bed Frame
Liven up your evenings with a one-of-a-kind DIY pallet bed frame that adds an extra sparkle to your bedroom! Ama zing for those looking to add a unique touch to their bedroom decor. This project is easy and budget-friendly.
This tutorial showcases step-by-step instructions, highlighting the creative process of repurposing wood pallets to build a beautiful bed frame. The couple behind the project shares their twist on the design, adding their creative flair.
With a simple shopping list that includes grade-A wood pallets, a palm sander, wood oil or stain, metal brackets, wood screws, a hand drill, and an optional wall lamp, you'll have all the necessary supplies to make your wood pallet bed.
23. Make a White Pallet Bed
Let your creativity come alive as you design your dream space with this stunning DIY white pallet bed! This gradual video tutorial will guide you through making a 160×200 centimeters bed using euro pallets. Gather the necessary materials, including six euro pallets measuring 120×80 centimeters, seven steel flat connectors, four steel angle connectors, wood screws, and white primer. Follow the instructions in the video to assemble the bed frame and make a stylish and affordable addition to your bedroom. Follow this tutorial and start building your pallet bed.
24. DIY Pallet Floating Bed
A DIY pallet floating bed is the perfect way to add elegance and comfort to your home. Make a unique and budget-friendly double bed with just four wooden pallets and a touch of creativity. This project allows you to save money while adding charm to your bedroom.
In addition to the pallets, you'll need basic tools like nails, a hammer, a saw, a drill, a level, and a tape measure. Complete the bed with a comfortable mattress, pillows, sheets, and blankets; you can add a personal touch with some paint.
Embrace the rustic appeal of this bed, splinters, squeaks, and all. Your partner will surely appreciate your uniqueness and effort in creating a cozy sleeping space.
25. Making a Bed Frame Out of Pallets
Transform your sleeping space with these creative pallet bed frame ideas that provide both functionality and aesthetic appeal. Show off your DIY skills and craft a unique bed frame from pallets for the perfect homemade addition to any bedroom! Build a cozy and budget-friendly bedroom retreat with this DIY pallet bed project. You can build a bulky, durable bed that will stand the test of time by repurposing pallet boards, readily available at low cost or even for free.
You can transform these humble wooden pallets into stylish and unique bed frames with simple tools and materials, such as pallet boards, screws, a drill, and sandpaper.
This step-by-step guide provides clear instructions on building your pallet bed, allowing you to unleash your inspiration and add a touch of rustic charm to your bedroom decor. Experience the satisfaction of creating a one-of-a-kind piece while saving money and embracing sustainability.
26. Cheap DIY Pallet Bed for Bedroom
Unleash the creativity to turn your dream into reality with this affordable and stylish DIY pallet bed project. By following simple yet creative techniques, transform your space into a visually stunning masterpiece. This budget-friendly endeavor only required an investment of a few dollars, making it an incredibly cost-effective solution for anyone seeking a king-size bed. With clever Ikea hacks and a personal touch, this pallet bed offers functionality and aesthetic appeal. Don't miss out on the opportunity to elevate your bedroom decor with this unique and affordable project.
27. Shipping Pallet Bed Frame
Sleep in style and comfort with your very own DIY shipping pallet bed. It is a stylish and budget-friendly bed frame that you can build with this informative and engaging tutorial. Whether you want to upgrade your bedroom or embark on a creative project to build a sturdy, attractive bed frame using pallets.
With detailed instructions and clear visuals, you'll learn how to repurpose pallets into functional and aesthetically pleasing furniture. Discover the benefits of using pallets as a sustainable and cost-effective material for your DIY projects. Get inspired and start building your own unique pallet bed frame today.
28. HomemAde Pallets Bed with Lights
Upcycle and upgrade your bedroom style with a DIY pallet crate bed – for the ultimate in cozy cool! Embrace the bohemian vibes with this easy-to-make bed that can be easily transported if you ever need to move. You can bring your vision to life with just a few materials and supplies. Purchase six new wooden pallets.
Get two packets of Gator sandpaper, two Minwax wood stains, clear gloss, a drop cloth, and a brush. Don't forget to pick up safety gloves, more Gator sandpaper, a staining pad with plastic gloves, and a plastic husky. With a total cost of $232.61, you can have a stunning and budget-friendly boho bed that will stand the test of time.
29. Super Easy DIY Pallet Bed With Led Foot Light
Upgrade your bedroom with a budget-friendly and stylish DIY pallet bed frame. This step-by-step guide will show you how to make your custom bed frame using inexpensive materials and simple tools. You can achieve a rustic and chic look in your room with six pallets, eight screws, six cans of spray paint, gorilla glue, and sandpaper.
The building process is easy, and the instructions are beginner-friendly. Not only will this project save you money, but it also allows you to unleash your creativity and personalize your sleeping space. Prepare to enjoy a good night's sleep in your one-of-a-kind pallet bed frame.
30. Rustic Pallet Bed and Headboard
Discover eco-friendly and budget-conscious pallet bed frame ideas that effortlessly combine style, comfort, and sustainability. Express your creativity and transform your bedroom with this one-of-a-kind DIY rustic pallet bed and headboard! Learn how to build this pallet bed and headboard for the ultimate outdoor bedroom. This tutorial provides step-by-step instructions for building this charming bed using pallets. Get creative with your outdoor space and use inexpensive materials to make a cozy and stylish bed. This guide offers helpful tips and ideas for other projects as well. Discover the joy of DIY and transform your outdoor area into a rustic retreat.
Related DIY Pallet Furniture Ideas to Try
Get inspired with these amazing DIY furniture ideas! From rustic chairs to modern coffee tables, there's something for everyone to try.
Related DIY Pallet Projects to Try
Discover some amazing DIY pallet projects to try! Give your home a unique and rustic feel with these easy and creative ideas.
Conclusion:
In conclusion, these DIY pallet bed frame ideas offer a creative and cost-effective solution to revamp your bedroom. With 30 easy pallet bed ideas available, you can find the perfect pallet bed DIY project to match your skill level and style preferences. From full-size pallet bed frames to wooden pallet beds and even outdoor hanging designs, these plans provide endless possibilities for customization. So, take advantage of these eco-friendly and affordable pallet bed ideas to make your dream sleeping space using DIY pallet bedframe ideas!