Repurposing wooden pallets or reclaimed wood into comfy pallet patio furniture has taken over the globe. Take part in the pallet wood projects by exploring these 27 easy DIY pallet bench plans and ideas that come with free detailed instructions. You can get crafty in almost very little time and end up making a versatile coffee table bench or pallet outdoor bench, pallet patio bench, pallet garden bench, outdoor pallet lounger to all types of pallet benches.
Try out our exciting DIY pallet bench ideas and set up cool outdoor bars with pallet wood for some relaxing time outside. The best part is that after adding so much versatility to your decor, you will actually be highly proud of yourself for saving tons of money and, at the same time, be that loads of creativity. Another bonus point with pallet furniture is that it is highly versatile and eco-friendly at the same time. You can make so much inspiring design, and still, no two pieces would be the same.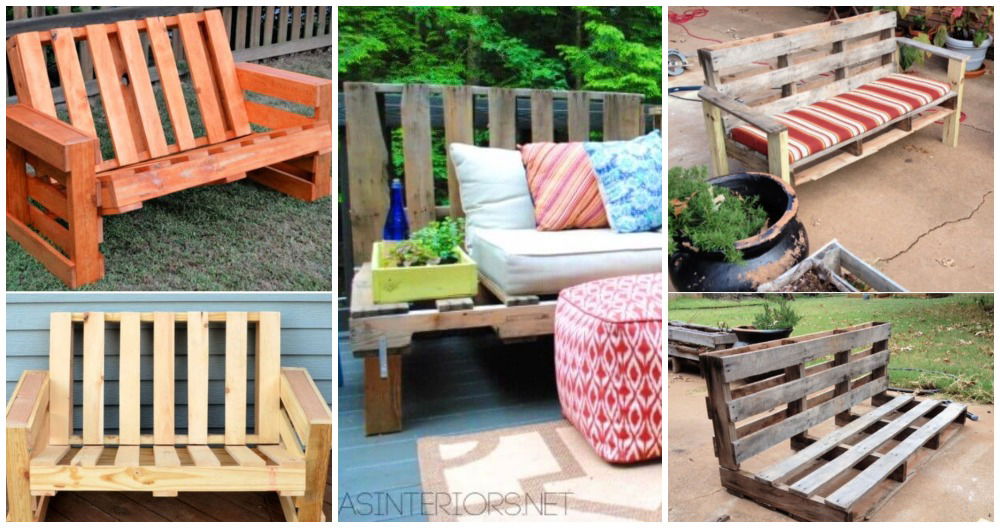 You can get wooden pallets for FREE literally due to their sheer abundance! These 27 easy DIY pallet bench plans and ideas will take your outdoor times with your friends and family to a whole new level. Add attractive and appealing DIY pallet benches across the bloomy gardens or set up bright and bold potting benches in the garden.
You would especially love our vast DIY pallet outdoor loungers and vibrant colored benches. So, hop on to our fun DIY pallet bench ideas without wasting a minute and make some pretty cool and amazing outdoor and indoor furniture using pallets. You are going to love this list of pallet bench ideas!
1. How to Build a Pallet Bench Seat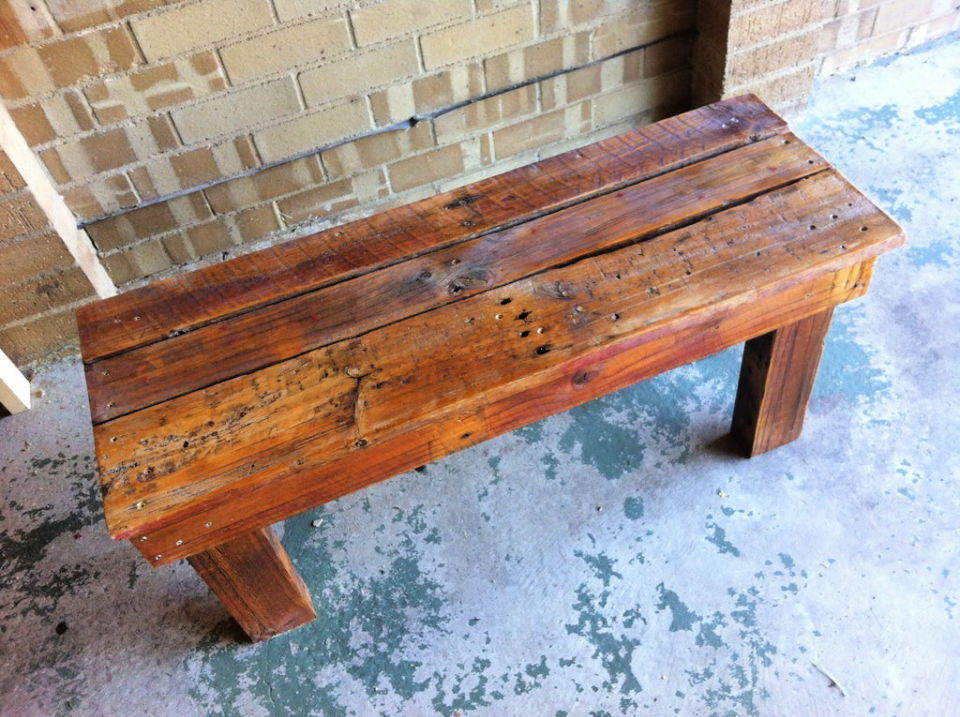 Who wouldn't love to add a rustic bench to their backyard courtyard or garage? If you have a way with upcycled timber, you can actually make this DIY pallet beck for free. Just pick up your favorite color and shine it up with the colors. instructables
2. Outdoor Bench Out of Pallets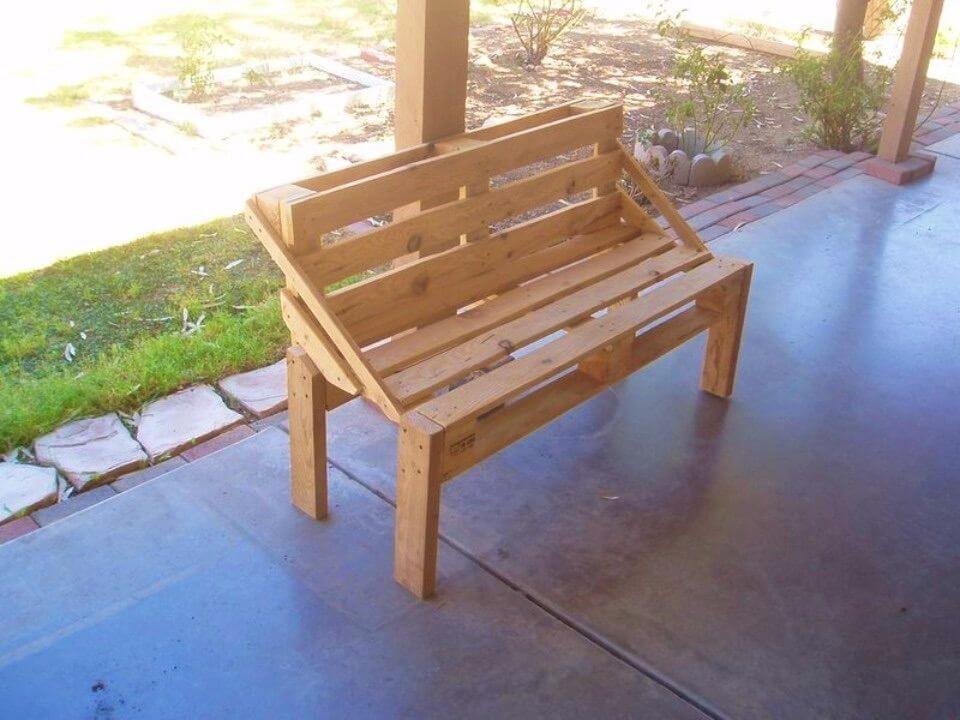 Add a simple, cheap, and with a back pallet beck to your backyard. You and your kids can enjoy a good outdoor time. Plus, it will be easy to carry it around from the backyard to the front garden. Kids can sit together and play games, or you can enjoy a book sitting comfortably. instructables
3. White Washed Wooden Pallet Bench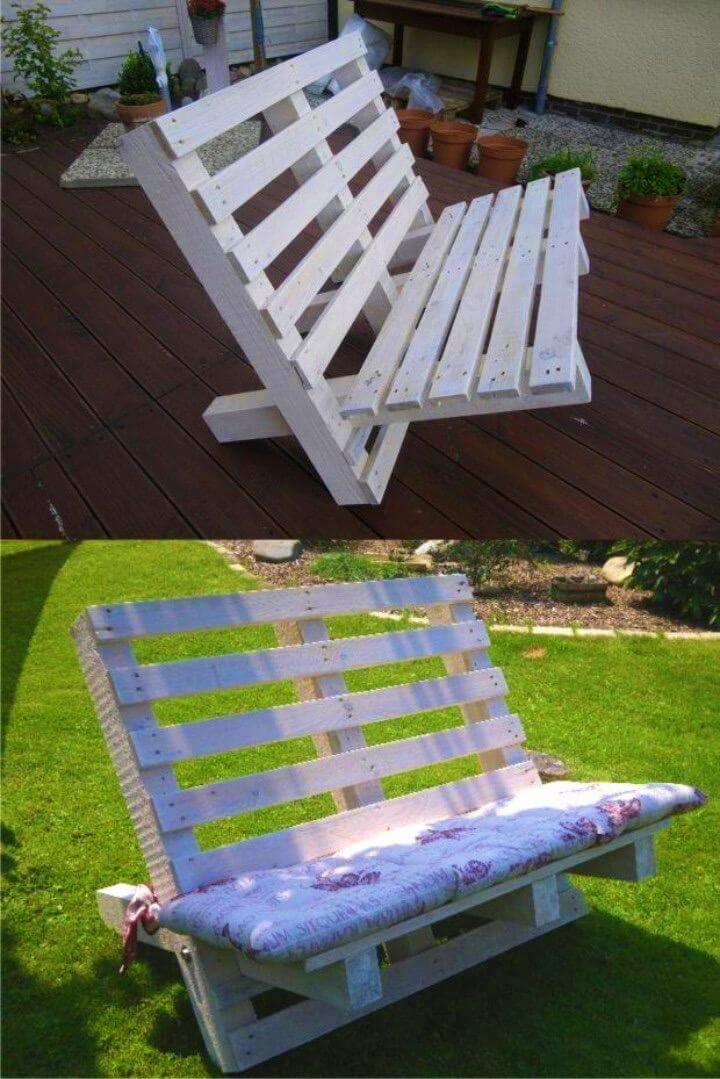 This outdoor pallet bench is super comfortable with the tilted back support, and you can happily have an outdoor time! Add up some cushions at the seat and if you want at the back too. Relax in the bright sun and get the perfect tan. Find a free tutorial here.
4. Turn Wooden Pallets into Bench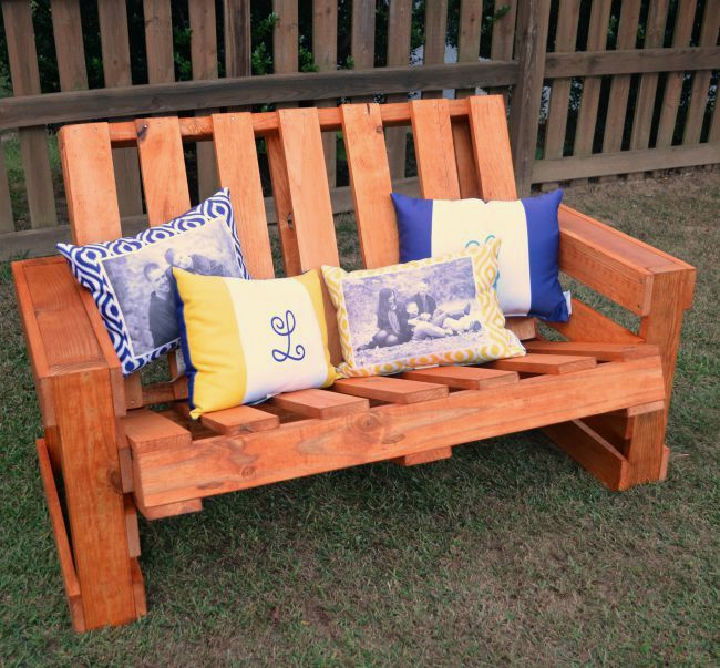 By using a pair of pallets with boards, make this super huge and perfect outdoor pallet bench. Amy Latta Creations has got just the perfect idea for you and your family to have a bonding time outdoors playing games or just having the fresh summer juice. amylattacrea
5. DIY Outdoor Pallet Sofa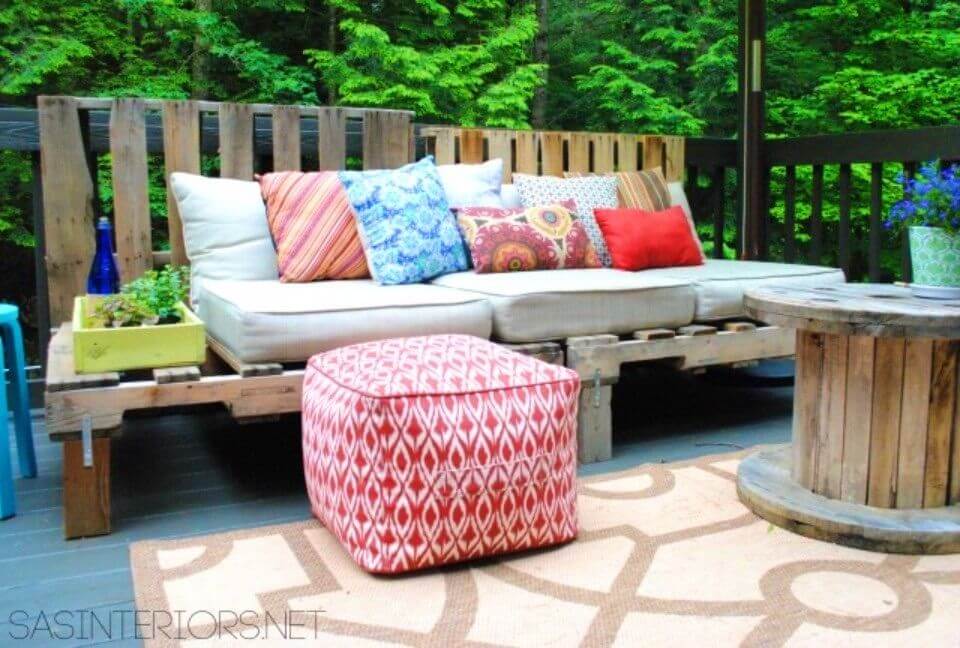 Check out this perfect comfortable outdoor pallet lounger by Jenna Burger. This could be your ideal relaxation spot where you can have people over for BBQs or outdoor dinners. This pallet sofa design is darn simple. Do make sure that you carefully sand the wood. jennaburger
6. Wood Pallet Large Bench for the Whole Family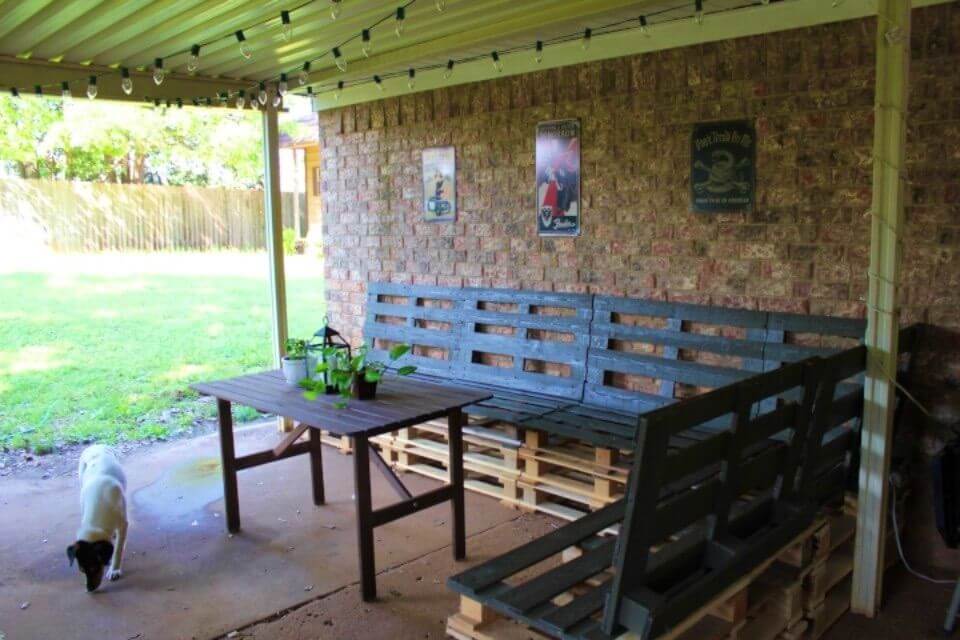 The Sassy Sparrow has got the perfect minimalistic and simple DIY large pallet bench idea for you and your family to chill out. If you have this huge shed, you can actually place the bench there and enjoy an excellent rainy day snack. thesassyspa
7. Build a Wooden Pallet Chillout Lounge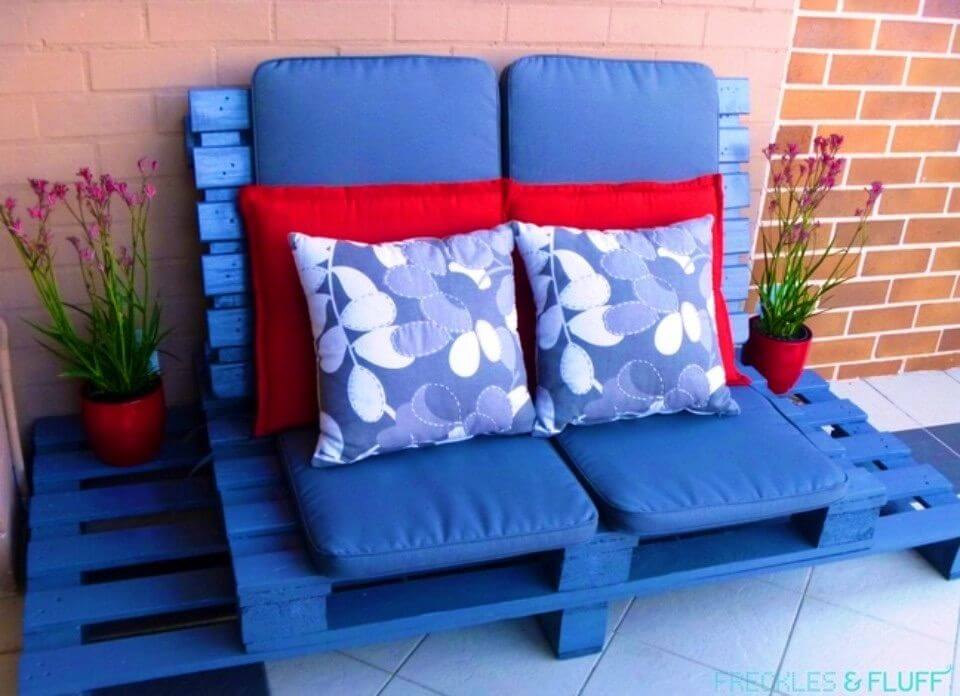 We are totally drooling over this DIY pallet bench with the chill out perfection mingled in it. As suggested by Freckles and Fluff, these charming blues of this chill-out lounge can sure beat anyone's blues out of the days! frecklesand
8. DIY Pallet Potting Bench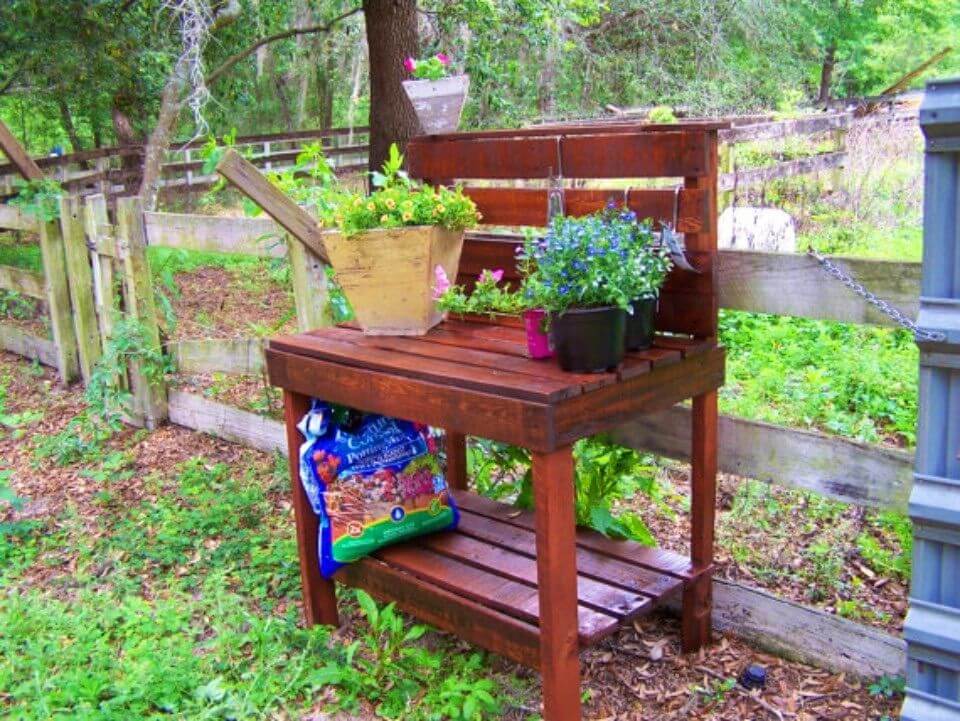 Using some wooden pallets and staining them with a modern vintage outlook, you can have a picture-perfect gardening pallet counter or bench. Put up your most delicate pots and planters on the above shelf and put the gardening supplies underneath.
9. Transfer Pallets Into Outdoor Bench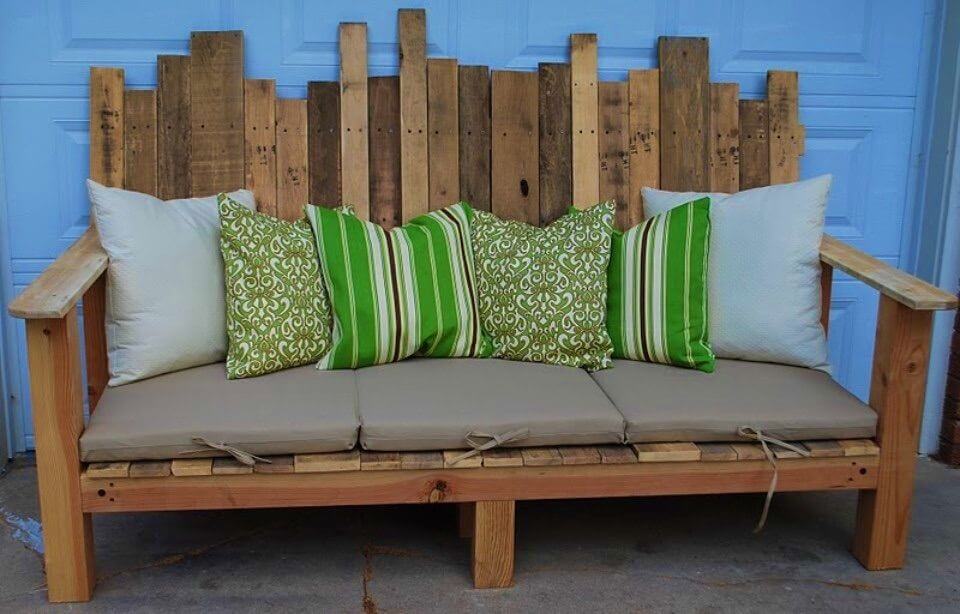 Add a zig-zag inspired stylish pallet bench to your courtyard or backyard with these perfectly comfy designs, cozy back, and strong arms. Make sure to sane each piece of pallet wood carefully and thoroughly. Be detailed with the nails too. theironstonenest
10. Recycled Pallet Storage Bench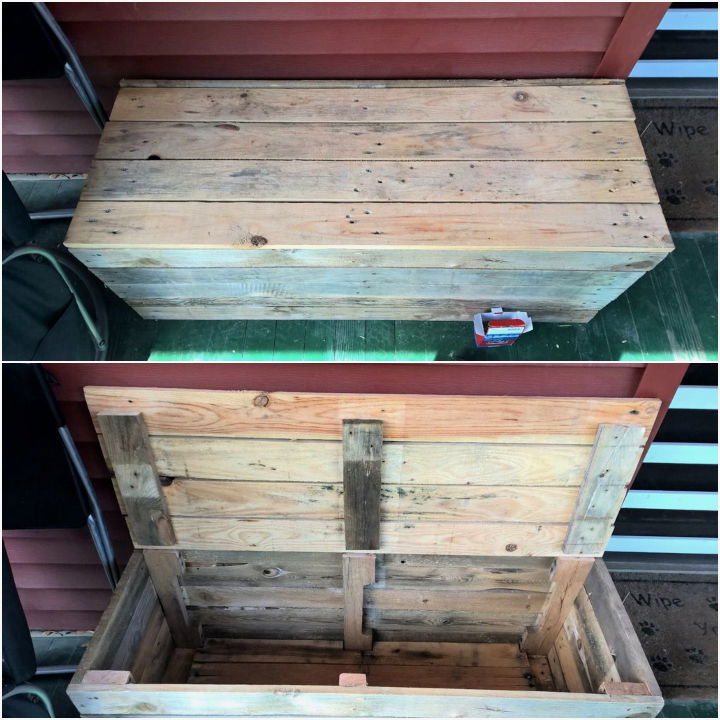 Let's turn your pieces of pallets into an entirely appealing utilitarian purpose by turning it into a pallet chest box! Pallet boxes have the edge of storing gazillions of things stacked up inside. Why not take the two in one advantage out of this DIY pallet bench then? instructables
11. Make Potting Bench With Two Pallets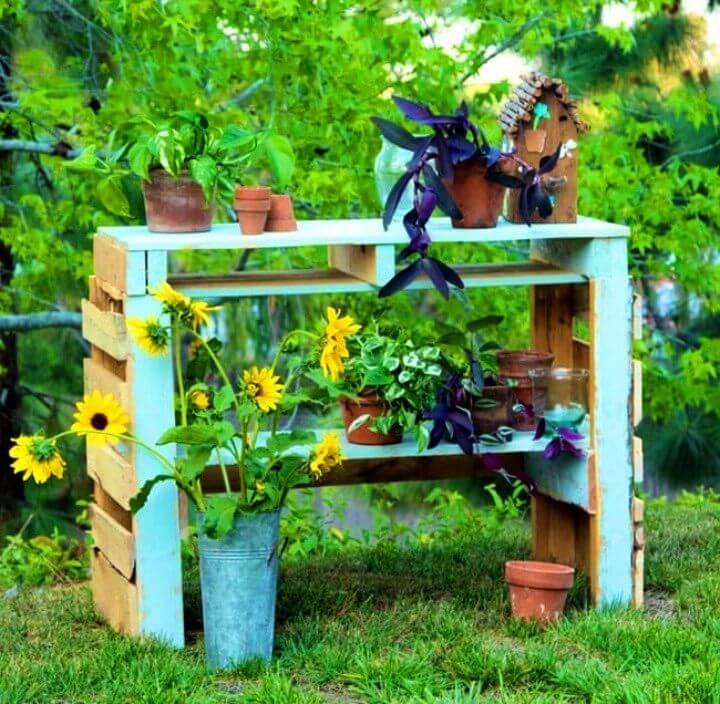 Check out this exquisite and breezy potting pallet bench! Make a beautiful and picture-perfect enchanting preview in your garden with this DIY pallet bench. Glam it up with some bold turquoise color or neon color. apieceofrain
12. Turn A Pallet Into An Outdoor Patio Bench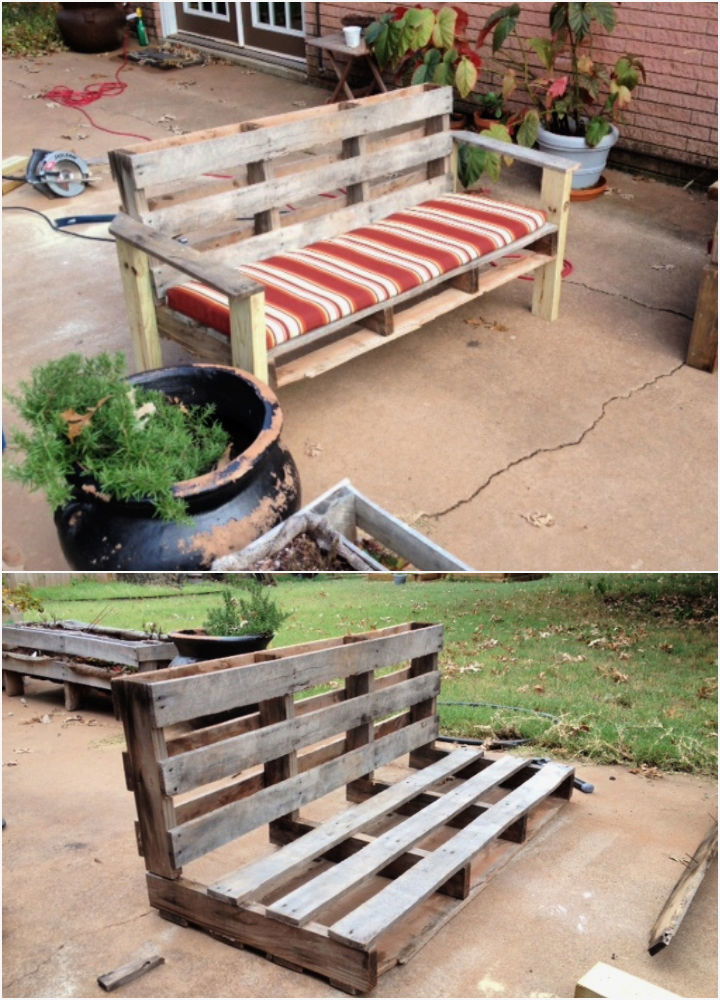 Turn pieces of the pallet into this vintage and rustic patio furniture. If you are a passionate DIYer, in just 2 to 2.5 hours, you can make a piece of totally appealing patio furniture for your outdoor. Get step by step guide with illustrations here. rkblack
13. Colorful Garden Bench Using Pallets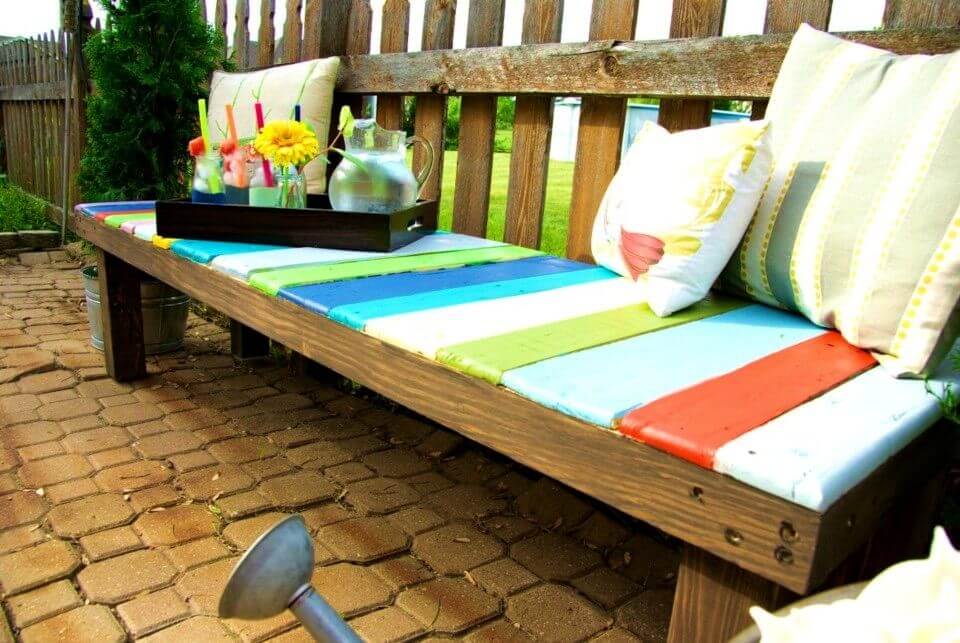 Some days are meant to be enjoyed outside with pitchers of huge lemonades, some happy family scrabble, and other fun games. Make bold and bright pallet bench furniture by coloring the pallet blocks with different colors. youtube
14. Hexagonal Tree Bench From Wood Pallets – 100% Pallet Wood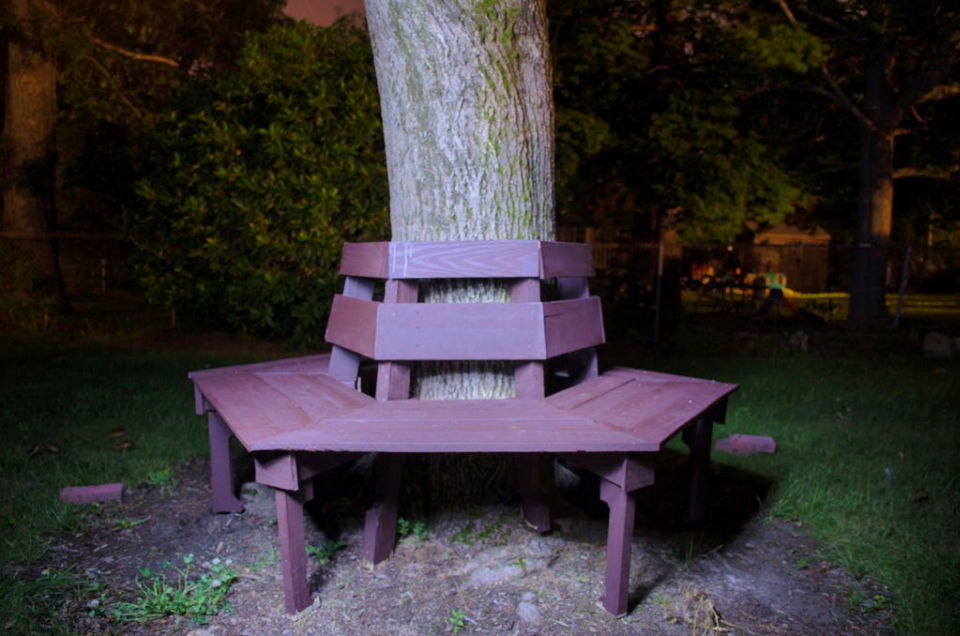 We bet we all had these cute DIY pallet bench memories with hexagonal patterns around the tree. Check out this pretty charming and cool purple hexagonal DIY pallet bench by Instructables. instructables
15. DIY Stacked Pallet Bar Bench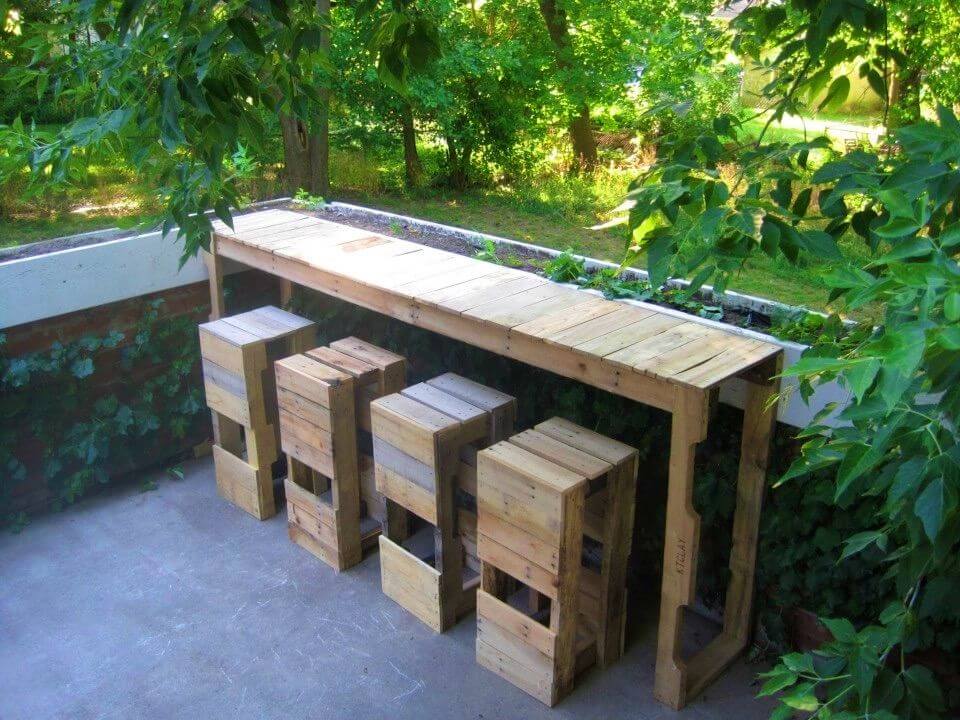 If you are looking for an inexpensive outdoor bar area, look no more. This DIY pallet bar bench is going to be your and your buddies' favorite hangout place in the greens. You can add up color coats too for brightening up the place, just in case. stackeddesign
16. Pallet White Porch Bench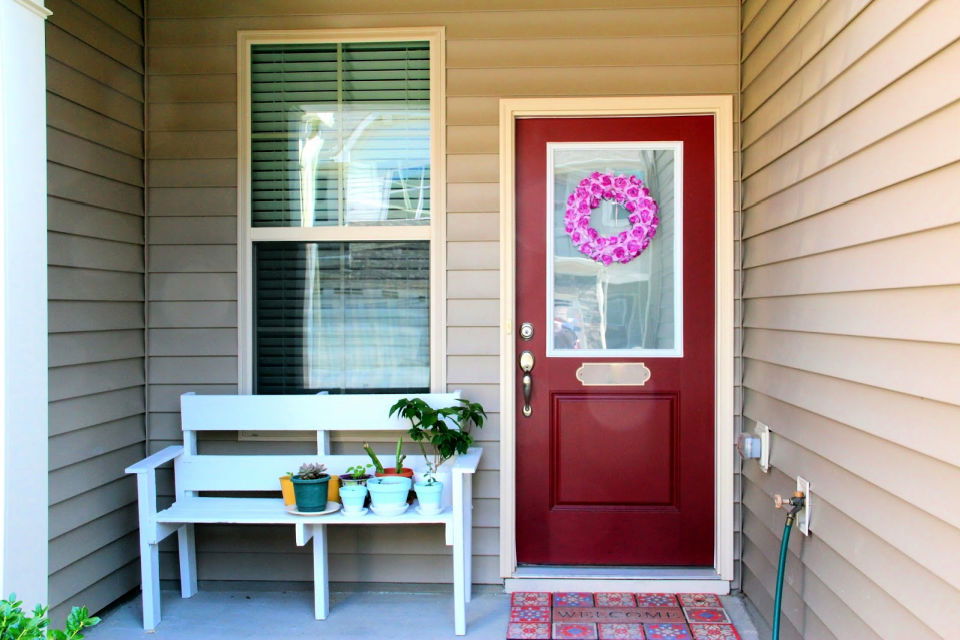 Make this super simple, super easy pallet bench fit for a small spaced garage. Make it look stand out with stain if you want, or you can put cute little colored planters on it. But don't forget to sand the pallets carefully and thoroughly. doleenoted
17. Make a Workbench From Pallets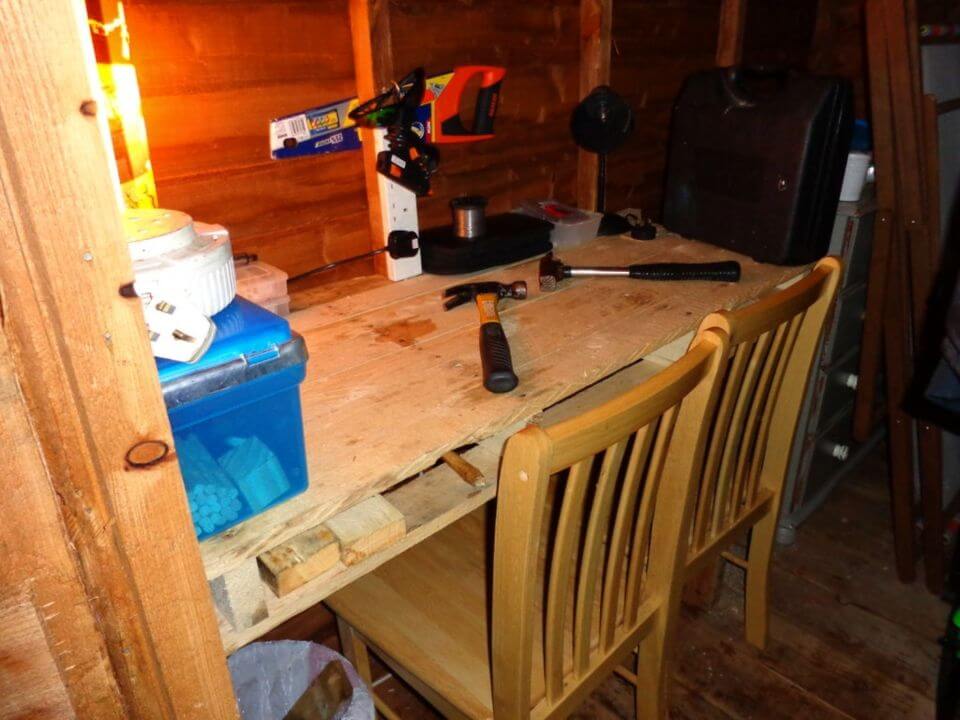 Like all dads, your dad must be the guy who has this teeny tiny workshop open back in his garage or the backyard. Or if you are the dad reading this post, here's your perfect work station with pallet woods. Check it out here. instructables
18. DIY Farmhouse Bench For Garden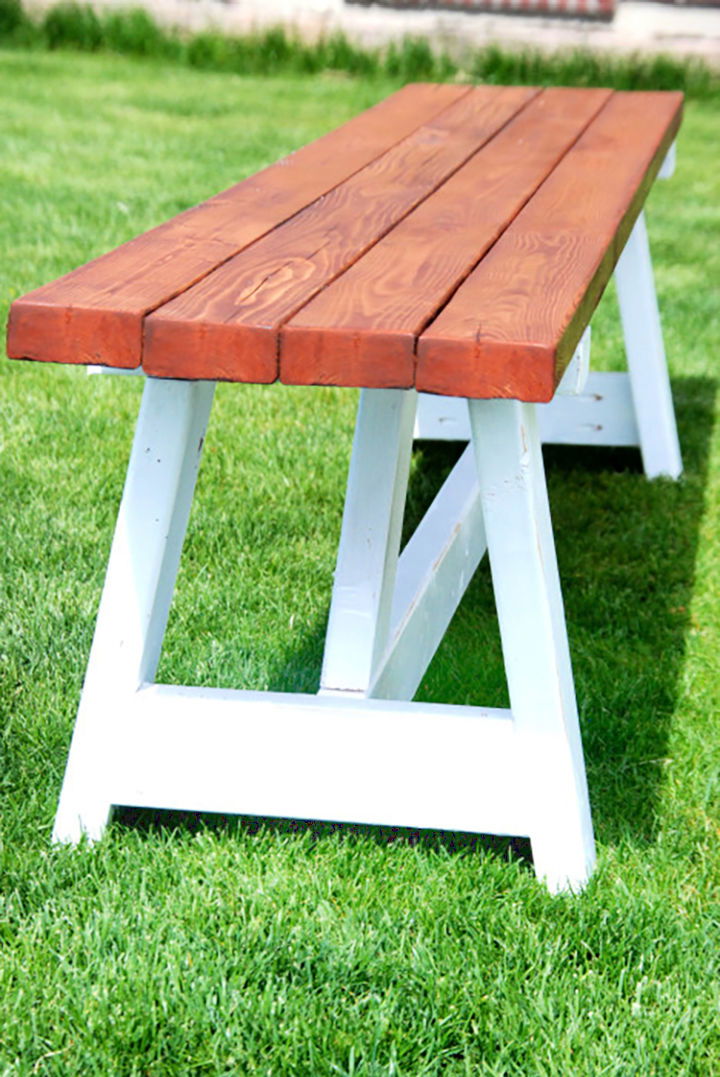 This minimalistic and uber-chic DIY pallet outdoor bench inspired by farmhouse style has got our hearts throbbing. Put it in your gardens and bring a perfect catchy look to your garden or outdoor decor. homedepot
19. Pallet Bench with 4 Car Wheels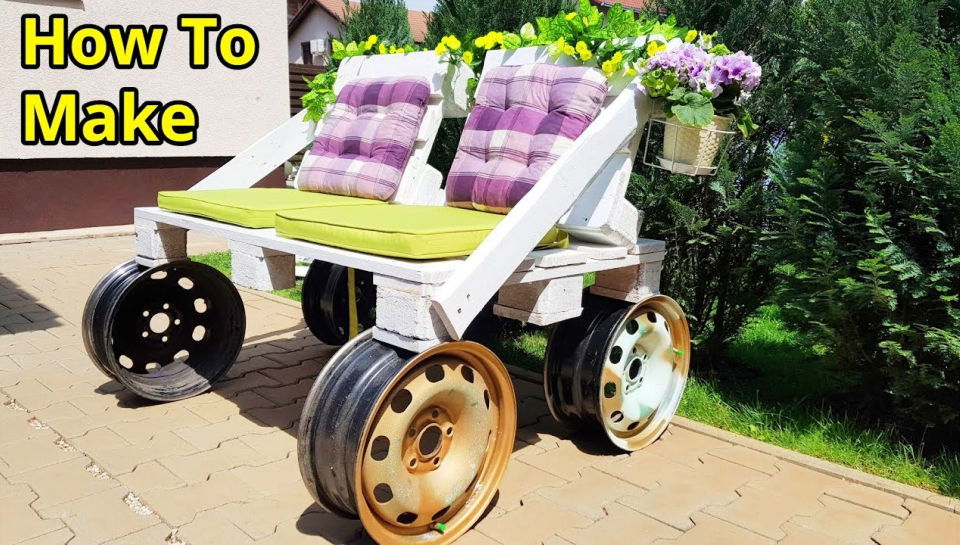 Oh, hold the wheels! Check out this portable pallet deck ideal for a good tan time right outside in your garden. You can perfectly sit and chill in it and read your favorite books. Drag it by the garden! Have the complete wheel hold over your fun! youtube
20. Entryway Pallet Tree Bench
Welcome people to your home with this texture-enriched DIY pallet entryway bench. This beautiful DIY pallet bench transformation starts with simple pallet planks. This whole texture and appealing piece of furniture will cost you hardly around $30. hometalk
21. How to Build a Pallet Garden Bench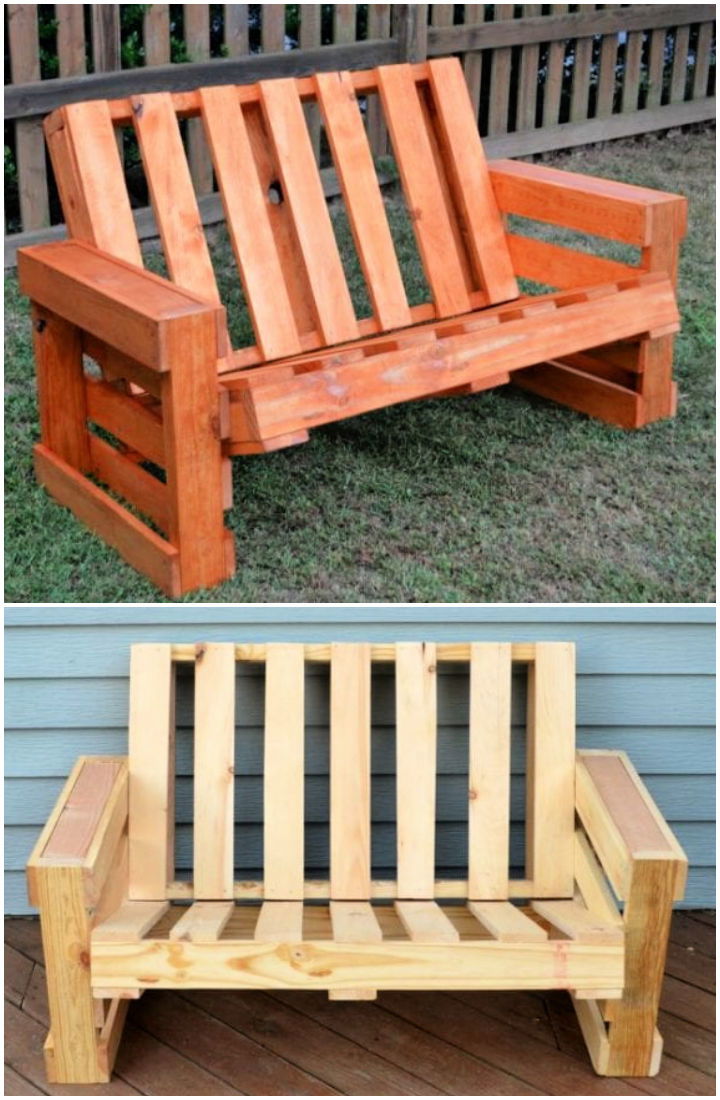 If you are looking for an artsy but affordable DIY project or outdoor furniture right now, you have landed in just the right place. Check out this uber chic and simple to make DIY pallet bench! Bring some cozy and crafty vibes to your outdoor space. remodelaholic
22. Pallet Bench and Coffee Table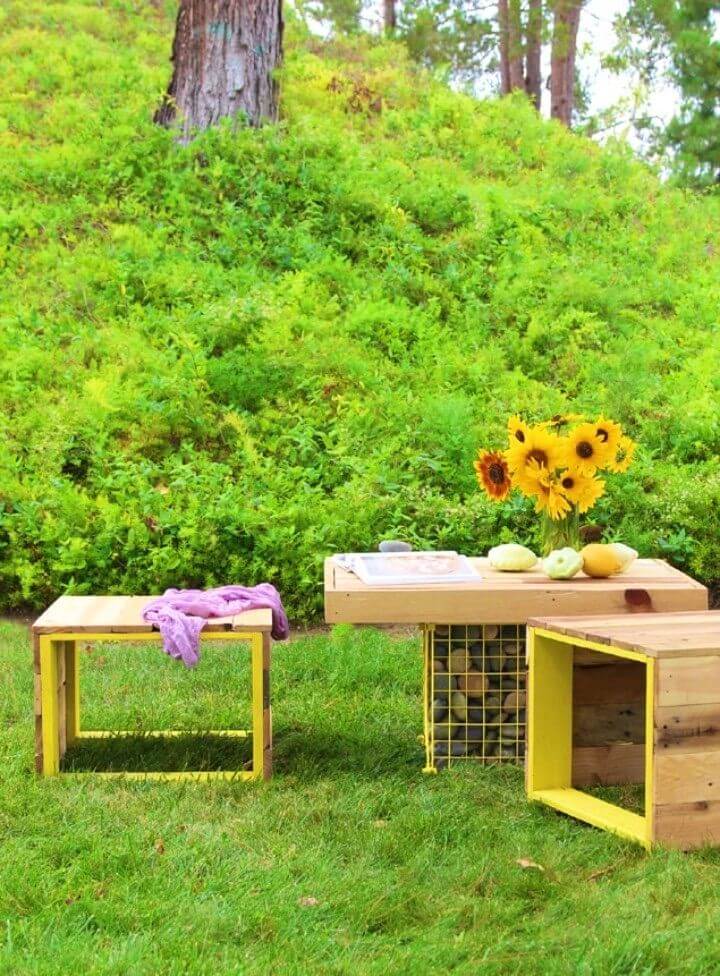 Check out these serene and so subtle DIY pallet benches by A Piece of Rainbow. These beauties are made using reclaimed pallet wood, modular metal shelving unit, and getting crafty with the abundant beach pallets. apieceofrainbow
23. DIY Pallet Shoe Storage Bench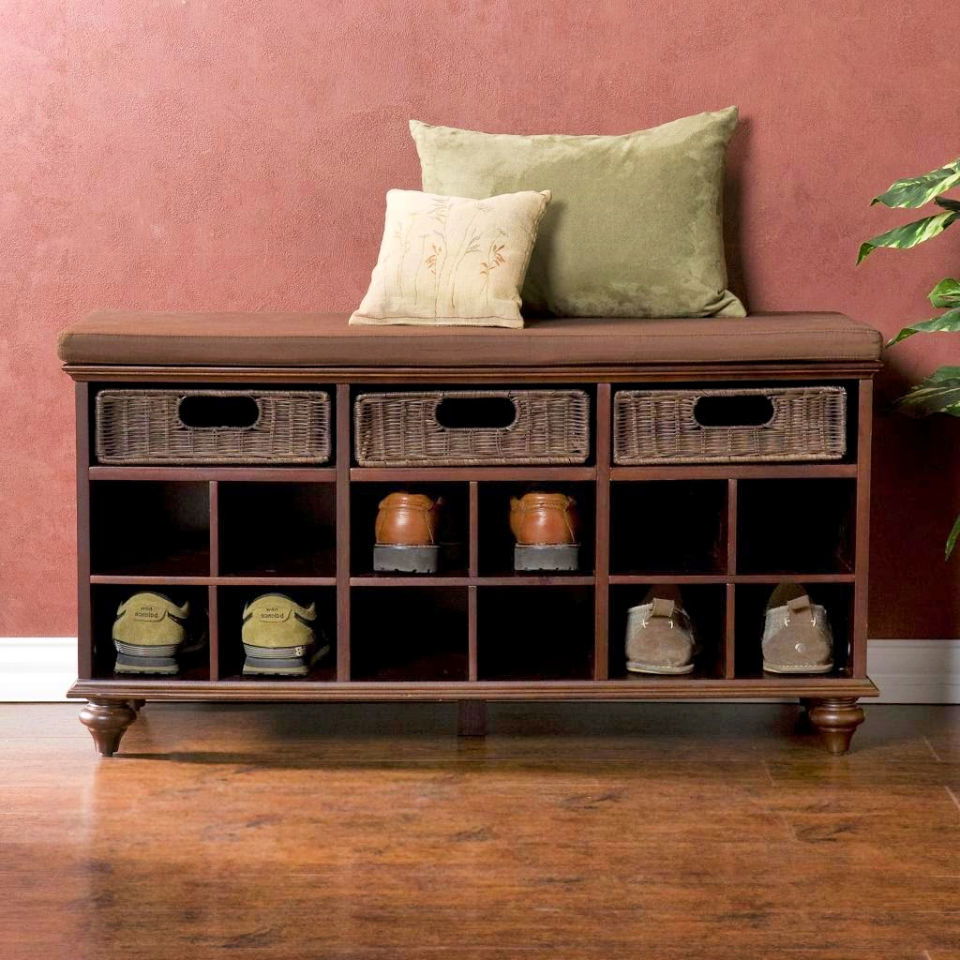 Pallets can also be used to make customized storage for your home, like this spacious and perfect DIY pallet shoe storage bench. You can stain the wood synchronized with your decor color and make it look appealing. between3sisters
24. Pallet Wood Potting Bench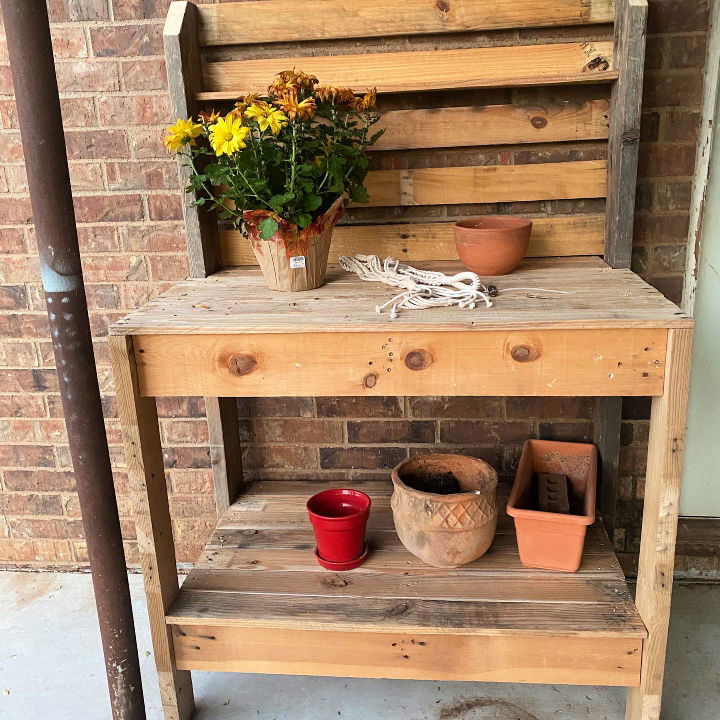 We are absolutely drooling over this super cute DIY pallet potting bench. For a person who loves gardening and has all the right tools for it, this could be the perfect summer DIY project. Decorate it all with cute little pots and brighten up the place with white or other colored stains. ana white
25. How to Make a Rustic Pallet Bench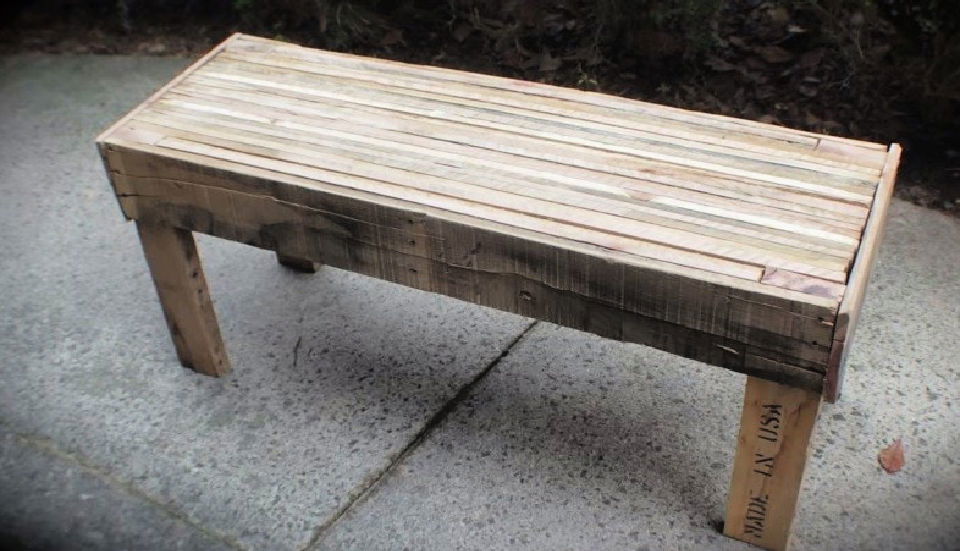 If you have been dreaming of pallet benches but are still worried that they could be extremely crafty or intense DIY projects to do, The saw guy here is going to change your mind. Making a rustic DIY wooden pallet bench couldn't have been easier any more than this. thesawguy
26. Wooden Pallet Potting Bench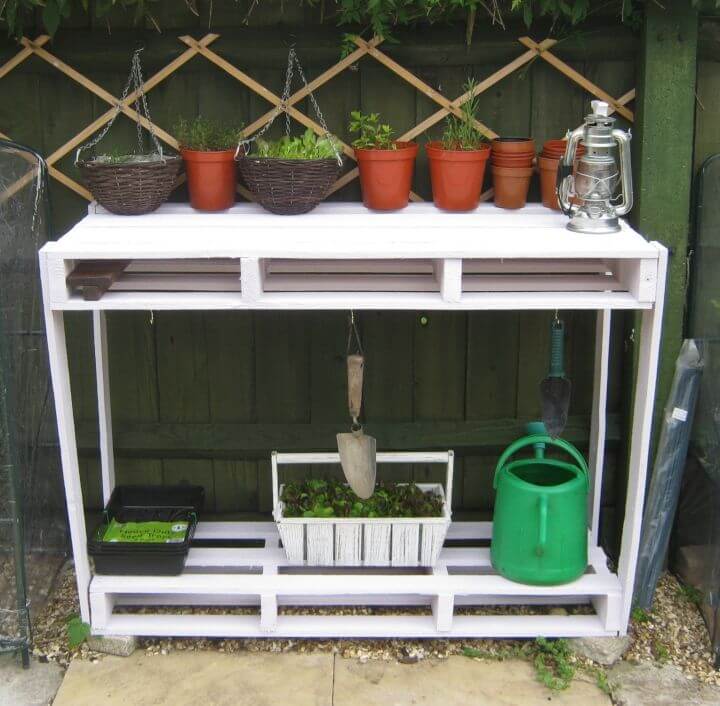 A clean, simple, and minimalistic potting bench are all you need to take up your garden's decor game. While we are always so focused on buying picture pots, we often forget to make the potting space as beautiful too. Fix that with mishapsinthe here. mishapsinthe
27. Build Your Own Pallet Patio Bench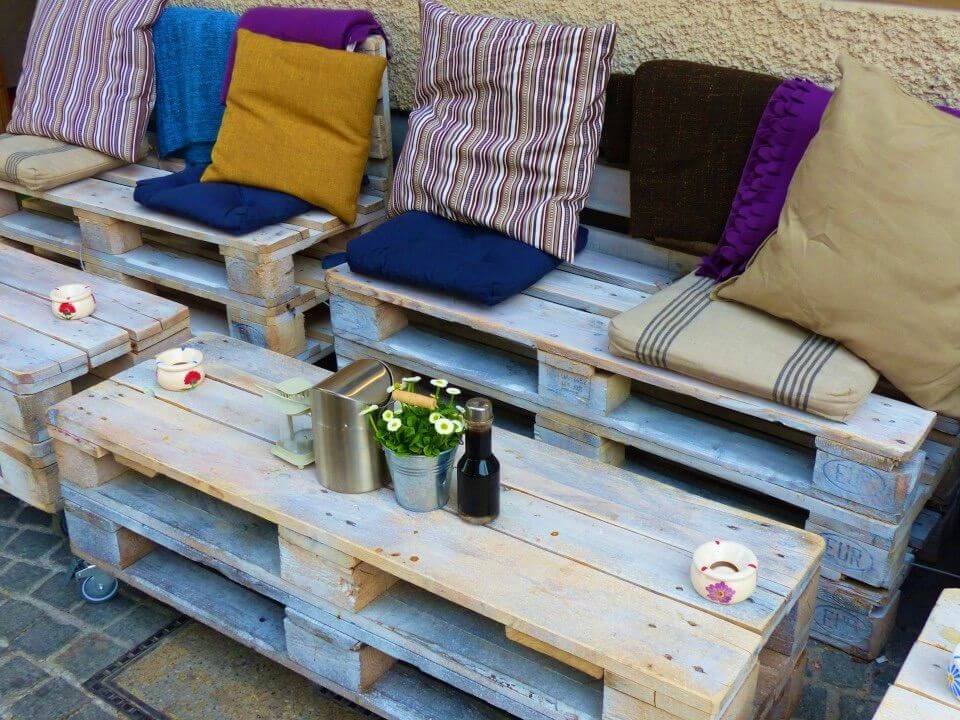 Build your own pallet patio bench with the required sizes. Say you are the hosting house in all Thanksgiving, Christmas, and new year's meal. This comfy and breezy pallet bench space is going to steal everyone's heart! Manage your large family gatherings with taste and style. harrisbrushes