These 40 free baby quilt patterns are absolutely stunning for the babies in your life! Each baby quilt pattern comes with detailed instructions and step by step guide to download. Winters are just around the corner, which means that you will definitely need something to cover up your little kids and keep them warm and cozy, protected from the blustery, windy season ahead. These free baby quilt patterns for beginners are quite fun to make and can also be used as a wall tapestry or shelf cloth besides being a quilt for the baby. Moreover, you can go creative with your baby quilt ideas and use colors that you love.
This article will be covering a huge range of best baby quilt patterns, from girly floral prints to boyish animal prints designs! As you can see, the options are a lot of easy baby quilt patterns to choose from, so you wouldn't have to think about just making one.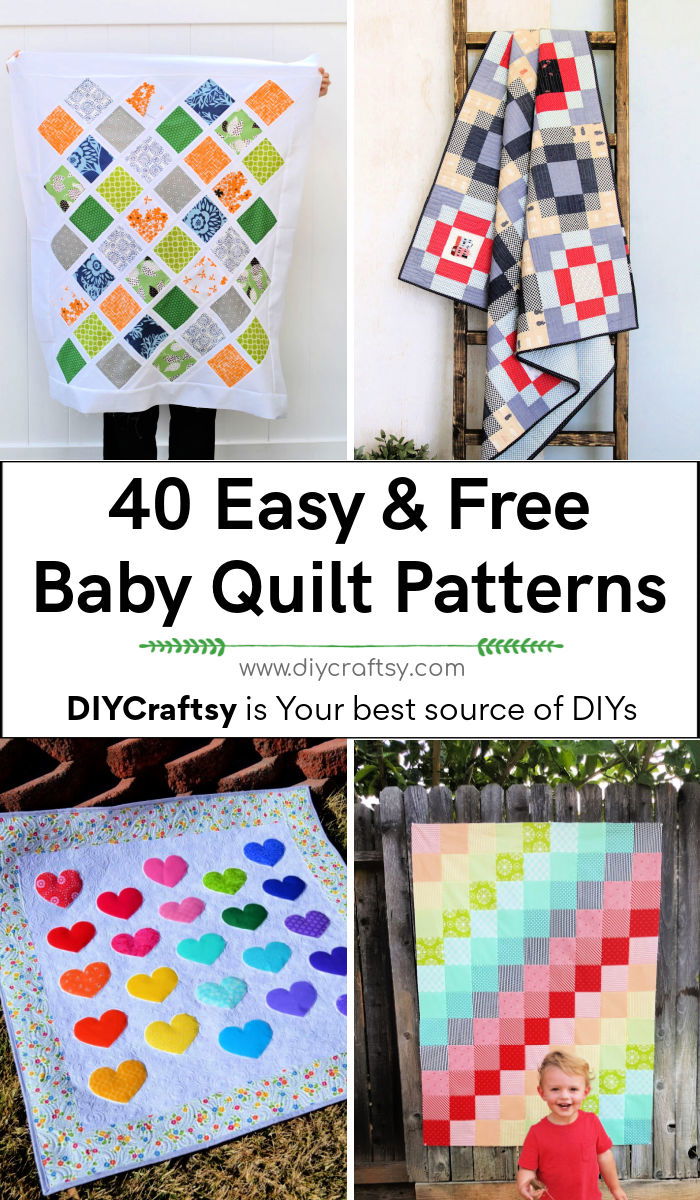 All these traditional and modern baby quilt patterns are aesthetically pleasing with a range of colors and designs, which you can even customize according to your baby's room's interior. This will not only help you in keeping your little munchkin comfy but add some vibrancy and brightness to the room decor as well. Ranging from classic black and white to colorful and printed designs – we have it all! So, without delaying any further, let's get started!
1. Jungle Lattice Baby Quilt Pattern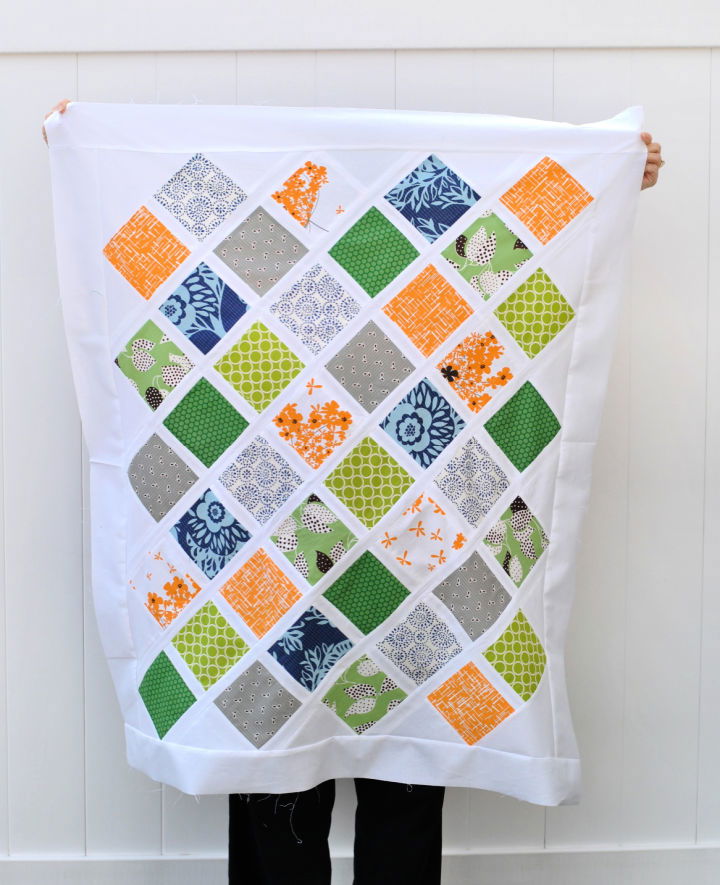 This DIY baby quilt pattern is easy to make and a perfect project for beginners. This comfy throw is made using all the jungle colors to add a pop of vibrant hues to your kid's room. You will need assorted prints, fabric squares, biding fabric, backing fabric, and batting to do this project. craftbuds
2. Easy Charm Baby Quilt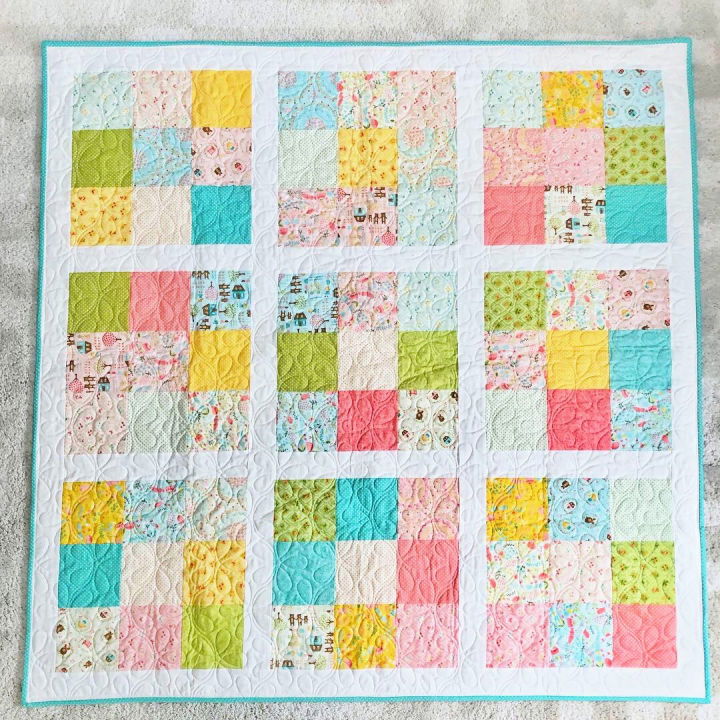 Here is a super quick and cute baby quilt pattern that you can easily make in a few hours. The pretty pastel colors make it nice to use it for a baby girl. Moreover, you need materials like charm packs, binding fabric, and backing fabric for this throw. jessicadayon
3. Free Easy Layer Cake Baby Quilt Pattern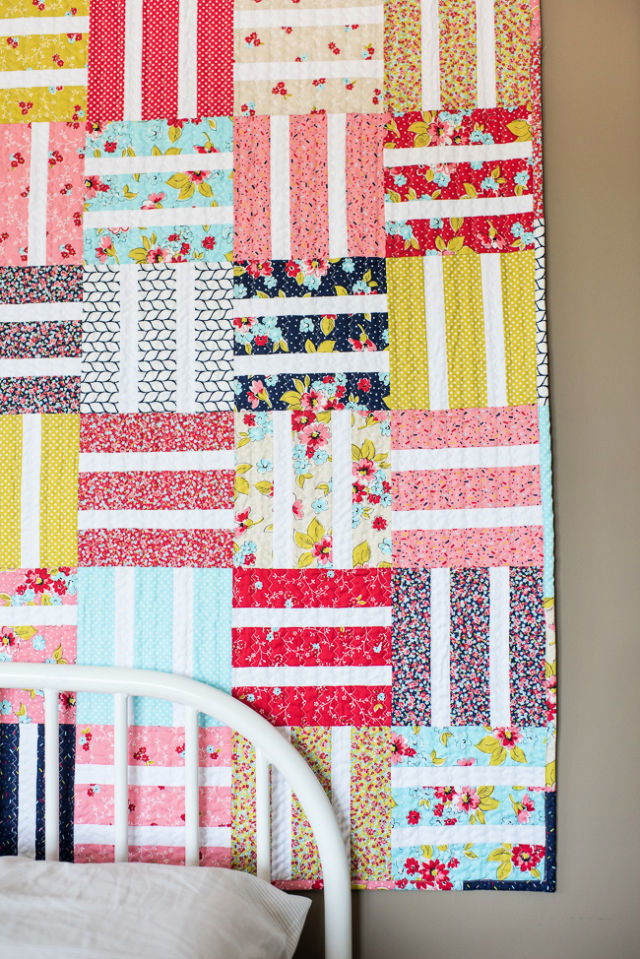 Add some bright colors to your little one's room with this free, easy-layer cake baby quilt pattern. The baby-sized quilt is easy to make if you are trying it for the first time. Additionally, you need supplies like layer cake precut, backing fabric, batting, ruler, cutting mat, pins, and other sewing stuff. quiltylove
4. Citrus and Mint Baby Quilt Pattern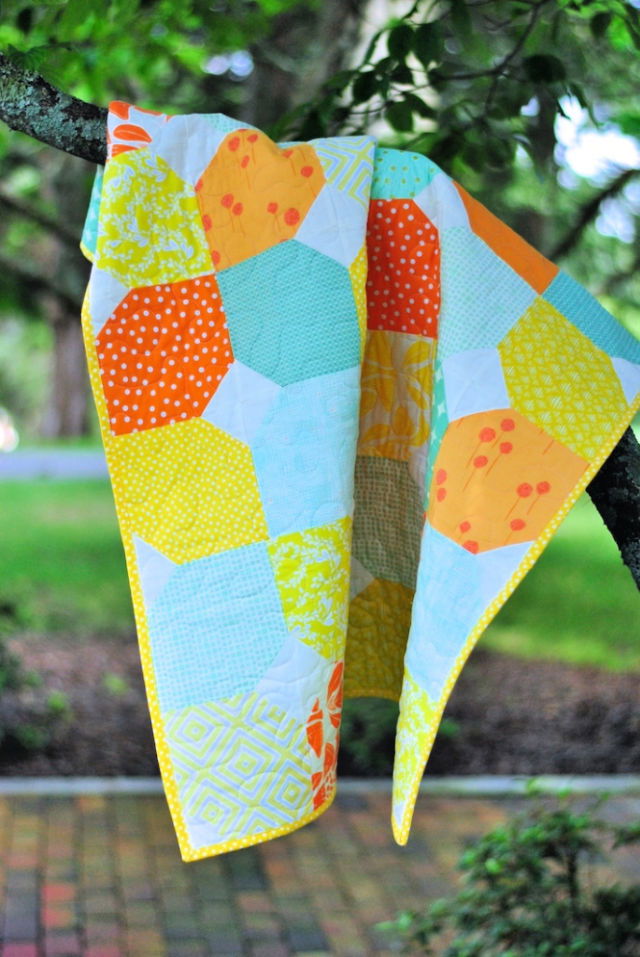 Want to keep your baby comfortable and cozy this winter? Try sewing them this gorgeous and useful Citrus and Mint baby quilt pattern that can also be used as decor in the room. Furthermore, you need to gather white fabric, binding fabric, batting, and backing fabric to complete this beautiful piece. craftbuds
5. Rainbow Baby Quilt With Cricut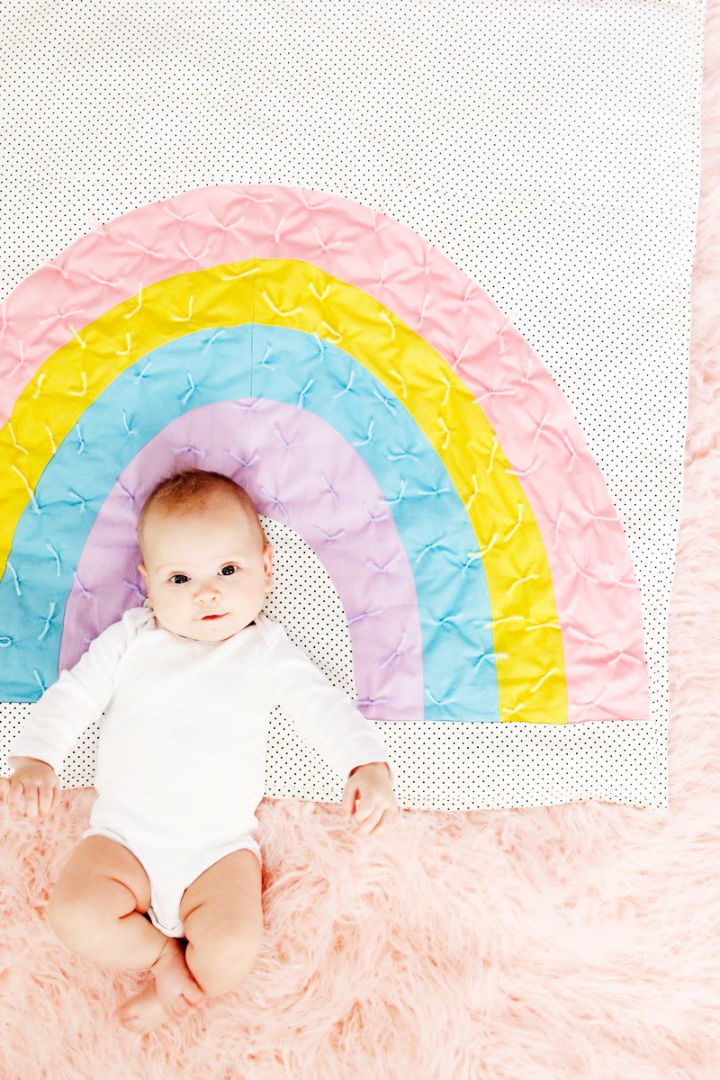 Rainbows signify happiness and peace, making this baby quilt pattern in rainbow design for the happy-go-lucky little one. Not only that, but you will also have a lot of fun making this one. Moreover, you can get as much creative as you want using polka dot fabrics, assorted yarn, rotary cutter, acrylic ruler, etc. seekatesew
6. Modern Baby Quilt Tutorial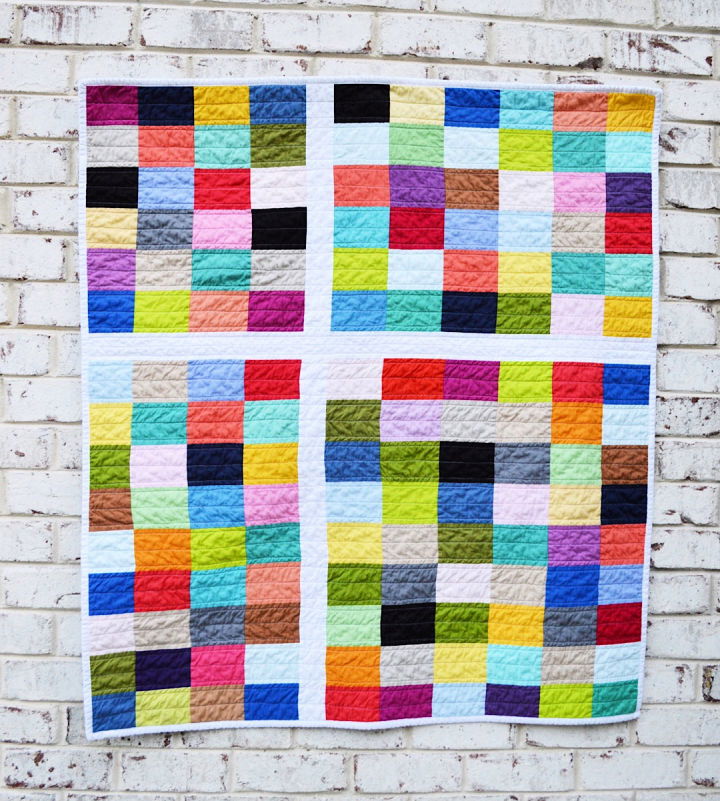 Doesn't it look like a big color palate? Bring out the artist in you and sew this bold and beautiful modern baby quilt pattern. Besides, the exciting part is that this is made with leftovers, so it does not really cost you much! Fabric for binding, yard batting, confetti cotton fabric, and other things are used to make this. rileyblakedesign
7. Simple Baby Quilt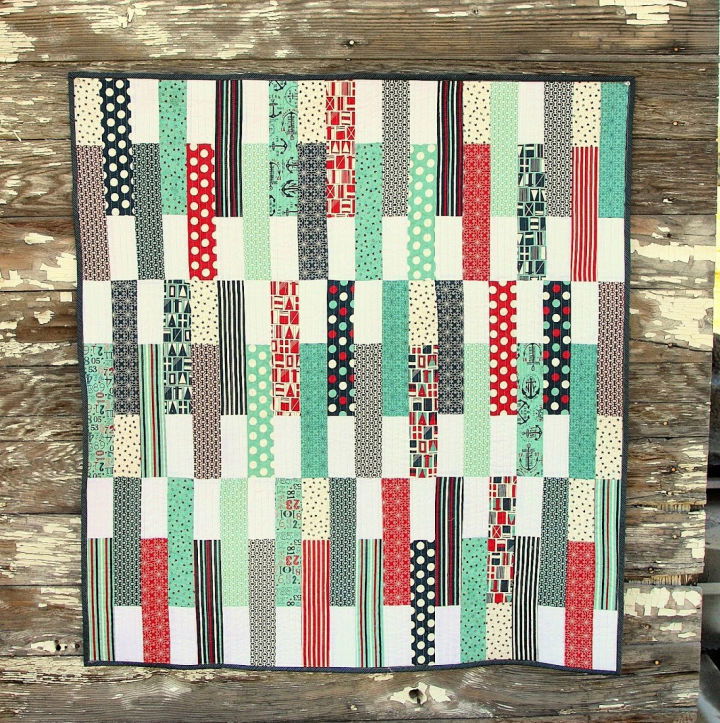 As the name suggests, this is a simple baby quilt pattern to protect your baby from breezy, cold nights in the winters. Moreover, it can be a tapestry that you can use to decorate your room. diaryofaquilter
8. Favorite Crinkled Frayed Sunshine Gingham Quilt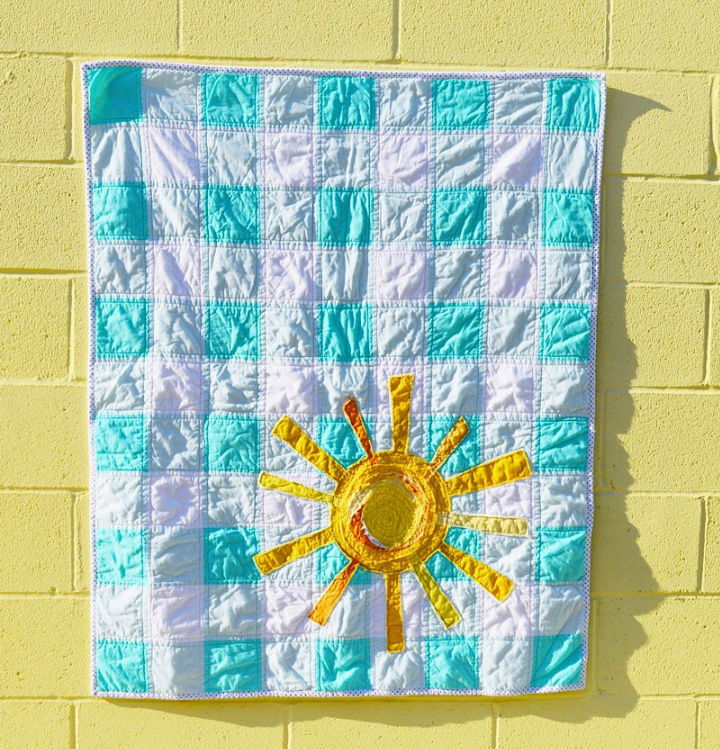 Absolutely loveable and fresh colored – this crinkled sunshine baby quilt is the ultimate sunshiny goodness you need all year long! Put it in your child's crib, and it will bring out the lively feel of this pattern. Make this using fabric backing, batting, and quilt top. rileyblakedesign
9. Modern Ombre B W Triangle Quilt Pattern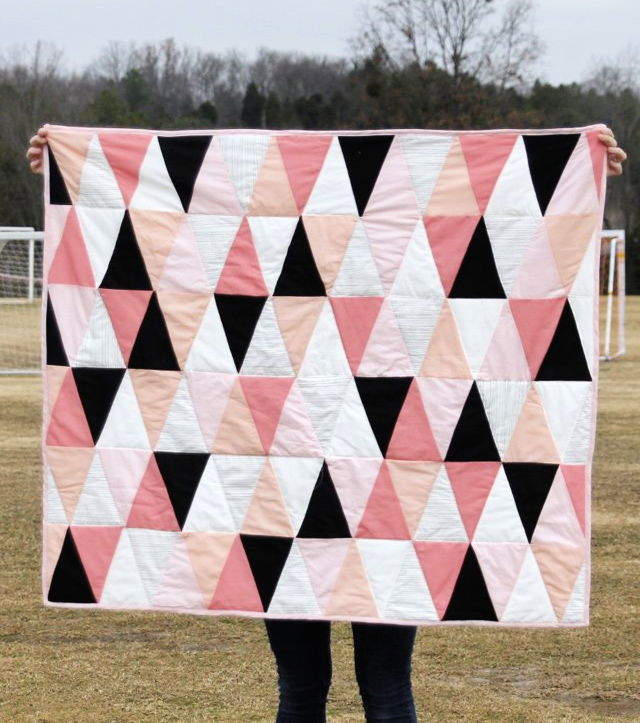 Quilts are the most important thing to have in winters, especially for babies, because they need extra warmth and protection for cold as they are very sensitive. So, we can even make one on our own like this modern ombre black and white triangle quilt, which has the perfect color combination and make sure to have the fabric and other stuff with you. seekatesew
10. Zoo Dwellers Quilt Pattern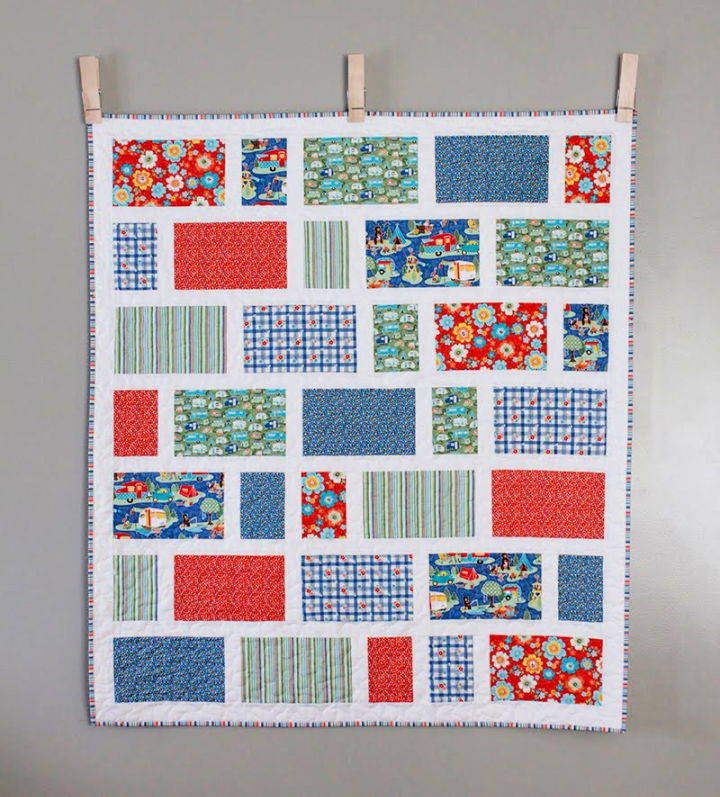 This collage-type zoo dwellers baby quilt pattern is very easy to follow and make and put together. There is no hassle of seams to line up rather just a yard of the background fabric. Additionally, you must have with you 7 fat quarters, yard binding, and yard backing. abrightcorner
11. One Hour Baby Quilt Pattern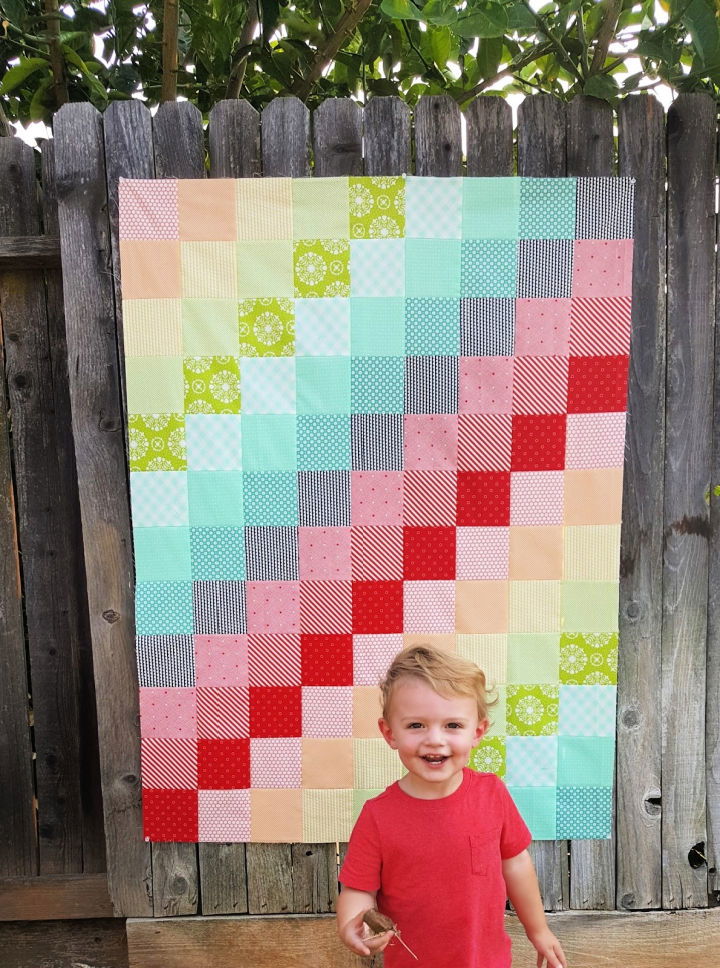 Why spend hundreds of dollars buying baby quilts from stores when you can make this one-hour baby quilt pattern in colorful and lively design. In addition to that, it is a very simple and fast project that be very satisfying to make. You should have material like yard binding, yard backing, yard cuts in coordination prints, and a seam ripper. woodberryway
12. Scrappy Easy Rainbow Quilt Pattern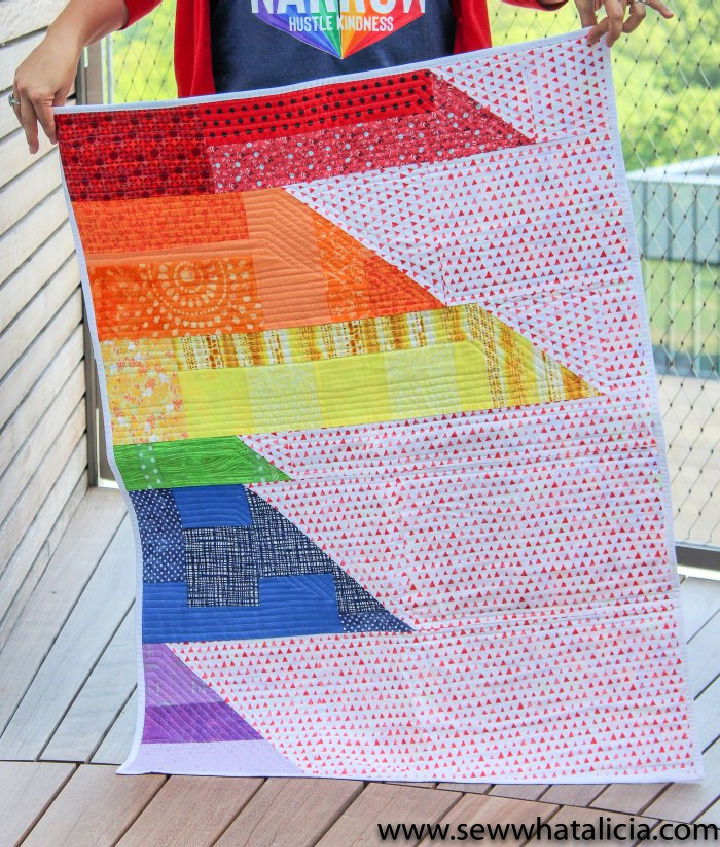 A great stash buster project is here to make a masterpiece out of recycled things. We have this scrappy, easy rainbow quilt pattern with the finished size of 30" x 40". Like rainbow-colored fabric, contrasting color fabric, and backing fabric, the right supplies will help you make this beauty. sewwhatalicia
13. Baby Girl Confetti Quilt Pattern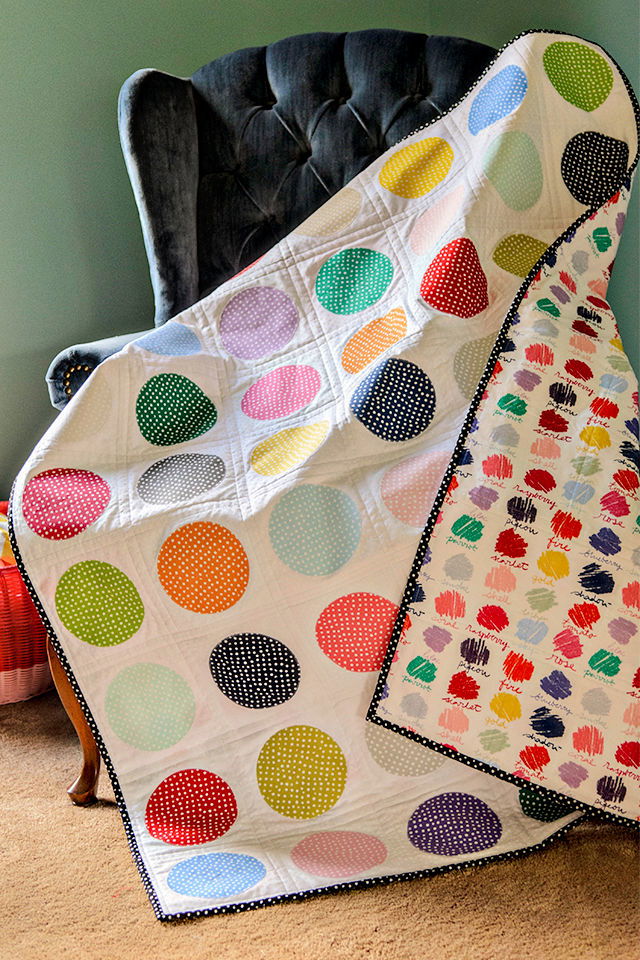 Babies love colors! Hence, this circle baby quilt pattern is the best option to gift your little one. It will not only keep them warm but also look quite cool on their cribs. Moreover, it is an easy pattern completed using 14 different prints, fusible web, background fabric, and few other things. bijoulovelydesign
14. Jelly Roll Jam Quilt Free Pattern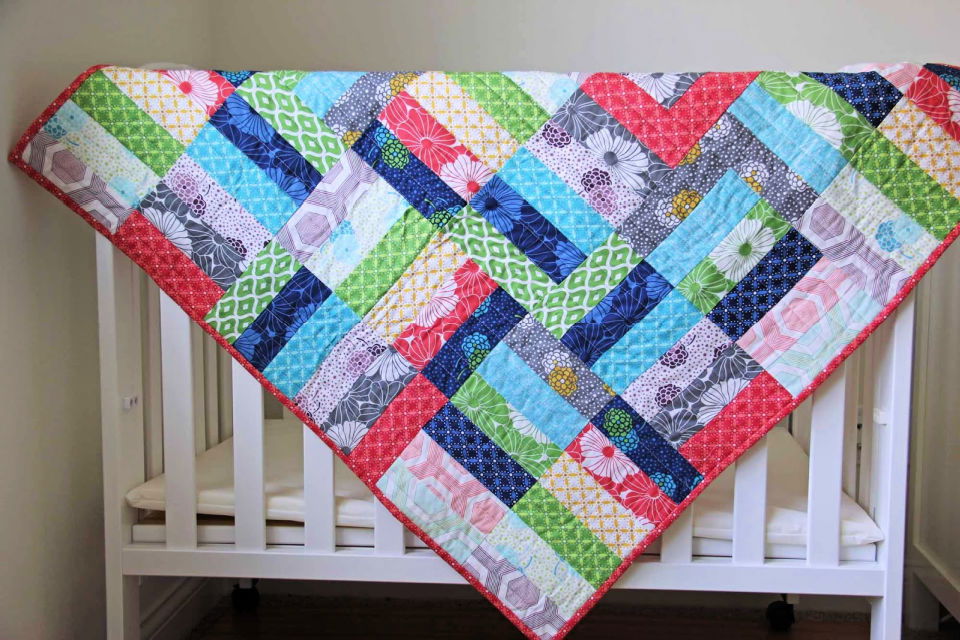 The baby quilt pattern is all about fun and excitement. Here we have a nice floral printed quilt with a range of different patterned fabrics sewn together, which is very easy to make. Moreover, it makes a great gift for a baby shower as well. vanessachristen
15. Free Squared Baby Quilt Pattern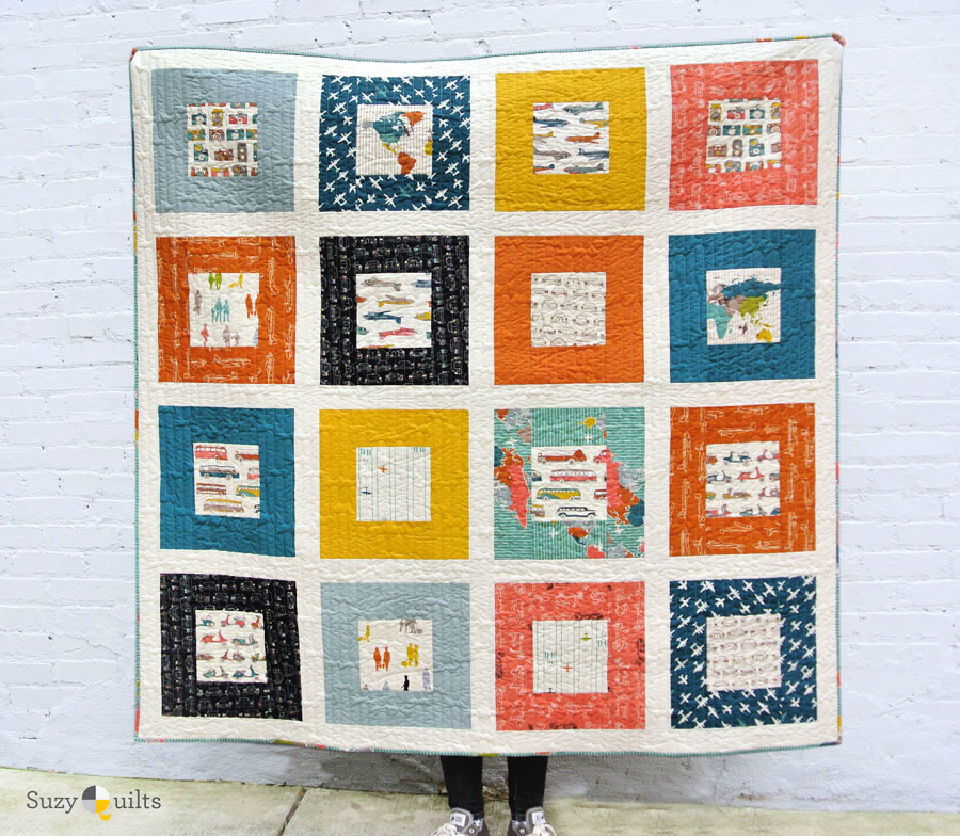 If you are a newbie in sewing, then you should definitely start your fulfilled journey with this free squared baby quilt pattern as it is quite simple to make, yet the results are very stunning. Make sure to have a rotary cutter, ruler, pins, cutting mat, sewing machine for this project. suzyquilts
16. Simple Patchwork Color Blocked Baby Quilt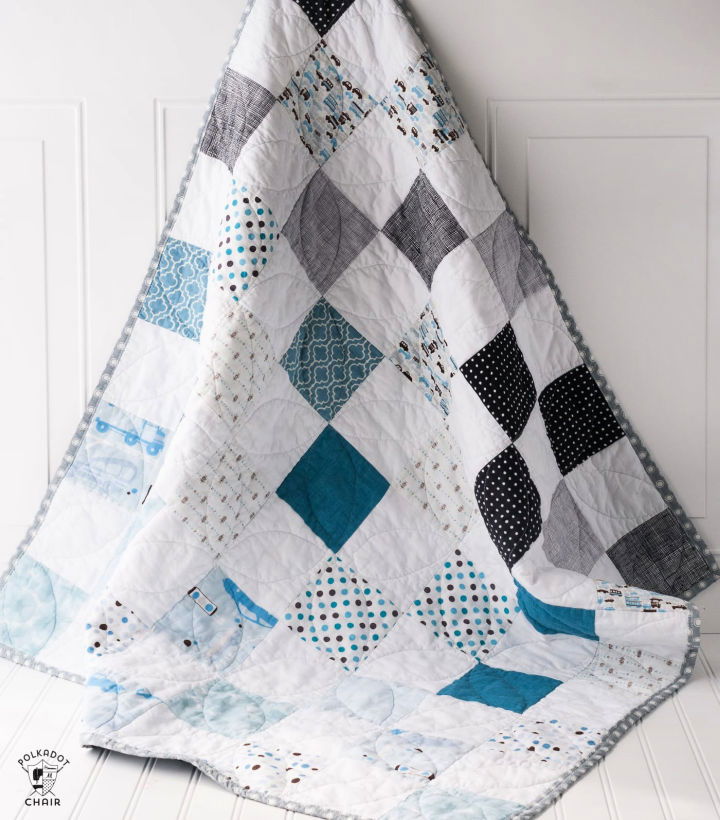 Looking for a relatively simpler baby quilt pattern to make, then this will become your top favorite! Pick out some fabrics in light, medium and dark shades in the same color like blue in this pattern with a pop of black to give it a nice, classic vibe. Furthermore, you'll need various printed fat quarters, white squares, backing fabric, and yard binding. polkadotchair
17. Weekend Baby Quilt Free Pattern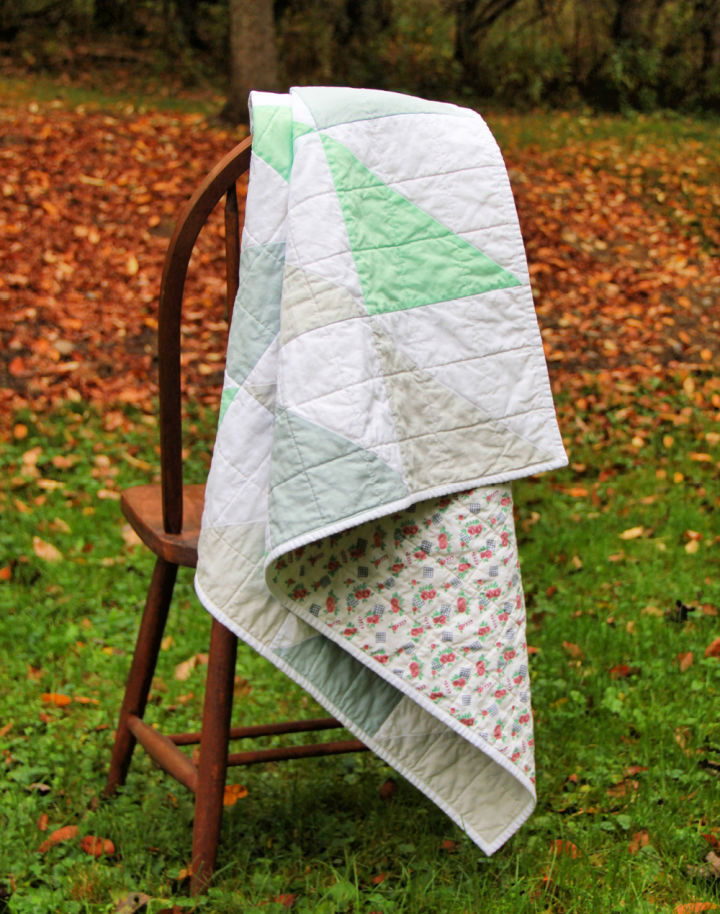 Typically, being smaller in size, baby quilt patterns require less time, fabric, and threads to make. Yet, the outcomes are instrumental pieces of cloth to help the babies keep warm and cozy. Just like this pastel-colored beautiful quilt in bold basic colors to soft baby animal prints – it is hard to go wrong! villageboundquilt
18. Low Volume Baby Boy Quilt Pattern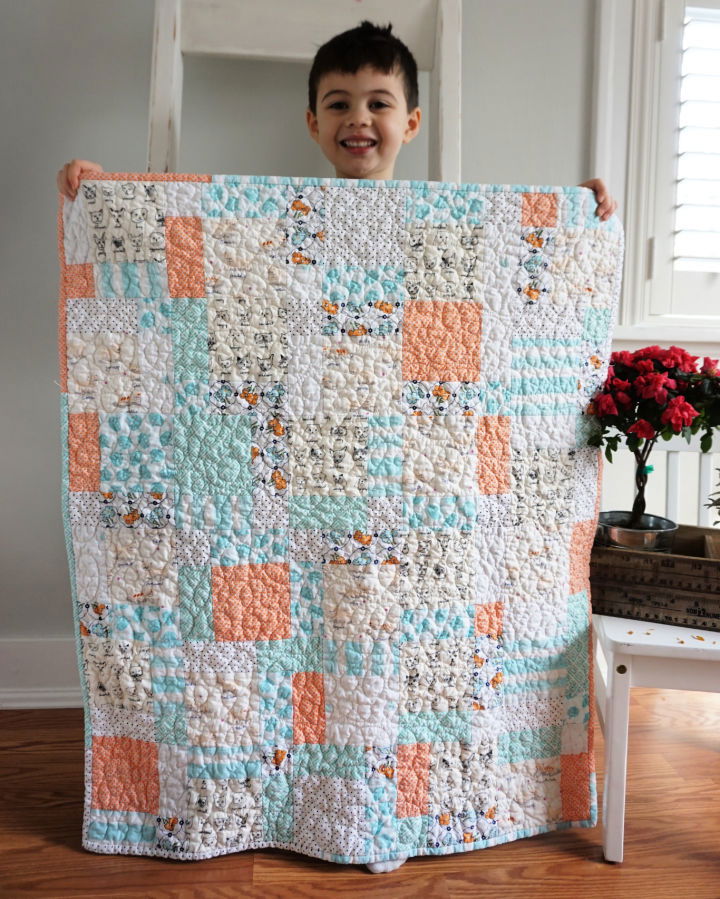 Low volume prints with softer shades with plain white background go with every type of interior because they are very neutral, paired with almost anything. They also make a great, thoughtful gift for a baby shower for a close friend or relative. Moreover, you need a backing yard, squares from a fat quarter, and binding fabric. quiltingintherain
19. Patchwork Baby Quilt with Monogram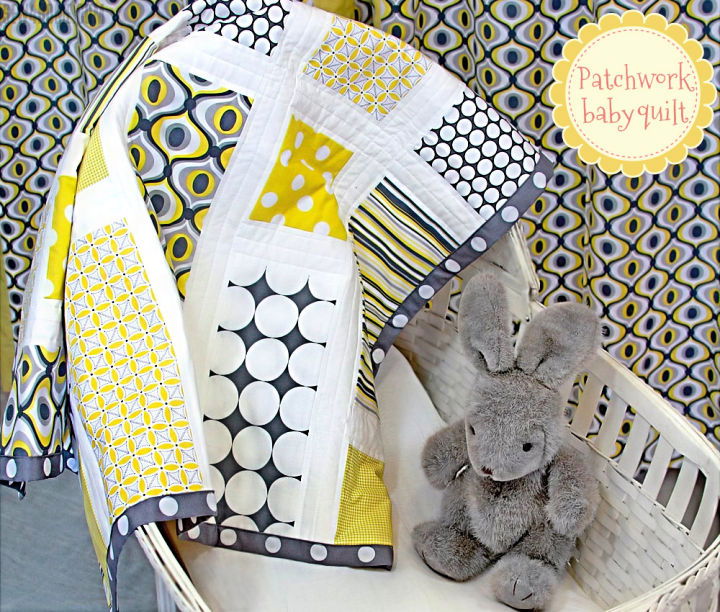 These itty-bitty marvels will get you hooked to them once you try them, just like this gorgeous bold and bright geometric design patchwork baby quilt in grey and yellow colors. Besides this, the sewing tools needed are a sewing machine, wide quilting weight cotton, quarter inch seam foot, threads, pins, etc. sew4home
20. Baby Blanket Quilt Pattern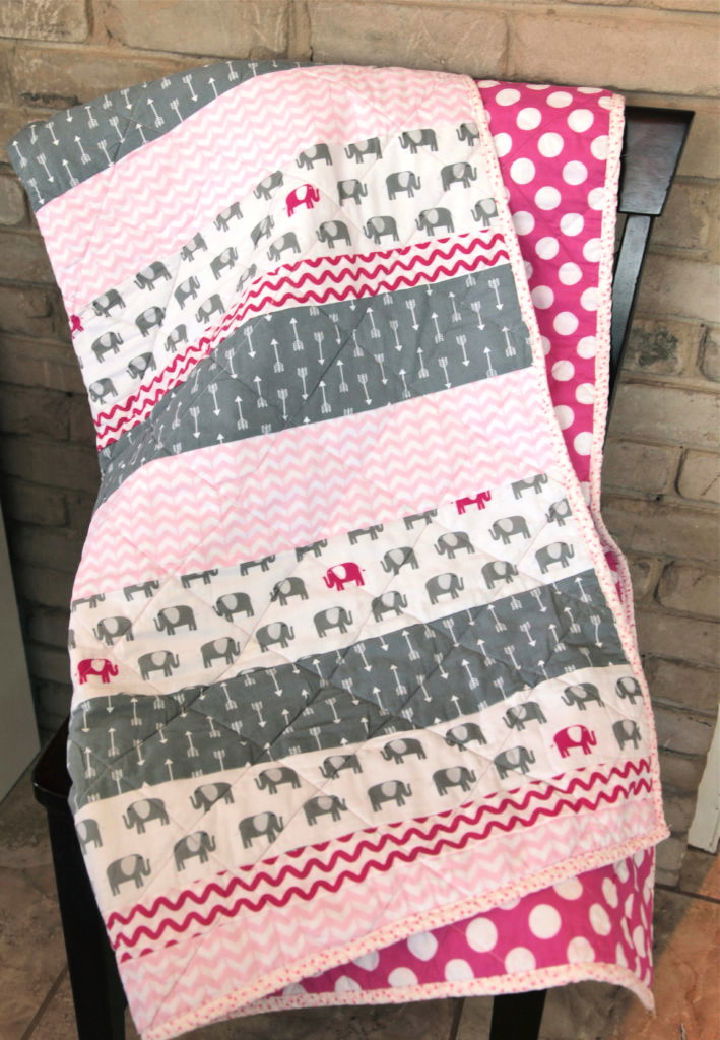 This simplistic baby blanket quilt pattern is made by choosing a nice, printed fabric for the whole design. It is a beginner-friendly DIY baby blanket, so it should not be difficult to make. Moreover, you will need a sewing machine, fabric for backing, yard batting, safety pins, stick pins and chalk if needed to mark important fabric points while sewing. modernlittlevictor
21. Prairie Pinwheel Baby Quilt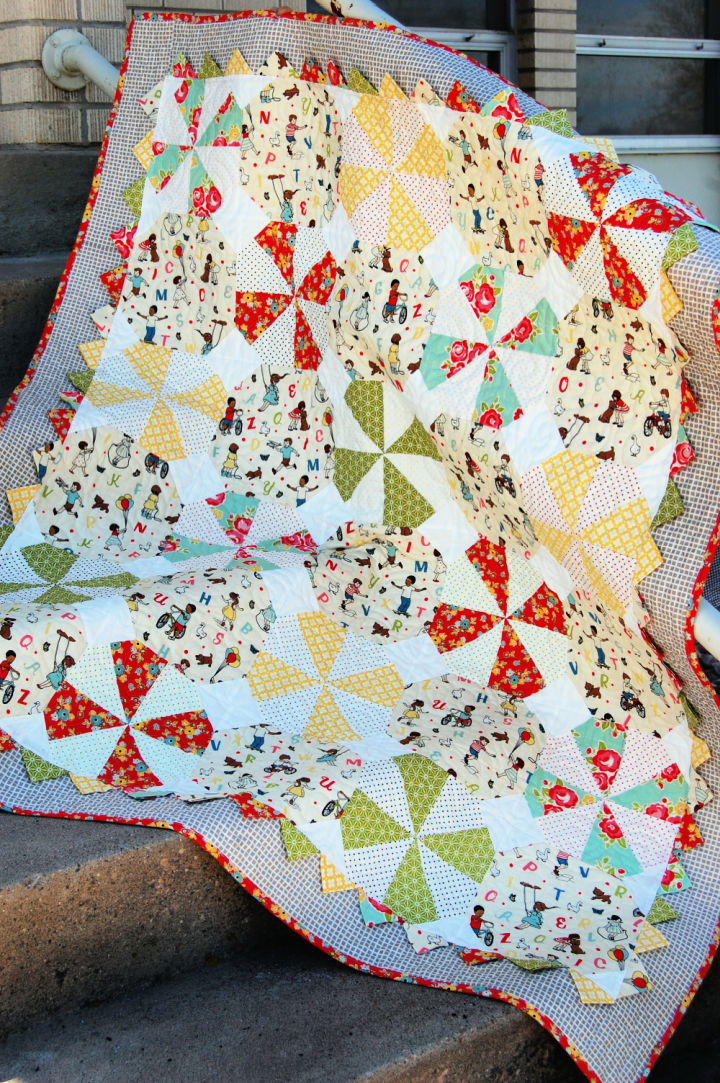 The prairie pinwheel baby quilt pattern is absolutely gorgeous and mesmerizing piece of art that you definitely need to have for your baby's wardrobe this winter. This pattern's size is also quite big, with a finished size of 48" x 56". You will need focal print fabric, 10" squares, yard border fabric binding, and backing fabric to complete this beautiful piece. theclothparcel
22. Checkered Streets Baby Quilt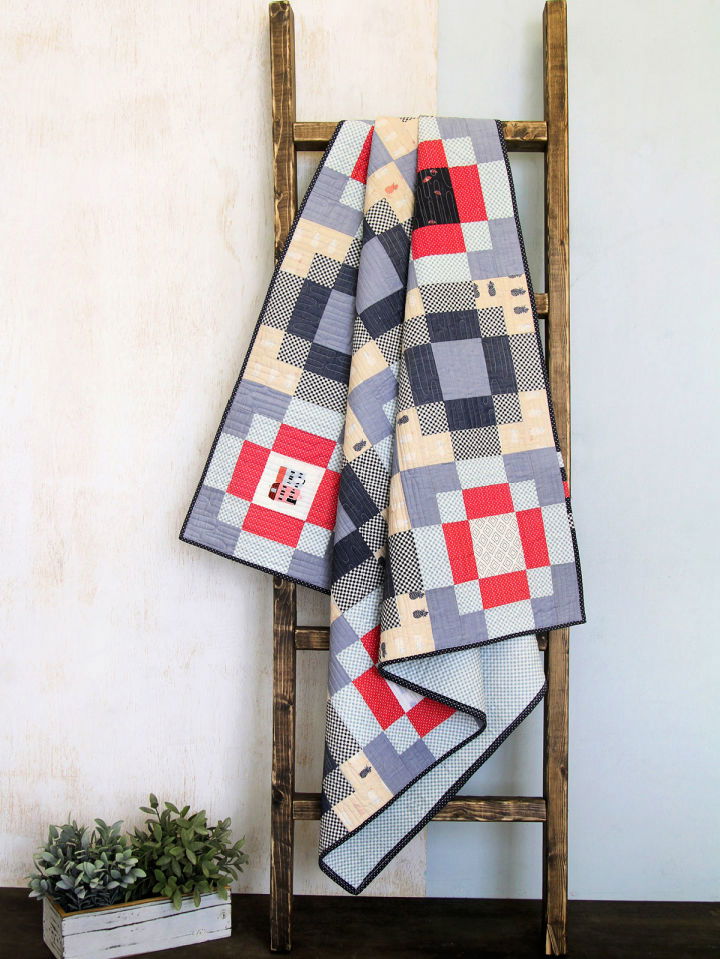 Honestly, there is no better option than taking out some time to make something thoughtful for your little bundle of joy! Moreover, baby quilts are a perfectly sized project to tackle easily. You can even cherish this sweet little quilt for a lifetime since it is quite durable, made with patchwork foot, sewing machine, rotary cutter, quilt batting, and few more things. weallsew
23. Easy DIY Star Baby Quilt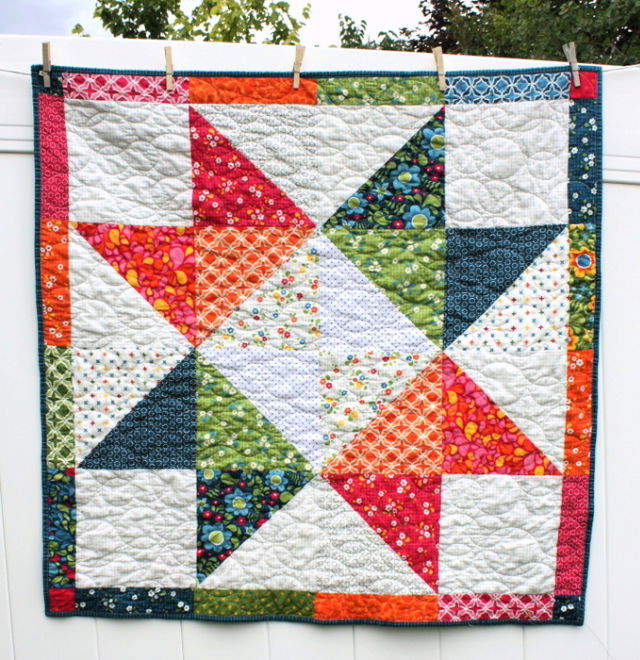 A great beginner-friendly project, this easy DIY star baby quilt pattern is a delight to make. It is a classic, simple and timeless patterned project with a hint of modernized, graphic look to it. Moreover, they make up a great project for your little star! The supplies you will be needing are squares of fabric in different prints, yard for backing, yard for binding, and stripes cut for borders. diaryofaquilter
24. Half Square Quilt Pattern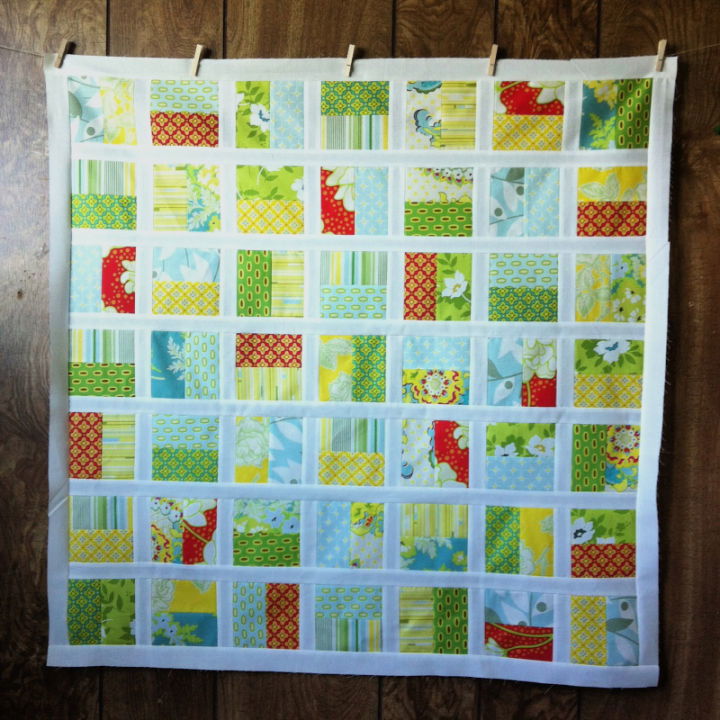 A great project to use up scraps, this half-square quilt is a colorful and bright patchwork. You will definitely love making this. Moreover, you will need printed fabrics, yarn neutral fabric for the background, backing and batting, and basic sewing supplies. frozenknickers
25. Embrace Baby Quilt Free Pattern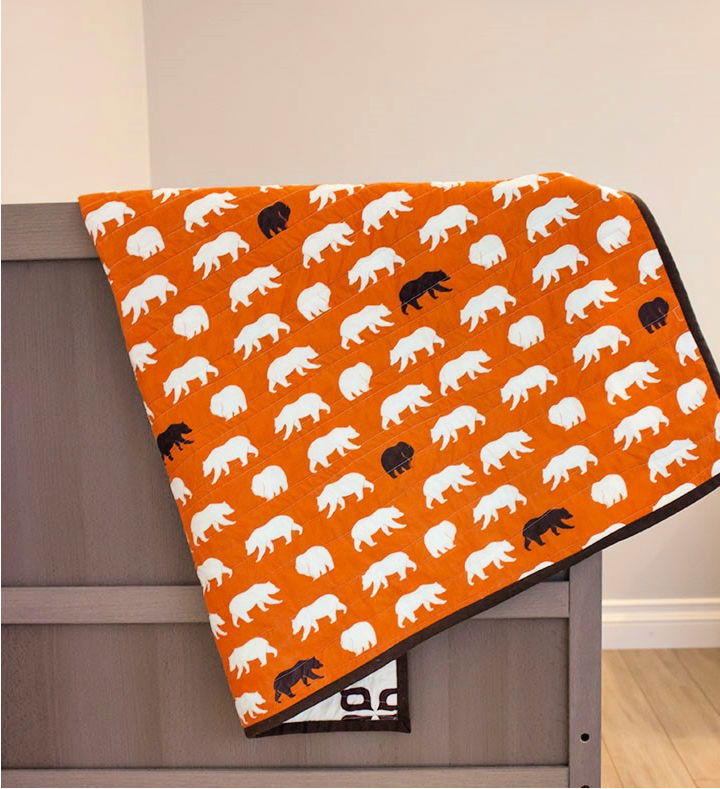 Embrace quilt is fast and easy to make if you are starting as a beginner. Another great thing about this bad boy is that you don't have to worry about being a perfectionist and can easily play around with your creative ideas. For this, you will need backing fabric, needle, pins, tape, scissors, and thread. veryshannon
26. Mod Triangle Baby Quilt Pattern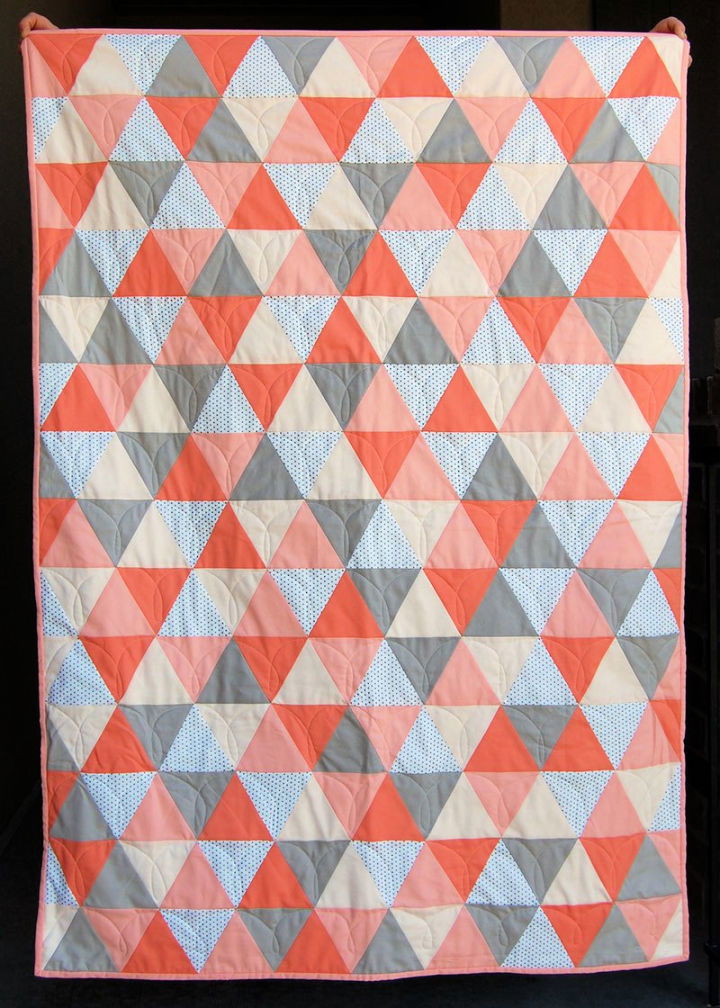 The first thing you need to do to make this Mod triangle baby quilt is to choose your color palette. It takes up few hours until it's all ready to wrap up a new arrival, but it's absolutely worth the time and efforts. All you need is triangle-shaped fabric, a sewing machine, and other sewing tools. theclothparcel
27. Dresden Burst Baby Quilt Pattern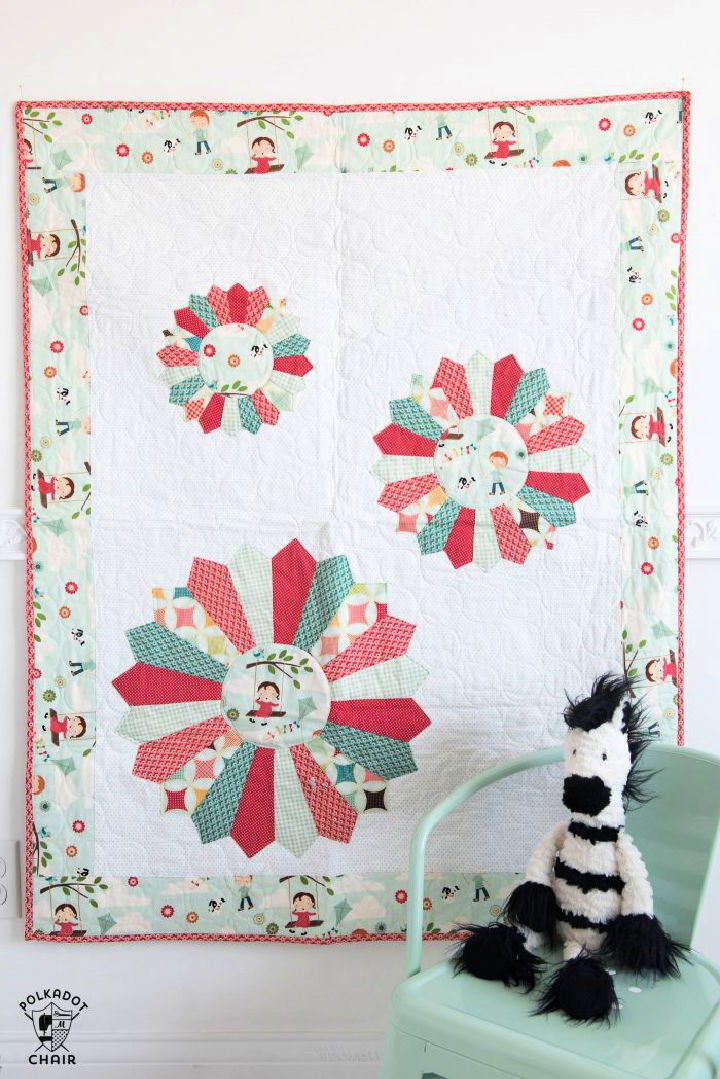 This simple yet beautiful quilt is made from Dresden quilt blocks. To make this, all you need is: different fabrics, backing fabric, binding fabric, ruler, cotton batting, spray starch and spray basting. polkadotchair
28. Triangle Modern Baby Quilt Pattern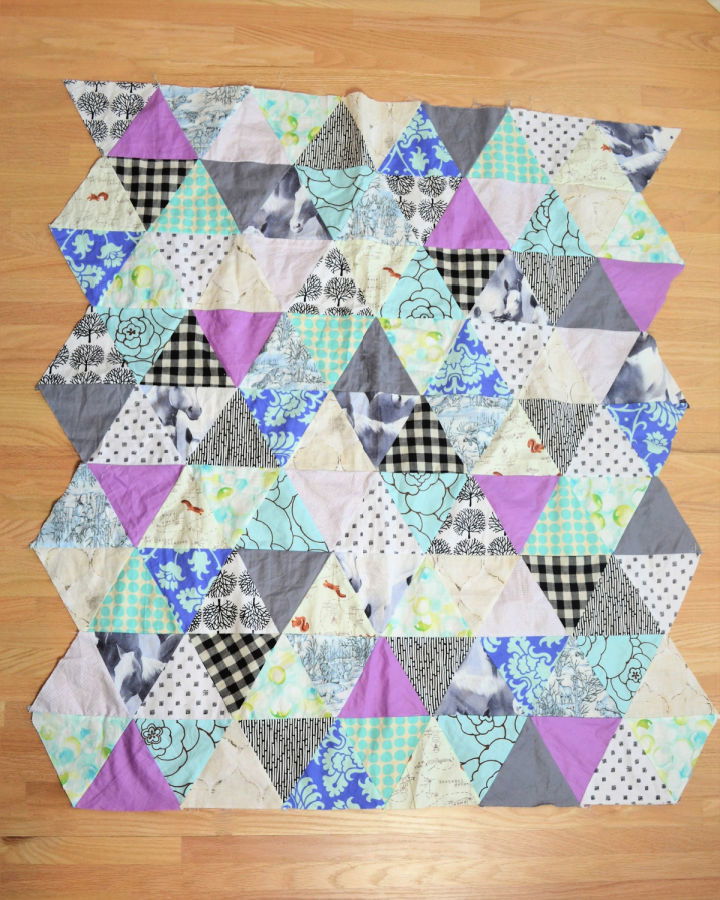 Modern triangle baby quilt is super quick and easy to make, which comes in handy if you are a busy working mom. Also, it looks awesome once it all done. Moreover, you might need a different fabric, ruler, cutter, cutting mat, thread, and a sewing machine to make this. makingthings
29. Cheater Baby Quilt Pattern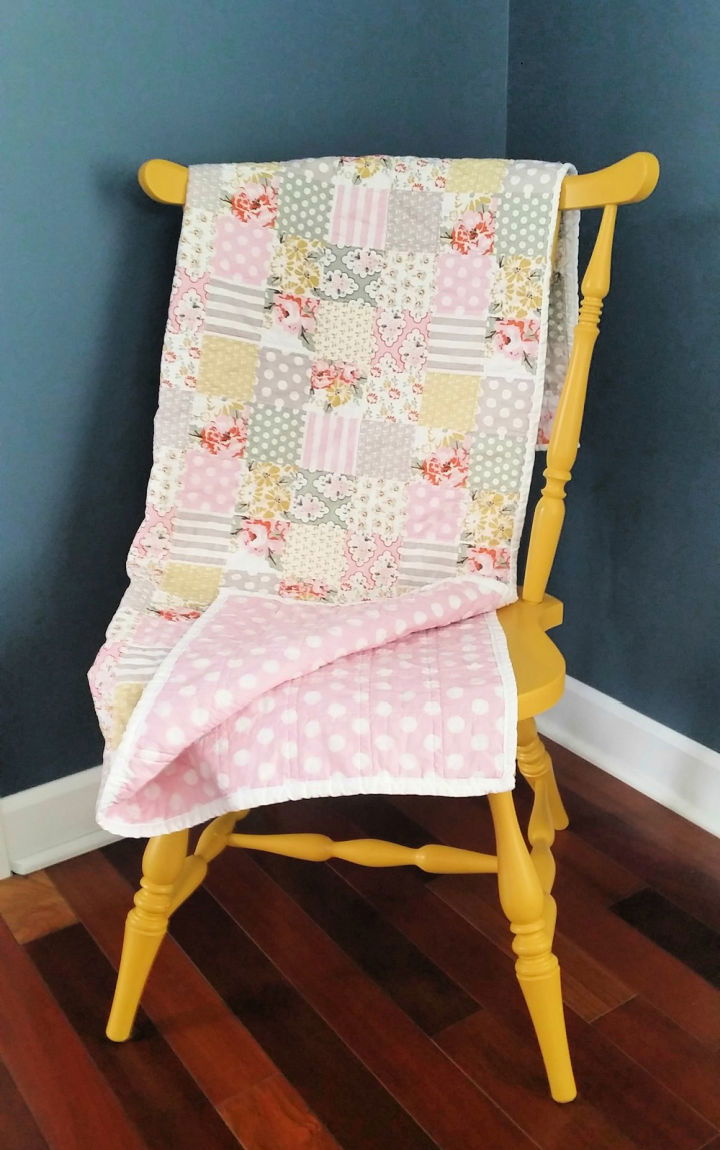 A cheater baby quilt can be a great handmade gift for your friends or family if they expect a new family member. It only takes 4 hours to make this beautiful quilt. All you need is a sewing machine, and you are good to go. decorandthedog
30. Proof Positive Quilt Pattern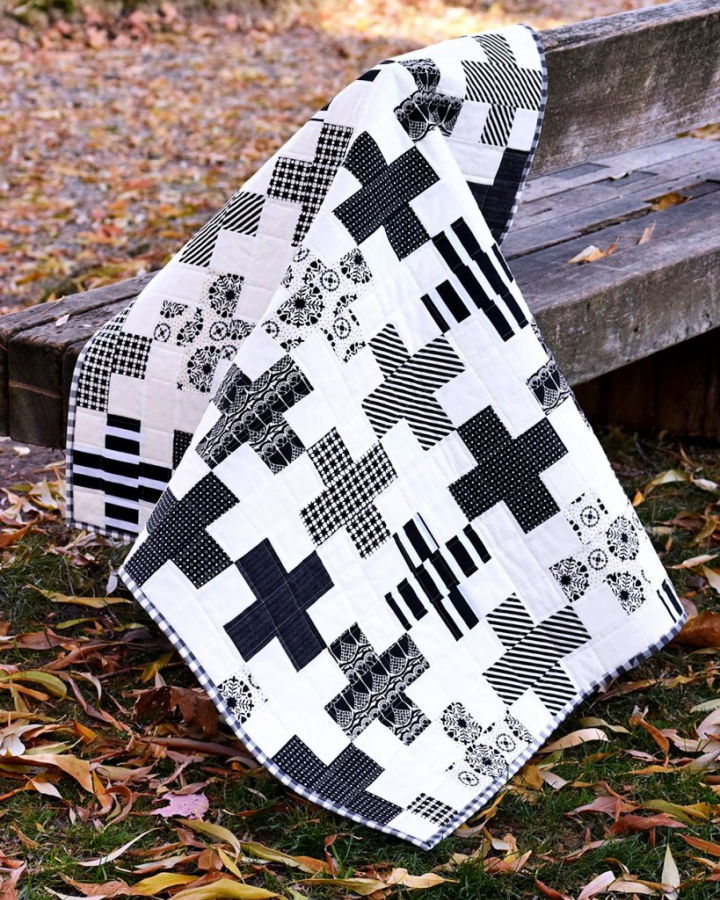 The proof positive quilt is a simple black and white scheme, which seems great for a modern, gender-neutral look. It can also work with so many different color palettes in many different ways, as an easy quilted throw pillow as a gift. theclothparcel
31. Free Triangle Baby Quilt Pattern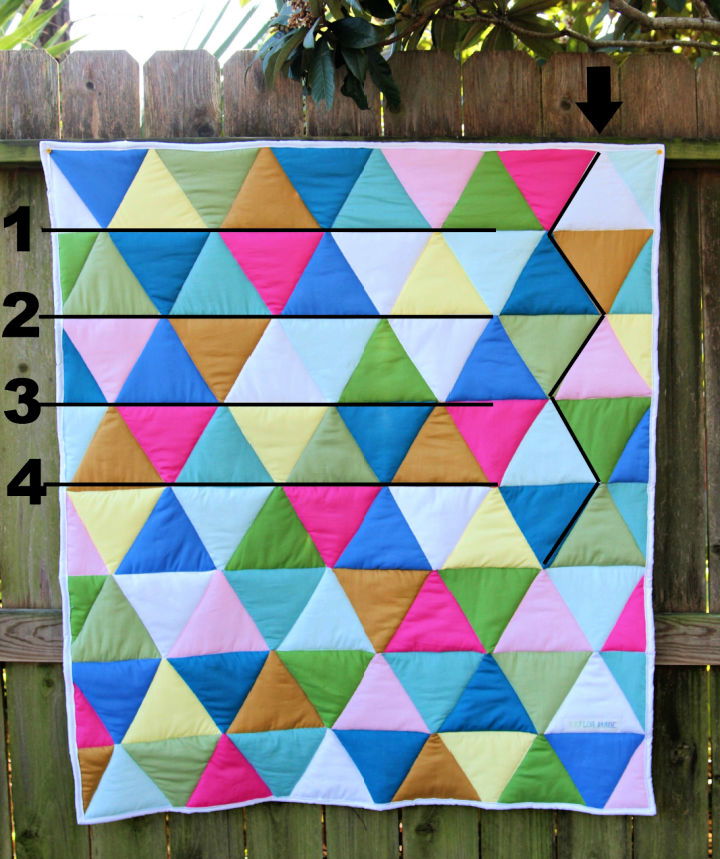 Triangle quilts are the most popular designs this year, so you definitely need to make this one. Moreover, the wide range of colors in it makes it unisex – suitable for both a baby girl and a boy so that you can gift it to anyone as a nice baby shower gift. Make sure you have all the sewing material with you beforehand. taylormadecreates
32. Starring Baby Quilt Pattern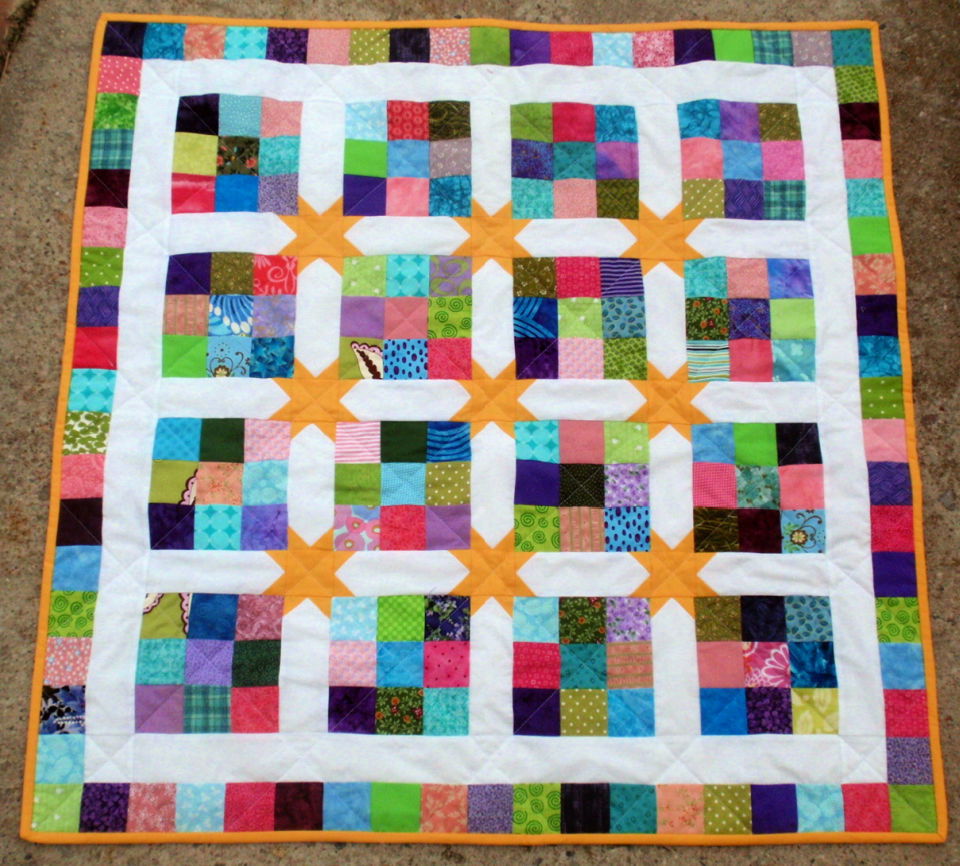 This multiple-use starring baby quilt pattern is a beautiful project made from scraps. Isn't it amazing? The colorful pattern allows it to be placed with any interior as it looks good in contrasting colors. Moreover, you must have the perfect fabric for squares, background fabric, yard binding, and yard for backing. weddingdressblue
33. Free Tetris Quilt Pattern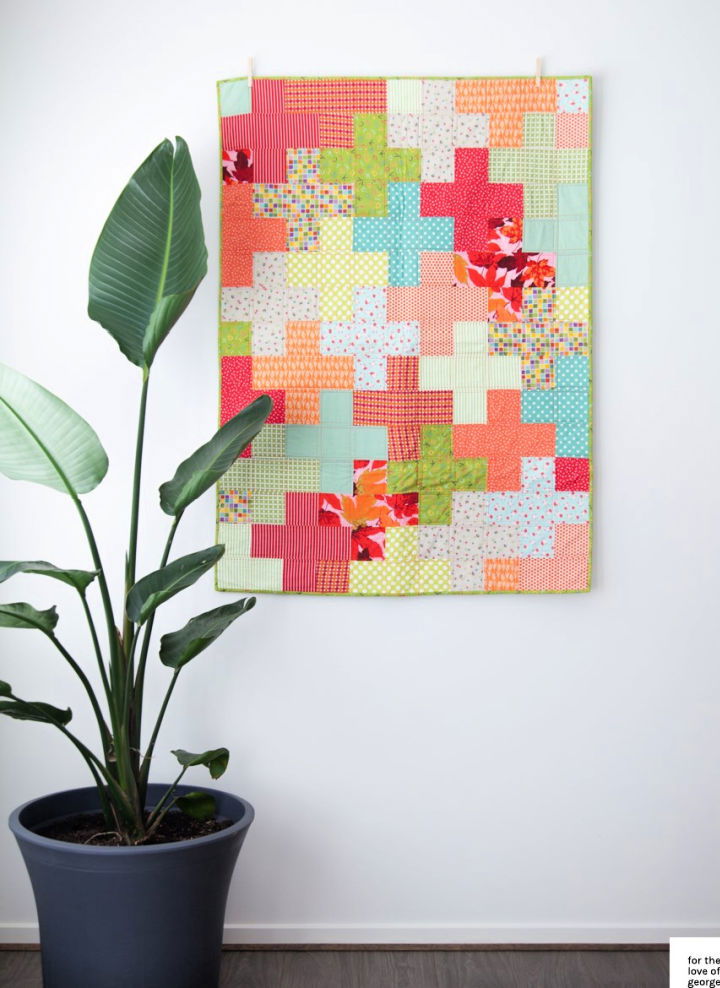 Tetris quilt pattern is a bright, bold, and beautiful pattern made using scraps from various fabrics giving a cool and trendy vibe to the quilt. Furthermore, make sure you have all the essentials needed to do this project. fortheloveofgeo
34. Sock Monkey Circus Baby Quilt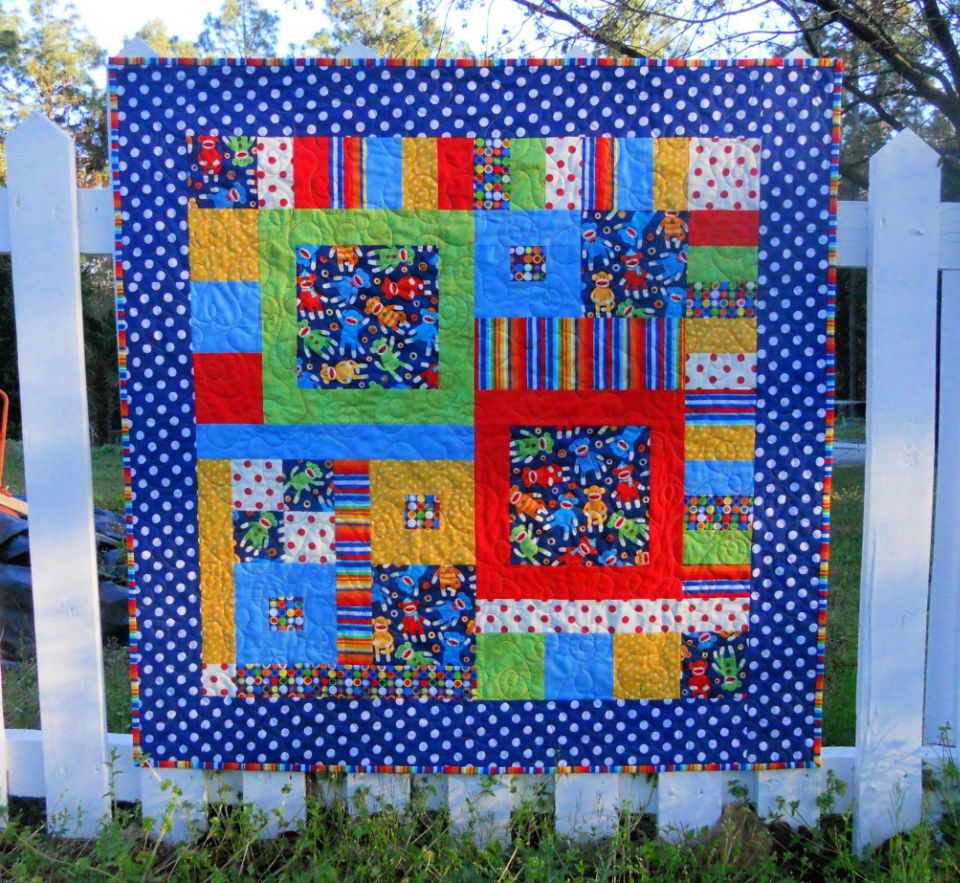 Sock monkey circus baby quilt pattern is a super bright and vibrant tone on tones design across the whole quilt. Makes sure you have your sewing supplies and fabrics with you before starting to work on this unique design. abyquilts
35. Cutie Pie Baby Quilt Pattern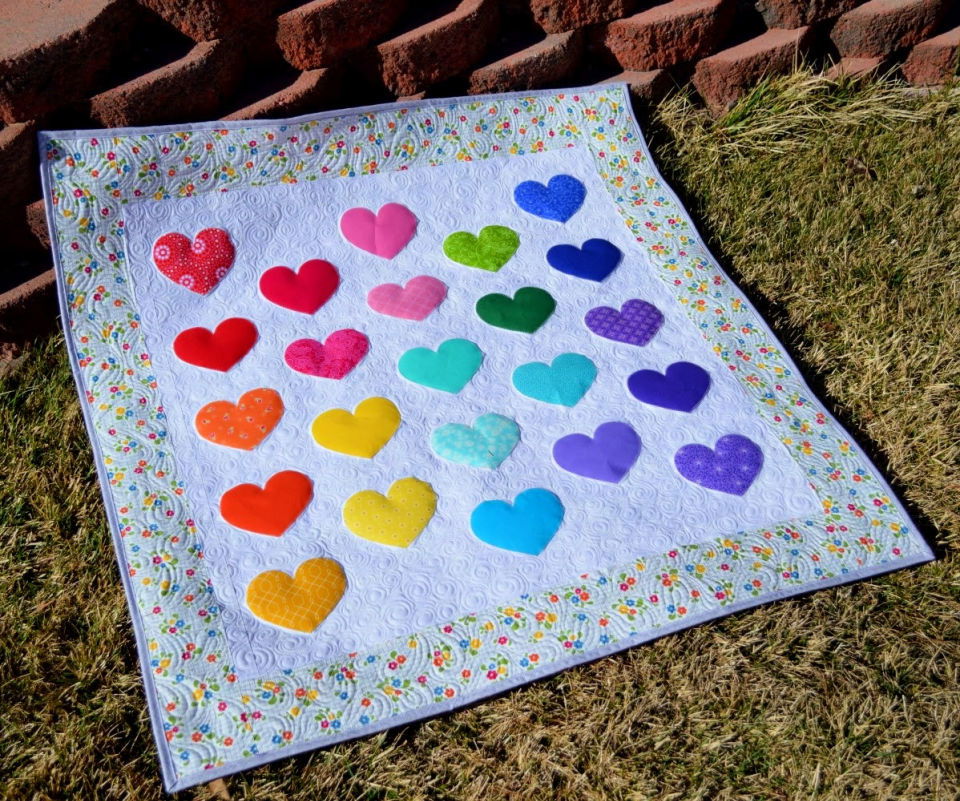 As goes by its name, this is a super adorable baby quilt pattern with a range of colorful hearts design on the quilt; it makes a wonderful last-minute baby shower gift since you can literally complete it in a day. Use the laser-cut heart appliques, background fabric, border, and binding fabric for this. happyquilting
36. Ebb and Flow Quilt Pattern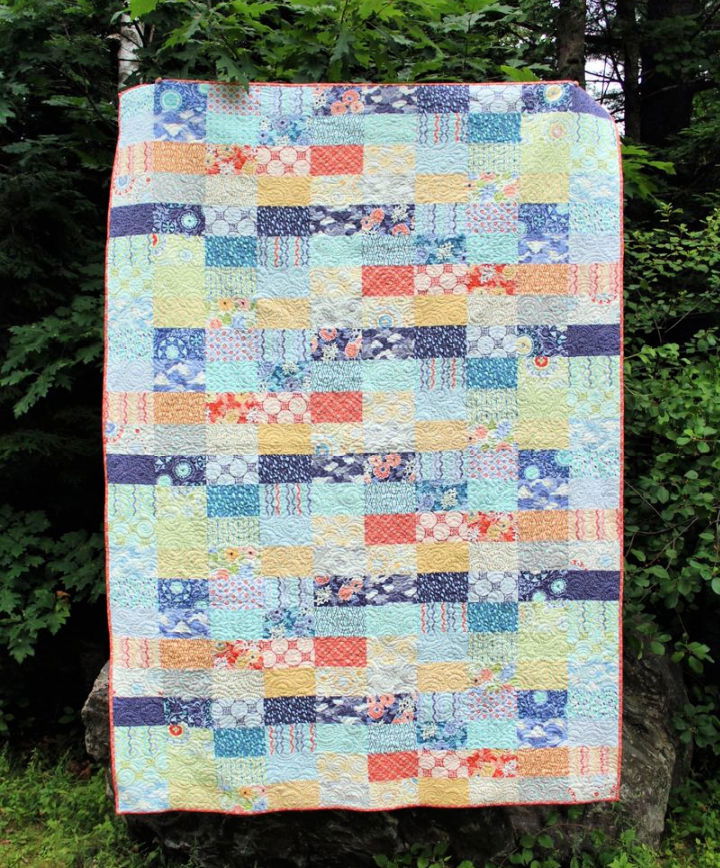 Nothing less than a vintage fairytale, this Ebb and flow baby quilt pattern is a beautiful one considering how it is made using all the scraps! Moreover, it can also be used as a gorgeous picnic blanket as it is very soft and comfortable to use. The materials required are fabric fat eights, binding/backing yard, clips, and sewing machine, etc., for this project. leighlaurelstudio
37. Scrappy Butterfly Baby Quilt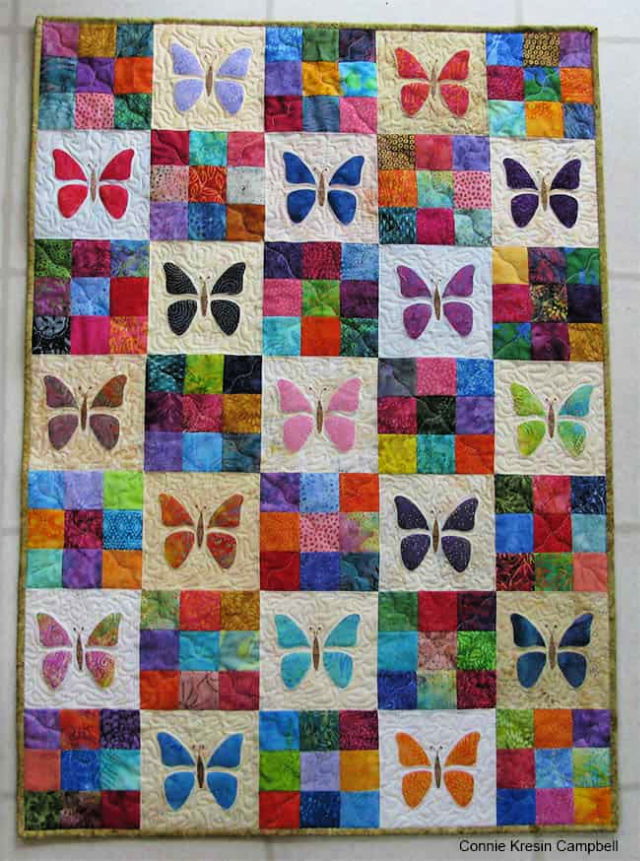 If you are also looking for an easy yet useful project to use up all your scraps, then you are definitely at the right place. This scrappy butterfly baby quilt pattern is a quick and easy project turning out to be super stunning. It will add a nice and colorful feel to your little one's room, along with keeping them warm and snuggly in the winters. conniekresin
38. Free Baby Quilt Pattern For Beginners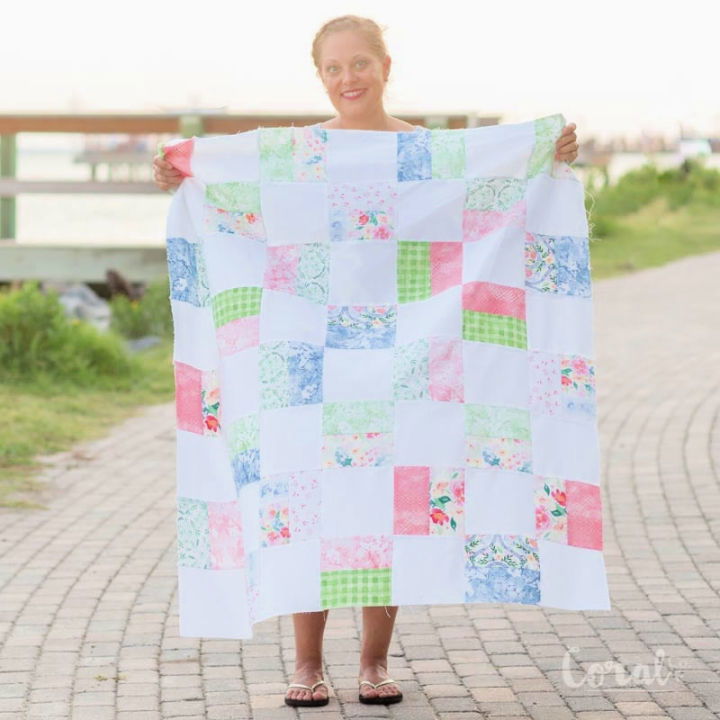 This pattern lends itself quite well to a gorgeous airy and light quilt which is perfect for a little girl's room since there are pinks and greens in the design. For this, you need supplies like fat quarters, contrasting fabric, cotton batting, backing fabric, fabric binding, cotton thread, cutter, self-healing mat, and quilting ruler. coralandco
39. Chevron Quilt Free Pattern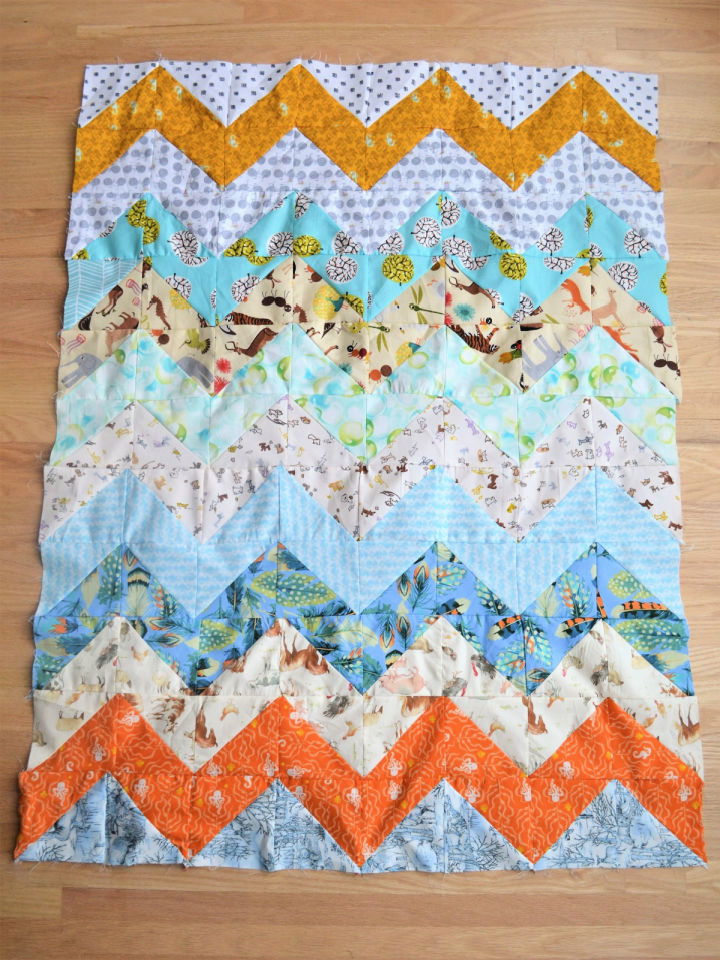 Chevron quilt-free pattern is a great, beginner-friendly project that anyone can easily make and enjoy the beauty of it. You will have the finished size of about 45 inches by 34 inches. Moreover, we need different patterned fabrics, a cutting mat, ruler, fabric cutter, thread, and a sewing machine for this design. makingthings
40. Hipster Baby Quilt Pattern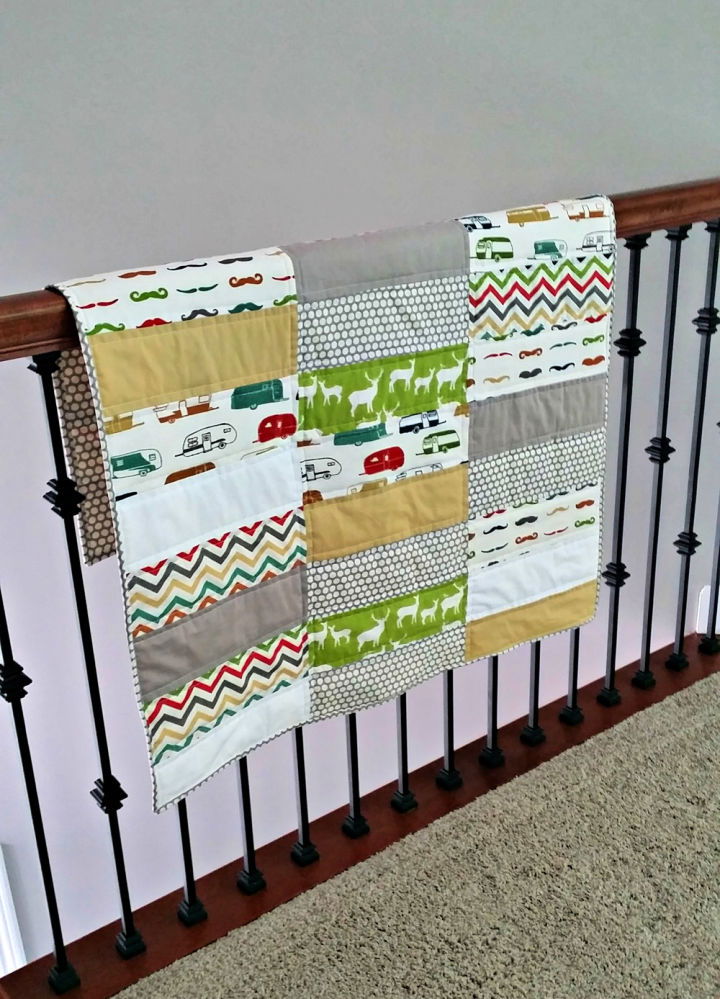 Last but definitely not least, here is a hipster baby quilt pattern with gender-neutral colors in it so that you can use it for both a baby girl and a boy, all depending on you and your preference. This is ridiculously soft and comfy, and you will have a lot of fun making it. decorandthedog
Wrapping up these free baby quilt patterns:
So, we hope that you have a lot of new and fresh ideas for making baby quilt patterns that you can try every day since most of them are beginners friendly which makes them easier to understand and make. You have the freedom to go creative with colors and designs as you like, along with using appliques of your choice too. Makes sure you pick out the ones you really want to make first, gather all the related supplies and start working on them because you will surely be having lots of fun in making these great baby quilt ideas! So let's start quilting!